How to Cook Bacon in the Oven
Want to learn How to Cook Bacon in the Oven to make for the easiest, crispiest best bacon ever? Scroll down!
How to Cook Crispy Bacon in the Oven Guide
Alright, we're calling it: Cooking bacon in the oven is the BEST way to cook bacon. Here is why: It makes the crispiest bacon, with the least mess and with virtually no hands-on cooking time. Follow the guide below to learn just How to Cook Bacon in the Oven!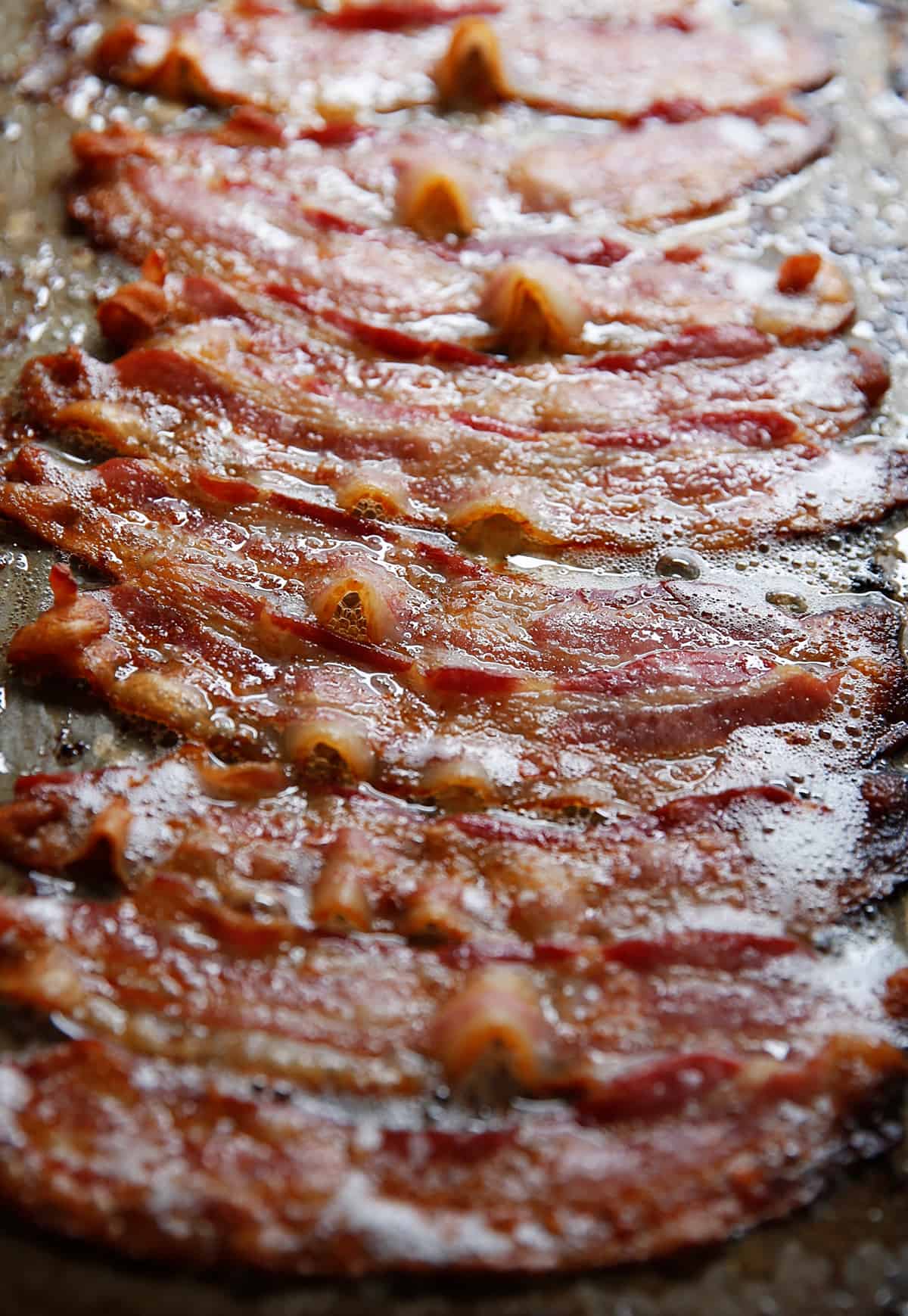 Step 1: Buy the best bacon you can get. Because you deserve good bacon!
Step 2: Pre-heat oven to 400ºF Line a 12″ x 18″ sheet pan with parchment paper. There will be a lot of bacon grease on the pan and lining it with parchment allows for an easier clean up because you can let the bacon grease cool and either save for another cooking use or discard. Don't put bacon grease down the drain! It can clog your pipes.
Step 3: Lay out the bacon on the sheet pan. You can let the bacon touch because as it cooks it will shrink up.
Step 4: Put bacon in the middle lower rack in the preheated oven and cook for 18-22 minutes, depending on how crispy you want your bacon!
Step 5: Drain the bacon on a paper towel.
Want free bacon?
Wondering how to get free, Whole30 approved bacon? If you aren't familiar with ButcherBox, let me introduce you! Each month, ButcherBox curates a one-of-a-kind selection of the healthiest, tastiest meats, humanely raised and free of antibiotics and hormones. Or you can customize your box and select your favorite cuts and get 20% more meat. The price works out to less than $6.00/meal and shipping is always free. You can also space it out so it's not every 4 weeks, too!
Get FREE bacon
FREE Shipping
$15 OFF!
Order here and to get this deal!
---
Oh now you are looking for ways to use up that perfectly cooked bacon?
Well first off you can just eat it right up. Or serve it with eggs. Or you could make these recipes:
If you like this how to recipe, check out these others:
Cooking Bacon in the Oven
Cooking bacon in the oven makes the crispiest bacon, with the least mess and with virtually no hands-on cooking time.
---
---
Directions
---
Nutrition
Loading nutrition data...
5 comments
August 28, 2019
Subscribe to
Lexis Clean Living
Join our email list to get instant updates and weekly summaries of our top content and special exclusive offers along with our free clean eating kickstart guide!
This website may at times receive a small affiliate commission for products that we shared with you in our posts. Although we may receive a commission for linking certain products, there's no additional costs to you and all of our opinion and suggestions are 100% our own and unbiased. That's our promise to you!