Have you ever thought to make your own almond milk? It's unbelievable easy and truly tastes so different than the store bought stuff. We're walking you through How to Make Almond Milk with all the tips and tricks you need!
Almond Milk Recipe
Making almond milk is easier than you think! All you need is two ingredients (raw almonds and water) and three kitchen tools (a blender, a dish towel and a strainer). After that you get delicious, full-flavored homemade almond milk which tastes so different than anything you can buy in the store! Making it at home is great because you get to control what ingredients are in it which means nothing unnecessary. Most store-bought almond milks contain all sorts of additives to stabilize it and keep it fresh. We're not saying we never buy it, because we certainly do, but we're saying it's worth it to make it yourself at least once to give it a try and see where it might fit in your life.
How do you make almond milk?
Soak 1 cup of almonds

Blend almonds and fresh water continuously for 1-2 minutes

Pour blended into a nut milk bag or a thin, clean kitchen towel and squeeze out nut milk.

Pour into a jar and store in the refrigerator for up to 5 days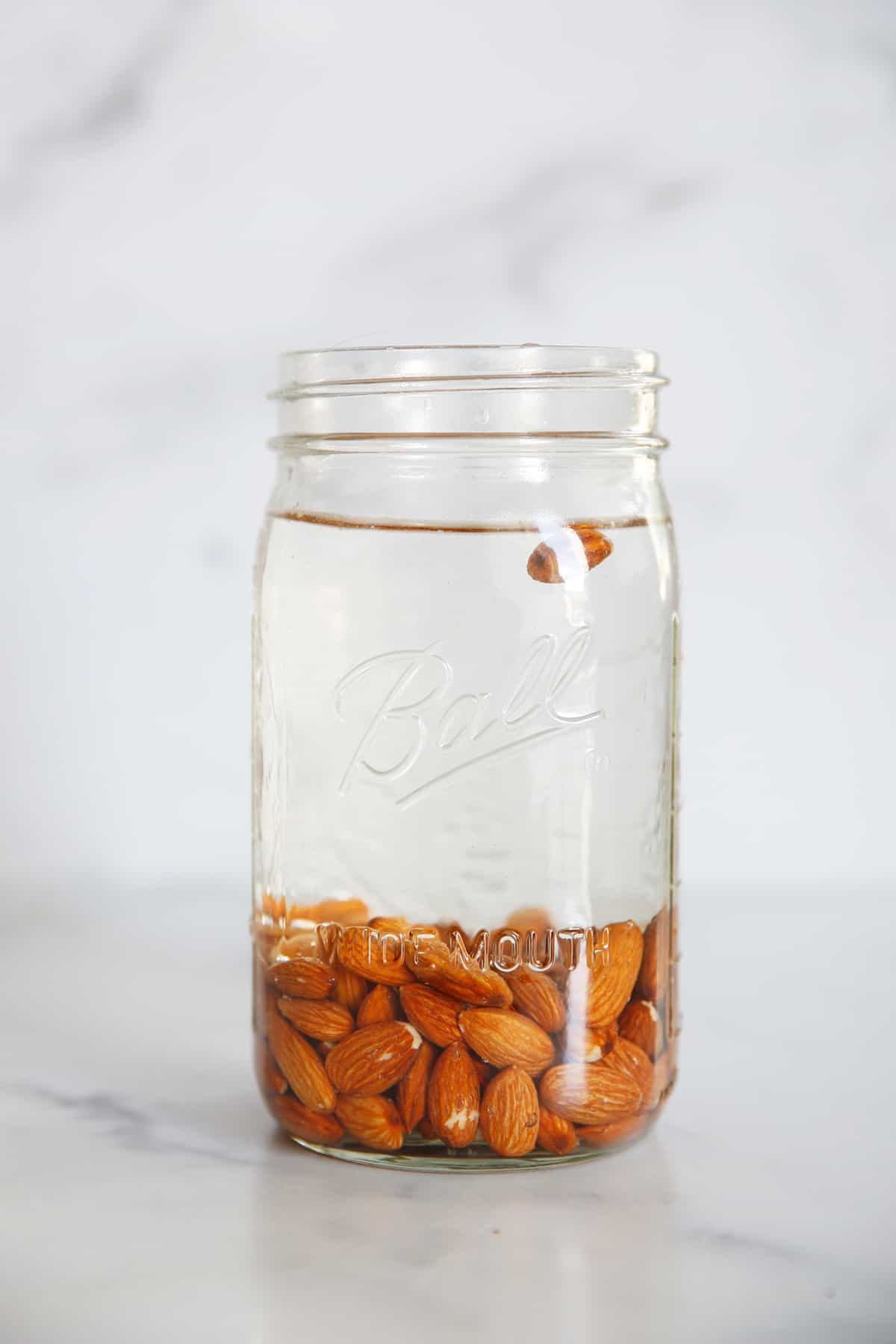 How much does it cost to make almond milk at home?
It costs, at most $3.10 to make one batch of this almond milk recipe, depending on your brand of almonds! That can stretch to make anywhere from 3 cups to 5 cups of it. Depending on the type of nut milk you are buying at a store, this could either be more or less than store-bought. BUT here is the argument here: there are not artificial ingredients or gums or stabilizers in this. The ingredients in this almond milk are in it's basic form: almonds and water. There are some store-bought versions (which in all honesty, we do LOVE them) containing only almonds and water but they are significant more expensive than what it costs to make yourself. As with everything, you have to weight the benefits of whether it not it makes sense to make it at home.
Fresh nut milk really tastes totally different and it is worth making it at least once to see for yourself!
How many almonds do you need to make almond milk?
This is a frequently searched question on google! If you've never made almond milk you have to be wondering how many almonds does it actually? The short answers is that this recipe is based off of 1 cup of almonds. You can blend that 1 cup of almonds to make about 3 cups of milk or up to 5 cups of milk. The lesser amount makes a more full-flavored milk, and of course the higher amount of water added makes a thinner almond milk. You can always size up the recipe, depending on the size of your blender. Though, fresher almond milk tastes the best, so we recommend doing it in small batches to ensure it isn't sitting around for a while.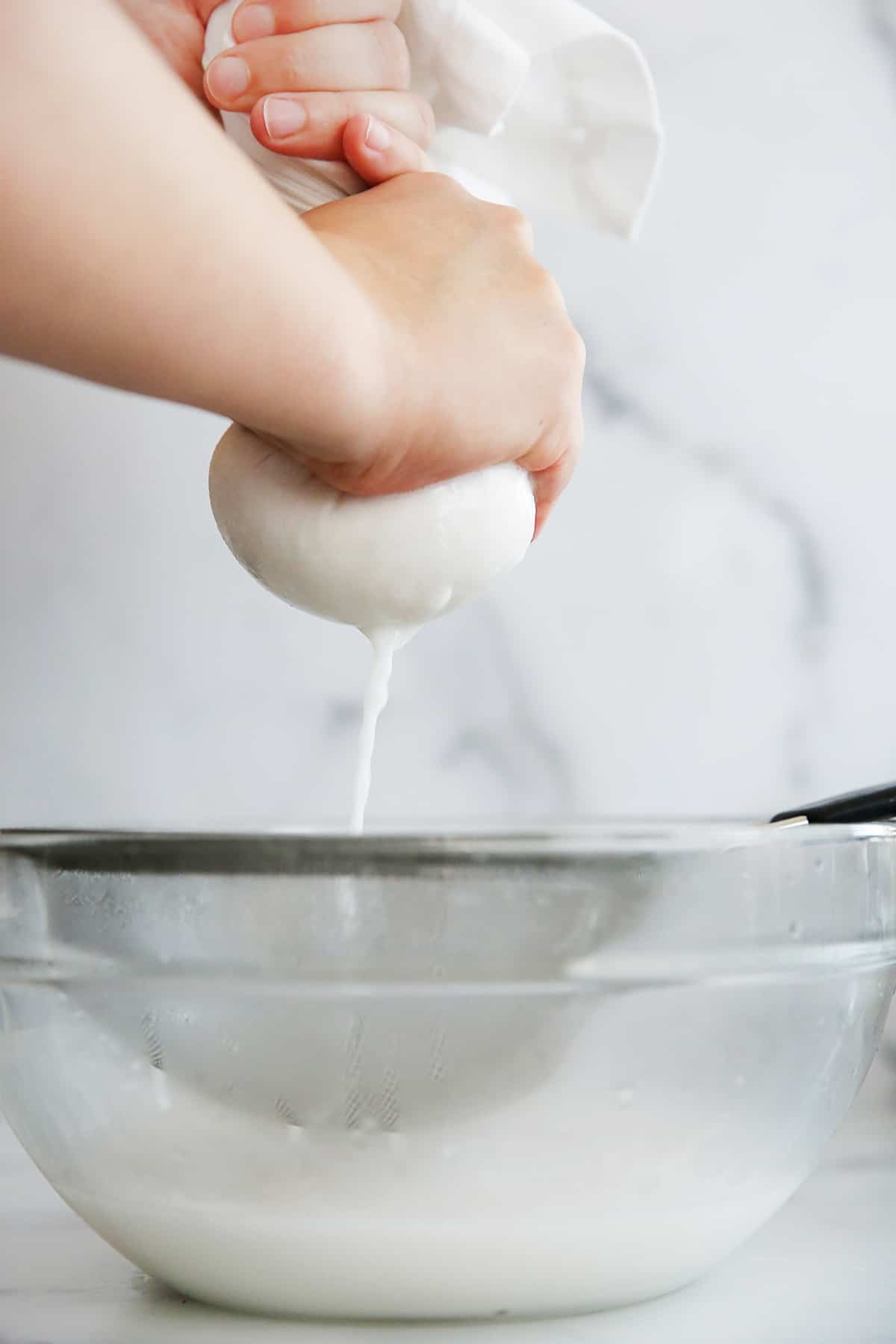 Do you need to buy a nut milk bag to make it?
No! You can if you want, but it can be made in a clean, thin kitchen towel, as seen on the picture above. If you want to test to make sure that your towel will work hold it tight and run some water and see if it drips out of the towel!
Check out these recipes that use nut milk:
Also, use homemade almond milk in:
Smoothies
Cooking (think curries and soups)
Baking
Drinking straight from the glass
Coffee and teas (hello, matcha latte or golden milk latte!)
Overnight Oats (like these)
Popsicles
If you like this nut milk how to, check out these others:
---
Watch the video:
---
Ingredients
1 cup raw unsalted almonds

3 cups filtered water (see note)

Pinch of salt
1 tablespoons maple syrup (optional)
Directions
Soak your almonds in cold fresh water for at least 8 hours or up to 12.

Drain and rinse the almonds.

Place almonds, 3 cups fresh filtered water, pinch of salt and maple syrup (optional) in a high-speed blender and blend continuously for 1-2 minutes, until the nuts are finely ground.

To strain it either pour blended nuts in a nut milk bag and squeeze into a bowl, or line a strainer over a bowl with a thin kitchen towel squeeze the nut milk into the bowl.

Pour into a jar and store in the refrigerator for up to 5 days, though it is better the fresher it is. Separation is normal in non-dairy milks, just shake it up before using it.
Recipe Notes
We loved how flavorful the almond milk was when it was blended in 3 cups of water. If you would like a less pronounced flavor and thinner almond milk you can blend in up to 5 cups of water.

We love getting our nuts cheaper in bulk online or at Trader Joe's!⠀
Loading nutrition data...
There may be affiliate links in this post! By clicking on them, or purchasing recommended items I may receive a small compensation, at no cost to you! However, I only recommend products I absolutely love and use in my own home! Thank you for supporting Lexi's Clean Kitchen when you shop! See my
privacy policy
for more information about this, the information we save, and more!
use our hashtag!
I am so excited that you are making a recipe and would love to see how it turns out! Make sure to use the hashtag on social media!
#LEXISCLEANKITCHEN
share this post!
subscribe to the email list!