Cashew milk is creamy and rich and is so easy to make! It can be used in almost any recipe calling for almond milk, but it also just taste delicious on its own. We're walking you through how to make this cashew milk recipe with all the tips and tricks you need!
Cashew Milk Recipe
Have you ever had cashew milk? Cashew milk is becoming more and more popular as an alternative dairy-free milk and available in stores, but did you know it's super simple to make at home? Cashew milk is actually one of the easier milks to make at home because it doesn't even require any straining. Cashews are very soft nuts, so as long as you soak the cashews and use a high-speed blender, no straining is necessary and the resulting milk is so thick and creamy. Don't have a high-speed blender? It's possible to make it without one, but you may have to strain it in order to get it really smooth.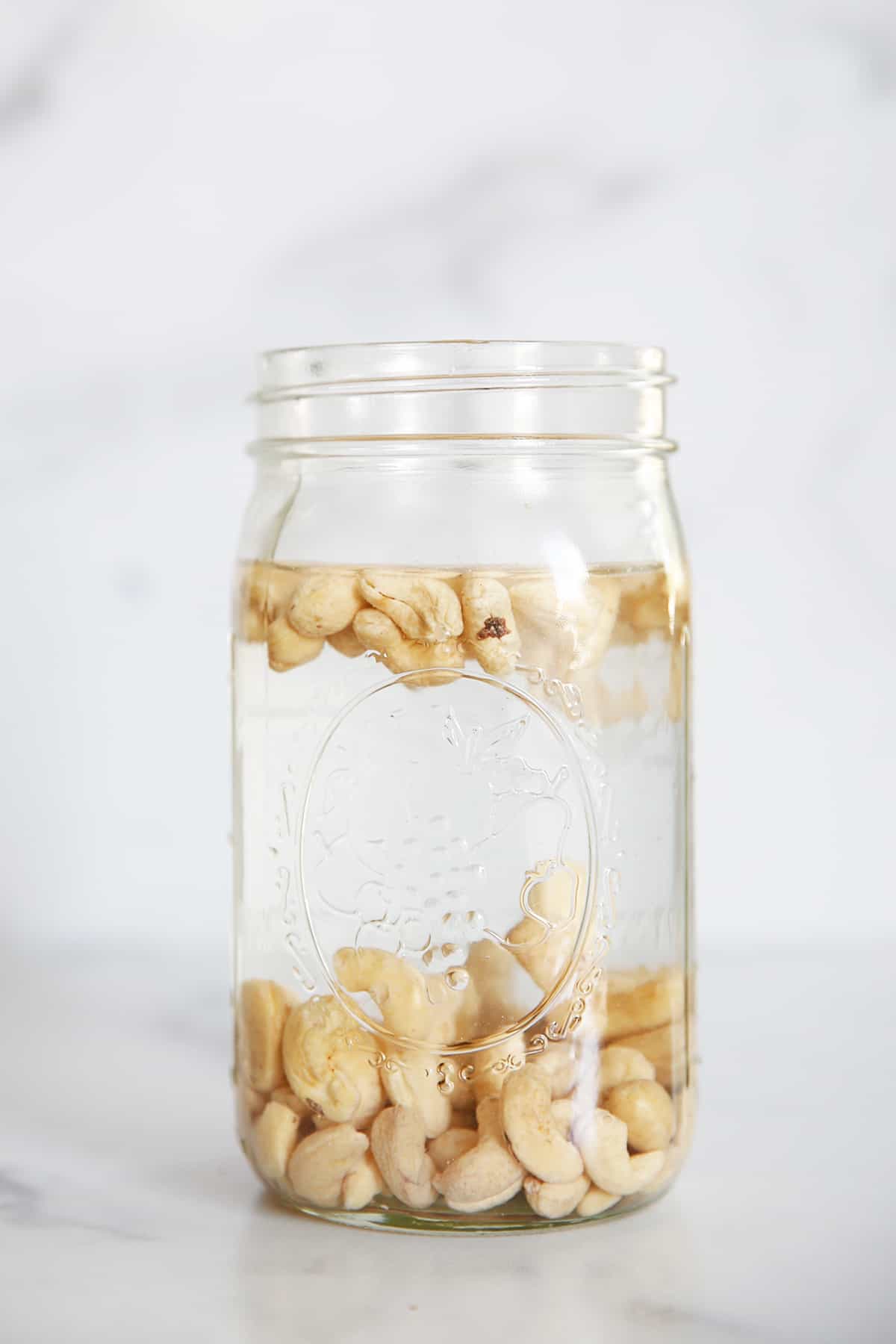 How do you make cashew milk?
Soak 1 cup of cashews 

Blend cashews with fresh water continuously for 1-2 minutes

Pour into a jar and store in the refrigerator for up to 5 days
Why You Don't Have to Strain Cashew Milk
This is one reason why we advocate making your own cashew milk, it is really really simple, even more so than the other alternative milks. Cashews are such a soft nut that after you are finished blending, there is no pulp that needs to be strained away. And much like our beloved cashew cream, cashew milk is ultra creamy comparatively to other nut milks.
How much does it cost to make your own cashew milk?
It costs, at most $3.75 to make one batch of this cashew milk, depending on your brand of cashews! The milk that you make at home is extremely different than any cashew milk you will buy at the store. Store-bought cashew milk is in comparison watered down, so while the cost of the store-bought cashew milk might be around the same price or less than what it takes to make at home, you make up for in high quality for the homemade version.
So with everything, you have to weight the benefits of whether it not it makes sense to make it at home. We recommend at least trying it if you are interested to see where it might make sense in your routine. Fresh cashew milk really tastes totally different and it is worth making it at least once to see for yourself!
Check out these recipes that use nut milk:
If you like this nut milk how to, check out these others: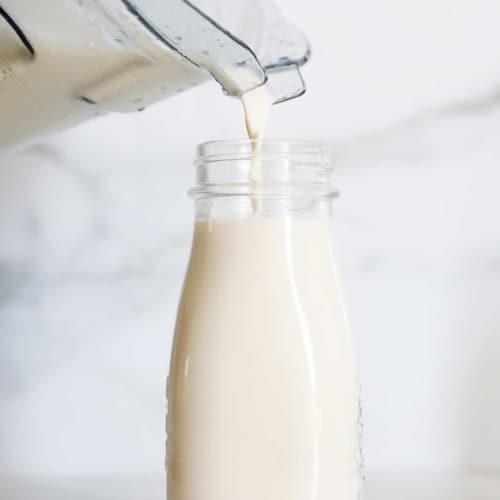 Ingredients
1

cup

raw unsalted cashews

4

cups

filtered water

Pinch

of salt

1

tablespoons

maple syrup

optional
Instructions
Soak your cashews in cold fresh water for at least 1 hour, or up to 8 hours overnight.

Drain and rinse the cashews.

Place cashews, 4 cups fresh filtered water, pinch of salt and maple syrup (optional) in a high-speed blender and blend continuously for 1-2 minutes, until the milk is fully blended and creamy.

Pour into a jar and store in the refrigerator for up to 5 days, though it is better the fresher it is. Separation is normal in non-dairy milks, just shake it up before using it.
Notes
If you are making this in a standard blender you may not be able to get it creamy enough. If you want it completely smooth you can strain it out in a thin kitchen towel or a nut milk bag.
We love getting our nuts cheaper in bulk online or at Trader Joe's!⠀
Nutrition
Calories:
180
kcal
Carbohydrates:
12
g
Protein:
5
g
Fat:
13
g
Saturated Fat:
1
g
Sodium:
39
mg
Fiber:
1
g
Sugar:
4
g