Click to edit CSS
Click to edit CSS
Paleo Lemon Blueberry Muffins
These Paleo Blueberry Muffins are bursting with lemon flavor and plump blueberries! They come together easily, are gluten-free, made with almond flour, and the perfect healthy muffin recipe for any brunch or as a snack!
Paleo Blueberry Muffins
These grain-free Paleo Lemon Blueberry Muffins are so simple, moist, and delicious. They are bursting with blueberries, with a fluffy texture and a bright lemon flavor. Nobody will know these muffins are gluten-free, grain-free, and paleo-friendly! They are so easy to make and can easily be made for a quick brunch or breakfast at home. Get the kids and they can help too!
Here's what you need to make them:
Almond flour
Coconut flour
Baking Soda
Eggs
Honey
Vanilla extract
Unsweetened applesauce
Lemons
Fresh blueberries
Swapping with Frozen Blueberries
It's so nice during blueberry season to include them fresh in this muffin, but in the dead of winter, frozen blueberries can work too! To avoid turning the muffin batter blue fold the blueberries in while they're still frozen. They might need an extra minute or two to cook in the oven, but otherwise the recipe will work the same.
Is Almond Flour Healthy?
Almond flour is a delicious and nutrient dense alternative to any other flour. It is low in carbs and high in fat which makes it a great healthy flour that you can feel great about eating.
How to Measure Almond Flour
If you have an electronic kitchen scale at home, it's best to use it here to measure almond flour. Almond flour can be tricky to measure as it can be easily compacted, even straight from the bag. The same goes for coconut flour too since it's such an absorbent flour. Even a small measuring error with coconut flour can impact a recipe. So we've included the weight in grams here. Any electronic kitchen scale can switch between grams and ounces. Since grams are more precise we're use that. If you don't have a scale: whisk almond flour until it's lightened up and lightly scoop the almond flour or coconut flour into the cup measurement and level it off.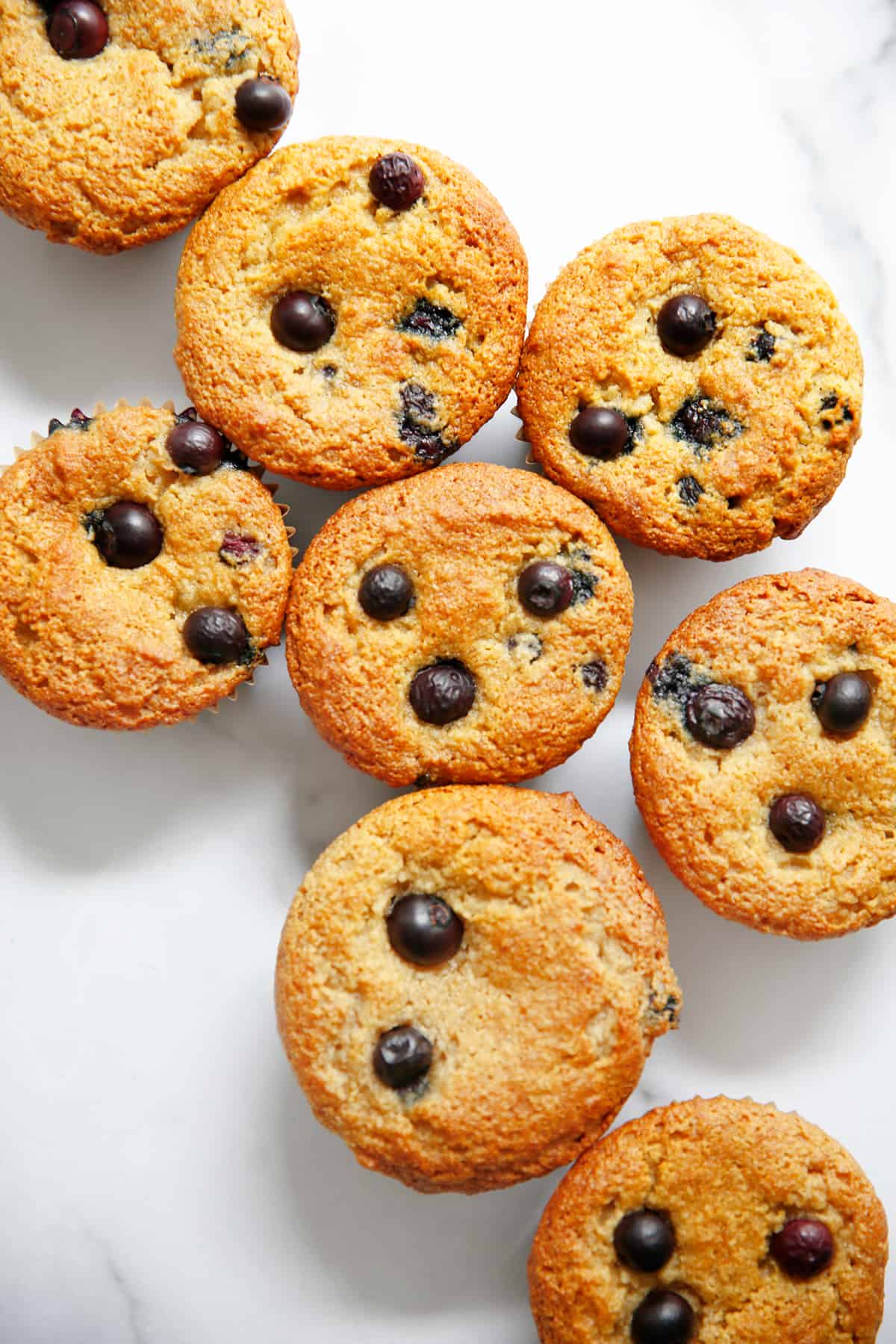 If you like this muffin recipe, check out these others:
If you like this blueberry recipe, check out these others:
Paleo Lemon Blueberry Muffins
These Paleo Blueberry Muffins are bursting with lemon flavor and plump blueberries! This paleo muffin recipe is easy to make, gluten-free, made with almond flour, and the perfect healthy muffin recipe for any brunch or as a snack!
---
---
Ingredients
2 cups (192 grams) almond flour
1 tablespoon (7 grams) coconut flour
1/8 teaspoon salt
1/2 teaspoon baking soda
2 eggs
3 tablespoons honey
1 teaspoon organic vanilla
1/4 cup unsweetened applesauce
Zest of 1 lemon (about 2 teaspoons)
1 teaspoon lemon juice
1 cup blueberries, divided
Directions
Preheat oven to 350ºF and line muffin tin with parchment liners.
In a large bowl whisk together almond flour, coconut flour, salt and baking soda.
Combine wet into dry and stir until fully incorporated. Gently fold in 1/2 blueberries.
Using a muffin scoop or spoon, fill liners with 1/4 cup batter. Place remaining blueberries into the top of batter.
Bake for 20 minutes or until a toothpick comes out clean.
Recipe Notes
Recipe originally published in 2014, recipe updated in 2018 and republished with new photos in July 2019.
---
Nutrition
Loading nutrition data...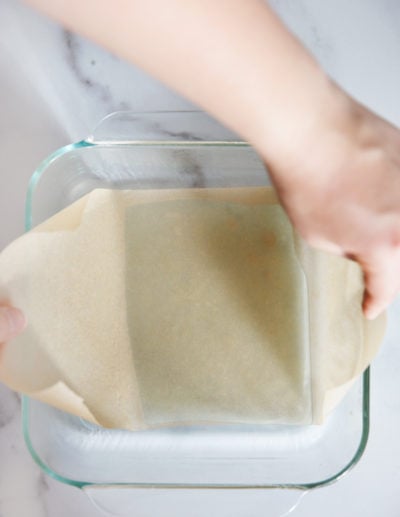 Want to know the secret to perfectly cut brownies or bars We're showing you How to Make a Parchment Paper
Nothing says "summer" quite like going to the beach — whether you're packing up the family for a week in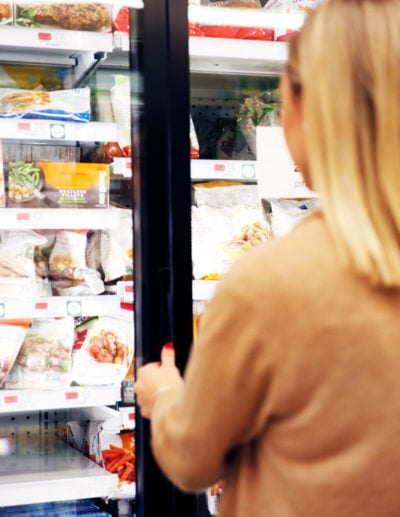 A nutrition label can be a useful tool to evaluate how healthy (or not) a food can be, but it
Subscribe to
Lexis Clean Living
Join our email list to get instant updates and weekly summaries of our top content and special exclusive offers along with our free clean eating kickstart guide!
This website may at times receive a small affiliate commission for products that we shared with you in our posts. Although we may receive a commission for linking certain products, there's no additional costs to you and all of our opinion and suggestions are 100% our own and unbiased. That's our promise to you!