Thanksgiving is just around the corner, and if you've volunteered to host your loved ones for this all-important meal, you might be feeling just a litttttle overwhelmed. It doesn't have to be that way, though! With a little extra thought, planning, and this Thanksgiving Checklist, you can cut a lot of the stress out of the experience and give your guests an amazing Turkey Day experience.
The holidays (Thanksgiving, in particular) are a time for gratitude, and I know you're going to be especially grateful for this pre-Thanksgiving checklist. Start working your way through it as early as you can for minimum stress levels. You've got this!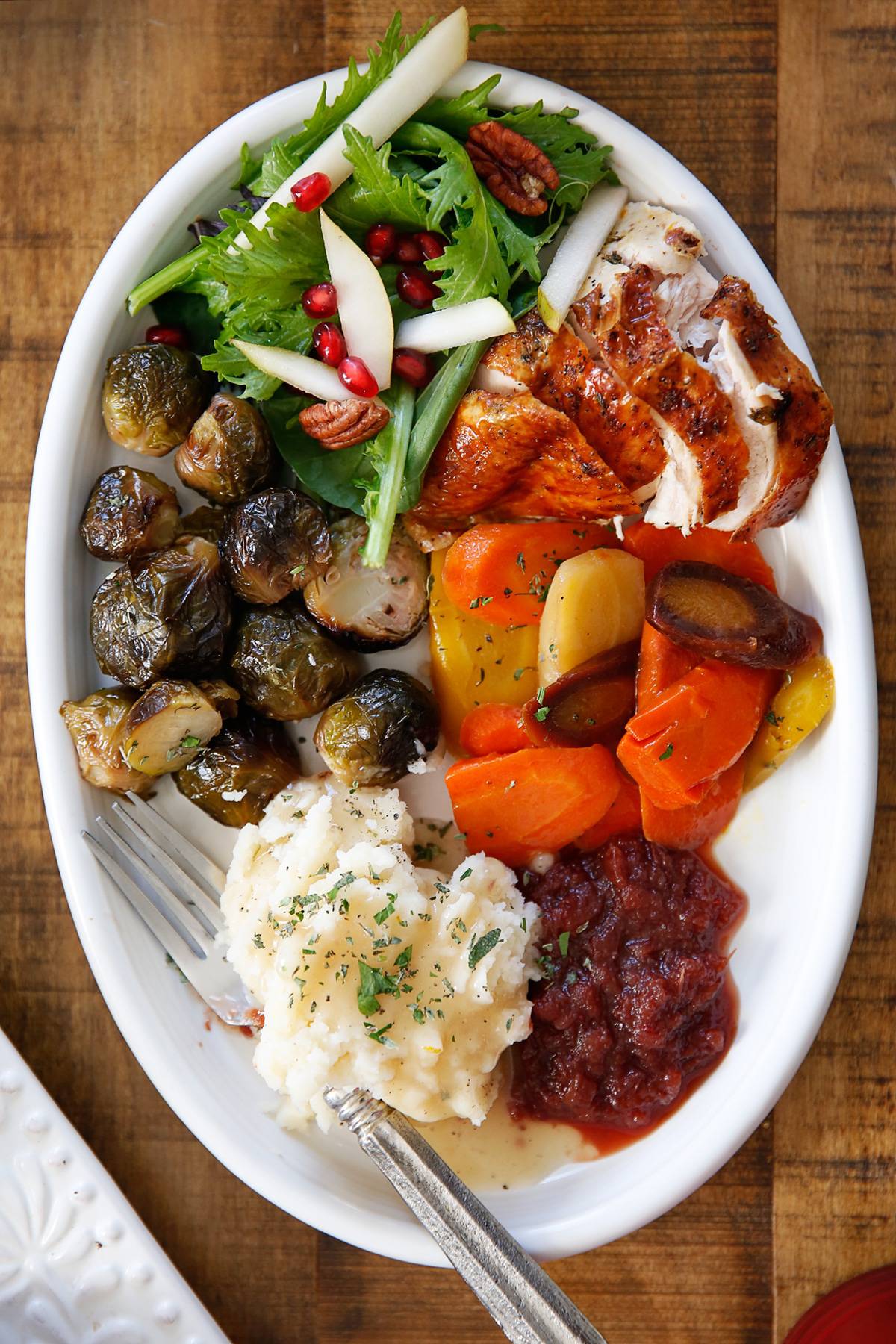 Your Ultimate 2019 Thanksgiving Checklist
How to keep calm and carry on this Turkey Day.
---
1. Finalize your guest list. Before you can really dig into the details of your Thanksgiving dinner, you'll need to finalize the all-important head count for the meal. It might feel a little awkward to hound friends and family members for their RSVP to Turkey Day, but the sooner you start, the more comfortable you'll feel following up with them as the big event approaches. Check in with people who usual celebrate Thanksgiving with you to see if they'll be joining you again, and extend invites to new attendees ASAP. You can even step up your game by sending pretty paper or digital invites.
2. Check on allergies and other dietary restrictions. As loved ones confirm that they'll be coming to Thanksgiving, check to see if there are any allergies or other restrictions that you should know about. This will give you a chance to plan your menu with those limitations in mind and will avoid a last-minute rush to come up with at least one dish that your friend or family member can enjoy. If your guest offers to bring a dish or two that will fit into their diet, don't argue with them about it — welcome it!
3. Confirm what guests are bringing. Make a list of the Thanksgiving dishes that you don't especially love to make and then outsource it to one of your relatives! If you have some ideas of side dishes or desserts that you'd like to delegate, you'll be much more prepared when guests ask how they can help… which they probably will.
4. Finalize recipes. Now that you've delegated some dishes to your guests, it's time to get real about what's left for you to make on your own. Collect all of your favorite recipes in one place for maximum organization. If you're still in search of some ideas, look no further than here! Let me suggest our Crock Pot Cranberry Sauce, Gluten-Free Cornbread Stuffing, Kale and Sweet Potato Stuffed Turkey Breast, Cheesy Scalloped Potatoes, Garlicky Green Beans, Easy Gluten-Free Stuffing, Classic Mashed Potatoes, and Gluten-Free Pumpkin Pie! See more here.
5. Consider your quantities. You know who's coming and you know what you're making. But how much do you need to make? This handy chart is a great place to start! In addition to turkey, I like to offer guests two sides plus a soup or three sides. If your loved ones are bringing their own contributions to dinner, the more, the merrier!
6. Place your ButcherBox order! You know how much I love my friends at ButcherBox… and they are especially wonderful friends to have come the holiday season. ButcherBox is a meat delivery subscription company that allows you to curate a box of high-quality proteins that are then delivered right to your door. Their beef is grass-fed and grass-finished, their pork is heritage breed, and their chicken is all free-range and organic. And they offer turkey for Thanksgiving, so get your order placed ASAP! New ButcherBox customers can even get a free turkey with their first box.
7. Check your kitchen supplies. No one wants to find themselves starting prep for the Thanksgiving feast on Thanksgiving morning and suddenly short on tools and utensils necessary for their recipes. Get ahead of this problem by reviewing your supply inventory with a few weeks to spare! We love our favorite meat thermometer! This will give you plenty of time to pick things up and might even inspire you to treat yourself to a few new (and useful) items.
8. Lay out a cooking schedule. Roughly one week before the big day, sit down with your recipes and make a plan. What can you make ahead of time and freeze or refrigerate? What dishes need to be made in a few phases or over a few days? What needs to wait until the morning of? Use this info to lay out a cooking schedule. It might also help you make a plan for grocery shopping!
9. Get to the store early. A supermarket is probably the last place anyone wants to be on Thanksgiving morning… or even the night before. Once you've made your cooking schedule, you'll have a better idea of what ingredients need to be picked up and by when. If these ingredients are coming from different places (multiple grocery stores, wine stores, farmers markets, etc.), make a list of where you'll need to go to buy each item so you can condense those errands and avoid multiple trips. Get in — and out — early to avoid the Turkey Day crowds.
10. Prep ahead! Take every opportunity to prepare dishes ahead of time. Desserts and salads can often be made and chilled until the actual meal, and casserole dishes (like stuffing) can be prepped in advance and then heated before eating. The more you prepare in advance, the less stressed you'll be on actual Thanksgiving, when you'd probably like to spend more time with loved ones.
11. Chop veggies ahead of time. If nothing else, you can probably prep some of your produce in advance. Chop the vegetables you need for Thanksgiving recipes on Tuesday or Wednesday so you can quickly toss them in when it's time for Thursday's final prep.
12. Set the table. You can also be proactive with your table setting! Set out any tablecloths and centerpieces you'll be using in advance. Assuming you don't eat at your Thanksgiving table on a daily basis, you can do this days ahead of time… and you can even put out plates and utensils! If your family eats regular meals at your Thanksgiving table, you can still get all of your table setting supplies organized and ready to go a few days before so that the process is faster before the feast. If you have to move tables and chairs to accommodate your guests, try to do that ASAP, as well, so you're not scrambling for heavy lifting volunteers minutes before it's time to eat.
13. Add some creative touches. Nothing adds extra coziness to a holiday meal like a DIY centerpiece or place cards. This is a great way to get kiddos involved, too!
14. Recruit help in the kitchen! Just because you're hosting Thanksgiving in your home doesn't mean you should have to do all the work. Invite willing guests to come over in the morning to help get things moving in the kitchen and resist the urge to decline their assistance. Cooking can be such a fun group activity! Little ones, especially, will love getting the chance to contribute to such a special meal.
15. Don't forget to enjoy! Hosting your loved ones for such a meaningful occasion is bound to be at least a little stressful, but don't let it overwhelm you. Remember to take time to enjoy moments with your friends and family… and to enjoy all the delicious food you made for them!