Gluten-free Swedish Meatballs
These Gluten Free Swedish Meatballs are the perfect cozy dinner. They're warm and comforting with just enough (dairy-free) creamy gravy to make you feel a bit indulgent. What is even better is that they're simple to make and a crowd favorite. They're Whole30 and Paleo friendly and totally dairy-free.
Gluten Free Swedish Meatballs
Swedish meatballs may be just be the ultimate comfort, especially when they're served on top of a bed of mashed potatoes! The meatballs are so tender with a hint of warmth from the allspice covered in a creamy gravy that just so happens to be dairy and gluten-free.
Ingredients Needed
Ground Meat (We used beef and pork, but beef and turkey can work too!)

Almond flour

Onion

Egg

Spices

Avocado Oil
Coconut Aminos

Dijon Mustard

Beef Broth

Arrowroot Starch
How It's Made Dairy-Free
We're big fans of cashew cream here at LCK. Cashew cream is simply soaked cashews that are blended until they are smooth and creamy. It's a great replacement for heavy cream or in some recipes cream cheese. It can be used for both savory or sweet recipes but also it's just kind of delicious! It works so well with these Swedish Meatballs. We wrote a whole recipe, complete with a video, on how to make it. So check out this post if you want all the tips on making it.
If you can't tolerate nuts, but can tolerate dairy feel free to swap out the cashew cream 1-1 with heavy cream.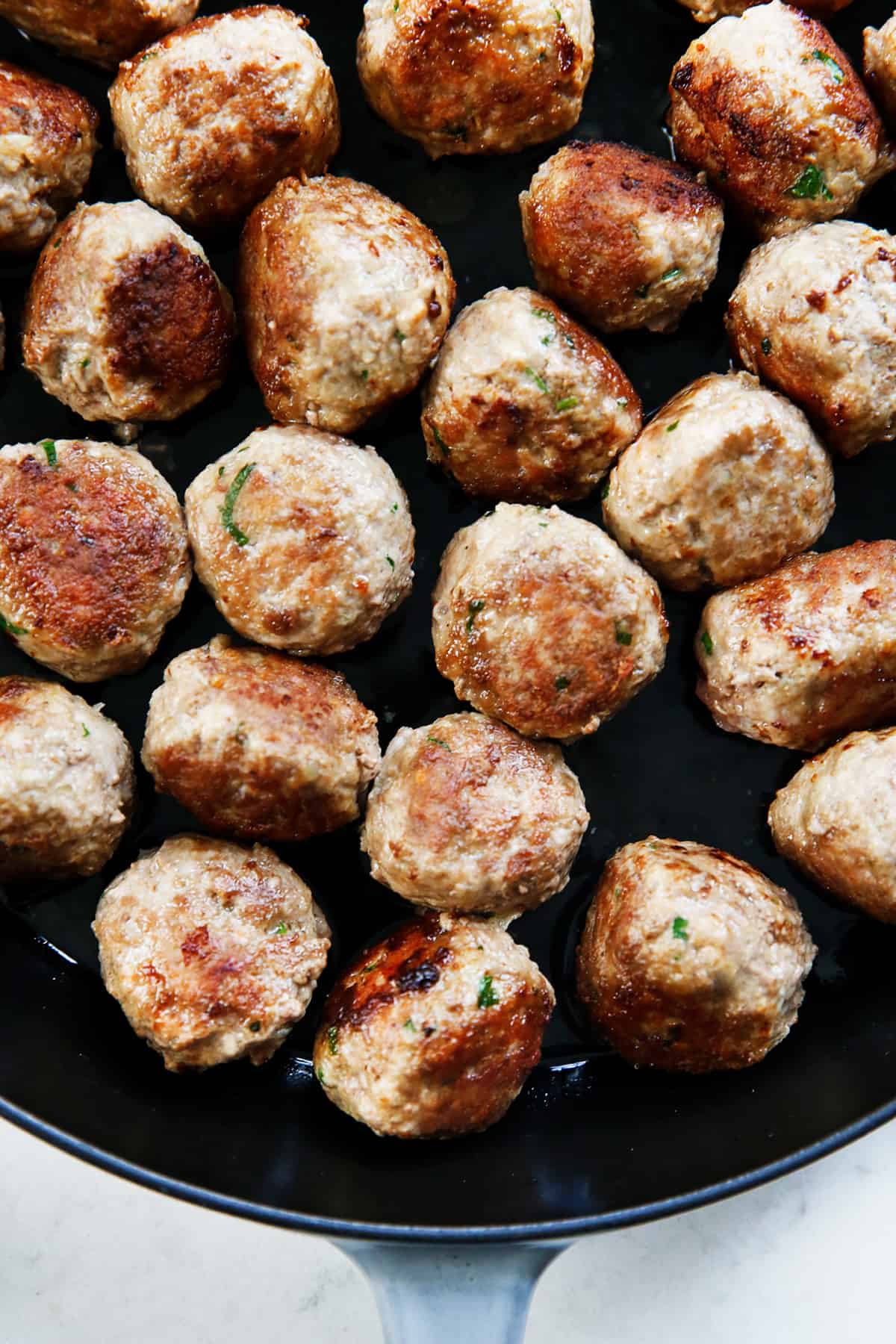 How to Make Paleo and Whole30 Swedish Meatballs
Begin by making your meatball mixture by adding all the ingredients into a bowl and mixing together until fully incorporated. Roll meat mixture into 1-½" balls and set aside.
Next you're going to sear the meatballs in a skillet and lock in all that delicious flavor. Brown on all sides of the meatball and then set them aside on a plate while you make the gravy.
Before you start the gravy, make an arrowroot slurry by whisking together the arrowroot starch and water. You'll need this to thicken up the gravy. Set aside until you are ready to use it.
Then you're going to toast up some grated onion, coconut aminos and dijon in the pan for a minute before deglazing that pan with some beef broth. Add in the cashew cream and some of arrowroot slurry and scrape up any browned bits on the bottom of the pan.
Return the meatballs to the gravy and cook them until they've reached an internal temperature of 165ºF.
If the gravy hasn't thickened enough, stir in the remainder of the slurry and then taste and adjust the seasoning!
What to Serve with Dairy Free Swedish Meatballs
Swedish meatballs can be served over a bed of mashed potatoes or buttered noodles and typically served with a sweet fruit compote like lingonberry sauce.
Some other options to serve with the dish:
Watch the video:
If you like this meatball recipe, check out these others:
Gluten-free Swedish Meatballs
Sweet, salty and with a hint of spice, this Korean Ground Beef recipe is a take on the classic dish of beef bulgogi. Prepared in well under 20 minutes, these Korean Ground Beef Bowls are simple to prepare, so delicious and absolutely perfect for meal prep! This dish is also dairy and gluten free, as well as low-carb and paleo-friendly. Made in partnership with my friends at Ello Products.
Korean Ground Beef Meal Prep
When it comes to eating healthy and fueling your body, there is one strategy that seems to work above all else: plan ahead! Making a plan and prepping the food is the best way to make sure you actually have access to and eat what food makes your body feel it's best. And that is exactly where these Korean Ground Beef Bowls come in! They check off all the boxes:
So delicious

Simple to make

Uses only a few ingredients

Keeps well for a few days
Making these ground beef bowls is as easy as cooking up some ground beef with Korean inspired flavors, and pairing it with some quickly sautéed cauliflower rice, and some chopped fresh veggies. Top with some gochujang sauce or other spicy sauce for an extra kick and some sesame seeds.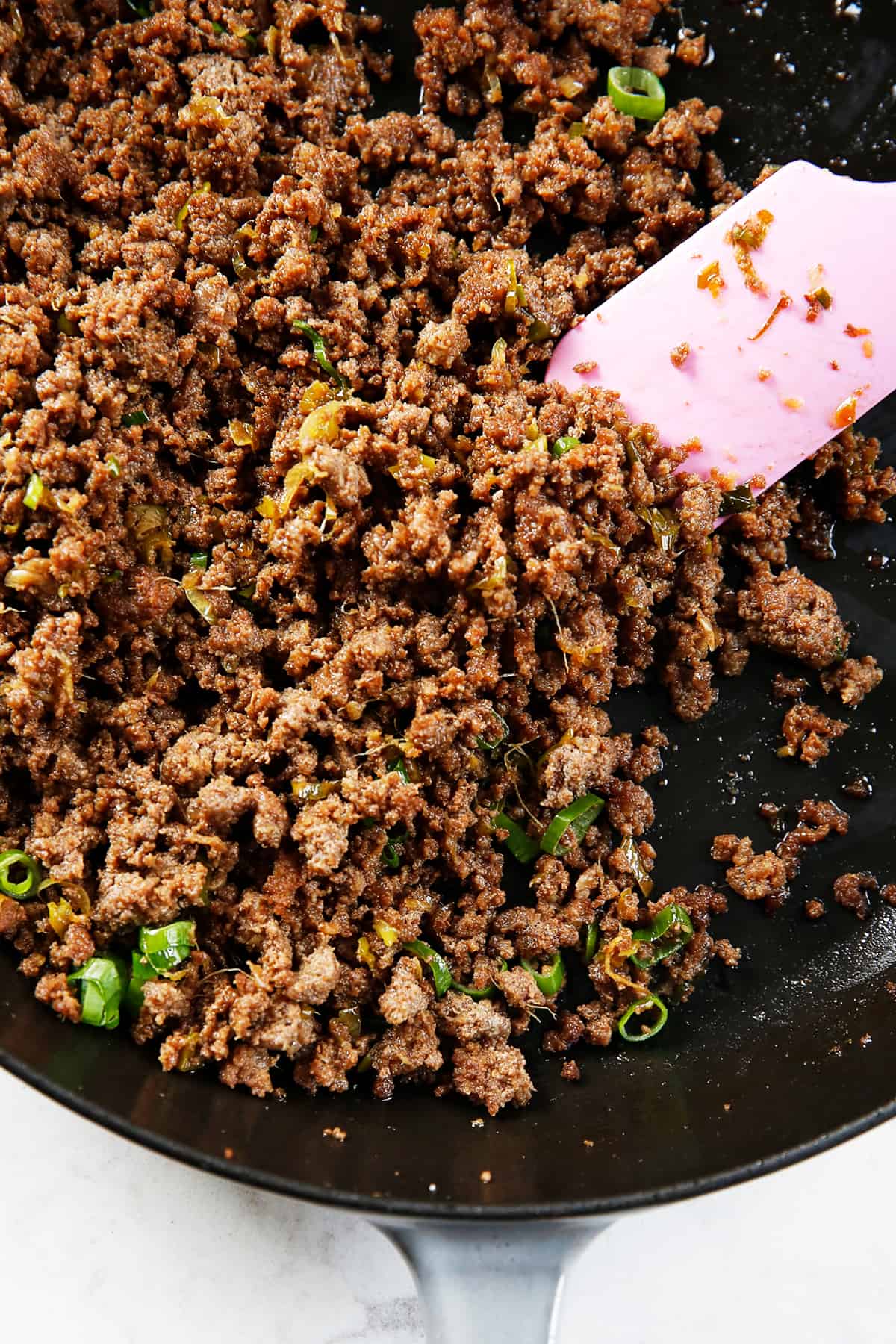 Korean Ground Beef Ingredients
While our take is by no means authentic, the inspiration from this ground beef bowl comes from the flavors of beef bulgogi. The quickly seared beef is flavored with a little bit of sweet, a little bit of salty and optionally some heat. While we list red pepper flakes in the ingredients, if you happen to have Gochujang at home, feel free to use that in the recipe!
Avocado Oil

Ground Beef

Garlic

Ginger

Scallions

Coconut Aminos (a soy sauce substitute)

Coconut Sugar

Sesame Oil

Red Pepper Flakes (or gochujang)
To serve this ground beef recipe, pair it with either cauliflower rice or white rice, and add in some fresh carrots and cucumber!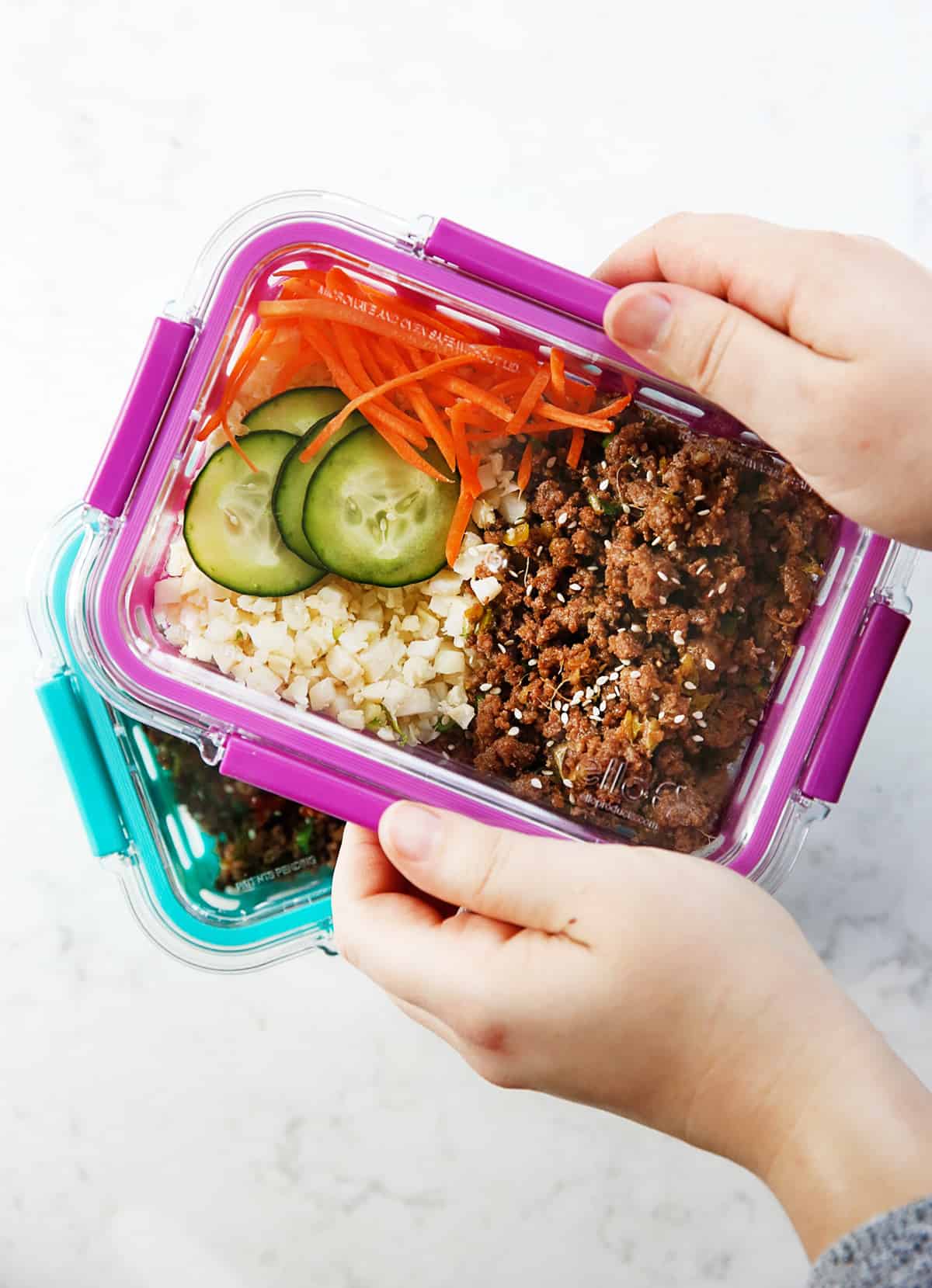 Why we LOVE Meal Prepping in Ello Storage Containers
We've been using Ello DuraGlass Meal Prep Containers for about 2 years now and they have been our favorite storage containers by far. Not only are the colorful silicone sleeves cute and helpful in pairing the containers with the matching lid, but they also serve a purpose! The silicone protects the glass and they act as as a trivet so a dish can go from the freezer or refrigerator, to the toaster oven (or microwave) and then right to the table.
I love using glass for storage (and re-heating) because it's free of harmful chemicals, can be heated in the oven (without lids), toaster oven or microwave and is (top-rack) dishwasher safe. Plus the crystal clear Tritan lid and colorful silicone sleeve let's me easily see what is in the containers so I can keep my refrigerator more organized. This is especially helpful when you have a refrigerator full of meal prep and you need to stay organized.
Plus these air-tight lids WILL NOT leak, and that is always a bonus when commuting with your lunch to work!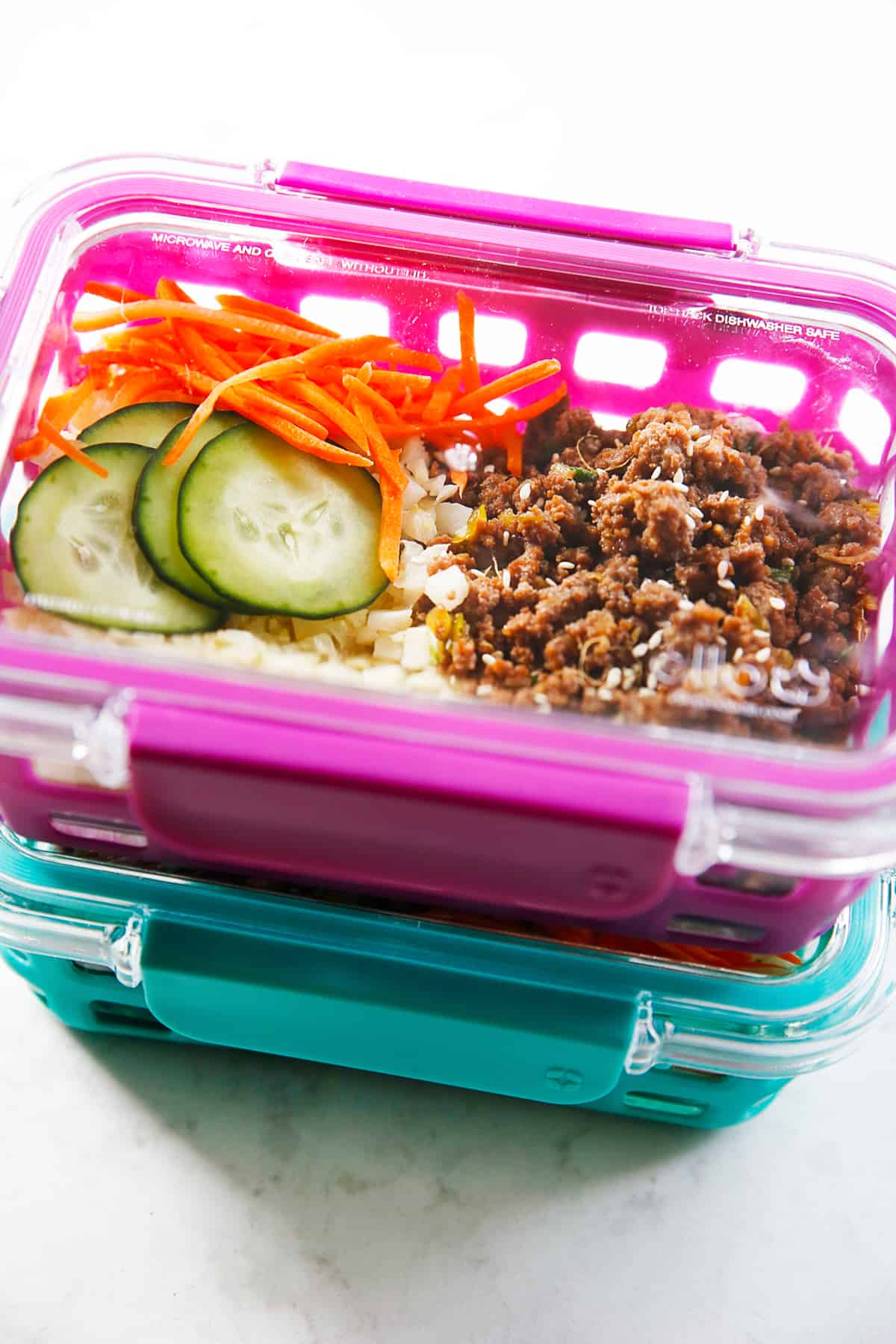 How long will this Korean Beef meal prep last?
Ground beef keeps really well in the refrigerator for about 3-4 days. We prepped these bowls with cauliflower rice, thinly sliced cucumbers and carrots to create a filling and healthy bowl, which generally will keep well in the refrigerator about 3 days. If you prefer to have really fresh vegetables feel free to portion out the ground beef ahead of time in the meal prep containers and add the veggies the night before or that morning.
If you like this meal prep recipe, check out these others:
Korean Ground Beef Bowls (Meal Prep!)
This Beef Barbacoa Recipe, made in either the Slow Cooker or Instant Pot, is so flavorful and versatile. This barbacoa meat is perfect for tacos, meal prep bowls, served with rice or cauliflower rice.
Beef Barbacoa Recipe
My go-to dinner when I'm serving a crowd is almost always tacos. And this Beef Barbacoa recipe is easiest way to get delicious, hearty, taco meat on the table. It's easy to throw together, affordable, and everybody loves it. You can make it in either the slow cooker or Instant Pot. This barbacao meat also works great for meal prep for a variety of meals. Serve over a bed of lettuce for a taco salad, or over rice with some veggies for a taco bowl.
How to Make Instant Pot Barbacoa:
In a small bowl whisk together the spices and then rub them all over beef.
Sear the meat on all sides.
Add in the remaining ingredients to make the sauce and cook on high pressure for 50 minutes with a natural release.
Once done, shred with two forks and serve as desired.
How to Make Slow Cooker Beef Barbacoa:
Pre-heat broiler.
In a small bowl whisk together the spices and then rub them all over beef.
Sear the meat on all sides under the broiler.
Meanwhile, add diced tomato, chiles, onion, garlic, vinegar, maple syrup, salt and pepper to a large slow cooker. Add in the seared beef and cook on low for 7-8 hours.
Once done, shred and use as desired.
How to Make Barbacoa Meat on the Stove Top or Oven:
Don't have an Instant Pot or Slow Cooker? You can still make this barbacao recipe, using the same idea of cooking this low and slow. On the stove top, use a dutch oven and follow the same directions to sear the meat on all sides. Then, add all your ingredients, cover and cook on low on the stove until the meat is tender and falling apart, about 3-4 hours.
For the oven, sear the meat in a dutch oven. Once you've added all the ingredients, place in a preheated 300ºF for 3-4 hours, or until the meat is tender and falling apart.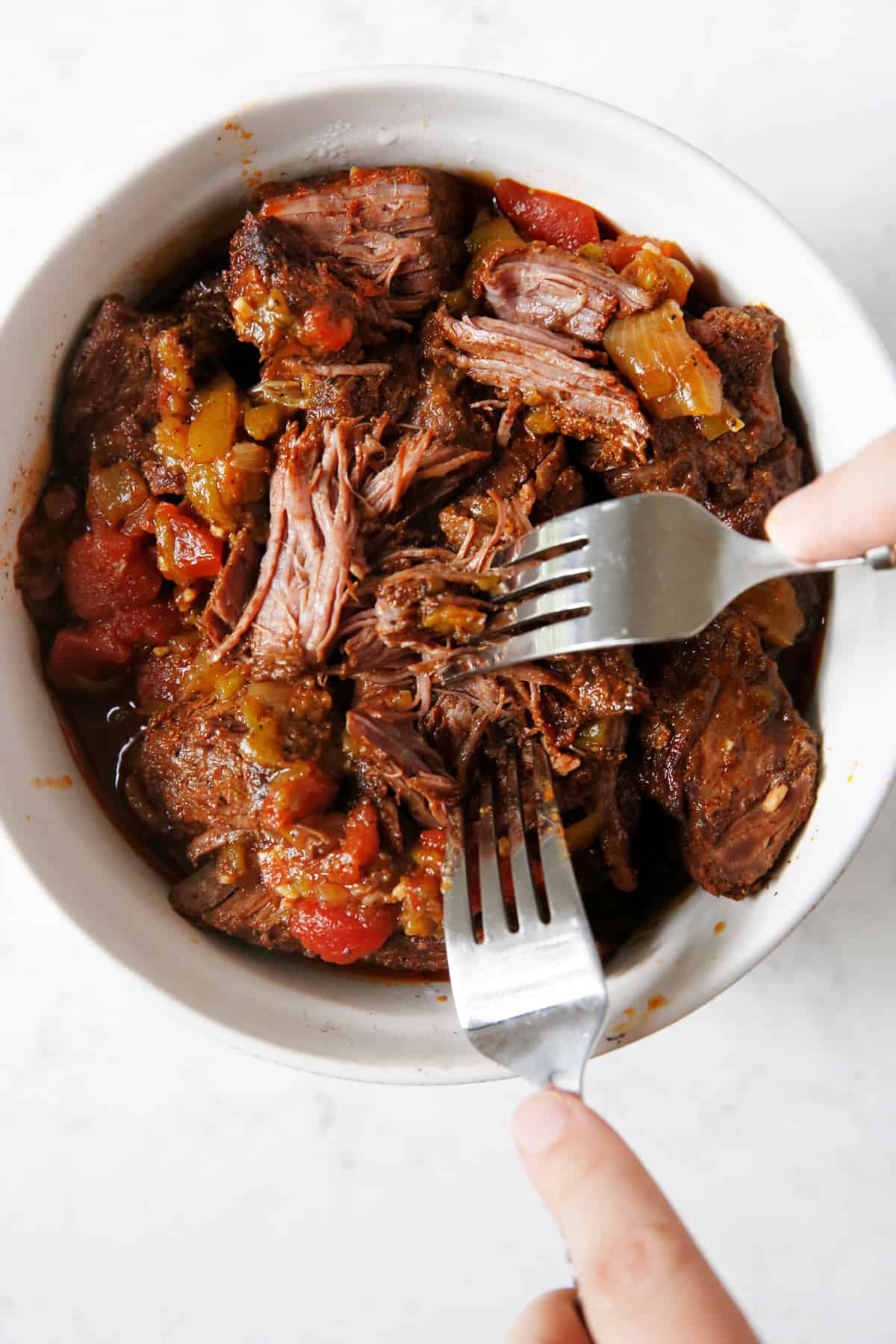 What Kind of Meat is Barbacoa?
This recipe calls for buying beef to make the barbacoa meat. You want to use a piece of beef that has a nice amount of fat marbling and that can withstand a long cook time in the slow cooker and pressure cooker. For this this recipe use:
Chuck roast
Beef shoulder
Brisket
Barbacoa Taco Toppings:
Tortillas (not a topping, but a must!)
Shredded Cheddar
Diced Tomatoes
Sliced Pickled Jalapeños
Shredded Lettuce
Chopped Scallions
Avocado Slices
Fresh Lime Wedges
Fresh Cilantro
Hot Sauce
Sides to Serve with Barbacoa Meat: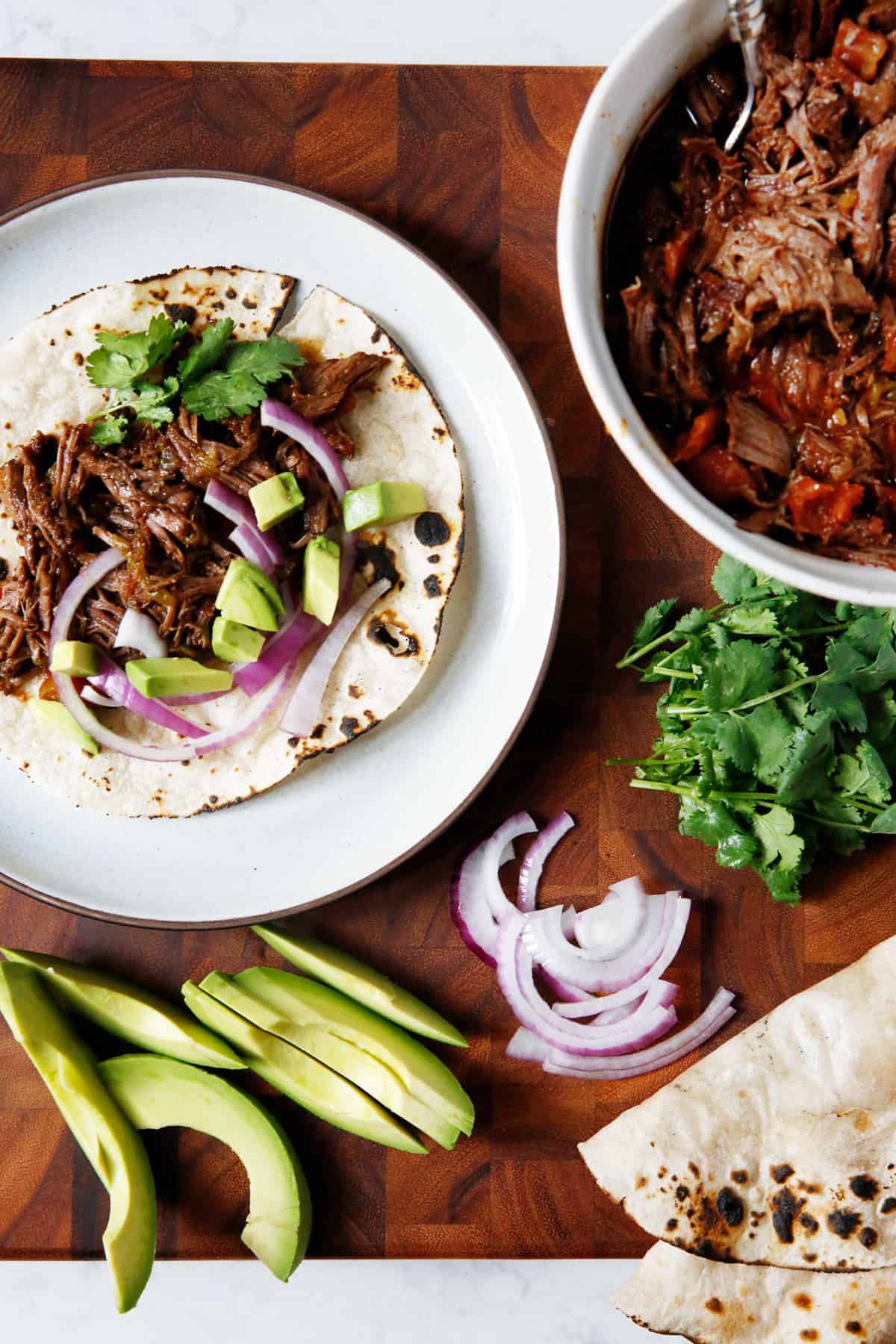 If you like this beef barbacoa recipe, try these other recipes:
Beef Barbacoa Recipe (Slow Cooker or Instant Pot)
This 7 Layer Taco Dip is just what any party, or fun Saturday night needs! 7 layers of Mexican inspired flavor that is so delicious! This dip is gluten-free and optionally dairy-free and paleo!
7 Layer Taco Dip Recipe
Is there any better food to bring to a pot luck or serve at your own party than a 7 Layer Taco Dip? Don't think so! This classic dip is made healthier here with a few homemade substitutes for standard store-bought ingredients, and so so worth it! This version is gluten-free and we offer a few substitutions to make it paleo and dairy free if you need it.
Be warned: there is no way there will be any leftovers when this dish is served, so make sure you get in there early if you want to have some yourself!
How to make a 7 Layer Taco Dip
Make or gather all of the layers!
Layer 1: Refried Beans

(or extra guacamole for paleo/whole30)

Layer 2: Cooked beef mixture

Layer 3: Salsa

Layer 4: G

uacamole

Layer 5: Cooked beef mixture

Layer 6: Cheddar cheese (substitute another layer of salsa for paleo/whole30/dairy-free)

Layer 7: Chopped Lettuce, Tomato, Red Onion
Layer in all of the ingredients in an oven 8″x8″ (or similarly sized ) oven safe dish. After placing in cheddar cheese put in the oven to melt. Layer on the remaining and serve with hearty tortilla chips and veggies.

Can this be made ahead of time?
You can assemble and prep this entire dish 1 day ahead of time, with the exception of adding the fresh ingredients on top. You can prep those ahead of time though and have them all ready to go for your party. Right before serving place the assembled dip under the broiler to warm up and melt the cheese, and then top with fresh lettuce, tomato and onion.
What to serve with this dip?
Serve it with the classics: Tortilla chips (either corn or a grain free option like Siete) and veggies like celery, cucumber, peppers or carrots.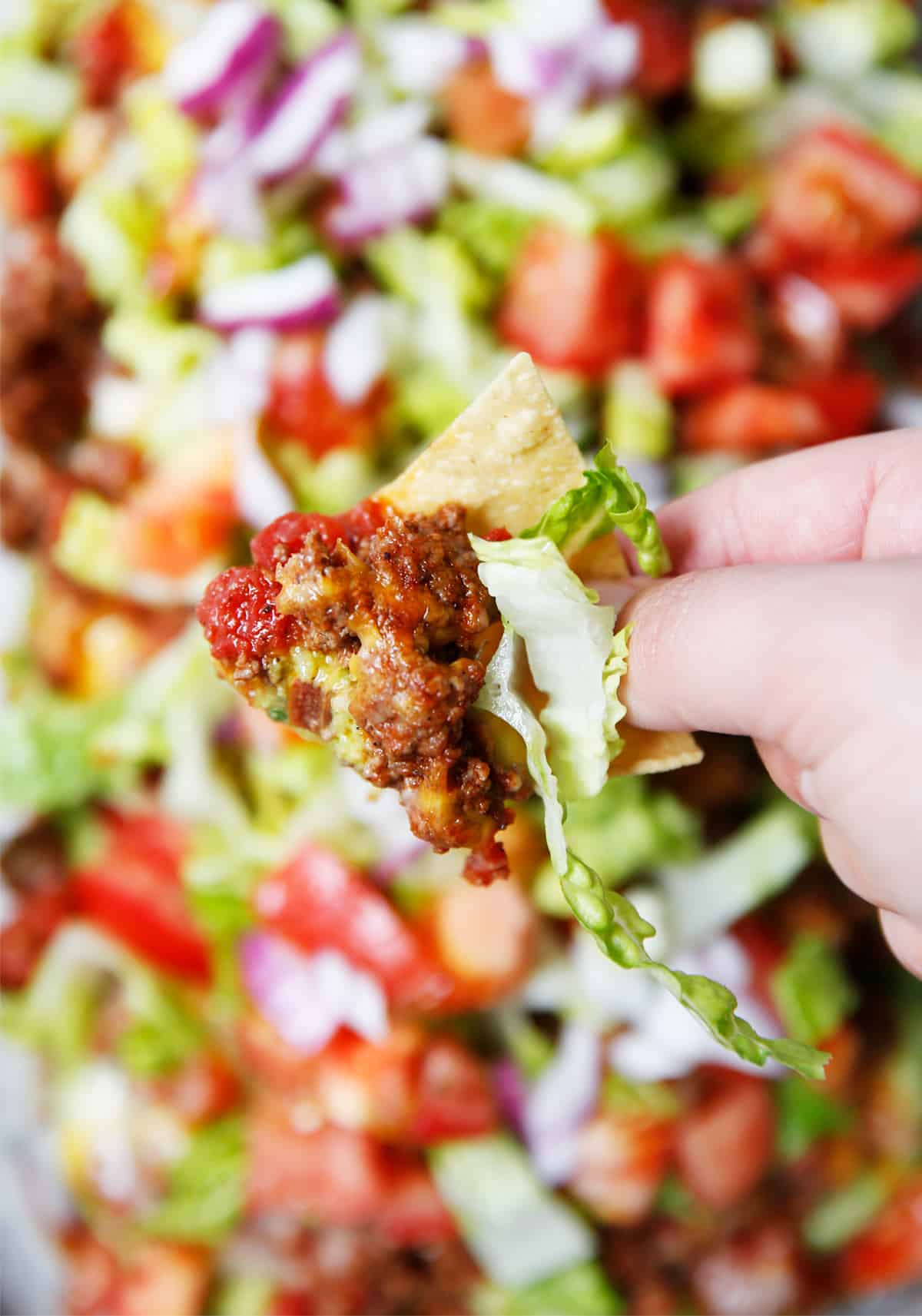 If you like this dip recipe, check out these others:
7 Layer Taco Dip
This healthy asian paleo beef recipe, made mostly in the slow cooker, is the perfect make ahead lunch or dinner! It's paired with cauliflower "rice" and veggies and is a great low-carb, whole30 and paleo meal prep. Double the recipe and you can also make it dinner one night and lunch for the next few days!
Paleo Asian Beef Rice Bowl
This Whole30, Keto and Paleo Asian Beef and Rice bowl is a great addition to your meal prep rotation! The savory shredded beef is cooked in a slow cooker and then served with veggies, paleo cauliflower rice and a really delicious asian style sauce. We use onions, red pepper and broccoli but you can really swap out with any veggies you have on hand that you think will go well in this dish like carrots, bok choy, or cauliflower.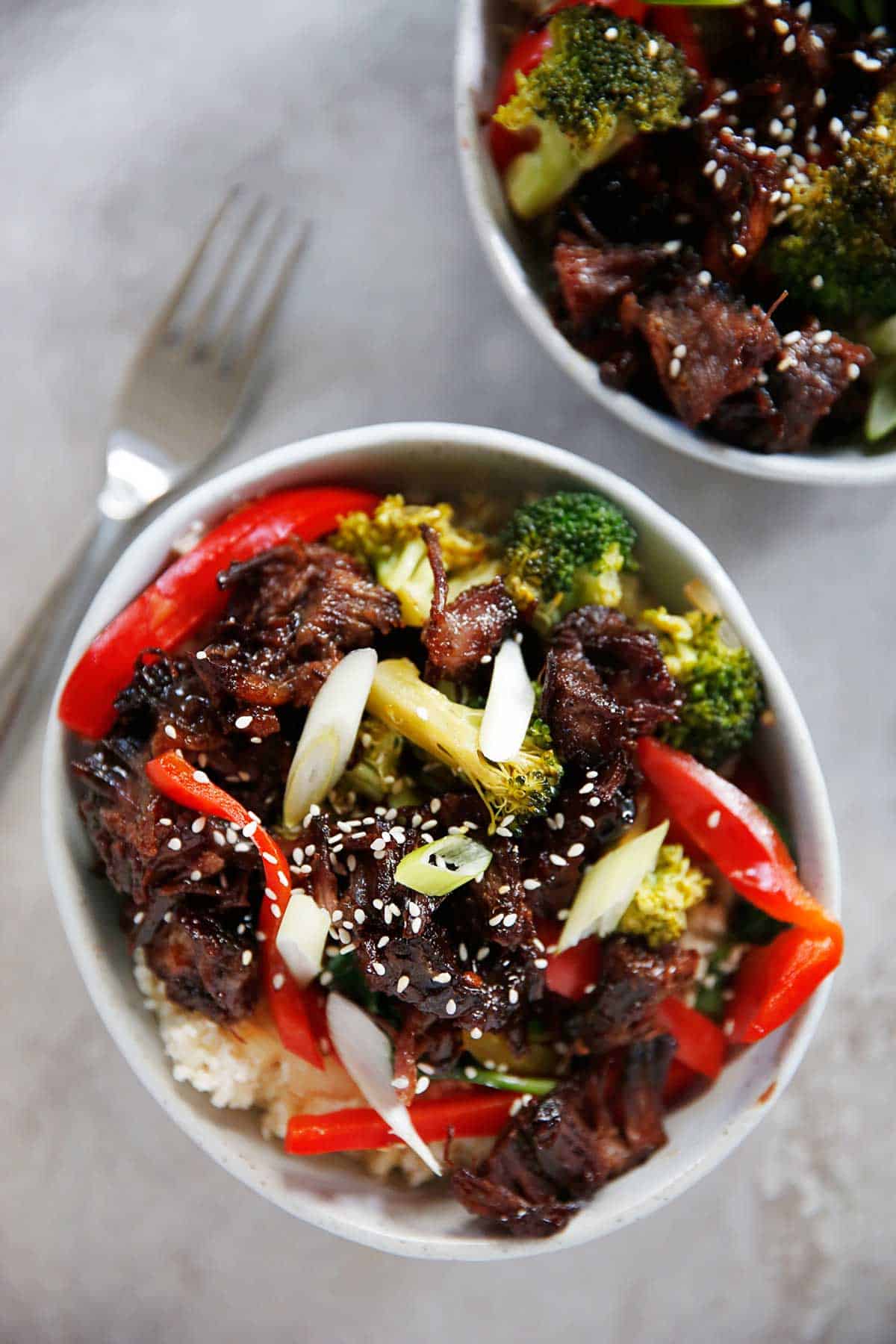 What You Need to Make this Slow Cooker Paleo Beef Recipe:
Boneless chuck roast (feel free to double this amount if you want extra meat for future meals)

Coconut aminos (this is a soy-free and gluten-free alternative to soy sauce)

Coconut sugar

Rice wine vinegar

Garlic

Toasted sesame oil

Ginger

Cauliflower (to make the grain-free "rice")

Red bell pepper

Onion

Broccoli florets

Scallions
Sesame seeds
Can You Use Premade or Frozen Cauliflower Rice?
Yes! We take advantage of frozen cauliflower all the time, and love that it's readily available now. There isn't much difference between fresh or frozen except that the frozen can hold a little bit more water in it. So if you don't want to do the extra step of making your own cauliflower rice, feel free to use premade!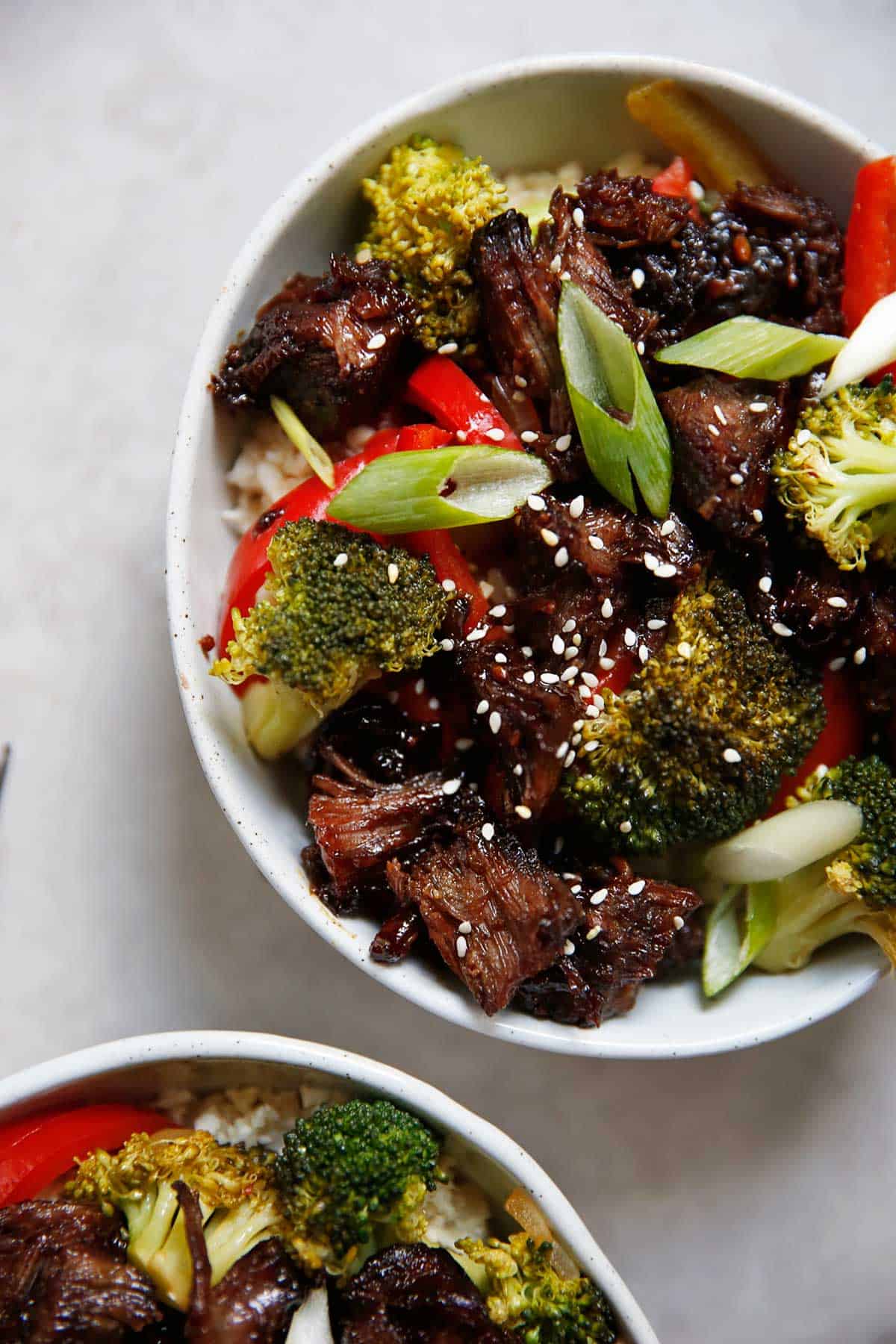 Watch the video:
If you like this asian inspired recipe, check out these others:
---
Paleo Asian Beef and "Rice" Meal Prep
This Slow-Cooker Beef Stew is the perfect healthy comfort food for cold days! It's hearty, flavorful, packed with veggies, and easy to make right in your crock pot. Make it for a cold winter night, or a festive St. Patrick's Day meal! Beef stew is a simple recipe that will wow everyone who tries it.


The Slow Cooker is an amazing phenomenon in my opinion. Even those friends of mine who aren't big cookers use it! Throw all the ingredients in with the right flavor combo and BOOM: the perfect stew. It's hands off, easy to use, and safe!
What is Irish stew made of?
Filled with beef, carrots, mushrooms, onions, and potatoes is the perfect main dish for your St. Patrick's Day celebrations. The beef is so tender, it just melts in your mouth!
Tips For Slow Cooker Beef Stew
Brown your meat
Don't use too much liquid
Don't skimp on the cook time
Layer your beef and veggies
Set it and forget it! The beauty of a slow cooker!

This stew is: hearty, flavorful, tender melt-in-your-mouth beef, and packed with veggies! It is also paleo-friendly, dairy-free, whole30 compliant and has no sugar added… does it get any better than that? I love making this soup at the beginning of the week and enjoy it all week long!
What defines a stew?
In a stew you aren't looking for the consistency of a soup, so minimizing added liquids is helpful!
Beef stew doesn't need to be super, super thick. You'll most likely be using potatoes, and their starch will naturally thicken your stew! If not, don't worry, this stew thickens whithout it, too.
What kind of beef is used for stew?
You can buy beef stew meat, which is cut and cubed and is generally chuck or round! Beef round cuts (bottom and eye) are generally leaner than chuck (shoulder, leg and butt) and very well-suited to stew.
I always add beef stew meat to my ButcherBox order in the cold weather months. Each month, ButcherBox curates a one-of-a-kind selection of the healthiest, tastiest meats, humanely raised and free of antibiotics and hormones. Or you can customize your box and select your favorite cuts and get 20% more meat.The price works out to less than $6.00/meal and shipping is always free. You can also space it out so it's not every 4 weeks, too! ButcherBox delivers your meat for the month, saves you money, and is the best quality! Order Today and get this amazing deal:
Get FREE bacon
FREE Shipping
$15 OFF!
Can you put raw meat in a slow cooker?
You certainly can, but for this beef stew recipe, we prefer to sear the meat first to bring out the amazing flavor that you'll get!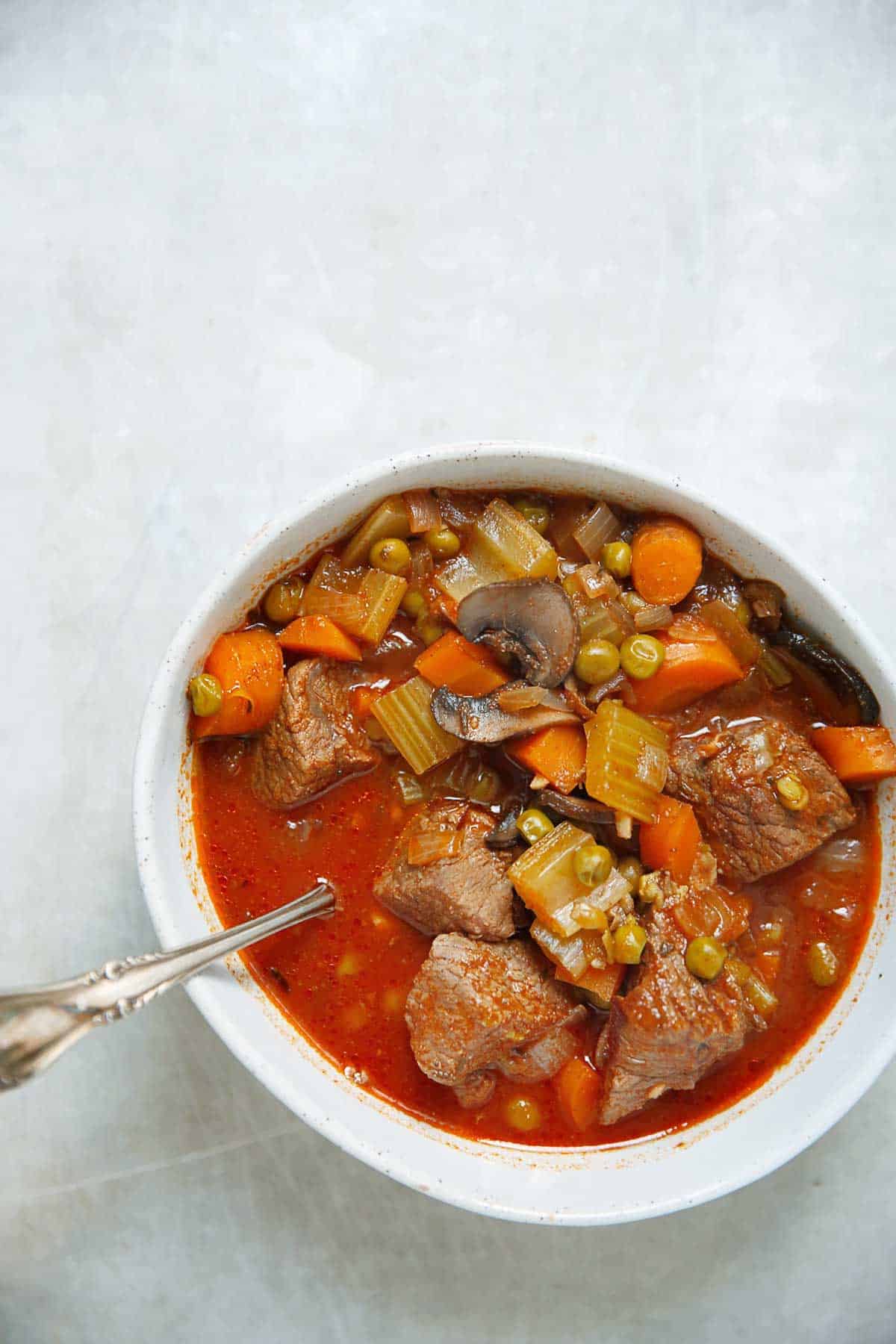 Tools used to make this easy slow cooker beef stew recipe:
Want other slow cooker recipes? Try these favorites:
If you like this beef stew recipe, make these other St Patrick's Day Favorites:
Slow-Cooker Beef Stew
This Instant Pot Beef Stroganoff recipe is an easy weeknight dinner win! This classic American dish comes together quick, with minimal prep and mostly hands-off cooking thanks to the Instant Pot. It's made using REAL ingredients and is so hearty! It's paleo and Whole30 friendly (if served without noodles), dairy and gluten free and a delicious meal the whole family will love!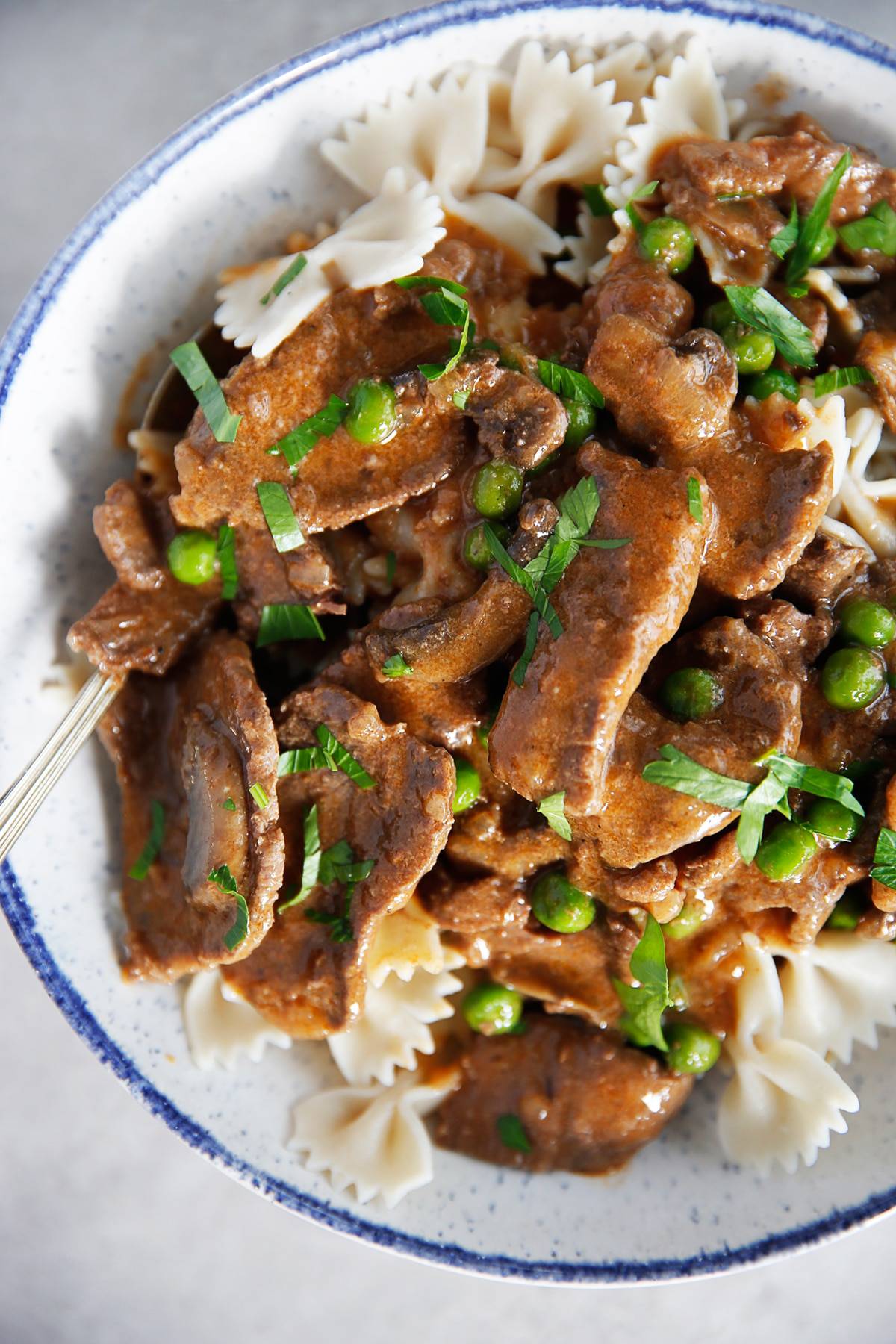 Instant Pot Beef Stroganoff
Honestly I'd never tried beef stroganoff before making this recipe, but I'm glad I finally did because it's such a delicious and easy dinner! It's one of the most popular google dinner searches, so we knew it was time to make a cleaned up version that didn't require any canned soup or junky ingredients. Our version here is dairy-free (made creamy with coconut cream) and option to serve it with gluten-free noodles or over zoodles (we recommend sweet potato, butternut squash or carrot zoodles).
We love the rich and hearty flavor to the sauce! We use paprika, mustard and tomato paste to add a depth and umami flavor to the sauce, that is then thickened up with a bit of arrowroot and rounded out with our non-dairy choice of coconut cream. You can't taste the coconut in it either!
Our choice for beef was to use a sirloin steak, but if you can't find that some other options would be a chuck roast or top round. Just make sure to slice it thinly!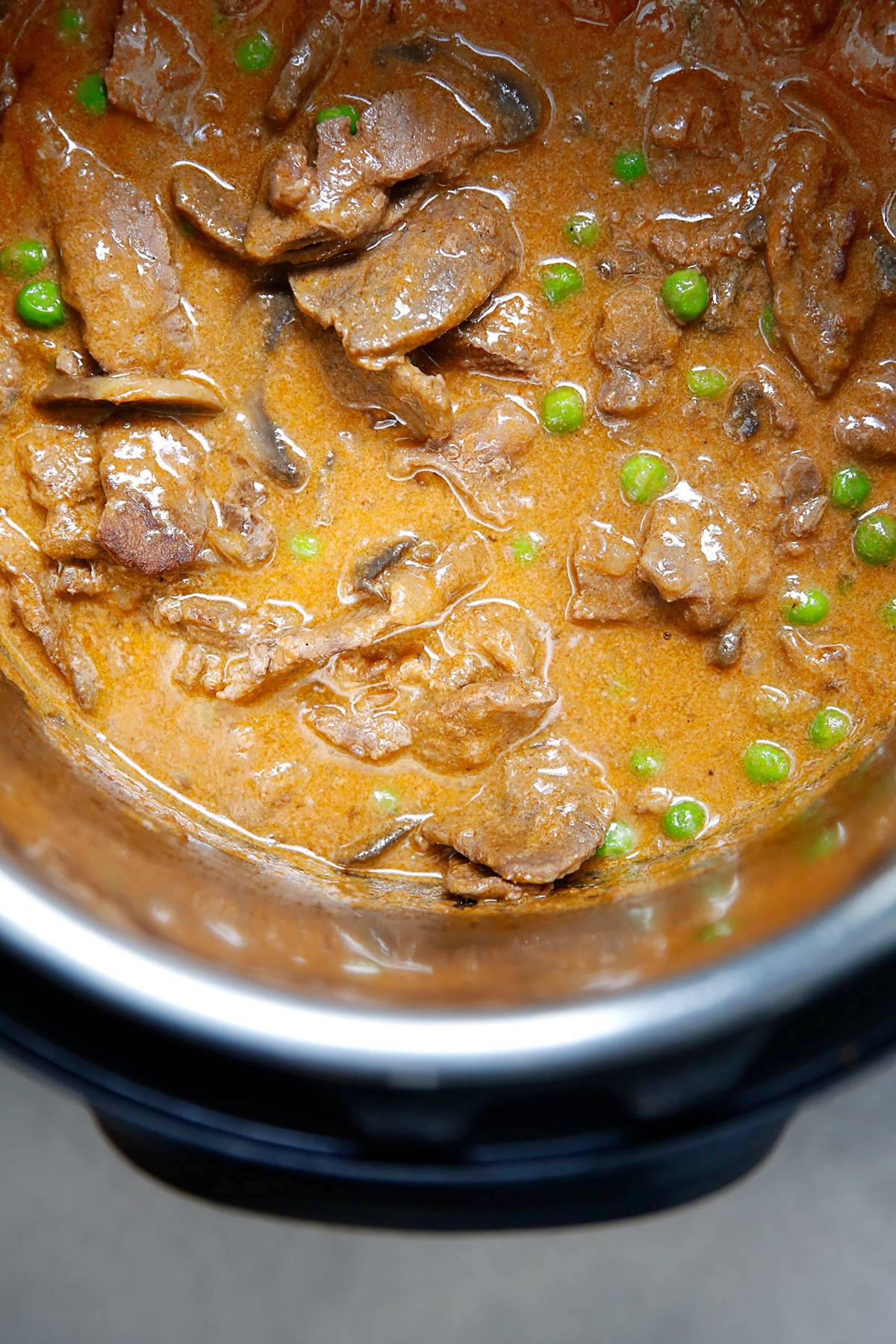 How do you make beef stroganoff in the Instant Pot?
We opted to make this Beef Stroganoff in the Instant Pot because it makes for really tender meat thanks to the pressure cooker and largely hands-off cooking after you've sauteed the aromatics and built up the flavor. So while the recipes says it takes about an hour to make, most of this time it is hands-off cooking so you can be getting other tasks done while dinner is cooking.
To make in the Instant Pot:
Saute your aromatics (we use mushrooms, onions and garlic) and beef
Add your base flavors in (we use paprika, mustard and tomato paste to build up a nice rich flavor)
Deglaze with liquid and cook in high pressure!
After you release the pressure we add in a thickener and creaminess (coconut cream) to finish it off.
Serve with gluten-free pasta or noodles and ENJOY!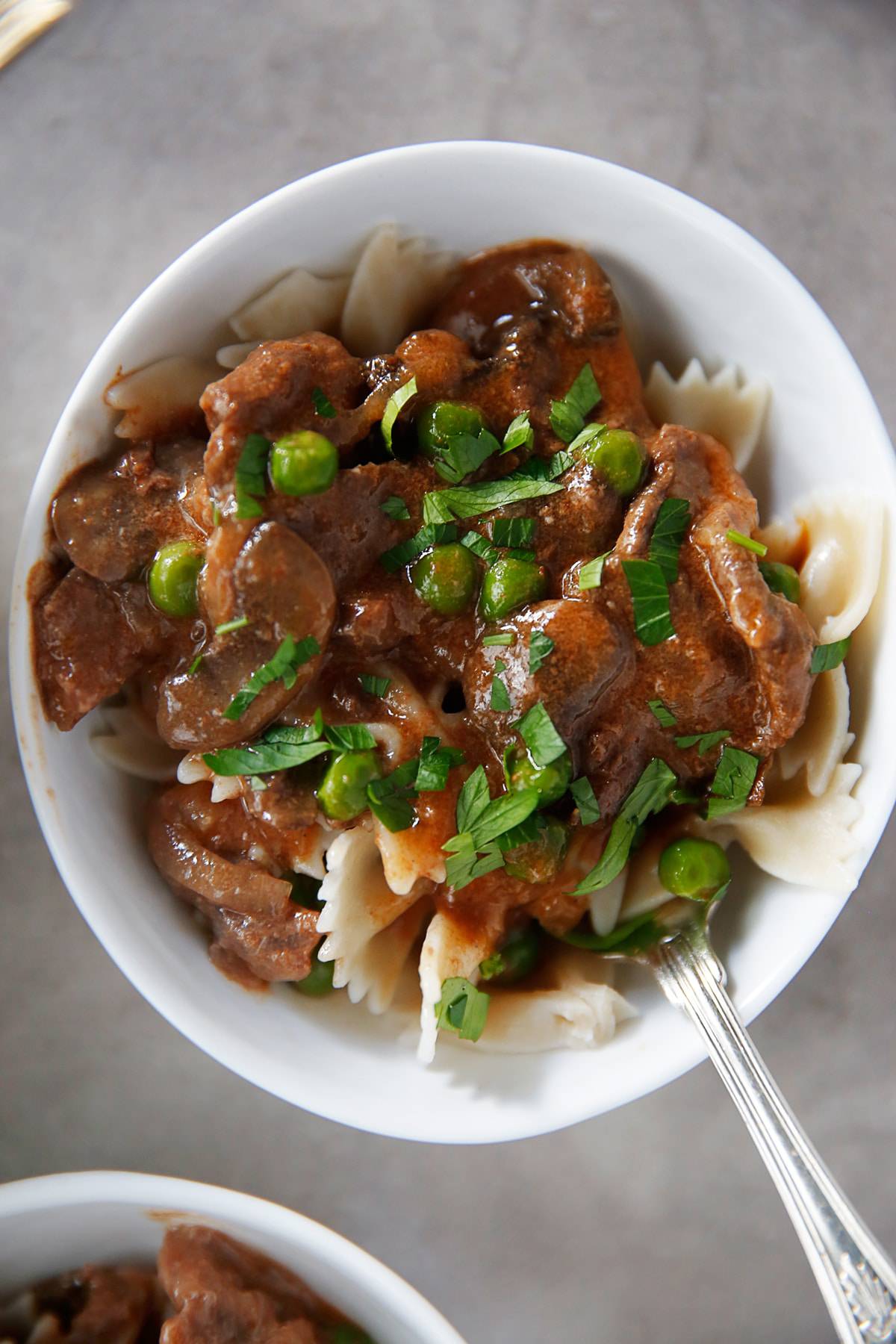 If you like this Instant Pot recipe, check out these others:
Instant Pot Beef Stroganoff
These melt-in-your-mouth Instant Pot Beef Short Ribs are SO delicious and SO impressive but are SO easy to put together! And thanks to the Instant Pot, the braising time is slashed without sacrificing any of the flavor. This decadent dinner is naturally Paleo and Keto and Whole30 friendly and when paired with a side of quick cauli-mash will be the hit of the dinner table!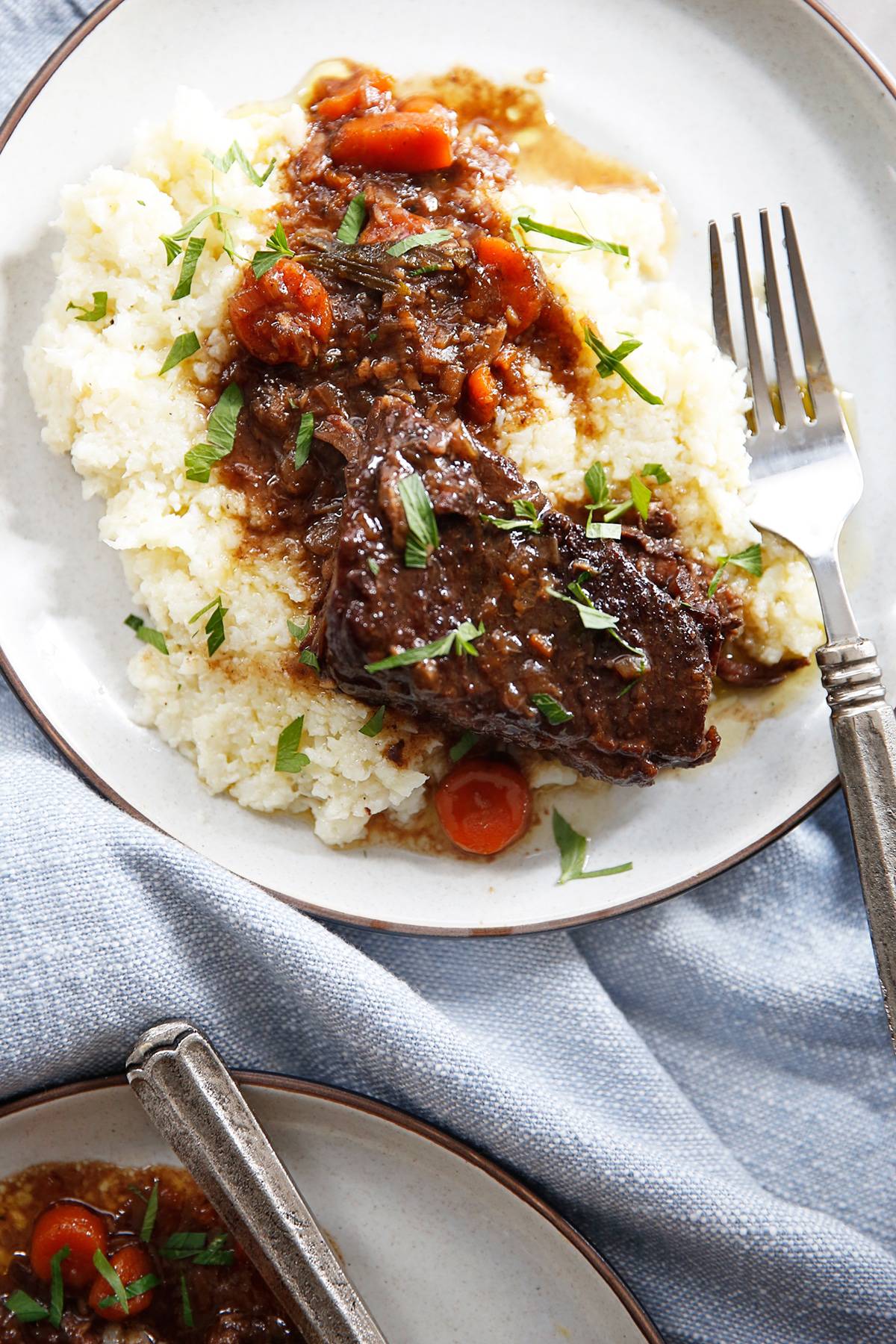 Instant Pot Beef Short Ribs
Back in the summer when we were brainstorming recipes that we wanted to create for the upcoming Fall season, we knew that some new Instant Pot recipes were a MUST. And when thinking of warm, hearty and comforting food, braised meat is the first that comes to mind! While I have a version of Short Ribs in my cookbook, this flavor-packed Instant Pot Beef Short Ribs recipe is becoming a quick favorite. It has all the flavor of meat that has been braised for hours but in a fraction of the time thanks to the Instant Pot. We paired this heart dish with a side of quick cauli-mash and we're glad we did.
We opted to use boneless beef short ribs in our recipe, but this recipe will work with bone-in ribs with a slightly longer cooking time (increase by 10 minutes). The resulting sauce that cooks with the short ribs is so decadent. It is full of umami flavor thanks to the sear on the meat, the balsamic vinegar and coconut sugar (If you are restricted by sugar simply leave it out).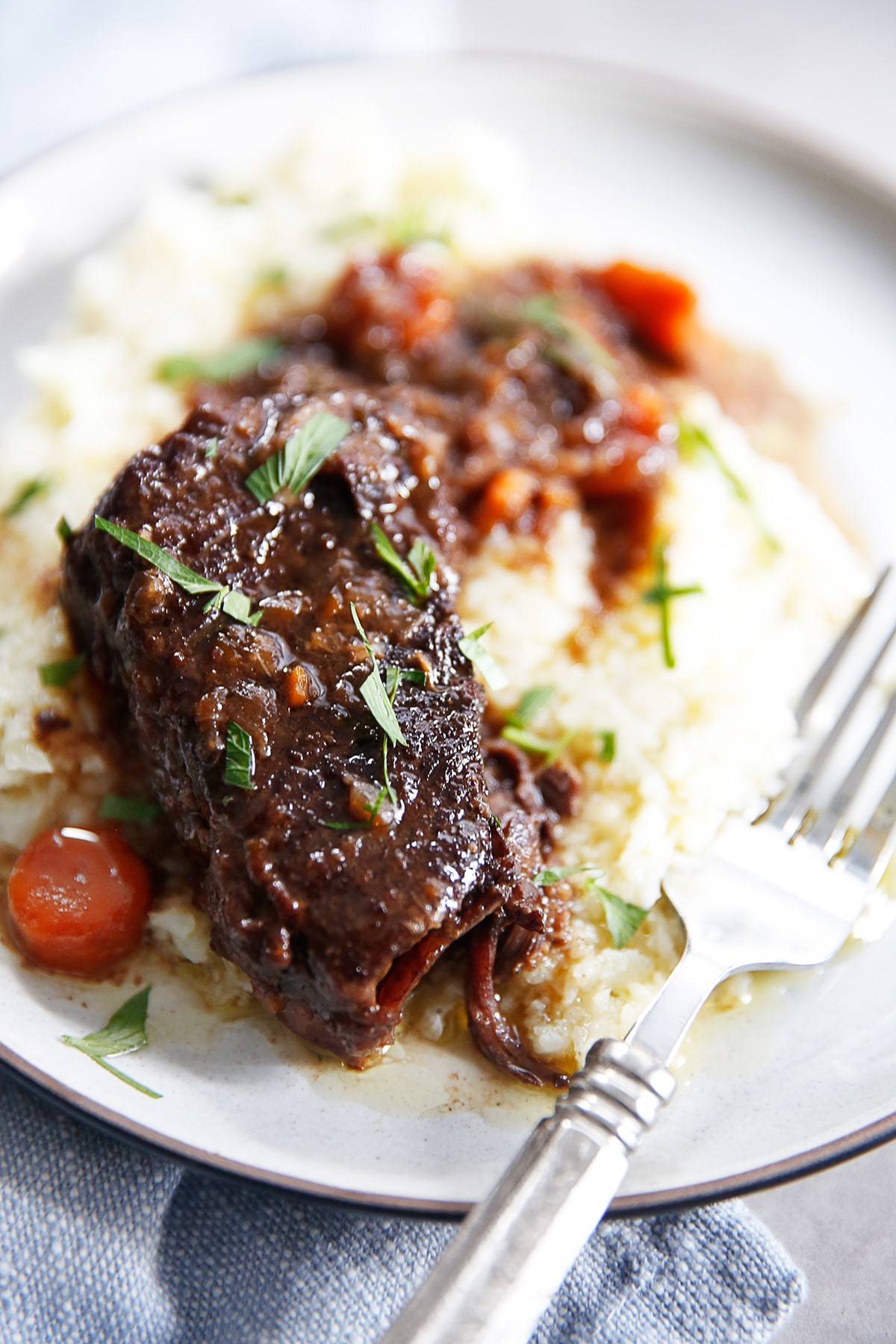 How do you cook short ribs in the Instant Pot?
It's so simple!
You sear the meat using the saute function until it's nice and browned to deepen the flavor of the resulting sauce.
Add some aromatics to the pot (we use shallots, garlic, carrots and rosemary).
Deglaze the pot with liquid (we use wine and beef broth, but you can use all beef broth)
Cook on high pressure for 40 minutes, with a natural release for 10 minutes.
Reduce the sauce further, adding the optional thickener if desired.
Serve with cauli-mash and enjoy! (Note: It's even better the next day, so you can make this ahead of time if you want and reheat when ready to serve)
For this recipe we used these tools:
Steaming Basket
Hand Blender
If you like this Instant Pot Recipe, check out these others:
Instant Pot Beef Short Ribs
A warmly spiced dish, Lubee is braised Lebanese Green Beans and Beef in a tomato sauce with cinnamon. Perfect for a cozy unique fall dinner.
Lubee Recipe: Lebanese Green Beans And Beef
This Middle Eastern dish from my girlfriend, Liz' newest Cookbook, The Ultimate Syrian Sunday Dinner, makes for such a perfect freezer-friendly comforting dish. On cold Fall and Winter nights, I want something simple, flavorful, and hearty and this dish is just that! One-pan and limited ingredients… it just doesn't get any better than this!
When my good friend Liz, from the food blog The Lemon Bowl, published a Food From Our Ancestors eCookbook series featuring home-style Italian family recipes, I knew I was going to be in LOVE. Her series of 4 e-books has recipes like Shrimp Scampi and Eggplant Parmesan, authentic Mexican Posole Rojo and Enchiladas Verdes, homemade Jewish Challah Bread and Beef Brisket and SO many awesome recipes from her newest book, the Ultimate Syrian Sunday Dinner Cookbook!
Make this on a Sunday for meal prep and enjoy the leftovers all week long! This dish is also very freezer friendly. Feel free to make a big batch and freeze the leftovers for an easily re-heatable dinner for those busy days when just don't have time to cook!
This dish is featured in the Syrian Cookbook edition and will definitely not disappoint. Tender beef stewed over low heat with sweet tomatoes, cinnamon, and green beans all served over cauliflower rice with parsley and an optional dollop of yogurt… count us IN! We loved this dinner!




You're going to absolutely love this collection. You can now learn more and buy all four editions of the Food From Our Ancestors eCookbook series for just $12.99 HERE!
Lebanese Green Beans And Beef
These Italian-Style Paleo Mini Meatloaf Muffins make for a convenient and hearty make ahead meal prep, or a delicious dinner idea! They are gluten-free, low carb and just what you should be running to the kitchen to cook up right now.
Paleo Mini Meatloaf Recipe
These Italian-Style Paleo Mini Meatloaves are meal prep perfection! The meatloaf muffins are loaded with veggies, spices, and delicious sauce… A great variation on a meat dish, right? I love that these are made in a muffin tin because it makes for the perfect serving of protein. Pair them with a quick side salad, zoodles, spaghetti squash or pasta and you've got a complete meal.
If you are looking for a classic meatloaf recipe, check out our Gluten Free Classic Meatloaf recipe.
Traditional meatloaf uses breadcrumbs to help tenderize the meat. In our gluten free and paleo meatloaf recipe, we're using almond flour to do this instead. Almond flour will not only help hold the meatloaf together, when mixed with eggs, but it also adds some extra fat to the meatloaf which helps keep it tender.
Paleo Mini Meatloaf Ingredients
Olive Oil
Onion
Mushrooms
Garlic
Grass Fed Ground Beef
Egg
Carrot
Marinara Sauce
Almond Flour
Italian Seasoning
Garlic Powder
Salt and Pepper
How to Serve it
Honestly we loved these for meal prep, a kid-friendly snack or even if you're feeling adventurous a quick breakfast! You can warm it in a toaster oven, your regular oven or in a microwave on the go. We also enjoyed them cold, but that's totally up to you!
If you like this meal prep recipe, check out these others: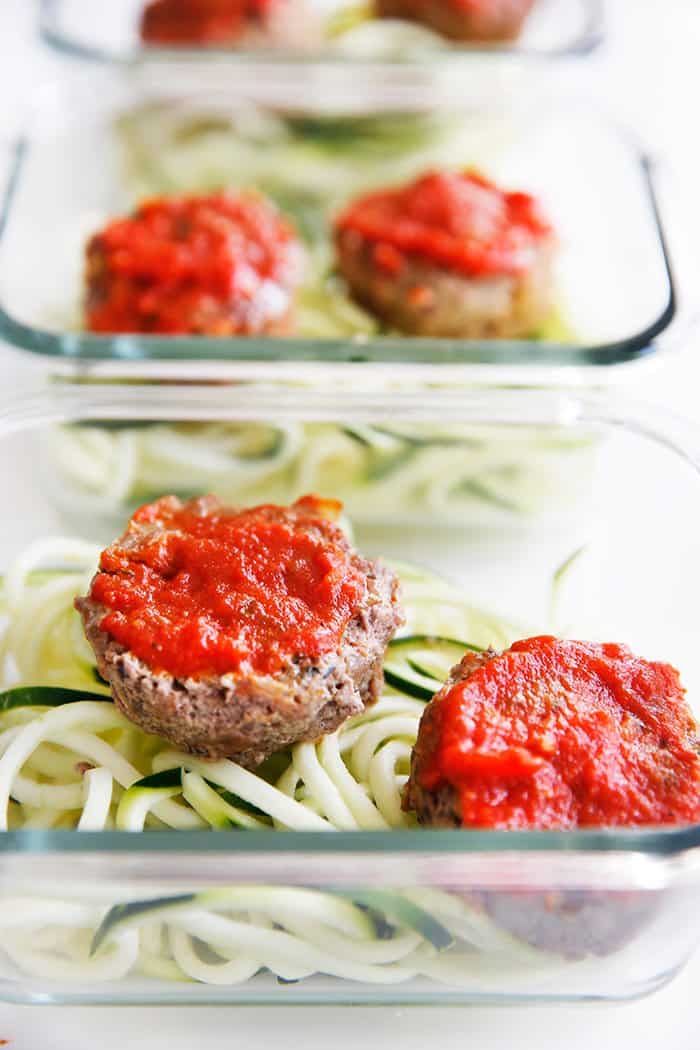 If you like this recipe using ground beef, check out these others:
[yumprint-recipe id='422′]