Love that classic childhood boxed favorite, but want to make it all homemade and healthier? This Healthy Hamburger Helper recipe is your solution, and it's all made in one pot and so delicious!
Healthy Hamburger Helper
We are all about quick and easy dinners, using minimal ingredients and this Homemade Hamburger Helper is definitely a winner. It's made all in one pot, with items you likely already have in your pantry and will surely be a hit with everyone. It is reminiscent of that version you might remember as a kid, only it uses real ingredients so it tastes so much better! Did I mention it takes about 30 minutes to cook?  Save this recipe and hang it on your fridge for the next time you need dinner fast.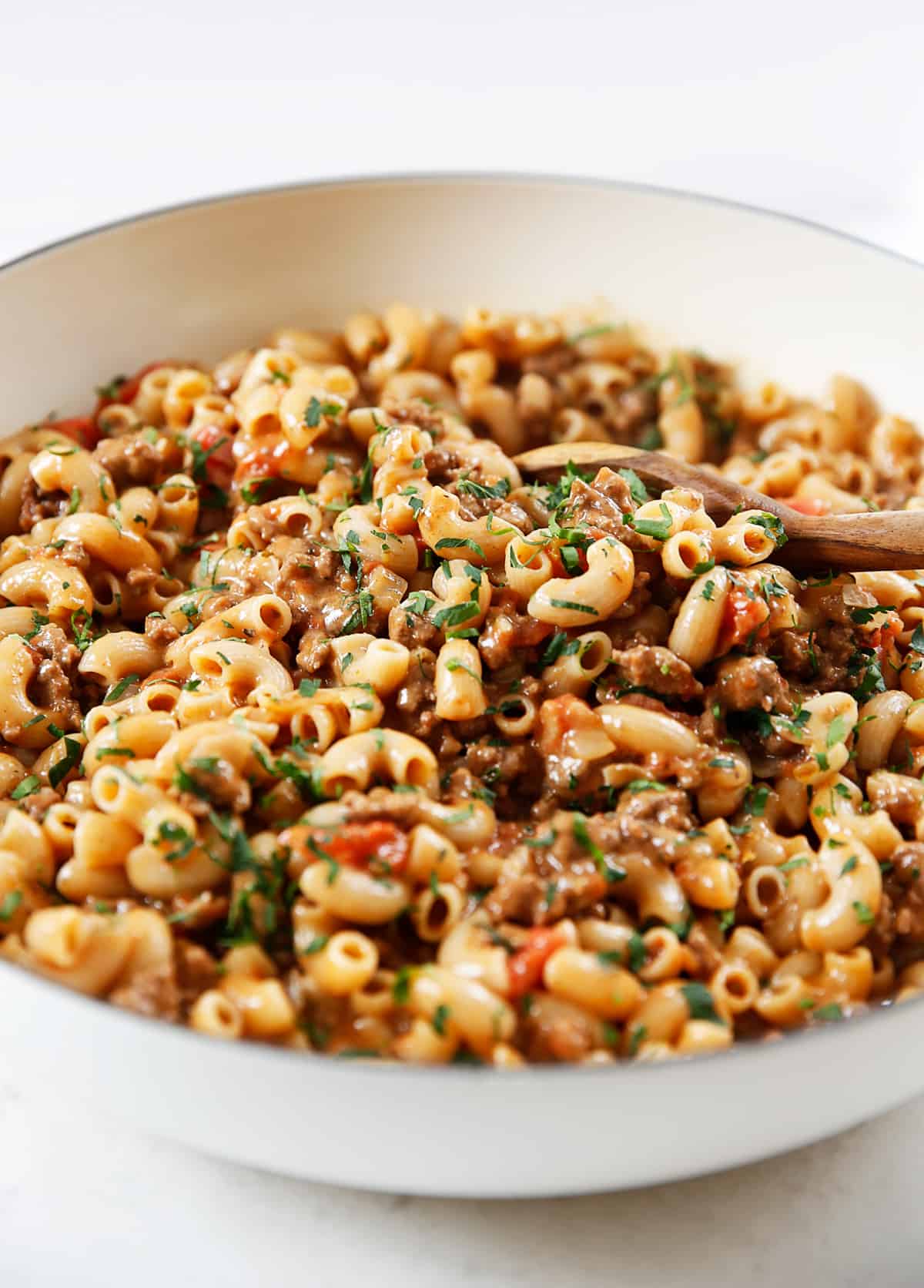 Ingredients Needed
Ground Beef

Elbow Macaroni (we use gluten-free!)

Onion

Garlic

Spices

Canned Diced Tomato

Beef Broth

Shredded Cheddar Cheese
What Type of Pasta to Use
We tested this one pot pantry pasta with a different types of gluten-free pasta and with traditional wheat pasta as well. It all worked the same! 
When you are cooking this, the recipe calls for you to cook the pasta as long as the package directions call for so be sure to check for that information on the pasta package.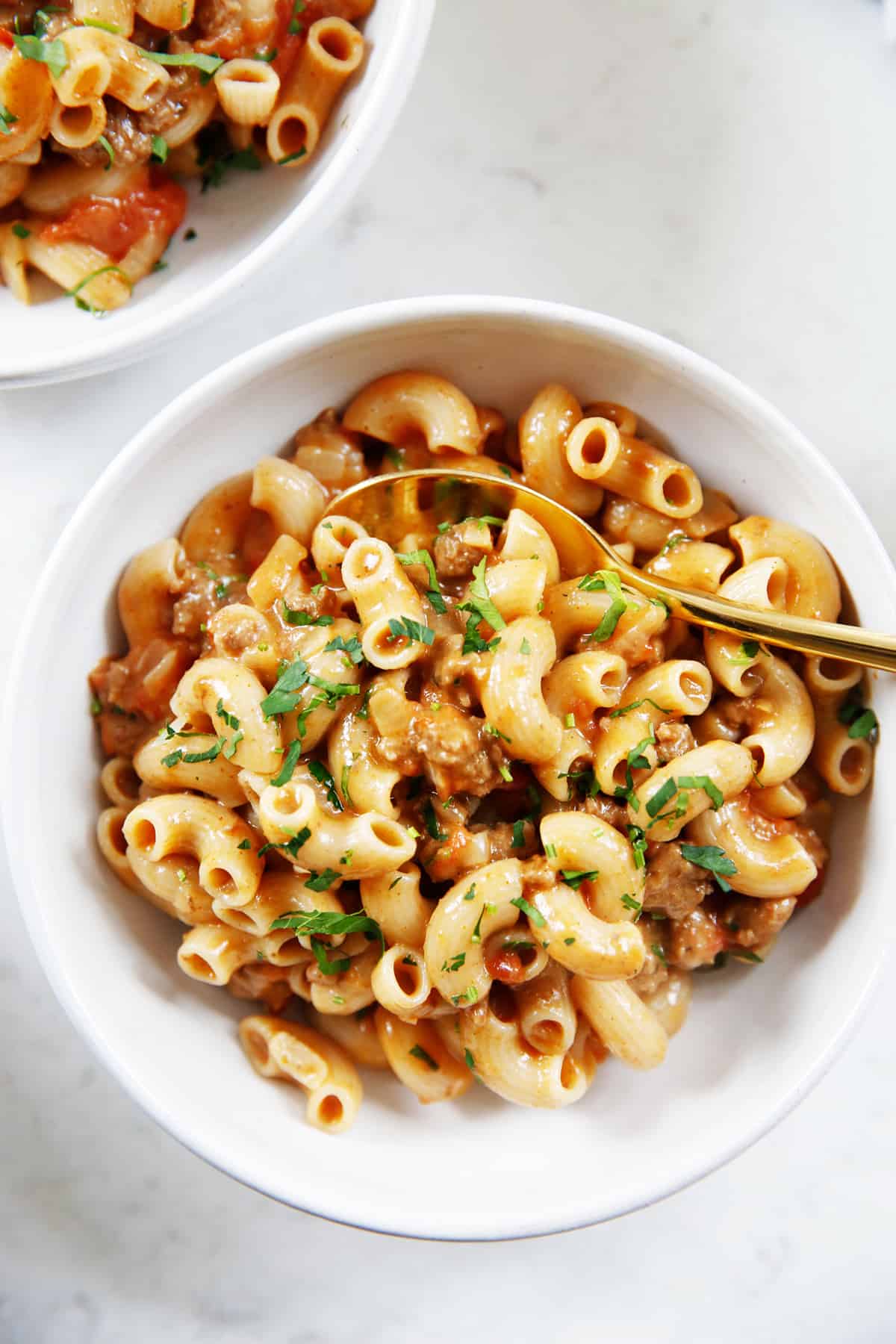 How One Pot Pasta Works
If you are new to the concept of cooking pasta all in one pot, let me explain how it works! Typically pasta is cooked separately in lots of boiling water, then drained before being used in whatever dish you are making. But a one pot pasta instead boils the pasta directly in whatever "sauce" you are using. Instead of just filling the pot with water, a precise amount is added to ensure that when the pasta is finished cooking, there is just enough liquid leftover to make your sauce. The resulting sauce is "creamier" because any starch that is leftover in the cooking liquid is left in the pot, instead of being discarded when draining the pasta. Because it's all cooked in one pot, follow the directions and ingredient amounts precisely to ensure the correct amount of sauce leftover at the end.
Also note that when the pasta is finished cooking, the sauce might look like it is too watery. It will thicken in about 5 minutes to be the perfect amount, so have patience.
Watch the video:
If you like this pasta recipe, check out these others:
---
Healthy Hamburger Helper
Love that classic childhood boxed favorite, but want to make it all homemade and healthier? This Healthy Hamburger Helper recipe is your solution, and it's all made in one pot and so delicious!
---
---
Ingredients
2 teaspoons olive oil

1 onion, diced

2 cloves garlic, minced
1 lb. grass-fed ground beef
1 teaspoon fine sea salt
½ teaspoon black pepper
1 teaspoon paprika

1 teaspoon oregano

15 ounce can diced tomato

3-1/2 cups beef broth

12 ounce gluten-free elbow macaronia

1 cup shredded sharp cheddar cheese

Parsley, for serving
Directions
Heat oil in large dutch oven over medium heat. Once hot, add onion and garlic and cook, stirring often until starting to soften, about 5 minutes.
Add in the beef and cook until no pink remains. Remove any excess fat.

Once boiling, add the pasta to the pot and cook for as long as the package instruction states (if package says to cook pasta for 10 minutes, cook for 10 minutes), stirring every few minutes to prevent the pasta from sticking to the bottom.

Once the pasta is cooked through, shut off the heat and add the cheese. Stir together, then let the pasta sit for 5 minutes while the sauce continues to thicken up.

Garnish with parsley, and serve!
---
Nutrition
Loading nutrition data...
60 comments
April 8, 2020
This website may at times receive a small affiliate commission for products that we shared with you in our posts. Although we may receive a commission for linking certain products, there's no additional costs to you and all of our opinion and suggestions are 100% our own and unbiased. That's our promise to you!
Subscribe to get our FREE clean eating guide!
Join our email list TODAY to start recieving our newsletter weekly, access to exclusive content and deals, *and* a FREE complete 24-page clean eating guide!