2-Ingredient Strawberry Fruit Leather
This homemade Strawberry Fruit Leather recipe is a little bit like magic. You place place pureed strawberries with a touch of honey into the oven, close the door and then a few hours later you have a healthy and fruity snack reminiscent of the store-bought version, but so much more delicious and good-for-you.
Strawberry Fruit Leather Recipe
If you think this fresh Strawberry Fruit Leather recipe looks beautiful, just wait until you taste it! This homemade strawberry fruit rollup copy cat is packed with strawberry flavor and actually super simple to make. It will be loved by both kids and adults alike. It requires only 2 ingredients: fresh strawberries and a touch of honey. You can even skip out on the honey if your strawberries are very ripe and sweet. This is made in the oven, instead of a dehydrator so no special equipment is needed.
So how do you make it? Basically you are just drying out the strawberries in the oven! It's almost all hands-off cooking. The hardest part about making this fruit leather is that you'll have to plan a time to be home to have it go in the oven! This recipe requires a baking time of between 6 and 8 hours depending on the temperature of your oven. You'll also need to make sure your oven temperature can go as low as 175ºF.
How to Make Strawberry Fruit Leather
To make the fruit leather you're first going to prepare the strawberries. Make sure the berries have no signs of mold and actually taste good! Next you'll puree them, add in a touch of honey and then boil them on the stove to kill off any potential harmful bacteria.
After that you'll spread the mixture on a baking sheet that is lined with ideally, a silicone baking mat. In a pinch parchment paper will work, as well. Make sure to spread the mixture evenly on the baking sheet. If you spread the middle too thick in the middle it won't cook fast enough and the edges might overcook and become brittle.
The fruit leather will take about 6-7 hours to dry at an oven temperature of 170º. You'll know it's dry because the fruit leather changes colors and becomes darker when all of the moisture has evaporated. If you still aren't sure whether it is done, you can lightly touch the strawberry mixture to see if it's dry. If it's still a bit wet let it go for an hour more at a time. It should take no longer than 8 hours.
Once it's done cooking, let it sit at room temperate to cool completely and soften up. We like to let it sit for about 3-6 hours.
How to cut it up and store it.
Next you'll place the whole mixture on a piece of parchment paper, roll it up and cut it into serving sizes. It will keep at room temperature for a few days, or in the freezer for up to 1 month.

Tips for Successfully Making it
Use the correct size sheet pan. When we say sheet pan we are referring to the rimmed half sheet pan which is 18″ by 13″. The size of the sheet pan matters because you want to make sure this is spread to the correct consistency.

Take care to spread the mixture evenly. If it is too thick in the middle and thin on the edges, the edges will burn before the middle has cooked through.

The fruit leather will change color when it's dehydrated enough. Instead of sticking your finger in the mixture prematurely and causing a hole in it (we may have done this a few times) look to check on the color of the fruit leather first. If it has darkened in color throughout, it is likely done and then you can double check by touching it to see if it's dry. If the middle is a slightly brighter red color than you can assume it's still uncooked in the middle and you should place it back in the oven to continue to dry.
How to Cut it up
Lay a sheet of parchment on top of the fruit leather. Invert the leather and gently peel off the mat. Roll up the entire sheet of fruit leather starting from the short side and then cut the leather with kitchen shears into 1" strips, or as desired. Store in an airtight container for a few days, or in the freezer for up to 1 month.
If you like this home fruit snack recipe, check out these others:
2-Ingredient Strawberry Fruit Leather
This Gluten Free Strawberry Shortcake recipe is a must make during the summer! With buttery drop biscuits as it's base, the macerated strawberries are topped with a delicious dairy free coconut whipped cream and make the easiest end to a summer meal. They'll be loved by all, and nobody will know (or care) it's gluten free!
Gluten Free Strawberry Shortcake Recipe
There might be no better dessert out there than a classic Strawberry Shortcake during those hot summer months! While there may be some controversy whether or not Strawberry Shortcakes should be made with a cake or with a biscuit, after trying this gluten free version, you'll be hooked on the biscuit. This version tops the lightly macerate berries with a dairy-free coconut whipped cream and it's just so perfect.
How do you make it?
There are three steps to making this gluten free Strawberry Shortcake recipe.
Make the biscuits! This recipe uses the beloved LCK drop biscuit recipe as the shortcake. You can check out this post for more information and helpful hints on this recipe! They can be made up to 1 day head of time.
Macerate the strawberries. This may sound complicated but it's not! To macerate strawberries you add in a touch of honey and let it sit at room temperature until the delicious strawberry liquid has started to release.
Make the coconut whipped cream. Using an electric mixer, whip the coconut cream until light and fluffy. Add in powdered sugar or honey and whip a bit more and then you'll have luxurious coconut whipped cream!
Tips for Making Coconut Whipped Cream
Our best piece of advice for making coconut whipped cream is to make sure the coconut milk is cold! Leave it in the refrigerator for at least 24 hours to make sure that the cream (or fat) separates completely from the light coconut milk. Then when you are whipping make sure to only scoop the solid cream into the bowl, and leave behind any trace of the milk. It won't be quite as thick as whipped cream made with dairy, but the luxurious taste more than makes up for it.
We've given options for using organic powdered sugar or honey. The powdered sugar gives the cream a better texture and more stability, so we recommend that over the honey. But if you're avoiding refined sugar, the honey will work fine to sweeten it.
Don't make the coconut cream too far in advance, and no more than 4 hours before you plan to serve.
Make Ahead Instructions
The simplicity of this dessert is one of the reasons this dessert is so beloved, but there are a few components needed before assembling. To make it easy, make the biscuits up to 1 day ahead of time. The whipped cream and the berries can be made up to 4 hours ahead of time, and chilled in the refrigerator until ready to serve.
You cannot assemble this dish until right when you are ready to serve.
If you like this clean eating strawberry dessert, check out these other recipes:
Gluten Free Strawberry Shortcake (with dairy free whipped cream)
This Strawberry and Mango Salsa Chicken is the perfect light dish on a spring or summer night! It has contrasting sweet and savory flavors that make it so good! This mango chicken is also easy to put together and pairs so well with many other dishes! It's gluten-free and paleo too!
Grilled Mango Salsa Chicken Recipe
With grilling season upon us, this Grilled Strawberry and Mango Salsa Chicken should be on weekly rotation! We can't get enough of grilling with a touch of sweetness! The best part of this delicious dish is that it's simple to prepare, and EVERYONE is going to love it! The chicken is marinated in a sweet mango puree and then grilled to perfection and topped with a fresh mango and strawberry salsa. It's gluten-free, paleo and just dang delicious!
Why We Love Mangos
Did you know that mangos provide 100% of your daily vitamin C, 35% of your daily vitamin A and 12% of your daily fiber? And they're super delicious, of course! They are rich in antioxidants as well, which help fight free radicals. A diet rich in mangos and other vitamin C rich fruits can help aid in improving gut health as well!
How do you cut a mango?
There are a lot of different methods out there for cutting mangos. Some say to peel the mango and slice. We found the easiest way is to slice off two chunks of the mango on the flat side. Then cut up the pieces while it's still in the skin and then scoop it out.
Alternatively you could also cut the mango halves, then using a glass similar in size scope out the mango in one large chunk. Then dice it up!
Can you swap out other fruits?
We love this with mango and strawberries, but you could probably substitute a few other sweet fruits here, such as pineapple or peaches!
Using a Grill Pan or a Grill
Our first choice for cooking this recipe is to cook it on an outdoor grill. Since this chicken has a sweet mango marinade, cooking it on the grill where there is more air circulation is better and there is less likely of a chance to burn. However, we have tested it on a grill pan and it works, but you shouldn't leave too much of the marinade on the chicken before placing on the pan to grill since it has a tendency to burn before it is cooked through.
If you like this grilled chicken recipe, check out these others:
[yumprint-recipe id='355′]
Strawberry and Mango Salsa Chicken
These Strawberry and Chocolate Ganache Sandwich Cookies are the cutest sweet treat, made even nicer because they are optionally free of the 14 most common allergens. Gluten free strawberry cookies are sandwiched between a dairy-free chocolate ganache with hidden strawberry jam in the middle. Made in partnership with our friends at Enjoy Life Foods.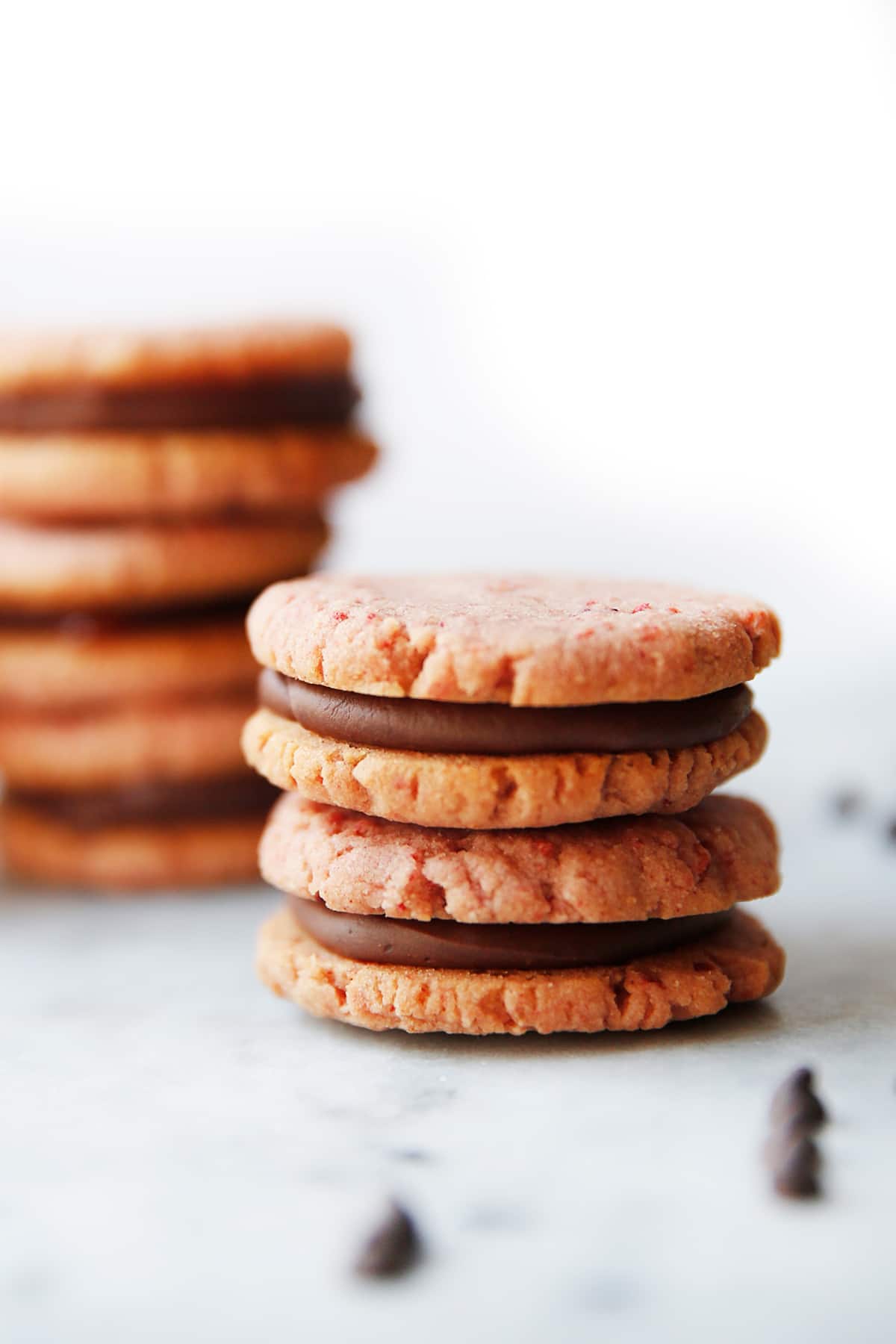 Strawberry and Chocolate Ganache Sandwich Cookies
These Strawberry and Chocolate Ganache Sandwich Cookies are magic! They almost taste like a nut-free macaron and they have an amazing strawberry flavor that is complimented so well with the chocolate ganache. They are coming just in time for Valentine's Day too–the perfect sweet treat to share on this love-filled holiday. These sandwich cookies are made even sweeter though because they are free of the top 14 most common allergens, including nuts and dairy! That means these little cookies are also school safe–making them the perfect treat to pack away for your kids to share with friends! Or really, just a treat for yourself. You deserve it!
So let's unpack what's going on with these cookies: There are two strawberry cookies sandwiched with dairy-free chocolate ganache and a hidden center of strawberry jam that balances the whole thing out.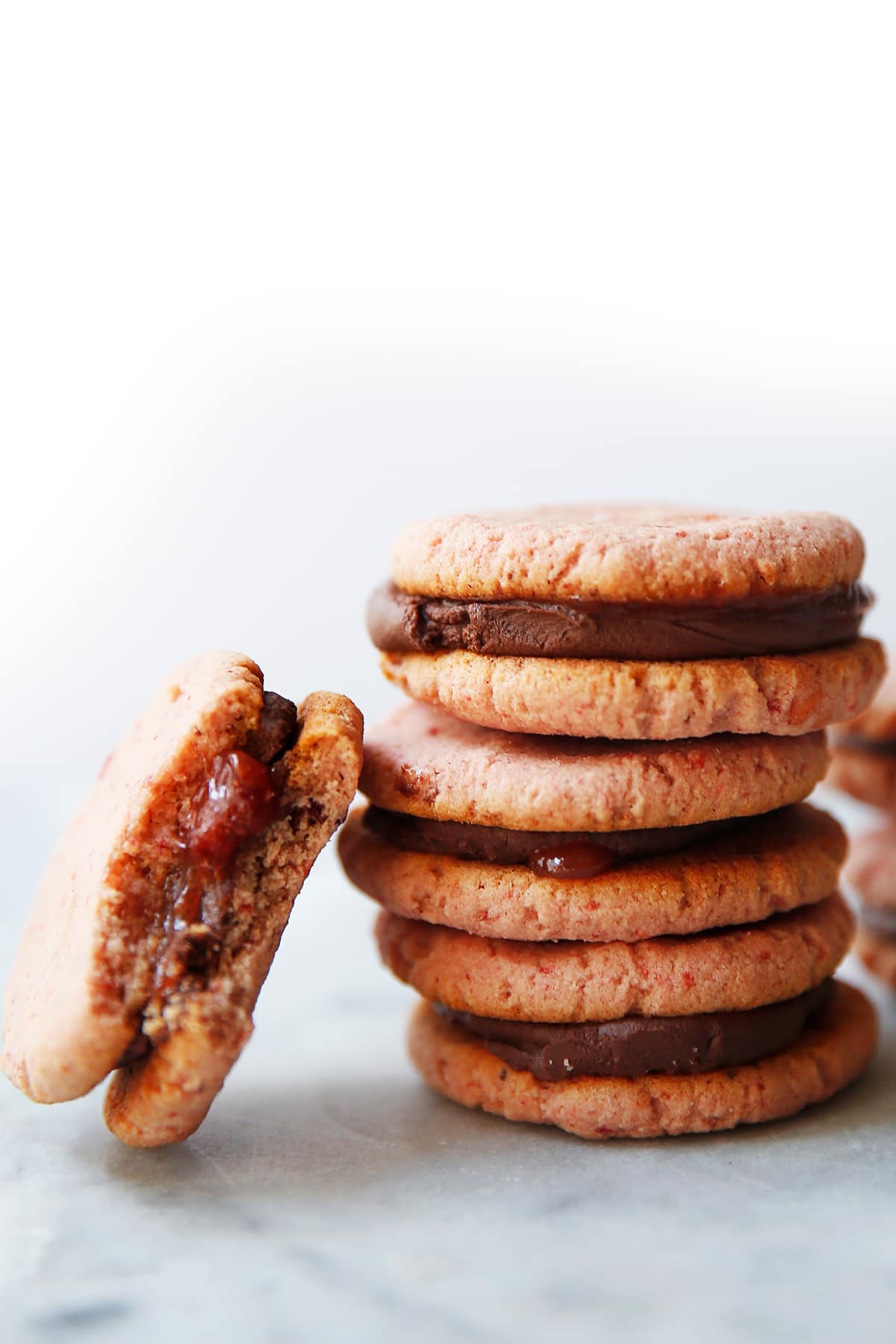 There are a few steps needed to complete this recipe, but there isn't anything hard to do! We use an electric mixer to make the cookie batter, but this doesn't take much time. You can use either coconut oil or butter, and we enjoyed both versions equally. You'll want the coconut oil to be solid at room temperature, and the same with the butter. It only takes a few minutes for the batter to come together, but once it does you'll need to let it rest for about 10 minutes while the coconut flour hydrates, until it is no longer sticky.
Once it has rested all you need to do to form the cookies is scoop out a tablespoon sized amount of dough, roll it into a ball and pat it out to a 2″ circle on a parchment or silpat lined baking sheet. We tried a couple of different methods of making the circle completely round but found that patting it out was the easiest. The cookies won't spread, so don't worry about spacing them out very far apart and they should all fit on one standard size sheet pan.
How do you make chocolate ganache
While the cookies are baking you can make the ganache. Making a ganache is simply heating up a milk and pouring it over chocolate! In this case we are using coconut milk and our favorite dairy-feee chocolate Enjoy Life mini chips which melt really easily and create a decadent ganache.
Once the cookies are cooled you'll pipe a small circle of ganache on half of them, with a little hole left in the center for the strawberry jam to go in. We used piping bags for this, but you can just as easily use a plastic bag with a small hole cut out of one of the corners, or even just place a tablespoons sized amount of ganache in the middle will work.
We wanted to make these Strawberry and Chocolate Ganache Sandwich Cookies free of almost of the allergens out there so that they were able to be an inclusive Valentine treat for everyone, regardless of allergies or intolerances. This is especially relevant for school as there can be a lot of restrictions on what can be brought in. And this is why we love the chocolate from Enjoy Life! Enjoy Life baking chocolates are certified gluten-free, free-from 14 common allergens, verified Non-GMO, certified kosher, AND certified vegan and paleo-friendly, which makes them so inclusive for many different types of dietary restrictions.
This month they've also launched the NEW Valentine's Day Chocolate Minis! They would be a great option to bring into school and are the perfect size to share. They come in Dark Chocolate, Ricemilk Chocolate, Ricemilk Crunch (our favorite), and a variety pack. You can buy them right online here! We've been lucky enough to have been snacking on them this week, and they're delicious! And as you can see below, they are also kid approved!
Tools we used in this recipe:
If you like this cookie recipe, check out these others:
---
Strawberry and Chocolate Ganache Sandwich Cookies (Allergen Friendly)
This paleo Homemade Jello recipe is one everyone will love, and made so much healthier than traditional jello. You can feel good about serving this healthier jello snack, and it's a great to include healthy Grass-Fed Beef Gelatin in your diet. We've included a basic recipe as well as two options to make your own strawberry and lime juice or a carrot, orange and ginger juice to make the healthiest Homemade Jello ever!! There are no artificial colors/flavors or added refined sugar and they make the cutest lunchbox treat to send your kids to school with, or have for when they get home! Made in partnership with my friends at Vital Proteins!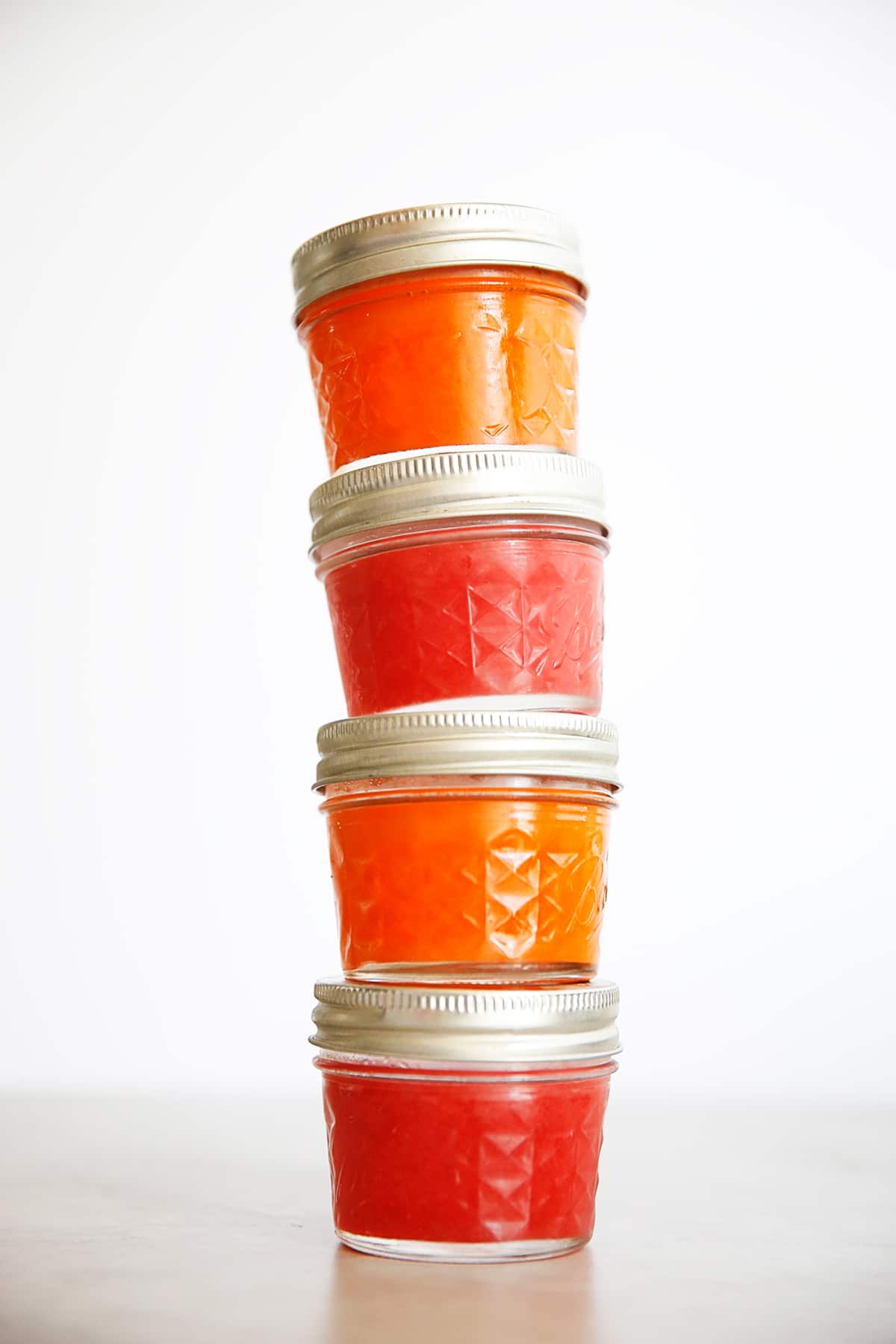 Homemade Jello
When most people think of jello, they probably think of the unhealthy little plastic containers you buy at the store that are filled with artificial ingredients, flavors and full of sugar or those small little boxes filled with an unknown substance. Well, today we are going to change your mind about how healthy and delicious Homemade Jello can be! We have a recipe that brings jello back to what it should be: freshly made juice combined with healthy pasture-raised, Vital Proteins Beef Gelatin to make the cutest little lunchbox addition that any kid (or grown-up alike) will enjoy – with the same jello consistency you know and love!
Check out the vibrant colors of our jello! We made them with two homemade juices: Strawberry and Lime and Carrot, Orange and Ginger!
For the Strawberry Lime juice we simply combined sliced strawberries with a touch of honey (which you can omit if your strawberries are really sweet) in a blender, and then strained out most of the seeds. This juice is somewhat thick, and makes for the BEST tasting strawberry jello ever. It actually tastes like strawberry!
For the vitamin C and antioxidant rich Carrot, Orange and Ginger juice we used a juicer! It's one of my favorite homemade juice flavors, especially when I feel a cold coming on, I always drink a glass of this. It is naturally sweet enough so this juice is perfect when made into jello.
We also share how you can shortcut the whole process and use fresh juice you buy in a store!

Once you have the juice, the only other ingredient is gelatin. We use my favorite Pasture-Raised Beef Gelatin from Vital Proteins. If you read my previous blog post you know how I use collagen peptides in my coffee each morning and this is just another great recipe to add a healthy dose of collagen to your diet. Adding collagen to your diet can be a great way to improve and promote bone and joint health, aid in healthy digestion and gut health, improve sleep and nourish your skin. BUT I've never showed you how I use Vital Proteins, BEEF GELATIN (the green container). This gelatin is different as it's perfect for jello, marshmallows, homemade candies/gummies, and more!
How Do You Make Homemade Jello?
It's so easy to make jello at home! All you need is either 100% juice purchased at the store or fresh made juice and Beef Gelatin. There are three steps to making it. First you bloom the gelatin by combining it with a bit of the juice and whisk (which ensures the gelatin is evenly distributed) and then boil the remaining juice and combine with the bloomed gelatin to dissolve it. Place in the refrigerator until it has set up!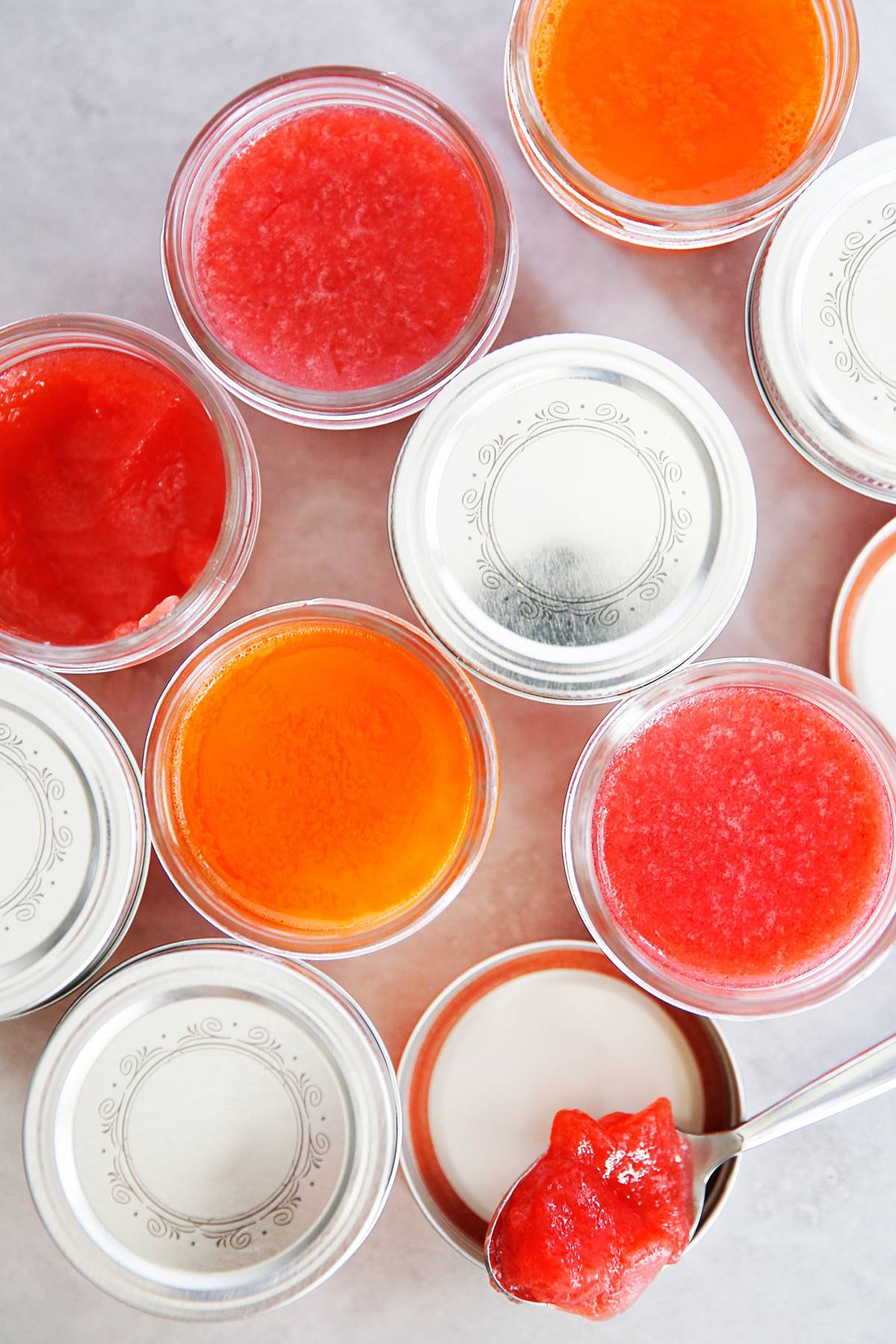 We store our jello in 4 ounce mason jars for easy serving portions and they are so cute! You can send the jello in a lunch box, but treat it like you would a yogurt by packing it with an ice pack. If the jello is kept at room temperature for more than 2-3 hours (depending on the temperature outside) it dissolves again and will go back to being juice.
There are no preservatives in this jello of course so they'll last about as long as the fruit and vegetables would that you made them with (about 3 to 5 days). Jello made with store bought juice will last slightly longer than jello made with the homemade juice.
If you like this fruit forward snack, check out these others: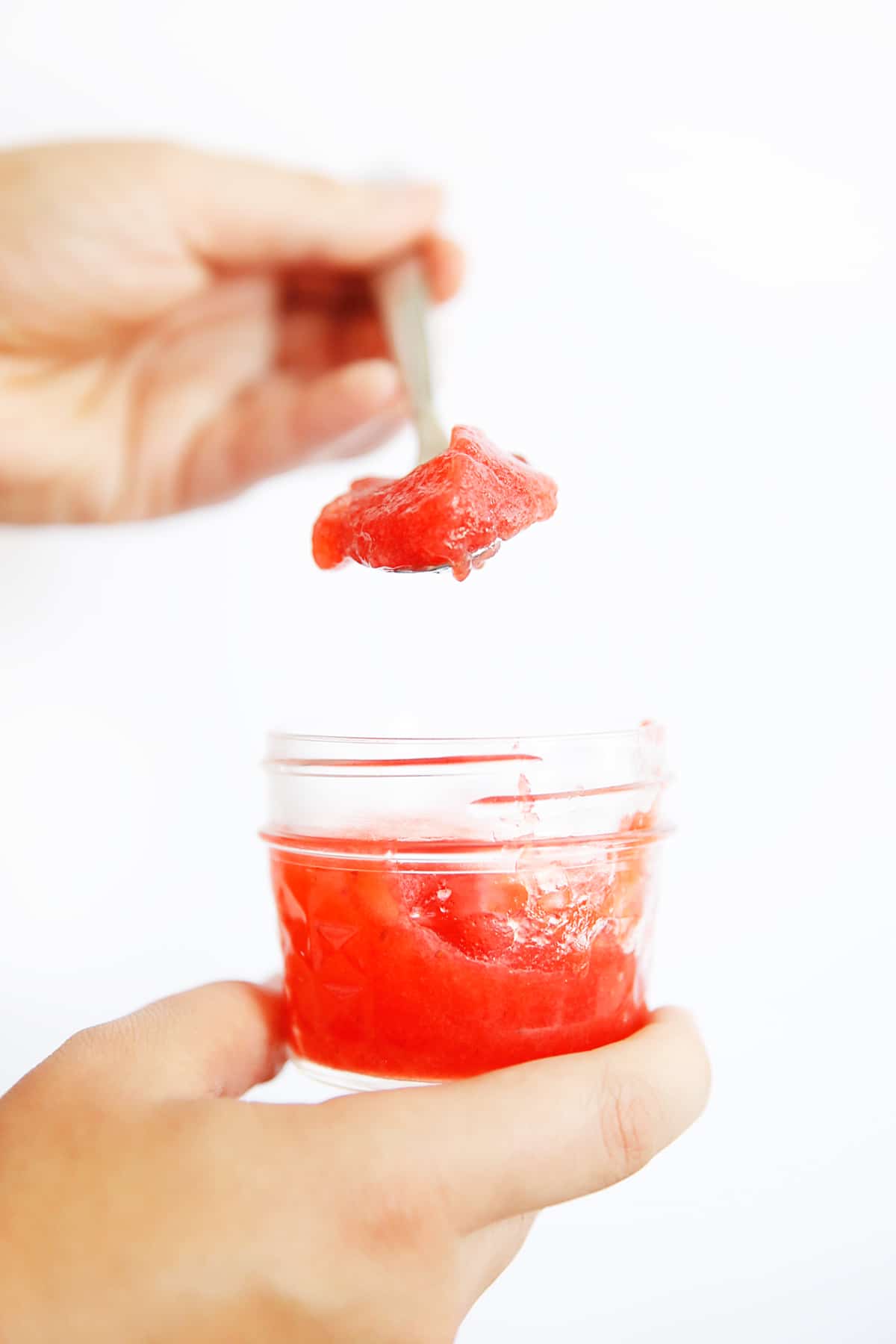 If you want other collagen-packed recipes, try these:

Watch the video:





This post is sponsored by Vital Proteins. All thoughts and opinions are always 100% my own! I love the integrity of their products and think you'll love them too. Thank you for continuing to support LCK and the brands I work with!
Homemade Jello (Healthy!)
These Strawberry and Cream Overnight Oats are bursting with strawberry flavor and super creamy without actually having any cream. They are rich in fiber with an added dose of healthy fats and antioxidants thanks to the chia seed to help fuel you for the morning. This dairy-free overnight oats recipe is quick to make and you can make a few batches so you can grab and go on your way out the door in the morning. Vegan and gluten-free, and the perfect egg-free breakfast!

Strawberry and Cream Overnight Oats
This Strawberry and Cream Overnight Oats recipe is just what you want to start your day with! You all have been loving our oat recipes and I think this one will be no exception: It's slightly sweet, full of fiber and bursting with flavor. We love to use freeze dried strawberries because their flavor is concentrated and they last longer than fresh strawberries for make-ahead breakfasts. This oatmeal tastes so creamy without ever adding any dairy at all! Plus, it takes 5 minutes to throw together!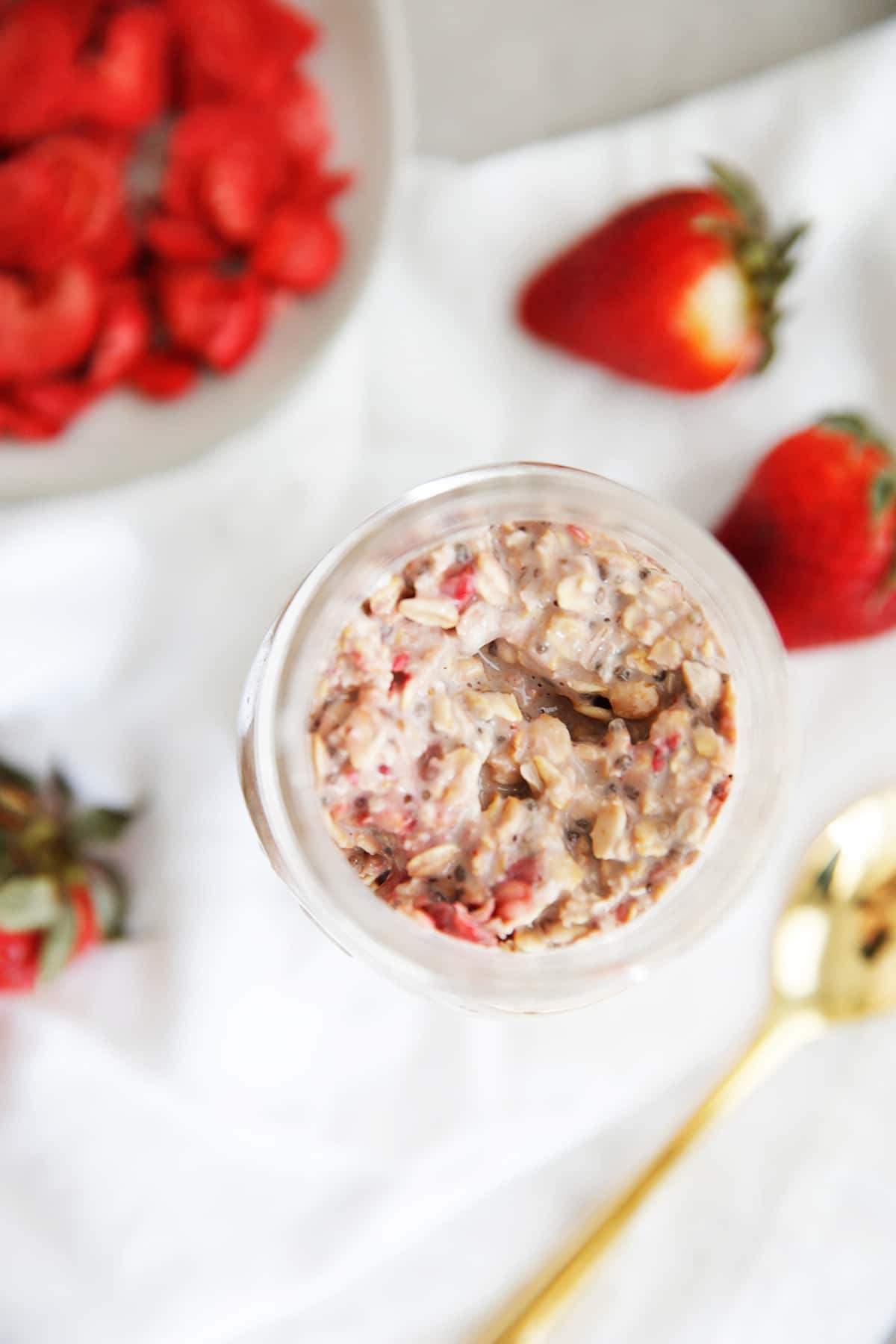 Where can I find freeze dried fruit?
Freeze dried fruit is now commonly found in most grocery stores. Make sure to read the label to check that the only ingredient listed is the actual fruit and does not include any additives. We love the 365 brand of them at Whole Foods.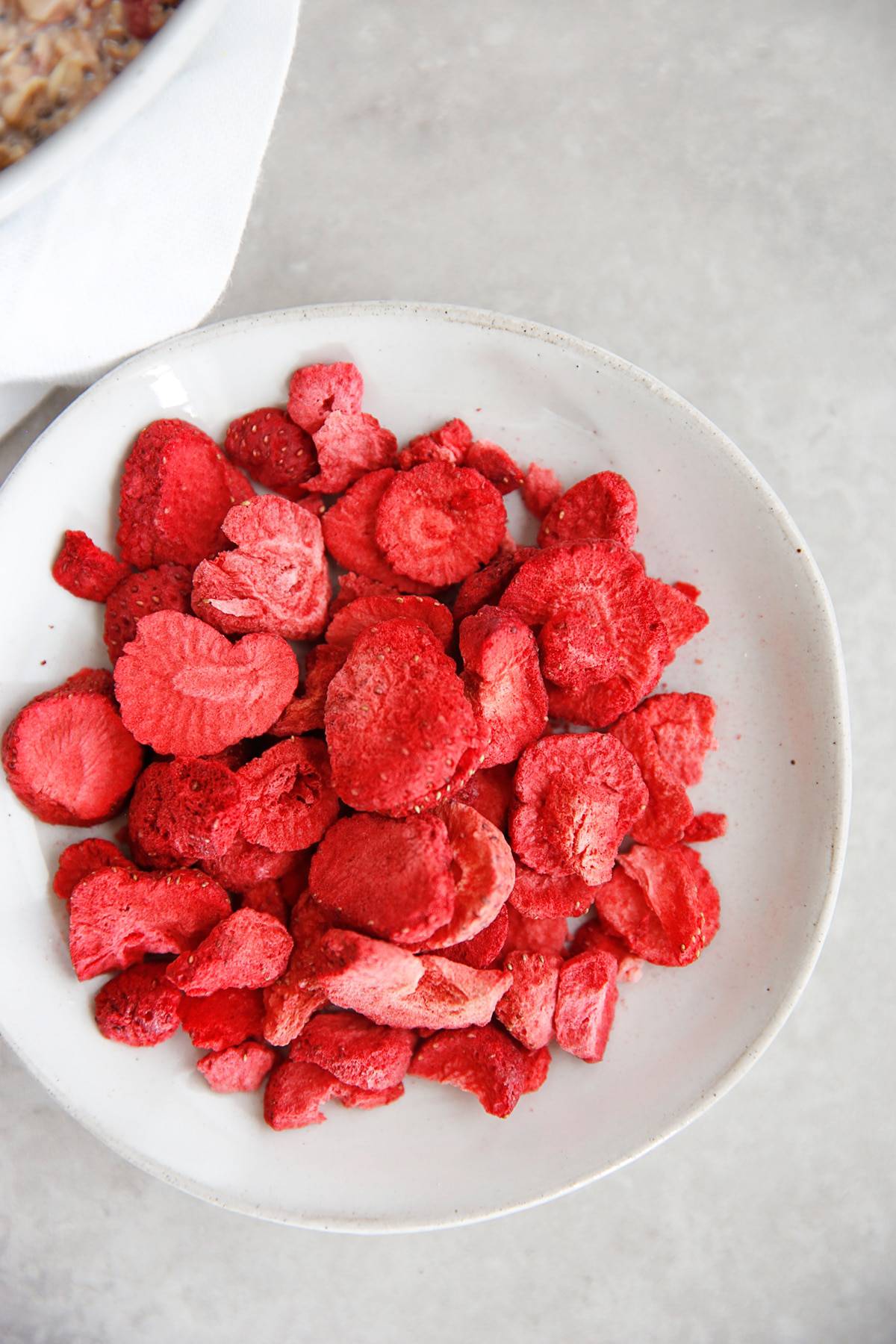 Overnight Oats FAQ's
Do you eat overnight oats hot or cold?
Overnight oats are a great and easy on-the-go breakfast! Grab it out of the fridge, cold, top with toppings and enjoy!
Can you make overnight oats with milk?
I use dairy-free milk, like almond milk or cashew milk! You can use any milk you'd like.
How long can you keep overnight oats in the refrigerator?
I keep my overnight oats for up to 3 day in the refrigerator. If it has fresh fruit it will keep for 1 day.
Can you make overnight oatmeal without chia seeds?
Of course. I love the texture they add, and the nutrients, but they're totally optional!
What kind of oats are used for overnight oats?
I use gluten-free raw rolled oats. You won't want to use quick cooking oats!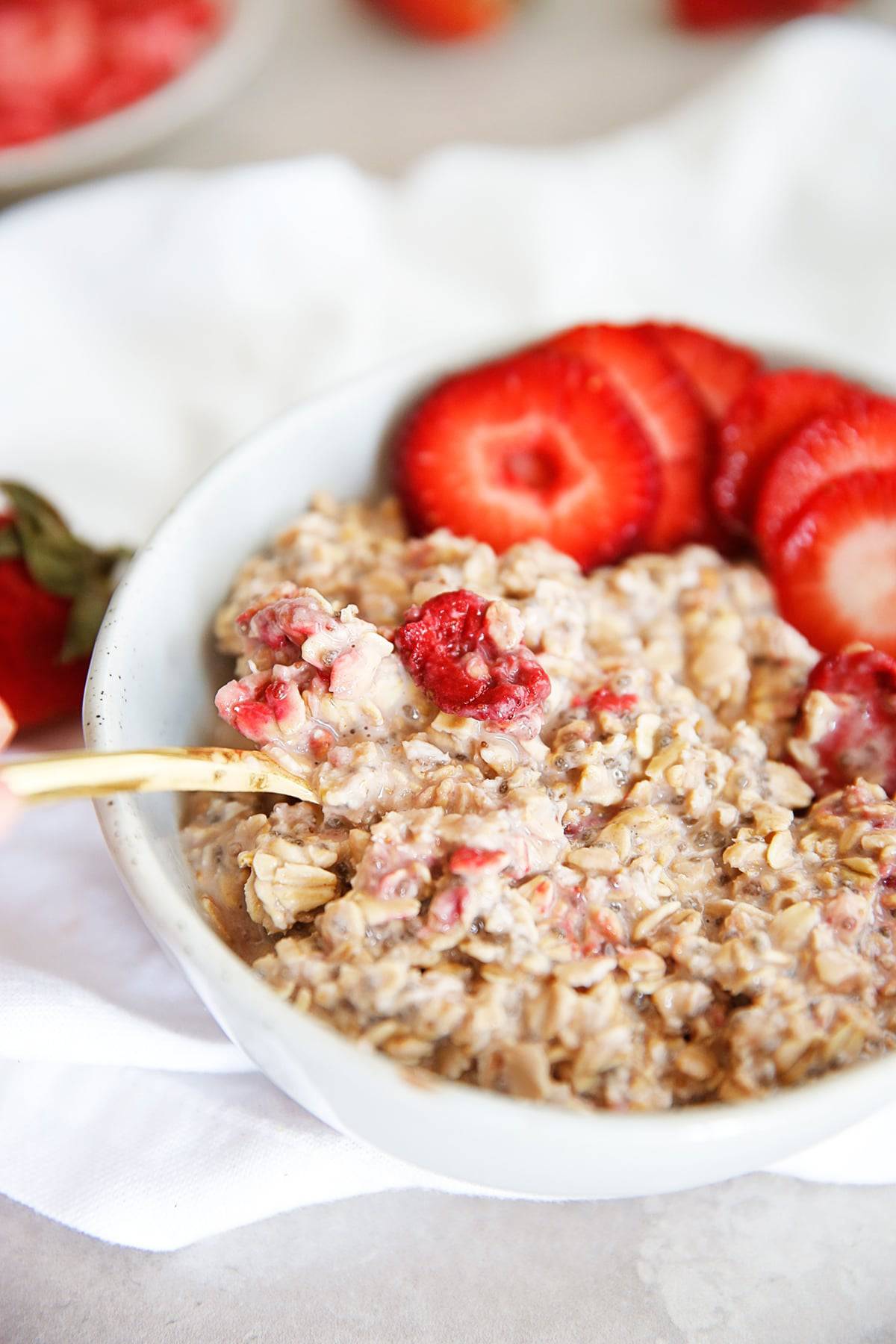 Want to try another overnight oats recipe? Try my popular Golden Milk Latte Overnight Oats!
Strawberry and Cream Overnight Oats (Gluten-Free & Vegan)
This Superfood Summer Smoothie is loaded with Summer fruits and packed with tons of antioxidants! It is dairy-free, vegan, and the perfect start to any morning!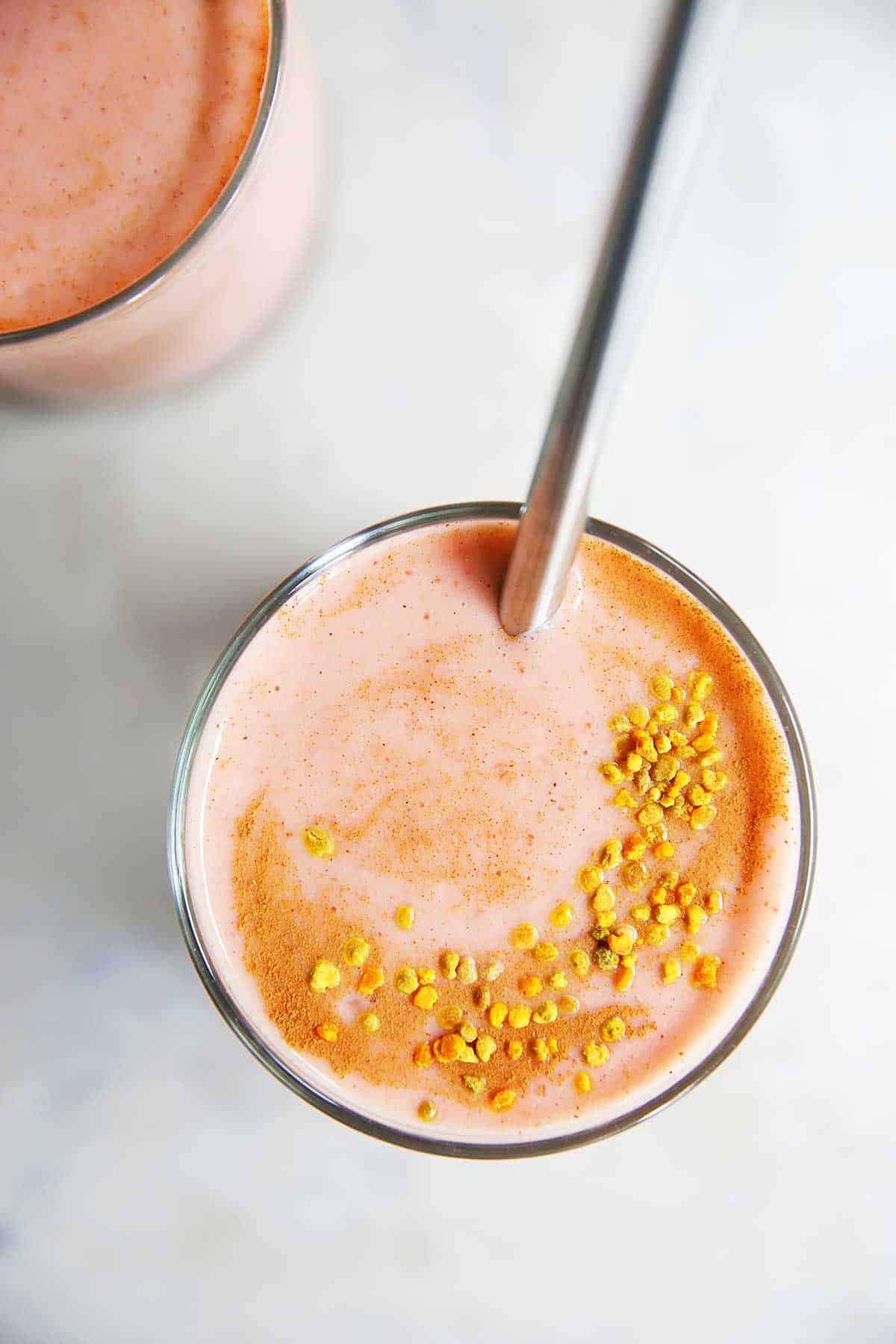 I used to really be into smoothies, and then I hit a wall and decided they weren't as exciting to me as a breakfast option like eggs or a hearty meal. Lately, especially after a long weekend away, I am back on my smoothie game and this Superfood Summer Smoothie hits the spot! It is creamy, fruity, and packed with nutrients to fuel your body for success!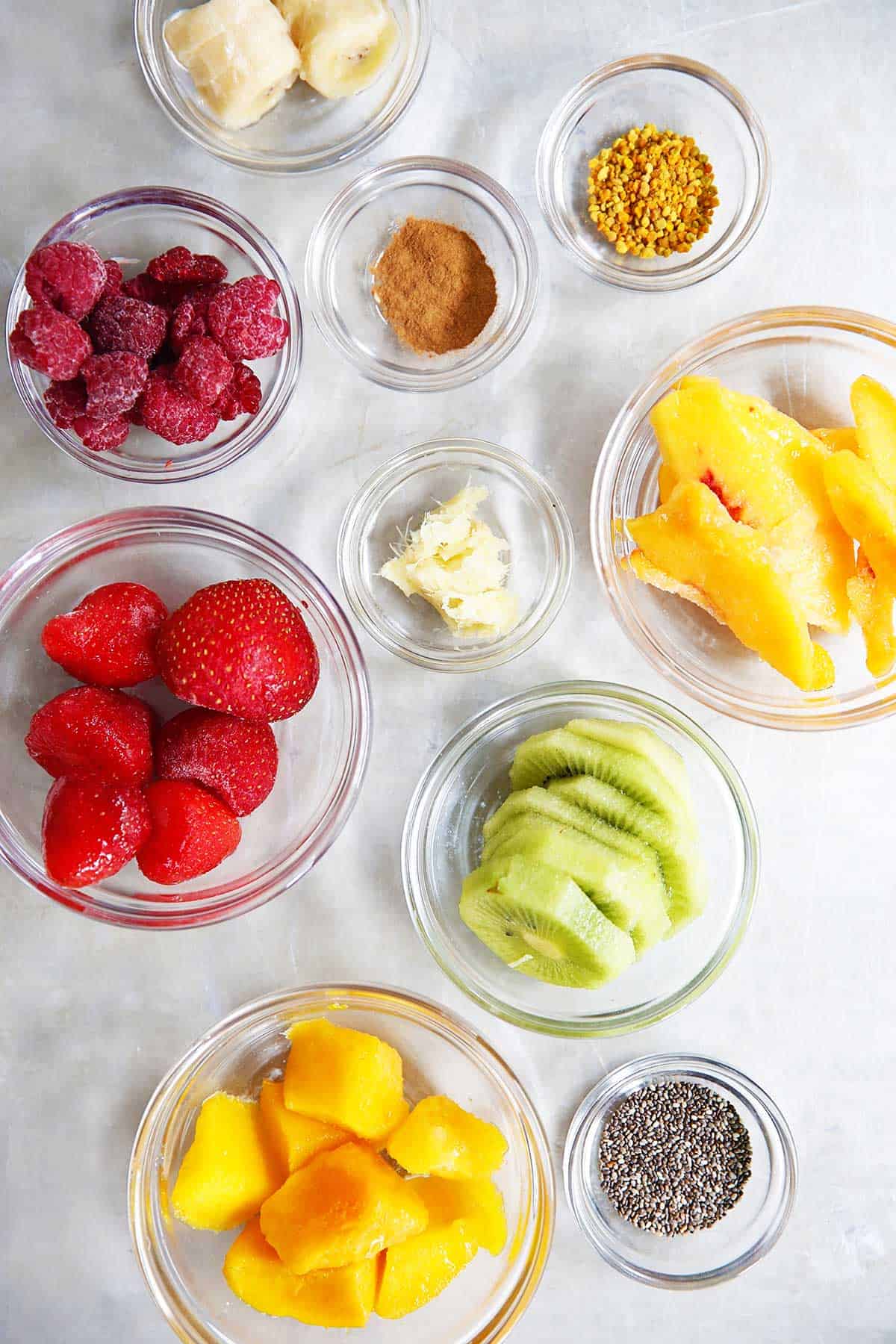 This smoothie makes for the perfect breakfast, snack, or even for a night time treat/dessert!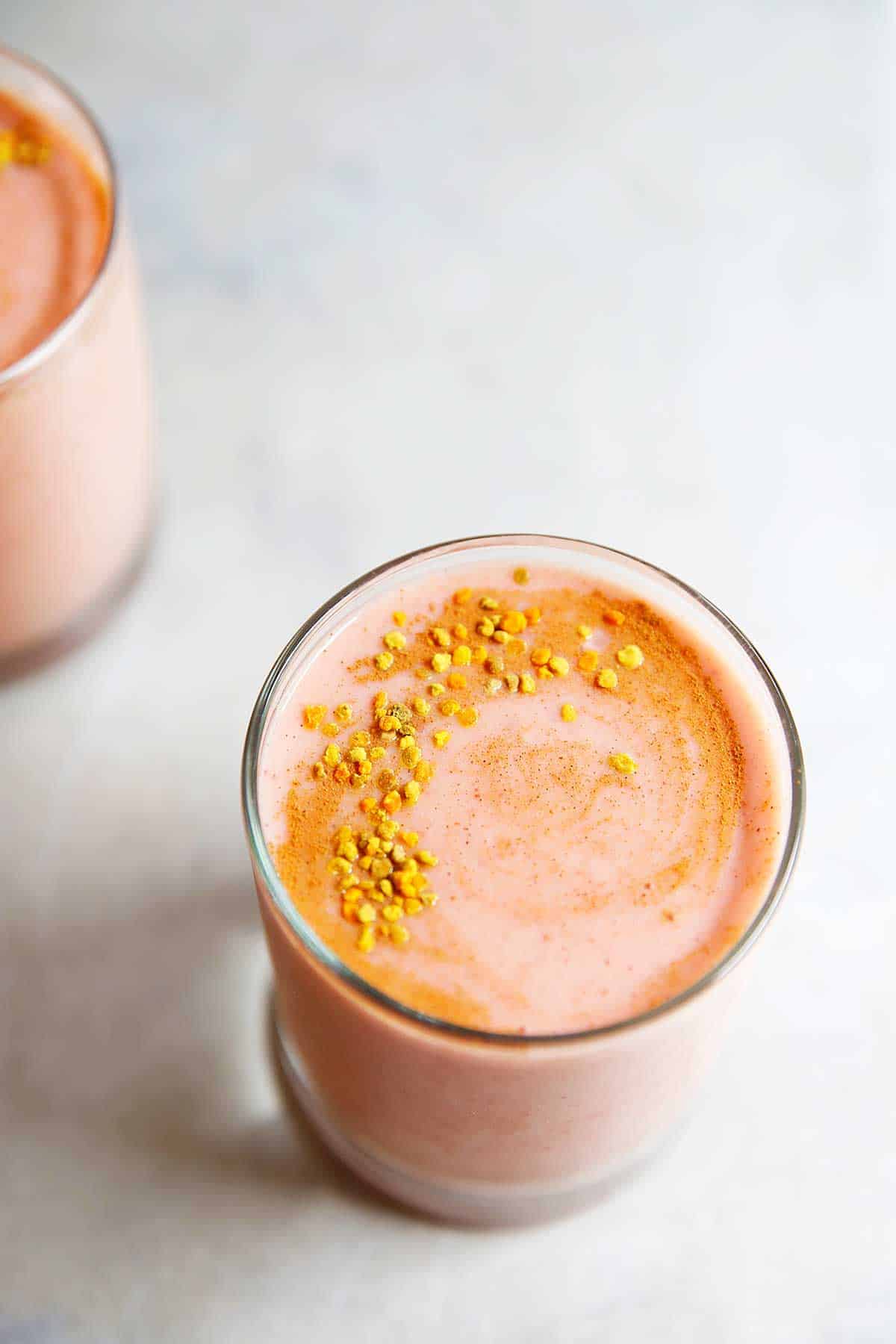 Check out these 5 smoothies from my blogging girlfriends!
Smoothies are the perfect on-the-go healthy breakfast or delicious snack. Add this Refreshing Ginger Pineapple Smoothie to your rotation this summer, it won't disappoint!
This Creamy Spirulina Superfood smoothie recipe is an easy way to boost Energy and Protein intake with real food. No protein powder needed. Just coconut milk, spirulina, fruit, avocado, ginger root, and extra antioxidant rich spices! Paleo and Vegan friendly.
Combine frozen blueberries with peanut butter and banana for a protein-packed peanut butter and jelly smoothie that tastes just like your favorite sandwich from childhood!
This simple guava pineapple smoothie is made with light coconut milk and a few frozen strawberries for a refreshing dairy-free summer drink.
Build the PERFECT Smoothie:
Superfood Summer Fruit Smoothie
My day generally goes as follows (in terms of beverages)

…

water with lemon, coffee, water all throughout the day and evening (an occasional martini or glass of wine), and possibly a second cup of coffee. See, I generally don't opt for a lemonade, a juice, and definitely no sodas around here. Usually it's just water. Every so often during a hot summer day I crave a refreshing drink that has a little something sweet.
Making time to relax, read, and focus on my mind and body is something I am focusing on this Summer. Relaxation, sleep, and removing stress is just as big of a part of a healthy lifestyle as is eating clean and working out. So, whip up a batch of this refreshing Strawberry Lemonade with Mint and make some time for YOU today.
[yumprint-recipe id='170′]
How do you make time to relax? What is your favorite thing to do that completely clears your mind?
Strawberry Lemonade with Mint
This Strawberry Chia Seed Jam is the perfect jam made with no pectin! It's healthy, easy to prepare, kid-friendly, and so delicious. It's also vegan and paleo friendly!
Strawberry Chia Jam
This healthy Strawberry Chia Jam is made quickly with only 4 ingredients on the stove. No special ingredients or steps are needed to thicken this healthy jam because chia seeds are added in! Chia seeds absorb liquid to help create the right consistency to make this jam thicken up, plus they're a nutrient powerhouse! Chia seeds are rich and fiber, protein and omega-3 fatty acids and are readily available in all grocery stores. Now you can make a delicious strawberry jam super quick anytime, perfect for your morning toast, over oatmeal or in your next PB & J sandwich!
Ingredients Needed for this Healthy Jam
Strawberries
Honey or Maple Syrup
Lemon Juice
Chia Seeds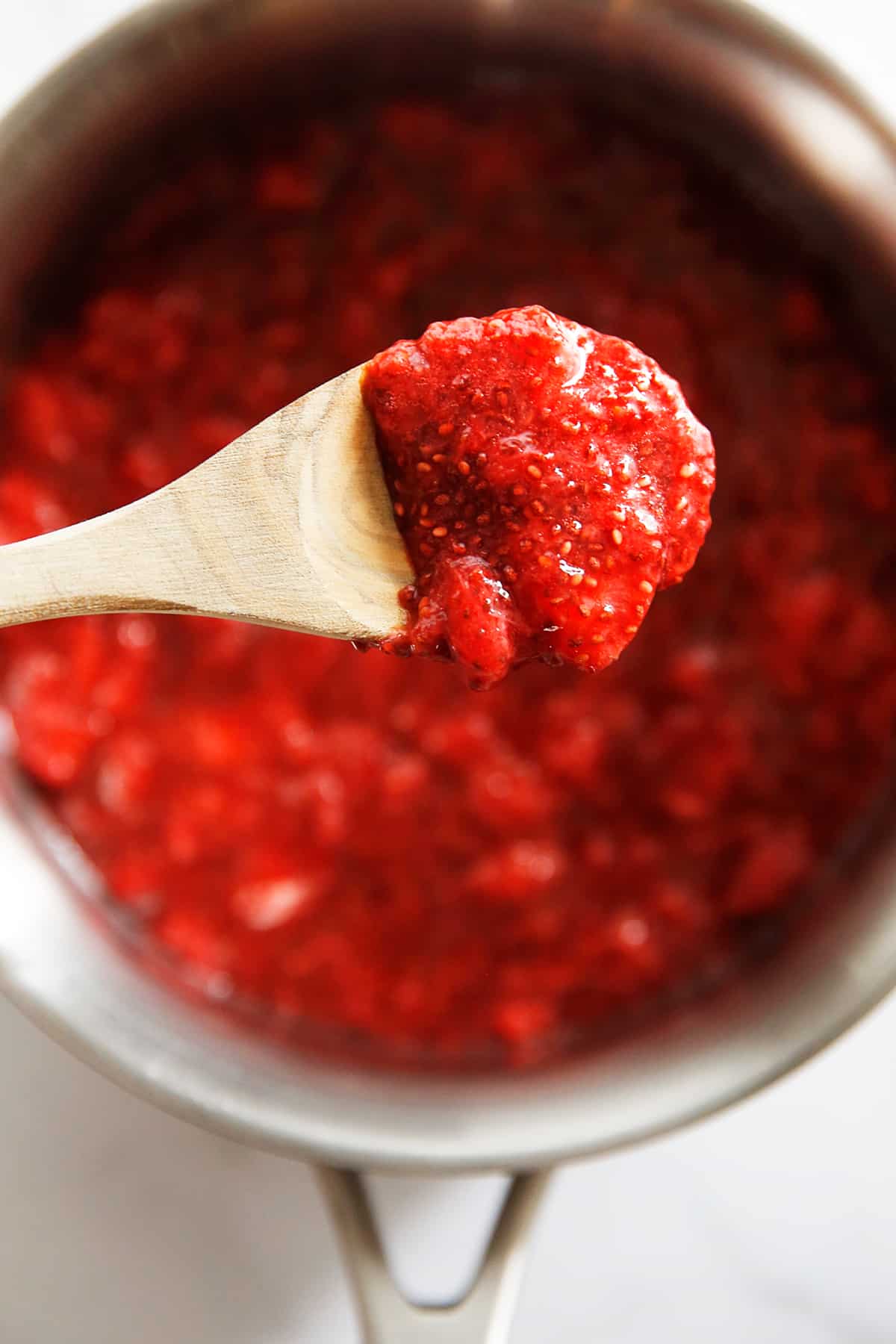 Are Chia Seeds Paleo?
Yes! Chia seeds are a Paleo-friendly and nutrient-dense. They're easy to digest and can even aid in digestion by helping this move along! They are also contain omega-3's which means they're not only good for your body but also good for your brain!
Can you make jam without pectin?
Absolutely! The chia seeds thicken this jam wonderfully by absorbing a lot of the liquid of the strawberries without having to cook the mixture for hours. As the directions state, we recommend cooking it a bit to get the correct desired consistency, and then after cooking the chia seeds will continue to absorb liquid to thicken up the jam.
What should I do with this healthy jam?
How long will this Strawberry Chia Jam last?
Store in a mason jar for up to 10 days in the refrigerator!
If you like this strawberry recipe, check out these others:
---
Watch the video here:
Strawberry Chia Seed Jam (Paleo & Vegan)
This Homemade Strawberry Vinaigrette adds such delicious flavor to any salad. The combination of fresh, local, sweet strawberries with tangy balsamic vinaigrette is salad dressing perfection. This vegan salad dressing is also Paleo friendly and will be loved by all!
Strawberry Vinaigrette Recipe
This vinaigrette screams summertime! Made with fresh strawberries, tart balsamic vinegar and salt and fresh ground black pepper to round it all out it will be perfect for a spring or summer salad! I also like to use it as a marinade for chicken of for a tart and sweet dip for fruits or veggies.
It's a great way to use up all those fresh, ripe strawberries! They can be slightly overripe, just be sure to test a strawberry from your batch to make sure it tastes good on it's own.
How to use this Berry Vinaigrette:
It works well as a salad dressing when you want a little sweet with your savory salads
Use it as a marinade for chicken
Add to to fruit salad
Use it as a dip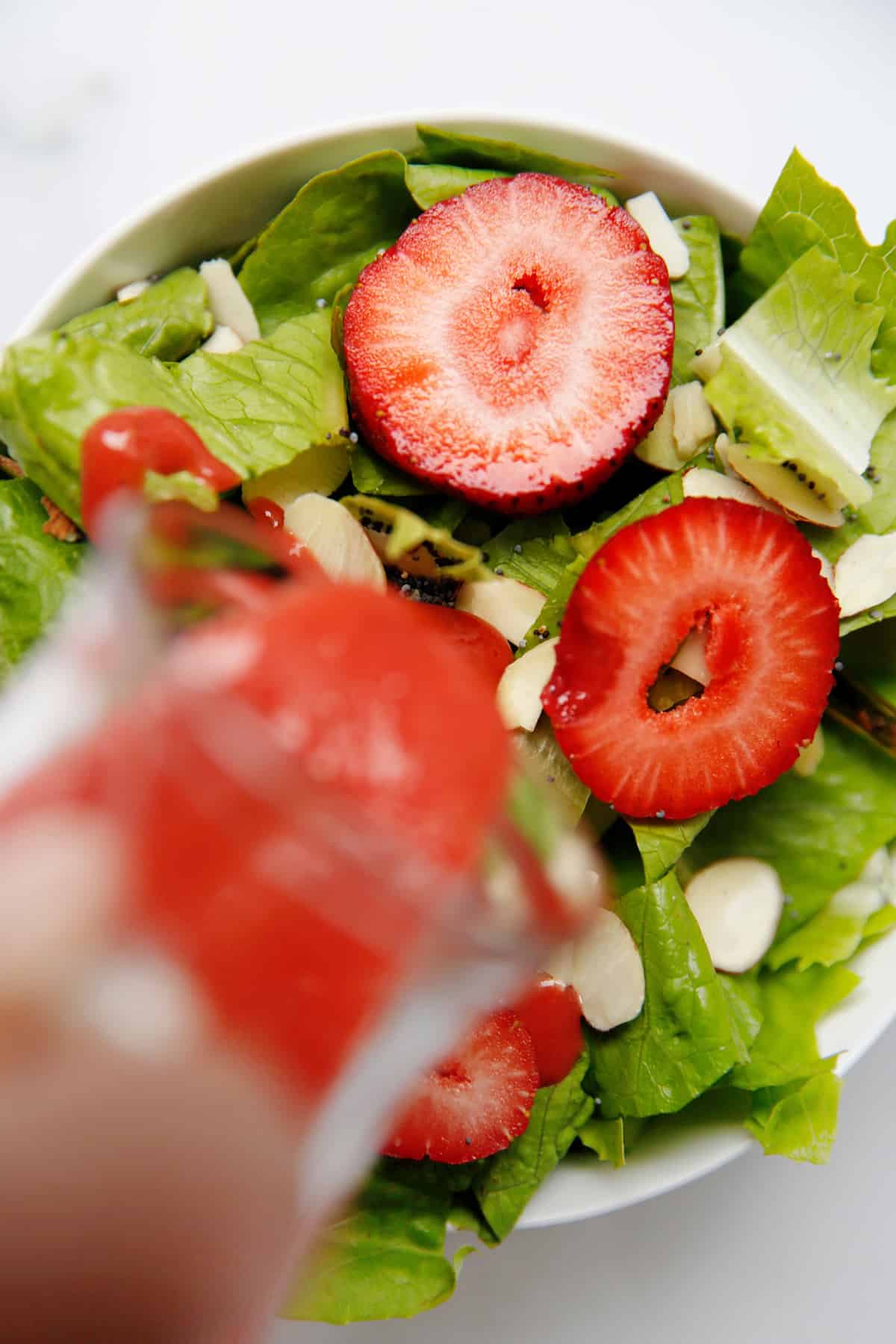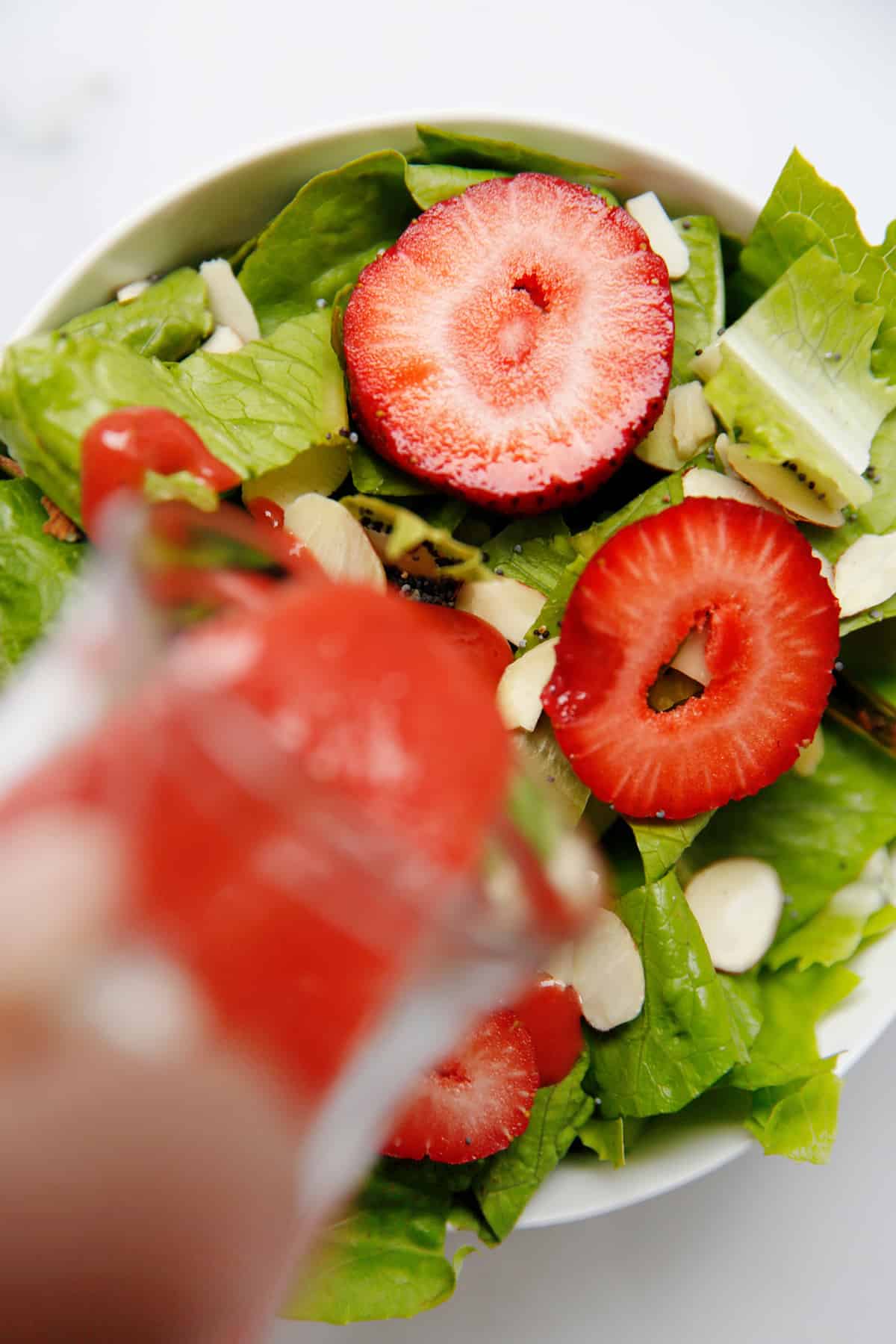 If you like this strawberry recipe, check out these others: