The Ultimate Southern Dinner is here! It's cleaned up and totally gluten-free. On the menu is Instant Pot Corn on the Cob + Southern Butter, Classic Mashed Potatoes, Gluten-Free Gravy, Collard Greens, and Fried Chicken (Hot or Not)!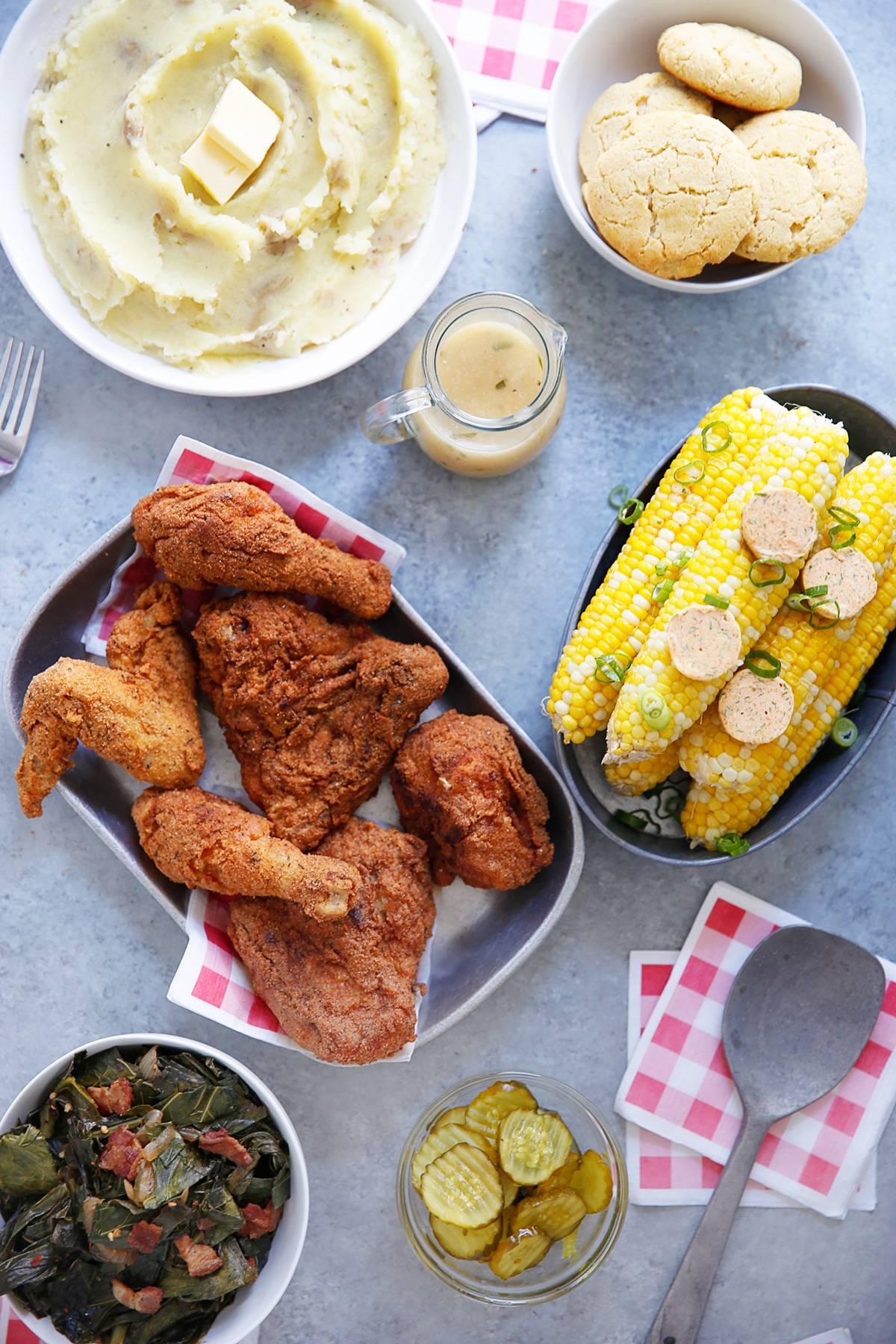 Ultimate Southern Dinner
This is the ultimate southern dinner party! Each day this week we shared a different recipe to complete an epic southern dinner!
Here is the menu and where you can find each recipe:
Here is a shopping list for the entire meal:
Items you probably have:
cayenne pepper
ground mustard
pinch allspice
cornstarch
garlic powder
onion powder
1 cup arrowroot flour
2 cups almond flour
dried thyme
Produce:
1 bunch parsley
6 small ears of corn
scallions
3 sprigs fresh thyme
1 Lemon
2 lbs. yellow or red potato
1 medium onion
2 bunches collard greens
Canned Goods:
Meat and Dairy:
1 cup butter
1-4 lb. chicken cut to 10 pieces (if you have a butcher, have a whole chicken broken down for you at the store)
3 eggs
3 slices smoked nitrate-free bacon
Miscellaneous:
---
Instant Pot Corn on the Cob + Southern Butter
Classic Mashed Potatoes
Gluten-Free Gravy
Collard Greens with Bacon
Fried Chicken (Hot or Not) + Air Fry, Baking, and Fry Instructions
use our hashtag!
I am so excited that you are making a recipe and would love to see how it turns out! Make sure to use the hashtag on social media!
#LEXISCLEANKITCHEN
share this post!
subscribe to the email list!