This Sausage and Spring Vegetable Pasta is my go-to gluten-free dish for a quick weeknight meal or for entertaining. It's delicious, serves a crowd, is easy to prepare, and is made using only ONE POT!
My blogging girlies and I are excited for SPRING, so we've teamed up to bring you five recipes packed with our favorite Spring produce. You have carrots, potatoes, leeks, broccoli, asparagus, spinach, strawberries, peas, and radishes!
Now, this pasta!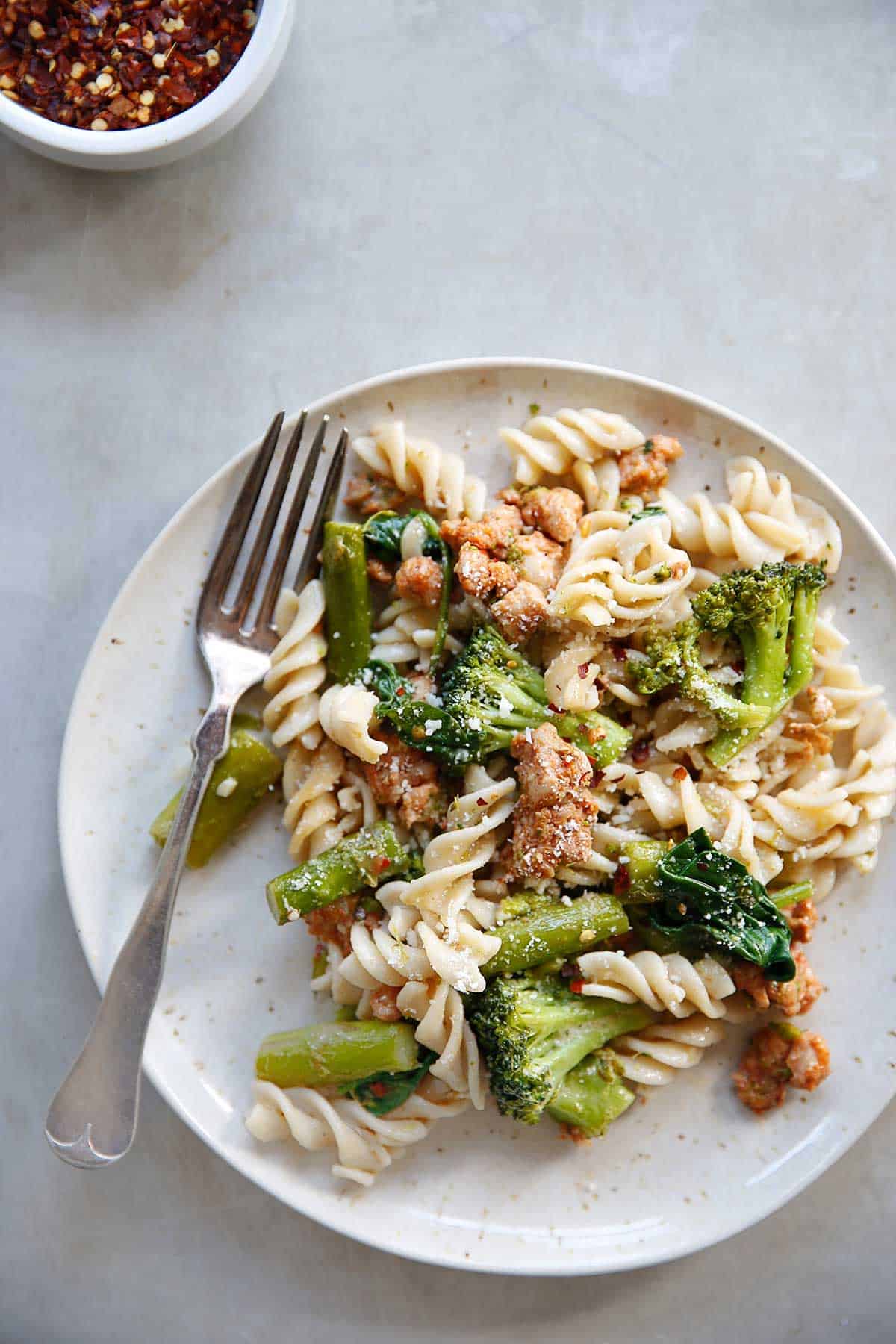 I always make this dish when entertaining. Super Bowl, a dinner party, or just having friends or family over. It's always a hit, and super easy to prepare!
Sausage and Spring Vegetable Pasta
Ingredients
1

package gluten-free pasta

3

tablespoons extra-virgin olive oil, divided

3

cloves garlic, minced

3

raw spicy chicken sausage links

3

cups broccoli florets

2

cups fresh spinach

1

bunch asparagus

Fine sea salt, to taste

Cracked black pepper, to taste

Red pepper flakes, to taste

Optional: 2 to 4 tablespoons fresh parmesan cheese
Instructions
In a large pot, make pasta as directed on the box/bag of pasta you are using.
Drain pasta and set aside.
In the same pot, heat 1 tablespoon of oil and sauté garlic for 30 seconds. Add in broccoli and asparagus and sauté for 5 to 10 minutes until fork tender. To speed up the time, add 2 teaspoons of water and cover the pot.
Remove the casing from the sausage and add to the pot. Cook until no pink remains.
Add the spinach and sauté until wilted.
Add the pasta into the pot, add remaining olive oil, and salt, pepper, red pepper flakes, and parmesan if adding. Taste and adjust spices as desired.
Serve hot!
use our hashtag!
I am so excited that you are making a recipe and would love to see how it turns out! Make sure to use the hashtag on social media!
#LEXISCLEANKITCHEN
share this post!
subscribe to the email list!