This Instant Pot Cheesy Chicken Broccoli and Rice is an easy-to-make dinner that the whole family will love. Made with a few simple whole ingredients, this healthy dinner will soon be a family favorite. Made in partnership with my friends at Farmer Focus!
Instant Pot Cheesy Chicken Rice and Broccoli
Everyone needs to have a healthy, hearty and most importantly, delicious dinner recipe that can be made quickly on a weeknight, and this Instant Pot Cheesy Chicken, Broccoli and Rice can be it! This easy chicken and rice dinner requires only about 10 minutes of prep and hands on cooking time, while the rest is done easily in the Instant Pot. The rice is creamy, the chicken is perfectly cooked and juicy and the broccoli is crisp tender. We're confident in saying even the pickiest of eaters will like this one!
Ingredients Needed for Chicken Broccoli and Rice
Farmer Focus Chicken Thighs (boneless and skinless)

Long-grain White Rice
Frozen Broccoli Florets
Chicken Broth

Onion

Garlic

Paprika
Cheddar Cheese
Cooking Broccoli in the Instant Pot
We knew exactly what we wanted when we set out to make this recipe: cheesy rice, with perfectly seasoned chicken and broccoli that was not overcooked. But this last bit proved to be the most difficult. Cooking broccoli in the Instant Pot usually results in overcooked broccoli. While for some dishes, that fall apart broccoli mess works, for this we were looking for crisp tender broccoli that stayed whole. Cooking it fully in the Instant Pot by adding it with the rice resulted in broccoli that fell apart. Cooking it in the Instant Pot after the rice had finished cooking for 0 (zero) minutes made the rice burn.
What we turned to was frozen broccoli florets that had been mostly thawed by rinsing under lukewarm water. Good quality frozen broccoli has already been blanched before freezing. Once thawed, the florets are much quicker to cook than fresh broccoli. So for this recipe, we added the thawed broccoli florets to the Instant Pot right after the rice finished cooking. Then closed the lid and allowed the broccoli to steam with the residual heat. This resulted in crisp-tender broccoli.
If you prefer to use fresh broccoli for this recipe you will need to cook it separately first, then add it to the finished rice along with the cheese. To do this in the Instant Pot: cook it first on a steaming rack with 1/2 cup of water on high pressure for 0 (zero) minutes. If you don't mind broccoli that is fall apart and wish to cook it with the rice, that is fine too! In fact, some kids will prefer it this way. It will result in soft broccoli bits all throughout the rice.
Why Quality Chicken is a Must
With so few ingredients in this dish, it is incredibly important to use quality chicken. I am so happy partnering with my friends at Farmer Focus to bring you this easy Instant Pot chicken recipe! Farmer Focus has been my go-to, trusted chicken for years now, because they pride themselves in producing the highest quality meat grown on family-owned farms. You can 100% taste the difference. I love knowing that, without a doubt, when I pick up Farmer Focus chicken at the grocery store, it's the best there is and I don't have to question whether it was raised in a humane way.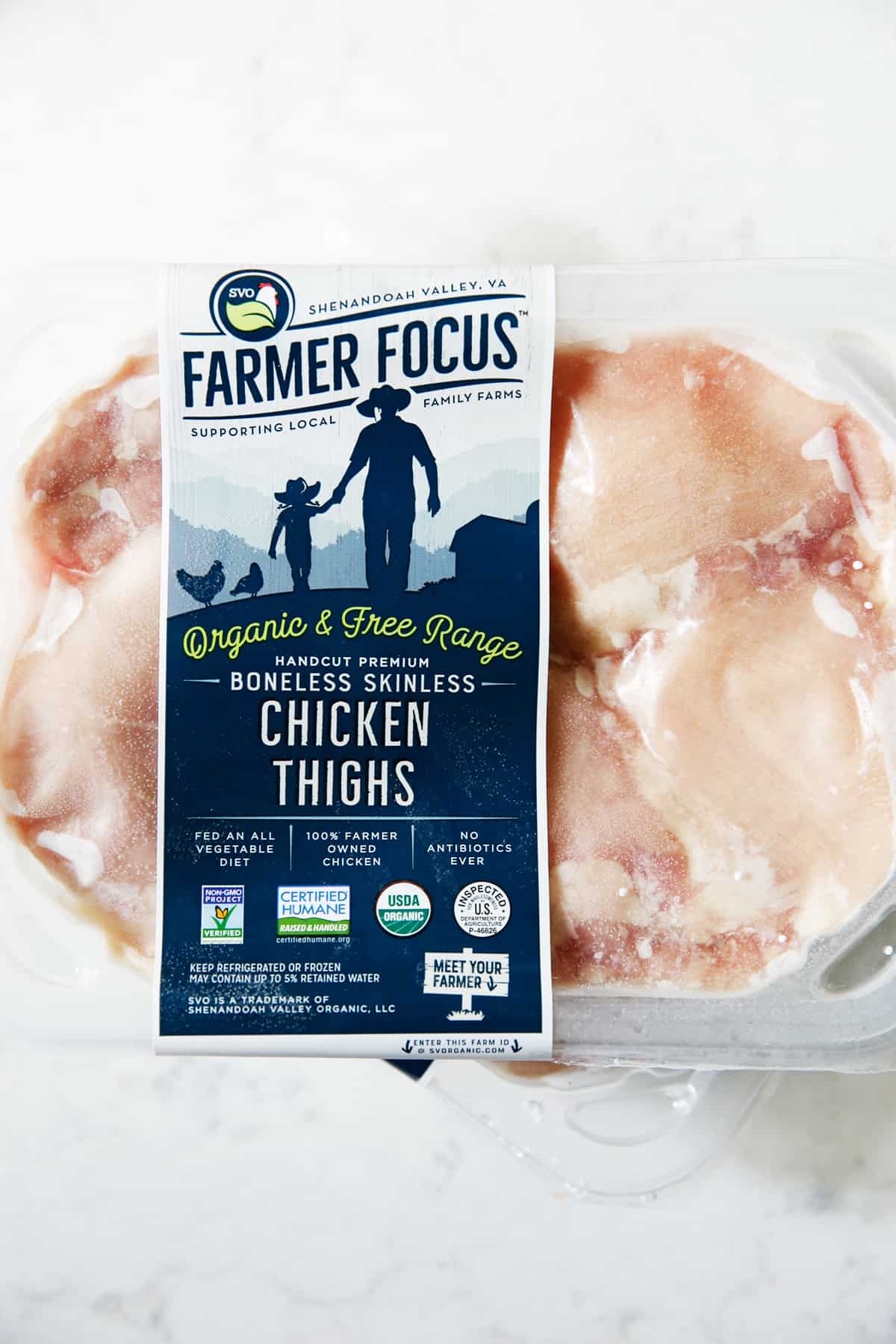 Farmer Focus is building partnerships with farmers through their innovative Farmer Focus Business Model
Here is what I love about Farmer Focus: they are a company that supports their farmer partners and they are working hard to do things right and truly raise and produce the highest quality chicken! Every Farmer Focus product includes a 4-letter Farm ID that traces your chicken to the farm that raised it. Buying meat from Farmer Focus also gives me peace of mind that I am supporting hard-working family farmers.
Farmer Focus chickens are humanely raised and fed a diet free from animal byproducts, pesticides, and antibiotics. On their website you can see where all of the farms are located, so you know just where your chicken was raised! How awesome is that?!
You can also use their easy store locator to find where you can get this amazing quality chicken near you.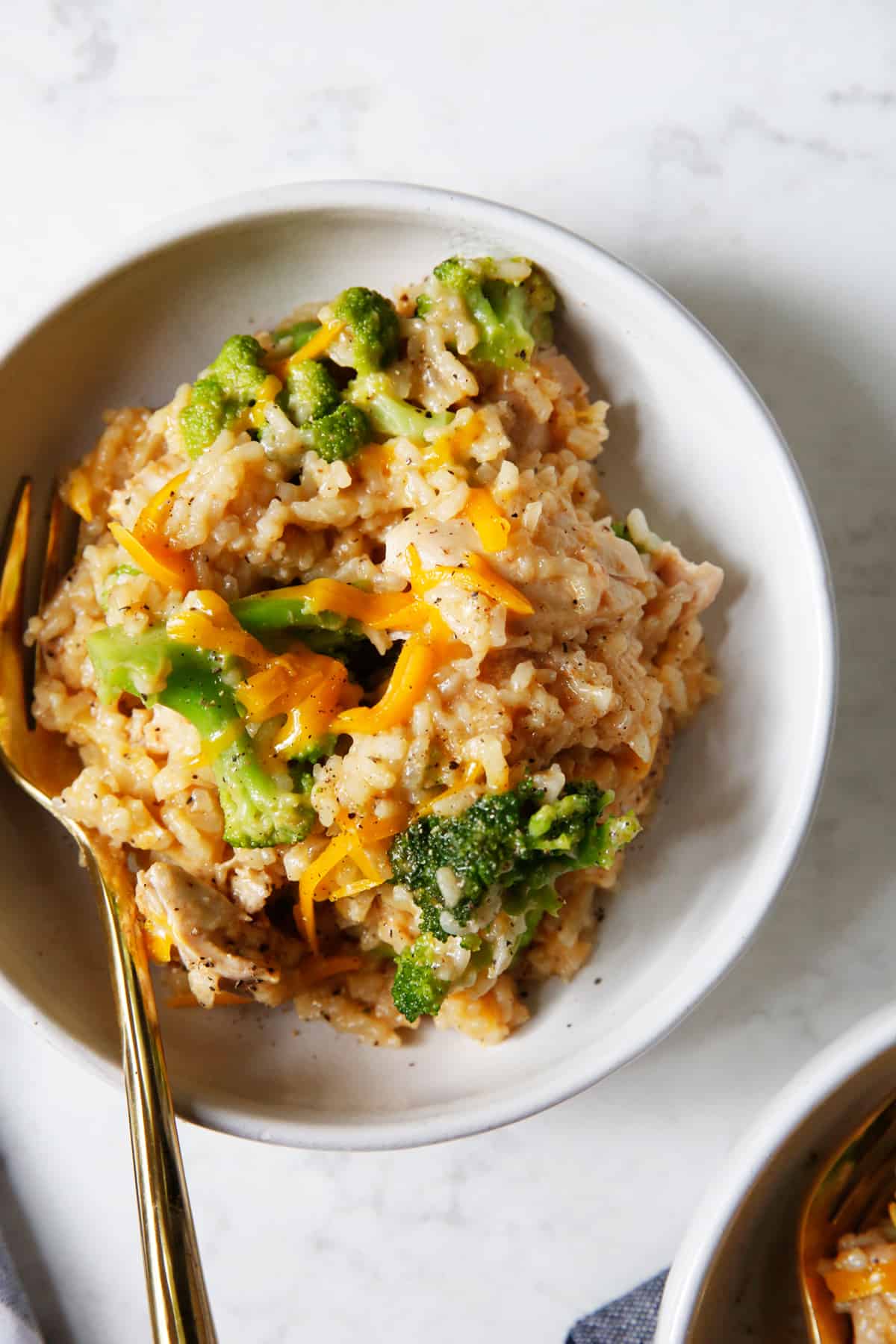 If you like this whole dinner in the Instant Pot, check out these others:
For more chicken recipes, check out these:
Watch the video: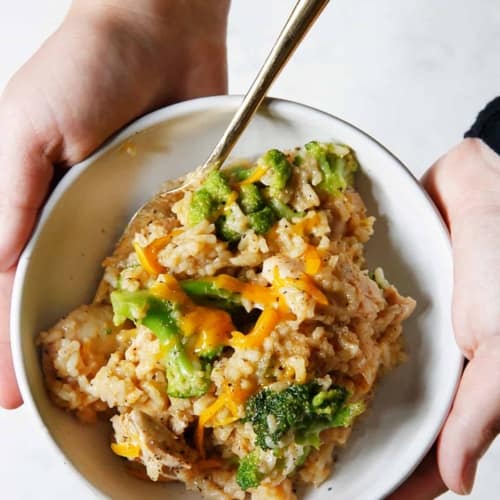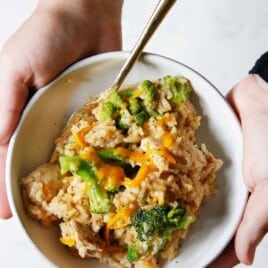 Instant Pot Cheesy Chicken, Broccoli and Rice
This Instant Pot Cheesy Chicken Broccoli and Rice is an easy-to-make dinner that the whole family will love. Made with a few simple whole ingredients, this healthy dinner will soon be a family favorite.
Ingredients
1

teaspoon

avocado or olive oil

1

medium onion

diced

3

cloves

garlic

minced

1

cup

long-grain white rice

rinsed and drained well

1-1/2

cup

chicken broth

1-½

lb.

Farmer Focus boneless and skinless chicken thighs

cut into bite sized pieces

1

teaspoon

salt

1

teaspoon

pepper

½

teaspoon

paprika

3

cups

9 ounces frozen broccoli florets (see note)

1

cup

shredded cheddar cheese
Instructions
Heat oil, using the saute function in a 6 or 8 quart Instant Pot. Once hot, add onion and garlic and cook, stirring often, until beginning to soften, about 5 minutes. Shut off the saute function.

To the pot, add rinsed rice, chicken broth, chicken, salt, pepper and paprika and mix well. Place the lid on the Instant Pot and set the valve to sealing. Cook on manual high pressure for 10 minutes and when done use a quick pressure release.

While the chicken cooks, rinse frozen broccoli florets under lukewarm water for 2 minutes. Set aside.

Once all the pressure has released, remove the lid from the Instant Pot and add in the broccoli florets and cheddar cheese and mix well to combine. Place the lid back on top, and switch the valve to sealing and let the mixture steam (leaving on the warming feature is fine) for 10 minutes. Release any built up pressure and remove the lid.

Stir the rice and serve immediately.
Notes
Frozen broccoli is used because after it is defrosted it cooks quicker than fresh broccoli would. If you prefer to use fresh broccoli for this recipe, you'll have to partially (or fully) steam the broccoli before adding it to the cooked rice.
If your frozen broccoli is large, once it is defrosted cut it into 1-½" florets so that it will cook evenly.
Nutrition
Serving:
1
/4 recipe
Calories:
414
kcal
Carbohydrates:
40
g
Protein:
36
g
Fat:
11
g
Saturated Fat:
6
g
Cholesterol:
70
mg
Sodium:
900
mg
Fiber:
3
g
Sugar:
2.8
g