These Air Fryer Chicken Taquitos will be your new go-to weeknight meal, freezer meal, snack or lunch! Made with just 4-ingredients, these chicken taquitos are easy and a hit with absolutely everyone.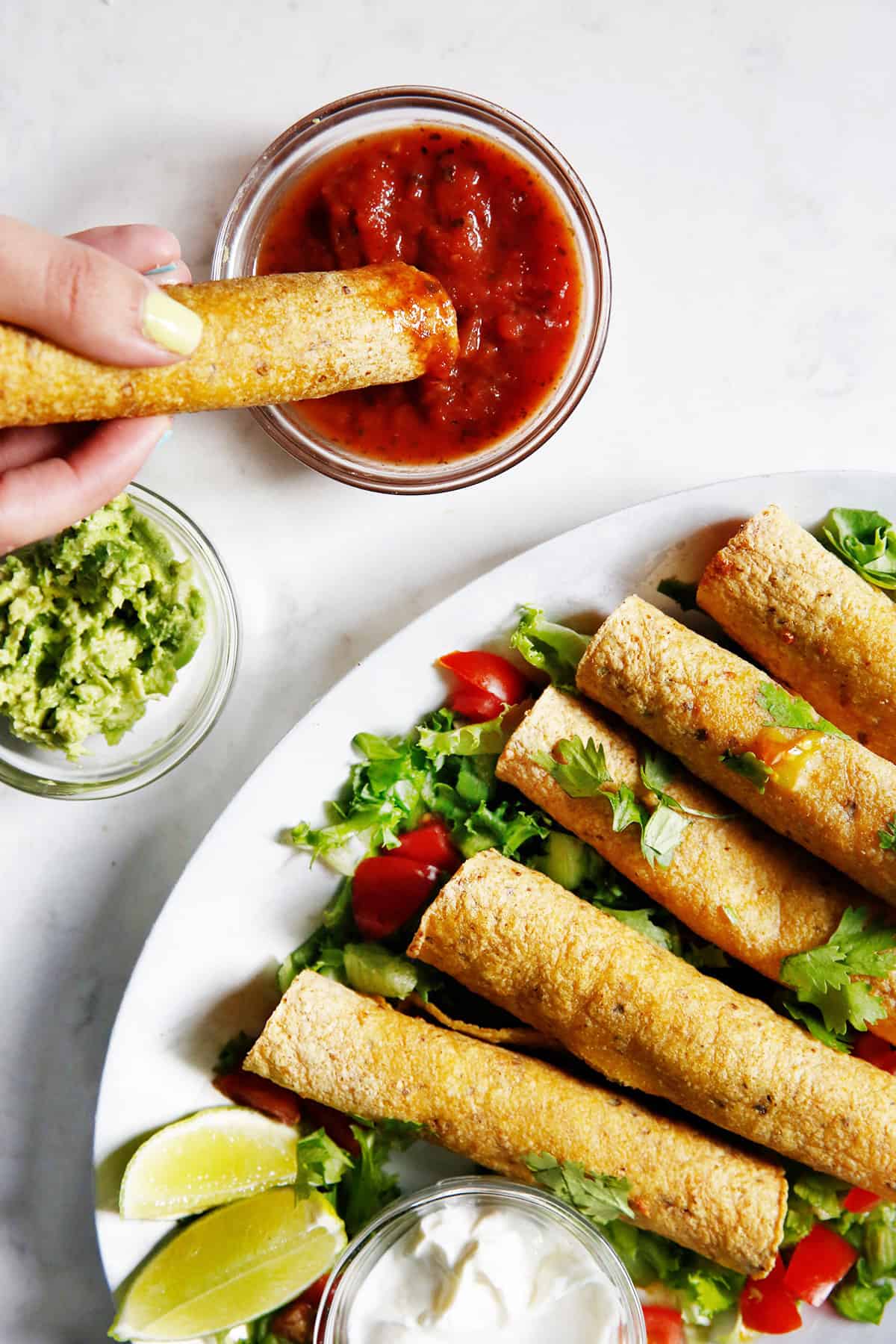 Air Fryer Chicken Taquitos
Take a bite into these taquitos and you'll crunch into a perfect bite of taco-style chicken with just the right amount of cheese to tie it all together.
These have become a new staple in our home, probably because they're so simple to prepare, freeze wonderfully, and are super customizable.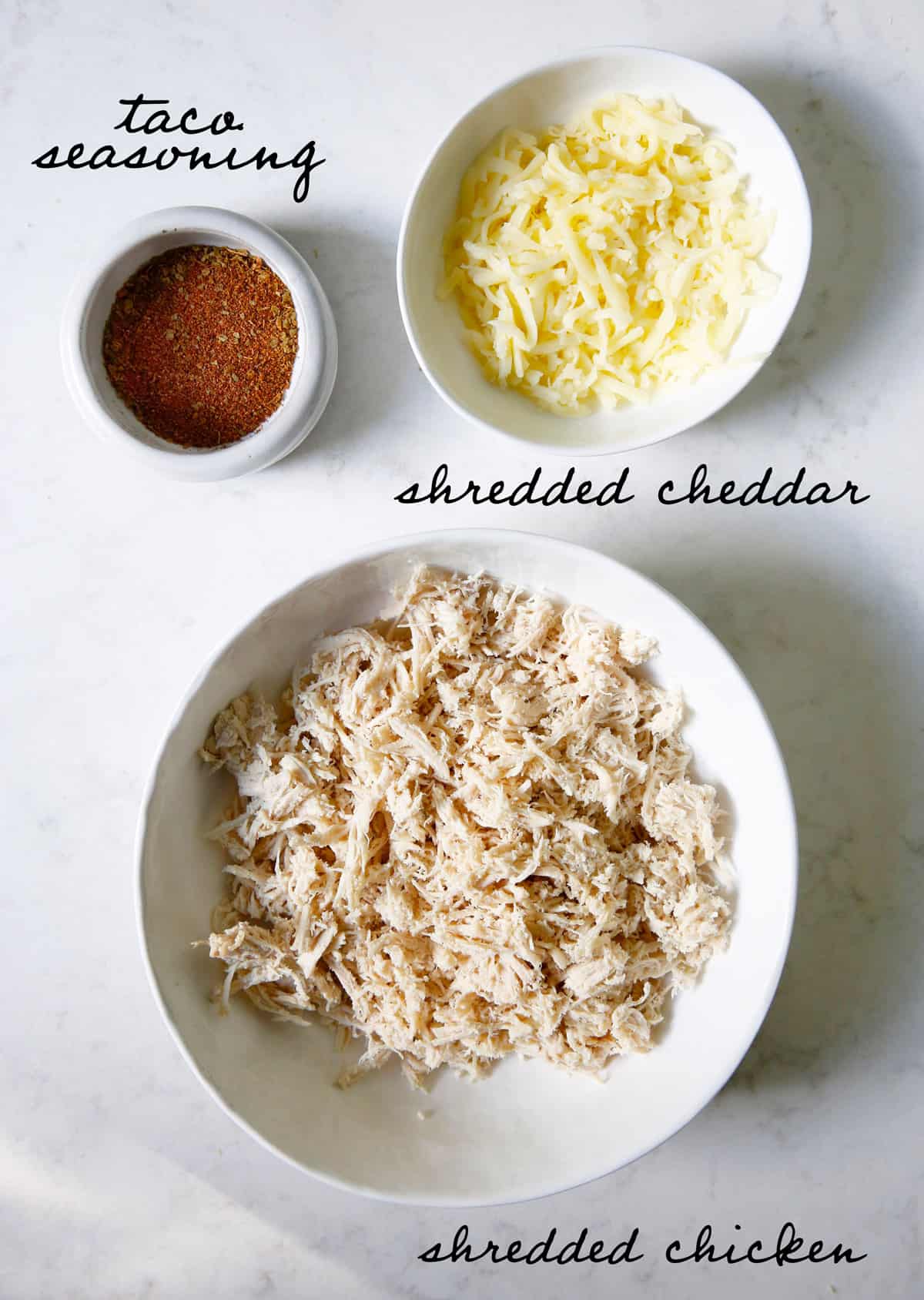 Ingredients Needed for Chicken Taquitos
Here is an overview of the list of ingredients you need for this recipe. For the full recipe with measurements and instructions, keep scrolling to the bottom.
Avocado Oil Spray: See note below on what to avoid when using oil spray with an air fryer.
Tortillas: Corn, grain-free, or whole wheat
Shredded Shicken: I love making a batch of my Shredded Chicken in the Instant Pot but feel free to use rotisserie chicken here for an other shortcut!
Shredded Cheddar Cheese: Any/your favorite will work or grab a Mexican cheese blend.
Taco Seasoning: You can use store bought taco blend of choice or make your own Easy Homemade Taco Seasoning.
That's it! Want to add some other yummy add-ins? Some great additions are:
How to Serve Them
Honestly, they're so delicious they can be served all by themselves. But serving them with garnishes is fun too. Here are some garnish recommendations:
Shredded Lettuce
Diced Tomatoes
Cheese
Hot Sauce
Scallions
Avocado Slices
Diced or Marinated Onions
Cilantro
A Note on oil sprays
Something worth noting, whether using Avocado Oil Spray, olive oil spray, or any other oil spray, avoid using an oil spray with propellant/aerosol. Aerosol spray cans can ruin your air fryer basket. It's best to use a good quality oil mister or spray without any added ingredients.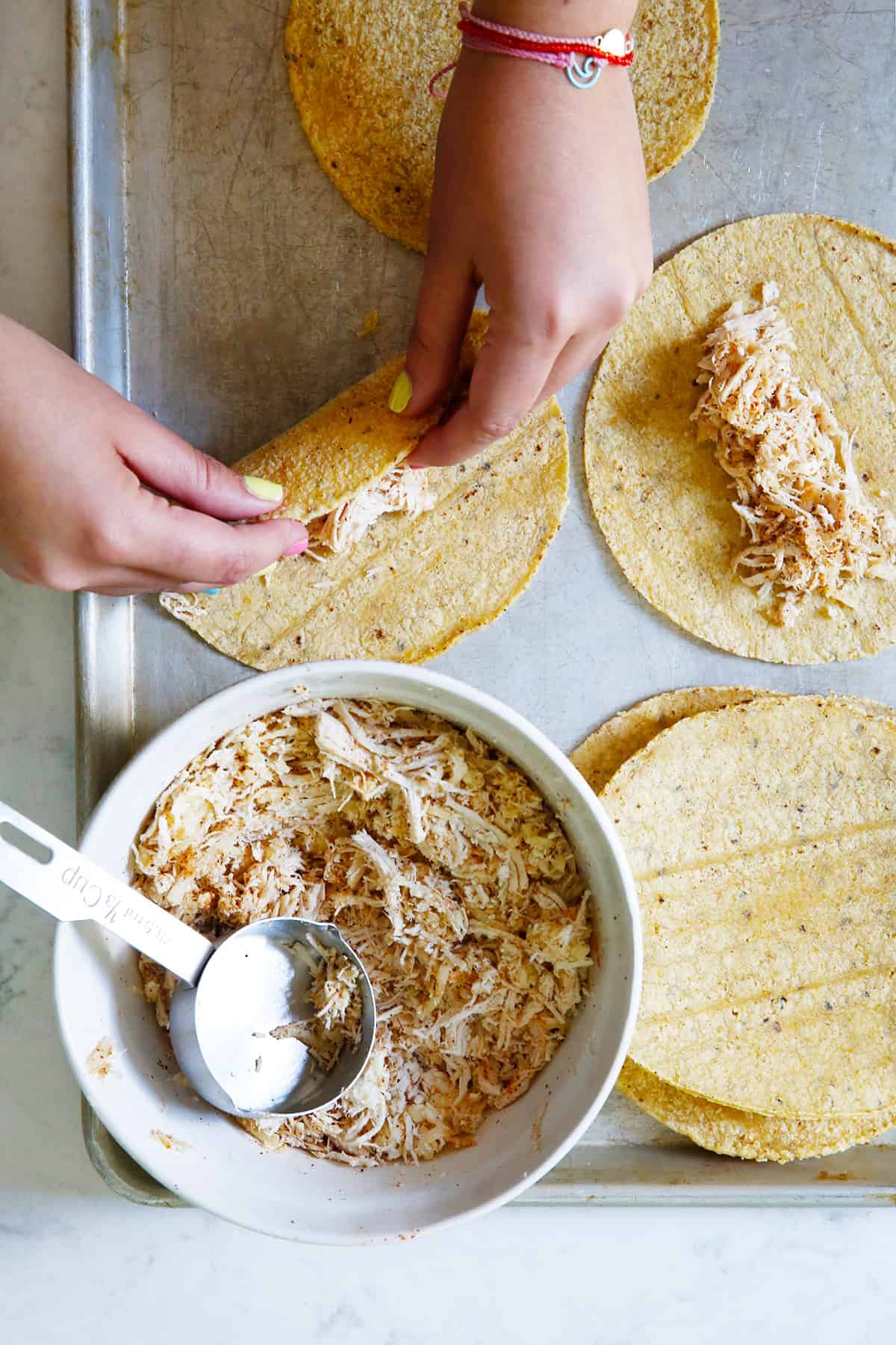 What Type of Tortillas to Use
We tested this recipe with corn tortillas, almond flour tortillas (from Siete Foods), and whole wheat tortillas. All worked well! We also know you can easily use traditional flour tortillas if you want. Just make sure they're heated well (see below), and give a spritz of oil spray where they seal if needed.
Tips for Rolling Taquitos
My best tip for rolling taquitos is to make sure your tortillas are heated up! If you skip this step, your tortilla won't be as flexible, and it could crack when filling, or unroll. So take the time to heat up the tortillas.
There are a few different methods of warming up tortillas, but the most common is to heat them up one by one in a hot skillet. Or to place them in the microwave to soften. I don't recommend heating them over an open flame or under a broiler when making enchiladas as they can get too crispy.
If you are warming them up one by one, place the heated tortillas in a towel while you heat the others so they stay warm.
Once you've warmed up the tortillas, place the filling off the center toward one end of the tortilla in a small mound. Then, roll it up tightly and place it seam side down on your prepared sheet pan.
Pro-tip: Don't roll it out so tight that you squish your filling down to the edges of the rolled tortilla. As this bakes, the filling will bubble and start to come out the sides. If you push the filling towards the edge of the tortilla before it bakes, more of the filling will spill out the sides than necessary.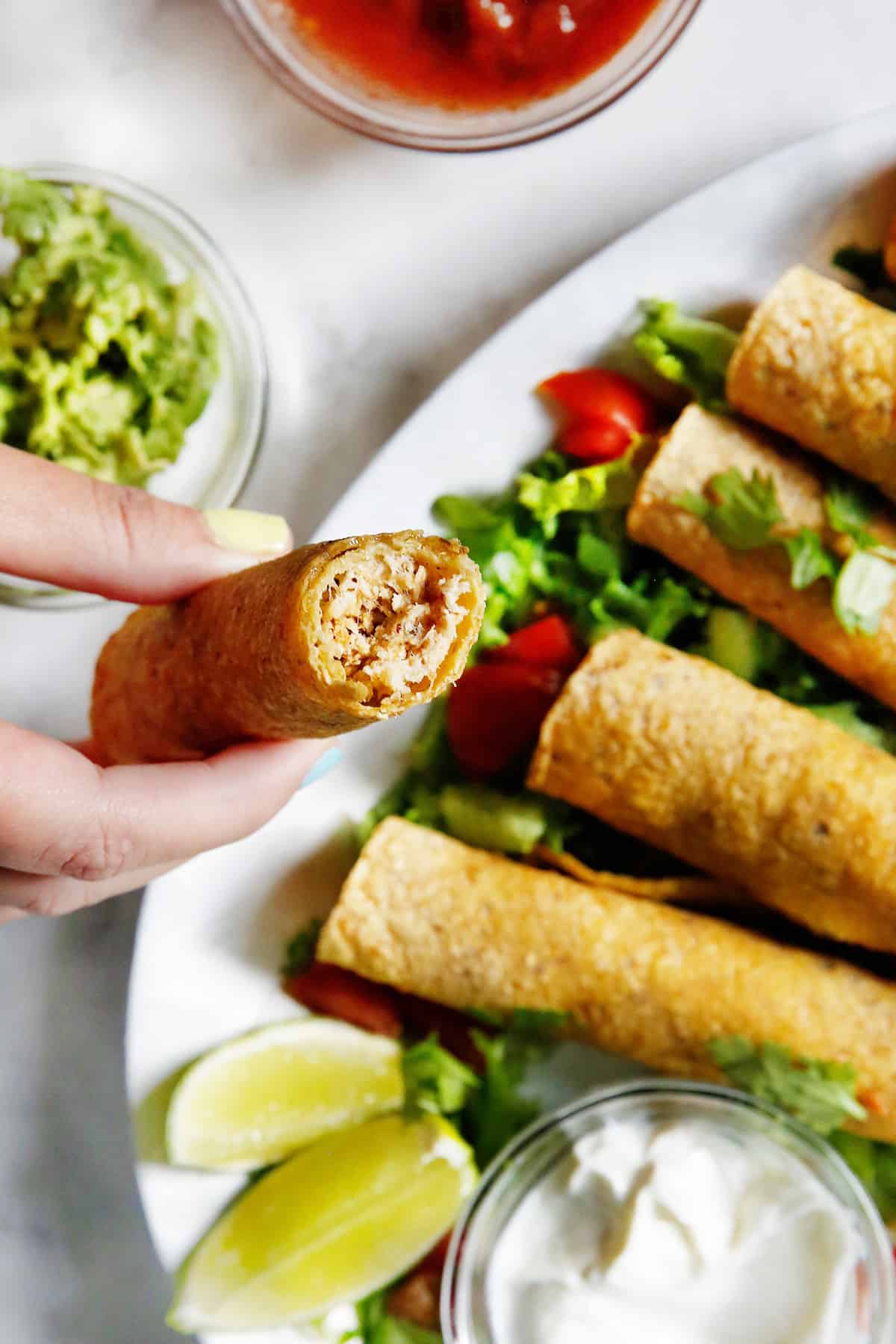 How to Bake Taquitos
While I am now fully obsessed with taquitos in the air fryer, you can also bake them in the oven on a sheet pan. You don't need to use a ton of oil to get these crispy, but you need to use enough that it actually can crisp up.
We recommend rubbing or spraying oil on the parchment paper, and then doing the same with the tops of the taquitos after they have been rolled. We love this Avocado Oil Spray for this. It allows an even distribution of oil on both the sheet pan and the tortillas without adding too much, and the only ingredient in this spray is the oil!
The tortillas are baked in a 400ºF oven for about 15-20 minutes. They should be flipped halfway through the baking time. I recommend baking them for 10 minutes first, flipping and then baking for the additional amount of time it takes for them to get lightly golden and crispy. Baking time will vary depending on the type of tortilla you use.
What Type of Air Fryer to Use
We've tried quite a few air fryers over the years. We've have and use this basket style, this Instant Pot air fryer attachment and this toaster-style air fryer! They all work great! It's quite a personal preference which you choose. Do you want/need a new toaster? Do you have space for a solo new appliance? All these things will go into consideration when shopping and deciding which of those will work for you.
What there is to be aware of about air fryers though is that some of them can be quite small. If yours has a small capacity, you may have to make the air fryer taquitos in batches. Though I'm guessing if you've been using this air fryer for a while, you've already learned that.
Cooking it in batches, if you have a small capacity air fryer, ensures there is plenty of air circulation around the wings so they can get crispy.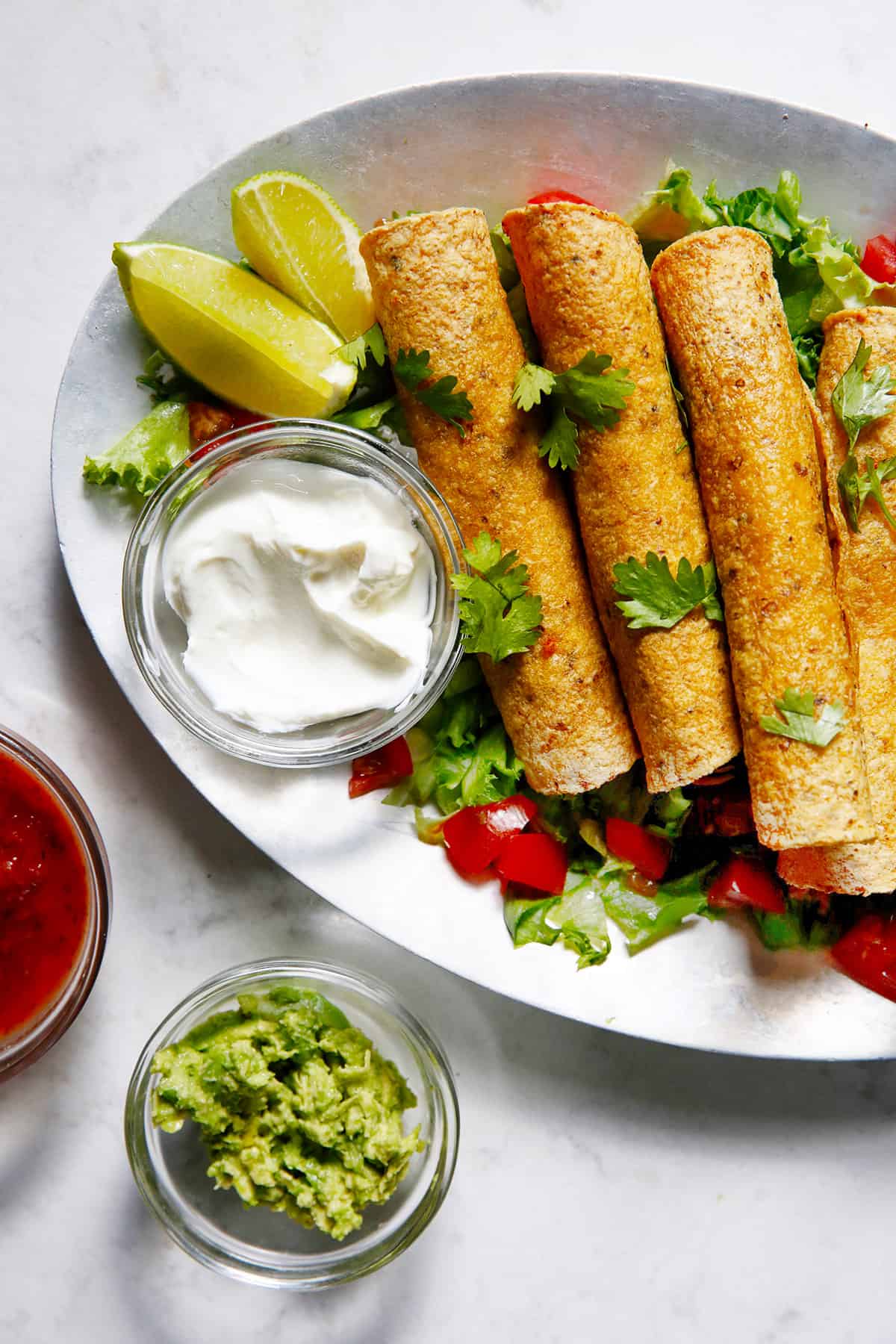 Freezing and Reheating Taquitos
We love a good freezer meal, and these chicken taquitos freeze so well! I always have them in the freezer or bring them to a new mom or a friend in need.
To freeze them, let them fully cool down. Freeze them flat on a sheet tray until they're frozen solid (about 8 hours in the freezer), and then transfer them to a freezer-safe bag. They keep well for 3-6 months.
Reheating Directions:
When ready to heat, place in a toaster oven or back in the oven and bake for about 15-20 minutes, flipping halfway through until very hot and crispy.
Love this easy chicken dinner? Try these other chicken recipes:
Watch The Video: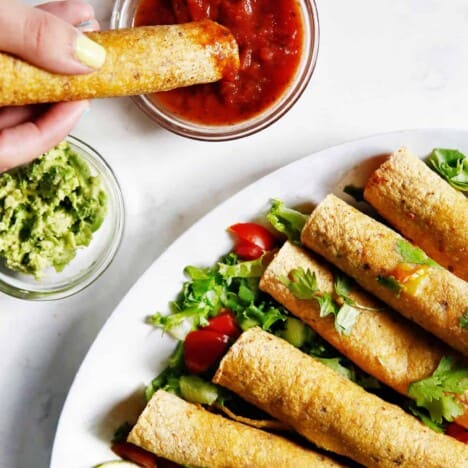 Air Fryer Chicken Taquitos
night meal, freezer meal, snack or lunch! Made with just 4-ingredients, these chicken taquitos are easy and a hit with absolutely everyone.
Ingredients
12

tortillas

see note

3

cups shredded chicken or rotisserie chicken

1

cup

shredded cheddar cheese or Mexican cheese blend

2

tablespoons

taco seasoning

store bought or homemade

Avocado oil spray
Garnishes:
Lettuce

Tomato

Guacamole

Salsa

Sour Cream or Greek Yogurt

Cilantro

Scallions
Instructions
Preheat Air Fryer to 400 degrees.

In a bowl mix together shredded chicken, taco seasoning, and cheese.

Warm tortillas up either in a hot cast-iron skillet or in the microwave until malleable. Place 1 tortilla down on a flat surface and fill it with about 1/4 cup of the chicken mixture off to the side. Roll up the tortilla tightly and place it, seam side down on the air fryer basket/air fryer sheet. Continue until all of the filling has been used up.

Lightly oil the tops of the tortillas.

Cook in batches for 6 minutes, flipping halfway though, until the tortillas are lightly crisp and the filling is melty.

Serve taquitos as desired with optional garnishes of chopped lettuce, salsa, guacamole, cilantro, hot sauce, etc.!
Notes
We tested this recipe with corn tortillas, almond flour tortillas (from Siete Foods), and whole wheat tortillas. All worked well! We also know you can easily use traditional flour tortillas if you want. 

We have found a cooking spray such as

avocado oil

(which has no other additives) useful for lightly applying oil to the tops of the tortilla. If you don't have that, you can just use your hands or a pastry brush to lightly oil the tops of the tortilla.
Nutrition
Serving:
1
taquito
Calories:
134
kcal
Carbohydrates:
11
g
Protein:
7
g
Fat:
6
g
Saturated Fat:
3
g
Cholesterol:
24
mg
Sodium:
190
mg
Fiber:
1
g