These Braised Artichokes with Garlicky Pecan Bread Crumbs use the best way how to cook artichokes! After posting our Artichoke 101 guide, we created this delicious recipe using our favorite method that results in perfectly cooked artichokes, topped with healthy lemon and garlic flavored pecan breadcrumbs. This dish can serve as with a nutritious side dish, or appetizer or a snack! This artichoke dish is paleo, gluten-free and low-carb. Made in partnership with American Pecans.

Braised Artichokes with Garlicky Pecan Bread Crumbs
Let's be honest, cooking and eating an artichoke is NOT the easiest or fastest way to get a meal on the table. But these braised artichokes with pecan breadcrumbs are such a special treat with a nutty and rich flavor that they are worth the effort. Plus artichokes are good for you! They're a good source of fiber, vitamin C and are rich in anti-oxidants. But we went the extra mile and swapped out traditional breadcrumbs for these wholesome pecan breadcrumbs that really make this dish special.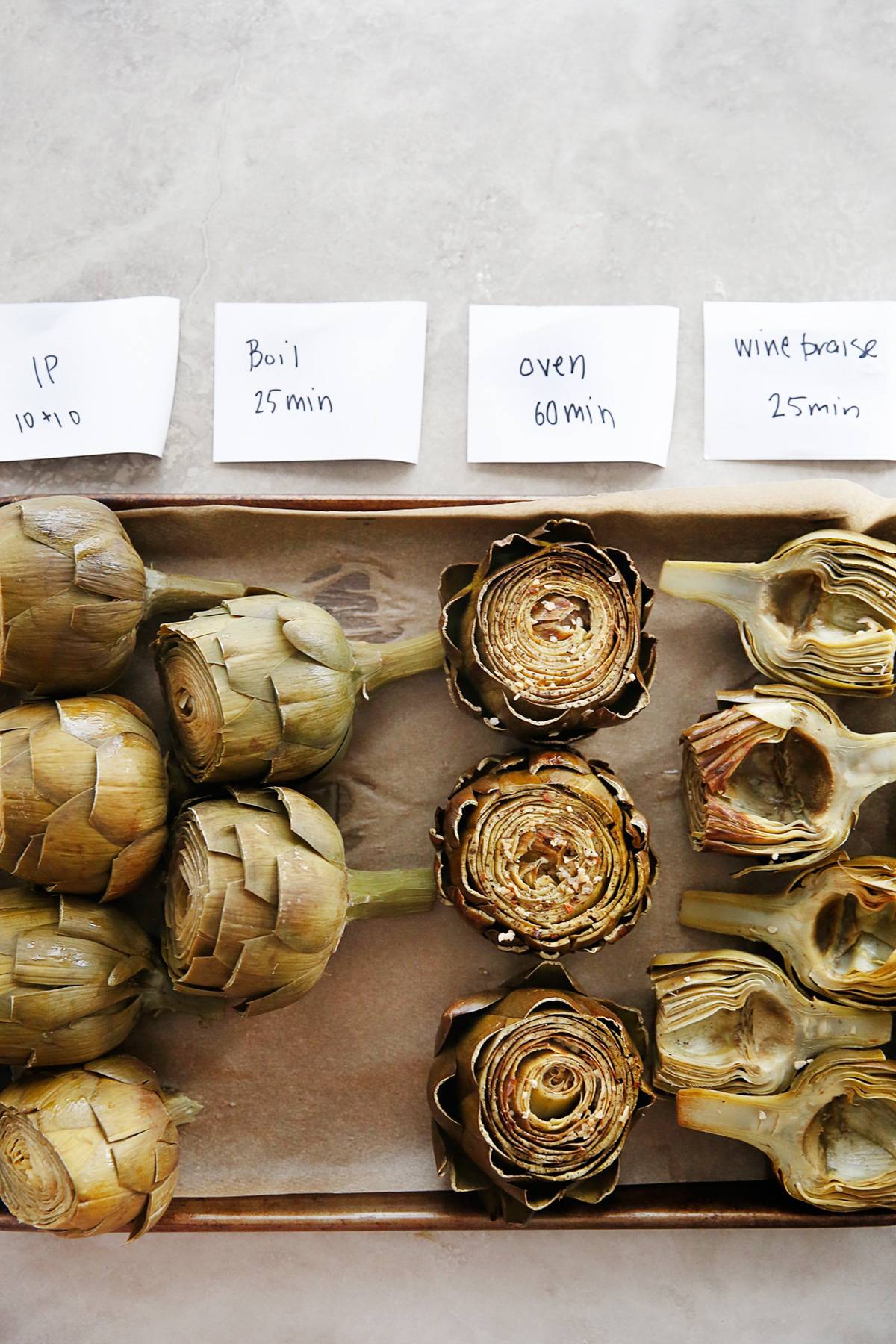 How to Cook Artichokes
We have an entire guide dedicated to everything you need to know about buying, preparing and eating artichokes. You can check that out here for more information.
We tested a lot of methods for cooking artichokes! We tried roasting in the oven, boiling, steaming in the Instant Pot and braising them. For us we really wanted to keep all that delicious moisture and flavor in the artichokes! In the end, our favorite method was braising them. But using other methods of cooking has it's place as well!
Braised Artichokes (see the full recipe below):
Sear artichokes.
Add braising liquid and braise until tender, about 20-25 minutes.
Top with breadcrumbs and broil.
Baked Artichokes:
Pre-heat the oven to 425º F and prepare and clean the artichokes for cooking (instructions above).
Place desired amount of artichokes in a foil packet. Make sure to seal it tightly to prevent any moisture from escaping.
Bake for 50 minutes. Take care when opening up the foil packet as some hot steam may come out.
Boiled Artichokes:
Fill a large pot with salted water and 6 garlic cloves and heat on high.
Prepare and clean 4-6 artichokes for cooking. Make sure to leave the artichoke whole.
Place prepared artichokes in water and boil for 25 minutes, or until the artichoke can easily be pierced with a knife.
What are Pecan Breadcrumbs?
Pecan breadcrumbs are simply pecans ground up and mixed with seasoning. We love them as they are totally all purpose! They're great on Mac and Cheese,  Pecan Popcorn Chicken and of course these delicious braised artichokes! They are the perfect, all-purpose, nutritious topper to so many dishes!
Pecans are The Original Supernut that is power-packed with protein and in every 1-ounce serving, you'll get 12 grams of "good" monounsaturated fat, with zero cholesterol or sodium! A handful of pecans (about 19 halves) is a good source of fiber, thiamin, zinc, and an excellent source of copper and manganese – a mineral that's essential for metabolism and bone health. They are a naturally sweet, buttery, flavorful, and lower carb compared to many other nuts!
Other dishes to use Pecan Breadcrumbs:
On Baked Fish
On Top Of Mac & Cheese
Roasted Veggies
Chicken Cutlets
In/On Pasta Dishes
In Stuffed Mushrooms or Stuffed Tomatoes
Sautéed Kale with Breadcrumbs
---
For all the details on how to prep artichokes, the different ways to cook them, how to eat them, what to avoid and more, check out this guide.
Love artichokes? Try these other artichoke recipes:
Want more ways to cook with pecans? Try these favorites:
Braised Artichokes Recipe
Braised Artichokes with Garlicky Pecan Bread Crumbs
These Braised Artichokes with Garlicky Pecan Bread Crumbs use the best way how to cook artichokes! These tender and rich artichokes are perfectly cooked and topped with fresh lemon and garlicky pecan bread crumbs.
Ingredients
3

globe artichokes

see note

Lemon

cut in half (for brushing on artichoke to prevent browning)

2

teaspoons

avocado oil

or oil of choice

1

cup

white wine

1

cup

stock

vegetable or chicken

3

cloves

garlic

crushed

1-1/2

teaspoon

fine sea salt

divided

2

cups

fresh pecan halves or pieces

2

teaspoons

lemon zest

1

teaspoon

garlic powder

1/2

teaspoon

black pepper

1/2

teaspoon

red pepper flakes

optional

1

tablespoon

olive oil

for garnish
Instructions
To Prepare the Artichokes:
Remove any loose or broken leaves on artichoke and take off any leaves attached to the stem.

Trim off the tip of the stem (or if you do not like the taste of the stem you can remove the whole thing) and peel it using a vegetable peeler.

Trim off the top 1/3 of the artichoke and squeeze a bit of lemon juice on to cut areas to prevent browning. Using a serrated knife is easiest.

Using kitchen sheers trim off the remaining thistles on the outer leaves. Be careful as they can poke you!

Gently open up artichoke and rinse really well under cold water, getting water inside of the leaves to get out any debris.

Once it is cleaned, carefully cut artichokes in half.

Using a spoon remove the "choke". You must do this as they can be a choking hazard (hence the name). This is the purple / pink inner leaves extending down to the white fuzzy hairs. Simple scoop it out and discard.

Using a large heavy bottomed skillet, heat avocado oil over medium-high heat. Once heated, gentle place artichokes cut-side down and brown for 3-5 minutes.

Turn heat down to medium and carefully add broth, wine, 1 teaspoon salt and garlic cloves to the artichokes.

Turn heat to medium-high to bring the broth to a simmer, and then reduce heat to medium-low and cover. A glass lid is useful here to keep an eye on the liquid level.

Simmer for 20-25 minutes, until artichokes are easily pierced with a sharp knife. Check often on artichokes to make sure all the broth has not evaporated.

Meanwhile make the "breadcrumbs" by pulsing pecans, zest, garlic powder, black pepper remaining 1/2 teaspoon salt and red pepper flakes until until they fine, but not pureed.

Once artichokes have fully cooked, pre-heat the broiler.

Place cooked artichokes cut side up on a rimmed baking sheet and sprinkle with breadcrumbs. Lightly drizzle olive oil on top and broil for 2-4 minutes until nuts are toasted.

Serve warm with extra lemon slices.
Notes
Choose artichokes that feels heavy for their size, indicating that it has a good amount of moisture, with tightly closed leaves. The artichoke should not have a lot of bruising or brown spots. We are using the normal sized globe artichokes, as opposed to the small or baby ones. If you choose to use baby ones you will have to adjust the cooking time.
This post is sponsored by the American Pecan Council. All thoughts and opinions are always 100% my own! I love pecans and the farmers who grow them! Thank you for continuing to support LCK and the brands I work with!