Roasting your own red peppers at home is much easier then you think! There are a few different methods of doing it, but they're all simple! We're talking about all the tricks and tips you need to know for How to Roast Peppers!

How to Roast Red Peppers
Roasted peppers add a definite flavor boost to any recipe they're used for. But did you know that it's super simple to make them at home? It's a great project to do if you have an overabundance of peppers from your CSA or garden, and of course, they're delicious. Roasted red peppers keep well in the refrigerator or freezer. We're sharing everything you need to know about How to Roast Peppers today!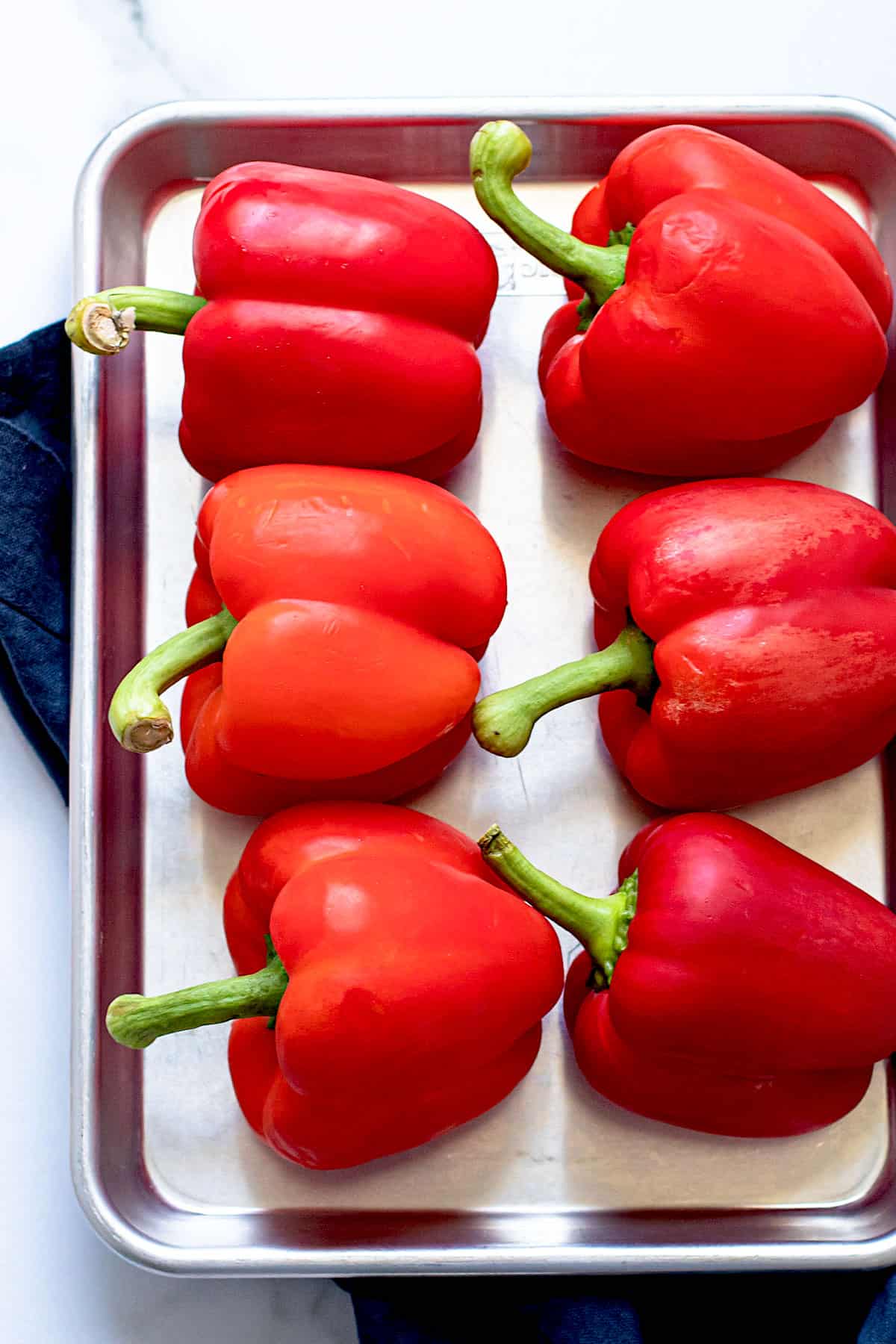 Basic Steps for Roasting Peppers
As we've alluded to, this recipe is quite simple! To make roasted peppers, you simply need to roast them in their own skin. The pepper skin gets charred on the outside while the inside of the pepper cooks through and takes on that wonderful smoky flavor. There are a few different methods for doing it, and we'll talk about that more below.
Once your peppers are roasted, you need to let them steam. This finishes the cooking process of the peppers and allows the skin of the pepper to come apart so that when it's finished steaming, you can easily peel it off.
To steam the peppers you just put them in a bowl, or other heat-safe container and put a lid on it. The heat from the roasted peppers is trapped within the container and will continue to cook them. You can use a container with a tight-fitting lid, or a bowl with plastic wrap. If you do not have or don't want to use either of those two methods, you can place a kitchen towel over the bowl, but it isn't quite as effective as the other two.
Once the peppers are steamed and cool enough to handle comes the fun part: taking off the skin! We recommend you do this by hand. Simply peel the skin off as best as you can. It's okay if there are some black spots left on the peppers as that contributes a wonderful smoky flavor.
Do not wash the peppers after they have been steamed. This washes off all the flavor. At this stage, you also want to take off the stem and the seeds inside. Discard those.
Once you've finished cleaning the peppers you can either leave them in large pieces, or you can dice them up!
Different Methods to Roast Peppers
So now that you know the basic steps of roasting peppers, let's talk about the different methods of roasting them.
Broiler:
This is our preferred method of roasting peppers. It's largely hands-off, except for the occasional turning of the peppers. And this method means you can do all the peppers at once. We recommend setting a timer for 5 minutes each time you flip the peppers.
Gas Burner:
You can place a pepper directly on the stove-top of a gas range. Let it char on all sides. The downside is that you want to keep a close eye on the pepper since it's directly on top of a flame, and you can only do one per burner.
Grill Pan or Grill:
Heat up a grill or a grill pan, and place the pepper on it and cook! The downside to this is that it doesn't get as charred as the other two methods, which means less flavor. And depending on the size of your grill or pan, you may not be able to do all the peppers at once.
Does this Method work with All Peppers?
Yes! While our photos feature red bell peppers, this method of roasting peppers can be applied to nearly any pepper you can think of! Poblanos are another great pepper to roast!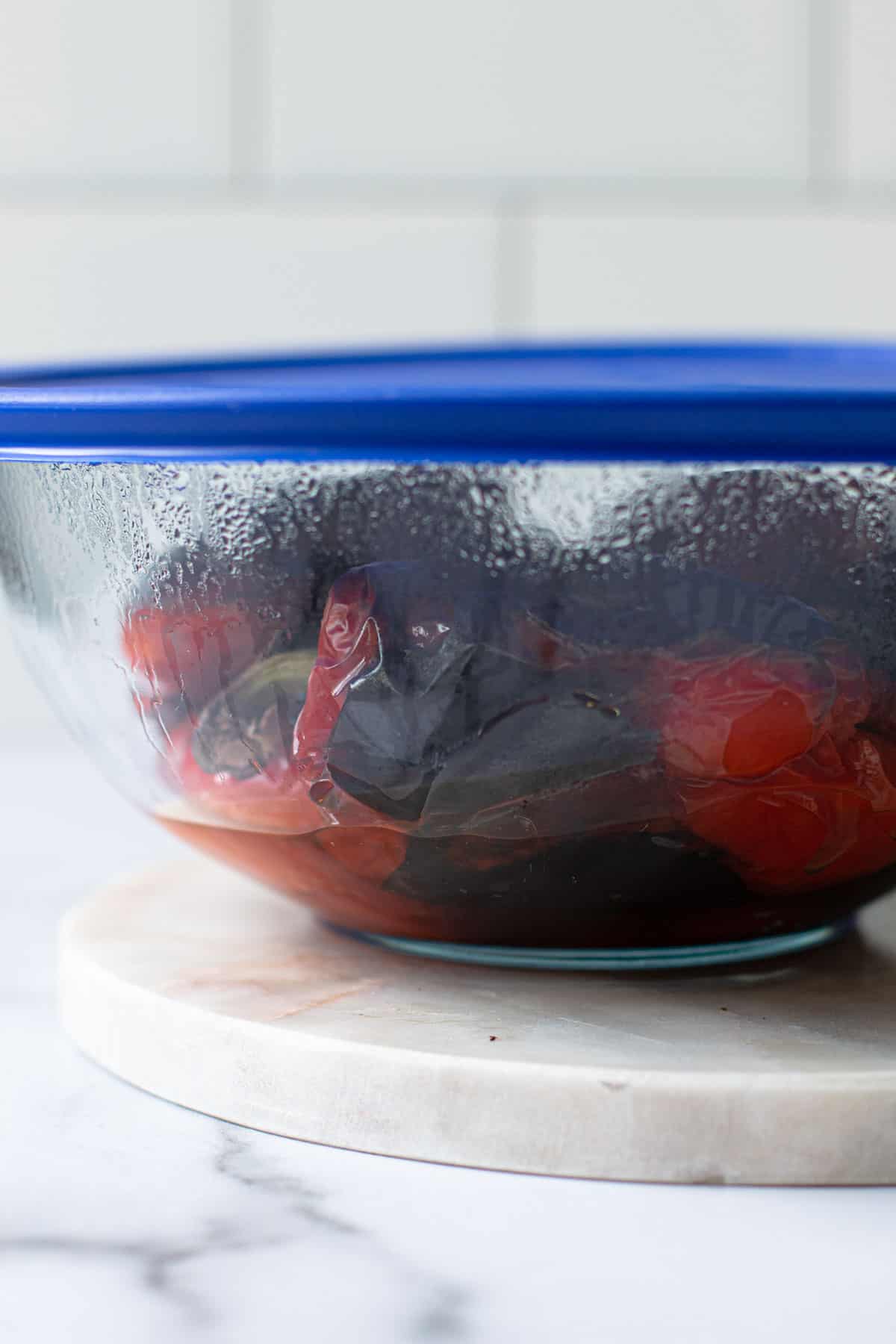 How to Peel the Peppers
There aren't really any tricks to this part of the process. You have to get rid of the charred skin of the peppers and it just means you have to be patient and peel off the skin. If the pepper is properly roasted and steamed, the charred skin should come right off to reveal beautiful roasted red pepper beneath it.
Don't obsess too much about peeling off all of the charred skin. It's normal to have some of it get stuck on the peppers, and this is in part what contributes to some of the flavors.
Pro-Tip: don't rinse the pepper! You may be tempted to take a short cut here and rinse of the pepper to get off some of that pesky skin, but rinsing the pepper also rinses away all of that flavor! Take your time and remove the charred skin by hand instead.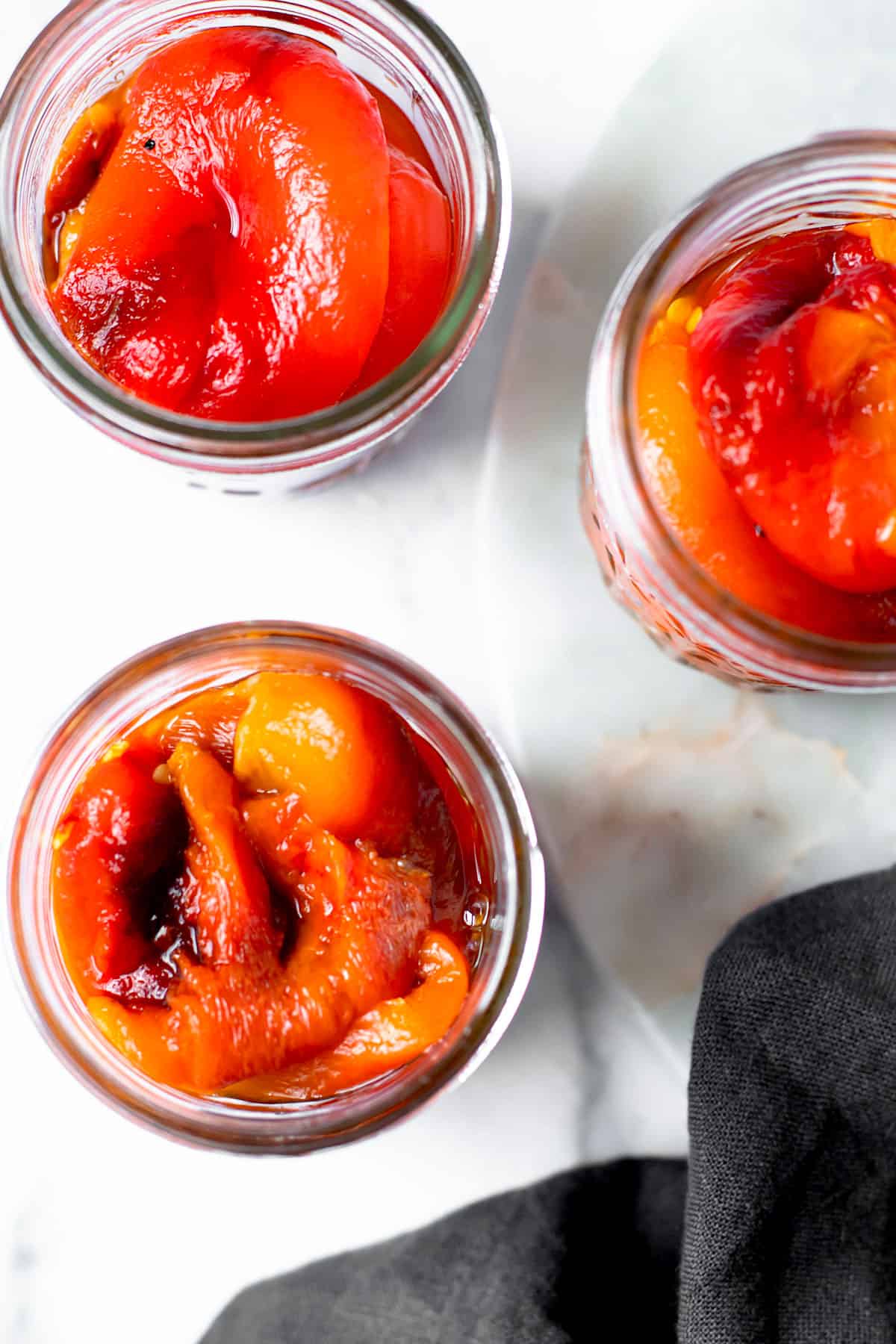 How to Store Roasted Red Peppers
Once you have finished the steps for making roasted red peppers, they are ready to use! But they also keep well. You can store them in jars in the refrigerator for about 7-10 days. If storing, you can place a bit of olive oil with the peppers. To extend the freshness of the peppers you can even cover them with olive oil to create an airtight seal.
For long term storage, you can freeze roasted red peppers! Freeze them in small jars or bags, removing as much air as possible. When ready to use, remove from the refrigerator and let defrost overnight in the refrigerator.
Recipe Using Roasted Peppers
There are lots of ways to use roasted red peppers, but here are some of our favorite recipes including this delicious ingredient:
Watch the video here:
---
---
If you like this how-to recipe, check out these others: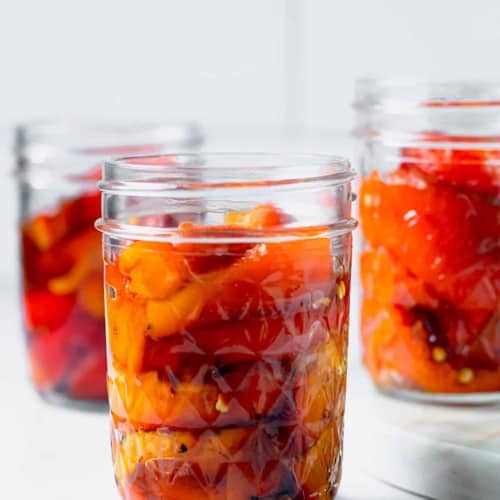 How to Roast Peppers
Roasting your own red peppers at home is much easier then you think! There are a few different methods of doing it, but they're all simple! We're talking about all the tricks and tips you need to know for How to Roast Peppers!
Ingredients
6

bell peppers

cleaned and dried

Extra-virgin olive oil
Instructions
Preheat broiler to 500ºF.

Place peppers on a baking sheet. Char peppers on all sides under the broiler until the skin is blackened in most parts of the pepper and the pepper is soft.

Transfer peppers to a heat-safe bowl and cover (with a tight-fitting lid, plastic wrap or a kitchen towel) to let the peppers steam for about 20 minutes until the peppers are no longer too hot to handle.

Remove the charred skin from the peppers and discard. Remove the stem and the seeds and discard.

Either dice up the peppers or leave them whole and place in jars.

Peppers are ready to use right away or kept for later. To store peppers, place in jars with a splash of olive oil and the pepper liquid. Let cool completely before storing it in the refrigerator for about 7-10 days.
Notes
See post for alternative methods for roasting the peppers.
Peppers can also be stored in the freezer for up to 3 months. Store in small jars and storage bags. Defrost in the refrigerator overnight.
Pin it for later!