Ever find yourself at 6pm staring into your refrigerator and freezer and wondering: "What can I cook for dinner, and quick?" I'm pretty sure we've all been there, and it's no fun. But on those nights, our Instant Pot has become our best friend, for being able to whip up a quick and delicious dinner. And today we're talking all about How to Cook Frozen Chicken Breasts in the Instant Pot. Made in partnership with my friends at Farmer Focus.
Instant Pot Frozen Chicken Breasts
For a few years, you all have been asking us for a recipe on how to cook frozen chicken breasts in the Instant Pot, and we resisted it. Generally speaking, it's never a good idea to cook meat from frozen. A rapid change in temperature can make the meat tough, and nobody wants to eat a tough chicken breast, right? However, after so many requests came in, we caved and started working on the recipe. To say WE LOVED this method of cooking frozen chicken is an understatement.
Something magical happens when the frozen chicken breast is cooked in the Instant Pot because it comes out as the most tender, juicy, and flavorful chicken we've ever had. And now that we know that, there is no going back. We're walking you through all you need to know about cooking frozen chicken breasts in the Instant Pot, as well as our not-so-secret sauce to serve with it.
Size Matters!
So the goal of cooking frozen chicken breasts in the Instant Pot is to cook them just right! You don't want to overcook them as that can mean dry chicken. You don't want to undercook them, because that, of course, means raw chicken. We always suggest using an instant-read thermometer (we love our Thermapen) to check the temperature of meat, but the goal is to get the chicken cooked to around 165º.  And the biggest indicator of proper cooking time of frozen chicken breasts is the size of the chicken breasts!
Chicken breasts these days can range in size anywhere from 9 ounces to more than 14 ounces! The actual time needed in the Instant Pot will depend exactly on how large your chicken breast is. Our best tip is that if you are cooking more than 1 chicken breast at a time, try to make sure they are all similar sizes. We recommend weighing the largest one before determining the amount of time needed. It is not the cumulative weight of all of the chicken breasts, but just the weight of the largest one that determines the number of minutes needed.
Cooking Time as Determined by Weight
As all meat does, the chicken will continue to cook while it is resting, and this is a good thing. After the chicken has finished cooking in the Instant Pot and the pressure has been released, check the temperature. It should ideally be around 160ºF or so. Close the lid, and let the chicken sit for an additional 5 minutes. The temperature will continue to rise as the chicken rests. Double-check one more time that the temperature has risen to 165ºF after it has rested, and remove from the Instant Pot, while you make the pan sauce.
Quick Tip: If for some reason the chicken is below 155ºF once it has finished cooking, you can close the lid and cook the chicken on manual high pressure for 2 more minutes, with a quick release.
For sure it's a delicate balance when cooking chicken between making sure it's fully cooked, but not overcooked!
Quality Chicken is Key!
Chicken is of course the star of this dish, so it is incredibly important to use the best quality! I am so happy to partner with my friends at Farmer Focus to bring you this easy time-saving recipe. Farmer Focus has been my go-to, trusted chicken for years because they pride themselves in producing the highest quality meat grown on family-owned farms. You can 100% taste the difference. I love knowing that, without a doubt, when I pick up Farmer Focus chicken at the grocery store, it's the best there is and I don't have to question whether it was raised in a humane way.
Farmer Focus is building partnerships with farmers through their innovative Farmer Focus Business Model
What I love about Farmer Focus is that they are a company that supports their farmer partners and they are working hard to do things right and truly raise and produce the highest quality chicken! Every Farmer Focus product includes a 4-letter Farm ID that traces your chicken to the farm that raised it. Buying meat from Farmer Focus also gives me peace of mind that I am supporting hard-working family farmers.
Farmer Focus chickens are humanely raised and fed a diet free from animal byproducts, pesticides, and antibiotics. On their website you can see where all of the farms are located, so you know just where your chicken was raised! How awesome is that?!
You can also use their easy store locator to find where you can get this amazing quality chicken near you.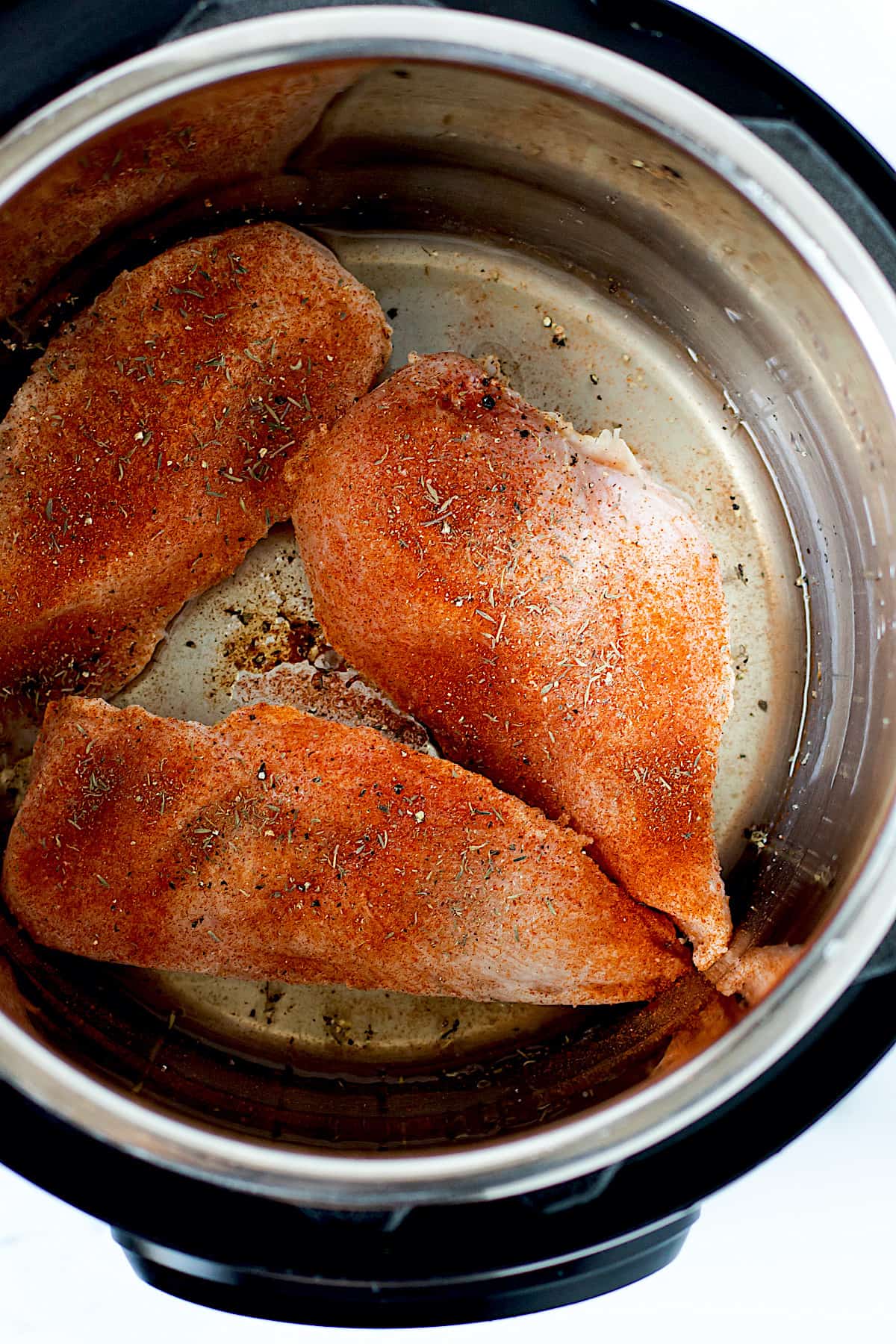 A Note on Removing Frozen Chicken from Packages
It must be said that actually removing the frozen chicken from packaging can be tricky for this recipe. You want to avoid adding pieces of chicken that have been frozen solid together directly inside of the Instant Pot, as the chicken won't cook evenly. The chicken needs to be in individual pieces. We have found that gently submerging chicken packaging in water allows the chicken to slightly defrost just enough around the edges to remove the chicken.
Seasoning the Chicken Breasts
We have seasoned the chicken breasts with our all-purpose spice mix that is a bit reminiscent of rotisserie chicken. It's the same one that we use in our Instant Pot Whole Chicken. It calls for salt, pepper, dried thyme, and paprika. It's a classic taste, but there is a ton of room to get creative and switch that up if you want! Stick with the recommended amount of salt and pepper, and then change up to any seasoning you want, or even cook the chicken plain.
Other Flavorings to Use for Frozen Chicken Breasts
You can season your chicken breast with just about anything using this method. Dried herbs and spices are your best friend with this one. Here are some suggestions:
Marinating Chicken Breasts
A few days ago we released a big guide to marinating chicken, along with 5 easy marinade recipes. The marinades are freezer friendly and we're glad to say that they work really well with this technique of cooking frozen chicken breasts! Feel free to check out that post if you want to marinate your chicken instead of using our suggested seasoning here. It's an easy way to spice up chicken!
Making the Pan Sauce
How this recipe differs from a basic shredded chicken recipe, is that the chicken breasts should remain intact, and served with a really delicious pan sauce to make this dinner-worthy. The pan sauce is basically a quick reduction of the pan juices, along with a bit of lemon juice and a pat of butter or ghee (for dairy-free). All you have to do is press the saute button on the Instant Pot, and whisk the butter and lemon juice into the sauce. Reduce the sauce so it has just barely thickened. You don't want to reduce it too much, as it can get too salty. If that does happen, a quick fix is to just add in a bit more water or chicken broth until the seasoning is correct. The pan sauce can have some bits of cooked chicken in it, and if you want you can strain the sauce to make it smooth.
How to Make This a Meal
There are so many options for serving with this meal. You can, of course, serve with a quick side salad for a simple meal. Or dress it up a bit with a favorite side dish:
Ways to Use Cooked Chicken Breasts
Knowing how to cook frozen chicken breasts is great if you need a quick meal, but using this method is also a way to cook bulk chicken for different recipes. Here are our favorite ways of making meals out of cooked chicken breasts:
Watch the video here:
---
---
If you like this Instant Pot Chicken recipe, check out these others: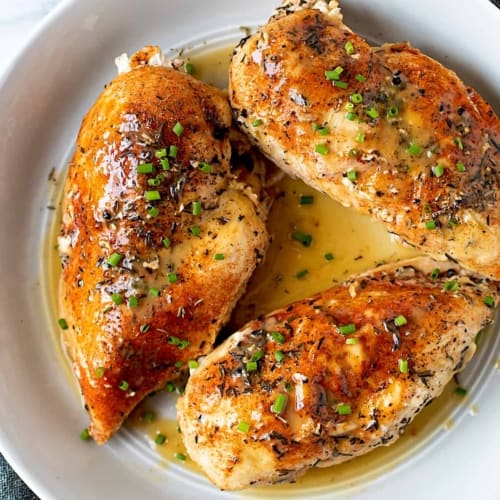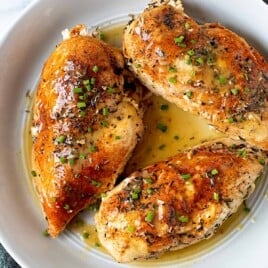 How to Cook Frozen Chicken Breast in the Instant Pot
Ever find yourself at 6pm staring into your refrigerator and freezer and wondering: "What can I cook for dinner, and quick?" I'm pretty sure we've all been there, and it's no fun. But on those nights, our Instant Pot has become our best friend, for being able to whip up a quick and delicious dinner.
Ingredients
3

Farmer Focus Frozen Chicken Breasts

boneless and skinless

½

cup

chicken stock

1

teaspoon

fine sea salt

½

teaspoon

paprika

½

teaspoon

dried thyme

¼

teaspoon

ground black pepper

2

tablespoon

butter or ghee

1

tablespoon

lemon juice
Instructions
Place similar sized frozen chicken breasts inside of an Instant Pot. Pour chicken broth inside.

Sprinkle the chicken with the salt, paprika, thyme and black pepper.

Close the lid and set the valve to sealing.

Cook according to the size of your largest chicken breast. IE if your chicken breast is 12 ounces, cook for 14 minutes, with a natural release of 5 minutes. See the notes for cooking times!

Release any remaining pressure and check the temperature of the chicken. If it is less than 165ºF, place the lid back on and return the valve to sealing for another 5 minutes. Check one more time to ensure the chicken has reached the proper temperature.

Remove the chicken to a plate, cover loosely (with aluminum foil) and let rest for 5 minutes.

Meanwhile add the butter and lemon juice to the pot and press the saute function. Whisk the butter into the sauce until it melts, and let the sauce reduce until the sauce has just slightly thickened, about 3-5 minutes.

Slice the chicken, and serve with the pan sauce.
Notes
Cooking Times:
14 oz. chicken breast: 15 minutes manual high pressure (MHP), plus 5-10 minutes natural pressure release (NPR)

12-13 oz. chicken breast: 14 minutes MHP, plus 5-10 minutes NPR

11-12 oz. chicken breast: 13 minutes MHP, plus 5-10 minutes NPR

7-9 oz. chicken breast: 11 minutes MHP, plus 5-10 minutes NPR
See the post for troubleshooting tips!
Nutrition
Calories:
239
kcal
Carbohydrates:
17
g
Protein:
26
g
Fat:
12
g
Saturated Fat:
6
g
Cholesterol:
85
mg
Sodium:
1700
mg
This post is sponsored by Farmer Focus! All thoughts and opinions are always 100% my own! I love the integrity of their products and think you'll love them too. Thank you for continuing to support LCL and the brands I work with!