The best and easiest method to make a baked potato might not be your oven! We're talking all things Instant Pot Baked Potatoes so you can them perfectly cooked and fluffy in about half the time as it takes to bake them!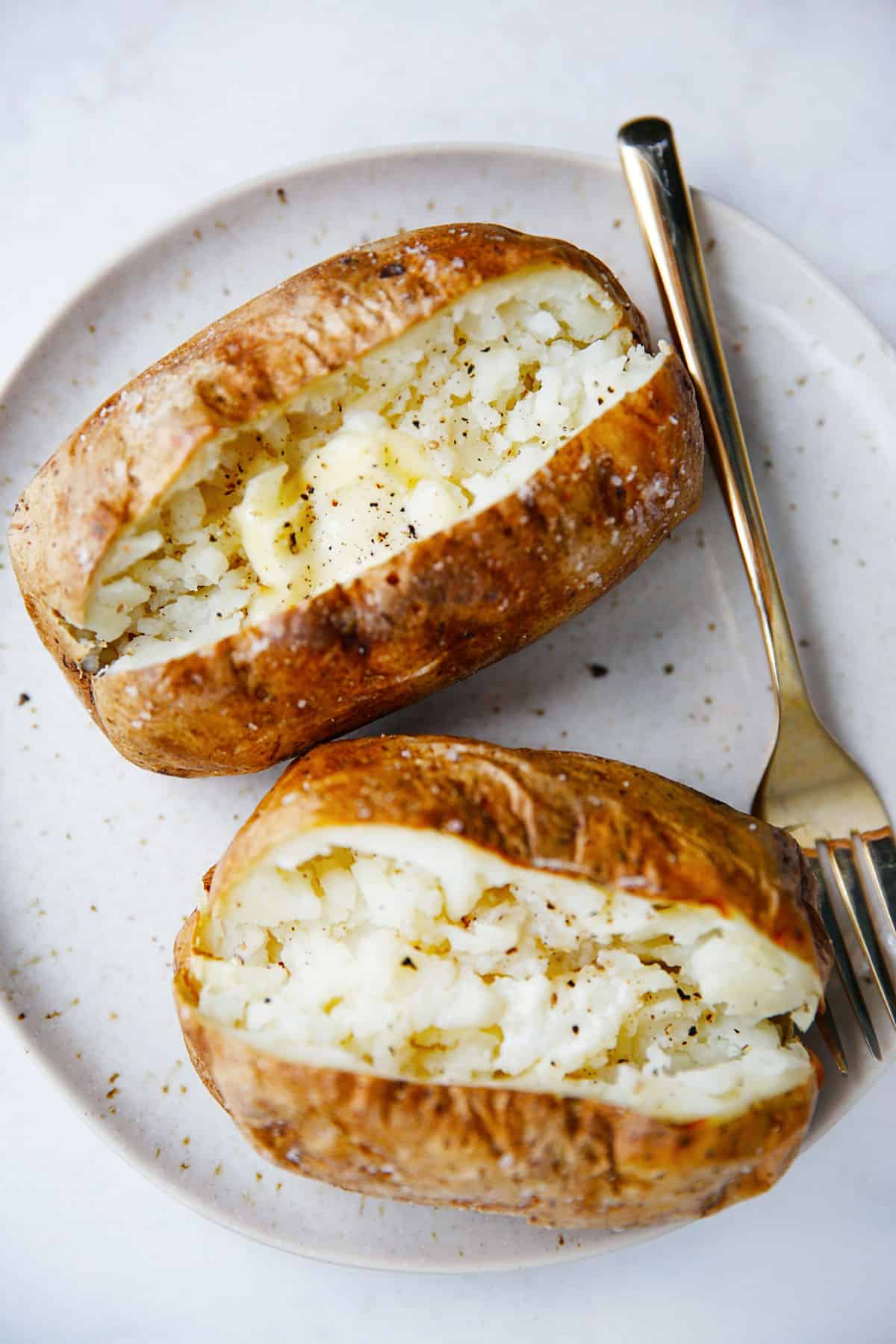 How to Make Baked Potatoes in the Instant Pot
Alright, alright, we admit it…if you think about it, potatoes aren't really "baked" if they're cooked in the Instant Pot. That actually means they're pressure-cooked. But you get the point! As with all things Instant Pot, we love how these "Baked" Potatoes come out when cooked in the Instant Pot. They're nice and creamy, and in about half the time it takes to actually bake potatoes. What's not to love about that?
We're showing you everything you need to know in order to make the BEST Instant Pot Baked Potato.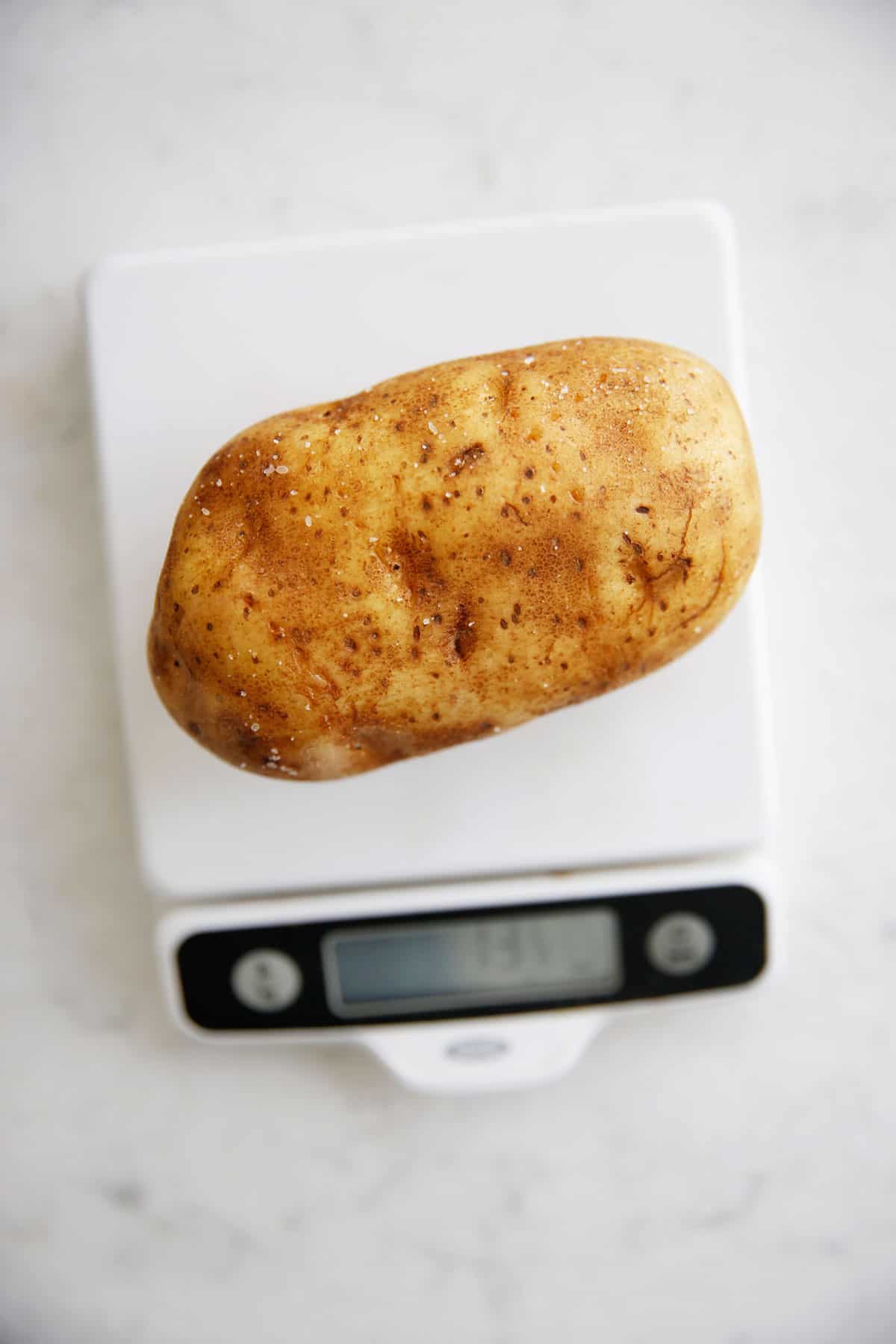 Why Size Matters
Let's just get down to the nitty gritty here: when it comes to making baked potatoes in the Instant Pot, size very much matters. Russet potatoes can range in size from 9 ounces up to 14 ounces. That means you can't just plug in the same cook time for small potatoes and expect it to be properly cooked at the same time as the larger potatoes.
You don't want to overcook the potatoes because that'll mean mushy potatoes or possibly even burst potatoes. You don't want to undercook them, because that, of course, means hard potatoes. The best way to get a relatively precise cooking time is to know the weight of the potato. Once you know the weight, you can use our timing information below to figure out the cooking time. Don't have a scale? Then you'll have to guess based on whether you think the potato is small medium or large. Or you can measure it at the grocery store on the scales they provide in the produce section.
Instant Pot Cooking Times Based on Size of Potatoes
Small potato (8-9 oz) = high pressure for 14 minutes

Medium potato (10-11 oz) = high pressure for 16 minutes

Large potato (12-14 oz) = high pressure for 19 minutes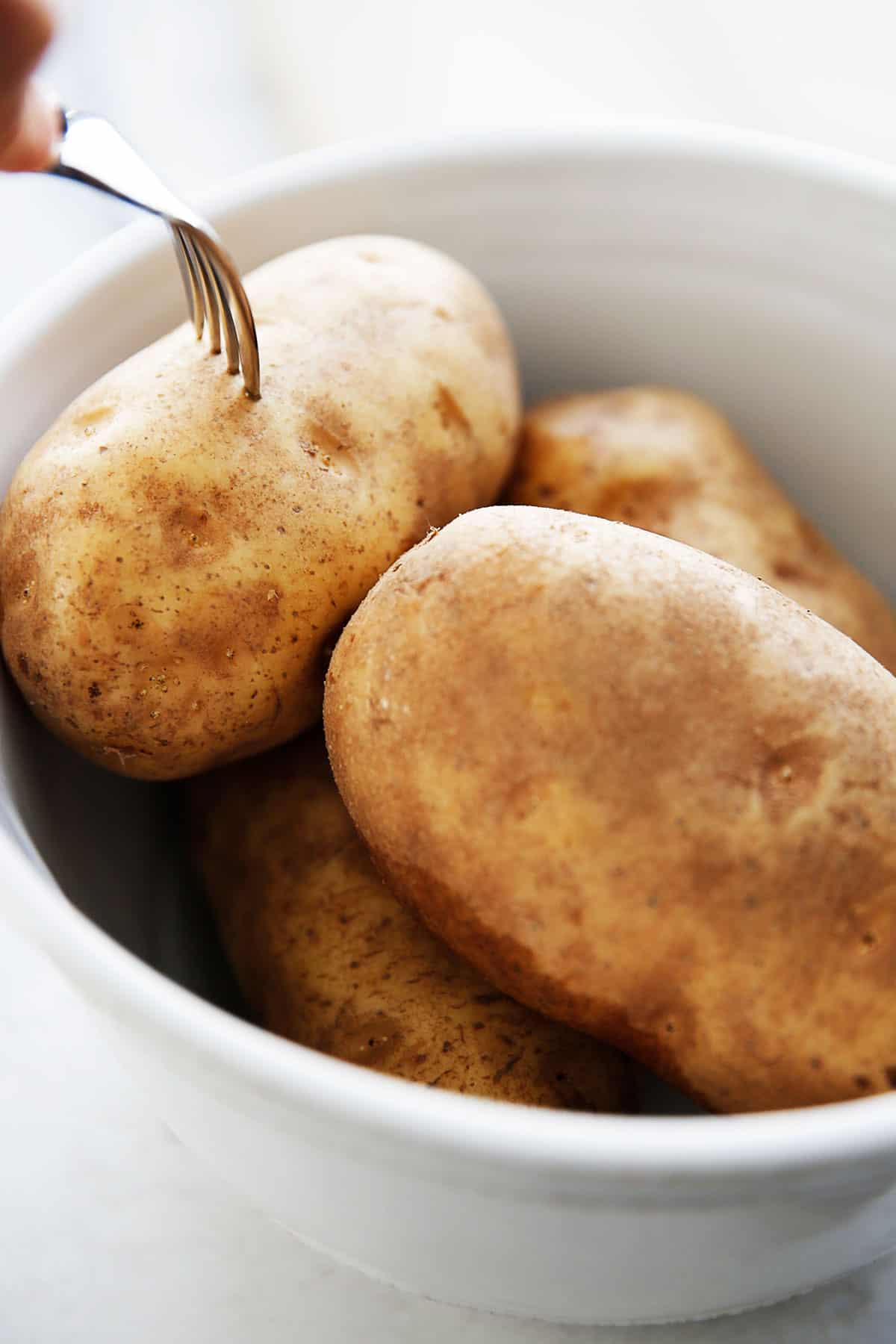 What Type of Potatoes are Best
You can technically cook any potato in the Instant Pot, but when we're referring to IP Baked Potatoes, we're talking Russet potatoes.
Russet potatoes are great because they have a high starch and low moisture content, which means really fluffy insides. Plus, that thick skin lends itself to getting nice and crisp on the outside (more on that later).
When buying potatoes, steer clear of any potatoes with soft or dark spots visible on the outside. This can indicate that there may be a rotten or spoiled section inside of the potato, and we obviously want to try to avoid this since you won't know it until after it's been cooked. And of course, avoid potatoes with any sprouted eyes or green skin.
Other Ingredients Needed for this Recipe
Aside from the potatoes, you're going to need:
Water (for cooking in the Instant Pot)
Coarse Salt + Pepper
Butter or ghee (for placing inside of the potato after it's cooked)
Tools Needed
You'll obviously need an Instant Pot for this recipe. And the rack that came with the Instant Pot, since the potatoes will need to be lifted up so they're not cooking in the water.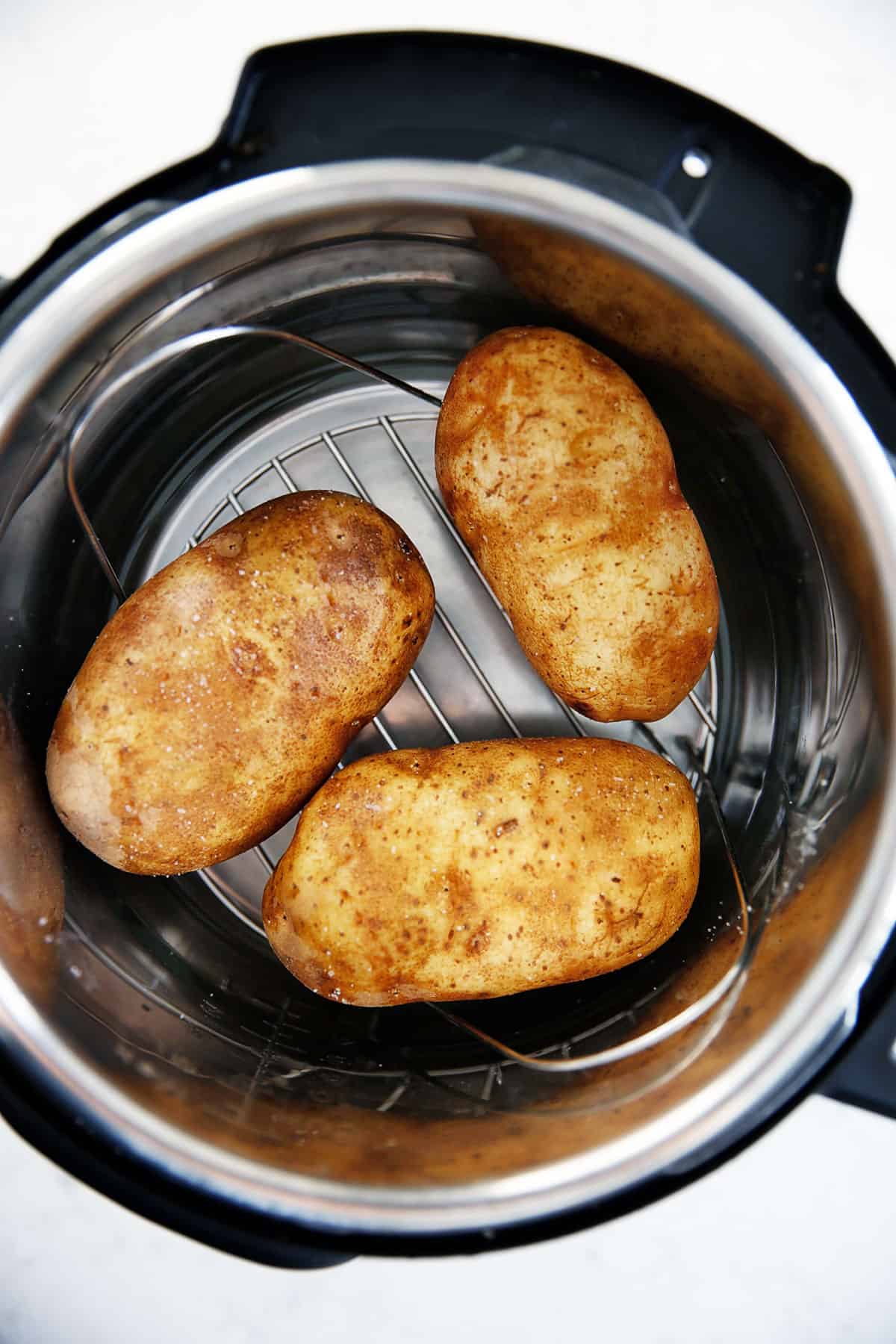 A Few Tips for Making Instant Pot Baked Potatoes
Makes sure to use a rack, to lift the potatoes out of the added water needed to cook in the IP.
A small detail is to pour the water directly over the potatoes once they're already placed on the rack and THEN add the salt. This allows the salt to stick to the potato since there is no oil added to this recipe.
Try to get the weight of your potato. If you don't have a scale at home, grocery stores often have a scale in the produce section. Grab the weight there.
Similarly, try to grab potatoes that are similar in size so they all cook at the same time.
After you've let the pressure out of the Instant Pot, take off the cover and let the potatoes sit on the rack for about 5 minutes in the still-hot Instant Pot. We've found that this dries out the skin, and helps it firm up. The potato is great just like this. However, if you wanted to get a super crispy skin, you could preheat the broiler, brush a bit of oil on the potato and crisp it up for 2-3 minutes.
Frequently Asked Questions
How many potatoes can be cooked inside of the Instant Pot? Well, that depends on the size of your Instant Pot. We only tested making a single layer of potatoes in the IP, but imagine that if you place 1 or 2 potatoes on top it shouldn't make a big difference at all in the cooking time. However, if you shove the Instant Pot full of potatoes, it might need a few extra minutes of cook time.
My potatoes were still hard at the end of the cook time! Simply put, add a few more minutes to your cook time. Perhaps the correct cook time wasn't used, or maybe the Instant Pot didn't work exactly the same. Sometimes these things happen. No harm in putting the Instant Pot lid back on and giving it a few extra minutes to finish cooking.
Do I need to use the rack? Yes, we recommend it to prevent the potato from getting too soggy.
My potato burst! Occasionally this does happen, with a little breakage in the potato, just as sometimes an egg can burst when cooking under pressure, even if it is the right time. But it might indicate it was cooked for too long. It's best to make sure to poke the holes in the potato, but even sometimes that doesn't prevent it from happening.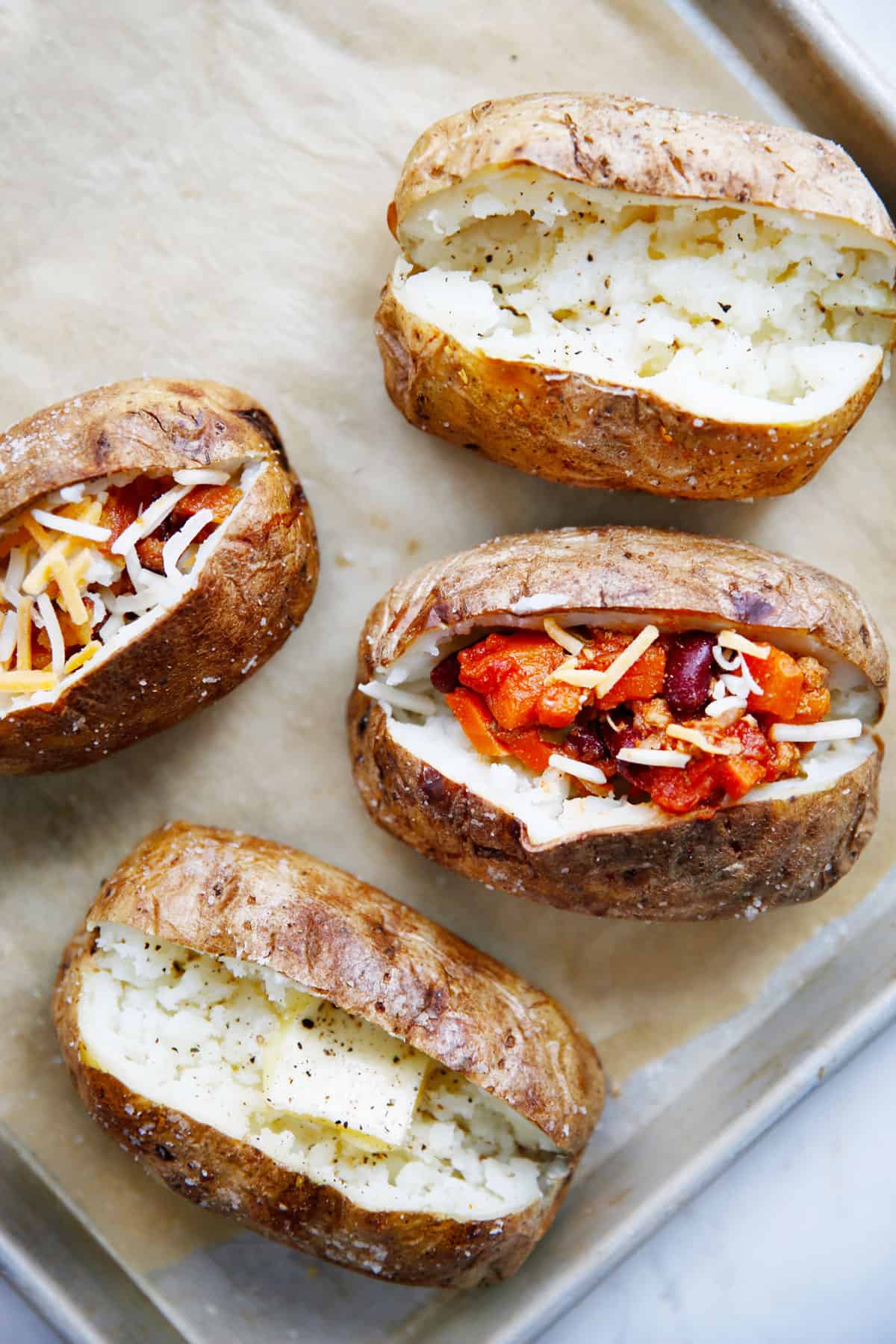 How to Serve Baked Potatoes
And now comes the fun part! Obviously baked potatoes are so delicious on their own, with a pat of butter or ghee, and a big pinch of salt and pepper. But stuffing these potatoes is a great way to go too! Here are some suggestions on what to stuff a baked potato with:
Classic Stuffed Baked Potato with sour cream or greek yogurt, crispy bacon, cheese and scallions.
Taco Stuffed Baked Potato with your favorite taco filling and taco toppings.
Chili Stuffed Baked Potato with homemade chili and chili toppings.
Pizza Stuffed Baked Potato with marinara sauce, mozzarella cheese and pepperoni.
Other stuffing ideas:
Steamed broccoli
Cheddar Cheese
Sour Cream or Cashew Cream
Shredded Chicken (Slow Cooker or Instant Pot or Store-bought Rotisserie)
Chopped Tomatoes
Chopped Scallions
Crispy Bacon
Hot Sauce
Spicy Mayo
Avocado
Beans
Make it a Party!
Check out this Slow Cooker Baked Potato Bar post for tips for making it an on-the-go event!
Watch the video here:
---
---
If you like this potato recipe, check out these others: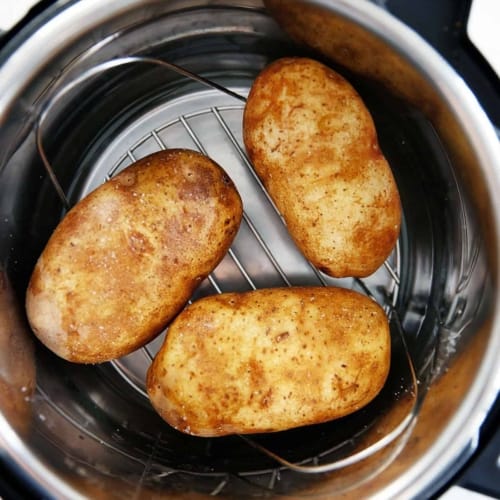 Instant Pot Baked Potatoes
The best and easiest method to make a baked potato might not be your oven! We're talking all things Instant Pot Baked Potatoes so you can them perfectly cooked and fluffy in about half the time as it takes to bake them!
Ingredients
Russett Potatoes

1

tablespoon

of butter or ghee

per potato

Fine Sea Salt

Freshly Ground Pepper
Instructions
Scrub and dry potatoes. Poke each potato all over with a fork.

Place a rack inside of your instant pot and place potato/es on the rack.

Pour 1 cup of water over the potatoes and sprinkle with salt.

Place the lid on the Instant Pot and set the valve to sealing.

For a medium 10-11 ounce potato, cook on manual high pressure for 16 minutes. Set the valve to venting to quickly release the steam. See notes for alternative cooking times for smaller or larger potatoes.

Let the potatoes sit for 5 minutes.

Carefully slice open the potato, and press it together to separate the flesh. Fluff the interior of the potato with a fork and add a pat of butter or ghee, a sprinkle of salt and fresh ground black pepper.

Add butter and salt and or desired filling.

Small Potato: 8-9 oz 14 minutes

Medium Potato: 10-11 oz 16 minutes

Large Potato: 12-14 oz 19 minutes
Notes
Choose how many potatoes you need to cook! It's best to keep them in one layer on the rack, but you can stack on one or two if need be.