This easy homemade guacamole recipe is one everyone should have in their back pocket for taco night, game day, or any old day/night. It's truly the best and so easy to throw together. My version has 7 ingredients, but really only 3 are absolutely essential. Customize your guacamole to your liking and serve, then watch it disappear.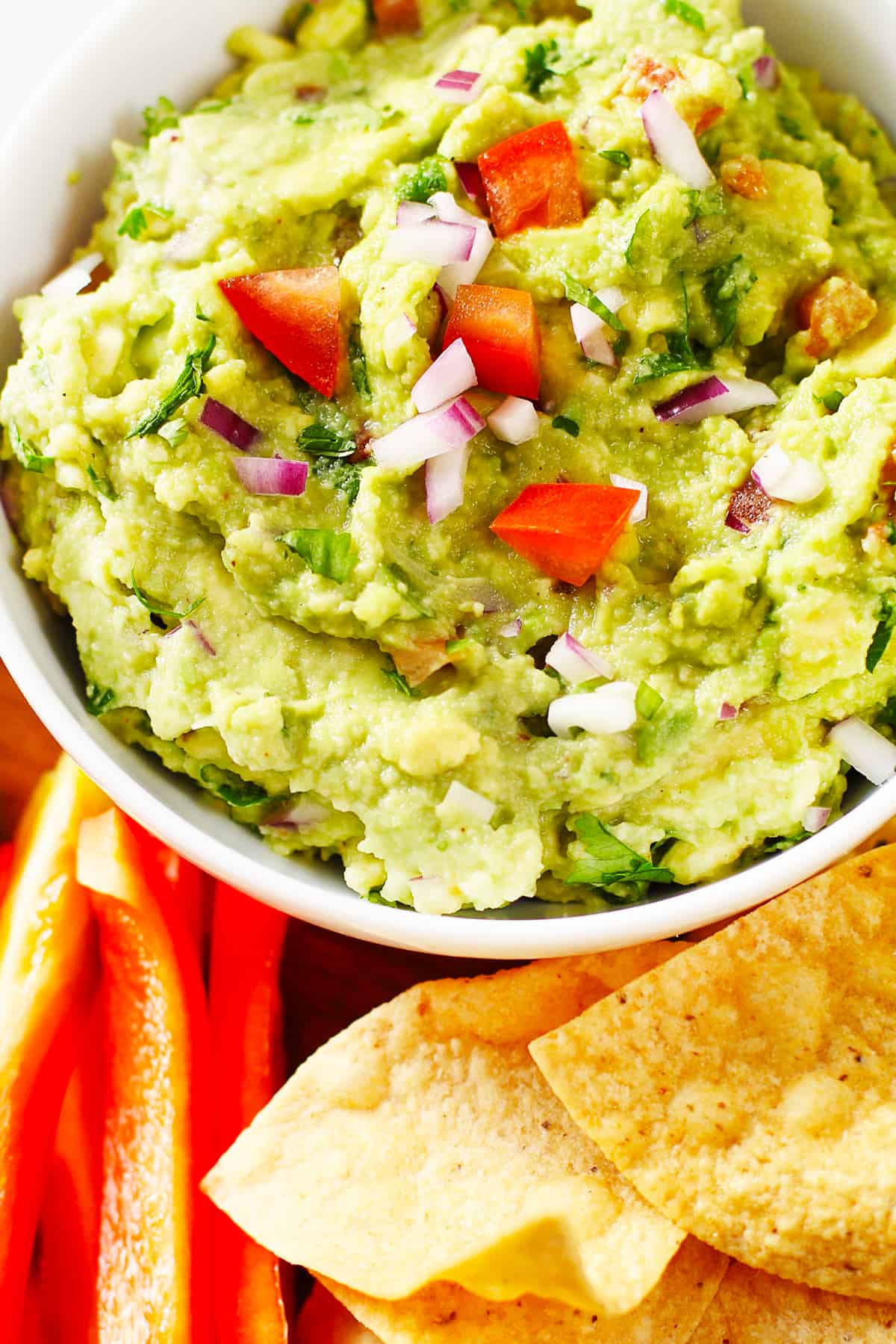 Homemade Guacamole Recipe
When you need a quick, delicious and fresh dip to serve a crowd, this is it! And in our house we do homemade Guacamole on EVERYTHING! Some favorites of ours are having it as an appetizer with veggies and tortilla chips or homemade crackers, nachos, huevos rancheros, as a topping on a salad, taco night, in our 7-layer taco dip, on top of basically any morning breakfast skillet, sweet potato skins… the list goes on and on. You simply can't deny the many uses for an easy and delicious homemade guacamole!
It's creamy, fresh and when done right–absolutely delicious. It's also super simple to make. You really only need about 3 ingredients, but I'm sharing some of my favorite add-in's below that make it the best!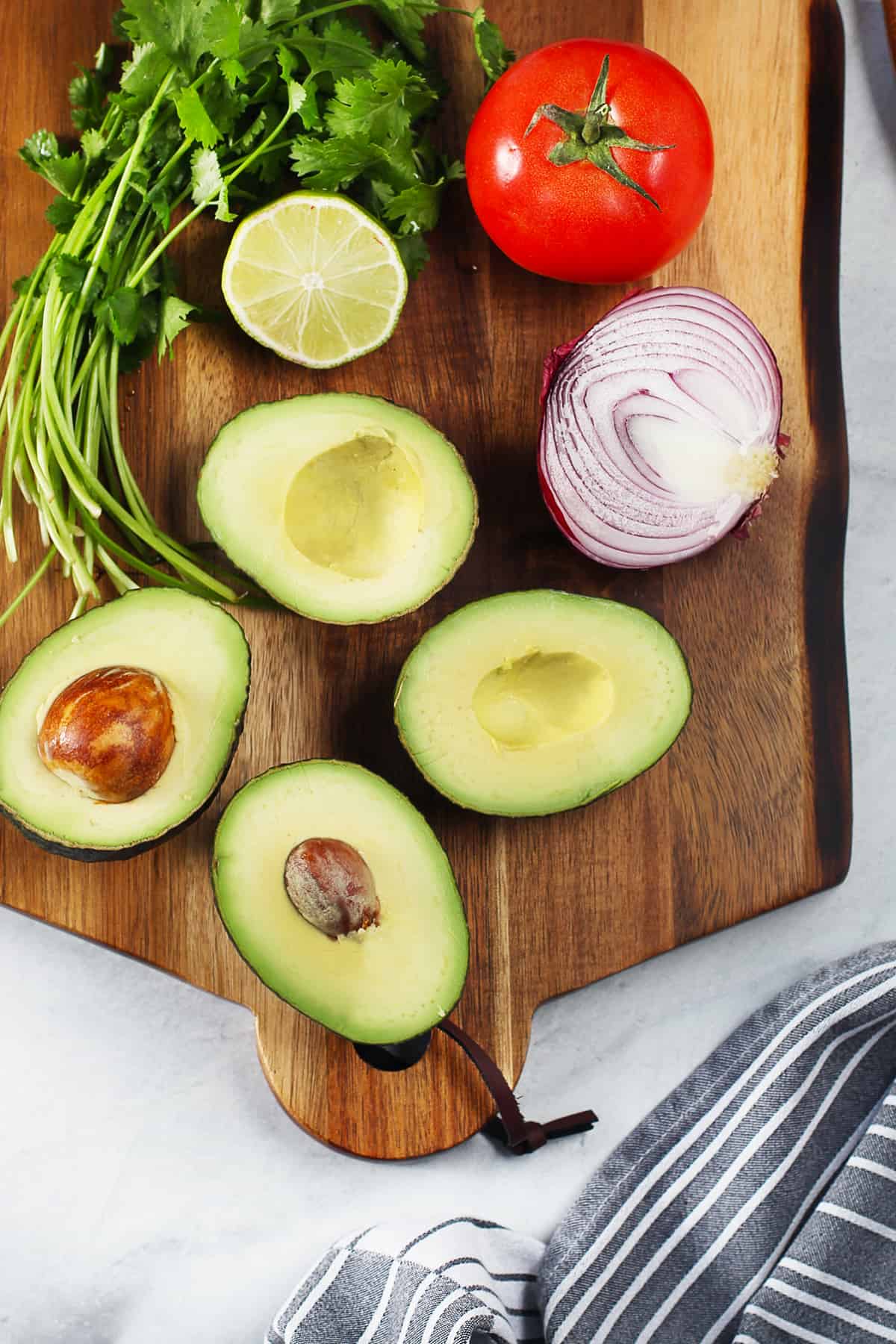 Ingredients for Homemade Guac!
This recipe has some of my favorite additions to guacamole but the absolute only essential things in it are the avocados, lime juice and salt. Other than those three, feel free to skip out on the ones you don't enjoy. I know cilantro can be a touchy subject for some!
Avocados (they have to be ripe!)
Lime
Red Onion
Tomato
Cilantro
Cayenne (I also love a little garlic granules in mine)
Sea Salt and Pepper
Other Optional Additions to Make Good Guacamole
Fruit: Think mangos or pineapples or papaya! Cut up some sweet but firm fruit and add it in.
Peppers: Go for the heat with some spicy chili peppers or go for the savory with bell peppers. Dice them up and mix them in. Or go for the smokey and add in some chipotle peppers in adobo! Add in a touch of the adobo and some of the diced chipotles.
Spices: There are lots of great options out there to make your guacamole a little bit different! Anywhere from garlic powder, to cumin or even curry powder. Get creative!
Beans: A natural pairing, for sure! Black beans would be particularly good with guacamole because they are a bit firmer and will add some nice texture. Garbanzo beans would also be interesting, especially when paired with some unique spices.
Bacon: I never met a dish that wasn't improved by bacon. Same goes for the guac.
Sour Cream or Cashew Cream: Guacamole is already pretty creamy by itself, especially if your avocados are really ripe, but adding in a bit of sour cream or cashew cream (to keep it dairy-free) would make it quite rich in a good way!
Corn: Crunchy fire roasted or grilled corn would be perfect with guacamole.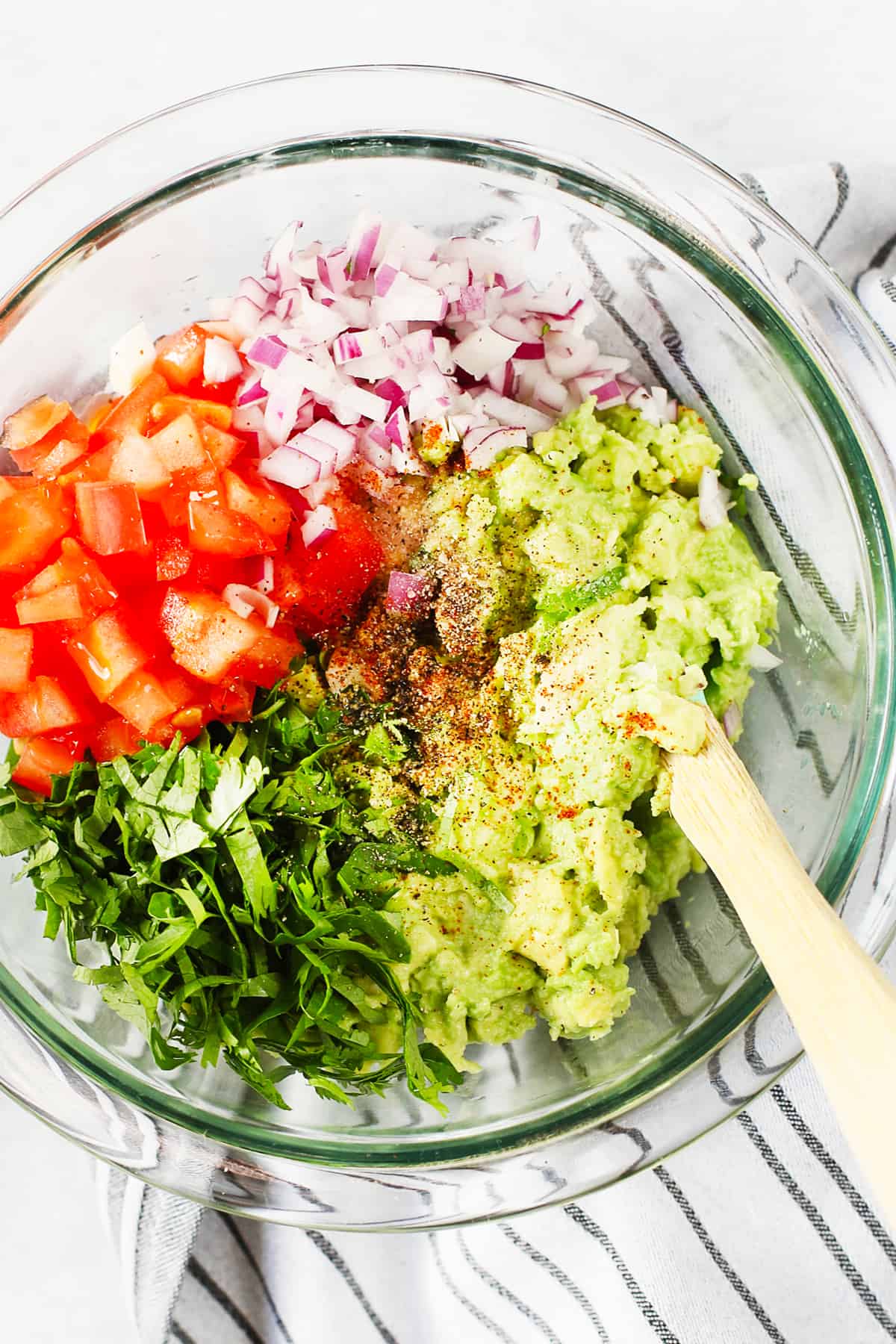 How do you store a whole avocado?
Ripe avocados: eat them in the next day or two! I always store them, once ripe, in the refrigerator. The cold from the fridge slows down the ripening process, so only do this with ripe avocados. If you have unripe avocados, wait until they are ripe (on the counter) and then put them in the refrigerator!
Make sure your avocados are ripe:
When I'm in the store and want to make guacamole, I know I'll need ripe avocados! Grab ones that still have the stem attached. You can pluck it off and if it's brown, put it down! If you pull off the stem and it's green, it's generally a better avocado to buy. The other thing to do is to gently press on one end. It should have a slight give to it – not too firm, not mush either!
Lastly, can I make guacamole ahead of time?
Guacamole gets brown QUICK. I don't prefer making it ahead of time honestly, as I find it better when it's fresh (plus, it's easy to make).
You can try squeezing fresh lime juice on top and covering it with plastic wrap, having the wrap lay directly on top of the guacamole. If you're trying to reduce plastic, go with fresh is best on this one!
Alternatively, you can try the method of putting a bit of water on top of your guacamole container and placing it in the fridge. Once ready to eat just give it a mix. It works, but again, I like to just make it fresh!
---
Looking for more taco night recipes? Check out these favorites!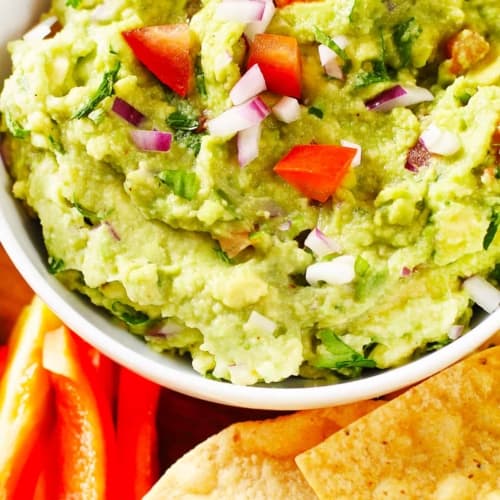 HOMEMADE GUAC RECIPE
These easy Homemade Guac recipe is one everyone should have in their back pocket for taco night, or any old night. My version has 7 ingredients, but really only 3 are absolutely essential, and you can leave out any you don't like.
Ingredients
2

ripe avocados

2

teaspoons

lime juice

1/2

small red onion

finely diced

1

small tomato

diced

1/4

cup

cilantro

finely chopped

Pinch

of cayenne pepper

optional

Fine sea salt

to taste
Instructions
Cut avocado in half and remove the pit. Scoop out avocado and mash in a bowl.

Add remaining ingredients and mix together. Season to taste.

Serve immediately.
Notes
I love adding a pinch or two of garlic granules to my guacanmole!
Post updated January 2020.
Nutrition
Serving:
1
/4 recipe
Calories:
136
kcal
Carbohydrates:
10
g
Protein:
1
g
Fat:
11
g
Saturated Fat:
1
g
Sodium:
481
mg
Fiber:
5
g
Sugar:
1
g