This Lamb Chops with Crispy Shallots and Pomegranate Sauce recipe makes for a decadent meal done in under 20 minutes! It's elegant, super flavorful, and comes together quickly and works equally as well for a romantic dinner for two, or a weeknight easy meal. They're gluten-free, dairy free and paleo.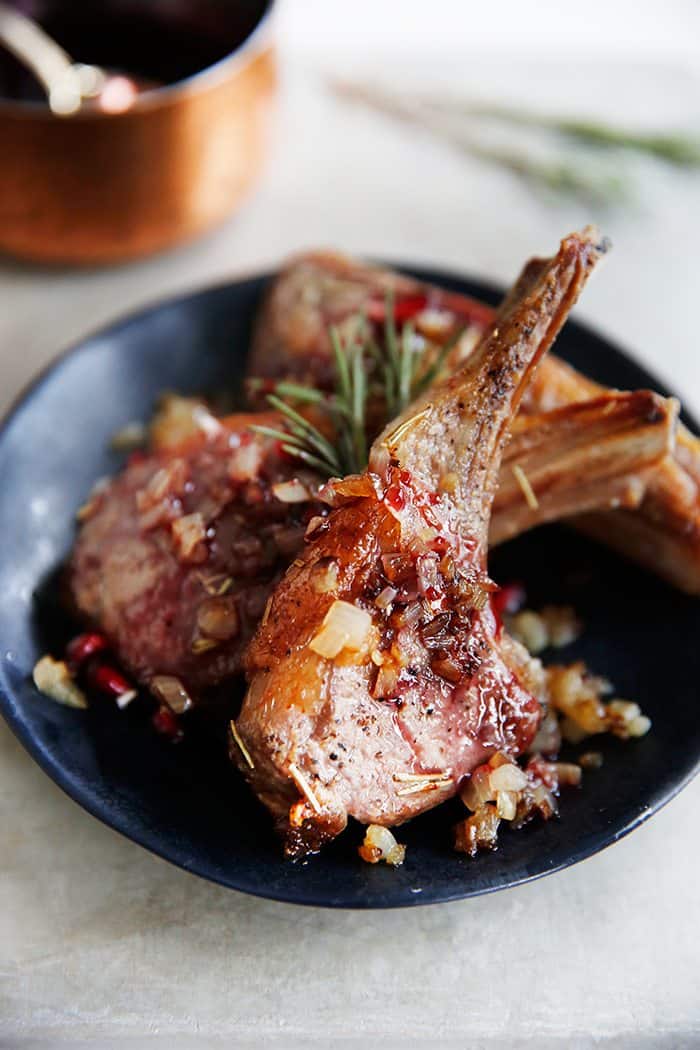 Lamb Chops with Crispy Shallots and Pomegranate Sauce
This Lamb Chops with Crispy Shallots and Pomegranate Sauce recipe is a great date night in meal to make with your significant other, or the perfect elegant holiday meal! The lamb chops are so easy to make and do not require much cooking at all, other than a quick broil in the oven. The crispy shallots are another effortless way to add something special to the meal and the pomegranate sauce adds a tough of sweet that brings the whole thing together. A special dinner in under 20 minutes? Sounds like the perfect meal!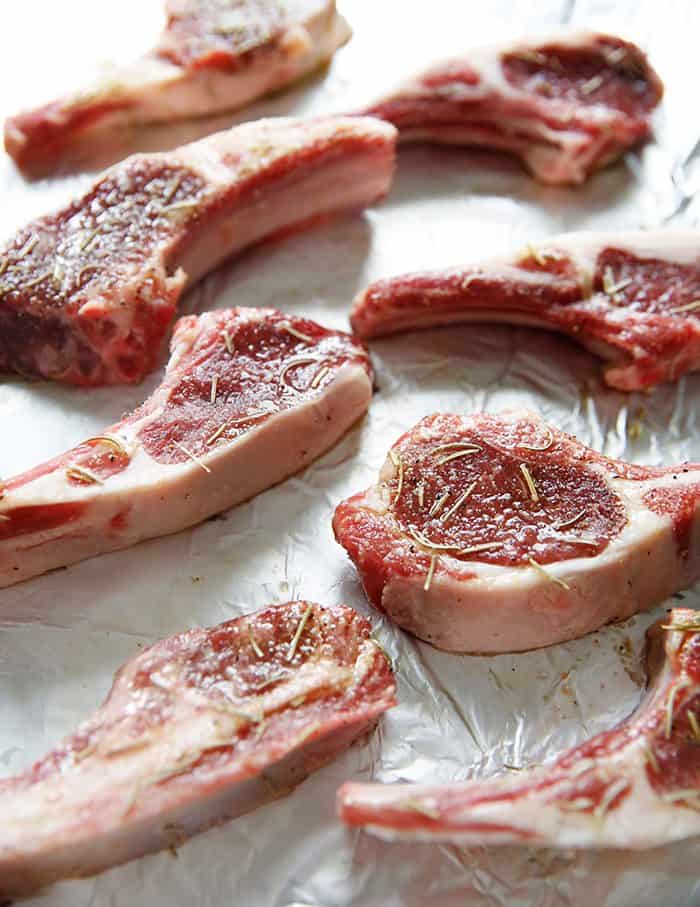 We love when delicious meals come together so quickly, using minimal ingredients, but taste so amazing!The recipe calls for pomegranate juice to make the sweet sauce. You can either purchase pomegranate juice or you can juice your own by blending together 1 cup of pomegranate
What to serve with lamb chops:
Mashed Cauliflower or Mashed Root Veggies (in my cookbook)
Rice
What temperature do you cook lamb chops?
Whole muscle meats such as roasts, steaks, and chops may be cooked to 145 °F (medium rare), 160 °F (medium), or 170 °F (well done). Times here are based on lamb at refrigerator temperature (40 °F).
How can you tell if your lamb chops are cooked?
Use your finger to estimate if roasted, grilled or broiled lamb is done to your liking. Press firmly on several sections of the lamb. If the meat gives easily but is firm and has cooked for the recommended length of time, it is likely medium-rare. A firmer texture and feel indicates more well-done meat! For best results, use your Thermopen!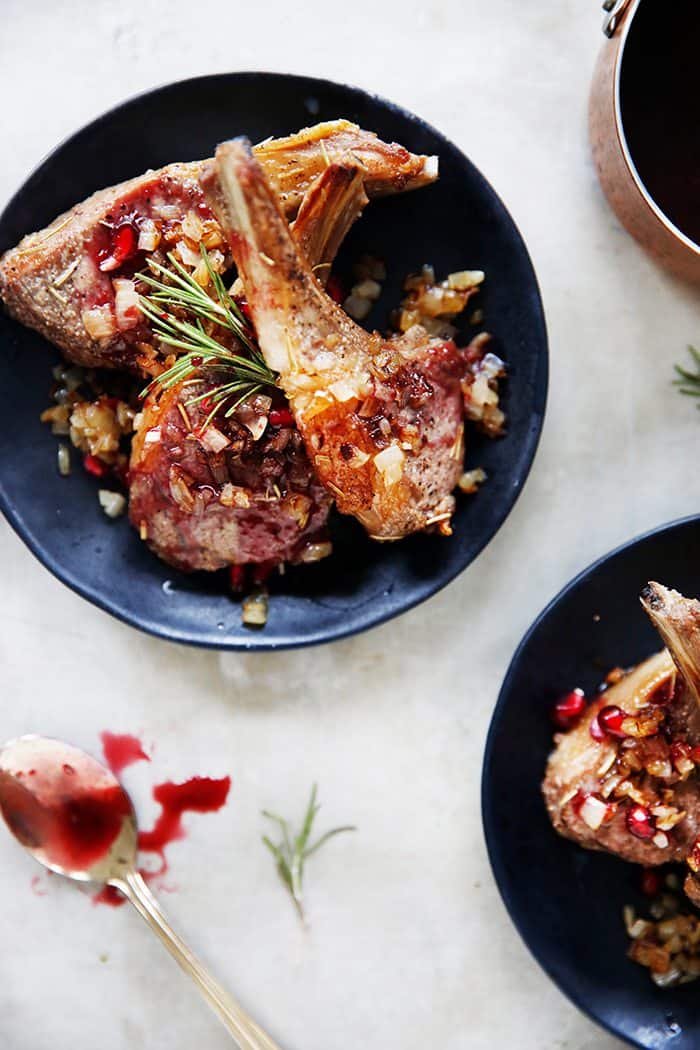 Watch the video:
If you like this showstopper main course, check out these others:
---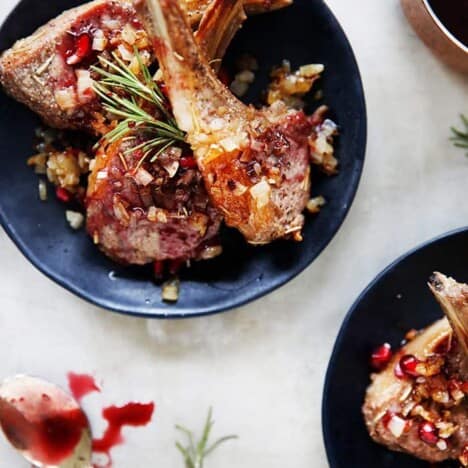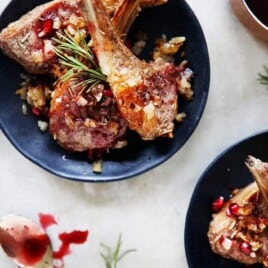 Lamb Chops with Crispy Shallots and Pomegranate Sauce
Ingredients
Lamb Chops:
Rack of lamb

cut individually (8 pieces)

1

tablespoon

oil

1 1/2

tablespoon

fresh rosemary leaves

1

teaspoon

fine sea salt

1/2

teaspoon

black pepper

1/2

teaspoon

garlic powder
Crispy Shallots:
1

tablespoon

extra-virgin olive oil

1

shallot

minced
Pomegranate Sauce:
1

tablespoon

balsamic vinegar

1

teaspoon

apple cider vinegar

2

teaspoon

honey

1/2

cup

pomegranate juice

about 1 cup of pomegranate seeds blended- put at least 1 teaspoon of pomegranates aside for garnish if making your own juice

1

teaspoon

arrowroot
Instructions
Pre-heat broiler on high.

Coat lamb in oil and spices.

Place on a lined baking sheet and broil on high for 5-6 minutes on each side. Set aside.

Meanwhile, make the crispy shallots: In a small pan, heat oil and sauté shallots for 5-10 minutes, stirring often, until crispy but not burnt.

Make the sauce: In a small pot, pomegranate juice, balsamic vinegar, honey, apple cider vinegar, and stir. Bring to a boil then reduce heat and whisk in the arrowroot. Let simmer for 5-6 minutes until the sauce thickens and coats the back of a spoon.

Top lamb with crispy shallots and sauce and serve immediately with sides of choice like 

Mashed Potatoes

, cauliflower mash or roasted veggies.
Notes
For Whole30, omit the sauce.