Oven Baked Coffee Barbecue Pork Ribs (Keto & Paleo)
These Oven Baked Coffee Barbecue Pork Ribs are the perfect dead-of-winter main dish to cook up on a lazy weekend afternoon! They are marinated in a dry coffee BBQ rub that takes minutes to put together and then cooked low and slow in the oven for completely unattended cooking. They're Paleo and Keto friendly for perfect melt-in-your-mouth pork ribs.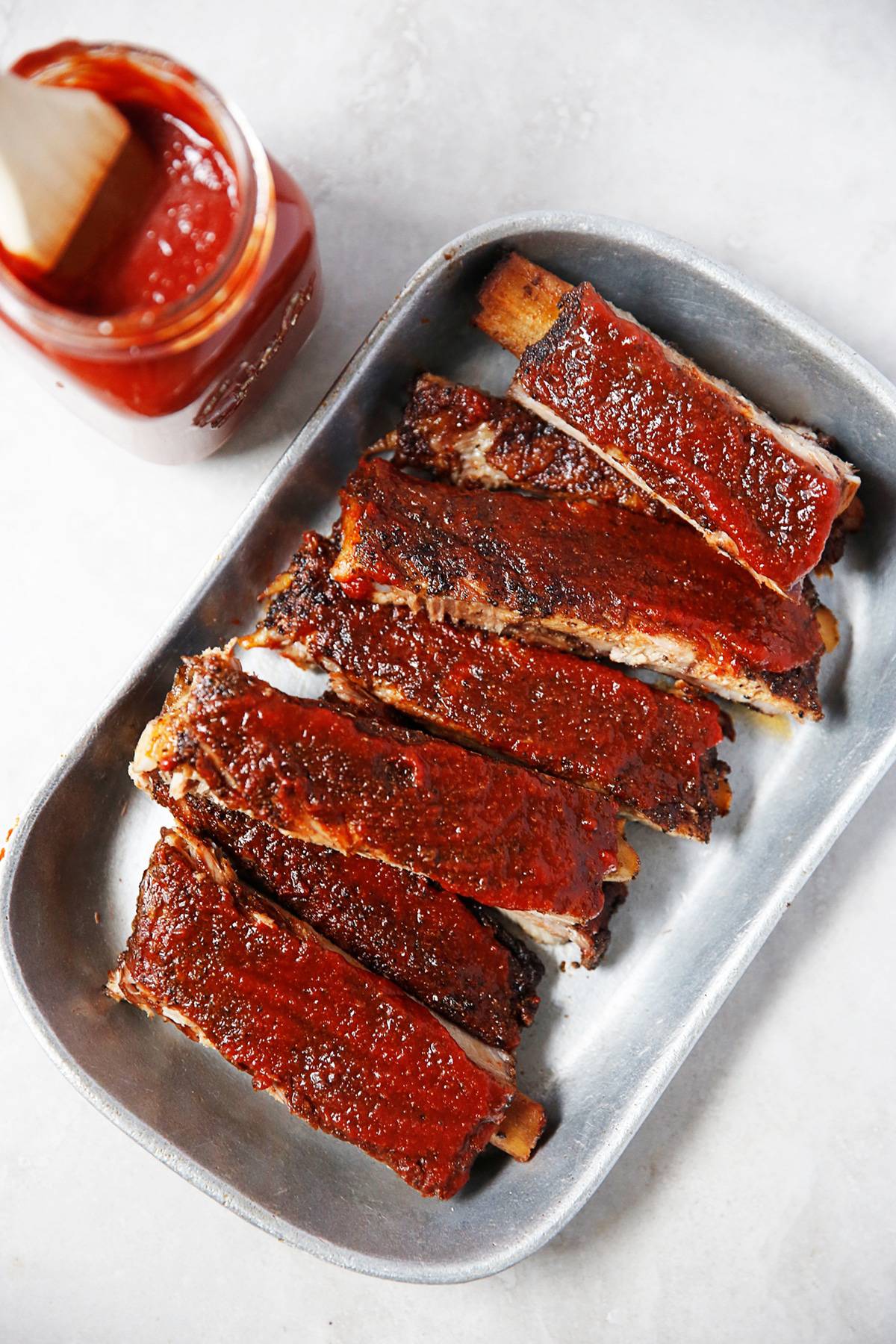 Oven Baked Coffee Barbecue Pork Ribs
While we love using the grill to make pork ribs in the summer, these Oven Baked Coffee Barbecue Pork Ribs uses a cut of meat that lends itself well to a nice slow and low cook in the oven, which is perfect for those winter months if you live in a cold climate. We make a quick coffee BBQ dry rub to marinate the ribs with, either overnight or to cook immediately and then they are wrapped up and baked in the oven for about 3 hours. These don't need an accompanying sauce, but we liked serving it with this Sweet & Smoky BBQ Sauce.
How to Remove the Membrane from Pork Ribs
Most pork ribs you buy from the store will have a membrane attached to the back of the bones that does not soften while cooked and can prevent the marinade from penetrating the meat. If you are purchasing your meat from a butcher, or a grocery store with a butcher you can ask to have the membranes removed. But it's also easy to do by yourself:
Stick a blunt knife underneath the silvery membrane towards the smaller end of the ribs.
Grab a corner of the membranes and pull with a paper towel until it is completely remove. Using a paper towel helps you get a better hold of it, since they are quite slippery.
Sometimes you'll get lucky and they will come off in one piece. Depending on whether you are using Baby Back Ribs or St. Louis Style ribs the membrane might be thick or thin. The thinner membranes sometimes do not come off in one piece, so you may have to remove it in pieces.
We gave the option to dry marinate these ribs in the refrigerator overnight, which is always preferably because it gives the spices time to absorb into the meat, or you can also ok cook immediately!
We love the moderate cooking time on these baked at 300ºF for about 3 hours. We find it balances nicely a low cooking temperature for tender ribs, without having to take up the entire day cooking at a really low temperature like 200ºF. The lower the cooking temperature the more tender the meat, so for us it's a happy medium that doesn't take all day to cook but still produces a really impressive rack of ribs.
Where we get our ribs:
I add them monthly or every two months, in my ButcherBox and they are the best quality Each month, ButcherBox  curates a one-of-a-kind selection of the healthiest, tastiest meats, humanely raised and free of antibiotics and hormones. Or you can customize your box and select your favorite cuts and get 20% more meat.The price works out to less than $6.00/meal and shipping is always free. You can also space it out so it's not every 4 weeks, too!
Enjoy the best 100% grass-fed and grass-finished filet mignons, plus get tasty uncured, sugar and nitrate free bacon & $10 off your first ButcherBox! ButcherBox delivers your meat for the month, saves you money, and is the best quality!
Get FREE bacon
FREE Shipping
$15 OFF!
Order Today and get this amazing deal and the best meat ever!
There are so many sides to choose from to serve with these Oven Baked Coffee Barbecue Pork Ribs:
Cauliflower Mac and Cheese (coming soon)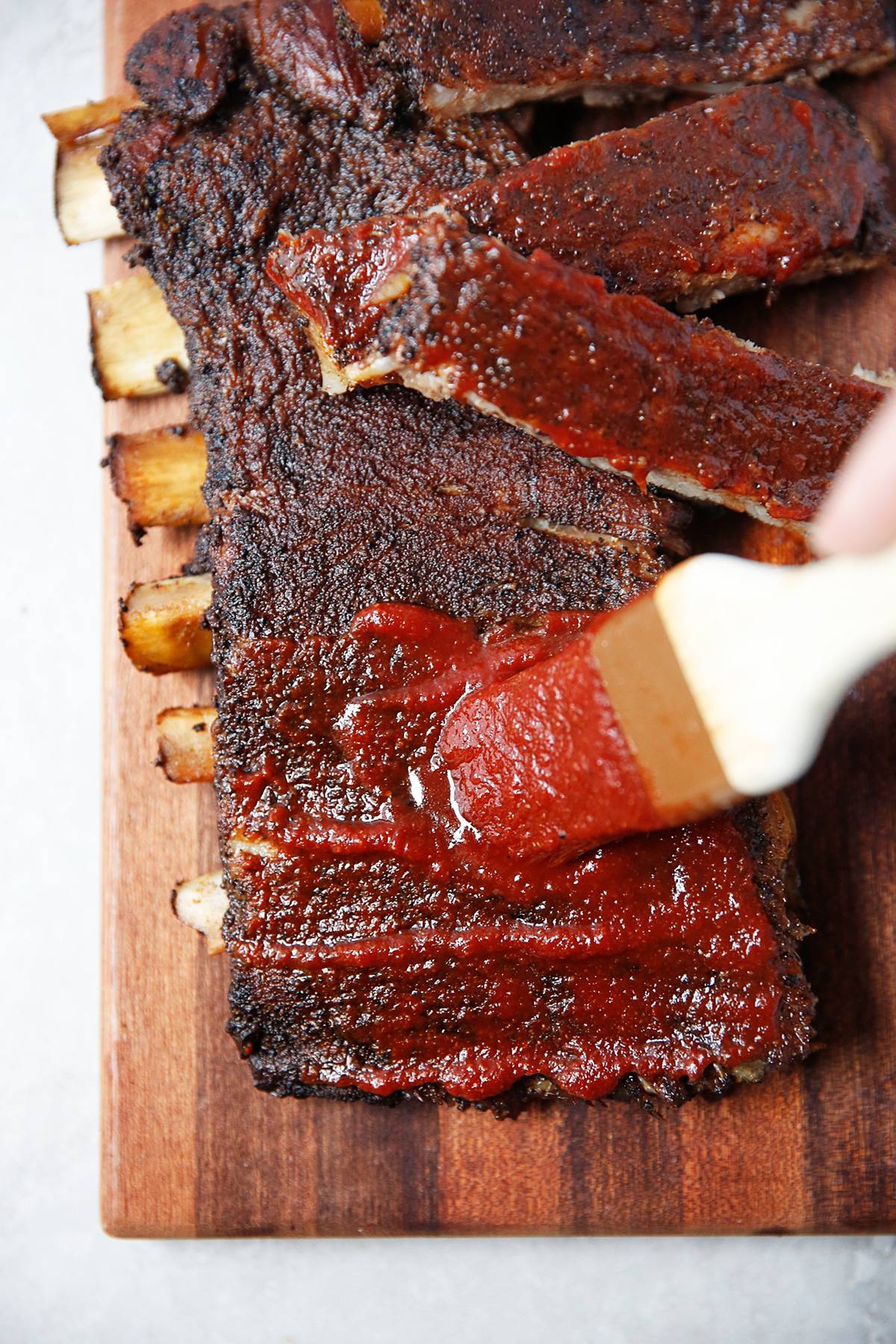 If you like this meat main recipe, check out these others:
Oven Baked Coffee Barbecue Pork Ribs
These Oven Baked Coffee Barbecue Pork Ribs are the perfect main dish to cook up on a lazy Sunday afternoon! They are marinated in a dry coffee BBQ rub and then cooked low and slow in the oven for completely unattended cooking time. They're Paleo and Keto friendly for perfect melt-in-your-mouth pork ribs.
---
---
Ingredients
3 tablespoon coconut sugar or brown granulated monkfruit

2 tablespoons instant coffee (or finely ground whole coffee beans)

2 tablespoon sea salt
1 tablespoons paprika
1 teaspoon chipotle chili powder

1 teaspoon white pepper

1 teaspoon oregano

1 teaspoon garlic powder
1 teaspoon onion powder

1 teaspoon cumin

½ teaspoon mustard powder

2 racks pork spare ribs , membraned removed (about 5 pounds)
Directions
In a small bowl mix together all of the spices.

Rub spice mixture on both sides of the each rack of ribs. You can do this ahead and leave overnight (or up to 24 hours), or make the ribs immediately.

Pre-heat oven to 300ºF.

Create a foil packet to cook the ribs in by laying down a piece of aluminum foil about 6 inches larger than the length of the ribs on each side, and then place a piece of parchment about the same size or smaller on top of that. Place the ribs in the middle, bone side up, and tightly fold the aluminum foil around the ribs to create a sealed packet. Place on a sheet try with a metal baking rack. Use two, if needed.

Place in the oven on a middle rack and cook for 3 hours, or until ribs are tender enough to pass a fork easily through them.

Remove from oven and carefully open a hole in the packet to carefully pour any accumulated liquid into a small pot.

Reduce the liquid until it is just slightly thickened up.

Remove ribs from the packets and turn meat side up and brush with a bit of the reduced liquid.
Cut and serve with barbecue sauce (totally optionally, as there is already a lot of flavor here) and sides.
Recipe Notes
If you want to leave out the coffee component because you are serving to kids or don't tolerate caffeine simply swap with decaf or omit it altogether, it will still have a lot of flavor.
---
Nutrition
Loading nutrition data...
9 comments
January 14, 2019
Subscribe to
Lexis Clean Living
Join our email list to get instant updates and weekly summaries of our top content and special exclusive offers along with our free clean eating kickstart guide!
This website may at times receive a small affiliate commission for products that we shared with you in our posts. Although we may receive a commission for linking certain products, there's no additional costs to you and all of our opinion and suggestions are 100% our own and unbiased. That's our promise to you!