This Spaghetti Squash Seafood Primavera is the perfect healthy alternative to the classic pasta dish! Such a great simple, veggie-packed dinner for any night of the week!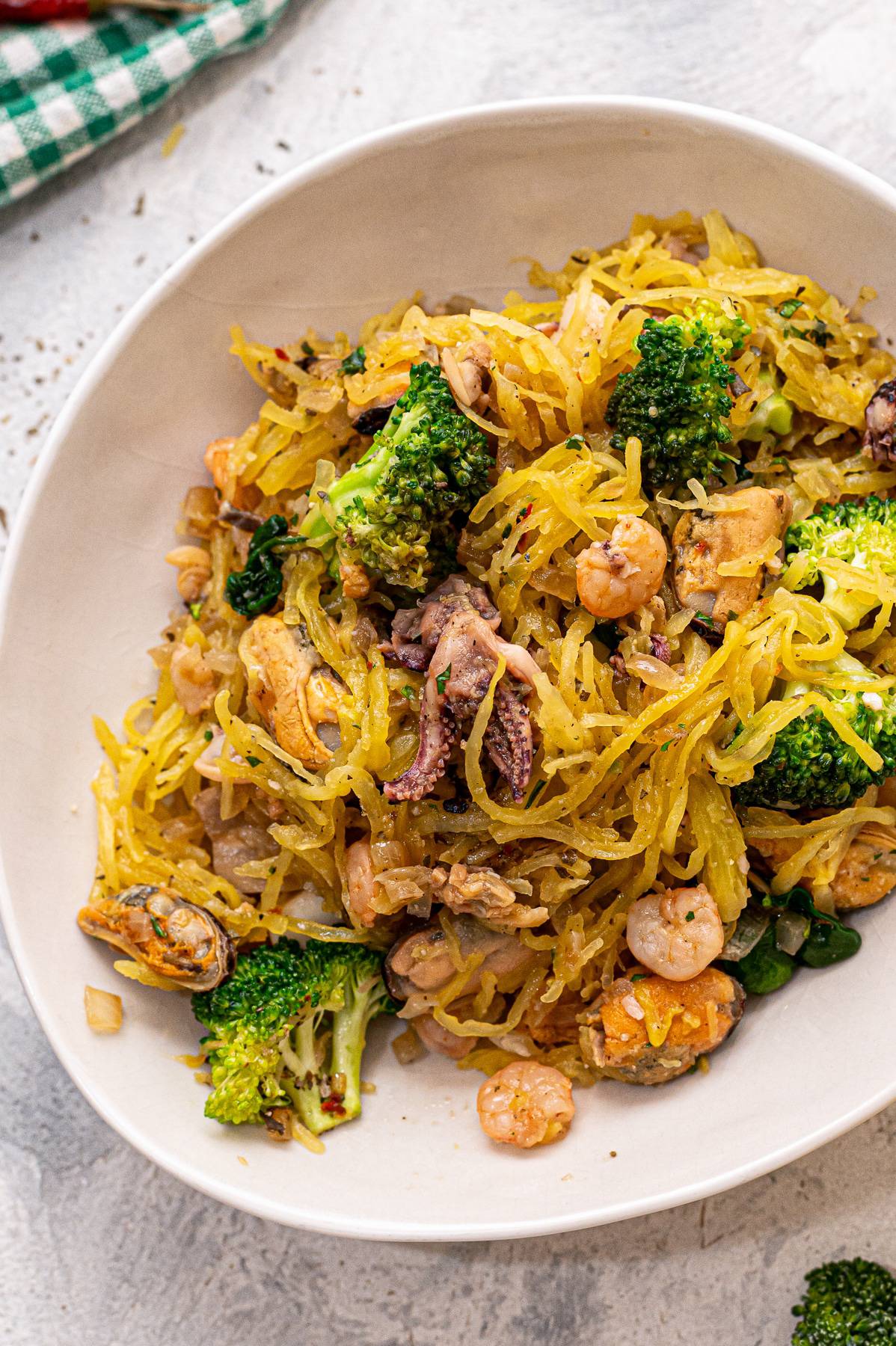 Seafood Spaghetti Squash
I realized yesterday that nearly all of the spaghetti squash recipes on my site are meat-based and none of them contain seafood. That had to be changed! I was in Whole Foods when I began conjuring up ideas. Spaghetti squash infused with white wine, spices, garlic, veggies, and seafood? DONE! Eating healthy never has to be boring!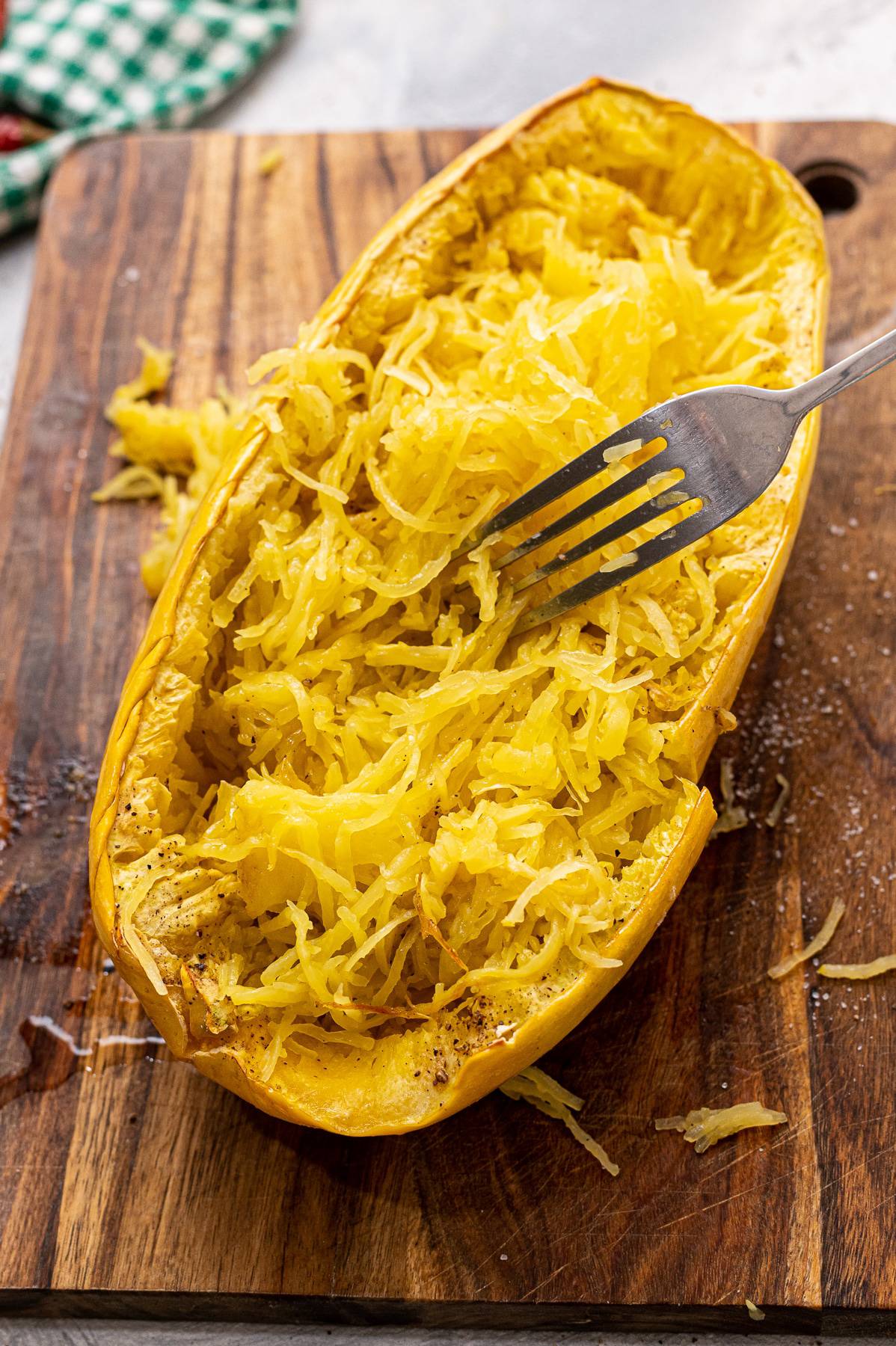 How to Safely Cut a Spaghetti Squash
Your best answer to safely cutting a spaghetti squash is to have a large sharp knife, and a flat steady surface to cut it. With one hand, steady the spaghetti squash, and with the other press the knife into the squash before using your weight to leverage the knife through the squash. Once the knife is at least an inch through the inside of the squash, use your other hand to push down on the knife until it cuts through the squash entirely.
We cut the squash in two ways:
Crosswise through the middle: This way is easier because there is less squash to cut, and you don't have to go close to the stem. This results in long strings of noodles.
Lengthwise: This method is harder to cut the squash and results in shorter noodles. Don't try to attempt to cut through the hard stem. Once you've cut to that, take the knife out and use your hands to pull apart the spaghetti squash halves.
Ways to Cook Spaghetti Squash
Spaghetti squash noodles are probably the easiest alternative to traditional pasta there is. While it doesn't taste exactly the same, spaghetti squash is a nutrient-dense, low carb alternative to pasta (whether gluten-free or not) and works so well in this recipe for a lightened up Seafood Primavera. Cooking spaghetti squash is simple, being a mostly hands-off cooking task. The hardest part is slicing it in half (see above).
How to Cook Spaghetti Squash in the Oven
Roasting spaghetti squash in the oven takes longer, but it results in tender caramelized squash noodles. This is definitely our preferred method if we have the time. To make it, all you do is split the spaghetti squash, scoop out the seeds and drizzle with oil, salt, and pepper, and roast until fork-tender.
How to Cook Instant Pot Spaghetti Squash
Steaming spaghetti squash in the Instant Pot is by far the quickest method, and great when short on time! The squash noodles have a more straight-forward taste to them since no caramelization occurs. We prefer splitting the spaghetti squash and scooping out the seeds before cooking it, but you can steam it whole.
We offer directions below for roasting the spaghetti squash, but check out this Guide to Cooking Spaghetti Squash for other alternatives.
What Type of Seafood To Buy
This recipe for ease and affordability calls for a frozen seafood medley, but the truth is you can't go wrong with what seafood you want to add in here. If you do want to switch it up from frozen seafood, make sure you aren't adding anything in that needs a drastically different cooking time than the rest of the seafood since it's cooked all together.
Also, pay attention to making sure the seafood is properly prepped before using!
If you have a fishmonger, that's a great place to start. Let them know what you plan to make, and they'll make sure your seafood is properly prepped!
For shrimp, you want it to be shelled and deveined before use. You can leave the tail on or off.
Scallops should simply be rinsed under cool water and dried, before use.
Clams or mussels should be thoroughly washed before use. Inspect them to make sure there are no open shells or any mussels with damaged or broken shells. If you find any, be sure to discard them, as it means they probably have died. Then, run water over the mussel in a colander, and scrub off any debris you find on the shells. Most mussels are "debearded" when purchased, but if you find any pesky ones hanging on, you can just yank them off with your finger or a knife.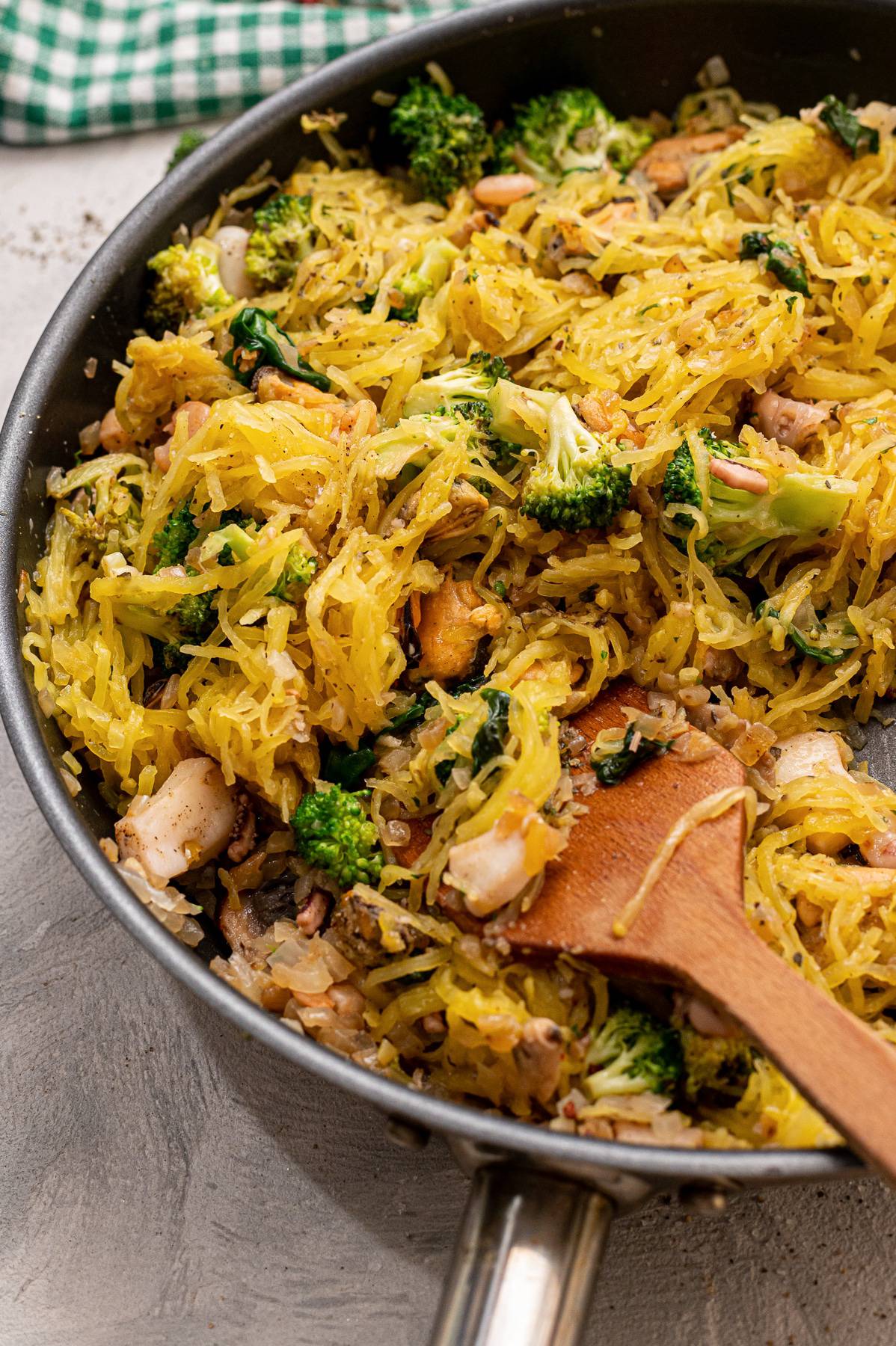 Watch the video here:
---
---
If you like this seafood recipe, check out these others:
If you like this spaghetti squash recipe, check out these others: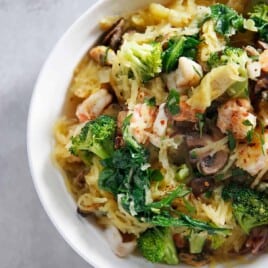 Seafood Primavera
This Spaghetti Squash Seafood Primavera is the perfect healthy alternative to the classic pasta dish! Such a great simple, veggie-packed dinner for any night of the week!
Ingredients
1

2lb spaghetti squash

3

teaspoons

extra-virgin olive oil

divided

1/2

teaspoons

sea salt

1/2

teaspoon

black pepper

4

garlic cloves

minced, divided

1

white onion

diced

2

cups

broccoli florets

1

cup

mushrooms

sliced thin

2

handfuls fresh organic spinach

1

pound

frozen seafood medley

defrosted

1/3

cup

dry white wine

2

tablespoons

lemon juice

divided

1

teaspoon

basil

1

teaspoon

parsley

1

teaspoon

garlic powder

1/4

teaspoon

red pepper flakes

more to taste

1/2

teaspoon

sea salt

more to taste

1/2

teaspoon

ground pepper

more to taste
Instructions
Preheat the oven to 375 °F.

Cut spaghetti squash in half and scoop out seeds. Drizzle with 1 teaspoon olive oil, sea salt, and black pepper.

Line baking sheet with parchment paper.

Lay spaghetti squash face down on a baking sheet, and add 1/4 cup water. Bake for about 30 minutes until fork tender. Let cool.

In a large skillet, add 1 teaspoon olive oil over medium-high heat. Add in half of the garlic and cook for 1-2 minutes until fragrant. Add onion, broccoli, and mushrooms and stir well. Let cook over medium-high heat for about 5-7 minutes, until onions are translucent. Add spinach and cook just until wilted. Turn off heat and set aside.

Pat seafood dry and season with salt and pepper.

Heat a separate skillet with remaining olive oil. Add remaining garlic and cook for 1-2 minutes, or until fragrant. Add seafood to the skillet and cook for 7-8 minutes, or until the seafood is fully cooked through.

Add white wine, and 1 tablespoon lemon juice and mix to combine. Simmer for an additional 1-2 minutes. Pour seafood and white wine sauce into the skillet with the vegetables. Add spaghetti squash and mix until well combined.

Add basil, parsley, garlic powder, red pepper flakes, salt and pepper, and the remaining lemon. Taste and adjust seasoning as needed.

Serve warm!
Notes
To defrost the seafood, simply run under cool water for a few minutes.
I used a frozen seafood medley I found at Whole Foods!
Nutrition
Calories:
309
kcal
Carbohydrates:
17.4
g
Protein:
40
g
Fat:
7
g
Cholesterol:
240
mg
Sodium:
887
mg
Fiber:
2.4
g
Sugar:
2.5
g