The Best Gluten Free Pizza Crust
This is the best Gluten Free Pizza Crust recipe! It's easy to make, using a handful of ingredients and comes together in under 10 minutes. Plus, there is no kneading or proofing required. It's paleo and grain-free, but you wouldn't know it. It's light and chewy with just the right texture. Bake it with your favorite toppings for pizza ANY night of the week.
Gluten Free Pizza Crust
If you haven't tried my Gluten Free Pizza Crust before, you have been missing out. This pizza crust was first published back in 2014 and was also included in my cookbook. It has been made and loved by so many of you! I have to admit, it's a favorite of mine too. We rephotographed it, as well as updated one ingredient to make it even easier to make. This gluten-free, paleo and nut-free crust comes together quickly, in 1-bowl in under 10 minutes. No kneading, proofing or fussing is required! This pizza crust uses a blend of coconut flour, tapioca flour and ground flaxseed. It's light and chewy and is a crowd pleaser. It's easy to make ANY night of the week and perfect for any topping you'd like!
Paleo Pizza Crust Ingredients
Previously, when I first published this recipe I used palm shortening instead of the olive oil that is now listed. While that works equally as well, a lot of readers don't commonly keep palm shortening on hand. We tested this with olive oil and love the results, so we've updated the recipe to call for that instead. If you know and love this with palm shortening, you can still go ahead and use equal the amount of that.
Olive Oil
Warm Water
Egg
Tapioca Flour
Coconut Flour
Ground Flaxseed
Baking Powder
Garlic Powder (optional)
Italian seasoning (optional)
Fine Sea Salt
How to Make Gluten Free Pizza Crust
What I love about this crust is how truly easy it is to make! All you need is a bowl, a whisk and a spatula. First you whisk together the wet ingredients. Next you add in the dry ingredients, whisk together until you can't whisk anymore, and then continue to stir it together with a spatula.
Because we're using coconut flour, the dough will look more like a batter and thickens as it sits. After it's been mixed together, let it sit for about 5 minutes.
Next, you dump the dough on a piece of parchment that is dusted with tapioca starch. The dough will be sticky. Dust your hands with tapioca starch, as well as the top of the dough. Using your fingers pat the dough down into a circle 8-9″ circle, dusting with additional tapioca as needed. The thinner you pat out the dough, the crispier the crust will be.
Once you have formed your pizza dough you can lightly brush off any excess tapioca flour.
Tips for Working with Homemade Paleo Pizza Crust
Use a scale to measure out the flour! Coconut flour is very absorbent. If it is not measured correctly it could impact the recipe. Check out this post for more information.
Form the crust directly on the parchment and baking sheet you plan to bake the pizza on.
Let the dough rest for a few minutes before you form the pizza crust. This dough uses coconut flour and the longer it sits the more liquid it absorbs. If you try to form the crust right away it may be too wet.
This pizza crust is sticky! Use extra tapioca flour as needed to prevent it from sticking to you, or the parchment. If you have an excess after you have finished forming the pizza, brush or gently blow it off.
You must parbake the crust. Typically pizza is baked at a very high temperature. Because of the use of paleo flours, it is better for the flavor for this crust to be baked at 350ºF, so you'll need to fully bake the crust before adding in your toppings.
How to Bake Gluten Free Pizza
This pizza crust must be baked first before you add any toppings. Bake in a preheated 350ºF on the the middle to lower rack for 20 minutes. Then add your pizza toppings and continue to bake until the cheese is melty.
This recipe makes a pizza for 1-2 people. If serving more, feel free to double the recipe. If you want to make a bigger batch than than that, it is better to make it in a separate bowl. For example, if you want to serve more than 4 people, could could make 2 double batches in two bowls, instead of making them all on the same bowl.
If you like this gluten-free recipe, check out these others:
If you like this pizza recipe, check out these others:
---
Watch the video:

[yumprint-recipe id='189′]

The Best Gluten Free Pizza Crust
This Corn Avocado Salsa recipe is a quick and delicious side to serve up with just about anything! This cool summer side dish is easy to make and is gluten and dairy free!
Avocado and Corn Salsa Recipe
This is the perfect summery side dish to serve when the weather is HOT. This Avocado and Corn Salsa comes together quickly. It is the perfect easy side dish to throw together and flies off the table! This dish is served great with nearly anything, but we especially like it for other quick cooking summer dishes like this Blackened Fish, quick Chicken Tacos or this Garlic and Lime Grilled Steak.
Corn Salsa Ingredients
Fresh Corn on the Cob
Red Onion
Cherry Tomatoes
Avocado
Olive Oil
Lime
Cilantro
Salt and Pepper
Methods to Cook the Corn
The only piece of this salsa that needs to be cooked is the corn! There are a few different methods you can use to cook it. You can quickly boil it, as we suggest in the recipe. Or you could grill it! Additionally you can also cook corn in the Instant Pot using these directions here.
If you like this avocado recipe, check out these others:
If you like this side dish, check out these others:
[yumprint-recipe id='40']
Avocado and Corn Salsa
This Quick Spicy Italian Chicken in Tomatoes is such a simple and quick weeknight dinner, that is packed with so much flavor! There is option to turn up, or eliminate the heat of the dish, but either way it's delicious. Serve these chicken breasts in tomato sauce alongside roasted green beans and you have yourself a perfect low-carb, paleo-friendly, Whole30 approved meal that takes under 30 minutes to prepare! Talk about a WIN!
Quick Cooked Chicken Breast in Tomato Sauce
Easy weeknight dinners are THE BEST! This quick cooking Spicy Italian Chicken in Tomatoes is a super delicious dinner to cook when you have less than 30 minutes to get food on the table and you are relying on pantry staples!
We made this low carb by serving it with roasted green beans, but if you want to go a little heavier with the carbs and have a little bit more time on your hands you can serve it with roasted potatoes, rice or pasta.
Want to make this easy chicken and tomato recipe without the spice?
We love spice, but not everybody does, especially if you are serving kids at the table. Feel free to omit the red pepper flakes in this dish, or lower the heat by adding in just half.
Ingredients Needed to Make this Italian Chicken in Tomatoes:
Boneless, skinless chicken breasts

Italian seasoning

Dried Basil

Onion

Garlic
Whole Plum Tomatoes
Red Pepper Flakes
Green Beans
You can also substitute whatever seasonal veggies you have on hand to roast as well. Cauliflower would be great here, as would zucchini or eggplant.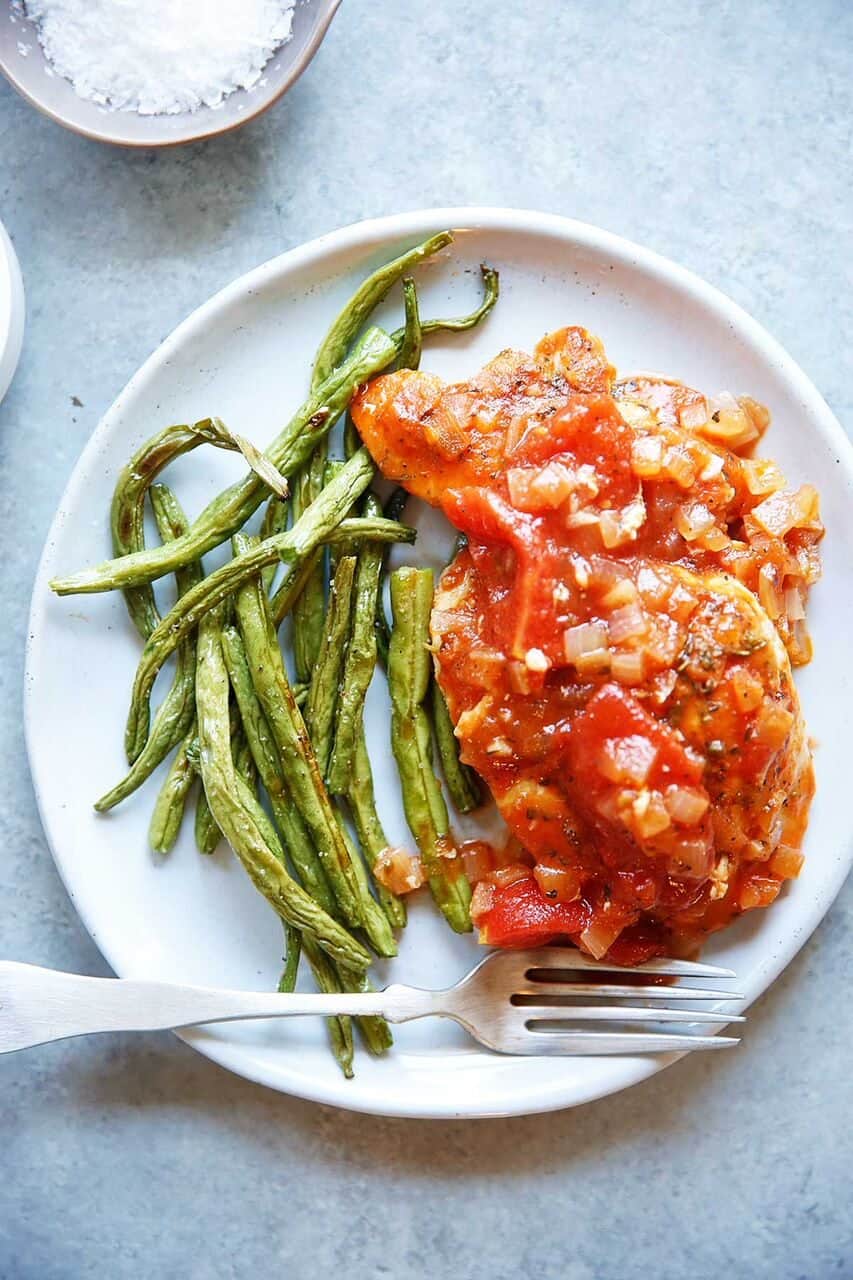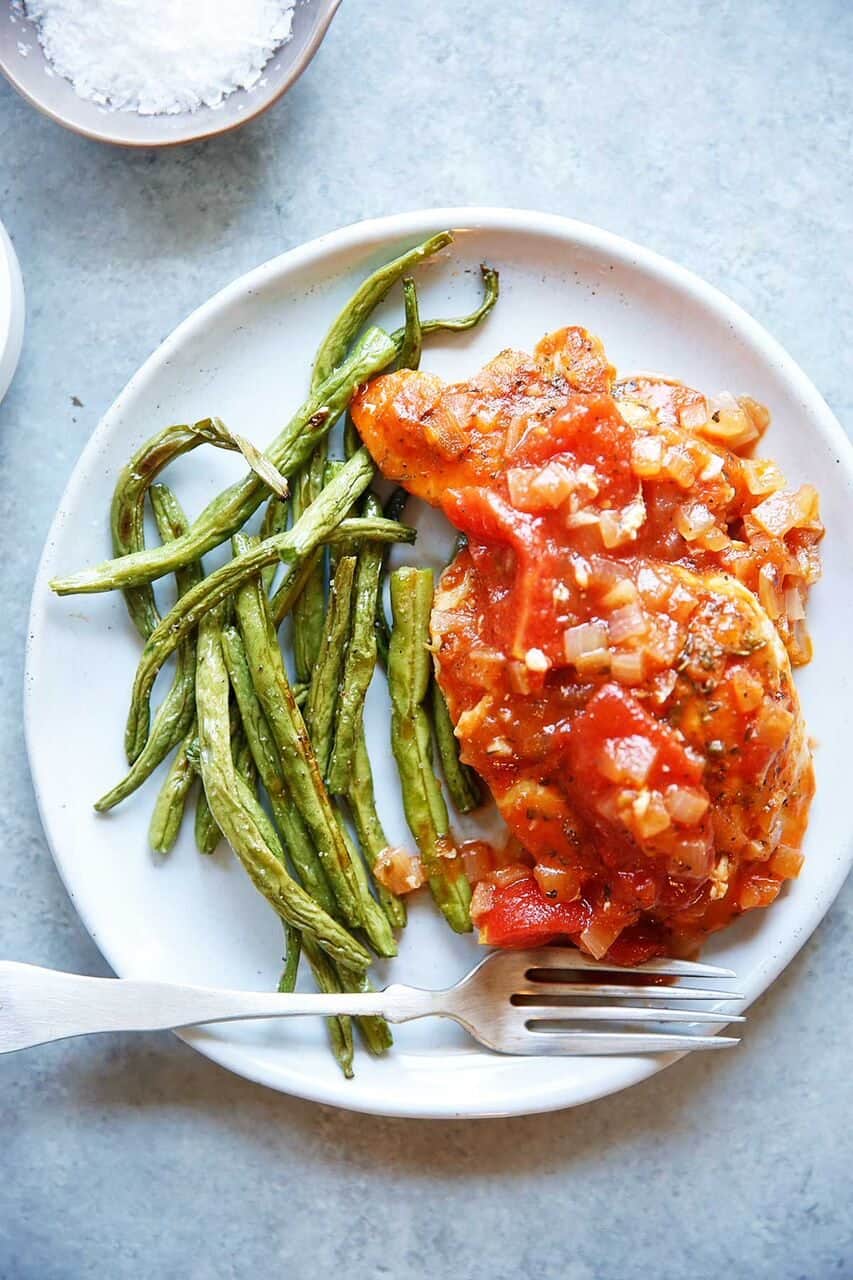 If you like this chicken recipe, check out these others:
Quick Spicy Italian Chicken in Tomatoes
This easy Coffee Banana Smoothie Recipe is the perfect creamy and flavorful smoothie to add to your morning routine! It uses leftover coffee or cold brew, and is dairy-free, refined sugar-free, and SO delicious.
Coffee Banana Smoothie
This easy Italian meat sauce recipe is my probably my all-time favorite pasta sauce recipe! It's an easy homemade meat sauce recipe that is hearty and flavorful, and perfect for a weeknight meal. Make this healthy meat sauce with ground turkey or ground beef, and let it cook nice and slow! It's gluten-free, paleo-friendly, whole30 compliant, and so yummy! Serve it over zucchini noodles or spaghetti squash for low carb, or gluten-free pasta!

Homemade Meat Sauce Recipe
I LOVE Italian dishes. Especially a quick and delicious meat sauce! I often make my favorite Italian dishes into healthy versions that I love to dig into, weekly. This spaghetti meat sauce is delicious, always a hit and so versatile! Serve it over zucchini noodles, spaghetti squash, the options are endless! I often make a big batch to have for the week, and I never get sick of it!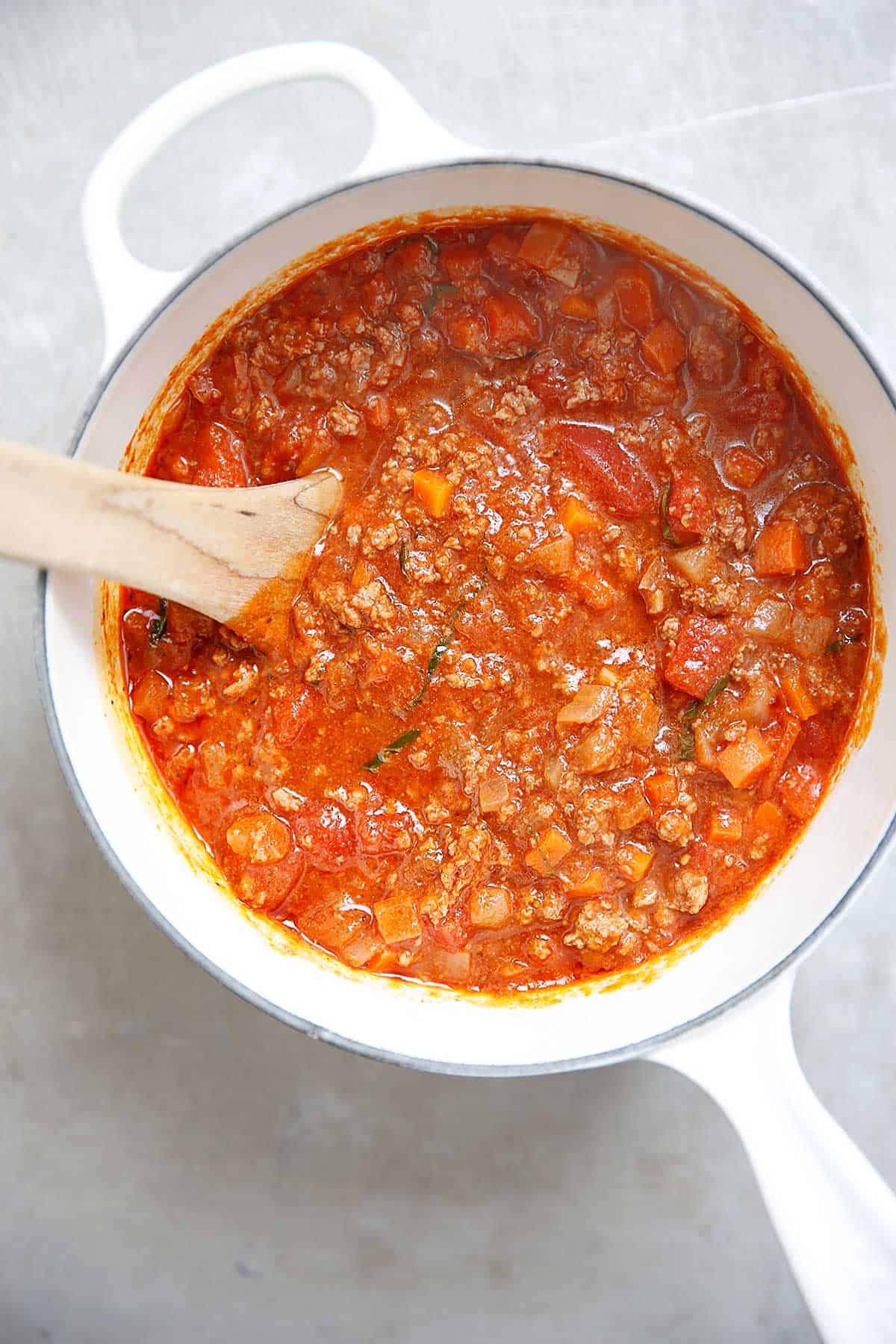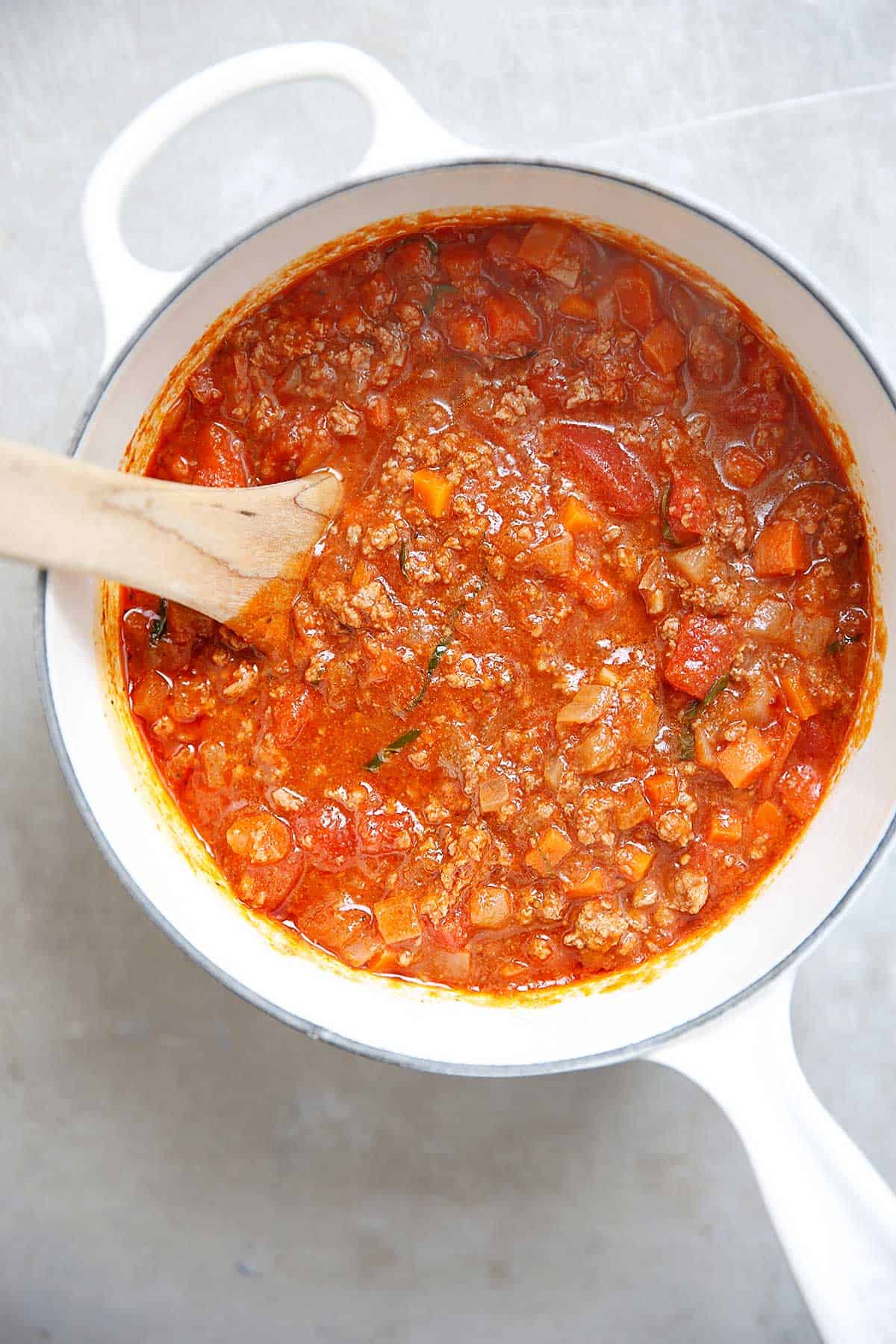 If you love meat sauce, try this spaghetti sauce in these recipes: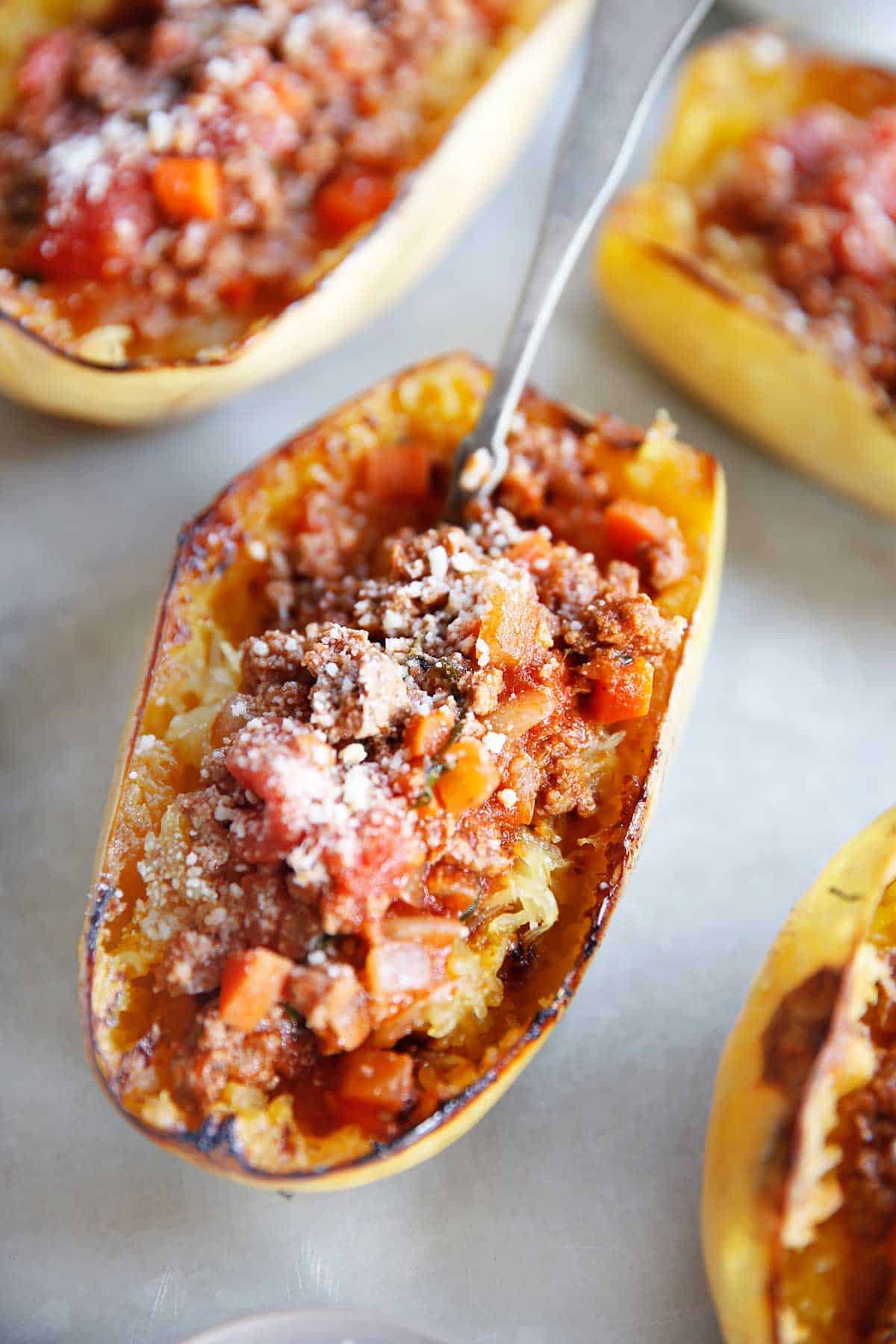 Want other healthier pasta recipes? Try these favorites:
How Do You Make Meat Sauce
Homemade Meat Sauce Recipe
This low-carb and keto-friendly Sausage, Peppers, and Onion, one-pan dish is made in just twenty-minutes! Such a perfect sausage and peppers recipe for any night of the week.
Sausage, Peppers, and Onions
Did you know that peppers are at their growing season peak right now? I was over at my favorite little farm and they had a bin with the most beautiful looking peppers, so I just had to get a bunch! This dish went over big time here.
This is the EASIEST sausage and peppers recipe! It is made in one skillet, is so flavorful, and you can use chicken sausage, pork sausage, or any sausage you like! I like to find ones with minimal added ingredients.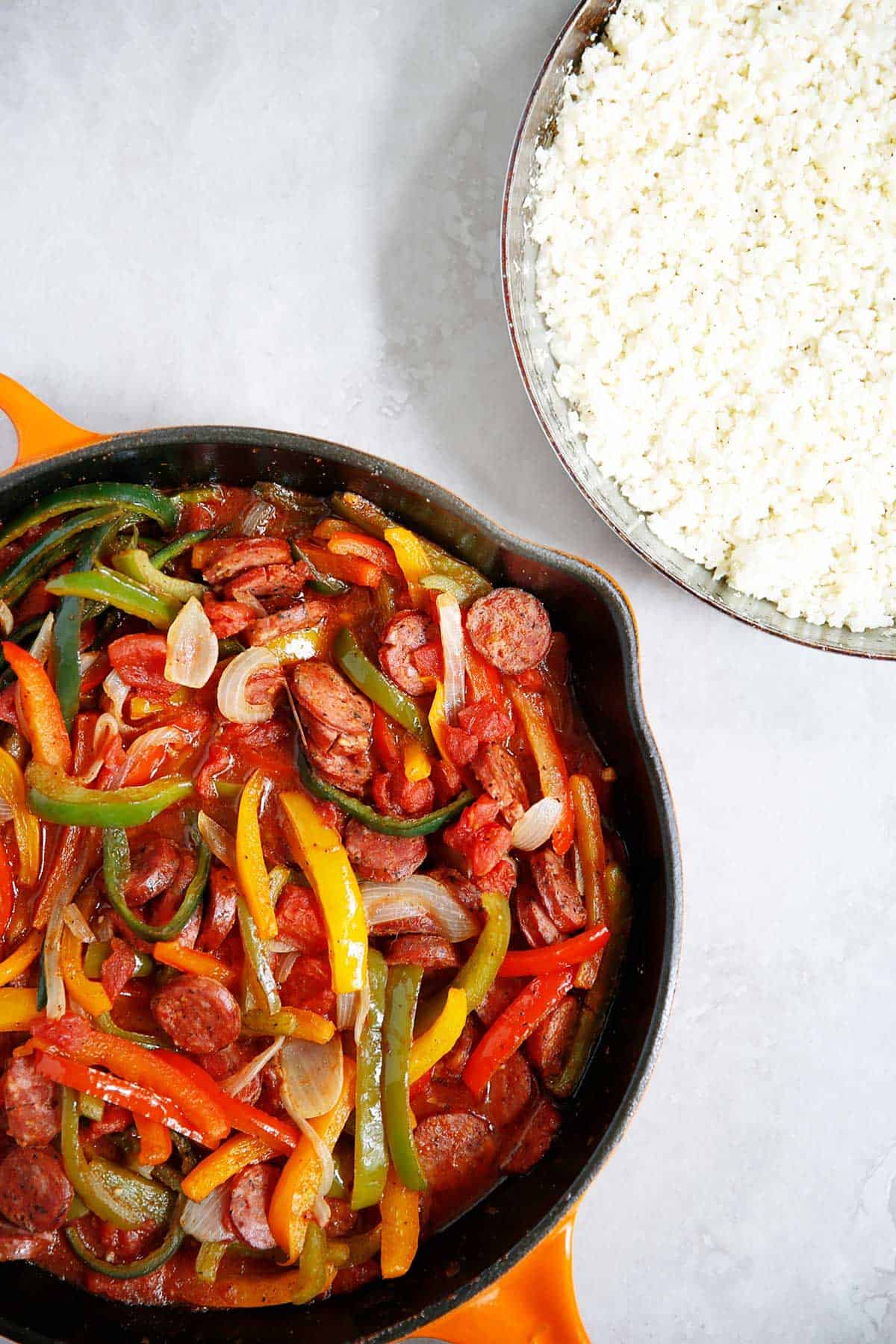 It is flavorful, comforting, and just plain delicious with the perfect amount of sauce. A great dish for football Sunday or those nights when you need a quick and easy meal!
How to make Sausage and Peppers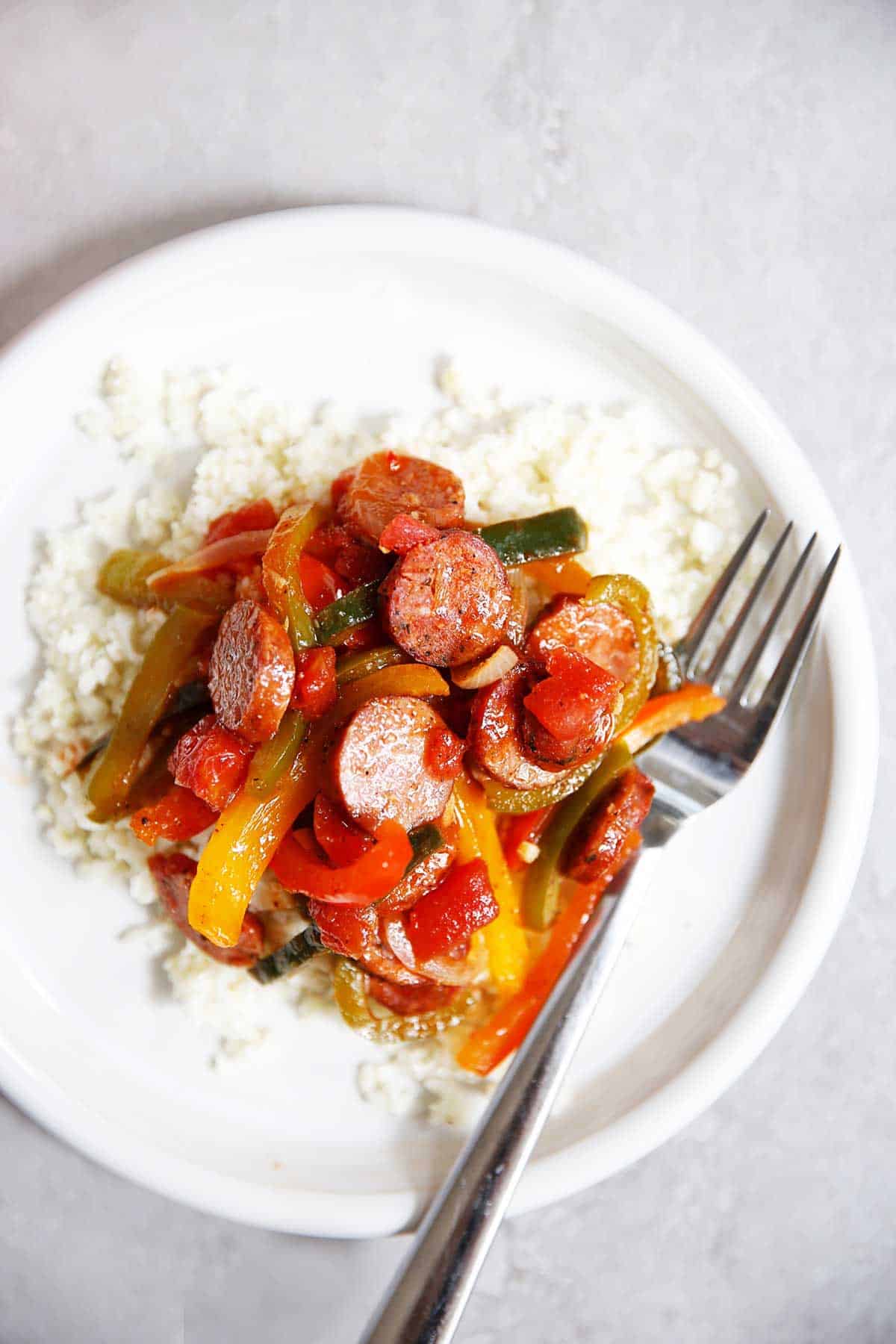 You can get creative with how you serve this dish! I love it served over roasted spaghetti squash or cauliflower rice but I bet it would be great with gluten-free pasta or spiralized veggies as well! This sausage and peppers recipe is Paleo friendly, whole30 compliant, dairy-free, grain-free, and no sugar added!
Like this easy skillet recipe? Try these other favorite one pan meals!
Sausage, Peppers, and Onions
Egg Rolls in a bowl, Indian Spiced Chicken and Cauliflower, a hearty Breakfast Salad, and more, make up this week's dinner meal plan! Equipped for leftovers and tons of flavor!
If you missed the start of the plans, don't worry, you can join in on your own month anytime! Find all of the meal plans, equipped with *free* printable shopping lists, in our easy Meal Plan Tab on the blog! If you've been loving them, we'd love to hear your favorites so far!
Monday: Cioppino Stew (30 minutes or less, low-carb, dairy-free, egg-free, gluten-free, paleo-friendly)
Tuesday: Loaded Taco Skillet (30 minutes or less, low-carb, egg-free, gluten-free, grain-free, and nut-free)
Wednesday: Leftovers
Thursday: One-Pan Indian Spiced Chicken and Cauliflower (Dairy-free, low-carb, egg-free, gluten-free, nut-free, paleo-friendly, Whole30 compliant if you use ghee!)
Friday: Leftovers
Saturday: BRINNER: Green Goddess Breakfast Salad (Dairy-free, paleo-friendly, nut-free, gluten-free, grain-free, low-carb, and Whole30 compliant)
Sunday: Egg Roll Bows (30 minutes or less, low-carb, paleo-friendly, dairy-free, and grain-free)
Grab your free printable shopping list HERE!
Make a side-dish from the Lexi's Clean Kitchen Cookbook! The Kung Pao Cauliflower (page 222) is a great low-carb dish to pair with the Egg Roll Bowls! SO simple to make and so so flavorful! You can also add the Burnt Broccoli on page 230 to the Green Goddess Breakfast Salad as a nice crispy and flavorful touch!
Dessert idea: These Blueberry Crumb Bars are gluten-free, grain-free, refined sugar-free, and are exploding with flavor! Such a great way to celebrate blueberry season!
---
As always, if you have meal plan feedback, please send me an email at Lexi@Lexiscleankitchen.com! I'd absolutely love to hear from you!
Happy Cooking!
Lexi's Weekly Dinner Plan Week 21
This Cauliflower Baked Ziti from the No Excuses Detox Cookbook is the perfect LOW-CARB vegetarian meal! I love the idea of using cauliflower as a lower carb and higher nutrient alternative! This dish is so creamy, dreamy, and a great gluten-free, nut-free, grain-free, and vegetarian meal the kiddos will LOVE!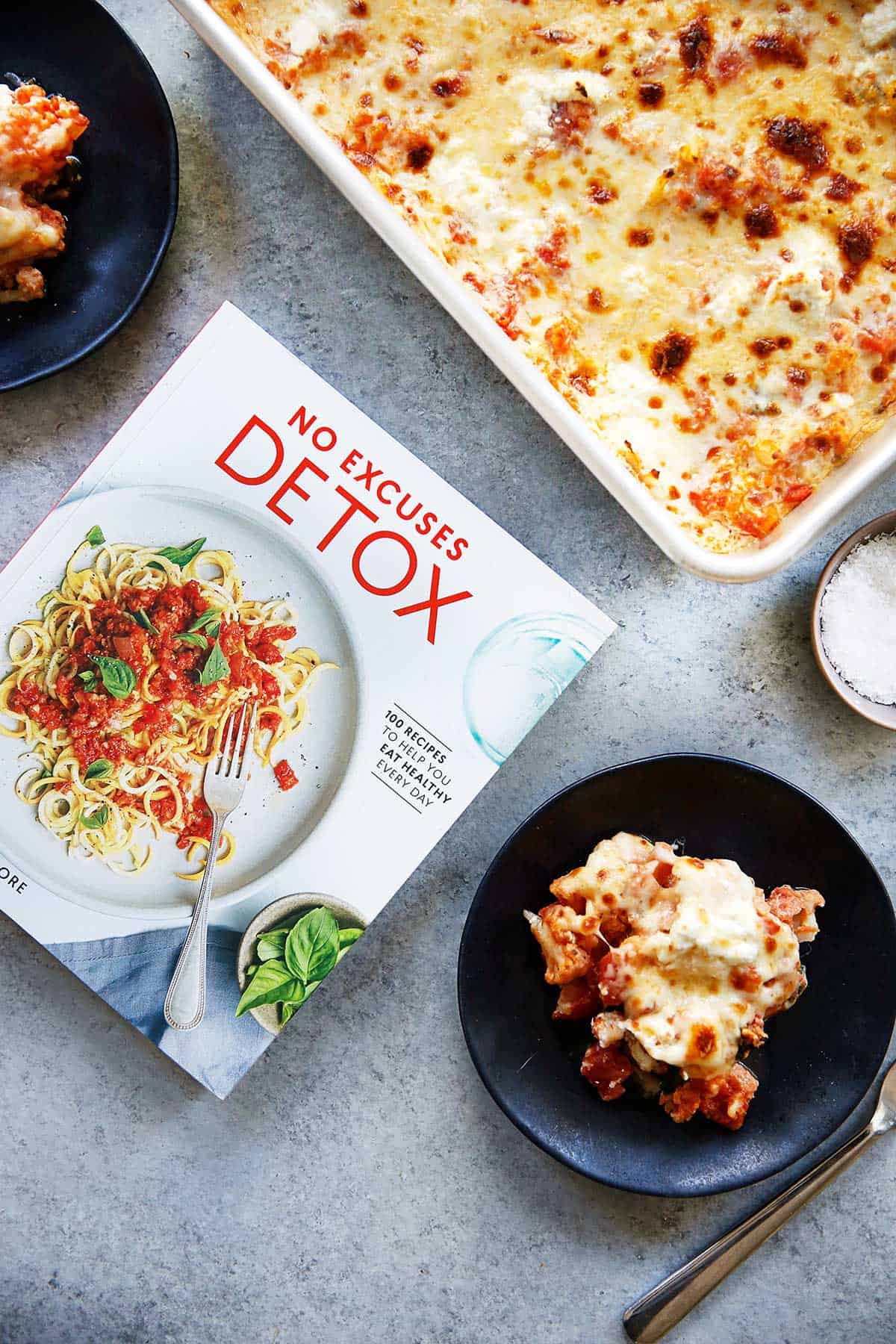 I was super excited when my friend Megan from The Detoxinista's newest book arrived! It's filled with so many family friendly recipes that I cannot wait to make. I started with this Cauliflower Baked Ziti since we are in a grove with our Meatless Monday series! If you tolerate cheese, this recipe is for you!
Here are a few others that I have my eye on:
Butternut Mac n' Cheese
Sweet Potato Queso
Loaded Nacho Dip
Creamy Mushroom Soup
Avocado Caesar Salad
Strawberries & Cream Freezer Pops
Frosty Chocolate Shakes
Carrot Cake Cupcakes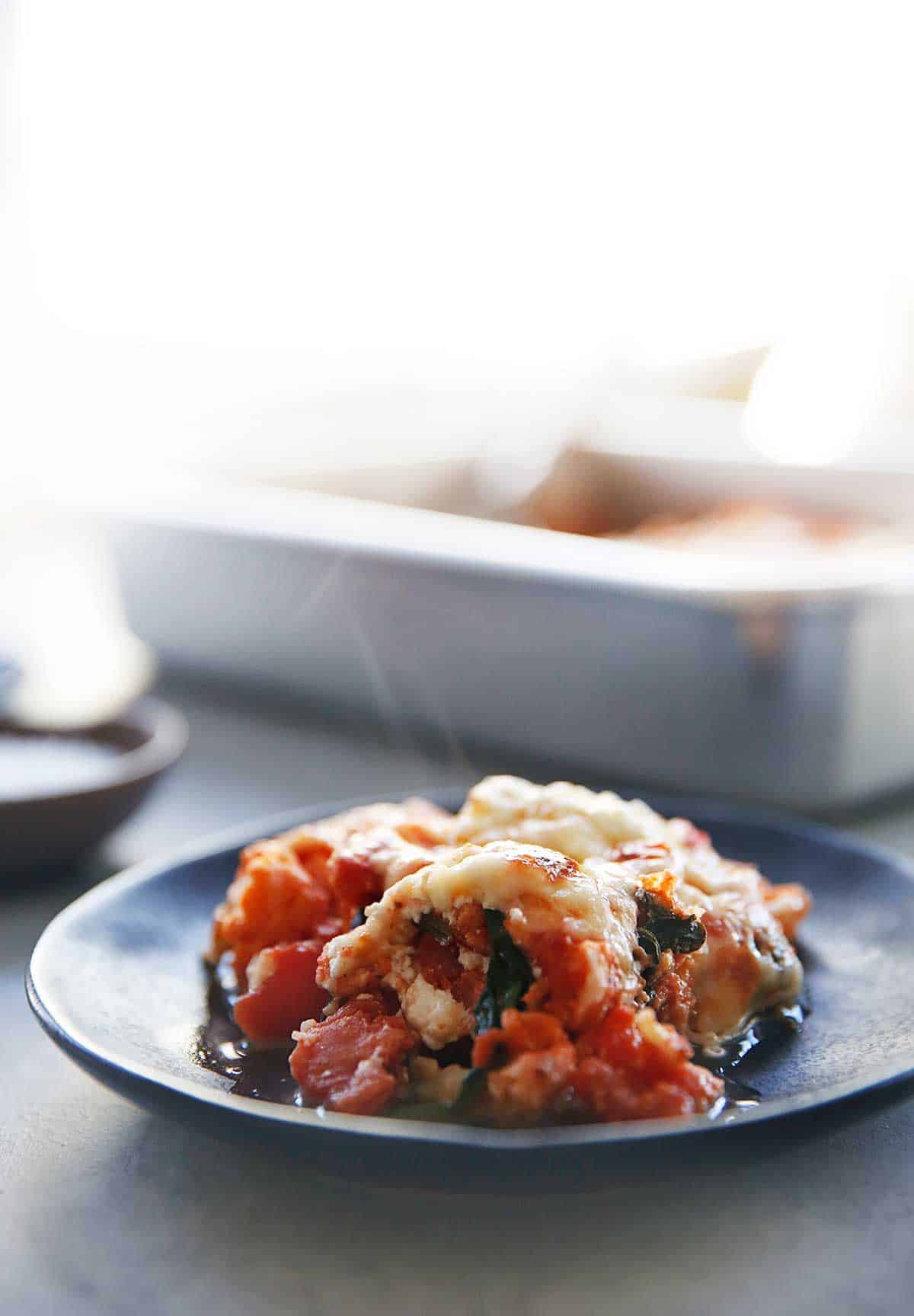 Cauliflower Baked Ziti
---
---
Ingredients
1 head of cauliflower, cut into florets and chopped
2 cups pizza sauce (store-bought or homemade)
4 eggs
1 cup ricotta cheese
2 teaspoons Italian seasoning
1/3 cup grated Pecorino Romano cheese
1/2 teaspoon fine sea salt
2 cups fresh baby spinach
2 ounces shredded cheddar cheese
Recipe Notes
*If you want to add meat, sauté it separately, and then add it to the mixture before baking!
*Make this a freezer-friendly meal: Follow steps 1-3, instead of baking it, pour the ingredients into an oven-safe dish. Cover well and freeze for up to 3 months. When ready to serve, thaw in the fridge overnight and bake!
*Adapted with permission from the No Excuses Detox Cookbook by Megan Gilmore
---
Nutrition
Loading nutrition data...
Grab your copy today!
Cauliflower Baked Ziti
This Sweet Potato Gnocchi: Two Ways takes some time to make, but it isn't complicated once you get the hang of it and makes for such a fun hands-on task! Simply delicious, and guilt-free! I served it two ways, with my favorite easy tomato sauce and then with a spinach and butter sauce. So so good.
For a while now I've wanted to make a gnocchi recipe. I knew with the right combination of gluten-free flours I could achieve that dough-like pasta that is loved by many. I also knew it could be customizable based on your desired taste.
This dish was a huge hit. All of my trusty taste-testers requested seconds! I plan on making a spinach version, pumpkin, pesto, and so on one day!
Sweet Potato Gnocchi Without Ricotta
Disclosure: This is a sponsored post with Muir Glen Organic Tomatoes. I was compensated  for the time spent developing this recipe. All opinions expressed on Lexi's Clean Kitchen are always my own. My sponsors help make this blog possible!
What is your all-time favorite pasta dish?
Sweet Potato Gnocchi: Two Ways (Gluten-Free)
Warming hearts, one bowl at a time. At least that's how it is for me. I love soup of all kinds, especially hearty and healthy ones that use your favorite seasonal vegetables. This Rustic Vegetable Tomato Soup is a hit! Packed with flavor and perfect for that cool winter night. If you're experiencing the cold that we are here in Boston this week, you can relate!
Find my Healthy Holiday Recipes Series and so much more on American Express' Tumblr!


[yumprint-recipe id='77']


I was selected by American Express as to help educate consumers about how to use Membership Rewards points. As such I was paid for my services, but all gift choices selected and opinions about the gifts and American Express are my own. http://t.cmp.ly/68ee5b1be62ebaeb5a
What is your favorite soup?

Rustic Vegetable Tomato Soup
This one-pot Lemon Roasted Lemon Roasted Chicken with Garlic, Capers, and Artichokes is such a flavorful and hearty dish! The perfect dinner for those nights you want as little clean-up as possible! Whole30 compliant, paleo-friendly, nut-free, and egg-free!
Lemon Roasted Chicken with Garlic, Capers, and Artichokes
It's starting to feel like Winter is on the horizon. Heavier jackets have started coming out, and I woke up to a text of a backyard cover in snow this morning! In lieu, this week's Savory Sunday is here with a cozy Autumn/Winter meal that is loaded with bright and delicious flavors. This dish was a major hit; the chicken fell right off the bones and it is extremely simple to throw together, a one pan wonder! Perfect for a Sunday night family dinner, or a meal prep for your work week.
How to make roasted chicken
Want other chicken recipes? Try these: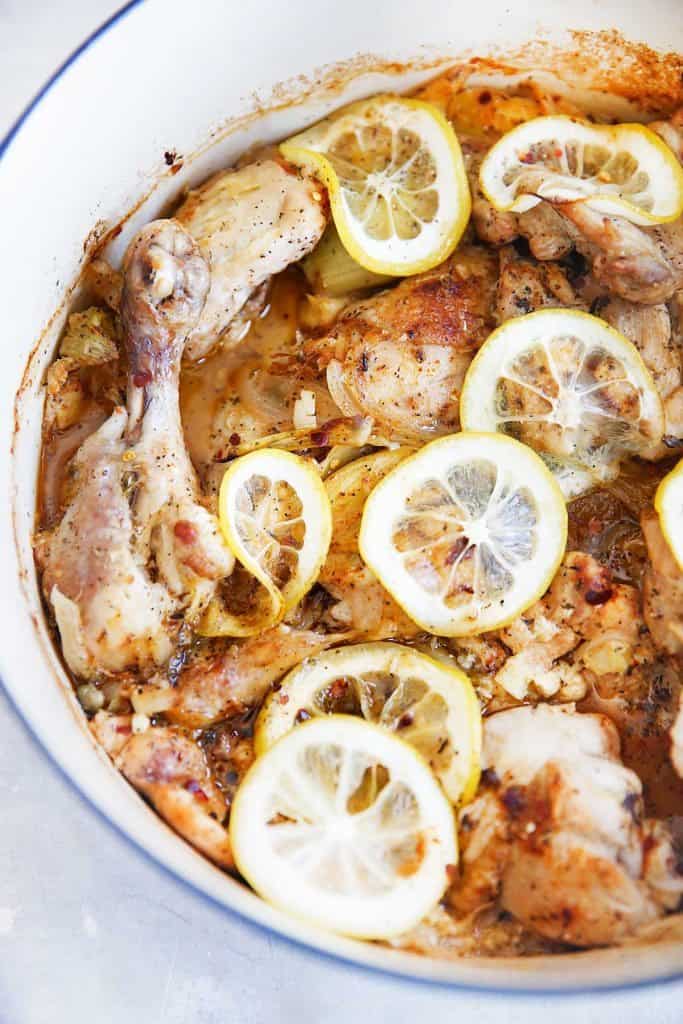 What is your go-to cozy Autumn/Winter meal?
Lemon Roasted Chicken with Garlic, Capers, and Artichokes
These paleo Banana Bread Donuts are so moist, flavorful, and yummy. The perfect snack or breakfast that are gluten-free, grain-free, dairy-free, and refined sugar free!
Fall is the perfect time for some nice warm banana bread. So why not in donut form? These babies are a perfect clean breakfast donut, or why not make them a treat by adding walnuts, chocolate chips, and a chocolate drizzle!
Are you gearing up for Thanksgiving? What Thanksgiving recipes are a hit each year at your table?
Paleo Banana Bread Donuts
I didn't grow up eating shepherd's pie, but since making this recipe I have fallen in love! This Shepherd's Pie: Two Ways is such a perfect Fall dish when you are craving something hearty and comforting. Loaded with protein, Fall veggies, and topped with creamy sweet potato or cauliflower mash for a low-carb alternative!
If you love mashed potatoes as much as I do, this is a must-try!
Savory Sunday is back and this week's recipe is a good one! I can't believe it is Sunday. This weekend was relaxing and productive on my end. Speaking of the last post, did you guys kick it into gear with your November goals? I am pushing hard in my workouts this month.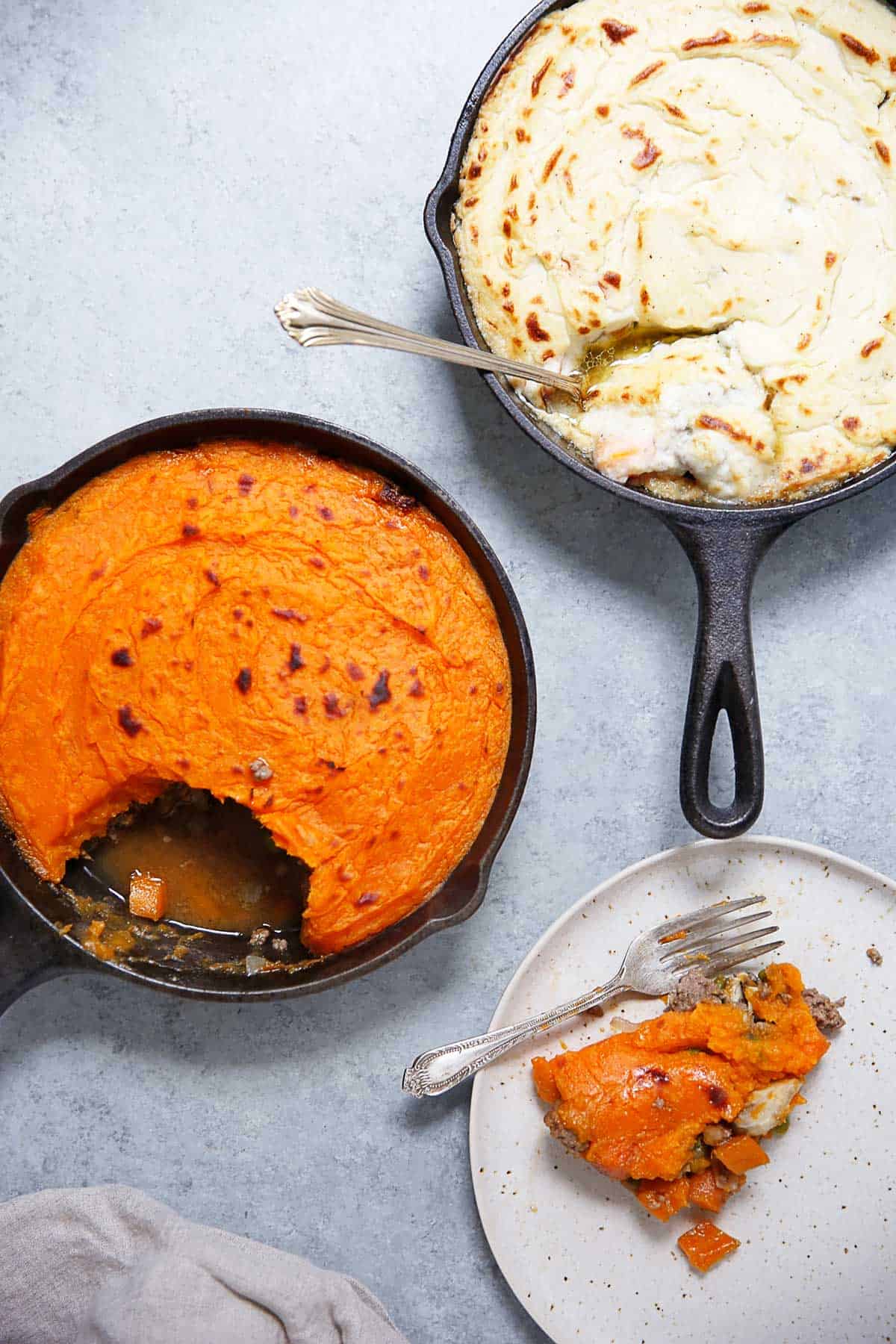 com·fort food
How do you feel about comfort food?
This definition kind of bothers me for some reason.
Maybe because I feel that food shouldn't necessarily be what provides one with a sense of well-being or consolation, and I don't generally find comfort in high sugar or high carb dishes, but I do find comfort in meals associated with home cooking.
This week's Savory meal idea is perfect for the Fall! Healthy comfort food made TWO ways, to satisfy everyone in your home.

What is your favorite comfort food? 
Shepherd's Pie: Two Ways
Football season is about to be here and that means Sundays for me are filled with game day cooking (my favorite)! I always try to prepare healthy game day foods and this Buffalo Chicken Chili will definitely be on the rotation. You can make this buffalo chicken chili recipe in the Instant Pot or on the stove top!
Buffalo Chicken Chili (Instant Pot or Stove Top)
This chili is a must-try, it's the perfect mix of flavors and textures. It's hearty, flavorful, and different! It went over big time in my house tonight!

If you like this chili recipe, try these recipes:
Buffalo Chicken Chili (Instant Pot or Stove Top)
Looking for the perfect Paleo Chocolate Chip Cookies? These are soft, chewy, chocolate-y, and simply delicious. They are easy to make and are sure to be a hit in your home! You won't be able to tell that they are gluten-free, grain-free, and paleo-friendly!
Paleo Chocolate Chip Cookie Recipe
A warm chocolate chip cookie dipped in milk (or in my house, almond milk) just feels like home. The smell of cookies baking in your house is heavenly! These Paleo Chocolate Chip Cookies are a treat, and one that is nutrient-dense with almond flour as it's base and SO SO delicious.
What's in them?
almond flour
coconut flour
baking soda
fine sea salt
grass-fed butter, at room temperature or coconut oil
egg
honey
vanilla extract
paleo chocolate chips
coarse sea salt, optional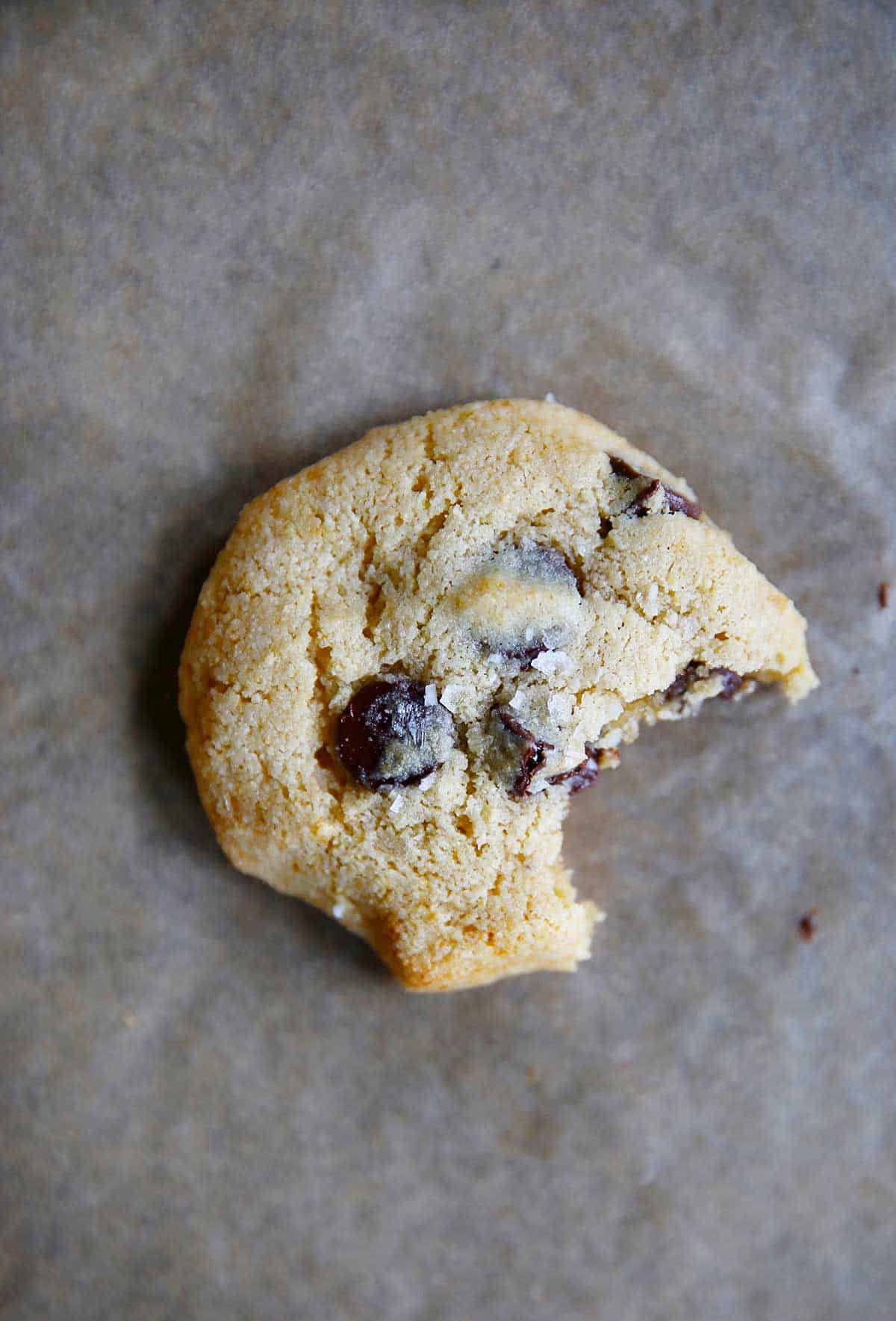 Want to make it extra special?
I like to sprinkle the cookies with a coarse flaky sea salt before baking, because sea salt and chocolate are the ultimate combo in cookies! And Mike LOVES these straight from the freezer! You can store them so you'll always have a little treat on hand when you are having a craving!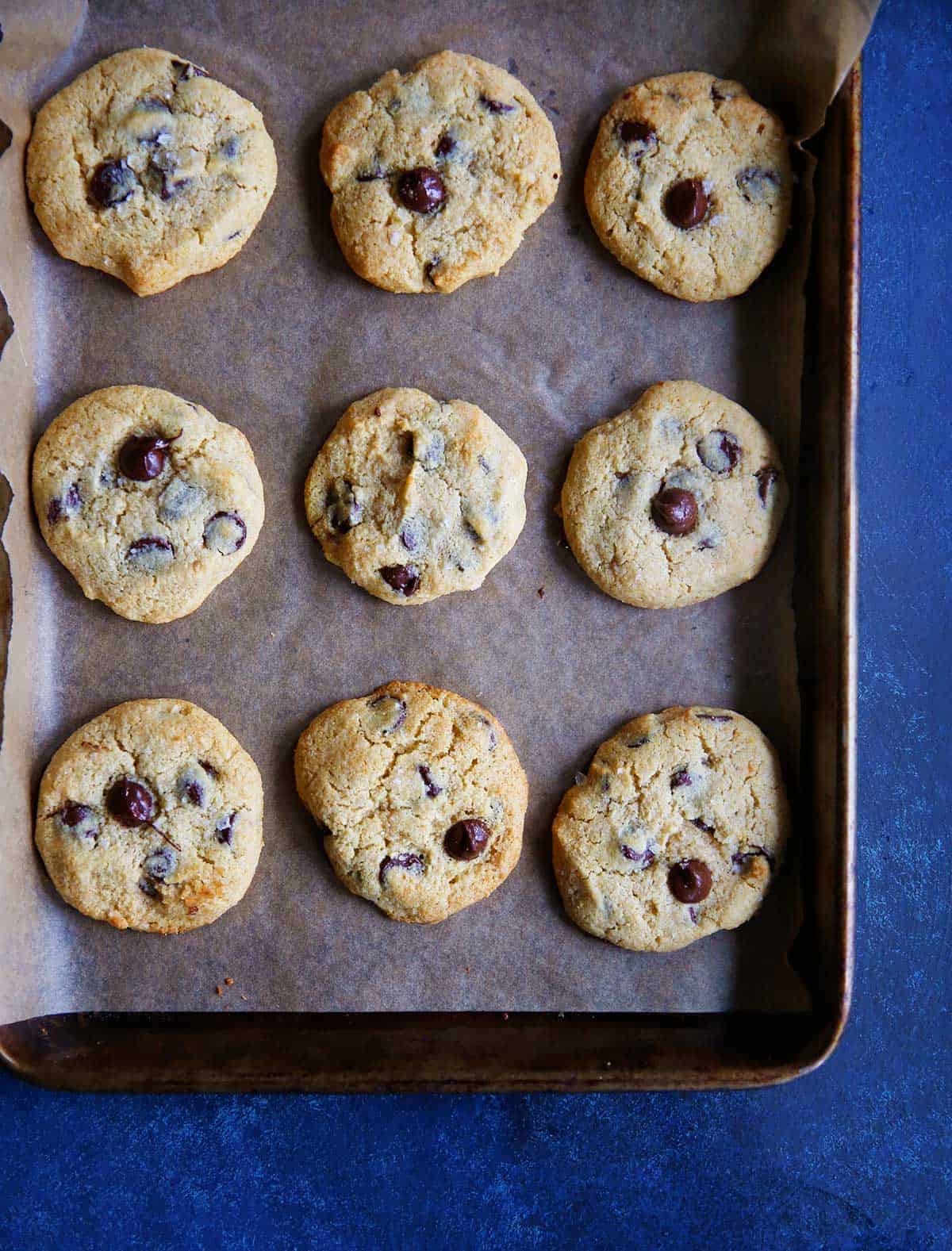 If you like this cookie recipe, check out these others: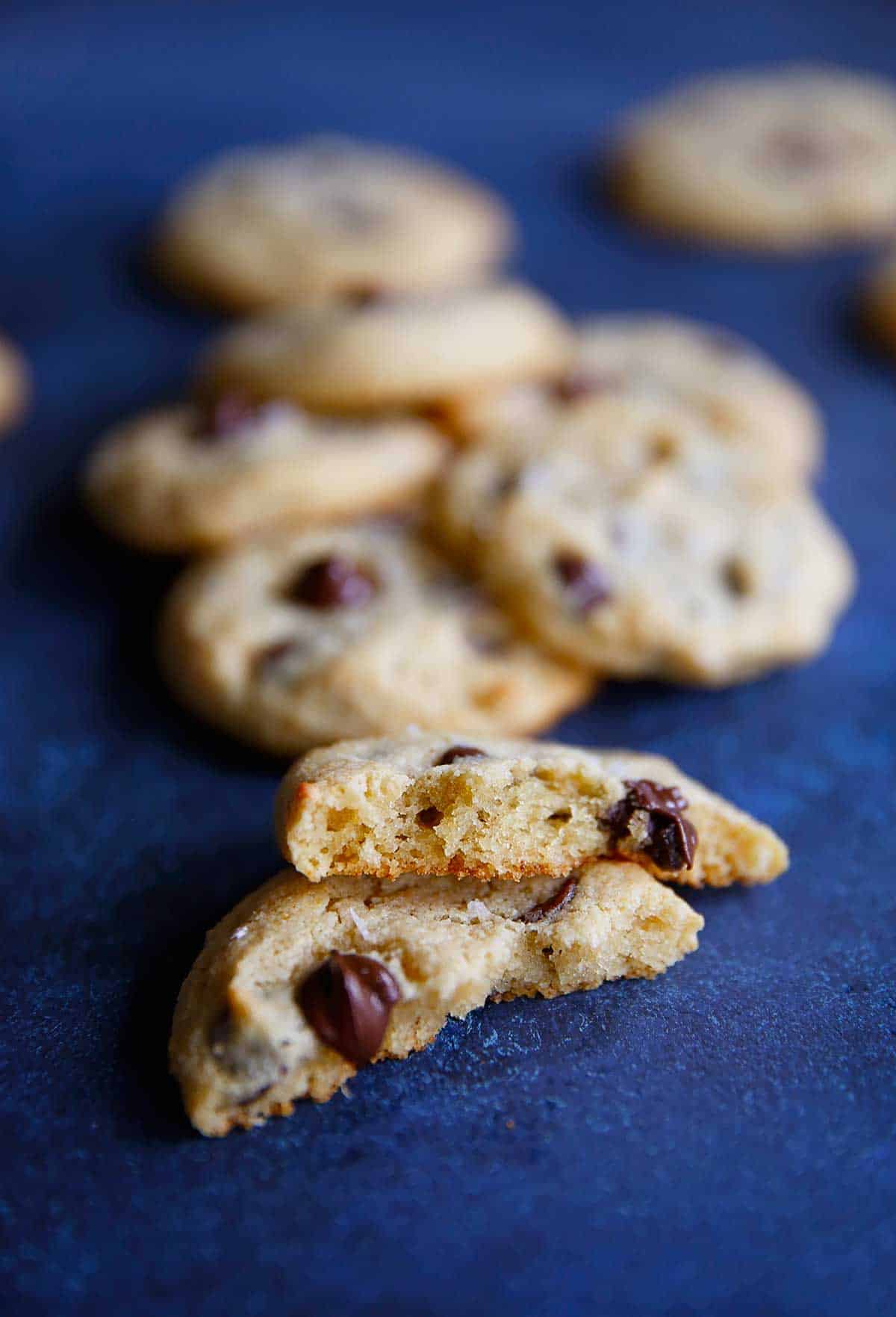 Check out these recipes featuring chocolate chips:
Paleo Chocolate Chip Cookies
This Spaghetti Squash Primavera is the perfect healthier spin on the Italian classic! Loaded with seasonal veggies, protein, and flavorful spices, it is the perfect hearty and nutritious meal for any night of the week! Dairy-free, grain-free, paleo-friendly, and no added sugar!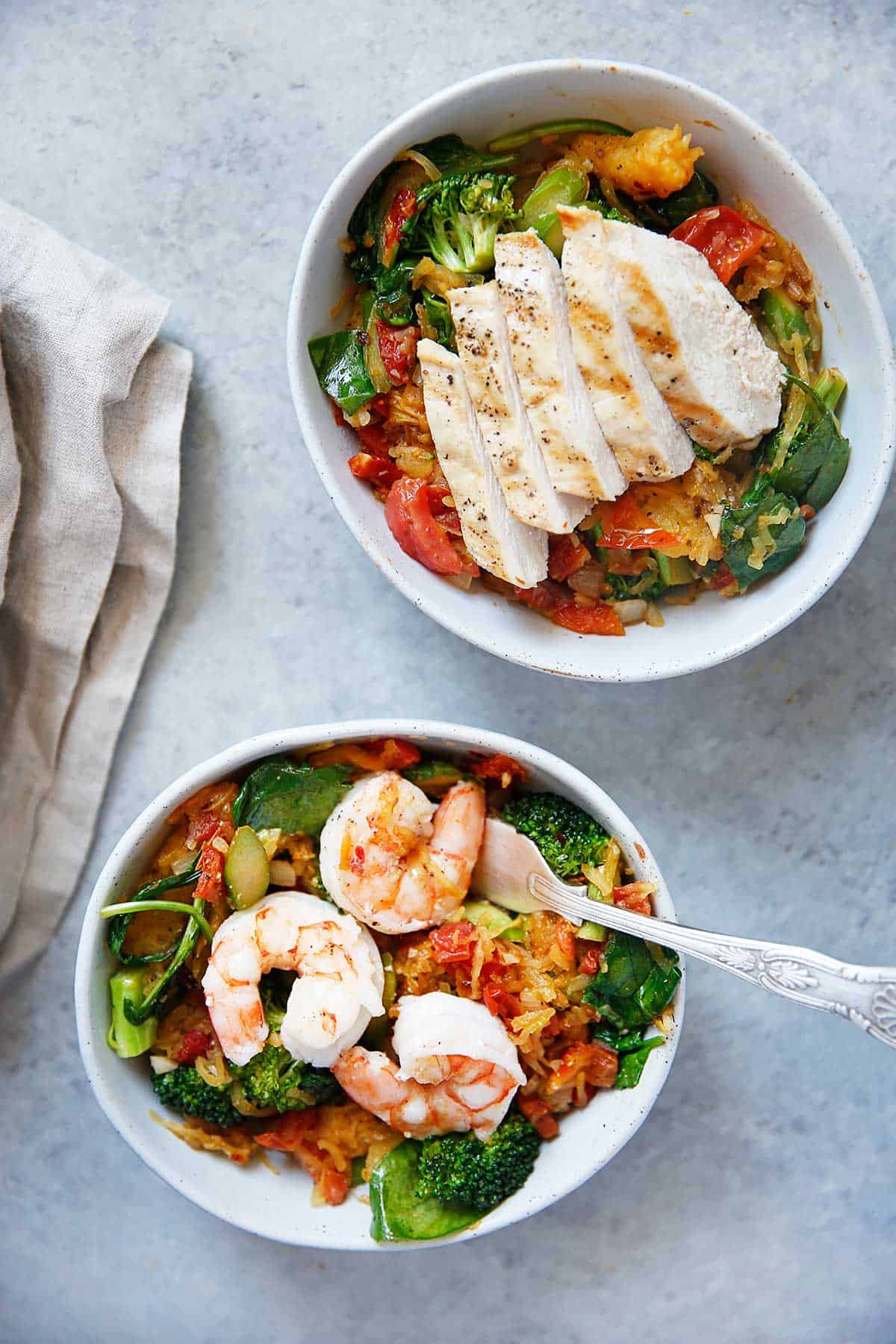 Spaghetti Squash Primavera
I love Italian cuisine! I mean who doesn't love combining meat, fresh vegetables, garlic, oil, and homemade tomato sauce? A ton of the dishes I make are Italian-inspired. This dish fulfills that delicious pasta craving, without the pasta! My version of "pasta" primavera is made with spaghetti squash and is the perfect combination of garlic, spices, meat, and vegetables!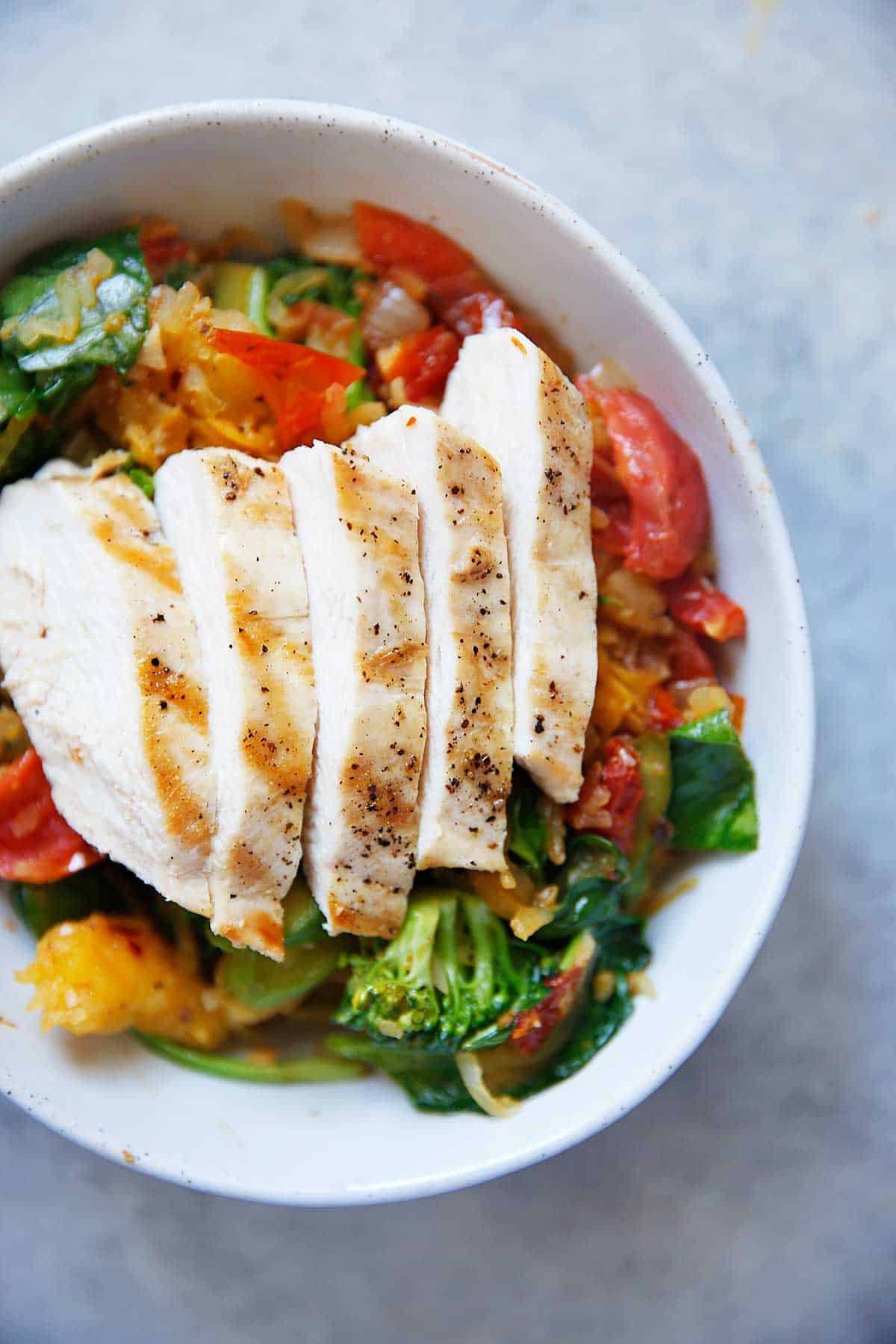 Watch the video:
Spaghetti Squash Primavera [VIDEO]
These Double Chocolate Muffins are so moist and delicious! The perfect morning treat to wake up to! Eat them plain or top them with some melted chocolate of choice for a delicious dessert option. Grain-free, dairy-free, gluten-free, and done in 20 minutes!
Sometimes you just need a treat (in moderation) and these double chocolate muffins are great for when you are craving chocolate! Just the right amount of sweetness and moist on the inside but crumbly on the outside = muffin perfection.
Double Chocolate Muffins
I'm feeling tropical this morning with this Piña Colada Protein Smoothie! For a few minutes I felt like I was back in Mexico sipping on a delicious refreshing drink; though this one has the health benefits I needed to start my day off right. Can you tell I'm feeling beach-ready?
The perfect balance of frozen mango and coconut! The perfect light and refreshing treat for these warm days!
Piña Colada Protein Smoothie

---

---

Ingredients

1 cup frozen pineapple chunks
1/2 cup organic unsweetened coconut milk or unsweetened vanilla almond milk
1 scoop vanilla protein powder
1 teaspoon chia seeds
1/2 tablespoon coconut oil
Optional: garnish with organic unsweetened coconut flakes

Directions

Place all ingredients in blender
Blend until smooth and creamy
Garnish and enjoy!

---

Nutrition

Loading nutrition data...
Piña Colada Protein Smoothie
This Seafood Primavera is the perfect healthy alternative to the classic pasta dish! Such a great simple, veggie-packed Dinner for any night of the week!
I realized yesterday that of my many dishes made with spaghetti squash, almost all are meat-based and none of them contain seafood. That had to be changed! I was in Whole Foods when I began conjuring up ideas. Spaghetti squash infused with white wine, spices, garlic, veggies, and seafood? DONE! Eating healthy never has to be boring!
Seafood Primavera
These Cinnamon Bun Banana Muffins are the perfect weekday or weeknight treat. Loaded with cinnamon, bananas, and my trusty almond flour and coconut flour blend, absolutely no one will be able to tell they are gluten-free!
Cinnamon Bun Banana Muffins
Muffins are the perfect mid-week snack or Mother's Day brunch recipe! These paleo muffins are easy to make and are loved by so many!
These muffins are:
Light
Fluffy
Moist
And SO flavorful!
They also make your kitchen smell amazing!
Cinnamon Bun Banana Muffins (Paleo!)
This slow cooker shredded chicken is an all-purpose recipe that goes with just about anything and is made easy in the crock pot! The slow cooker is one of my favorite kitchen appliances, especially if you have a busy schedule.
Slow Cooker Shredded Chicken
This basic all-purpose chicken recipe is great because you can turn it into so many things. From shredded buffalo chicken lettuce wraps to chicken soup, chicken salad, and shredded chicken tacos, this easy recipe is so simple and always delicious!
What is the best way to shred chicken?
Shred chicken with two forks!
How do you shred chicken with a mixer?
Place fully cooked chicken breasts into the KitchenAid Stand Mixer. Make sure your chicken is still warm. With your paddle attachment connected and chicken inside the mixer, turn it onto low until shredded!