This is the best Gluten Free Pizza Crust recipe! It's easy to make, using a handful of ingredients and comes together in under 10 minutes. Plus, there is no kneading or proofing required. It's paleo and grain-free, but you wouldn't know it. It's light and chewy with just the right texture. Bake it with your favorite toppings for pizza ANY night of the week.
Gluten Free Pizza Crust
If you haven't tried my Gluten Free Pizza Crust before, you have been missing out. This pizza crust was first published back in 2014 and was also included in my cookbook. It has been made and loved by so many of you! I have to admit, it's a favorite of mine too. We rephotographed it, as well as updated one ingredient to make it even easier to make. This gluten-free, paleo and nut-free crust comes together quickly, in 1-bowl in under 10 minutes. No kneading, proofing or fussing is required! This pizza crust uses a blend of coconut flour, tapioca flour and ground flaxseed. It's light and chewy and is a crowd pleaser. It's easy to make ANY night of the week and perfect for any topping you'd like!
Paleo Pizza Crust Ingredients
Previously, when I first published this recipe I used palm shortening instead of the olive oil that is now listed. While that works equally as well, a lot of readers don't commonly keep palm shortening on hand. We tested this with olive oil and love the results, so we've updated the recipe to call for that instead. If you know and love this with palm shortening, you can still go ahead and use equal the amount of that.
Olive Oil
Warm Water
Egg
Tapioca Flour
Coconut Flour
Ground Flaxseed
Baking Powder
Garlic Powder (optional)
Italian seasoning (optional)
Fine Sea Salt
How to Make Gluten Free Pizza Crust
What I love about this crust is how truly easy it is to make! All you need is a bowl, a whisk and a spatula. First you whisk together the wet ingredients. Next you add in the dry ingredients, whisk together until you can't whisk anymore, and then continue to stir it together with a spatula.
Because we're using coconut flour, the dough will look more like a batter and thickens as it sits. After it's been mixed together, let it sit for about 5 minutes.
Next, you dump the dough on a piece of parchment that is dusted with tapioca starch. The dough will be sticky. Dust your hands with tapioca starch, as well as the top of the dough. Using your fingers pat the dough down into a circle 8-9″ circle, dusting with additional tapioca as needed. The thinner you pat out the dough, the crispier the crust will be.
Once you have formed your pizza dough you can lightly brush off any excess tapioca flour.
Tips for Working with Homemade Paleo Pizza Crust
Use a scale to measure out the flour! Coconut flour is very absorbent. If it is not measured correctly it could impact the recipe. Check out this post for more information.
Form the crust directly on the parchment and baking sheet you plan to bake the pizza on.
Let the dough rest for a few minutes before you form the pizza crust. This dough uses coconut flour and the longer it sits the more liquid it absorbs. If you try to form the crust right away it may be too wet.
This pizza crust is sticky! Use extra tapioca flour as needed to prevent it from sticking to you, or the parchment. If you have an excess after you have finished forming the pizza, brush or gently blow it off.
You must parbake the crust. Typically pizza is baked at a very high temperature. Because of the use of paleo flours, it is better for the flavor for this crust to be baked at 350ºF, so you'll need to fully bake the crust before adding in your toppings.
How to Bake Gluten Free Pizza
This pizza crust must be baked first before you add any toppings. Bake in a preheated 350ºF on the the middle to lower rack for 20 minutes. Then add your pizza toppings and continue to bake until the cheese is melty.
This recipe makes a pizza for 1-2 people. If serving more, feel free to double the recipe. If you want to make a bigger batch than than that, it is better to make it in a separate bowl. For example, if you want to serve more than 4 people, could could make 2 double batches in two bowls, instead of making them all on the same bowl.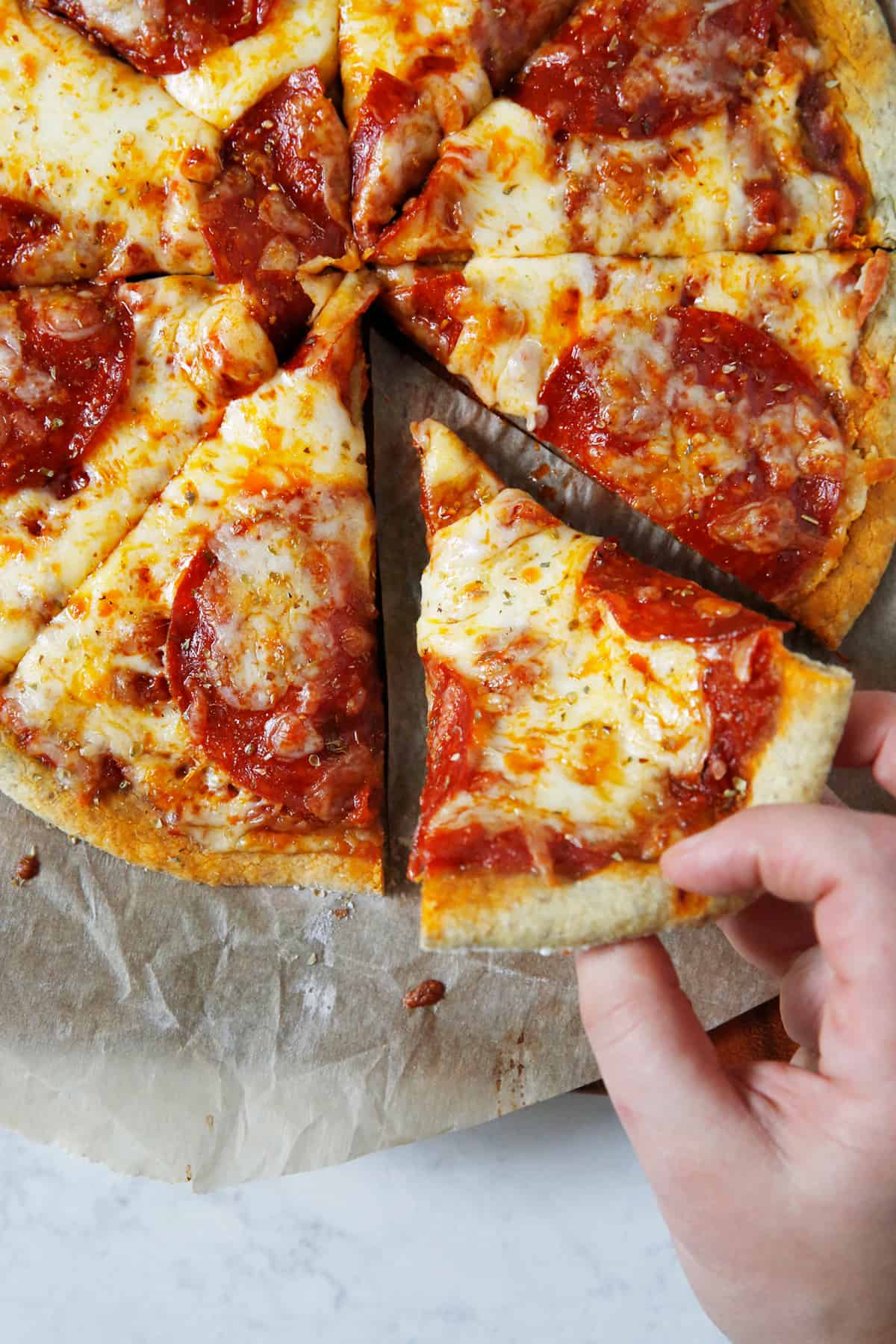 If you like this gluten-free recipe, check out these others:
If you like this pizza recipe, check out these others:
---
Watch the video:
Paleo Pizza Crust: BBQ Chicken Pizza
2014-07-31 19:48:57
Ingredients
1 cup tapioca flour
3 tbsp coconut flour
3 tbsp ground flax meal
1 egg
1/3 cup palm shortening
1/3 warm water
1 tsp baking powder
Dash Himalayan sea salt
1/2 tsp garlic granules
1/2 tsp Italian seasoning
Instructions
Preheat oven to 350
In a bowl combine tapioca, coconut flour, baking powder, salt, garlic, Italian seasoning, and flax
Add in warm water and mix well
Add in palm shortening and egg; mix well
Line a baking sheet with slipat baking mat or parchment paper; sprinkle with tapioca flour
Roll the dough into a ball (it'll be somewhat sticky- it's okay)
Plop the ball onto your baking sheet and cover with an additional peach of parchment paper
Using a roller, gently roll out dough until thin*
Bake until crispy- about 20 minutes
Add desired toppings and place bake in the oven for 5-7 minutes**
Notes
*If you make it too thin, it'll be hard like flatbread, you want it about 1/3 inch so it rises and is dough-like.
**Precook chicken and other meats before placing on your pizza
Substitutions
Please note that I can't vouch for substitutions that I have not personally made. I have tested this recipe numerous times and have found following this exactly will yield in a great crispy, yet bread-y crust. If you choose to make changes, the recipe may not come out the same.
Lexi's Clean Kitchen https://lexiscleankitchen.com/