One Pot Pantry Pasta with Chickpeas and Peppers
Need a quick dinner idea? This Pantry Pasta with Chickpeas and Roasted Red Peppers is it! This delicious dinner uses only ingredients that are likely to be in your pantry and it's made all in one pot! It's also dairy-free and vegan and sure to a be a hit with the whole family.
Quick Pantry Pasta
We are all about quick and easy dinners, especially during busy seasons of our lives. This Quick Pantry Pasta with Chickpeas and Roasted Red Peppers is definitely a winner. It's made all in one pot, with items you likely already have in your pantry and will surely be a hit with everyone. Did I mention it takes less than 20 minutes to cook? That means that if you are walking in the door with absolutely no idea what you are going to make for dinner, this will save you! It's also easy to swap in other ingredients in case you don't have the chickpeas or roasted red peppers so this one really is a life saver. Save this recipe and hang it on your fridge for the next time you need dinner fast.
Pantry Pasta Ingredients
Marinara Sauce

Penne Pasta

Roasted Red Peppers
Chickpeas
Water / Broth
Salt + Pepper
Garlic Powder

Onion P

owder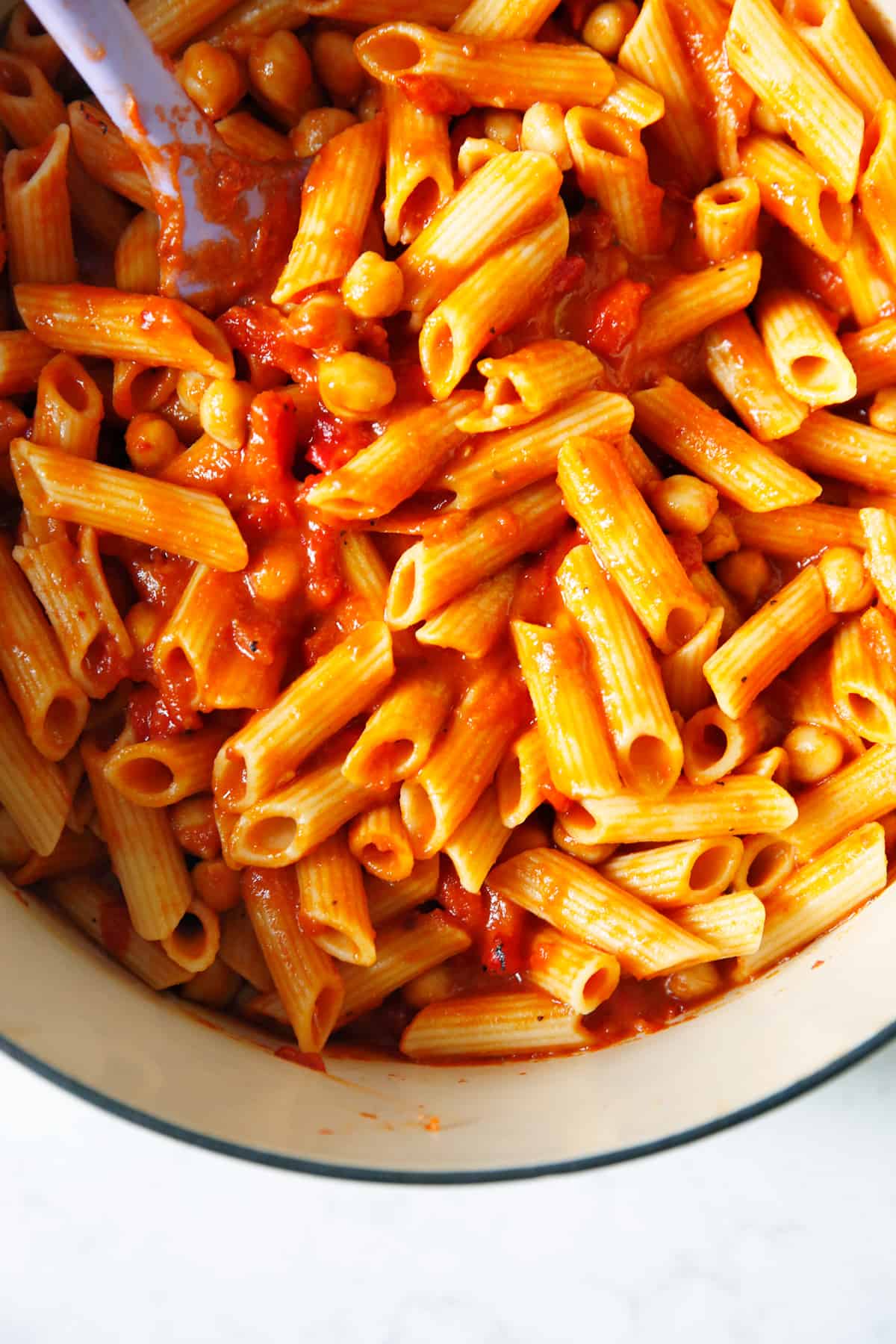 How One Pot Pasta Works
If you are new to the concept of cooking pasta all in one pot, let me explain how it works! Typically pasta is cooked separately in lots of boiling water, then drained before being used in whatever dish you are making. But a one pot pasta instead boils the pasta directly in whatever "sauce" you are using. In this recipe, the pasta is boiled in a mixture of marinara sauce and water (or broth, if you have it in your pantry!). Instead of just filling the pot with water, a precise amount is added to ensure that when the pasta is finished cooking, there is just enough liquid leftover to make your sauce. The resulting sauce is "creamier" because any starch that is leftover in the cooking liquid is left in the pot, instead of being discarded when draining the pasta. Because it's all cooked in one pot, follow the directions and ingredient amounts precisely to ensure the correct amount of sauce leftover at the end.
Also note that when the pasta is finished cooking, the sauce might look like it is too watery. It will thicken in about 5 minutes to be the perfect amount, so have patience.
What Type of Pasta to Use
We tested this one pot pantry pasta with a lot of different types of gluten-free pasta and with traditional wheat pasta as well. It all worked the same! However, you must use penne pasta for this, as the amount of water called for is based off of the type of pasta used.
When you are cooking this, the recipe calls for you to cook the pasta as long as the package directions call for, after it has come to a boil, so be sure to check for that information on the pasta package.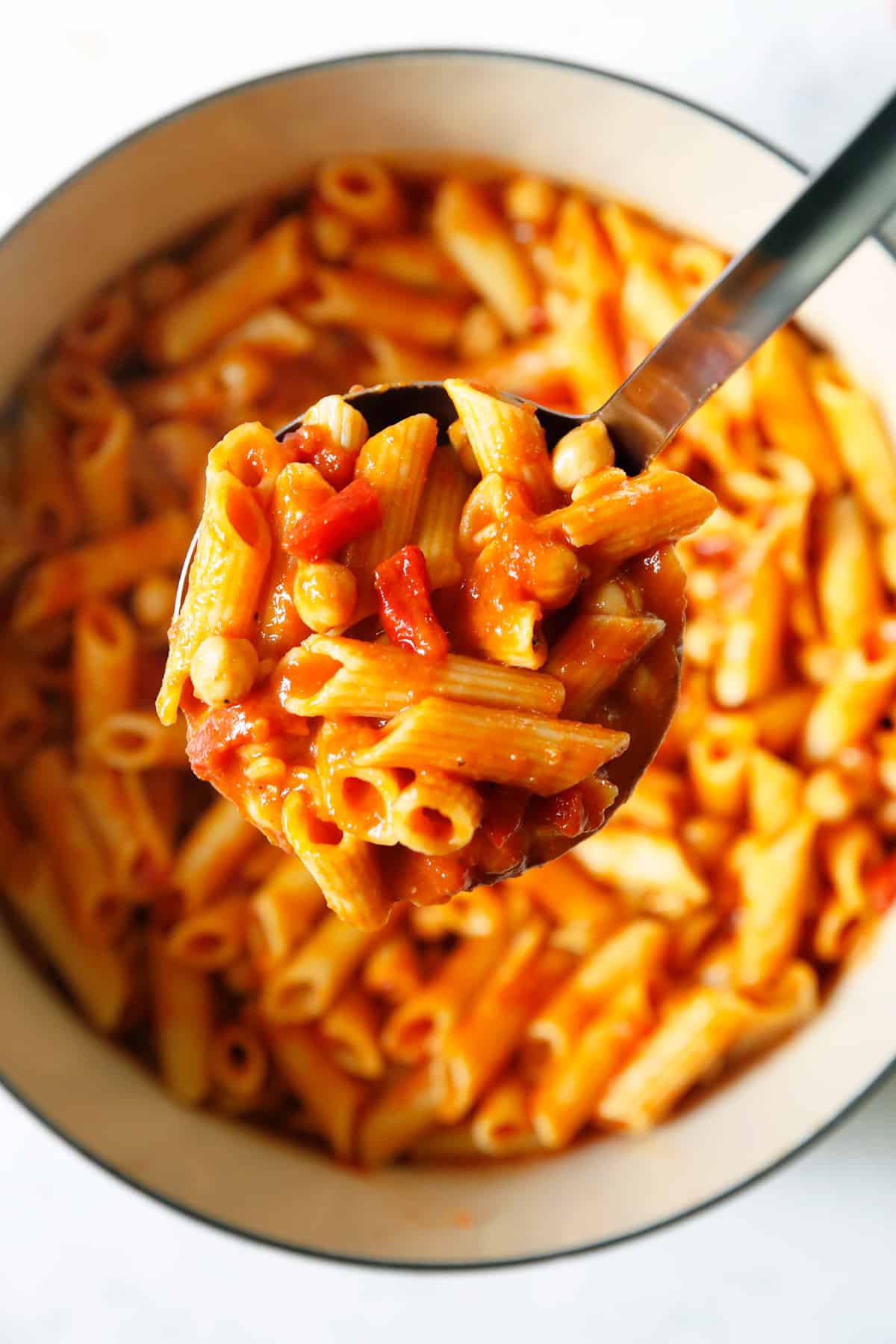 Alternative Ingredients for Pantry Pasta
We based this recipe off of the idea that marinara, chickpeas and roasted red peppers are often what can be commonly found in the pantries of many families. However, you can make some swaps for what you have on hand, such as switching the beans (or omitting them) or even adding meat to this dish. However, you can not swap out the use of 25 ounces of marinara sauce or the amount of water/broth called for, because it will affect the final dish.
Some other ideas for swaps to make:
Canned White Beans
Frozen Veggies (peas, cauliflower)
Canned Artichokes (maybe add in some olives for a mediterranean twist!)
Sun Dried Tomatoes
Canned Tuna
Leftover Veggies
Adding Meat to this Dish
If you wanted to add ground meat, cook it first in the pot, then add the remaining ingredients.
If you like this pasta recipe, check out these others:
Watch the video:
One Pot Pantry Pasta with Chickpeas and Peppers
These easy meatless Chipotle Mushroom Tacos are a weeknight dinner win that are hearty and flavorful. They're vegan, but nobody will know otherwise because they have such a "meaty" flavor that will be a loved by everyone. Serve it up with your favorite taco fixin's for dinner on the table in well under 30 minutes!
Chipotle Portobello Mushroom Tacos
Recently you've been asking for more meatless dinner options and there isn't a greater substitute for meat than mushrooms! Mushrooms are hearty with an ability to compliment many different flavors. In this case we were going for a smoky fajita type taco, so we're pairing portobello mushrooms with onions and peppers and adding in some quick flavor from a few spices and a bit of adobo sauce from canned chipotle. While these aren't terribly spicy, you can omit or decrease the amount of adobo to make it more palatable to kids if you need to.
This weeknight dinner recipe comes together in just about 20 minutes and is so hearty and flavorful! Serve with all of your favorite taco / fajita fixin's and enjoy a delicious meatless meal.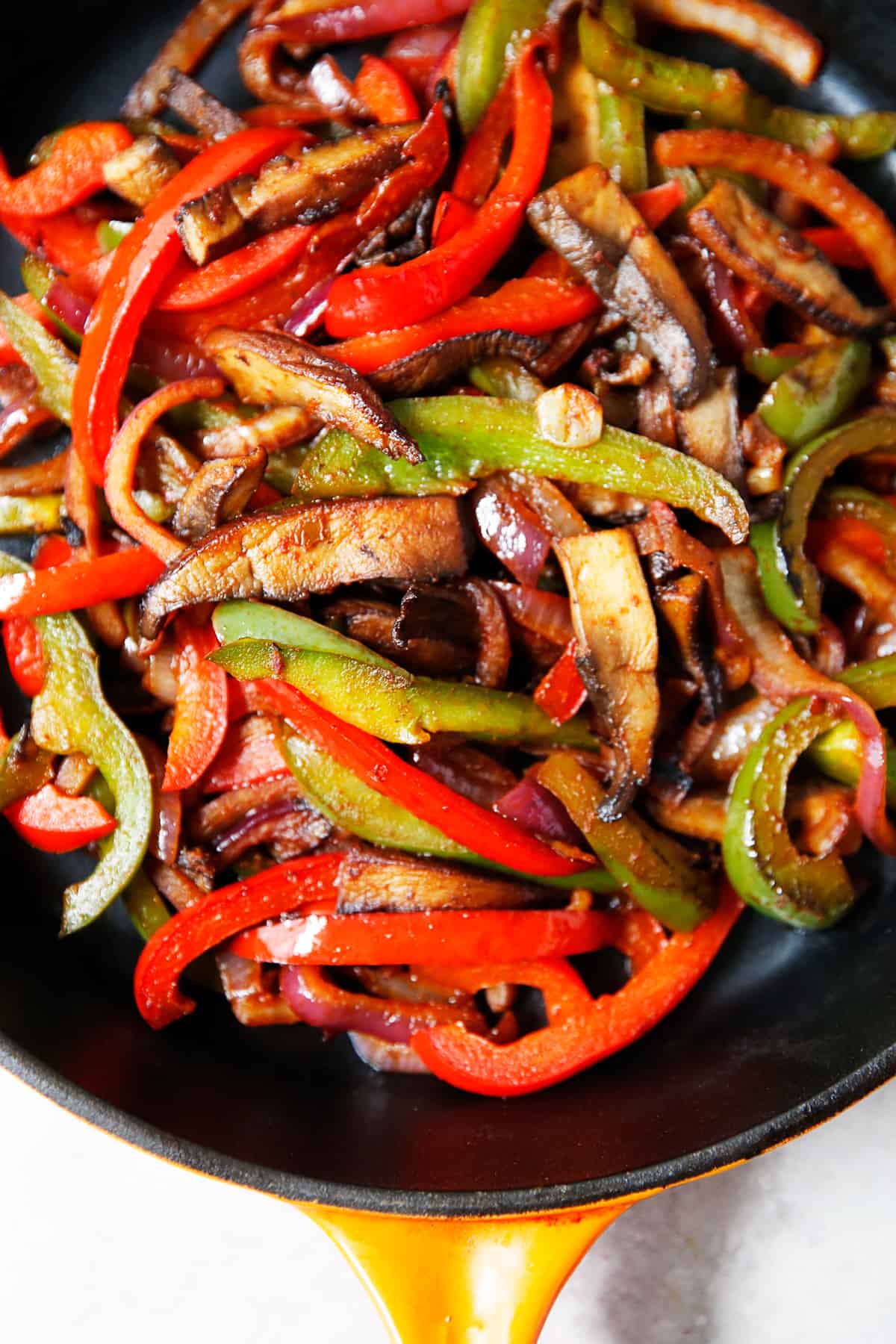 What kind of mushrooms to use:
We use portobello mushrooms in this recipe. The idea for this recipe was to be similar in profile to a steak fajita taco. Portobello mushrooms have a similar texture, look and umami taste to steak so they are the perfect mushroom to use. Look for mushrooms that smell fresh are firm and dry. Avoid ones that have bruising, look slimy or have an unpleasant smell to them.
How do you clean portobello mushrooms:
Wipe off any excess dirt on the cap
Take out the stem
Scoop out the "gills" underneath the cap with a spoon as these do not taste good so remove before using the mushroom
What are the health benefits of mushrooms?
Mushrooms are high in vitamin B and antioxidants. Antioxidants are our body's army against free radicals which are unstable molecules that naturally occur in your body that damage cells and cause disease (and aging). Consuming a diet rich in antioxidants help counteract the effect of free radicals and build your bodies defense.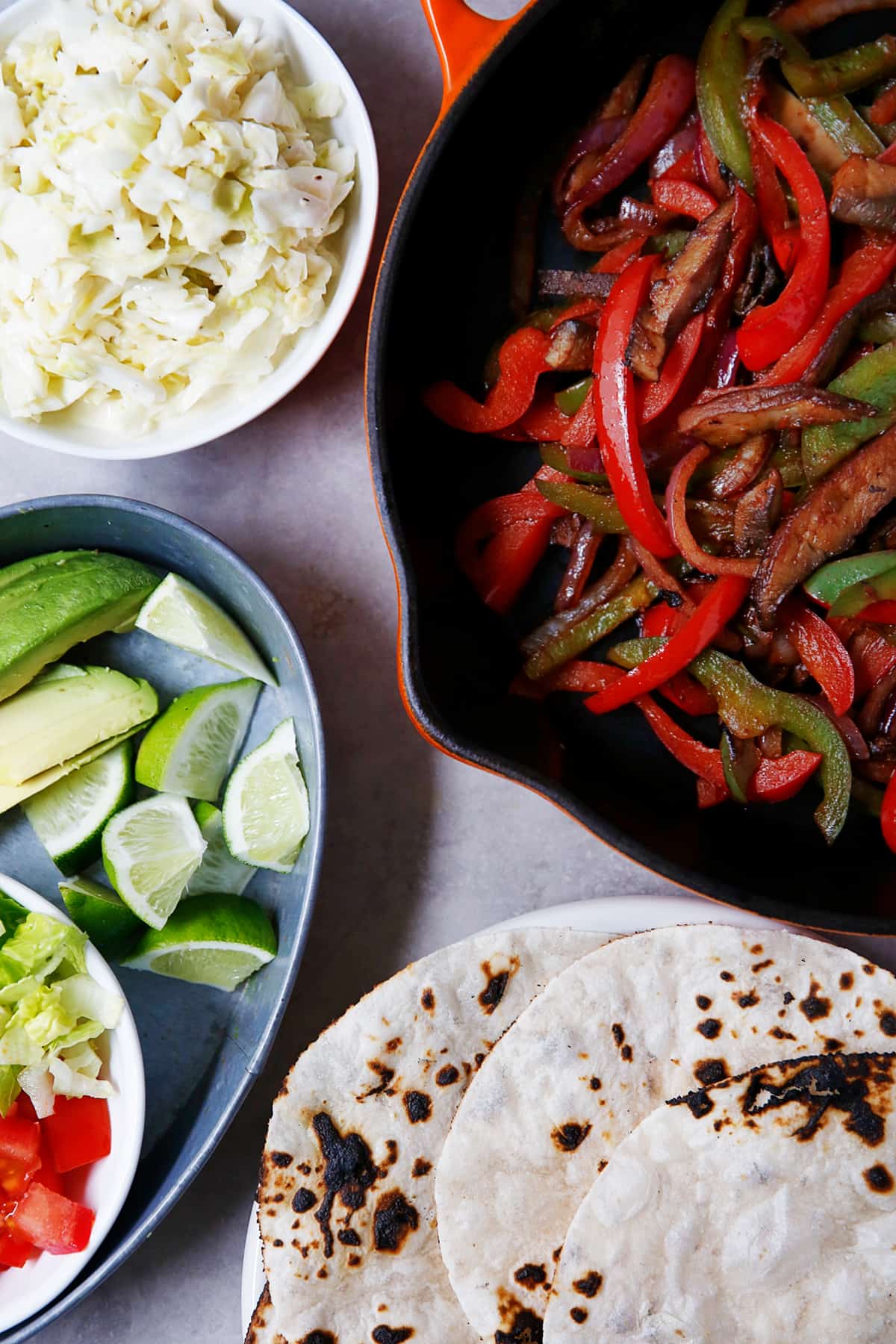 If you like this taco recipe, check out these others:
Meatless Chipotle Mushroom Tacos
This Curry Butternut Squash Noodles recipe is an easy weeknight meatless dinner that is full of flavor and packed with veggies! A delicious curry sauce with tender butternut squash "noodles", peppers, onions and spinach can be prepped and cooked in under 30 minutes and is paleo, gluten-free, dairy-free and keto and whole-30 friendly.
Curry Butternut Squash Noodles
This super easy Curry Butternut Squash Noodles recipe is the perfect weeknight dinner to spice things up! Well, at least as spicy as you want it to be because it's easy to control the heat so you can make this family friendly. A simple coconut based curry is cooked while you cook up some veggies so you can have dinner ready in under 3o minutes. It's so flavorful for such little effort it's quickly going to be a new favorite!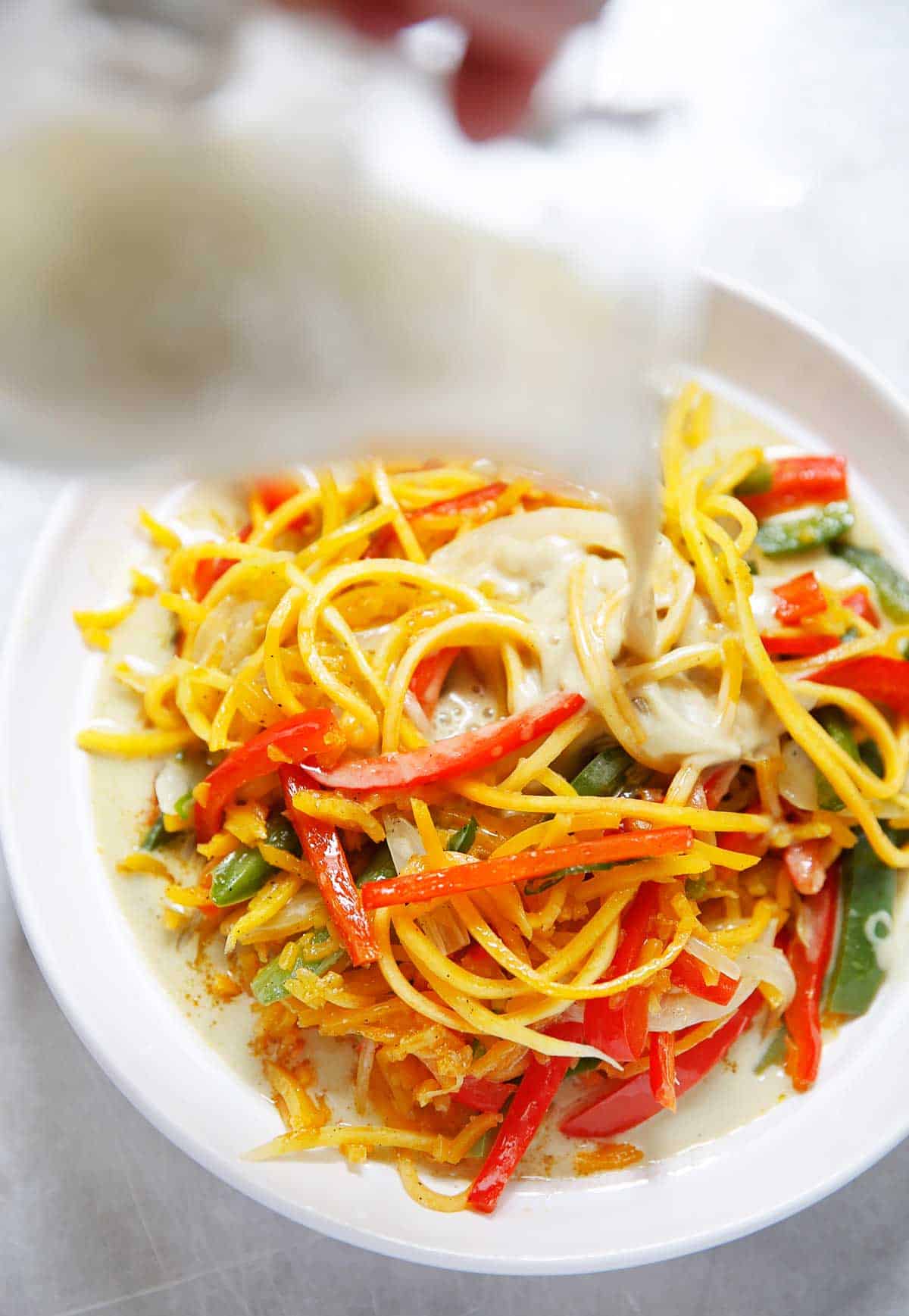 How to Make Butternut Squash "Noodles"
If you can't find these at your local grocery store (we sometimes buy already made butternut squash "noodles" at Whole Foods if we are short on time) you can spiralize them at home! A few tips:
Buy the straightest and longest butternut squash you can find. You can't spiralize the bulb at the end, so look for a long one!
Remove the bulb and reserve for another use. Peel the squash really well, trim the tip off and cut in half so it's easier to handle.
Spiralize using the large noodle fitting! We like this spiralizer: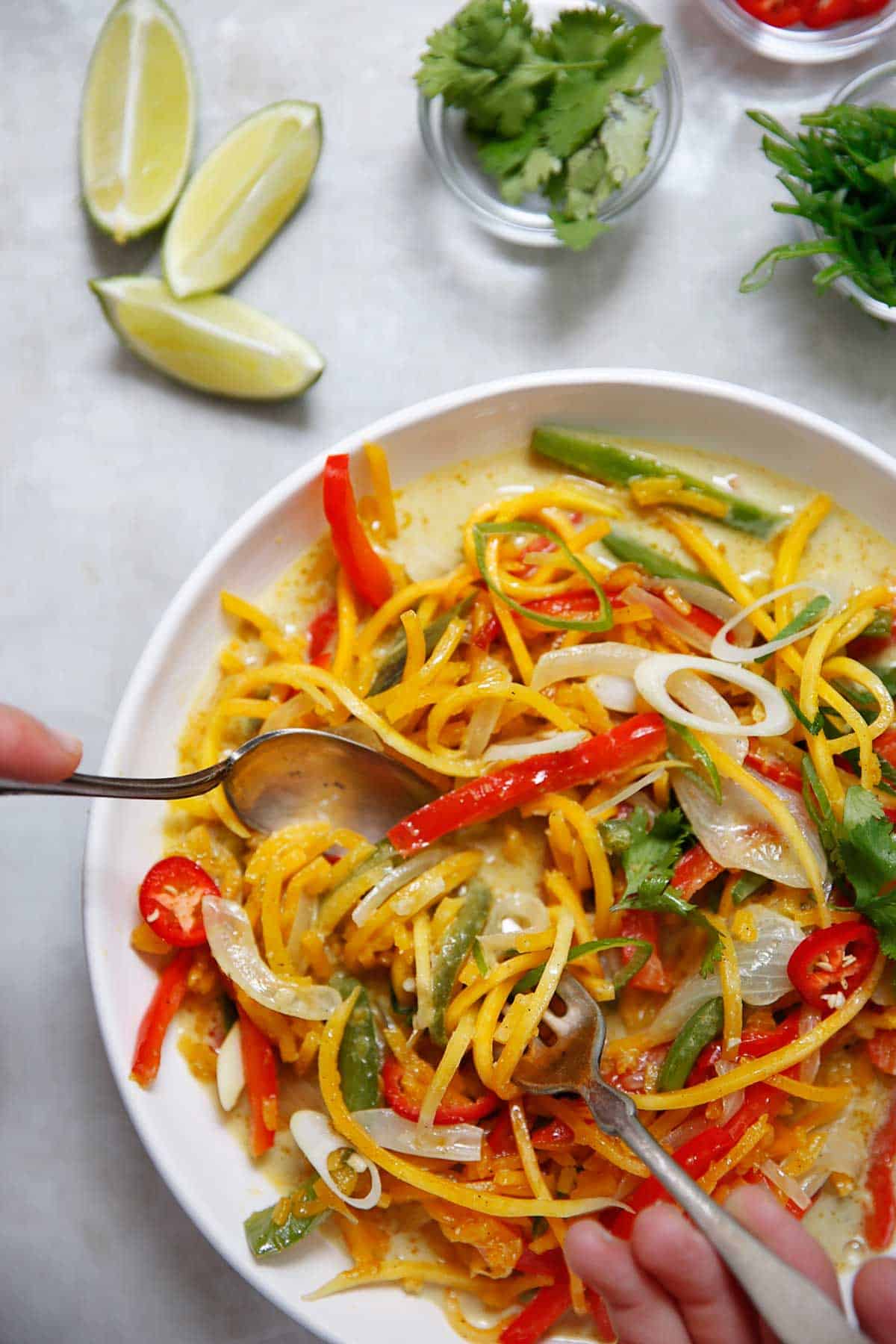 If you like this healthy weeknight dinner, check out these others:
Curry Butternut Squash Noodles
This Sheet Pan Steak Fajitas is a super easy weeknight dinner is a crowd pleaser: juicy steak tips roasted alongside classic fajita style vegetables! A set it and forget it dinner that you can customize for serving based off your own dietary needs compatible with Whole30, Paleo and Keto diets.

Sheet Pan Steak Fajitas
We never get sick of using one of our favorite kitchen tools: the mighty sheet pan! This hands-off cooking method makes getting a delicious meal on the table simple and the clean up is a breeze. We just love that utilizing the sheet pan allows for unattended cooking, giving us EXTRA time in our busy lives. This Sheet Pan Steak Fajitas recipe is no different! It's a classic fajitas made easy in one pan in the oven!
There are so many different ways you can serve this up to, which we love!
On a low-carb kick? Serve it up with cauli-rice!
Have kids? Serving it with tortilla (either gluten/grain-free, corn, or your favorite tortilla) works well here!
Want to do meal prep? Making a batch of rice to pack this away with makes this a great make ahead lunch of dinner for the week.
Tips for sheet pan cooking:
Read the recipe all the way through (of course) and plan to use a timer! This way you can truly walk away from the oven and not have to worry about when you need to add anything for the next step.
Do the prep ahead of time: Cut vegetables, make sauce or mix spices the night before or that morning if you are looking to speed up the process when it comes time for the actual cooking.
Use the correct size sheet pan. When we say sheet pan we are referring to the rimmed half sheet pan which is 18″ by 13″. The size of the sheet pan matters because you do not want to overcrowd the pan when cooking, so if you are using a smaller sheet pan you may need to use 2 to achieve the same result.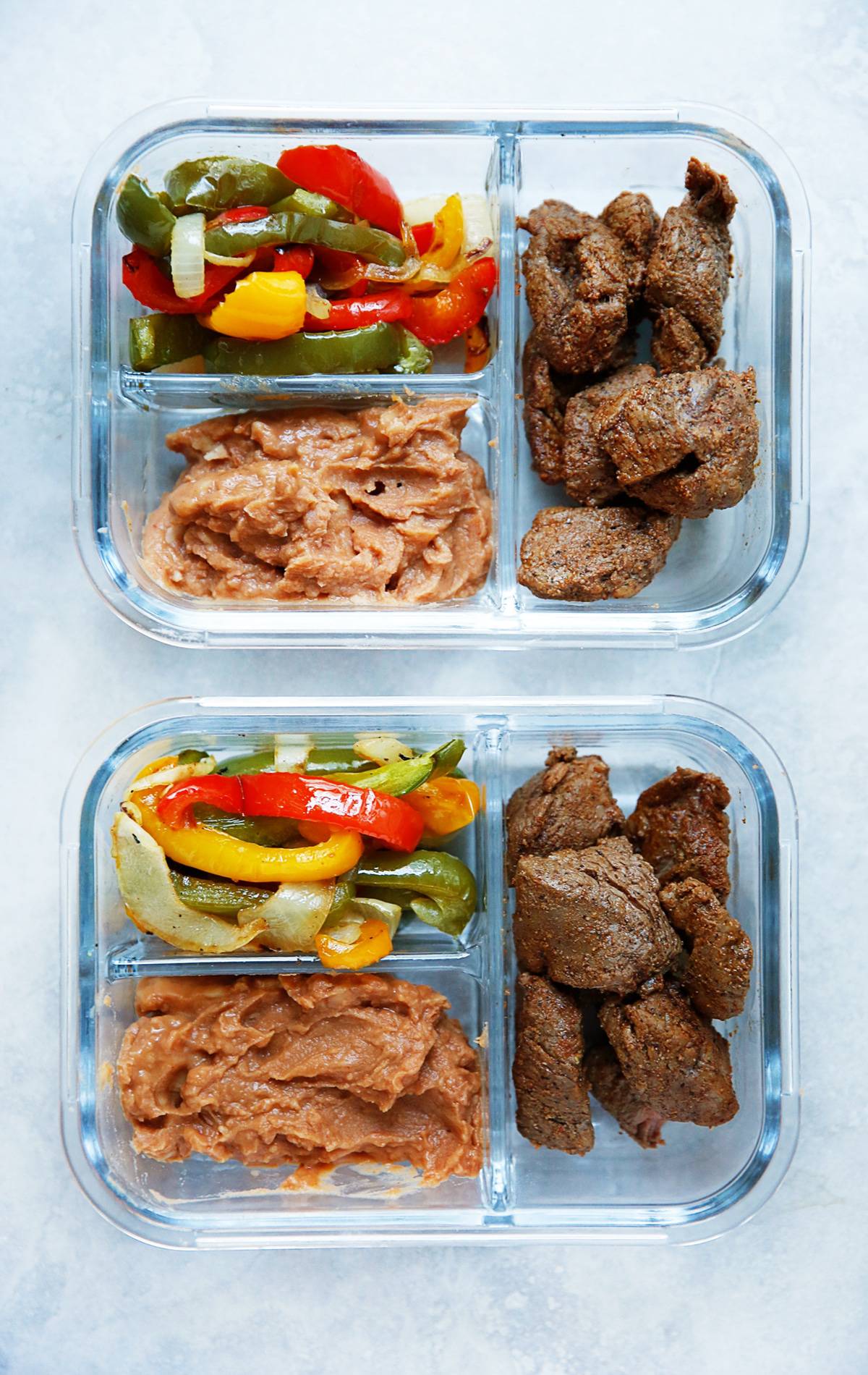 Meal Prep Containers:
---
If you like this recipe, try these other sheet pan meals:
Wondering how to get Sirloin Steak Tips? I add them monthly or every two months, in my ButcherBox and they are the best quality!
Each month, ButcherBox  curates a one-of-a-kind selection of the healthiest, tastiest meats, humanely raised and free of antibiotics and hormones. Or you can customize your box and select your favorite cuts and get 20% more meat.The price works out to less than $6.00/meal and shipping is always free. You can also space it out so it's not every 4 weeks, too!
Enjoy the best 100% grass-fed and grass-finished filet mignons, plus get tasty uncured, sugar and nitrate free bacon & $10 off your first ButcherBox! ButcherBox delivers your meat for the month, saves you money, and is the best quality!
Get FREE bacon
FREE Shipping
$15 OFF!
Order Today and get this amazing deal and the best meat ever!

---
Pin it for later:

Sheet Pan Steak Fajitas
This Sheet Pan Chicken Fajitas recipe is an easy and delicious weeknight dinner that you need to add on rotation right now! It comes from my girlfriend Gina's newest cookbook, Skinnytaste One and Done and I am so excited to share it with you today! It's a no mess, no fuss, easy dinner that everyone will love, plus you can serve it with all of your favorite fixins'!
Sheet Pan Chicken Fajitas
Most of you probably know Gina, but if you don't, let me tell you — she is seriously one of the most talented, sweet, humble, caring, and genuine people out there. She is also a killer cook, and makes the most GORGEOUS cookbooks. This is her THIRD cookbook, and I am beaming writing this because I am truly so proud of her. It's just one of those books that needs to be in your collection. It's stunning, packed with incredible recipes, and absolutely has something for everyone!
Skinnytaste One and Done is organized to help you make amazing dishes without all of the mess. It  includes everyday cooking equipment such as an Instant Pot®, a sheet pan, a Dutch oven, a skillet, a slow cooker, and an air fryer. This book is so well done (not surprising!), and I have so many other recipes bookmarked, like the Open Faced French Onion Burgers, Turkey Cheeseburger Soup, Weeknight Chicken Souvlaki, and so many more.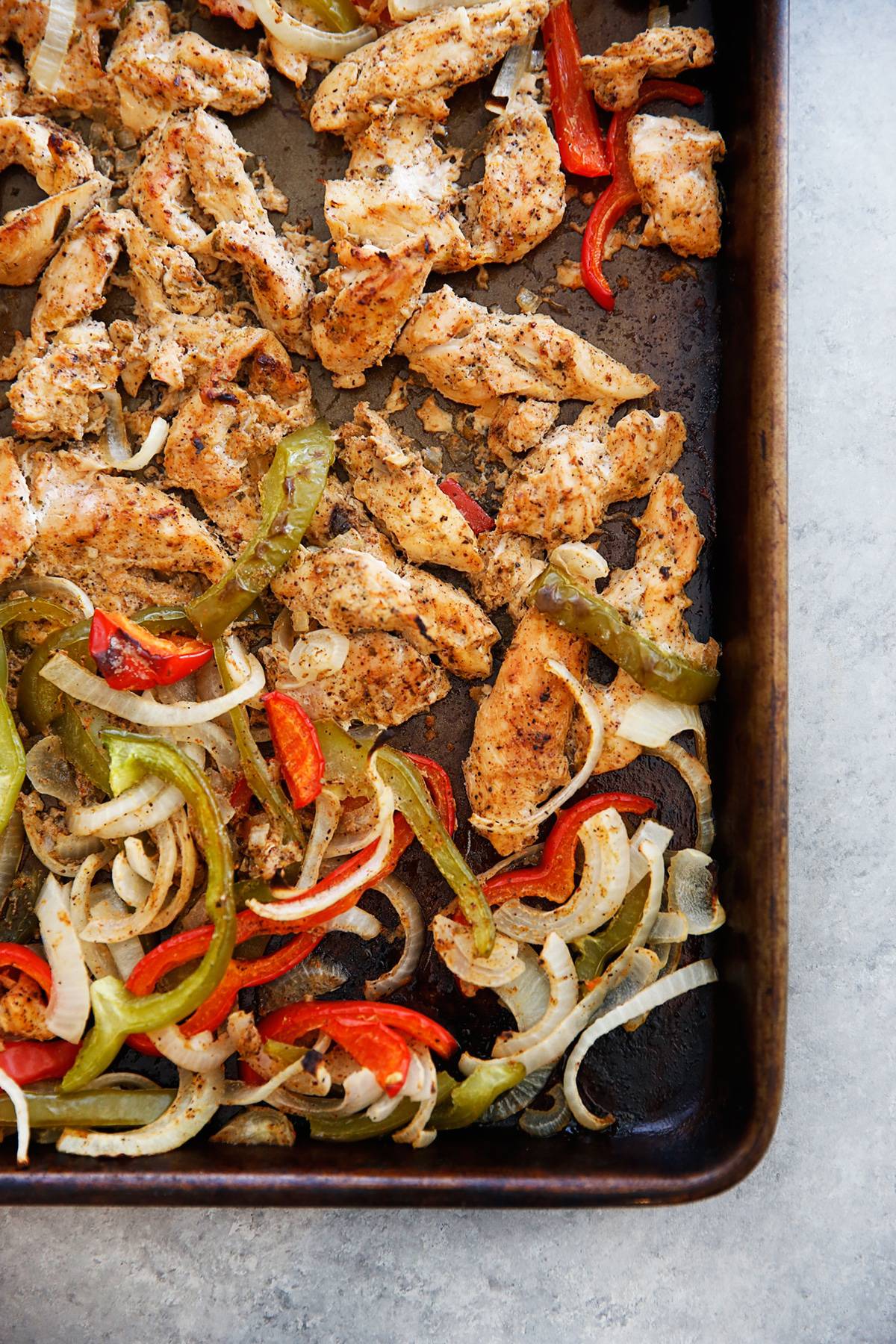 This book has 140 healthy, family-friendly recipes, 120 full-color photos, nutritional information for every recipe, and Gina's cooking tips! PLUS, even if you don't own all of the appliances, Gina gives alternative cooking directions using everyday cooking equipment where possible, so you won't miss out!! She's just the best.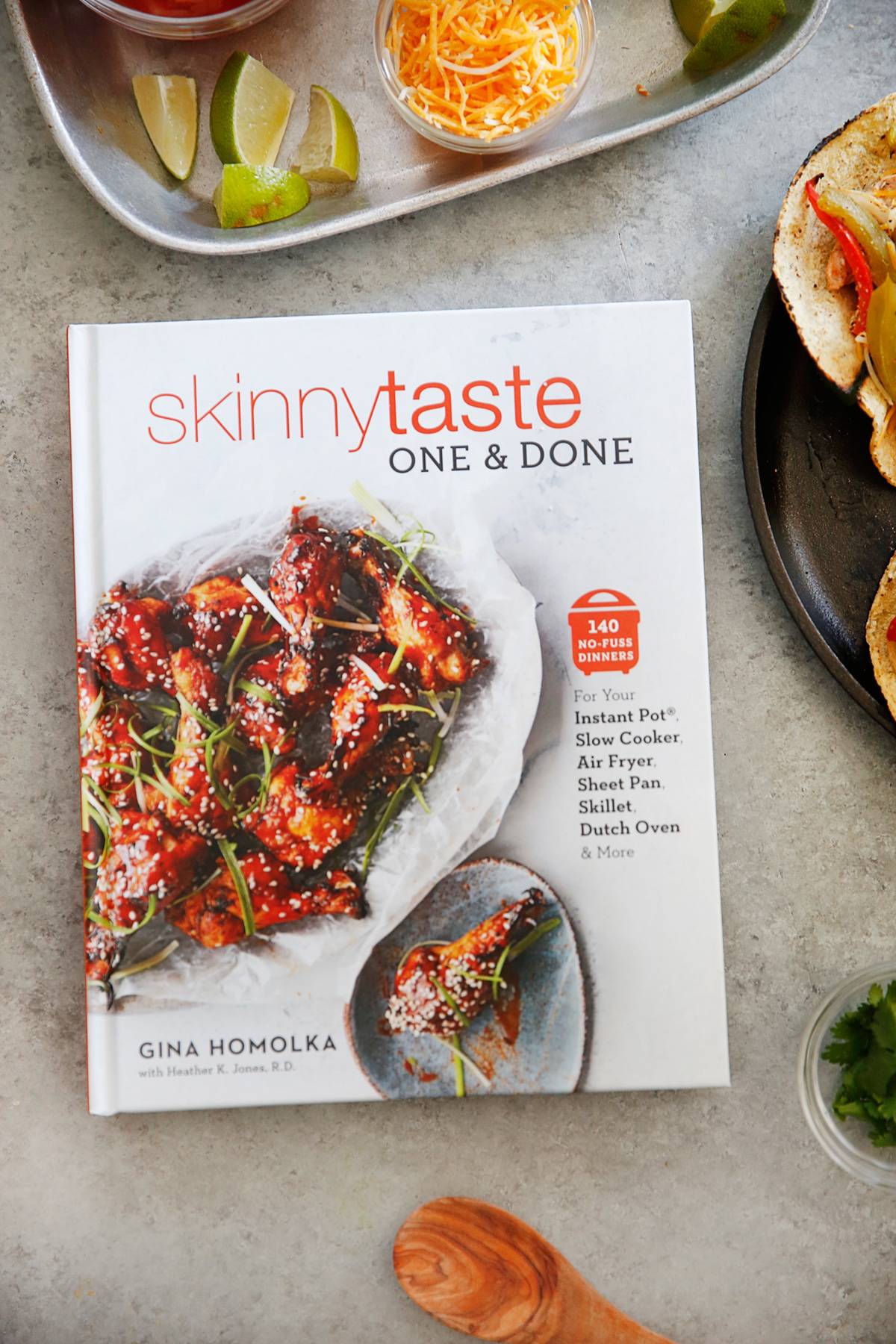 These healthy sheet pan chicken fajitas are marinated to perfection, and come together in under 30 minutes. You will be the star of dinner!!!
Want other sheet pan recipes? Try these LCK favorites:
And make sure to grab this amazing cookbook, Skinnytaste One and Done!! Those of you that know Gina, know that she puts her heart into her work and you can absolutely trust that these recipes will be family favorites! Plus, with the holidays approaching, it will make for the PERFECT gift (for yourself and others)!!

Sheet Pan Chicken Fajitas
This Thai Basil Ground Turkey Bowl is the perfect meal prep recipe that comes together in no time! They are flavorful, delicious Whole30 approved, and packed with veggies to fuel you for your busy days ahead!
Meal Prep Thai Ground Turkey Bowl Recipe
This healthy Thai Ground Turkey Bowl recipe can be made in around 30 minutes and is a great low-carb, whole30 and paleo meal that can be eaten right away or made for meal prep. Double the recipe and you can also make it dinner one night and lunch for the next few days! The savory Thai Turkey is so good on its own, but really outstanding when paired with the veggies and rice. Feel free to keep it low-carb with cauliflower rice, or pair it with white rice. We recommend cooking it with veggies like peppers, carrots and bok choy, but you can really swap out with any veggies you have on hand that you think will go well in this dish.
What You Need to Make Thai Ground Turkey Bowls
Ground Turkey
Coconut Aminos (a soy free alternative)
Sesame Oil
Chili Paste
Fresh Ginger
Thai basil (or regular basil)
Lemon Grass
Fish Sauce
Salt and Pepper
For the Veggies:
Bok Choy
Green Beans
Bell Peppers
Cauliflower Rice, or White Rice
How to Make A Ground Turkey Bowl
Seriously, these are my new favorite lunch or easy weeknight dinner. Each aspect of the dish can be made ahead of time (think Sunday meal prep), and then tossed together in individual containers to bring with you on-the-go anywhere!
First, prep your cauliflower rice or white rice. If making cauliflower rice, feel free to buy pre-made if you'd like to skip that step. If not, we have a full tutorial here, and directions within the recipe below.
Then prep your ground turkey and all the veggies, which are flavored with such aromatic Thai ingredients. I gave a list of suggested vegetables to use, but you could really use what you have on hand for this.
And then the whole thing is drizzled with a delicious Thai Basil sauce. You can serve this with just the rice, or with Bibb lettuce to create a lettuce wrap feel to it.
Once you've assembled the separate components you can then either pack away for meal prep, or serve up for a delicious and light dinner.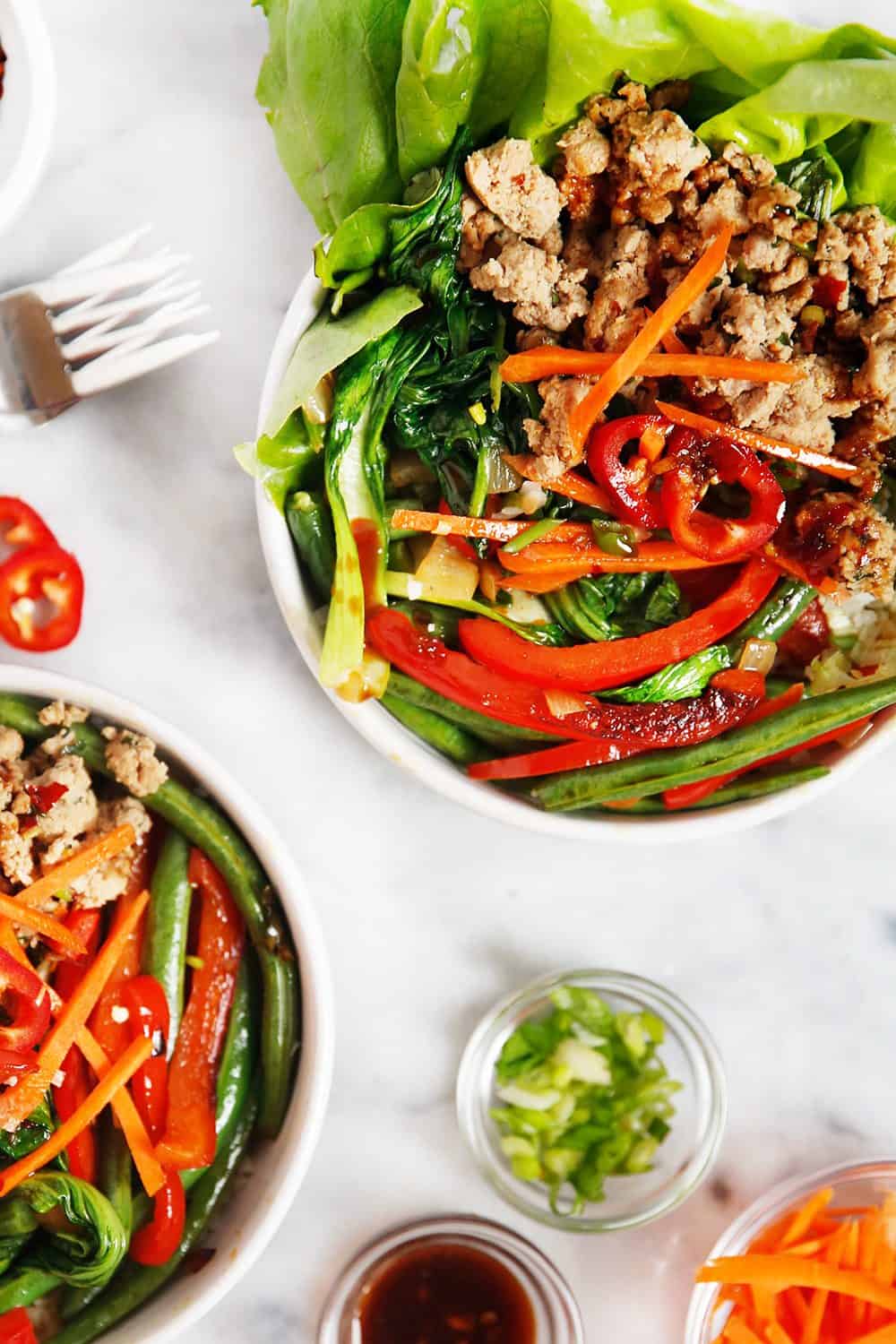 Can You Use Premade or Frozen Cauliflower Rice?
Yes! We take advantage of frozen cauliflower all the time, and love that it's readily available now. There isn't much difference between fresh or frozen except that the frozen can hold a little bit more water in it. So if you don't want to do the extra step of making your own cauliflower rice, feel free to use premade!
If you like this asian inspired recipe, check out these others:
[yumprint-recipe id='417′]
Thai Basil Ground Turkey Bowl Meal Prep
The months just keep flying by! May is already here, and this month for Healthy Food Friday I'm inspired by the idea of traveling around the world. You'll see some flavors inspired by different cultures and cuisines this month!
Let me start by saying that I love all things SPICY. I put hot sauce and red pepper flakes on everything. Literally, everything. Last week I made a Honey Mustard Chicken Salad recipe; which will be coming to the blog in the upcoming weeks (see Instagram for a sneak peek). I typically add some cilantro and these roasted red peppers and it brings the dish to life! Since then, I am on a roasted red pepper kick. Whether it be roasted traditional red bell peppers or hot peppers, I am all about it!

Now… roasting your own peppers is way easier than you think. Follow these simple steps with your favorite peppers for a great addition to the condiment section in your refrigerator; and a definite flavor booster for some dips, salsas, toppings, and chicken dishes!

[yumprint-recipe id='156′]
Hot Pepper Honey from The View from the Great Island
I was selected by American Express to contribute to their Tumblr community. As such I was paid for my services, but all opinions in general and about American express are my own.
How do you eat peppers? Hot? Roasted? Dried?