Instant Pot Cheesy Chicken, Broccoli and Rice
This Instant Pot Cheesy Chicken Broccoli and Rice is an easy-to-make dinner that the whole family will love. Made with a few simple whole ingredients, this healthy dinner will soon be a family favorite. Made in partnership with my friends at Farmer Focus!
Instant Pot Cheesy Chicken Rice and Broccoli
Everyone needs to have a healthy, hearty and most importantly, delicious dinner recipe that can be made quickly on a weeknight, and this Instant Pot Cheesy Chicken, Broccoli and Rice can be it! This easy chicken and rice dinner requires only about 10 minutes of prep and hands on cooking time, while the rest is done easily in the Instant Pot. The rice is creamy, the chicken is perfectly cooked and juicy and the broccoli is crisp tender. We're confident in saying even the pickiest of eaters will like this one!
Ingredients Needed for Chicken Broccoli and Rice
Farmer Focus Chicken Thighs (boneless and skinless)

Long-grain White Rice
Frozen Broccoli Florets
Chicken Broth

Onion

Garlic

Paprika
Cheddar Cheese
Cooking Broccoli in the Instant Pot
We knew exactly what we wanted when we set out to make this recipe: cheesy rice, with perfectly seasoned chicken and broccoli that was not overcooked. But this last bit proved to be the most difficult. Cooking broccoli in the Instant Pot usually results in overcooked broccoli. While for some dishes, that fall apart broccoli mess works, for this we were looking for crisp tender broccoli that stayed whole. Cooking it fully in the Instant Pot by adding it with the rice resulted in broccoli that fell apart. Cooking it in the Instant Pot after the rice had finished cooking for 0 (zero) minutes made the rice burn.
What we turned to was frozen broccoli florets that had been mostly thawed by rinsing under lukewarm water. Good quality frozen broccoli has already been blanched before freezing. Once thawed, the florets are much quicker to cook than fresh broccoli. So for this recipe, we added the thawed broccoli florets to the Instant Pot right after the rice finished cooking. Then closed the lid and allowed the broccoli to steam with the residual heat. This resulted in crisp-tender broccoli.
If you prefer to use fresh broccoli for this recipe you will need to cook it separately first, then add it to the finished rice along with the cheese. To do this in the Instant Pot: cook it first on a steaming rack with 1/2 cup of water on high pressure for 0 (zero) minutes. If you don't mind broccoli that is fall apart and wish to cook it with the rice, that is fine too! In fact, some kids will prefer it this way. It will result in soft broccoli bits all throughout the rice.
Why Quality Chicken is a Must
With so few ingredients in this dish, it is incredibly important to use quality chicken. I am so happy partnering with my friends at Farmer Focus to bring you this easy Instant Pot chicken recipe! Farmer Focus has been my go-to, trusted chicken for years now, because they pride themselves in producing the highest quality meat grown on family-owned farms. You can 100% taste the difference. I love knowing that, without a doubt, when I pick up Farmer Focus chicken at the grocery store, it's the best there is and I don't have to question whether it was raised in a humane way.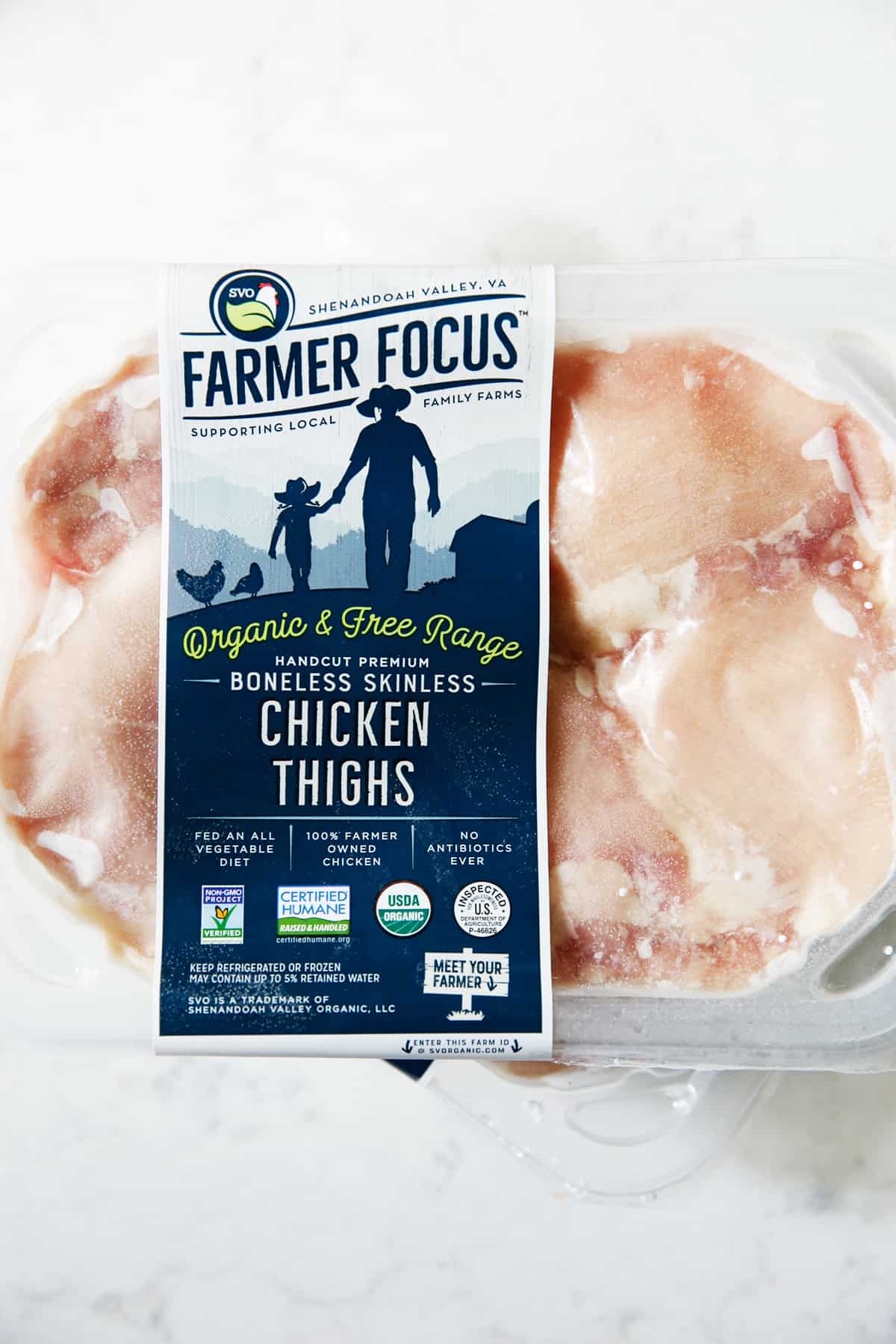 Farmer Focus is building partnerships with farmers through their innovative Farmer Focus Business Model
Here is what I love about Farmer Focus: they are a company that supports their farmer partners and they are working hard to do things right and truly raise and produce the highest quality chicken! Every Farmer Focus product includes a 4-letter Farm ID that traces your chicken to the farm that raised it. Buying meat from Farmer Focus also gives me peace of mind that I am supporting hard-working family farmers.
Farmer Focus chickens are humanely raised and fed a diet free from animal byproducts, pesticides, and antibiotics. On their website you can see where all of the farms are located, so you know just where your chicken was raised! How awesome is that?!
You can also use their easy store locator to find where you can get this amazing quality chicken near you.
If you like this whole dinner in the Instant Pot, check out these others:
For more chicken recipes, check out these:
Watch the video:
Instant Pot Cheesy Chicken, Broccoli and Rice
These dreamy Philly Cheesesteak Stuffed Peppers are SO GOOD! We use leftover rice and add in thinly sliced steak, mushrooms, peppers and of course, cheese. They're a family friendly dinner that will leave everybody happy and are a great dish to prep ahead of time!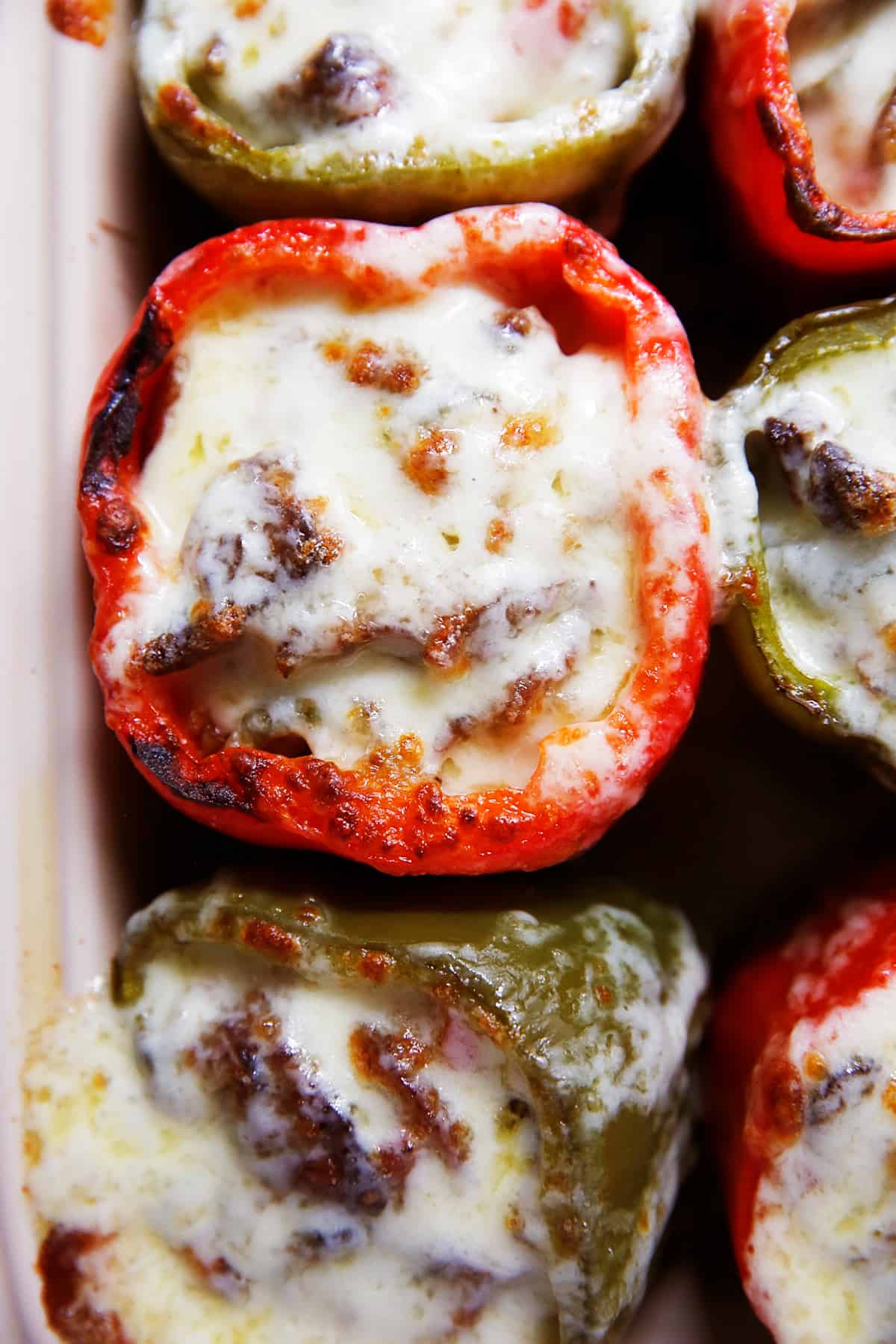 Philly Cheesesteak Stuffed Bell Peppers
After testing The BEST Rice Ever recipe a few weeks back, we were left with mounds of leftover rice to contend with. We could only eat it for dinner so much, so we set out to make a few leftover rice recipes. The first was this easy Breakfast Fried Rice recipe and then came along these Philly Cheesesteak Stuffed Peppers, and we're so glad they did. They are exactly what you think you are: bell peppers stuffed with thinly sliced steak, mushrooms, onions, cheese and leftover rice. They are also delicious.
What we love about stuffed peppers is that while they take a few pre-cook steps of getting the meat and veggies soft, the bulk of the cooking time is hands-off in the oven, and they are a great make ahead dish. You can either prep the whole thing ahead of time and bake when ready, or you can cook the stuffed peppers entirely and use them for meal prep dinner or lunch.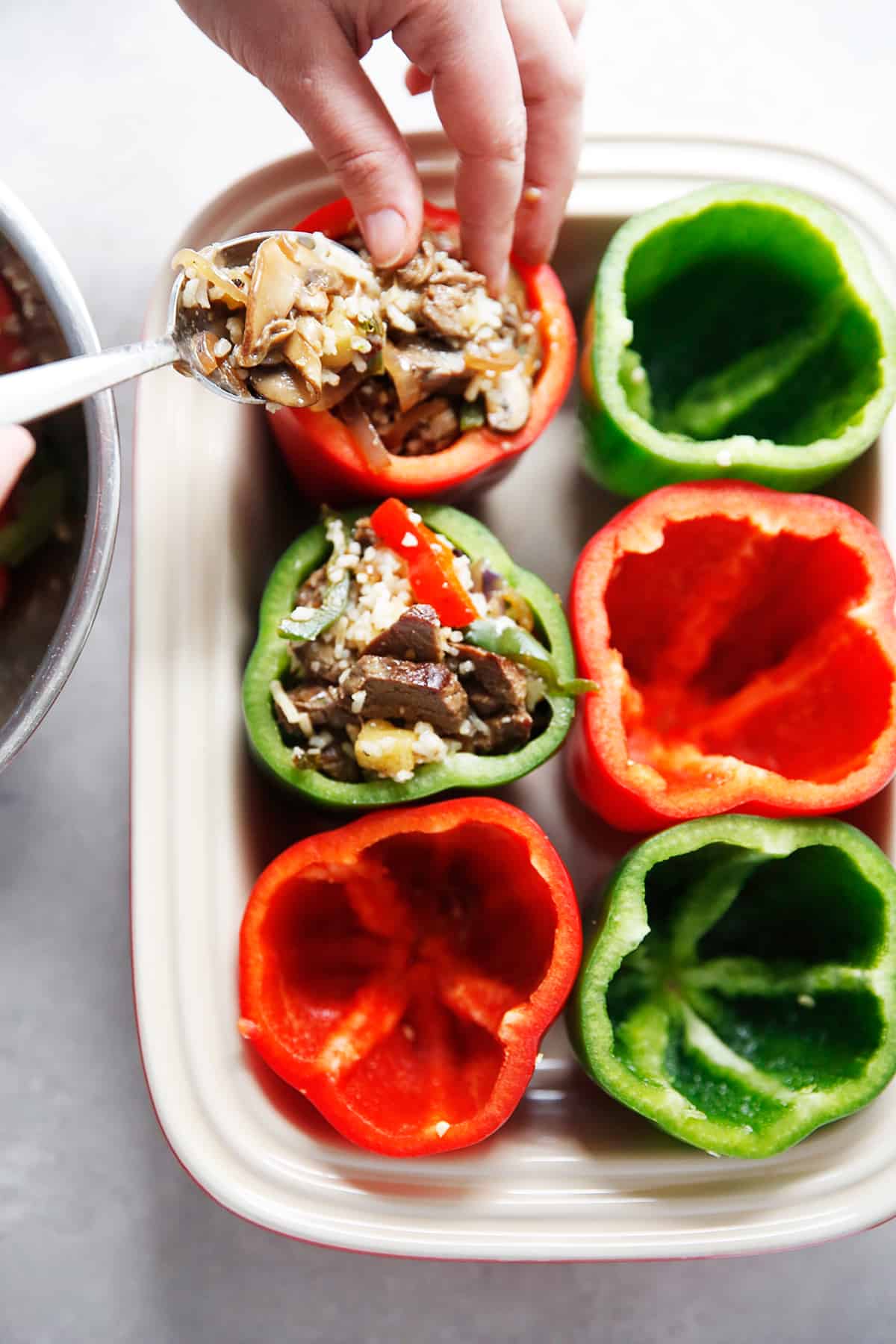 Do You Cook the Meat before Stuffing Peppers?
Yes! As with most stuffed peppers recipes, everything is precooked before going into the stuffed peppers, except the bell peppers themselves.
Can These be Made Low Carb?
Yes! If you prefer to make these Philly cheesesteak stuffed peppers Keto friendly you can use uncooked cauliflower rice. Everything else in the recipe will stay the same.
What Goes Good as a Side Dish with Stuffed Peppers?
We feel that this stuffed bell peppers recipes is a whole meal in itself because it has the added rice to the filling,  but if you were looking to serve it alongside something a salad would pair well!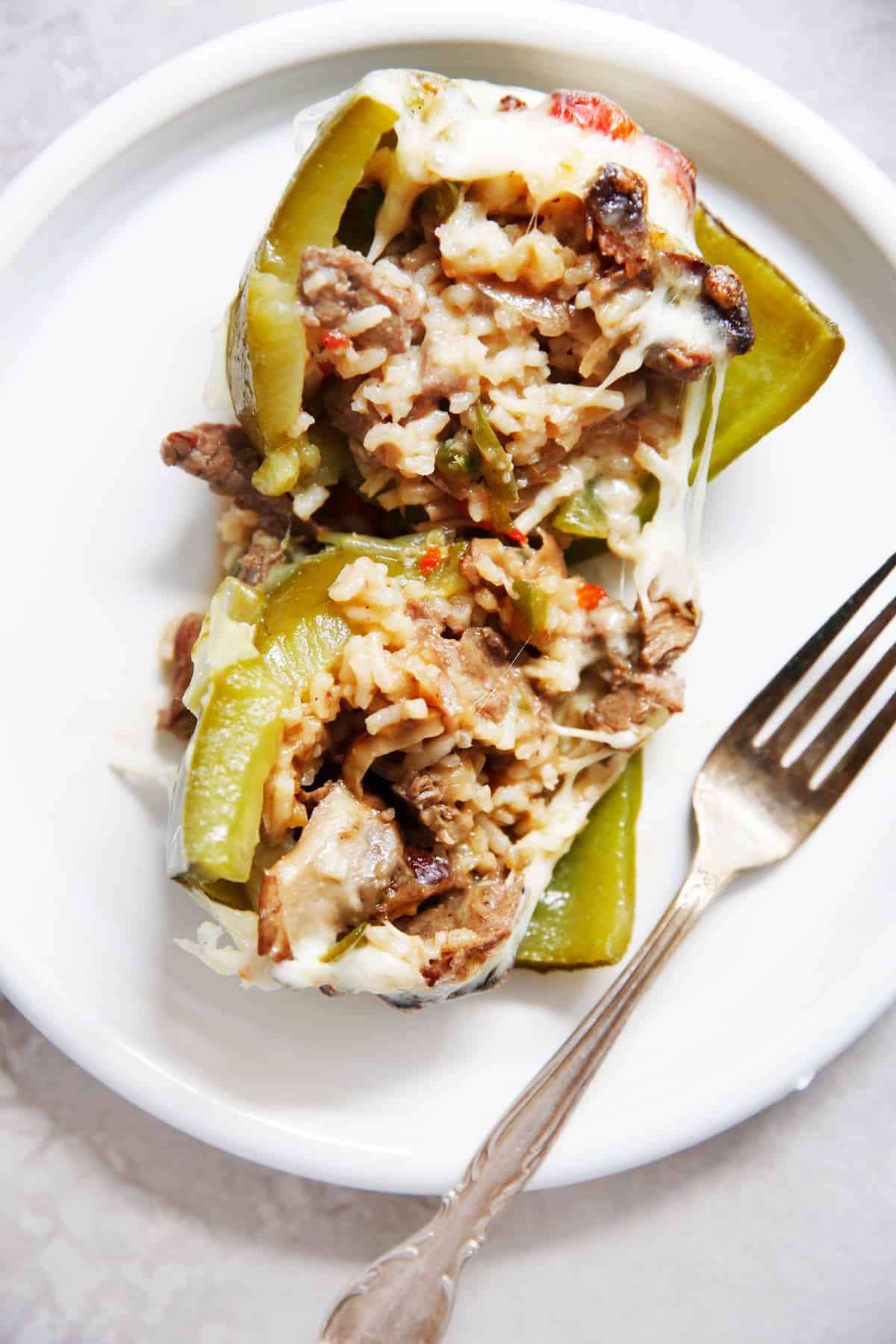 If you like this dinner recipe, check out these others:
Watch the video:
Philly Cheesesteak Stuffed Peppers
This Breakfast Fried Rice is made using only 4 ingredients and is a super easy meal to whip up anytime of day, not just in the morning! It takes the base of leftover rice and switches up the traditional fried rice by adding in the leftover breakfast staples of bacon and eggs. You can have it on the table from start to finish in less than 15 minutes which makes it a breakfast (or dinner) win!
Breakfast Fried Rice
After testing and testing and testing our Best Rice Ever recipe a few weeks back we found ourselves with piles of rice in the test kitchen. Not that we are complaining or anything, because it really is the best rice ever, but we knew we needed to put that rice to good use by testing a few new leftover rice recipes, and this Breakfast Fried Rice was one of them!
We love the idea of being able to make a double batch of something easy, like rice, when you are cooking dinner and then also being able to use up the leftovers again for a fresh meal later in the week. This Breakfast Fried Rice is the perfect example of this. This dish takes a total start to finish time to make of 15 minutes! On busy days (which they seem to be innumerable) this is the perfect breakfast, or lunch or dinner! And likely you already have the ingredients on hand or in your freezer: bacon, eggs, rice and green onions.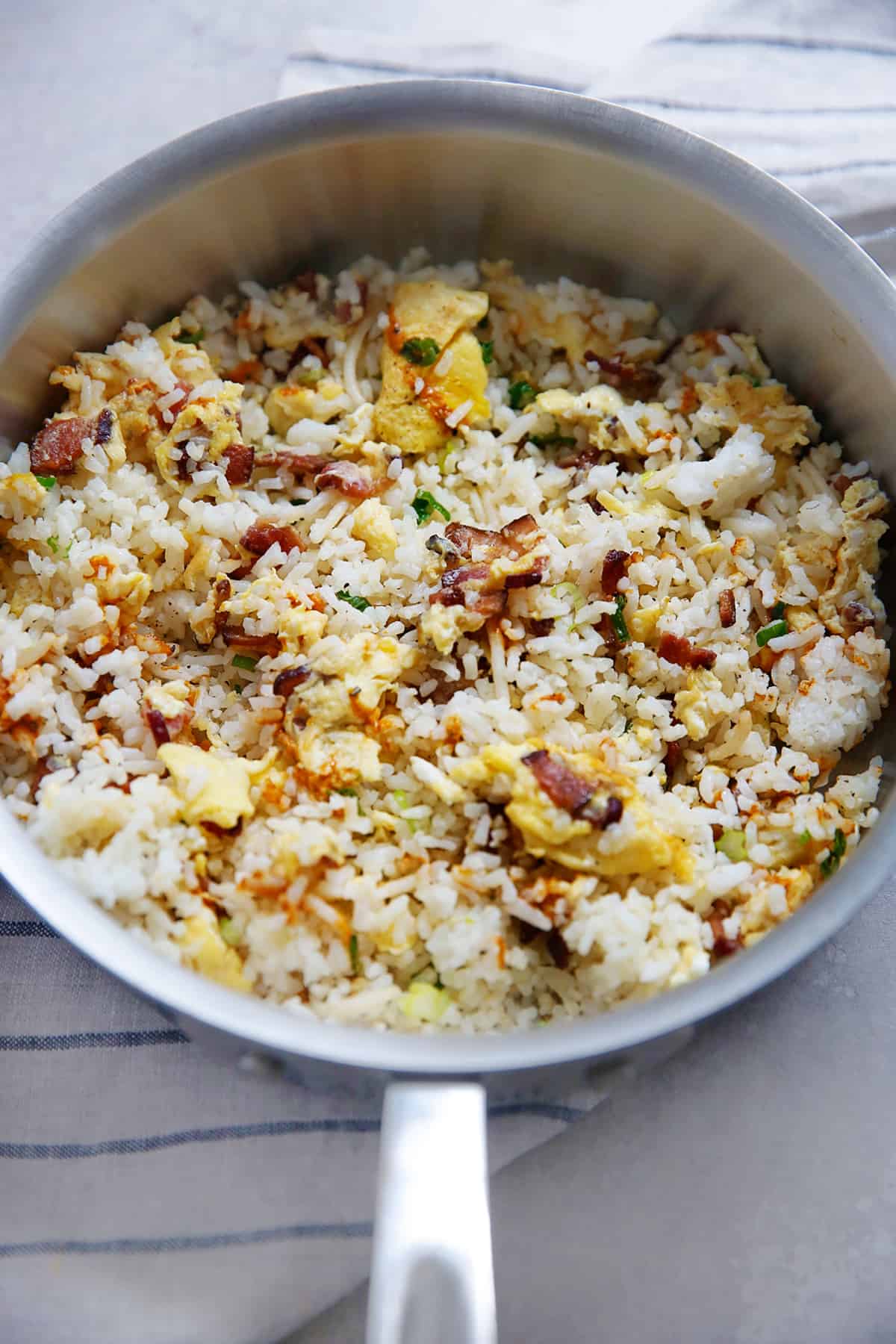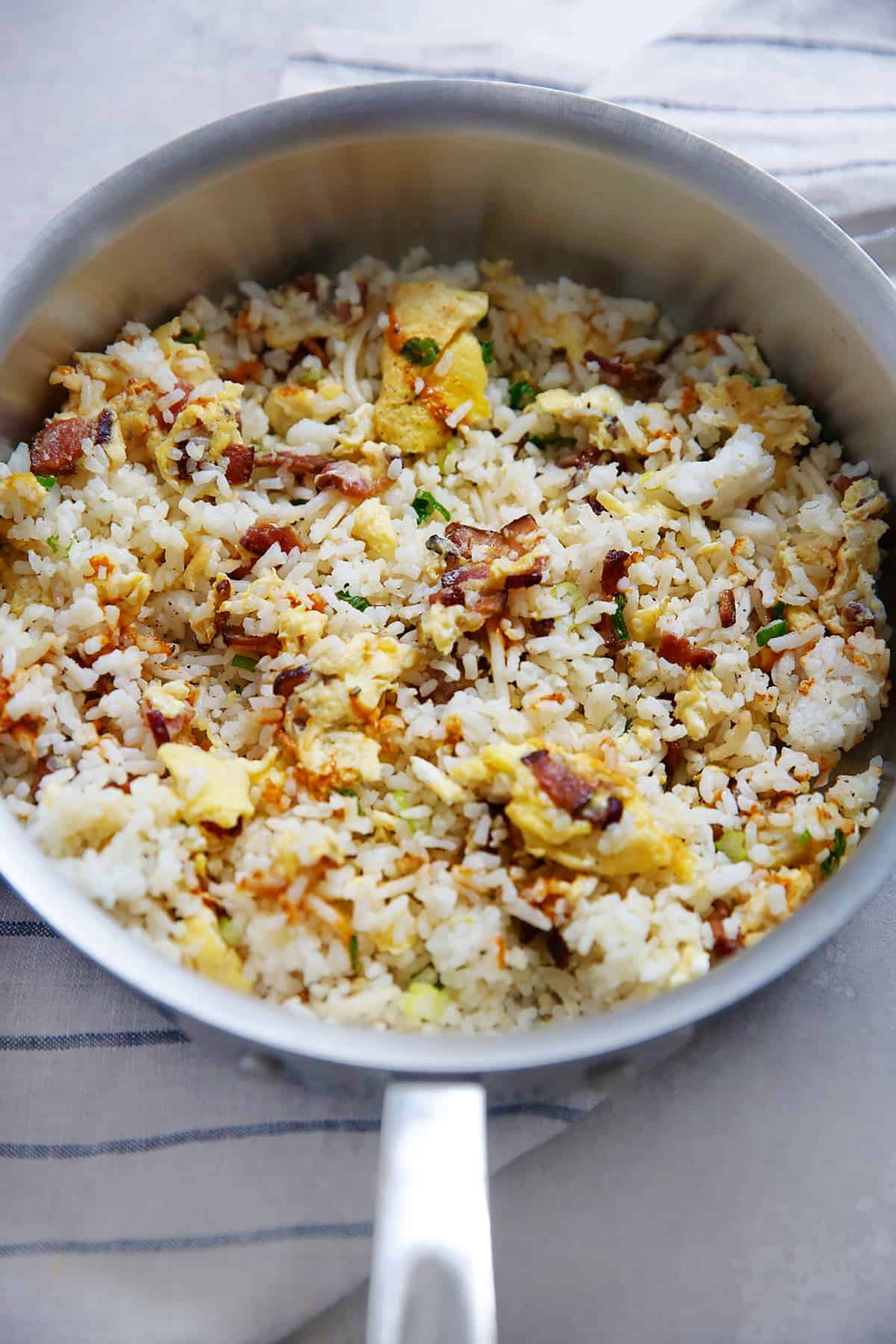 What is in a Breakfast Fried Rice?
This is not the most traditional Asian-style type of fried rice, as we really wanted to keep the ingredient list as minimal as possible so there aren't any add-ins like coconut aminos or other spices. Think of this as more of a breakfast stir fry! We wanted this to be a savory options for breakfast made with ingredients you likely had on hand that could be a satisfying meal. We limited it to bacon, eggs, green onions and leftover rice with optional hot sauce.
What are some other options to add to Breakfast Fried Rice?
If you wanted to add in a few more things there are plenty of options. You can add in:
diced bell peppers (after you fry up the bacon)
baby kale or spinach (add it when you add the rice and green onion to wilt)
frozen baby peas (add it when you add the rice and green onion to wilt)
cauliflower rice (add this after you fry up the bacon and cook for a bit before adding the eggs)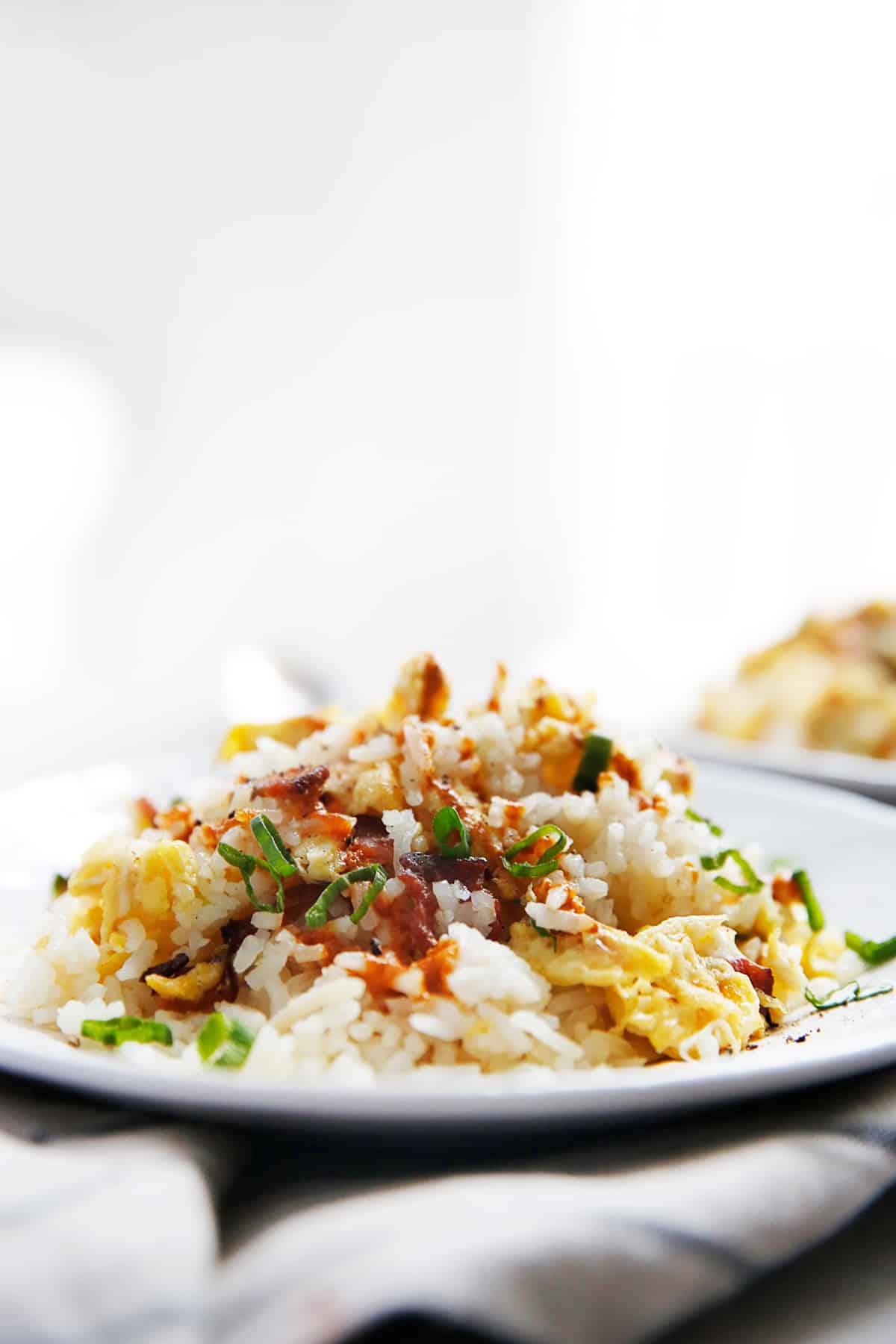 If you like this rice recipe, check out these others:
Breakfast Fried Rice
If you've ever thought rice was a plain-nothing-special side dish, this recipe on How to Make the Best Rice Ever (either in the stove top or instant pot) is for you! It's the perfect recipe to pair with just about anything, is largely hands-off cooking time and is flavorful thanks to added onion, garlic and toasted noodles. Our LCK Food Editor, Kelli Avila, shares how she came to love and cook this rice weekly.
How to Make the Best Rice Ever
Want to know How to Make the Best Rice Ever? Kelli here, and I know I did after years of eating the rice my husband John, who hails from Colombia (where rice is a staple dish), has cooked for our family. Anybody who has ever eaten it has claimed that it was indeed the best rice they've ever had.
His version of rice, also called arroz con fideos is similarly close to a what Americans would know as rice pilaf (or in Egypt is known as bil shareyah). It's basically rice enhanced with onions, garlic and fried noodles. We use gluten-free spaghetti, and it's quickly fried in oil that transforms it into something different with a  nice toasted flavor. Over the last few weeks I've asked John to cook a few batches so I could watch how he made it. Lexi and I then got in the kitchen to test our own take on it, and are so happy with the results. There isn't anything difficult to cook in this recipe, but it is all about building flavor with a few tricks to make the best rice ever.
This dish is so good it could be eaten simply on it's own, or in our family with two toddlers topped with a fried egg and happily eaten as dinner (and then remade into a new dish the next day such as a stir fry). You can also make a really large batch and freeze mini portions of it to take out as needed for a quick dinner side dish. And in the next few weeks we have some new amazing leftover rice recipes we can't wait to share.
Tips on How to Make the Best Rice Ever
Start with long grain white rice. Alternatively we also tested this with jasmine and basmati rice and it works similarly with a slightly different flavor profile. Do not use short grain white rice or brown rice for this recipe.
Wash the rice REALLY well, like wash it more than you've ever washed rice before. This is probably the most critical step when making the best rice ever. Washing the rice rids it of excess starch that can make the final dish sticky. To wash, place the rice in a large bowl and fill it with cold water. Agitate the rice with your hands and then empty out the water. Fill it back up and repeat. You'll do this several times until the water starts to get clearer, and then you can drain the rice and give it one more rinse until no cloudy runoff remains.
Brown the noodles until it is almost burnt. The more you toast the noodles, the more flavor they will impart on the final dish. Just be careful because it can go from toasty, to burnt really fast.
Mince the onions and garlic really well. The finer you can mince the aromatics the less bitter and harsh they come off in the final dish. The finally minced onions and garlic almost melt into the background of the dish instead of the rice very clearly having chunks of onion in it.
Let the water boil down before you cook it. This recipe calls for boiling down the water until it has completely evaporated below the rice before you reduce the heat and cover. This deviates greatly with traditional recipes, but it results in a more pleasant texture in the final result. You'll know you let the water boil down far enough once the little bubbles coming up through the rice disappear completely. Then you lower the heat and cover the rice for the remainder of the cooking.
After the rice has finished cooking, uncover and let the heat remain on if you wish to get a crispy bottom. The crispy bottom is referred to as the pega. In my husband's Colombian family everybody fights to get the pega because it's so tasty. It's basically a fried rice stuck to the bottom of the pot that is crunchy.
What is the ratio of water to rice?
For long grain white rice on the stove top, the ratio is 1 cup of rice to 2 cups of water. For long grain white rice on in the Instant Pot the ratio is 1 cup of rice to 1 cup of water.
What can you serve the Best Rice Ever with?
Just about everything. But if you're looking for some ideas, here are a few:
If you like this how to, check out these others:
---
How to Make the Best Rice Ever (Stove Top and Instant Pot)
This One Pot Turmeric Chicken and Rice is a hearty, warm and comforting weeknight dinner option! It's full of veggies and uses both fresh and dried turmeric. It is dairy-free and gluten-free and is bound to be a new, and easy, family favorite!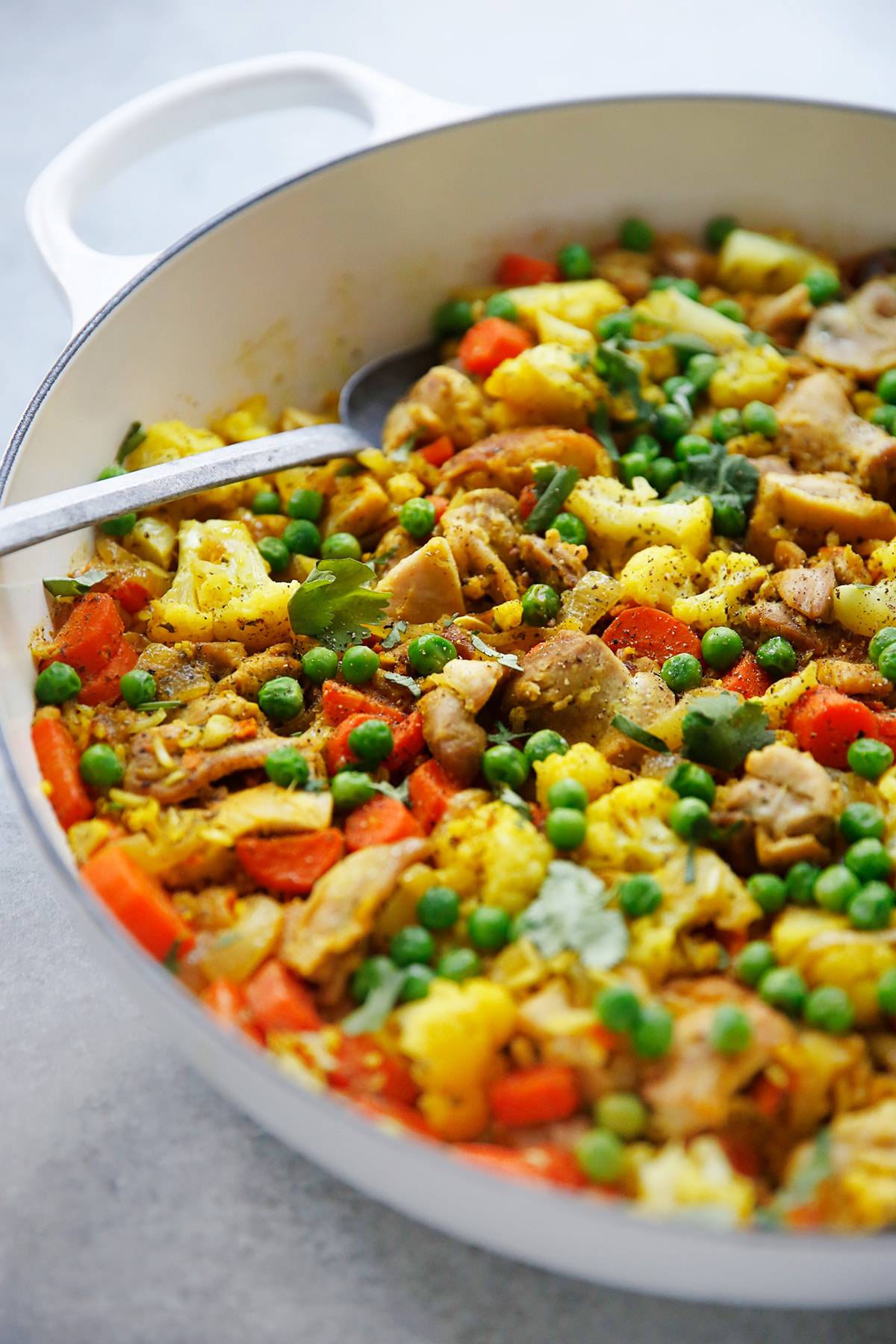 One Pot Turmeric Chicken and Rice
We love an easy-to-make and easy-to-love weeknight dinner and this One Pot Turmeric Chicken and Rice is one of them! A warm and comforting spiced chicken and rice dish that consists largely of unattended cooking and is made all in one pot for a simpler clean up! This dish uses both fresh and dried turmeric for an extra punch of flavor and has so many veggies packed in!
Let's talk turmeric:
We've talked quite a bit about turmeric on this site before because turmeric is a trendy food topic these days, but for good reason: it provides significant anti-inflammatory effects that can benefit a wide variety of health concerns! Curcumin, which is a nutrient found within turmeric, is a powerful anti-inflammatory. Chronic inflammation has been linked to a number of larger medical conditions such as diabetes, arthritis and heart disease. A natural and easy way to help keep inflammation down is through the foods you put in your body. This One Pot Turmeric Chicken and Rice uses both fresh turmeric and dried turmeric. Now are we saying if you eat this rice all of your inflammation will go away? Nope! But we are big believers in using a whole and real food approach to healthy living and including as many nutrient dense ingredients in our every day meals is a good start.
Where can you buy fresh turmeric?
Almost any major grocery store will sell turmeric. Look for it in the section where they sell fresh ginger, and it looks similar!
What do you do with fresh turmeric
You don't need to peel the thin skin off of fresh turmeric, but we prefer to especially if it isn't organic. The easiest way to do this is to take a spoon and gently scrape off the skin. You can grate the turmeric with a microplane or finely mince it. Just be careful about where you prepare the turmeric because it will leave yellow everywhere it touches, including your hands!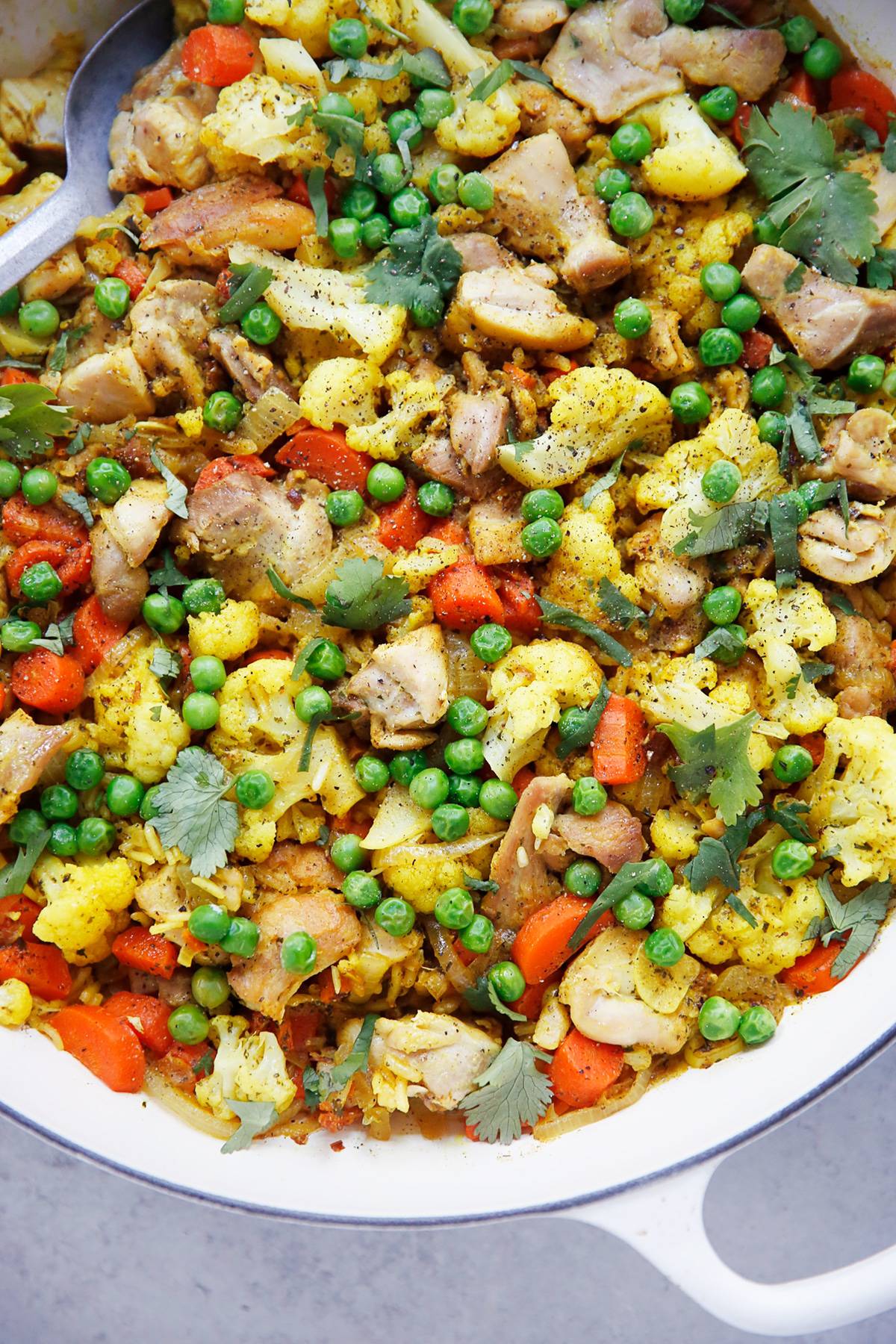 If you like this easy weeknight dinner recipes, check out these others:
---
One Pot Turmeric Chicken and Rice
With Korean fermented cabbage as its base, this Kimchi Fried Rice is a great weeknight dinner when you want to spice it up a bit. It's tangy and spicy and a great way to use up leftover rice or cauli-rice and veggies in your refrigerator. It is vegetarian, paleo friendly (with cauli-rice) and ready in under 30 minutes.
Kimchi Fried Rice
With the busy holiday season upon us we thought it was time to make a quick and easy weeknight dinner that is also SUPER DELICIOUS and fun. And we love a good fried rice here at LCK, and this Kimchi Fried Rice is no exception! I almost always have Kimchi hanging around in my fridge (it lasts nearly forever) which makes it the perfect base to add to a fried rice that uses primarily pantry items. It's super flavorful and we've included directions to make this with white rice or cauli-rice.
What is kimchi?
In short kimchi is fermented vegetables! It is native of Korean cuisine and can range from spicy to mild depending on what brand you are buying (or making, if you're feeling adventurous).  Aside from being delicious Kimchi is a nutrient dense food but probably what makes me most excited about it is the naturally occurring probiotic strains that occur during fermentation. This is a great food to eat if you're in the process of healing your gut or you want to have healthier digestive functions.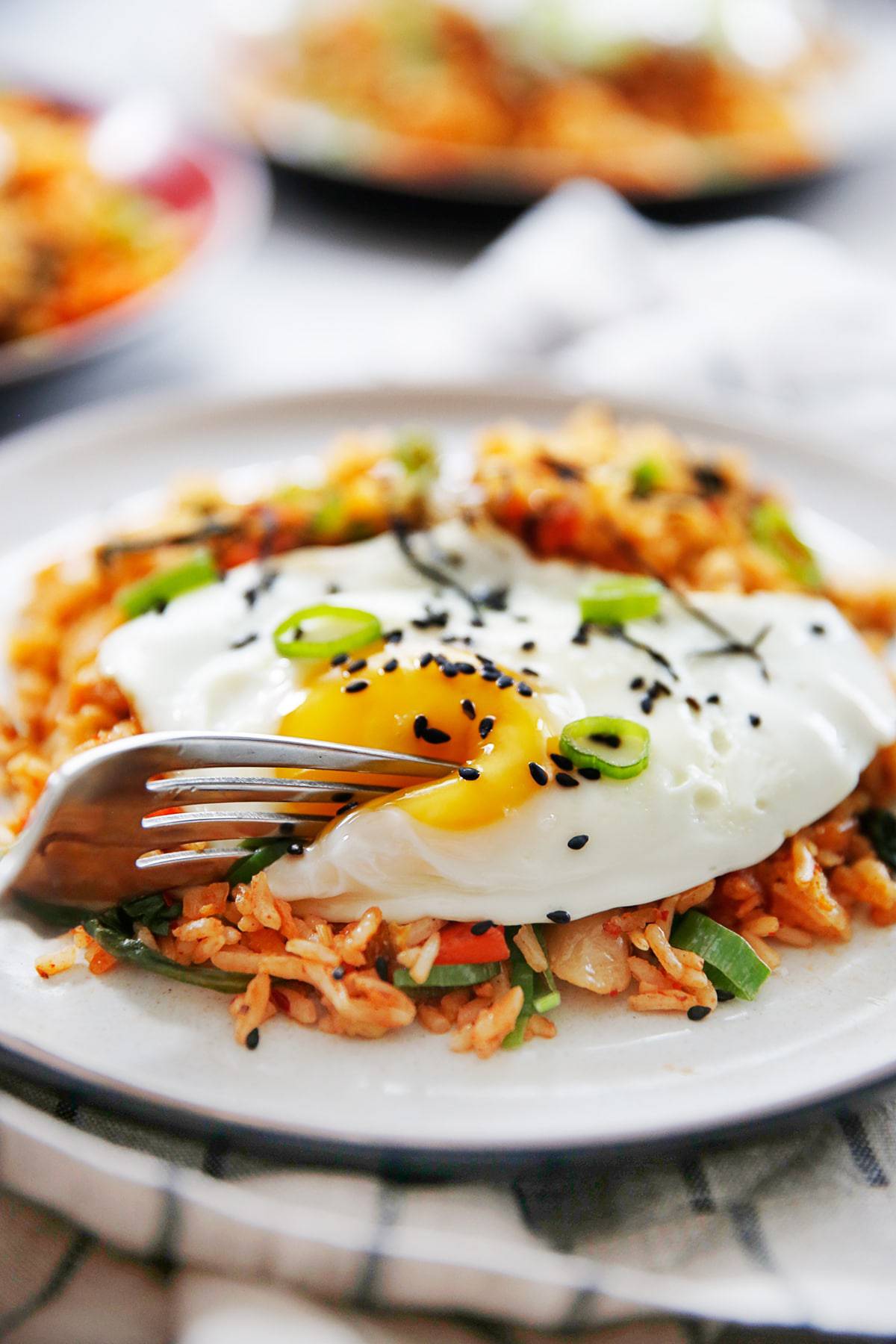 What type of kimchi should I buy?
A good kimchi will bring a balance of salty, sour and spicy flavor while holding a nice crunch to it. We're partial to kimchi made from cabbage, but really the most important thing is to buy a kimchi that has only natural ingredients added to it. In other words, if you can't pronounce or clearly recognize anything on the ingredients label, skip it!
Tips for making a good stir fry:
Fried rice is a stir fry using rice as the base instead of noodles. It's a simple dish to make, but the following tips will make sure that your fried rice will shine:
Make sure your pan is nice and hot! We like to use a cast iron skillet for this, which retains heat nicely! But if you have a wok feel free to use that.
Have all ingredients ready and prepped before you begin cooking!
Use a high heat oil, like avocado oil.
Always top it with a fried egg!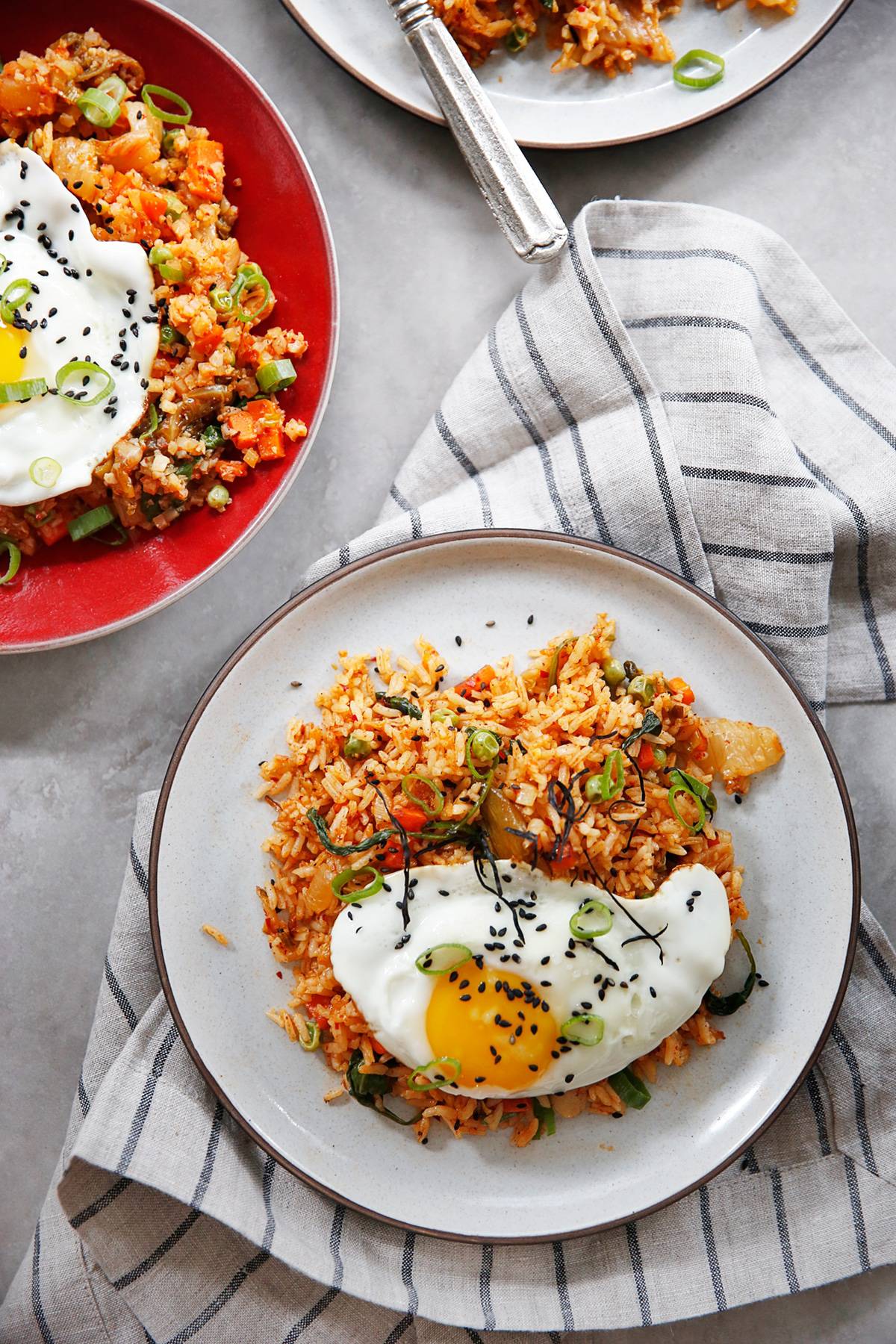 If you like this stir fry recipe, check out these others:
Kimchi Fried Rice (Cauliflower Rice or White Rice)
This Instant Pot Chicken Tikka Masala is a great short-cut to a flavorful weeknight dinner! This delicious dinner uses the pot in pot cooking method, which means cooking the dish *and* the rice all together right in the pressure cooker! This gluten and dairy free dish also reheats well for meal prep and is a great addition to your Instant Pot repertoire!
Instant Pot Chicken Tikka Masala
This popular Indian dish is bright, rich and creamy and comes from my friend Megan's new cookbook: The Fresh & Healthy Instant Pot Cookbook. This dish is typically made with heavy cream and few vegetables, so Megan has given it a nutrient upgrade with more than a pound of cauliflower and carrots. The resulting meal may not be quite as authentic, but we just love how the vegetables become nearly undetectable in this rich sauce. Serve it with naan (if you tolerate), and use coconut milk to give it a dairy-free creaminess, but you could leave it out for less fat and a richer tomato flavor!
This recipe uses the pot in pot method of cooking two different meal components in the Instant Pot at the same time. It was our first time using the PIP feature and we're glad we took the plunge, thanks to Detoxinista, because it's a game changer.
What is Pot in Pot Cooking?
The 'Pot in Pot' method of cooking allows food to cook in a separate bowl that's placed on a steam rack in the Instant Pot.  Steam generated from liquid below the steam rack is used to build pressure and cook the food. Note: the container being used for PIP cooking must be placed on a rack, and not directly in the inner pot.
Can you use Pyrex in an Instant Pot?
Yep! Any pyrex is fine for it although stainless does have an advantage in that it wouldn't require extra time. Anytime you use glass, pyrex, ceramic or any other heat absorbent material for "pot in pot" cooking, add about 5 minutes to the time under pressure!
I was so excited to get Megan's new cookbook, The Fresh & Healthy Instant Pot Cookbook! For starters, you know I LOVE my Instant Pot! Secondly, I adore Megan and all of her recipes, so I knew it would be a total winner of a cookbook. You can check it  out and grab a copy here!
What I love about this book? For starters, there are gluten-free options for each recipe, and all recipes are free of refined sugar and many of the most common food allergens, yet don't scrimp on flavor!! Some dishes I cannot wait to make: Korean Chicken Bowls, Eggplant Parmesan Bake, Peanut Butter Crunch Granola Bars, Flourless Banana Oat Bread, and One-Pot Chocolate Cake and Frosting!!
Tools you need to make this recipe:
Immersion Blender or Blender ($20 off + free shipping)
Oven safe bowl/container made of stainless steel, oven-safe glass, or ceramic/porcelain.  The container shouldn't touch the walls of the inner pot and should allow the Instant Pot lid to be closed easily!
Which Instant Pot to get?
I love my 6 qt. Duo. If you're often cooking for more than 4 people, I'd go for the 8 qt.
If you like this Instant Pot recipe, check out these others:
Instant Pot Chicken Tikka Masala
This healthy rice pudding recipe is the perfect, lightened up version of the creamy rice pudding recipe you grew up loving. It's vegan, gluten-free, and refined sugar free and is hands down the perfect hearty dessert!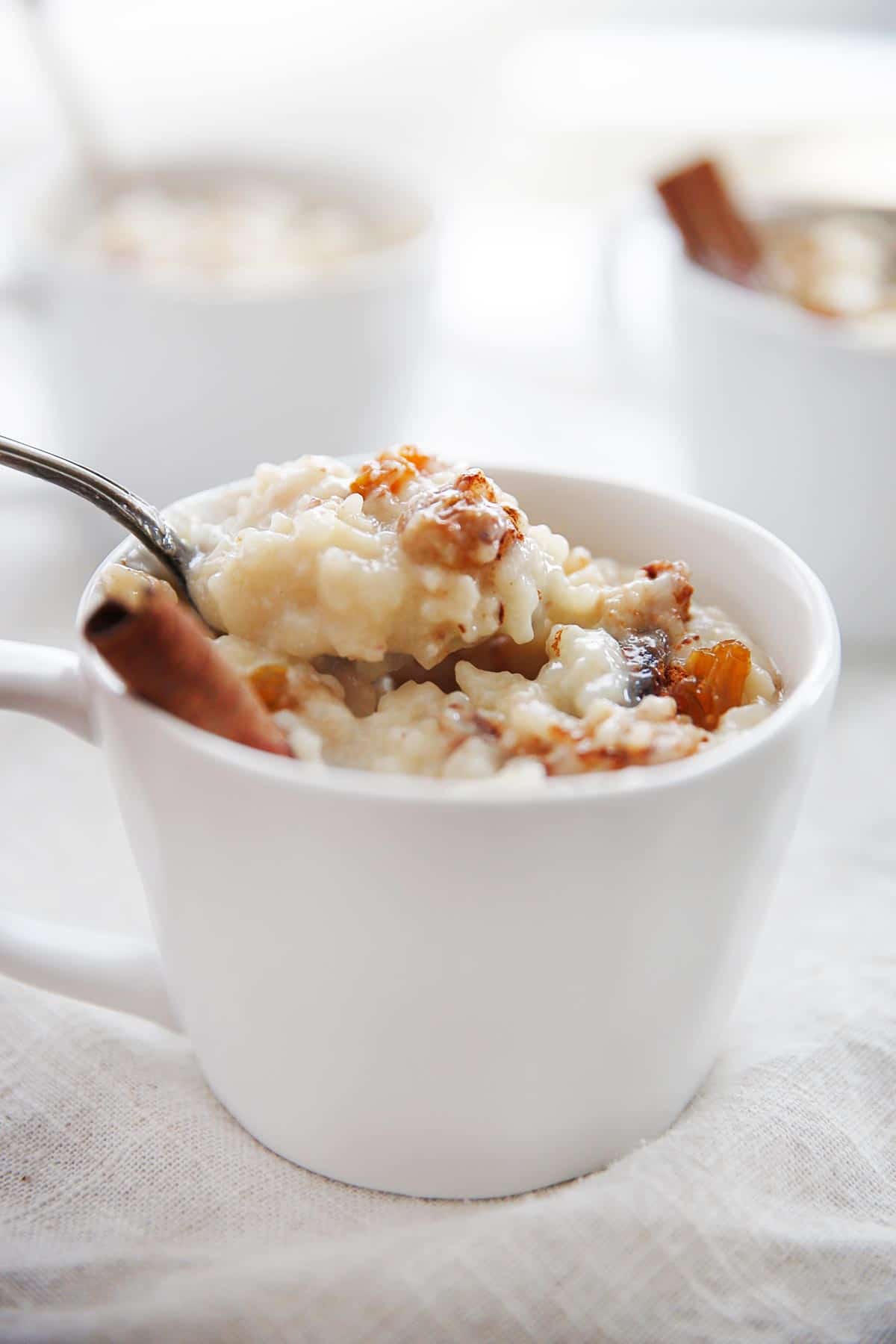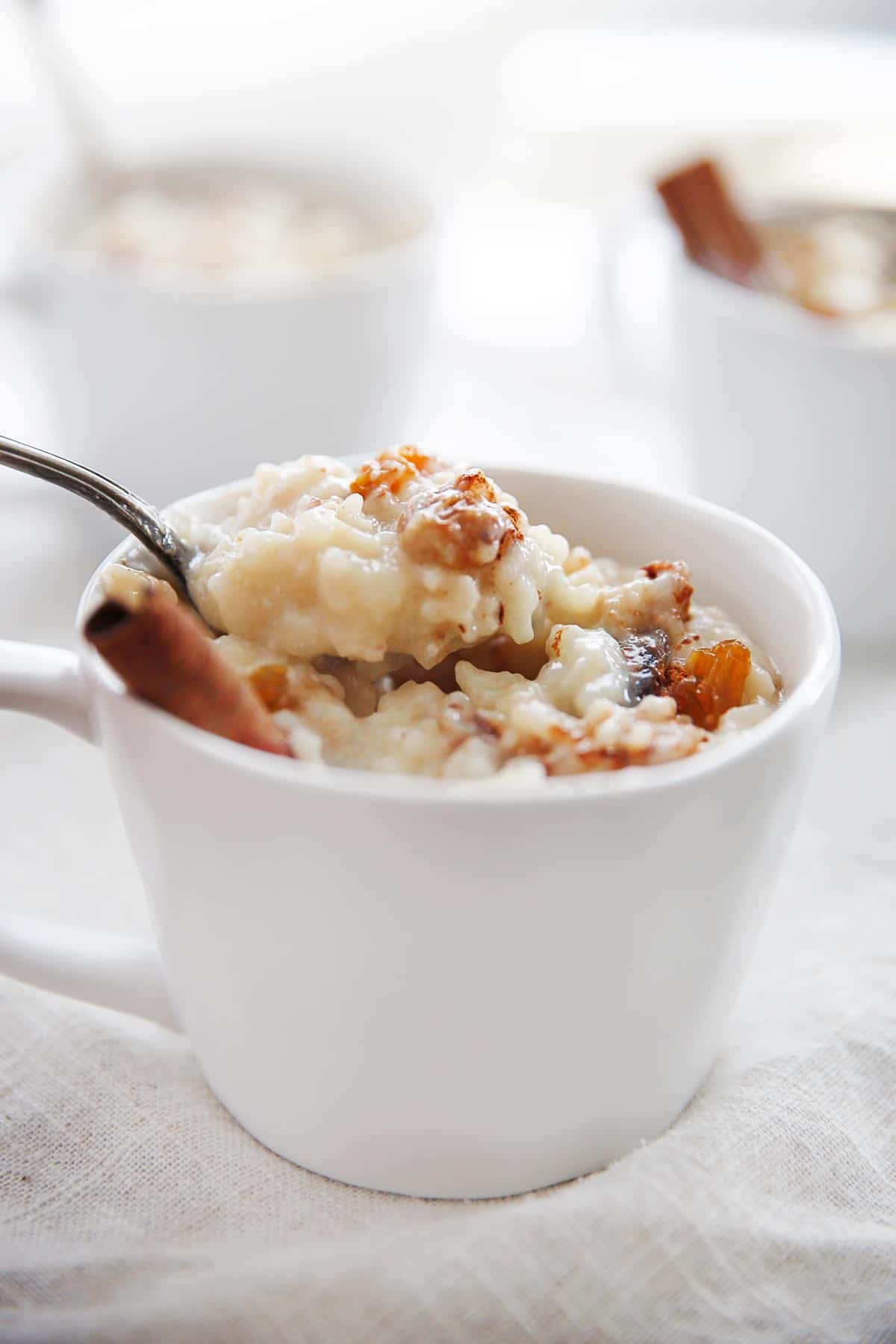 Healthy Rice Pudding
So many of you have requested a lightened up rice pudding recipe, and we worked hard to make it just perfect for you! I didn't grow up eating rice pudding but while we were testing this recipe, I quickly fell in love with the hearty yet delicate, sweetened-just-right dessert.
This rice pudding recipe is:
Creamy
Hearty
Indulgent yet lightened up
Warming
Packed with cinnamon and raisins
Perfectly sweetened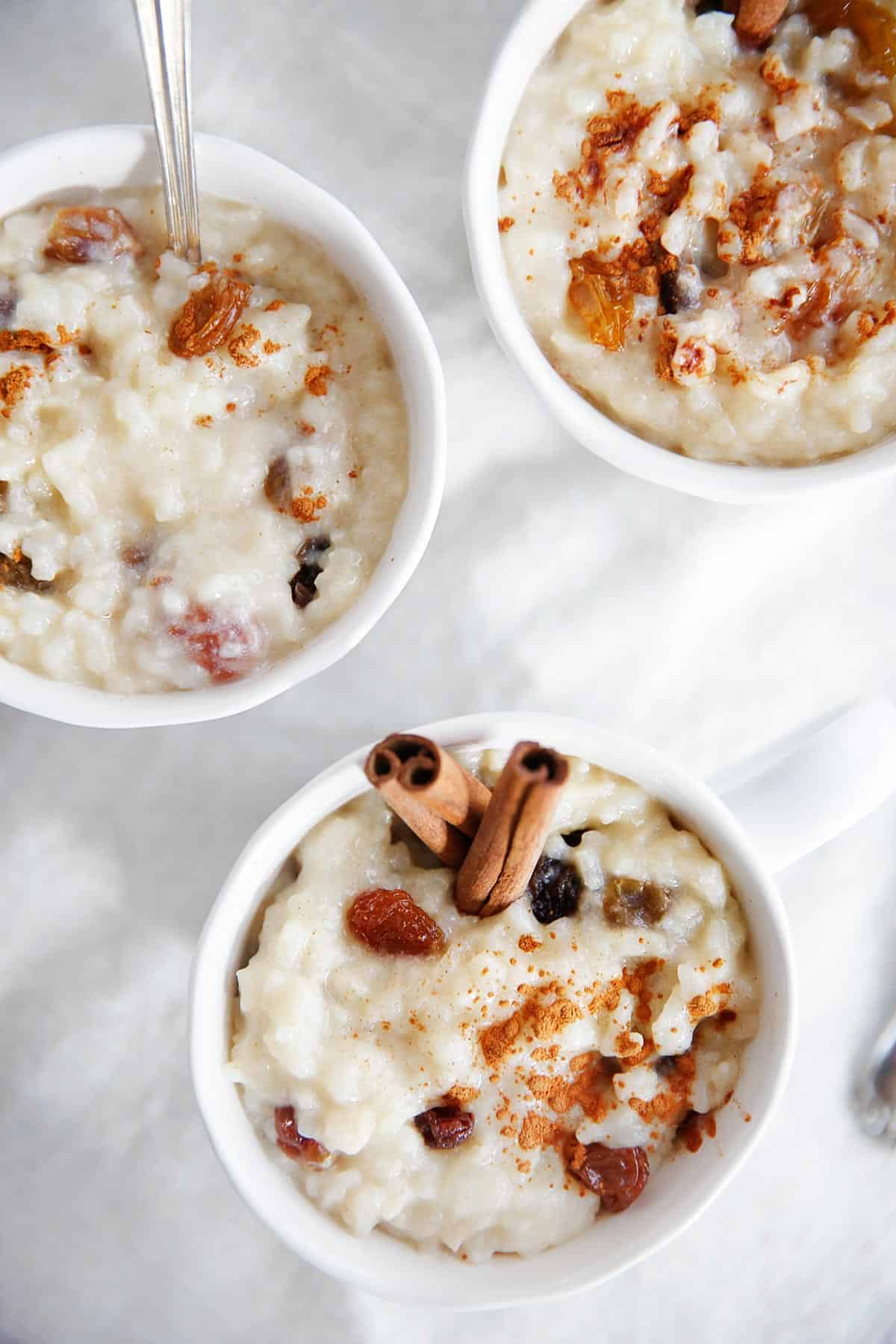 Can you make rice pudding with cooked rice?
You can, but we prefer not to cook it the way! You may need less liquid if doing so.
What rice should you use?
Can you use long grain rice for a rice pudding? You should use white rice. You can use long-grain aromatic rice (like basmati or jasmine) which will give the unique flavor and perfect texture that we love. If you use short or medium-grain white rice (like Arborio) your rice pudding will be more thick and chewy. The size of the pan can change the evaporation time of the liquid depending on the type of rice you use so if you are finding a lot of liquid left over, increase the temperature of the heat and cook for a bit longer.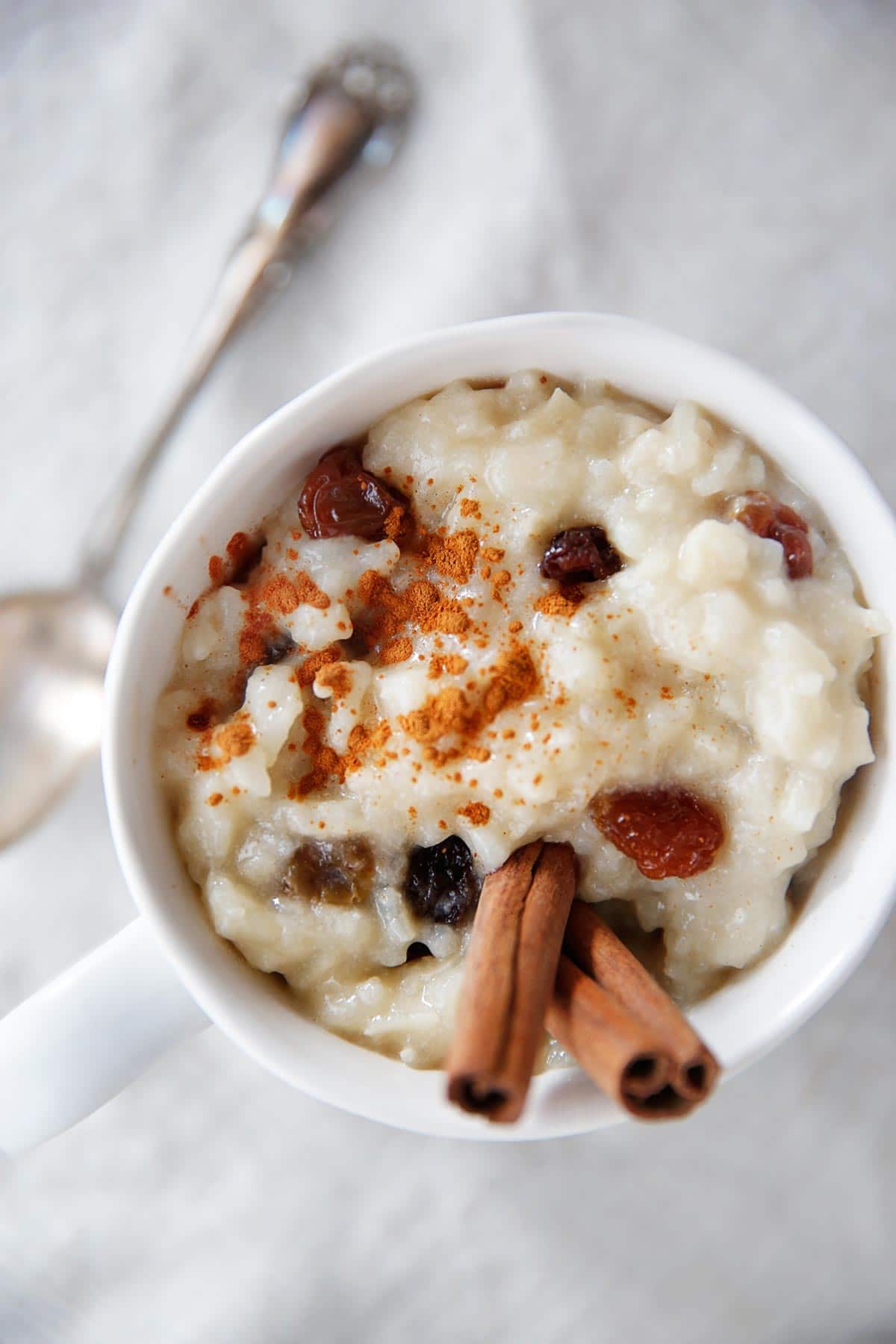 If you like this gluten-free dessert recipe, try some more of our favorites:
How do you make healthy rice pudding
Healthy Rice Pudding (Vegan)
This Grilled Salmon Bowl with Garlic Scapes and Kale makes for the perfect summer meal in a bowl. Packed with flavor and fabulous ingredients, this dish is packed with everything you need for a delicious and nutritious lunch or dinner.
Grilled Salmon Bowl Recipe
This Grilled Salmon Bowl is the perfect healthy dinner that will leave you feeling way better than before you ate it. It starts with some perfectly grilled salmon. You can grill either outside or "grill" underneath the broiler in the oven. Then pile that salmon with some garlicky wilted kale, rice and your choice of pairings. This is the perfect spring or summer dinner that is also paleo-friendly, Whole30 and gluten and dairy-free.
Last year was my first year of joining a local CSA and frequenting my new town's farmers markets. I came home week after week with incredible amounts of produce like this kale and garlic scapes, many of which at a loss of what to do with. (P.S. if you're looking to save money eating organic, a CSA is an amazing resource). This year I'm working through all the different types of produce I take home to create into delicious meals that can be recreated by you.
Salmon Rice Bowl Ingredients
For the fish:
Wild Salmon
Olive Oil
Dijon mustard
Coconut Aminos
Lemon
Salt and Pepper
Kale
Garlic scapes (if available, or garlic cloves)
Cooked White Rice
Salmon Bowl Toppings:
Top your salmon bowl with whatever you have handy or you think might go well with it. I enjoyed topping mine with these options:
Avocado
Cucumber
Scallions
Radishes
Soft-boiled eggs
Sesame Seeds
How to Grill Salmon
There are two choices for grilling this salmon. The first is on a traditional grill outdoors. Though if that isn't available to you, feel free to "grill" this under your broiler.
To "grill" fish in the oven: Place broiler on high. Place fish on a lined and greased baking sheet and broil for 7 to 9 minutes depending on the thickness of your fish. Add sesame seeds to garnish.
To grill on an outdoor grill: Grease grill and heat to medium. Place fish on a sheet of tin foil and cook for 8 to 10 minutes until fully cooked to your liking. Add sesame seeds to garnish.
If you like this salmon recipe, check out these others:
[yumprint-recipe id='368′]