This Turkey Gravy is the best way to utilize your Thanksgiving turkey drippings! It's rich, smooth, infused with savory flavors, and delicious when spooned over your holiday roast turkey and all your favorite sides.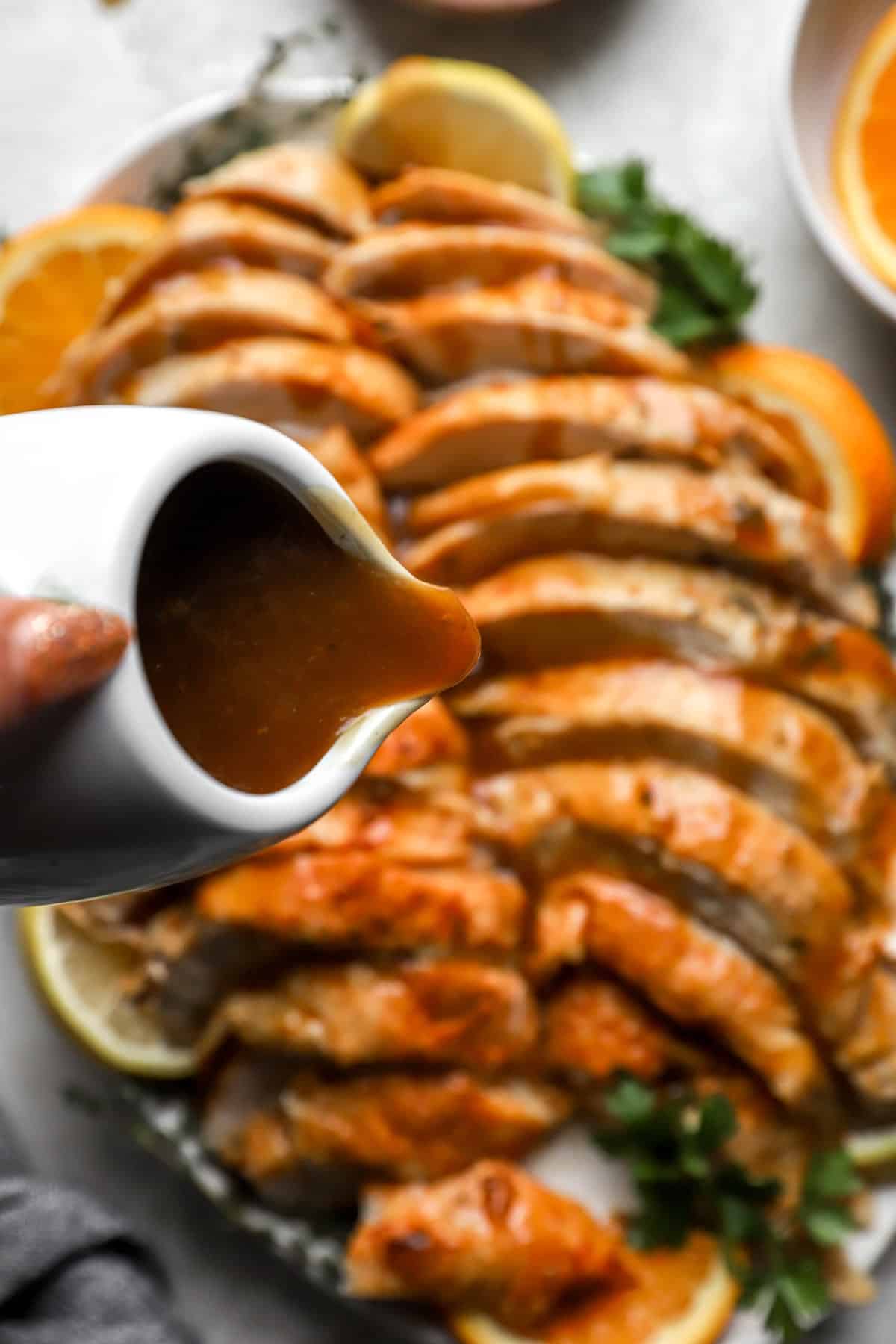 Easy Gluten Free Turkey Gravy from Drippings
Have you ever wondered what to do with the cooking liquid left at the bottom of the roasting pan when you cook your Thanksgiving turkey?
It turns out that flavor doesn't have to go to waste. You can use it to make the most flavorful gravy you'll ever have!
This turkey gravy recipe requires very few ingredients and minimal effort! Just whisk together a roux, pour in the broth, and cook until it's the perfect texture.
What is the Difference Between Brown Gravy and Turkey Gravy?
Brown gravy is a gravy made from any meat drippings and stock. Turkey gravy is explicitly made with the drippings from a roast turkey. So, turkey gravy is just one of many versions of brown gravy.
Ingredients Needed
You really need three essential ingredients to make my gluten-free turkey gravy—including the drippings from your already roasted turkey!
Turkey Basting Liquid/Drippings – The drippings are the liquid left in the bottom of the pan from your roasted turkey.
Broth – You can use turkey or chicken broth; whatever you have on hand! Want to make your own broth? Check out my instant pot turkey stock recipe.
Arrowroot Flour or Cornstarch – Arrowroot flour and cornstarch are both great ways to thicken your gravy without regular flour. Use whichever one you have on hand.
How to Make Turkey Gravy from Drippings
This turkey gravy recipe comes together in just a few short minutes!
Strain the drippings: Strain the drippings from your cooked turkey through a fine-mesh sieve. Add 1/2 cup of the drippings to a saucepan and discard the strained-out solids.
Add thickener and broth and cook: Whisk the arrowroot or cornstarch into the drippings, then let the mixture cook until it turns a golden brown color. Add in the broth and the rest of the drippings, stir until thickened, then remove from the heat. Taste and season with salt and pepper as needed, then serve warm!
What is the Best Thickener for Gluten-Free Gravy?
Traditionally, gravy is thickened using all-purpose flour. To keep this recipe gluten-free, we're using either cornstarch or arrowroot flour. You'll need just a couple of tablespoons to create the perfect texture!
If you've followed the instructions and your gravy still doesn't seem quite as thick as you like it, let it cook a little bit longer! As it cooks, excess moisture will evaporate, and the gravy will get nice and thick.
Keep in mind that it will also thicken as it cools.
What Can I Add to Turkey Gravy for More Flavor?
Thanks to the turkey drippings and broth, this turkey gravy is plenty flavorful without any additional seasoning!
However, you can add a pinch of salt and pepper at the end if you'd like—just make sure to taste it first, so it doesn't end up too salty.
Tips and Notes
Add the broth slowly! When you're pouring the broth into the roux, do it slowly and whisk constantly. This ensures that your gravy doesn't get lumpy. It will look thin to start but will thicken as it cooks down.
Cook the desired thickness. The longer you cook, the thicker it becomes!
If your gravy feels like it's sticking to the bottom of the pan, turn the heat down slightly. Your pan is likely too hot.
Leave the salt for last. The drippings and broth already contain salt, so you may not need to add any. Taste before you add any!
Serving Suggestions
This is the best turkey gravy, I really could just eat it straight out of the pan with a spoon. But, of course, it's the perfect thing to drizzle over a slice of your roast turkey with all of your favorite holiday side dishes! Here are some of my favorites:
How to Store
Leftover turkey gravy can be stored in an airtight container in the fridge for 3-4 days!
For longer storage, place in a freezer-safe container and store in the freezer for up to 3 months. If you're freezing the gravy, I recommend dividing it up into smaller portions so that you can thaw only the amount needed when you're ready to serve it again.
To reheat your gravy, let it thaw overnight in the fridge if it's frozen, then warm on low on the stove until heated through. It will likely be very thick, so you may need to add a splash of water or broth to thin it out.
More Holiday Recipes You'll Love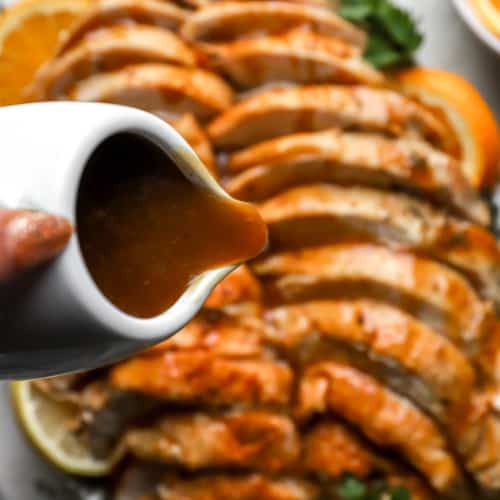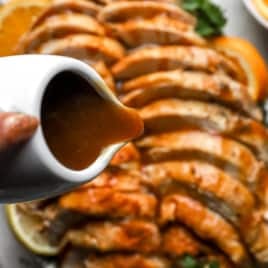 Turkey Gravy
This Turkey Gravy is the best way to utilize your Thanksgiving turkey drippings! It's rich, smooth, infused with savory flavors, and delicious ladled over your holiday roast turkey and all your favorite sides.
Ingredients
1/2

cup

turkey basting liquid/drippings

plus additional leftover

3

cups

turkey or chicken broth

2

tablespoons

arrowroot flour or cornstarch

start with 1, then add more as needed, up to 3
Instructions
When cool enough to handle tip any juices from the cavity of the bird into the roasting pan and set bird aside on a cutting board to cool, tented with foil. Set the roasting pan and accumulated juices over two medium flames, add 1 cup of water and scrape up any browned bits from the pan.

Carefully strain out the broth into a large glass measuring cup or medium glass bowl and place in the refrigerator to separate the fat from the broth. You should have about at least 2 cups of broth.

Once cooled down, the fat should rise to the top and you should be able to separate most of it out. Reserve 3 tablespoons of fat and discard the rest. Measure out the remaining broth and add turkey stock until you get 4 cups total of liquid.

In a medium sauce pan add 3 tablespoons fat and whisk in cornstarch. Slowly whisk in broth/stock until it is nice and smooth and bring to a boil and cook for 5 minutes. Season to taste with salt and pepper.