While snowed in last week, I was craving an appetizer-like snack that I could make with the organic chicken breasts I had in the fridge. I realized that it's been a while since I've had chicken cutlets. My beautiful mom makes killer chicken cutlets.

She made them often growing up and then passed the recipe along to me years ago. You can bet those days were filled with some delicious chicken parm. Since those breadcrumbs are no longer in my diet, my task was set! Instead of the whole chicken cutlet thing, I went with bites (or nuggets), call it what you'd like. And I made them spicy. Amazing. They make the perfect appetizer when entertaining or just for your football Sunday get together.

Perfectly crispy. Your friends won't even know they are healthy and gluten/grain-free!


Paleo Zesty Chicken Bites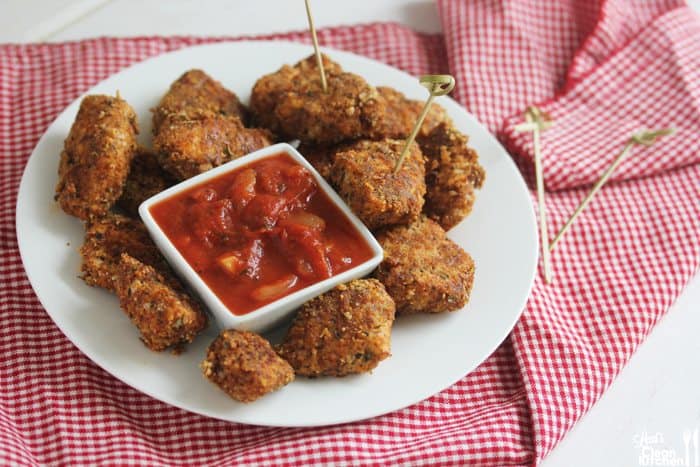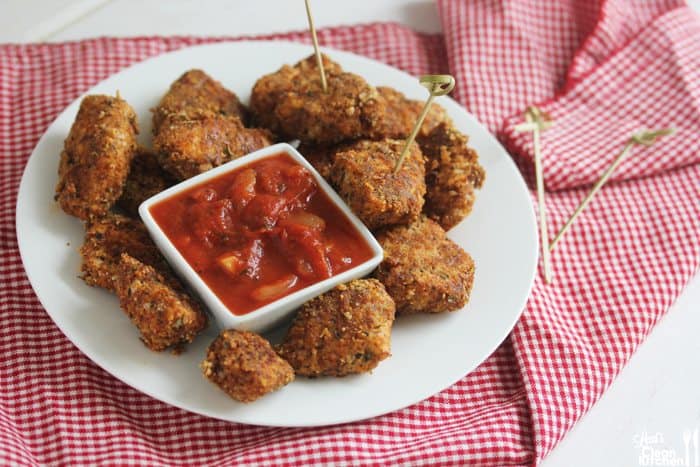 0 Comments
Ingredients
1

lb. organic boneless chicken breasts

1

egg

1/4

tsp water

1/2

cup almond meal or almond flour (flax meal makes a great substitution)

1

tsp Italian Seasoning

1/4

tsp cayenne pepper

1/4

tsp paprika

1/2

tsp garlic powder

1/4

tsp red pepper flakes

1/4

tsp Himalayan sea salt

1/4

tsp chili powder

Optional: 1 tbsp fresh parmesan cheese*
Instructions
Preheat oven to 400 degrees and line a baking sheet with tin foil- spray the foil (or grease with oil of choice)
In a bowl, combine almond meal and all spices
In a separate bowl crack 1 egg and add 1/4 tsp water- whisk together well
Cut chicken into bite size pieces
Drop the chicken pieces into the egg and mix until fully covered
Transfer chicken pieces to the spice mixture, coat evenly and place on baking sheet; repeat until all are coated
Bake for 12-15 minutes then flip chicken bites over and cook for another 10-12 minutes until golden and crispy
Serve hot with your favorite dipping sauce (I like homemade tomato sauce)
Recipe Notes
-Depending on how many chicken pieces you use, you may need to double the spice mixture.
-Serving depends on how small or large you make the bites. Mine made about 25-30 chicken bites.
*Leave out parmesan cheese for fully dairy-free

What is your favorite Football Sunday snack?