Healthy Carrot Cake Loaf
When Spring is so close you can just about touch it, it's time to break out the bowl and the whisk and bake up this Healthy Carrot Cake Loaf! It is so moist and made using a gluten-free and paleo-friendly blend of almond and coconut flour. This carrot bread is the perfect weekend (or weeknight!) baking project.
Healthy Carrot Bread
It is no surprise I am a big fan of Carrot Cake as we've done it a few times with this cake and these cookies and these muffins. Which is why I am so excited about this Healthy Carrot Cake Loaf! It's stuffed full of carrots and optionally raisins, nuts or chocolate and SO SO GOOD. It's made gluten-free using almond and coconut flour but this bread will be loved by everyone, whether you need to be gluten free or not. It's got just enough cinnamon and it's moist and so tender! Plus, it's made all in one bowl, and that is a win!
Ingredients needed for this carrot bread
Almond Flour

Carrots
Coconut Flour
Eggs

Unsweetened Apple Sauce

Honey

Coconut Oil

Vanilla Extract

Baking Powder + Baking 

Soda

Ground Cinnamon

Fine Sea Salt
There are a few optional ingredients depending on how you want to flavor this bread! You can add in raisins, chocolate chips or nuts! I love the combination of the carrots, raisins and nuts the best!
To Glaze or Not to Glaze
We opted to put a quick maple glaze on this bread, but you can skip it if you want to keep it a little lighter! This glaze uses organic powdered sugar. If you prefer to skip it and use a glaze without any refined sugars, check out the glaze we use on our Cinnamon Roll Overnight French Toast Bake!
Watch the video here:
If you like this carrot recipe, check out these others:
For more recipes for spring, check here:
Healthy Carrot Cake Loaf
Of course, baby isn't here just yet, but we are certainly getting ready for her with our baby registry! June is just around the corner and man, are baby registries overwhelming for a first time momma. Anyone else with me? With the help from trusted friends, a borderline insane amount of research, the search for my baby registry must haves is near complete! After she arrives and we've used (or not used) many of the items, I will make sure to come back and continuously keep this list updated with our personal favorites, what you need, what you may not need, what we wish we had sooner, and more.
This baby registry covers the initial decisions we've made so far (pre-baby research), keeping non-toxic and safer, where possible, in the forefront of my mind. I hope it helps you with your registry and that it can be used as a great registry resource for you fellow soon-to-be-mamas!
Remember, you don't need all of this! You can absolutely go way more minimal (I mean, there's a lot on here y'all). I'm simply sharing my registry/personal decisions thus far in it's entirety because I'm a major planner, and as mentioned, I promise I will report back as the months go on and will write when the post was last updated!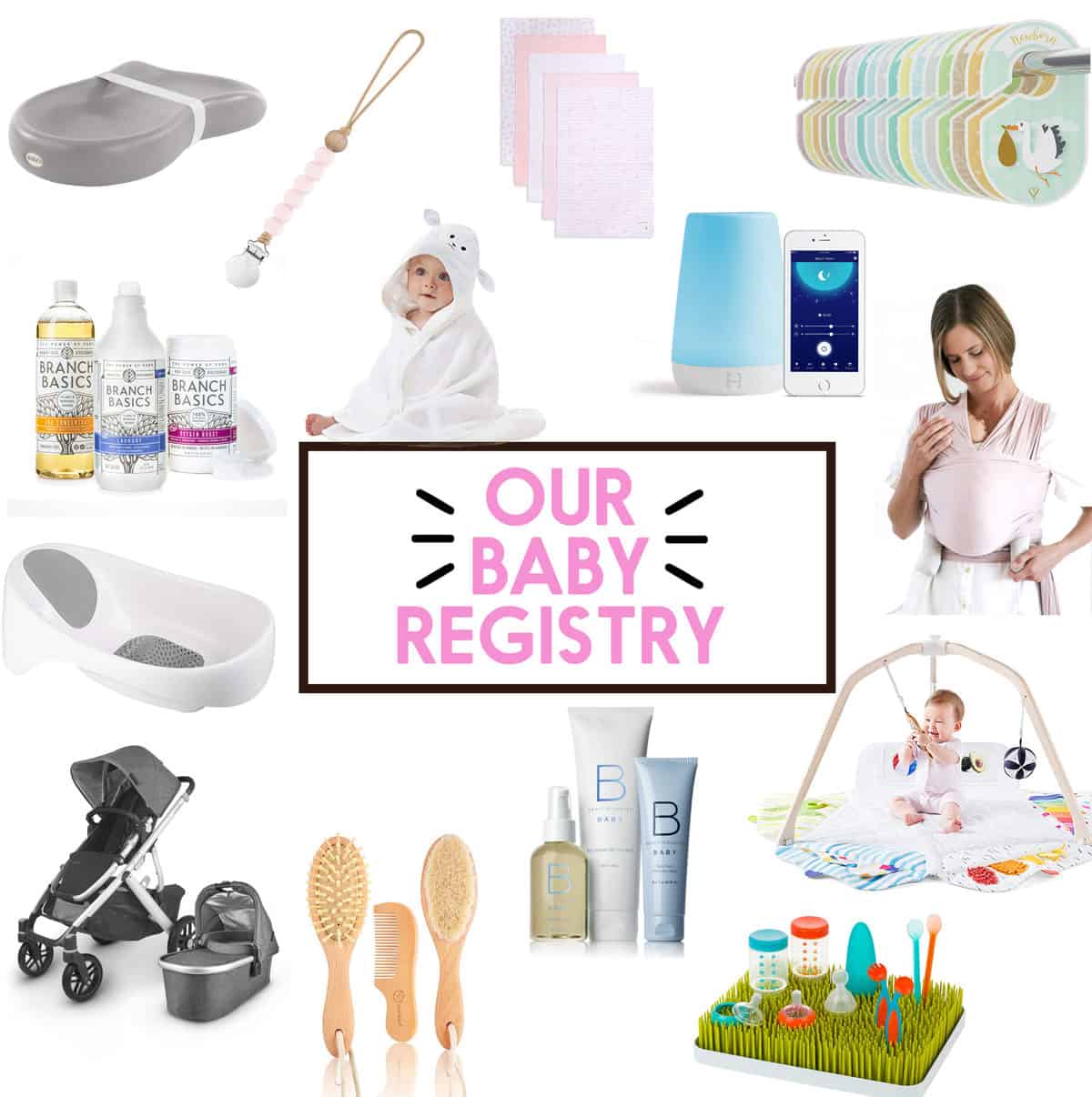 Helpful Tips for Preparing Your Baby Registry
Breastfeeding pump through your health insurance: If you're considering breast feeding, many insurances actually cover a pump or partially cover the pump! I'm opting for spending a drop more through insurance and getting the Spectra S1. I was told it's nice to have one that can be on-the-go that can plug in OR be battery operated. This website is the resource I'm using to grab mine at a fraction of the cost, or ask your OB if they have forms to fill out.
All-in-one registries, with one caveat: I'm using Babylist as a one-stop shop for my registry. It allows you to add things from any store, so you're not limited or having people go to a bunch of different stores to shop. One tip I received that I want to pass along is to be careful with return issues. Though using Babylist, I did create separate registries and linked them all. Here's why: If you have a registry somewhere, they are often more lenient with their return policy, and I've heard that's not always the case if it is through a third-party. Example being– you get a gift a few months before baby arrives and it doesn't work for your family. By the time you have a chance to return it, the return window has expired. Some stores give extra time when you have a registry specifically with them, so it might be wise to make them separate and link them into Babylist.
All babies are different: This is probably the biggest piece of advice I've gotten when creating my registry. You can get everything from your trusted friend's registry, but your baby simply might not go for it. Some moms swear by a certain rocker, some say it was a bust, some say don't get one they aren't safe. Some moms say to get the Sock Owlet to relieve anxiety, some say it'll cause more anxiety. You don't necessarily need a separate jogger stroller if you don't live in a city, and depending on the size of your home, you may opt out of a pack-and-play. See where I'm going with this? Ultimately there will be some trial and error involved in the process and thinking about YOUR situation and what will work for you, baby, and your family.
I didn't include a few things, like our furniture, but can share if y'all want (FYI we got our things Pottery Barn Kids and used their free design service– they came to our home)! If there's something I didn't include, it's likely because im still on the fence about it (like the Snoo Sleeper & a Dock-a-Tot, for example), but rest assured, I will come back and add and also give my honest reviews!
Lastly, you do NOT need all of this. You can go more minimalist and your baby will be perfect. Do what works for you. I will come back and bold items I think are essential.
---
My Baby Registry
Nursery:
Sleep & Downtime:
I was told to try all the sleep swaddles, so I picked the most recommended/rated/favorited to try.
Feeding & Accessories:
My Brest Friend Original Nursing Posture Pillow: I've heard this over the Boppy for a nursing pillow.
Maternity/Nursing Bras: After trying many bras during my pregnancy, these were recommended (a 3-pack for $25) and they are super comfy.
Nipple Creams: Based on recommendations, I'll try  this one by Earthmama and this one by Motherlove.
Lansinoh Breastmilk Storage Bags: I might try silicone molds to avoid plastic at some point, but was told these are the best leak-free storage bags so I'll be using them to start!
Lansinoh Stay Dry Disposable Nursing Pads: My momma friends said these are a must grab.
Haakaa Silicone Breast Pump & Silicone Cap: I will also be getting one through insurance (see above), but have heard great things about this for catching extra milk, etc.
Munchkin Deluxe Dishwasher Basket: Love the idea of keeping her things separate in the dishwasher.
Boon Drying Rack Lawn Countertop / Boon STEM Drying Rack Accessory: Have heard nothing but great things!
Bottle Brush with Nipple Cleaner: I will let you know if this is really needed, but I can imagine It is! UPDATE: I've switched my decision to a fully silicone bottle brush cleaner since it's easier to clean/can throw in the dishwasher. Going to grab this one instead.
Baby Bottles: Whether exclusively breastfeeding, pumping, formula, or a combination (FYI: fed is best, do you), having some bottles on hand is a good idea, and it's one of those things, like pacifiers, that it's good to try a few out and see which baby likes. Trying these, these, and these.
Formula: I plan to have formula on hand, though I hope to donate it eventually. In my mind, it's best to have what you want than scramble if you need it.
Organic Burp Cloths: I was told to stock up on these, which makes plenty of sense.
Aden + Anais Classic Snap Bibs: I heard these are wonderful as well as these.
Stokke High Chair: I personally did not add this to my registry as we have a little time, but this is the one I'm eyeing for when we need a high chair. I have friends who have gotten more simple ones, and what they say is they like that this has a foot rest. So regardless where you net out with a high chair, think foot rest! Note: I also didn't include feeding stuff for once baby starts eating solids, but I will add what we decide.
You'll notice a handful of different pacifiers on here. Every baby is different so one great suggestion I got was to not open a million different ones and clean them all just yet, because your baby not like them! Hey, your baby (or you) might decide on no pacifiers! Another game of trial and error and to each their own. Luckily they're fairly inexpensive.
Pacifier Clips: I love the Ryan & Rose story and just everything about them!
Carriers:
Another one that is truly trial and error! For baby of course, but especially for petite ladies like me. I'm going to try out a few carriers and wraps, and report back on which work best for me (petite mom-to-be) and for Mike should he use it.
Tip: If you know before you're showing, go try them on just to see what fits your body. I didn't do this and I wish I did! Of course, it's hard to say what baby will like, but good to know what is comfortable for you going in, too!
If/as we add other carriers into the mix, I will make sure to update!
Bathtime:
Diapering:
Keekaroo Peanut Changer: I heard this is wonderful since you don't have to change sheets over and over. The one thing I did hear is that it can get cold and some babies don't love that. You know I'll let you know!
Baby Bum Brush: Diaper rash cream applicator. Seems silly but I heard they are wonderful to have on hand.
Ubbi Steel Odor Locking Diaper Pail: Some say needed, some say not, I'm going for it.
Ubbi Disposable Diaper Pail Plastic Bags: Apparently you can use regular kitchen trash bags.
Honest Wipes: These are the ones I'm trying to start! I've heard these are good too.
Honest Diapers: Personally am starting with these! Others I've seen people like are Earth's Best & Eco by Naty. Asking for a few packages of newborn, 1, and 2 to start us off. I will not be cloth diapering because I hate laundry. Know yourself and do what works for you and your family!
Travel/On-the-Go:
Portable Changing Mat: FEEL like this is necessary for public places but will report back!
Diaper Bag: I'm going for this one after hearing great things! So this comes with a changing mat, but you may want the above to leave in your partners car.
JJ Cole Outdoor Blanket: I have my screened in porch, grass areas, and back deck in mind here.
Baby Car Mirror: One for each car.
Ubbi Retractable On The Go Bag Dispenser: Feel like these are good to remember to have for on-the-go!
Ubbi On The Go Refill Bags: And of course, these go with the above.
Lotus Travel Crib – Backpack Portable: Apparently easily folds up into a backpack and is lightweight. Will let you know!
Graco Pack 'n Play: May seem like a duplicate to the Lotus, but I have a feeling this will stay put downstairs for changing, play, etc., whereas the Lotus will travel to grandparents, on trips, etc.
Aden + Anais Car Seat Canopy: Sun blocker!
Mini Handheld Stroller Fan: My thought was summer baby, but I will let you know if it's silly.
Aden + Anais Stroller Blanket: A nice lightweight one to start (again, summer cutie).
Fast Table Chair: For when she's a bit older (around 6 months) and we're out and about eating. Dreamy of our family dinner dates already! I know some that have used this instead of their high chair even!
Nuna Pipa Car Seat + extra Base for Mike's car: I personally think there are a lot of great car seats out there. We did a lot of research here. Aside from the safety standards, it's VERY light. Hence why we're going for an infant car seat and not a convertible. I also grabbed. the adapters so if she's sleeping I can easily clip the carseat onto her stroller.
Strollers: Strollers are another specific one to your own needs. We decided with the UppaBaby Vista for our Stroller after much research. It converts for two kiddos (if needed), and UPPAbaby does not use toxic flame retardants, BPA, Phthalates, Lead, Latex, Teflon, or ScotchGuard in any of their products. Plus they are local to me here in MA which is fun!
*After seeing this, these items were gifted to us by UPPAbaby. All opinions are my own and I was not paid to share this as my stroller, just a generous gift!
Toys & Entertainment:
Health/Safety/Baby Skincare:
For cleaning supplies I am using mostly Branch Basics, which I already have used for years in our home. I wrote a post on what to avoid in your cleaning products, why, and all the details here. I've used Branch Basics for years now and it's truly magic. I don't know how they do it. I'll report back on blow out onesies and stains (though my girlfriend who I told to try it uses it with her baby says it's wonderful for stains)! For Branch Basics, you can get 15% off your purchase with code LEXI15.
I'm personally starting off with a combination of Beautycounter and Primally Pure products for our baby skincare items. I trust their rigorous testing standards and ingredients, and feel good about using these for our baby. I'll report back on my thoughts. For Primally Pure, you can get 10% off your order with code LEXI.
Clothing & Accessories:
To get her started in a variety of sizes! We're personally opting for organic cotton in the beginning when possible. I was also told not to look past newborn size, that many babies are in them for a while. Stay tuned! Note on onesies: There are zipper, magnetic, snap, etc. and just like others, figure out what YOU like! So many don't get all snaps, for example.
Basics:
Fun/Cute:
Other Little Accessories:
Baby Letter Book

: My mom got us this and I think it's such a cute and sweet thing to do with your partner before baby arrives and as she grows!
---
This list is big, so don't feel overwhelmed! I did so much research along with consulting mamas and friends, and will make sure to keep this updated (I'll add dates that it's updated on), X out things that absolutely didn't work or I didn't feel are needed, add things I wished I had sooner, and provide my honest review for all the above once babe is here and settled! Do note this post contains affiliate links but all links are things truly researched and on my registry.
Hope it helps you!
XO,
Lexi
Pin it for later: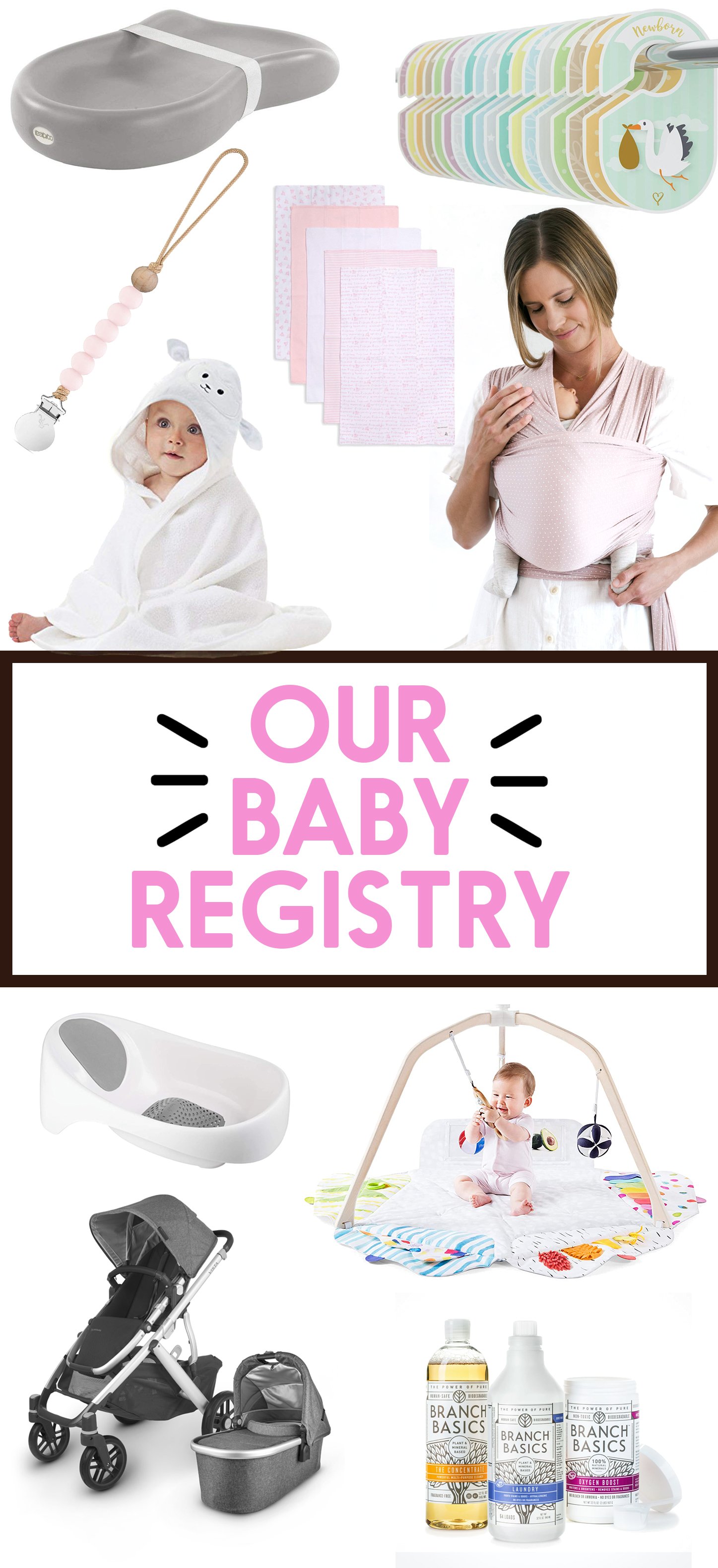 My Baby Registry Must Haves
Did you know in my former life I was an elementary art teacher? I taught students ages K-4 and it was truly an amazing season of my life. With many at home right now trying to manage their kiddos, working, and staying sane, I was asked to share some of my favorite art projects/lessons that were also most loved by students. Specifically ones you could easily do at home and this foreshortening art project is one fo them!
---
Last week we had our Googly-Eye Mixed Media Drawings for kids ages roughly 3-6 years old, and this week we're moving to a project I did with my 4th graders, but honestly, with some good prompting, your second or third graders could totally do great with this!
Foreshortening Art Project for Kids
This was always a beloved project in class as the kids were super excited to be asked to bring in their favorite pair of shoes and then have to take them off to trace them! Not to mention, once the pictures are finished, they are so impressive!
First, what is foreshortening?
Foreshortening is when an object or view is closer than it is or as having less depth or distance, as an effect of perspective or the angle of vision.
What you need:
Linking to my favorite non-toxic art supplies here.
The process:
First, discuss what is foreshortening, and then ask your child to look at you while you put your feet in front and hands out in front of your body. Ask them: What looks the biggest? Ideally they notice your feet and hands look bigger than your head which is further back. You can also pull up images of other things that have foreshortening.
Then, ask them do to the same: Lay back and put your feet in front of you and your hands. If someone is looking at you from the front, your shoes and hands would look bigger than your head, right? Since your head is now further away.
Then, have your kids pick a pair of shoes that have an interesting bottom. Observe the detail in the bottom of our shoes. Ask: What do you notice (lines, dots, etc.) ?
Next, ask them to look at the INSIDE of their hands: lots of detailed lines, right? How many are on each finger, etc.
Then start the project: Take your shoes off and trace them on the paper in pencil. Draw in the details you see!
Trace your hands above the shoe – it looks extra cool when your hand gets cut off by the top of the shoe (hands are overlapping the tops of the shoes). Show them my examples! Add in details you see in the inside of your hand. Remember: no nails!
Now, smaller, draw in your legs, shirt, and head! If the kids need it, show them position again and see that your legs go BACK! Prompt them to get as detailed. Grab a mirror if you'd like! Remember: eye brows, eye lashes, the shape of your eyes, freckles, glasses, etc. Draw your head smaller in between the hands, and add your body. The arms need to be drawn directly to the hands, and the legs have to be drawn to the bottoms of the shoes!
Outline everything in thin sharpie once done putting in your details and drawing in pencil!Fill in with color!
The learning objectives:
Learn about distance and foreshortening.
Observational drawing: what are you observing? Putting that on paper.
Mixed media with pencil, sharpie, and coloring!
Happy art making! More to come for other age groups!
Lexi
---
Pin it for later:
Foreshortening Art Project for Kids
These Healthy Coconut Macaroons are just like the classic but made gluten-free, dairy-free, and refined sugar free! All you need is 6 ingredients to make them! Make them without or without a chocolate bottom.

Healthy Coconut Macaroons
Coconut macaroons are a Passover staple, especially in my household growing up. But aside from that, they are probably one of my favorite light cookies anytime of the year. Traditional macaroons are made with sweetened coconut flakes (which contain some really strange ingredients), plus sweetened condensed milk and egg whites. My version leaves out the unhealthy ingredients and swaps it with natural sweeteners and raw coconut flakes. These are sweetened just enough, so full of coconut flavor and did I mention they are super easy to make?
Ingredients Needed
Egg Whites
Honey
Vanilla Extract + Almond Extract
Unsweetened Shredded Coconut
Fine Sea Salt
Chocolate Chips (optional)
Troubleshooting Tips
Sometimes egg whites can vary in size, as can the amount of liquid that the unsweetened shredded coconut absorbs. You could find that your mixture contains too much liquid to form into a ball, or that it is too dry and crumble. It should ideally thicken just enough to handle, after letting the mixture sit for 5 minutes. But if it doesn't, here are some trouble shooting tips:
If too much liquid: add in 2 tablespoons more shredded coconut at a time.
If it is too crumbly: add in a tablespoon of whisked egg white at a time.
How to Form Coconut Macaroons
Growing up, we always grabbed these pointed macaroons from the neighborhood bakery. To make them, simply squeeze together the tops of the macaroons. The mixture should hold the shape nicely. I love that it adds a textural component because the tips get browned a bit more.
Alternatively, you can scoop the macaroons with a cookie scoop and bake as a rounded cookie.
Adding Chocolate
Feel free to add in chocolate chips to the macaroons and / or dip the bottoms in melted chocolate. Or, if you are feeling like it's all about that coconut flavor, skip the chocolate all together.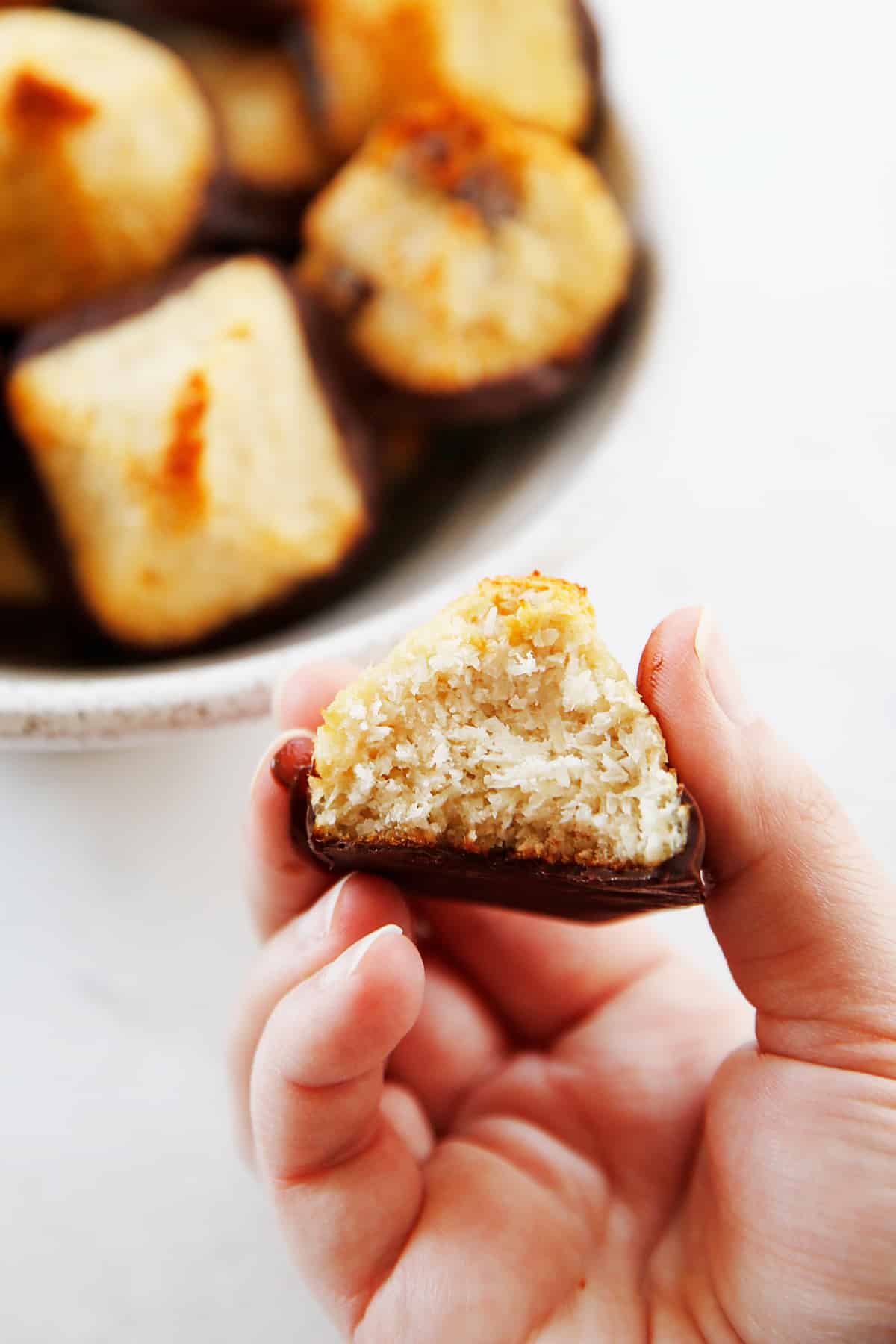 If you like this passover recipe, check out these others:
Watch the video here: 
---
Healthy Coconut Macaroons
Did you know in my former life I was an elementary art teacher? I taught students ages K-4 and it was truly an amazing season of my life. If you have been around a while, you remember when I announced I was leaving my teaching job that I loved dearly to run my other job (this website) full-time! I can't believe that was back in 2015!
With many at home right now trying to manage their kiddos, working, and staying sane, I was asked to share some of my favorite art projects and lessons that were also most loved by students. Specifically ones you could easily do at home!
---
Let's start with one of my favorites for younger kids. Resist Googly-Eye Mixed Media Drawings. I love this lesson for kids ages roughly 3-6 years old. I did this every year with my kindergarten students. They love this project, and I loved the creativity that it sparked, plus the multi-media aspect. They really come out so gorgeous!
But First: What is Resist Art?
Resist art is a specific art technique that uses different mediums to cover portions of the paper with a a "resist" layer (used here: crayon), and then another medium (used here: water color paint) to cover it, which creates a really neat image as the watercolor fills into little areas! What is extra special about this project is that the kids can learn the wax from the crayons and the water from the watercolors don't mix so it's a combination of both art and science!
What you need:
Our favorite Non-Toxic Art Supplies here.
The process:
Glue or stick on the Googly Eyes anywhere on the paper.

Prompt them to get creative: Of course, we have two eyes, but let's use our imaginations! Who could these eyes belong to? A fish? A boat? A window? A book? A pond? What are they looking at? Consider drawing a whole scene, not just the one thing with eyes!

Draw your drawing with pencil first.

Outline in sharpie (remember, let's hold it properly and avoid getting it on our hands).

Color the entire page with crayons.

Then watercolor over it all. Water and oil don't mix, so it creates a really neat image.

Let dry then discuss the art piece.

Parents: Instead of saying, "what is that?" try something more like "I love this! Tell me about what you made!
The learning objectives:
Using a range of media and an understanding of how they can produce different effects. Example: Crayons + watercolor.

Allow creativity to spark.

Introducing students to various textures
---
Happy art making! If your kiddo(s) make this, snap a photo and email me or tag me on Instagram. I'd love to see it!

More to come for other age groups!
Lexi
---
Pin it for later:
Googly-Eye Mixed Media Drawing Project for Kids
You've been hearing a lot lately about the precautions you and your loved ones can and should take to keep healthy. Hand sanitizer, in particular, has never been more popular, since it's been widely documented as one of the best ways to protect yourself on-the-go. I've never been a big fan of hand sanitizer (in theory, it kills both the good and the bad germs), but sometimes we gotta do what we gotta do! Nothing's more important than keeping ourselves and the people we love healthy, right?
How to Make Your Own Hand Sanitizer
Before we go much further… I want to remind you that washing your hands in the sink with soap and water is still always, always, always going to be your best option. The Centers for Disease Control and Prevention (CDC) say so, and I'm all about trusting the experts! I also love my clean, safe hand soap from Beautycounter, which makes washing my hands an even nicer experience.
But let's get real: you aren't always going to have easy access to a sink and soap, and unfortunately, the moments when those things aren't available can definitely be the same moments when you feel like you need them the most! 
If you and your loved ones are out shopping, traveling, or doing other activities in public, you're bound to feel like you need a quicker fix, especially during cold and flu season or the spread of more serious diseases like Covid-19. When you're out and about, you shouldn't wait until you get home to fight germs on your hands. If soap and water aren't available, you should use a hand sanitizer that contains at least 60% alcohol.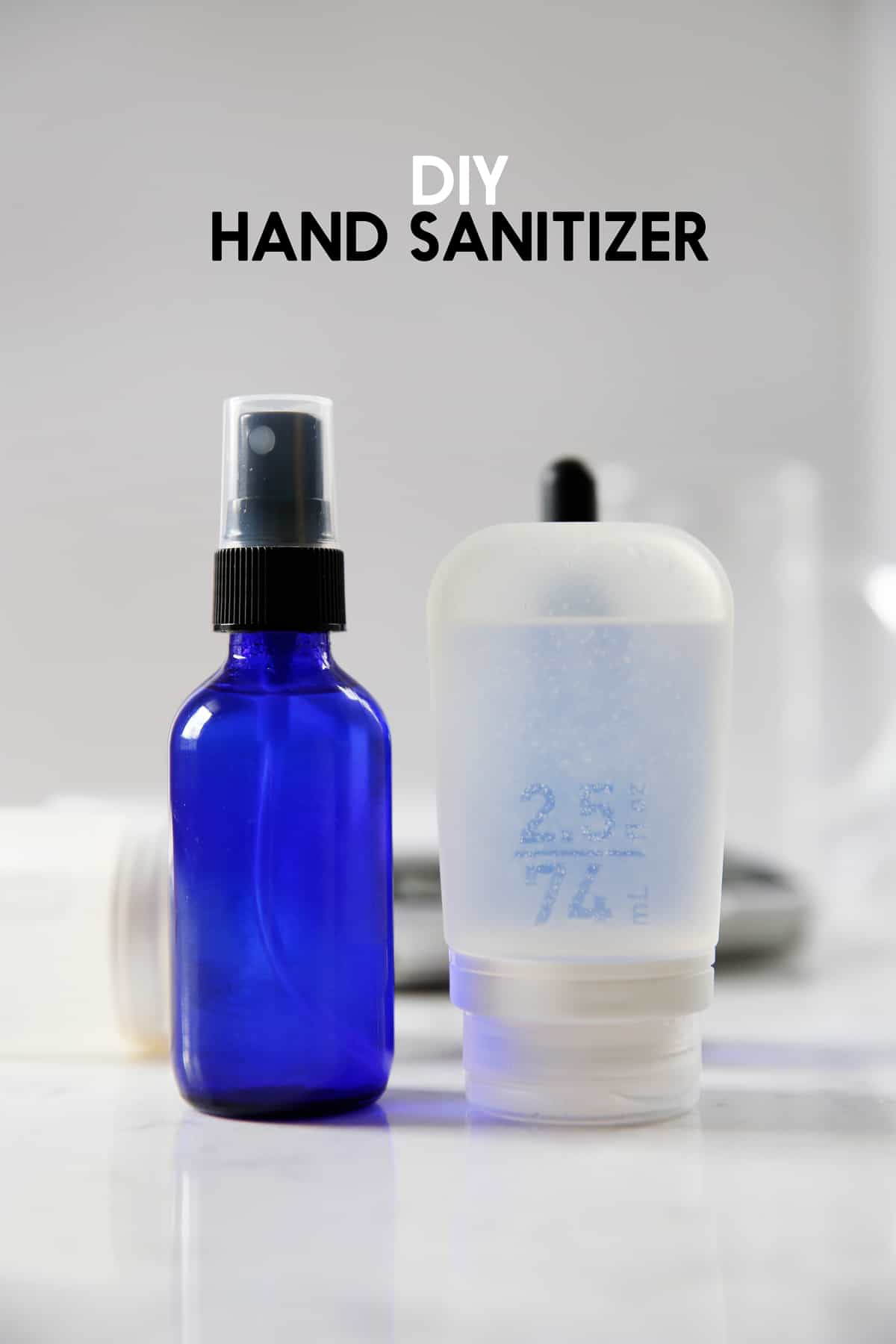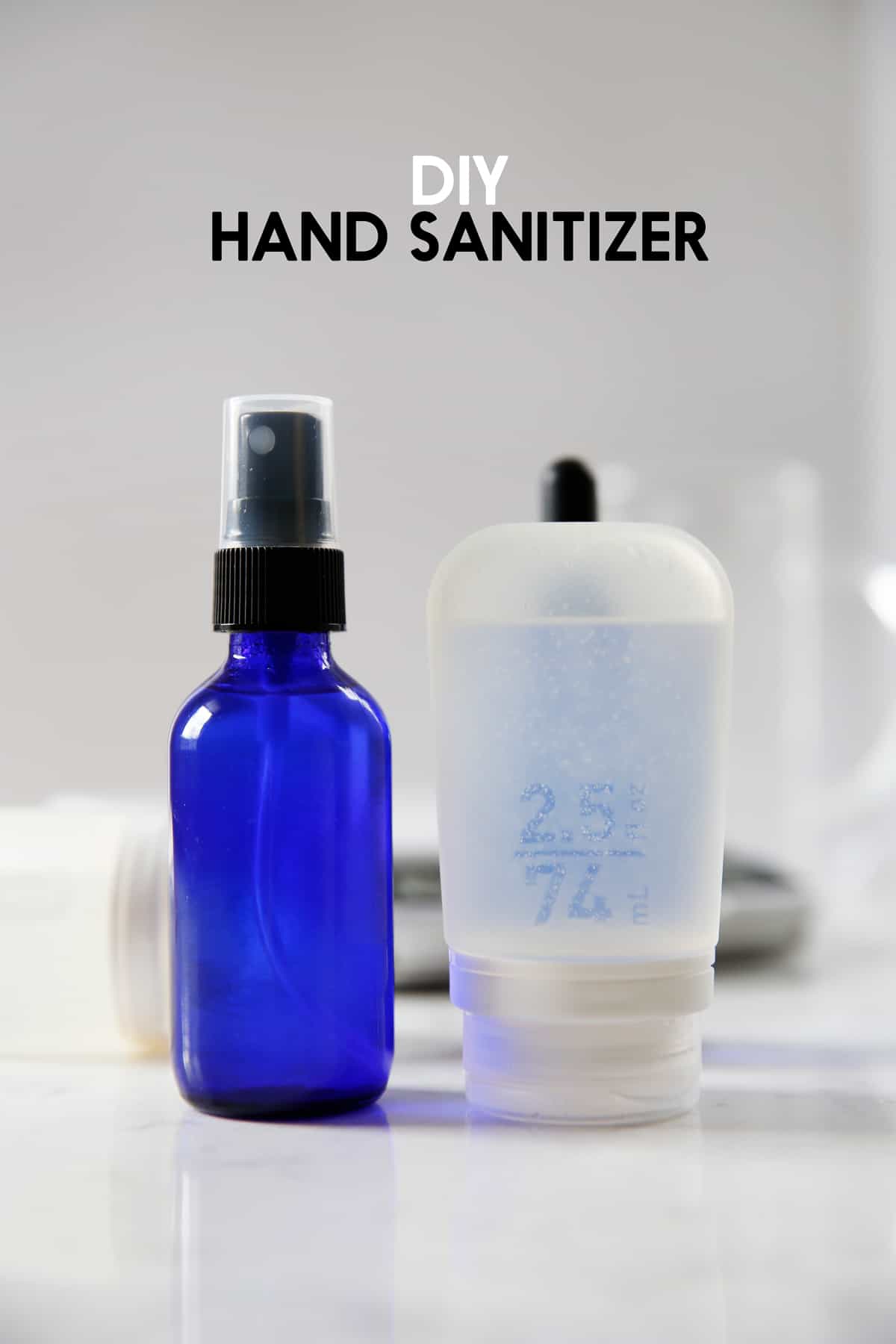 Hand sanitizer is a quick, convenient solution that's easy to travel with and can reduce the number of microbes and germs on your hands, according to the CDC. Store-bought, scientifically-formulated hand sanitizers are a solid next option when you can't wash your hands with soap and water. 
If you're having trouble tracking down hand sanitizer at the store, you can make your own. While this can work in a pinch, it's still not as reliable as the store-bought kind, in which all of the chemicals are perfectly proportioned. So make sure you do your due diligence with measurements!
That being said, making your own DIY hand sanitizer is a simple process that only requires a few ingredients (although you can add a few others for extra benefits). And since many mainstream hand sanitizers contain dangerous fragrances and an antibiotic compound called triclosan that the FDA has raised concerns about, you're probably better off making your own, anyway. 
What You Need to Make it
99% rubbing alcohol

(you can use 70% alcohol but you must change the proportions of the recipe, per the

CDC

). This is the active ingredient in any hand sanitizer recipe, and it needs to comprise at least 60% of the product in order to be an effective disinfectant. Use specifically isopropyl alcohol (rubbing alcohol) or ethanol (grain alcohol), since others can be toxic.

Essential Oils (like Tea Tree & Lemon)
Vitamin E Oil (optional)

Funnel

 (or just pour it in)
Mixing bowl or Liquid Measuring Cup

A non-metal utensil for mixing (we found the aloe stuck to a metal whisk)
The Process
Start by sanitizing all of your tools (glass bottles/squeeze tubes, liquid measuring cup, and a spatula) in hot water or a dishwasher. There's no point in making something that's meant for sanitizing in an unsanitary way!

Put the rubbing alcohol and aloe vera gel in the bowl and mix thoroughly with the spatula. (If you'd prefer, you can put the ingredients directly into a jar or the bottle and shake it.) 

Add your desired add-ins.

Use the funnel to carefully pour the sanitizer into your bottle. 
How it Differs from Store-Bought Hand Sanitizer
As we've been using the hand sanitizer over the last week we've noticed that the aloe vera doesn't stay homogenized very well. To counteract this we shake up the bottle each time we're going to use it. Keep in mind when you put this together that this DIY hand sanitizer has minimal ingredients, with the most important one being the alcohol. If your aloe does separate, this isn't a concern, it merely means it isn't blending well. Shake it to the best of your ability, but don't sweat it, as long as you've got the alcohol you are good to go. We realize this isn't a perfection solution and isn't an exact replica of buying factory made hand sanitizer, but this has been so helpful for us since we cannot purchase it in the store, and we hope it will for you too.
Additional Add-Ins
Here are some other optional ingredients you can add to make it nicer to use! However be careful of how many additional products you add-in as it could dilute the alcohol. Keep in mind you need at least 60% alcohol in the solution.
Essential Oils:Different essential oils can add different properties to your hand sanitizer. Oils like tea tree, thyme, and clove have antimicrobial, antibacterial properties to help the sanitizer work even harder. Add just one or two drops of those oils to your mixture.
Gentle essential oils like lavender or chamomile can have a soothing effect on your skin and can be used in a slightly larger quantity — three to five drops. For a natural fragrance, you can also add five drops of lemon or orange essential oil! Safe essential oils should be labeled as wildcrafted, organic, and extracted without solvents.
Vitamin E Oil: Mixing in five drops of vitamin E oil will make your hands a little softer! 
How long does it last?
Homemade hand sanitizer can be used effectively for up to twelve months, but don't use it as a substitute for washing with soap and water! That should still be your family's primary mode of washing up whenever possible. DIY hand sanitizer can also freeze and make a mess, so be sure to take it out of your car if temperatures are getting especially chilly.
Moisturize
Hand sanitizer, especially alcohol-based can be drying on your hands, so make sure to moisturize!
Wash up, everyone, and stay healthy!
---
DISCLAIMER:
 This website provides general information and discussions about health and related subjects. The information and other content provided in this website, or in any linked materials, are for informational purposes only and are not intended and should not be construed as medical advice, nor is the information a substitute for professional medical expertise or treatment. If you or any other person has a medical concern, you should consult with your health care provider or seek other professional medical treatment.
Reliance on any information provided on this website or any linked websites is solely at your own risk.
Pin for later:
DIY Hand Sanitizer
Looking for a nutrient-dense and easy-to-make snack? These Nut Free Energy Bites are packed with sunflower seeds, coconut, chia seed and sunbutter to hold it all together and are the perfect way to fuel your day! Make a batch on Sunday for easy access snacks throughout the week!
Allergy Friendly Energy Bites
These no bake energy bites are the perfect snack to have on hand in the fridge. They are loaded with healthy whole ingredients and of course, healthy fats, protein, and carbs. Sunflower seeds are a fiber-packed powerhouse and contain many vitamins and minerals such as vitamin E. Including them in both the whole form and the seed butter make these energy bites a nut-free option to bring to schools! Which is perfect because these energy bites are loved by both kids and adults! Grab one or two and have a filling bite-size snack, pack it in the lunch box with your kids or serve for a healthy after dinner treat.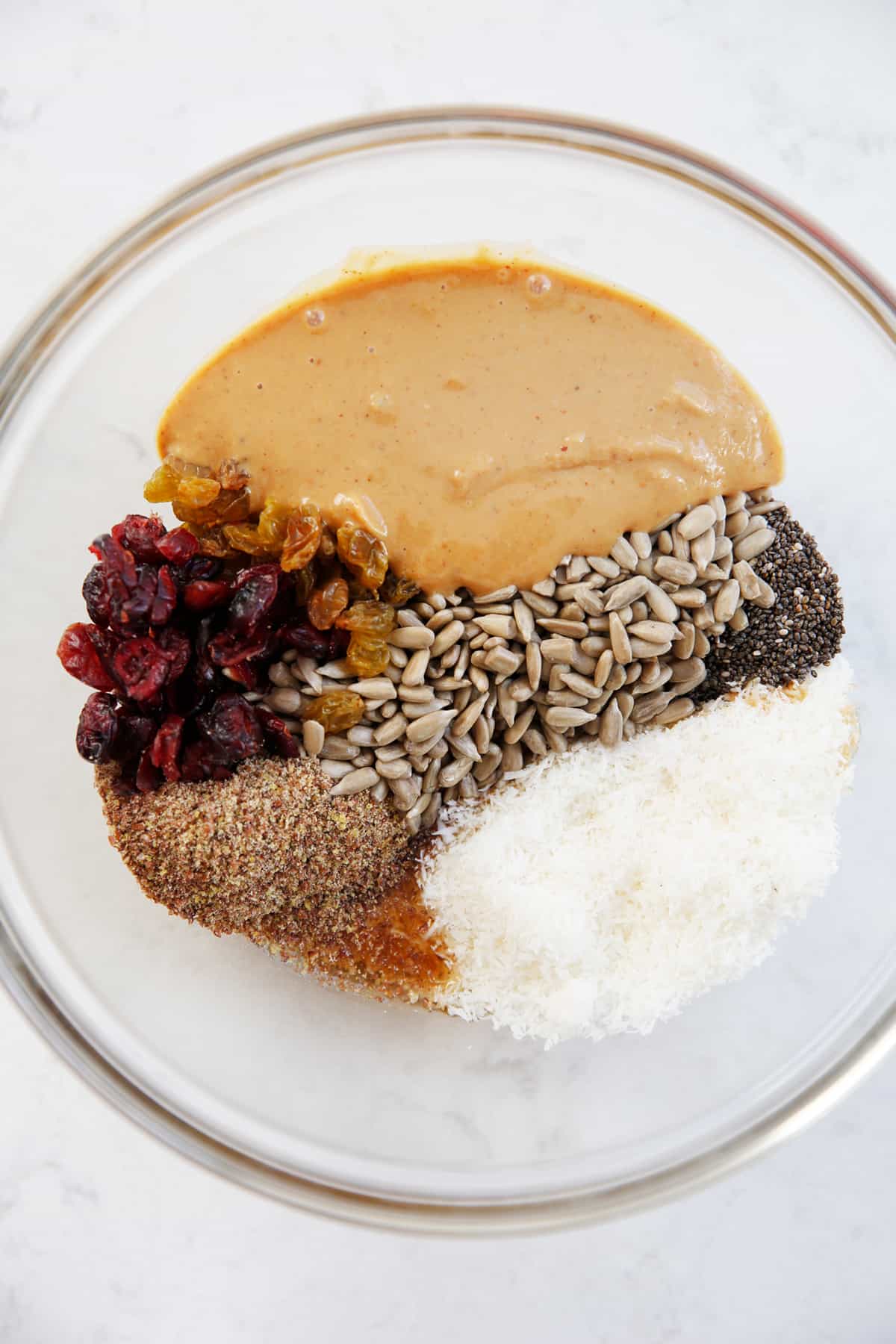 What's in them?
Sunflower Butter (though really any seed or nut butter works here!)

Unsweetened

Shredded C

oconut

Ground Flax Seed

Raw Sunflower Seeds

Vanilla Extract

Chia seeds

Maple Syrup

Optional Add-ins: Dried Cranberries, Raisins, Chocolate Chips
How to Make Them
And this is our favorite part! Most energy bites rely on dates for sweetness and for consistency which means they need to be made in a food processor. These however do not: which means to make them, all you have to do is mix up the ingredients in a bowl! It really is super simple.
Once the ingredients are fully combined, roll them into balls and store!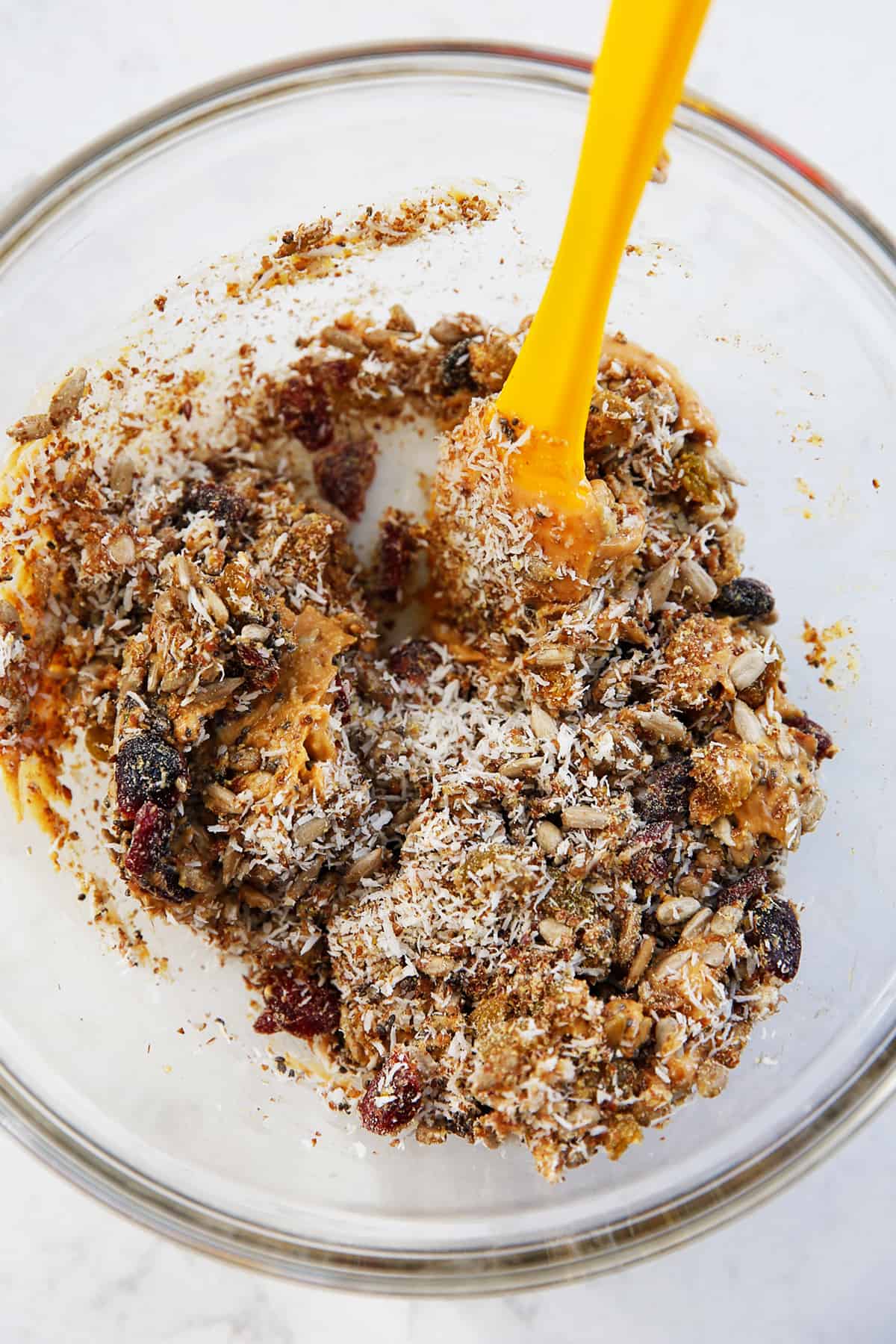 How to Store Them
Store energy bites in a covered container for up to 2 weeks in the refrigerator. They can also be stored in the freezer for up to 3 months.
They are stable at room temperature, so are perfect safe to be out of the refrigerator for a few days if need be.
If you like these energy bites, check out these others:
[yumprint-recipe id='194′]
Nut Free Energy Bites
We've gotten used to certain things having that extra added smell. We expect our personal care items, in particular, to smell pretty. Soaps are flowery, moisturizers are fruity… and the list goes on. Items for our houses and apartments are often scented, too. We feel the pressure to maintain the perfect aroma for ourselves and our homes because that's what we've been taught to do — and many of the mainstream products that are most readily available in stores reflect that.
But here's the thing: added fragrance comes with a slew of health risks, and there aren't nearly enough people talking about it. Some people go as far as to call fragrance "the new secondhand smoke," since so many of us are exposed to it even if we don't know it. That's pretty serious stuff.
I hate to be the bearer of bad news on this one, but this is need-to-know information, and a topic I feel so strongly about.
---
Let's talk about the basics.
Fragrance — or "parfum," as its noted on many product labels — is a term that can capture many, many ingredients, many of which are toxins and irritants. It may include any combination of more than five thousand stock chemicals, none of which have been tested for safety. Tests of fragrance ingredients have revealed that the average concoction is made up of a whopping fourteen hidden compounds. And guess what? You'll never know what those compounds are.
Nearly three-quarters of products with "fragrance" contain phthalates. These are chemicals that keep the scent long-lasting, but they can also disrupt the endocrine system, damage the reproductive system, and cause birth defects and respiratory problems. Additionally, phthalates have been linked with increased risk of cancer, diabetes, and obesity. Why would we continue to use this on ourselves and our families? When we know better, we can do better!
Other common ingredients found in fragrance include acetone, ethanol, benzaldehyde, formaldehyde, limonene, methylene chloride, camphor, ethyl acetate, linalool, and benzyl alcohol, all of which can cause negative health effects. Many of these chemicals are derived from petrochemicals. No thanks!
As a rule, if you can't pronounce it, you probably want to stay away from it. Synthetic chemicals in fragrances have been linked to cancer, birth defects, nervous system disorders, asthma, and allergies. This is real, you guys.
No one is running the show.
The term "fragrance" is completely unregulated by the FDA. The agency uses it as a catch-all term, and as a result, U.S. law does not require companies and brands to be transparent with consumers, manufacturers, or even the FDA itself about the specific ingredients (chemicals!) that are really included when "fragrance" or "parfum" is on the label. Even products that causes bad reactions — like a diaper lotion that triggers a bad reaction for babies — can stay on the market without a report to the FDA.
And since fragrances are marked as trade secrets, companies aren't required to share all of the components that make up their fragrances… no matter how damaging they can be.
---
2019 FDA Transcript (watch the full hearing here):
Q: Can the FDA require a review of baby lotion for safety before it comes to market?
A: No, it cannot.
Q: Can the FDA require the manufacturer not use toxic ingredients, for example, formaldehyde, in its baby lotion?
A: No?
Q: Is the manufacturer required to register with the FDA before selling its baby lotion?
A: No.
Q: Once the baby lotion comes to market can the FDA require safety information about the lotion?
A: No.
Q: If the baby lotion has caused bad reactions in the babies, can the FDA require a recall?
A: No.
Q: If the manufacturer is aware of the babies' bad reactions, would the manufacturer be required to report that to the FDA?
A: No.
---
It's a huge mess.
Keep in mind that artificial/synthetic fragrances are regularly found in a crazy long list of the things you use and interact with on a daily basis, which means that this lack of regulation is affecting us practically all the time. Even products that bill themselves as "natural" often include these dangerous chemicals. Mysterious "fragrance" is a common ingredient in…
Conventional cleaning products

Personal care products (yes, even those that call themselves "natural!")

Cosmetics (again — even the "natural" ones!)

Shampoos

Perfumes

Diaper Creams

Candles

Air fresheners

Laundry detergents

Dryer Sheets
… and the list goes on. Obviously, it's time to clean house. Literally.
---
I'm fired up.
(Can you tell?)
Safety testing is not required for conventional personal care products in the U.S. This means that we're using everything from lotions and soaps to shampoos and hairsprays on our bodies without assurance from a governing body that they're okay for us to use. We're using these products on our families, too! That's to say nothing of candles and laundry detergent and all of the other products we have in our homes. It's been over 80 years since we have updated the laws surrounding personal care products. It's time we become informed consumers and vote with our dollars. It's time we support companies doing it right for our health.
Now that you know more about the dangers of fragrance — and now that you see just how many products are made with it — you might just be feeling fired up, too! And you should be! Products are not tested and we don't even have access to the details about the ingredients used in them. Even terms like "organic" and "natural" are unregulated. Products that you're buying for yourself and your loved ones because you think they're lighter on chemicals can still be full of fragrance.
The bottom line is that the FDA has basically no power to protect Americans from the dangers of fragrances (and plenty of other things) in personal care and home products. The only way to motivate them to change is with our money. Big brands like Unilever are starting to take action toward going fragrance-free, but there is more work to be done.
Saying goodbye to products with synthetic fragrance and investing in safer alternatives is our best bet — and it will keep you and your family healthier, too.
---
Check out these safer candles.
I may be fired up about fragrance, but I still want my home to smell nice! You've requested this info and luckily, I've tracked down some safer candle options. Safer candles are made with healthier, non-toxic waxes and natural scents from essential oils and botanicals.
Here are a few safer candle brands that check the boxes:
Big Dipper Wax Works

Steady and Flight

Self Care Company

Good Light Candles

Happy Little Flame

Farm & Sea Candles

Fontana Candle Co.

Loil Life

Candles

Woodlot Candles

Ava Anderson Candles

Coco by Stone Candles
You can also try something totally different for adding a pretty scent to your home! I love essential oil diffusers as an alternative to candles, or this home spray. Essential oils are, well, essential, and they don't contain the icky chemicals that come hidden in fragrances. Double check the labels on oils before you buy them to make sure they're the real deal. Safe essential oils should be labeled as organic, wildcrafted, and extracted without solvents.
Essential oil diffusers and oils:
---

We've made other swaps, too.
Sadly, the problems with fragrance don't stop there. I've made other changes to the home and personal care items I buy to protect myself and my family from the lack of regulation in this industry.
When it comes to personal care and cosmetics, I'm super grateful to companies like Beautycounter, Primally Pure, and Branch Basics; who I'm proud to work with, for being so transparent and progressive about fragrances in their products. Beautycounter, for example, has promised never to use synthetic chemical fragrances, which is one more reason to feel safe using their skin care and makeup. As if I needed one more reason! Beautycounter has made it really easy for me to move away from fragrances.
I've done my own research on other swaps, too, especially for products around my home.
Here are some of the changes we've made:
I'm not perfect, and it's taken me years to switch over our home to safer as much as possible. It doesn't have to be all at once! Start with products that you use daily on your body or in your home!
Does this fire you up, too? What swaps are you hoping to make?
---
Pin it for later:
We Need to Talk About Fragrance
Studded with chicken meatballs and filled with veggies, this Italian Wedding Soup is a lightened up take on the classic. This hearty soup is family-friendly and would make great leftovers. Opt to make it lower carb by skipping any added pasta, or go ahead and make it the classic way with your favorite pasta shape.
Healthy Italian Wedding Soup
There is nothing like a hearty soup for a cool winter day! And this Healthy Italian Wedding Soup does not disappoint. The soup has some similar flavors to a classic chicken soup, but instead of the chicken there are tiny meatballs added along with hearty greens. If you are wondering why it's called Italian Wedding Soup, it isn't because this is traditionally served at weddings! The name refers to the marriage of flavors between the meatballs and the greens here. And they really are a great combination! This healthier version uses nutrient-dense kale and lightened up ground turkey or chicken meatballs. We've opted to leave out the pasta here for a more low-carb take, but feel free to cook some of your favorite small pasta shapes here.
Ingredients Needed
Ground Chicken or Ground Turkey

Kale
Carrots
Garlic
Onion
Celery

Egg

Chicken Stock (homemade or store-bought)

Almond Flour (this is used to bind the meatballs)

Herbs and Spices
Parmesan Cheese (optional)
Salt and Pepper
Can you change the greens for something else?
We've opted to use kale here. But feel free to change it add in spinach or escarole instead. If adding spinach, you don't need to cook it as long so add it in towards the end along with the meatballs.
How to Add Pasta
The exact timing of when you add in the pasta will depend on the type of pasta you are using, but it will be added in when you are simmering the soup. Check out the cook time on the box of pasta and simmer it for the length of time specified.
Do you need to bake the meatballs?
We opted to bake the meatballs and then add them into the soup to simmer. If you prefer to sear the meatballs on the stove first or even add them in raw to cook in the broth that works too.
Can you make this soup ahead of time?
Soups are the ultimate make ahead meal and it's freezer-friendly! This would be a great meal prep item to make a double batch of. Freeze some to eat later, and eat some throughout the week for lunches or dinners. Once frozen, leave in the refrigerator overnight to defrost and them simmer gently on the stovetop until reheated.
If you like this soup recipe, check out these others:
Healthy Italian Wedding Soup
This easy-to-make Healthy Turkey Chili is perfect for a big gathering, football Sunday festivities, or for weekly meal prep option since there are tons of leftovers! With ground turkey, beans and tomatoes, it is hearty comfort food. It's made easily in the slow cooker or Instant Pot and easily customizable by adding on all your favorite toppings. It's gluten-free, dairy-free and Paleo friendly.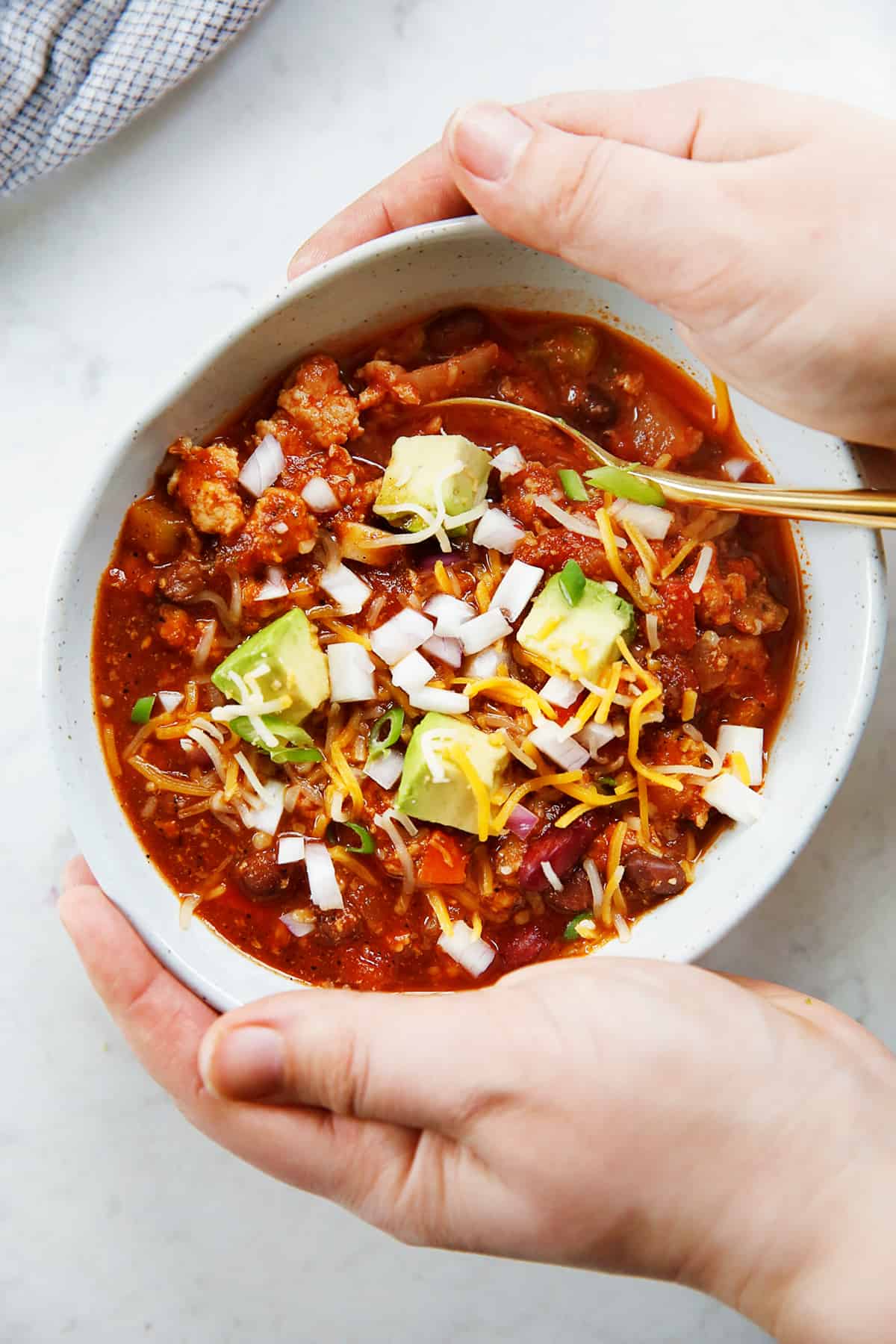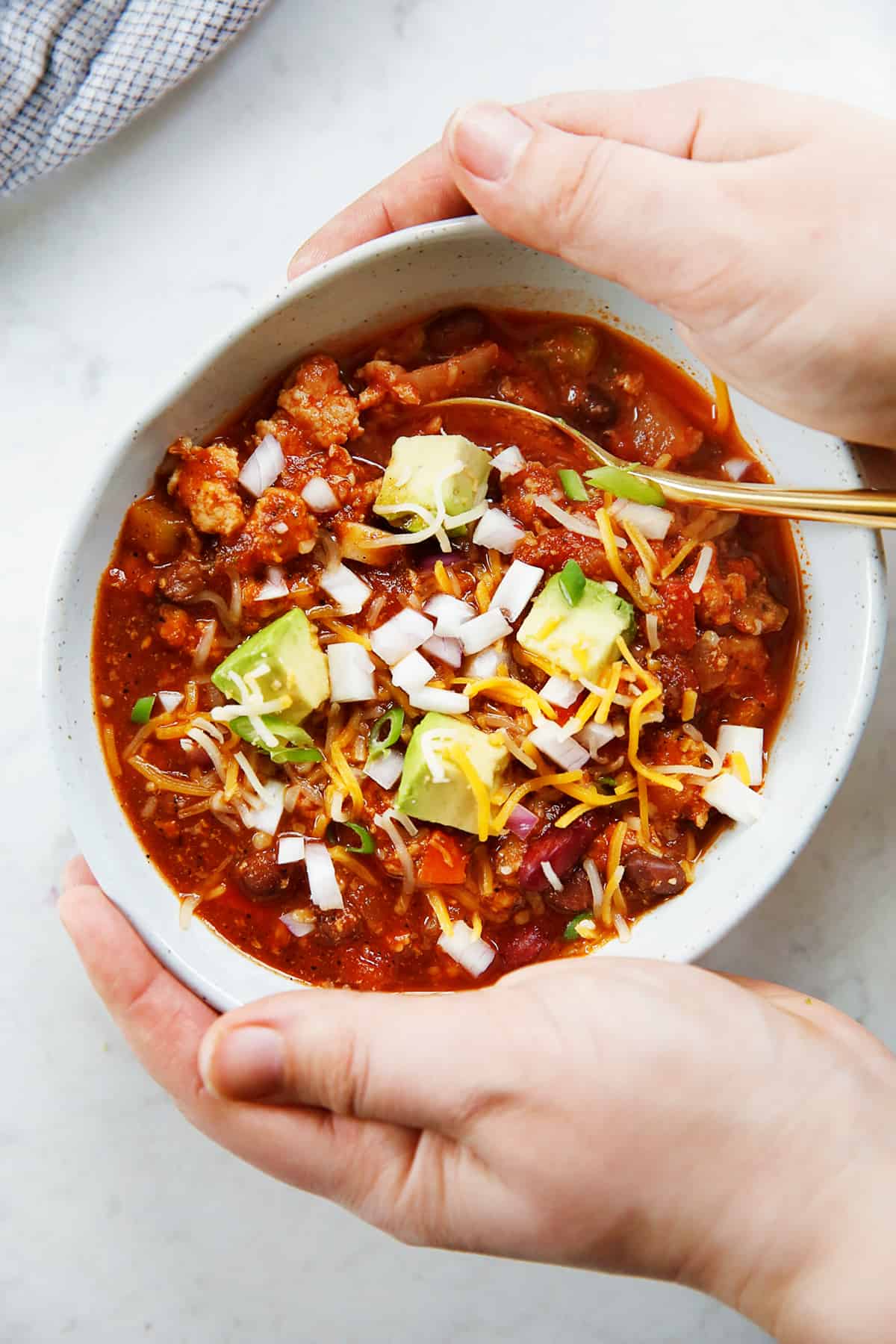 Healthy Turkey Chili Recipe
This is my classic go-to healthy turkey chili recipe all fall and winter long. I think I could make this recipe with my eyes closed at this point because I truly make it weekly! It is always a huge hit and it's one of my top rated recipes for years now. We've given the photos an update so more of you can find this amazing recipe. It's perfect for game day eats or even meal prep. The best part of the chili is you can customize to your liking, some days I'll add more vegetables based on what's in season! For a beanless turkey chili, and to make this Whole30 compliant and Paleo, simply omit the beans! And of course you get to choose the toppings to customize your dietary needs.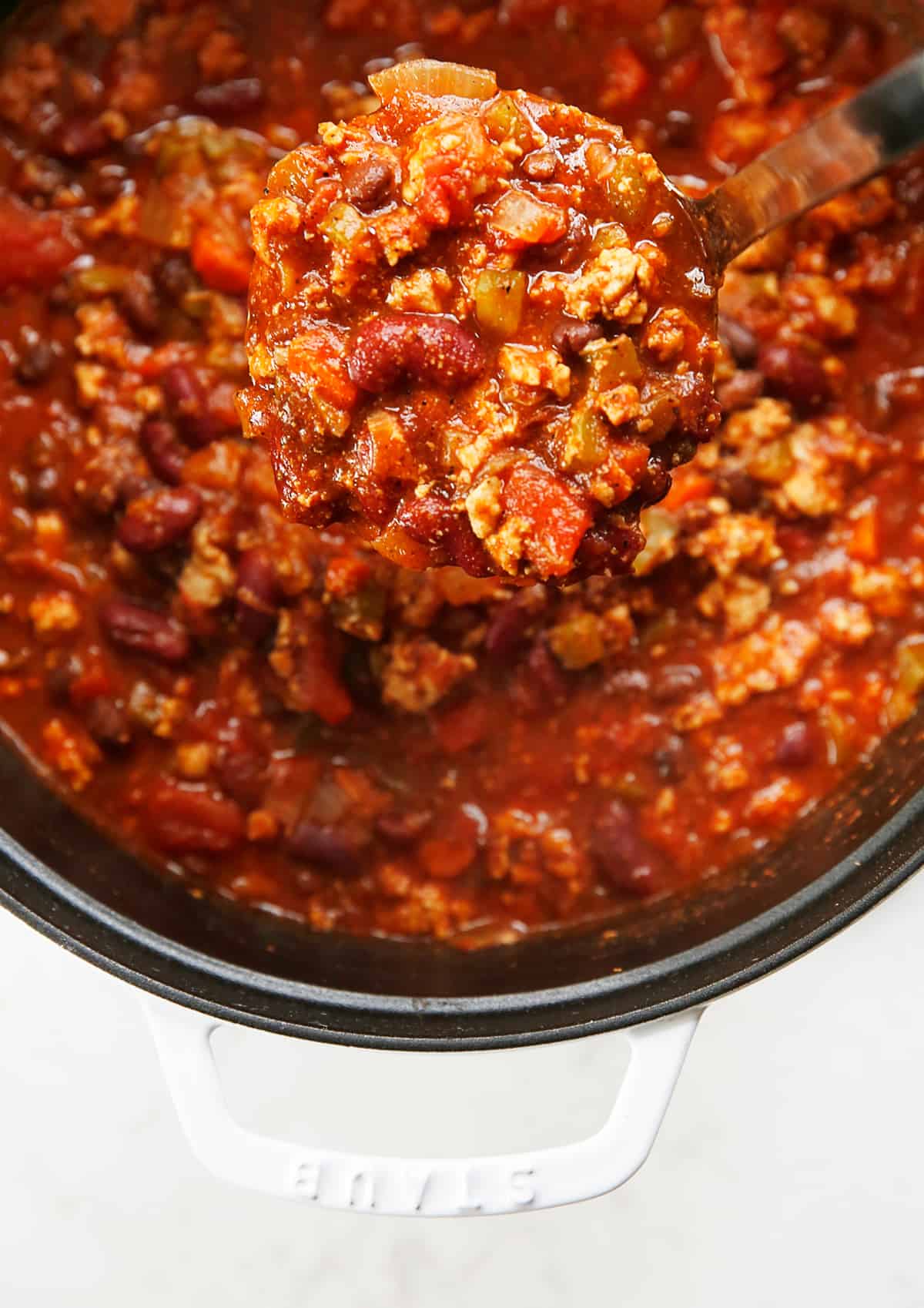 Ingredients Needed
Ground Turkey or Beef
Bell Peppers
Celery
Carrots
Onion
Garlic
Sweet Potatoes (optional)
Beans (optional)
Broth
Spices
Tomato Sauce and Paste
Diced Tomatoes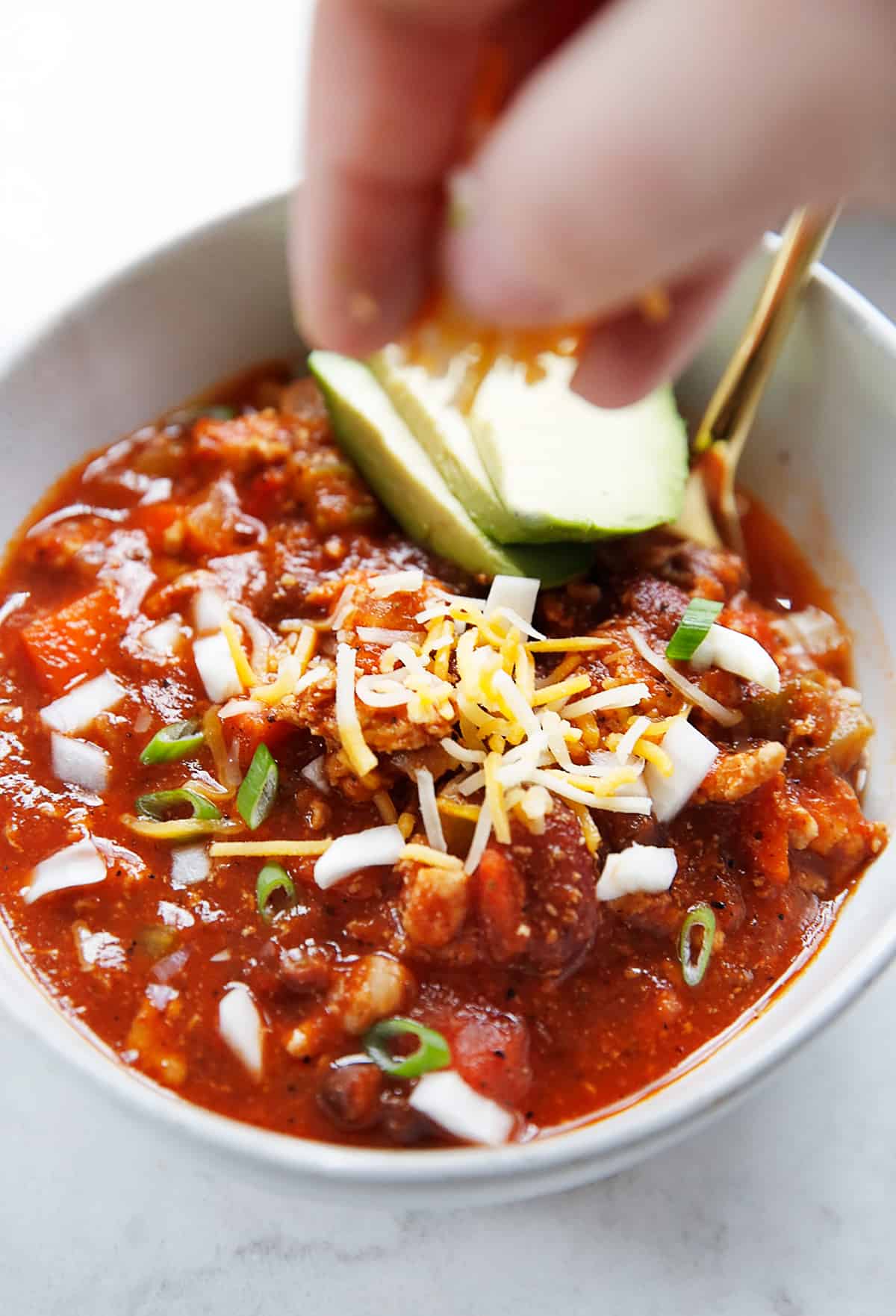 How to Make It
We've got options for making this for both the stove top and the pressure cooker.
Making it in the Instant Pot is great because it builds flavor quickly without much hands on time. The chili is under pressure for 15 minutes, with a quick pressure release. However, don't forget to account for the prep time (gathering up your ingredients and dicing some up), the saute of the veggies and the time it takes to come up to pressure. It will take at most about an hour to cook this in the Instant Pot. But it's mostly hands-off cooking time and it adds a ton of flavor.
When I cook this on the stove top I simmer it for a long time, close to 2 hours, so it's perfect to cook on a slow Sunday afternoon. Make sure to check back in on it, stirring occasionally and adding in more water if needed.
Chili Toppings
Scallions
Avocado Slices
Cheese
Cilantro
Diced or Marinated Onions
Cilantro
Diced Tomatoes
Guacamole
Tortilla Chips
Shredded Lettuce
Sour Cream
Cornbread with Chili?
OH yeah, if it's your thing! Cornbread is super popular served with chili. Here is our easy recipe for cornbread and it's a winner for sure.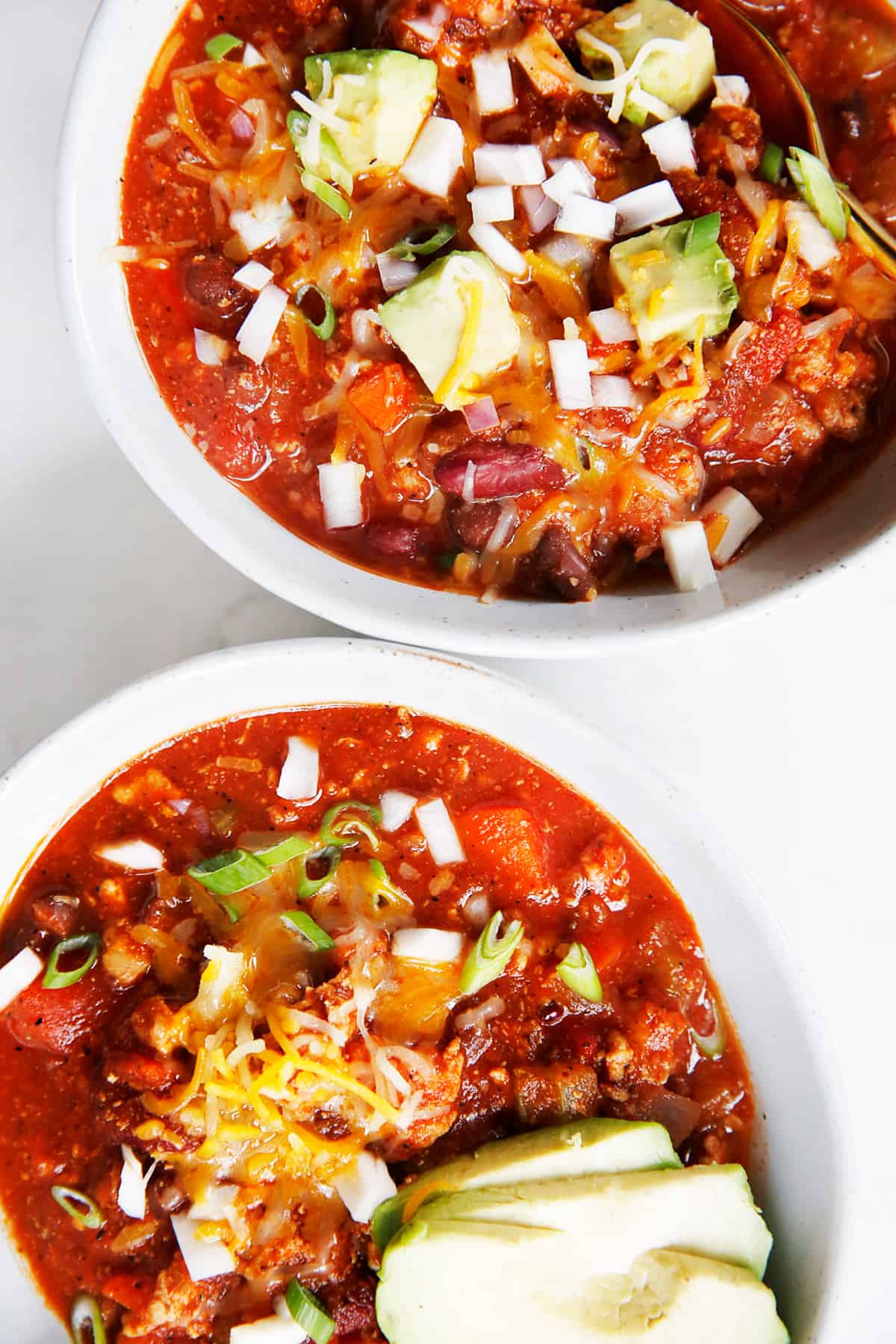 If you love chili, check out these other recipes:
For more soup recipes, check out these:
---
Healthy Turkey Chili
When perfectly cooked shrimp with just the right amount of spice gets paired with all the winter citrus, you get salad magic! This Spicy Citrus Shrimp Salad comes together in roughly 20 minutes, and it's the perfect hearty weeknight salad that everyone will love. Especially during the winter months when fresh citrus is in abundance!
Citrus and Spicy Shrimp Salad
Get ready to fall in love with this Spicy Citrus Shrimp Salad! Not only am I in love with the beautiful colors of winter citrus, but the bursts of flavor it gives pairs so lovely in a salad. Everyone will love this easy shrimp salad recipe! You can make it spicy or not, and rest assured, the combination of lettuce, zesty shrimp, sliced citrus, and an easy grapefruit vinaigrette is absolutely the greatest combination when paired together.
What winter citrus is best?
While we love the combination we used here, you can absolutely get creative if you don't like one of the citrus fruits we used.
Some in-season winter citrus includes:
Oranges
Blood Oranges
Cara Cara Oranges
Pink Grapefruit
White Grapefruit
Mandarin Oranges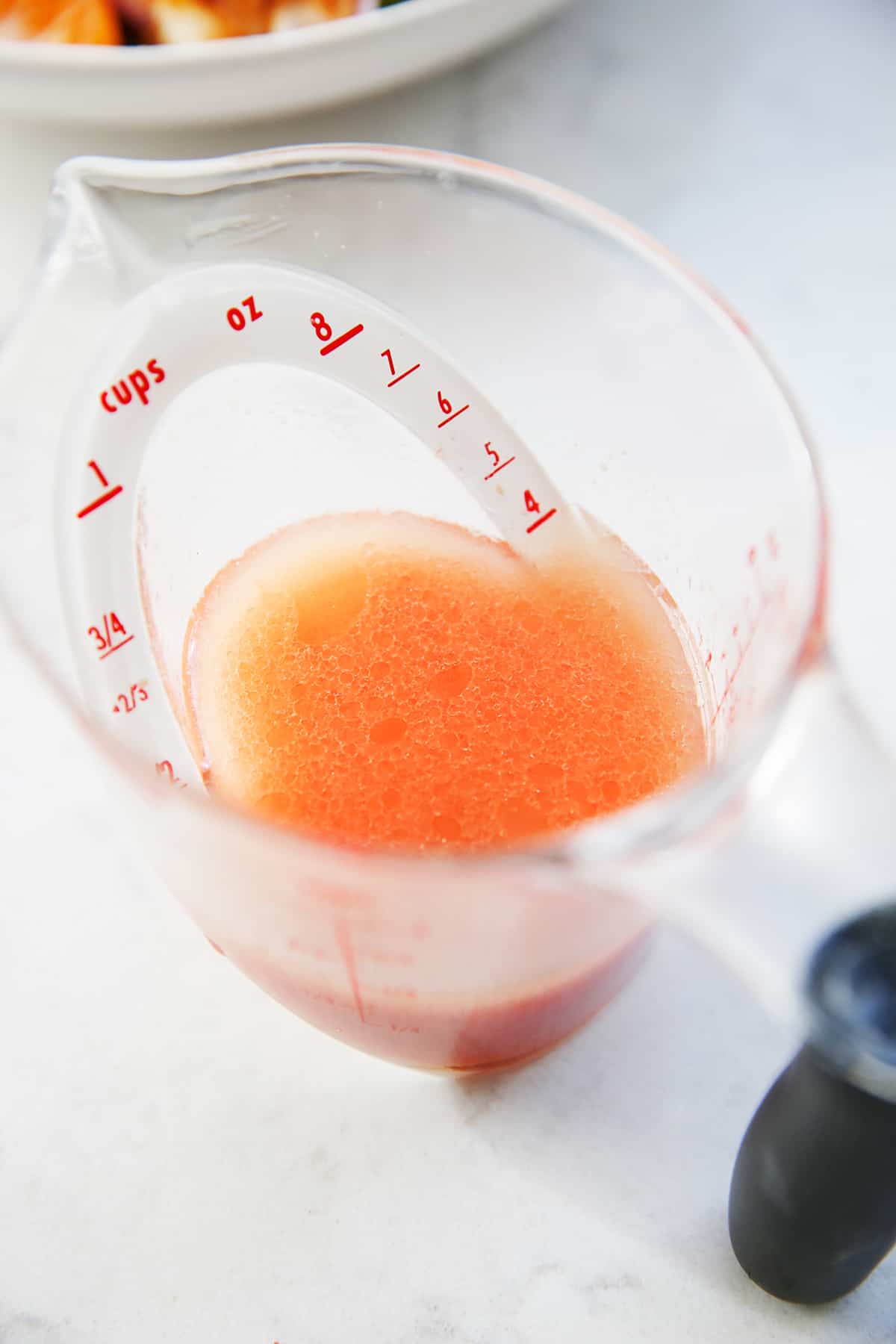 How to Make this Shrimp Salad Recipe
It doesn't take much to put together this salad. First assemble all of your salad ingredients, which largely consists of segmenting citrus. Then, make your dressing! And finally, cook your shrimp! Layer it all up and serve immediately.
Making salad dressing at home
I love making my own dressings for a few reasons.
They come together in a few short minutes. You simply need your ingredients, a bowl or mason jar, and a whisk!
You often have all the ingredients right in your pantry.
Often you'll find store-bought salad dressings to have added sugars, preservatives, and icky oils, so making them yourself makes your salad dressing even healthier!
Plus, you can customize your dressing with your salad ingredients for less waste. For example, we used the grapefruit juice from the extra grapefruit in this salad for the dressing.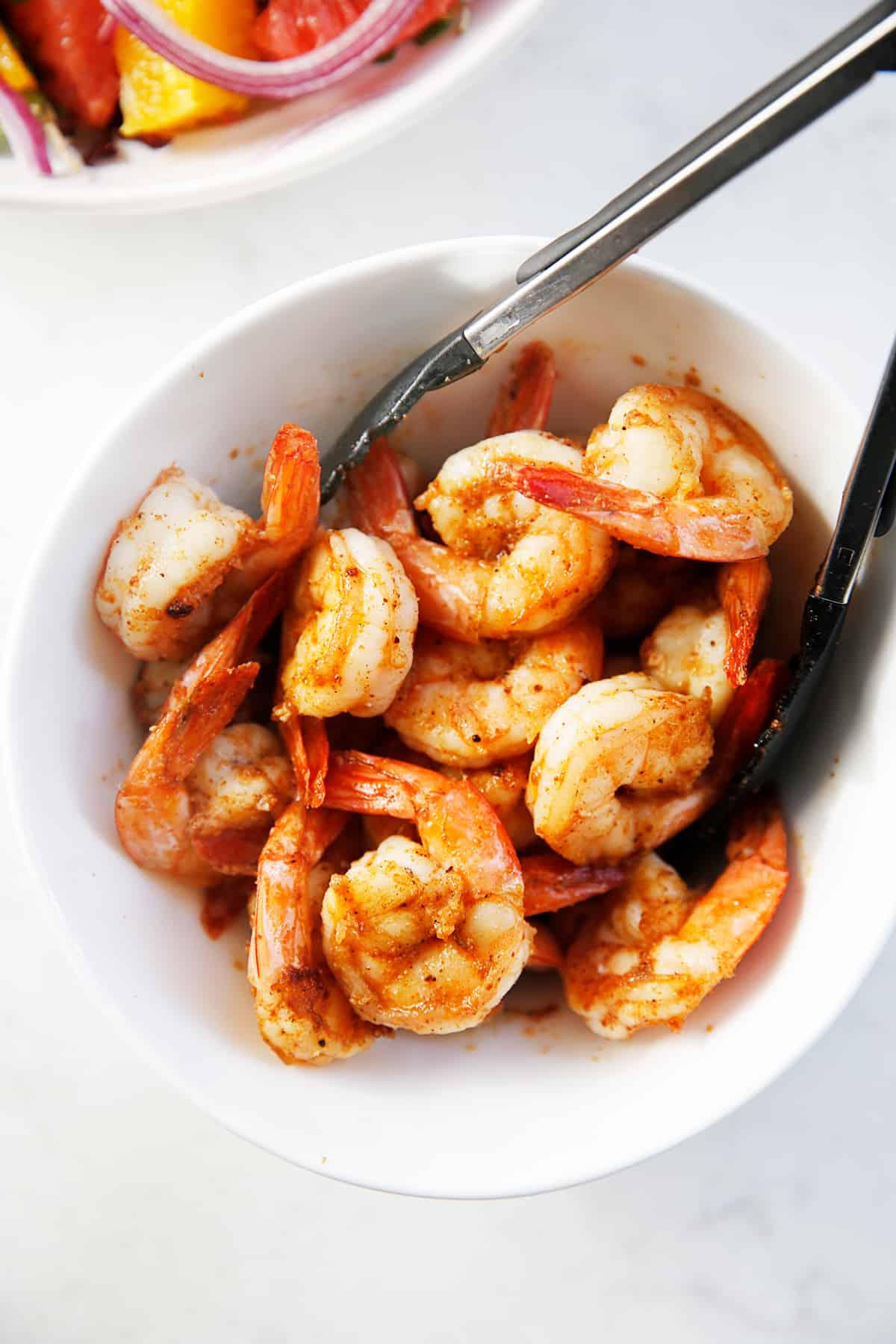 I love this zesty shrimp that cooks up in no time! It uses a few simple spices and you simply cook, let cool slightly, then serve on top of your salad! It would be delicious on top of any salad, or alone served with Herb and Garlic Quinoa, Oven Roasted Vegetables, or Homemade Guacamole for taco night! You can cook this shrimp in a skillet for ease, or if it's grilling season, throw it on the grill!
Why are citrus fruits segmented?
Citrus fruit, like oranges and grapefruit are often segmented *basically* for presentation purposes. They look gorgeous, don't you agree? When segmenting, you are removing the membrane, so you're left with beautiful pieces of the fruit that are very juicy and delicious — perfect for a salad!
How to segment an orange or a grapefruit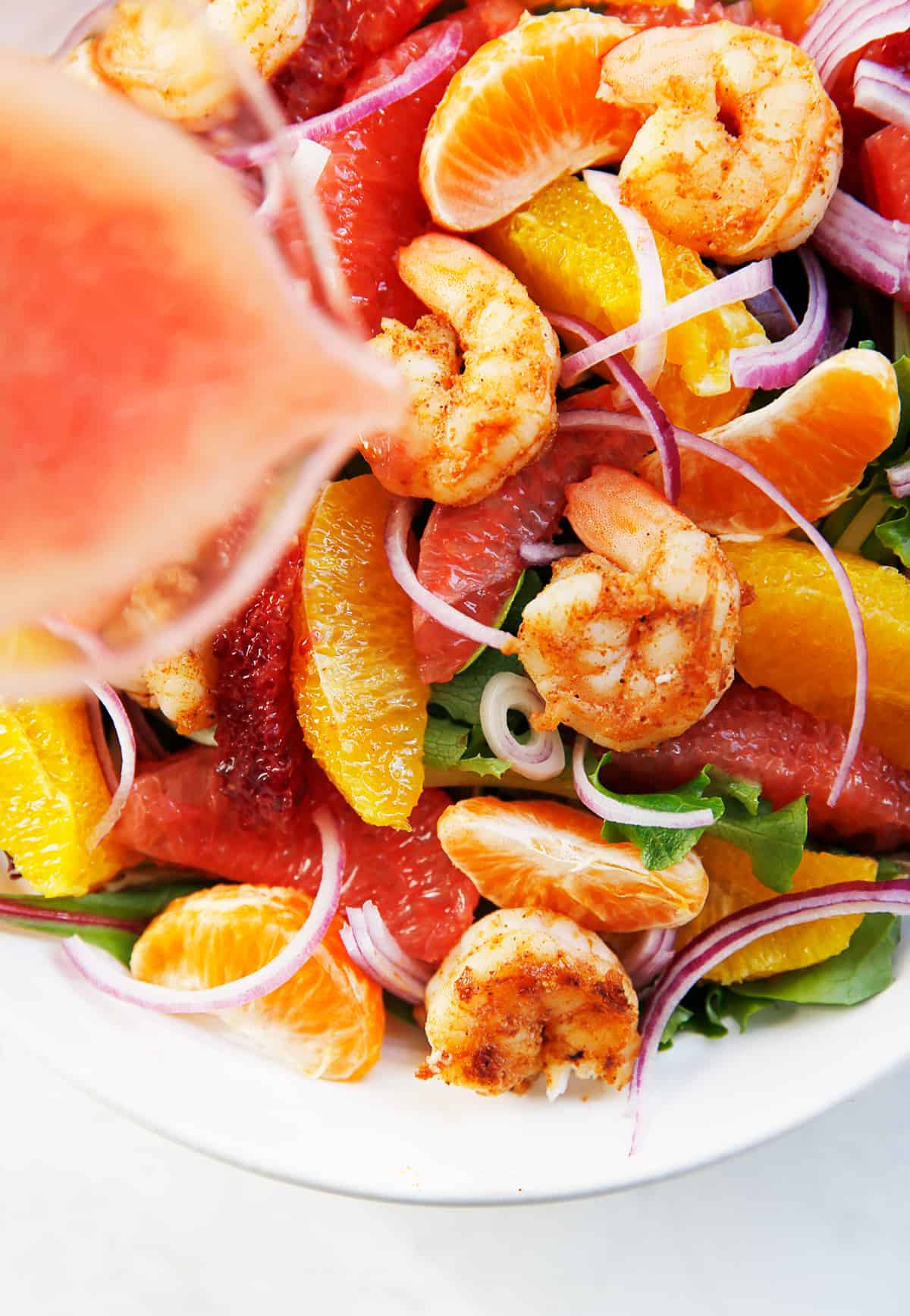 Like this salad recipe? Try these other favorite salads:
Want more shrimp recipes? Try these favorite easy shrimp recipes:
[yumprint-recipe id='340′]
---
Pin it for later:
What is your favorite way to use Winter citrus?
Spicy Shrimp and Citrus Salad
With bold flavor and super fresh ingredients, these Thai Chicken Lettuce Wraps are perfect for meal prep for lunch or for a flavorful dinner. Marinated chicken is cooked together with Thai flavors, cabbage, bean sprouts and carrots before being placed inside of a lettuce wrap. Top with the creamiest peanut sauce to really make this special! Made in partnership with my friends at Stonewall Kitchen.
Thai Chicken Lettuce Wraps
I used to love the lettuce wraps at that popular Asian chain restaurant, and they are totally the inspiration for this dish. Of course this recipe is a healthier version using real ingredients and my favorite soy-free alternatives to still get that classic taste. These lettuce wraps are topped with a creamy peanut sauce that completely makes the dish. Don't worry though, there is an easy swap to make this peanut-free making this dish Whole30 and Paleo friendly.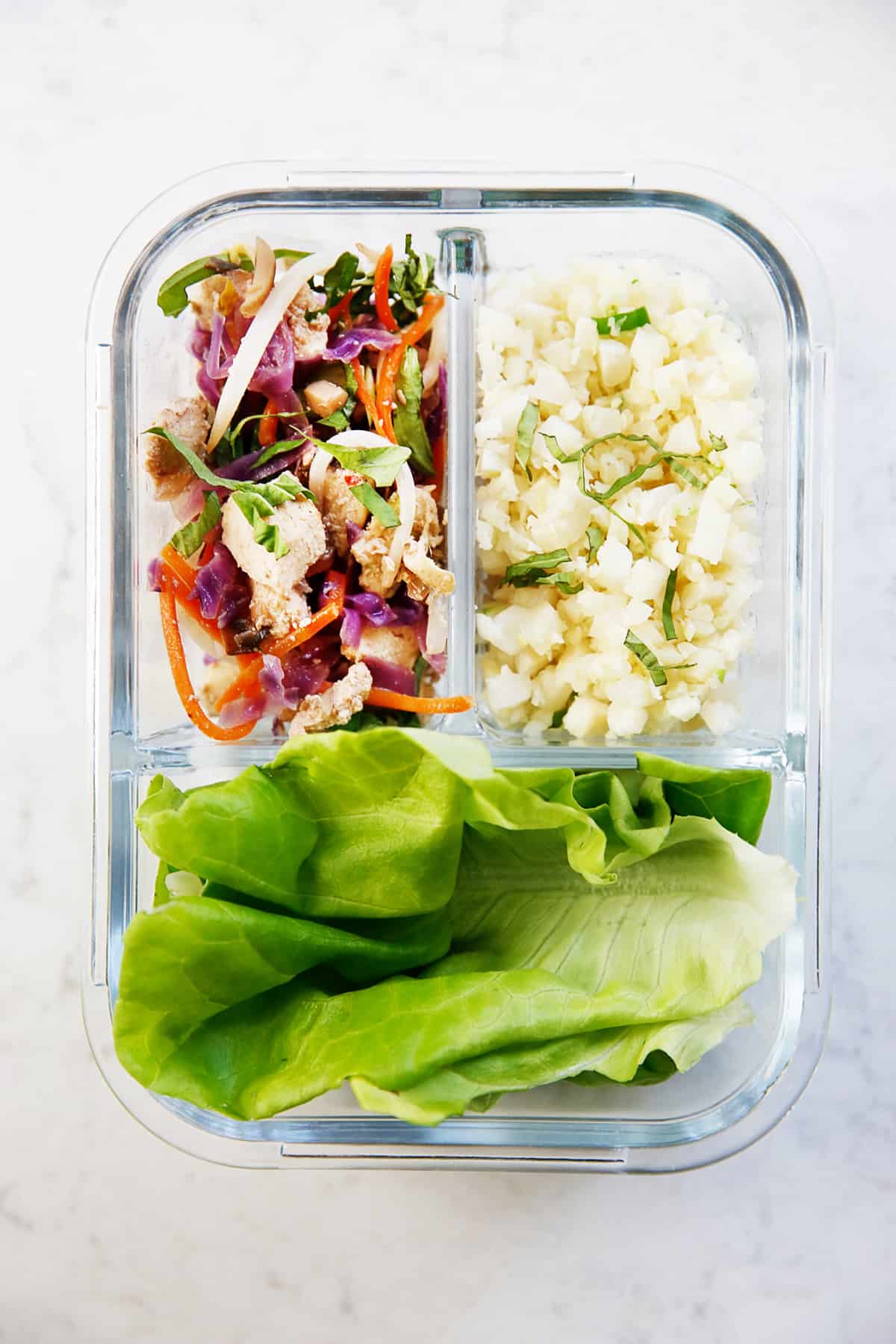 Ingredients for Thai Lettuce Wraps
Chicken

Coconut aminos

Rice vinegar

Avocado Oil

Sesame Oil

Mushrooms

Scallions

Garlic

Ginger

Red Pepper Flakes

Red Cabbage

Bean Sprouts

Carrot

Basil or Cilantro

Lettuce

Sesame Seeds

How to Make It
The first thing you want to do is marinate the chicken! This is going to add in some savory flavor to the dish. While we are suggesting to do this for about 30 minutes, it can be as quick as 15 minutes or as long as overnight. Obviously the longer you do it the better the flavor.
Once the chicken has been marinated, and all of the ingredients are prepped up heat up a large pan. Once hot, cook the mushrooms until all of the liquid has been evaporated.
Next add in the cabbage and a big pinch of salt and pepper cook until it's softened. Move the mixture to the side to make room for the chicken! Add in the remaining 1 teaspoon sesame oil to the pan and cook chicken until no pink remains, about 3-5 minutes. You'll be leaving behind any of the excess marinade.
Finally, add in bean sprouts, and carrots and let cook until the bean sprouts are slightly wilted. Season the chicken and veggies to taste with salt and pepper and garnish with fresh basil and remaining green parts of the scallions. That last addition of the fresh herbs really helps this dish pop in flavor.
This dish will be garnished with a peanut sauce, that can be made with peanut butter or almond butter for those looking to keep it Whole30 or Paleo-friendly. To make it add all of the sauce ingredients to a bowl and whisk together. Depending on your thickness of nut butter, you may need to add in a bit more hot water. Add in more hot water if needed to reach desired sauce consistency.
Serve the chicken and veggies inside of lettuce cups and drizzle with the peanut sauce. Garnish with additional fresh herbs and sesame seed! Or make into meal prep. See below for more details on that!
Why Stonewall Kitchen Products are Always in My Pantry
One of the most frequently asked questions I get about maintaining a clean-eating lifestyle is: what's in my pantry? The simple answer is that it's important to keep a wide range of products in your pantry that allows you to whip up a quick dinner or snack at a moments notice. Ones that don't compromise on ingredients and that you can feel good about eating and serving.
Headquartered in York, Maine (the cutest place ever), Stonewall Kitchen is the maker of some of my favorite gourmet specialty foods that always have a place in my pantry. Chances are, you've likely seen their famous jam in a grocery store near you (even Costco has it right now!). But in case you didn't know, they have a wide range of healthy products that make it easy to maintain a good-for-you diet.
Their Creamy Peanut Butter is one of my favorites (you can also grab it on Amazon) and it's the perfect addition to these Thai Chicken Lettuce Wraps. Made with only roasted peanuts & salt (no added sugars or oils) you can feel good about enjoying it! While the chicken filling is good on it's own, adding that creamy peanut sauce on top REALLY makes the dish.
Meal Prep Options
There are two ways that you can prepare this dish for the week ahead! If you wanted to eat this as actual lettuce cups you'll want to store cleaned and dry lettuce leaves separately from the cooked chicken mixture. You can eat this cold or warm, so if you wanted to heat it up make sure to pack it separately from the lettuce so it can be heated.
Or you could make this into meal prep bowls by serving with cauliflower rice or regular white rice, and omit the lettuce cups all together.
If you like this meal prep recipe, check out these others:
For more chicken recipes, check these out:
---
Thai Chicken Lettuce Wraps
Who loves a hearty and creamy soup with minimal ingredients but all the deliciousness? This Healthy Broccoli Soup checks off all those boxes and can be on your table in 30 minutes flat. This vegetarian soup is gluten-free with options for dairy-free and to make it Paleo and Whole30 friendly.
Healthy Broccoli Soup
Broccoli soup may not sound exciting, but if you've had a good bowl of it, you know it can be something to swoon over. There are versions out there that rely on TONS of cheese, as well as other dairy and gluten to bump up the flavor but it doesn't have to be that way. This Healthy Broccoli Soup recipe relies instead on wholesome ingredients paired thoughtfully together to make a tasty soup that still makes you feel satisfied after you've eaten it, but doesn't weigh you down. This soup relies on good cooking techniques and a few tricks to leave you with the best healthy broccoli soup recipe!
Broccoli Soup Ingredients
Here's what you need to make!
Broccoli
Butter or Oil
Leeks
Garlic
Vegetable broth
Salt and Pepper
Cheddar Cheese (to garnish, and totally optional)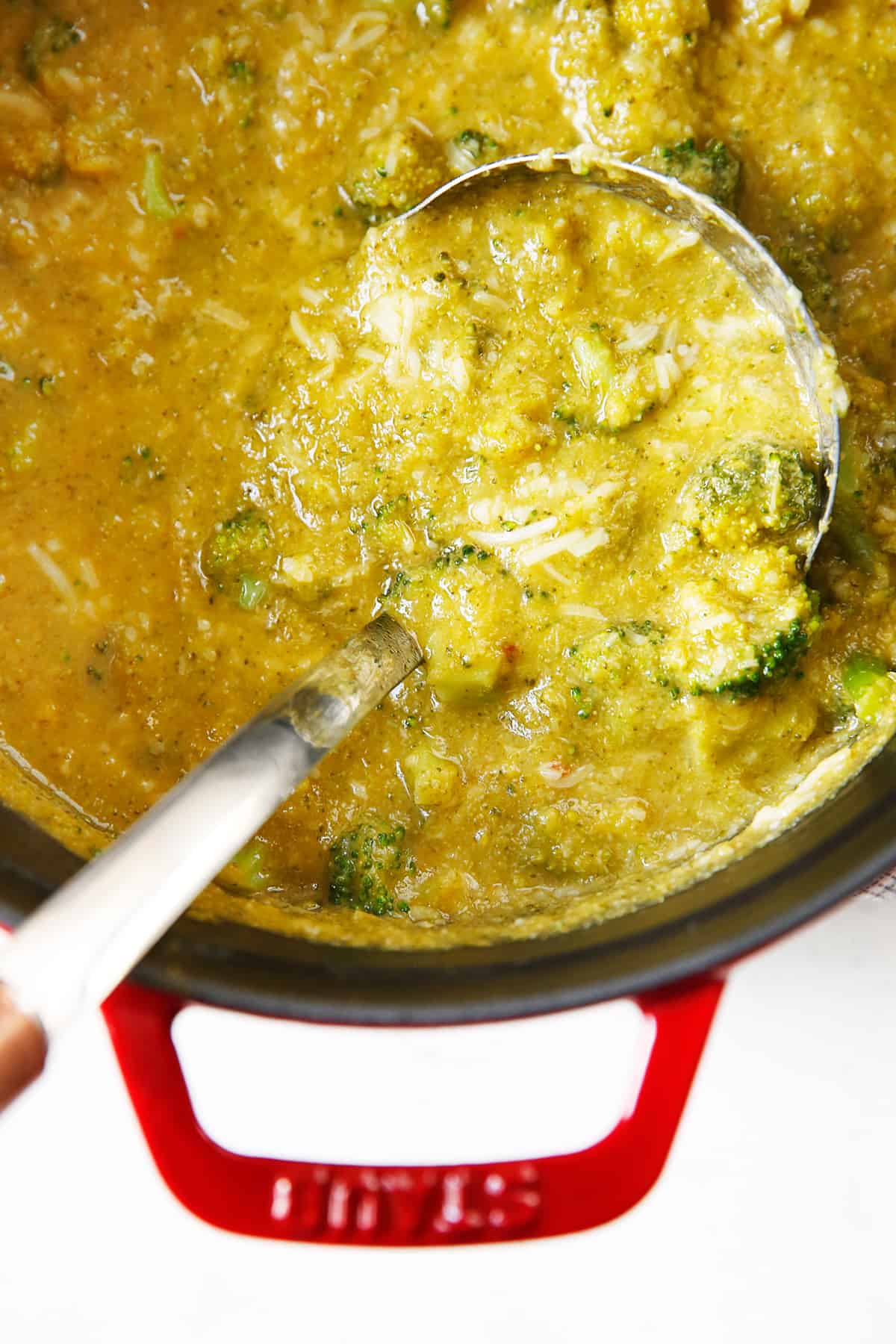 How to Make it
While this soup FEELS creamy, there is absolutely no cream or dairy-free cream replacements in here. Instead this soup relies on some good cooking techniques to get that creamy feel.
To start, cook down some leeks and garlic with a combination of butter and oil. If you are making this totally dairy-free, obviously omit the butter. You don't need to add an extra tablespoon of oil in it's place, as the butter is just there for a small flavor boost. Cook down the leeks until they are softened and aromatic.
Next add in the vegetable broth and half of the broccoli florets. At this point you want to be cooking the broccoli until it just tender. Once they're tender you puree them to create that nice creamy feel.
Then, add in the remaining broccoli florets and cook until it's fork tender. The longer you cook the broccoli the more muted the green gets.
If you are adding in a touch of cheese, you can do so now at this point, and stir it in the soup. Or you can just top your bowl of soup.
Taste and adjust the seasoning. Then, enjoy!
How to Wash Leeks
Leeks can be notoriously dirty. It's important to clean them well before using them. To clean leeks:
Cut off the hard and dark green parts of the leeks off and discard. Cut off the bottom of the leek and then slice the leek in halve. Take that halve and slice it into 1/4″ pieces.
Fill a large bowl with cool water.
Submerge the leek pieces and swish around for 10 seconds.
Let the leeks sit for 1 minute in the cool water to let any grit sink to the bottom of the bowl.
Without agitating the water too much, quickly pick up the leeks directly out of the water, leaving behind any sand or dirt.
Empty the water and rinse out the bowl and repeat this until step until the water is clear after you remove the leeks.
Now this isn't your broccoli and cheddar soup from Panera, but trust us, it'll be a favorite. Whenever I make it it's gone instantly! It's a healthy soup that is both delicious and nourishing at the same time.
What goes well with broccoli soup?
Aside from garnishing (if you wish) with a pile of cheese, you can whip up some easy bread and make some yummy garlic bread! Alternatively, some chips of choice or kale chips, baked potatoes, or just as a meal with sandwiches would also be yummy additions!
Watch the video:
If you like this soup recipe, check out these others:
Healthy Broccoli Soup
Everyone needs an amazing chocolate cupcakes recipe, and this one is ours! These Gluten Free Chocolate Cupcakes are moist with a deep chocolate flavor and simply delicious. They're also dairy-free and made without any refined sweeteners. Grab a bowl and a whisk and head straight to the kitchen to whip some up!
Gluten Free Chocolate Cupcakes
In my opinion, a chocolate cupcake should be at least three things: moist, rich and heavy on the chocolate flavor. These gluten free Chocolate Cupcakes check all those boxes and more! These simple-to-make cupcakes are a bit on the healthier side because they are dairy-free, made primarily with almond flour (hello nutrients!) and contain no added refined sugars. And the bonus is you only need two bowls and a whisk to make them! We have a few different options to frost them, including this dairy-free chocolate frosting. Whip them up for your next celebration or your next I-need-a-chocolate-cupcake kind of night!
Ingredients Needed
Almond Flour

Cocoa Powder

Coconut flour

Baking Powder and Soda

Pinch Sea Salt

Espresso Powder (optional)

Eggs

Coconut sugar

Milk (We use almond)

Avocado Oil

Vanilla extract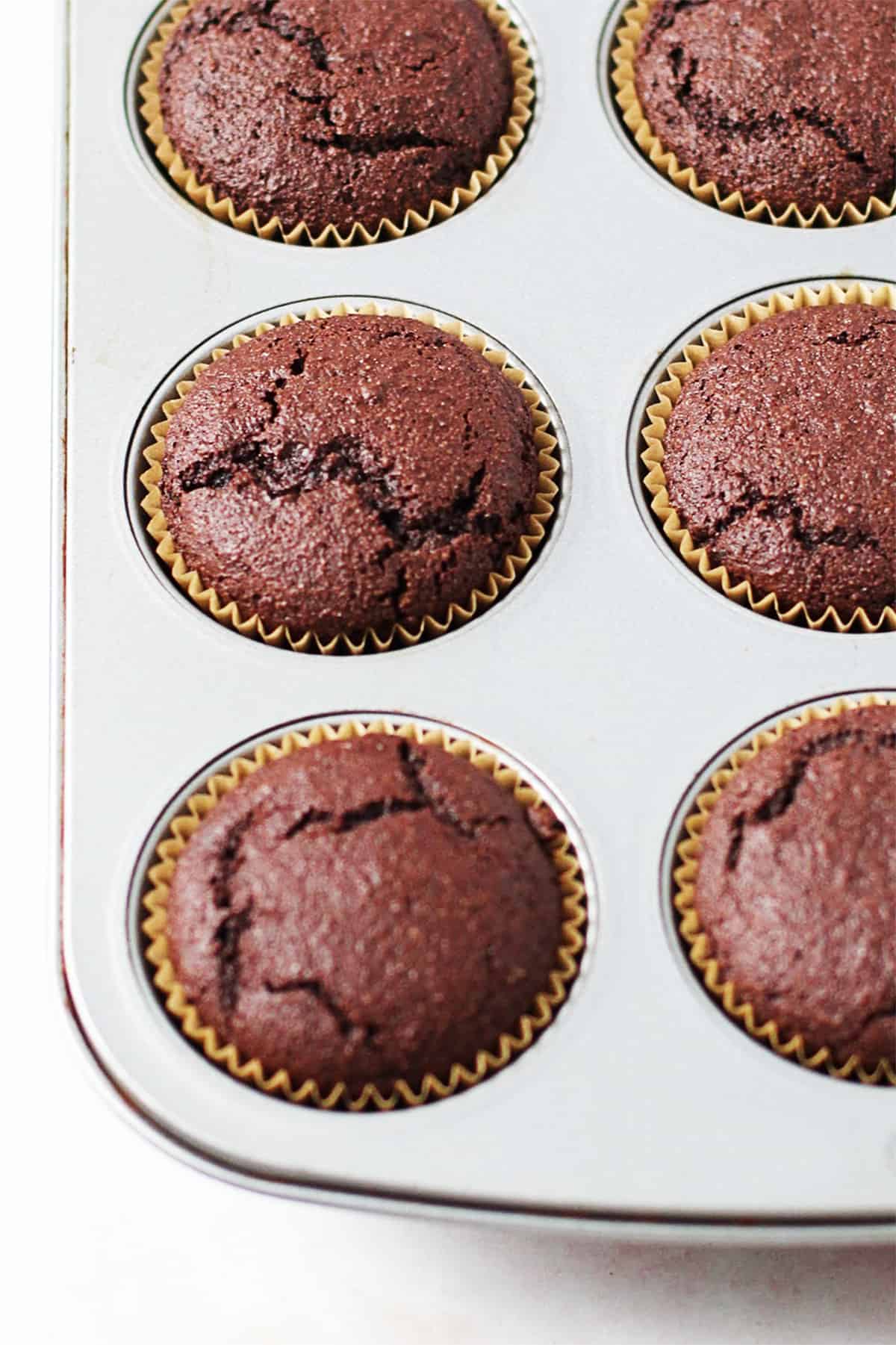 Frosting Options
We've made a few different frosting options over the years. This recipe uses a traditional chocolate buttercream, though it does use butter so it isn't dairy-free. This recipe is for a vanilla buttercream.
If you need a dairy-free and paleo-friendly version, check out this recipe! It is a whipped chocolate ganache frosting that is simple to make. It's also the version shown here in the photographs.
If you like this sweet treat, check out these others:
[yumprint-recipe id='252′]
Paleo Dark Chocolate Cupcakes
Where healthy meets chocolate, these Paleo Chocolate Truffles are made with a few simple ingredients and are down-right delicious. This decadent chocolate treat is simple to put together but looks stunning! Aside from being Paleo Friendly, these truffles are also vegan and don't have any added refined sugars. Make these for that certain holiday for lovers, or really anytime of year!
Easy Paleo Truffles
These Paleo Chocolate Truffles are decadent and down-right delicious, but also super easy to make! Basically you just make a thick chocolate ganache, let it chill and then roll into balls! You can coat these chocolate-y treats in a variety of flavors, but our favorites include the classic cocoa powder finish, as well as shredded coconut and freeze-dried fruit. They're the perfect sweet treat to share with a friend, partner or to enjoy all by yourself!
Ingredients Needed
Dark Chocolate

Coconut Cream

Coconut Oil

Maple Syrup (optional)

Instant Espresso Powder (optional, but deepens the chocolate flavor)

Sea Salt
Options for Coating
We coated these with three of our favorites for truffles.
Cocoa Powder: This is the most obvious! It's classic, and for a reason.
Finely Shredded Coconut: You can leave this natural or you can toast it for a deeper coconut flavor.
Freeze Dried Fruit Powder: A fun way to add flavor to these truffles! Freeze dried fruit is now commonly found in most grocery stores and is inexpensive! Make sure to read the label to check that the only ingredient listed is the actual fruit and does not include any additives. We love the 365 brand of them at Whole Foods or the options at Trader Joe's. Use any type of freeze dried fruit you like, but we found raspberry and strawberry to be a natural pairing with chocolate.
Making Paleo Chocolate Truffles
Essentially, to make these chocolate truffles you'll be making a thick chocolate ganache, then chilling it until it's easily rolled into a ball, and finally coating them with your flavor of choice! Nothing here is complicated but there are a few steps to get the chocolate to the right consistency.
The trickiest part for making these is gauging when the chocolate is the right consistency for rolling. First you'll let the chocolate cool at room temperature for about 30 minutes, and then place it in the freezer until it's chilled enough to scoop out and roll into balls, about 1 hour.
Because the chocolate has coconut oil added to it, it can be tricky to roll into balls without making a sticky mess. Work quickly, and if it does get to be too messy, you can place the chocolate back in the freezer to harder. I've also found that washing your hands if they get too sticky to be helpful.
Tips for Working with Chocolate
Use a medium to good quality chocolate, especially if you are using chocolate chips. While we love that this is an affordable DIY chocolate option, using low quality chocolate with a lot of additives, will negatively impact the final product. This is especially true if you are using chocolate chips, which are manufactured to hold their shape. Look for chocolate or chocolate chips with only a few ingredients for the best bark taste and texture. It doesn't have to be the most expensive chocolate, but shoot for a minimum of the mid range brands such as Enjoy Life (for dairy-free), Ghiradelli, Trader Joe's, 365 Brand, or Guittard, at a minimum. And of course, pay attention to added ingredients if you have dietary restrictions. And if you can afford better quality chocolate, go ahead as this will be the recipe to use it for.
Make sure all utensils are clean and dry. Water and chocolate do not mix! Even a small addition of water to chocolate can make it break, which would mean gritty chocolate. Make sure your bowls and utensils are clean and dry.
Melt chocolate in a double boiler. We suggest melting the chocolate mixture over a double-boiler because it's the most gentle way to melt it. Most people don't have a double boiler at home, so make up your own by placing a heat proof bowl over a simmering pot of water. Just make sure that the bowl is not touching the water. Using this method to melt the chocolate is an easy way to melt it, while making sure you don't over cook the chocolate.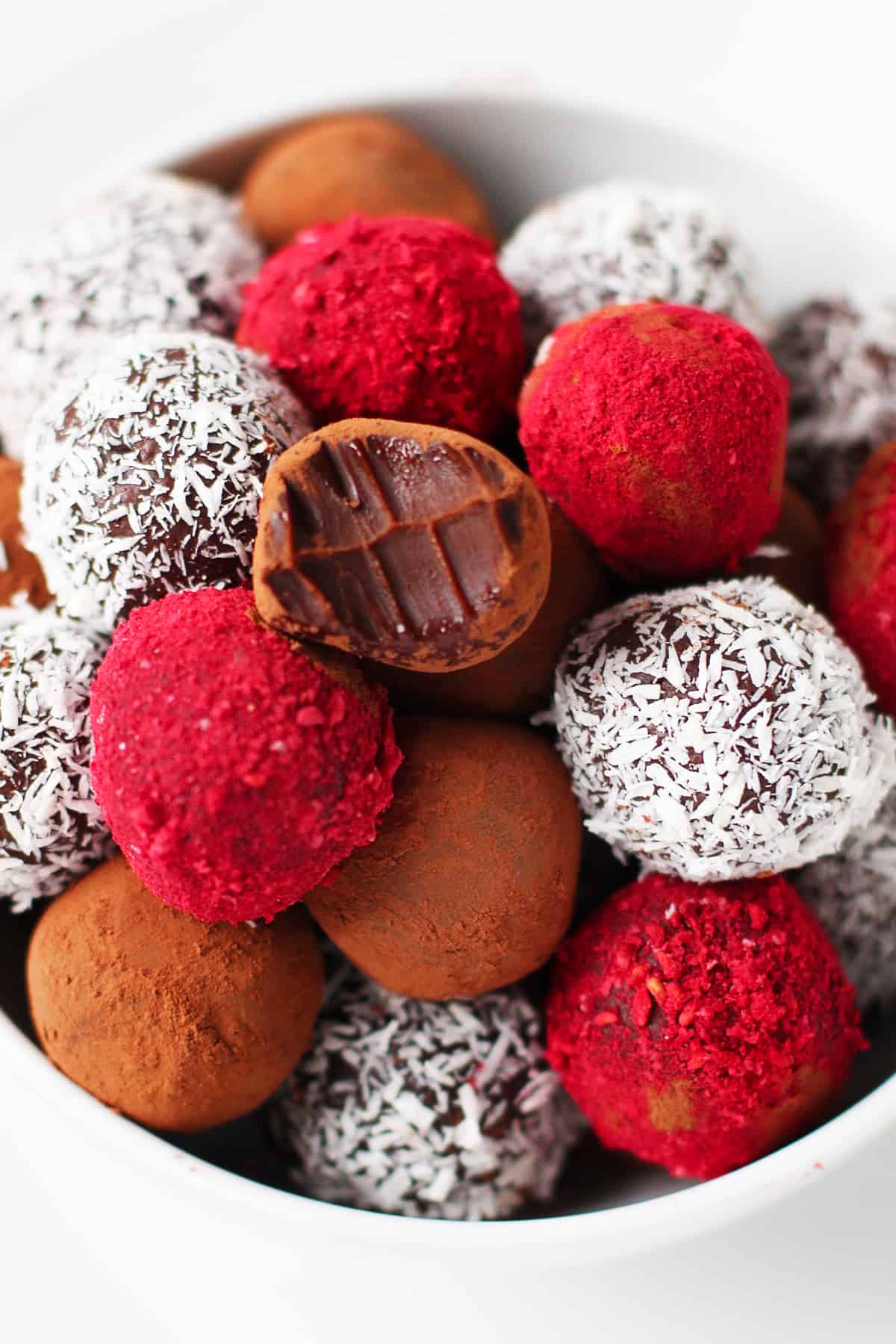 If you like this chocolate recipe, check out these others:
Want more Valentine's Day recipes & ideas? Here are some we love:
---
[yumprint-recipe id='251′]
Paleo Chocolate Truffles
Nothing in this world is better than chocolate and raspberry together and that's why these Raspberry Swirl Brownies are the absolute best. You know what else makes these the best? They're a decadent treat that's on the healthier side by using coconut oil and almond flour. That means they're also grain-free, dairy-free and Paleo, while still being totally delicious.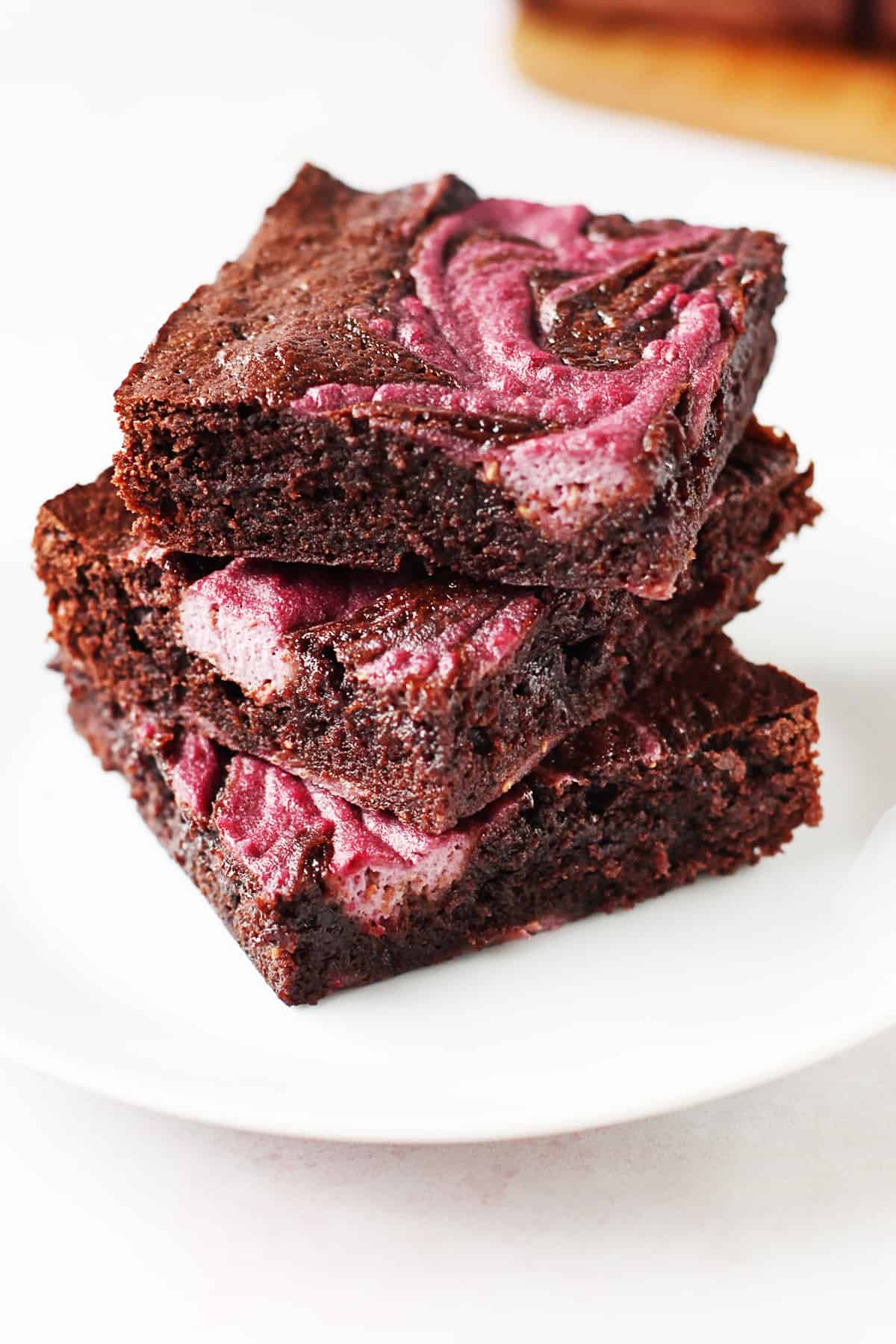 Chocolate Raspberry Brownies
It is the most perfect time of the year for making a chocolate treat for the one you love, and these Chocolate Raspberry Brownies should be the ones you make. They are fudge-y and chewy with a beautiful raspberry swirl throughout! Did I mention they're also on the healthy side, made without refined sugar, grains or dairy? The raspberry swirl is actually made from cashew cream (our absolute favorite thing) and freeze dried raspberry powder! It adds a big raspberry flavor without weighing down the brownie from all the moisture from fresh raspberries. Trust us, you'll want to make them.

Ingredients Needed
Coconut Oil (or butter, if you want!)

Dark Chocolate

Coconut Sugar

Eggs

Almond Flour

Tapioca Flour

Unsweetened Cocoa Powder

Baking Powder

Salt

Freeze Dried Raspberry Powder

Maple Syrup
Cashew Cream
We love using cashew cream in place of cream or cream cheese in recipes. It's more nutrient dense and just plain delicious. Cashew cream is simply soaked cashews that are blended until they are smooth and creamy. It works perfectly as a creamy base for the raspberry swirl.
Can I use fresh fruit?
Freeze dried fruit is preferred here, since fresh fruit will have too much moisture. If you want to use fresh fruit, the alternative would be to make a jam since the fruit will need to be cooked down.
Note: We have not tested this with jam, so can't promise the same results! Have no fear though, freeze dried fruit is available in nearly every major grocery store, and is inexpensive!
A Word about Freeze Dried Raspberry
Freeze dried fruit is now commonly found in most grocery stores and inexpensive. Make sure to read the label to check that the only ingredient listed is the actual fruit and does not include any additives. To make the powder needed for this raspberry, either crush up the raspberries directly in the bag or you can blitz them in a food processor.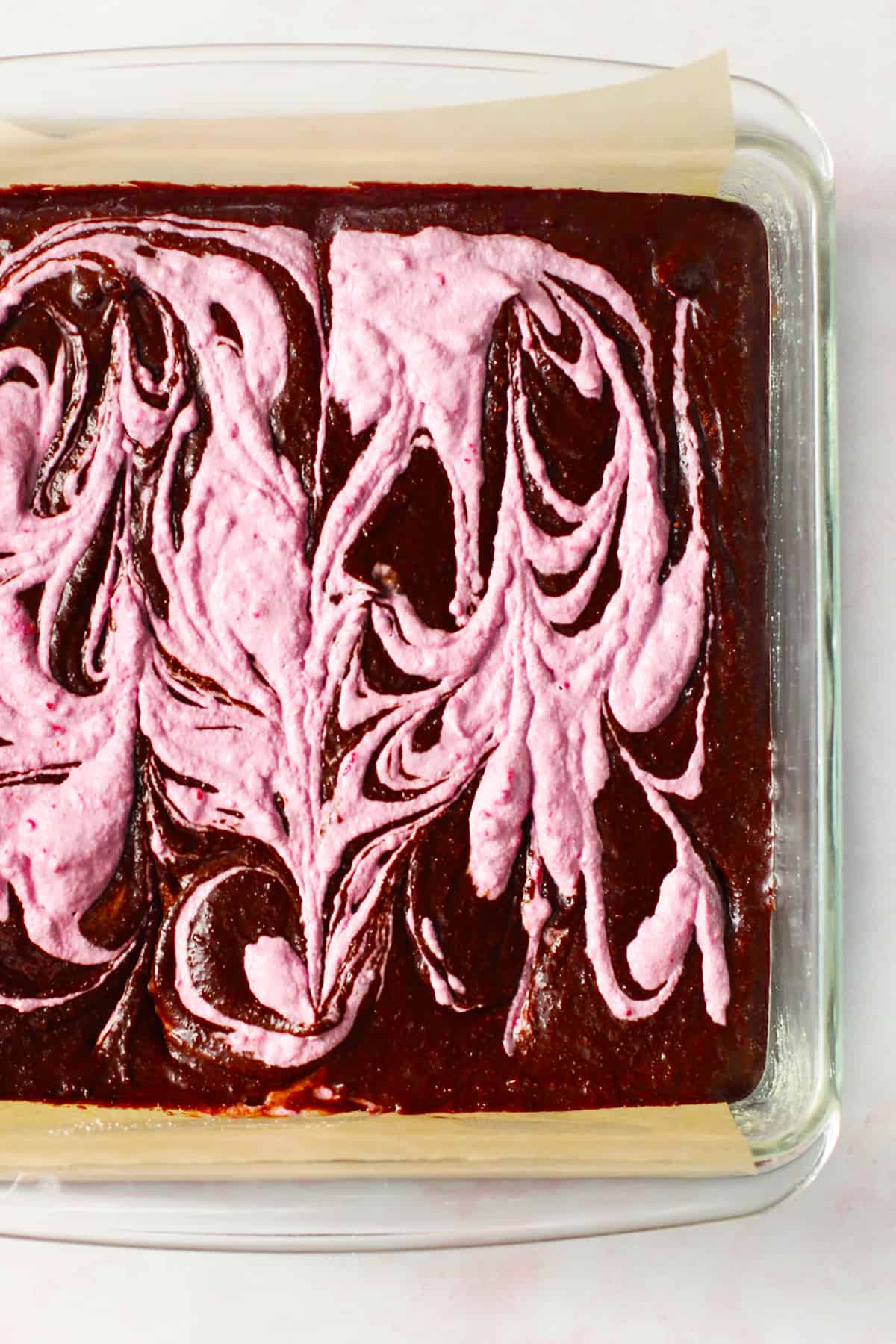 How to Get That Perfect Swirl
Making that beautiful swirl in batters can be so soothing and can look like a work of art! The more you swirl, the more intricate the design gets, but be careful of playing with it too much because in this batter, the raspberry could end up covering the chocolate if played with too much.
Using a knife or a toothpick, gently swirl either up and down the batter or in circles, or a mix of both.

How to Cut Perfect Squares
Use a parchment paper sling so you can easily remove the brownies in one piece.
Let your paleo brownies cool close to room temperature, or place it in the refrigerator to cool down. And use a warm knife that has been run under hot water and dried to cut your brownies.
To get even pieces without using a ruler always cut down the middle! Make your first cut directly down the middle. Then cut each half in half down the middle. This of course only works if you are looking to make an even amount of slices.
Storing Chocolate Raspberry Brownies
As is the case with most brownies, these are best eaten within the first day or two. However they can be stored! Store these at room temperature for up to days in a covered container, or in the refrigerator for 4-5 days. They can also be frozen for up to 2 months.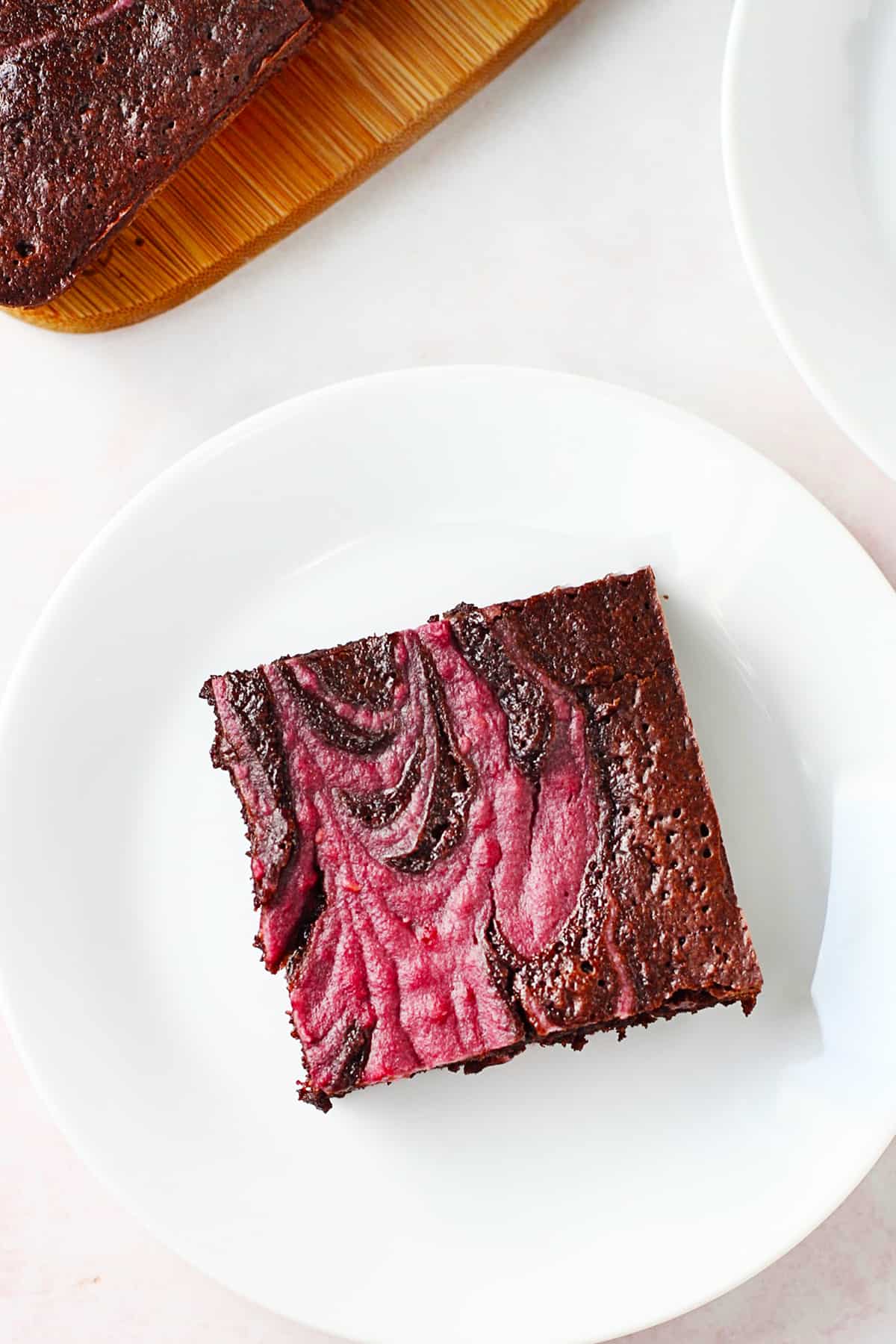 If you like this brownie recipe, check out these others:
If you like this healthy treat, check out these others:
Raspberry Swirl Brownies
With a sweet little center filled with either jam or chocolate hazelnut spread, These Gluten Free Thumbprint cookies are a must make. These cookies have a crispy exterior with a chewy middle, are easy-to-prepare and perfect to make year round. The dough is made in 1-bowl and they are free from gluten, grains and refined sugar but still perfectly delicious.
Gluten Free Thumbprint Cookies
These Gluten Free Thumbprint cookies are the cutest little cookie! A perfectly textured thumbprint cookie filled with your choice of a sweet jam or Nutella middle. What we really love about this recipe is that it is truly easy to make. We simplified the steps needed to make this cookie by using just 1-bowl and a sturdy spoon to mix the dough all together. Which means you can have fresh, hot cookies on your table quickly. They don't need to be chilled (but can be if you want to make the dough ahead of time) and don't dirty up a lot of dishes. This is also a great recipe to make with the kids!
Here's what you need to make them:
Almond Flour

Coconut Flour

Butter
Coconut Sugar
Vanilla Extract

Baking Powder

Salt

Jam (homemade or store-bought)
Nutella (homemade or store-bought)
Filling the Thumbprint Cookies
We've filled these cookies with a chocolate hazelnut spread (that can either be homemade or store-bought) and strawberry jam (again, homemade or store-bought). But let your imagination run wild and use whatever you'd like to make these thumbprint cookies. It could be fun to switch it up and fill it with a sweetened almond butter, pumpkin butter or even fill it with marshmallow cream before it is set up to make marshmallow thumbprint cookies! We can't wait to see you're creations.
Tips for Making Gluten Free Thumbprint Cookies
Make sure your butter is fully softened. This recipe requires the butter to be room temperature because it is mixed in with the dough as is, as opposed to creaming it or melting it. Room temperature butter can easily be mixed into this almond flour dough, with no chunks of butter remaining.
Use a study spoon and a bit of muscle.We use a bit of an unusual method of making this dough: all the ingredients are simply mixed together in a bowl until the dough has come together. It's easiest to achieve smooth dough if you use a sturdy spoon, such as metal or wooden, and really mix up the dough well. At some point while you are making the dough you are going to feel like it won't ever come together–but keep mixing: it will.
Double indents! You'll need to make an indent before the cookie is baked, and after. The cookies puff and spread slightly when baking, so when they come out of the oven, carefully use a teaspoon sized measuring spoon and press gently in the well to reform it.
Storing Gluten Free Dough and Baked Cookies
The cookie dough can be made up to 3 days ahead of time. The dough can be frozen if desired, but portion them out and make the indentation before freezing.
As with any of our gluten-free cookie recipes, these are best eaten on the first or second day they are made. On day 1, the outside is crisp in the middle is soft and chewy. The cookies can be stored in a bag or container at room temperature for up to 2 days, but they soften as time goes on.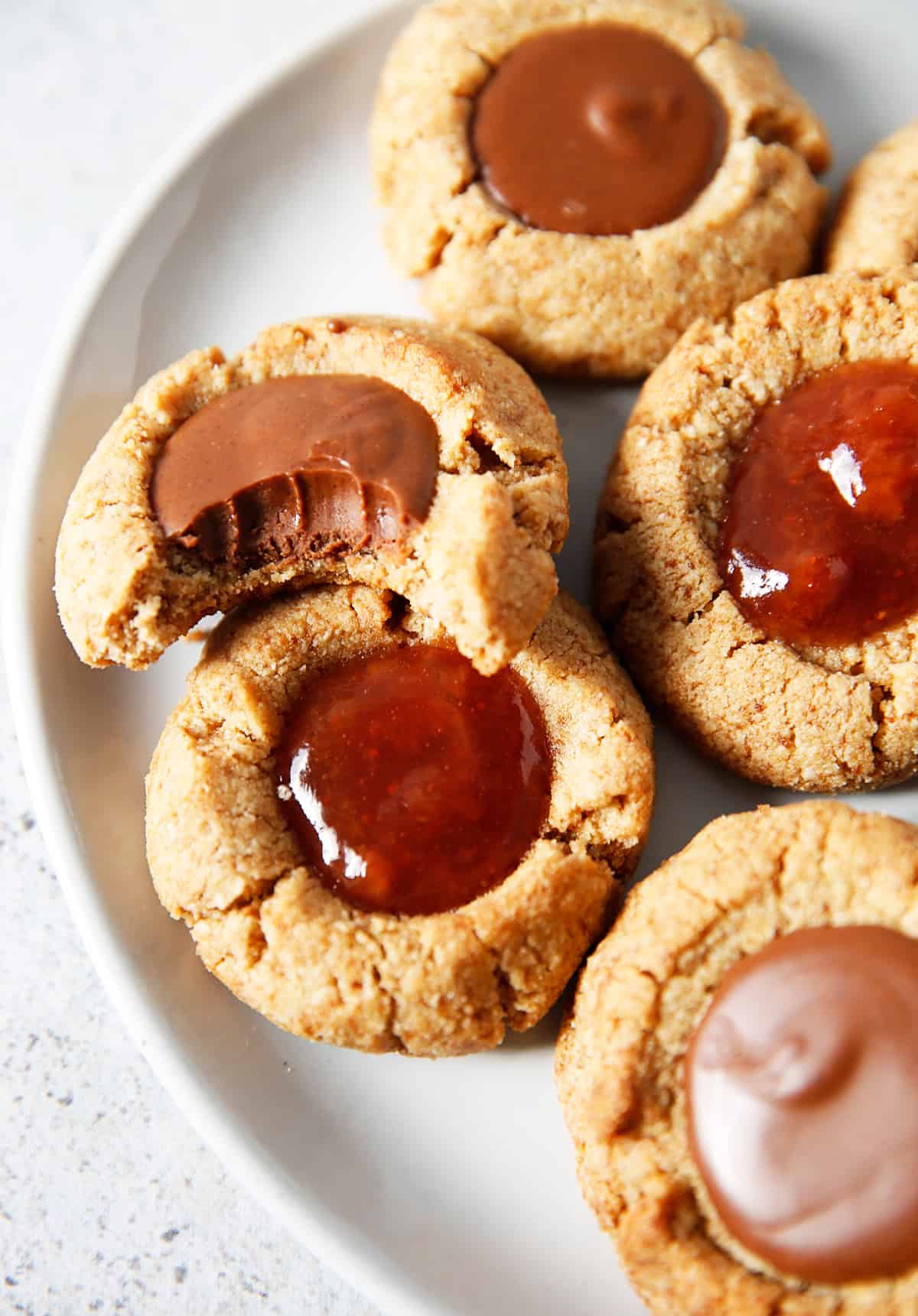 If you like this gluten free cookie recipe, check out these others:
[yumprint-recipe id='229′]
Gluten Free Thumbprint Cookies
Have you heard the news?
Over Christmas/Hanukkah week, I shared a big announcement on my social media channels! This post has been a few weeks coming thanks to some major life curveballs over the past month, but friends, I am so excited to share that we are cooking up our best recipe yet this year. We are expecting a baby in June!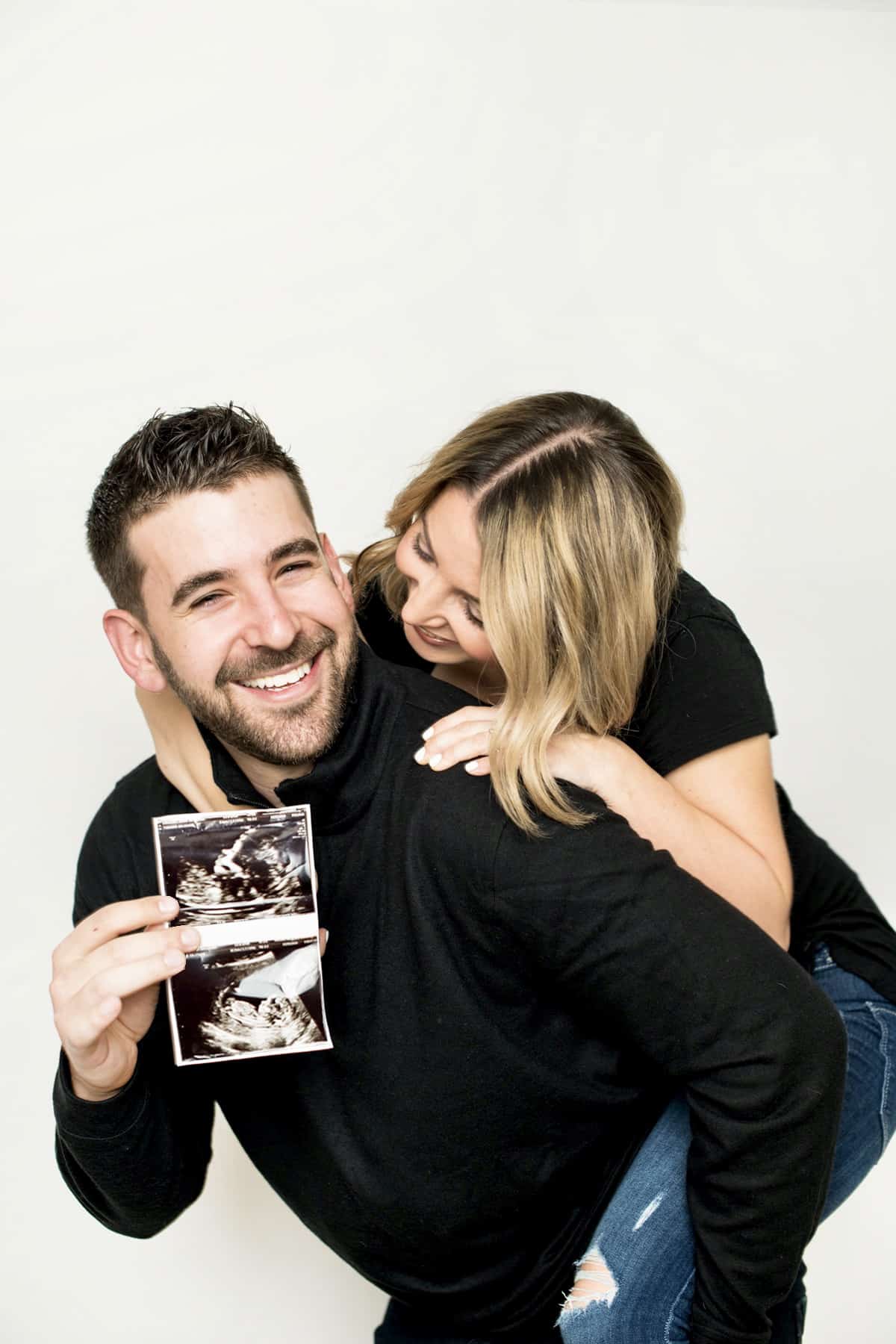 We're PREGNANT!
I've always wanted to be a mommy. From the time I could hold dolls as a kid, I treated them (and called them) my babies. My baby dolls came to doctor's appointments and they ate meals at the table with us.
Honestly, I always imagined if I ever had that *pinch me* moment of leaving my teaching career to run this website full-time, it would be when I was having children (now, I laugh that I thought that would be so easy!). As you know, that *pinch me* moment happened earlier than I ever thought it would… and a few years ahead of the mommy phase, too.
There are so many things bringing me to tears as I type this — memories of finding out we were expecting, the whole wild journey of growing a human in my belly, preparation for said human, and so much more. Do I have fears? OF COURSE. Will I be perfect? No chance. But wanting to be a mom? There's no question or doubt in my mind about that.
---
Some Updates:
How far along? I am currently twenty-one weeks pregnant! Baby is expected on June 7, 2020. ??
The first trimester: The first trimester was a bit rough over here, but we're WELL past it now! I can't believe I'm more than halfway through my pregnancy already. The first trimester, I was so tired, throwing up every few days, getting crippling headaches, and was next-level tired. I still get the occasional headache, but I'm not getting sick anymore and have so much more energy!
Cravings & Aversions: These were definitely more apparent in the first trimester and they changed basically daily. They're calming down now, but I still definitely have some cravings. The good news? I can eat vegetables again! Early on, I struggled a bit because I felt like I wasn't eating healthy enough, but I had to let go and realize my body knew what it was supposed to do. It needed a lot of carbs and crackers!
Bump Status: This sweet baby is growing and I'm showing! I'm petite, so I knew I'd likely show somewhat early, but we're definitely at the bump stage. My lower back has been bothering me a bit but has gotten better with some new things I've been doing, and my skin is also super itchy — AKA STRETCHING!
Portions: I used to eat a few big meals per day, and I was never really a snacker. My meals always filled me up and fueled my day! Now, though, it's all about snacks and smaller meals! If I get too full, I feel super uncomfortable (like, can't-get-off-the-couch uncomfortable).
Anxiety: I've shared before about going to therapy, and it's no secret that I'm naturally a worrier (generalized anxiety disorder). I've found some really great tools to keep my anxiety at bay during this time of so much unknown. I will share more on this in the upcoming weeks!
A few things that surprised me:
During the first trimester, I basically gagged every time I brushed my teeth. Lovely.

I haven't had coffee since I found out I was pregnant — for no reason other than I really just have had no desire for it. I didn't even ease out of my coffee-drinking routine! I just woke up one day and was done with coffee. Many of you said you experienced the same thing! How funny.

My gums are super sensitive. Definitely visiting the dentist more frequently for cleanings.

Pregnancy brain is REAL. It feels like if I don't write down every single thing, it escapes my mind!

Surprisingly, my stomach is tolerating basically anything, except some random fried foods (even the latkes I made over the holidays didn't sit well). I will share more about how I'm choosing to eat soon, too!
Overall, I'm just really focusing on enjoying every step of this process & sending loving energy to our sweet baby in there!
Look at these two boys ready to be big brothers!
---
We're having… a GIRL!
Many of you have made guesses about the sex of our babe and a handful of you thought that I dropped a" he" or "she" by accident on social media over the past few weeks! Were you right?
I am so excited to announce that we are having a baby GIRL! Of course, I would be equally as happy having a boy or a girl, as long as we have a healthy baby, but finding out we are having a girl brought tears to my eyes. My mom is my best friend, so nothing makes me more excited than the thought of my own little girl bestie running around with me.
We found out what we were having around the week of Thanksgiving. We cried together and loved each other up when we got the news. It was a super special, intimate moment. Mike was so excited to be having a baby girl, and it already makes my heart swell thinking of the daddy-daughter relationship they're going to have. He's going to be the best dad!
How we told our families:
We hosted our first Thanksgiving in our new home this year. It was around the twelve-week mark in my pregnancy, so we planned to tell our families the baby's sex over dessert with this gorgeous cake Kelli made (it's our vanilla gluten-free cake recipe). I grabbed a cute cake topper from Amazon, some random pink and blue colored candies and goodies, and was ready to share the news!
Once everyone arrived, they collectively decided they simply could not wait until dessert, so we cut that adorable cake earlier in the day when everyone was there and celebrated our sweet girl. Every day is a day for Thanksgiving, but this one felt extra special.
---
More to share soon! I'm going to tell you about the products I'm actually using daily at this point in my pregnancy, how I'm dealing with my anxiety, and more in the upcoming weeks and months. I'm also open to writing articles you'd like to hear more about so… what else would you like to hear about/me to write about? Let me know!
Above all else, thank you all for the well wishes, excitement, and love you've given us as we embark on this next chapter in our lives.
XO,
Lexi
We're PREGNANT!
Nothing tastes better than fresh homemade salsa! This restaurant style salsa is SO easy to make, much less expensive than buying it in the store and customizable to suit your exact tastes. Get this BEST EVER salsa recipe right now, grab your ingredients (likely already in your pantry) and serve it up with your favorite chips or tacos.
Easy Restaurant Style Salsa
Have you ever gone to a restaurant and been served salsa and chips and realize, just as your meal is coming, you aren't hungry anymore because you've devoured so much of the them? Same. And same thing will happen at home with this delicious restaurant-style salsa! It's delicious and fresh tasting (all while using mostly pantry staples) and a CINCH to put together. Seriously it takes like 5 minutes from start to finish. Serve as is, or pair with your favorite taco recipe (we've got a few you might like).
Ingredients Needed for Salsa
Canned Diced Tomato (this is essential for that restaurant style taste)
Canned Green Chiles
Garlic Clove
White Vinegar
Tomato Paste
Red Onion
Diced or Grape Tomatoes (you can omit if you don't have them, but this gives the salsa a bit of a fresh feeling!)
Salt
How to Make Salsa in a Blender
This explanation is going to be short and sweet because all you need to do to make restaurant style salsa in the blender is place all of the ingredients in the blender and give it a few pulses! That's it. Depending on what type of blender to use, just start off with two pulses and then check to see the consistency. Keep pulsing with the blender until it is the right consistency for you. I found 3 pulses were enough to blend my salsa! This can also be done in a food processor.
Do I need to use fresh tomatoes for salsa?
NO! While you definitely can, we made a version that comes together so quickly, doesn't require fresh tomatoes, and tastes just like the restaurant salsa you know and love!
Customize your Salsa
This recipe is pretty basic. Feel free to add in some other flavors or ingredients to customize it the way you want. Here are some ideas:
You can use fresh tomatoes if you have an abundance on hand: now, it will taste less like restaurant style salsa, but can be pretty darned delicious.
Add in fresh herbs: grab some fresh cilantro!
Add in some spices: have some fun with some smokey flavor with either smoked chipotle peppers or even smoked paprika. Other spices? Cumin, chili powder, black pepper, and garlic powder!
Want a kick? Add fresh jalapeño! Remember, the seeds are the spiciest part. Know your audience, too.
Make it different: add in roasted red peppers for a unique twist.
Add in some bonus items: you can add fruit, such as pineapple or mango for a tropical twist.
Brighten it up: once you make it, taste and if you want a little something extra, add a little fresh lime juice.
How long will homemade salsa last?
It should last for roughly one week in the fridge in a sealed container!
Serving salsa:
It goes great with so many things, like our Homemade Guacamole, 15-Minute Chicken Tacos, Two-Ingredient Salsa Chicken (Instant Pot or Slow Cooker), and as dressing on our Taco Salad!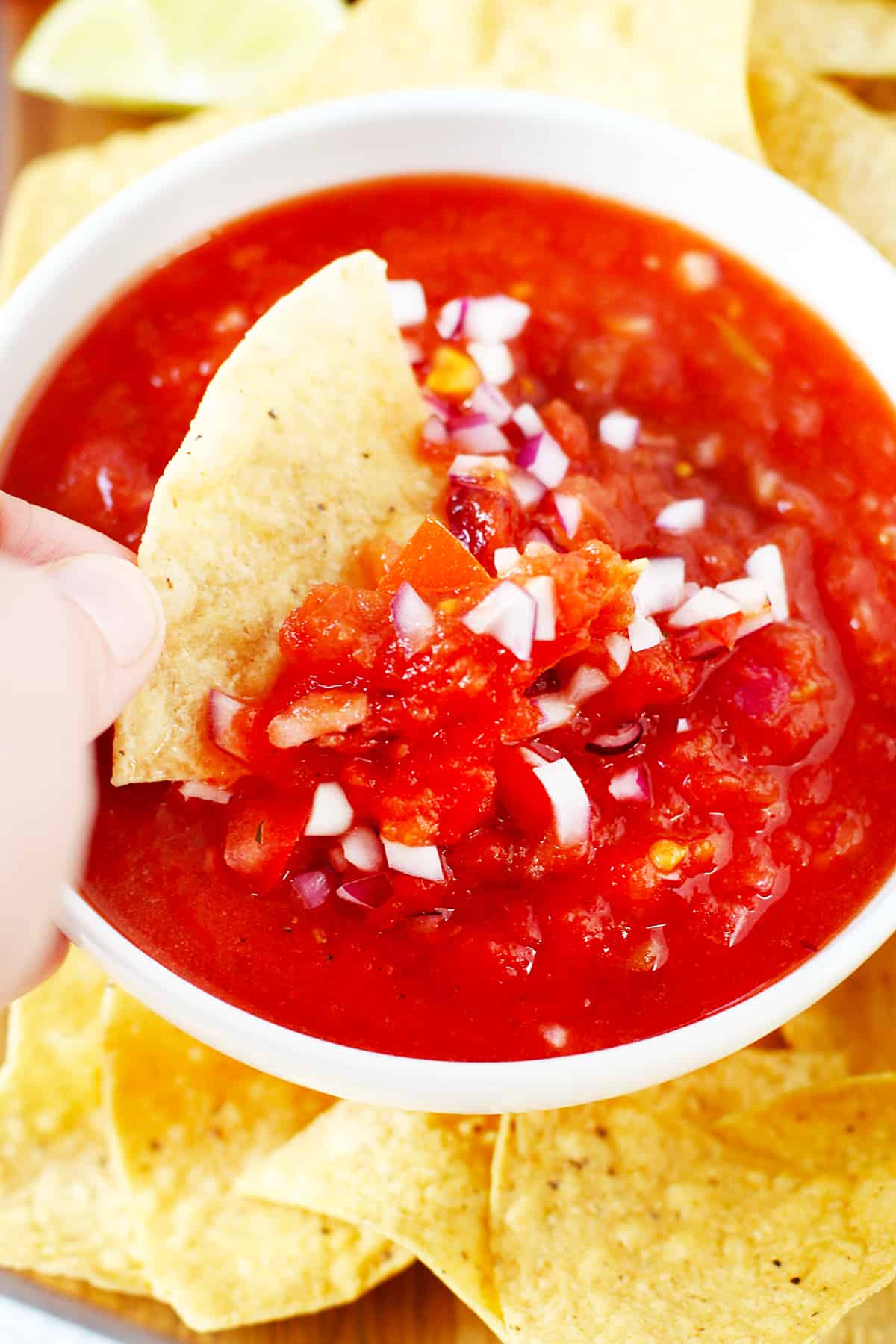 If you like this salsa dip recipe, check out these other appetizer dips we love:
[yumprint-recipe id='241′]
Quick Restaurant-Style Salsa
This easy homemade guacamole recipe is one everyone should have in their back pocket for taco night, game day, or any old day/night. It's truly the best and so easy to throw together. My version has 7 ingredients, but really only 3 are absolutely essential. Customize your guacamole to your liking and serve, then watch it disappear.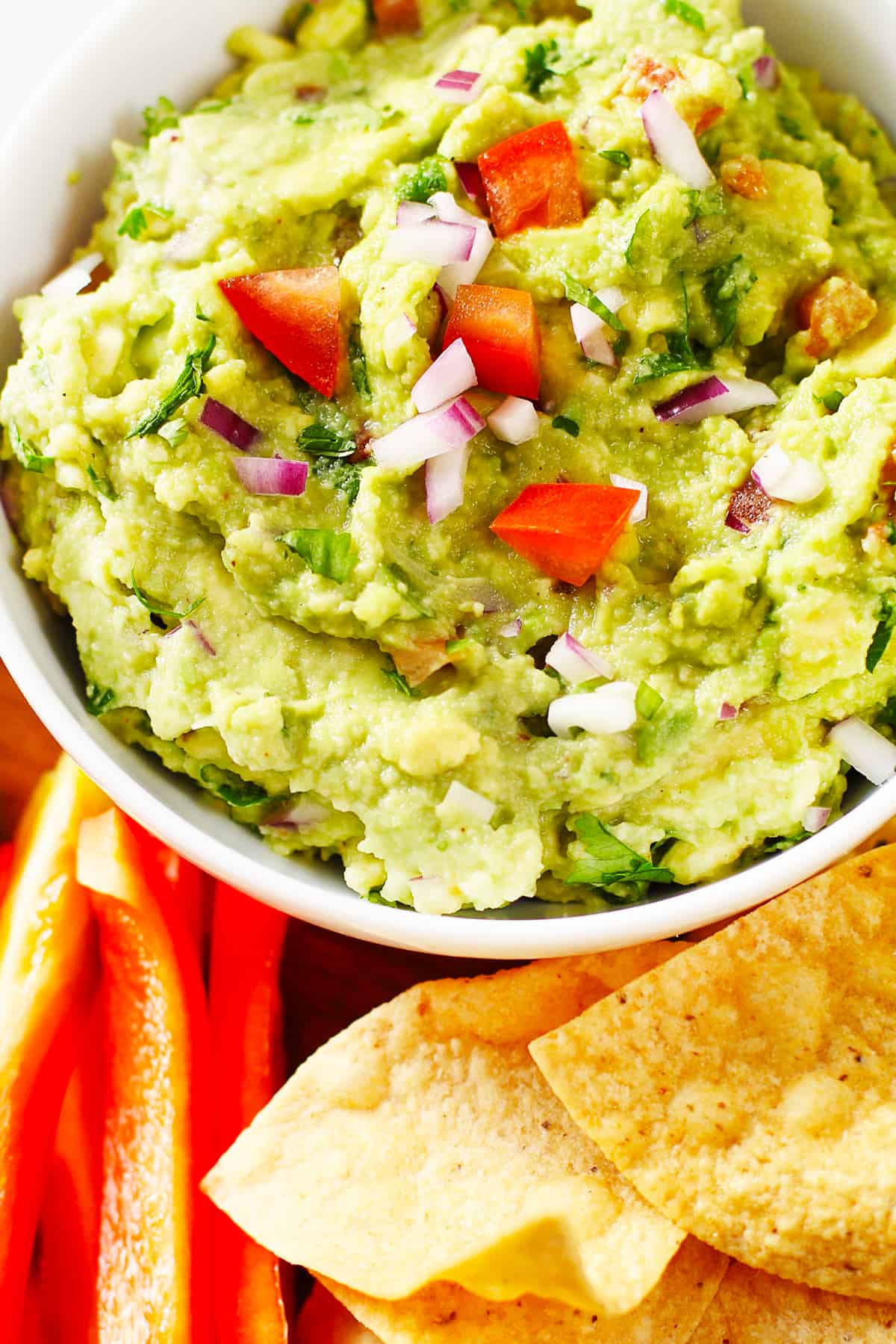 Homemade Guacamole Recipe
When you need a quick, delicious and fresh dip to serve a crowd, this is it! And in our house we do homemade Guacamole on EVERYTHING! Some favorites of ours are having it as an appetizer with veggies and tortilla chips or homemade crackers, nachos, huevos rancheros, as a topping on a salad, taco night, in our 7-layer taco dip, on top of basically any morning breakfast skillet, sweet potato skins… the list goes on and on. You simply can't deny the many uses for an easy and delicious homemade guacamole!
It's creamy, fresh and when done right–absolutely delicious. It's also super simple to make. You really only need about 3 ingredients, but I'm sharing some of my favorite add-in's below that make it the best!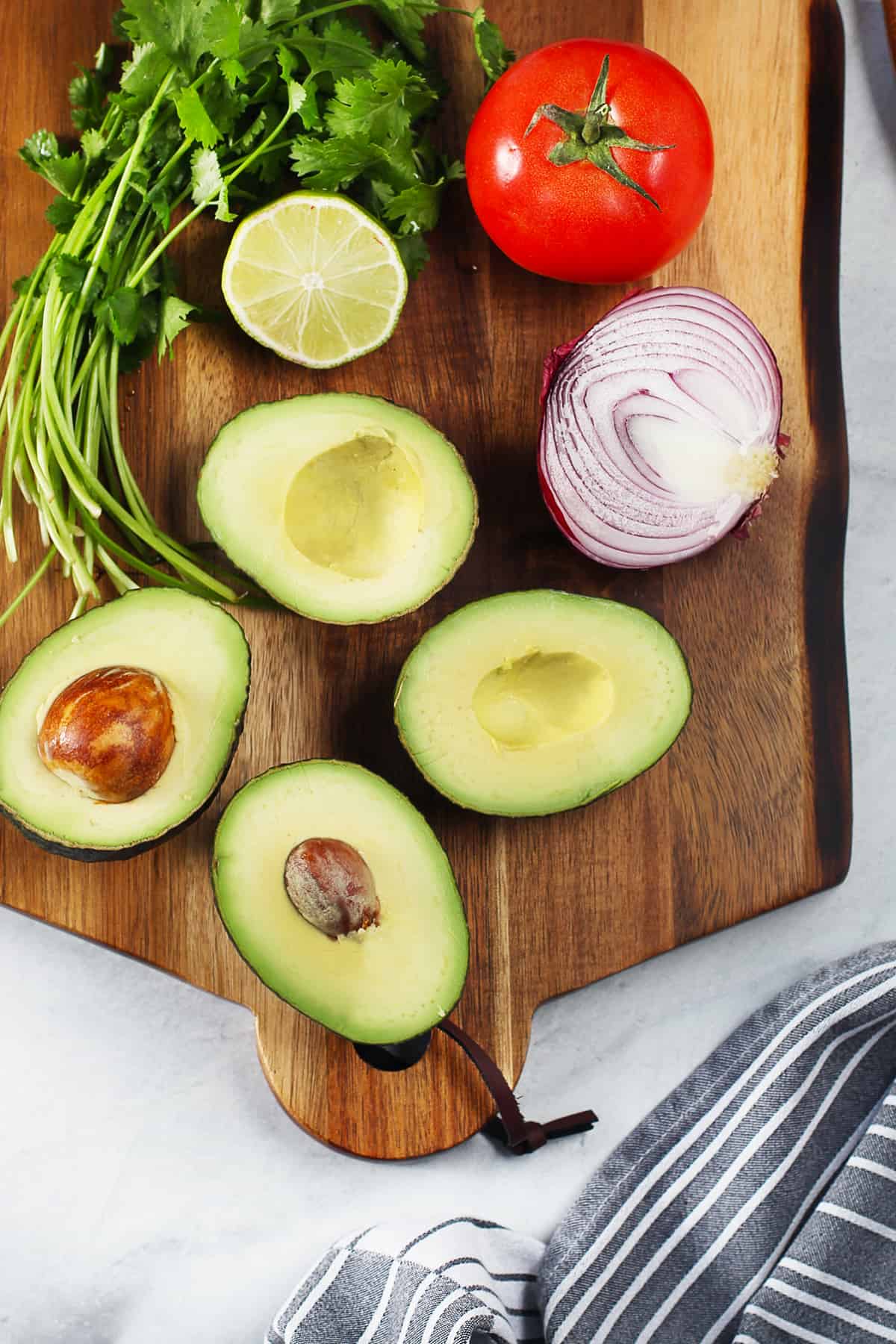 Ingredients for Homemade Guac!
This recipe has some of my favorite additions to guacamole but the absolute only essential things in it are the avocados, lime juice and salt. Other than those three, feel free to skip out on the ones you don't enjoy. I know cilantro can be a touchy subject for some!
Avocados (they have to be ripe!)
Lime
Red Onion
Tomato
Cilantro
Cayenne (I also love a little garlic granules in mine)
Sea Salt and Pepper
Other Optional Additions to Make Good Guacamole
Fruit: Think mangos or pineapples or papaya! Cut up some sweet but firm fruit and add it in.
Peppers: Go for the heat with some spicy chili peppers or go for the savory with bell peppers. Dice them up and mix them in. Or go for the smokey and add in some chipotle peppers in adobo! Add in a touch of the adobo and some of the diced chipotles.
Spices: There are lots of great options out there to make your guacamole a little bit different! Anywhere from garlic powder, to cumin or even curry powder. Get creative!
Beans: A natural pairing, for sure! Black beans would be particularly good with guacamole because they are a bit firmer and will add some nice texture. Garbanzo beans would also be interesting, especially when paired with some unique spices.
Bacon: I never met a dish that wasn't improved by bacon. Same goes for the guac.
Sour Cream or Cashew Cream: Guacamole is already pretty creamy by itself, especially if your avocados are really ripe, but adding in a bit of sour cream or cashew cream (to keep it dairy-free) would make it quite rich in a good way!
Corn: Crunchy fire roasted or grilled corn would be perfect with guacamole.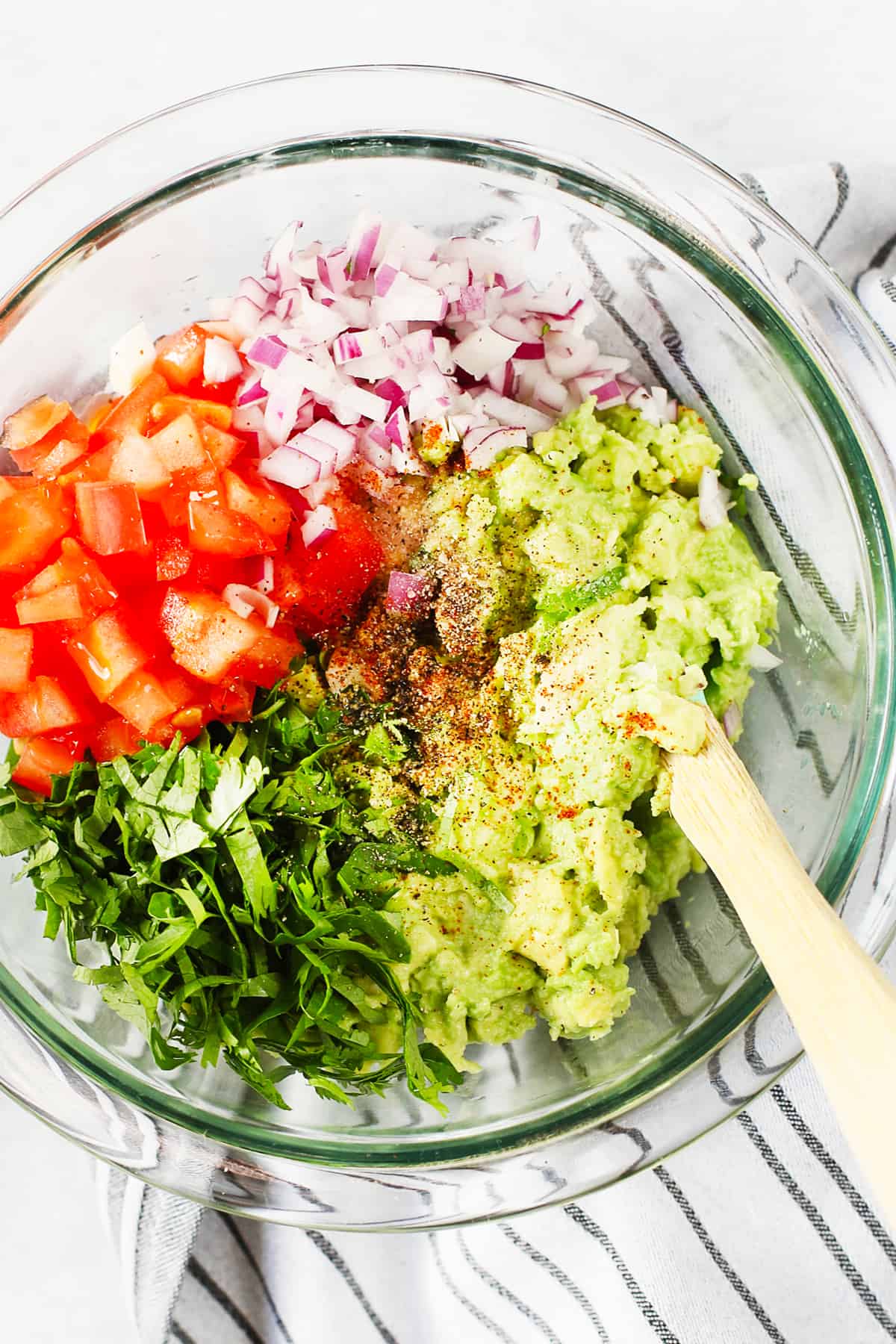 How do you store a whole avocado?
Ripe avocados: eat them in the next day or two! I always store them, once ripe, in the refrigerator. The cold from the fridge slows down the ripening process, so only do this with ripe avocados. If you have unripe avocados, wait until they are ripe (on the counter) and then put them in the refrigerator!
Make sure your avocados are ripe:
When I'm in the store and want to make guacamole, I know I'll need ripe avocados! Grab ones that still have the stem attached. You can pluck it off and if it's brown, put it down! If you pull off the stem and it's green, it's generally a better avocado to buy. The other thing to do is to gently press on one end. It should have a slight give to it – not too firm, not mush either!
Lastly, can I make guacamole ahead of time?
Guacamole gets brown QUICK. I don't prefer making it ahead of time honestly, as I find it better when it's fresh (plus, it's easy to make).
You can try squeezing fresh lime juice on top and covering it with plastic wrap, having the wrap lay directly on top of the guacamole. If you're trying to reduce plastic, go with fresh is best on this one!
Alternatively, you can try the method of putting a bit of water on top of your guacamole container and placing it in the fridge. Once ready to eat just give it a mix. It works, but again, I like to just make it fresh!
---
Looking for more taco night recipes? Check out these favorites!
Homemade Guacamole
These protein pancakes are made with only 5 ingredients and are perfect fuel for a busy morning or a pre-workout breakfast! They're gluten-free, nutrient-dense and pack a punch of added protein!
5-Ingredient Protein Pancakes
I am obsessed with these protein pancakes! Just 5-ingredients, one-bowl, and they result in fluffy and delicious healthy pancakes! These healthy protein pancakes have a WHOLE LOT of protein per serving, and are super quick for an easy breakfast any day of the week. There was a good 6 weeks in my life where these beauties were made every single morning and I never got sick of them! I couldn't get over how nutritious and customizable they were. Add banana, blueberries, chocolate chips… the options are endless! I also started adding spices such as cinnamon to change things up a bit.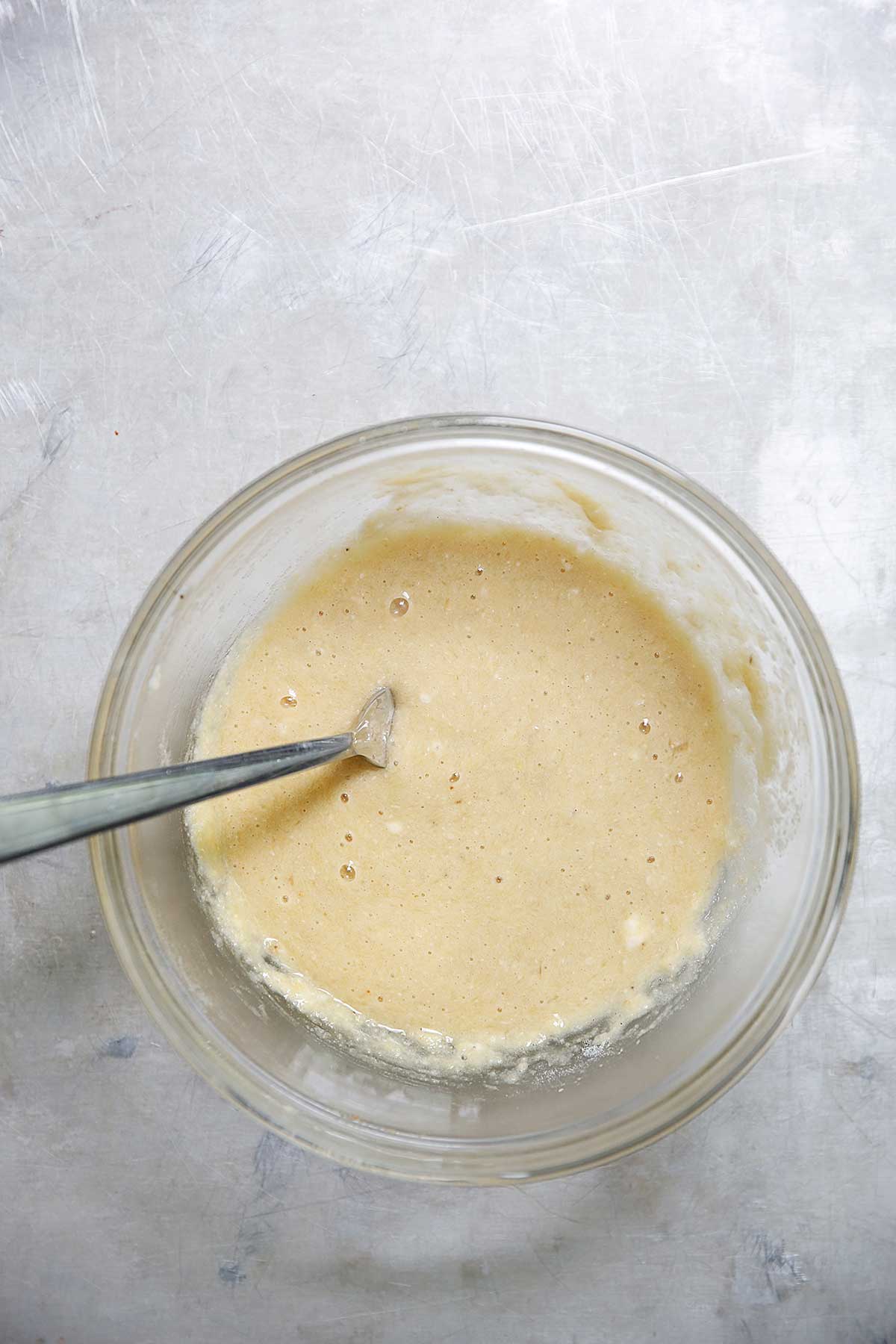 Protein Pancake Ingredients
Bananas
Eggs
Protein Powder
Coconut Flour
Baking Powder
Vanilla Extract (optional)
Cinnamon (optional)
Ghee or Avocado Oil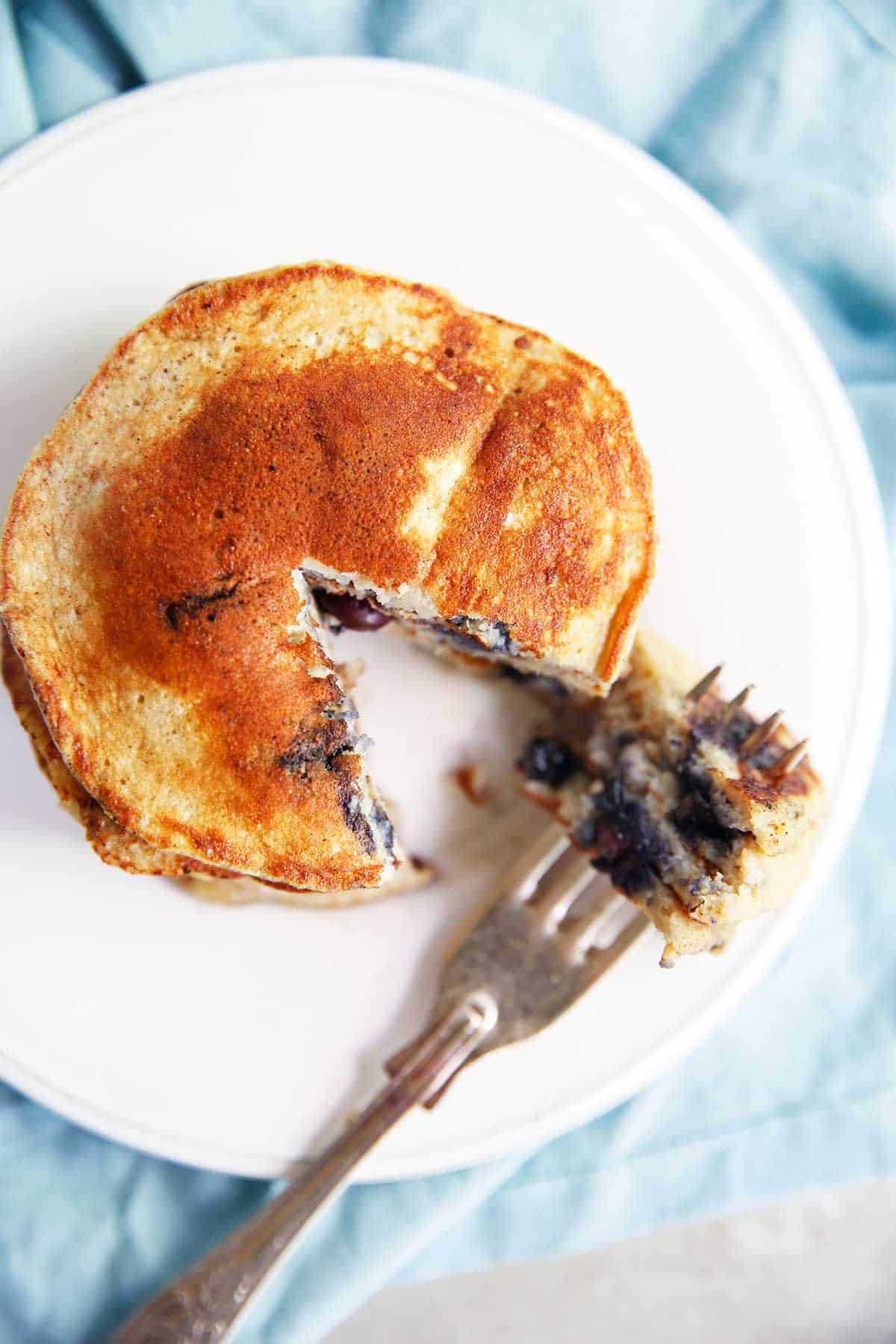 How to Make Protein Pancakes
These don't act the same as traditional pancakes, so don't fear if your batter has a thin consistency.
The batter can be made either in a bowl, or in the blender.
To make them in a bowl, mash the bananas really well and then whisk in the remaining ingredients.
To make in a blender add all the ingredients to a blender and blend until just combined, about 30 seconds.
Tip: I recommend cooking these in a nonstick skillet. Again, these aren't traditional pancakes so you'll need to cook them over low heat for a longer amount of time to fully cook through the batter. Cover the pan to help them cook through evenly. Flip them when they're lightly golden brown and cook on the other side the same way.
Top these with either maple syrup and butter or some drippy or warmed nut butter for an extra dose of protein and serve immediately.
Protein Powders
For these pancakes I have used the SFH brand of protein powder, Garden of Life, and Vital Proteins. Try your favorite, non-gritty protein powder.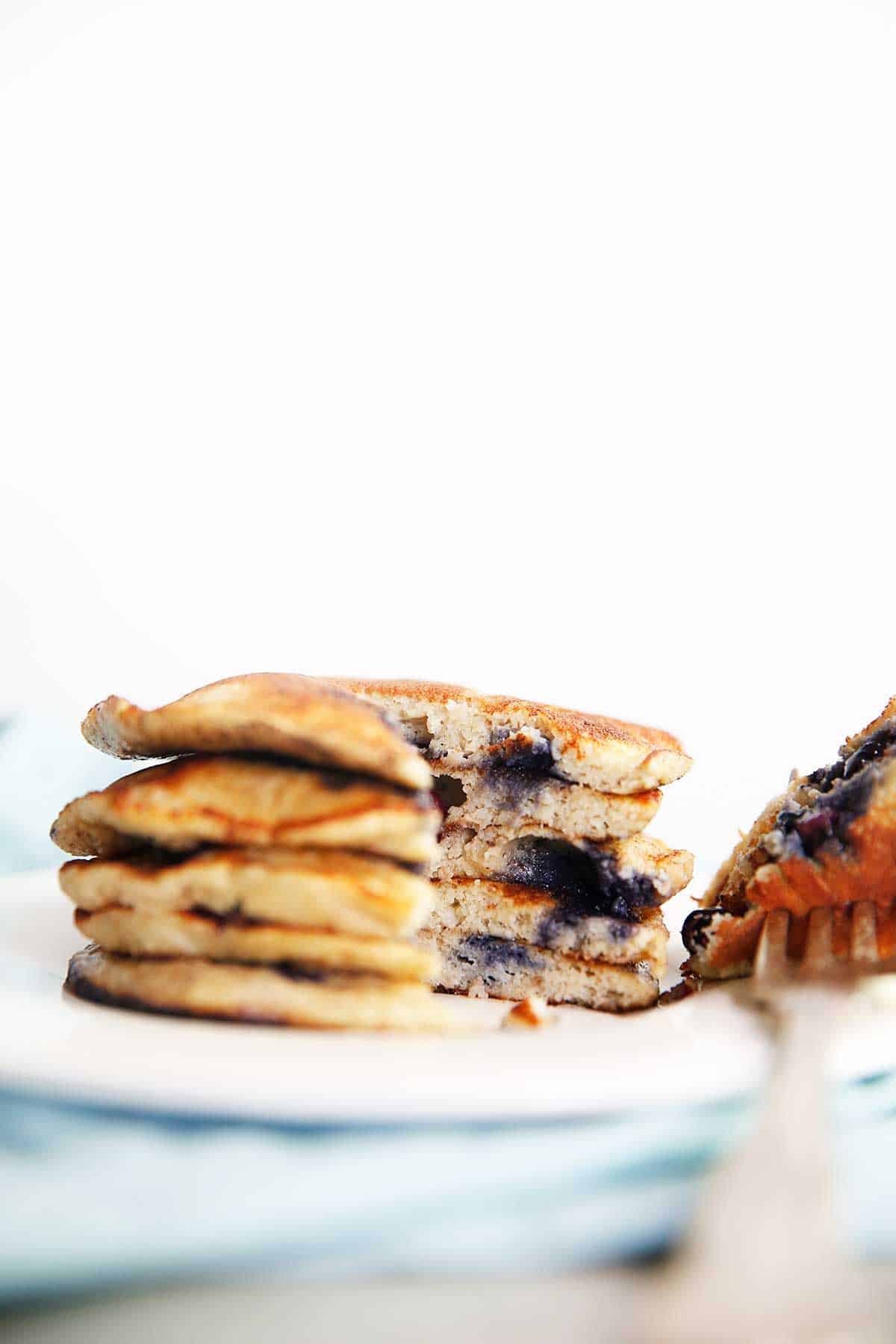 Looking for more breakfast recipes? Check out these:
5-Ingredient Protein Pancakes
These crispy Buffalo Chicken Bites have the perfect touch of spice and are made totally gluten-free and paleo-friendly! Chicken breasts is cut up, dipped in batter and pan-seared before being coated in the easiest buffalo sauce. Perfect for an appetizer or for dinner when served with your favorite side.

Crispy Buffalo Chicken Bites
Buffalo Chicken Bites are our new favorite appetizer, snack, or chicken dinner that nobody will guess is completely allergy-friendly! They are easy to make (watch the video below), and are both kid-friendly and a hit with adults as well. Serve with your favorite side for dinner or dish up for game day with ranch or blue cheese and all the cut up veggies.
Ingredients Needed
Avocado Oil
Boneless Skinless Chicken Breast
Eggs
Tapioca Flour
Salt and Pepper
Hot Sauce (we used Frank's)
Grass-Fed Butter or Ghee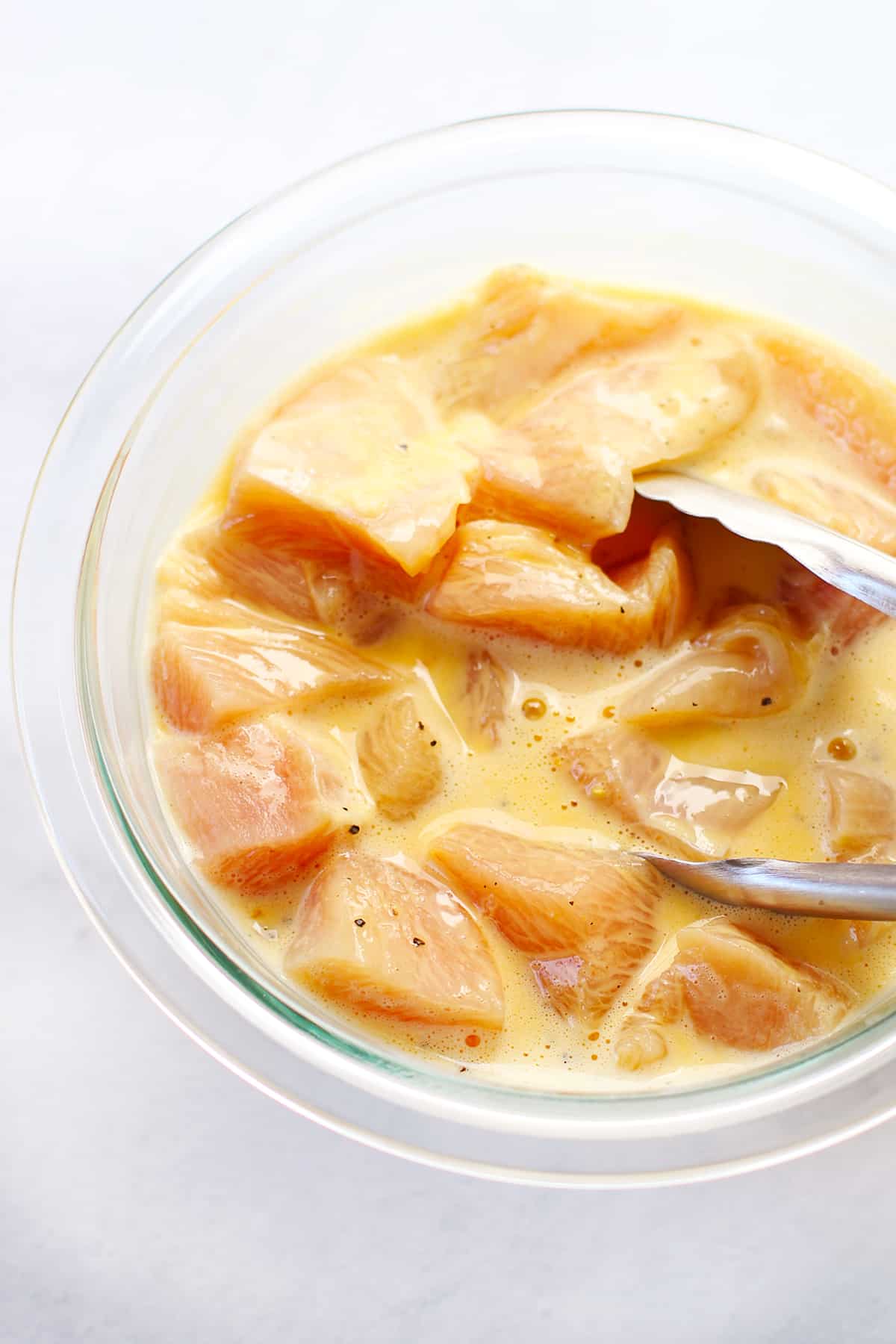 How to Make Gluten Free Buffalo Chicken Bites
Heat the oil. We use avocado but feel free to use whatever high heat oil you want.
Whisk together the batter ingredients.
Coat the chicken with the batter.
Fry and then let excess oil drain on paper towels.
Make buffalo sauce by heating hot sauce and butter (or ghee) together in a skillet. Whisk together until fully combined.
Toss chicken with buffalo sauce.
For extra crispy chicken broil for a few minutes.
Serve immediately with vegetable crudités and your favorite dipping sauce.
Sides to Pair
Fresh Veggies (celery, carrots, cucumber) & Ranch (in my cookbook)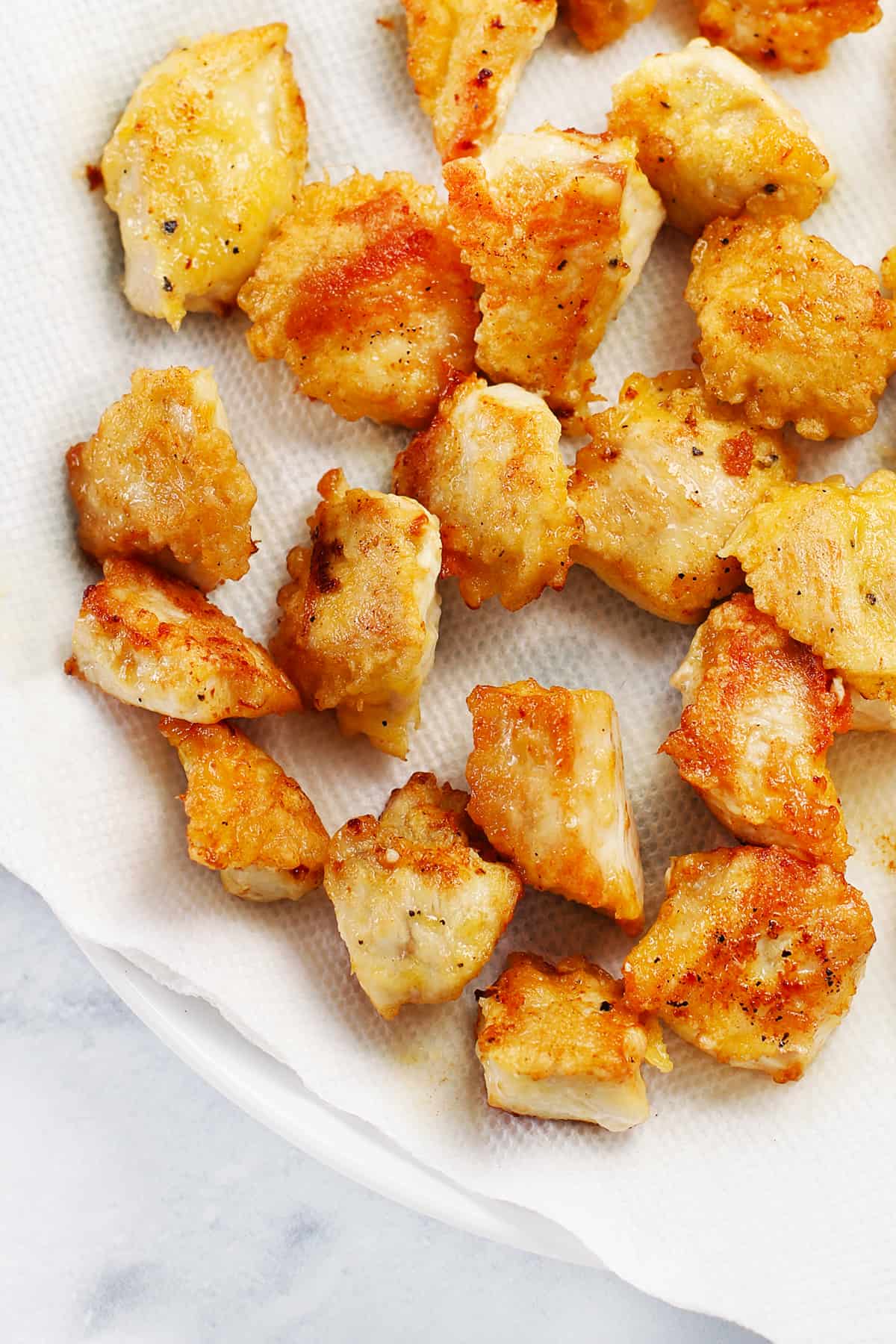 Watch the video: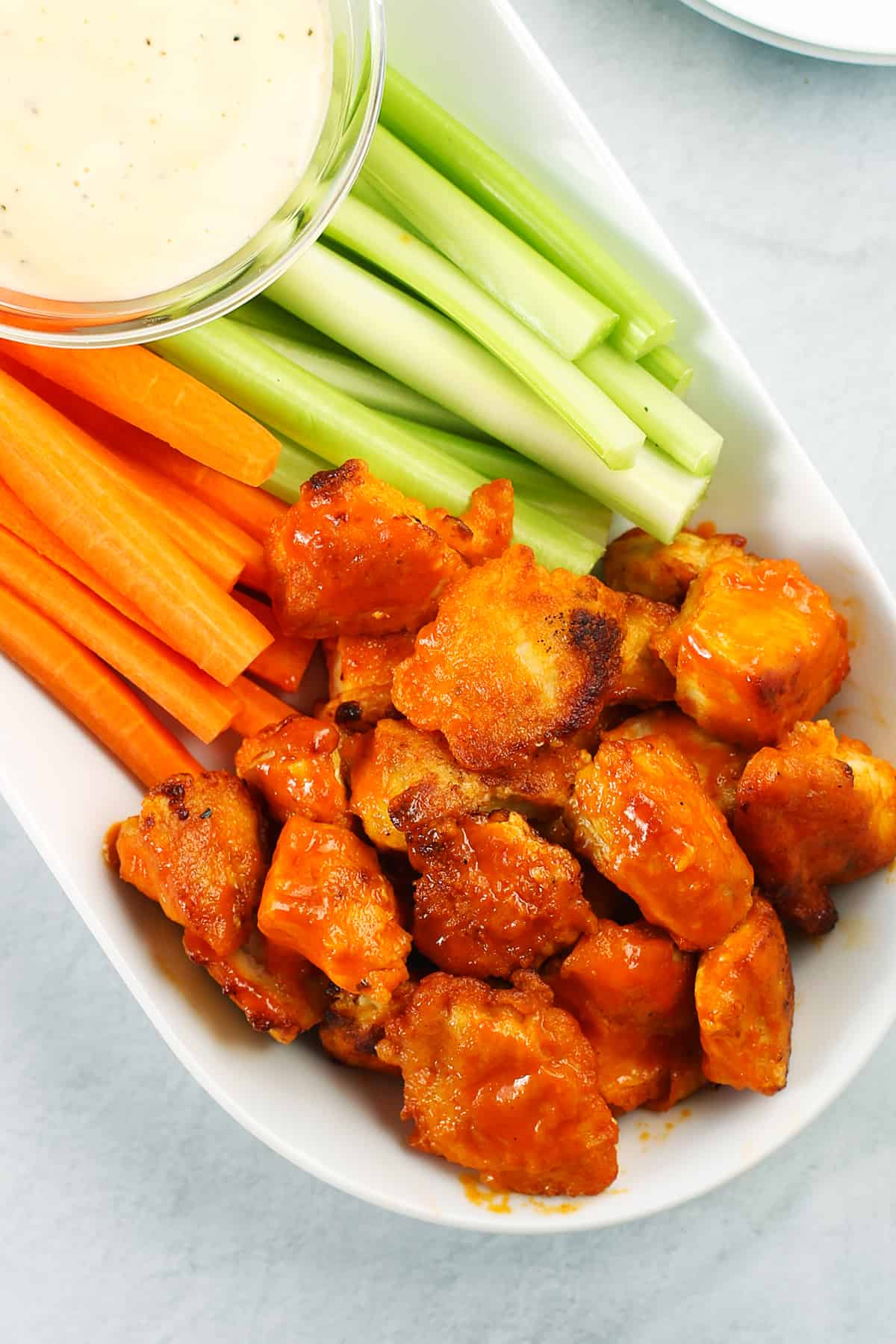 Want other Buffalo Chicken Hits? Try these favorite recipes:
Crispy Buffalo Chicken Bites
This easy-to-make Sweet Potato Chili is the perfect option for meatless Monday or a family-friendly weeknight dinner win. With sweet potatoes, beans and tomatoes, it is hearty vegetarian comfort food. It's made easily in the slow cooker or Instant Pot and easily customizable by adding on all your favorite toppings.
Sweet Potato Chili Recipe
This is my classic go-to vegetarian chili recipe to make all fall and winter long. I call it healthy comfort food in a bowl because it's hearty and satisfying for all of those chilly days. It is perfect for a big gathering, football Sunday festivities, or for a good weekly meal prep option since there are tons of leftovers! Make it in your slow cooker or your Instant Pot pressure cooker for easy hands-off cooking! And don't forget about the best part about chili: all the toppings! I've got a list of my favorites below.
Vegetarian Chili Ingredients
Bell Peppers
Celery
Onion
Garlic
Sweet Potatoes
Beans
Veggie Broth
Spices
Tomato Sauce
Diced Tomatoes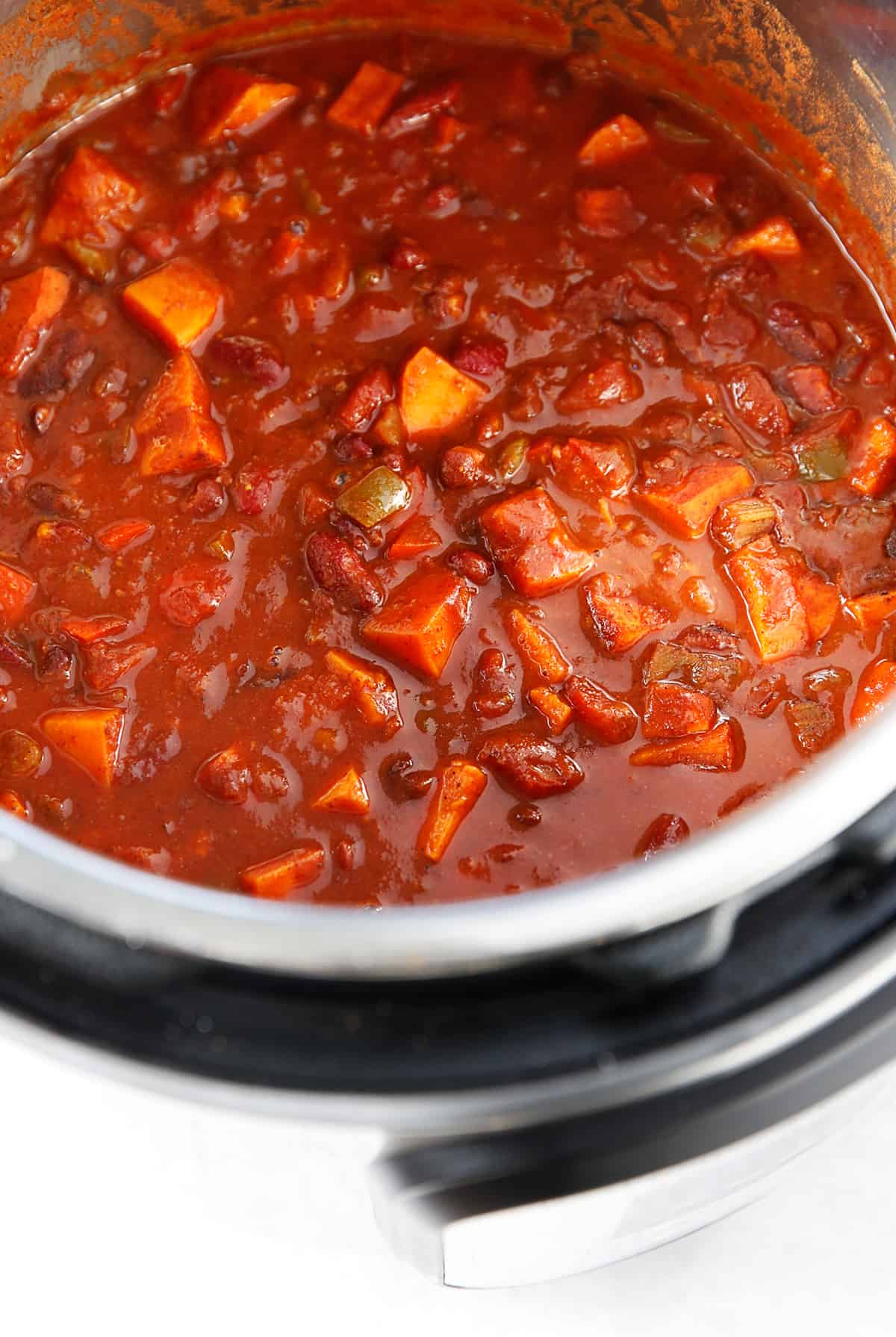 How to Make It
We've got options for making this in both the slow cooker and the pressure cooker. The slow cooker is a great option for making this if you want to prepare it in the morning before leaving for work and have it ready in the evening when you return home.
Making it in the Instant Pot is great because it builds flavor quickly without much hands on time. The vegetarian chili is under pressure for 5 minutes, with a 10 minute pressure release. However, don't forget to account for the prep time (gathering up your ingredients and dicing some up), the saute of the veggies and the time it takes to come up to pressure. It will take at most about an hour to cook this in the Instant Pot. But it's mostly hands-off cooking time and it adds a ton of flavor.
To Make on the Stove Top
We didn't include instructions for cooking this on the stove top in the recipe, but you could. To make on the stove top:
Heat the oil in a dutch oven. Once hot add peppers, celery, onion and garlic and cook, stirring occasionally, until very softened, about 10 minutes.

Add the sweet potatoes, beans, broth, all spices, tomato sauce and diced tomatoes and stir together. Bring up to a boil and then reduce heat to simmer.

Cook until the sauce has thickened and the sweet potatoes are cooked through.

Serve with desired garnishes.
Chili Toppings
Scallions
Avocado Slices
Cheese
Cilantro
Diced or Marinated Onions
Cilantro
Diced Tomatoes
Guacamole
Tortilla Chips
Shredded Lettuce
Sour Cream
If you like this chili recipe, check out these others:
Sweet Potato Chili
There's a lot to love about Vitamin D and all of the benefits it offers your body. According to Medical News Today, it promotes healthy bones, reduces your risk of catching the flu, lowers your risk of diabetes, and improves overall health for babies and pregnant mamas. It also supports the immune system, brain, nervous system, and cardiovascular system. Let's all pause and think about how to get more vitamin D into your lives, right?
5 Easy Tips for Getting More Vitamin D
You'll be glad you did!
Well, it's tricky. It's tougher than you might think to take in ideal levels of this particular vitamin, which is created in the body primarily as a reaction to sun exposure. Most of us don't spend that much time outside, and even when when we do, we might be protecting our skin by hanging out under an umbrella or a big hat. As a result of all of this, deficiencies in Vitamin D are actually pretty common.
5 Easy Tips for Getting More Vitamin D
Adorned with a sweet glaze and seasoned with chili powder, this Chili Maple Glazed Salmon is just what a fun and delicious dinner looks like. Plus, it's super simple to put together and pairs well with just about any veggies for a side. It's gluten-free, dairy-free and Paleo and calling your name to put on the dinner list this week!
Chili and Maple Glazed Salmon
This Maple Glazed Salmon recipe is hands down one of my favorite ways to prepare salmon. I was first introduced to a recipe like this at a dinner I had at Mike's parent's house. His mom made a delicious salmon dish, and she mentioned it using brown sugar and maple syrup, and having a rub on it. I loved that idea so I knew I had to recreate at home and thus this Chili Maple Salmon recipe was born! It is simple to put together and a unique flavor combination. The chili and and the maple together are so good! Serve with a simple side of steamed or roasted veggies and dinner is served!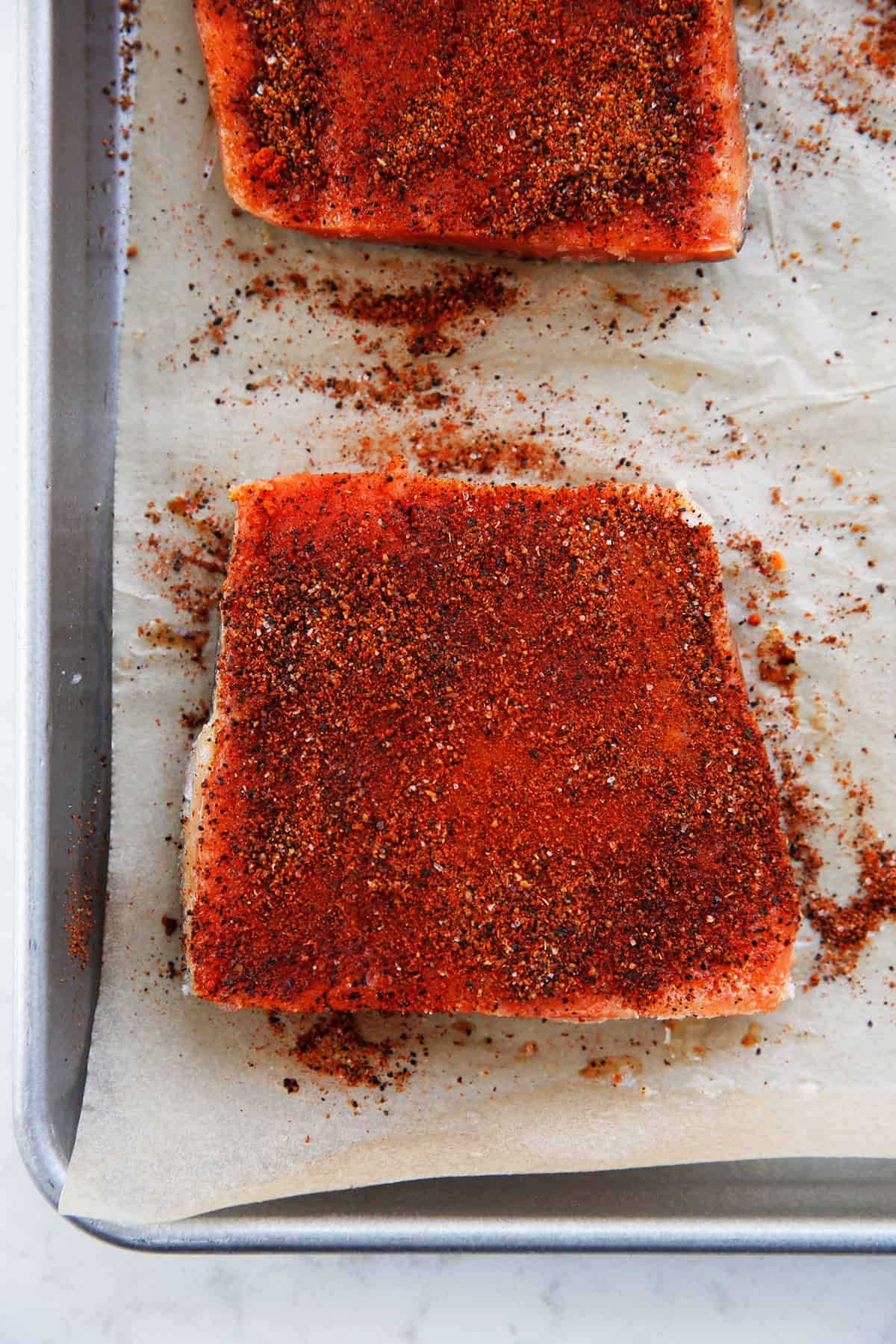 Ingredients Needed
Wild Salmon
Chili Powder
Paprika
Coconut Sugar
Sea salt
Pure Maple Syrup
What to Serve with Maple Glazed Salmon
Because salmon is such a quick dish to make, it's best to serve with either a prepped ahead veggie dish (we like to roast a big batch of veggies at the beginning of the week to use throughout the week) or something that takes just a few seconds to put together, like a salad!
Some other options are to serve with a quick cole slaw, like this one or this one, some zucchini noodles or other veggie noodles, or some cauliflower rice.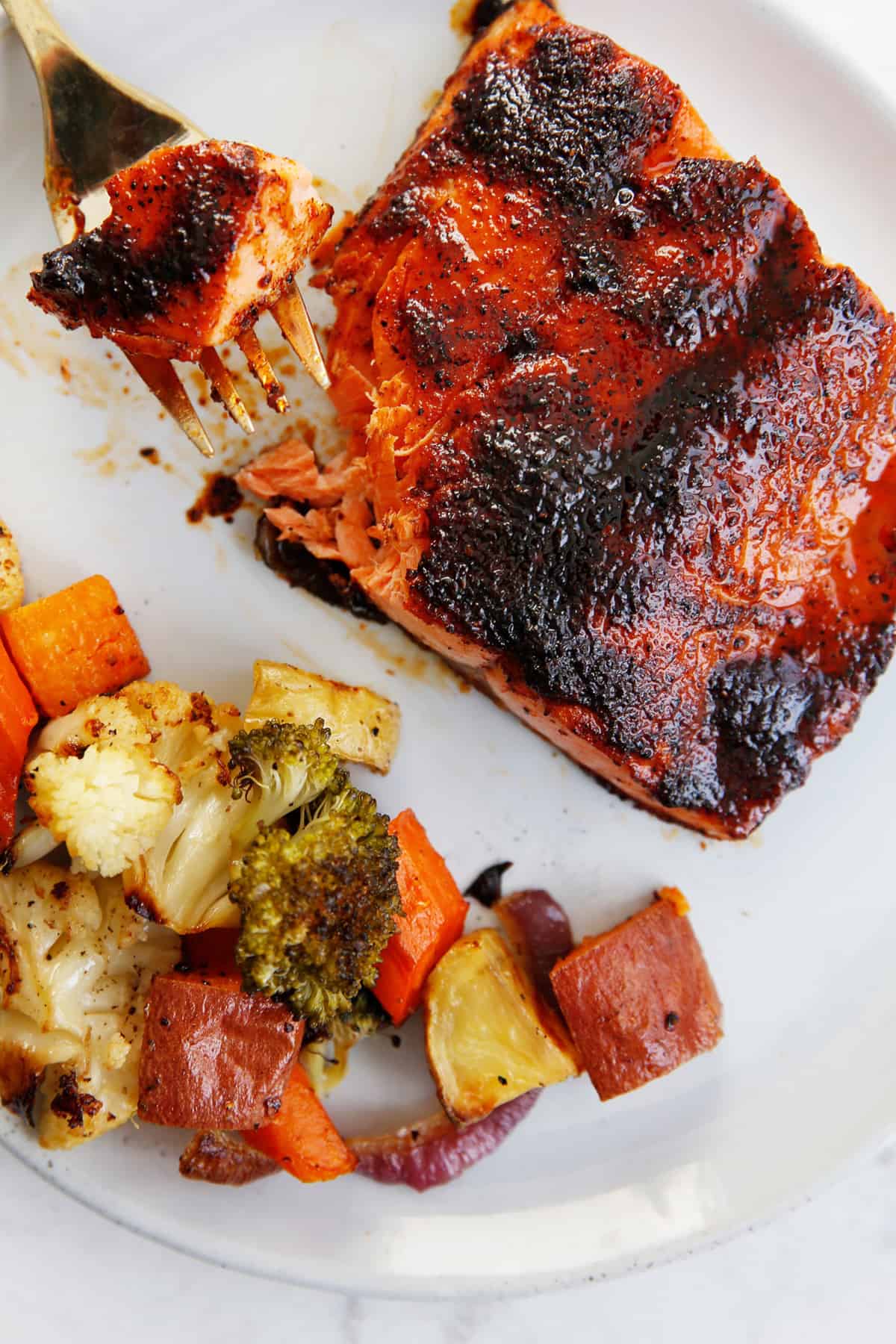 If you like this salmon recipe, check out these others:
Watch the video here:
Chili Maple Glazed Salmon
Nearly any vegetable can be roasted, and once roasted, can go with nearly any dish. Oven Roasted Vegetables are the perfect side that can be made year round. We're dishing out all of our best tips for how to roast vegetables in the oven for for dinners or meal prep.
Oven Roasted Vegetables for Any Season
When done right, oven roasted vegetables can compliment just about any dish you can think of and are truly delicious. At it's heart, roasting vegetables is basically just placing them with some oil on a sheet pan and sticking them in the oven! But with a few basics rules and tricks, we're showing you how you can roast just about ANY vegetable to serve with just about any side.
What vegetables are good for roasting?
Nearly any! But for the purpose of this post we are breaking down the vegetable in two main groups of softer summer vegetables and harder winter vegetables.
"Soft" vegetables are crops that are largely harvested in the spring and the summer and are quicker cooking vegetables like:
zucchini
spring onions
tomatoes
asparagus
green beans
peppers
kale
"Hard" vegetables are crops that are largely harvested in the fall and winter and they are heartier vegetables that take longer to cook like:
potatoes
cauliflower
brussels sprouts
winter squash such as butternut or spaghetti
carrots
root vegetables
onions
cabbage
We recommend roasting the softer vegetables for 20-25 minutes roughly, and the harder vegetables for 40-50 minutes. The exact timing depends on how small you cut the vegetables, especially the heartier winter ones.
Rules for Roasting Vegetables
In short, roasting vegetables can be as simple as putting some oil on a pan and roasting! But we're sharing a few tips we've learned about how to make the best roasted vegetables.
Cut the vegetables to similar sizes. Making sure the vegetables are the same size means they will cook evenly. This is especially true for root vegetables and potatoes.
Use an oil with a high smoke point. We like avocado oil because it works well in high heat and is a healthy fat.
Make sure to use enough oil! Using a decent amount of oil is key if you want to get a good browning on the vegetables. Part of what makes vegetables taste so good when they are roasted is that they can get caramelized in parts and it gives the veggies a really good flavor. Oil helps the vegetables actually roast and makes sure they cook evenly. Use roughly 1-2 tablespoons of oil per sheet pan of vegetables. Toss them with your hands to make sure they are evenly coated. You can do this either in a bowl or directly on the sheet pan.
Give the veggies some space. Another key to roasting is to make sure that whatever you are roasting isn't crowded, that way air can circulate properly. If the pan is crowded the vegetables steam instead of roasting. Make sure the veggies have some space in between and have contact with the bottom of the sheet pan. Use a second baking sheet if you need to to give the vegetables room.
Flip halfway through and moving the veggies around the pan. Flipping the vegetables halfway through the cooking time allows for even cooking on both sides, of course.
Make sure your oven is hot. It's ideal to preheat the oven well, and roast at a high temperature. We recommend roasting vegetables at 400 degrees, but it can even be increased up to 425 degrees if you wanted more caramelization or a bit faster cooking time.
How to Know What Veggies to Pair Together
You can roast vegetables alone, or you can pair them with others. When you pair them together, make sure to choose vegetables that will not only taste good together, but that will also cook in the same amount of time.
Using our guide of dividing up the vegetables into two categories of "soft veggies" and "hard veggies" is a good place to start in terms of cooking times. Soft summer veggies like zucchini, peppers and green beans will all cook at the same time and taste good together. Hard winter vegetables like potato, carrots and onions also will cook at the same time and taste great.
You can also stagger the vegetables if you wanted to cook two vegetables together that take different roasting times. For instance, you could cook potatoes, onions and peppers together, but you might want to add the peppers half way through roasting time since they cook quicker than potatoes and onions.
Adding Flavor to Roasted Vegetables
At the minimum, oven roasted vegetables need oil and salt. And often that is all roasted vegetables need to taste delicious. But a sheet pan of roasted vegetables are a great canvas to add so many flavors to. You can add:
Dried herbs and spices
Fresh herbs either while they roast (like thyme, rosemary or sage) or add it in at the end (like cilantro or parsley)
Grated cheese (parmesan would be great here)
Citrus zest or juice
Make Ahead
Oven roasted veggies are perfect to make ahead in a large batch at the beginning of the week (just don't forget to spread them out to give them space while roasting). They can be reheated in a toaster oven or the oven while you are cooking your main dish. They're also great used in salads, in soups or within other dishes cooked throughout the week.
Looking for something to pair with perfectly roasted vegetables?
If you like this sheet pan recipe, check out these others:
Oven Roasted Vegetables
Flavored with Italian seasoning, with a touch of spinach added in, these Paleo Turkey Meatballs make for a great weeknight dinner or meal prep solution! Double or triple the batch and serve some for now and save some for later. Serve with your favorite homemade or store-bought marinara and spaghetti squash and you've got the perfect lightened-up dinner.
Paleo Turkey Meatballs with Spinach
This gluten-free and Paleo Turkey Meatballs are a classic LCK recipe you've been loving since 2013! We went ahead and gave the recipe and photos a little update. We are so glad we did as it reminded us of how amazing these meatballs are, especially for meal prep! Make a double or triple batch of these Italian flavored meatballs and use some right away and then save some for later. Meatballs are great to keep in the freezer because they're quick and easy to pull out on a moments notice and reheat in your favorite homemade or store-bought marinara sauce.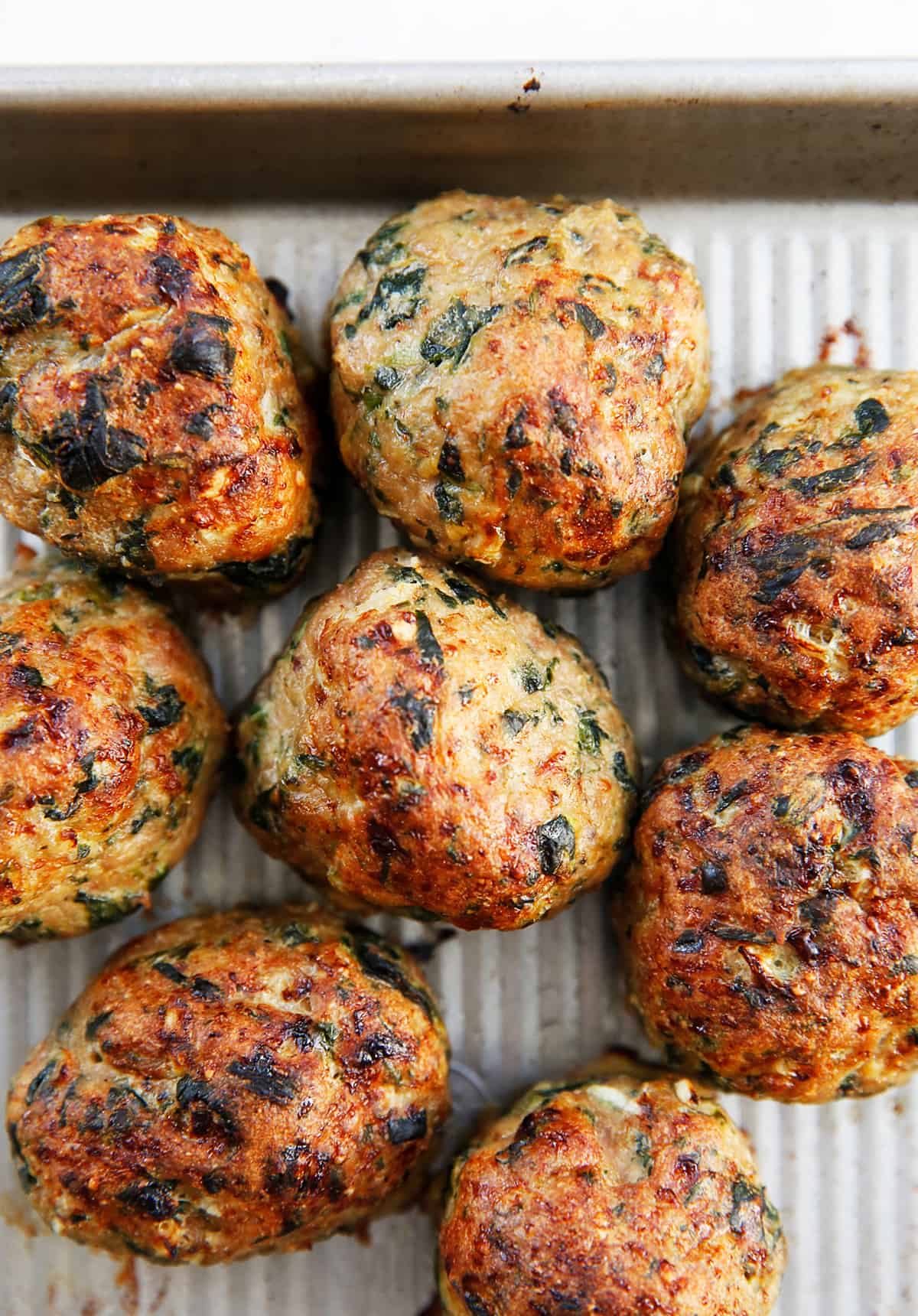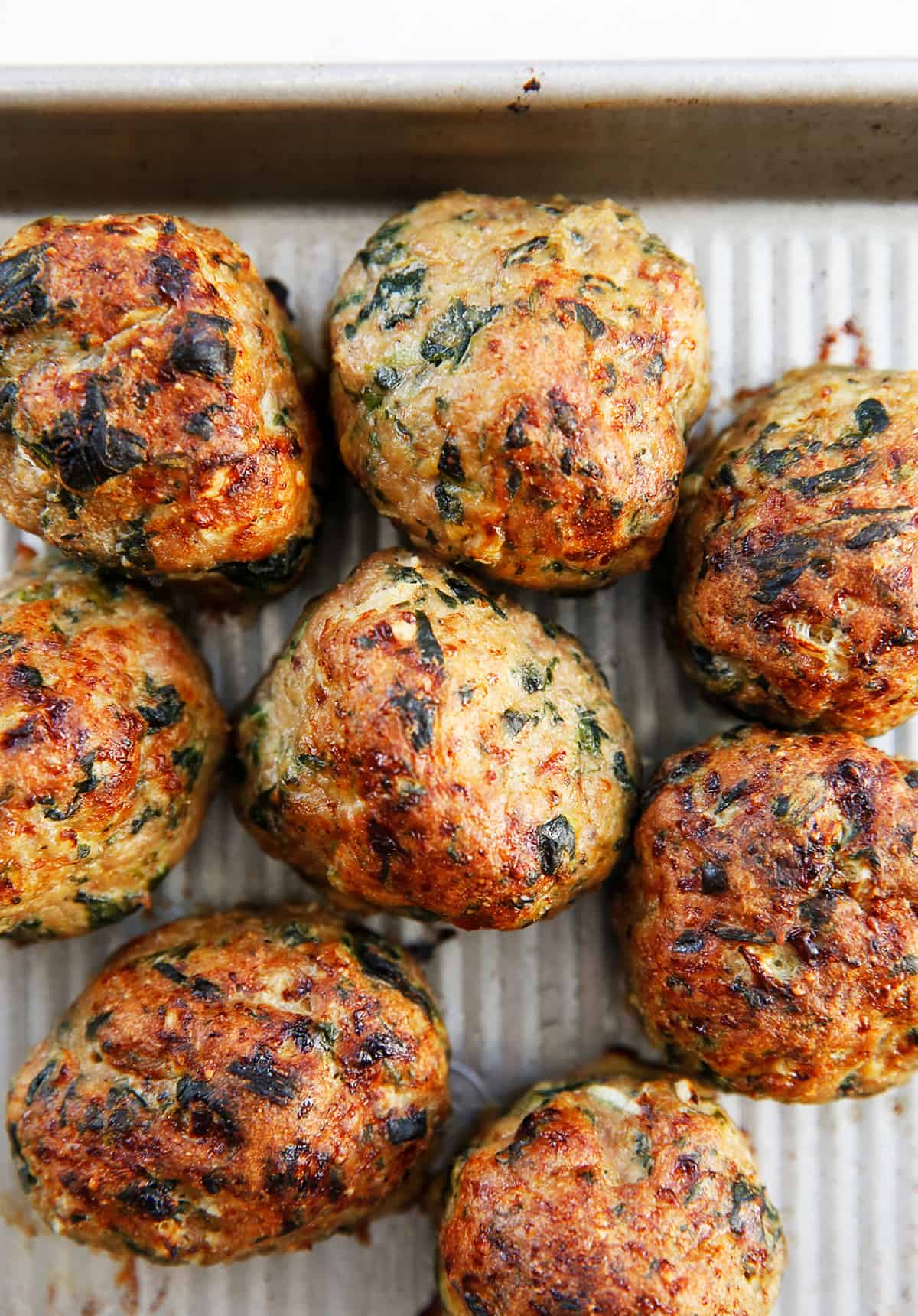 Gluten Free Turkey Meatball Ingredients
Ground Turkey (light or dark meat works here, though we prefer dark meat)
Frozen Spinach
Onion
Egg
Onion Powder
Garlic Powder
Italian Seasoning
Sea Salt and Pepper
Basil
Red Pepper Flakes
Make Ahead Meatballs and Freezer Instructions
Meatballs are the perfect make-ahead meal! They can made a few days ahead and left in the refrigerator or they can be frozen for up to 2 months.
To freeze meatballs, let them fully cool at room temperature and then transfer to a baking sheet lined with parchment paper. Let freeze for at least 1 hour, and then transfer them to a long term storage bag or container. Store for up to 2 months. Defrost in the refrigerator overnight, or warm up in your favorite pasta sauce over low heat.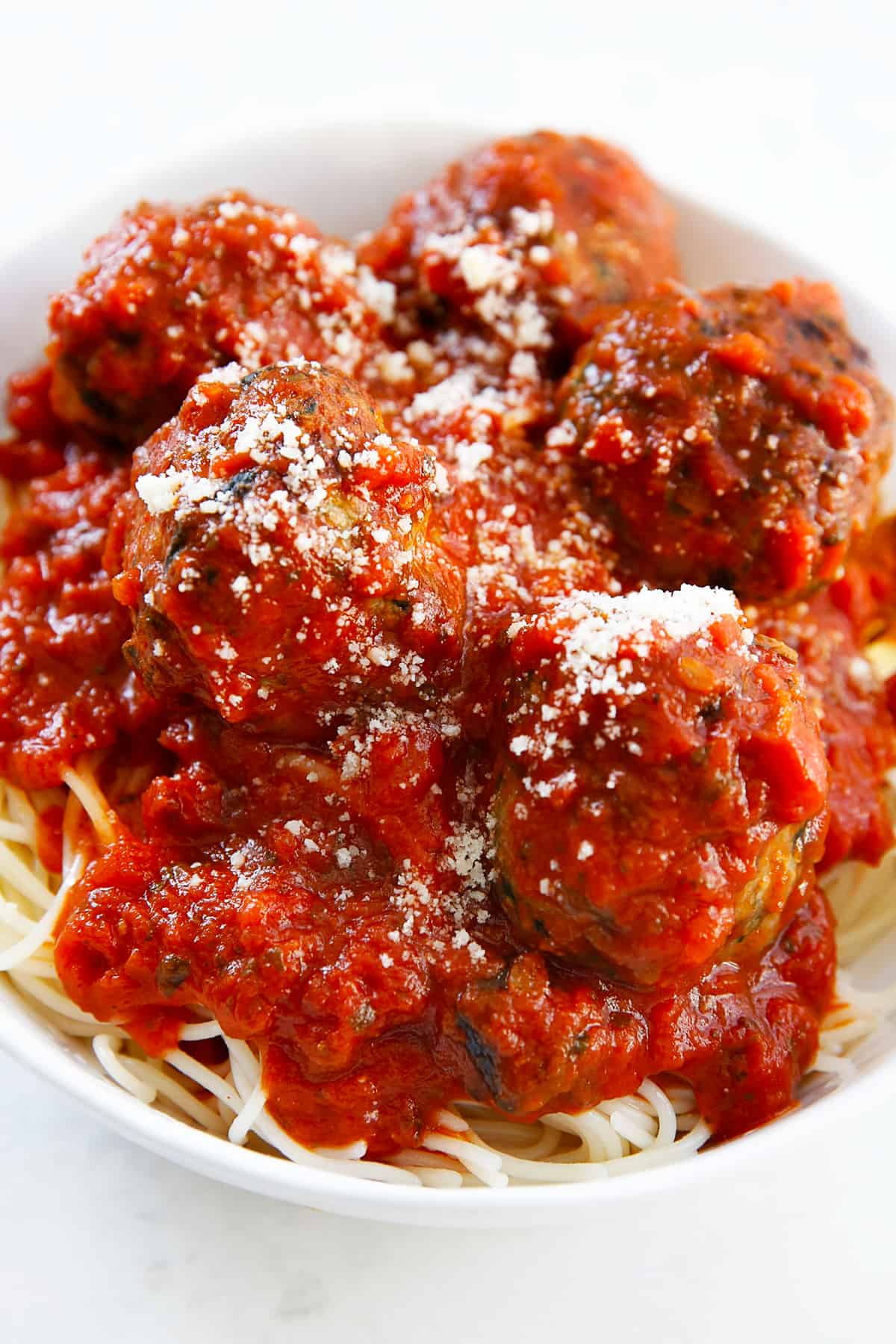 If you like this gluten-free classic recipe, check out these others:
If you like this meatball recipe, check out these others:
[yumprint-recipe id='191′]
Gluten Free Turkey Meatballs with Spinach
With all the classic flavor of a taco, this easy-to-make soup is a family-friendly weeknight dinner win. Customize your soup by adding on all your favorite toppings! It's made in about 30 minutes, and is also gluten-free, Paleo and Whole30 friendly.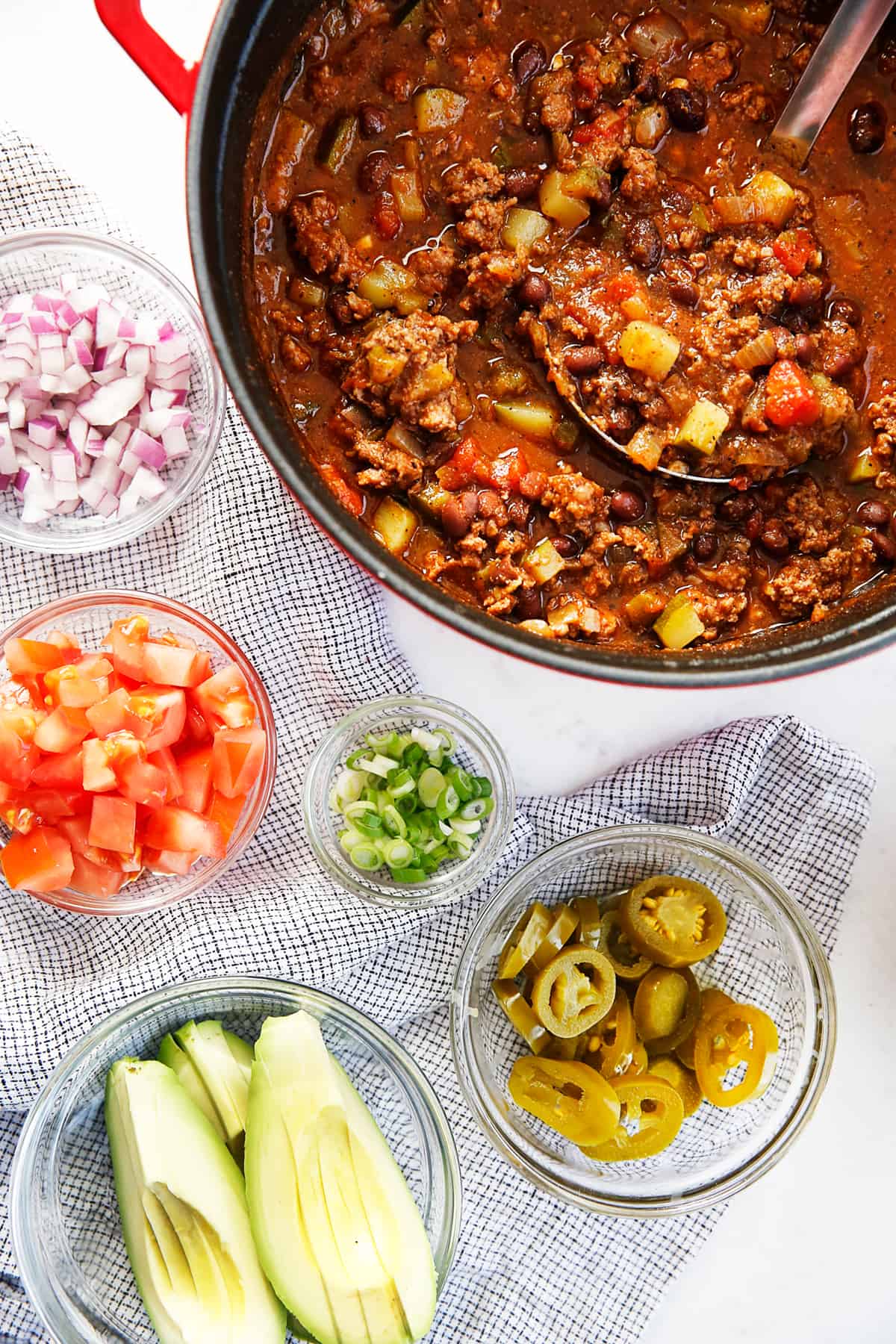 Taco Soup Recipe
Taco night can't come easier when traditional ground beef tacos are turned into taco soup! This easy and healthy Taco soup recipe is most definitely going to be a crowd favorite. It's delicious, so customizable and best of all easy-breezy to make! We take the classic flavor of a ground beef taco, plus a few hidden veggies, seasoned it and quickly cook it all together. Top it with your favorite taco toppings and dinner is ready in just about 30 minutes. This also works equally as well for lunch meal prep for the week!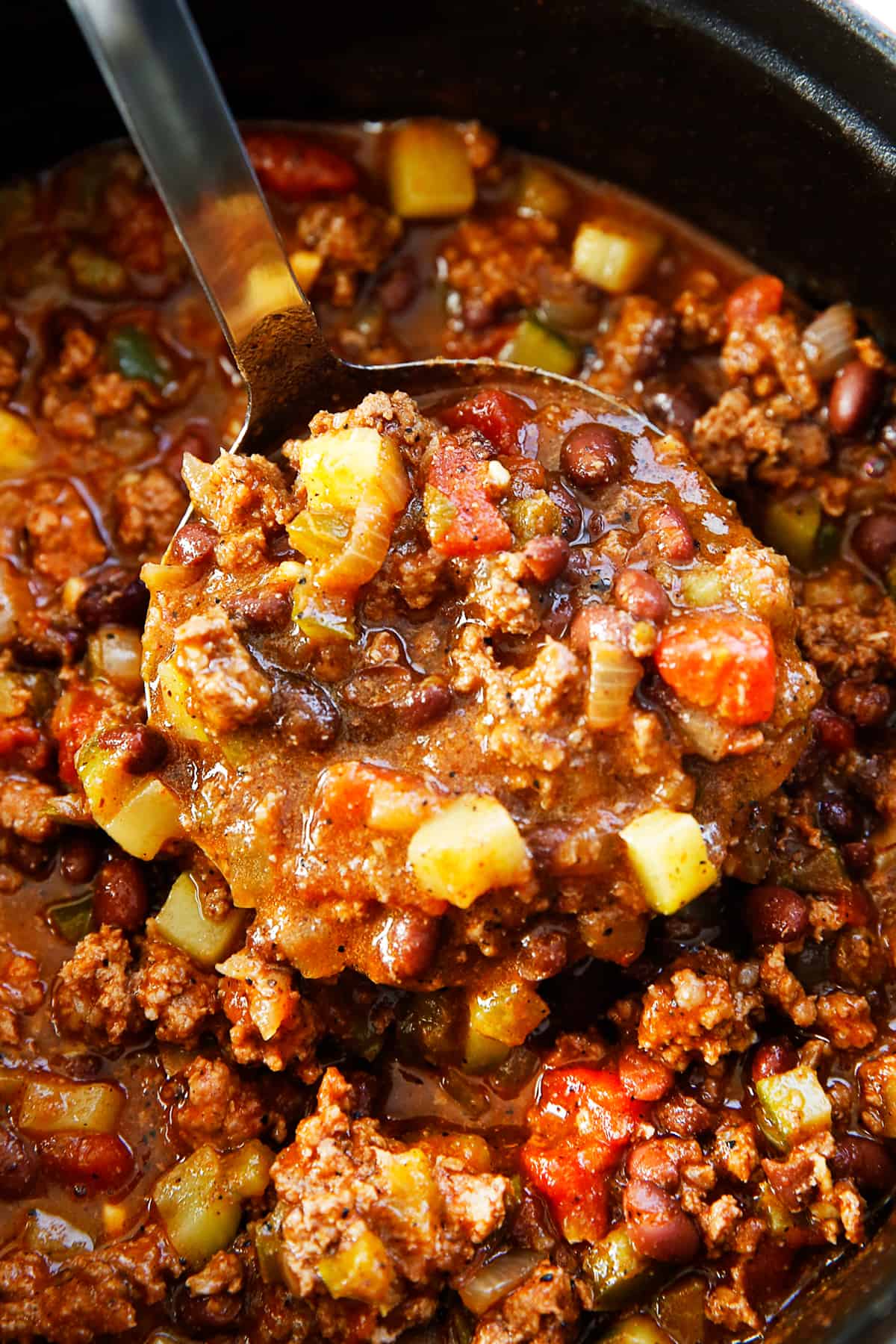 Ingredients Needed
Ground Beef
Spices
Onion
Garlic
Bell Pepper
Zucchini
Olive Oil
Diced Tomatoes
Black Beans (optional, omit for Whole30 and Paleo)
Beef Broth
Customize it with your favorite taco toppings. We love to top it with fresh tomato, pickled jalepeno, tortilla chips, cheese and avocado!
How to Make Taco Soup
This soup is pretty simple to make as-is on the stove top. We chose not to give Instant Pot directions because likely it would take the same amount of time because of the time it takes for the Instant Pot to heat up.
Cook ground beef and cook until no pink remains. Add onion, pepper and garlic and cook until beginning to soften. Add in zucchini and all spices and stir together and cook until the spices are fragrant.
Add in remaining ingredients and bring to a boil then reduce heat and let simmer for 15 minutes or until the zucchini is tender.
Taste and adjust spices as desired. Top with optional garnishes!
If you like this healthy soup recipe, check out these others:
[yumprint-recipe id='304′]