This Caesar Salad Dressing is rich, creamy, and tangy. It takes just 5 minutes to make and is the perfect way to dress up your salads, roasted veggies, burgers, you name it!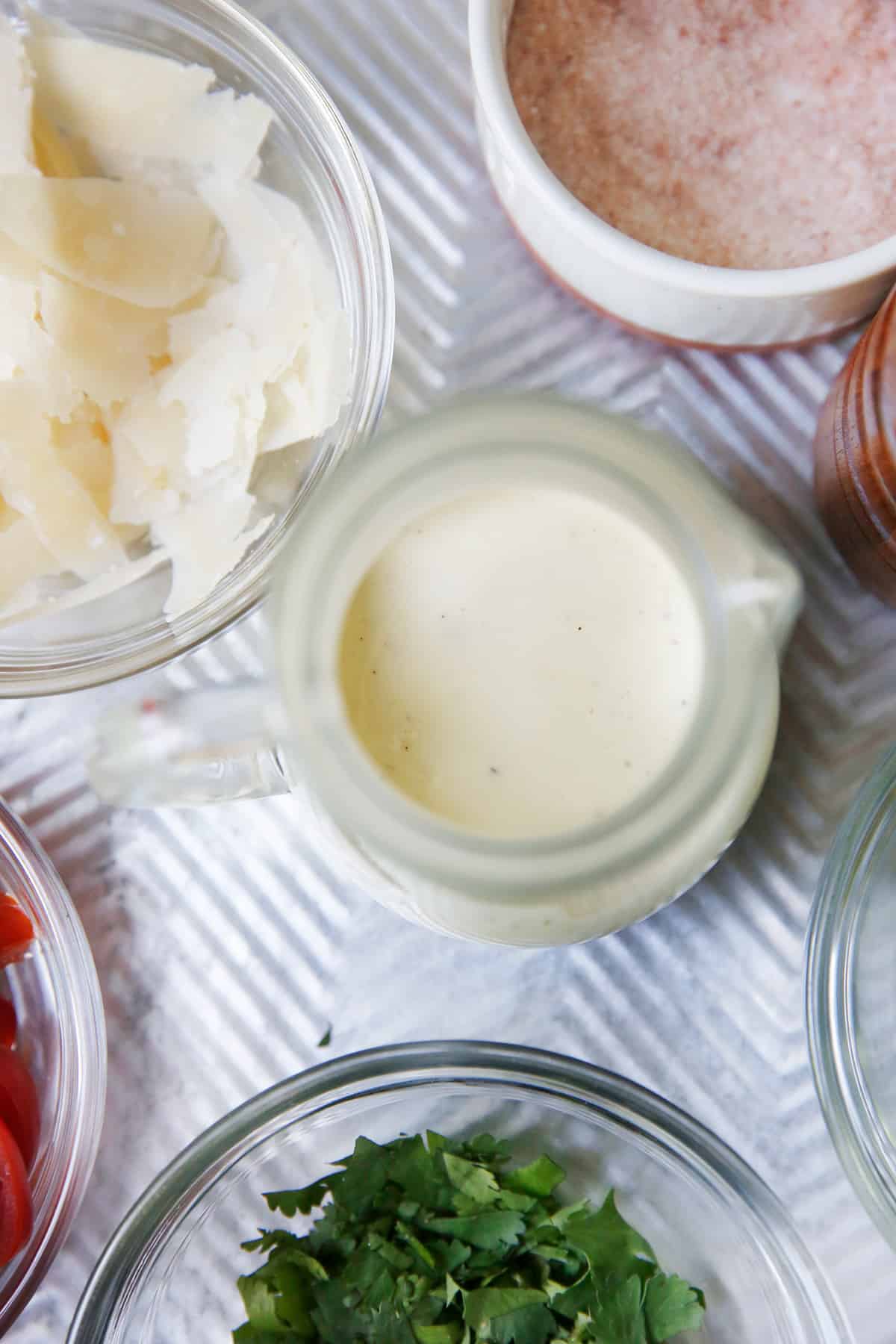 Easy Recipe for Creamy Caesar Salad Dressing
Is there anything less fun than trying to eat a dry and flavorless salad? I don't think so. I honestly hate dry salads. With this Caesar Salad Dressing recipe in your back pocket, you can say goodbye to dry salads for good!
This is seriously the best caesar salad dressing. It's made with simple, basic ingredients and takes just 5 minutes to whip up. It's rich and creamy with the perfect amount of savory, umami flavors.
Use store-bought mayo or make your own for a completely homemade recipe! The choice is yours! This homemade dressing makes eating salad a whole heck of a lot more fun!
Ingredients Needed:
Mayo: homemade or store-bought mayo work great.
Olive Oil: rounds out the brighter flavors with a subtle nuttiness.
Garlic: one clove of freshly minced garlic takes the flavor up a notch.
Apple Cider Vinegar: remember, ACV has tons of flavor. You don't need much to brighten up the flavors of the dressing.
Lemon Juice: I prefer to squeeze fresh lemon juice for the freshest flavor.
Dijon Mustard: adds some extra spice.
Anchovy Paste: gives the dressing its signature "fishy" savoriness. Not a fan of anchovies? Feel free to leave it out!
Sea Salt and Black Pepper: rounds out the flavors in the dressing with an extra kick of heat.
How to Make Caesar Salad Dressing
This recipe for caesar salad dressing comes together in under 5 minutes!
This recipe opts for a quick Ceasar dressing made from mayo. While it's awesome if you can make your own homemade mayo, it also can be made with store-bought mayo too.
After you have your mayo, all you need to do is whisk together the ingredients! Traditionally Caesar Dressing is made with anchovy. It gives it that authentic umami flavor to it.
However, we realize most people don't have anchovy already at home, so you can absolutely skip it if you want!
Combine: Add all of the ingredients for the caesar salad dressing to a bowl or mason jar.
Whisk or shake: Whisk or shake until fully combined, then serve as desired.
How Do You Make Caesar Salad Dressing Without Mayo?
I highly recommend using mayo in this recipe. Its richness and creaminess is just unmatched! Good quality mayo made with avocado oil is actually not scary! Tons of healthy fats.
If you're resistant to the idea of using mayonnaise, you can try swapping it out for plain Greek yogurt. Use Greek yogurt for the whole amount or do half mayo and half yogurt to lighten it up! The flavor might be slightly different, though.
What Are the Ingredients for a Caesar Salad?
A classic caesar salad is made up of chopped romaine lettuce, croutons, parmesan cheese, and of course, caesar dressing! If you're looking for the perfect Caesar salad, check out my homemade Caesar Salad Recipe!
Serving Suggestions
The obvious way to serve your homemade caesar salad dressing is on a caesar salad. BUT there are multiple other ways you can use this dressing:
How to Store Homemade Caesar Salad Dressing
This caesar salad dressing will last in an airtight container or mason jar in the fridge for up to 1 week.
More Dressing Recipes You'll Love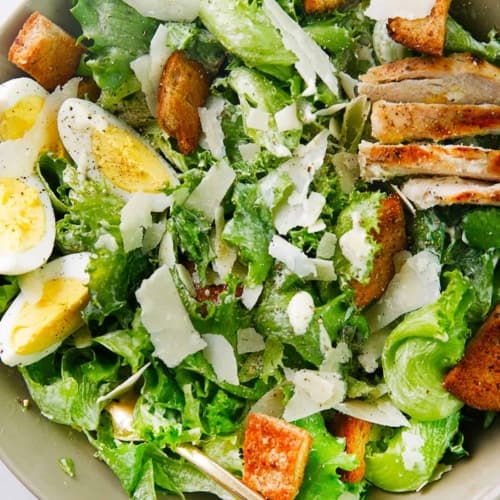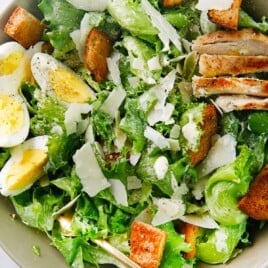 Caesar Salad Dressing
This Caesar Salad Dressing is rich, creamy, and tangy. It takes just 5 minutes to make and is the perfect way to dress up your salads, roasted veggies, burgers, you name it!
Ingredients
½

cup

mayo

homemade or store-bought

2

teaspoons

olive oil

1

garlic clove

minced

1

teaspoon

apple cider vinegar

1

teaspoon

lemon juice

1

teaspoon

dijon mustard

½

teaspoon

anchovy paste

optional

Pine sea salt

Pinch

ground black pepper