These Caribbean Pulled Chicken Lettuce Wraps are a fresh, healthy, flavor-packed meal. They're made with juicy shreds of sweet, spicy, smoky chicken topped with a simple and fresh mango salsa.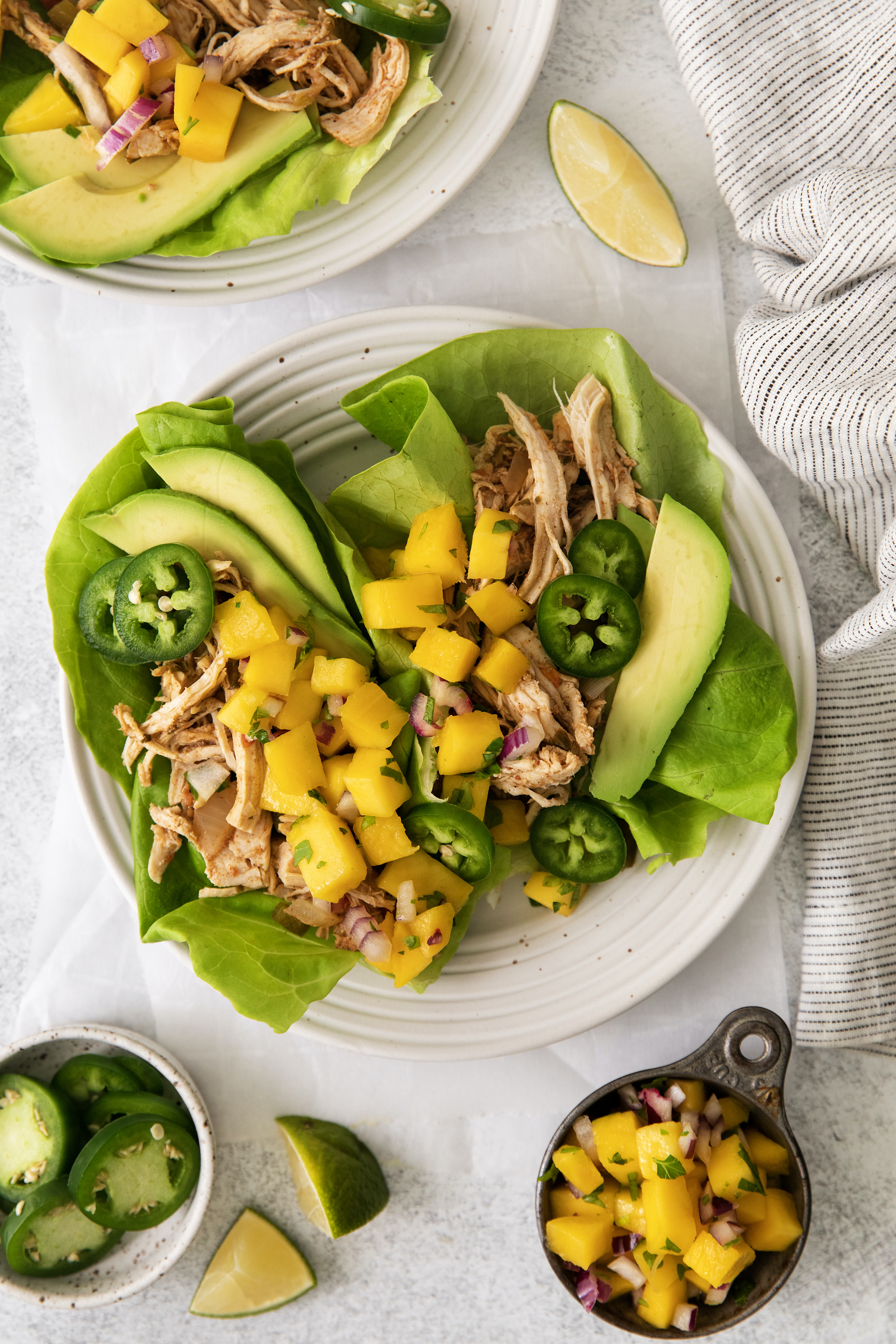 Easy Pulled Chicken Recipe
This Caribbean Pulled Chicken is one of our favorite slow cooker chicken recipes of all time!
It's your favorite cut of chicken slow cooked with a delicious combination of sweet, savory, and flavorful spices to create a mouthwatering, hearty, yet light meal.
Our favorite way to serve this chicken is in lettuce wraps, but it can also be eaten over rice, in tacos, or just straight out of the crockpot with a fork…or your fingers.
Yes, it's that tasty. I love making this chicken at the beginning of the week to have for lunches or dinners all week long.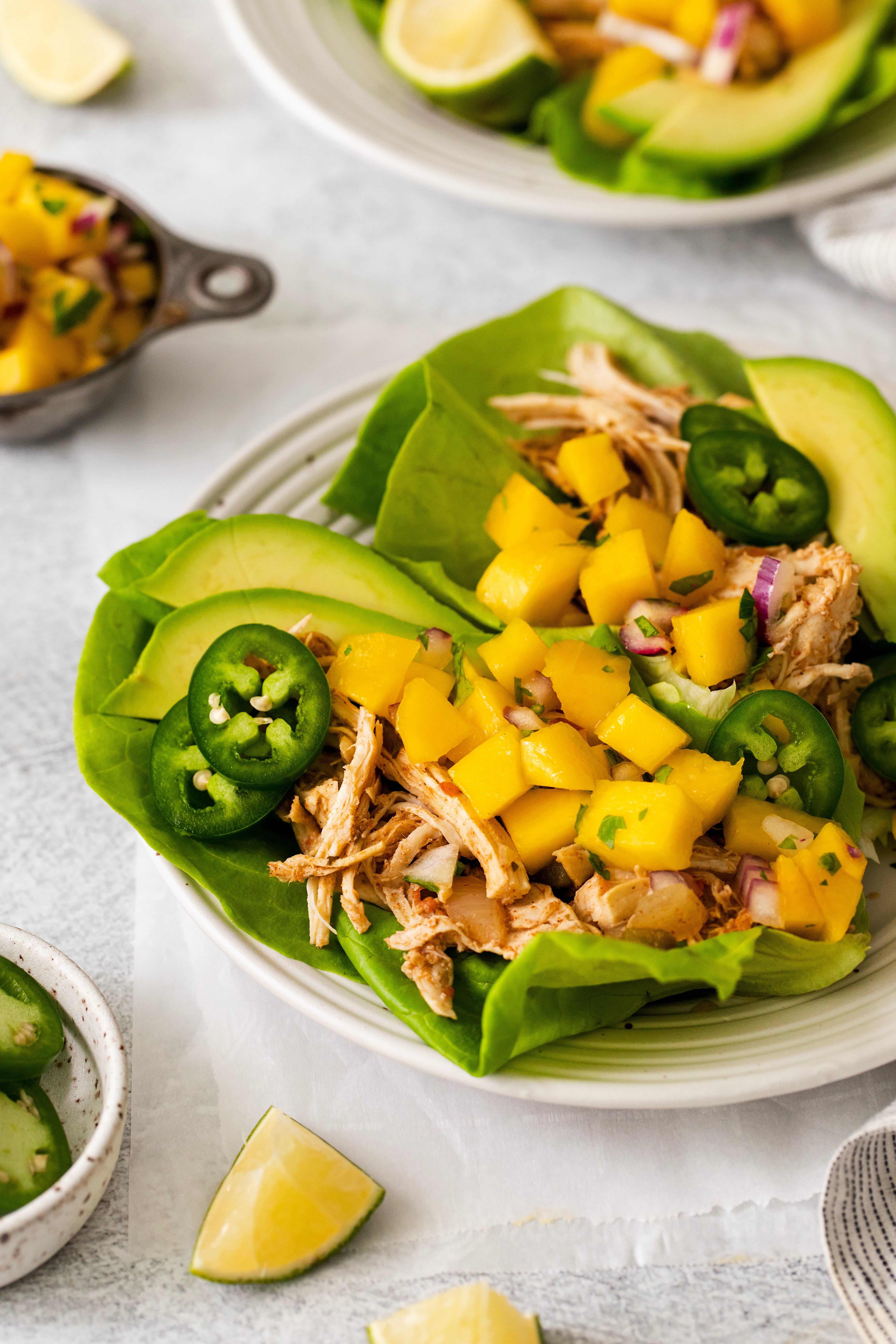 Ingredients Needed for Caribbean Pulled Chicken:
Chicken: Make sure you're using boneless, skinless chicken.
Veggies: We're using a blend of fresh bell pepper, onion, and jalapeño as well as a little bit of canned diced tomatoes.
Chicken Broth: Adds tons of flavor and moisture to the chicken.
Aromatics: We're brightening the flavors up a bit with freshly minced garlic and cilantro.
Lime Juice: Lime juice adds a bright, citrus flavor and helps tenderize the meat as it cooks.
Spice Rub: Our spice blend consists of a sweet and spicy blend of ground ginger, cumin, sea salt, black pepper, all spice, paprika, and coconut sugar.
Mango Salsa: Feel free to use store-bought mango salsa or whip up a simple homemade batch using mangos, diced red onion, chopped cilantro, and lime juice.
For Serving: Bibb lettuce (or another type of lettuce you prefer), avocado, tomato, or any other add-ons of your choice.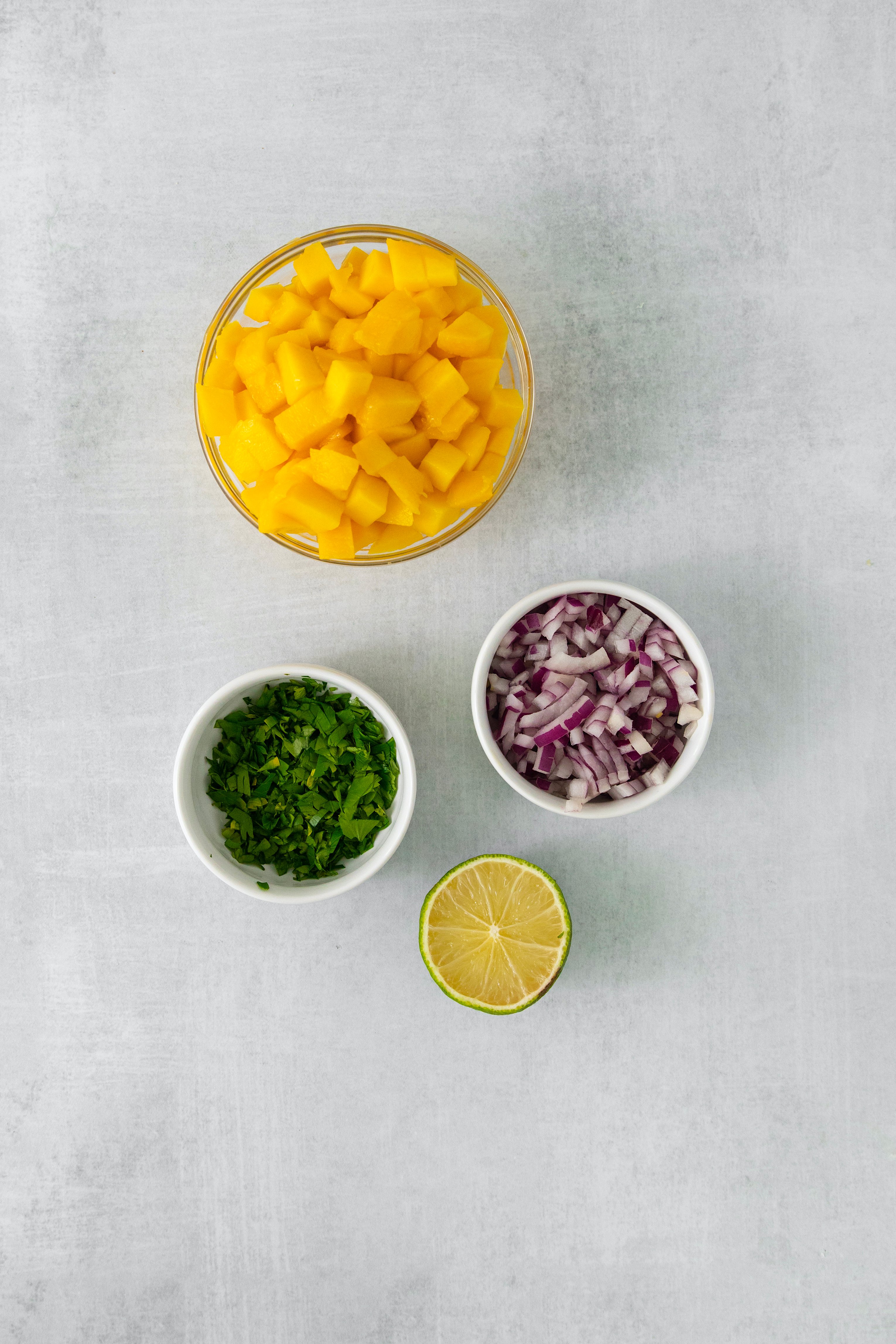 How to Make Pulled Chicken
This tasty pulled chicken recipe comes together with just 10 minutes of hands-on time! With a homemade salsa too!
Combine and cook: In your slow cooker, combine the chicken, tomatoes, broth, veggies, garlic, lime juice, cilantro, and seasonings. Mix well, then cook on high for 3 hours.
Make the salsa: In a bowl, combine all of the salsa ingredients, then set in the fridge.
Shred and serve: Once the chicken is done cooking, shred it right in the crockpot, then serve as desired.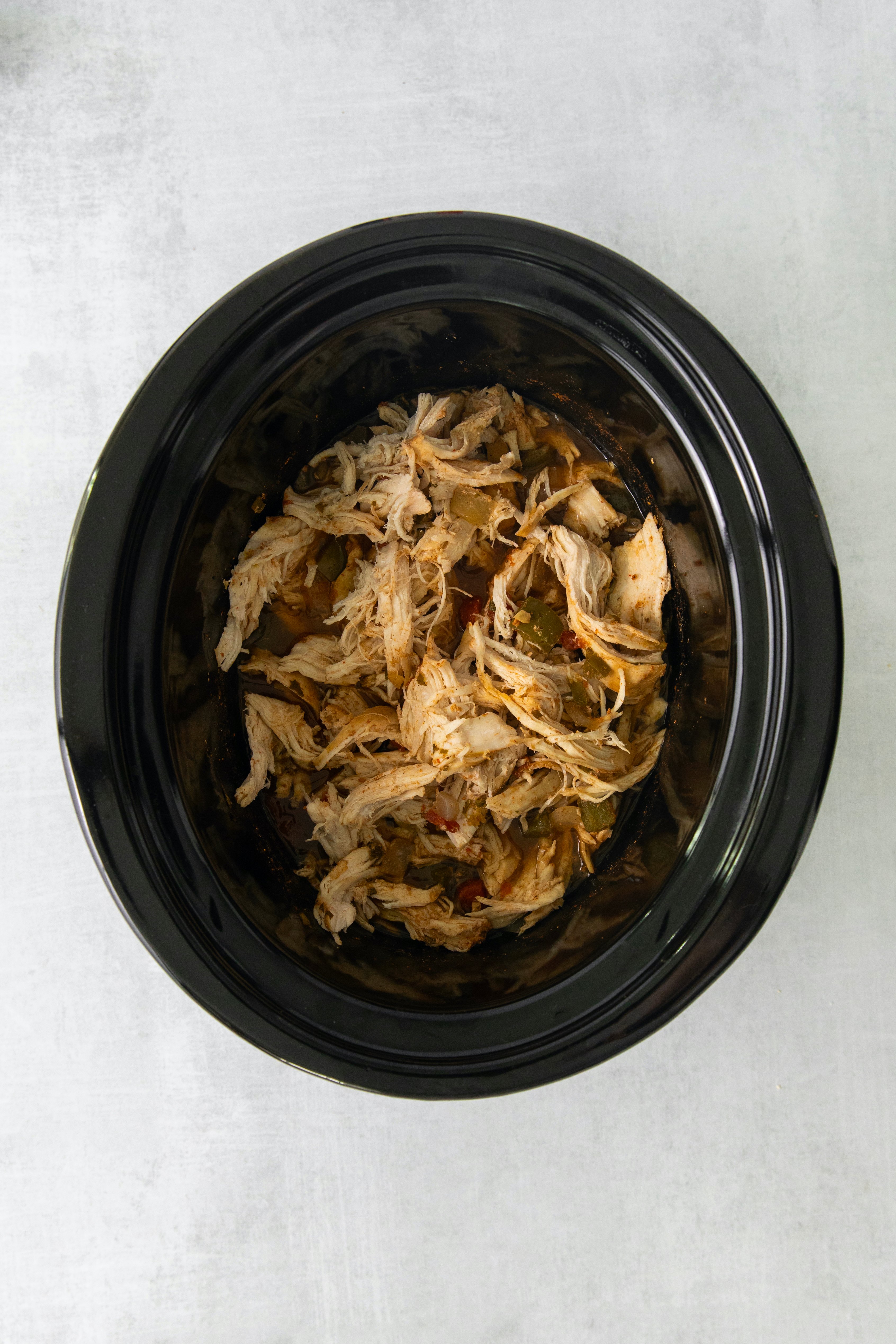 What is the Easiest Way to Shred Chicken?
I find the easiest way is to leave the chicken in the crockpot and use two forks to gently pull it apart!
Alternatively, you can use a hand mixer to shred the chicken.
Serving Suggestions
My favorite way to serve this crock pot pulled chicken is on lettuce wraps topped with avocado, tomato, and the homemade mango salsa!
If you're looking to serve the shredded chicken another way, you can enjoy it on burger buns or slider buns, in a taco or a burrito, or mixed into a rice or quinoa bowl with your favorite toppings.
Looking for a side dish to serve alongside your Caribbean chicken? Here are a few ideaas:
Frequently Asked Questions
What is the difference between shredded chicken and pulled chicken?
There isn't one! Shredded chicken and pulled chicken are just two terms to describe the same thing.
What cut of chicken is best for shredding?
You can use whatever cut of chicken you prefer for this recipe. Just be sure that it's boneless and skinless.
What does Caribbean chicken taste like?
Caribbean chicken definitely does not have just one identifiable taste. It pretty much hits every flavor it could. There's a little bit of sweetness, spiciness, smokiness, and tanginess. So, long story short, it's totally flavor-packed and mouthwateringly delicious.
Tips and Notes for Caribbean Pulled Chicken
Mix everything well. Once you combine everything in the slow cooker, make sure you mix it all up thoroughly to evenly distribute all of those flavors before cooking.
Let the chicken rest after cooking. I recommend letting the chicken sit for 10 minutes before shredding it. This gives the flavor and moisture time to redistribute back into the meat.
Drain before serving if needed. If you notice a lot of excess moisture, I recommend using a slotted spoon to scoop the shredded chicken out of the pot so some of that moisture can drain. If there's too much, you'll end up with a mess.
Need more time? Simply cook on low instead. Just plan for 6 hours rather than 3.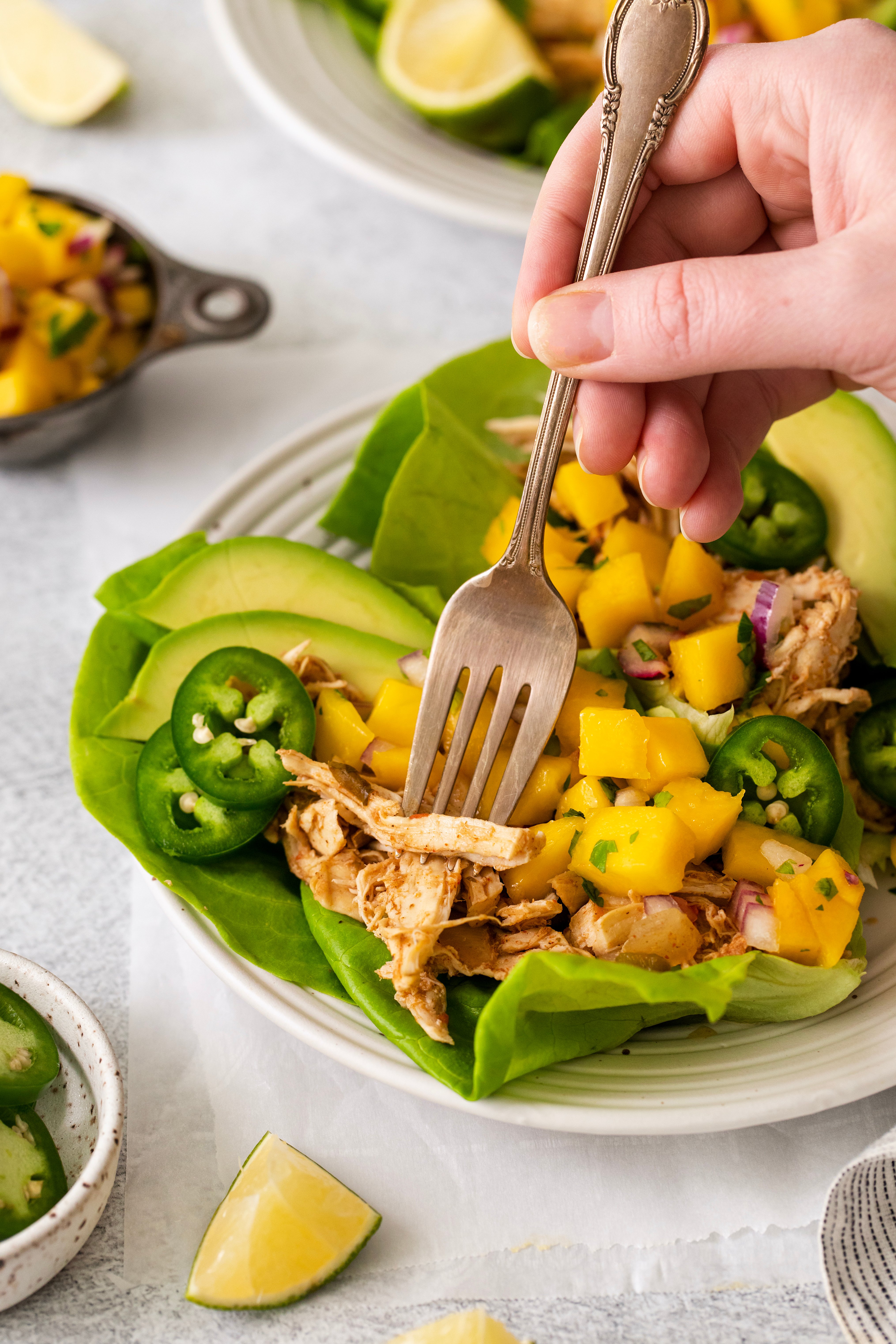 How to Store
Leftover shredded chicken will last in an airtight container in the fridge for 3-4 days or in the freezer for 2-3 months.
When you're ready to serve, thaw the chicken overnight in the fridge if frozen, then warm either in the microwave or on low on the stove over medium-low heat with a splash of broth to moisten if needed.
More Crockpot Chicken Recipes to Try
Watch the video: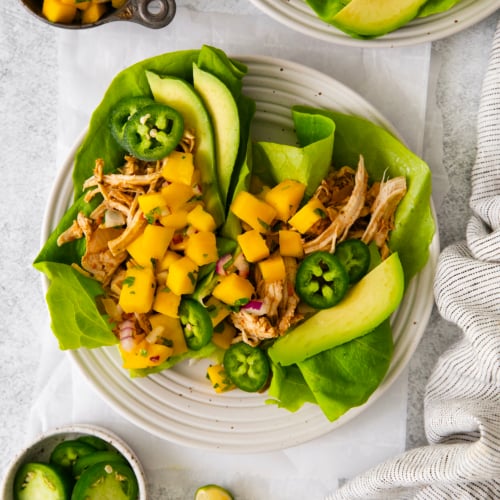 Caribbean Pulled Chicken Lettuce Wraps [VIDEO]
These Caribbean Pulled Chicken Lettuce Wraps are a fresh, healthy, flavor-packed meal. They're made with juicy shreds of sweet, spicy, smoky chicken topped with a simple and fresh mango salsa.
Ingredients
Caribbean Pulled Chicken:
1 1/2

pounds

boneless and skinless chicken

1/2

cup

diced canned tomatoes

1

cup

chicken broth

1

bell pepper

diced

1

onion

diced

2

garlic cloves

minced

1

jalapeno

minced

Juice of 1 lime

1/2

cup

cilantro

chopped

1/2

teaspoon

ground ginger

1

tablespoon

cumin

1

teaspoon

fine sea salt

1/2

teaspoon

black pepper

1/4

teaspoon

all spice

1

tablespoon

paprika

1/2

teaspoon

coconut sugar
Mango Salsa:
3

mangos

diced

1/3

cup

diced red onion

1/3

cup

chopped fresh cilantro

Juice of 1/2 lime
Everything Else:
Head of butter lettuce or lettuce leaves of choice

1

avocado

sliced

Any other add-ins you'd like
Instructions
Place all of the pulled chicken ingredients into the insert of your

slow cooker

. Mix to combine flavors, then put on high for 3 hours.

While it's cooking, prepare the mango salsa: In a bowl toss together all ingredients and set aside in the refrigerator until ready to use.

When the chicken is done, shred with two forks and mix into the sauce. Let sit for 10 minutes, covered.

Assemble lettuce wraps, top with mango salsa and other desired toppings, like avocado and tomato, and serve.
Notes
The juice from the chicken is delicious but makes the lettuce wraps a tad messy if you don't slightly strain when assembling.
Pulled chicken nutrition info per serving: 232 calories, 6 grams of carbohydrates, and 37 grams of protein
Lettuce wrap nutrition info per serving: 264 calories, 17 grams of carbohydrates, and 114 grams of protein
Nutrition
Calories:
356
kcal
Carbohydrates:
53.5
g
Protein:
15.6
g
Fat:
12.3
g
Saturated Fat:
2.5
g
Cholesterol:
20
mg
Sodium:
766
mg
Fiber:
10.2
g
Sugar:
39.7
g