The BEST Gluten-Free Lasagna
The BEST Gluten Free Lasagna and truer words haven't been spoken! We took my classic meat sauce recipe and stepped it up a notch for this easy and delicious gluten free lasagna recipe that everyone will love. We use our favorite gluten-free lasagna rice noodles and nobody knows the difference with this comfort food classic!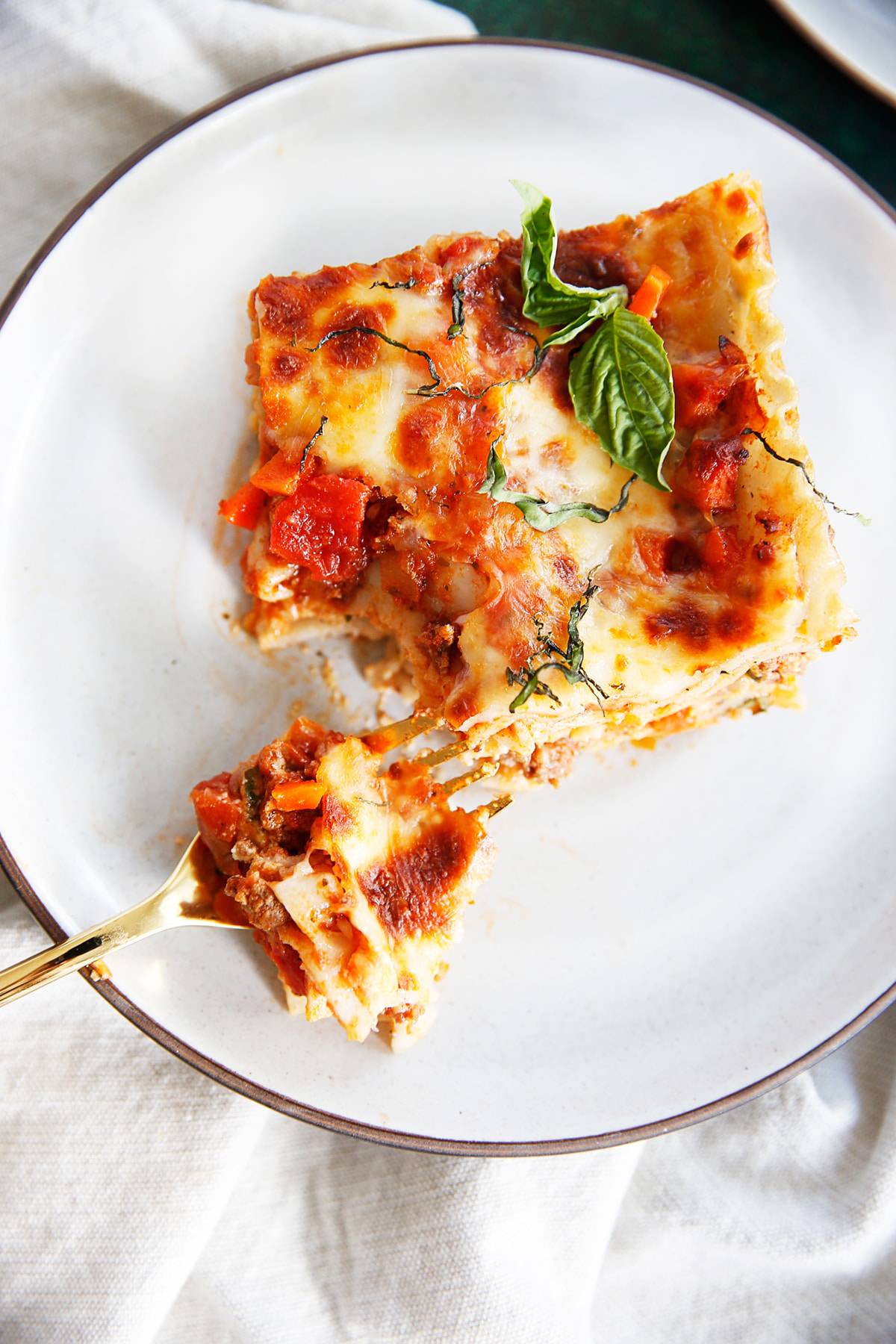 The BEST Gluten-Free Lasagna
You are going to LOVE this lasagna. It's great for a crowd, freezable, and so delicious. It's also a great dish to make if cooking for others (meal train).
How do you layer a lasagna?
Spread some tomato sauce (or our meat sauce) on the bottom of your dish.
Next, add a single layer of pasta sheets
Ricotta Mixture
Sauce
Mozzarella
Single layer of pasta sheets
Repeat for a total of 4 layers of noodles. Top with remaining meat sauce and mozzarella.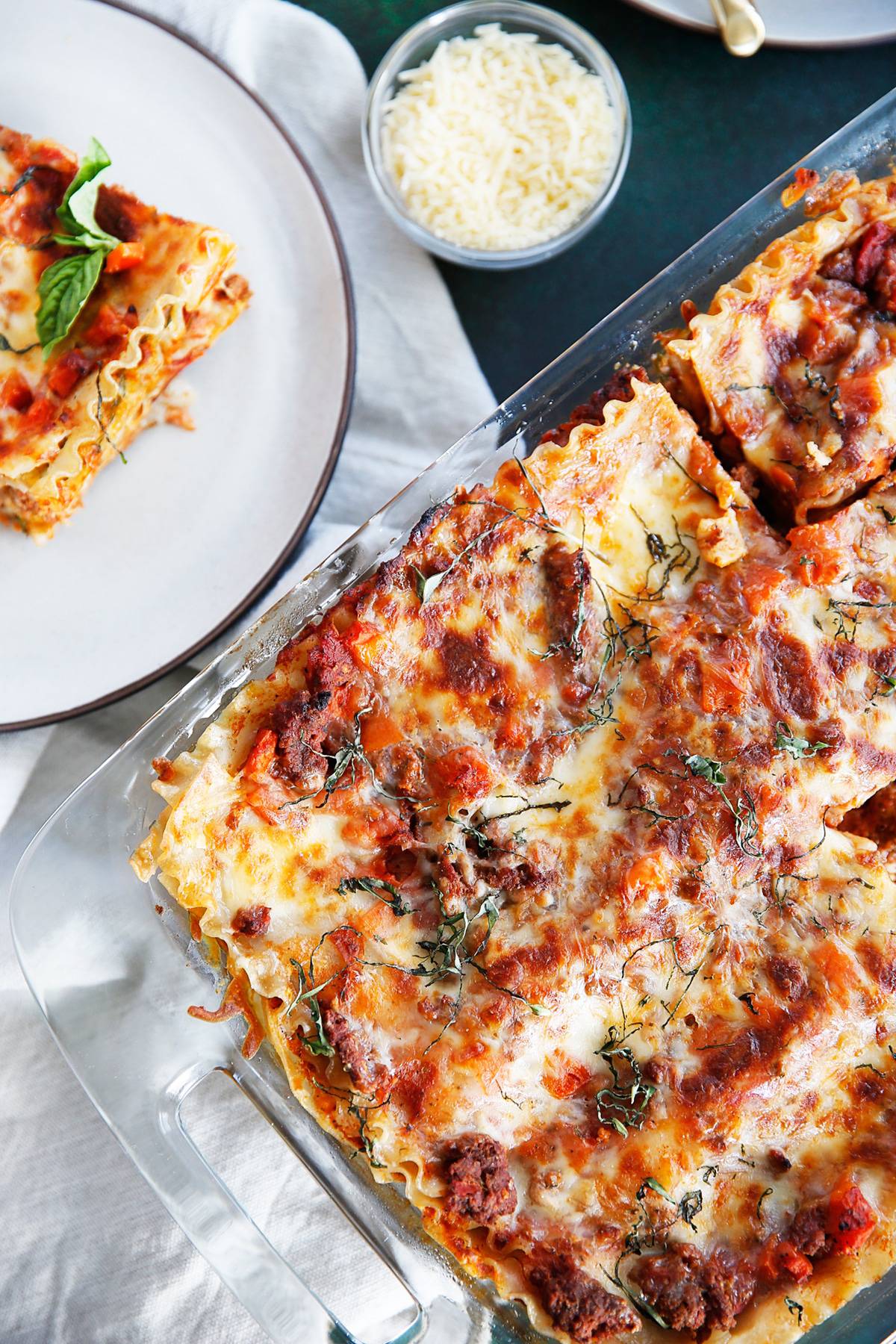 Our favorite gluten-free lasagna noodle brands are:
You can find them both at any majory grocery store in the gluten-free section!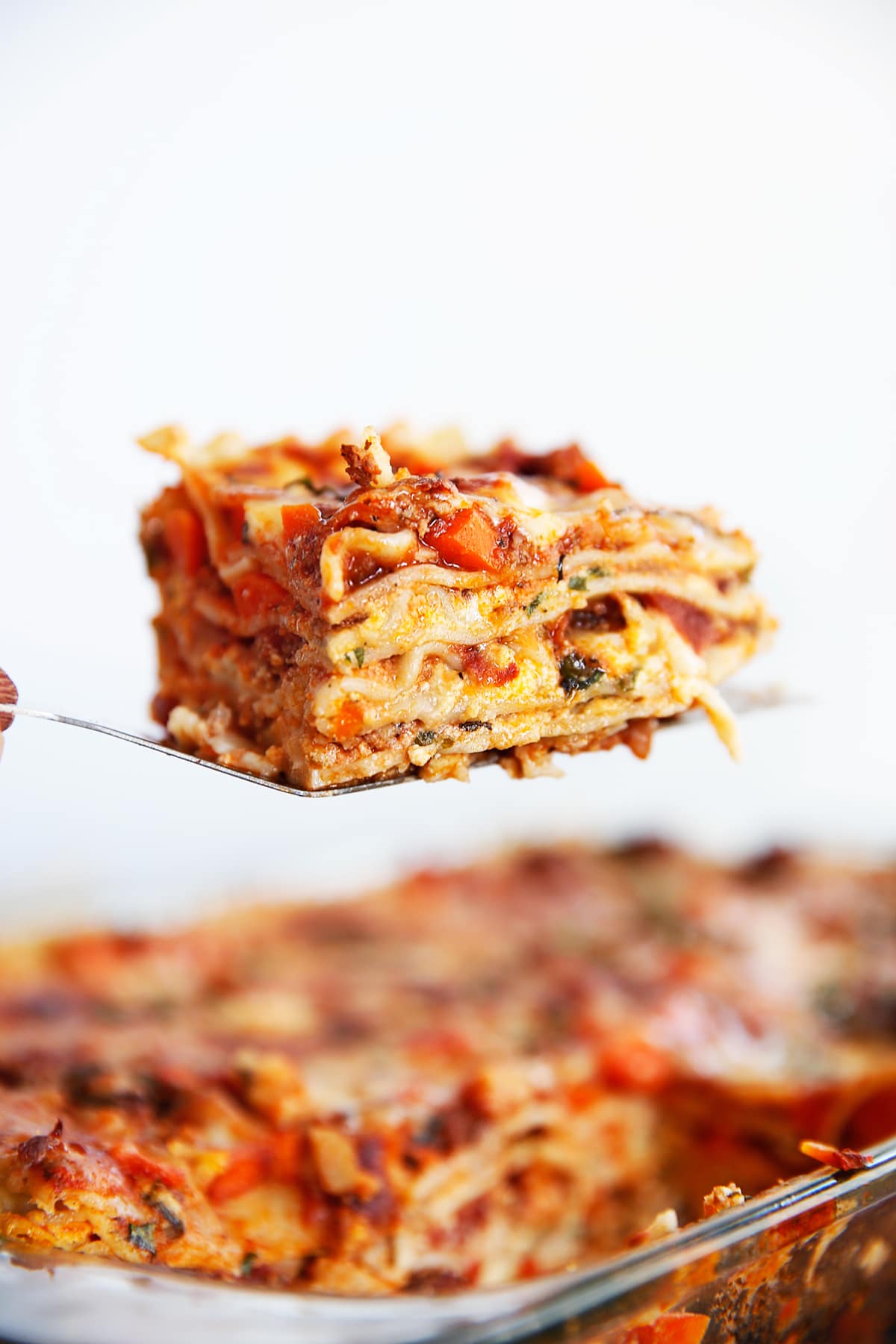 If you like this lasagna recipe, try these other spins on it:
Want other fabulous gluten-free pasta recipes? Try these favorites:
If you don't want to use meat sauce, and want to make this a meatless lasagna, you can use my homemade tomato sauce instead!
The BEST Gluten-Free Lasagna
---
---
Directions
In a medium sized saucepan, heat 1 tablespoon extra virgin olive oil over medium-high heat. Add garlic and sauté for 1-2 minutes.
Add onion and carrots to saucepan. Let cook, stirring occasionally, for 5 minutes until onions are translucent and the carrots begin to soften.
Add meat to saucepan and let cook until brown and no pink remains, about 7 minutes.
Add tomato sauce, diced tomatoes, italian seasoning, red pepper flakes, 1 teaspoon sea salt and 1/2 teaspoon black pepper to the pan and combine.
Bring tomato sauce to a boil over high heat. Reduce heat to low and let simmer for 15 minutes. The longer you can let simmer, the better! Taste and adjust spices as desired then remove from heat.
Meanwhile prepare ricotta mixture in a medium bowl by combining ricotta, parmesan, garlic powder, 3/4 cup basil, parsley, eggs, 1/4 teaspoon salt and 1/2 teaspoon black pepper.
Pre-heat oven to 400ºF.
Prepare gluten-free lasagna noodles 2 minutes less than instructed to cook on package. Drain well and immediately begin assembling lasagna.
In a 9" x 13" oven-safe container begin layering lasagna starting with 1 1/2 cups of meat sauce on the bottom. Then place one layer of noodles, 2/3 ricotta mixture, 1 1/2 cups of meat sauce and 1/4 cup shredded mozzarella. Repeat for a total of 4 layers of noodles. Top with remaining meat sauce and mozzarella. (See note about alternative preparation)
Cover with aluminum foil and place lasagna in oven on a rimmed baking sheet. Bake for 25 minutes. Remove foil and continue to bake for 20 minutes, or until cheese is bubbling and golden in spots.
Let cool for 15 minutes before slicing and serving.
Recipe Notes
Alternatively, you can prepare this in two square 8" oven-safe dishes to have one to bake fresh and one for the freezer to bake for another day. You will have to use slightly less of the ricotta cheese mixture for each layer to get 4 layers for each 8" pan to get enough for both. To bake the frozen: defrost in the refrigerate overnight and bake as directed in step 10.
---
Nutrition
Loading nutrition data...
Subscribe to
Lexis Clean Living
Join our email list to get instant updates and weekly summaries of our top content and special exclusive offers along with our free clean eating kickstart guide!
This website may at times receive a small affiliate commission for products that we shared with you in our posts. Although we may receive a commission for linking certain products, there's no additional costs to you and all of our opinion and suggestions are 100% our own and unbiased. That's our promise to you!