Spinach Dip Stuffed Mushrooms (Healthy Lightened Up Appetizer!)
These healthy Spinach Dip Stuffed Mushrooms are a lightened up take on the classic hearty spinach dip we know and love, made into the perfect holiday baked stuffed mushroom appetizer. This stuffed mushroom recipe is easy to prepare, and simply omit the cheese on top for a vegetarian, whole30-approved, and dairy-free stuffed mushroom!
Spinach Dip Stuffed Mushrooms
It's the anniversary of my COOKBOOK!!!! One year ago today, the Lexi's Clean Kitchen cookbook hit shelves everywhere, and entered the homes of so many of you! Do you have the cookbook? Do you love it? I'd love to hear your favorite recipes in the comments below! If you don't have it yet, it make for a fabulous holiday gift 🙂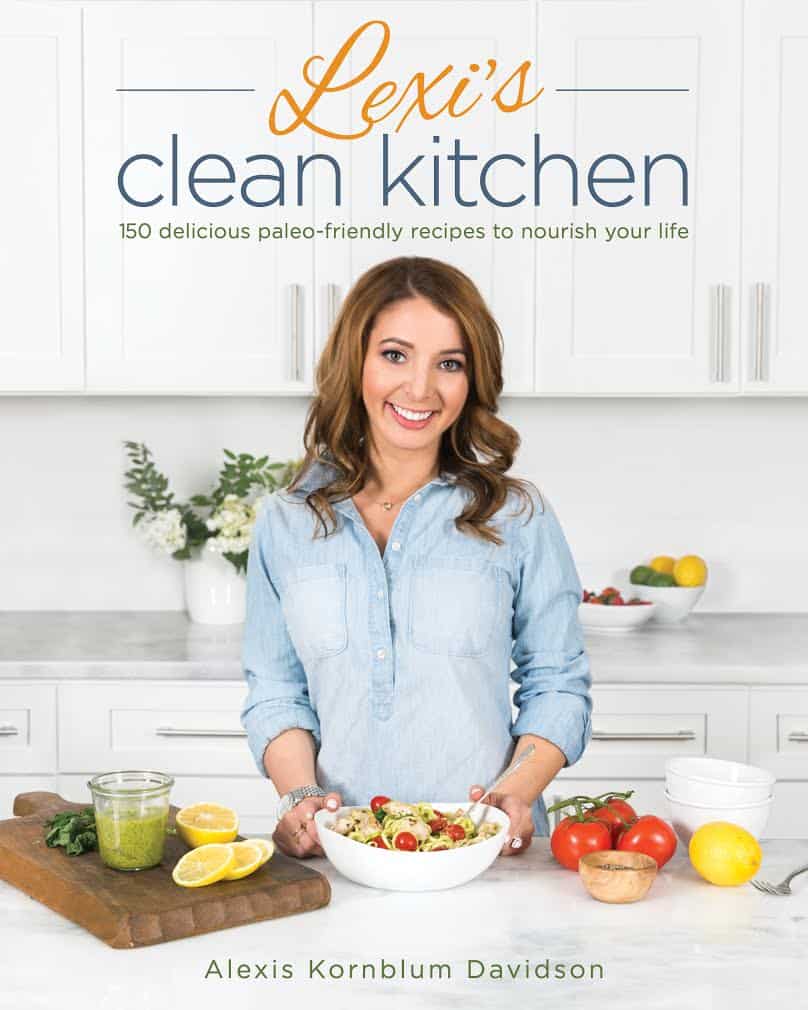 To celebrate the one-year anniversary, I thought I'd share on of the popular appetizers that is PERFECT for holiday entertaining. I demo'ed these at many book signings last year, and they were a hit every time!
Over 150 delicious, tried and true recipes from my kitchen to yours. Recipes are free of negative health instigators like gluten, grains, dairy, soy and refined sugars- while still delivering the taste and gratification that you want!
Chapters including Rise & Shine Breakfasts, Main Dishes, Soups & Salads, On the Side, Little Bites, Lexi's Basics, Sweet Treats, and Beverages.
Step by step instructions and full color photos for every single recipe.
Allergy & Special Diet labels, including dairy-free, egg-free, nut-free, vegan, and paleo-friendly for easy navigation (all of the recipes are gluten-free).
Ingredients and Pantry Staples Guide — so you're prepared to cook the recipes!
A variety tips, tricks, and tools such as A Guide To Clean Eating, A Conversion Chart, Cheat Sheet Guides, & much more.
Healthy meals that are packed with flavor, including: Classic Chili, Braised Short Ribs, One-Pan Arroz Con Pollo, Thai BBQ Salmon, and BBQ Chopped Cobb Salad, and healthier options for your favorite indulgent foods, such as French Toast Sticks, Perfect Waffles, Birthday Cake, Sandwich Bread, and No-Bake Cookie Dough Cups.
& More!
How do you make stuffed mushrooms?
Spinach dip was my favorite way back when, and this recipe nails that exact spinach dip flavor I love, but is made with healthier ingredients and is transformed into delightfully handy pass–around appetizers!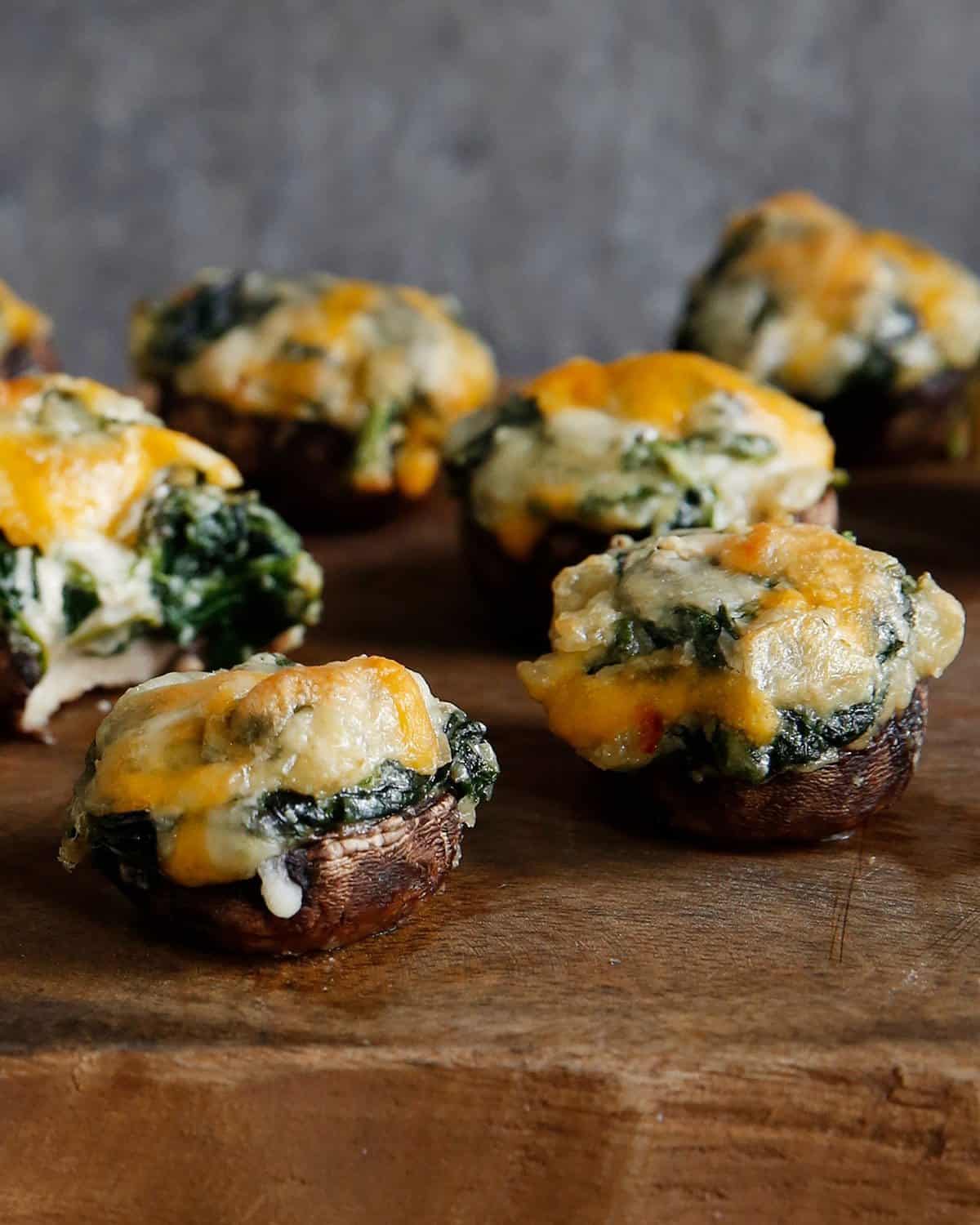 If you like this recipe, try these other Thanksgiving Side Dish Recipes:
Spinach Dip Stuffed Mushrooms
---
---
Directions
Soak the cashews in a bowl of water for at minimum 1 hour or up to 8 hours.
Preheat the oven to 375ºF. Line a rimmed baking sheet with parchment paper.
Heat the butter in a large skillet over medium heat. Add the garlic, shallot, and onion and cook until soft, about 3 minutes. Fold in the spinach and cook, stirring occasionally, until the spinach has wilted. Set aside.
To make the cashew cream: Drain the soaked cashews and place them in a small food processor or high-speed blender. Puree the cashews with the 1 tablespoon of olive oil and ½ teaspoon of salt. Fold the cashew cream into the spinach mixture until evenly combined.
Arrange the mushroom caps on the lined baking sheet and brush the outside of the caps lightly with olive oil. Scoop a large spoonful of the spinach mixture into the cavity of each cap. Top with the cheese, if using.
Bake in the oven for 15 to 20 minutes or until the mushrooms are soft and the cheese has begun to brown. Serve warm or at room temperature.
Recipe Notes
Variation: Hot Spinach Dip. Egg-free and dairy-free (if cheese is omitted), this is your solution to a hot, creamy party dip that everyone can enjoy. Place dip into an oven-safe bowl, top with cheddar cheese, if desired, and bake until the cheese is golden. Use homemade crackers (page 000), veggies, or plantain chips for dipping.
---
Nutrition
Loading nutrition data...
Want to check out more about the cookbook?
 Learn more
here
! See what my blogger friends have made from the cookbook
here
!
18 comments
November 8, 2017
This website may at times receive a small affiliate commission for products that we shared with you in our posts. Although we may receive a commission for linking certain products, there's no additional costs to you and all of our opinion and suggestions are 100% our own and unbiased. That's our promise to you!
Subscribe to get our FREE clean eating guide!
Join our email list TODAY to start recieving our newsletter weekly, access to exclusive content and deals, *and* a FREE complete 24-page clean eating guide!