5-Ingredient Protein Pancakes
These protein pancakes are made with only 5 ingredients and are perfect fuel for a busy morning or a pre-workout breakfast! They're gluten-free, nutrient-dense and pack a punch of added protein!
5-Ingredient Protein Pancakes
I am obsessed with these protein pancakes! Just 5-ingredients, one-bowl, and they result in fluffy and delicious healthy pancakes! These healthy protein pancakes have a WHOLE LOT of protein per serving, and are super quick for an easy breakfast any day of the week. There was a good 6 weeks in my life where these beauties were made every single morning and I never got sick of them! I couldn't get over how nutritious and customizable they were. Add banana, blueberries, chocolate chips… the options are endless! I also started adding spices such as cinnamon to change things up a bit.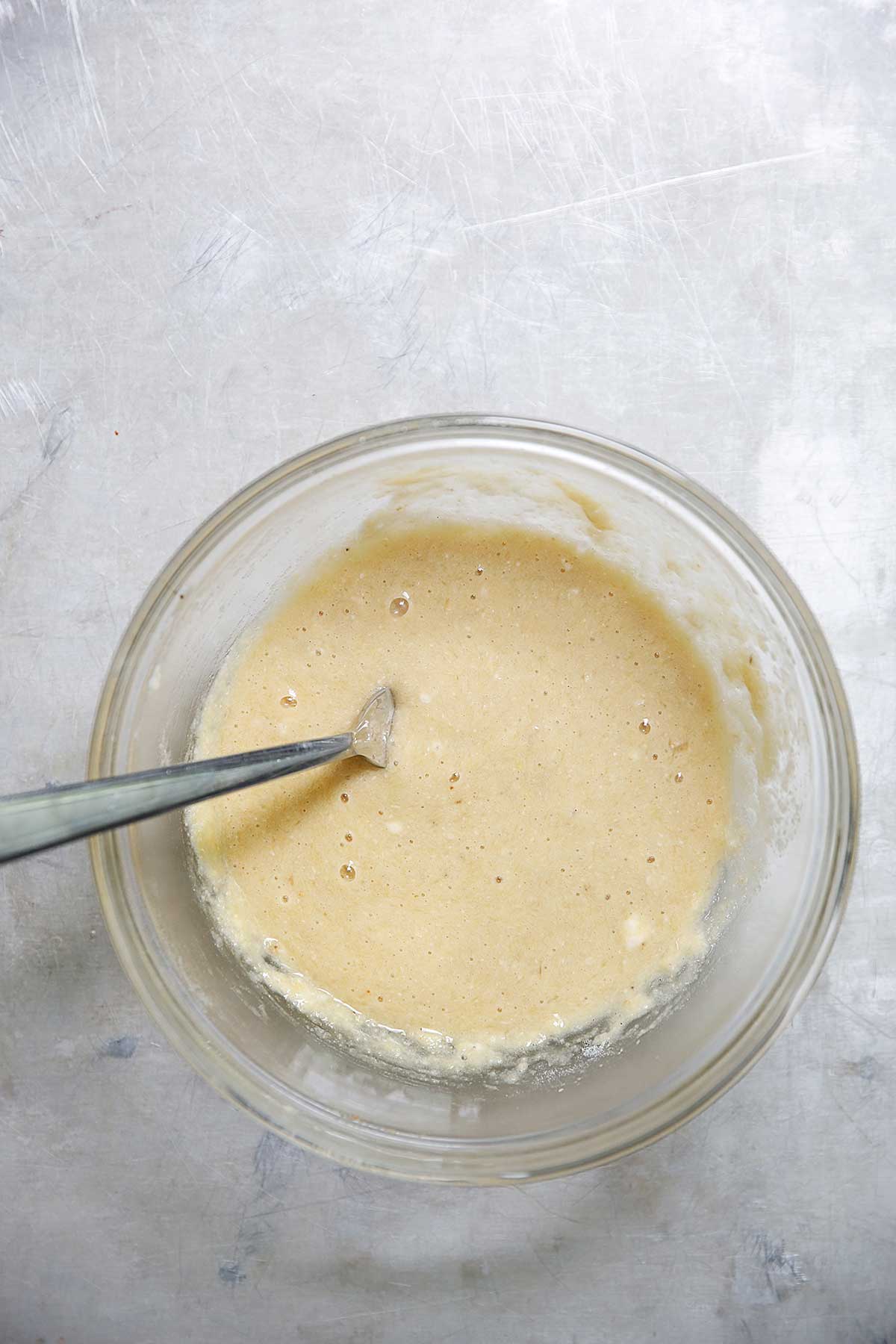 Protein Pancake Ingredients
Bananas
Eggs
Protein Powder
Coconut Flour
Baking Powder
Vanilla Extract (optional)
Cinnamon (optional)
Ghee or Avocado Oil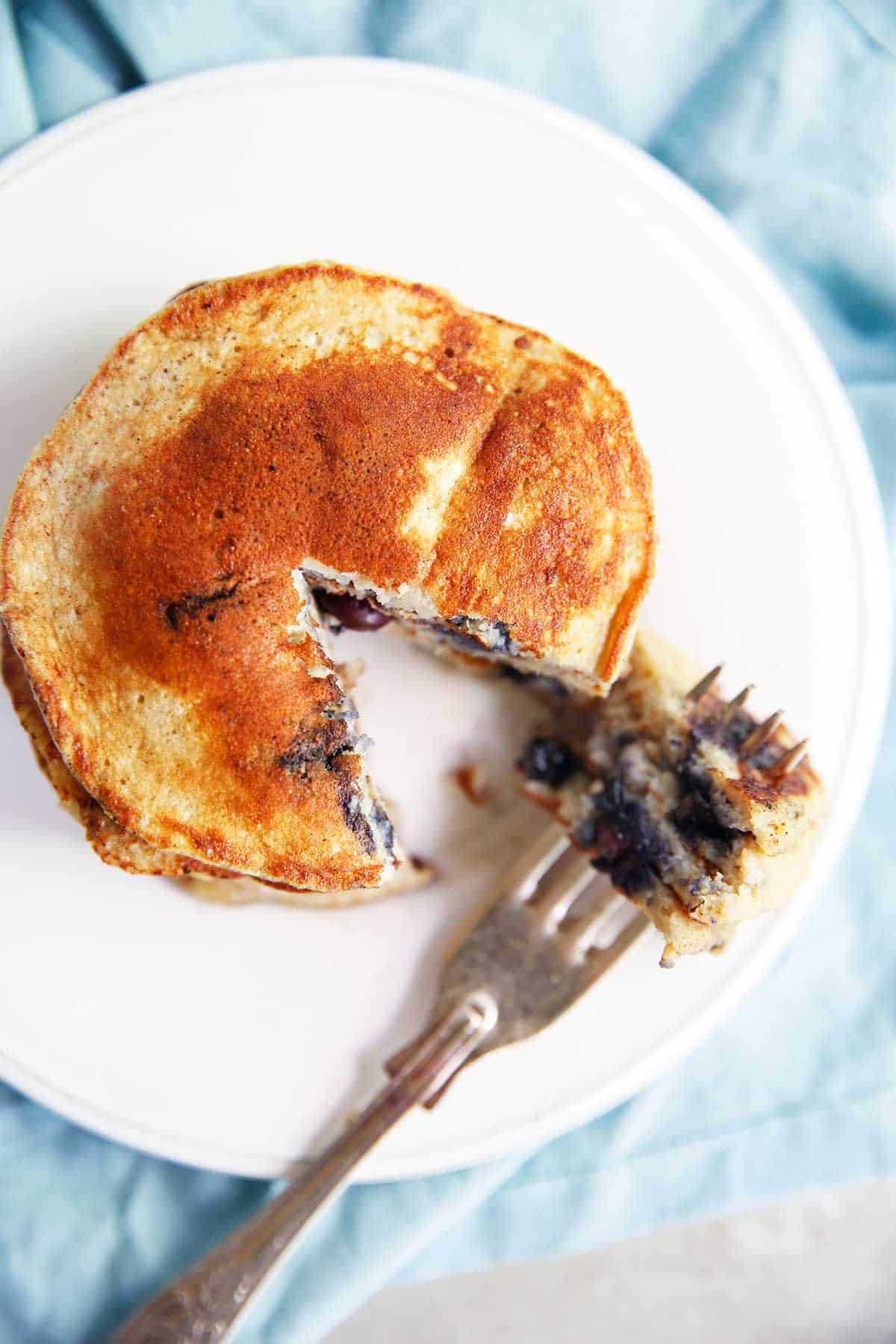 How to Make Protein Pancakes
These don't act the same as traditional pancakes, so don't fear if your batter has a thin consistency.
The batter can be made either in a bowl, or in the blender.
To make them in a bowl, mash the bananas really well and then whisk in the remaining ingredients.
To make in a blender add all the ingredients to a blender and blend until just combined, about 30 seconds.
Tip: I recommend cooking these in a nonstick skillet. Again, these aren't traditional pancakes so you'll need to cook them over low heat for a longer amount of time to fully cook through the batter. Cover the pan to help them cook through evenly. Flip them when they're lightly golden brown and cook on the other side the same way.
Top these with either maple syrup and butter or some drippy or warmed nut butter for an extra dose of protein and serve immediately.
Protein Powders
For these pancakes I have used the SFH brand of protein powder, Garden of Life, and Vital Proteins. Try your favorite, non-gritty protein powder.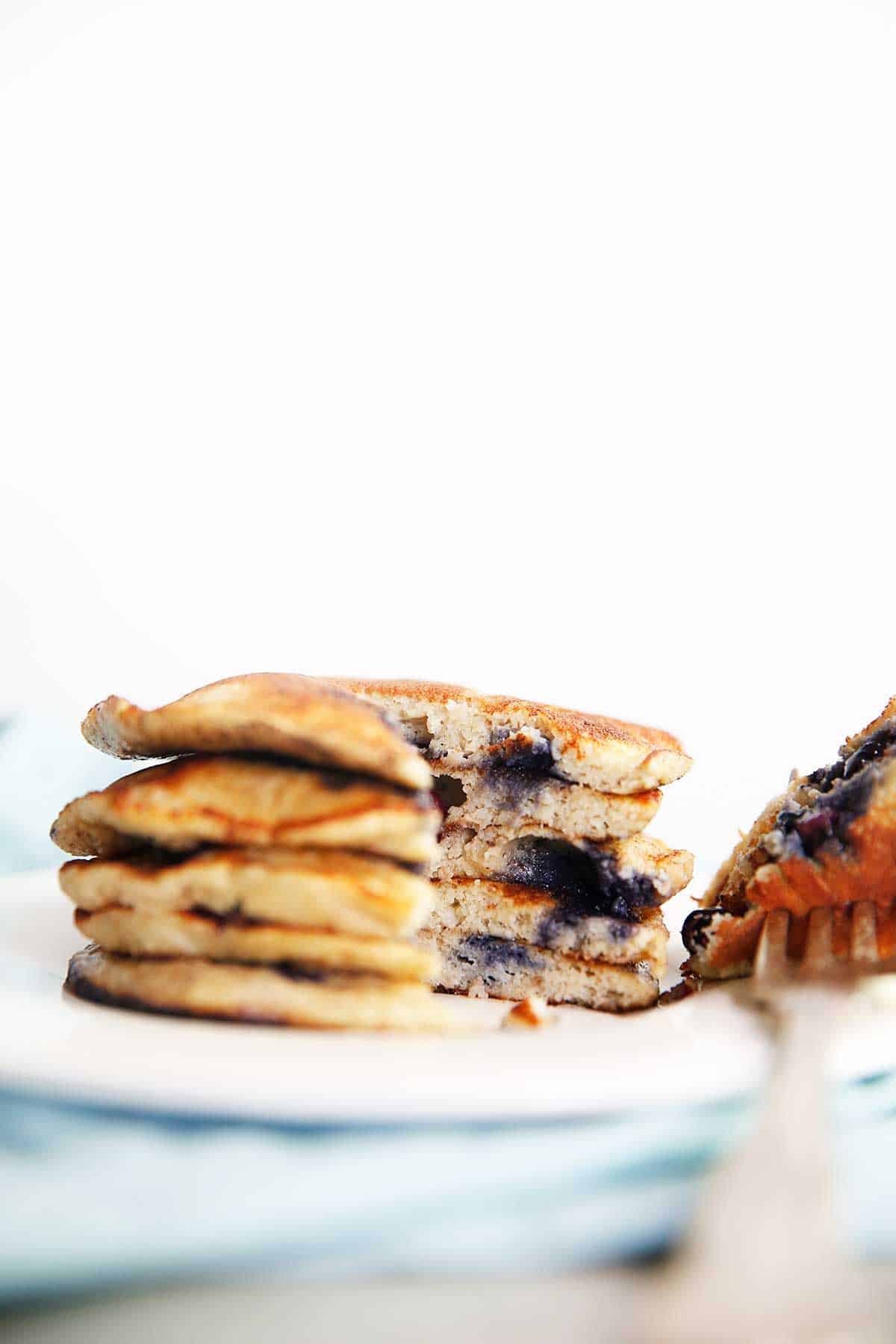 Looking for more breakfast recipes? Check out these:
5-Ingredient Protein Pancakes
These super simple chocolate Fudgesicles are so rich and creamy, but made without any dairy at all! Made simply with only a handful of ingredients these naturally sweetened popsicles will be loved by both kids and adults alike.
Dairy-Free Chocolate Fudgesicles
These simple but delicious Fudgesicles are made with coconut milk and chocolate and require no special machine to make them other than a blender and a popsicle mold. They're creamy and delicious. But best of all there is a hidden nutritional component to it! You can optionally add either a protein powder of choice or collage protein to your fudgesicle to give it super powers!
Ingredients needed for Healthy Fudgesicles
Coconut milk
Dark chocolate chips (dairy-free, if you need it)
Protein powder of choice or Collagen Peptides
Vanilla Extract
Maple syrup
How to Easily Get Popsicles Out of the Mold
There are a few tricks you can use to get popsicles out of the molds but the easier one I've tried so far is to stick the popsicle mold in a big bowl of hot water. Place the entire mold inside of the water, making sure though not to get any of the water inside of the popsicles. Leave it in there for about 30 seconds and remove. Then all of the popsicles should easily pop out! If you have individual molds than you can stick each popsicle in a tall glass of hot water.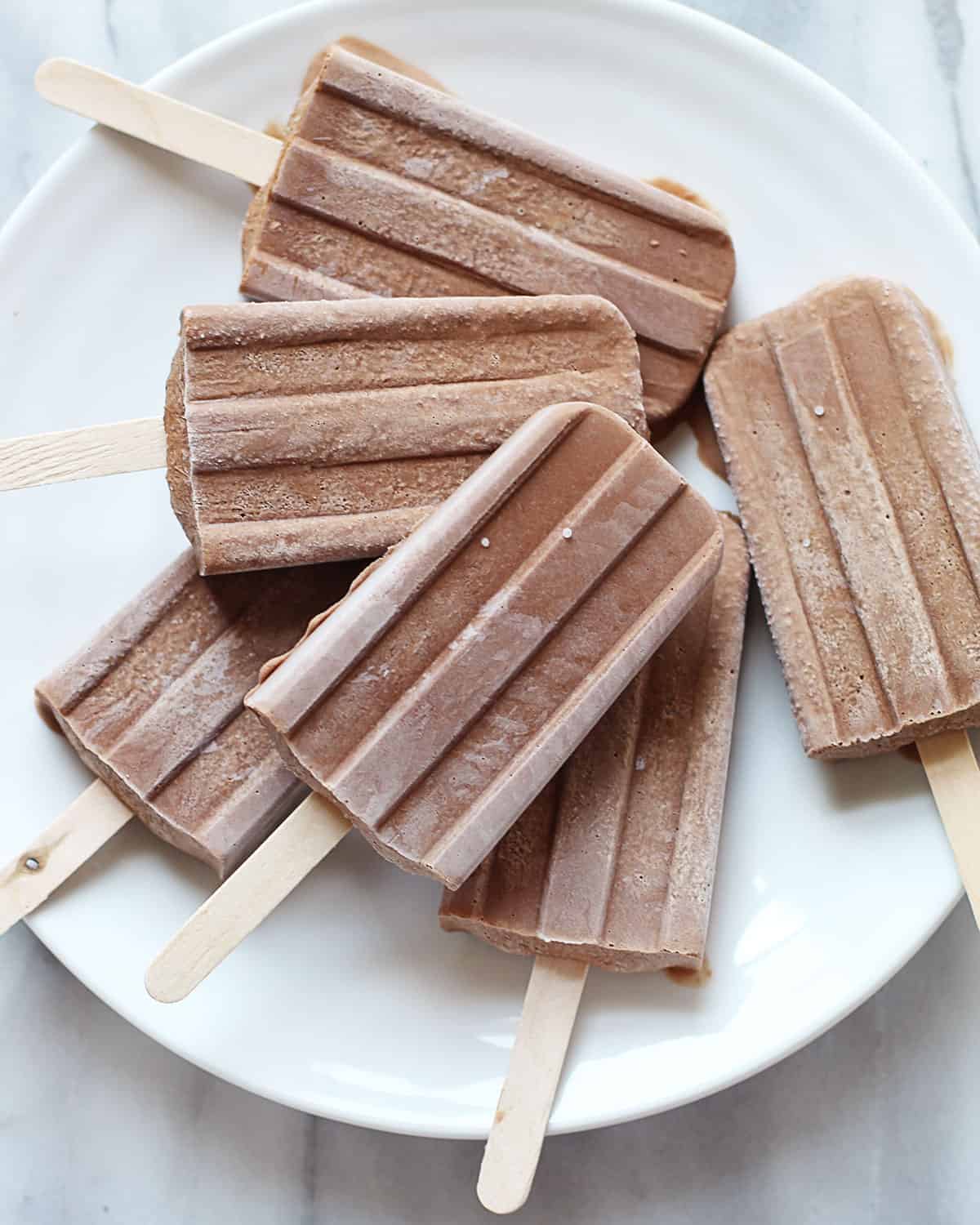 If you like this summer dessert, check out these others:
If you like this chocolate recipe, check out these others:
Protein Fudgsicles
This 7 Layer Taco Dip is just what any party, or fun Saturday night needs! 7 layers of Mexican inspired flavor that is so delicious! This dip is gluten-free and optionally dairy-free and paleo!
7 Layer Taco Dip Recipe
Is there any better food to bring to a pot luck or serve at your own party than a 7 Layer Taco Dip? Don't think so! This classic dip is made healthier here with a few homemade substitutes for standard store-bought ingredients, and so so worth it! This version is gluten-free and we offer a few substitutions to make it paleo and dairy free if you need it.
Be warned: there is no way there will be any leftovers when this dish is served, so make sure you get in there early if you want to have some yourself!
How to make a 7 Layer Taco Dip
Make or gather all of the layers!
Layer 1: Refried Beans

(or extra guacamole for paleo/whole30)

Layer 2: Cooked beef mixture

Layer 3: Salsa

Layer 4: G

uacamole

Layer 5: Cooked beef mixture

Layer 6: Cheddar cheese (substitute another layer of salsa for paleo/whole30/dairy-free)

Layer 7: Chopped Lettuce, Tomato, Red Onion
Layer in all of the ingredients in an oven 8″x8″ (or similarly sized ) oven safe dish. After placing in cheddar cheese put in the oven to melt. Layer on the remaining and serve with hearty tortilla chips and veggies.

Can this be made ahead of time?
You can assemble and prep this entire dish 1 day ahead of time, with the exception of adding the fresh ingredients on top. You can prep those ahead of time though and have them all ready to go for your party. Right before serving place the assembled dip under the broiler to warm up and melt the cheese, and then top with fresh lettuce, tomato and onion.
What to serve with this dip?
Serve it with the classics: Tortilla chips (either corn or a grain free option like Siete) and veggies like celery, cucumber, peppers or carrots.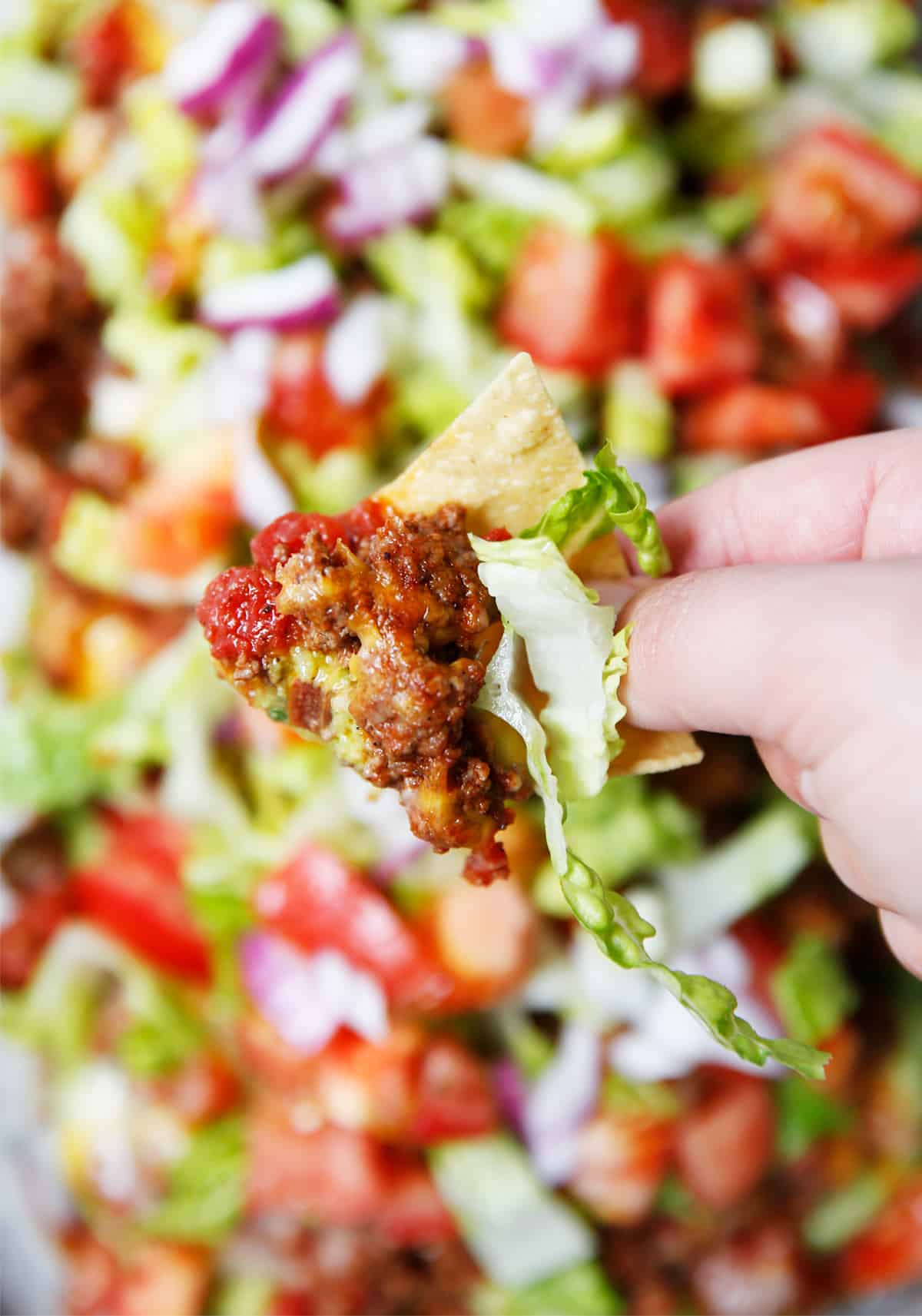 If you like this dip recipe, check out these others:
7 Layer Taco Dip
This Paleo Chicken Stir Fry uses cauliflower rice, whatever veggies you have on hand, and is so simple to throw together! It is a great Whole30, low-carb, dairy-free, egg-free, and gluten-free meal for any night of the week!
Paleo Stir Fry
Stir-fry night should also be called clean-out-your-refrigerator night to make a delicious, quick meal! Let this recipe serve more as a guide to using up what you have on hand to create a quick meal that everybody will love, with a really delicious paleo stir fry sauce. We serve this with a garlic scallion cauliflower rice, but you could alternative serve the stir fry with regular white rice if you would like!
You could also alternative use another meat here, like thin sliced steak or pork, or you could really fill up on the veggies and make this meatless!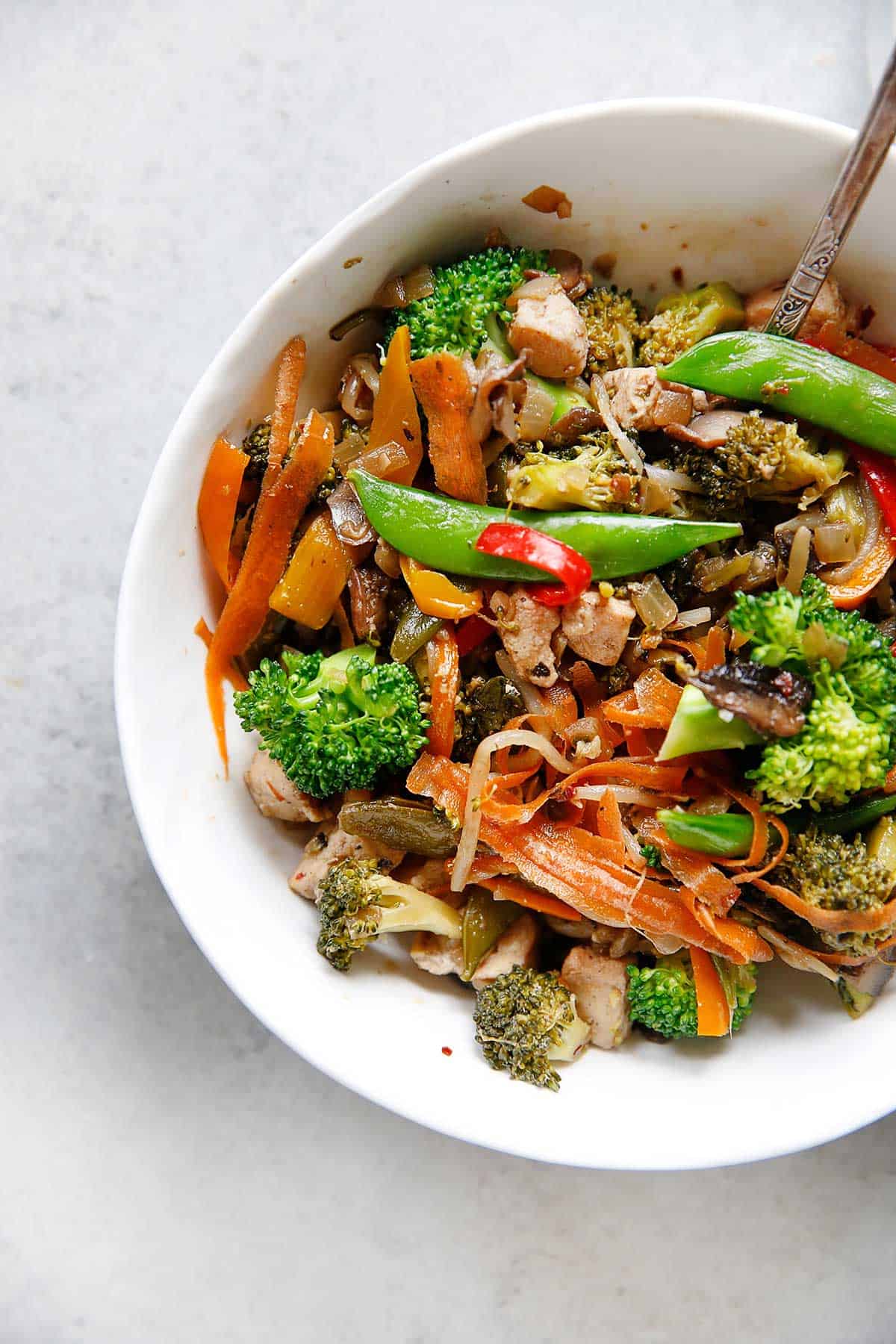 What Veggies Can You Use For This Paleo Chicken Stir Fry
In this recipe we used:
Broccoli
Red Pepper
Snap Peas
Bok Choy
Mushrooms
Carrots
Bean Sprouts
But you could really use any veggies you have on hand or what is in season. This is the perfect dish to cook up all year long, but particularly good during the CSA season when your refrigerator is full of veggies!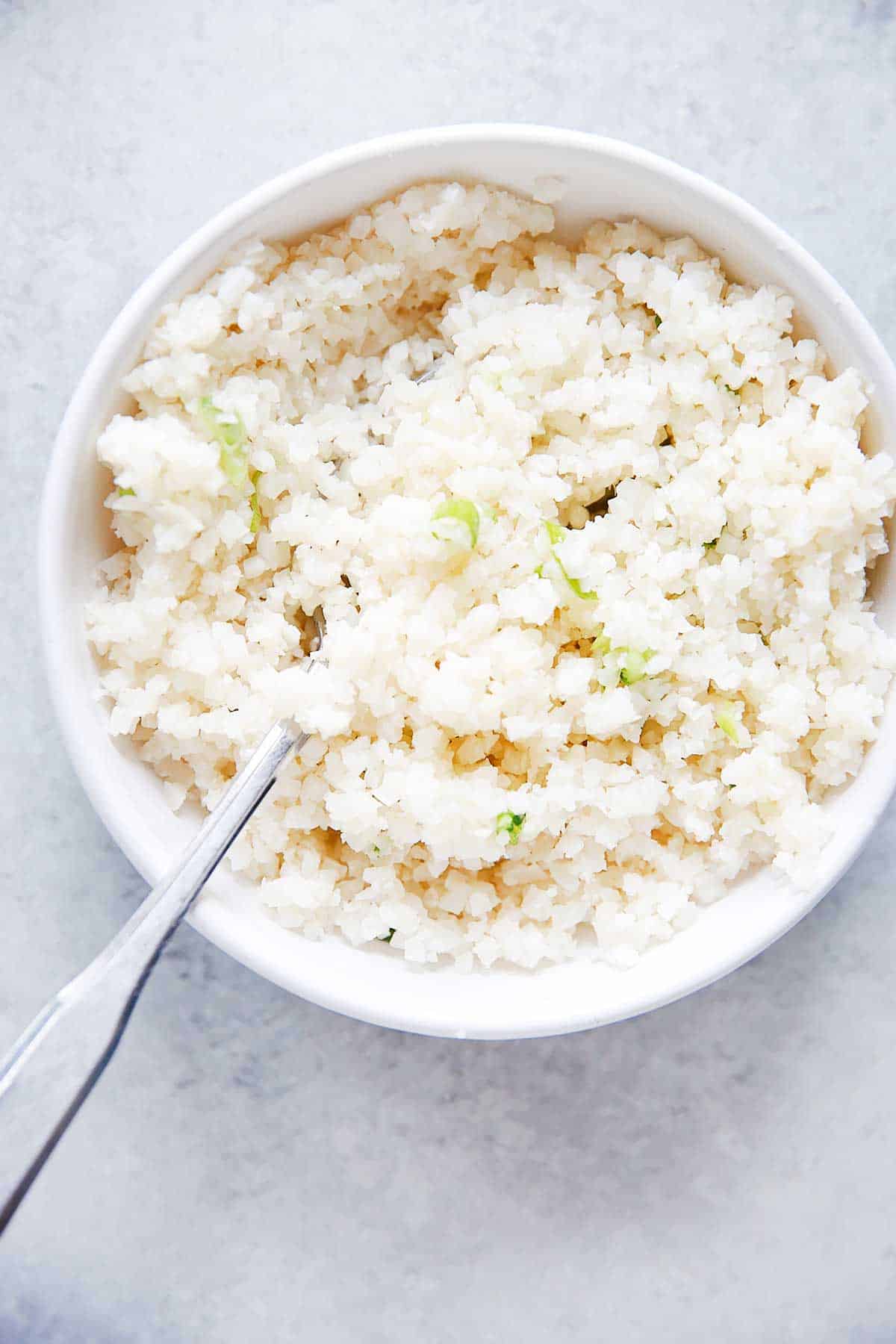 If you like this quick weeknight meal, check out these others:
Paleo Chicken Stir Fry
This easy Coffee Banana Smoothie Recipe is the perfect creamy and flavorful smoothie to add to your morning routine! It uses leftover coffee or cold brew, and is dairy-free, refined sugar-free, and SO delicious.
Coffee Banana Smoothie
This easy Italian meat sauce recipe is my probably my all-time favorite pasta sauce recipe! It's an easy homemade meat sauce recipe that is hearty and flavorful, and perfect for a weeknight meal. Make this healthy meat sauce with ground turkey or ground beef, and let it cook nice and slow! It's gluten-free, paleo-friendly, whole30 compliant, and so yummy! Serve it over zucchini noodles or spaghetti squash for low carb, or gluten-free pasta!

Homemade Meat Sauce Recipe
I LOVE Italian dishes. Especially a quick and delicious meat sauce! I often make my favorite Italian dishes into healthy versions that I love to dig into, weekly. This spaghetti meat sauce is delicious, always a hit and so versatile! Serve it over zucchini noodles, spaghetti squash, the options are endless! I often make a big batch to have for the week, and I never get sick of it!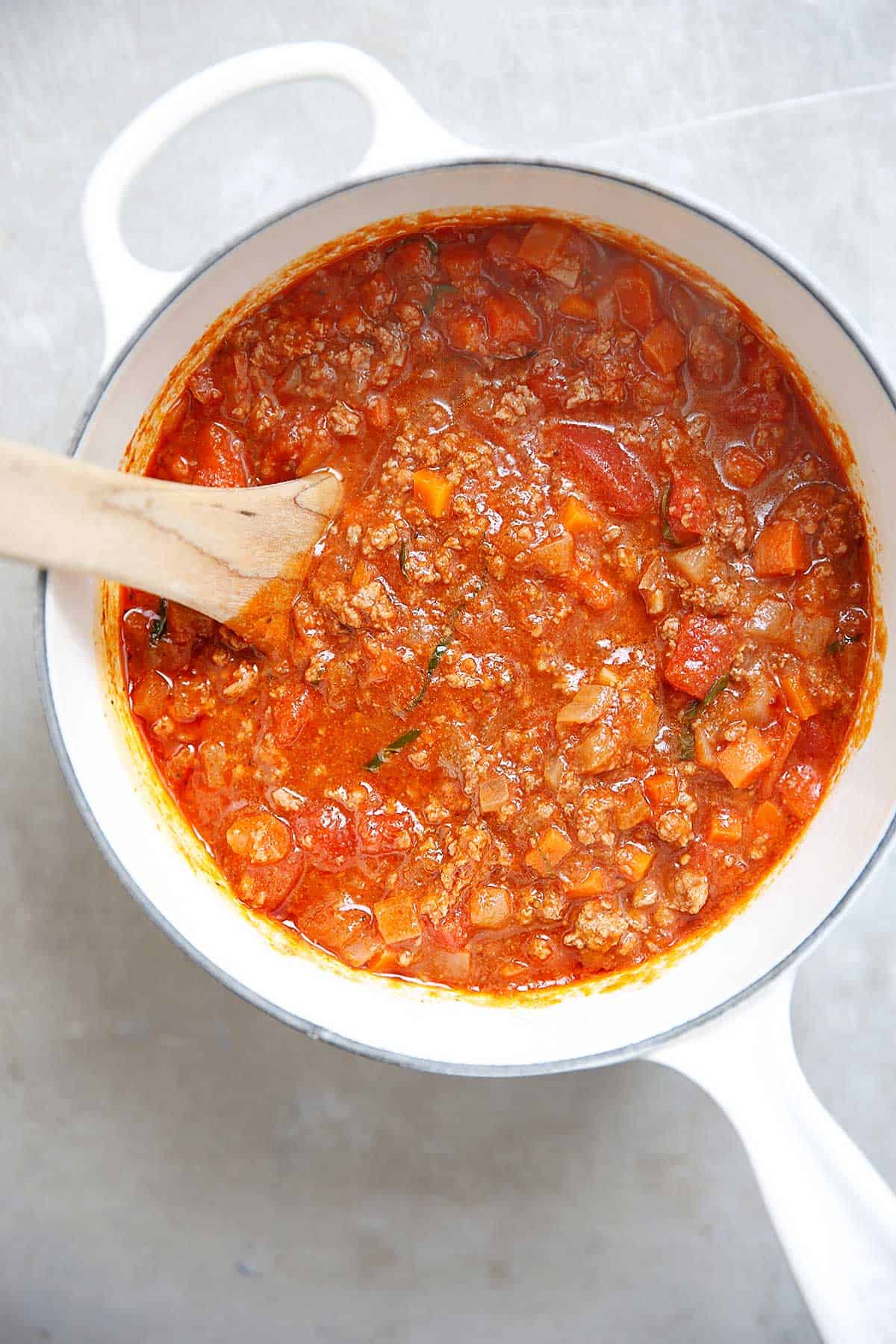 If you love meat sauce, try this spaghetti sauce in these recipes: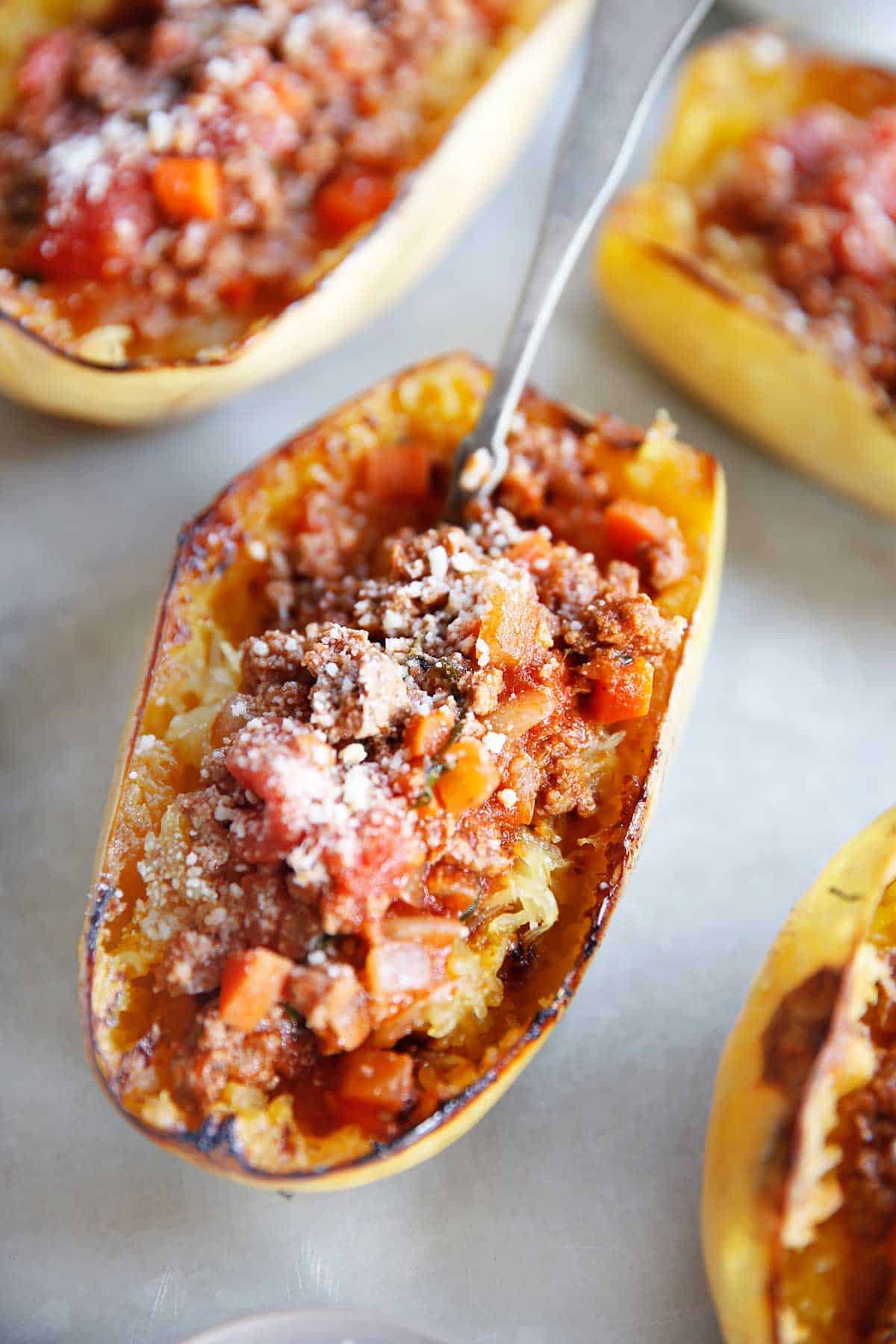 Want other healthier pasta recipes? Try these favorites:
How Do You Make Meat Sauce
Homemade Meat Sauce Recipe
If you like this smoothie bowl recipe, try this one, too!
Acai Bowl Toppings:
Chia Seeds
Bee Pollen
Fresh Fruit
Shredded Coconut
Nuts or seeds of choice
How can I thicken my acai bowl?
Start with less milk, and add more as desired until it reaches your desired thickness. You want the base of the acai bowl to be thick & scoop able, definitely not watery.
How do you make an acai bowl
Açaí Smoothie Bowl (Vegan & Gluten Free!)
This low-carb and keto-friendly Sausage, Peppers, and Onion, one-pan dish is made in just twenty-minutes! Such a perfect sausage and peppers recipe for any night of the week.
Sausage, Peppers, and Onions
Did you know that peppers are at their growing season peak right now? I was over at my favorite little farm and they had a bin with the most beautiful looking peppers, so I just had to get a bunch! This dish went over big time here.
This is the EASIEST sausage and peppers recipe! It is made in one skillet, is so flavorful, and you can use chicken sausage, pork sausage, or any sausage you like! I like to find ones with minimal added ingredients.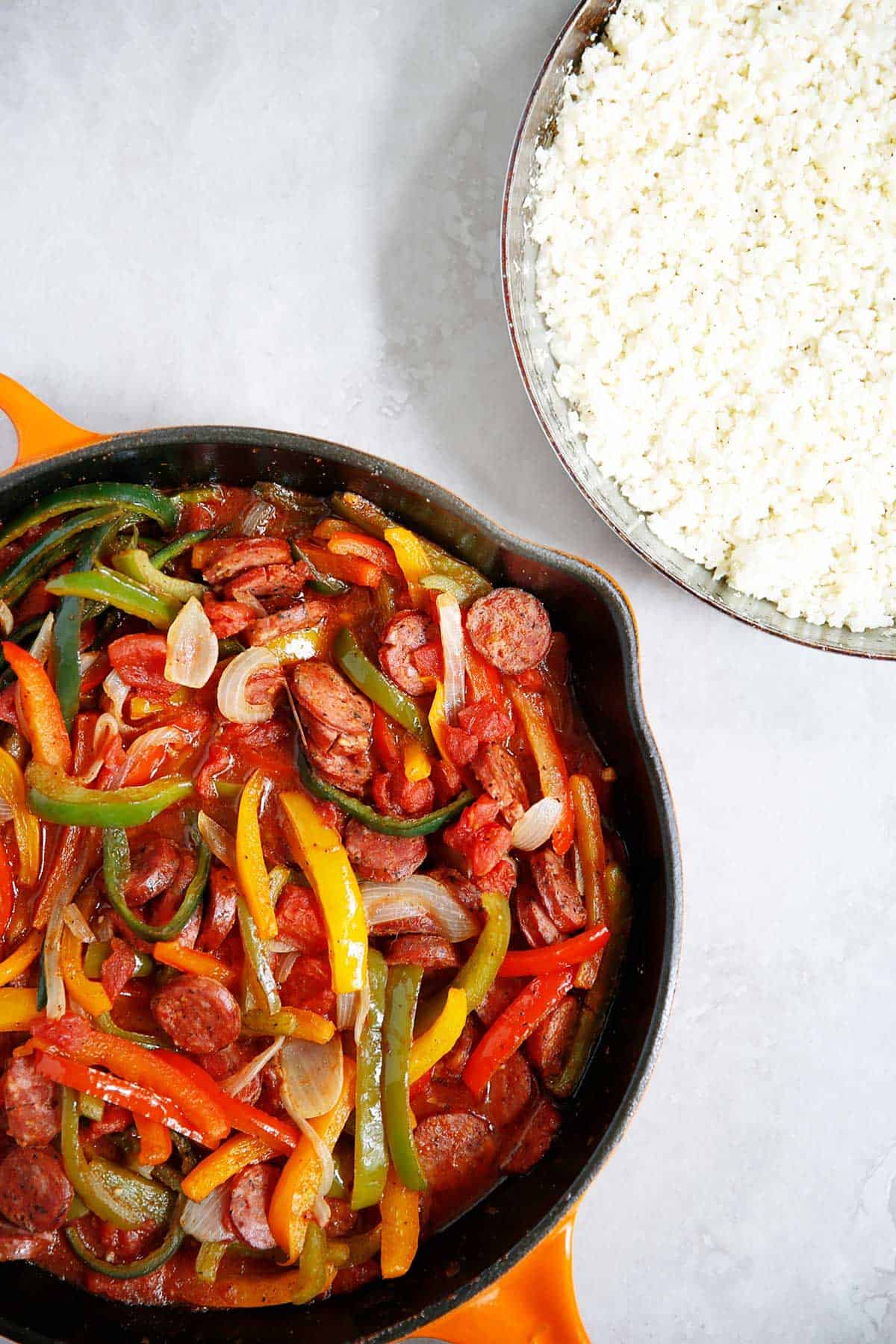 It is flavorful, comforting, and just plain delicious with the perfect amount of sauce. A great dish for football Sunday or those nights when you need a quick and easy meal!
How to make Sausage and Peppers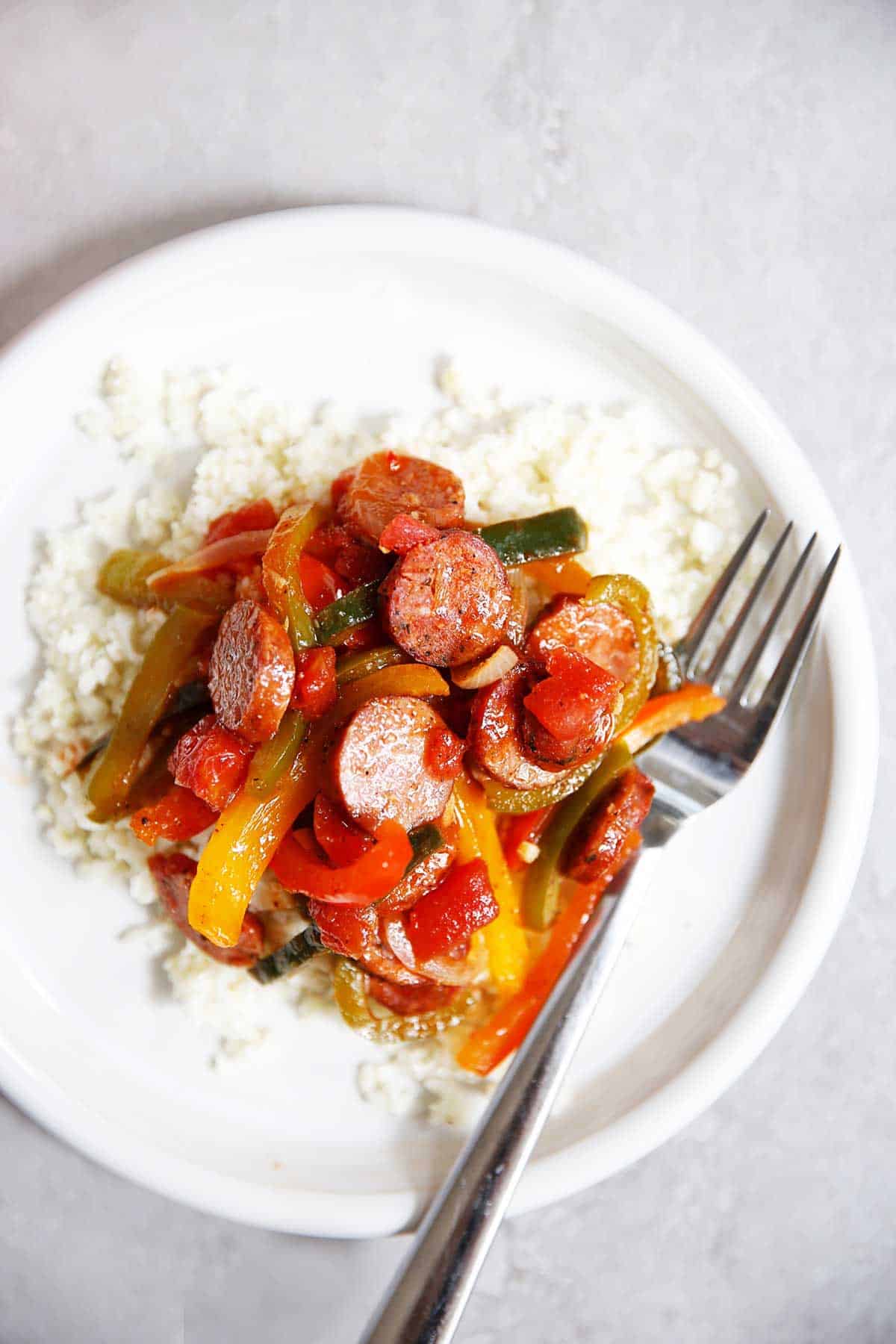 You can get creative with how you serve this dish! I love it served over roasted spaghetti squash or cauliflower rice but I bet it would be great with gluten-free pasta or spiralized veggies as well! This sausage and peppers recipe is Paleo friendly, whole30 compliant, dairy-free, grain-free, and no sugar added!
Like this easy skillet recipe? Try these other favorite one pan meals!
Sausage, Peppers, and Onions
This Loaded Chicken Salad Four Ways makes for the perfect customizable lunch! Make a big batch at the beginning of the week and enjoy it all week long in sandwiches, as a back-to-school snack on celery sticks, in a lettuce wrap, or in a salad! Made in partnership with Nuts.com!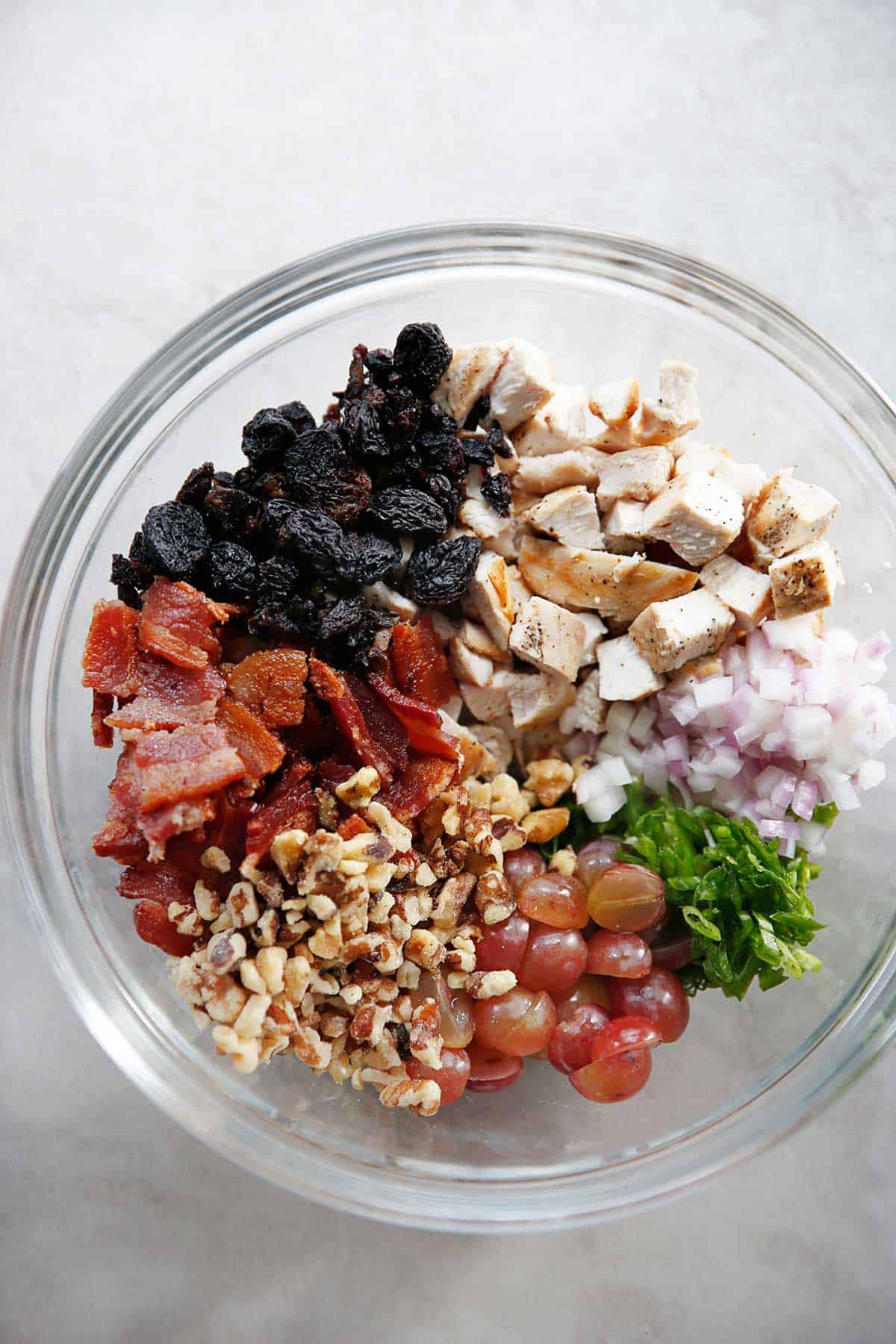 This Chicken Salad is filled with some of my favorite lunch flavors:
Perfectly seasoned baked (or boiled) chicken
Fresh chopped scallions
Crisp red grapes
Sweet royal raisins
Chopped walnuts, or nuts of choice
& crispy, smoky bacon
It seriously doesn't get much better than that!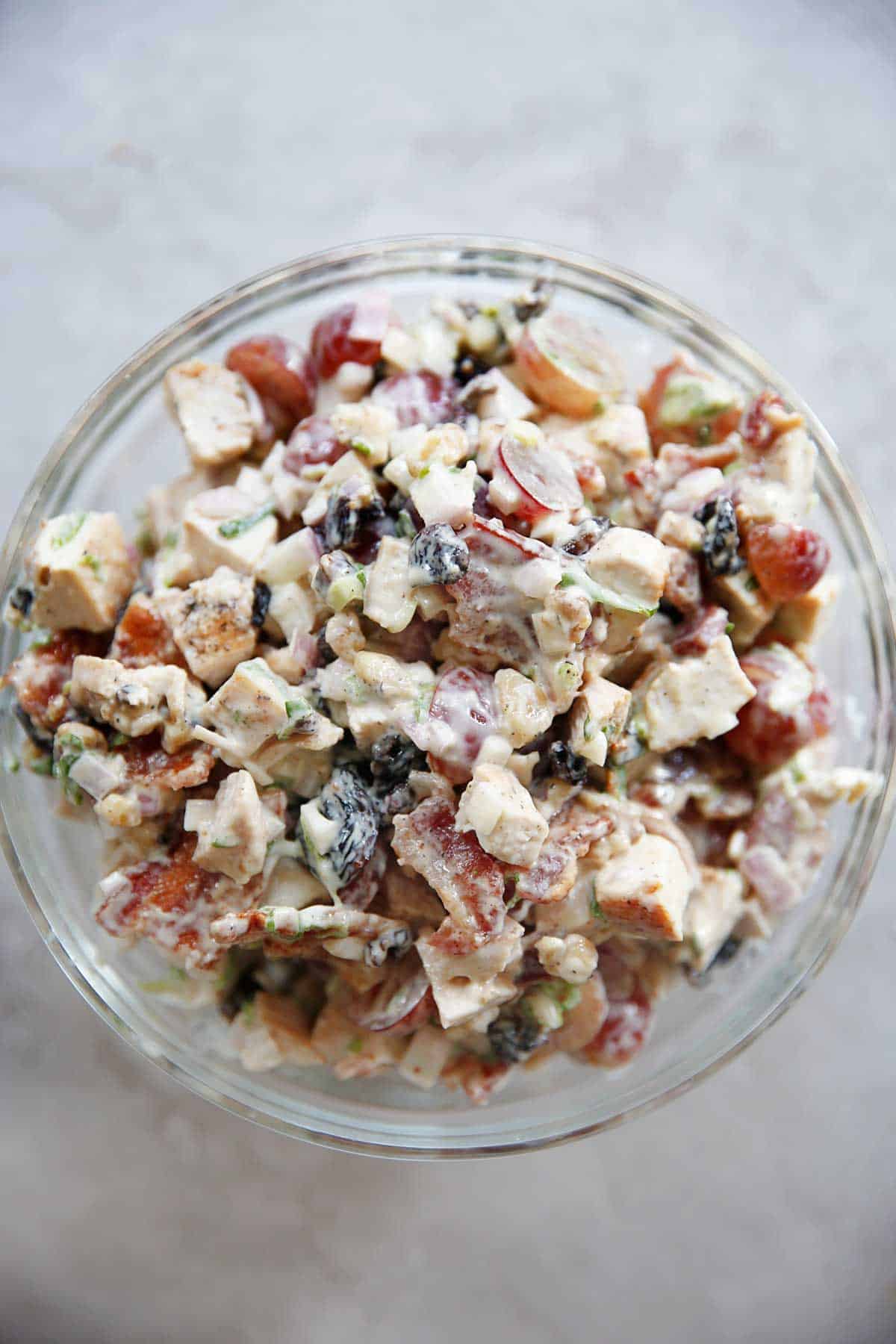 I am so excited to partner with my friends at Nuts.com to bring you today's recipe. This chicken salad is packed with nuts of choice, and my favorite, royal raisins! I simply can't get over how customizable and delicious this lunch recipe is.
Looking for a great back-to-school snack for when the kiddos get home? Serve this on celery sticks for a protein-packed snack.
If you are looking for a low-carb Whole30 compliant lunch option, make it a lettuce wrap!
Are you more of a salad person? Create a salad with this Chicken Salad by serving it over greens with your favorite salad fixings!
More of a sandwich person? Add this to your favorite bread with some extra add-ins such as tomatoes and avocado for an ultimate protein packed sandwich to keep you full and energized all day long!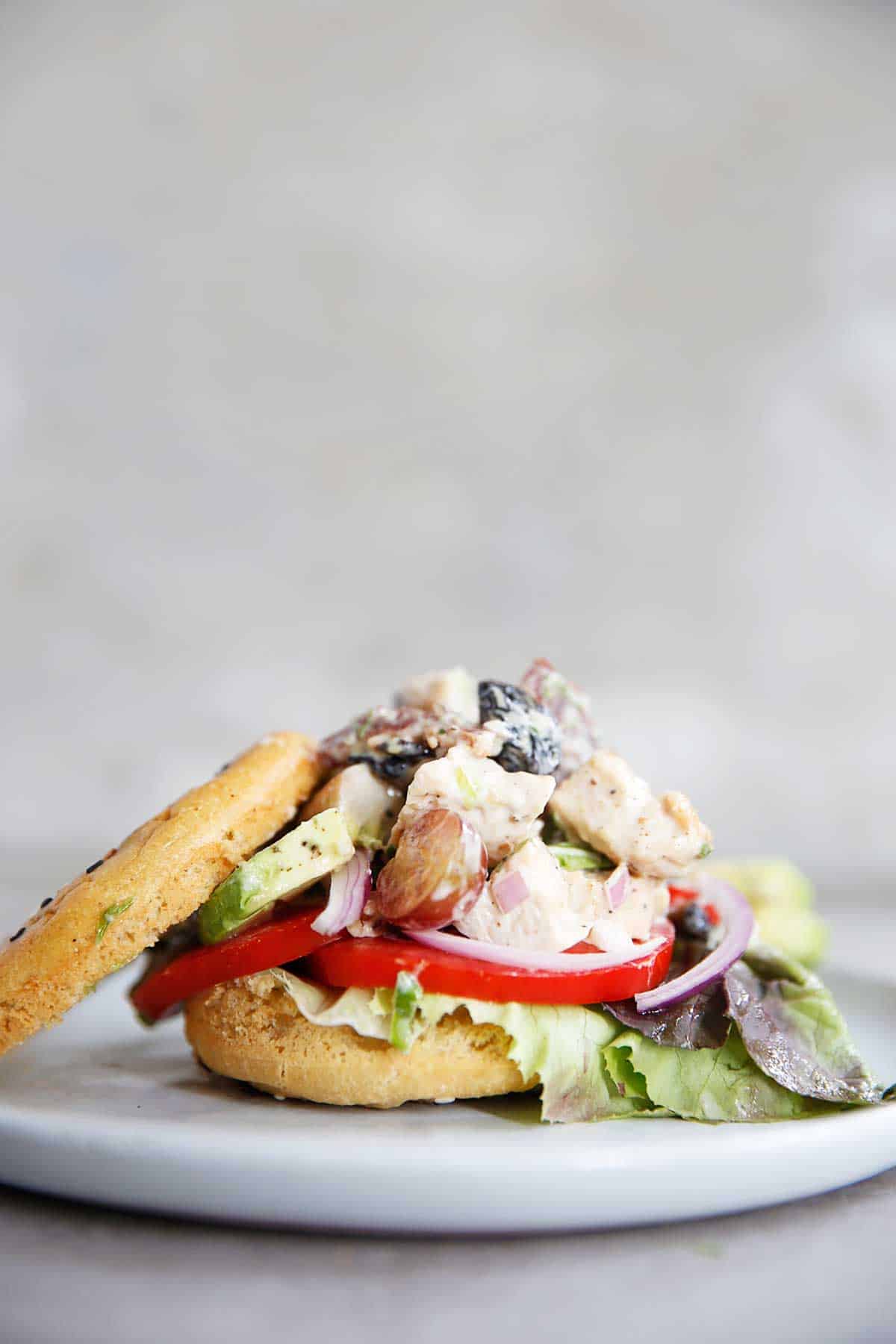 This post is sponsored by Nuts.com. All thoughts and opinions are always 100% my own! I love the integrity of their products and think you'll love them too. Thank you for continuing to support LCK and the brands I work with!
Loaded Chicken Salad: Four Ways
This Paleo Spring Vegetable Quiche is loaded with vegetables and fresh flavors that everyone will love! If you are looking for a beautiful and fresh brunch recipe to impress with this Mother's Day or Easter Sunday, this recipe is IT! No one will be able to tell that the flaky, buttery crust is gluten-free, grain-free, and paleo-friendly!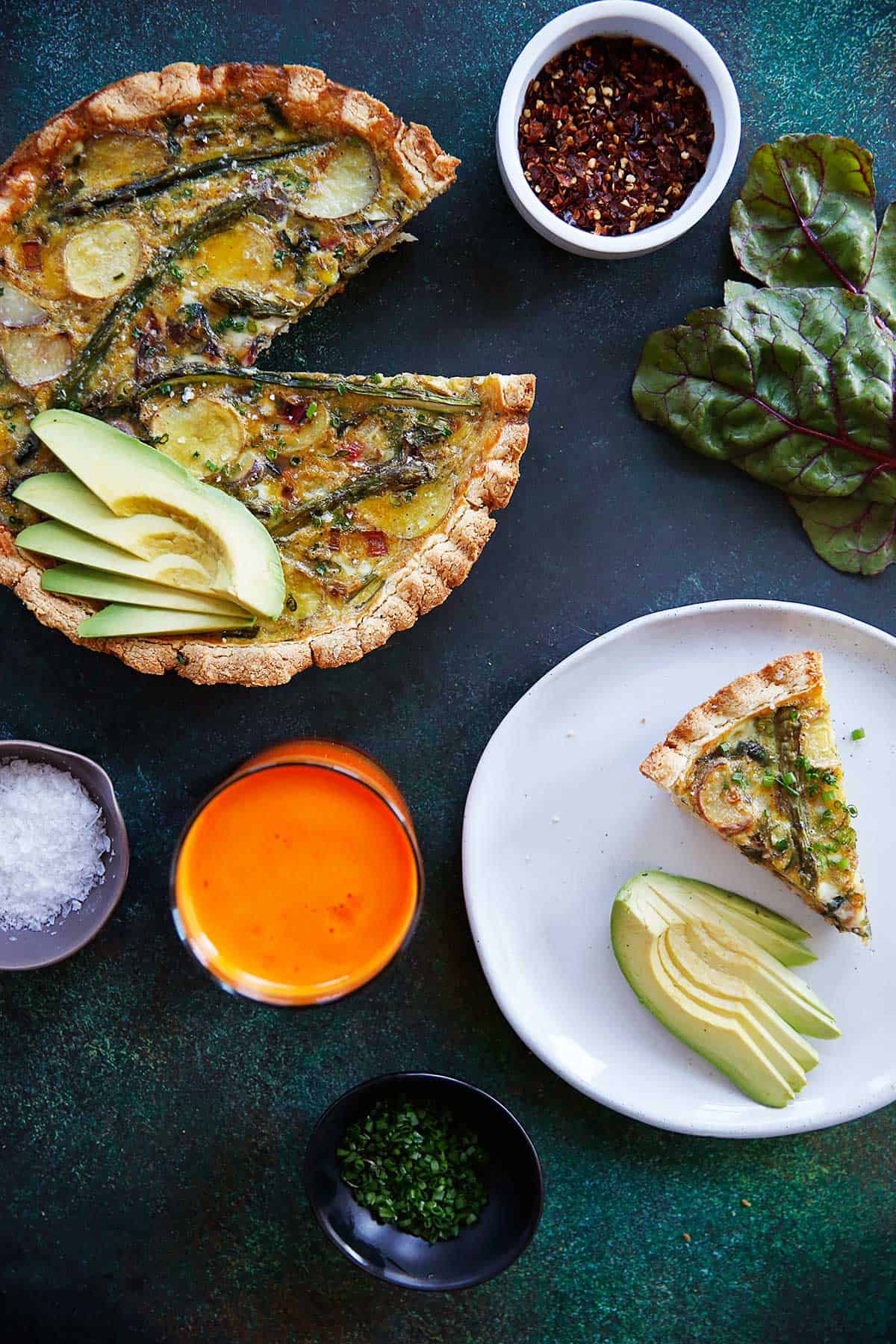 Whatever the occasion, this gorgeous, fresh, healthy, and flavorful quiche will be the hit of the brunch table!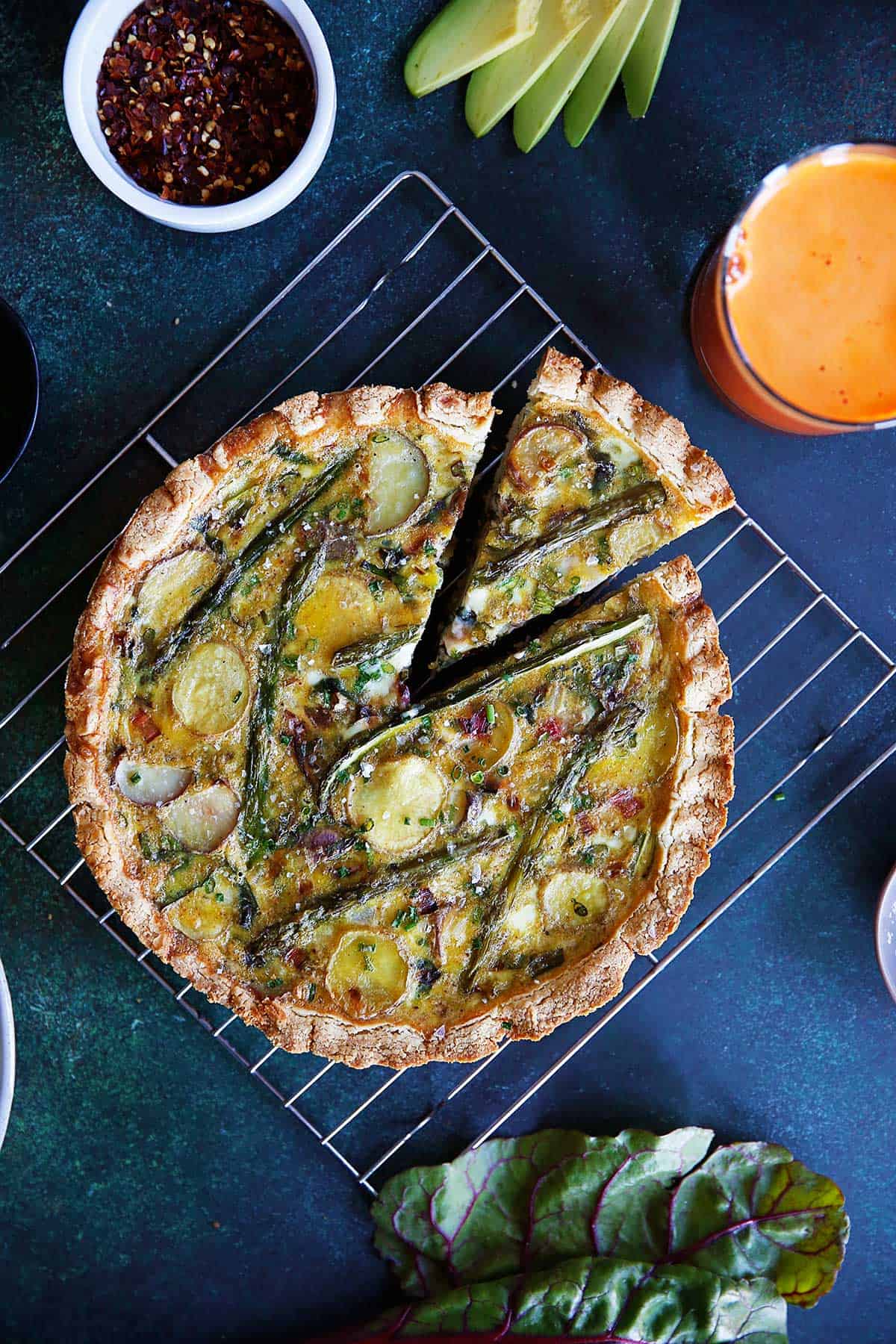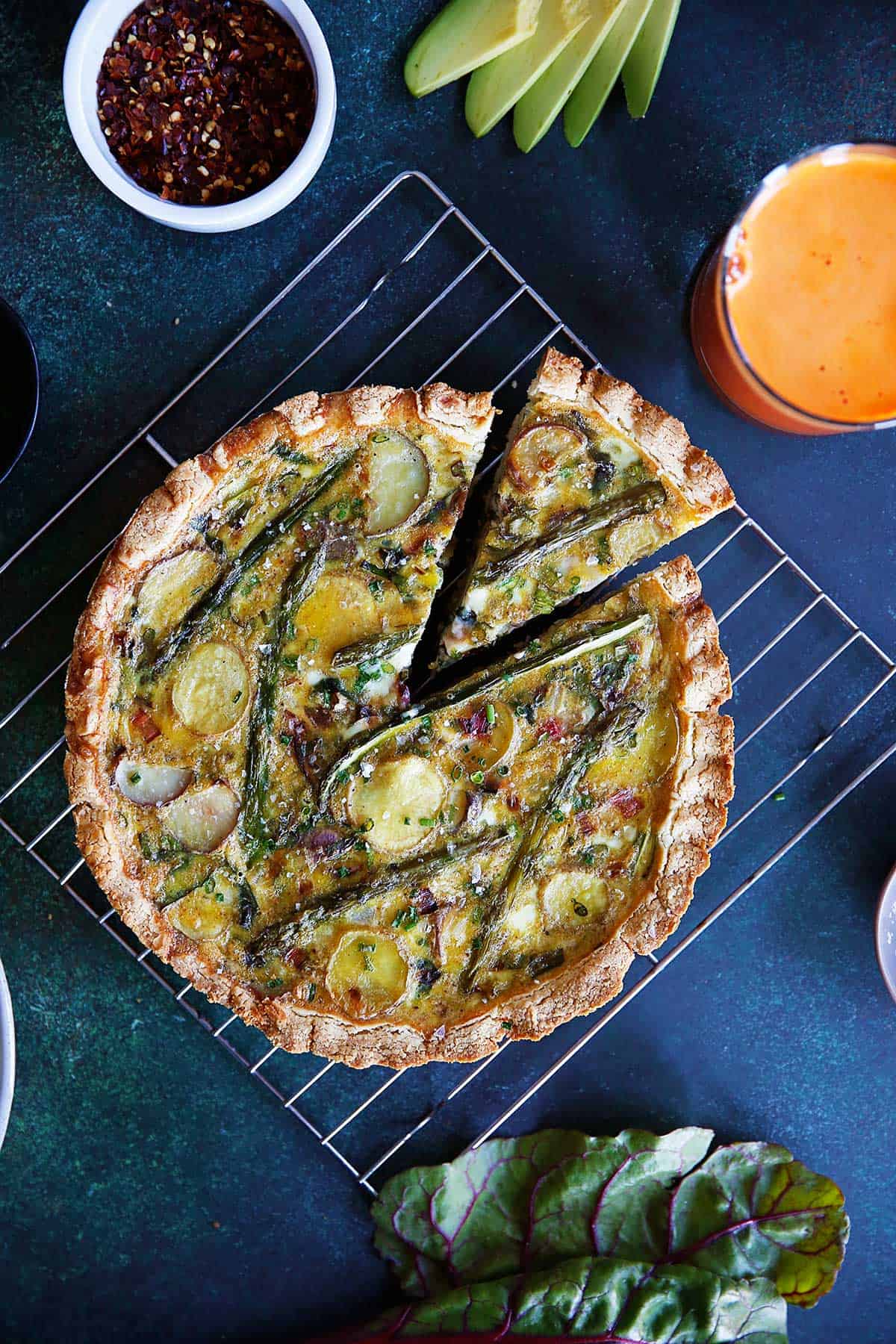 Flakey, butter-y crust loaded with fresh Spring vegetables and herbs makes for quiche perfection. This recipe can also be customizable! Simply make the crust, roast your favorite Spring veggies, combine them with eggs and spices, bake and BOOM. Brunch perfection.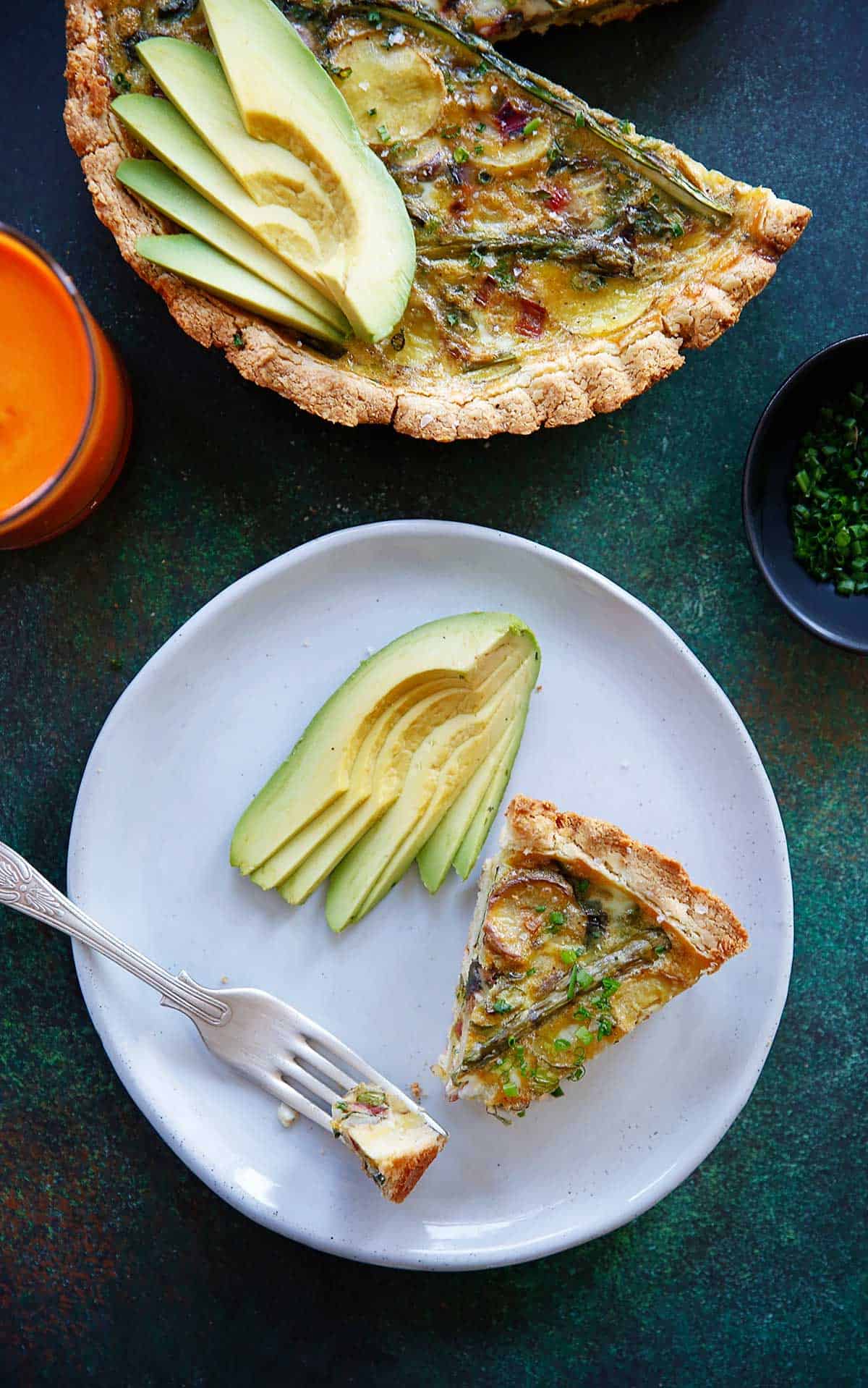 Top it with avocado slices and some flaky salt!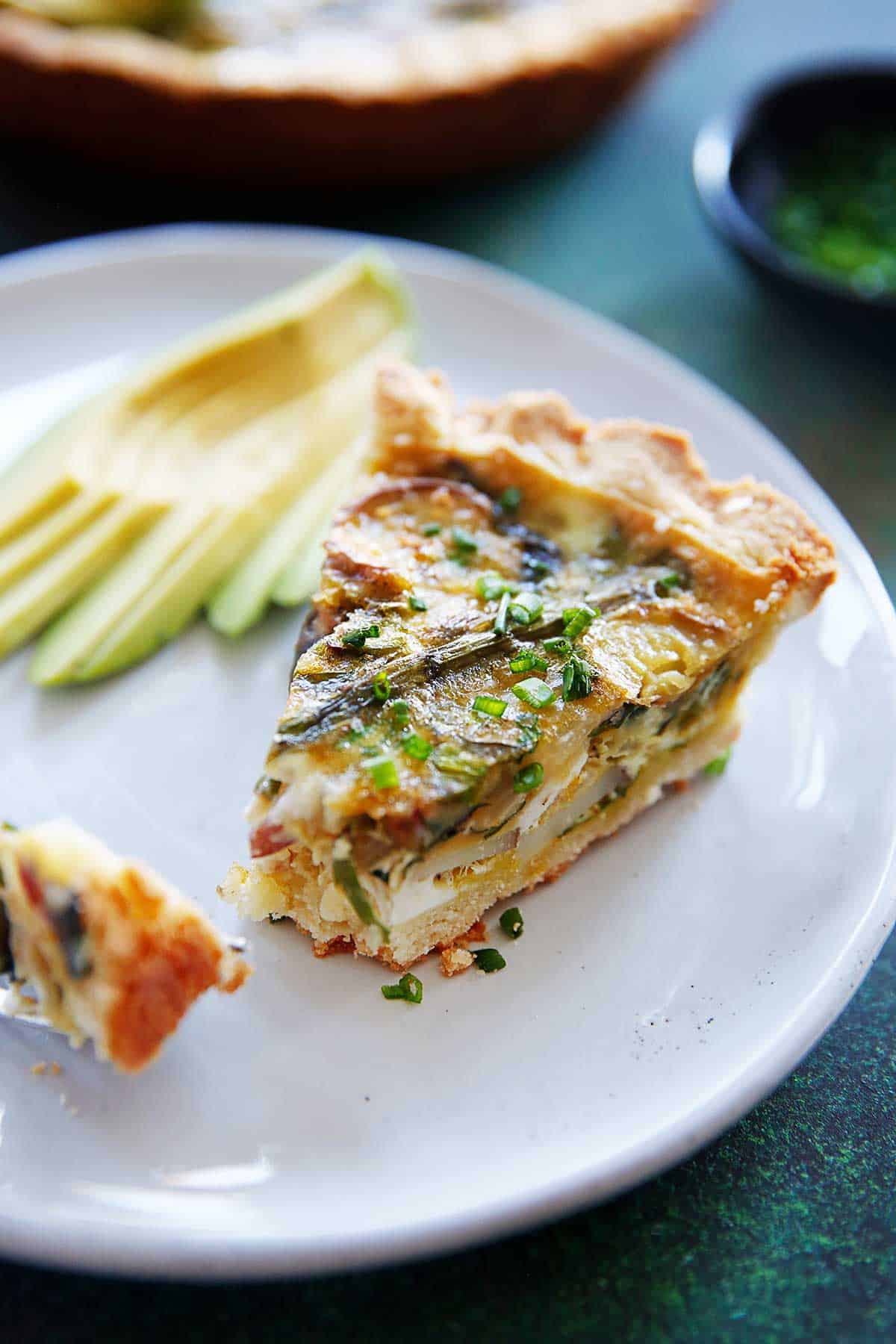 Spring Vegetable Quiche
This 3 Ingredient Breakfast Skillet is hearty, flavorful and QUICK! It's the perfect, customizable, week day breakfast.

Sometimes I throw some other veggies, like spinach, onion, and sweet potato, into the mix, but most of the time it's as simple (and tasty) as this 3-Igredient Skillet.  I love using a good salsa because it gives you all the flavors you need! Literally, you don't even need to spice this beauty. It's. ALL. Packed. In!

Look at that yolk!
Here's a glimpse at the steps:



I was selected by American Express to contribute to their Tumblr community. As such I was paid for my services, but all opinions in general and about American express are my own.
3-Ingredient Breakfast Skillet

---

---

Ingredients

Directions

Recipe Notes

*Adjust based on how many people you are serving. Example: If you're making it for 2 people, and you want 2 eggs each, reduce the amount as desired.
**Cooking time will vary based on how yolky you want your eggs

---

Nutrition

Loading nutrition data...
What is your favorite breakfast?
3 Ingredient Breakfast Skillet
Lately I am all about simple lunches. There is this little coffee shop by where I work, and the ladies there definitely inspired this dish. I popped in one day and saw a cran-walnut chicken salad on the menu, and a cup of it has been a reoccurring order whenever I go in. It's something about the simplicity, yet that it is packed with the perfect sweet flavors and a nice hint of crunch and texture from the walnuts. A perfect mix of flavors, in my opinion!
I love using my crock-pot to make all-purpose shredded chicken (especially for meal prep), or just throwing together some simple baked chicken. Add that homemade DIY mayonnaise in the mix and create a delicious, quick and easy, satisfying lunch.
[yumprint-recipe id='133′]
What is your favorite chicken salad variation? What is your favorite go-to quick & easy lunch?
Cranberry Walnut Chicken Salad
I have made Chia Pudding before, which I really really loved. It is super healthy, packed with nutrients, and the flavor options are endless. The thing is, it really isn't the consistency or texture of actual pudding, so a slight change needed to happen (for me), and it only took one additional step to get it there!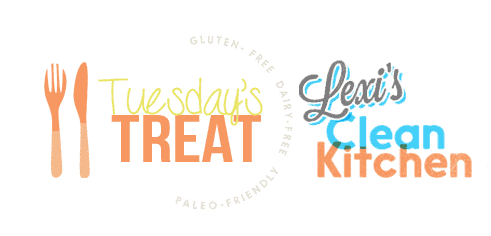 I call this Espresso Chocolate Chip based on the ingredients, but to me it tastes more like Cookies 'N Cream. Really really good, Cookies 'N Cream. I wouldn't except strong coffee/espresso flavor here, unless you add more into it. Except a cross between the two!
I love this as a mid-day snack, a dessert, or even a post-workout treat because it uses my favorite protein powder, SFH, to make it a complete good-for-you package. The texture of thick pudding, loaded with delicious flavor, protein, and nutrients! #win


[yumprint-recipe id='118′]
This is a sponsored post; I was compensated and received product to use. As always, all thoughts and opinions are 100% my own.
What is your all-time favorite pudding flavor? Do you like it simple or creative?
Paleo Chocolate Chip Chia Pudding
These Zesty Chicken Bites are the perfect healthier version of your favorite chicken nuggets!
They are low carb, flavorful, and completely gluten-free and grain-free. A reader favorite and loved by adults and kids alike!
While snowed in last week, I was craving an appetizer-like snack that I could make with the organic chicken breasts I had in the fridge.
I realized that it's been a while since I've had chicken cutlets. My beautiful mom makes killer chicken cutlets.

She made them often growing up and then passed the recipe along to me years ago.
You can bet those days were filled with some delicious chicken parm.
Since those breadcrumbs are no longer in my diet, my task was set! Instead of the whole chicken cutlet thing, I went with bites (or nuggets), call it what you'd like.
And I made them spicy. Amazing. The perfect appetizer when entertaining or just for your football Sunday get together
The perfect appetizer when entertaining or just for your typical Football Sunday get together!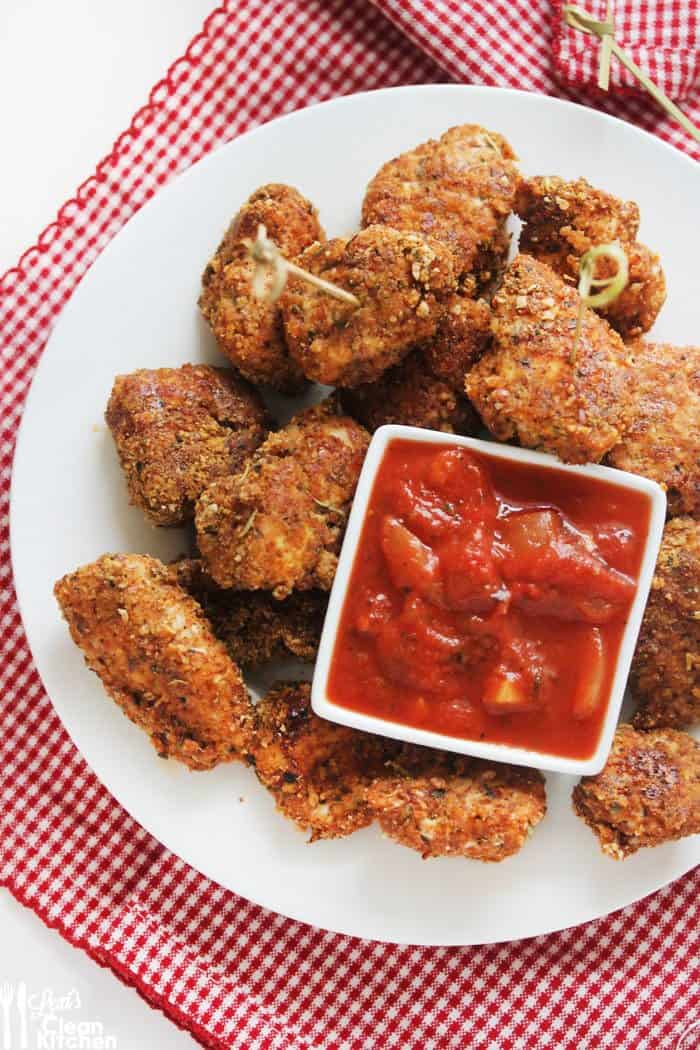 These Zesty Chicken Bites are perfectly crispy. Your friends won't even know they are healthy and gluten-free!
Read through the comments below to see how others have made this recipe their own!
Zesty Chicken Bites
This one-pot Lemon Roasted Lemon Roasted Chicken with Garlic, Capers, and Artichokes is such a flavorful and hearty dish! The perfect dinner for those nights you want as little clean-up as possible! Whole30 compliant, paleo-friendly, nut-free, and egg-free!
Lemon Roasted Chicken with Garlic, Capers, and Artichokes
It's starting to feel like Winter is on the horizon. Heavier jackets have started coming out, and I woke up to a text of a backyard cover in snow this morning! In lieu, this week's Savory Sunday is here with a cozy Autumn/Winter meal that is loaded with bright and delicious flavors. This dish was a major hit; the chicken fell right off the bones and it is extremely simple to throw together, a one pan wonder! Perfect for a Sunday night family dinner, or a meal prep for your work week.
How to make roasted chicken
Want other chicken recipes? Try these: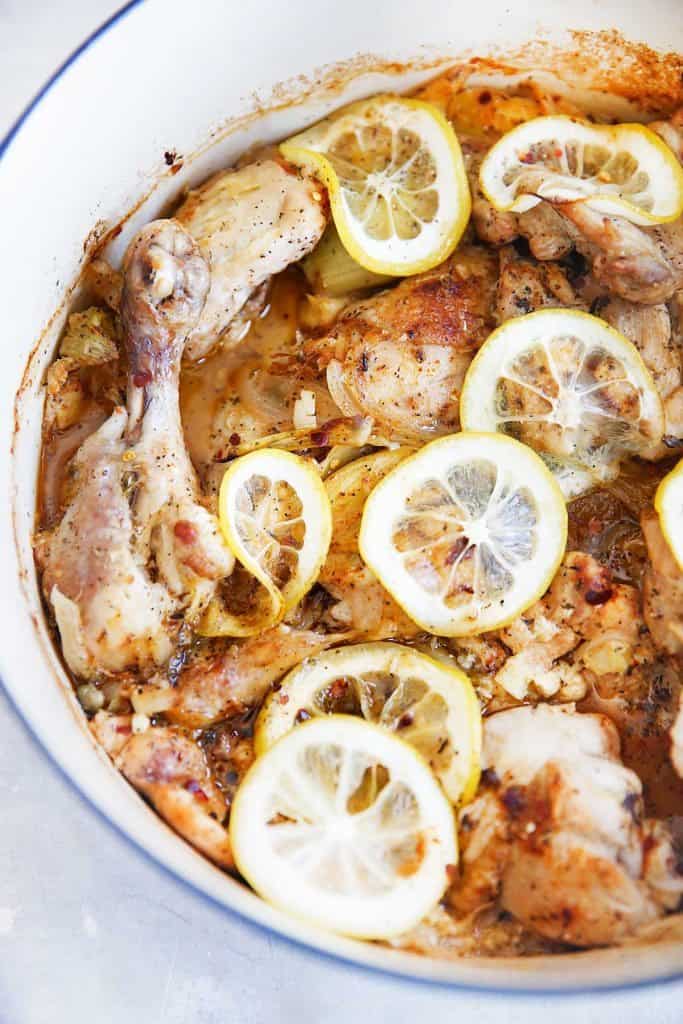 What is your go-to cozy Autumn/Winter meal?
Lemon Roasted Chicken with Garlic, Capers, and Artichokes
I didn't grow up eating shepherd's pie, but since making this recipe I have fallen in love! This Shepherd's Pie: Two Ways is such a perfect Fall dish when you are craving something hearty and comforting. Loaded with protein, Fall veggies, and topped with creamy sweet potato or cauliflower mash for a low-carb alternative!
If you love mashed potatoes as much as I do, this is a must-try!
Savory Sunday is back and this week's recipe is a good one! I can't believe it is Sunday. This weekend was relaxing and productive on my end. Speaking of the last post, did you guys kick it into gear with your November goals? I am pushing hard in my workouts this month.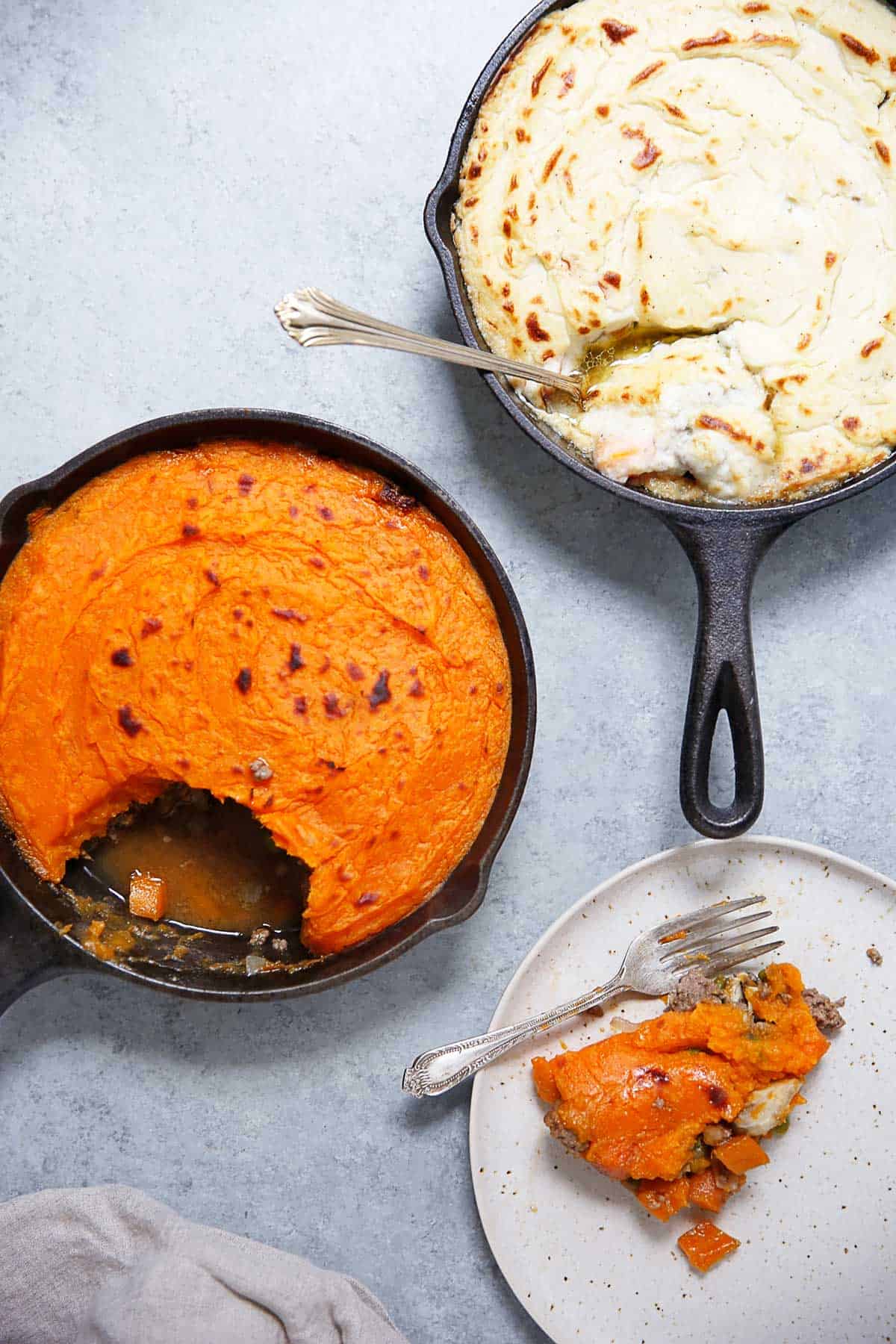 com·fort food
How do you feel about comfort food?
This definition kind of bothers me for some reason.
Maybe because I feel that food shouldn't necessarily be what provides one with a sense of well-being or consolation, and I don't generally find comfort in high sugar or high carb dishes, but I do find comfort in meals associated with home cooking.
This week's Savory meal idea is perfect for the Fall! Healthy comfort food made TWO ways, to satisfy everyone in your home.

What is your favorite comfort food? 
Shepherd's Pie: Two Ways
A simple recipe for pumpkin protein pancakes that is also gluten free and dairy free. Easy enough to whip up in the morning for a nutritious breakfast.
Pumpkin Protein Pancakes
Good morning all! You may, or may not know that I love my protein pancakes. In fact, if you've followed my Instagram for a while now, you'd find that there was a good deal of time last year where they were made literally every day (seriously, every single day). It was to the point that Mike (my trusty taste-tester and honest boyfriend), told me it was getting a little excessive with the protein pancake pictures. He was definitely right, although I had/have no shame. They are that good.
Anyway, back to the point! It's the morning, I am ready for breakfast and my morning intake of protein. So clearly I need to incorporate my homemade pumpkin puree, right? Right. So, I give to you, grain-free, dairy-free, and refined-sugar free pumpkin pancakes (with chocolate chips).
If you like this pumpkin recipe, check out these others:
If you like this breakfast recipe, check out these others:
Pumpkin Chocolate Chip Protein Pancakes
This Chocolate Almond Butter Smoothie is loaded with healthy fats and protein, and exploding with flavor of a chocolate almond butter cup. It's the perfect way to start the morning, or for a quick afternoon snack.
Chocolate Almond Butter Smoothie
Sometimes I crave these Sea-Salted Dark Chocolate Almond Butter Cups, and sometimes I crave them for breakfast. And when that happens, I go ahead and make this Chocolate Almond Butter Shake. This quick smoothie is a healthy and nutritious breakfast to fuel up for the day. It's Dairy-free, paleo-friendly, and SO simple!
Ingredients Needed
Almond Milk
Chocolate Grass-Fed Protein Powder
Frozen Banana
Chopped Chocolate
Creamy Almond Butter
Honey
Pinch Cinnamon
If you wanted to swap out the almond butter with peanut butter, I can attest it tastes remarkably similar to a peanut butter cup. It's so good! Also if you didn't want to use protein powder, you could swap it out with 1 scoop of collagen peptides and 1 tablespoon of cocoa powder.
If you like this smoothie recipe, check out these others:
Chocolate Almond Butter Smoothie
Football season is about to be here and that means Sundays for me are filled with game day cooking (my favorite)! I always try to prepare healthy game day foods and this Buffalo Chicken Chili will definitely be on the rotation. You can make this buffalo chicken chili recipe in the Instant Pot or on the stove top!
Buffalo Chicken Chili (Instant Pot or Stove Top)
This chili is a must-try, it's the perfect mix of flavors and textures. It's hearty, flavorful, and different! It went over big time in my house tonight!

If you like this chili recipe, try these recipes:
Buffalo Chicken Chili (Instant Pot or Stove Top)
This Spaghetti Squash Primavera is the perfect healthier spin on the Italian classic! Loaded with seasonal veggies, protein, and flavorful spices, it is the perfect hearty and nutritious meal for any night of the week! Dairy-free, grain-free, paleo-friendly, and no added sugar!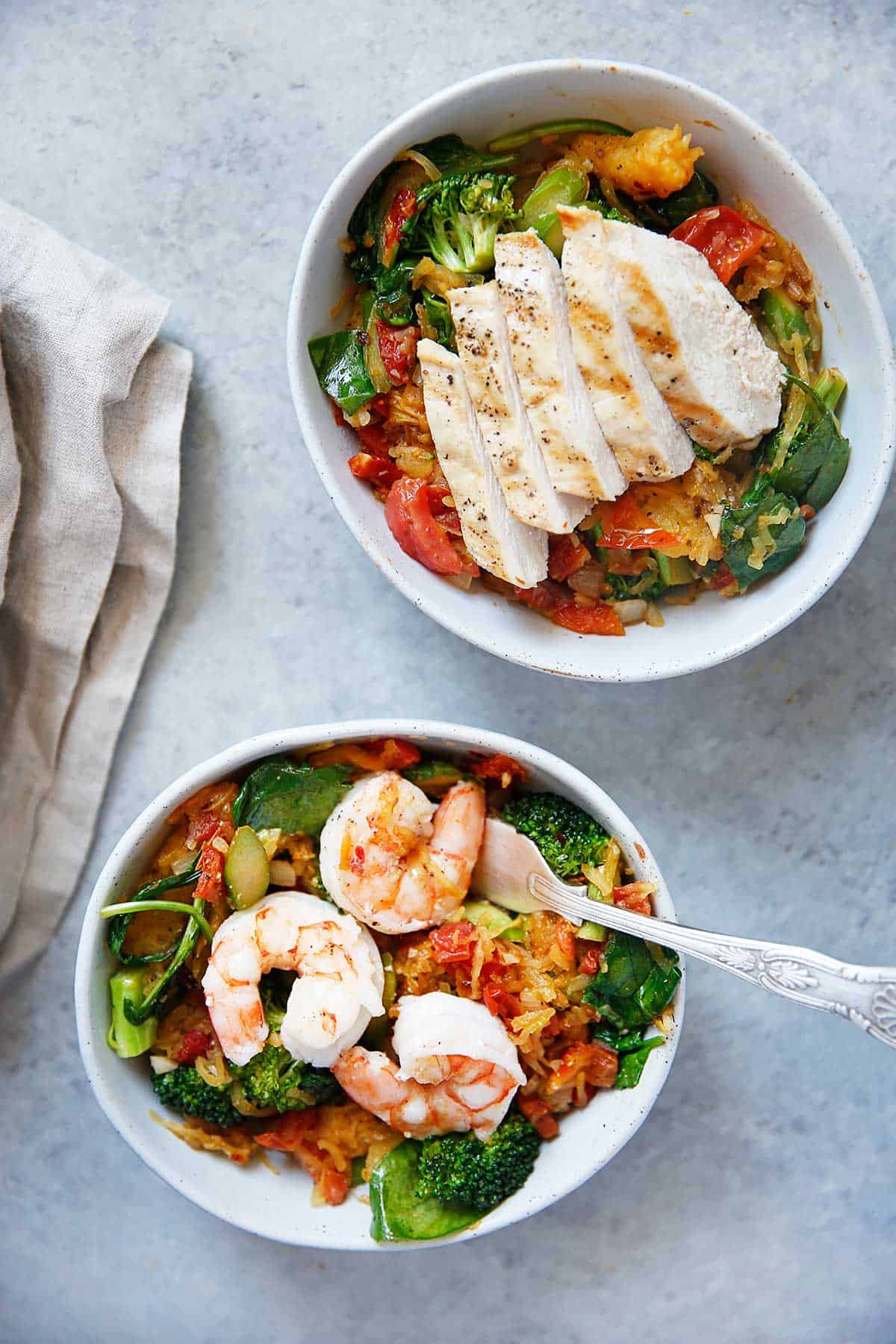 Spaghetti Squash Primavera
I love Italian cuisine! I mean who doesn't love combining meat, fresh vegetables, garlic, oil, and homemade tomato sauce? A ton of the dishes I make are Italian-inspired. This dish fulfills that delicious pasta craving, without the pasta! My version of "pasta" primavera is made with spaghetti squash and is the perfect combination of garlic, spices, meat, and vegetables!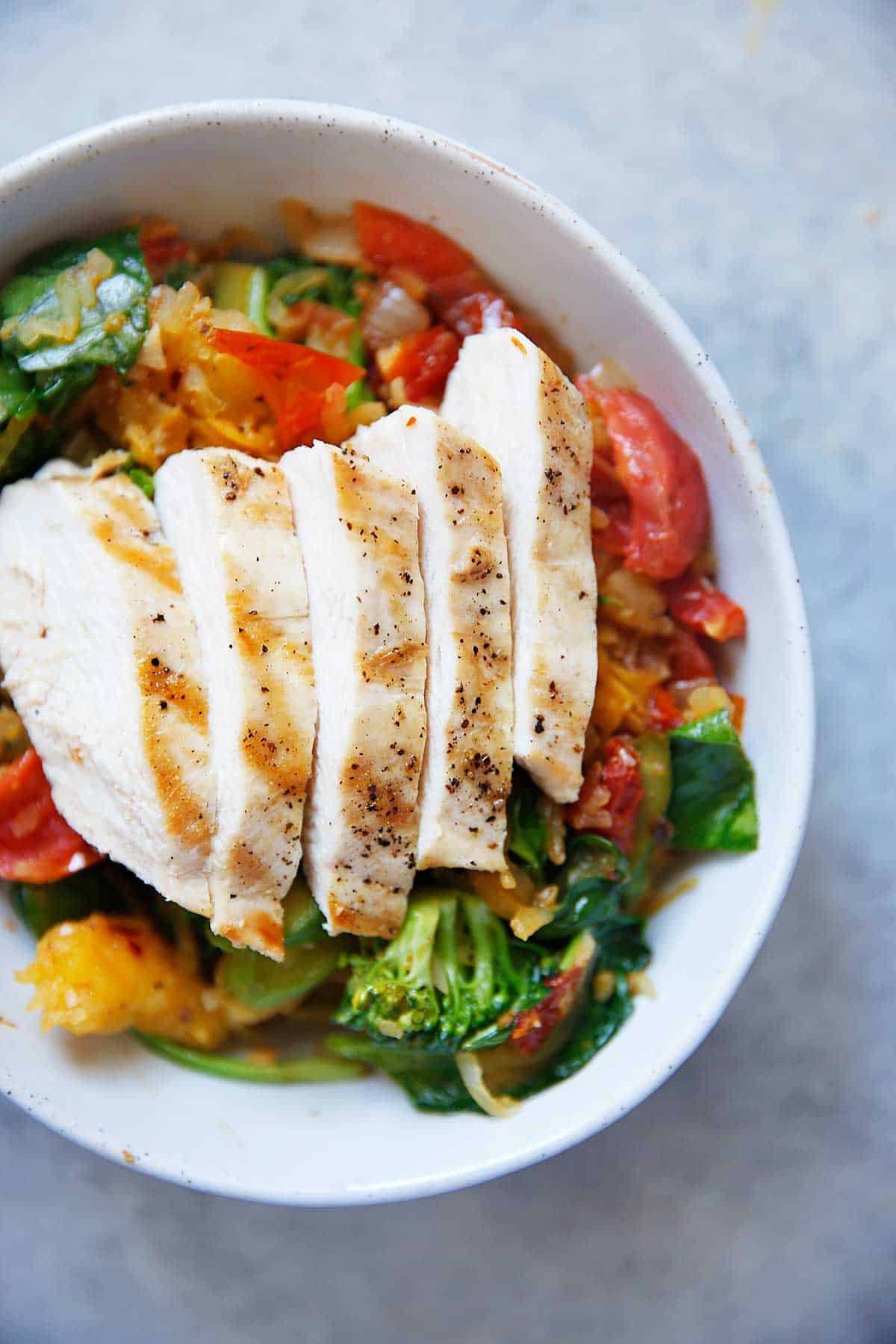 Watch the video:
Spaghetti Squash Primavera [VIDEO]
I am speechless over this Easy Salmon Puttanesca. The puttanesca sauce is so flavorful and pairs perfectly with the Wild Salmon. I couldn't get over how simple it was to make! 10 minutes and very little prep work! Such an elegant and flavorful dish for any night of the week! We paired the salmon with sautéd green beans, but you can use any veggies you have on hand!
I am a big fan of puttanesca sauce and always wanted to make my own version. I am so happy with how this one came out and love saving the extra sauce to use throughout the week! If you are looking for low-carb, simple meals to get you through the week, this is definitely a keeper!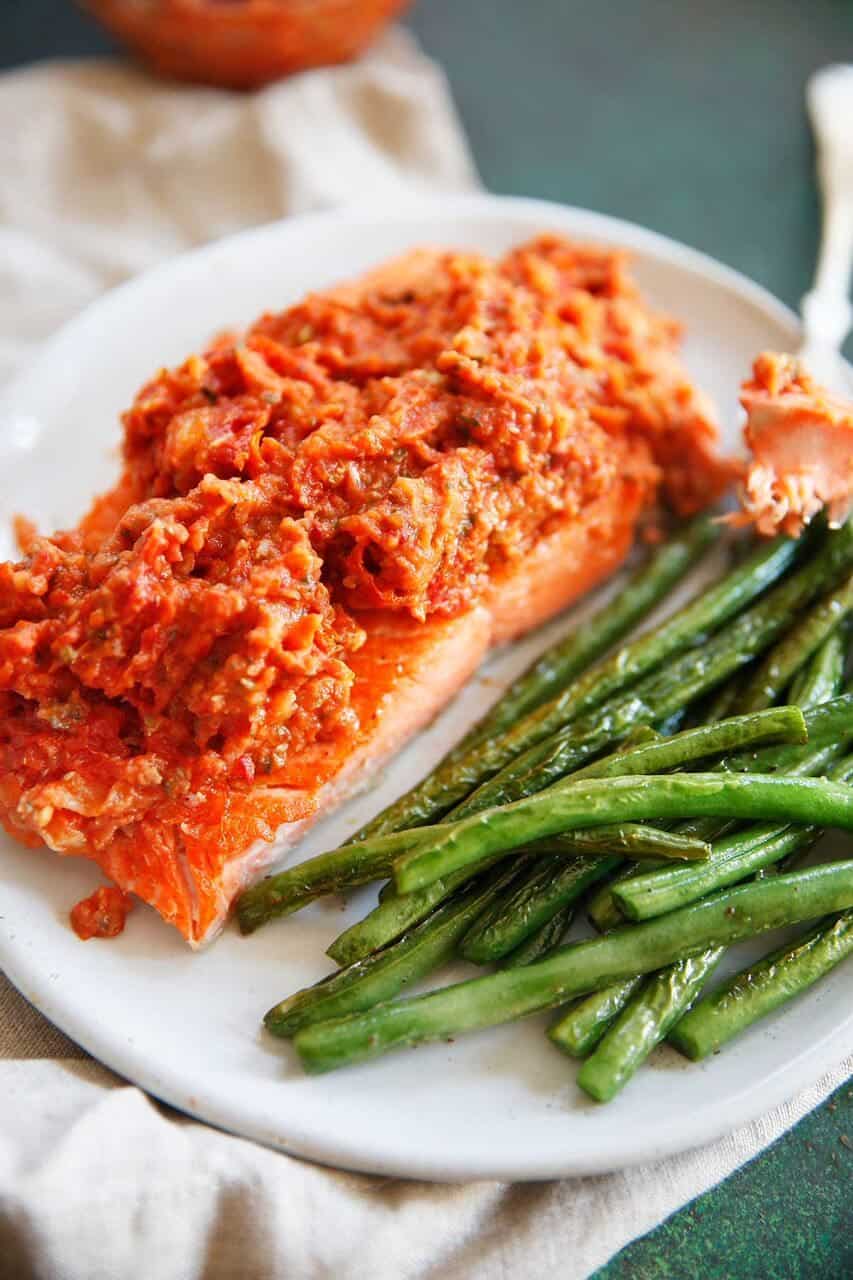 Easy Salmon Puttanesca
Italian night! Who needs real pasta? Spaghetti Squash Boats are a huge hit around here. They are filling, tasty, and fun to eat. They go perfectly with my homemade meat sauce or meatballs.
Spaghetti Squash Boats with Homemade Meat Sauce
I'm feeling tropical this morning with this Piña Colada Protein Smoothie! For a few minutes I felt like I was back in Mexico sipping on a delicious refreshing drink; though this one has the health benefits I needed to start my day off right. Can you tell I'm feeling beach-ready?
The perfect balance of frozen mango and coconut! The perfect light and refreshing treat for these warm days!
Piña Colada Protein Smoothie

---

---

Ingredients

1 cup frozen pineapple chunks
1/2 cup organic unsweetened coconut milk or unsweetened vanilla almond milk
1 scoop vanilla protein powder
1 teaspoon chia seeds
1/2 tablespoon coconut oil
Optional: garnish with organic unsweetened coconut flakes

Directions

Place all ingredients in blender
Blend until smooth and creamy
Garnish and enjoy!

---

Nutrition

Loading nutrition data...
Piña Colada Protein Smoothie
This slow cooker shredded chicken is an all-purpose recipe that goes with just about anything and is made easy in the crock pot! The slow cooker is one of my favorite kitchen appliances, especially if you have a busy schedule.
Slow Cooker Shredded Chicken
This basic all-purpose chicken recipe is great because you can turn it into so many things. From shredded buffalo chicken lettuce wraps to chicken soup, chicken salad, and shredded chicken tacos, this easy recipe is so simple and always delicious!
What is the best way to shred chicken?
Shred chicken with two forks!
How do you shred chicken with a mixer?
Place fully cooked chicken breasts into the KitchenAid Stand Mixer. Make sure your chicken is still warm. With your paddle attachment connected and chicken inside the mixer, turn it onto low until shredded!