Healthy Summer Recipes
Summer is here, which means it's time to make the freshest recipes with all of that colorful farm fresh produce! We've got a great list of our best Healthy Summer Recipes starting with breakfast and ending with dessert. And all summer long we will be adding to this list as we have new recipes, so go ahead and bookmark this page so you can cook your way through all these summertime lightened-up favorites!
Must-Make Healthy Summer Recipes
It's that time of year when everyone wants to get outside! After a very long winter, and a super strange spring, this year we're craving that outdoor fresh air and all of our favorite summertime food. While it's unlikely we all will be hosting large gatherings this year, we know that won't stop you from celebrating the season within your small quaranteam, and we've got all the recipes you need.
Healthy Summer Breakfasts
---
Lightened Up Appetizers and Side Dishes
---
Easy Summer Salads and Slaws
---
Easy Summer Dinner Recipes
---
Summer Dessert Ideas
---
Summer Beverages, Cocktails and Mocktails
---
Essential Summer Sauce Recipes
---
Healthy Summer Recipes
Nothing says "summer" quite like going to the beach — whether you're packing up the family for a week in a seaside town or taking a day trip to the beach as part of a staycation! Going to the beach is pretty great in itself, but I have a few tips and tricks on how to enjoy the beach (and make it a healthier day!). These seven suggestions will ensure your best beach day ever.
How to Enjoy the Beach
Beach bummin' rules.
---
1. Hit the road early. I know what you're thinking: Why would I set an alarm on a day when I'm supposed to be relaxing at the beach? Doing this might feel super weird, but the truth is that there's no better time to greet the sand and surf than first thing in the morning. The earlier you arrive, the easier it will be to choose ideal real estate for your beach chairs. You'll also be less likely to burn in the morning, since the sun is strongest in the middle of the day. If morning beach time is a no-go for you, you might consider going in the late afternoon instead, since you'll reap some of the same benefits.
2. Stay sun-safe. I cannot emphasize enough how important it is to protect yourself from those intense summer rays. Too much exposure can cause sunburn, blistering, peeling, and an increased risk of skin cancer. The good news is that there are plenty of ways to minimize exposure… without having to stay inside or avoid the beach! Come prepared for your next day at the beach with an umbrella, a hat, and plenty of sunscreen. I recently shared all of my thoughts about the safest sunscreen options out there, so pick some up next time you're thinking about sunbathing.
3. Set sunscreen reminders. While we're talking sunscreen, let me remind you that sunscreen is only effective when you reapply it at regular intervals! If you insist on bringing your phone to the beach (though I'd totally support you leaving it behind so you can disconnect), put it to good use by setting a sunscreen alarm roughly every hour or two. If you're hanging at the beach with family and friends, make reapplication a group activity! Nothing ruins a perfectly good day in the sun like a nasty sunburn — but you have the power to prevent it.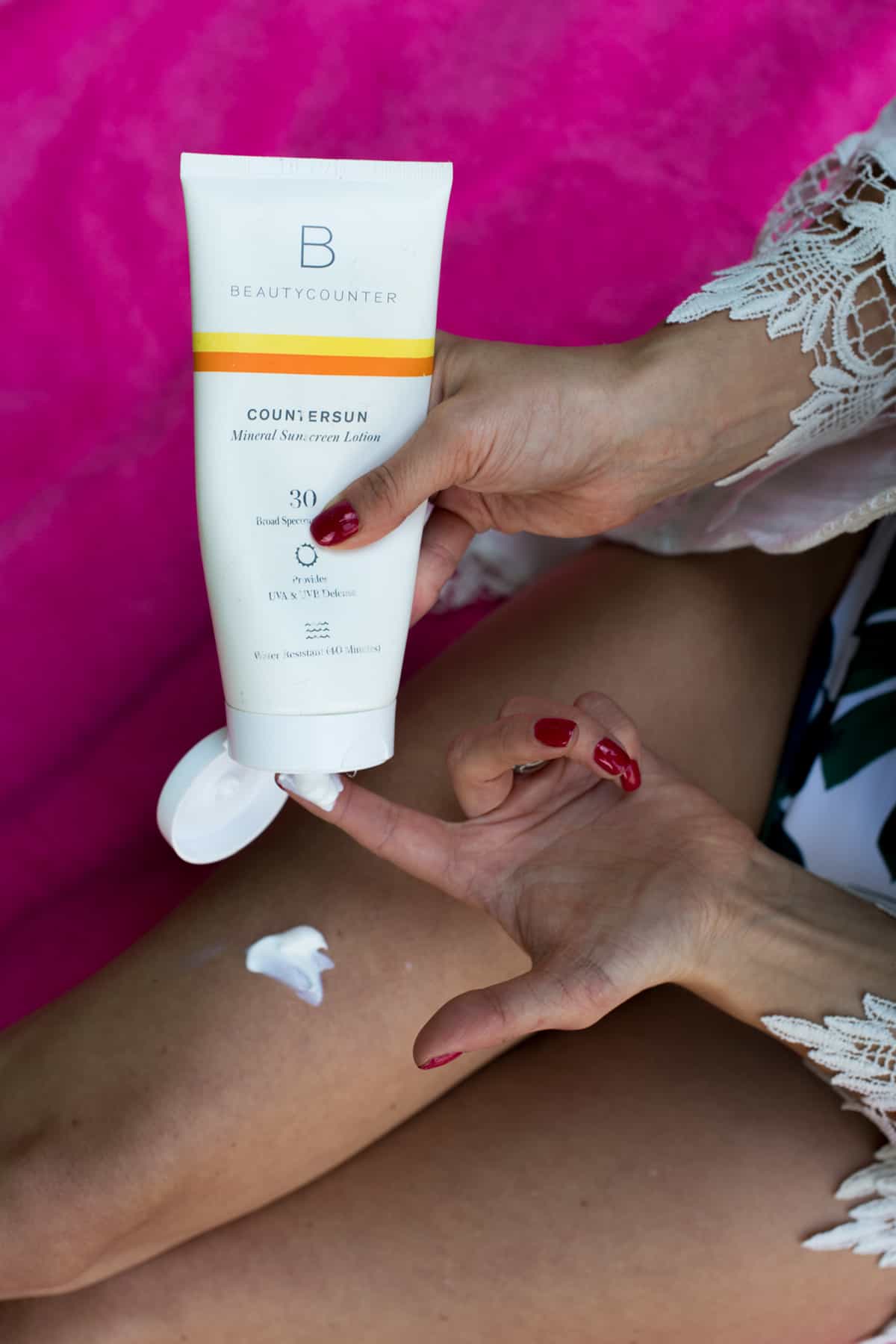 4. Prepare to hydrate. It's important to stay hydrated regardless of your environment, but you'll want to be that much more intentional about it when you're at the beach, where's it's a lot easier to dehydrate. In the heat of the summer sun, you're bound to sweat a lot, plus we can find ourselves so busy relaxing that we forget to take in sufficient fluids! Get ahead of this problem by packing plenty of filled reusable water bottles. Add a little lemon to keep things interesting! I also recommend coconut water.
5. Pack plenty of healthy snacks. The beach can feel like paradise, but that doesn't mean that you can't get hangry there. Trust me — I've experienced it! Here are a few of my favorite, beach-friendly recipes, easy to pack for a day of fun:
Don't feel like getting in the kitchen? I get it! There are plenty of clean store-bought snacks that are perfect for travel out there, too! You can also keep it simple with organic raw veggies, organic fruit skewers, or organic corn tortilla chips and salsa.
6. Stock up on reading materials. As far as I'm concerned, there's no better place to read than at the beach. Cozy up in your chair or on a towel (with plenty of sunscreen on, of course!) and get caught up on all of those reads that you've been hoping to get around to over the last few months. Check out some of my must-read books for summer here! If you don't love squinting into the sun or carrying books in your beach bag, audiobooks are a great alternative. As an added bonus, you can listen to those on your way to the beach, too!
7. Be ready to get movin'! Full-body relaxation definitely tops the list of beach activities, but if you're expecting to spend the whole day by the water, you should plan to get up and get active. You're bound to get bored after too many hours of laying around, not to mention the fact that activity makes a beach day a whole lot healthier. Pack a frisbee or horseshoes set for your group to enjoy, or ask your friends if they'd be up for a beach walk after a few hours of lounging. Why not jump in the water for a swim? Even a few minutes of exercise is better than none at all!
What are your beach day musts?
7 Tips for Having the Best Beach Day Ever
If you consistently lather up with sunscreen before spending time outdoors, you're probably already feeling like you're ahead of the game. And you kind of are! According to CBS News, only one-third of people apply sunscreen to all of their exposed skin (per medical recommendations). Being in a consistent routine with safer sunscreen — especially in the summertime — is absolutely a victory.
But there's more to sunscreen than you've heard about from advertising… and maybe even from your dermatologist. While mainstream, readily available sun protection brands do have a pretty good track record of minimizing risk of skin cancer (for those who use it properly, of course!), they aren't exactly doing you any other favors health-wise, and people are starting to notice.
P.S. More recently, chemical filters in sunscreens have been linked to the killing off of coral reefs. It's why Hawaii, and recently Florida have newly passed a bill to ban these types of sunscreens from being sold in the state.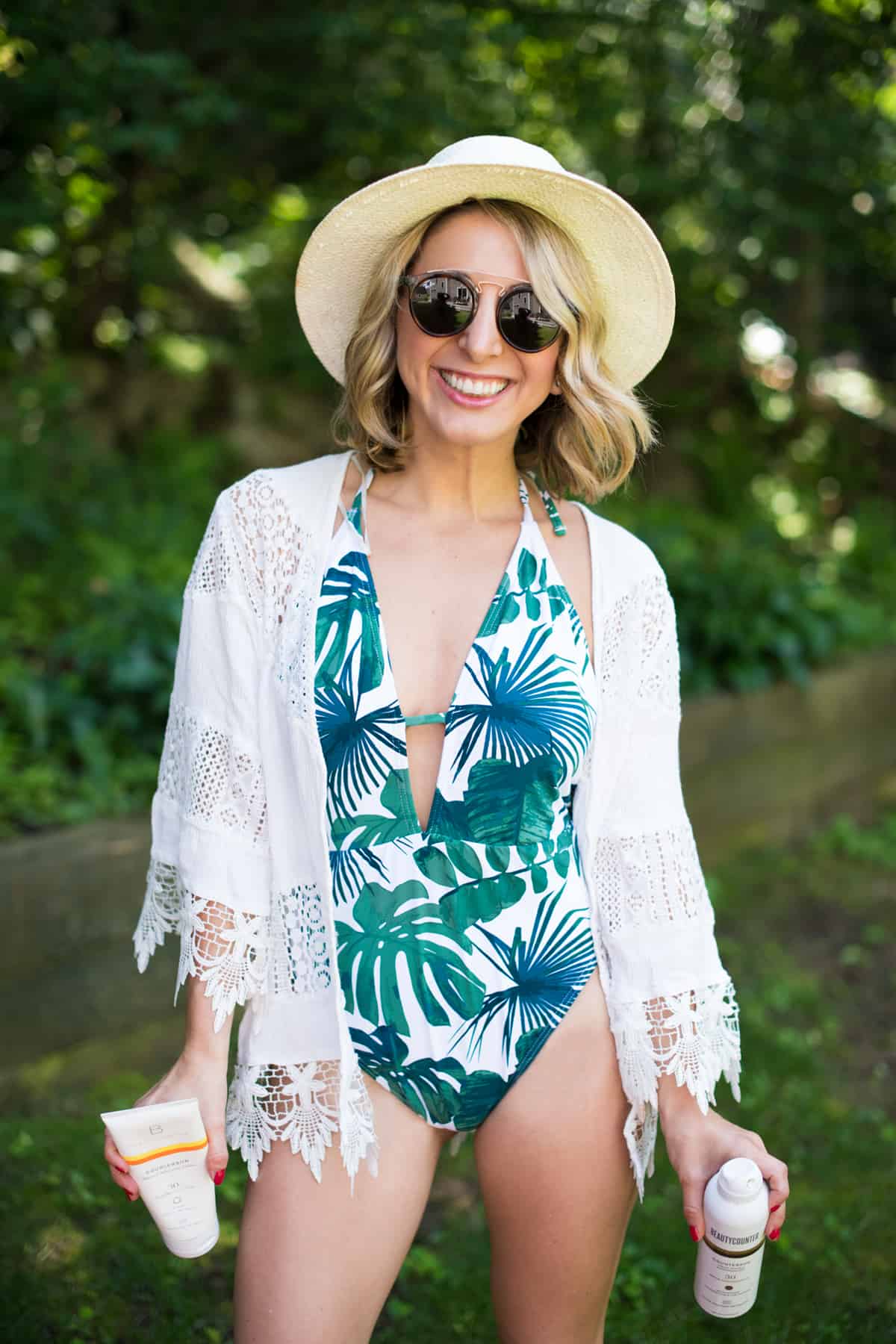 Everything You Need to Know About Safer Sunscreen
There's more to it than the SPF number
Here's a fact you've probably never even thought about: Many of the sunscreens you're probably most familiar with are known as chemical sunblocks. These products actually absorb into your skin, ultimately absorbing UV rays so they can be converted into heat and released from your body. Active ingredients in these sunscreens typically include avobenzone, octinoxate, and oxybenzone. Think about it for a sec — if these chemical sunscreens are to work properly, those chemicals need to be fully absorbed into your body. Do you want your skin absorbing things that are known to be harmful to your health, or just anything that you can't even pronounce? No, thanks.
If you are unsure of the ingredients in the sunscreen you thought was decent, EWG.org/skindeep is my go-to resource to search and learn about the ingredients in my products. You simply search an item, and see it's toxicity rating based on the ingredients and can read about why those ingredients aren't good for you. It's pretty awesome!
Now, all of this isn't to scare you! The good news is that you don't have to avoid sunscreen altogether in order to avoid these chemicals, and the answer is certainly not to stop wearing sunscreen. There are alternatives! It's a good thing, too, because I want to help you preserve your healthy skin and stay glowing and ageless forever.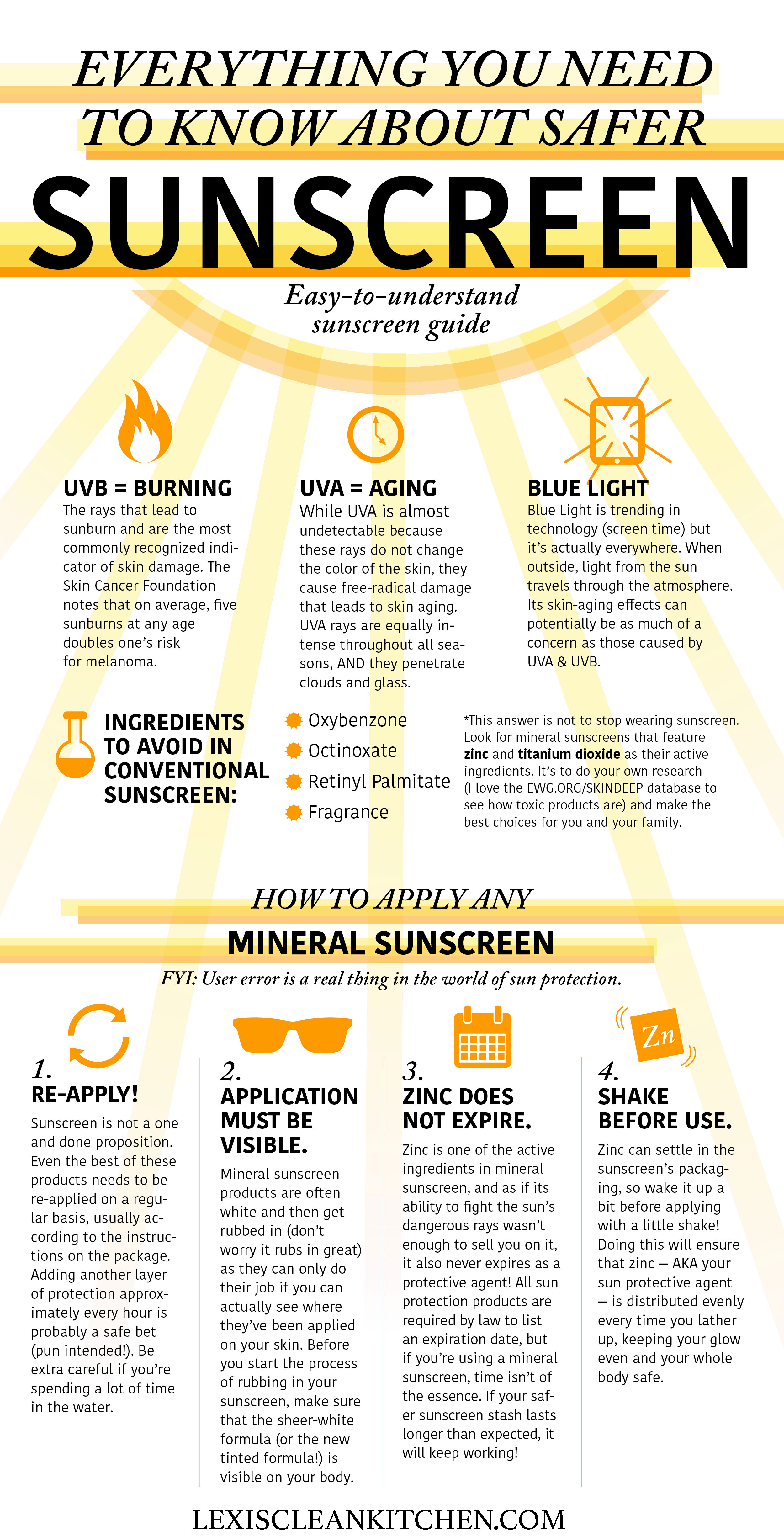 Is mineral sunscreen better than chemical?
The best alternative for chemical sunscreen is a category of sun protection called mineral sunscreen.
Look for mineral sunscreens that feature zinc and titanium dioxide as their active ingredients, rather than the chemicals present in most conventional products. This makes your sunscreen a lot cleaner and safer. Mineral sunscreens use these active ingredients to physically block the rays from your skin — they actually reflect the suns rays. As an added bonus, many mineral sunscreens are fragrance-free, which is a win for babies, kids, and anyone with sensitive skin and can help you further streamline the dangerous chemicals being absorbed into your body.
Ingredients you should avoid when searching for sunscreen are:
Oxybenzone
Octinoxate
Retinyl Palmitate
Fragrance
The best mineral sunscreens
My personal pick for my family is Beautycounter's sunscreen line, Countersun.
Here's why: Beautycounter just happens to be the market leader in safer, mineral sunscreen. I trust them for their skincare, make-up, and mission, and their triple-tested Countersun line is no different, (plus it's reef safe)! Beautycounter's sunscreen offers all of the benefits of sun protection without the dangers associated with many of the products you can buy at your local pharmacy or grocery store. Please, do your research when you pick up that sunscreen that looks good in CVS!
Countersun (Beautycounter's mineral sunscreen line) has a lotion, a non-aerosol mist, and a face stick, and the line now includes tinted sunscreens — a little extra glow, anyone? — and an aftersun cooling gel, to help ease the pain of a little too much time spent catching rays. Basically, all of your bases are now officially covered… and a lot more safely!
Here's a handful of other miner sunscreen options that pass the test: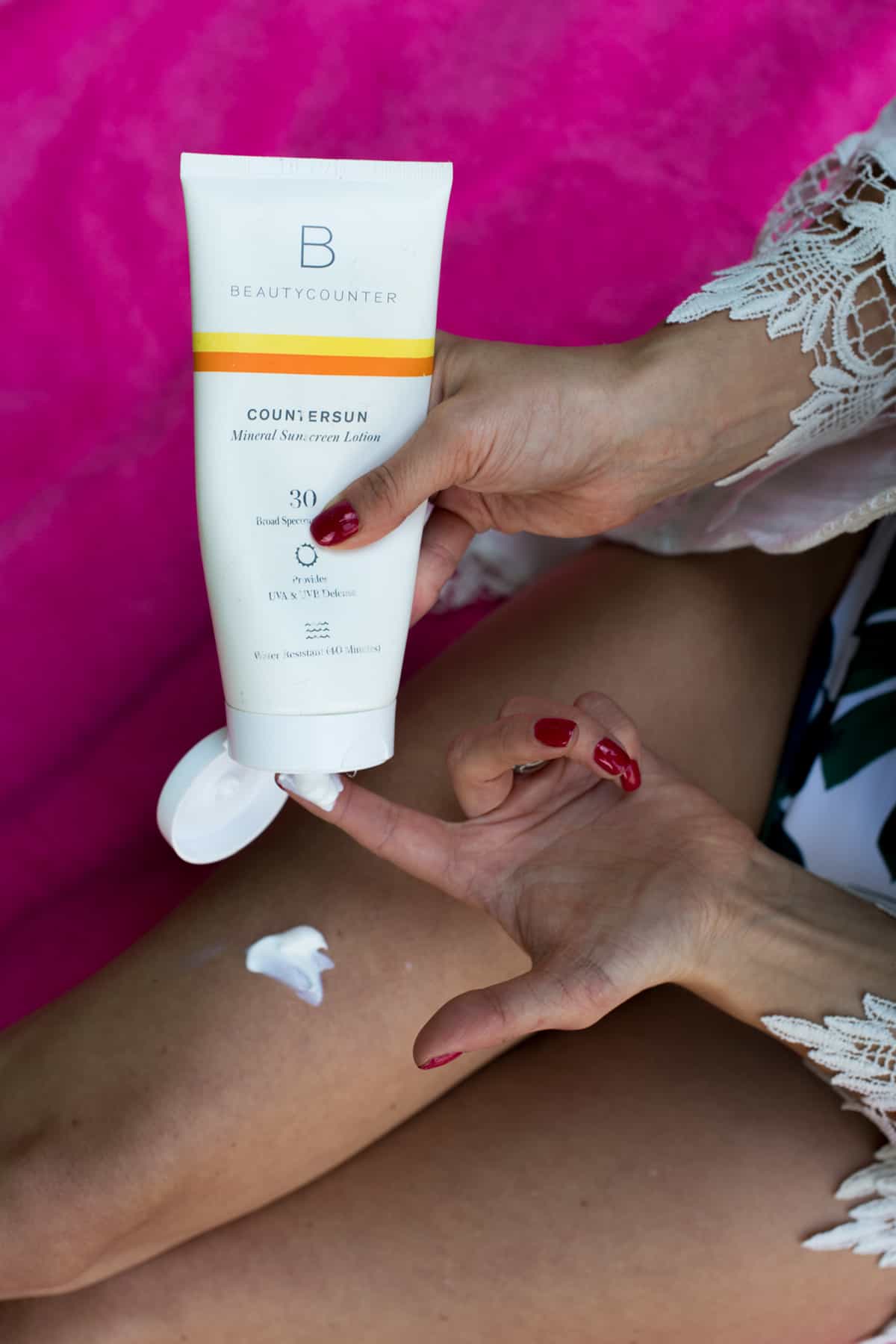 Here are a few of my go-to tips for applying Beautycounter's safer mineral sunscreen:
Just because these products are great (which they are) doesn't mean that they can prevent 100% of sunburns. Mineral sunscreen and chemical sunscreen are quite different, and user error is a real thing in the world of sun protection.
1. Re-apply! Sunscreen is not a one and done proposition. Even the best of these products needs to be re-applied on a regular basis, usually according to the instructions on the package. Adding another layer of protection approximately every hour or two is probably a safe bet (pun intended!). Be extra careful if you're spending a lot of time in the water. Water resistant is not the same as waterproof, so make sure to reapply after or taking a dip or sweating on a run!
2. Application must be visible. Mineral sunscreen can only do their job if you can actually see where they've been applied on your skin. Before you start the process of rubbing in your sunscreen, make sure that the sheer-white formula (or the new tinted formula!) is visible on your body. We're not talking about a clear mist here!
3. Zinc does not expire. Zinc is one of the active ingredients in mineral sunscreen, and as if its ability to fight the sun's dangerous rays wasn't enough to sell you on it, it also never expires as a protective agent! This means that it will be effective for years after purchase. All sun protection products are required by law to list an expiration date, but if you're using a mineral sunscreen, time isn't of the essence. If your safer sunscreen stash lasts longer than expected, it will keep working!
4. Shake before use. Zinc can settle in the sunscreen's packaging, so wake it up a bit before applying with a little shake! Doing this will ensure that zinc — AKA your sun protective agent — is distributed evenly every time you lather up, keeping your glow even and your whole body safe.
---
Generally speaking, I encourage you to never underestimate the sun. It is so powerful, and even the best of sunscreens won't help if you're not sure to use them properly. Be careful, be safe, and have fun in the sun!
P.S. Want some other reads? This article from NY Post is really informative and this one from CNN is as well.
---
Disclosure: There may be affiliate links in this post! By clicking on them, or purchasing recommended items I may receive a small compensation, at no cost to you! However, I only recommend products I absolutely love and use on my own body. Thank you for supporting Lexi's Clean Kitchen when you shop.
Everything You Need to Know About Safer Sunscreen
This gluten-free Key Lime Tart is made using honey and coconut milk for a rich, tangy and smooth filling! It's simple to prepare and can be optionally topped with a honey meringue for a showstopper dessert. It's gluten-free and made without any refined sugars.
Key Lime Tart
This Key Lime Tart is the perfect (and beautiful) dessert to roll out in both hot and cold weather. This simple tart is made using our favorite gluten-free pie crust, filled with a tangy and smooth key lime filling and optionally topped with a delicious honey meringue that you can either leave as is or toast it!
Key Lime Tart Ingredients:
tapioca flour / starch
butter
eggs
key lime juice or regular lime juice
lime zest
honey

coconut milk
Can I use regular limes in place of key limes?
What makes a key lime pie a key lime pie is, you guessed it: key limes. But they are only available certain times of the year and they are much smaller than regular limes (known as Persian limes) so they take a bit more work to get the total amount of juice needed. And while there might be slight difference in taste (key limes have a bit heavier taste of "lime" with higher acidity), it is perfectly acceptable to use regular limes!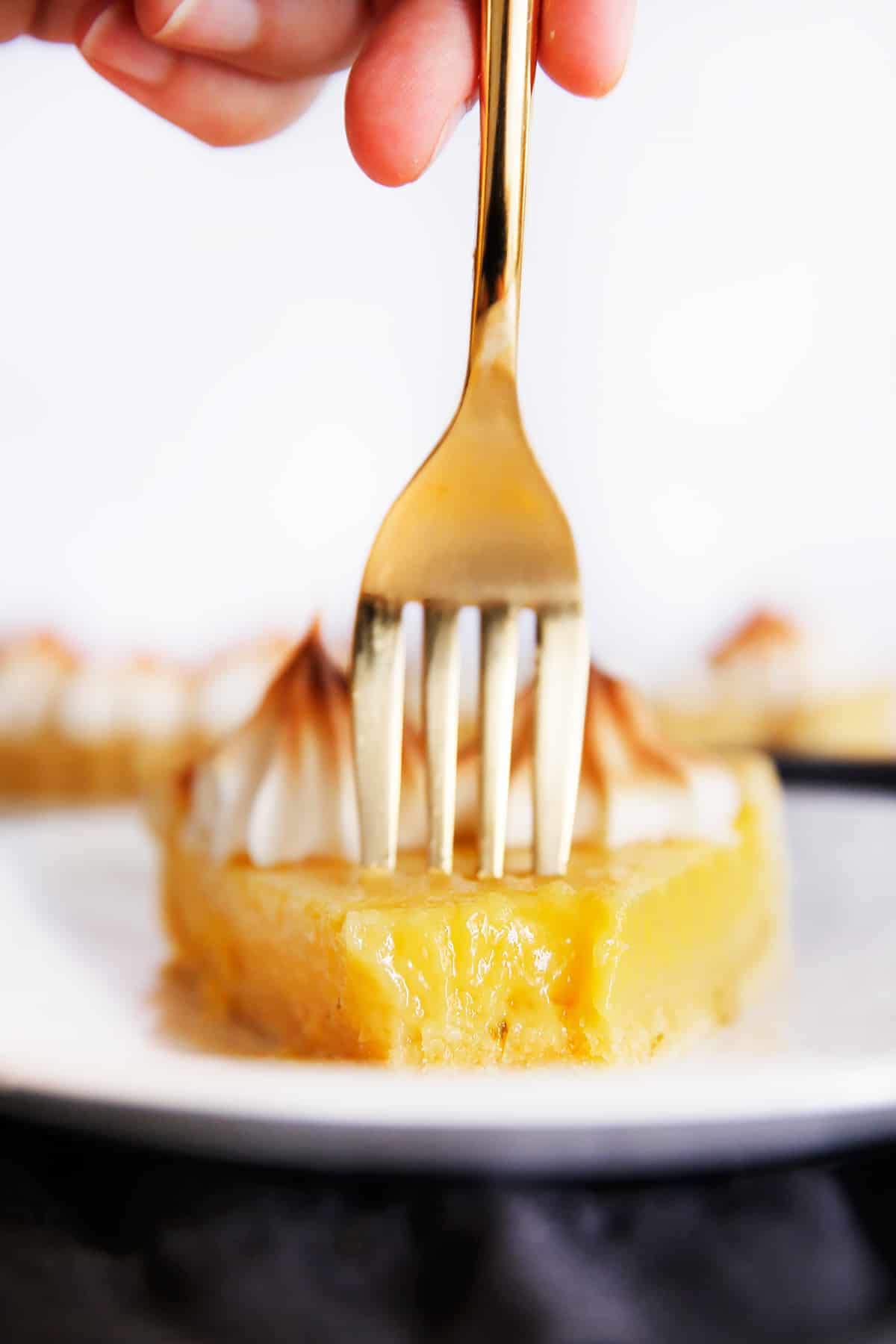 Can I bake this in a pie tin?
Technically yes you can. But depending on the size pie tin you are using, the filling might be a little low, as this is meant for a 9″ in tart.
Topping Options
Honey meringue (you can either pipe a pretty border, or cover the entire tart)! Toasting is optional but a nice touch.
Coconut whipped cream
Regular whipped cream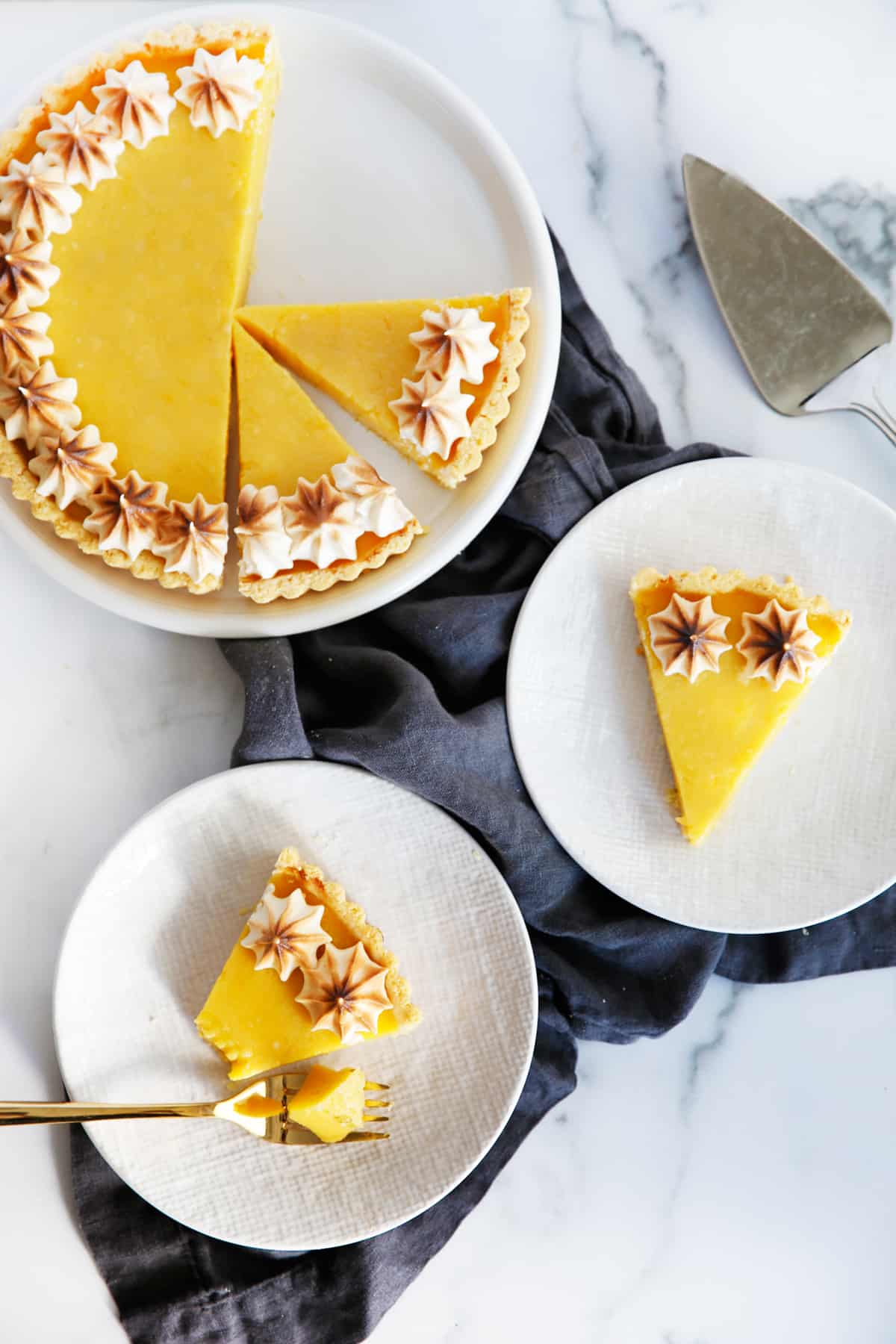 If you like this tart recipe, check out these others:
[yumprint-recipe id='280′]
Gluten-Free Key Lime Tart
Life Lately:
We rented a house a few towns over by the lake for the month of August for a few reasons, but are absolutely LOVING it. Look at this view. Jax loves swimming in it every day, and I love relaxing by the serene lake. It's also kind of fun doing the commute life again, and working at my real house!

Jax turned 4! I cannot believe we got our sweet boy 4 years ago. He's such a good dog and for sure my first baby, aka spoiled with love 🙂
I visited York, Maine for the first time with my friends at Stonewall Kitchen and had the best time meeting some amazing bloggers, eating great food, and learning about that truly amazing company.
Here is a shot of the lobster rolls from Fox's — they even had gluten-free rolls!
And here are the amazing ladies from the trip! Check them out:
Then I attended an awesome brunch in Boston with my friends at Vital Farms and I am so excited to work with them to explain to you all WHAT eggs are the best to buy – since there's so much information and misinformation out there!! Look how gorgeous this table set up was!!!!
Otherwise, as an update from this blog post, I am feeling pretty good. Working on my detox protocol, Lyme protocol, doing as much as I can to heal my body, and mentally in a great space with it all. I appreciate your love and concern with all of this, along with all the well wishes and good vibes you sent me. I am so happy I decided to share what was going on with all of you. It was really cathartic and I am just so grateful for this community.
Blog Posts From Around The Web That I'm Loving:
Books I'm loving This Summer:
New Cooking Videos:
Subscribe to our YouTube Channel so you NEVER miss a video!
What's TRENDING on Pinterest:
Current Must-Haves:
What You May Have Missed:
A Deal You DO NOT Want To Miss!!!
I try to not spam you with Beautycounter stuff. BUT I am a part of this company because I genuinely use and love the products for myself and my loved ones, and care about all of YOU. Not just what you eat, but what you put on your body, too.
DID YOU KNOW that (per a recent study) 80% of Americans do *not know* that their personal care products contain ingredients that are questionable or harmful to human health? 80%!! Are you still using personal care products with toxic ingredients that disrupt hormones or deliver heavy metals on your skin? Let's change that, with products that actually work!!)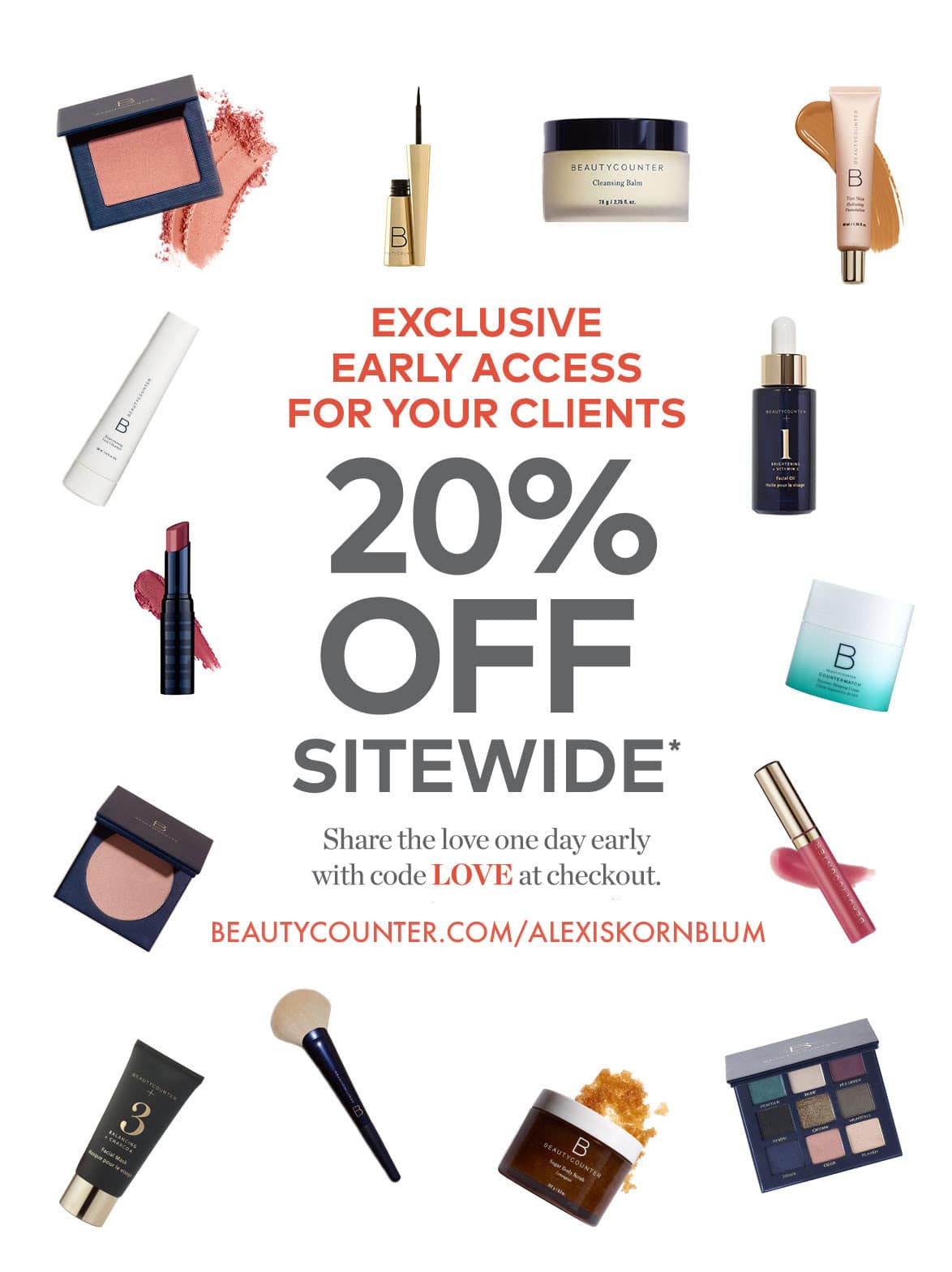 What's Coming?
Stay tuned for all of these amazing recipes, new series, and so much more.

Thank you for reading!!! Comment below what books you are reading this summer!
XOXO,
Lexi
Beyond the Kitchen
Making your own Cold Brew Iced Coffee is a total money saver, plus it's super easy to make at home. It's our favorite to have in the fridge all summer long. Making cold brew coffee is so easy! You simply just add water to coffee, stir, cover it and let it steep!
How To Make Cold Brew Coffee
WELL! It officially really feels like Summer. 90 degrees all last week and I'm seriously at the point of retiring my morning hot coffee for ALL iced coffee. It's August and it was bound to happen already. BUT, don't give me hot coffee watered down with ice. I want some good, strong cold brew; and it's EASY to make!
Why cold brew over regular iced coffee
The difference between iced coffee and cold brew is essentially the brewing process. Cold brew is brewed without any heat. Ground coffee beans are steeped in cold or room-temperature water for between 12 and 24 hours.
This process creates a flavor with less bitterness than your typical iced coffee, since it oxidizes over a longer period of time than hot-brewed coffee! Also, the acids and oils released when making hot coffee remain in the bean, making for a smoother taste. We just love it, and it couldn't be easier!
How do you make it?
Let's break this down into five easy steps!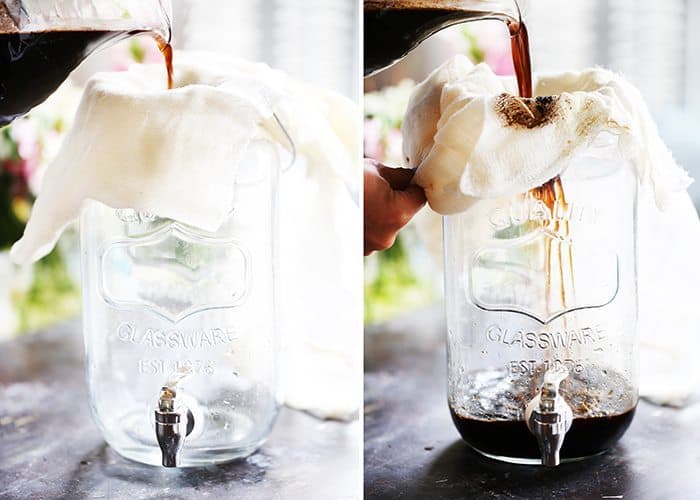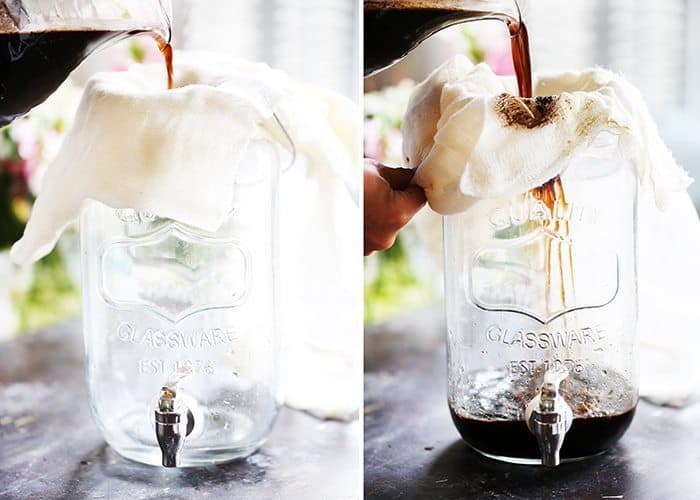 Step 1: Pour 1 3/4 cup ground coffee into a pitcher or large container.
Step 2: Pour 4 cups of water into the pitcher.
Step 3: STIR.
Step 4: Cover with plastic wrap and let steep for 12 hours.
Step 5: Remove plastic and place a cheesecloth over a beverage dispenser, additional pitcher, or large container. We highly recommend making a dip in the cheese cloth and not pulling it so tight, so the coffee can sit in it well. Pour coffee over the cloth.
Step 6: Store in the refrigerator in mason jars or containers of choice. Now simply add ice and serve as desired!
No cheesecloth? No problem!
Create a filter: Use a coffee filter, cheesecloth, a clean pillowcase, or fine mesh strainer. Note that you may have to strain a few times depending what you use.
How long should you let cold brew coffee steep?
Good question! I like to leave mine overnight, or roughly 12 hours!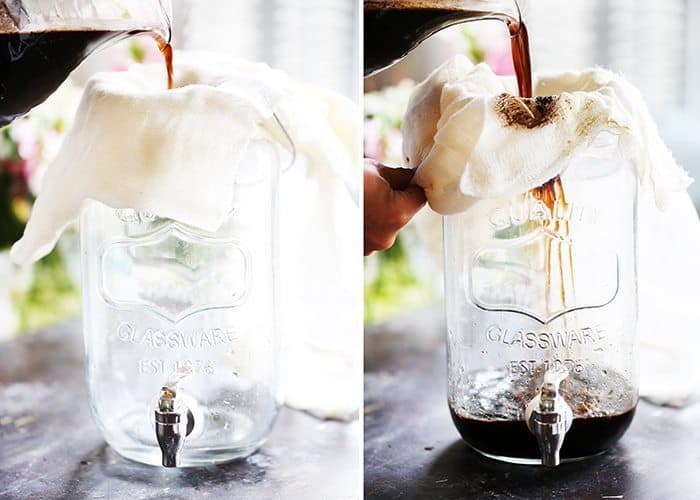 What about using a French press?
You can! I don't use this method personally, but here is what you'd do:
Place the ground coffee in the base of your French Press and cover with cold water (don't push down your French Press plunger)!
Place your French Press in a cold, dark place for 12-15 hours (refrigerator or any space).
Once done, push down your plunger and pour over ice.

BOOM! Fresh, delicious cold brew. Ready for the heat wave.
---
Watch me make it in this video:
How To Make Cold Brew Iced Coffee
This Week's Meal Plan is filled with delicious, healthy, and simple meals that are great for the busy week ahead! From Mediterranean Bowls to Savory Chorizo Breakfast Bowls, you are not going to want to miss this week's menu!
Labor Day is fast approaching, make sure to scroll all the way down to see our favorite Labor Day recipes!
New to the meal plans? You can find them all, equipped with *free* printable shopping lists, in our easy Meal Plan Tab on the blog! If you've been loving them, we'd love to hear your favorites so far!
Monday: Orange Power Pasta with Cauliflower Alfredo [vegetarian, Egg-free, paleo-friendly]
Tuesday: Instant Pot Chicken Cacciatore [egg-free, paleo-friendly, nut-free]
Wednesday: Leftovers
Thursday: Citrus Mahi Mahi [dairy-free, egg-free, gluten-free, paleo-friendly]
Friday: Mediterranean Bowls [vegetarian, gluten-free, refined sugar-free]
Saturday: Out
Sunday: BRINNER: Savory Chorizo Breakfast Bowls [dairy-free, gluten-free, nut-free, paleo-friendly]
Grab your free printable shopping list HERE!
Looking for healthy Labor Day recipes? We've got you covered!
Check out these Paleo Labor Day BBQ recipes we LOVE!
Lexi's Weekly Dinner Plan Week 39
This Four Ingredient Lightened Up Piña Colada is the perfect simple and refreshing Summer drink! Simply toss all of the ingredients into a blender, buzz, and sip!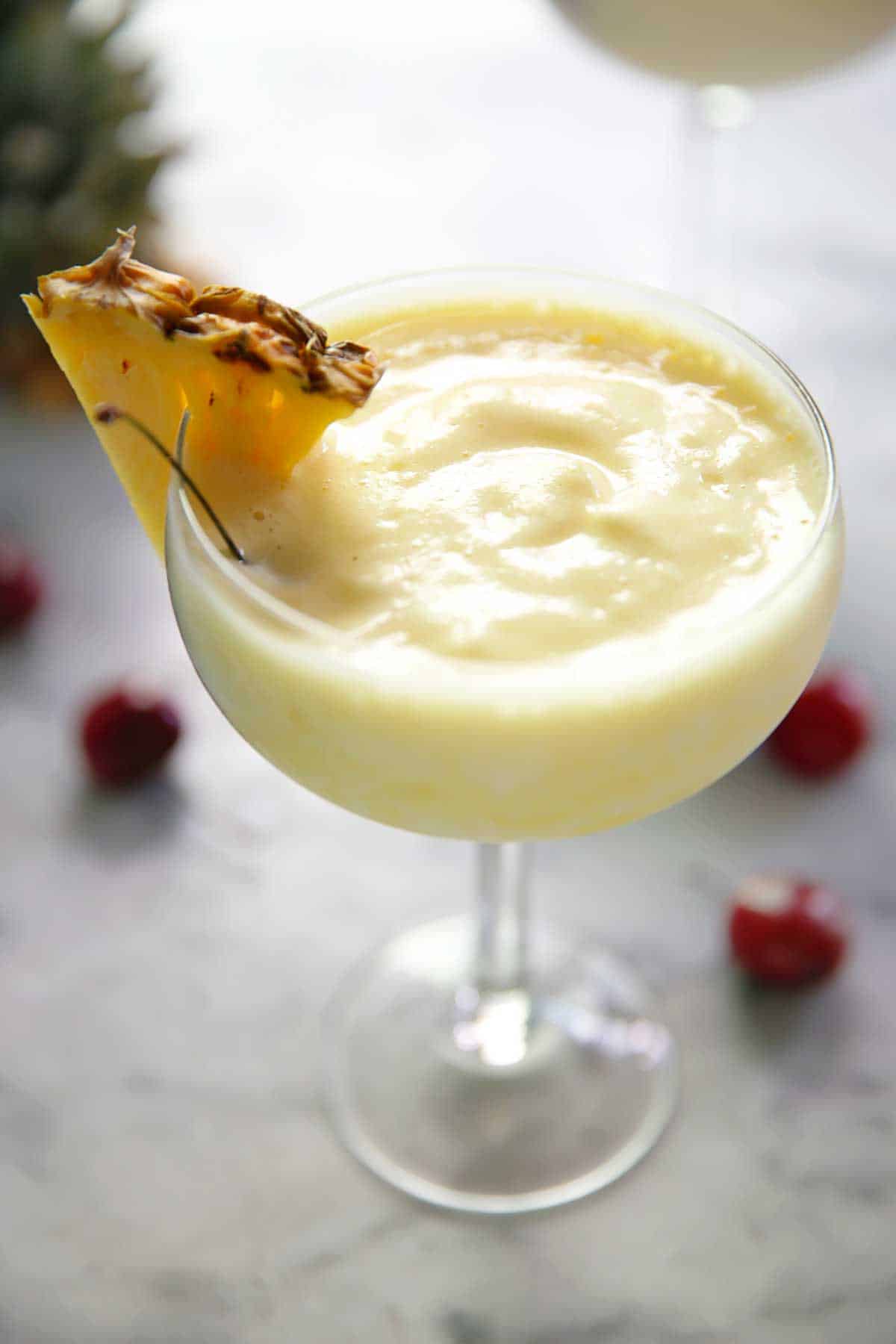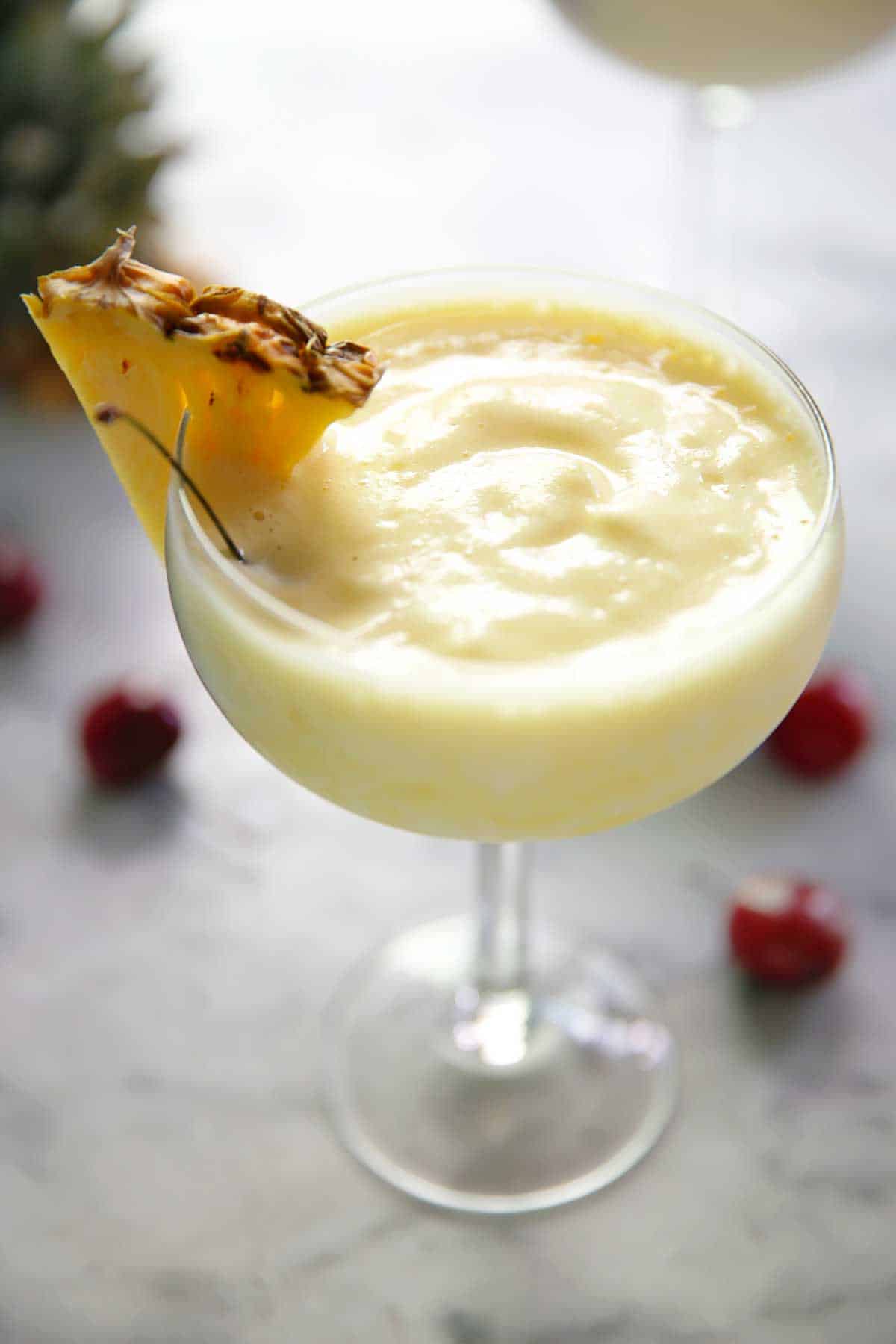 I am so excited to partner with my friends at Pacific Foods to bring you today's recipe. I love to lighten up dishes with their coconut milk instead of using canned coconut milk! It makes the dish, or cocktail, lighter, while still being super creamy!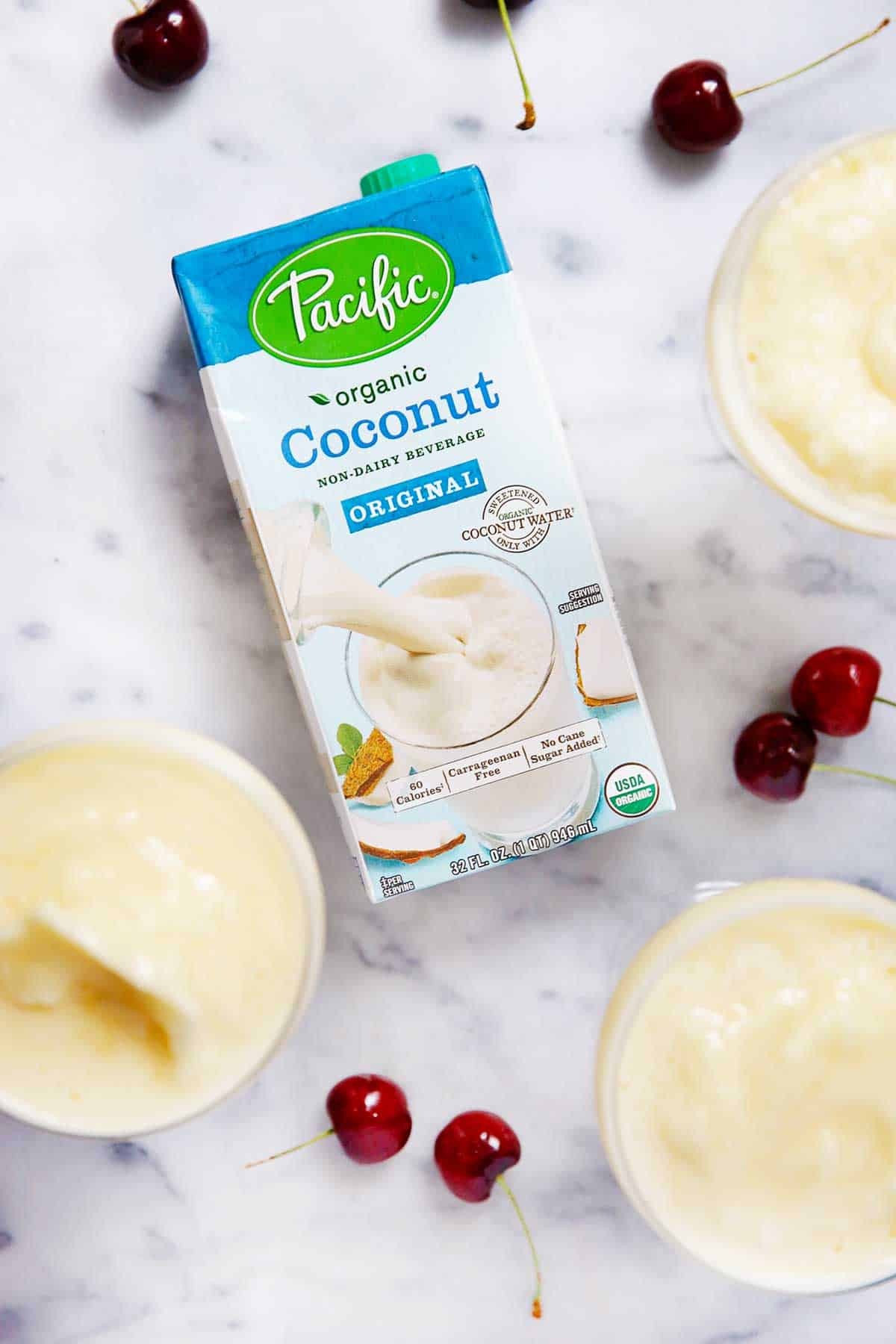 We had so much fun testing this recipe. We could not get over how fun and customizable this drink was! Want to turn it into popsicles? Pour it into a popsicle mold, freeze overnight and devour! Want to spice it up a bit? Add some lemon or lime juice for an extra zing!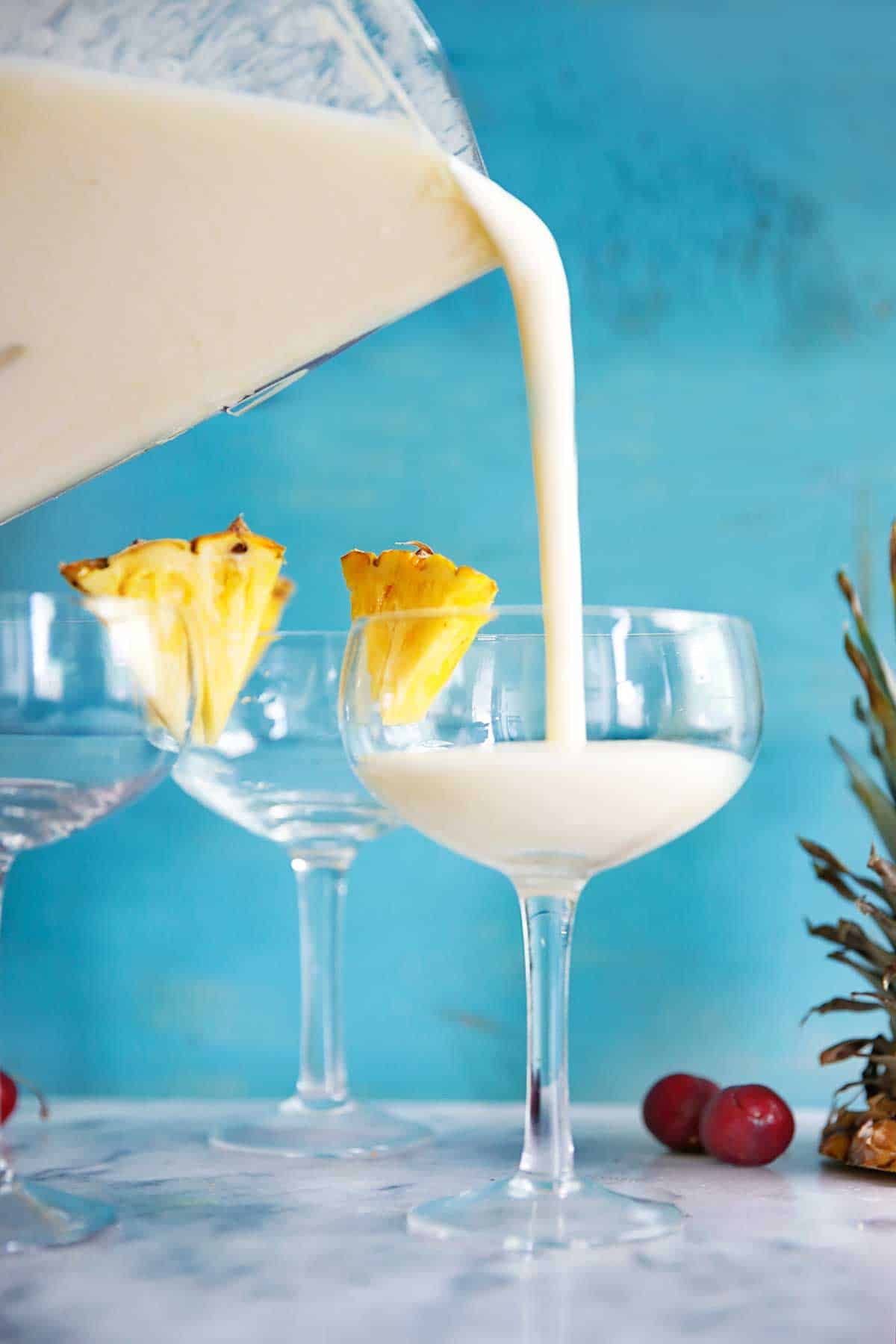 No added sugar, dairy-free, and paleo-friendly! A cocktail WIN in my book!
This drink is GREAT without the rum as well for a cooling and flavorful Virgin Piña Colada! Simply ditch the rum to make these mocktails for the non-drinkers in your life!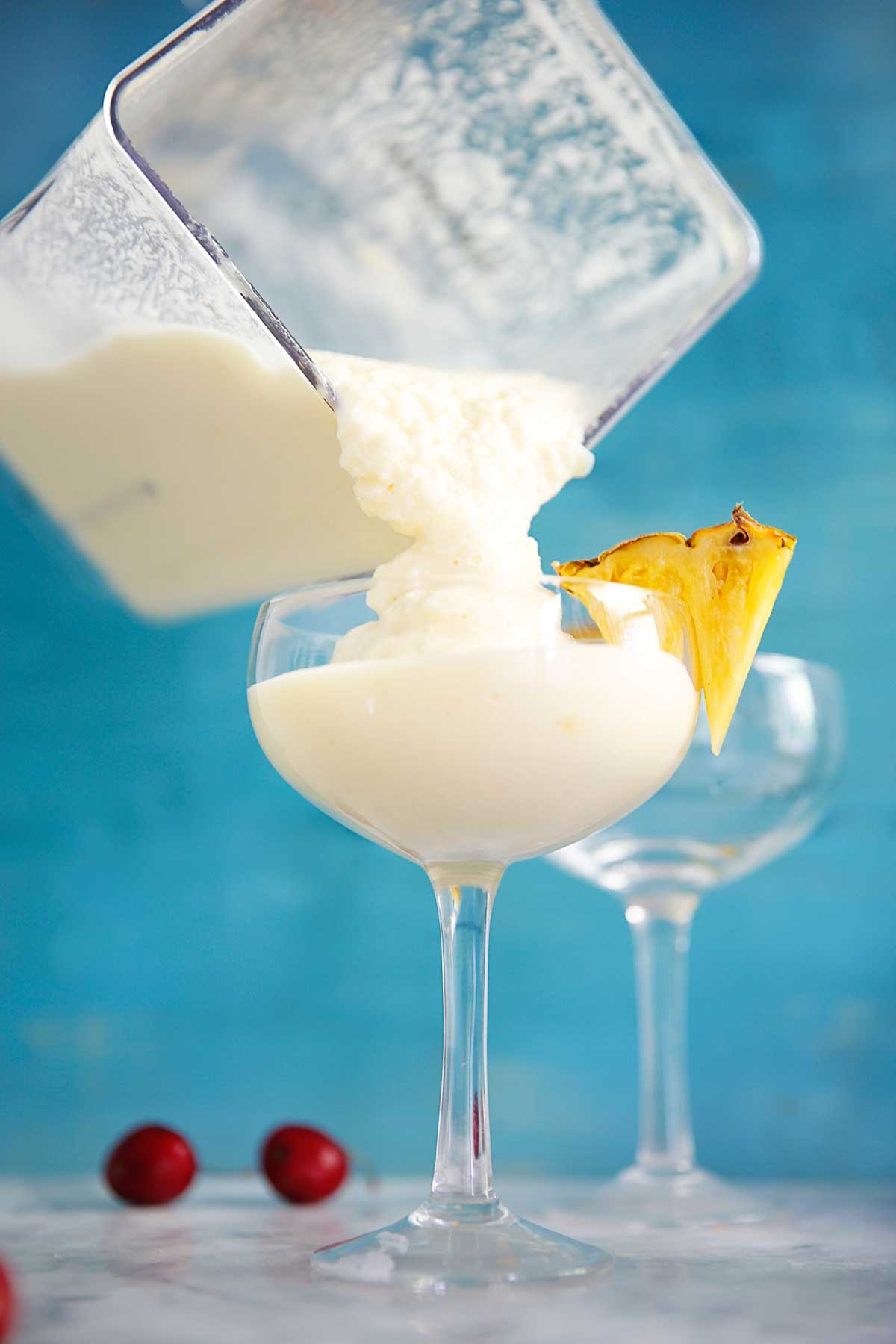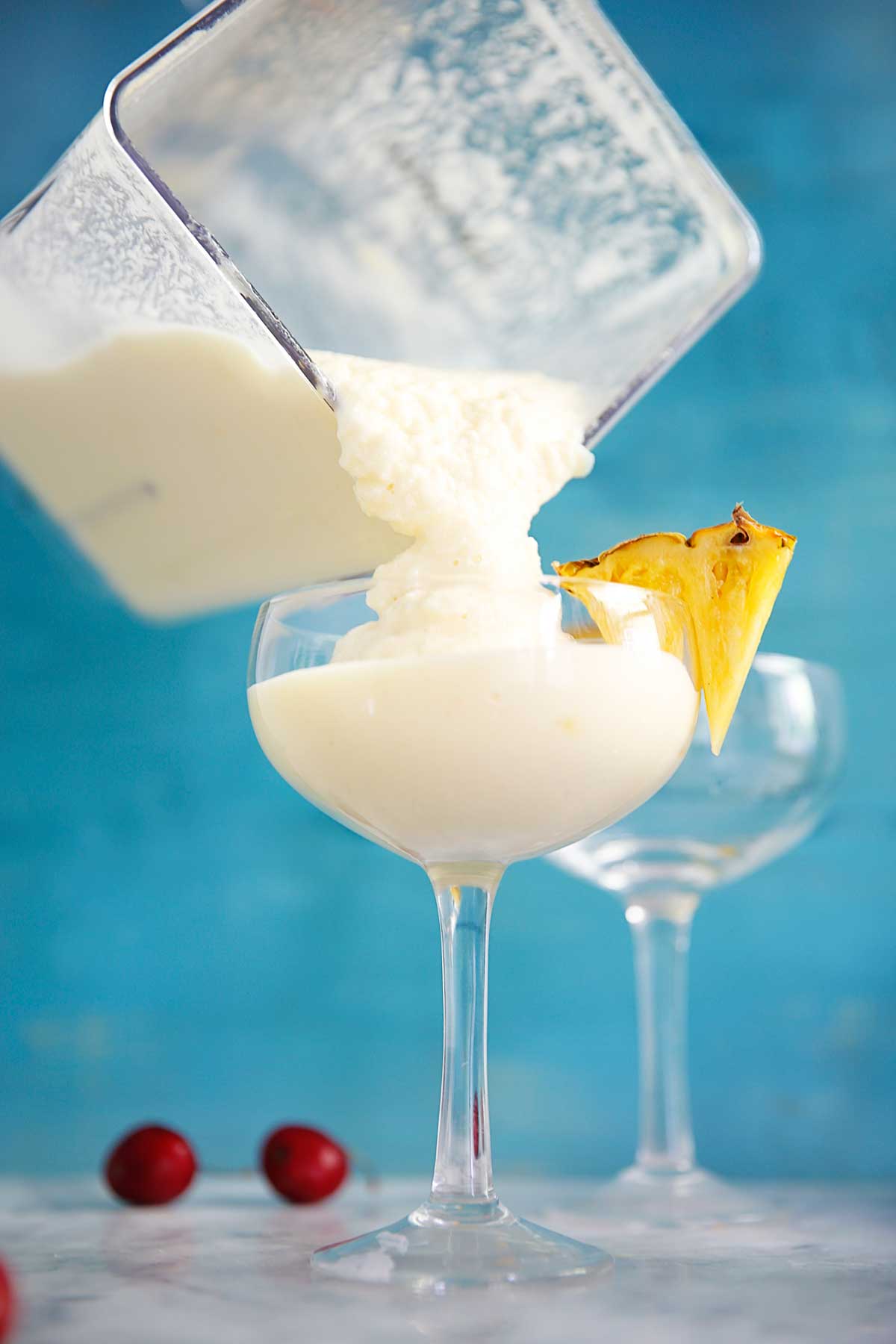 Definitely, a new go-to Summer cocktail to make for weekend entertaining!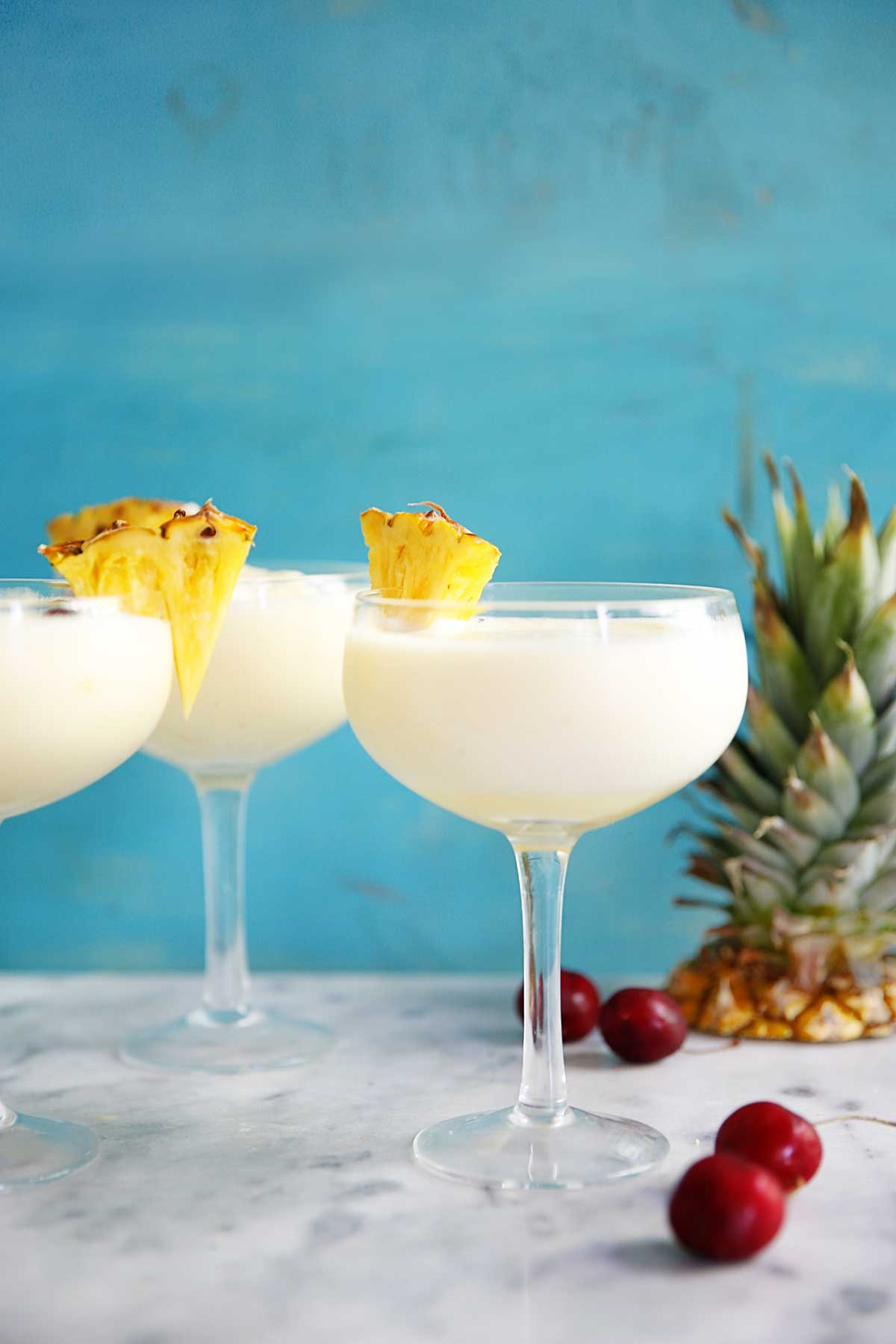 This recipe is sponsored by Pacific Foods. I love the integrity of their products and think you'll love them too. All opinions are always 100% my own! Want a free e-cookbook? Download the Non-Dairy Made Easy e-book here!
Four-Ingredient Lightened Up Piña Colada
This Crudité Platter with Dairy-Free Tzatziki Sauce makes for such a light and refreshing snack, appetizer, or side-dish! The perfect bright and colorful dish to make with any seasonal veggies you have on hand! Dairy-free, egg-free, grain-free, gluten-free, and Whole30 compliant! This will be the most gorgeous appetizer on the table, for sure!
Is there anything better than a dish filled with colorful fresh produce? We blanched the carrots, broccoli, and snow peas in this platter to create that pop of color! Blanching stops the enzyme actions that can cause loss of flavor and color in vegetables, making it a great technique to use before freezing vegetables or serving them raw!
This would be the perfect spread for any dinner party, brunch, or holiday celebration!
I mean, how gorgeous is this? Dip and devour!
Crudité Platter with Tzatziki Sauce
---
---
Ingredients
Vegetables for Crudité
6 cups water
1 tablespoon sea salt
3 multi-colored carrots, peeled and blanched
1 head broccoli, blanched and sliced into bite-sized pieces
1 bunch of radishes, blanched
1 cup snow peas, blanced
1 watermelon radish, blanched and sliced thin
1 bunch celery
1 case cherry tomatoes
4 small sweet pepper
Dairy-free Tzatziki
Directions
Fill a large saucepan with water and toss in salt. Cover and bring to a boil over medium-high heat.
Fill a large bowl with ice water and set aside.
Prep you vegetables and place them in the boiling water. Set your timer for three minutes. Using a slotted spoon, remove the broccoli, red radish, snap peas and watermelon radish and place vegetables into the ice water. Set your timer for two more minutes. After two minutes, remove the carrots with the slotted spoon and place into the ice water. Remove the vegetables from the ice water and pat dry. Serve on platter of choice!
Place shredded cucumber in a medium mixing bowl. Add 1/4 teaspoon sea salt and let sit for 5 minutes.
Place coconut milk, lemon juice, dill, sea salt and black pepper into a high-speed blender. Blend until smooth. Pour into a small mixing bowl.
Strain the water out of the cucumber. Add the cucumber to the small mixing bowl with the coconut milk mixture. Stir well. Taste and adjust seasoning as desire. Place in serving bowl and sprinkle with paprika.
---
Nutrition
Loading nutrition data...
Crudité Platter with Tzatziki Sauce
Happy Memorial Day! If you are outside BBQing today, these Cantaloupe Ginger Cocktails are a must. They are refreshing, tasty, and lightened up from your average cocktail!

Melon, ginger, and fresh mint for the flavor combination win!
It's smooth, high-quality, and naturally gluten-free made with 88 percent corn and 12 percent buckwheat! So if you're super sensitive to cross-contamination, it's best to stick with products that are made with naturally gluten-free ingredients, like Stoli Gluten Free. you're in luck.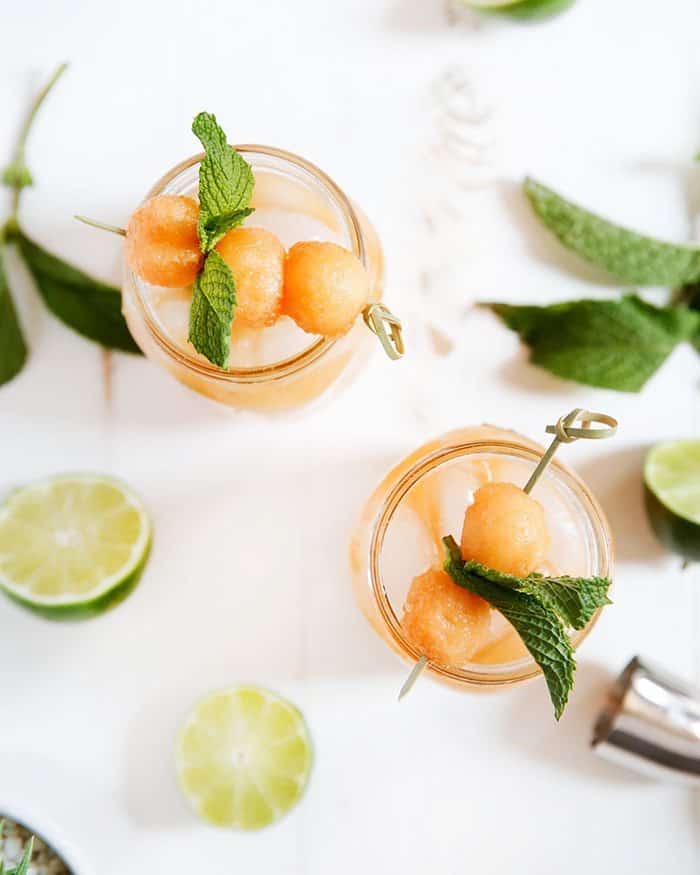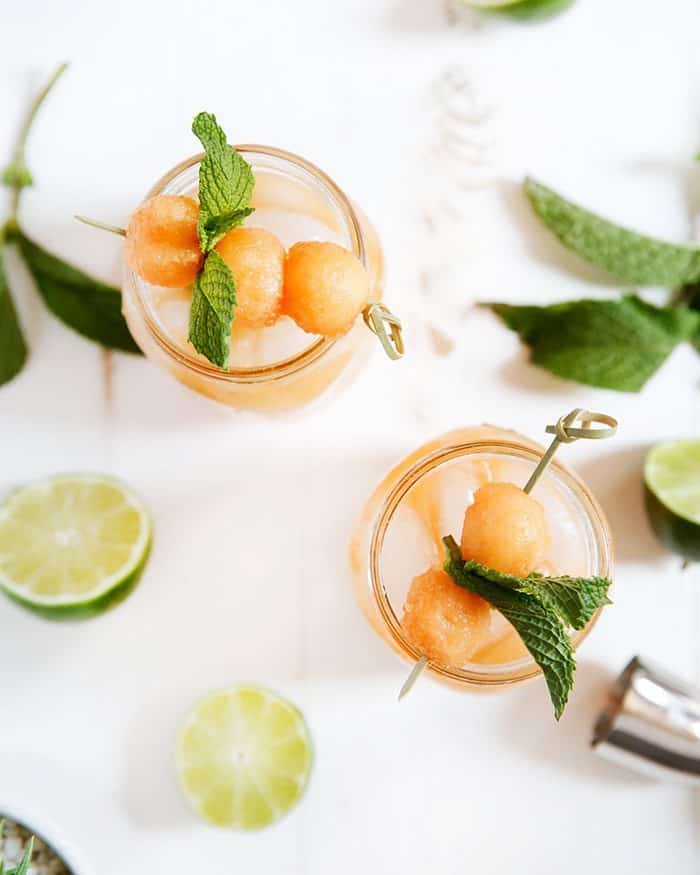 [yumprint-recipe id='364′]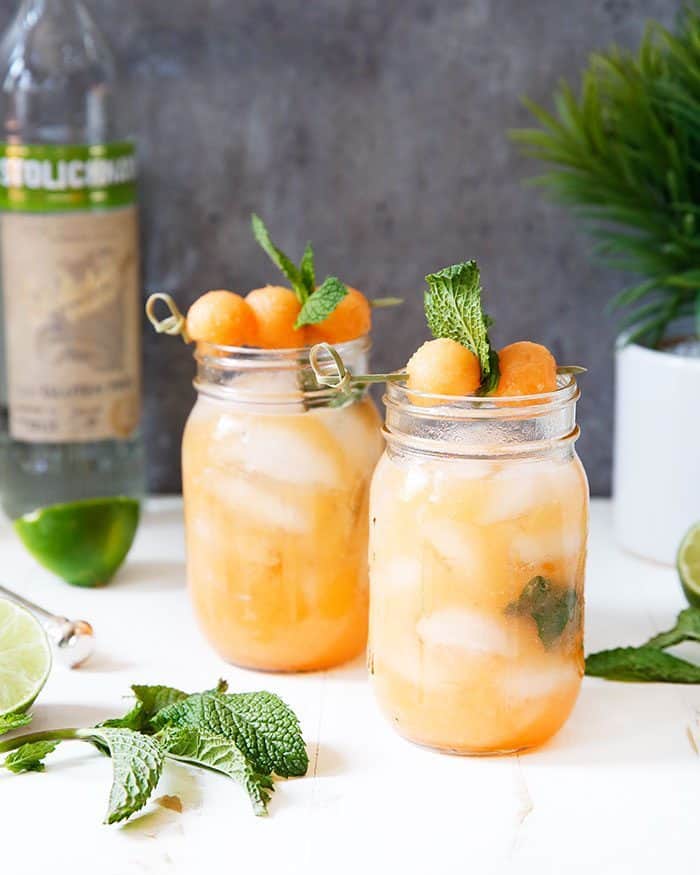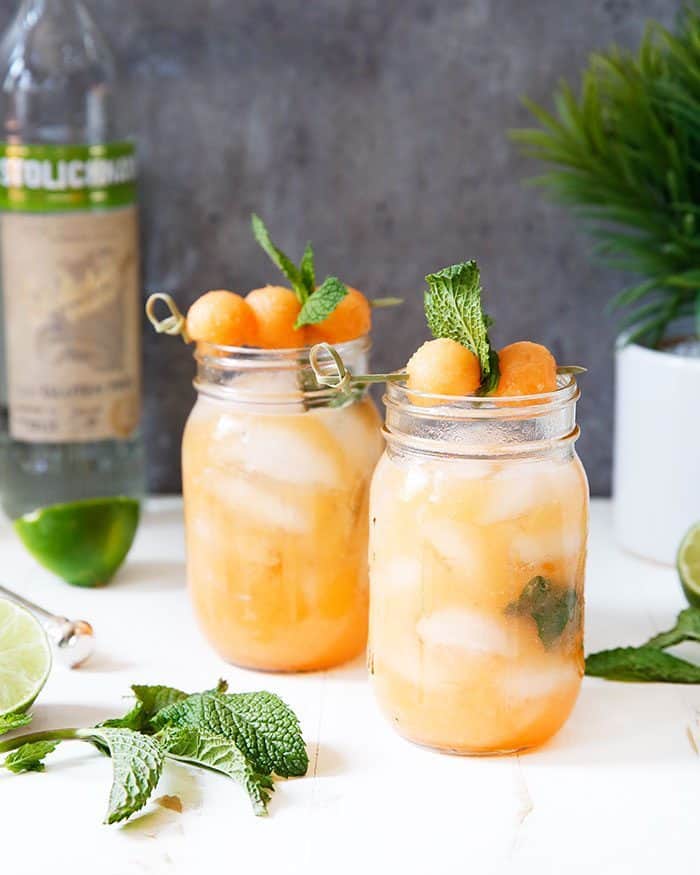 This is a sponsored conversation written by me on behalf of Stoli. The opinions and text are all mine.
Enjoy the day!
Cantaloupe Ginger Cocktails
For this Summer Healthy Food Friday with American Express let's talk refreshing beverages on this hot day!
Two words: Watermelon Juice.
In only 2-minutes. Yes, seriously!

I am in love with this easy drink. SO easy. SO refreshing. SO Summer perfect.

[yumprint-recipe id='293′]
Blend, pour, garnish, and serve. Everyone will love this easy fruit drink– with none of the junk of fruit juices from the store!
I was selected by American Express to contribute to their Tumblr community. As such I was paid for my services, but all opinions in general and about American express are my own.
2-Minute Watermelon Juice
My day generally goes as follows (in terms of beverages)

…

water with lemon, coffee, water all throughout the day and evening (an occasional martini or glass of wine), and possibly a second cup of coffee. See, I generally don't opt for a lemonade, a juice, and definitely no sodas around here. Usually it's just water. Every so often during a hot summer day I crave a refreshing drink that has a little something sweet.
Making time to relax, read, and focus on my mind and body is something I am focusing on this Summer. Relaxation, sleep, and removing stress is just as big of a part of a healthy lifestyle as is eating clean and working out. So, whip up a batch of this refreshing Strawberry Lemonade with Mint and make some time for YOU today.
[yumprint-recipe id='170′]
How do you make time to relax? What is your favorite thing to do that completely clears your mind?
Strawberry Lemonade with Mint
This Grilled Peach, Crab and Avocado Salad with Peach Dressing is Summer appetizer perfection! It's such a great low-carb summer side to serve this season. It's Paleo and gluten and dairy-free too
Grilled Peach Salad with Crab
The flavors on this Grilled Peach and Crab and Avocado Salad are so delicious! It's light and the perfect summer time meal. It's easy to throw together for a quick appetizer for a dinner party, or to serve as a light main dish.
This salad is grain-free, dairy-free, egg-free, and low-carb! That means this is the perfect allergy friendly salad for entertaining! If you need to leave out the crab for a seafood allergy, that's totally fine. You can substitute in extra grilled peaches or avocado to make it heartier.
Ingredients Needed:
Peaches
Arugula
Avocado
Red Onion
Crab Meat
Honey
Lime Juice
Cinnamon
Salt and Pepper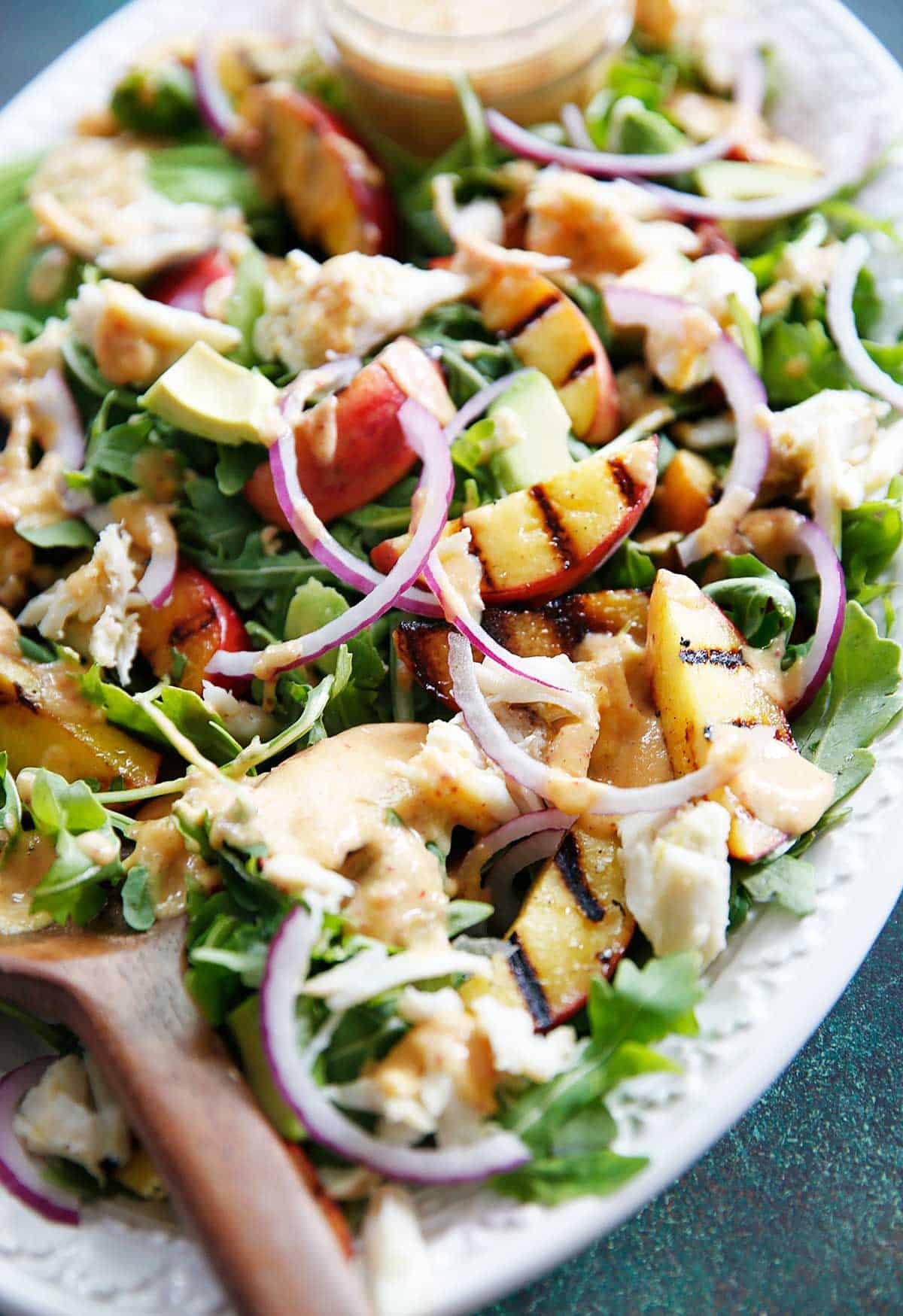 If you like this simple summer time dish, check out these others:
If you like this salad recipe, check out these others:
Grilled Peach, Avocado, and Crab Salad with Peach Dressing
This Citrus Mahi Mahi with Avocado Salsa is such a great light and healthy Summer dish! The creamy avocado, fresh orange juice, and delicious smoky grilled fish is such a flavorful combination. I can't wait to make this again and again.
I am always looking for quick and simple meals, and this Citrus Mahi Mahi with Avocado Salsa is just that! It takes 30 minutes to prepare, and is loaded with delicious bright flavors! If you are having trouble finding fresh mahi mahi, feel free to substitute it for another white fish. The perfect tropical flavors for warm Summer days!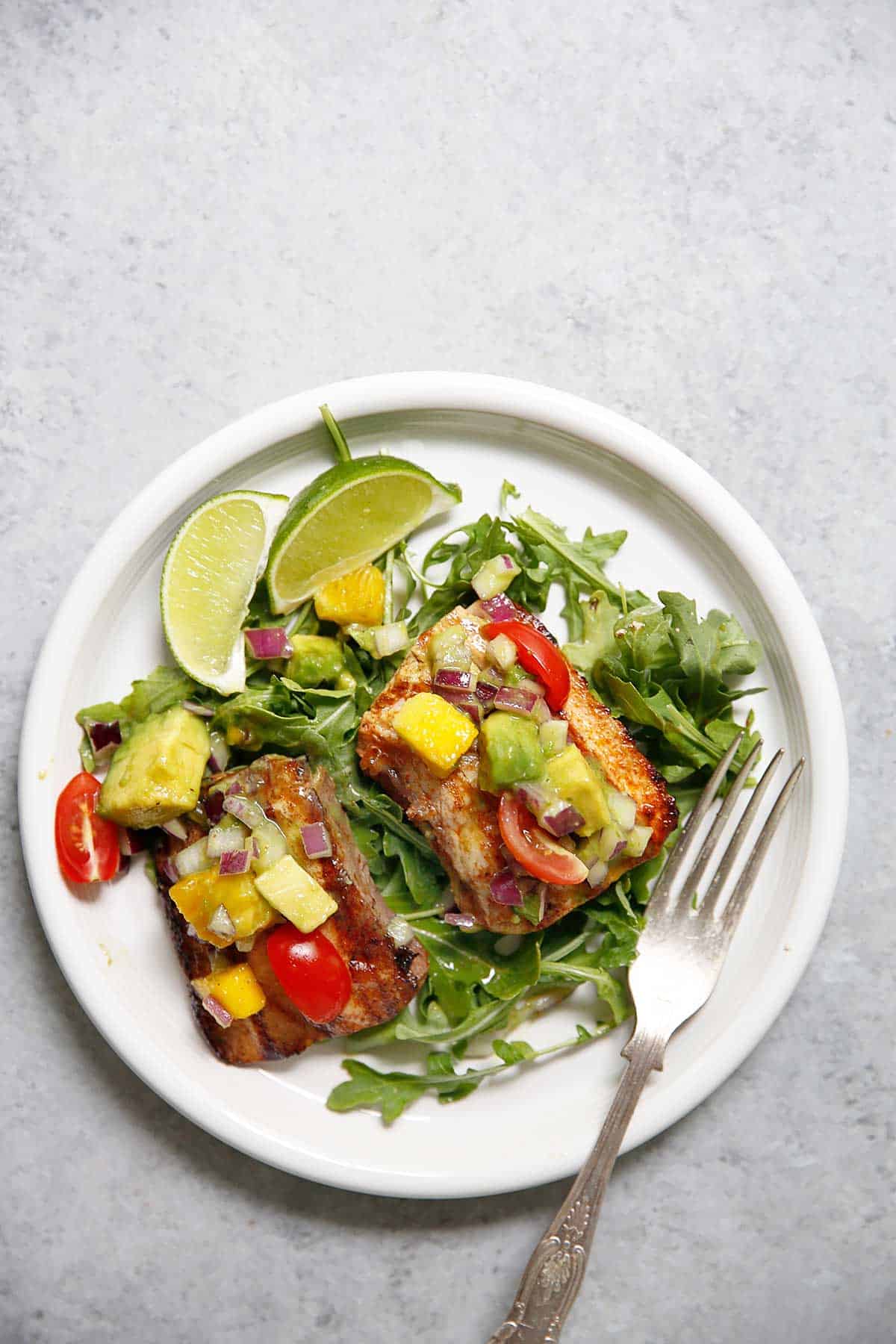 Citrus Mahi Mahi with Avocado Salsa
---
---
Ingredients
Mahi Mahi Marinade
1 avocado, diced
1/2 cup red onion, chopped
1 orange, diced  (can sub diced pineapple or mango)
1/8 teaspoon cayenne pepper
2 teaspoons lime juice
3 teaspoons fresh orange juice
1/2 teaspoon cilantro
1/2 teaspoon salt, more to taste
1/2 teaspoon black pepper, more to taste
Other Ingredients
1 lime, sliced into wedges for garnish
1 cup arugula
1/4 cup sliced cherry tomatoes
Optional: 1/4 cup diced mango
Optional: Pinch of red pepper flakes
Directions
In a bowl mix together the fish marinade ingredients. Place fish in the marinade, cover, and place in the fridge.
In a medium mixing bowl, combine all ingredients for the avocado salsa.
Mix well and set aside. Taste and adjust seasoning as necessary.
Oil your grill pan and place on the stove over high heat. Once hot, cook fish over medium heat for 4-5 minutes on each side. Fish should be opaque and flaky.
On a serving plate of choice lay down a bed of arugula with sliced tomatoes. Place cooked fish filets on the arugula and top with a generously amount of avocado salsa.
Drizzle with lime juice right before serving.
---
Nutrition
Loading nutrition data...