June is here and it means we are welcoming summer soon with open arms! Bring on the perfect weather and all that amazing farm-fresh produce. Here is a seasonal list of What to Cook in June!
Our Top 10 Must Make Recipes this June
Now that June is here, we are ready to really think about everything summer! Bring on the CSAs and farmer's markets, grills and outdoor dining and all that amazing summer food. Here is our list of 10 recipes we are super excited to make and eat in June!
Seasonal Market Finds
June produce is still feeling really green, with the spring produce coming in strong. But as the month goes on, more and more summer produce will start to find its way into our cooking.
Strawberries
Rhubarb
Cherries
Lettuce
Asparagus
Snap Peas
Greens (spinach, kale, collards)
Herbs (basil, chives, cilantro, parsley)
New Potatoes
Cucumbers
Fava Beans
Gluten-free Spring Quiche: Hello perfect late Spring brunch! This quiche is filled with seasonal green veggies and is the perfect dish to serve at a celebration. And bonus: it's freezer-friendly so it works great for a make-ahead breakfast, too.
Paleo Blueberry Muffins: These muffins just feel right for a warm late spring, early summer morning. They come together easily, are gluten-free, made with almond flour, and the perfect healthy muffin recipe for any brunch or as a snack!
Piña Colada Smoothie: The perfect creamy and flavorful on-the-go breakfast to add to your morning routine! It uses frozen pineapple, coconut milk blended together to get a classic pina colada flavor! It's is dairy-free, packed with healthy fats and so delicious.
PB + J Granola: Topped with any fresh fruit you get your hands on this season, granola is a fun and healthy snack to have on hand! It has tons of fiber, protein and healthy fats, this is about to be your new favorite granola recipe.
Healthy Green Goddess Dressing: This dressing is so good, you are going to want to eat it with everything this summer. Vibrant, bright and so delicious, this Green Goddess dressing is made vegan and healthy by replacing some of the standard ingredients with heart-healthy avocados.
Hawaiian Chicken: The perfect simple-to-make-dish that is sweet, tangy and so delicious. This recipe uses common pantry ingredients and it just so happens to be gluten-free, dairy-free and Paleo!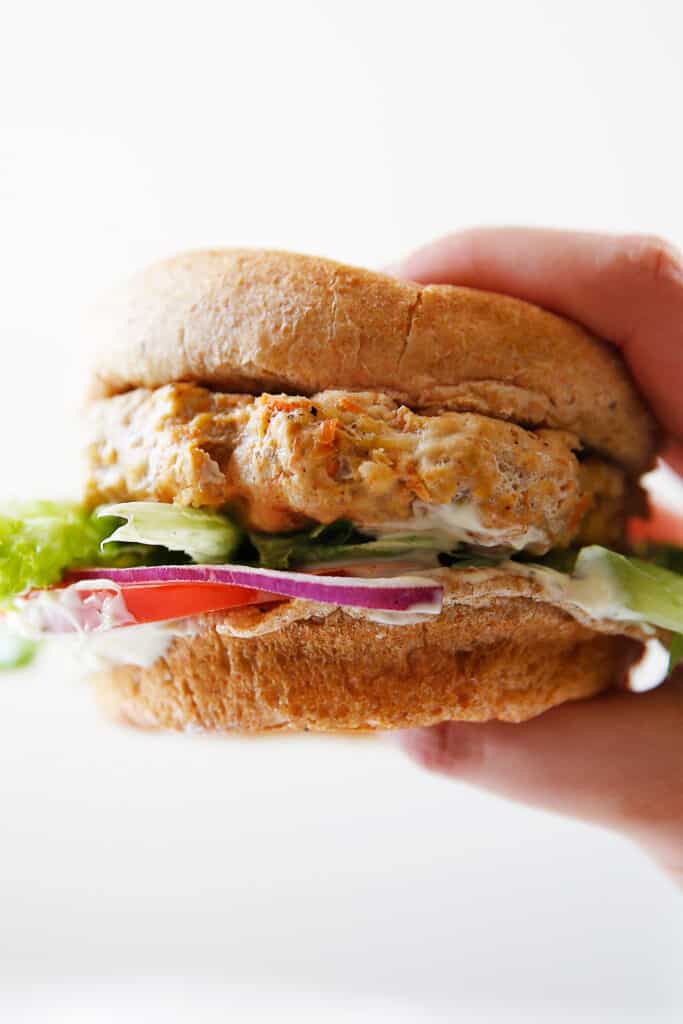 Moroccan Chicken Burgers: Get out and grill these amazing chicken burgers for a super special dinner. You'll love them paired with the special Moroccan sauce that take these from ordinary to extraordinary.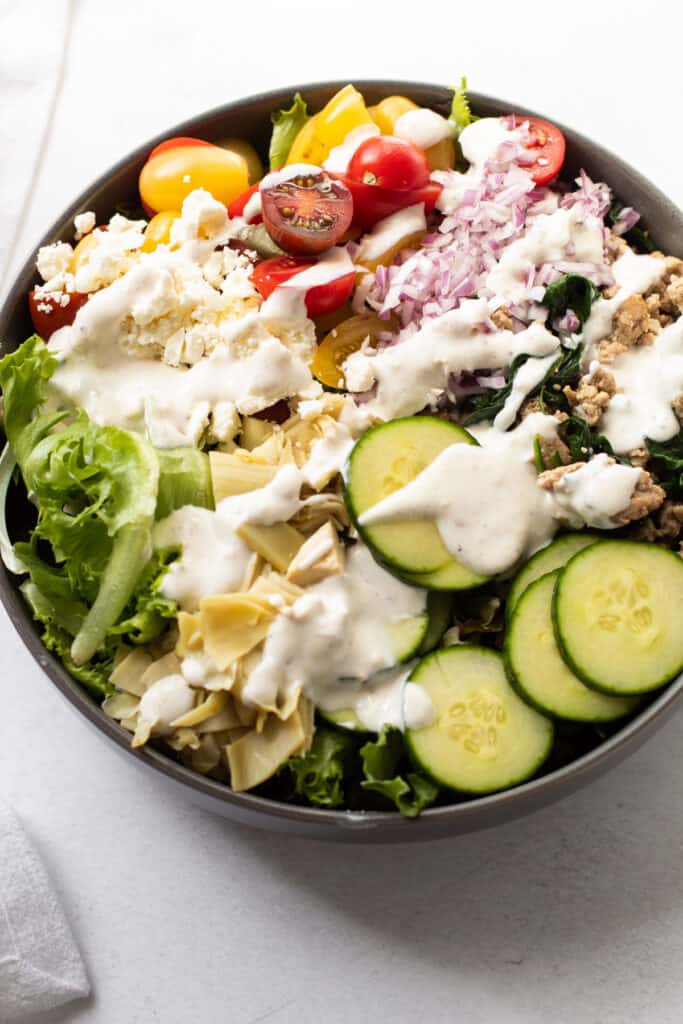 This Mediterranean Turkey Salad makes the perfect hearty and healthy dinner (or lunch)! It features lightly seasoned ground turkey and spinach with chopped tomato, artichoke, cucumber, feta and onions over crunchy lettuce. Top it all with a creamy lemon greek yogurt dressing for the best salad ever!
Frosé (Frozen Rosé) Slushies: Get ready for Frosé season! These Frosé slushies are the ultimate way to celebrate rosé season! Refreshing, minimal ingredients, and so easy to prepare… It's a Summer cocktail win!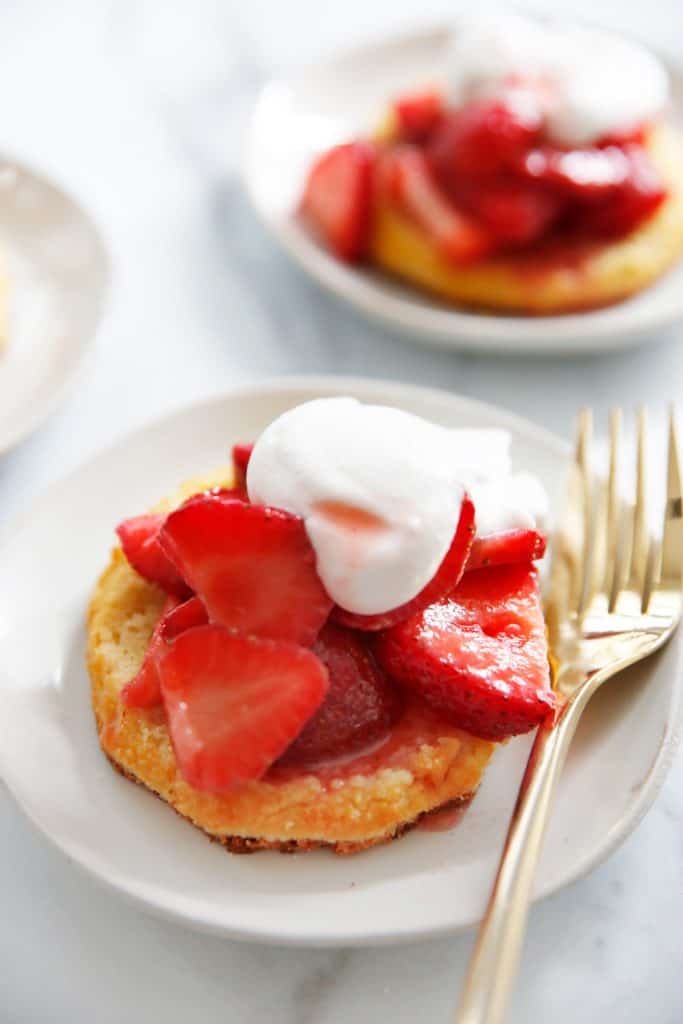 Gluten Free Strawberry Shortcake: With buttery drop biscuits as it's base, the macerated strawberries are topped with a delicious dairy free coconut whipped cream and make the easiest end to a summer meal. They'll be loved by all, and nobody will know (or care) it's gluten free!
---
Pin it for later:
This website may at times receive a small affiliate commission for products that we shared with you in our posts. Although we may receive a commission for linking certain products, there's no additional costs to you and all of our opinion and suggestions are 100% our own and unbiased. That's our promise to you!
Subscribe to get our FREE clean eating guide!
Join our email list TODAY to start recieving our newsletter weekly, access to exclusive content and deals, *and* a FREE complete 24-page clean eating guide!