I'm all about a good charcuterie board, but have you ever thought to make one with chicken wings? It's a genius idea, and one that is perfect to showcase the fan-favorite crispy chicken wing! Sponsored by my friends at Farmer Focus.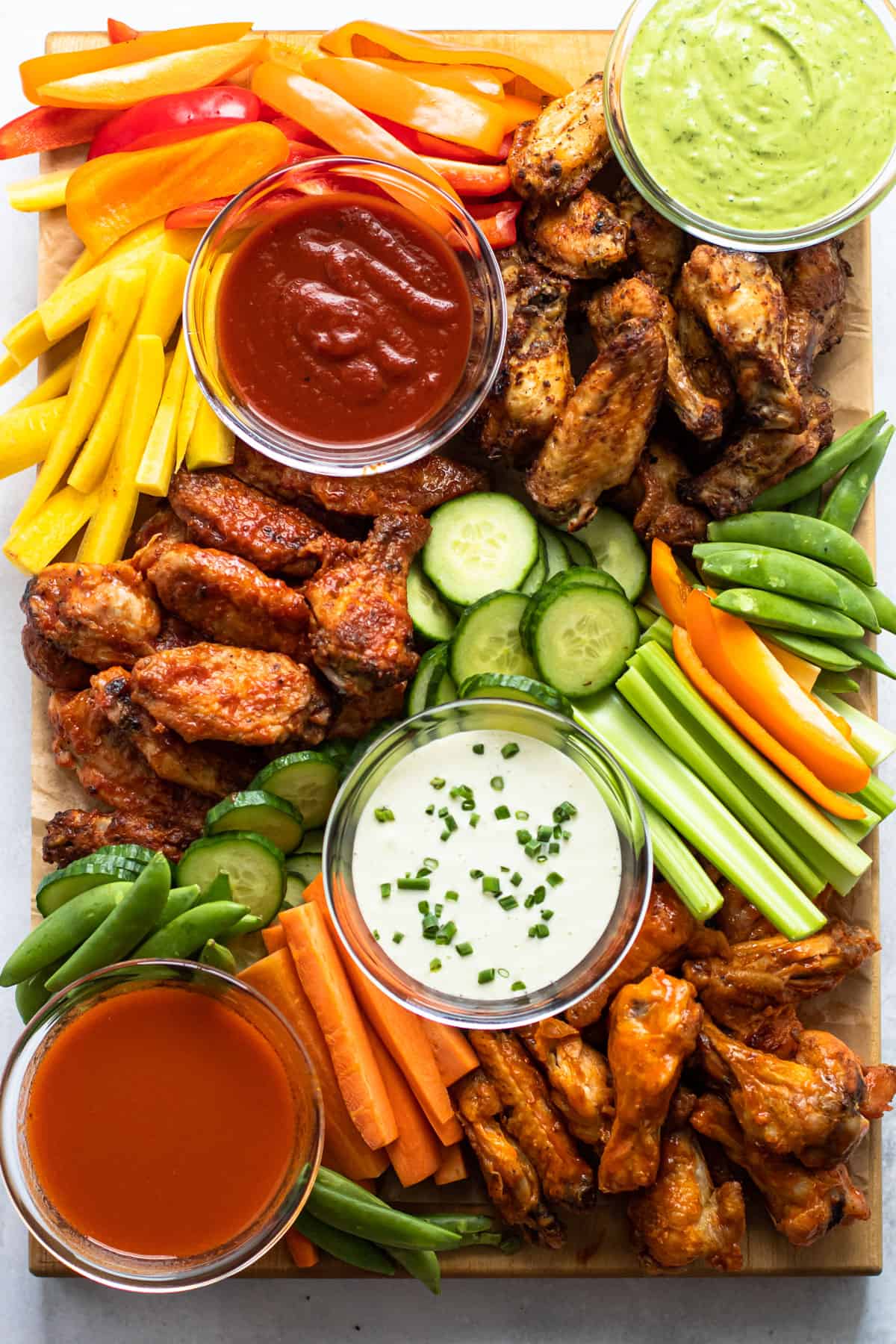 Chicken Wing Bar
Ready for the most epic appetizer spread ever? This Chicken Wing Charcuterie Board is any wing lover's dream. Also know as a Chicken Wing Bar, we'll take any excuse to make up a huge batch of our favorite appetizer and lay it out on a huge board with a ton of cut veggies and dipping sauces and let our friends and family choose their own adventure.
This is pretty customizable and can be as traditional or unique as you want it to be! We're sharing some of our best tips for putting together this beautiful (and delicious) chicken wing charcuterie board so you are ready the next time you need an amazing spread.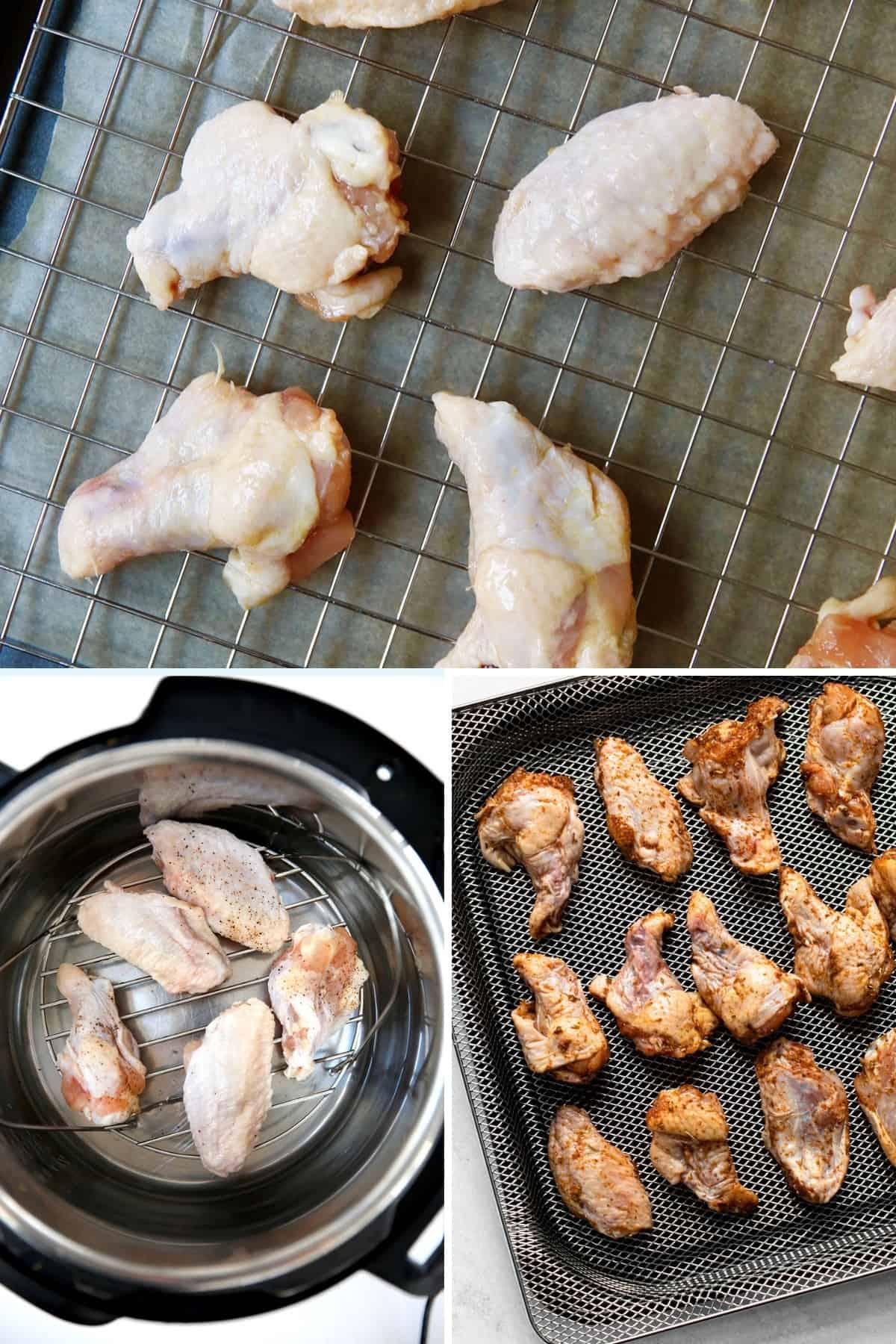 How to Make the Chicken Wings
Let's start with the main part of the show here! You've got to have the best, crispiest wings there are for a great chicken wing bar. Luckily for you, there are at least three different ways you can cook your wings for this board. The method that is the best might depend on how many you plan to serve.
Baked Chicken Wings: This is by far the easiest method for making wings! If you are planning to make a lot of wings, baking them certainly makes the most sense.
Air Fryer Chicken Wings: Without a doubt, making chicken wings in the air fryer is the best method for the crispiest, juiciest wings! Air Fryer Chicken Wings are quick and easy to make and are much healthier than deep frying. However, most air fryers don't have a ton of capacity to make large batches. So while this is our favorite method for making crispy wings, this might not make the most sense for large batches of wings.
Instant Pot Chicken Wings: Using the Instant Pot makes for the most tender chicken wings ever. However, it's a two-step process of cooking them first in the Instant Pot, and then transferring them to the oven. So you have to take that into consideration.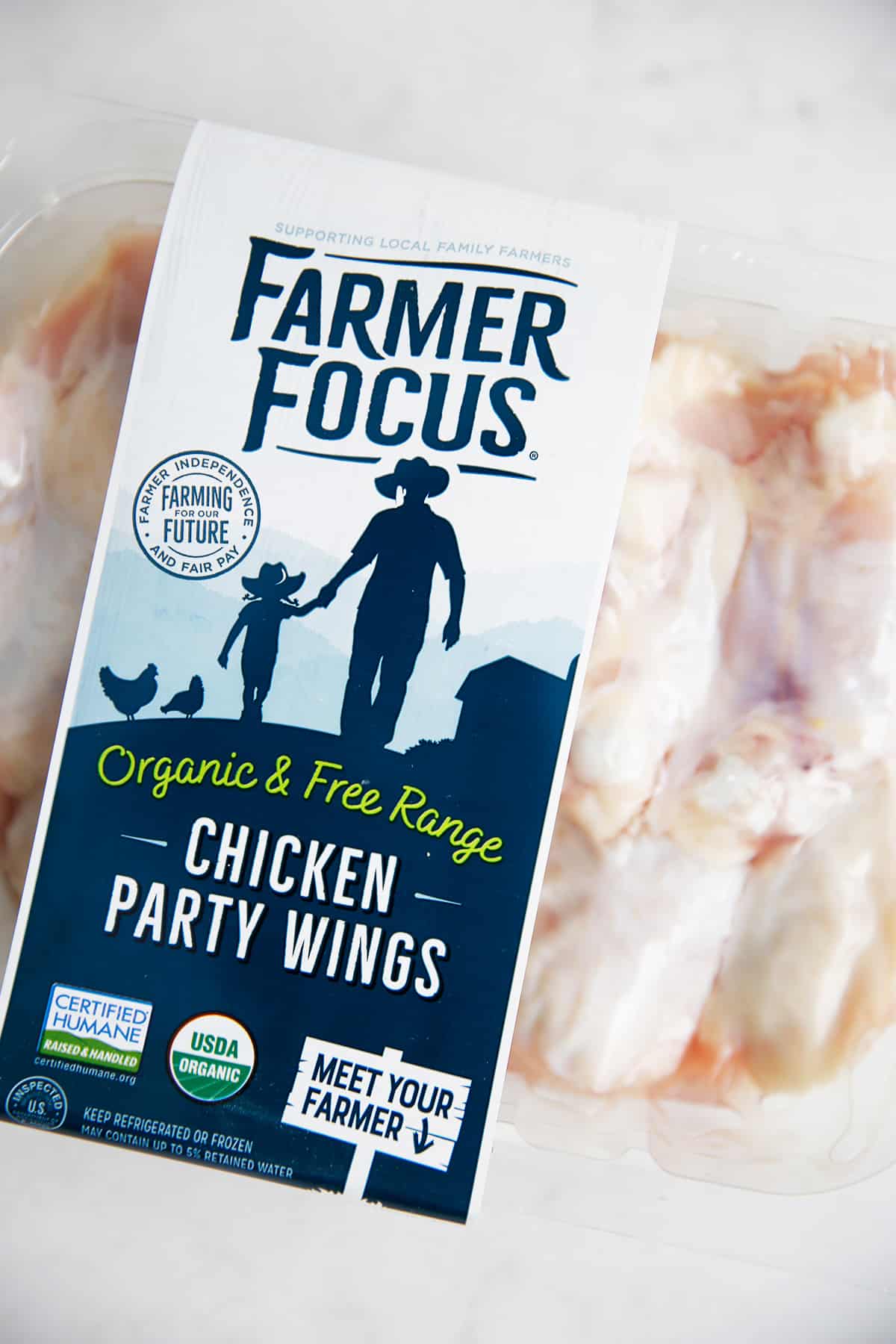 Why We've Been Buying Farmer Focus Chicken for Years
Chicken wings are the star of this board, so it is incredibly important to use the best quality chicken! I am so happy to partner with my friends at Farmer Focus to share this awesome chicken wing charcuterie board. If you've been a reader for a while, you know Farmer Focus has been my go-to, trusted chicken for years because they pride themselves in producing the highest quality meat grown on family-owned farms. You can 100% taste the difference. I love knowing that when I pick up Farmer Focus chicken at the grocery store, it's the best there is and I don't have to question whether it was raised in a humane way.
Farmer Focus is building partnerships with farmers through their innovative Farmer Focus Business Model
What I love about Farmer Focus is that they are a company that promotes and protects generational family farming. They partner with over 60 family farms. These farmers are all dedicated to bringing organic, humanely raised and traceable chicken to your table, and I just love that!
Every Farmer Focus product includes a 4-letter Farm ID that traces your chicken to the farm that raised it, so you can learn more about where your chicken comes from. I love that accountability! On their website you can see where all of the farms are located, so you know just where your chicken was raised!
Farmer Focus chickens are humanely raised and fed a diet free from animal byproducts, pesticides, and antibiotics.
You can also use their easy store locator to find where you can get this amazing quality chicken near you.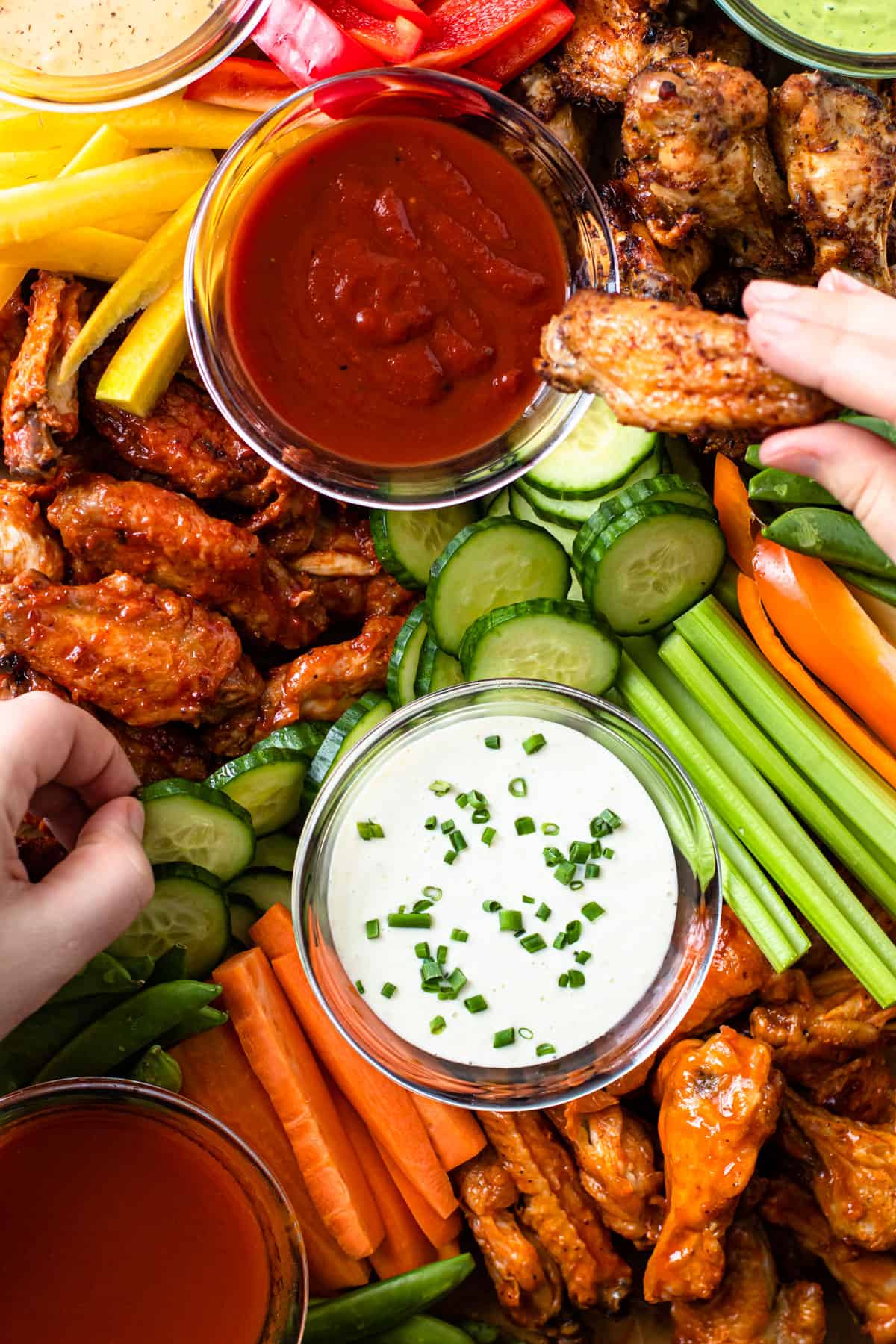 What to Put on Your Chicken Wing Board
Now comes the fun part! What to put on your chicken wing board is totally up to you! But we're sharing some ideas below.
Wings
Of course, you are going to need wings on your board! Having three different types of wings is a good starting point. We like to make sure at least one of the wing options is not sauced. We recommend either making them plain (with just salt and pepper) or using a dry rub. Check out this Air Fryer Chicken Wing recipe, which goes into more detail about a dry rub.
You can cook all of your wings first and then toss them in your sauces (such as buffalo or bbq) after, and then place on the board. Do make sure to put some parchment paper underneath, as they can get a bit messy. And be sure to serve plenty of napkins or wet wipes along with any plates you put out.
If you are making a really big charcuterie board, you can scale up from three different types of wings and include more.
Sauces
Sauces serve a dual purpose here. They are perfect for dipping both the wings and the veggies! Here are some options for adding to your wing bar!
Veggies
There is a reason cut-up veggies are served with wings, especially spicy wings! Cut-up celery, carrots, and cucumbers are great to serve with wings because it helps neutralize the heat and strong taste between bites, allowing you to enjoy your next bite all the more! Plus, we all love that crunch it adds to the board. Here are some veggie ideas:
Carrots

Celery

Cucumber

Radishes

Cherry tomatoes

Sliced bell peppers or sweet snacking peppers

Jicama sticks

Snap peas
Extras
You can get really creative here! Here are some other additions to add to your boards:
Chips
Tortilla Chips
Nuts
Olives
Pickles
Cut Cheese
How Many Wings Do I Need Per Person?
How many wings to serve per person will depend on what part of the meal this is. If you are serving the chicken wing charcuterie board as the main meal or main appetizer, you should plan to make 6-10 wing pieces per person. You should also plan to serve at least 4-6 pieces of veggies per person.
If you are serving this as an appetizer that will come before a meal or will accompany other appetizers, you can plan to make 3-5 wing pieces per person and at least 2-4 veggie pieces.
You should note that when we say wing pieces here, we mean cut wings (the flat or wingette and the drumette).
How Many Wings are in a Pound?
So now that you know how many wings per person you need, now you need to know how many pounds that equals out to be! While this can vary depending on the size of the wings, a rough estimate is that one pound of chicken wings is about 10-12 cut chicken wings.
So for the main course, if you are rounding up, you can plan to buy about one pound of chicken wings per person.
And for an appetizer, if you are rounding up, you can plan to buy about half a pound of chicken wings per person.
Suggestions for Making it Ahead of Time
Putting together a board such as this wing board can be a bit labor-intensive, but nothing too difficult. The most intensive part is just planning what you want to include on it, and then shopping for those ingredients.
Once you've got all your ingredients ready, there are a few things you can do in advance. You can make any sauces you need ahead of time. And you can prep your vegetables up to one day ahead of time.
Carrots and celery can be stored in water. It may seem counterintuitive, but storing them in cold water keeps them fresh and crisp. Any other cut veggies can be stored in a dry air-tight container with a moist (but not soaking) paper towel on top of them.
You can also grab out your board, any serving bowls, dishes, and utensils and lay them out ahead of time.
The chicken wings should be cooked fresh and served right away.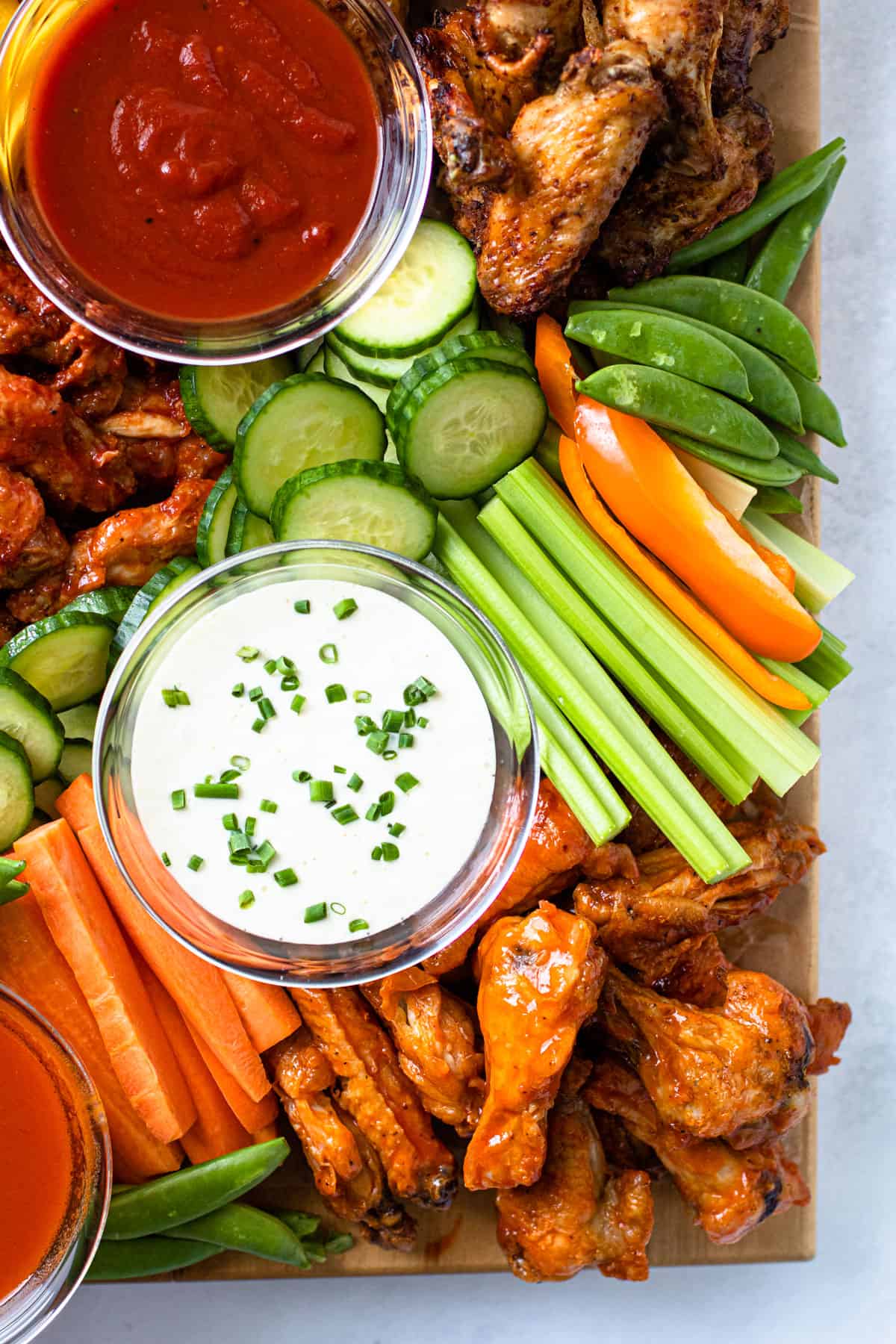 Watch the video here:
---
---
If you like this epic appetizer, check out these other appetizer recipes: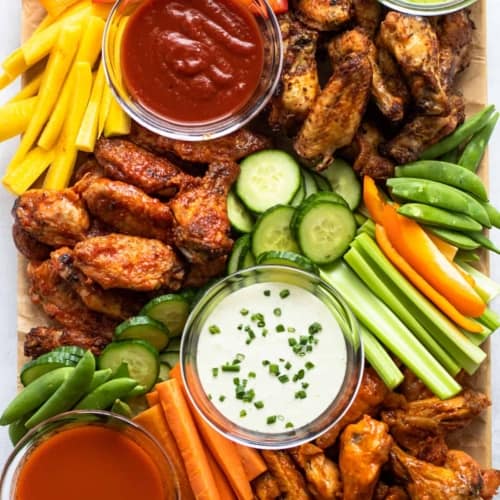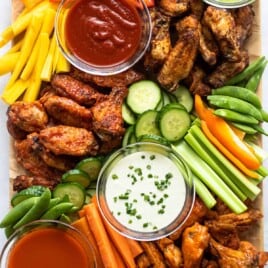 How to Make a Chicken Wing Charcuterie Board
Put together a charcuterie board for an epic appetizer, but switch it up with chicken wings!
Ingredients
3-4

Pounds

Farmer Focus Chicken Wings

2-3

different types of dipping sauce

suggestions: buffalo sauce, ranch, blue cheese, green goddess, bbq sauce, teriyaki, spicy Asian sauce, honey mustard

3-5

different types of prepped veggies

carrots, celery, cucumber, radishes, cherry tomatoes, sliced bell peppers or sweet snacking peppers, jicama, or snap peas
Instructions
Add ⅓ of the wings in your sauce-of-choice, and place on the board. Add another ⅓ of the wings in your sauce-of-choice and place on board. And leave the last ⅓ of the wings plain and place on the board.

Place 2-3 dippings sauces on the board.

Fill in the remaining space on the board with tons of sliced veggies.