There is nothing quite like a pot of delicious and hearty soup simmering away in the dead of winter. And we've got just the recipe you are looking for to cook up today because we're sharing our favorite healthy soup recipes!
30 Healthy Soup Recipes
Soup is my absolute favorite. It's a hearty, one-pot meal that, if done right, is filled with healthy ingredients and awesome flavors. And often times it can be used for leftovers throughout the week. I'm sharing over 25 of my favorite healthy soup recipes that I've been loving over the years, and that I know you will too! Some are made on the stove, some on the Instant Pot and many in your Slow Cooker. No matter how it's cooked though, it's going to be delicious and hearty and healthy! Soup is a crowd pleaser, and for good reason! So let's get to them!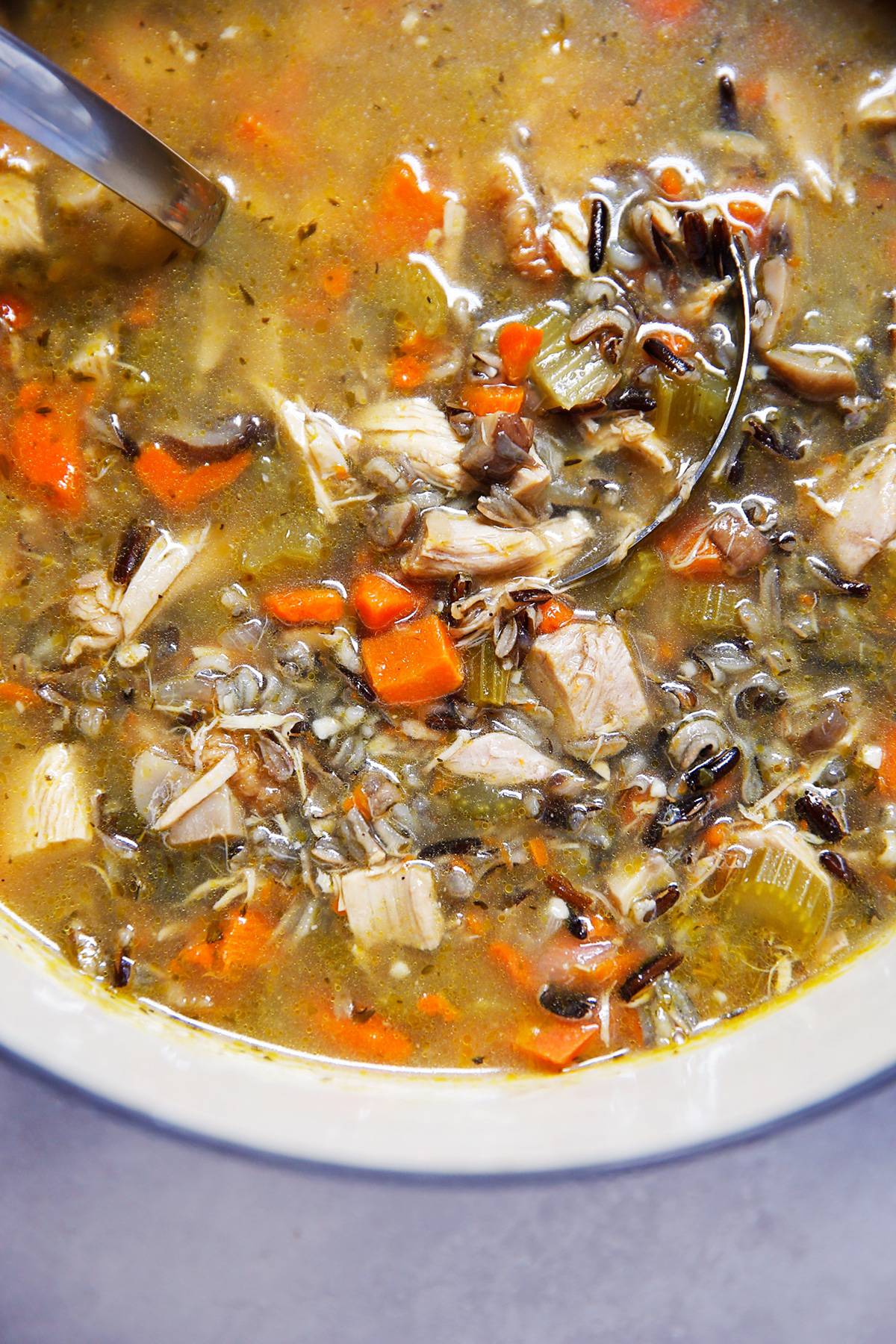 Feel Good Soups
Slow Cooker French Onion Soup: This gluten-free and healthy soup is comfort food at it's finest. It's made using simple ingredients you likely already have in your pantry, is largely hands-off cooking, is an economical meal and is so rich and flavorful. It can be eaten as is as a light soup, or more traditionally topped with melted cheese and either store-bought or homemade bread.
Split Pea Soup with Ham: The perfect meal to use up leftover baked ham (but don't worry there is an option to use ham steak as well)! It's a comfort meal in a bowl: warm, hearty and so delicious! This one pot meal is easily going to be your new favorite soup!
Turkey Wild Rice Soup: The perfect lunch or dinner to whip up after a great Thanksgiving meal. If you don't have turkey leftovers, no problem because it also works great with leftover shredded chicken as well! This easy to prepare soup is full of veggies, it's warm and hearty and so delicious!
This Roasted Poblano & Chicken Soup: A one-pot soup for any day of the week! Flavorful, light & hearty, and packed with good-for-you ingredients. The perfect soup for when you are craving a hearty soup with just the right amount of spice!
Tomato Basil Soup: It is creamy, flavorful, and smooth and pairs perfectly with this homemade gluten-free and grain-free grilled cheese!
French Squash Soup: This soup is an interesting take on the typical butternut squash soup. With a mix of different types of squash and the addition of pear and herbes de Provence, this warm and interesting recipe is going to elevate dinner time.
Creamy Green Chile Chicken Soup: This easy-to-make Creamy Green Chile Chicken Soup is perfect for a hearty dinner or for meal prep! With green chiles, salsa verde, chicken, and veggies it is comfort food, lightened-up. It's also gluten and dairy-free, even though you would never guess it!
Italian Wedding Soup: Studded with meatballs and filled with veggies, this soup is a lightened up take on the classic. This hearty soup is family friendly and would make great leftovers. Opt to make it lower carb by skipping any added pasta, or go ahead and make it the classic way with your favorite pasta shape.
Healthy Chicken Soup: There is no better cure for anything than Chicken Soup. The chicken and broth warms the soup, and the vegetables brighten everything up. It's a classic for a reason! Plus this Slow Cooker Chicken Soup is simple to make and easily freezes!
Turkey Kale Soup: Got turkey leftovers? Make this Turkey Kale Soup! This soup has a hint of Italian flavors thanks to the tomatoes and spices, and is so hearty and delicious. If you don't have turkey leftovers, no problem because it also works great with leftover shredded chicken as well!
Feel Good Veggie Soup: This soup is packed with veggies and spices that are filled with antioxidants to help you heal (or just feel extra awesome). Loaded with ginger, garlic, turmeric, and bone broth we are kicking that Winter cold good-bye! Who's ready to warm up with a bowl of Feel Good Soup?
Butternut Squash Curry Soup: This creamy soup has hints of curry and a touch of sweetness, the perfect cold-weather soup! It's dairy–free, flavorful, and delicious!
Detox Chicken and Kale Soup: This chicken soup is perfect for when your body needs an easy, delicious and light meal. Packed with veggies and healthy protein, this soup is easy to whip up. It's low-glycemic, paleo-friendly, egg-free, dairy-free, and Whole30 compliant!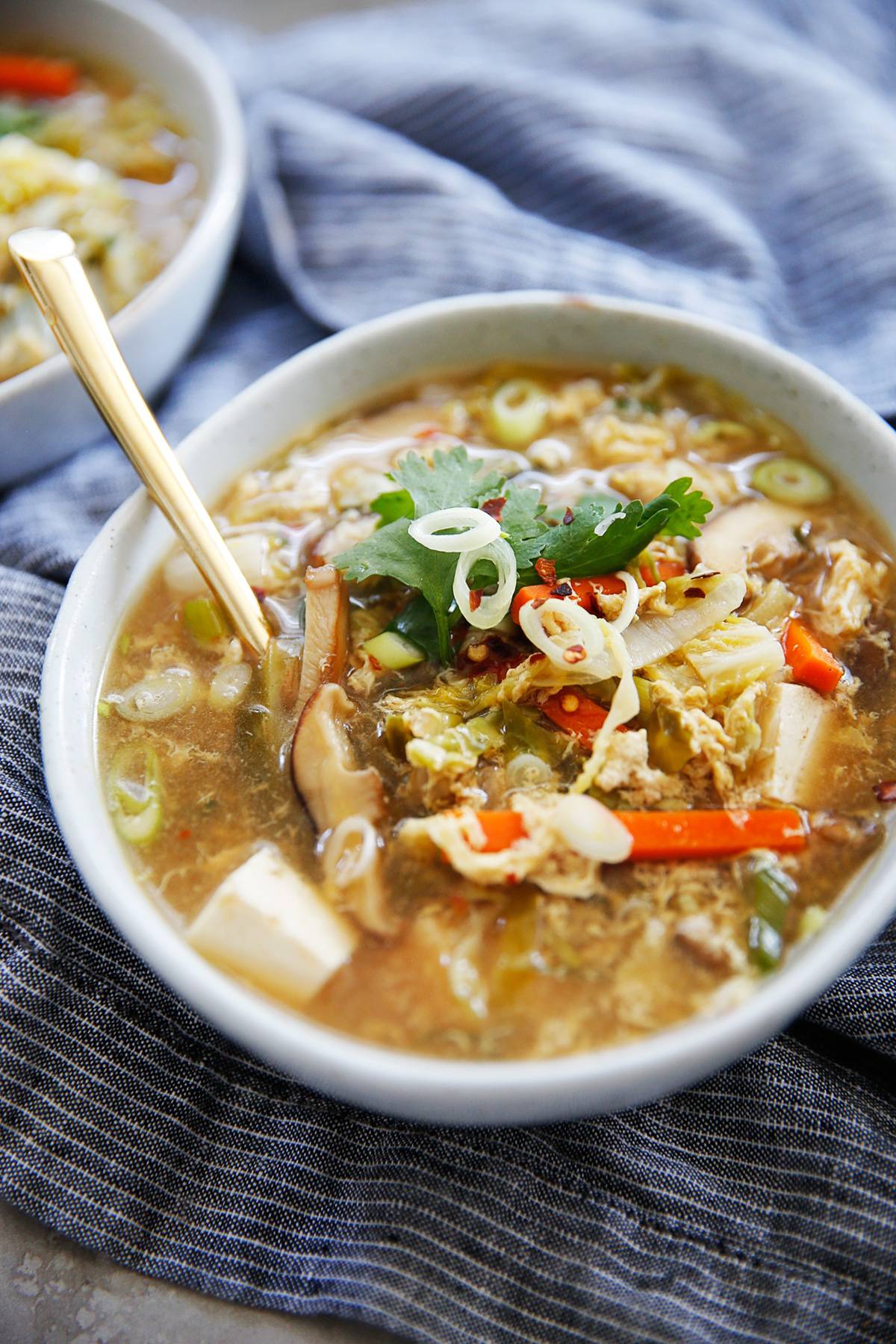 Plant Forward Healthy Soups
Potato Leek Soup: Flavorful and deeply comforting, this Potato Leek Soup is a must-make during soup season! It's creamy (without any cream added) and made simply with just a few ingredients. This hearty soup is gluten-free and optionally made dairy-free!
Hot and Sour Soup: A super flavorful and easy weeknight dinner that comes together quicker than it takes to order from your neighborhood takeout! It's packed full of veggies, is so warm and comforting, and a healthier option because you control the ingredients that go in to it! This easy soup is gluten and dairy free, low carb and with options for paleo and whole30 friendly.
Healthy Broccoli Soup: Who loves a hearty and creamy soup with minimal ingredients but all the deliciousness? This soup checks off all those boxes and can be on your table in 30 minutes flat. This vegetarian soup is gluten-free with options for dairy-free and to make it Paleo and Whole30 friendly.
Gluten Free Minestrone Soup: It takes only 30 minutes and is loaded with fall veggies! It's flavorful, hearty, and comforting. It makes for the ultimate customizable vegetarian soup for any day of the week!
Green Coconut Curry Ramen: It's hearty, flavorful, and creamy without any of the dairy. It's a great meatless and gluten-free dish for any night of the week that comes together in 30-minutes!
Easy Black Bean Soup: Perfect for a quick weeknight dinner or lunch meal prep. It's vegan, takes about 30 minutes and so hearty! Garnish with your favorite toppings and you have a warm, quick satisfying meal! I am literally in love with this soup. Mike also loved it cold as a black bean dip!
Homemade Cream of Mushroom Soup (Lightened-Up!): Our lightened up, dairy-free homemade cream of mushroom soup really is so easy to make and it's a hearty and delicious vegetarian soup that everyone will love. It really takes a few simple ingredients that come together to make a hearty and flavorful, yet healthier cream of mushroom soup!
Thai Curry Soup: This dish is packed with so many of your CSA and farmer's market veggies: Summer Squash, Bok Choy, Snap Peas, Basil, and Cilantro. It'll be a hit of dinner, and then some with leftovers!
Vegan Cauliflower Soup with Ginger and Turmeric: Made with ginger, turmeric and coconut milk, this Vegan Cauliflower Soup is both healthy and downright delicious. It's also a cinch to put together, taking less than 25 minutes from start to finish.
Stuffed Pepper Soup: The perfect cold weather meal! Loaded with all of your favorite stuffed pepper flavors, but without the hassle of having to actually stuff peppers. It's easily cooked in either the crock pot or the Instant Pot and this hearty soup is also gluten-free and optionally dairy-free.
Instant Pot Lentil Soup: Hearty, warm and inviting, this soup is the absolute perfect winter meal. This vegetarian soup is flavored with tomatoes, fresh herbs and a hint of spice that make this soup not only feel-good-food but just plain delicious. It's made easily in the Instant Pot (or in your Slow Cooker) for a hands-off meal destined to make whoever it is served so happy.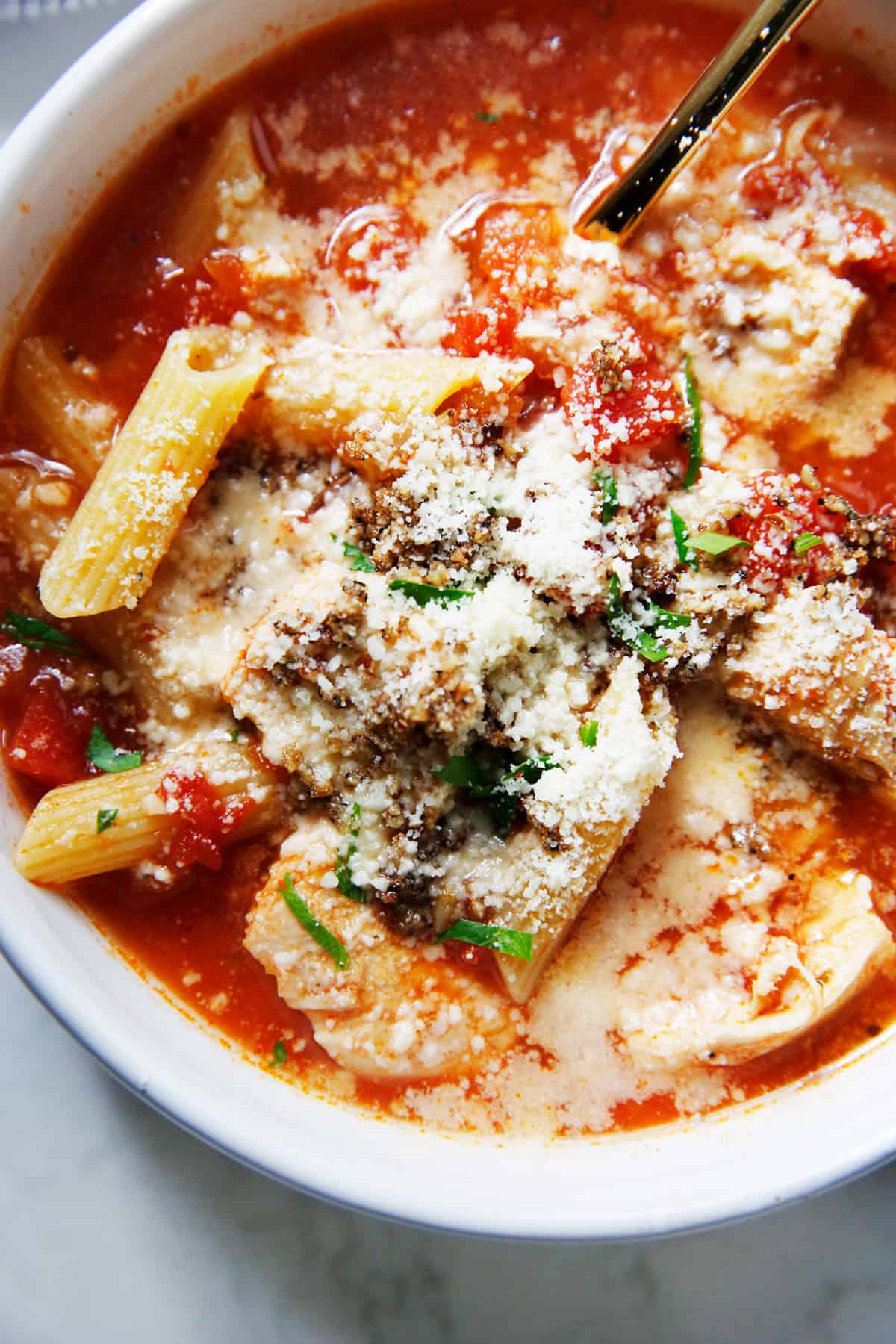 Dinner Favorites Made in Soup Form
Instant Pot Chicken Parm Soup: If you love chicken parmesan, you are going to love this one. This soup is made easy in the Instant Pot with our favorite chicken, a flavorful tomato broth and topped with all the classic chicken parm flavors.
Taco Soup: With all the classic flavor of a taco, this easy-to-make soup is a family-friendly weeknight dinner win. Customize your soup by adding on all your favorite toppings! It's made in about 30 minutes, and is also gluten-free, Paleo and Whole30 friendly.
Egg Roll Soup: An easy, weeknight dinner that is full of the flavor of an egg roll, without any of the fuss of wrapping and frying! This veggie and pork soup is family friendly and would make great leftovers! We also offer options to make it vegetarian, and it's already Paleo, Whole30 and Keto friendly too!
Instant Pot Baked Potato Soup: This tastes just like a loaded baked potato! It's creamy and topped with all of your favorite baked potato toppings. This comfort food soup is gluten-free and optionally made dairy-free!
Southwest Chicken Soup: Made easy in the Instant Pot with chicken, beans, corn and tomatoes. It is simple to make and can optionally be prepared ahead of time and stored in the freezer. It's as easy as placing all the ingredients in a freezer bag and stashing it away until you are in need of a quick weeknight. Simply defrost in the refrigerator overnight and place everything in an Instant Pot to cook at dinnertime!
Lasagna Soup: This soup is made in one pot or in the slow cooker, is simple to prepare, loaded with flavor, and reminiscent of the classic lasagna flavors we all love! This is such a fun and hearty soup to serve any night of the week, and you'll have leftovers, too!
ENJOY!