This Mint Mojito is the perfect refreshing summer cocktail! It's naturally sweetened using a honey mint simple syrup and combines the best flavors like mint, lime, and white rum.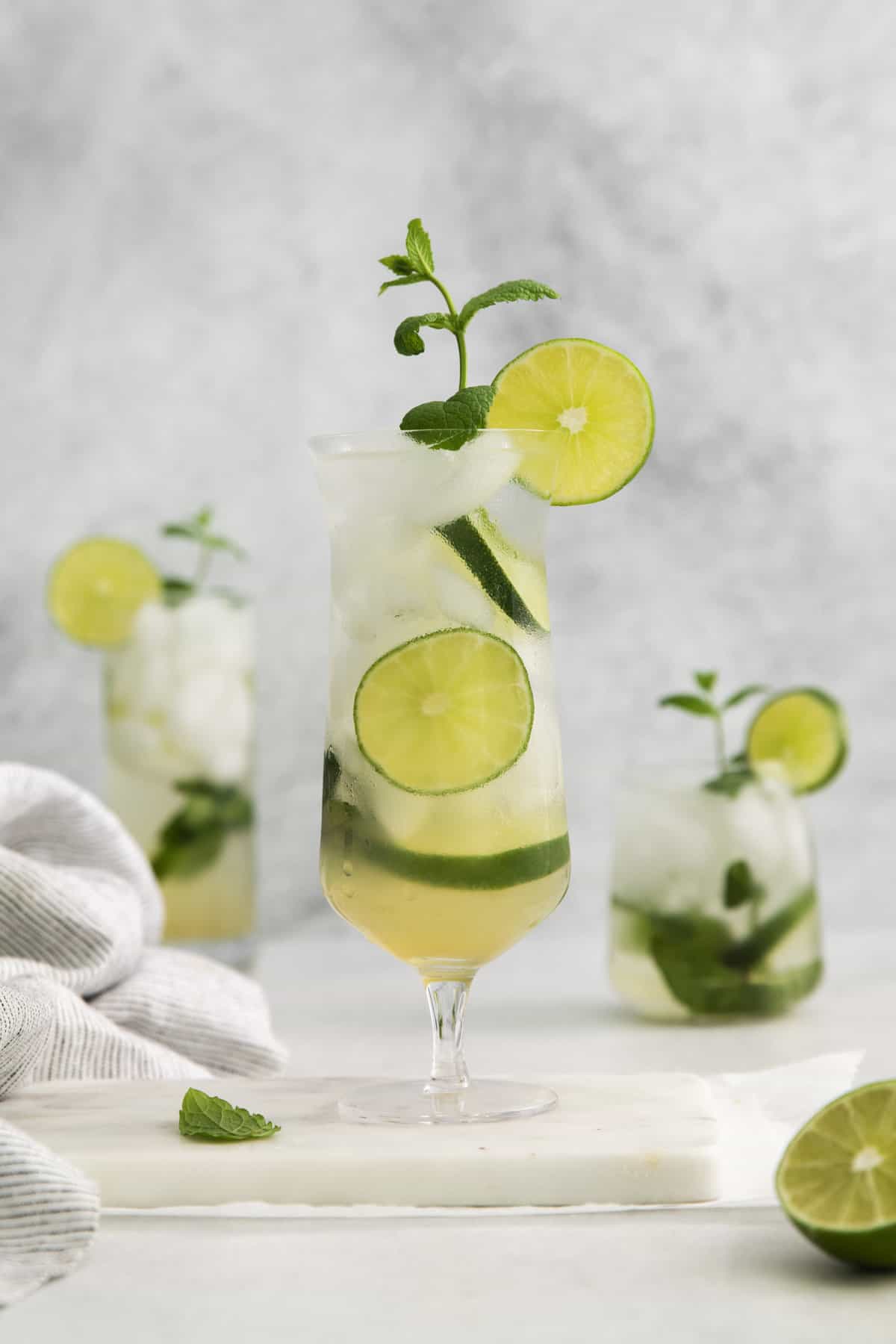 Easy Mojito Recipe
Who doesn't love a mojito? It's minty, it's citrusy, it's a little bit tropical. It really is the perfect drink for summer.
And as if a classic mojito wasn't delicious enough, I've put my spin on it with a naturally sweet honey simple syrup infused with extra mint…which is delicious! Seriously. This is the best mojito recipe.
Enjoy this cocktail as a refreshing drink with dinner or serve it to a crowd at your next party. It's a drink that everyone will love.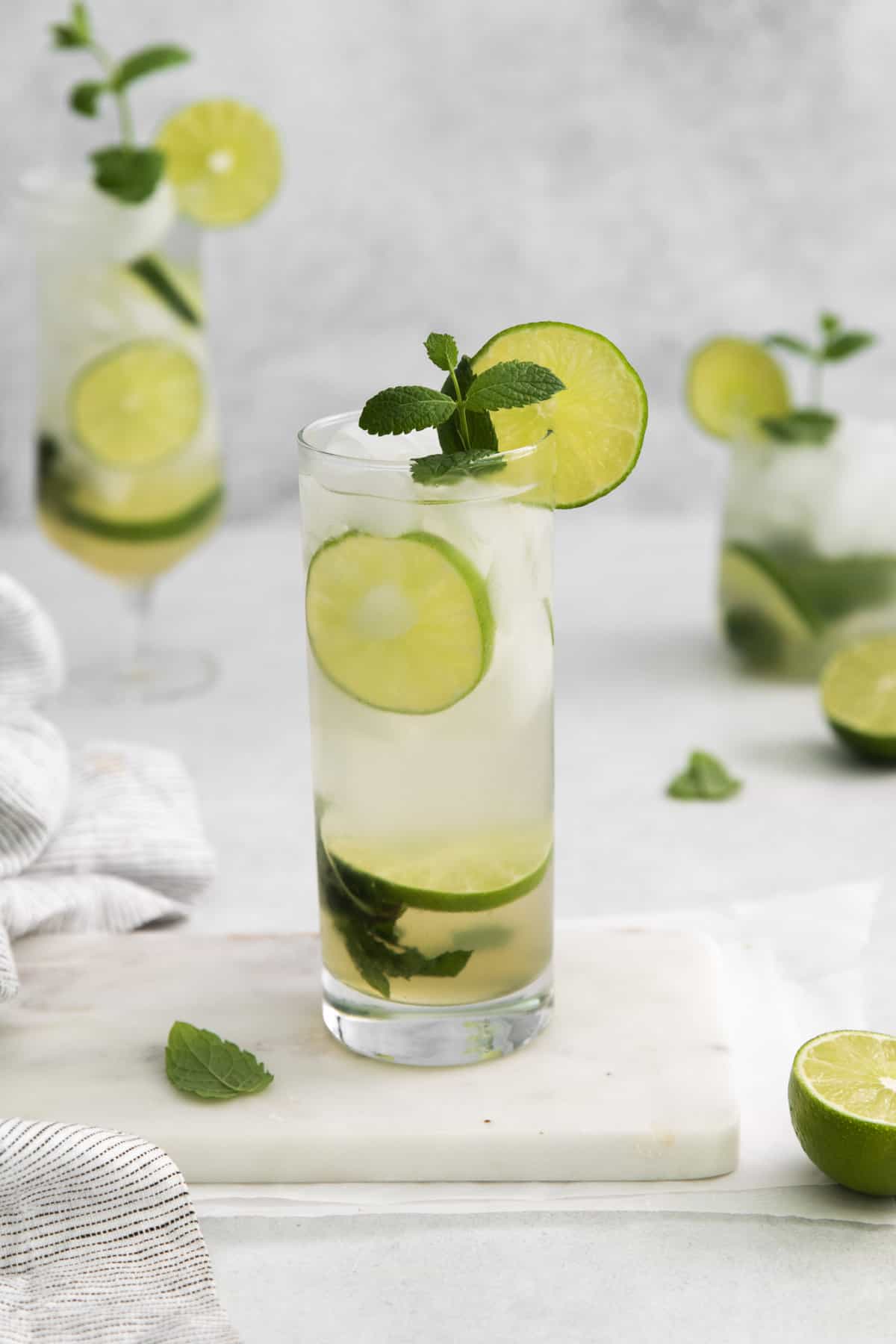 What is a Mojito?
A mojito is a Cuban rum cocktail made with lime juice, mint, sugar, white rum, and club soda.
Traditionally, mojitos are sweetened with granulated sugar. The sugar is muddled with the mint to break it down so it doesn't taste as grainy and to help release the natural oils in the mint. Here, we skip the refined sugar and instead make a quick honey mint simple syrup. It adds just the right touch of sweetness and makes it extra minty!
Are Mojito Mint and Spearmint the Same?
Sort of! Mojito mint is a variety of spearmint. The differences are subtle, but mojito mint is a little bit sweeter than classic spearmint.
Either one will work for this recipe!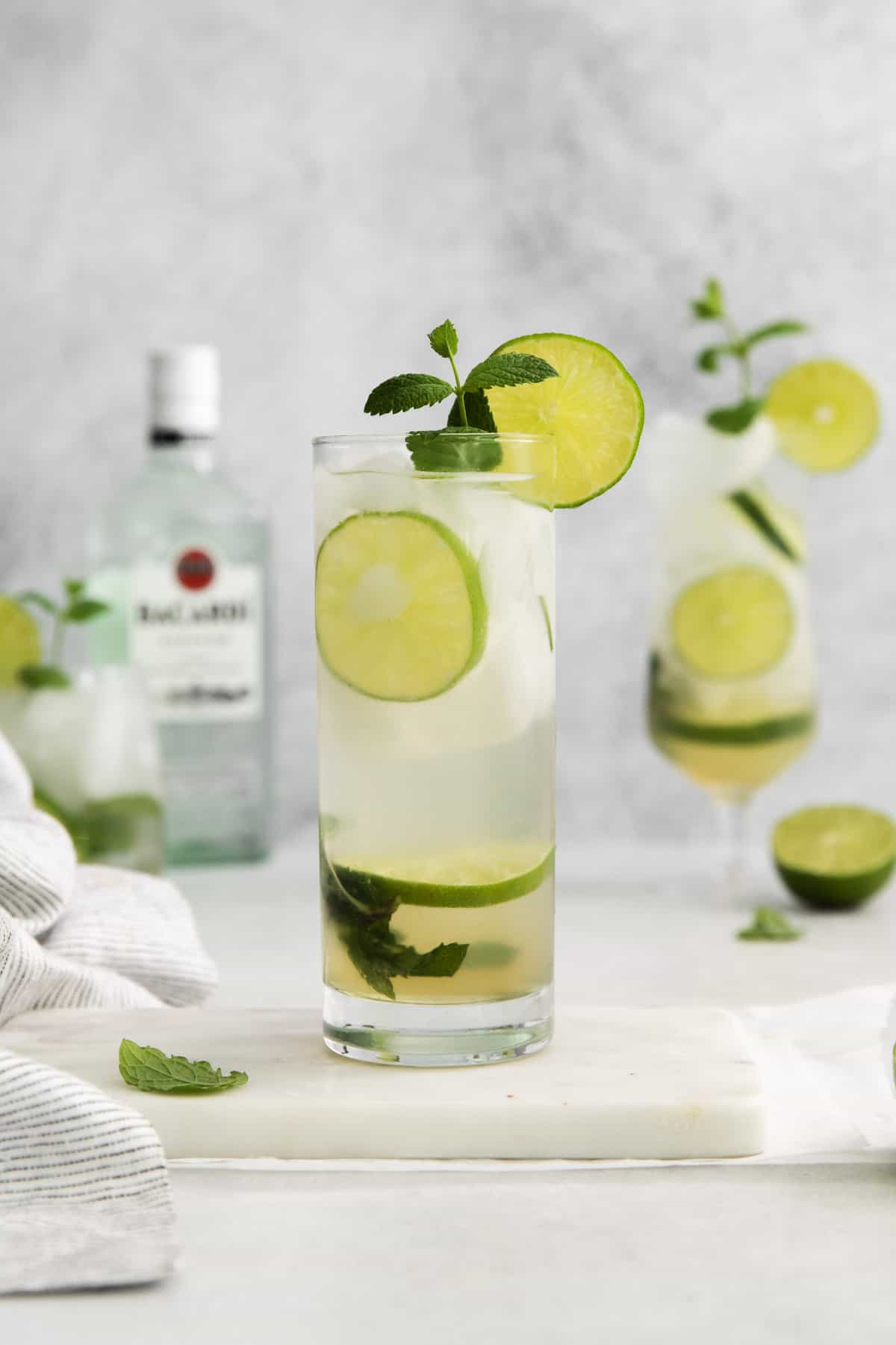 Mojito Ingredients
Mint: You can find fresh spearmint leaves at most grocery stores.
Lime Juice: Use freshly squeezed lime juice for the best flavor. Otherwise, bottled will work too.
Mint Simple Syrup: You can whip up a homemade honey-sweetened mint simple syrup for this recipe.
White Rum: Just use your favorite variety.
Club Soda: Club soda is the classic, but you can really use any carbonated water you like. Try lime sparkling water for an extra hint of lime flavor!
Garnishes: I like to garnish each serving glass with a lime wedge and an extra mint leaf or two.
How to Make a Mojito
Once the simple syrup is prepared, this homemade mojito is ready to go in no more than 5 minutes!
Muddle the mint: Place a few mint leaves into two serving glasses. Add the simple syrup and muddle everything together using a muddler or the bottom of a wooden spoon.
Combine: Fill each glass 2/3 full with ice, then pour in the lime juice, rum, and club soda.
Garnish and serve: Garnish each glass with extra lime and/or mint, then sip away!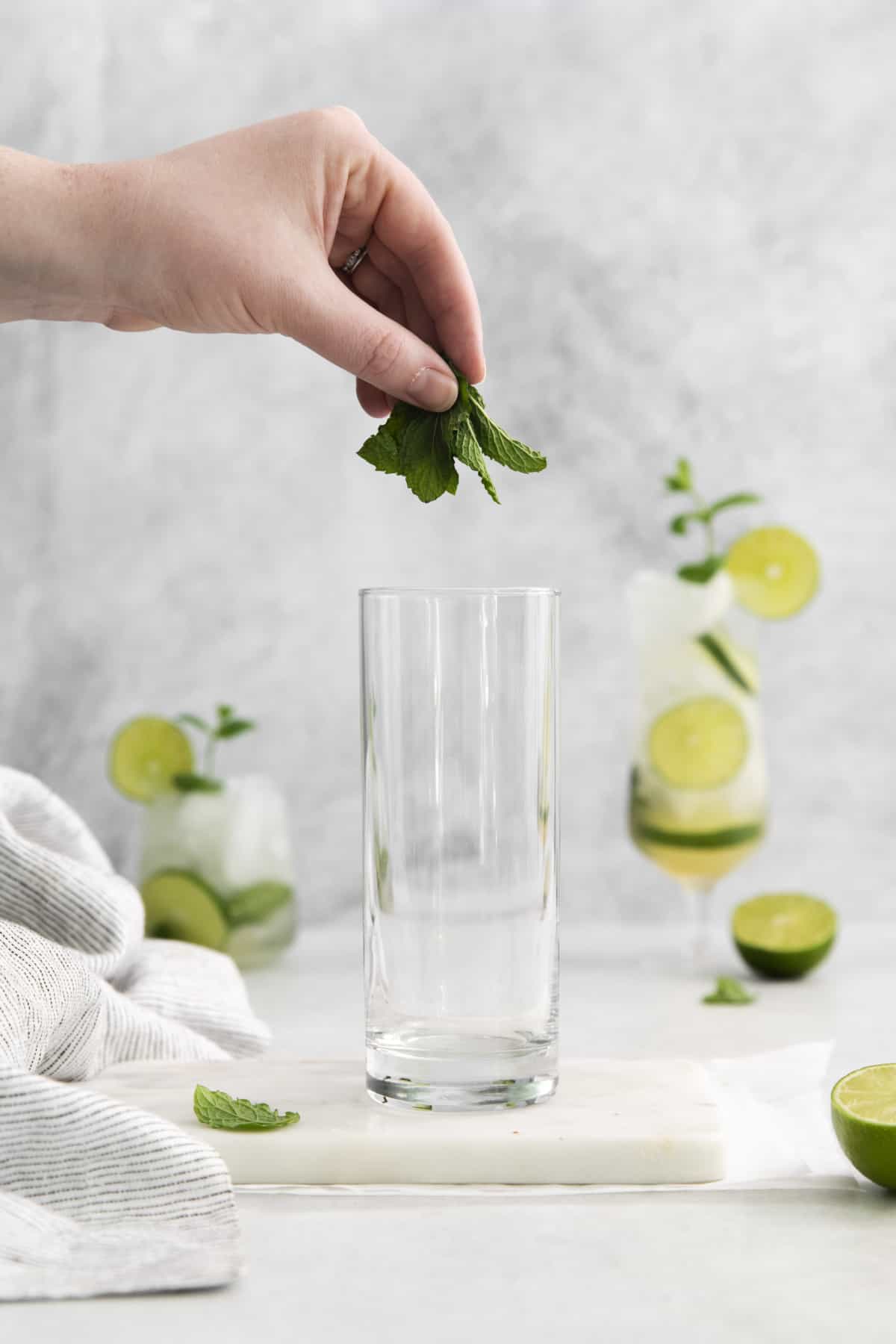 How to Make Mint Simple Syrup
Check out this post for all the instructions and recipe, but here is a quick recap:
Make a simple syrup by combining 1 part water and 1 part sweetener. In this case, I use honey. Bring that mixture to a boil and let the honey dissolve.
Bruise or rough up clean mint leaves to help release the oil, then place the mint into a heat-proof bowl. Pour the simple syrup over the mint, then let it sit for 10 minutes to allow that minty flavor to infuse into the syrup.
Strain out the mint leaves, pressing gently down on them to release more flavor and oils.
What Alcohol is Best for Mojitos?
The traditional alcohol used in mojitos is white rum aka silver rum or rum blanco. It has subtle tropical flavor notes that pair perfectly with the other ingredients in a mojito!
If you don't have rum around, vodka will work too, although then it won't be a traditional mojito.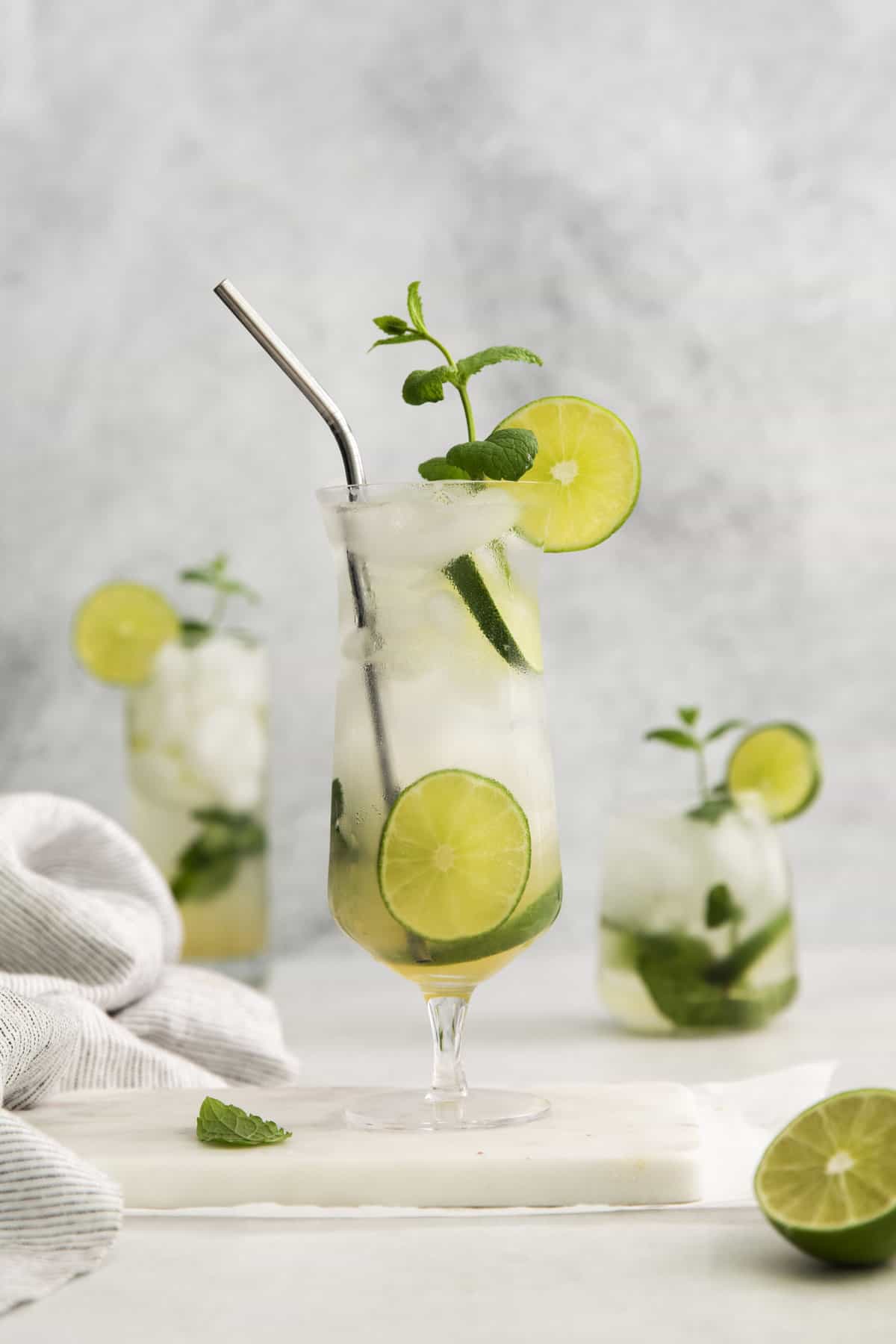 Tips and Notes
Muddle the mint well. You don't need to grind it up, but pressing it gently a few times really helps release the oils and flavor.
Use simple syrup to sweeten. Adding honey straight into the drink doesn't work because the honey doesn't combine well with the cold beverage.
Make the simple syrup in advance. You want to give it plenty of time to cool off so that it doesn't warm your cocktail. The good news is that you can make it days in advance and store it in the fridge.
Serve immediately. Once the cocktail and ice are combined, it should be enjoyed right away. Otherwise, the ice will melt and dilute the drink.
Serving a crowd? Simply measure out and mix all of your ingredients, minus the club soda and ice, in a large pitcher. When you're ready to serve, pour over ice in serving glasses and top with club soda.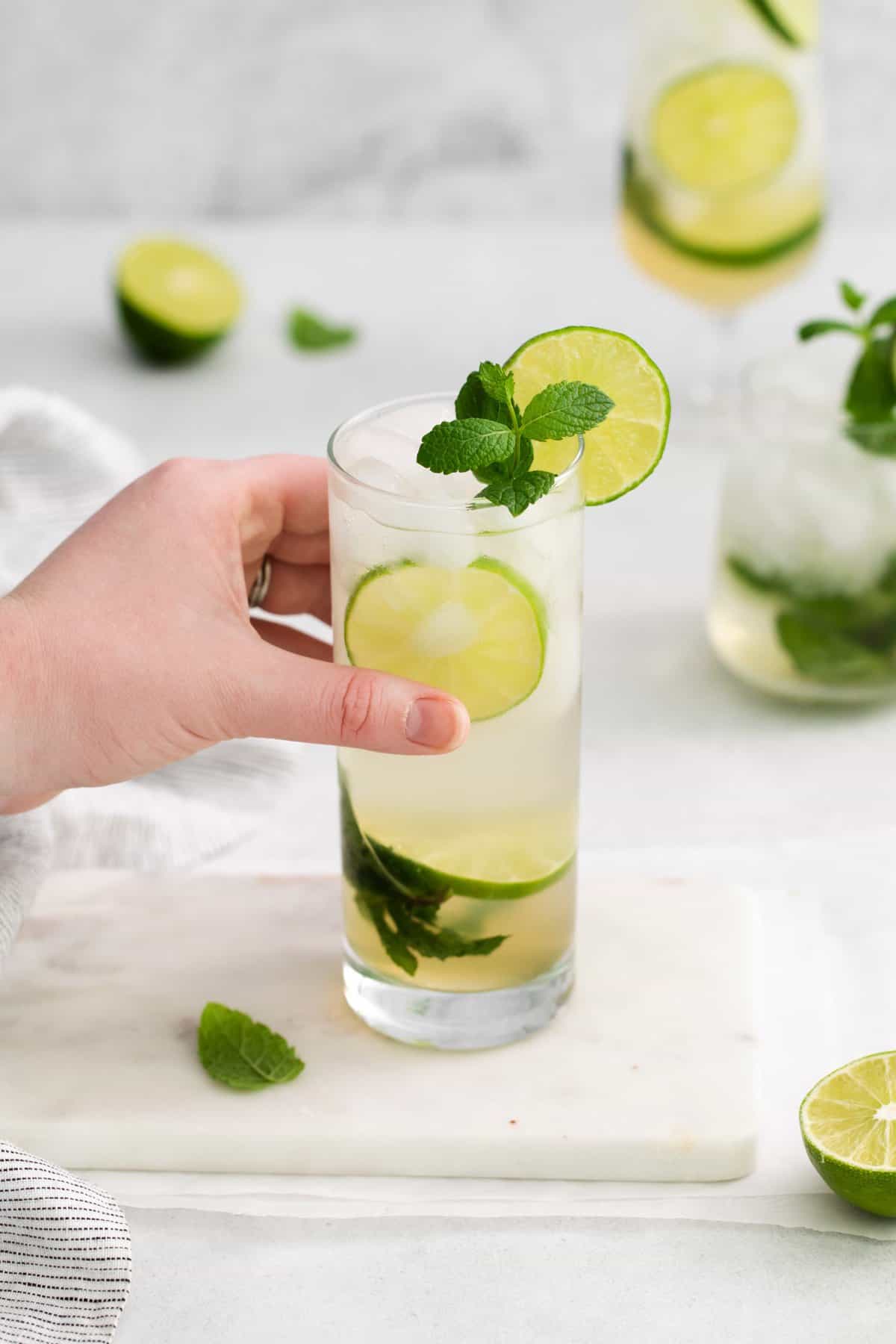 Serving Suggestions
This cocktail is great for serving with your favorite appetizers at a party or for a casual dinner at home. Here are a few pairing ideas—meals and appetizers!
How to Store
I don't recommend storing this drink. Once it's fully assembled, it is best served immediately.
You can, however, get ahead by prepping some of it in advance.
The simple syrup can be prepared, cooled, and stored in an airtight container or jar in the fridge for a couple of weeks.
The cocktail can be mixed together, minus the club soda and ice, a few hours in advance, then poured over ice and topped with soda when you're ready to serve.
More Cocktails:
More Mint Recipes: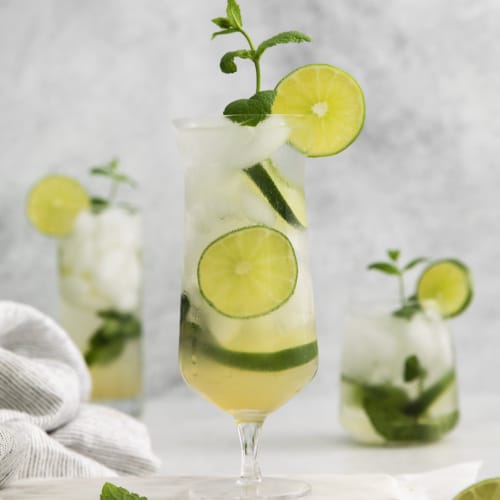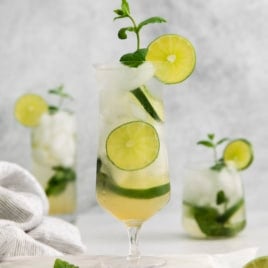 Naturally Sweetened Mint Mojito
This Mojito recipe is naturally sweetened using a honey mint simple syrup. It's refreshing and the ultimate summer cocktail!
Ingredients
Small handful of fresh mint

washed well

2

tablespoons

lime juice

2

teaspoons

Mint Simple Syrup (see post)

2

ounces

white rum

Club Soda

Extra lime and mint for garnish
Instructions
Place 5-8 mint leaves in two highball glasses. Place the mint and the simple syrup in the glass. Using a muddler, or the bottom of a wooden spoon, muddle the mint to help release the oils.

Fill the glass ⅔ full with cracked ice. 

Pour in the lime juice, the rum and top it off with club soda.

Garnish with extra lime or mint.