As summer comes to a close — bummer, I know! — I bet you're finding yourself overstocked on a few seasonal items in your kitchen, and fresh mint leaves are likely to be among those items. Don't let them go to waste! Fresh mint has tons of unexpected uses. We've been sharing mint recipes all week long, but just in case you need you need further convincing that mint leaves are versatile, here are 10 more ways to use fresh mint leaves!
10 Ways to Put Fresh Mint Leaves to Use
We're wrapping up mint week with a bang! After sharing with your 4 brand new ways to use fresh mint, we've got 10 more uses for mint leaves that will be a sure fire way to use up any of your leftover mint leaves.
This week we shared:
Health Benefits of Mint Leaves
You should know that fresh mint leaves also have a ton of (possibly) unexpected health benefits. Fresh mint is rich in nutrients, can aid stomach pain and digestive issues, can improve brain function, and helps relieve cold symptoms. Since it's relatively easy to add to your diet, there's really no excuse not to reap those benefits.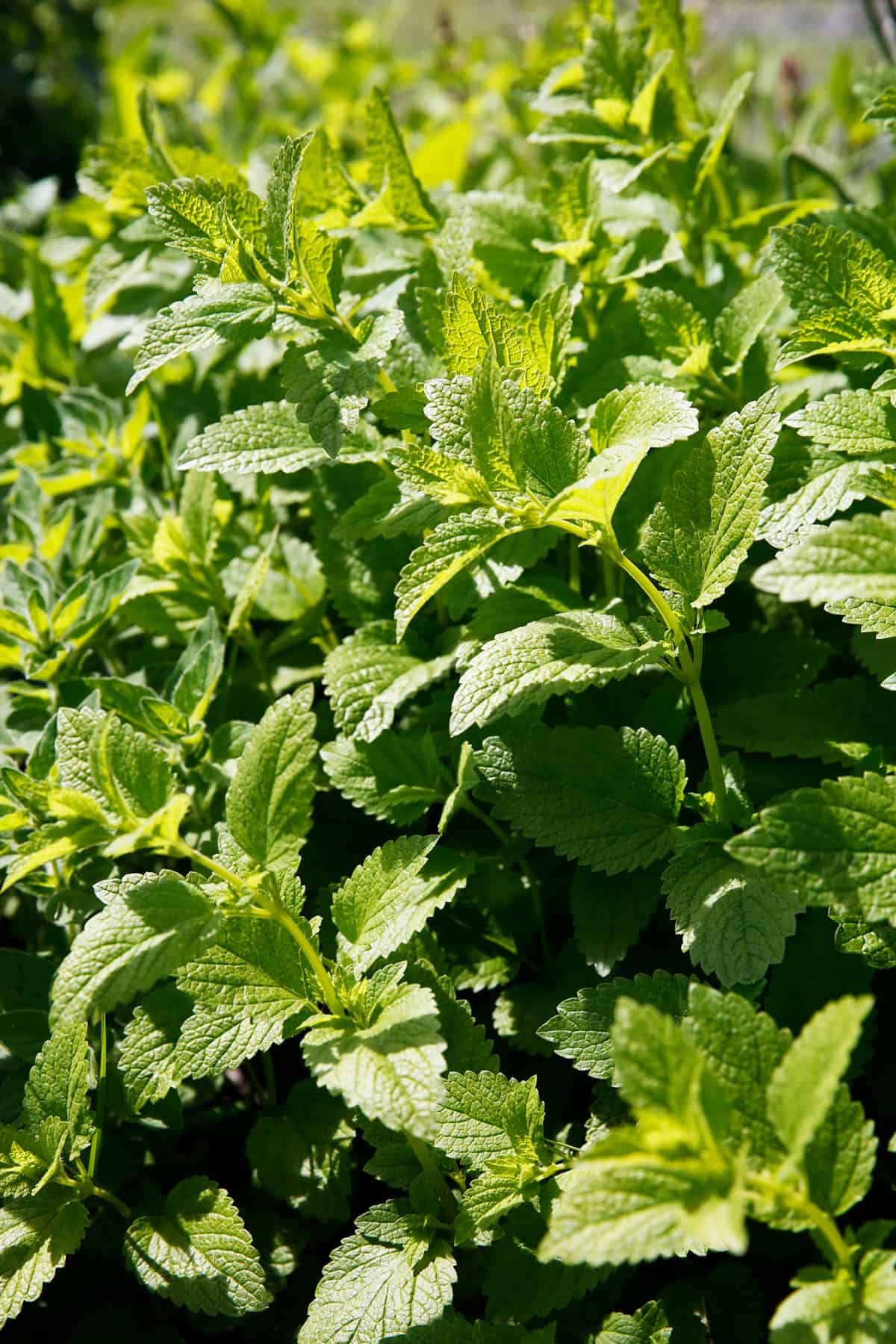 And there's definitely no excuse to toss the fresh mint you have in your kitchen. Here are ten easy ways to use it.
1. Garnish your favorite juices. One of the best things about making your own juices at home is that you can add a whole bunch of delicious flavors that you probably wouldn't find in a store-bought equivalent. Mint is one of those delicious flavors, and I like to add it to many of my own juice recipes, including my Strawberry Lemonade with Mint and my 2-Minute Watermelon Juice. The mint adds a subtle and fun depth of flavor — plus, it makes for a really pretty garnish. (Extra food Instagram points for pretty garnish!)
2. Make a salad dressing! It's easy to get stuck in a rut with salad dressings. You throw together a little vinegar, a little oil, a little seasoning, and call it a day — right? Wrong! Salad dressings don't have to be boring, and mint is a great way to spice up your greens. I love the Mint Chia Dressing I use on arugula salads. Make it one time and you'll wonder why you weren't making your salad dressings minty before!
3. Put it in frozen smoothie packs. You know how much I love to prep my healthy smoothies ahead of time by assembling frozen smoothie packs in large batches. When I'm ready for one, all I have to do is toss the contents of one of the packs in a blender and enjoy! I include fresh mint in several of my go-to frozen smoothie pack recipes. My Chocolate Mint Smoothie is extra delicious!
4. Cocktails, anyone? We've already talked about how great fresh mint is as an addition to homemade juices, but it can be just as wonderful in beverages that are a little more… adult. I add it to many of my favorite boozy bevys, and if you find yourself with a lot of fresh mint lying around the kitchen, I encourage you to do the same! Try a Cantaloupe Ginger Cocktail, a French Kiss Cocktail, or a batch of Rose Sangria. Cheers to you!
5. Top off your parfaits. Parfaits look pretty to begin with, but adding a little fresh mint as garnish just takes it to a new level. Check out the way I garnish my Berry and Cream Parfait or Mocha Fudge Fruit Parfaits! Using fresh mint in any parfait that features chocolate has the added benefit of making you feel a little like you're eating mint chocolate chip ice cream.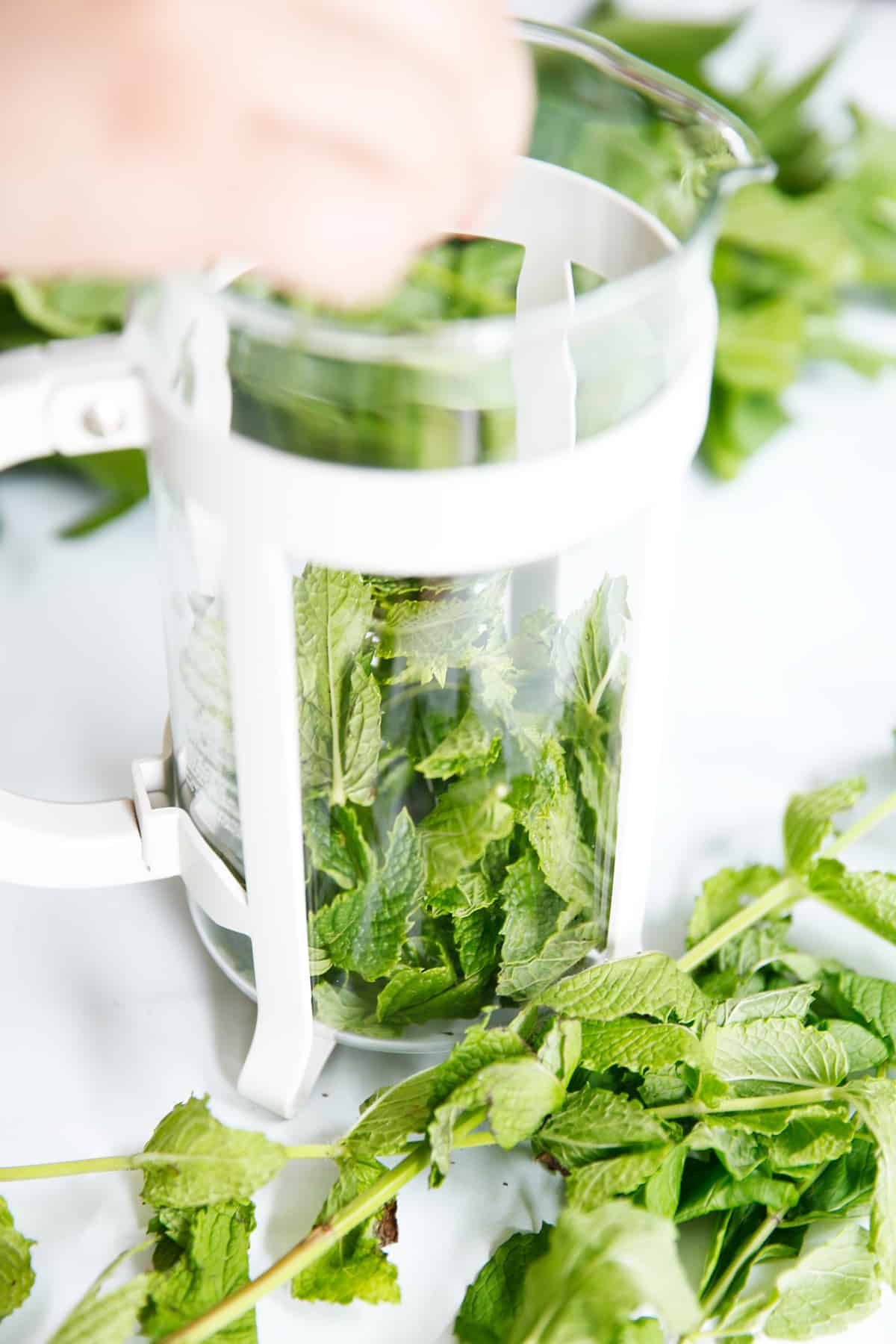 6. Make mint ice cubes. Drop leaves of fresh mint into each slot of your frozen ice cube molds to add a minty twist to any of your favorite juices or cocktails. This is a fun touch for any party or gathering, since it looks a little on the fancy side, but is actually really easy to pull off.
7. Do a DIY face mask. Mint is a refreshing, rejuvenating herb, which means that it has tons of benefits for your skin care. It's anti-bacterial, chock full of Vitamin A, anti-oxidant, and soothing, and it comes especially highly recommended for skin ailments like acne. With everything that fresh mint has going for it, it would be a waste not to use it to make DIY face masks. It can be mixed with other natural ingredients — like cucumber, honey, oats, and milk — to give your skin the glow you've been looking for. Check out eight awesome recipes here!
8. Spice up a salad. Bored of your usual salad mixes? No problem. Throw in some fresh mint! The herb might just become a standard addition to all of your salad. My favorite minty salads are my Melon Salad with Prosciutto, my Mediterranean Quinoa Salad, and my Easy Cucumber Salad, but I challenge you to use mint in all of your best-loved salad recipes.
9. Mix it in a spring roll. Spring rolls are totally underestimated as a healthy snack, nutritious lunch, or party appetizer, and they're also a great place to use any fresh mint you have around the house. My Spring Rolls with Mango Ginger Sauce recipe calls for a bunch of mint leaves. You're gonna love it!
10. Toss it in a slaw. Sick of the same old slaw? Fresh mint might be just what you need to mix it up. You'll find it in my Beet Slaw, for one!
Bonus: Check out this post and this post for other ways to preserve fresh herbs!
What are your favorite ways to use up fresh mint leaves?
0 comments
August 23, 2019
This website may at times receive a small affiliate commission for products that we shared with you in our posts. Although we may receive a commission for linking certain products, there's no additional costs to you and all of our opinion and suggestions are 100% our own and unbiased. That's our promise to you!
Subscribe to get our FREE clean eating guide!
Join our email list TODAY to start recieving our newsletter weekly, access to exclusive content and deals, *and* a FREE complete 24-page clean eating guide!