BBQ Chicken Pizza
Whip this BBQ Chicken Pizza up any night of the week. I guarantee it will be on your table faster than if you called for take-out. This BBQ Chicken Pizza recipe is a classic, using either store-bought or homemade ingredients.
Easy BBQ Chicken Pizza Recipe
Is there anything better than a classic BBQ Chicken Pizza hot out of the oven? Between the ridiculously easy gluten-free pizza crust, the homemade bbq sauce, bbq chicken and that cheddar and onion melty goodness? This recipe is going to be on repeat. While we (obviously) have recipes for each of the components to make up this BBQ Chicken Pizza, we also know that you can just as easily buy some of them store-bought for an easy weeknight dinner.
Here is what you need to make it:
Shredded Cheddar Cheese

Red Onion

Cilantro

BBQ Chicken

(or rotisserie chicken)

Let's Talk About the Best Gluten-Free Homemade Pizza Crust
If you haven't tried my Gluten Free Pizza Crust before, you have been missing out. It has been made and loved by so many of you! I have to admit, it's a favorite of mine too. This crust comes together quickly, in 1-bowl, and in under 10 minutes. No kneading, proofing or fussing is required! This pizza crust uses a blend of coconut flour, tapioca flour and ground flaxseed. It's light and chewy and is a crowd pleaser. It's easy to make ANY night of the week and perfect for any topping you'd like! We obviously recommend you use this crust because it's so delicious and so simple! But it's easy to use a store-bought one, if you need. Follow the packaging instructions for baking for that if you do use store-bought.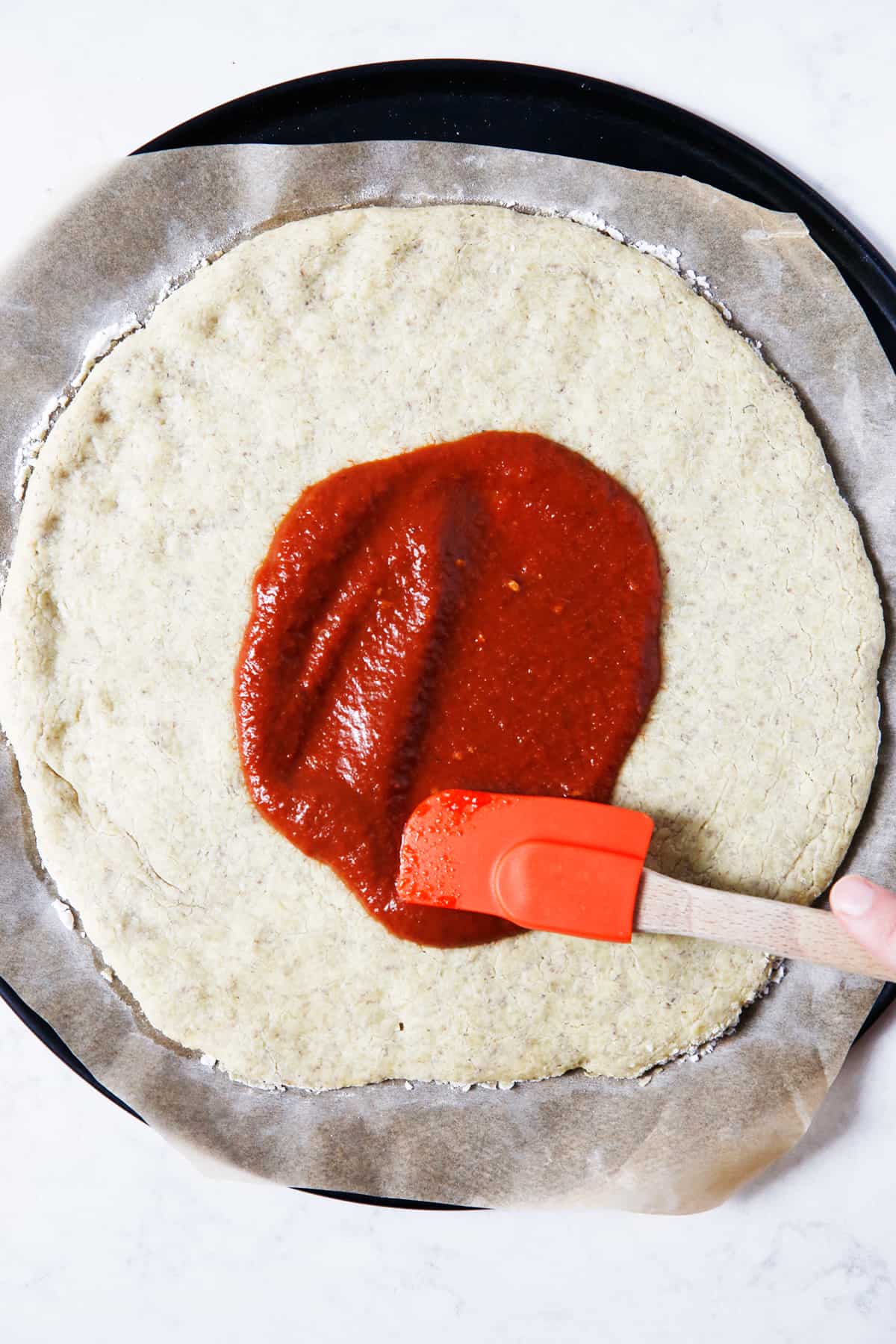 How to Make Homemade BBQ Chicken Pizza
Start with the crust! If using my homemade pizza dough you can make the crust and bake it immediately. But it must be baked up prior to putting on the pizza toppings.
Next top the parbaked pizza with the toppings. We have suggested amounts, but go ahead and make the pizza to your liking. Just make sure not to overload it because too much toppings won't bake up properly.
Finally, bake it all off! If you want ultra crispy and melty cheese, stick it under your broiler.
Garnish the pizza with an extra drizzle of bbq sauce and cilantro and serve immediately.
Easy Swaps
We love homemade as much as possible, so we went ahead and gave you recipes for the Gluten Free Pizza Crust, the BBQ Sauce and BBQ Chicken. However, if you are using this recipe as more of a guide, go ahead and grab whatever you need store-bought. There are a lot of cleaner alternatives out there for homemade products now, especially when it comes to pizza crust and bbq sauce. If you didn't want to make the BBQ chicken, go ahead and pick up a rotisserie chicken and use that here. Just toss it in a little BBQ sauce before putting on the pizza so it won't dry out in the oven.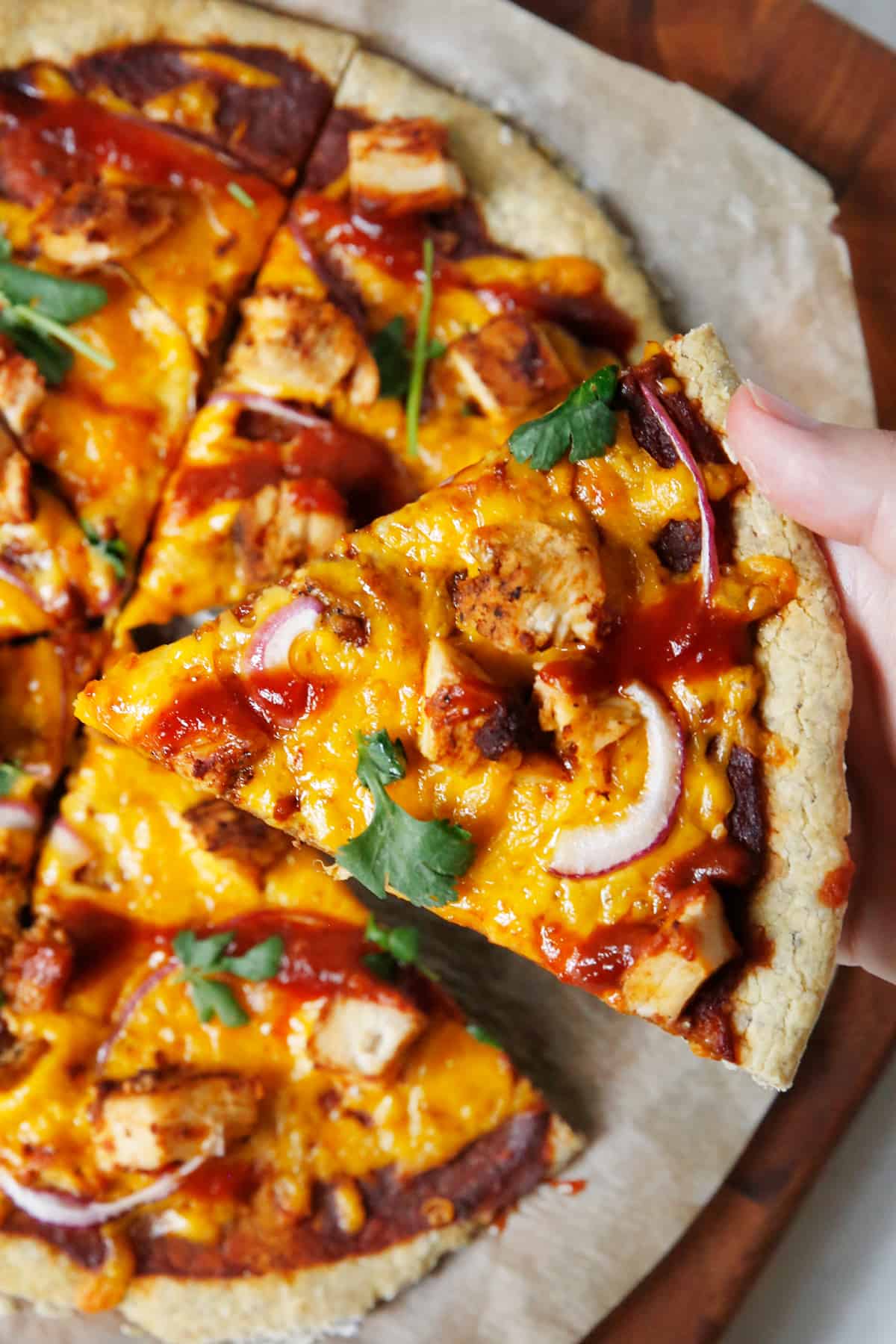 If you like this pizza recipe, check out these others:
BBQ Chicken Pizza
Looking for a quick and flavorful way to cook chicken breasts? This Baked BBQ Chicken Breast recipe is perfect for any night of the week. Plus, we're sharing our best tips for cooking chicken breasts in the oven.
Baked BBQ Chicken Breast Recipe
These perfectly cooked BBQ Chicken Breasts are your answer to a quick and delicious weeknight dinner. The chicken is pounded out to an even thickness, quickly marinated with a bit of apple cider vinegar and spices, topped with BBQ sauce (homemade or store-bought) and then baked to perfection. And we're sharing all the tips we have to make sure you get the juiciest chicken possible! Serve this along side sweet potato fries, mashed potatoes, cauliflower rice or on top of a big salad and dinner is served!
Baked BBQ Chicken Breast Ingredients
Chicken Breasts

Apple Cider Vinegar

Coconut Sugar (omit if your BBQ sauce is already sweet)

Garlic Powder

Onion Powder

Salt

Paprika

Chili Powder

Cayenne Pepper

Your Favorite BBQ Sauce

How to get Perfect Juicy Baked Chicken
The secret to getting juicy and flavorful chicken is ultimately about not overcooking it. That is the single most important part of cooking chicken breasts, which are lower in fat than their dark meat counterparts. However, we took a few extra steps in addition to correctly cooking the chicken to make sure this recipe is amazing.
First, you're going to pound out the meat to an even thickness with a meat mallet (or a rolling pin). This ensures the chicken is perfectly cooked throughout, instead of having some parts of the chicken overcooked because they are thinner.
Next, you are going to quickly marinate the chicken with a dry rub. The apple cider vinegar adds flavor and makes the meat more tender, as does the sugar and spices. Once extra step we took with this chicken was to pierce the breast all over with a fork. This again, lets the marinade and BBQ sauce penetrate the chicken a bit more, as well as gently tenderizes the meat.
Lastly, and the most important step is to remove the chicken just before it has finished cooking. As all meat does, the chicken will continue to cook after it has been removed from the oven. We always suggest using an instant-read thermometer to check the temperature of meat, and chicken breast should be removed from the oven between 155º-160º. Once the chicken has been pulled out, cover the pan with aluminum foil and allow the chicken to rests. This let's the chicken finish cooking to 165º and lets the chicken rest so all the juices stay within the chicken breast.
What type of BBQ Sauce to use
We really wanted to keep this recipe as simple as possible, so we left the option open to use either homemade bbq sauce or store-bought. Our recipe for homemade is pretty quick to put together, and can actually cook in the time required for this chicken to marinate. If you are want to use a BBQ sauce that you know has simple and clean ingredients, go ahead and make it from scratch! You won't be disappointed.
One thing to note is that dry rub for the chicken has coconut sugar in it. If your bbq sauce has a lot of sugar in it, you can feel free to omit the extra added sugar. If you are using our homemade version, go ahead and use the coconut sugar as suggested.
What to Serve with Baked BBQ Chicken
Serve this bbq chicken up with all your favorite bbq sides. Here are some of ours: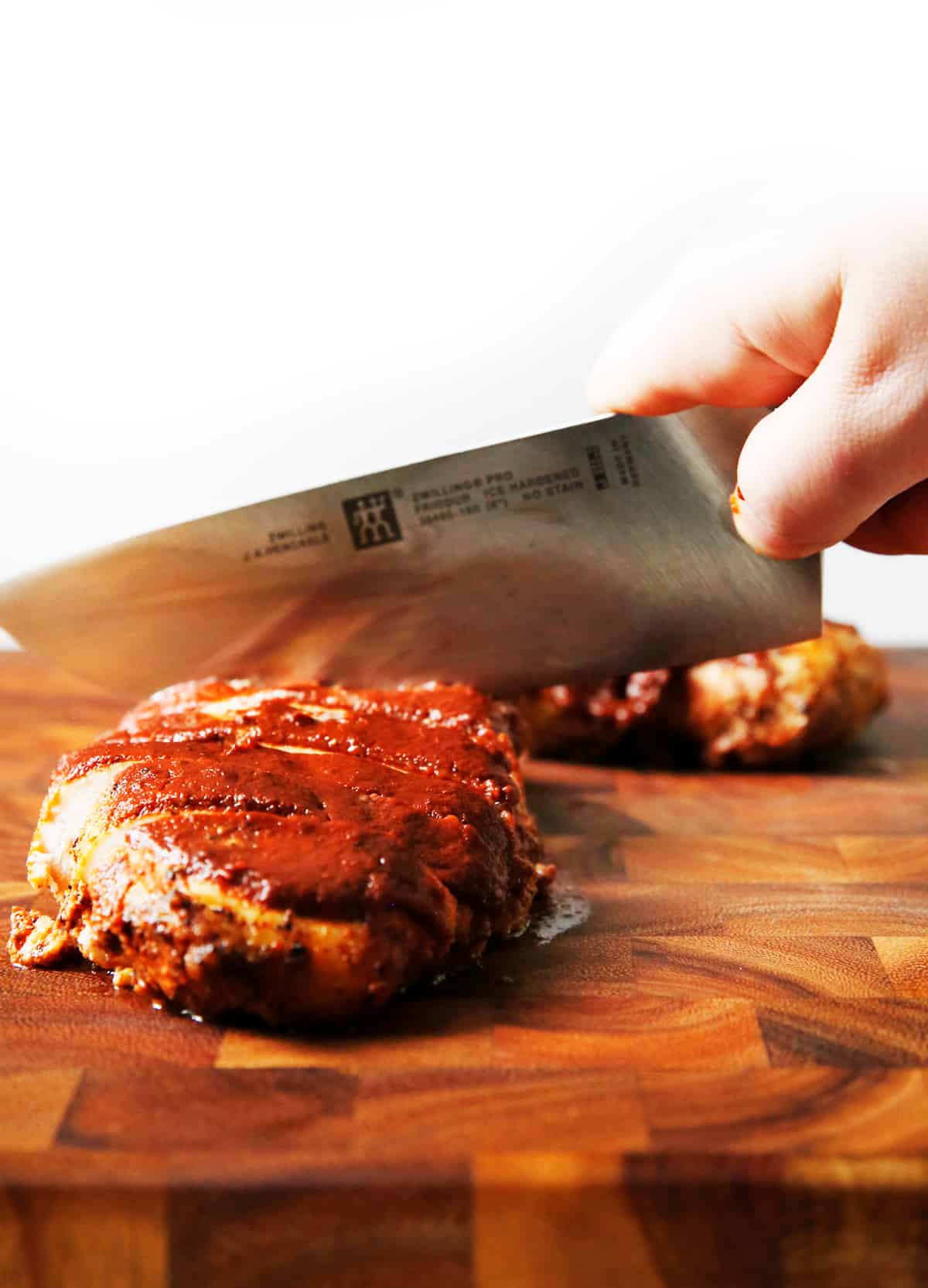 If you like this chicken breast recipe, check out these others:
The Best Baked BBQ Chicken Breast
Everybody should have an easy BBQ sauce recipe that they can use whenever the mood strikes! This super simple Sweet & Smoky BBQ Sauce contains no refined sugars, is paleo friendly and takes under 20 minutes to put together!
BBQ Sauce Recipe
Homemade BBQ Sauce is surprisingly easy to make once you have the right formula! We love our Sweet & Smoky BBQ sauce because it's so simple to make and is a great sauce for so many dishes! For this recipe all you need to do is add all of your ingredients to a pot and simmer away!
Usually barbecue sauces you buy at the store are laden with hard-to-pronounce ingredients and so much sugar. While our recipe has sugar because we like it sweet, we opt for a cleaner alternative and use refined-sugar-free coconut sugar. We also skip the addition of ketchup and use a mix of tomato paste and tomato sauce to get the Sweet & Smoky BBQ Sauce just right.
Paleo Barbecue Sauce Ingredients
What I love most about this recipe is how much control you have over the ingredients for this homemade BBQ sauce. While I've got nothing against ketchup, unless you are buying a really high-quality brand there can be some suspect ingredients in it. So we ditched the traditional ketchup and instead use tomato sauce and tomato paste! We're using coconut sugar here as well, to keep this refined-sugar-free, but if you didn't have that on hand you could swap it with maple syrup or even organic brown sugar.
Tomato Sauce (buy organic, if you can!)
Tomato Paste
Apple Cider Vinegar
Coconut Sugar
Worcestershire sauce
Molasses
Garlic Powder
Ground Mustard
Smoked Paprika
Paprika
Cayenne (optional)
Onion powder
Salt and Pepper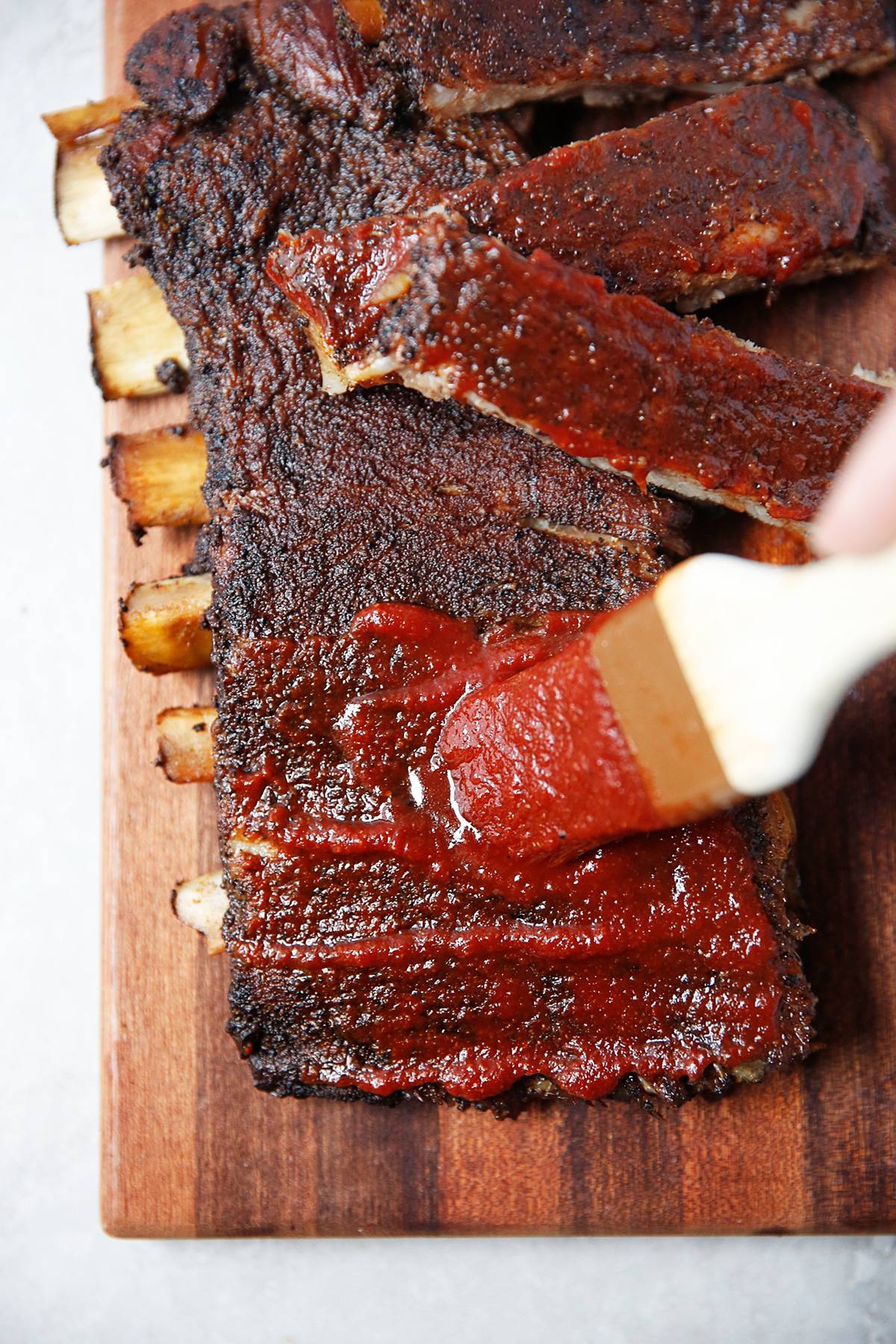 This Sweet & Smoky BBQ Sauce would be perfect on:
Oven Baked BBQ Chicken Breasts
If you like this DIY recipe, check out these others:
[yumprint-recipe id='178′]
---
Pin it:
Sweet & Smoky BBQ Sauce
Savor the last long weekend of the Summer with these gluten free and paleo healthy labor day recipes to make at home or bring with you on-the-go!
Healthy Labor Day Recipes
Labor Day Weekend is bittersweet! It's the last long weekend of the Summer where everyone gets a chance to soak in the last of the sun with final beach days, BBQ's, and the chance to make all of those summer recipes you've been pinning and saving. I've rounded up some favorite appetizers, side dishes, main dishes, and treats to satisfy every person at your home this weekend with these healthy labor day recipes!
---
Labor Day Appetizers
These late summer appetizers are perfect to make at home or to share!
---
Labor Day Pasta Salads and Sides
Sometimes the salads are the BEST part of a BBQ
---
Labor Day Cocktails
Make them as cocktails or mocktails!
---
Labor Day BBQ Ideas
Get that grill lit up, because we need to fire up the end of summer!
---
Labor Day Desserts
A sweet finish to the end of summer!
Healthy Labor Day Recipes (Paleo & Gluten-Free)
Summer time means grilling time! Grilling tends to be a pretty healthy cooking method — plus it lends itself to sitting outside and throwing BBQs! Summer doesn't get any better. All grilling methods are not created equal, though. Here are fifteen of my best tips for how to grill!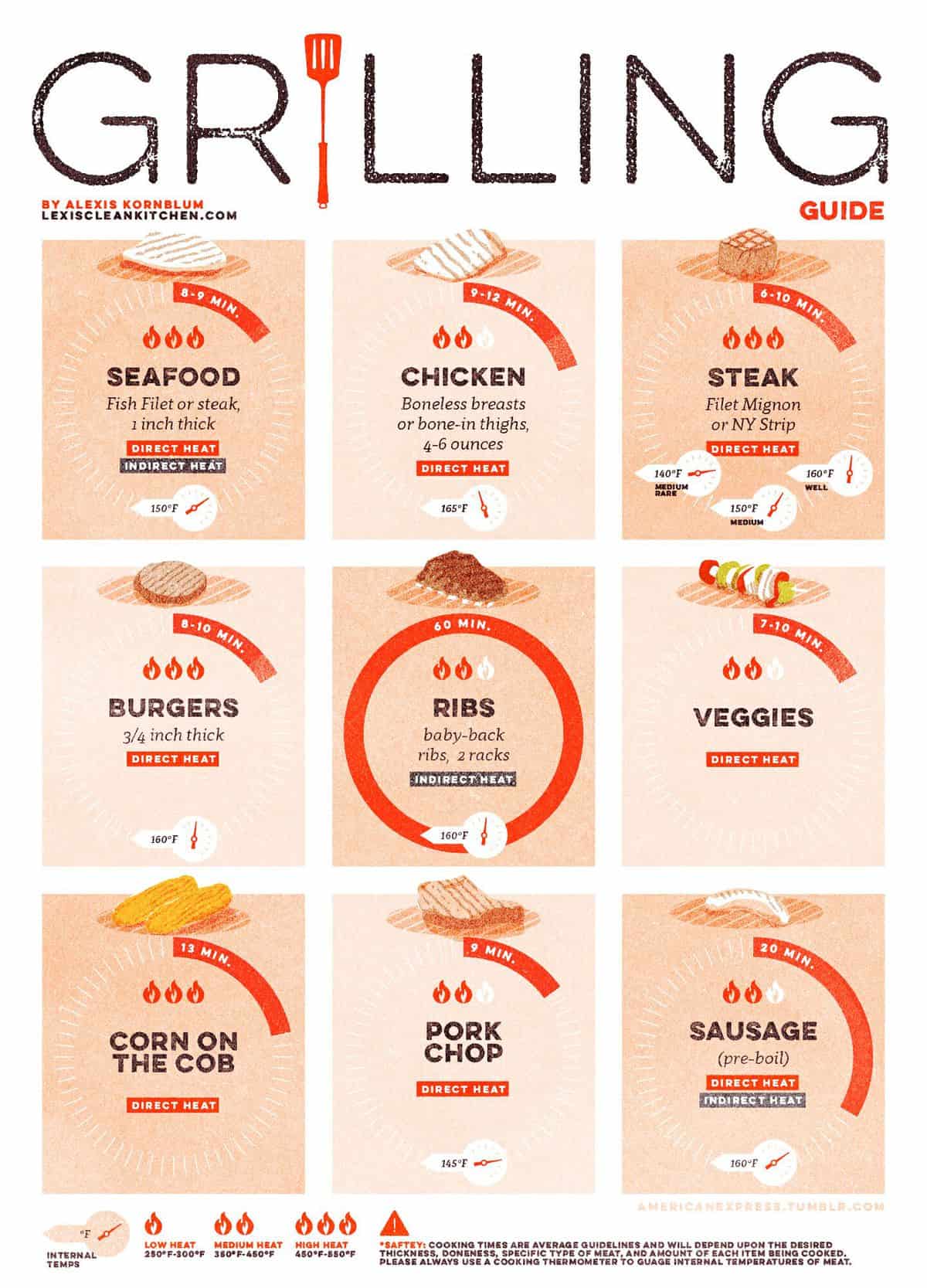 15 Tips for Ultimate Summer Grilling
For all your BBQ needs.
---
1. Clean your grill. Even if you're pretty sure your grill is clean from its last use, it never hurts to give it a little extra TLC before you start another cooking session, because grill grates that aren't clean can cause sticking (and weird flavors). Scrub the hot grate with a wire brush, then brush it with your oil of choice — and grill away!
2. Heat it up! Don't turn your grill on and expect to start cooking right away, it needs plenty of time to preheat. The exact amount of time will differ from grill to grill, but for ideal cooking, it should be hot enough that you can't hold your hand over it for more than two seconds, which usually takes between fifteen and twenty-five minutes. Use the preheat time to remove any meat from the fridge. You'll get the best results when meat has time to come to room temperature.
3. Start with salt. No matter what meat you're grilling or how you're preparing it, there's a basic rule number-one when it comes to the BBQ: always season with salt first. A generous dusting of salt will help bring out the flavor of your meat and will keep it juicy while it's heating. And don't worry about the flavor — your finished product will only taste salty if you add too much after cooking.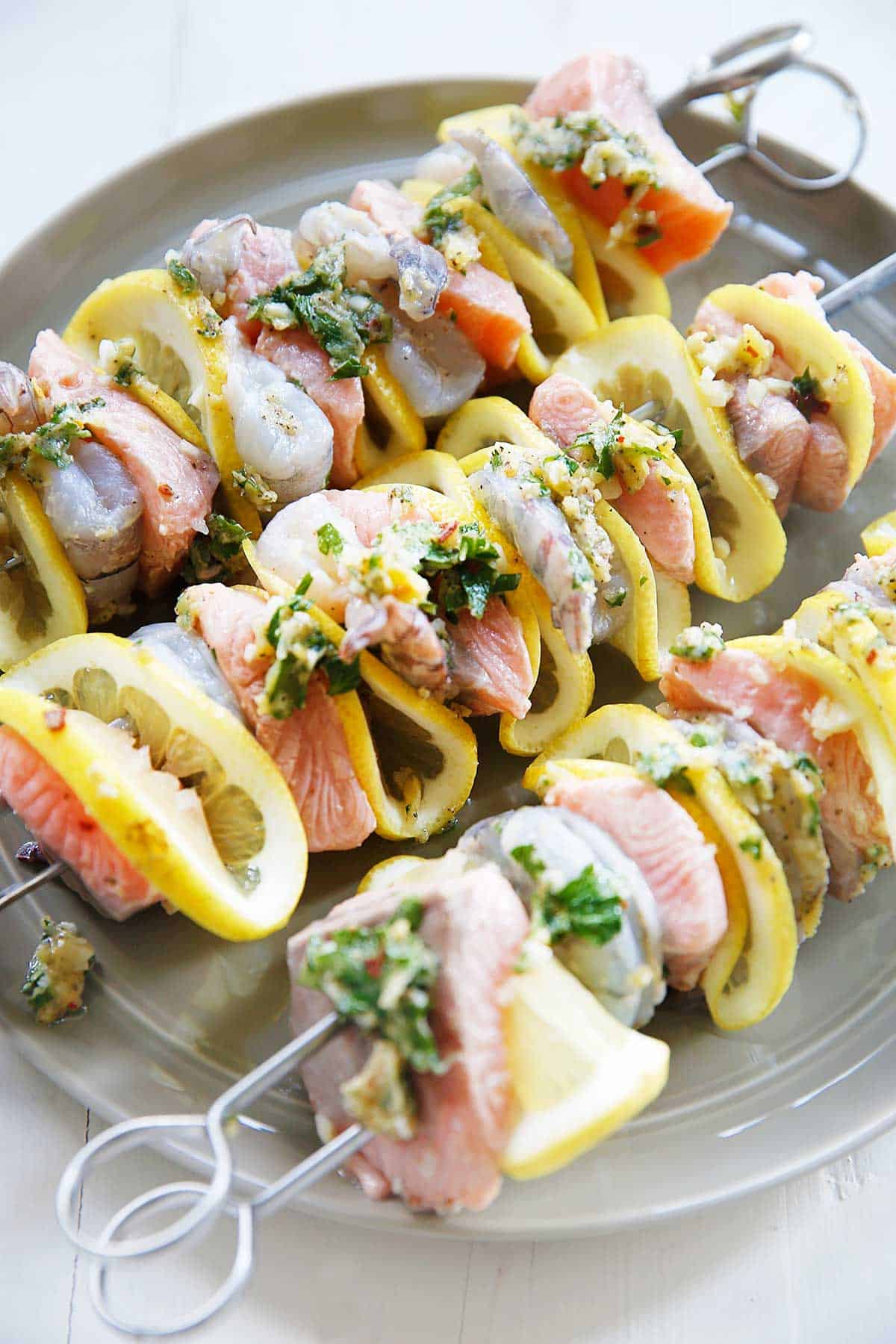 4. Marinate or season your chicken. The word "marinade" might sound a little fancy, but making one doesn't have to be difficult. All you need for the perfect flavor on your grilled chicken is a combo of oil (we like avocado oil), acid (lemon or lime juice or vinegar) and spices (dried or fresh) and salt and pepper.
5. Pat steak dry after marinating. You can use a simple marinade for your grilled steaks, as well, but you'll want to be extra careful to pat red meat dry before putting it over the heat. Marinated, wet red meat won't get that nice sear on it!
6. Season burgers. Classic burgers are always a crowd-pleaser, but you can uplevel your patties by adding an extra dash of extra-virgin olive oil. I also love stuffing or seasoning our burgers with a mix of sea salt, garlic, and finely-diced onion. These little additions will keep the fat content of your burger moist and that much more yummy.
7. Don't flip steak too frequently. It may make you feel like the queen of the grill to flip that steak every few minutes, but this technique is not going to yield you the best results. Instead, flip your steak only once. Steaks that are one-inch thick should be cooked for three minutes per side on high heat for rare, four minutes on each side for medium rare, and five minutes on each side for medium.
8. Add veggie! Too often, we forget how delicious grilled vegetables can be in the mix of burgers and steak and chicken and all of the other meats. But if you struggle to squeeze more veggies into your diet, putting some on the BBQ is a great solution! Almost any vegetable can be delicious on the grill with a coating of oil and spices.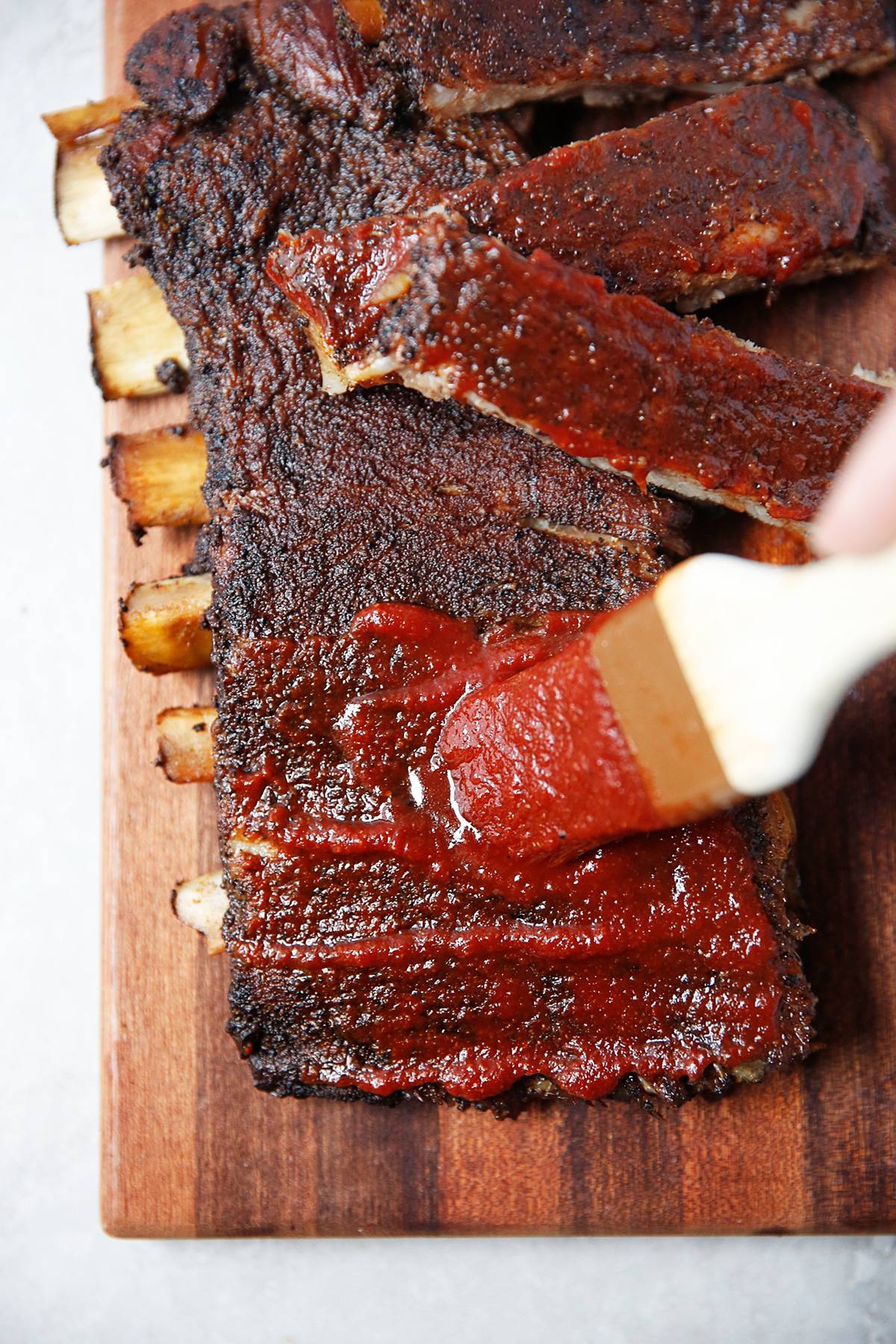 9. Sauce ribs at the right time. There are few things better than a bite of freshly-grilled and saucy ribs, and few things more off-putting than ribs that taste a little like burnt sugar. This flavor typically comes from sauce that's put on too early in the cooking process (because — you guessed it! — the sugar can burn). Slap sauce on those ribs in the final thirty minutes on the grill to achieve perfection.
10. Put salmon on a cedar plank. You can grab cedar planks from any local hardware store, but they're good for way more than home repair. If you soak one in salted water for about two hours, it becomes the perfect surface for grilling salmon. Put the soaked plank directly on your grill, then set the fish on top. You'll get a delicious smoky flavor.
11. Keep things where they are. Once you've placed something on the grill, you don't need to – and shouldn't! — move it around too much. And don't worry about sticking. If meat is stuck to the grates, it will typically unstick itself when it's ready to be moved.
12. Score your meat. Scoring meat basically means cutting thin slits in its surface before you cook it. As far as I'm concerned, this is a non-negotiable for grilling! When you include scoring as part of your meat prep routine, it helps the meat cook flat and pulls the juices from any delicious marinade you've prepared right into its center. More flavor!
13. Use proper spacing for skewers. Preparing kebabs? Delicious! Did you know that there's more to skewers than just spearing a few chunks of meat and veggies and hoping for the best? It's all in the spacing. Meat actually stays juicier during cooking when it's touching — but not packed too tightly against — whatever's next to it. Don't overstuff your skewers, but don't leave too much space between ingredients, either.
14. Do corn on the cob right. Does anything taste more summery than corn on the cob, fresh off the grill? I don't think so! To prepare corn for grilling open up the husks, while keeping them on the corn and remove the silk. Fold the husks back into place and soak the corn for 10 minutes in cold, salty water. Grill with the husks until the kernels are cooked and serve with a bit of grass-fed butter and a sprinkle of sea salt before putting it on the grill for fifteen to twenty minutes.
15. Give it a rest. Your food is bound to look delicious coming off the grill (especially if you follow all of these tips), but it's important to resist the urge to start eating it right away. Grilled meat is best served after five to ten minutes of rest. Pour yourself a cocktail or visit with guests while you wait!
---
This article was originally published in partnership with American Express in May 2015, but we've updated it and expanded on this topic in June 2019.
15 Tips for Ultimate Summer Grilling
These Oven Baked Coffee Barbecue Pork Ribs are the perfect dead-of-winter main dish to cook up on a lazy weekend afternoon! They are marinated in a dry coffee BBQ rub that takes minutes to put together and then cooked low and slow in the oven for completely unattended cooking. They're Paleo and Keto friendly for perfect melt-in-your-mouth pork ribs.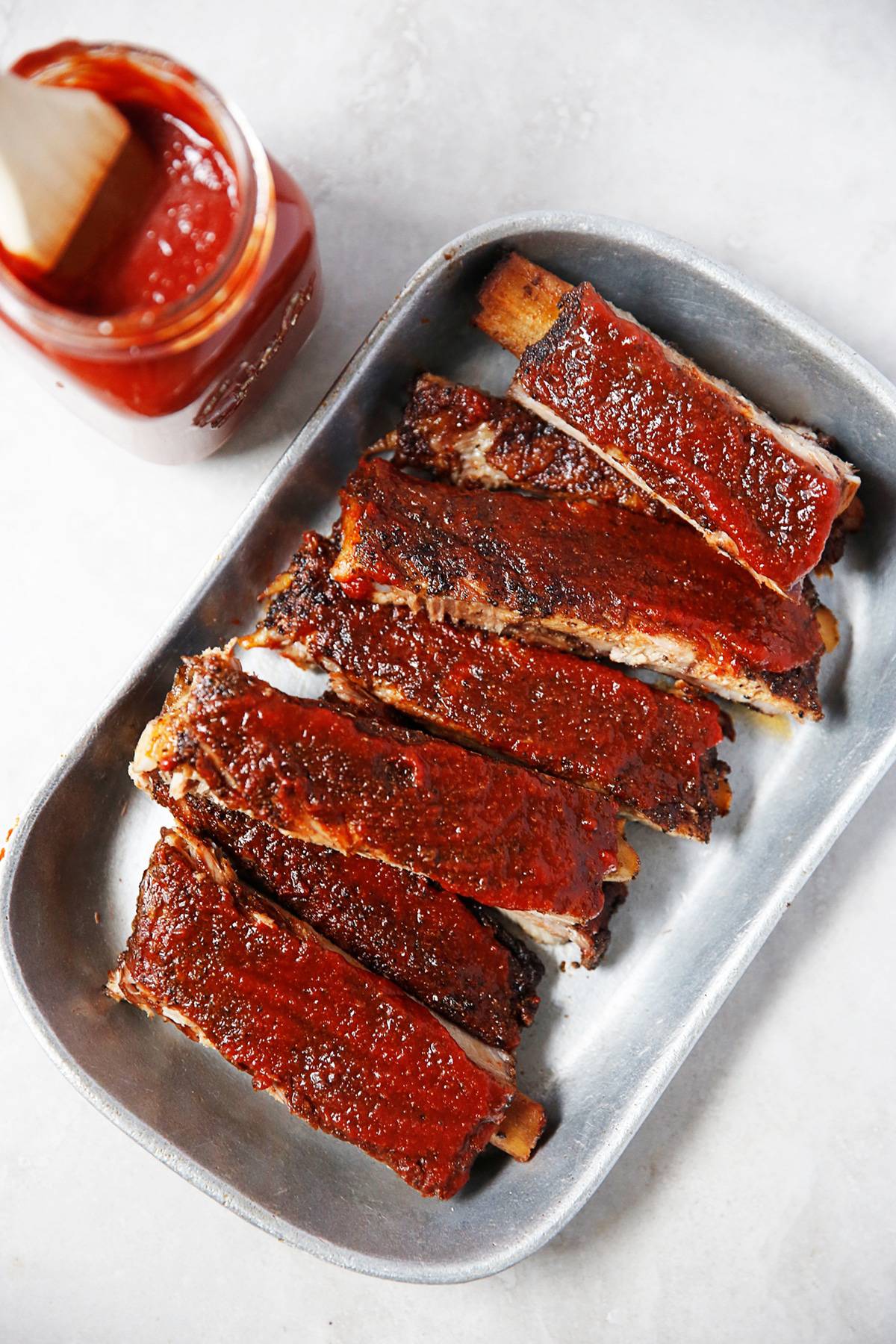 Oven Baked Coffee Barbecue Pork Ribs
While we love using the grill to make pork ribs in the summer, these Oven Baked Coffee Barbecue Pork Ribs uses a cut of meat that lends itself well to a nice slow and low cook in the oven, which is perfect for those winter months if you live in a cold climate. We make a quick coffee BBQ dry rub to marinate the ribs with, either overnight or to cook immediately and then they are wrapped up and baked in the oven for about 3 hours. These don't need an accompanying sauce, but we liked serving it with this Sweet & Smoky BBQ Sauce.
How to Remove the Membrane from Pork Ribs
Most pork ribs you buy from the store will have a membrane attached to the back of the bones that does not soften while cooked and can prevent the marinade from penetrating the meat. If you are purchasing your meat from a butcher, or a grocery store with a butcher you can ask to have the membranes removed. But it's also easy to do by yourself:
Stick a blunt knife underneath the silvery membrane towards the smaller end of the ribs.
Grab a corner of the membranes and pull with a paper towel until it is completely remove. Using a paper towel helps you get a better hold of it, since they are quite slippery.
Sometimes you'll get lucky and they will come off in one piece. Depending on whether you are using Baby Back Ribs or St. Louis Style ribs the membrane might be thick or thin. The thinner membranes sometimes do not come off in one piece, so you may have to remove it in pieces.
We gave the option to dry marinate these ribs in the refrigerator overnight, which is always preferably because it gives the spices time to absorb into the meat, or you can also ok cook immediately!
We love the moderate cooking time on these baked at 300ºF for about 3 hours. We find it balances nicely a low cooking temperature for tender ribs, without having to take up the entire day cooking at a really low temperature like 200ºF. The lower the cooking temperature the more tender the meat, so for us it's a happy medium that doesn't take all day to cook but still produces a really impressive rack of ribs.
Where we get our ribs:
I add them monthly or every two months, in my ButcherBox and they are the best quality Each month, ButcherBox  curates a one-of-a-kind selection of the healthiest, tastiest meats, humanely raised and free of antibiotics and hormones. Or you can customize your box and select your favorite cuts and get 20% more meat.The price works out to less than $6.00/meal and shipping is always free. You can also space it out so it's not every 4 weeks, too!
Enjoy the best 100% grass-fed and grass-finished filet mignons, plus get tasty uncured, sugar and nitrate free bacon & $10 off your first ButcherBox! ButcherBox delivers your meat for the month, saves you money, and is the best quality!
Get FREE bacon
FREE Shipping
$15 OFF!
Order Today and get this amazing deal and the best meat ever!
There are so many sides to choose from to serve with these Oven Baked Coffee Barbecue Pork Ribs:
Cauliflower Mac and Cheese (coming soon)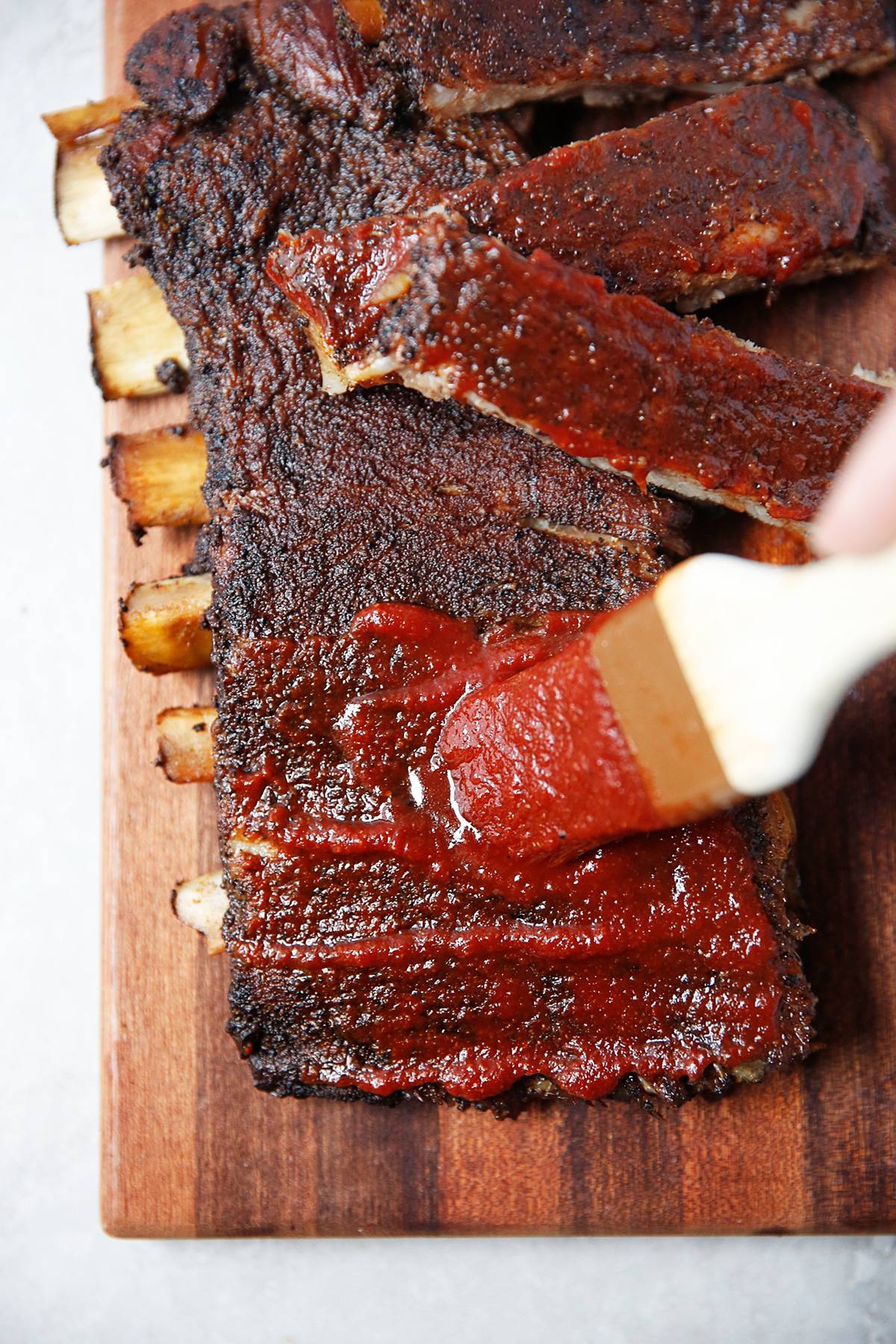 If you like this meat main recipe, check out these others:
Oven Baked Coffee Barbecue Pork Ribs (Keto & Paleo)
This Grilled Caesar With Blackened Shrimp is the perfect meal to impress with this Summer. Smoky and flavorful shrimp, perfectly grilled romaine lettuce, and fresh tomatoes drizzled with my go-to dairy-free caesar salad dressing. I cannot wait to make this again and again! The blackened shrimp is amazing on absolutely everything!

I have been wanting to make a grilled caesar salad for awhile now and am so excited how this one turned out! It will definitely be a Summer staple. If you have yet to try grilled romaine lettuce, this is definitely a must-try!
The perfect blackened shrimp rub (that would be great for chicken, too)!

This salad is packed with:
Juicy blackened shrimp
Grilled romaine lettuce
Fresh cherry tomatoes
The perfect dairy-free creamy caesar dressing!
Top it with a squeeze of lemon for the ultimate summer salad!
Grilled Caesar With Blackened Shrimp
---
---
Ingredients
Blackened Shrimp Seasoning
Other Salad Ingredients
Caesar Dressing from page 320 of the Lexi's Clean Kitchen Cookbook
Directions
In a high-speed blender combine all caesar salad ingredients. Pulse once or twice just until blended. Taste and adjust seasoning as desired and set aside.
Mix blackened shrimp seasoning in a small mixing bowl and set aside.
Pat shrimp dry and dredge in the blackened shrimp seasoning. Place on skewers and brush generously with extra virgin olive oil. Grill shrimp until opaque and fully cooked through, about 5-6 minutes turning to char on each side.
Drizzle romaine lettuce with extra virgin olive oil. Place lettuce, cut side-down, on the grill. Grill until slightly wilted and charred, about 5 minutes.
Place grilled shrimp, lettuce, and the rest of the salad ingredients on a serving platter of choice.
Top salad with a drizzle of caesar dressing and parmesan cheese if using. Serve warm with more caesar dressing on the side and lemon slices.
---
Nutrition
Loading nutrition data...
Grilled Caesar Salad With Blackened Shrimp
BBQ season is finally here and we cannot wait to start making all of our favorite BBQ spreads! Here are 30 healthy and delicious recipes that are perfect for Summer entertaining!
Mexican Street Corn Salad from Lexi's Clean Kitchen (Vegetarian, dairy-free if you omit the cheese, gluten-free)
Grilled Salmon and Shrimp Scampi from Lexi's Clean Kitchen (Gluten-free, egg-free)
Grilled Chicken Chopped Antipasto Salad from Lexi's Clean Kitchen (egg-free, gluten-free, paleo-friendly, and nut-free)
Sriracha Lime Chicken Chopped Salad from Lexi's Clean Kitchen (30 minutes or less, dairy-free, egg-free, gluten-free, nut-free, paleo-friendly)
Morrocan Chicken Burgers from Lexi's Clean Kitchen (30 minutes or less, grain-free, dairy-free)
Steak Salad with Cherry Salsa from Lexi's Clean Kitchen (30 minutes or less, dairy-free, egg-free, gluten-free, nut-free, paleo-friendly)
Cold Asian Noodle Salad from Lexi's Clean Kitchen (30 minutes or less, dairy-free, egg-free, gluten-free, paleo-friendly)
Grilled Fish Bowls from Lexi's Clean Kitchen (Dairy-free, gluten-free, nut-free, paleo-friendly)
DIY Rub Grilled Wings from Lexi's Clean Kitchen (Dairy-free, egg-free, gluten-free, nut-free, paleo-friendly)
Caprese Pesto Salad from Lexi's Clean Kitchen (Gluten-free, egg-free, no added sugar)
Asian Grilled Artichokes from PaleOMG (Paleo-friendly, grain-free, dairy-free,
Grilled Peach Salad from Tasty Yummies (Grain-free, dairy-free, egg free, vegan-friendly)
Yellow Watermelon Salad from With Food and Love (no sugar added, grain-free, gluten-free, dairy-free, can substitute red watermelon for the yellow)
Lemon Parsley Grilled Zucchini from Against All Grain (Vegan-friendly, grain-free, dairy-free)
Blissful Triple Berry Wine Slushies from Cotter Crunch (Can substitute frozen tart cherries and 1/4 cup water for the juice! Grain-free, dairy-free, and gluten-free)
Grilled Melon on Cucumber Noodles from Gourmande in the Kitchen (Omit the goat cheese to make this dairy-free and paleo-friendly, grain-free, gluten-free, egg-free, and low-carb)
Jamaican Jerk Grilled Eggplant from Minimalist Baker (paleo-friendly, grain-free, gluten-free, vegan-friendly, 30 minutes or less)
Red, White, and Blue Potato Skewers from Fit Foodie Finds (Vegan-friendly, grain-free, dairy-free)
Grilled Tomatoes and Basil Zucchini from Inspiralized
Watermelon Coconut Cooler from Nom Nom Paleo (vegan-friendly, dairy-free, paleo-friendly)
Grain-free Blueberry Crisp from Detoxinista (paleo-friendly, dairy-free, and egg-free)
No Your Mama's Coleslaw from Smitten Kitchen (Omit the optional blue cheese to make this paleo-friendly and diary-free, gluten-free, egg free, nut-free, and vegetarian)
Paleo Grilled Beef Stir Fry from Fit Foodie Finds (gluten-free, grain-free, egg free)
Killed Lettuce from Brooklyn Supper (Dairy-free, grain-free, paleo-friendly, egg-free, nut-free)
Corn and Peach Salad from Sweet Peas and Saffron (Omit the gouda to make this dairy-free, grain-free, gluten-free, nut-free)
Fajita Chicken Kebabs from Well Plated (Grain-free, gluten-free, egg-free, and nut free. Substitute the canola oil for avocado oil)
Purple Power Salad from My New Roots (Paleo-friendly, grain-free, dairy-free)
Grilled Peaches and Coconut Cream from Super Healthy Kids
Watermelon Sashimi from Minimalist Baker
Zucchini Noodle Spaghetti Salad from Eating Bird Food
Happy Cooking!
30 Clean Eating Recipes To Bring to Your BBQ
These Chicken Wings with Mango-Chili Sauce are a delicious addition to any Summer BBQ! The Mango-Chili sauce is so tasty with a hint of smoky flavor, and compliments the wings perfectly! Throw them on the grill or in the oven for a perfect appetizer or main any night of the week. These wings are made in partnership with the National Mango Board.
I am so excited to partner with my friends at the National Mango Board to bring you today's recipe!
Mangos are a great source of Vitamin C, Vitamin A, and fiber and are a great lower calorie snack at 100 calories a cup! Plus, they are SO flavorful, juicy, and delicious!
These wings lasted about 2 hours in my house. Marinated to perfection with just the right amount of smoky heat, we could not get enough!
I am always on the lookout for flavorful recipes to make for Summer gatherings with friends and family and these wings will definitely be a hit! Blend the sauce, marinate the wings, toss on the grill and devour! The perfect combination of sweet and smoky with just the right amount of spice!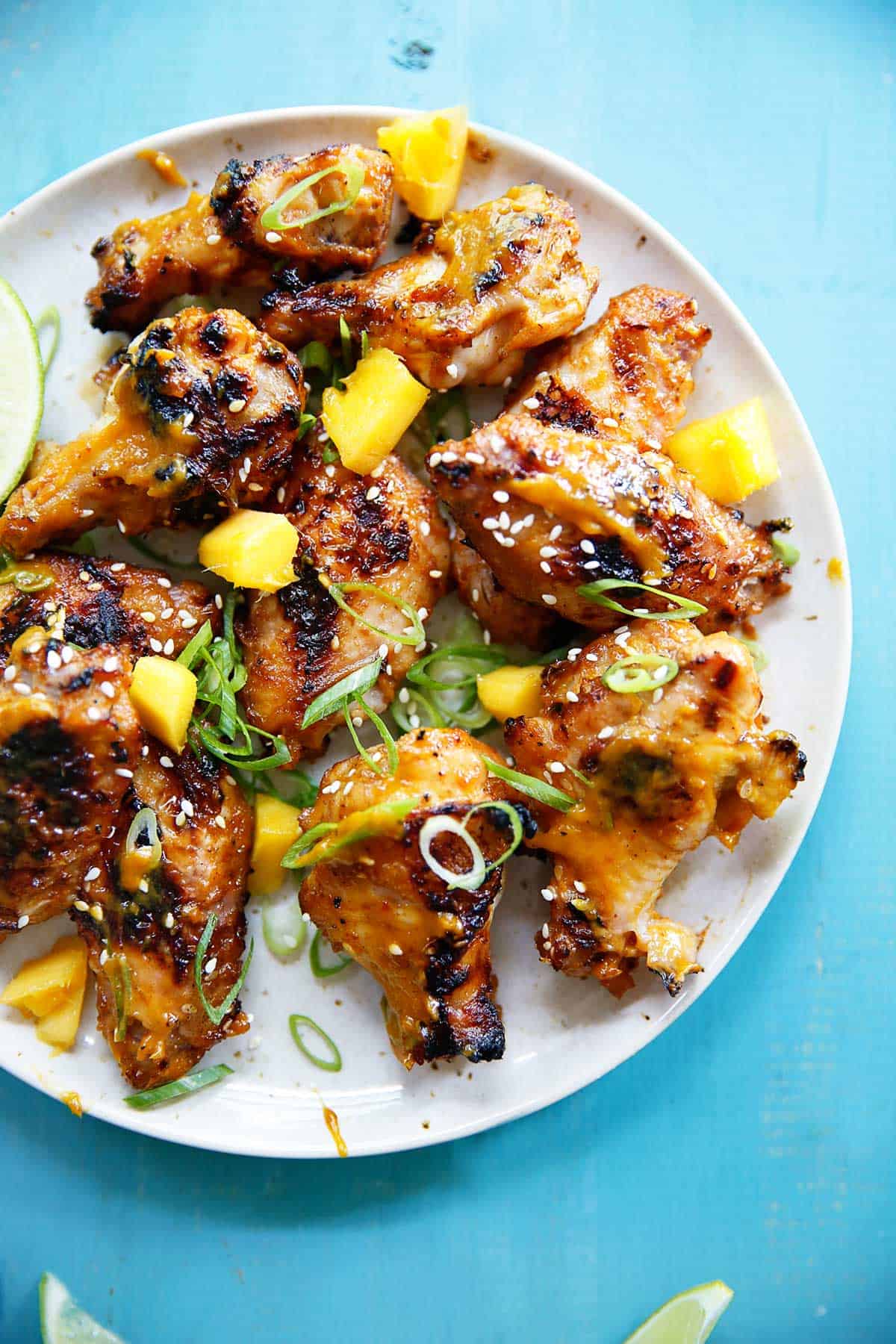 This post in sponsored by the National Mango Board. All opinions are 100% always my own! Check out the National Mango Board's tutorials on How to Cut a Mango and Selecting and Storing a Mango! They are both great tools for all your mango needs.
Chicken Wings with Mango-Chili Sauce
This DIY Best Ever Chicken Rub is the perfect gift to throw together for the griller in your family! Make a small or large batch, place the mix in a cute jar, and add it to a basket with BBQ tools for an awesome holiday gift this season!

DIY Gift Week Day 2!
Yesterday I shared the Espresso Candied Pecans, and today is the Best Ever Grilled Chicken rub from my cookbook! It is a staple. In fact, it's the only grilled chicken I make! It's flavorful and delicious. You can easily make a big batch and send it along with some grilling gear to the grill master in the family. I know I'd like that gift!

Throw together a little basket with the spice mix, these grilling tools, and maybe even a gift card to the local market or his/her favorite butcher!
What You'll Need:
Mini Jars (any will do- adjust sizes based on quantity you are giving)
Printable Labels (these have all the info filled in for your grilling gift)
BBQ Tools (these would make a great gift!)
---
[yumprint-recipe id='413′]
Download your printable spice rub labels HERE.
DIY Best Ever Chicken Rub
Happy Memorial Day! If you are outside BBQing today, these Cantaloupe Ginger Cocktails are a must. They are refreshing, tasty, and lightened up from your average cocktail!

Melon, ginger, and fresh mint for the flavor combination win!
It's smooth, high-quality, and naturally gluten-free made with 88 percent corn and 12 percent buckwheat! So if you're super sensitive to cross-contamination, it's best to stick with products that are made with naturally gluten-free ingredients, like Stoli Gluten Free. you're in luck.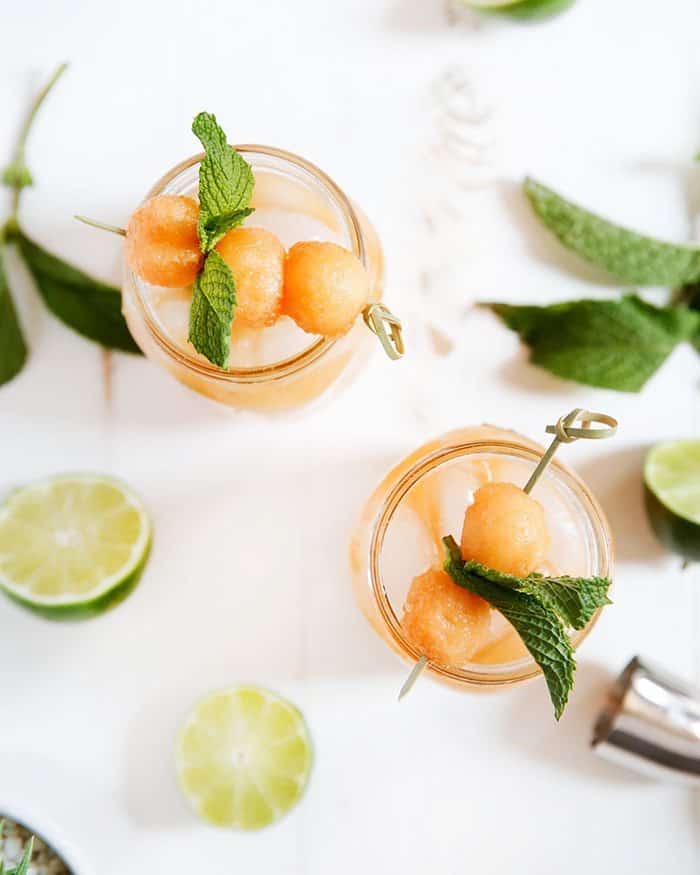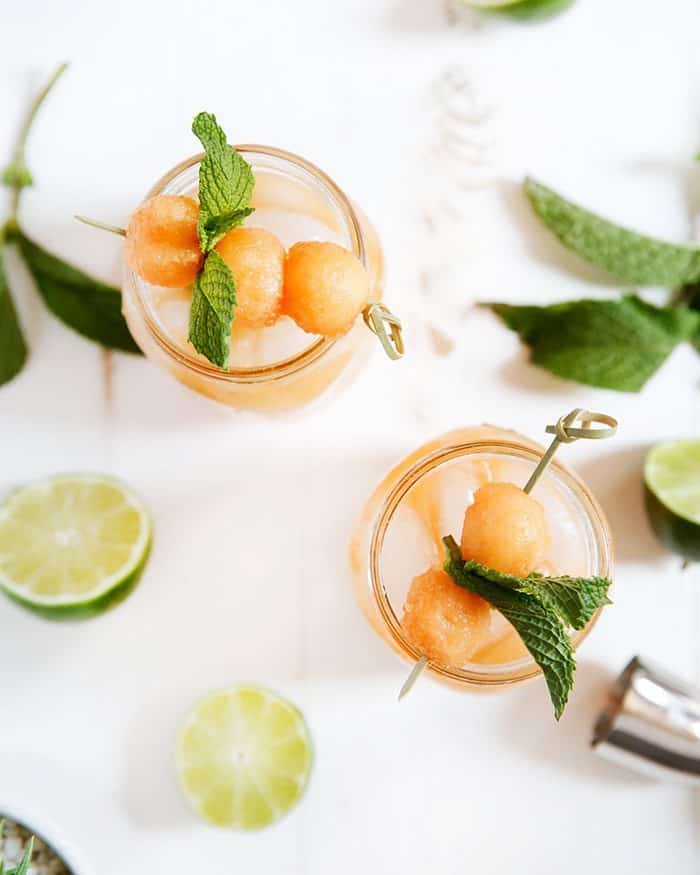 [yumprint-recipe id='364′]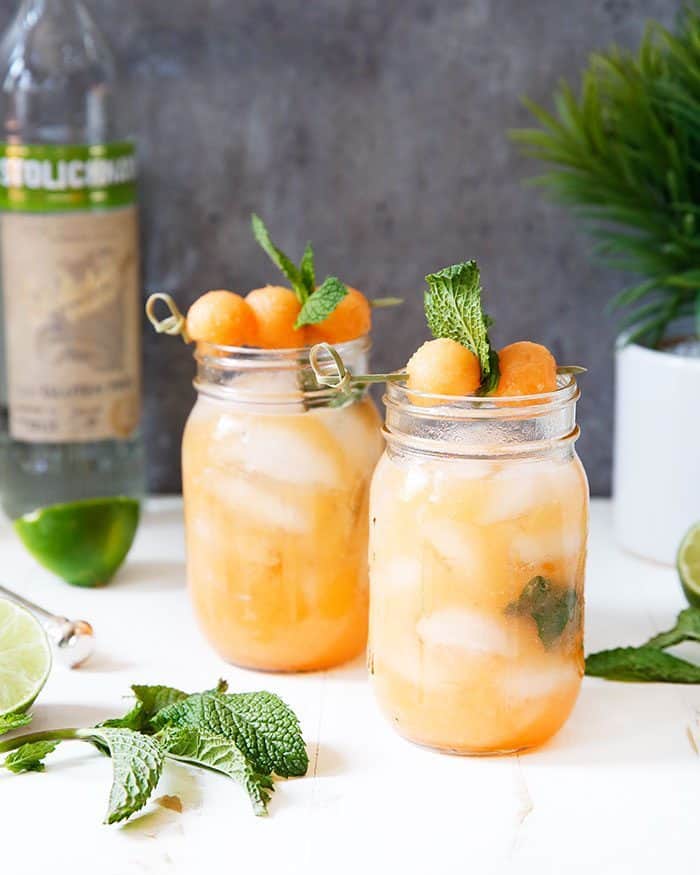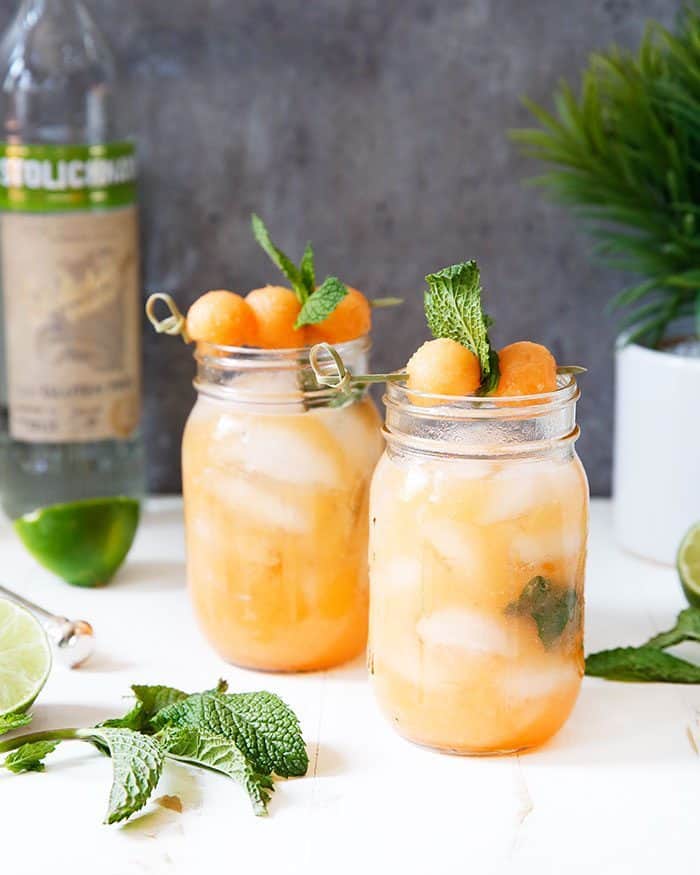 This is a sponsored conversation written by me on behalf of Stoli. The opinions and text are all mine.
Enjoy the day!
Cantaloupe Ginger Cocktails
Here's my new routine:
1. Make extra burgers at our weekend BBQ.
2. The following day, chop up a big head of fresh lettuce (have I mentioned I love our CSA?) and place it in a dish.
3. Place the burger on top, along with all of our FAVORITE burger toppings and more leftovers.
4. Mix up my mustard dressing and boom- awesome lunch.
For this week's Healthy Food Friday with American Express, let's break down the BURGER SALAD, because burgers + salad + all the topping = perfection.

Easy breez-y.
Delicious.
Perfect meal.
[yumprint-recipe id='292′]

I was selected by American Express to contribute to their Tumblr community. As such I was paid for my services, but all opinions in general and about American express are my own.
Burger Salad with Mustard Dressing
If you follow me on Instagram you've likely seen the ribs we've been devouring all week. When my local Whole Foods had grass-fed ribs in stock I got way too excited and bought ALL OF THE RIBS. I was going back and forth with how I wanted to make them, and with a busy few days I decided to whip out my slow-cooker. Because set it and forget it is one of the best sayings ever.
Also, have you made my Homemade BBQ Sauce yet? It is SO easy and free of all the junk those store-bought sauces contain. Do it, trust me.

These ribs are tender, flavorful, meat-y, and deeeeeelicious.
Finger-Lickin' good.

[yumprint-recipe id='294′]
What type of slow-cooker recipes are you looking for? Dinners? Soups? Comment below!
Slow-Cooker Ribs
When I think of wings I naturally think of the fried and unhealthy variation from my good 'ol college days, but that doesn't always have to be the case! These Dry-Rub Grilled Wings are healthy, flavorful, and so simple to make! A perfect crowd pleaser for any occasion!

Father's Day weekend = BBQ, BBQ, BBQ!
This week for Healthy Food Friday with American Express, let's transform this wing party into a guilt-free one! These wings are flavor-packed and grilled to perfection. Plus, they are easy breezy! Perfect for anyone on grill duty this weekend.

Not much better than a bucket 'o wings!

Like this wing recipe? Try these:
Want more football recipes? Try these: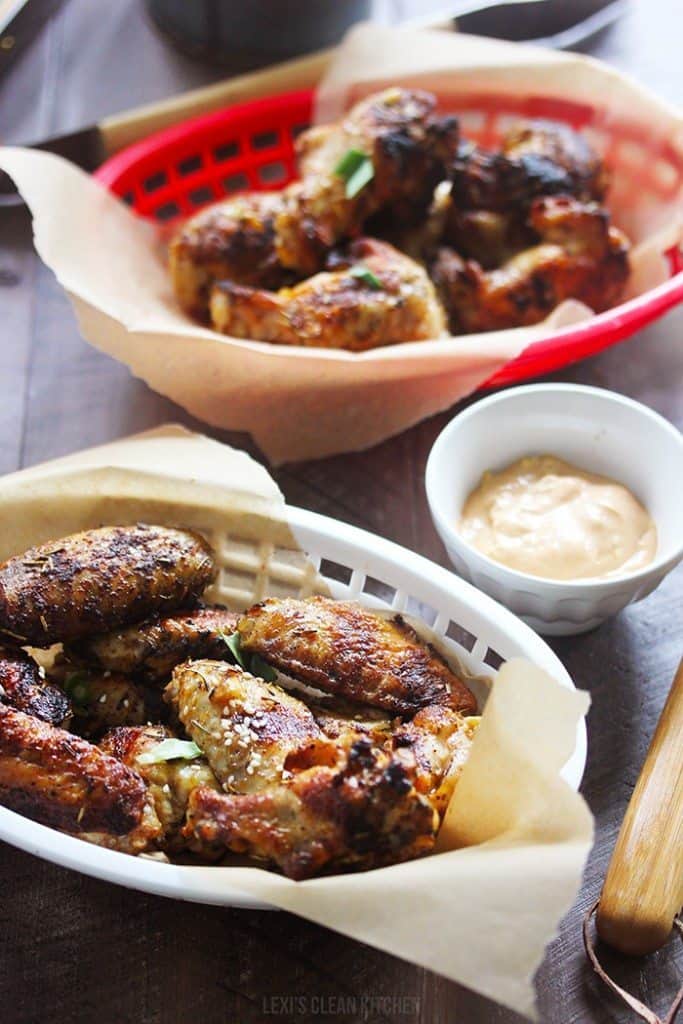 I was selected by American Express to contribute to their Tumblr community. As such, I was paid for my services, but all opinions in general and about American express are my own.
Dry-Rub Grilled Wings [VIDEO]
A refreshing Watermelon Salad made with a unique basil and ginger dressing that is bound to be the hit of the BBQ table spread. It's simple to make, and optionally dairy-free.
Refreshing Watermelon Salad
This watermelon salad is packed with the perfect warm weather flavors: Sweet watermelon drizzled with delicious olive oil, garnished with toasted almonds, mint, sliced red onion, and a sweet basil and ginger dressing. This will be a BBQ hit all summer long.
Taking less than 15 minutes to make, this is the best warm weather salad and the perfect combination of sweet and savory.
Watermelon Salad Ingredients
Watermelon
Olive Oil + Salt + Pepper
Slivered Almonds
Feta Cheese (omit for dairy-free)
Red Onion
Fresh Herbs
Bacon (optional)
Honey
Fresh Ginger
How to Pick a Ripe Watermelon
It can be tricky to tell when the watermelon is ripe! For the best tasting watermelon, buy it locally at a farmer's market. The farmers always know when the watermelons are ripe, and those are the ones they are bringing to market. If you can't find one locally, pick up the watermelon. It should feel heavy for it's size, which indicated a lot of moisture. Give it a good whack, it should sound hollow inside. And finally, look for one with a creamy yellow splotch on it. This is the spot where it was laying on the field, indicating it's ripeness.
How Long Will Watermelon Salad Keep?
This salad is best served immediately. If you are preparing ahead of time, omit the herbs and the dressing until just ready to serve.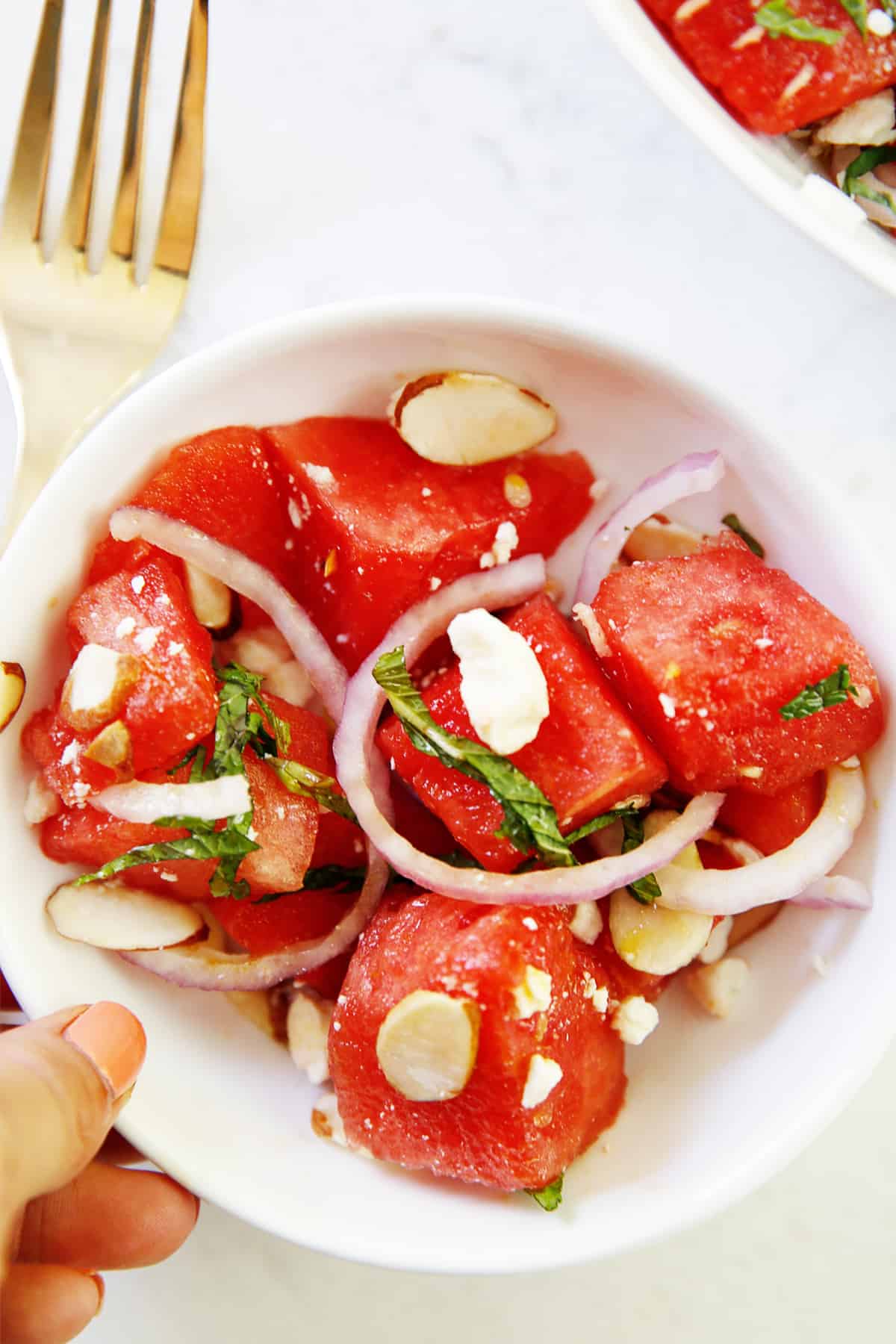 If you like this summer salad, check out these others:
Watermelon Salad with Basil-Ginger Dressing
This Pumpkin BBQ Sauce is a little twist on a classic bbq flavor with a hint of pumpkin spice! This super simple sauce contains no refined sugars, is paleo friendly and takes under 20 minutes to put together! It's easy, and the perfect condiment to spice up your fall bbq.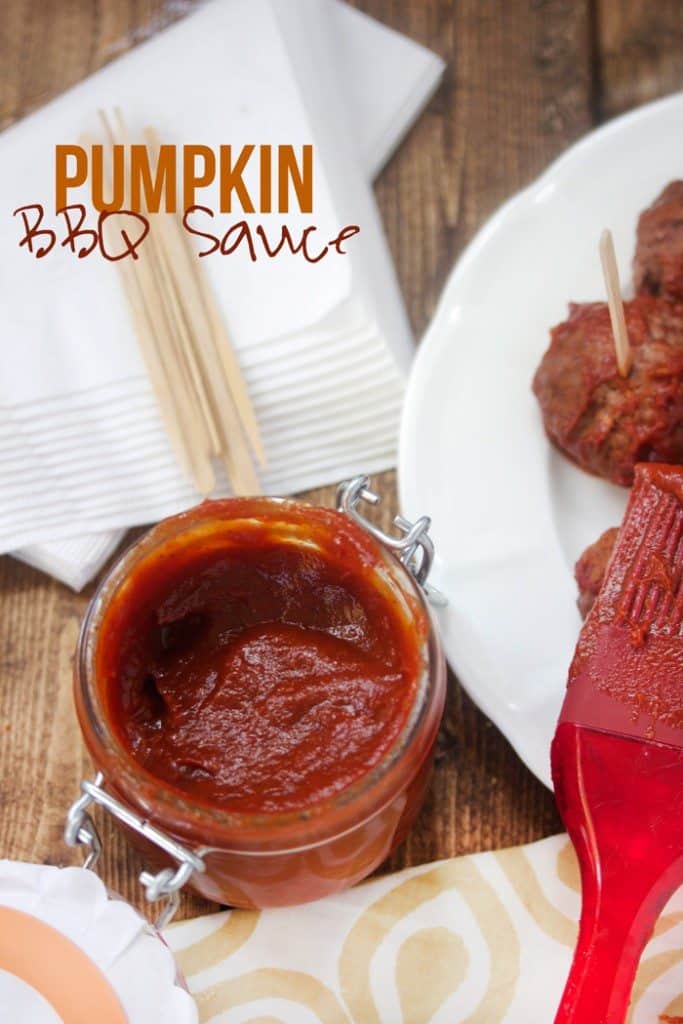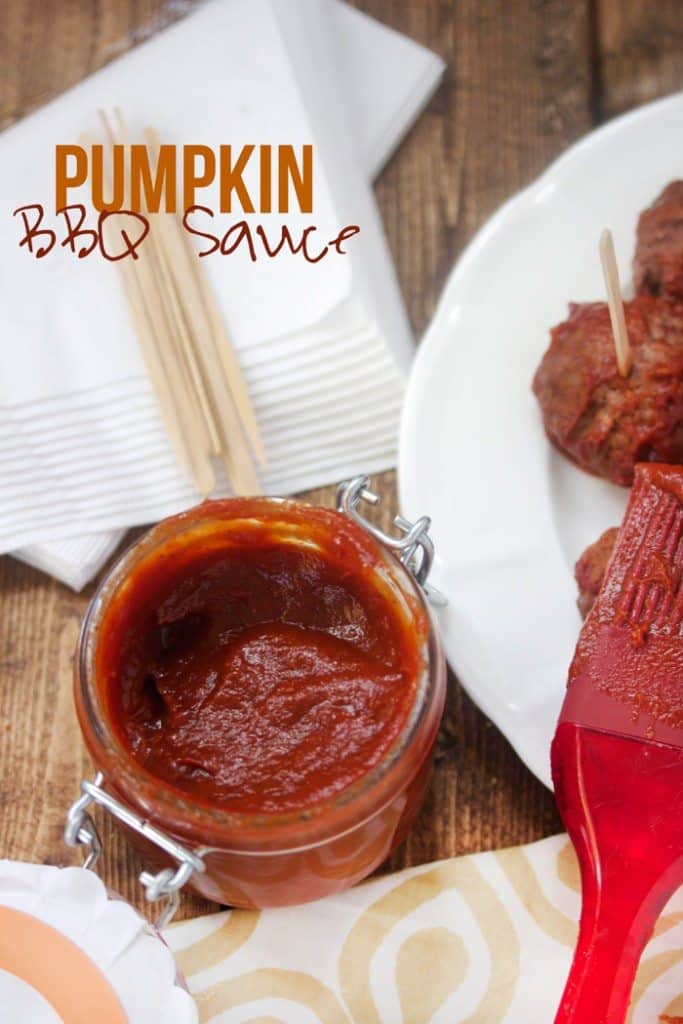 Homemade BBQ Sauce is surprisingly easy to make once you have the right formula! We love this sauce because it's so simple to make and is a great sauce for so many dishes! For this recipe all you need to do is add all of your ingredients to a pot and simmer away!
This BBQ Sauce would be perfect on:
Grilled Chicken
Oven Baked Coffee Barbecue Pork Ribs

If you like this barbecue recipe, check out these others:
[yumprint-recipe id='221′]
Pumpkin BBQ Sauce
Since we moved into our home in June, and now have a porch with a nice grill on it, you can bet I'll be out there grilling as long as I can. I'll likely get a heat lamp to extend the season, that's for sure. I love all burgers, but especially Salmon burgers. They are packed with nutrients, and you can customize the flavors in totally different ways. Since my trip to the Muir Glen Farms I am even more into tomatoes then before, and these burgers give just a touch of that delicious flavor.

These burgers have just the right amount of flavor. They are bursting with scallions, jalapeños, and fresh garlic- and go fantastic with some homemade guacamole and fixins', if you ask me!

Disclosure: This is a sponsored post with Muir Glen Organic Tomatoes. I was compensated  for the time spent developing this recipe. All opinions expressed on Lexi's Clean Kitchen are always my own. My sponsors help make this blog possible!
Tomato Jalapeño Salmon Burgers
My day generally goes as follows (in terms of beverages)

…

water with lemon, coffee, water all throughout the day and evening (an occasional martini or glass of wine), and possibly a second cup of coffee. See, I generally don't opt for a lemonade, a juice, and definitely no sodas around here. Usually it's just water. Every so often during a hot summer day I crave a refreshing drink that has a little something sweet.
Making time to relax, read, and focus on my mind and body is something I am focusing on this Summer. Relaxation, sleep, and removing stress is just as big of a part of a healthy lifestyle as is eating clean and working out. So, whip up a batch of this refreshing Strawberry Lemonade with Mint and make some time for YOU today.
[yumprint-recipe id='170′]
How do you make time to relax? What is your favorite thing to do that completely clears your mind?
Strawberry Lemonade with Mint
This Slow Cooker Pulled Pork is the ultimate pulled pork recipe! Tender and flavorful pulled pork cooked in a homemade sweet and smoky refined sugar free BBQ sauce… doesn't get much better than that! Summer BBQ perfection.