How to Make Lentils
Perfectly cooked lentils should be tender, without falling apart, and well-seasoned. This How to Cook Lentils tutorial walks you through our two favorite cooking methods for green and brown lentils, along with all the best tips for making them!
How to Cook Lentils in the Instant Pot and Stove Top
Lentils are an absolute pantry staple! They are nutritious, inexpensive and easy-to-cook, making them perfect year-round. These hearty legumes are good enough be enjoyed as-is, with a bit of seasoning, and topped with an egg. Or lentils are great to add in to a salad or soup. We set out in search of the best ways to cook brown and green lentils and we're giving you all the details here. There are a lot of different methods and techniques out there for how to cook lentils perfectly, and we're sharing all that we learned.
After many trials and many, many batches of lentils, we've decided on two different methods: stovetop cooking and in the Instant Pot, as the best ways to cook lentils.
Let's Talk Lentils
Lentils are a great plant-based way of getting fiber and protein. They cook quickly compared to beans, and are super versatile in how they can be consumed. Lentils have a delicate earthy flavor that pair well with lots of dishes but they also have the ability to take on the flavor of a dish. They are equally as delicious as a side dish as they are as the base of a veggie burger.
Types of Lentils
There are so many different types of lentils out there, ranging from the most commonly found green or brown lentils to speciality lentils known as Puy lentils.
When you find lentils that are without a specific name, they are likely brown lentils. Brown lentils hold their shape well and are the least expensive.
Green lentils are the next most commonly found lentils. This post covers the cooking instructions for brown and green lentils only.
Red or yellow lentils are a bit different in that they tend to fall apart when cooking, and can sometimes be labeled as split. They are ideal for soups or stews. You cannot cook red lentils the same way you can cook green or brown lentils, as they need much less cooking time.
There are also specialty lentils named Beluga Lentils or Puy lentils. These specialty lentils make great substitutions for meat as a centerpiece in a meal. They hold their shape similarly to green or brown lentils, though sometimes cook slightly quicker.
Do Lentils Need to be Soaked?
Lentils do not need to be soaked before cooking! However, if you do wish to reduce the cooking time, you can soak the lentils as you would beans. It can reduce the cooking time by about half, depending on how old the lentils are. The older the lentils, the longer they take to cook.
Do Lentils Need to be Rinsed?
Yes! Lentils should be picked through to make sure there is no debris present (such as rocks or small sticks) and then they should be thoroughly rinsed before preparing to wash off any dust or dirt.
Our Favorite Ways to Cook Lentils
We ate a lot of lentils for a few weeks while we tested out different cooking methods until we found what worked the best. We found that the best methods for cooking lentils are on the stove or in the Instant Pot.
How to Cook Lentils on the Stove:
Cooking lentils on the stove is probably the most popular method of making them. To do so, you add lentils and water to a pot. Additionally, you can add in herbs and a shallot for infusing extra flavor into the lentils. Then turn on the heat and bring the lentils to a rolling boil. Once boiling, cover and reduce the heat and simmer gently for 20-30 minutes until the lentils are tender but not mushy. Occasionally check lentils to see if the water has evaporated, and add more water as needed. Then, remove from the stove top and discard the herbs and shallot (if using) and strain any water from the lentils. At this point it's time to season them while they are still hot. Season with salt and pepper. The reason you season them after you cook them, is because adding salt to the lentils while they cook could prevent them from properly softening up.
How to Cook Lentils the Instant Pot:
You know we love our Instant Pot in the LCK test kitchen. So it's obvious we had to try making this legume in it too.The Instant Pot cooks lentils perfectly. To cook them, you'll simply add the lentils and water to the Instant Pot liner and set it to cook for 5 minutes with 5 minutes of natural pressure release and we promise you'll have perfect lentils. Just make sure to take the lentils out of the Instant Pot liner right away so they do not continue to cook!
Keep scrolling for the full directions and ingredients.
How to Use Lentils
Lentils have so many great uses! The easiest way to use them is as a simple side dish!
If serving as a side dish, once cooked and drained you can add a little olive oil or butter, and additional seasonings such as black pepper and fresh herbs, or even a bit of lemon juice or vinegar, as desired.
Or you can use the lentils in all kinds of recipes! Lentils are great:
in salads
in soups
in veggie burgers
topped with a fried egg
How to Freeze Lentils
Green and brown lentils freeze very well. Making a big batch at the beginning of the month and portioning them out can be very useful for meal prep, as they defrost relatively quickly.
To freeze lentils, make sure they are drained well and cooled off. Place on a sheet pan and place in the freezer for 15-20 minutes to help them dry out a bit more and slightly freeze. Then transfer the lentils to a storage bag or container. Freezing them on the tray initially helps them keep their shape once defrosted.
When ready to use, you can either place in the refrigerator to defrost overnight, or if in a rush, place at room temperature for 15-20 minutes until mostly defrosted.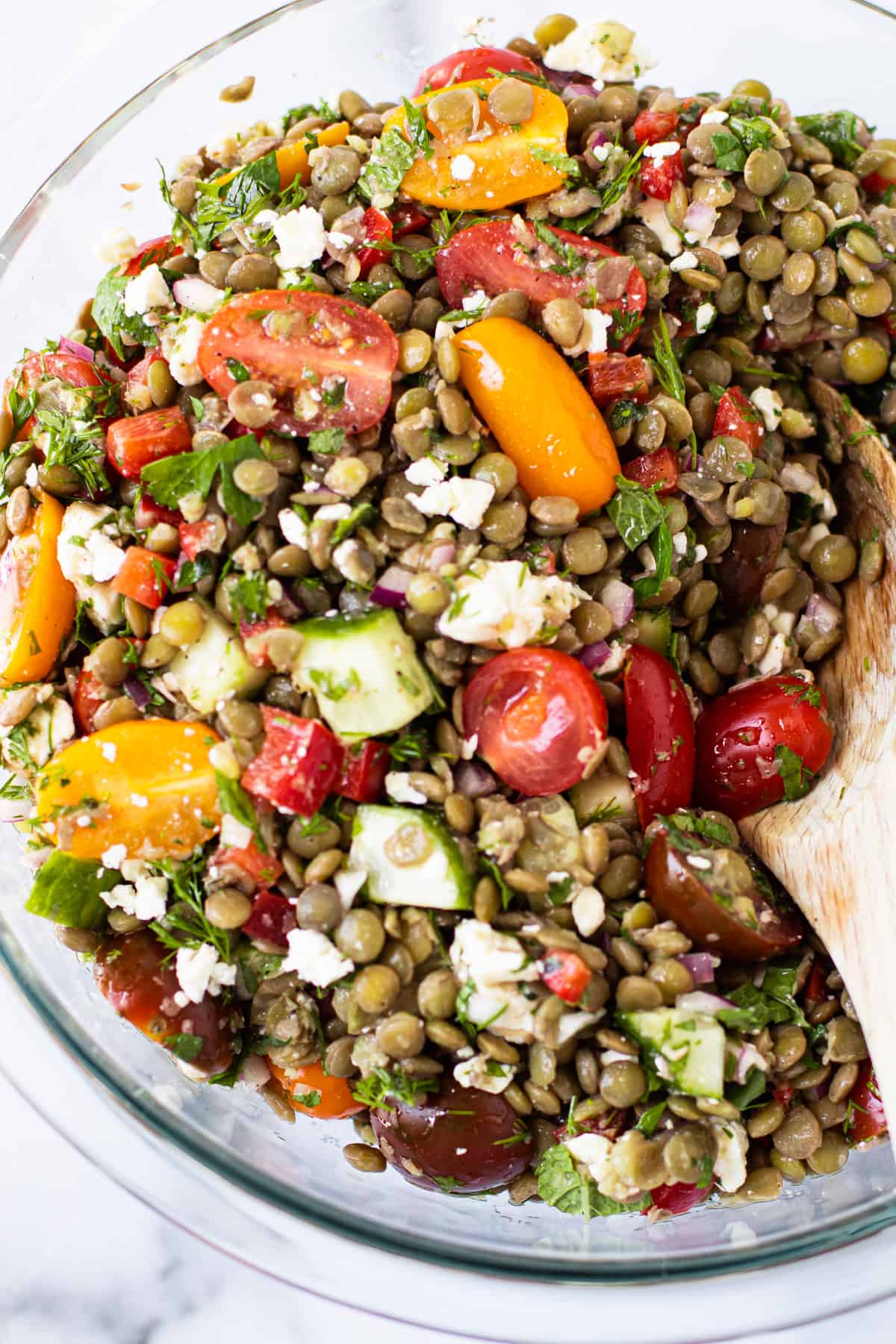 Watch the video here:
---
---
If you like this guide on cooking lentils, check out these other guides:
How to Make Lentils
Want to learn How to Cook Bacon in the Oven to make for the easiest, crispiest best bacon ever? Scroll down!
How to Cook Crispy Bacon in the Oven Guide
Alright, we're calling it: Cooking bacon in the oven is the BEST way to cook bacon. Here is why: It makes the crispiest bacon, with the least mess and with virtually no hands-on cooking time. Follow the guide below to learn just How to Cook Bacon in the Oven!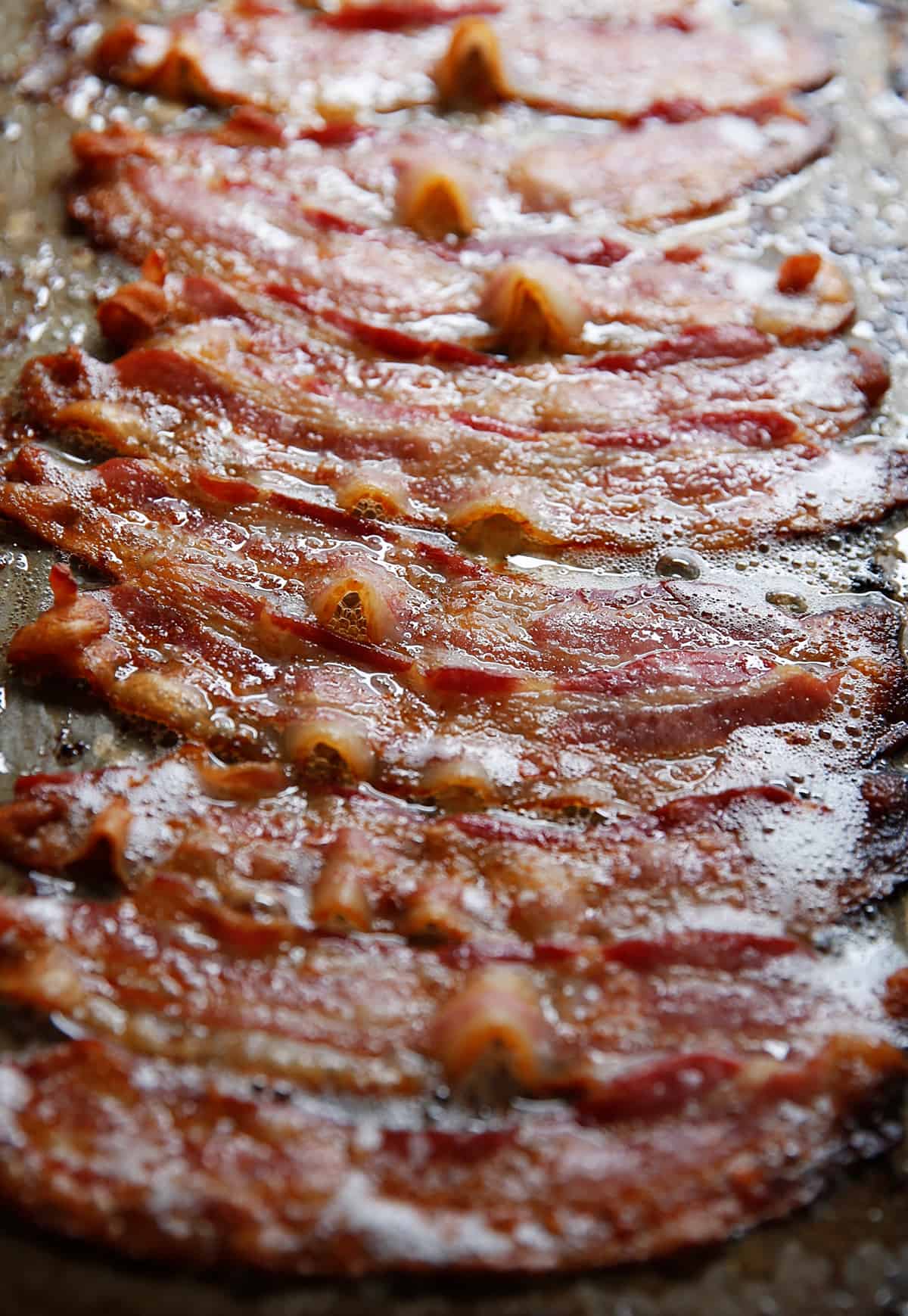 Step 1: Buy the best bacon you can get. Because you deserve good bacon!
Step 2: Pre-heat oven to 400ºF Line a 12″ x 18″ sheet pan with parchment paper. There will be a lot of bacon grease on the pan and lining it with parchment allows for an easier clean up because you can let the bacon grease cool and either save for another cooking use or discard. Don't put bacon grease down the drain! It can clog your pipes.
Step 3: Lay out the bacon on the sheet pan. You can let the bacon touch because as it cooks it will shrink up.
Step 4: Put bacon in the middle lower rack in the preheated oven and cook for 18-22 minutes, depending on how crispy you want your bacon!
Step 5: Drain the bacon on a paper towel.
Want free bacon?
Wondering how to get free, Whole30 approved bacon? If you aren't familiar with ButcherBox, let me introduce you! Each month, ButcherBox curates a one-of-a-kind selection of the healthiest, tastiest meats, humanely raised and free of antibiotics and hormones. Or you can customize your box and select your favorite cuts and get 20% more meat. The price works out to less than $6.00/meal and shipping is always free. You can also space it out so it's not every 4 weeks, too!
Get FREE bacon
FREE Shipping
$15 OFF!
Order here and to get this deal!
---
Oh now you are looking for ways to use up that perfectly cooked bacon?
Well first off you can just eat it right up. Or serve it with eggs. Or you could make these recipes:
If you like this how to recipe, check out these others:
How to Cook Bacon in the Oven
Love fresh pineapple but not sure how to cut it? Scroll on down for a tutorial on How to Cut a Pineapple and our best tips for picking a ripe one at the grocery store.
How to Cut a Pineapple
Pineapples are SO JUICY and so naturally sweet. Pineapple makes the perfect after dinner treat. They're also one of the least expensive and most popular additions to fruit salad. All of that is well and good, but you may be asking yourself how on earth do you cut one? If you've never cut a pineapple it can feel intimidating! Fear not, we're showing you just how to do it in a few easy steps!

Step 1: On a steady surface cut off the prickly crown of the pineapple.
Step 2: Turn the pineapple around and trim off the bottom, to about 1″ inch up from the bottom.
Step 3: Put the pineapple on the flat surface to steady the fruit. This is always important with anything you are cutting up!
Step 4: Trim the green/brown sides from the pineapple. Preserve as much as the sweet yellow flesh as possible.
Step 5: Remove all of the "eyes" (which are the holes with the fibrous spike on it) on the pineapple with a small pairing knife.
Step 6: Cut out the hard woody core: Locate the core (you can see it is the middle part that looks distinctly different) and then cut right up against it through the pineapple. Repeat this four times until you've cut the core out and you are left with 4 large chunks of juicy pineapple.
Step 7: Lay one of the large flat surfaces of the pineapple on the cutting board and slice it into 1″ semi-circles.
Step 8: Turn the pineapple and cut from the opposite side to make a large dice! Repeat with all of the large pieces until the pineapple is all diced up.
How to Pick a Ripe Pineapple
Pineapples are a tricky fruit to tell if it is ripe! Here are some quick ways to tell if your pineapple is ripe:
Look for a pineapple with green fresh looking leaves.
If that leaves pull off easily at the center, it's a sign that it is ripe
Smell the bottom: if it's smells like pineapple you are on the right path. If it smells fermented than it is overripe. If it doesn't smell like anything then it is not ripe.
---
Watch the video:
---
Check out these pineapple recipes: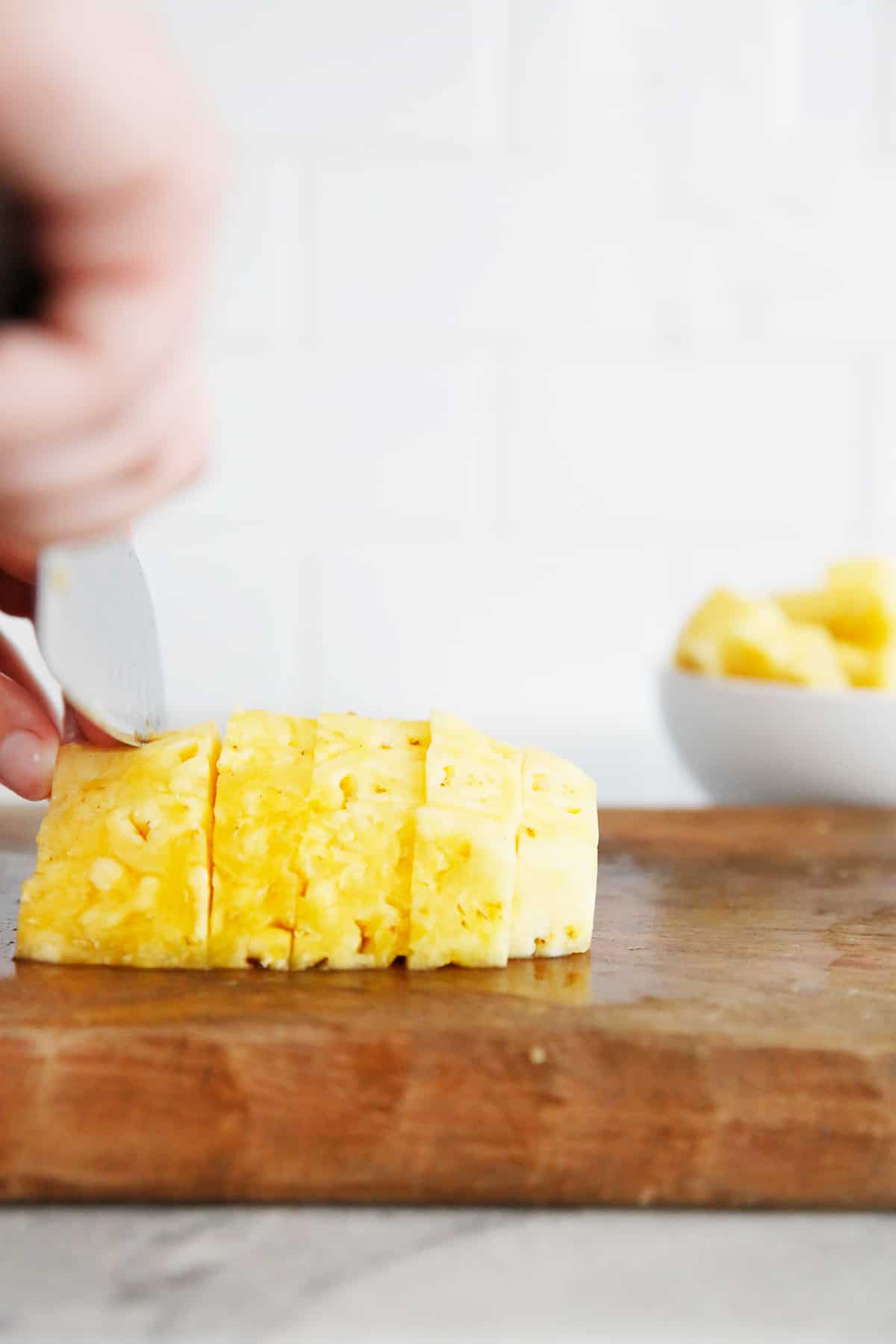 How To Cut and Pick A Pineapple
Cooked spaghetti squash is a great nutrient dense, gluten-free, lower carb alternative to pasta or rice noodles. There are two great methods how to cook spaghetti squash and we're giving you all the details you need to know!
How to Cook Spaghetti Squash
Spaghetti squash noodles are probably the easiest alternative to traditional pasta there is. While it doesn't taste exactly the same, spaghetti squash is a nutrient-dense, low carb alternative to pasta (whether gluten-free or not). If you can't eat pasta or noodles for whatever reason, this is a pretty good substitute. It can take the place of almost any noodle dish, ranging from a classic "spaghetti" and meatballs, to a baked Italian "pasta" dish or even as a Pad Thai. Cooking spaghetti squash is so simple, being a mostly hands off cooking task. The hardest part is slicing it in half, so we are giving tips below.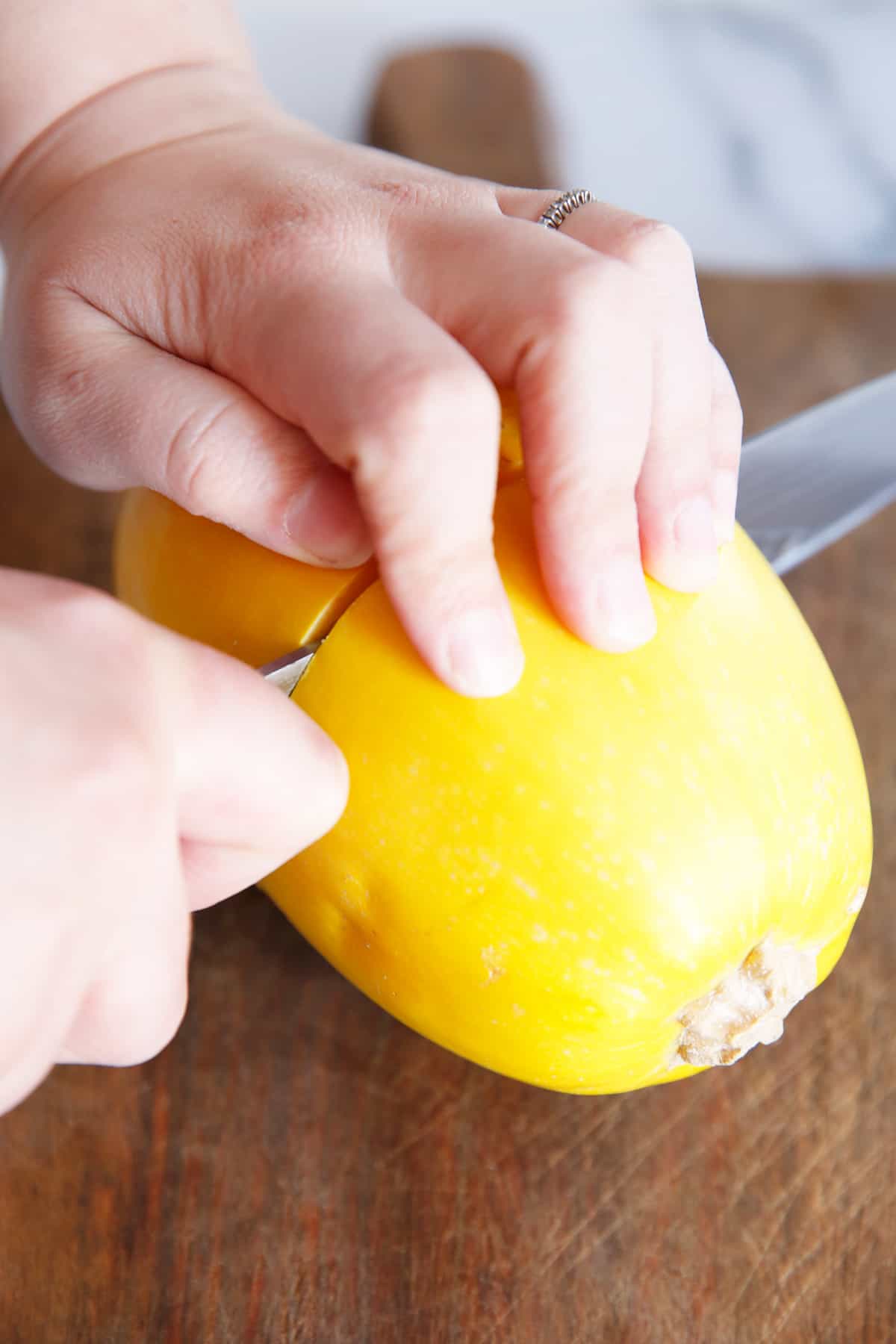 How to Safely Cut It:
Your best answer to safely cutting a spaghetti squash is to have a large sharp knife, and a flat stead surface to cut it. With one hand, steady the spaghetti squash, and with the other press the knife into the squash before using your weight to leverage the knife through the squash. Once the knife is at least an inch inside the squash use your other hand to push down on the knife until it cuts through the squash entirely.
We cut the squash in two ways:
Crosswise the the middle: This is our preferred method. This way is easier because there is less squash to cut, and you don't have to go close to the stem. This results in long strings of noodles.
Lengthwise: This method is harder to cut the squash and results in shorter noodles. Don't try to attempt to cut through the hard stem. Once you've cut to that, take the knife out and use your hands to pull apart the spaghetti squash halves.
Still are afraid to cut the squash? You can always cook the squash whole, and cut after it is cooked. It's obviously much easier to cut after it is soft, but we don't prefer this method (see below as to why).
Can you Cook Spaghetti Squash Whole?
Yes you can, but this was not our favorite method of cooking it. If you are truly intimidated by cutting a squash, cooking it whole certainly makes it a lot easier to cut, but if you follow the tips above you should be able to safely cut a spaghetti squash. We didn't like the result of a whole cooked spaghetti squash because it is harder to scoop out the seeds when they're soft because you can't easily distinguish between the inedible seeds and the edible squash strands.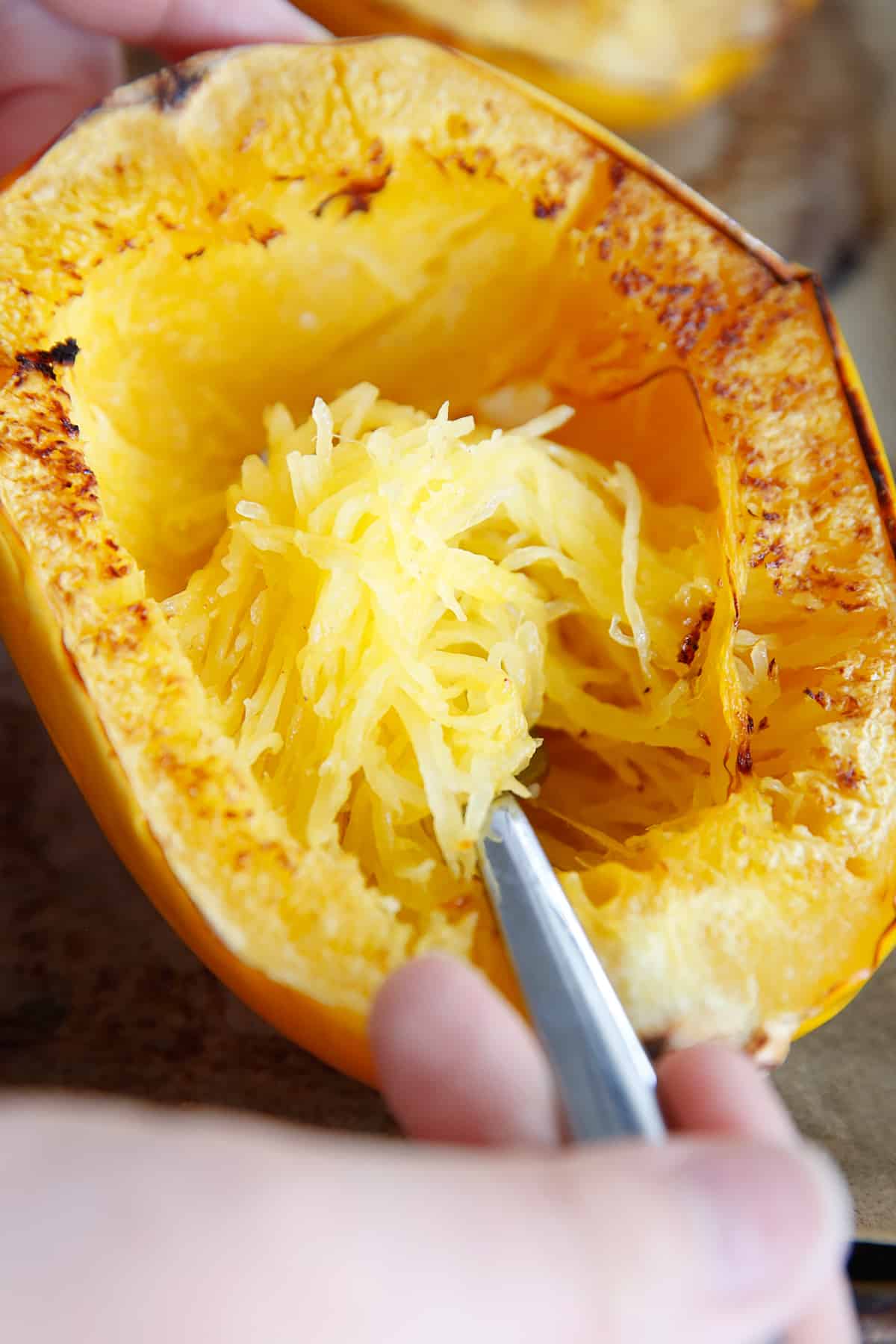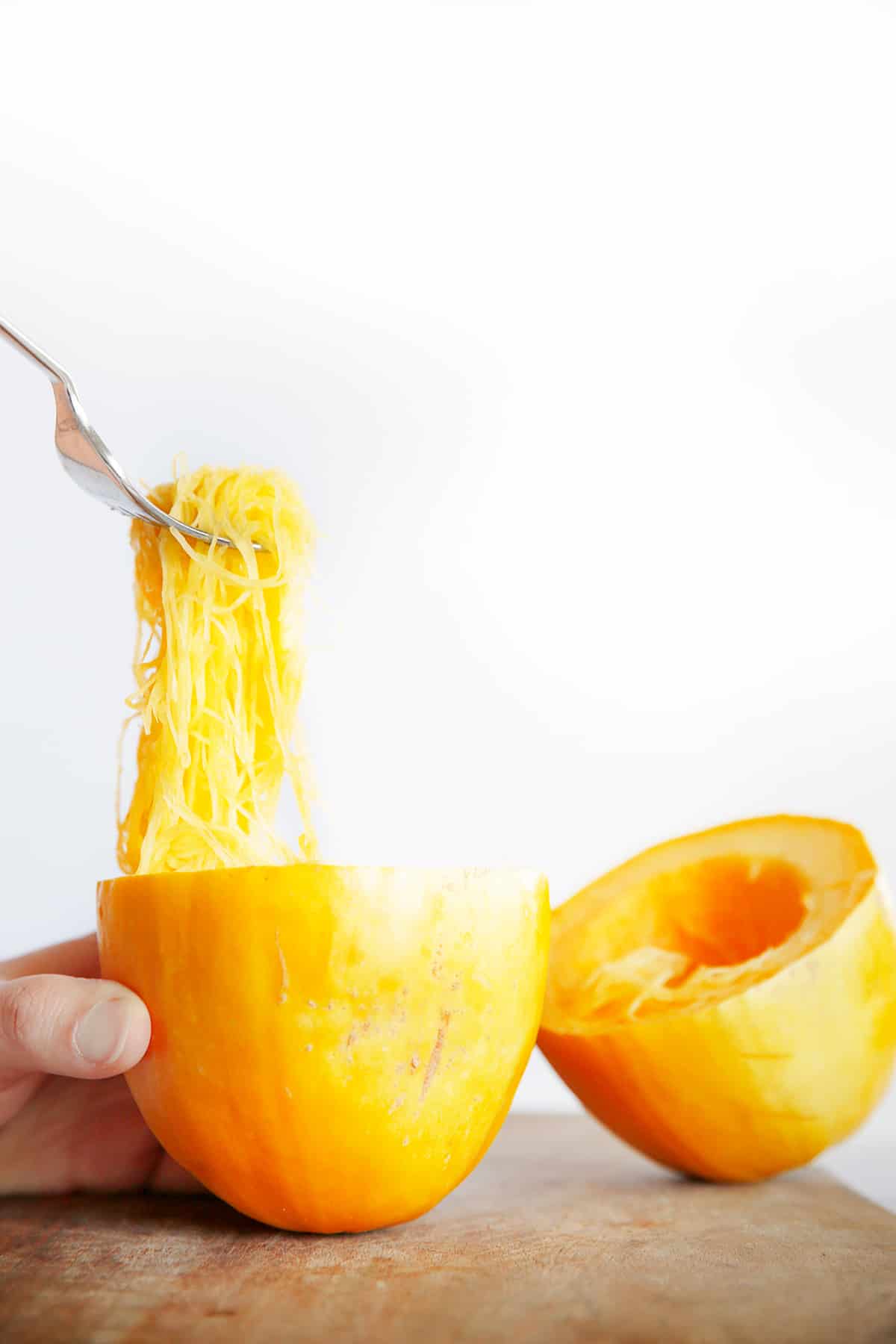 Our Favorite Way to Cook It
We are fans of cooking spaghetti squash in both the oven and in the Instant Pot. There is a slight difference in taste, and an even greater difference in cook time between these two, but knowing both is useful.
How to Cook Spaghetti Squash in the Oven
Roasting spaghetti squash in the oven takes longer, but it results in tender caramelized squash noodles. This is definitely our preferred method if we have the time. To make it, all you do is split the spaghetti squash, scoop out the seeds and drizzle with oil, salt and pepper and roast until fork tender. More detailed directions are below in the recipe section!
How to Cook Instant Pot Spaghetti Squash
Steaming spaghetti squash in the Instant Pot is by far the quickest method, and great when short on time! The squash noodles have a more straight-forward taste to them since there is no caramelization occurring. We prefer splitting the spaghetti squash and scooping out the seeds before cooking it, but you can steam it whole.
Do you Eat the Skin of the Spaghetti Squash?
No! While some squash has edible skin, this is not one of them. Simply scoop out the "noodles" and discard the skin.
How to Use it
Treat spaghetti squash noodles like pasta! It can be eaten as is with a little oil, salt and pepper and parmesan cheese or you can use it in any variety of recipes. Check out below for some of ours:
Recipes using Spaghetti Squash:
Watch the video:
How to Cook Spaghetti Squash
These Paleo Marshmallows, made with honey and maple syrup, are a surprisingly easy (and impressive) project, and also the very best tasting marshmallows you're likely to ever eat. Below we offer so many tips on successfully making them, as well as options to flavor them!
Paleo Marshmallow Recipe
After so many of you successfully made our Homemade Marshmallow Fluff and loved it we knew it was time to get testing to make Paleo Marshmallows! It may seems a little daunting to think about making something like marshmallows, but truly it isn't that hard. Making these marshmallows is not only a fun activity with impressive results, but seriously they are the BEST marshmallows you'll ever have tasted–we promise.
What makes this gelatin marshmallow recipe different?
Our recipe is a little different than a lot of marshmallows out there. Aside from being made without any corn syrup and using only unrefined sugars to sweeten the marshmallows, our recipe is different because it includes egg whites, which is a classic French style. The addition of egg whites makes for a fluffier marshmallow that is easier to handle while you are making them. But don't worry, the egg whites are cooked by the hot sugar syrup to a safe temperature. These fluffy marshmallows are melt-in-your-mouth delicious and are worth the (small) effort to make homemade.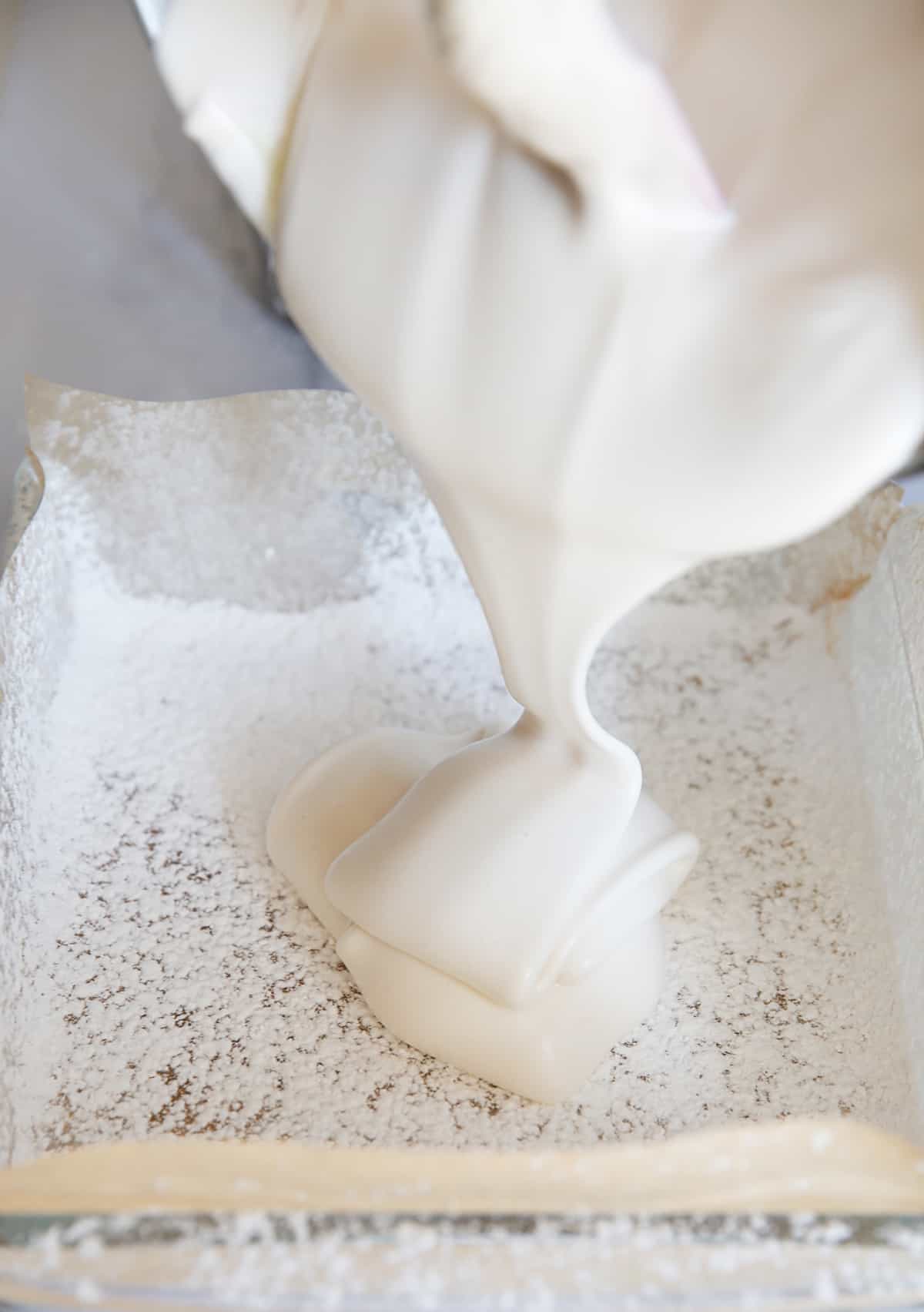 Here are the Tools You Need for Homemade Marshmallows
Essentials: 1 Medium to Large Heavy Bottomed Pot, spatulas and small bowl
Thermapen or candy thermometer
Dish (for setting the marshmallows)
Pizza Wheel (for cutting marshmallows)
Tips for Making Homemade Marshmallows
The first thing you need to know about making marshmallows is that you are making candy! You'll be cooking up a very hot sugary syrup and then pouring it into beaten egg whites and softened gelatin and whipping them up until the whole mixture has transformed into a glossy stiff peaks. Then you place it in a starch dusted container and let it set before cutting.
The size of the pan you use to make the square marshmallows depends on how big you would like your square marshmallows. For a smaller marshmallow squares use a half sheet pan, or a 9×13 pan. For larger marshmallows use an 8″x8″ or a 9″x9″ pan. Or alternatively you can make cylindrical marshmallows, which will need a sheet pan to hold the piped mixture.
Prep your containers that you will be setting the marshmallows in ahead of time. You want to line them with parchment and vigorously dust with arrowroot or a combination of arrowroot/ powdered sugar. Don't worry you won't be eating all of this but it is merely to coat the sticky part of the marshmallow and you shake off any excess starch.
The bowl and whisk attachment of your electric mixer must be cleaned well because if there is any grease in it, it will prevent the egg whites from whipping up properly.
Use a mild flavored honey. A strong flavored honey, or raw honey will shine through more with a honey flavor (of course). We use a mixture of honey and maple syrup so that one flavor isn't more dominate and the two together works more as a sweetener as opposed to be a flavor component.
The added water in the sugar mixture helps the sugar come to a boil without burning. Put the water in the pot first, then the other two sweeteners. Do not stir the pot. Do not move the pot. You run the risk of crystallizing the sugar, especially because we aren't using corn syrup.
Make sure you handle the gelatin properly. You'll want to let it bloom, or hydrate properly as the instructions indicate. The hot sugar syrup acts as the means to melt it so that it can fully incorporate in the marshmallow cream. It will set up after the mixture cools.
You want your sugar mixture to reach the "soft ball" stage or 235ºF-240ºF. This stage gets it's name from the fact that if you put a droplet of cold water into the boiling sugar, it will turn into a soft ball. This hot sugar mixture is what cooks the egg whites and turns it into marshmallows. If you didn't have a thermometer you could theoretically test the doneness of the sugar by dropping it in water and watching the reaction, as described above.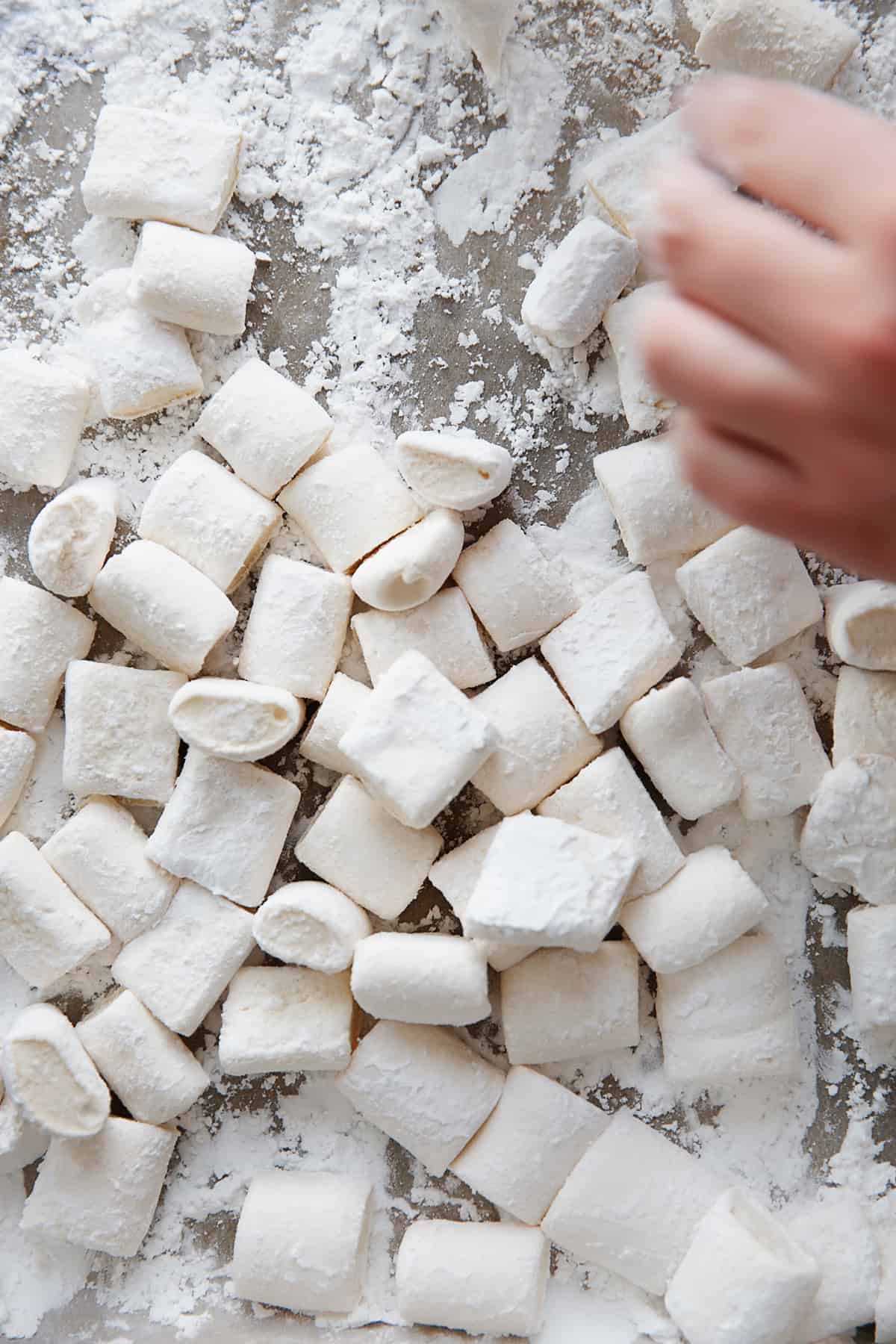 Troubleshooting Tips for Paleo Marshmallows
There are lumps in the bloomed gelatin: It wasn't bloomed properly. You can try to remove the lumps of the gelatin, or if there are too many you should start over with the gelatin process.
If the egg white mixture hasn't thickened up: Either the sugar syrup was not the proper temperature, or you haven't whipped the egg whites long enough, or possibly the bowl had some grease in it. So If it isn't looking thick and glossy, try whipping longer. And of course use a thermometer to make sure the sweetener has boiled enough! U
The marshmallows are too sticky to work with: Use more starch! Marshmallows are super sticky and you need to coat them in enough starch in order to handle them. You can always dust off the starch after you have finished cutting them, but know that if there isn't enough starch on them before you go to store them they could end up a sticky mess, so go heavy handed with the starch.
The marshmallows are very wet: The batter was likely under whipped.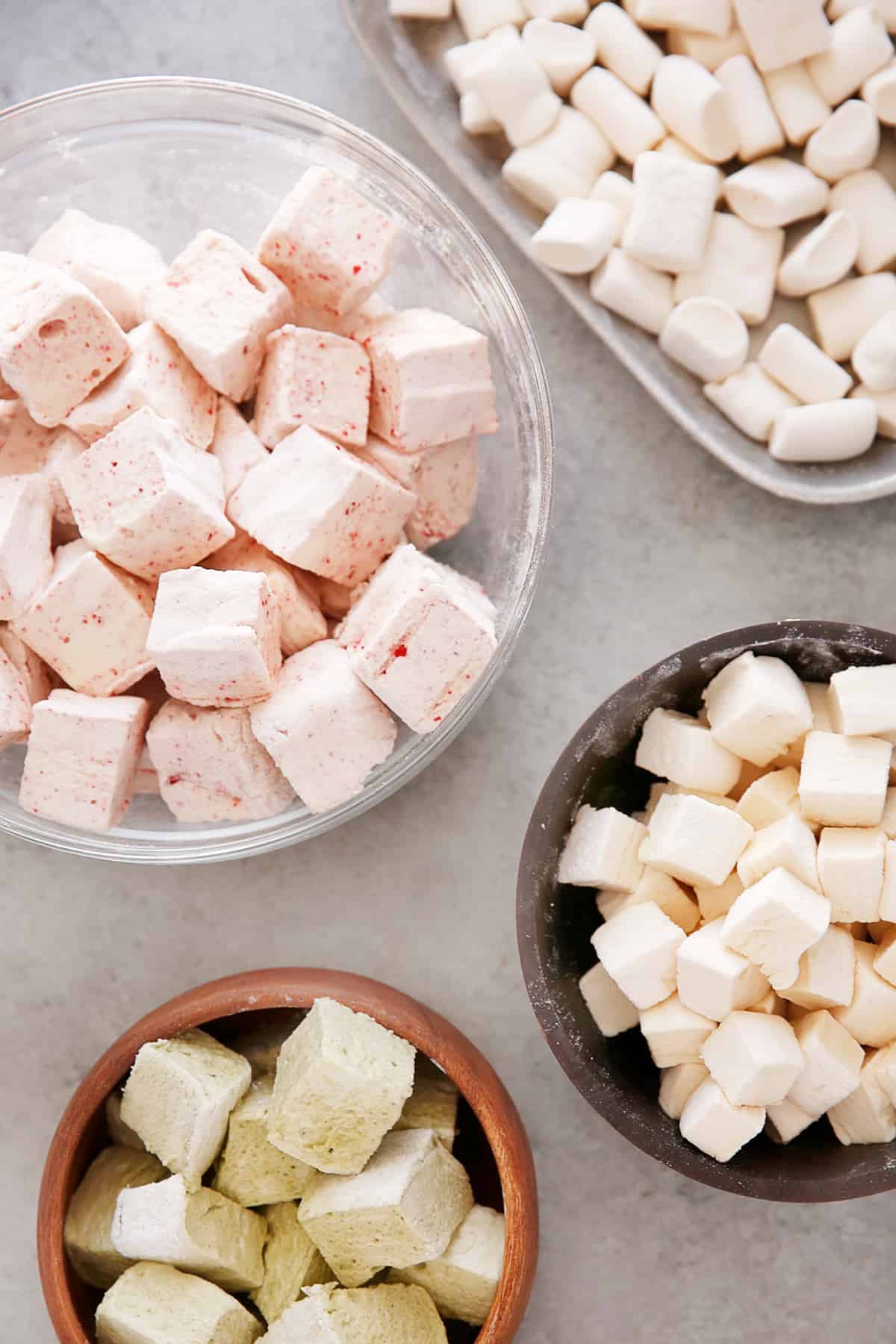 How to Store Paleo Marshmallows Made with Egg Whites?
Since there are egg whites in this recipes, this marshmallows cannot be stored indefinitely like marshmallows made with only sugar / corn syrup. Before storing, let the cut marshmallows "dry out" for at least 6 hours, or overnight. Store the well dusted marshmallows in an airtight bag / container for up to 1 week at room temperature. We doubt they will last that long anyways! If you find that the marshmallows have started to let out some moisture (which can happen naturally with homemade marshmallows, or sometimes the cause is under whipping the batter) take the marshmallows out of the bag and sift again with arrowroot and powdered sugar mixture and let dry before placing in another clean, dry container.
Options for Flavored Marshmallows
The possibilities are endless as to what you can add to the marshmallow cream mixture before you set, or even what you coat the marshmallows in at the end to flavor them. We tried out a few different add-in's to flavor the marshmallows. Choose your add-in and fold them after the egg whites have thickened up. You can also divide the marshmallow mixture and make multiple flavors with one batch of marshmallows. You have to work quickly though because ones the marshmallow cream cools down it will set.
Freeze Dried Fruit: We tried strawberries but bet any freeze dried fruit will work well here. Start with 1/4 cup crushed freeze dried fruit.
Matcha Powder: About 1-2 tablespoons
Espresso Powder: Start with a teaspoon and add more if needed
Cinnamon: Start with 2 teaspoons and add more if needed)
Cocoa: Add about 1-2 tablespoons
Dried Ginger or Turmeric: Start with a 2 teaspoons for a batch
Mint Extract (a few drops) and Chocolate Chips
Instead of coating with arrowroot, try coating with:
Shredded Coconut
Crushed Nuts
Cocoa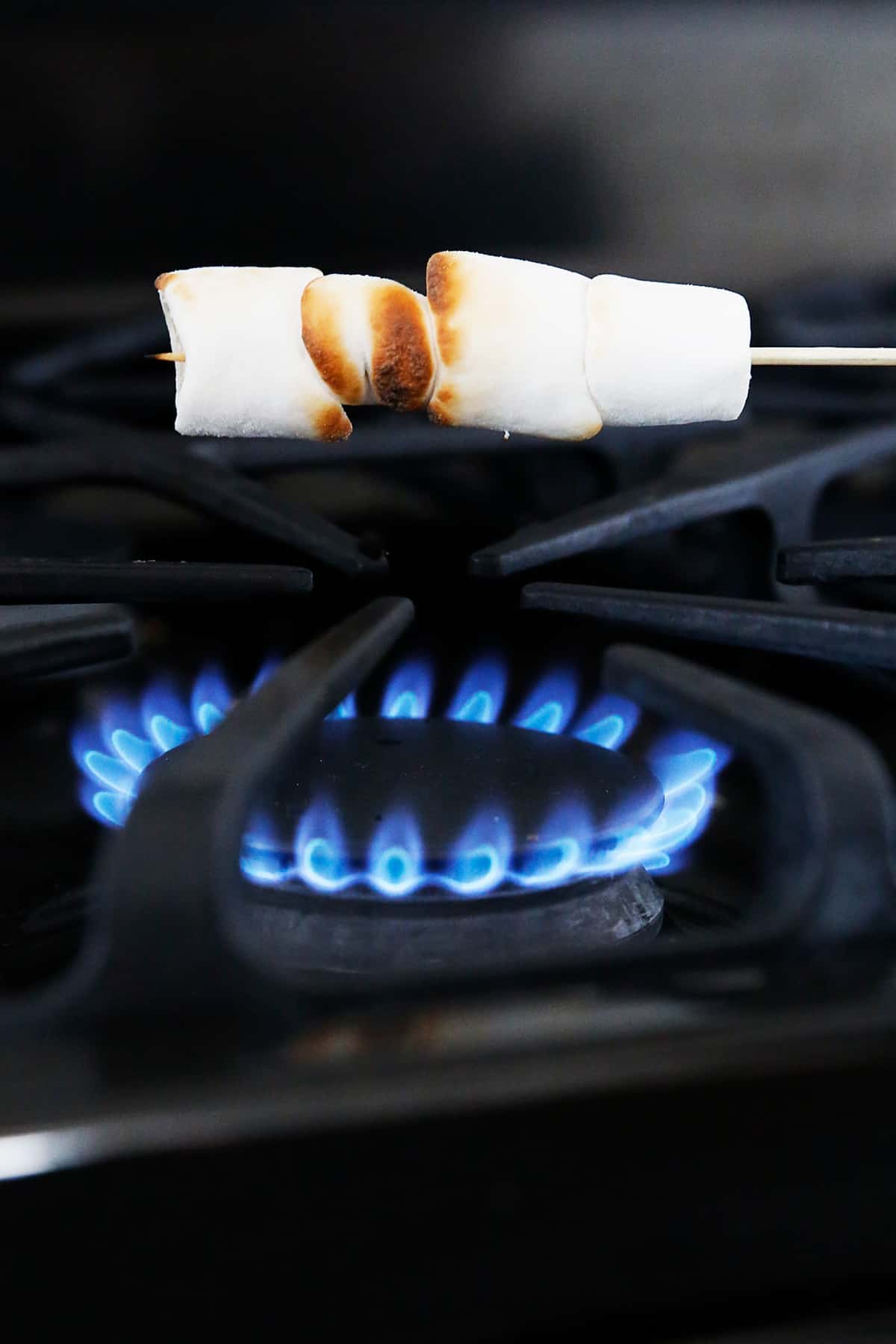 If you like this HOW TO recipe, check out these others:
How to Make Marshmallows (Paleo)
There are so many options out there for natural Easter egg dye using ingredients you have already in your kitchen and we're showing you some of the options we loved with tips, tricks, and more!
Natural Easter Egg Dye
Did you know that it is so easy to naturally dye Easter eggs with food ingredients you likely already have in your pantry? It will be no surprise if you've been on this website for a while that we love to switch out artificial colors and unnecessary chemical additions to foods as much as we can, like these Naturally Colored Buttercream and these plant based decorated Sugar Cookies. If we wouldn't eat a product with a long list of ingredients we can't recognize why would we add chemicals in the form of artificial dyes to the food we make at home?
Some might say that you are just dyeing the outside of the egg: but anybody who has ever colored eggs know more often than not that color seeps in through the shell and colors the egg. So making festive colored eggs with actual FOOD coloring is a no-brainer. And honestly, it's so simple and so FUN to experiment. You can create unique looking eggs that even will change color over time, the longer they sit. Kids and adults alike will find this holiday craft turned science experiment so fun!
How to Dye Easter Eggs Naturally
Take a look in your pantry! We used white eggs, but you can experiment with brown eggs as they will have a different effect. All the eggs you see in these photos were dyed with these four foods:
Beets (red/pink/brown): 1 large beet, diced + 2 cups water
Red Cabbage (blue): 1/2 red cabbage, sliced + 2 cups water
Red Onion Skins (deep orange/brown): Skins from 4 large onions + 2 cups water
Fresh or Dried Turmeric (yellow): 1/4 cup sliced fresh turmeric or 2 tablespoons dried + 2 cups water
Other natural color suggestions:
Blueberries (grey/blue): 2 cups frozen blueberries + 2 cups water (don't boil this, just let it steep)
Carrots (orange/yellow): 3 large carrots, sliced + 2 cups water
Spinach or Parsley (green): 2 cups spinach or 1 bunch parsley + 2 cups water
Yellow Onion Skins (orange): Skins from 4 large onions + 2 cups water
Coffee (brown): 2 cups strong brewed coffee
Here is what you need to know to naturally dye eggs:
Make the boiled eggs. We recommend using the water boiling or steaming method. Check out this post here. We normally love the Instant Pot for steaming eggs, but not here. We don't recommend using the Instant Pot for colored eggs because they are more likely to crack in the food coloring. Let the eggs cool completely before coloring.
Bring the food item in 2 cups of water up to a boil, cover and let simmer for 20 minutes. Strain and let cool. Once cool add 2 teaspoons of vinegar.
Gently drop the white eggs in the color. They must be completely submerged.
The longer the eggs sit in the color, the more brilliant the color will be. Letting the eggs soak overnight yielded the best color for us.
When you are ready to take the eggs out of the color, place a clean kitchen towel down and gently pull out the eggs and place on the towel, or you could place them on a wire rack to prevent and the towel from wiping off any of the color. Let it air dry, do not rub it. If you'd like to dip the egg again to get a darker hue do that once it has dried. In addition, if you want to combine colors to make different hues (think coloring an egg first yellow, then blue=green) now is the time to do it.
Once completely dry you can gently rub it with oil to help prevent the color from changing. We found that some of the eggs changed colors over a few days time (especially the beet one). Do them the day before Easter if you'd like them to be as close to the color as you want as possible.
How to Make Green Naturally Dyed Eggs:
To make green we first dyed the egg with turmeric (yellow) and then dyed it with red cabbage (blue) to make the egg green!
Do you have to use vinegar to dye eggs?
Yes! Without going into all the science behind it, the short answer is that the added acid from the white vinegar brings it to the correct pH level needed for the dye to adhere to the egg shell. The approximate amount of vinegar needed is about 1 teaspoon per 1 cup of dye. We experimented by adding more vinegar to some of our dyes and we got a cool spotted effect.
How to Make Different Effects on Naturally Dyed Easter Eggs
Add more vinegar: When we added more vinegar to the dye it created a bubbly effect which created the dots you see on our eggs.
Dip for different lengths of time: You can try dipping the eggs for shorter periods of time. For our pink spotted eggs seen above we just briefly dipped the eggs in the beets for like 10 seconds and then let it dry.
Double dipping eggs, depending on the different colors can create different effects. Honestly we had different results each time, so have fun experimenting.
To create an ombre effect you can start dying a batch of eggs, and then every few hours take one of the eggs out of the dye.
Should eggs be cold or at room temperature for coloring?
You want both the boiled eggs and the natural dye to be cool during the dye process, so that not only do the eggs not overcook in the natural dye, but also for safety. Leave the eggs in the dye in the refrigerator overnight.
Don't want to make your own dye but want to try naturally coloring eggs?
There are also a few different products on the market. Try these good brands:
Tools we used in this recipe:
---
Lastly, check out these other healthier Easter recipes:
How to Naturally Dye Easter Eggs Using Food
Homemade popcorn is a thousand times better than any alternative and is really simple to make. We're talking all about the magic of how to make stovetop popcorn at home (without any fancy equipment) that you can customize to your taste.
How to Make Stovetop Popcorn
If you've never made popcorn at home before, it may feel a little intimidating. Sure it's easy to buy it premade, or even use packets you make in the microwave but I'm sure you can already guess what we're going to say about that: it doesn't taste even a fraction as delicious as homemade, it likely contains ingredients that aren't that healthy and it's expensive!
Making it at home is so economical (even the organic heirloom popcorn is inexpensive) and OF COURSE it tastes infinitely better–plus you can customize it at home to suit your tastes with different flavoring. We also talk about how to make Maple Kettle Corn over in this post, so be sure to check that one out too. Careful though, once you learn to make it once you might find it happening everyday!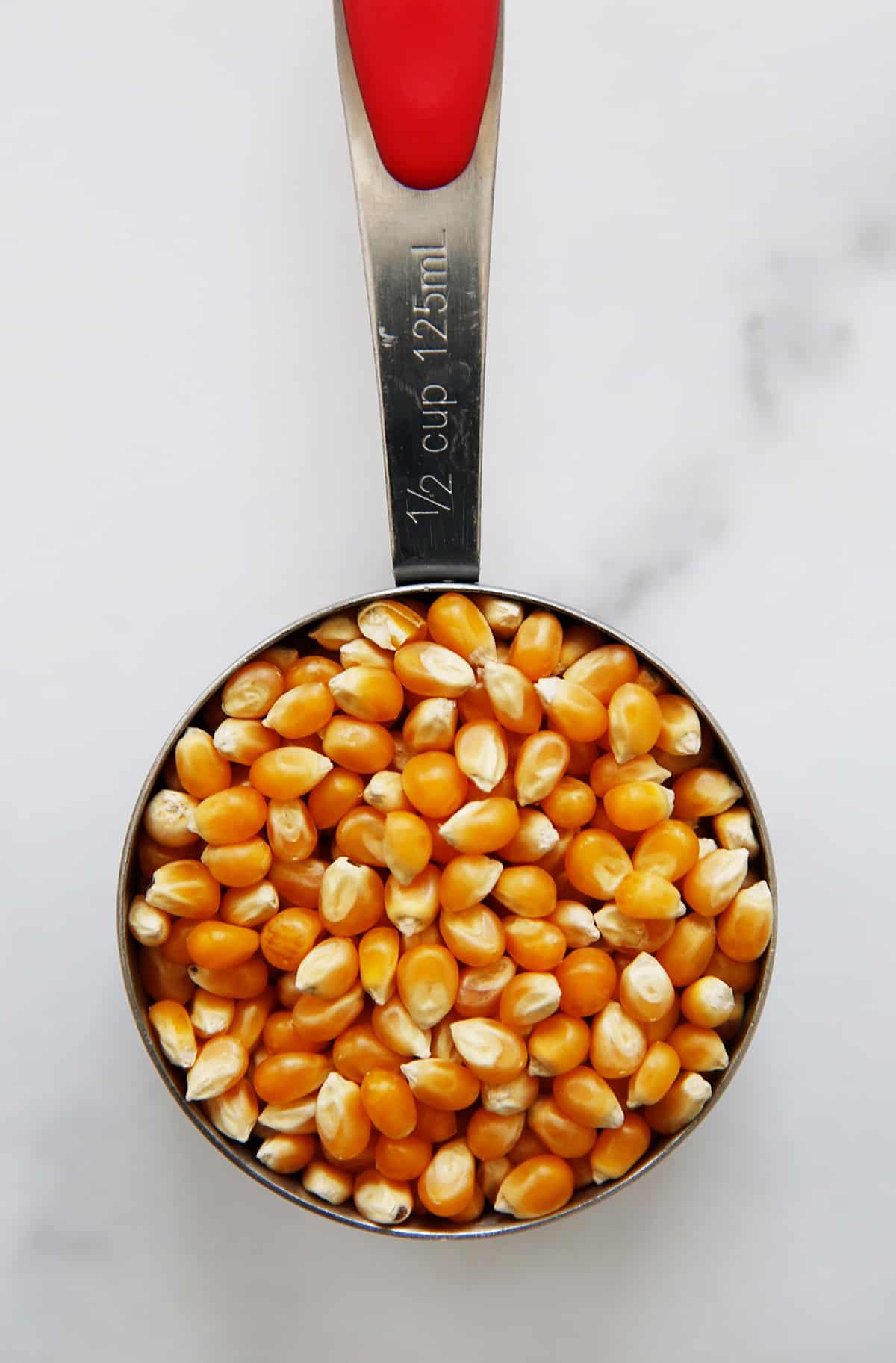 A word on what popcorn to buy:
We don't always recommend buying organic everything, but corn crops in this country are often sprayed with harmful chemicals. With that said, we recommend buying an organic (and non-GMO) brand of popcorn, and there are many, and if possible choosing an heirloom variety. These are available in a lot of stores, and also on Amazon. We like the brand Tiny but Mighty or Arrowhead Mills.
What you need to make homemade popcorn:
Coconut Oil or Avocado Oil
A heavy bottomed pan with a tight fitting lid
Tips for Making Homemade Popcorn
There are a few key factors to making sure you are successful at making homemade popcorn:
Use a heavy bottom pan. A heavy pan conducts heat evenly and will ensure all the kernels will pop and that you won't burn any popcorn.
Don't skimp on the oil! This recipe calls for 3 tablespoons coconut oil. It make seem like a lot but it is needed in order to create enough steam and heat in the pot to pop all the popcorn.
Give the pan a good shake once the kernels have started rapidly popping. This ensures all the kernel pops.
If at any point you see smoke–not steam, immediately turn down the heat. While this never happened during testing for us, if you accidentally cook it too high and the oil burns you'll want to start over. This will flavor the the whole batch of popcorn like burnt.
Keep the pan covered until the popping starts to slow down. Then you want to leave a small space to let the steam escape so you don't get soggy popcorn.
Season the popcorn after it's cooked! Place it in a large bowl and immediately add the seasoning to the popcorn while it's still hot.
It's best consumed while fresh.
Toppings for Homemade Popcorn
Salt (under salted popcorn tastes bland)
Fresh ground black pepper
Butter or ghee
Extra virgin olive oil
Spices (garlic powder, chili powder, chipotle powder, cumin, celery salt, oregano, curry powder, cayenne)
Nutritional yeast
Grated parmesan
Truffle oil
Balsamic vinegar or white vinegar
Lime or lemon zest
Make it sweet: check out this post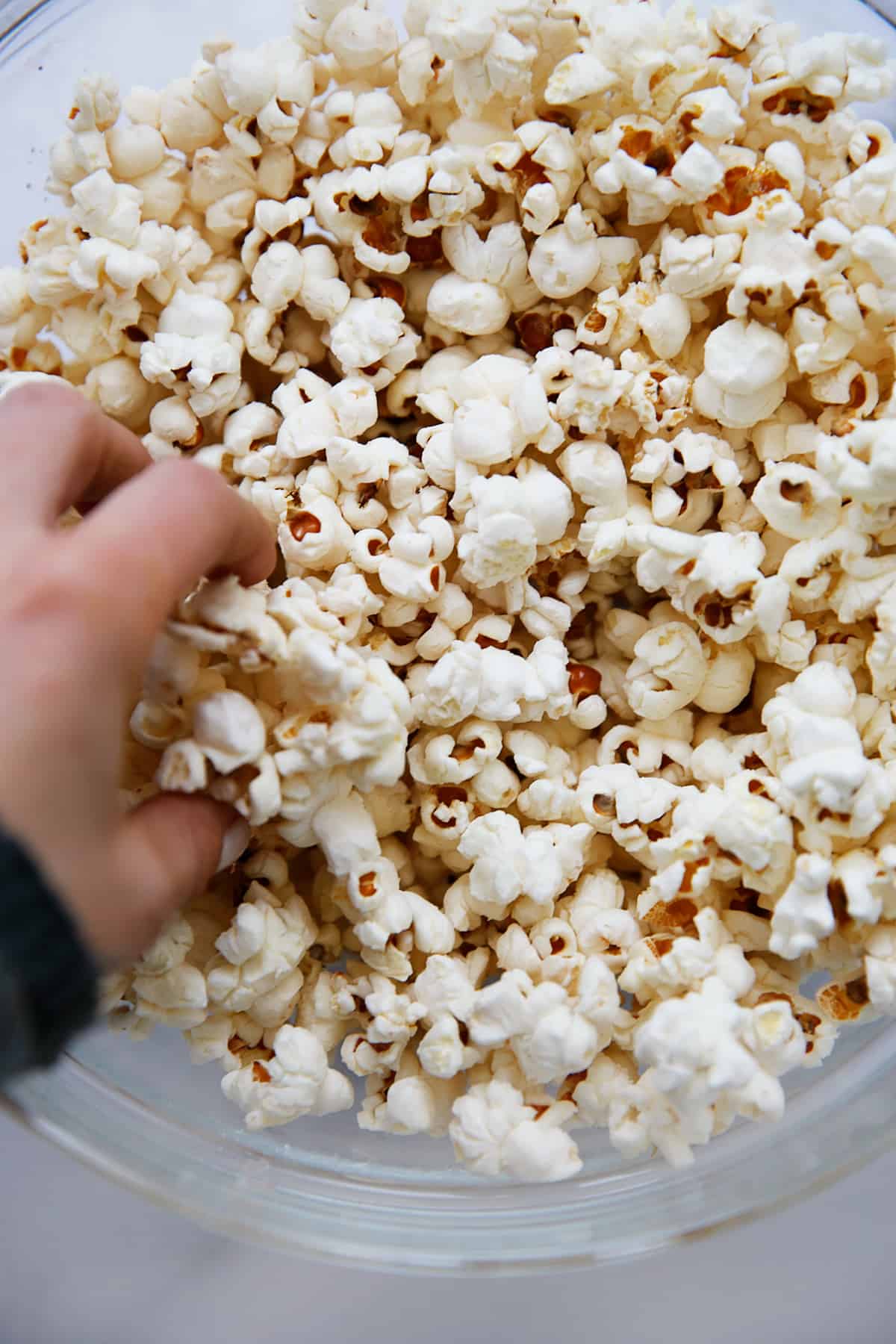 If you like this How To recipe, check out these others:
---
How to Make Stovetop Popcorn
Crispy, crunchy chickpeas are an addicting little snack, and quite simple to make! We're talking the basics on How to Make Crunchy Chickpeas that are perfect as snack, salad, or soup topper, and they're gluten-free, dairy-free and vegan!
How to Make Crunchy Chickpeas
Chickpeas, or garbanzo beans are one of those pantry staples that are so versatile in how they can be used. Chickpeas are great in soups, stews, salads and even baked goods but quite possibly the best way to eat them may be simply baked on their own with a little olive oil and salt until they are nice and crunchy! You can optionally add in a little spice (and we suggest you do!). They are the best salty and savory snack out there.
What kind of chickpeas?
We use the canned version! They're so cheap and typically, unless you have a dietary restriction against beans (and in that case you probably would not have gotten this far into a bean post), they can be found already in your pantry! Likely this would work with beans cooked from dry as well, so long as the chickpeas haven't been overcooked and still hold their shape.
How do you prep the chickpeas?
This is the most tediuos part of the recipe! The chickpeas need to be:
rinsed
drained
dried
take off any loose skin
What that means is that after you've rinsed and drained the chickpeas you'll want to rub them dry between two clean kitchen towels. When you do this, most of the skins from the chickpeas will come loose. Discard those. If you feel so inclined you can take a minute or two to take off the rest of the skins from the chickpeas that didn't come loose. You pick up the chickpea and lightly pinch it and the skin will come loose. This isn't strictly necessary but it does allow the chickpea to get ultra crispy in the oven.
Save the seasoning for later!
Roast the chickpeas with just oil and salt, and once they're crispy add the seasoning and return to the oven for a few minutes. If you season them first, the spices can burn in the oven.
How to Store Crispy Chickpeas
They're best the day that they are made, hot out of the oven! But they have the potential to get crispier as they cool. We've experimented with storing them a few different ways. We have found the best way to store them is to cool them outside of the oven and then once the oven has cooled a bit, leave them on the baking sheet uncovered inside of the closed oven overnight. The reason you take them out of the oven and then put them back inside is because you don't want to keep cooking them, you just want to leave them inside of the closed oven to dry out. This isn't essential, but a trick we accidentally discovered. After that overnight stay, you can place them in a storage container. Otherwise you can store them for a few days at room temperature in a breathable container. This means a brown paper bag or a storage container with a loose seal. They become chewier (but still delicious) after they are cool. If you want to leave them in a sealed container they will soften slightly.
We used these tools in this recipe:
strainer
2 clean kitchen towels
rimmed baking sheet
If you liked this how to recipe, check out these others:
How to Make Crunchy Chickpeas
Corned Beef is more often purchased already brined than it is made at home, but using this easy Corned Beef Brine Recipe it's so simple to DIY using our pickling spice mixture and beef brisket. We are skipping the nitrates and using whole ingredients you recognize and the best part is the taste of the final product is far superior than anything store-bought and is SO FUN to accomplish!
Corned Beef Brine Recipe
Did you know that you could make your own corned beef at home, starting totally from scratch? It's so easy when you use this Corned Beef Brine Recipe, we promise! And honestly it results in the best tasting corned beef that is so incredibly flavorful–and you control what goes it in instead of putting in some strange spice package of unknown ingredients. Plus it's one of those cool things to be able to say that you know how to brine your own brisket, right?
What exactly is corned beef?
Let's start here, because some of you may have some questions! Corned beef is really just beef that has been preserved with salt, also known as brining. It's flavored with the salt, spices and a bit of a sweetener which essentially means that you are pickling it, so think of it like pickled beef! The name corned beef comes from an old English way of referring to large granules of salt as "corns", and therefor it just means salted beef, and there is not actually corn involved.
Most commercially prepared corned beef contains saltpeter, also known as sodium nitrate. The sodium nitrate is a curing salt that contributes to the pink color and cured flavor of corned beef. It also prevent the meat from spoiling or going rancid while it is curing. However, since the meat is cooked after it is brined it is not essential to use it. The use of nitrates and nitrites are controversial as to whether or not they are harmful in cured meats because cured meats typically contain such a small amount, and on average a person consumes larger amounts of naturally occurring sodium nitrates in vegetables like spinach, beets, celery and others. But in 2010 nitrates were declared a possible carcinogen by the World Health Organization, so when possible we avoid buying meat with added nitrates. So for this recipe we skip the sodium nitrate all together since it is not needed, and instead used beet root powder to color the meat, though this is optional.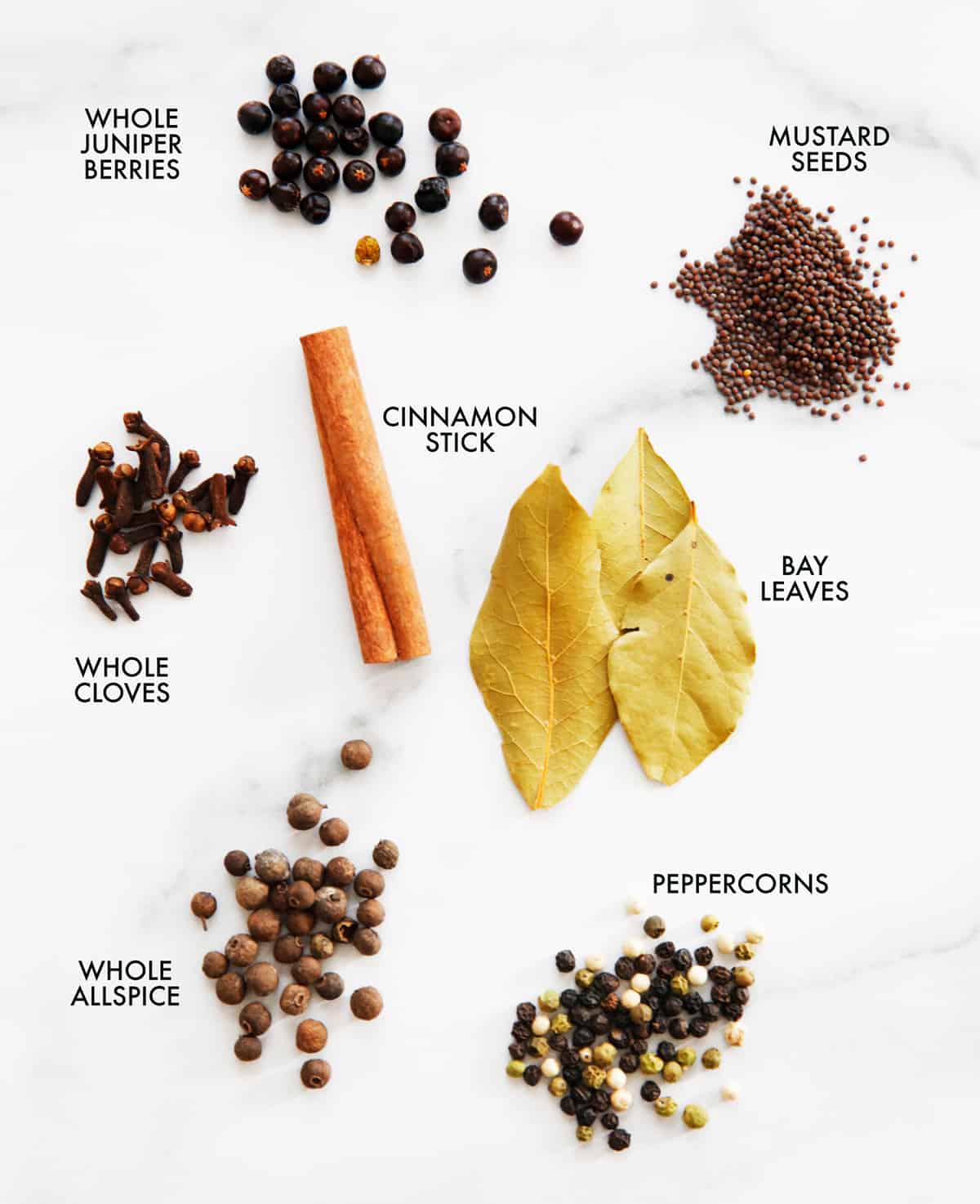 Why do we eat corned beef?
Corned beef is popularly cooked during the American celebration of all things Irish on St. Patrick's Day. It can be called a corned beef dinner or a boiled dinner, which refers to the fact that corned beef is often slowly boiled with some vegetables. But if you dig a little deeper, our American tradition of corned beef actually has little to do with food that you might find in Ireland, and more to do with the corned brisket you would have found in a kosher Jewish deli at the turn of the century. Corned beef can also be thinly sliced and use in sandwiches such as pastrami, or then remade into several different recipes, like corned beef hash.
What is the best cut of meat for corned beef?
For this recipe we're using a flat cut brisket! That cut of meat is ideal because it is contains a lot of fat (which equals flavor) and is generally tough, so the brining really helps transform it. You can also make corned beef from an eye round roast.
What is in the corned beef spice packet?
Honestly, anything can be in those spice packets that sometimes come with commercially produced corned beef. Which is why we advocate making your own (or buying a high quality one). For our corned beef pickling spice we use:
juniper berries
cinnamon
whole cloves
peppercorn
bay leaves
mustard seed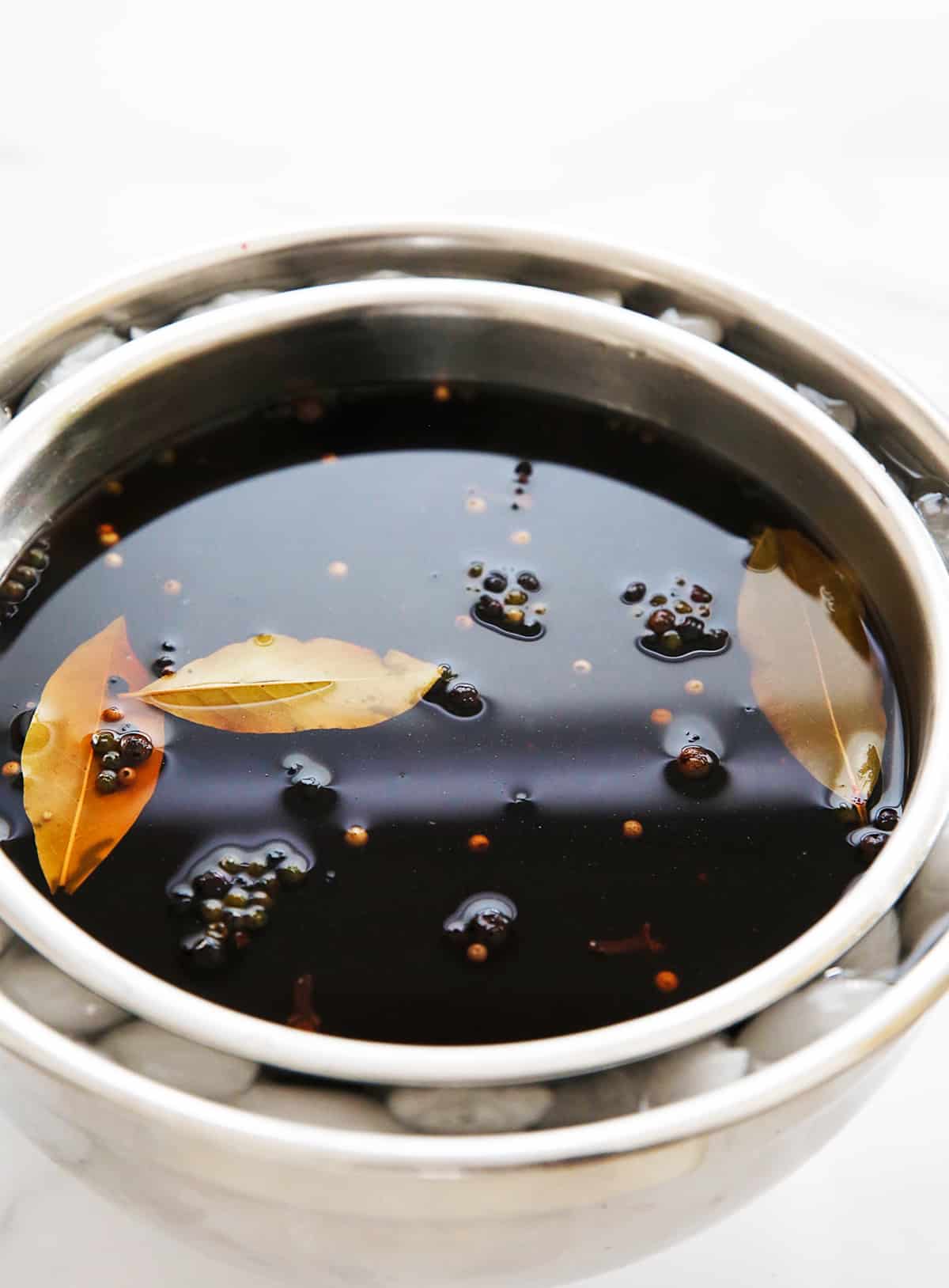 How long do you brine corned beef?
Traditionally brined corned beef with sodium nitrates can be brined for as long as 10 days. Because we were skipping it, we went with a smaller amount of time brining, about 5-6 days as there is enough salt in the brine to transform the meat in a shorter amount of days.
Why do you rinse corned beef?
This step is important! If the meat has been properly brined it has been infused with not only the flavor, but also the salt. Before you cook the meat you want to rinse it with cool water to remove all the excess salt. Similarly, you want to cook the corned beef in a ton of water to help bring out some of the salt. Don't worry though ALL of the flavor of the spices is inside of the meat, and a properly brined beef doesn't need additional spices during cooking because it's infused inside of it.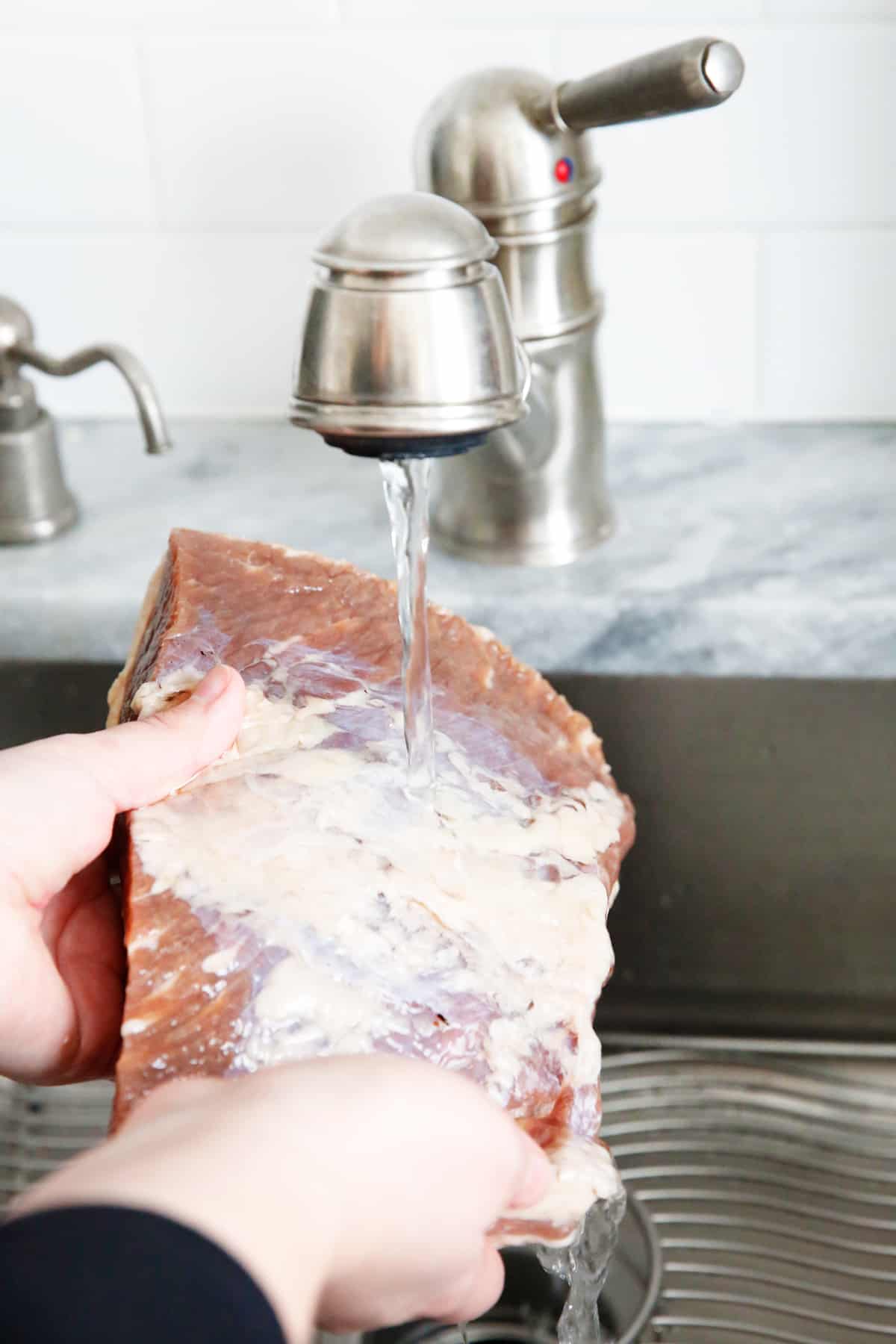 How do you cook corned beef?
Traditionally corned beef is brought to a boil on the stove top and simmered for a few hours. Vegetables like cabbage, potato and carrots are added into the pot and they're boiled in the flavorful stock until just tender. Another method of cooking it would be in the slow cooker on low for 6-8 hours, depending on the size of the beef, and similarly vegetables added in. We're talking all about how to cook it in the Instant Pot, which is our modern favorite way of cooking it over here in this post.
For this recipe, we used these tools:
Large pot
Plastic bag with a tight seal
Large container to hold curing beef
If you like this DIY recipe, check out these others:
Corned Beef Brine Recipe (Nitrate Free!)
We are in the thick of cold and flu season and knowing how to make elderberry syrup is a trick we're happy to have in our back pocket! Elderberry Syrup is a natural anti-viral and remedy to the common cold and flu and is a cinch to make at home using only a handful of ingredients and saves you a lot of money!
How to Make Elderberry Syrup
Elderberry syrup is very popular these days and can be purchased just about anywhere! You can purchase it in the syrup form that you take by the spoonful, or also as gummies–but did you know it's so cost effective and simple to make at home?
All you need are the dried elderberries (which can be purchased online and brought right to your door), raw honey and a handful of optional ingredients like fresh ginger, cinnamon sticks and cardamom pods. Boil it, strain it, store it and take daily or at the first signs of illness to shorten recovery time!
Does Elderberry Syrup Really Work?
This natural remedy for the common cold and flu has gained traction over the years and as stated above is a commonly found product in the drugstore. The dark purple berry is said to have powerful natural antiviral effects that can help prevent or lessen the symptoms of the flu and common cold. In addition there are other possible benefits to Elderberry Syrup include managing diabetes, reducing inflammation and acting as a natural diuretic. In addition to the potent elderberry, this recipe also contains raw honey which also has natural anti-fungal and antibacterial properties. When paired together, elderberry and raw honey is said to be a great way to naturally fight the common cold and flu.
Is Elderberry Syrup Safe?
Yes, if prepared properly! There is a toxin in the dried berries that is deactivated by proper cooking. Pick though the dried berries to remove any sticks or unripe berries before you cook them. Then follow the recipe instructions. The berries have to be cooked for at least 45 minutes (without a cover) to ensure the deactivation of the toxin that can result in adverse gastrointestinal symptoms.
Also if you have any concerns about taking this natural culinary remedy speak to your doctor. This is especially true if you have an autoimmune disorder, so consult your doctor before taking it if you have any questions whether this is right for you.
This recipe contains raw honey so this is not safe for children under 1 years of age to consume.
What is Raw Honey Good For
The phytonutrients in honey are responsible for its antioxidant properties, as well as its antibacterial and antifungal power. Raw honey has shown immune-boosting and anticancer benefits, but heavy processing destroys these valuable nutrients, so we like to buy the best quality we can find! We also don't call for cooking the raw honey in this recipe as cooking it decreases / eliminates the benefits that raw honey offers.
How do I Take Elderberry Syrup when Sick
Some people take 1 tablespoon (15 ml) of Elderberry Syrup during the cold and flu season daily, and then increase this dosage to once every 2-3 waking hours at the very first sign of illness or known exposure to the cold or flu, for 2-4 days. Kids need a smaller amount of 1 teaspoon a day during cold and flu season that can then be increased to 1 teaspoon every 3 hours during an illness! It is stored in the refrigerator so you can just pour it in a spoon and take by mouth as desired.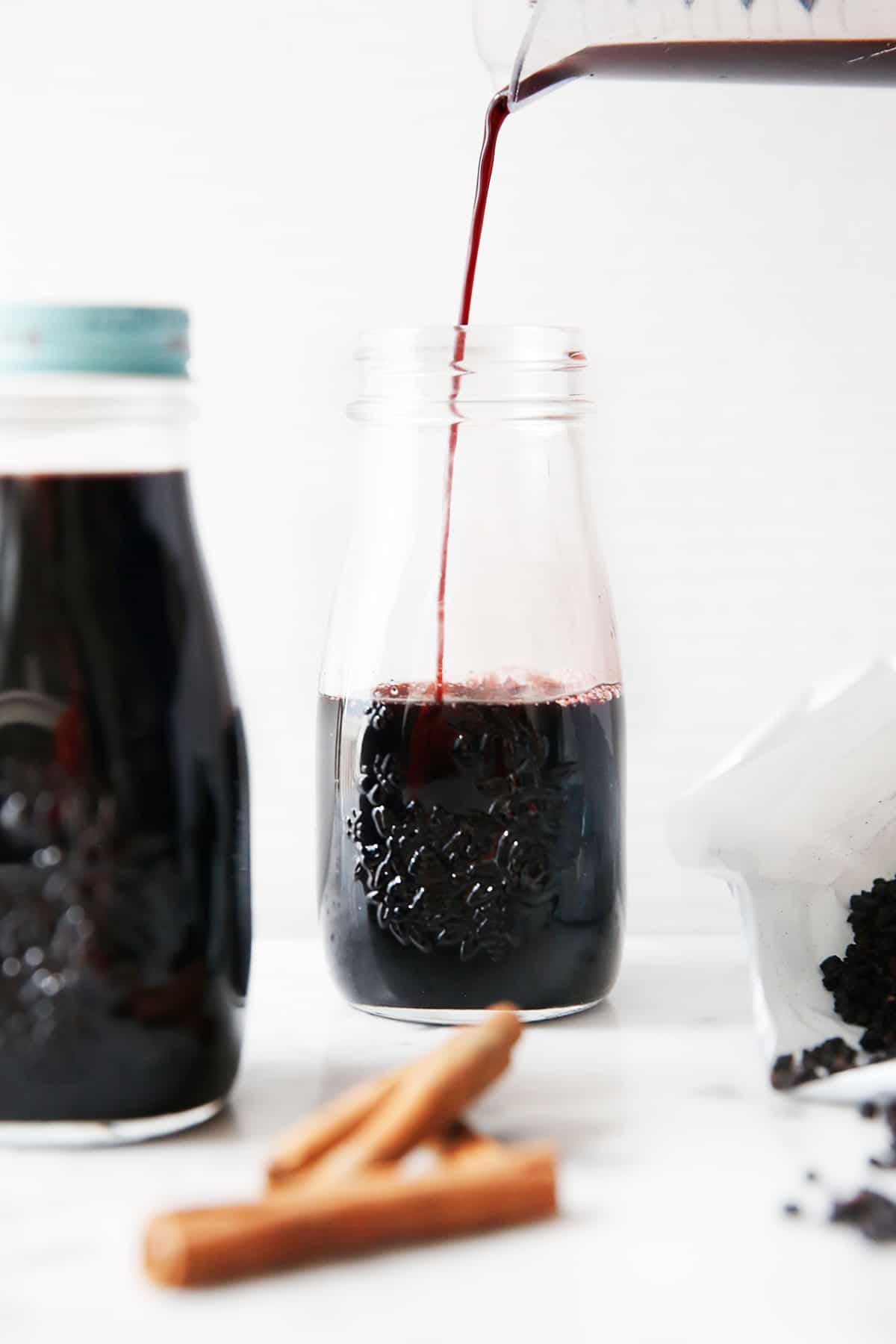 How Long is Elderberry Syrup Good for in the Refrigerator
Properly cooked elderberry syrup can be stored in a container with a tight fitting lid for up to 6 months.
If you like this how to, check out these others:
---
Watch the video:
---
Other natural cold remedies
Vitamin C
Bone Broth
Herbal Tea with Manuka Honey and Lemon
Get Some NEEDED Sleep
Vitamin D
Lots and lots of Water
Oregano Oil
Fresh Ginger and Raw Garlic
Echinacea Capsules
Lemon Ginger Tea
Apple Cider Vinegar
Zinc
Hot Steamy Shower or Bath (Add Epsom Salts/Essential Oils to Your Bath)
Hot water with Lemon, Raw Honey, Turmeric, Apple Cider Vinegar and a Dash of Cayenne
DISCLAIMER: This information is not intended to diagnose, treat, or cure any disease or health conditions. Always consult a doctor or authorized medical professional before making any changes.
How to Make Elderberry Syrup (Natural Cold and Flu Remedy)
Learning How to Sear a Steak is an essential cooking skill you'll likely use all of your life! Our method sears the outside of the steak and then finishes the cooking by basting it with butter and aromatics. It takes around 10 minutes to complete, results in the most flavorful steak and can save you the worry of: what's for dinner tonight?
How to Sear a Steak
While the grill gets all the claim to fame as the best way to cook a nice piece of steak, we're here to say that you may have overlooked your cast iron skillet as the top choice because it is so easy from start to finish and results in the most flavorful steak there ever was. We're talking all about How to Sear a Steak here and to finish it off with the most chef-worthy trick there is: basting it with butter and aromatics at the end to infuse it with flavor! Using this method to pan sear steak you'll end up with steak that tastes the same as the $80 ones served at steakhouses. You'll never go back!
Let's talk about the Steak!
We choose to pan sear a boneless rib-eye, but this method could also work with a NY strip steak or even a filet mignon so long as the cut is about 1 to 1-1/2 inches thick. If it's thinner than it will cook faster. Any larger than this then we recommend searing on the stovetop and finishing the steak in the oven for a more even cook time. The same goes for a piece of steak with a bone in it as it just won't cook as evenly as desired in the skillet.
Buy the best steak you can afford for this one, as it's the star of the show. It will be so much cheaper than anything you'll find at a steakhouse to cook this for yourself at home, so if possible spend the extra few dollars to get a grass-fed rib-eye if possible.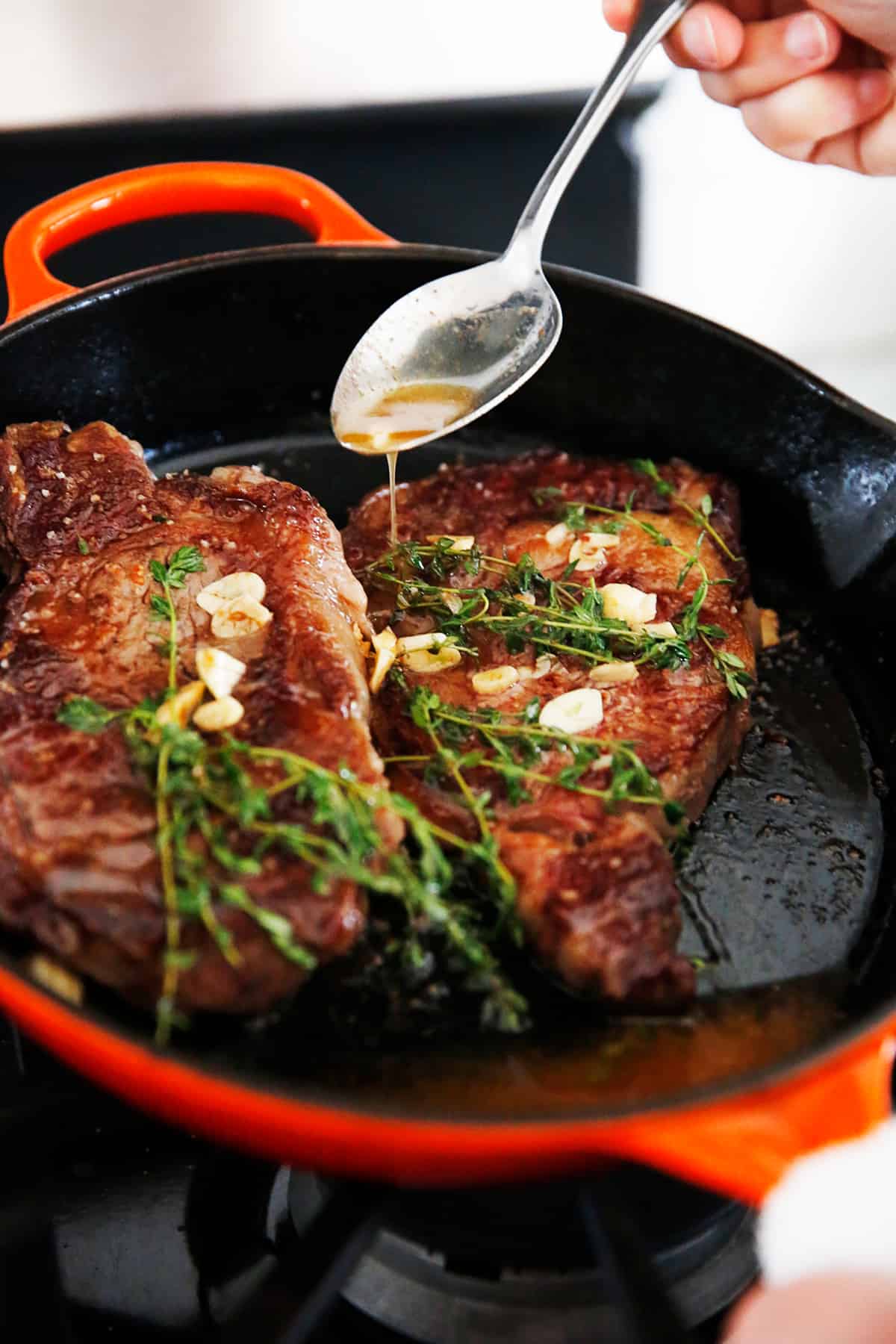 Tips for Pan Searing a Steak
There are only a few things you're going to want to get right when making this recipe:
Take the chill off the steak before cooking! If possible let the steak sit at room temperature for about an hour before you sear it. This step isn't make or break, but as much as possible take the chill off the meat so there is less shock when the meat is cooked. It will result in a more tender steak, but certainly it doesn't mean you shouldn't cook the steak if you aren't able to do this step.
Season the steak well! Place a generous amount of coarse sea salt before you cook it. We skip the pepper until after it's been seared on one side because coarse ground pepper can burn at such a high heat.
Preheat the pan! Get that pan nice and hot before you put the steak inside of it to get that caramelized sear on it. We recommend a cast iron skillet here. They aren't expensive and have a lot of uses in the kitchen. If you don't have one a heavy bottomed pan that heats evenly can work in a pinch, but don't try this with a thin pan.
Check the temperature! We so often talk about taking a temperature here at Lexi's Clean Kitchen and it's because it's such an easy tool to make you a better cook. Probe the meat with an instant read thermometer towards the end of cooking to make sure it's at the exact temperature you want it to be.
What temperature to cook a steak to
If you like rare steak, stop cooking at 125°F.
If you like medium-rare steak, stop cooking at about 130°F.
If you like medium steak, stop cooking at 140°F.
If you like a well-done steak stop cooking at 150ºF-155ºF.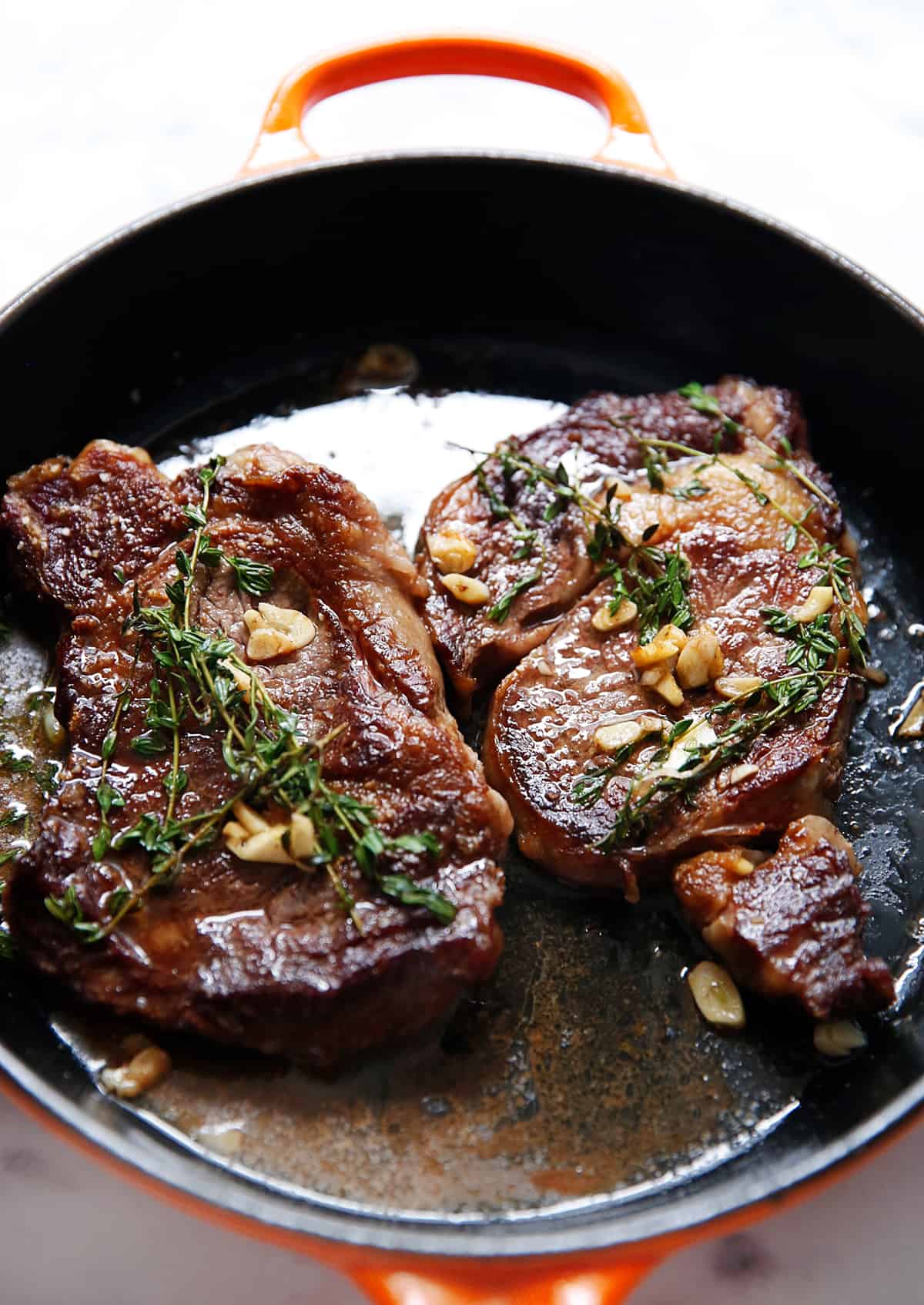 What to serve with a pan seared steak:
Wondering how to get the best steak delivered to your door?
We love the steak in our ButcherBox and it is the best quality.
Each month, ButcherBox  curates a one-of-a-kind selection of the healthiest, tastiest meats, humanely raised and free of antibiotics and hormones. Or you can customize your box and select your favorite cuts and get 20% more meat.The price works out to less than $6.00/meal and shipping is always free. You can also space it out so it's not every 4 weeks, too!
Enjoy the $15 off, free bacon, and free shipping off your first ButcherBox. FYI we do the custom box, smallest size, and it's perfect for feeding two!
How to defrost your meat:
1. If you remember, take it out and put it in the fridge the day before or until thawed.
2. Didn't remember? All good! Place it in a bowl of cold water (in the package or a resealable plastic bag). Let sit, changing the water with fresh cold water as it warms until defrosted.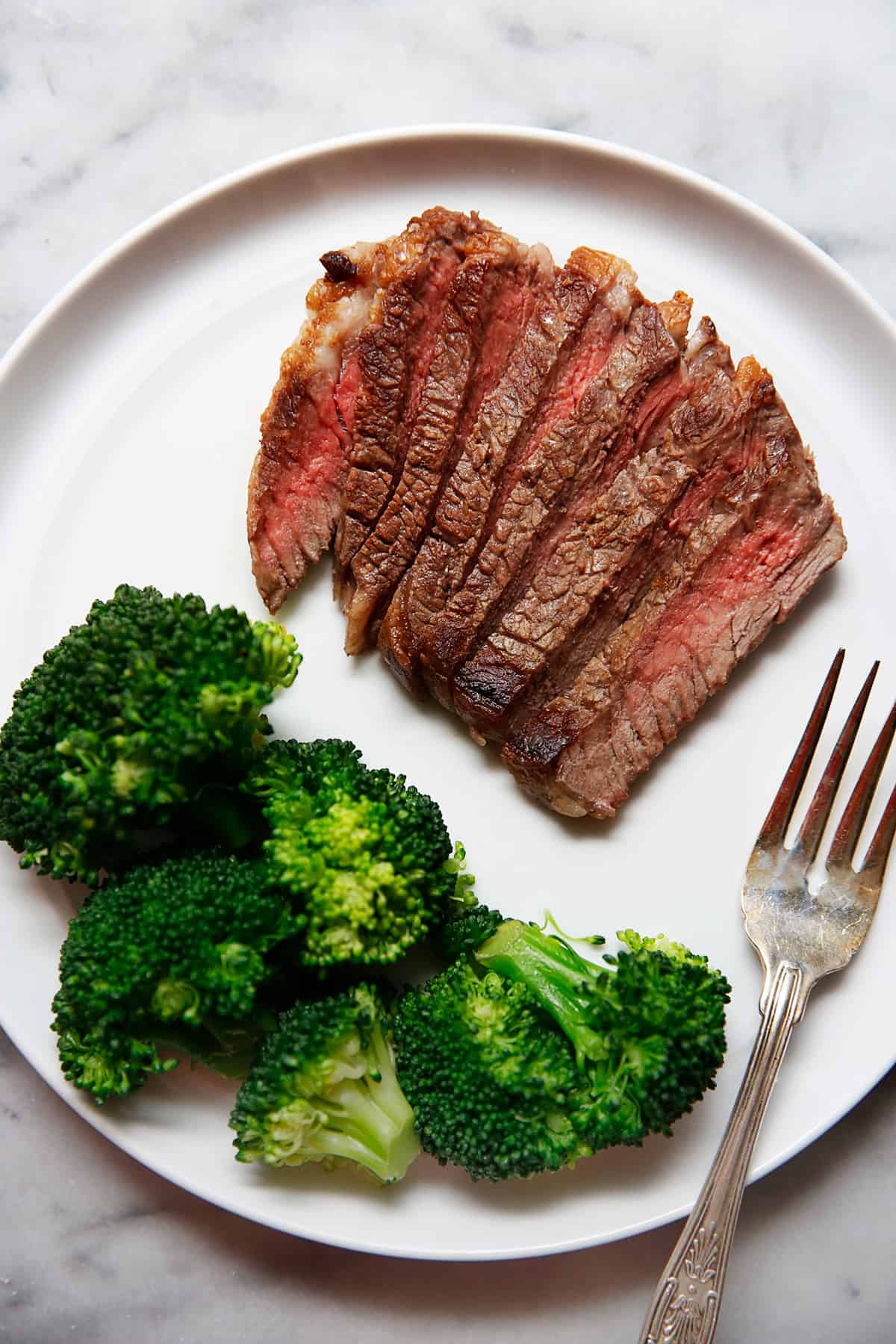 If you like this How to recipe, check out these others:
Watch the video:
Grab our kitchen BFF, the Thermapen MK4 here.
---
How to Sear a Steak
Learning How to Make Marshmallow Fluff may seem intimidating, but as long as you have a thermometer and an electric mixer and a few simple ingredients, you can have this made in under 20 minutes and it's far superior to any store-bought version. This version is made using only honey and maple syrup!

How to Make Marshmallow Fluff
Here in the New England area Fluff is so beloved that a local Boston suburb has a festival every year to celebrate the iconic Marshmallow Cream. If you haven't tried Fluff, it's basically a sticky sweet marshmallow spread that is classically known to be the other half to peanut butter in a Fluffernutter Sandwich and it's delicious. The bad news is that it's made with corn syrup and a few other suspect ingredients. The good news, we've cracked the code on How to Make Marshmallow Fluff at home because it's easy and a super fun treat! And what makes it even better is making Homemade Marshmallow Fluff at home uses only a few simple ingredients: egg whites, cream of tartar, honey, maple syrup and vanilla! And we promise, it's really simple!
Tips and Tricks for Making Marshmallow Fluff
The first thing you need to know about How to Make Marshmallow Fluff is that you are making candy! You'll be cooking up a very hot sugary syrup and then pouring it into beaten egg whites and whipping them up until the whole mixture has transferred into magical Marshmallow Fluff. It's like a marshmallow without the gelatin to set it.
If you are wondering if this is a lot of sugar—it is. You are making candy and one of the principal components of candy is: sugar! If you lower the sugar content it may not work. We orginally tried this recipe with less than ½ cup maple / honey and it failed miserably. We did successfully make it by reducing the honey from 3/4 cup to 1/2 cup, but really liked the stability that this amount of sweetener offered.
The bowl and whisk attachment must be cleaned well because if there is any grease in it, it will prevent the egg whites from whipping up properly.
Use a large pot in case the sugar boils up high. If it is still coming close to the edge lower the heat a bit. It will take longer to get to the correct temperature but it will still work without boiling over.
The added water in the sugar mixture helps the sugar come to a boil without burning. Put the water in the pot first, then the other two sweeteners. Do not stir the pot. Do not move the pot. You run the risk of crystallizing the sugar. If you have one, use a candy thermometer, or you can also use an instant read thermometer.
You want your sugar mixture to reach the "soft ball" stage or 235ºF-240ºF. This stage gets it's name from the fact that if you put a droplet of cold water into the boiling sugar, it will turn into a soft ball. This hot sugar mixture is what cooks the egg whites and turns it into Marshmallow Fluff.
Troubleshooting: If the egg white mixture hasn't thickened up and become glossy, either the sugar syrup was not the proper temperature, or you haven't whipped the egg whites long enough. So If it isn't looking thick and glossy, try whipping longer. And of course use a thermometer to make sure the sweetener has boiled enough!
You can store the Marshmallow Fluff in an airtight container at room temperature for about 1 week, though we recommend using it within the first 3 days. After a few days the mixture might start to weep, and this is totally normal for Fluff made without any artificial ingredients. All you have to do is re-whip the whole thing until it is glossy and thick again. Do not store your fluff in the refrigerator.
This Fluff tastes amazing toasted with a kitchen torch!
What recipes can you use this Marshmallow Fluff with?
You can't go wrong with a fluffernutter! This is a peanutbutter and marshmallow fluff sandwich!
Use it in this Gluten Free Hostess Cupcakes recipe.
Use it in this S'mores Pie recipe.
Use it to make marshmallow cream s'mores.
Use it to top any pie!
Use it as a frosting on any cake! This is a great option because it's dairy-free!
Tools we used in this recipe:
Essentials: A large heavy bottomed pot
Like this How to recipe, check out these others: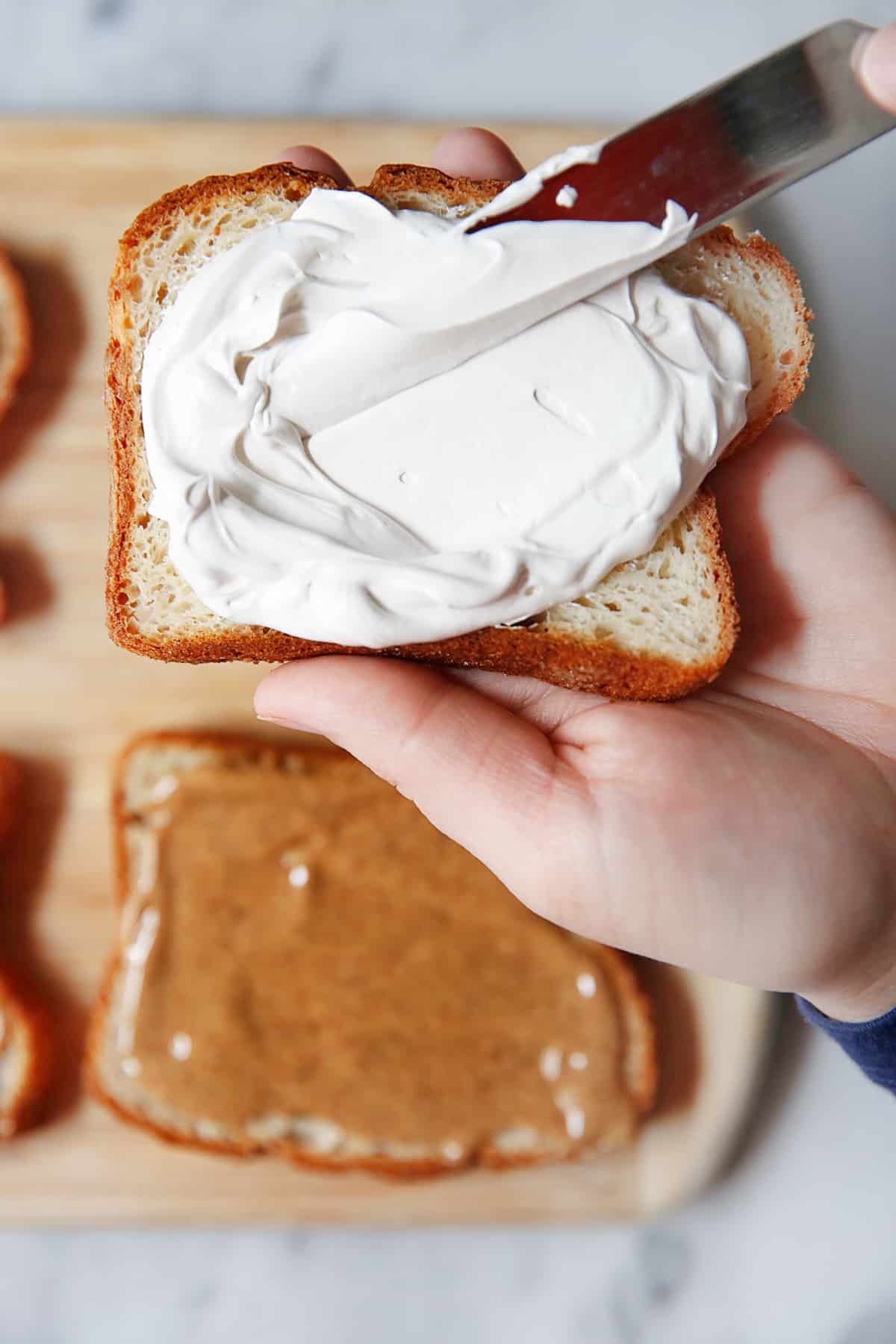 ---
Pin it for later:
How to Make Marshmallow Fluff (Paleo)
The infamous Trader Joe's Gnocchi package directions results in soggy gnocchi that nobody wants, so we're going step-by-step for you on How to Make Trader Joe's Cauliflower Gnocchi! It's a quick weeknight meal on a budget and is a great gluten-free alternative to a classic gnocchi. What has become an almost cult classic, is so good, and we've cracked the code on our favorite way to prepare it.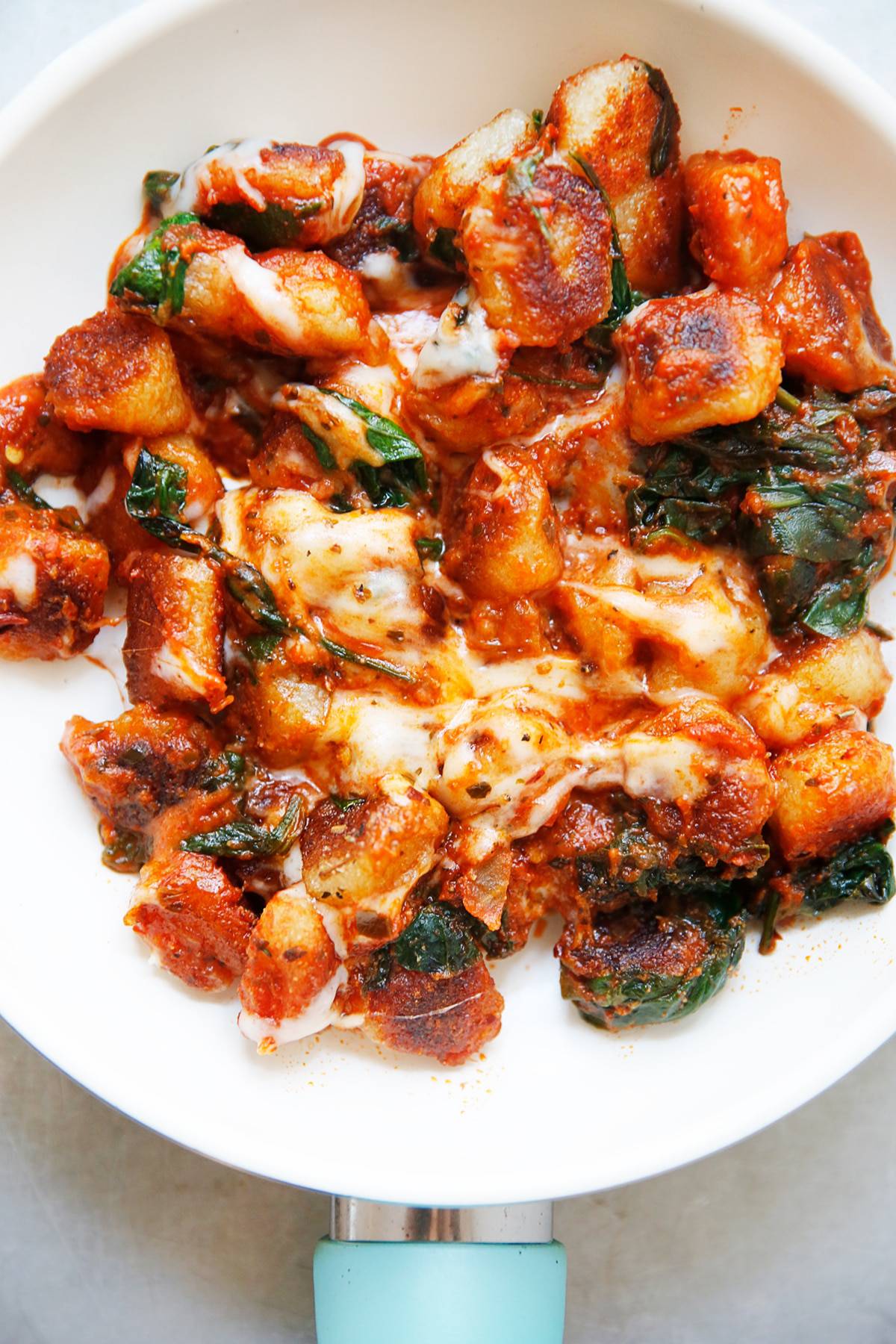 How to Make Trader Joe's Cauliflower Gnocchi
If you haven't heard of the Trader Joe's cult favorite Cauliflower Gnocchi, let us tell you a little bit about it! It's inexpensive, sold for under $3, and made gluten-free with a hearty dose of veggie. Traditionally gnocchi is made with cooked potatoes that are bound together with egg and wheat flour. The TJ version is made with cauliflower and cassava flour, and a few other ingredients. To be clear, it's not necessarily low-carb but it's a healthier take with a classic flavor. The package directions produce a finished product that is a bit suspect so we're going to go through step-by-step on How to Make Trader Joe's Cauliflower Gnocchi into a quick weeknight Italian dinner!
How do you cook cauliflower gnocchi?
There are a few different ways to cook cauliflower gnocchi. But there is one way not to cook it, and that is do not cook it according to the package directions. We are looking for gnocchi that isn't mushy and has a nice crispy coating so we're using cooking methods that do just that!
In the skillet: This is by far the easiest and simplest method (and our favorite)! The main directions in our recipe include the step-by-step for skillet cooking because it is our preferred method for the best tasting gnocchi. It also makes the meal a one-pan dinner which is always a plus.
In the air fryer: This is a simple way to crispy up the gnocchi, but the downside is that this cooking gadget isn't that common and it still means you have to use other pots and pans to make a complete meal.
In the oven: We offer directions for cooking the gnocchi on a sheet pan, but in all honestly it is our least favorite method. In order to achieve crispy gnocchi it has to have a long cook time, and just isn't very efficient. But will lend itself to crispy gnocchi if left in there long enough.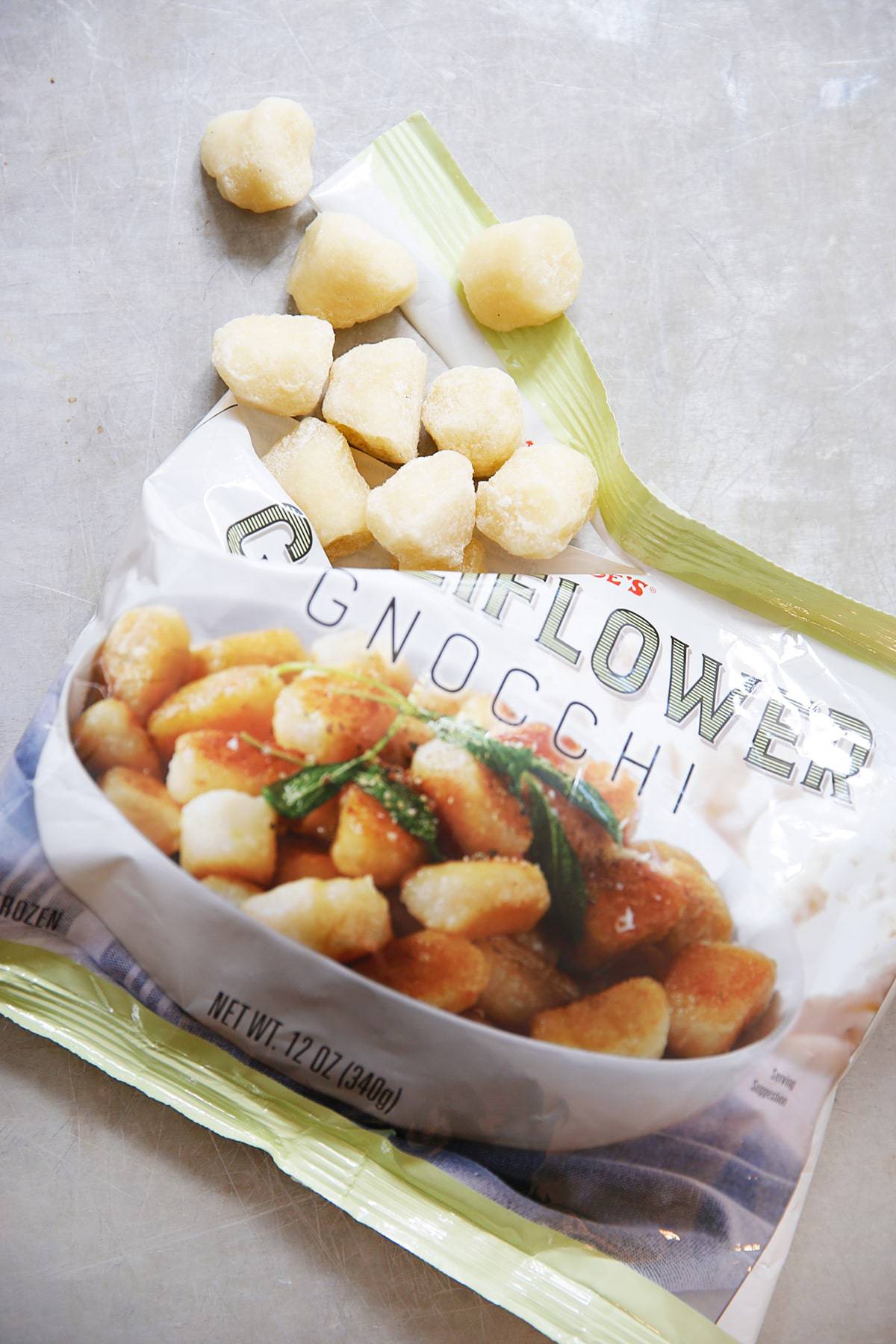 What do you serve with Cauliflower Gnocchi:
We serve this recipe with store-bought tomato sauce, spinach and cheese. It makes it a complete meal that is made in one pan and ready in under 30 minutes. Alternatively you could use a homemade tomato sauce, homemade meat sauce, a pesto, a pumpkin sauce or really any sauce that tastes good with gnocchi!
The TJ's cauliflower gnocchi is also a hit when served alone as an appetizer with a dipping sauce!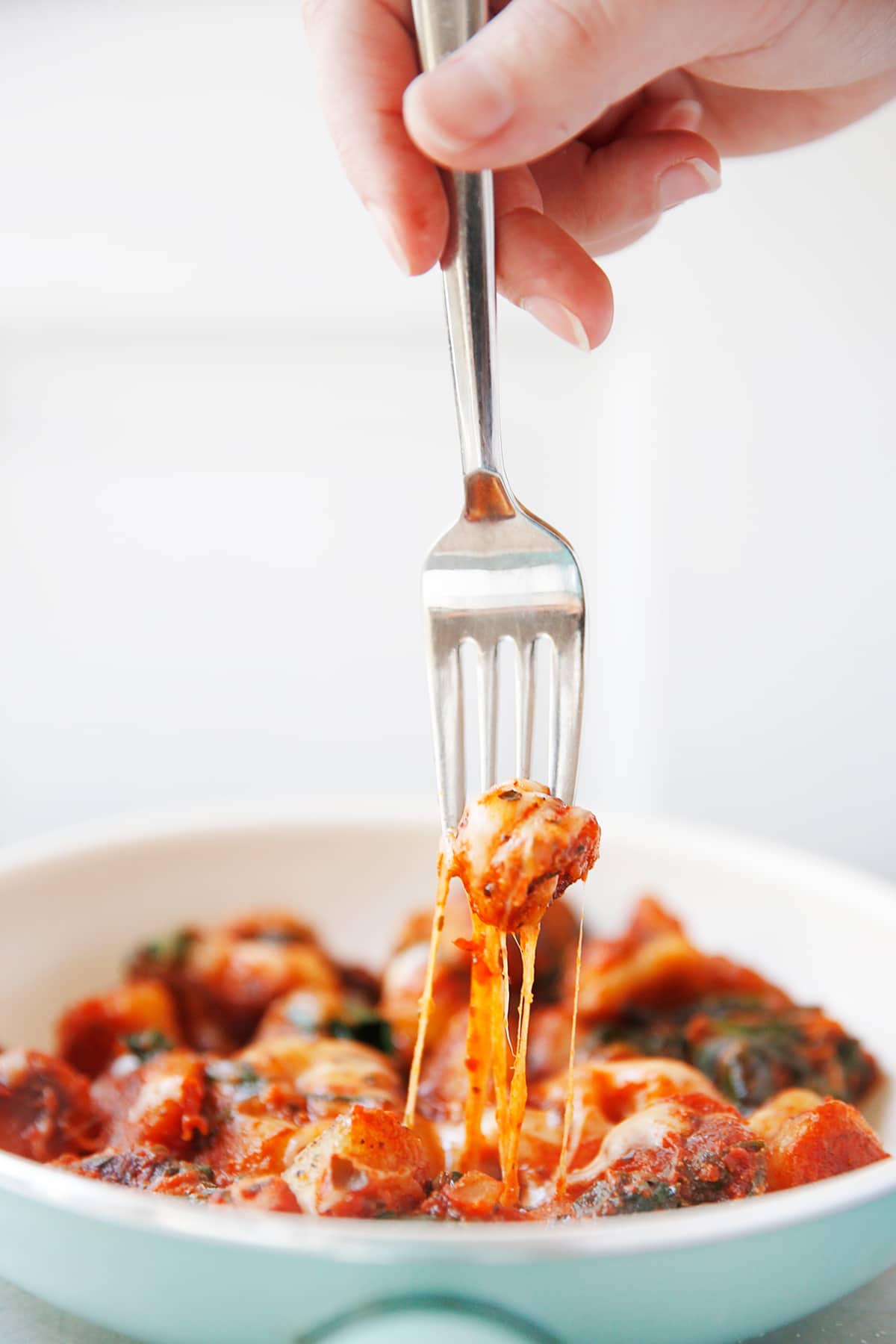 Tips on getting your hands on Cauliflower Gnocchi
Admittedly there is a Cauliflower Gnocchi craze going on, coupled with a delay in getting shipments in to some stores. So we had trouble getting our hands on cauliflower gnocchi for a few weeks. Hopefully they'll be producing more of this product now that they know it's a hit. Follow these tips to get your hands on Cauliflower Gnocchi:
Call ahead and ask them to set some aside for you.
Find out when they get the shipments in, typically late at night before closing or first thing in the morning, so call ahead or plan to be at the store then.
Buy in bulk. They are stored in the freezer so if you buy a bunch at a time (who bought 10 bags at once? Ahem… not Lexi….) you won't have to worry for a few weeks/months when they'll be getting in another shipment.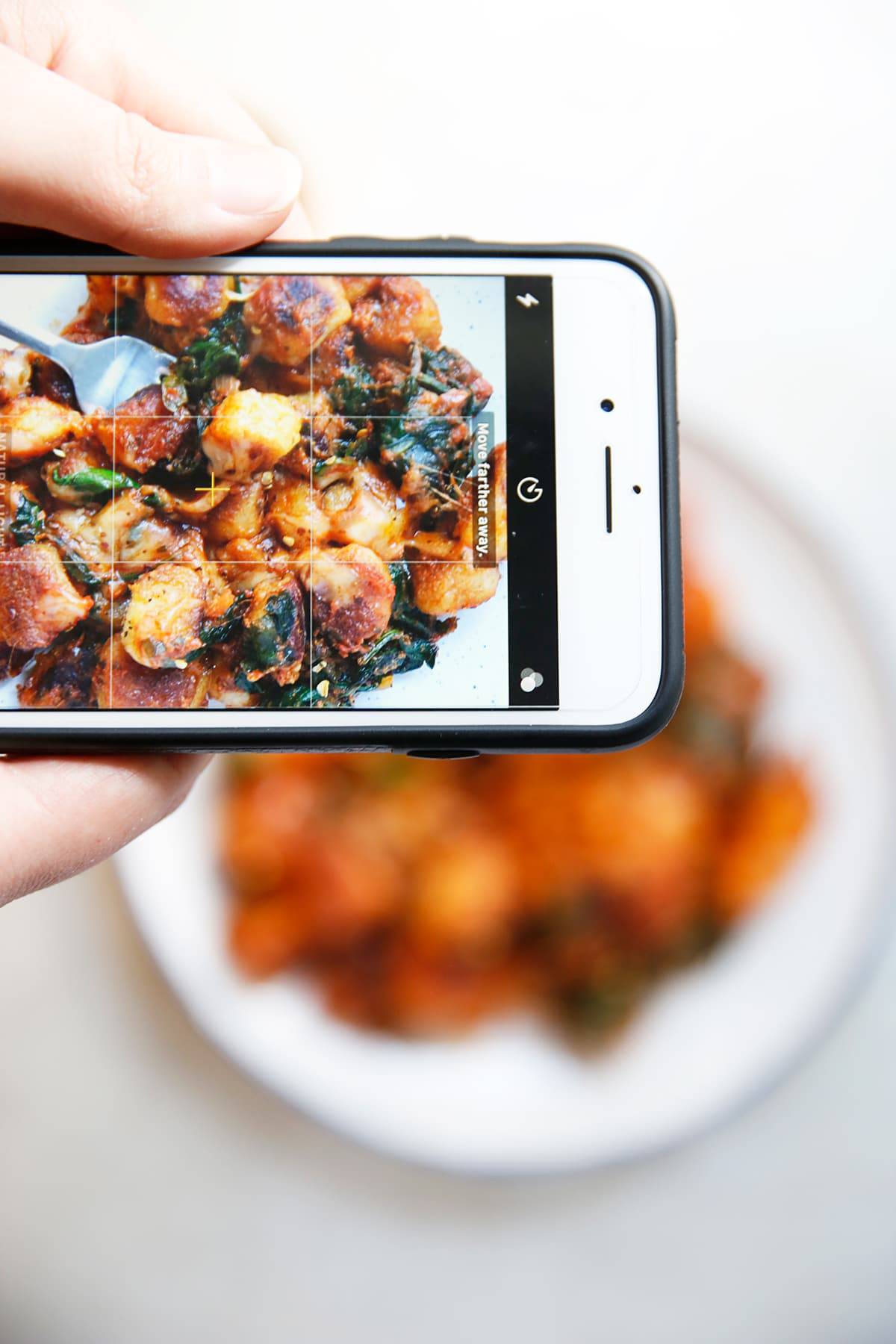 So jump on the Trader Joe's Cauliflower Gnocchi train and get to the store to get yours and make sure to post it to Instagram. Because with this one, if you didn't post it to Instagram, did it even happen?
Watch the video:
If you like this weeknight Italian dinner, check out these others:
---
---
Pin it for later:
What is your favorite way to make Trader Joe's Cauliflower Gnocchi?
How to Make Trader Joe's Cauliflower Gnocchi
If you've ever wondered How to Cook a Whole Chicken in the Instant Pot, this post has you covered. It tastes just like a rotisserie chicken you buy at the store, only you get to control the ingredients! It's largely hands-off cooking time and the chicken is so juicy! This chicken is perfect to serve as is for dinner, or you can use for meal prep or for other chicken recipes.
How to Cook a Whole Chicken in the Instant Pot
It's How to Wednesday and today we're talking about: How to Cook a Whole Chicken in the Instant Pot! The rotisserie chickens you find in the grocery stores often have such tender juicy chicken, and they definitely are convenient, but we always love to be able to control the ingredients in our food. When you cook a whole chicken in the Instant Pot, using our blend of spices, it comes out just as tender and juicy as a store-bought whole rotisserie chicken. It's great to serve as-is with a few sides like Mashed Potatoes, Herbed Cucumber Salad or Honey Glazed Carrots or you can use it for meal prep for the week. You can turn it into Chicken Salad, Soup or Chicken Bacon Ranch Baked Hummus Dip.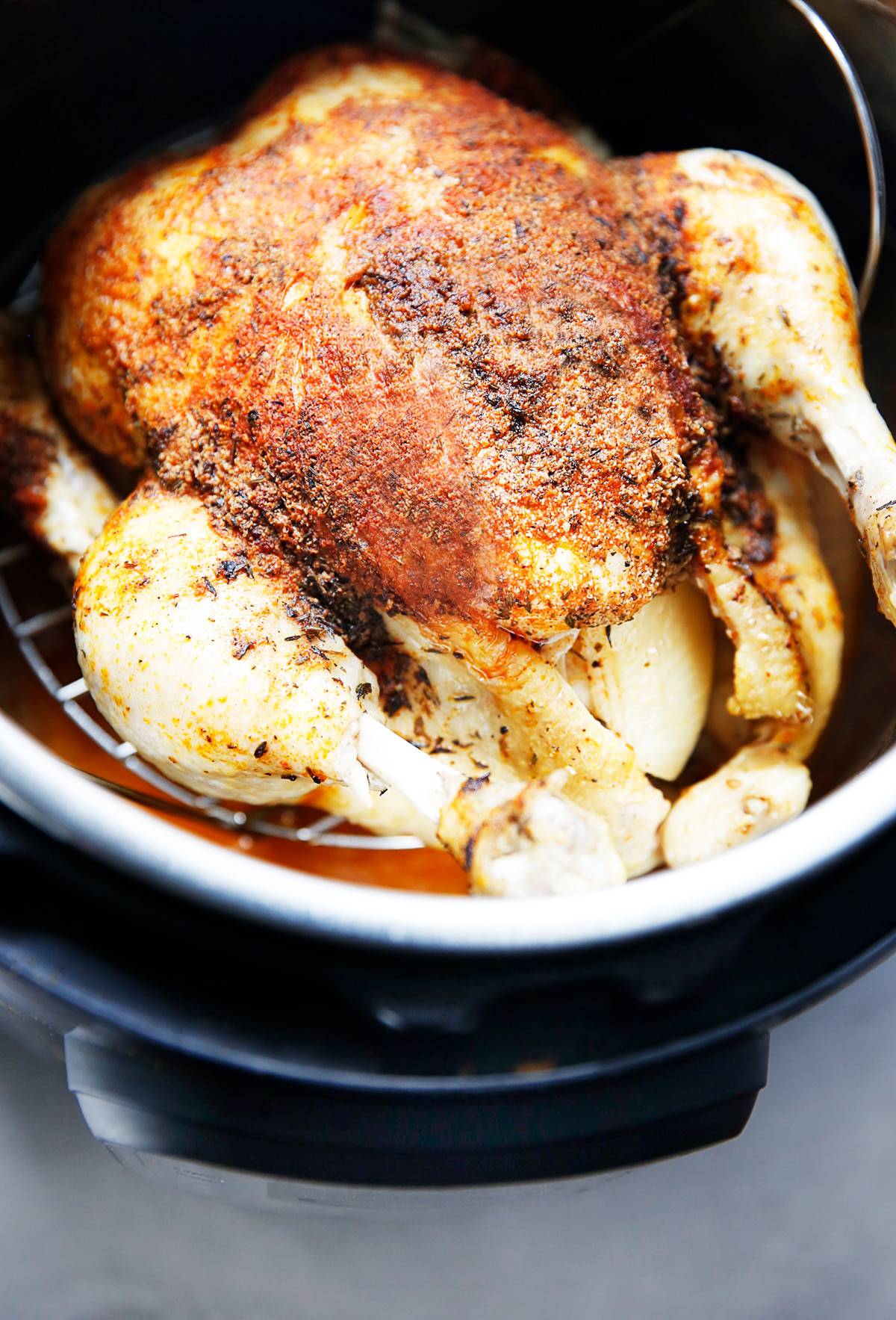 Now we aren't saying we don't enjoy an Oven Roasted Chicken, because we do, but there are definitely a lot of advantages of cooking a whole chicken in the Instant Pot.
The first is that it is quicker. It takes about an hour to roast a chicken in the oven, but then you also have the prep time, the time it takes to heat up an oven and the cooling time. Cooking in the Instant Pot does speed up the time.
The second advantage is because there is no guess work as to when your chicken is done! Roasting a chicken in the oven can have so many variants, and if you leave it in too long it will be dry. But in the Instant Pot it will most definitely be done at the time it states on the recipe.
And third, the chicken is SO JUICY and fall-off-the-bone tender. Hands down a chicken that is cooked in the Instant Pot is way more tender and juicy than one that is brined and roasted in the oven, because that is what makes cooking in a pressure cooker so magical.
How do I cook a whole chicken in the Instant Pot?
And the best part is, it's so easy to do!
Season the chicken
Sear the chicken
Add onion and remaining seasoning to chicken
Place trivet inside of the Instant Pot with 1/2 cup broth
Cook on manual pressure for 24 minutes (or 6 minutes per pound)
Natural release for 15 minutes and then release remaining pressure
And then your chicken is READY!
P.S. you can also cook a chicken in the slow cooker or in the oven!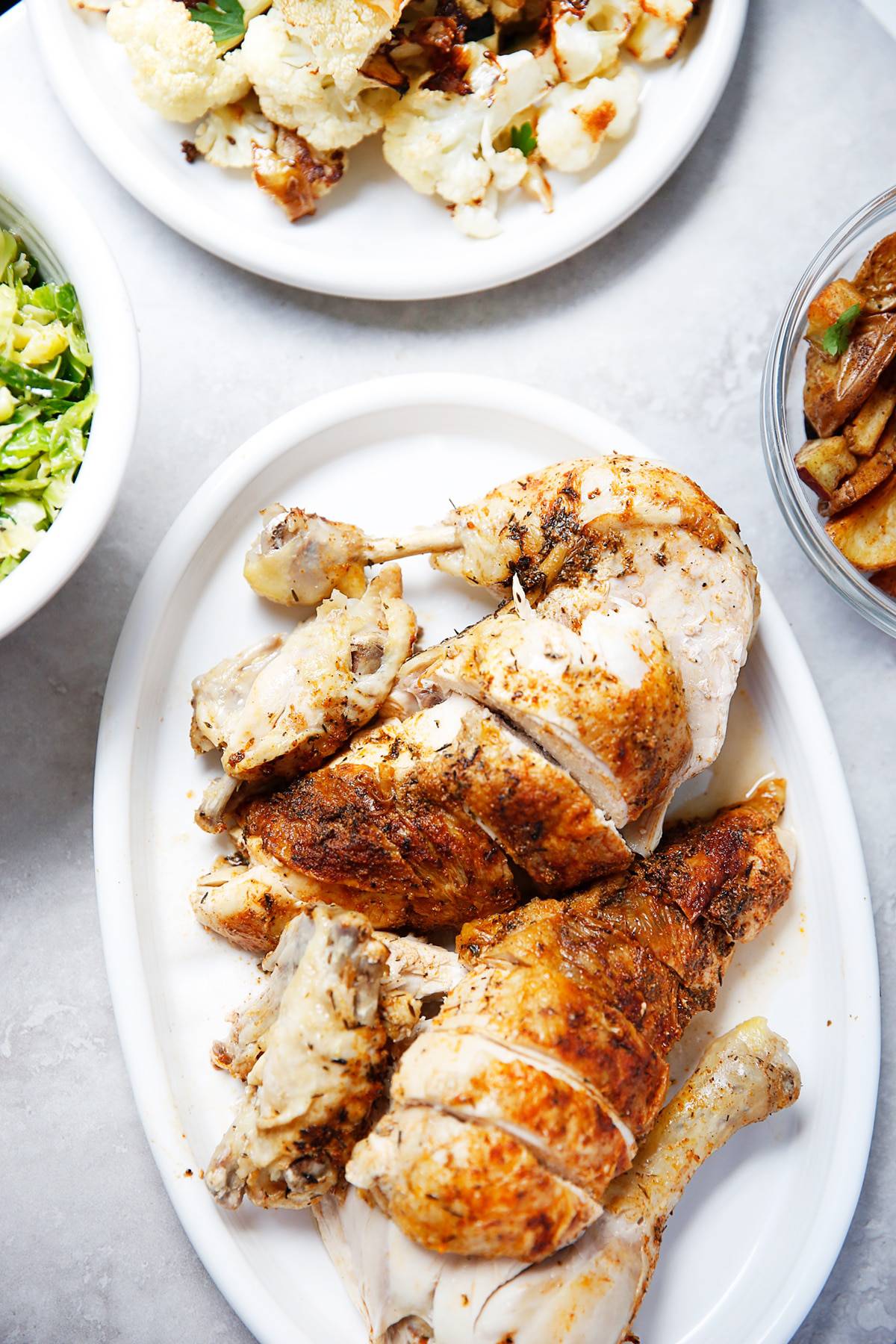 If you like this How to Recipe, check out these others:
Watch the video:
What to do with leftover chicken bones/carcass? Reuse them and make HOMEMADE BROTH!
---
How to Cook a Whole Chicken in the Instant Pot
This post is all about How to Make Oatmeal! We tested so many different types of oatmeal recipes with different cooking methods until we found the three that produced the best oatmeal! We used both old fashioned rolled oats (on the stovetop and instant pot) and steel cut oats (in the instant pot) and perfected recipes that are great for a warm hearty breakfast or make ahead prep for the week!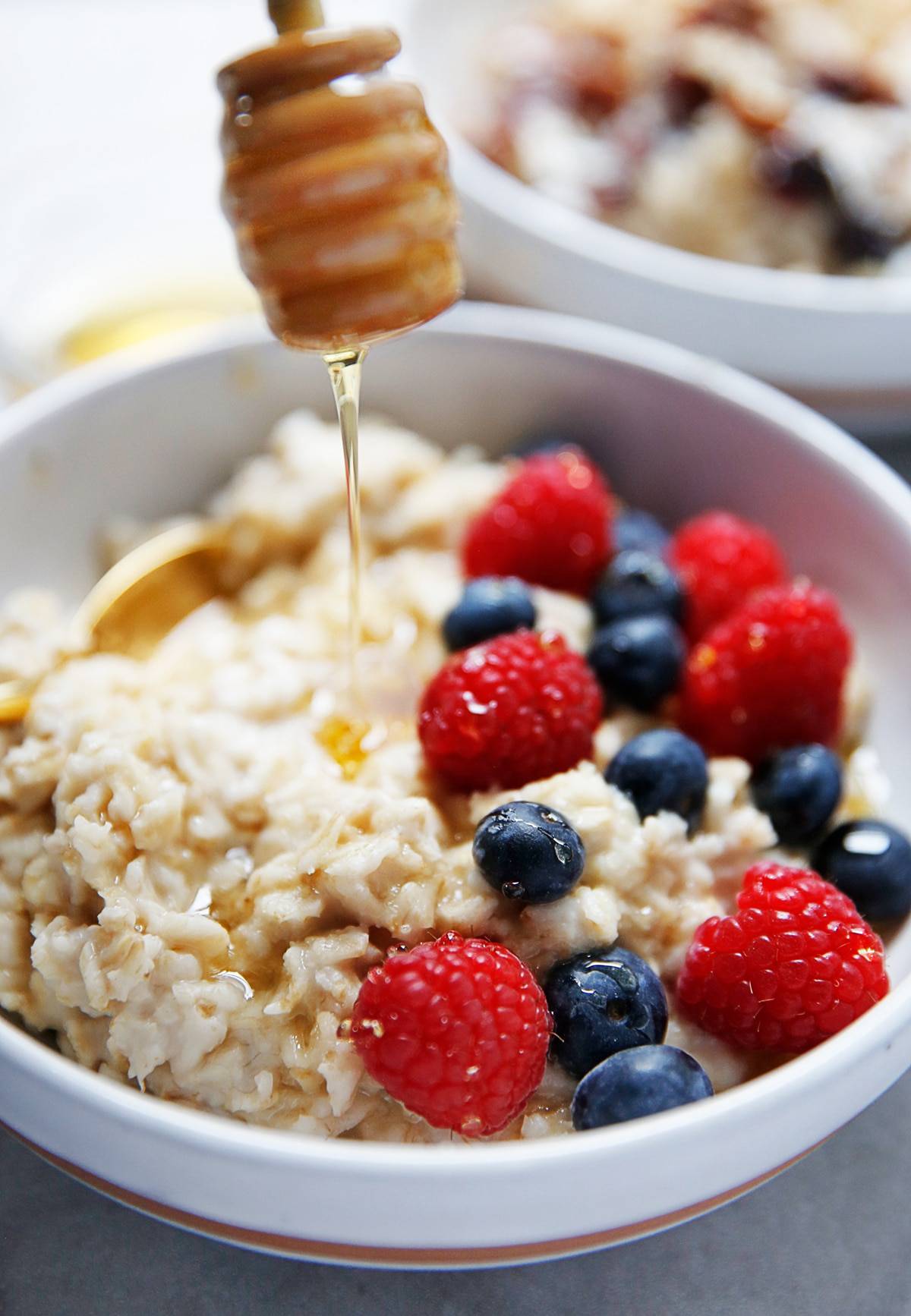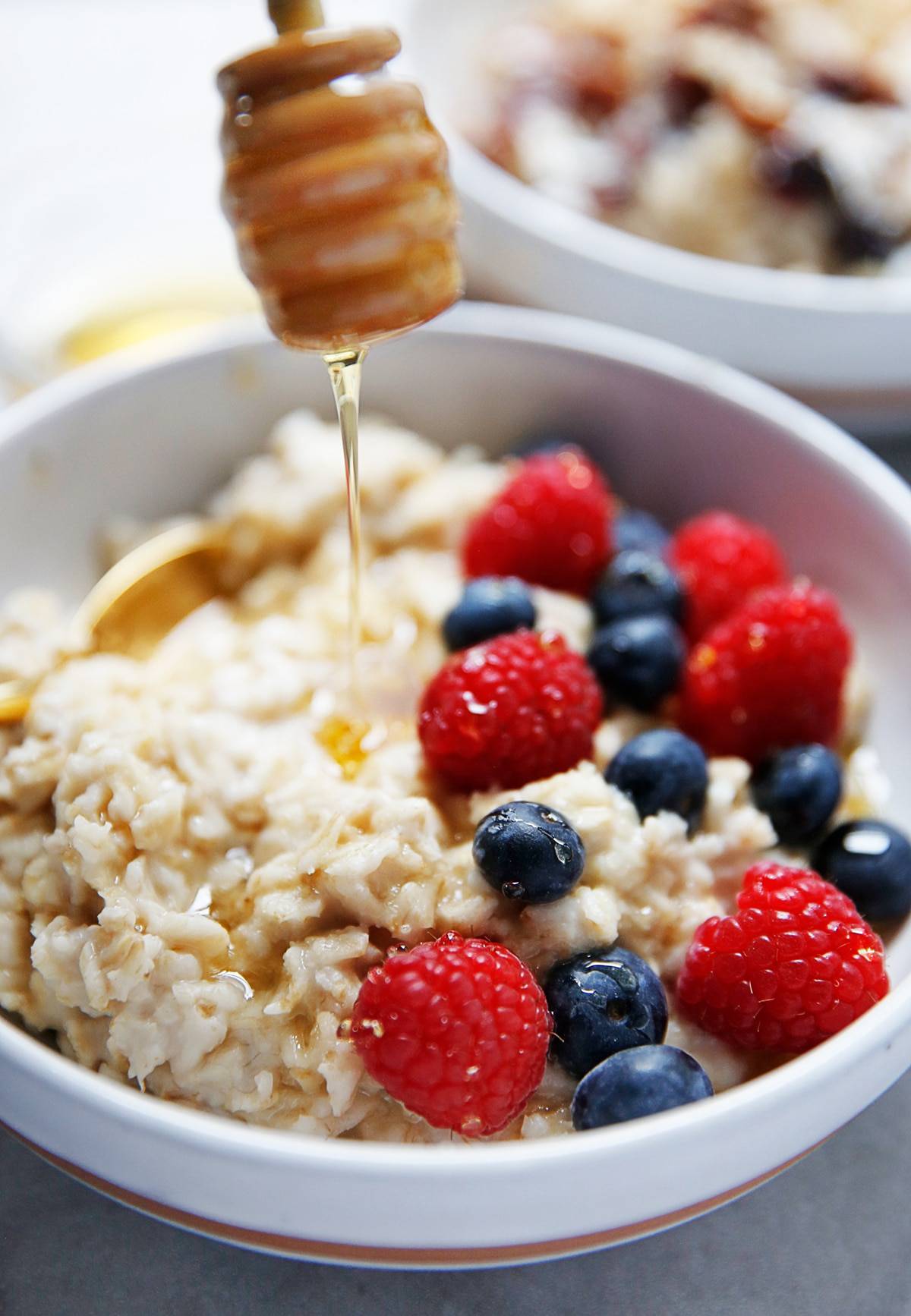 How to Make Oatmeal
It's another How to Wednesday post and today we are talking all about How to Make Oatmeal. But not just any oatmeal, we set out in search of the best oatmeal and the best cooking method! There are so many different choices out there and we tried them all to pick which ones were no only the tastiest, but also for the easiest and quickest cooking method to get you a whole grain, gluten-free, easy breakfast on the table, with leftovers serving as meal prep.
For a few weeks in a row, we made A LOT of oatmeal. We tried and tested every type of oatmeal and every method we had heard of. After eating lots of oats (so much so that we haven't eaten any since) we have decided on two methods (stovetop and Instant Pot) using two different types of oats (rolled oats and steel cut oats) as the BEST METHOD of How to Make Oatmeal. Each recipe produces a slightly different taste and texture of the oats and each has it's own redeeming quality and characteristics.
Our favorite oatmeal recipes are for:
Stovetop Rolled Oats: This is hands down the quickest method to cook rolled oats. It's done in under 15 minutes and results in nicely textured creamy oats.
Instant Pot Rolled Oats: This is the easiest method to make rolled oats that results in a super creamy oatmeal that doesn't require any stirring and is done in around 30 minutes, which means you can start it as soon as you wake up and breakfast will be done for you (and your family) by the time you've showered and gotten ready!
Instant Pot Steel Cut Oats: This is the quickest and easiest method to cook steel cut oats! The hands-off cooking method takes almost the same amount of time as rolled oats and is super creamy. The texture of steel cut oats has more bite to it!
You may notice some omissions in this post and that's because we tried them, and didn't like it. The biggest omission from here is that we did not include slow cooker overnight oats. We tried making them more than 4 times with both rolled oats and steel cut oats and in the end we just felt that they tasted like they were overcooked. We even tried making them with the "warm setting" on the slow cooker and they still were not to our liking.
This is obviously a matter of preferences, but we preferred to have oats that still kept a nice texture so we are not including instruction on cooking them overnight in a slow cooker. We also are not including quick oats here, because we felt it did not take much more time to make the old fashioned rolled oats and felt they have a far better texture. Are you sensing a theme here? We prefer the oats that keep there structure well and do not get cooked so much that they turn into one mass and so that is why we are recommending these three methods to make the best oatmeal.
Does Oatmeal Taste Better with Milk or Water?
When oatmeal is cooked with just water it is REALLY plain. We preferred a combination of almond milk and water in our recipes, but you can feel free to sub in other milk whether it be dairy or dairy-free. We like the combination of milk and water because it was perfectly balanced and the flavor didn't overwhelm the oats, but also brought some creaminess to them.
Tips for Making Rolled Oats Recipe
We are recommending to make old fashioned rolled oats with two methods: stove top and instant pot! The stove top is the quickest method with oatmeal ready in about 15 minutes. If this still feels like too much than you can make ahead of time and simply reheat it! The other method is in the instant pot which is the easiest method. It requires no stirring and you can accomplish other things while it's cooking!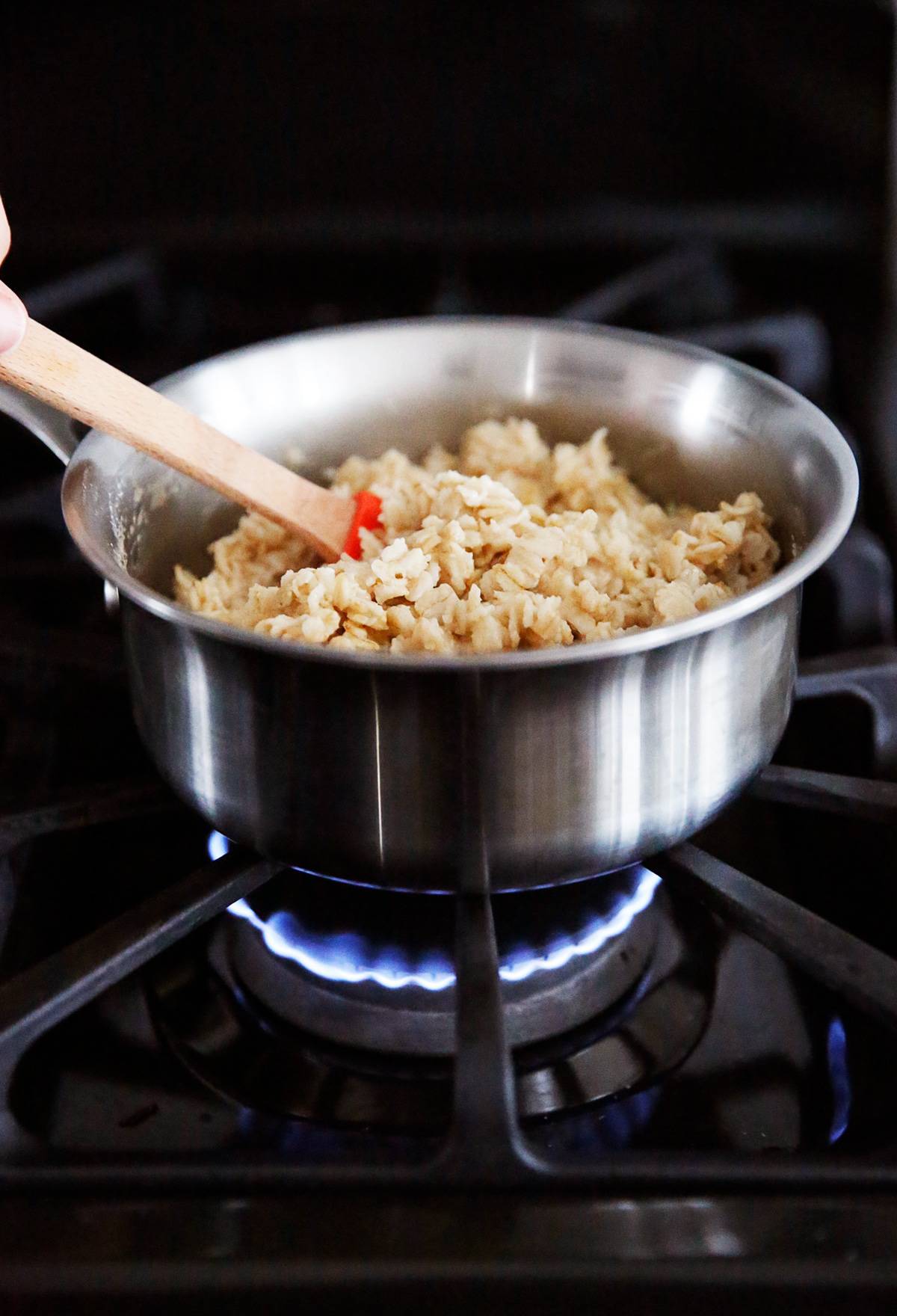 How do you make the best steel cut oats?
The instant pot is the best method to cook steel cut oats! It's the quickest method, that produces the best taste and texture. But there is a catch: you can't cook them straight inside the pot! We found that some parts of the oats got overcooked and produced a rubber-y oatmeal, so we used the pot-in-pot method to make the oatmeal. This simply means we cooked the oatmeal inside of a bowl that sat on a trivet! It produces the most luxuriously creamy oatmeal, without any cream!
Are oats gluten free?
Oats are naturally gluten-free, but they can sometimes be processed in a facility where wheat products are also processed so there can be cross-contamination. If you are sensitive to gluten be sure to purchase oats that are labelled gluten-free!
What can I put on top of oats?
There is an endless number of toppings you can add to oats! Below find some examples with a suggested amount for a typical serving bowl of oatmeal. Have fun and mix and match these serving suggestions!
Sweet:
2 teaspoon maple syrup / honey

1/2 teaspoon vanilla extract

2 tablespoons raisins, nuts, shredded coconut

1-2 tablespoons drizzled almond butter, peanut butter or sun butter

1-2 tablespoons cashew cream
1/4 fruit like berries, banana or chopped apple (you can also add the apple while cooking for a twist)
1/4 cup granola
2 tablespoons seeds (such as chia, flax, pumpkin or sunflower)
1 scoop protein powder or collagen peptides (add while still hot and stir to combine)
1/2 teaspoon spices like cinnamon or pumpkin pie spice
Savory:
1 strip crumbled cooked bacon or sausage
1-2 tablespoons tahini
2 tablespoons shredded cheddar cheese
1 tablespoons sliced green onion
1/2 teaspoon spices like cumin or chili powder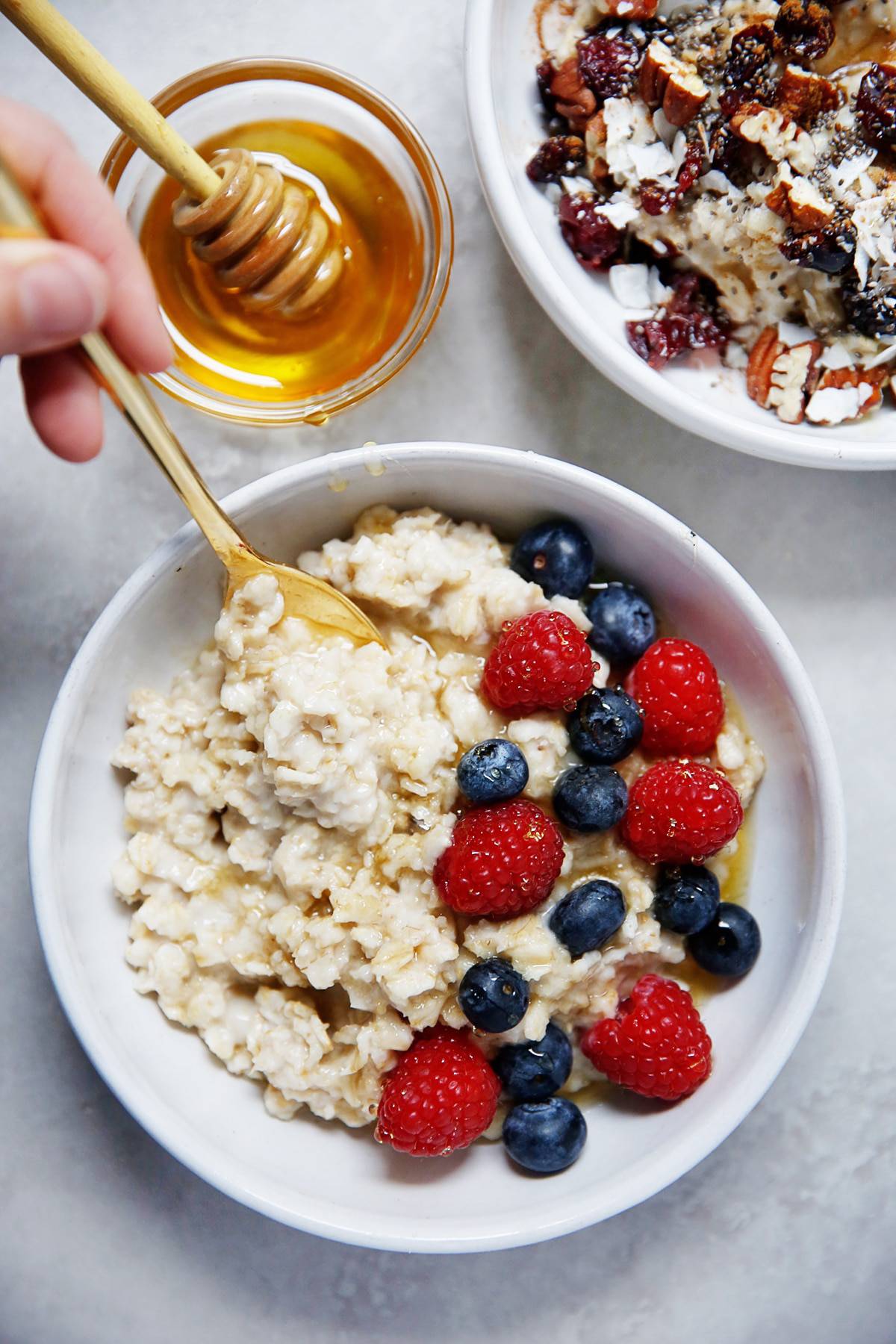 If you like this oatmeal post, check out these others:
Watch the video:
---
Pin for later:
The Ultimate Guide on How to Make Oatmeal
For the longest time hard-boiled eggs were one of those, "well, they're never going to be beautiful" situations for me. I tried every which way- vinegar, baking soda, putting them into hot water, starting them in cold. You name it, I tried it! I was always left peeling an egg and having half of the white come off with it. Not fun, and not conducive to deviled eggs or any situation where you need them looking pretty!
You can find a million different ways to make the "perfect" hard/soft-boiled egg on the internet. Take it from me, I've tried them all! Finally I stumbled across the trick. The only way I will make hard or soft boiled eggs again! This week for Foodie Friday with American Express I wanted to share it with you in an easy handy infographic that you can pin or save to have on hand.
The trick? STEAM THOSE EGGS!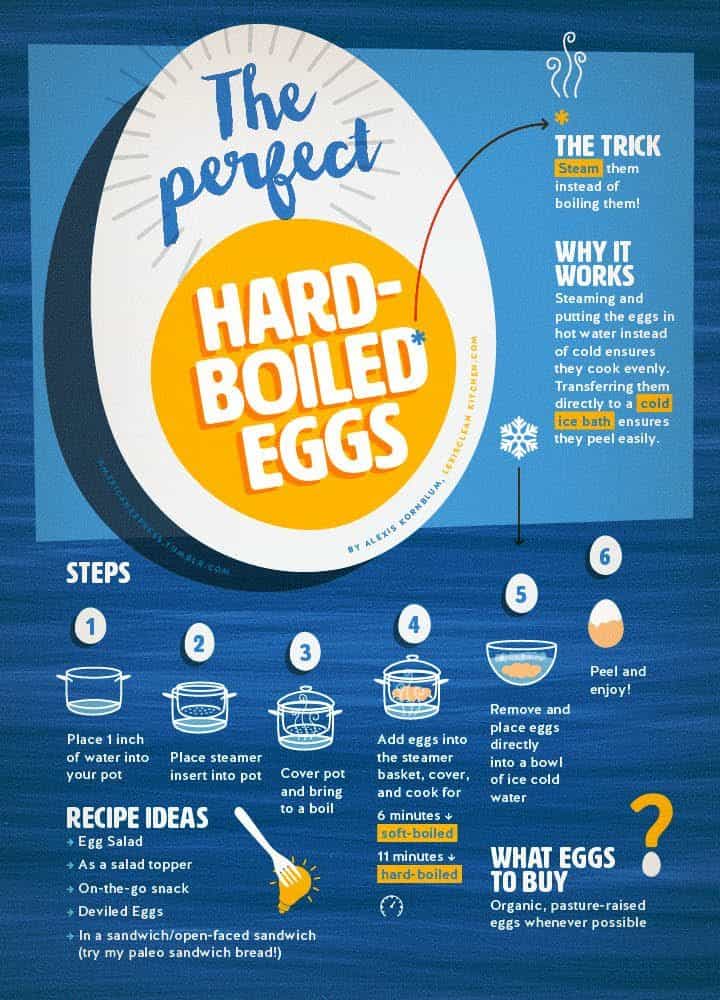 Here's what you need to do:
1. Place 1 inch of water into your pot
2. Place steamer insert into pot
3. Cover pot and bring to a boil
4. Add eggs into the steamer basket, cover, and cook for 6-11 minutes (soft-boiled —> hard-boiled)
5. Remove and place eggs directly into a bowl of ice cold water
6. Peel and enjoy!
I was selected by American Express to contribute to their Tumblr community. As such I was paid for my services, but all opinions in general and about American express are my own.
What are your favorite ways to use hard-boiled eggs? Have you ever tried to steam them?
The Perfect Hard-Boiled Egg
The months just keep flying by! May is already here, and this month for Healthy Food Friday I'm inspired by the idea of traveling around the world. You'll see some flavors inspired by different cultures and cuisines this month!
Let me start by saying that I love all things SPICY. I put hot sauce and red pepper flakes on everything. Literally, everything. Last week I made a Honey Mustard Chicken Salad recipe; which will be coming to the blog in the upcoming weeks (see Instagram for a sneak peek). I typically add some cilantro and these roasted red peppers and it brings the dish to life! Since then, I am on a roasted red pepper kick. Whether it be roasted traditional red bell peppers or hot peppers, I am all about it!

Now… roasting your own peppers is way easier than you think. Follow these simple steps with your favorite peppers for a great addition to the condiment section in your refrigerator; and a definite flavor booster for some dips, salsas, toppings, and chicken dishes!

[yumprint-recipe id='156′]
Hot Pepper Honey from The View from the Great Island
I was selected by American Express to contribute to their Tumblr community. As such I was paid for my services, but all opinions in general and about American express are my own.
How do you eat peppers? Hot? Roasted? Dried?