Ways to Use Fresh Mint
As summer comes to a close — bummer, I know! — I bet you're finding yourself overstocked on a few seasonal items in your kitchen, and fresh mint leaves are likely to be among those items. Don't let them go to waste! Fresh mint has tons of unexpected uses. We've been sharing mint recipes all week long, but just in case you need you need further convincing that mint leaves are versatile, here are 10 more ways to use fresh mint leaves!
10 Ways to Put Fresh Mint Leaves to Use
We're wrapping up mint week with a bang! After sharing with your 4 brand new ways to use fresh mint, we've got 10 more uses for mint leaves that will be a sure fire way to use up any of your leftover mint leaves.
This week we shared:
Health Benefits of Mint Leaves
You should know that fresh mint leaves also have a ton of (possibly) unexpected health benefits. Fresh mint is rich in nutrients, can aid stomach pain and digestive issues, can improve brain function, and helps relieve cold symptoms. Since it's relatively easy to add to your diet, there's really no excuse not to reap those benefits.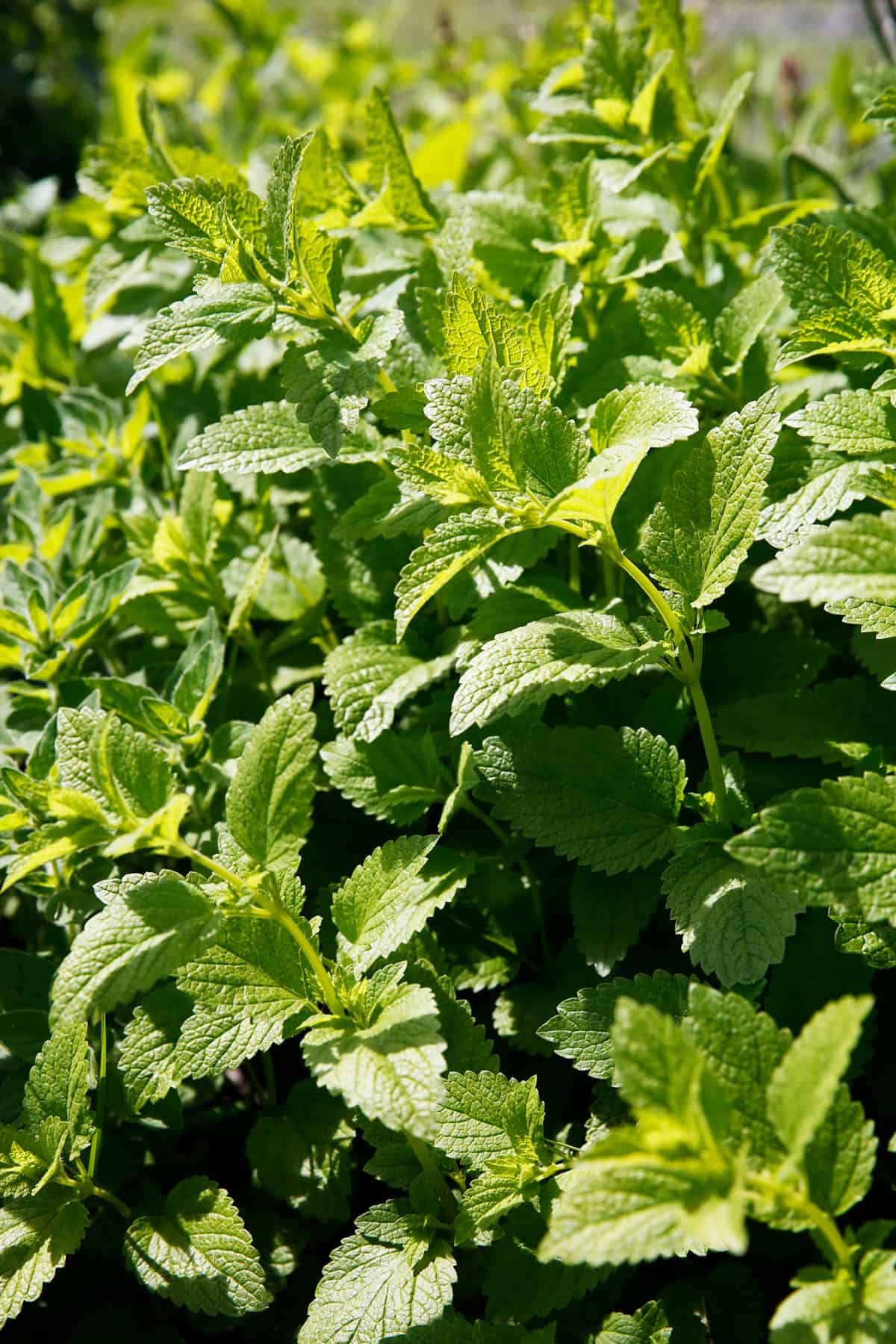 And there's definitely no excuse to toss the fresh mint you have in your kitchen. Here are ten easy ways to use it.
1. Garnish your favorite juices. One of the best things about making your own juices at home is that you can add a whole bunch of delicious flavors that you probably wouldn't find in a store-bought equivalent. Mint is one of those delicious flavors, and I like to add it to many of my own juice recipes, including my Strawberry Lemonade with Mint and my 2-Minute Watermelon Juice. The mint adds a subtle and fun depth of flavor — plus, it makes for a really pretty garnish. (Extra food Instagram points for pretty garnish!)
2. Make a salad dressing! It's easy to get stuck in a rut with salad dressings. You throw together a little vinegar, a little oil, a little seasoning, and call it a day — right? Wrong! Salad dressings don't have to be boring, and mint is a great way to spice up your greens. I love the Mint Chia Dressing I use on arugula salads. Make it one time and you'll wonder why you weren't making your salad dressings minty before!
3. Put it in frozen smoothie packs. You know how much I love to prep my healthy smoothies ahead of time by assembling frozen smoothie packs in large batches. When I'm ready for one, all I have to do is toss the contents of one of the packs in a blender and enjoy! I include fresh mint in several of my go-to frozen smoothie pack recipes. My Chocolate Mint Smoothie is extra delicious!
4. Cocktails, anyone? We've already talked about how great fresh mint is as an addition to homemade juices, but it can be just as wonderful in beverages that are a little more… adult. I add it to many of my favorite boozy bevys, and if you find yourself with a lot of fresh mint lying around the kitchen, I encourage you to do the same! Try a Cantaloupe Ginger Cocktail, a French Kiss Cocktail, or a batch of Rose Sangria. Cheers to you!
5. Top off your parfaits. Parfaits look pretty to begin with, but adding a little fresh mint as garnish just takes it to a new level. Check out the way I garnish my Berry and Cream Parfait or Mocha Fudge Fruit Parfaits! Using fresh mint in any parfait that features chocolate has the added benefit of making you feel a little like you're eating mint chocolate chip ice cream.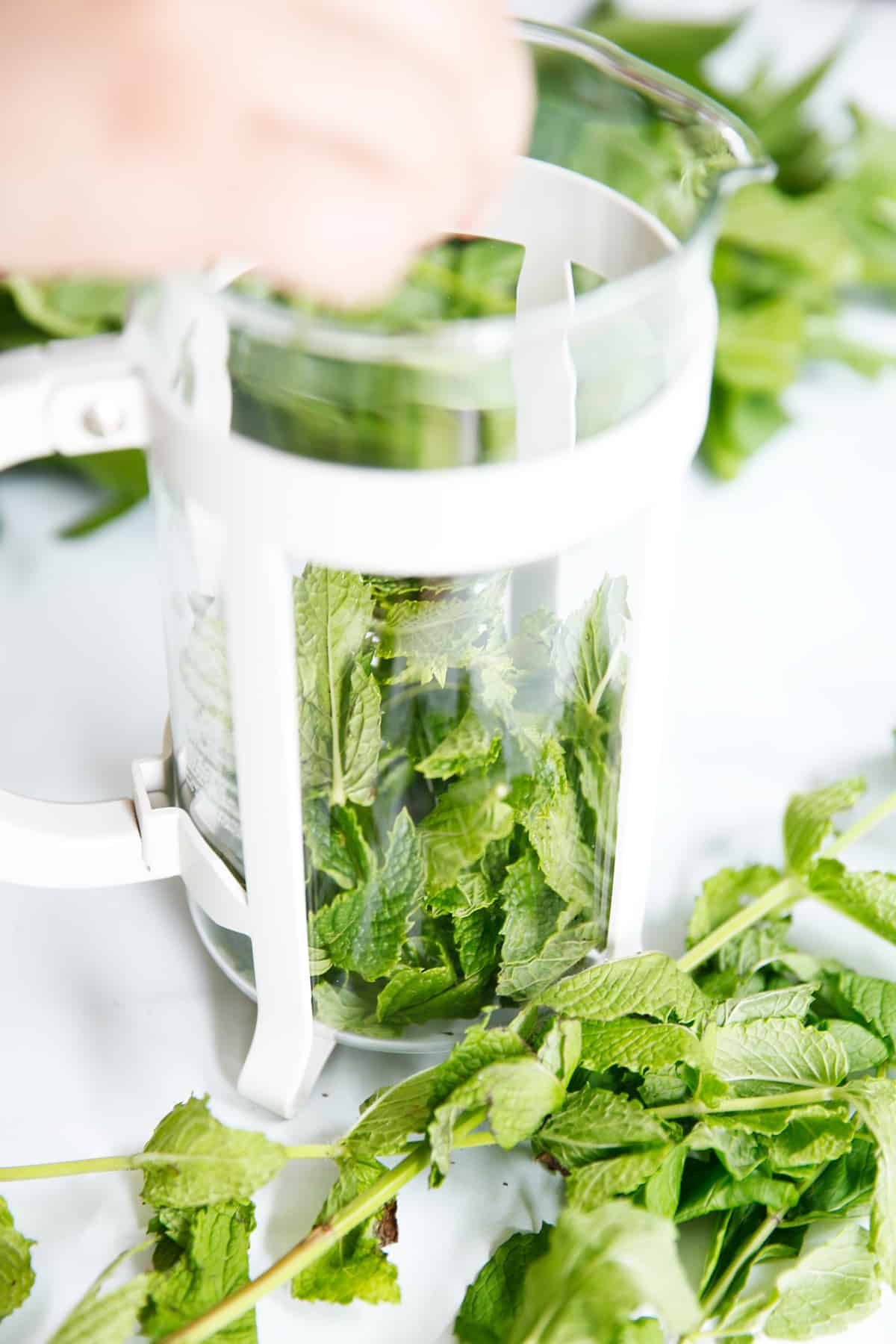 6. Make mint ice cubes. Drop leaves of fresh mint into each slot of your frozen ice cube molds to add a minty twist to any of your favorite juices or cocktails. This is a fun touch for any party or gathering, since it looks a little on the fancy side, but is actually really easy to pull off.
7. Do a DIY face mask. Mint is a refreshing, rejuvenating herb, which means that it has tons of benefits for your skin care. It's anti-bacterial, chock full of Vitamin A, anti-oxidant, and soothing, and it comes especially highly recommended for skin ailments like acne. With everything that fresh mint has going for it, it would be a waste not to use it to make DIY face masks. It can be mixed with other natural ingredients — like cucumber, honey, oats, and milk — to give your skin the glow you've been looking for. Check out eight awesome recipes here!
8. Spice up a salad. Bored of your usual salad mixes? No problem. Throw in some fresh mint! The herb might just become a standard addition to all of your salad. My favorite minty salads are my Melon Salad with Prosciutto, my Mediterranean Quinoa Salad, and my Easy Cucumber Salad, but I challenge you to use mint in all of your best-loved salad recipes.
9. Mix it in a spring roll. Spring rolls are totally underestimated as a healthy snack, nutritious lunch, or party appetizer, and they're also a great place to use any fresh mint you have around the house. My Spring Rolls with Mango Ginger Sauce recipe calls for a bunch of mint leaves. You're gonna love it!
10. Toss it in a slaw. Sick of the same old slaw? Fresh mint might be just what you need to mix it up. You'll find it in my Beet Slaw, for one!
Bonus: Check out this post and this post for other ways to preserve fresh herbs!
What are your favorite ways to use up fresh mint leaves?
Ways to Use Fresh Mint
This Mojito recipe is naturally sweetened using a honey mint simple syrup. It's refreshing and the ultimate summer cocktail!
Paleo Mojito Recipe
As if a Mojito wasn't delicious enough, we've added in a little extra kick of mint and sweeten this one with a Honey Mint Simple Syrup. With mint in abundance in the later summer months, it's the perfect refreshing cocktail to make right now! Serve it to a crowd or enjoy during a casual dinner at home. Either way, it's going to be loved!
Traditionally Mojitos are made with granulated sugar to sweeten them. The granulated sugar is muddled with the mint to break it down so it doesn't taste grainy, and to help release the natural oils on the mint. Here, we skip the refined sugar and instead make a quick Honey Mint Simple Syrup that not only adds just the right touch of sweetness to the mojito, but also makes it extra minty. You can skip this step if you'd like, and just make honey simple syrup instead, but that extra hint of mint really makes this summer cocktail special. We recommend making the simple syrup if you'd like to sweeten this naturally, as adding straight honey doesn't blend well with the cold beverage.
Mojito Ingredients
Fresh Mint

Lime Juice

White Rum

Ice

Club Soda
How to Make Simple Syrup with Mint
Check out this post for all the instructions and recipe, but here is a quick recap:
First you make a simple syrup by combining 1 part water to 1 part sweetener. In this case, we use honey. Bring it up to a boil and that is a your base simple syrup.
Next you bruise or rough up the clean mint to help release the oil. Then place the cleaned mint leaves in a heat proof bowl. Carefully pour the simple syrup over the mint. Let it infuse for 10 minutes.
Carefully strain the mint leaves, pressing down gently to get all of the oils out of the leaves.
Use in this Mojito and many others!
How to Make a Mojito
We recommend making Mojito's to order. If you are serving your crowd prep all the ingredients you need and have that ready to go. You can up up to 3 at once if you follow all of these steps and make the drink in a cocktail shaker, and then pour over ice in each individual glass!
Muddle the mint! Place the mint leaves in the glass and muddle to release the oils that give it a nice refreshing, minty flavor. Muddle just enough to slightly bruise the mint.

Fill the glass ⅔ full with cracked ice.

Pour in the lime juice, the rum and top it off with club soda.

Garnish with extra lime or mint.
If you like this cocktail recipe, check out these others:
If you like this mint recipe, check out these others:
Naturally Sweetened Mint Mojito
This bright Pistachio Mint Pesto is a unique twist on the classic to use up all of that abundant summer mint! It's made with pistachio, mint and dill and is so bright and refreshing. It's perfect for grilled meat or veggies and comes together quickly to add a nice punch of flavor to any dish!
Fresh Mint Pesto Recipe
A well made pesto is like a flavor bomb. Adding this Mint Pesto to any dish will brighten it and elevate the flavor! This nuanced pesto is made with fresh mint leaves, dill, green onions, pistachios and lemon! The truth is you can make pesto out of just about anything, and while most people think of pesto with basil, this mint pesto is just as delicious. You can pair it with nearly anything, but it's great with grilled meats, veggies, chicken and as a spread on a cheese board.
Ingredients for Pistachio Mint Pesto
Pistachios

Fresh Mint Leaves

Dill sprigs

G

reen Onions

Olive Oil

Lemon Juice

Lemon Zest

Salt and Pepper
How to Wash Fresh Mint
Mint can often be very gritty and dirty. To properly wash mint you should:
Pick all the mint leaves off the stem
Fill a big bowl with cool water
Submerge the mint leaves and swoosh them around.
Let them sit for a minute so that the dirt drops to the bottom.
Pick up the mint leaves as gently as possible, so as to not disturb the dirt, and place in a colander.
Empty out the water, rinse the bowl and repeat the process until no dirt is left behind in the bowl.
If desired you can run the mint leaves in a salad spinner to dry them off.
How to Prevent Pesto from Turning Brown
Pesto turns brown when the fresh herbs oxidize by coming into prolonged contact with oxygen. It isn't harmful to eat brown pesto, but it can have an off taste and it looks unpleasant. To prevent browning you can float some olive oil over the top of pesto in the container. Make sure to cover the pesto entirely. This creates an airtight seal and will prevent the pesto from turning brown immediately.
Ways to Use Pistachio Mint Pesto
This bright pesto would be great with so many dishes! It is great with chicken, turkey or even pork. This would be a nice addition with lamb in springtime as well! You can use pesto in pasta dishes, rice dishes, in a salad, as a dip or spread and served over a grilled meat or veggies.
Check out these recipes that use pesto:
If you like this mint recipe, check out these others:
Pistachio Mint Pesto
Did you know you can make tea out of fresh mint leaves? It's so simple and can be made to drink hot or cold! Scroll on down because we're walking you through the steps on How to Make Fresh Mint Tea!
Easy Fresh Mint Tea Recipe
Sipping tea can be so soothing! Mint tea in particular has the ability to immediately calm the mind. Fresh mint tea made with real mint leaves only makes it more amazing! It's earthy, bright and truly minty. And the best part is making it is SO EASY requiring only two ingredients: mint and water! You can use any type of mint that you'd like, and it tastes even better when you make your own blend! We found it easiest to make the tea inside of a French press, but you can just as easily make it in a bowl and then strain out the tea in a strainer once it's steeped.
Types of Mint For Fresh Mint Tea
There are so many different types of mint out there! They all have their own taste and aroma. More than likely if you've just got your standard run-of-the-mill mint either growing in your backyard or from the grocery store, it is probably peppermint or spearmint. Both of those will work well for this recipe and give it a typical mint taste. If you are lucky enough to have a garden with some of these varietals, definitely use them in this mint tea recipe! Some of our favorites for mint tea is made from these varietals:
Chocolate Mint
Pineapple Mint
Apple Mint (or Whooly Mint)
Orange Mint
You can use just one type of mint or mix them up!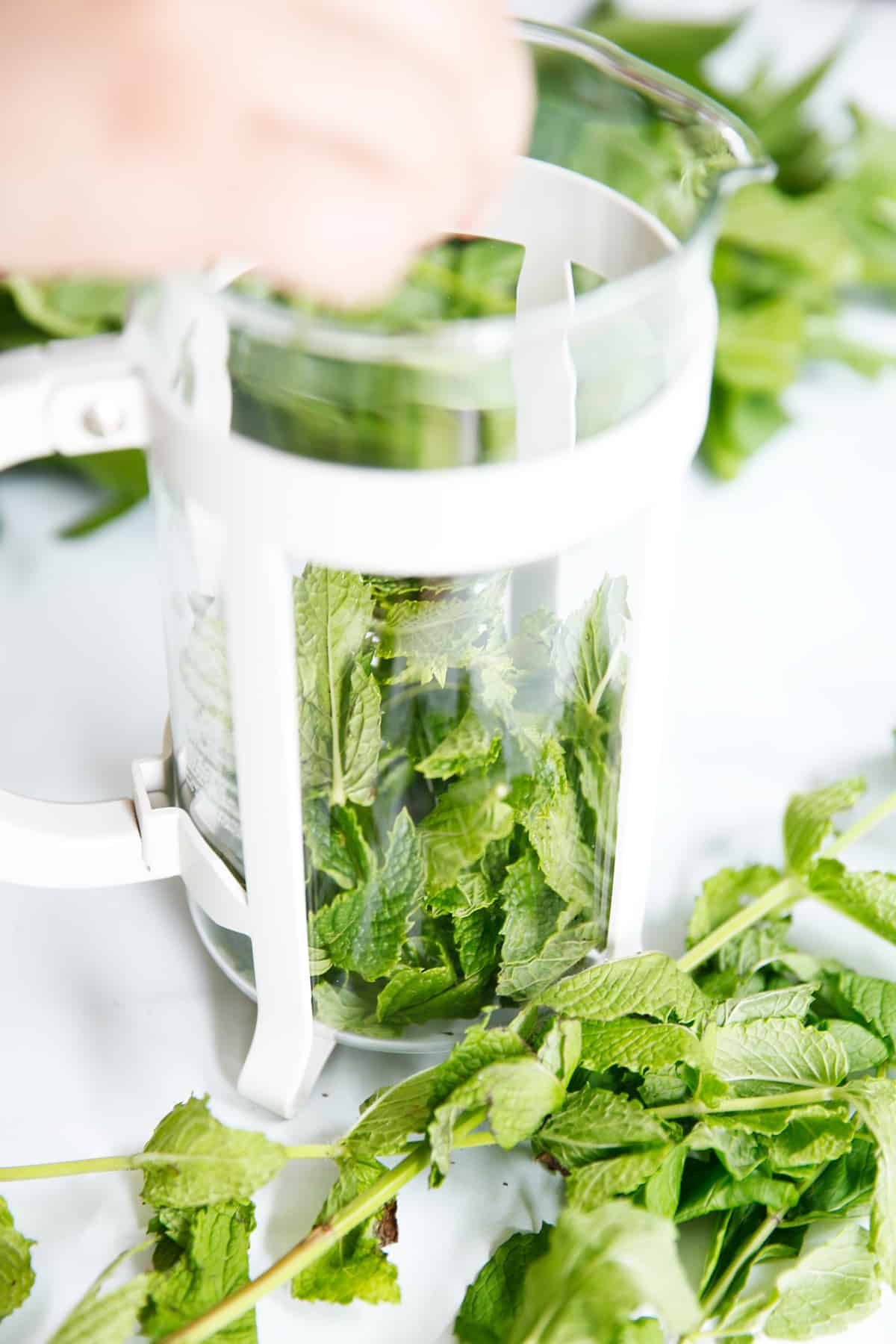 Washing Your Mint Leaves
Mint can often be very gritty and dirty. Washing the mint leaves really well is important because if left with grit on them, the mint will turn the tea muddy. To properly wash mint you should:
Pick all the mint leaves off the stem
Fill a big bowl with cool water
Submerge the mint leaves and swoosh them around.
Let them sit for a minute so that the dirt drops to the bottom.
Pick up the mint leaves as gently as possible, so as to not disturb the dirt, and place in a colander.
Empty out the water, rinse the bowl and repeat the process until no dirt is left behind in the bowl.
If desired you can run the mint leaves in a salad spinner to dry them off.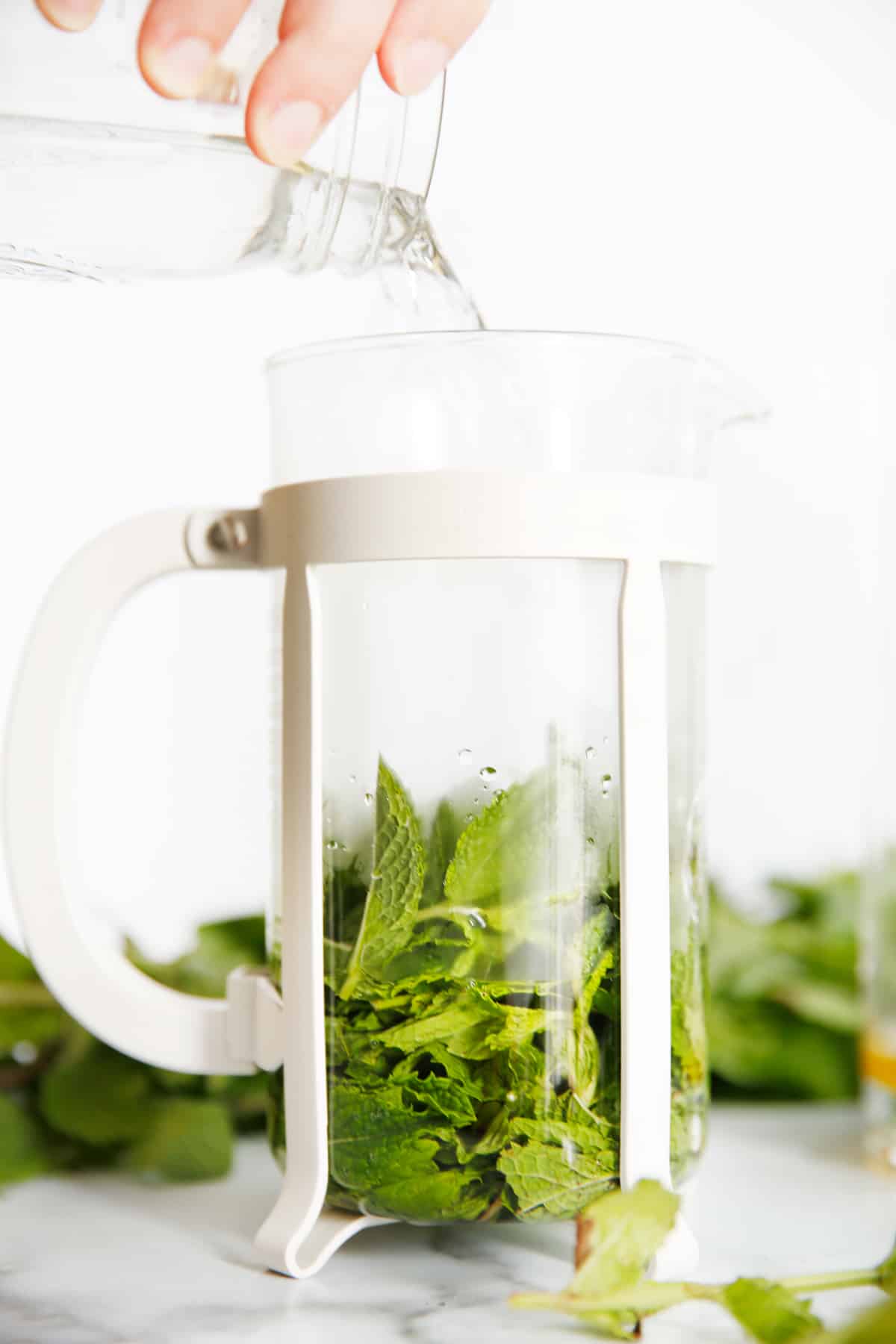 How to Make Fresh Mint Tea
Wash your mint leaves well! Gritty mint leaves will make for muddy tea!
Tear and bruise the mint leaves with your hands. Roughing up the mint leaves will help bring out the oil and make for a stronger mint flavor.
Pour the boiling water over the mint leaves and let infuse for 5-8 minutes. The longer you infuse the stronger the mint essence. However, it reaches a point when the mint tea can start to taste a little grassy, so depending on your varietal of mint start tasting it around 5 minutes.
Strain the tea and pour into tea cups. Add honey, if using.
Serve immediately or cool down and serve cold.
Ways to Enjoy Tea Made with Fresh Mint Leaves
You can spice up your mint tea by adding in some other flavors! You can add in some lemon juice, some honey or maple syrup or even other culinary herbs such as thyme! If you wanted to really amp up the flavor, you could skip the honey and instead make a mint simple syrup to add to the tea to sweeten it (recipe coming in two days!)
If you like this mint recipe, check out these others:


P.S. take me back to Morocco for all the mint tea!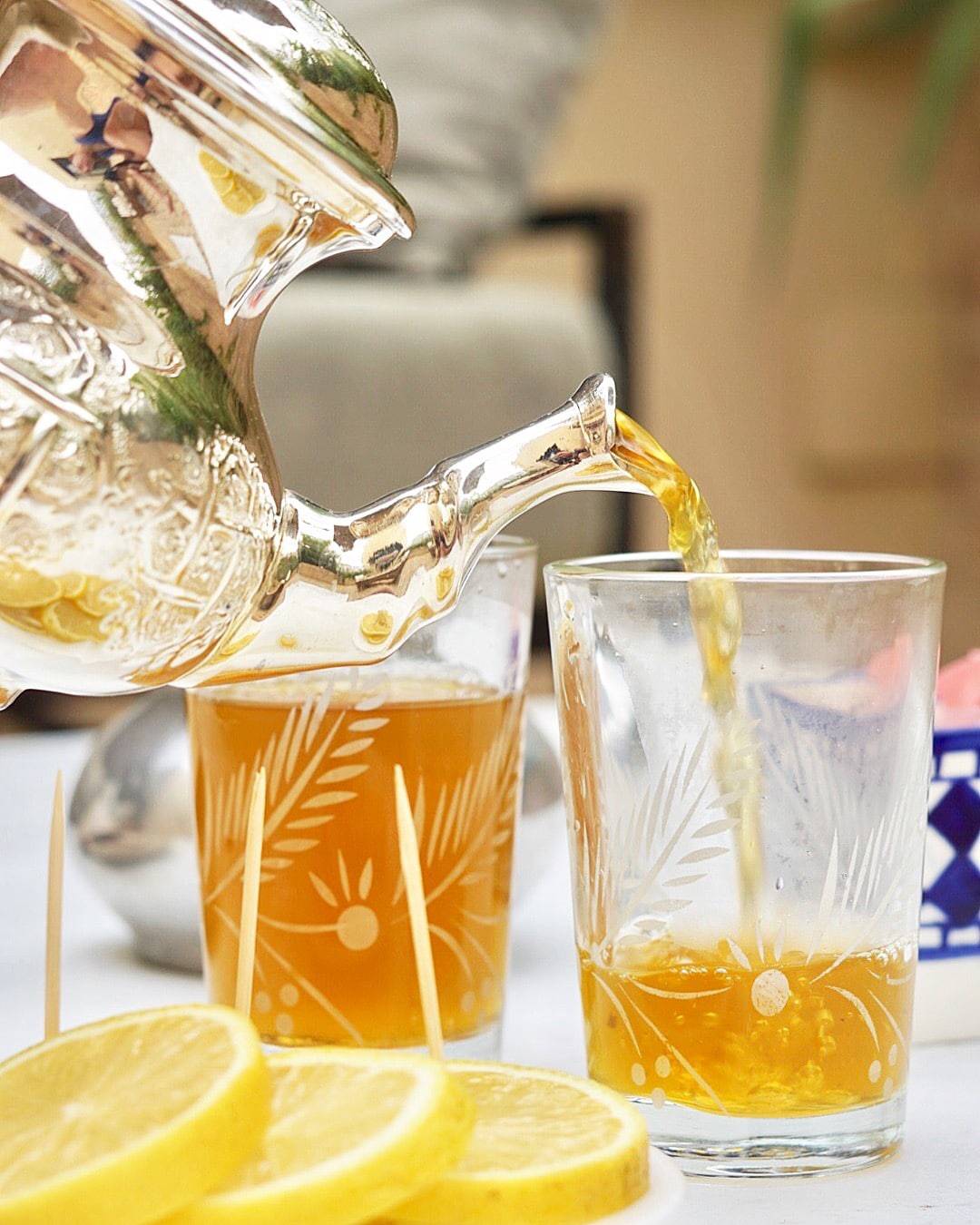 How to Make Fresh Mint Tea
This Mediterranean Quinoa Salad is a must make for a healthy, light dinner or an easy side dish! With protein-packed quinoa, tomatoes, feta, arugula and mint this easy-to-make salad will be on repeat this summer!
Mediterranean Quinoa Salad Recipe
This is the first official quinoa recipe here on Lexi's Clean Kitchen and it's a good one! Many of you have requested healthy and nutrient-dense grain recipes and a promise is a promise! In the past we've had lots of oat recipes which you all have been loving and thought it time to incorporate some recipes with this healthy gluten-free grain! This Mediterranean Quinoa Salad is so flavorful and loaded with veggies and herbs! It tastes as fresh as it looks and is the perfect dish to serve as a light dinner or as a side. It also can work as meal prep for a few days.
Is Quinoa Healthy?
Our in-house nutritionist Gabby says: Quinoa is tremendously healthy, especially for those following a vegan or vegetarian diet. Quinoa is one of the very few plant proteins that contains all nine essential amino acids that our body cannot make on their own, making it a complete protein. Not only is it a rich source of protein, it is also naturally gluten-free, safe for those with celiac disease.
Many believe quinoa is a seed, but it is actually a whole grain. This makes it a nutrient-dense, high fiber substitute for things like white pasta. Last but not least, it is high in many vitamins and nutrients that Americans are deficient in such as magnesium, thiamin, folate, iron, potassium, calcium and phosphorus.
Do you need to rinse quinoa?
Yes! Don't skip this step, even if your quinoa says "pre-rinsed". Rinsing the quinoa get's rid of the natural powdery coating called saponin that has a strong, somewhat unpleasant flavor. Put the quinoa in a strainer and rinse really well under cold water for 1-2 minutes. Then it's ready to use.
How long will this salad keep?
This salad as made is best served immediately because of the arugula. But if you'd like to keep it longer, or use for meal prep you can make the salad up to 2 days ahead and either skip the arugula all together or add it to the prepared salad right before ready to serve.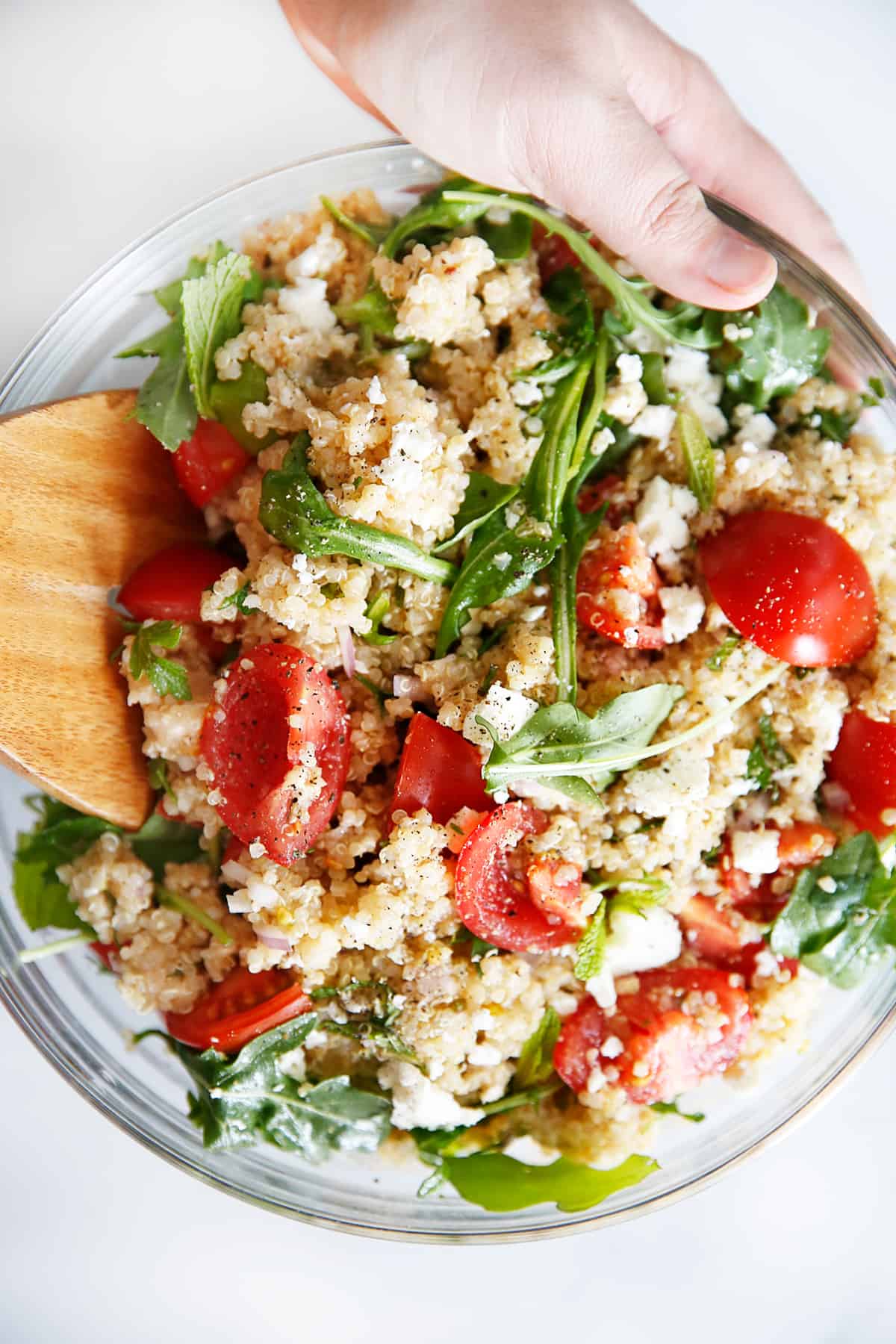 If you like this healthy salad recipe, check out these others:
Watch the video here:
---
Mediterranean Quinoa Salad
When your garden is overrun with cucumbers this summer, this is the salad to make! Or, when you just are really in need of a refreshing, flavor-packed, and super simple salad to throw together. This Easy Cucumber Salad with Herbs uses all of the fresh herbs (parsley, dill, and mint) and features the fresh, cool cumber to complement any dish you're serving up this summer
Easy Cucumber Salad Recipe
This recipe is for when you have found yourself googling: "How do you use a lot of cucumbers?" this summer. Throwing together this Easy Cucumber Salad with ALL THE HERBS is just the answer! This recipe is light, refreshing and a great side salad to accompany all of your grilling mains, seafood or chicken dishes this summer! And it's a great way to use up all those fresh herbs you have too!
This recipe works with either farm fresh large cucumbers you find in the summer, or if you're craving a refreshing side it can also work with store-bought English hot house cucumbers. If you are using extra large cucumbers from your garden or the farm feel free to scoop out the seeds and slice in half moon shapes.
Here's what's in it:
2 large cucumbers, thinly sliced
3 tablespoon extra-virgin olive oil
lemon juice
dijon mustard
dill
parsley
mint
salt and pepper
garlic powder
Pinch of red pepper flakes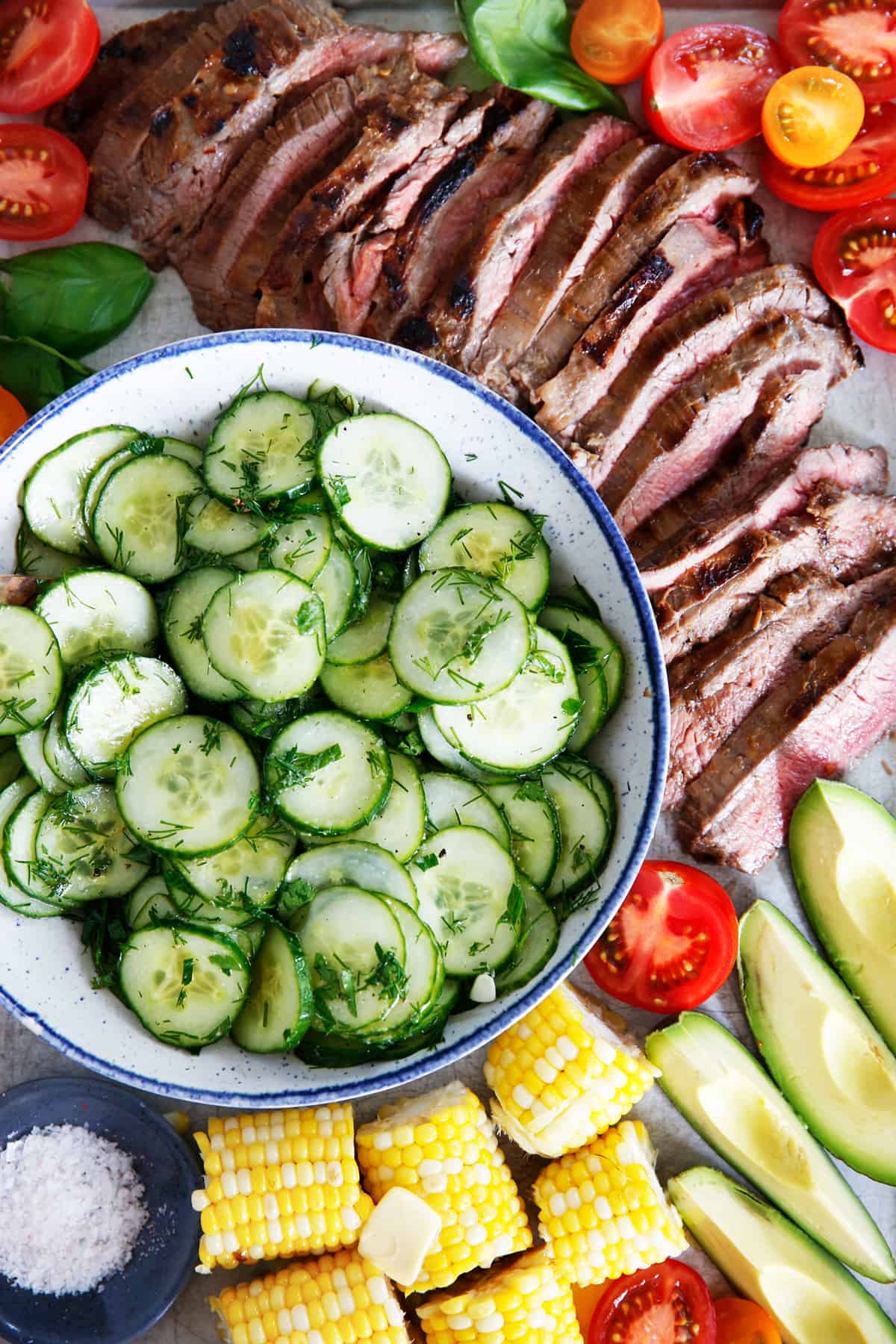 What goes with cucumber salad?
To begin, the best thing about this cucumber salad is that it is oh-so-versatile! It can go with just about anything! It's great to serve as a side for a barbecue, alongside seafood or just about any chicken dish. Here are some of our favorites that go great with this clean cucumber salad:
Looking for more summer sides recipes, check these out:
[yumprint-recipe id='369′]
Easy Cucumber Salad with Lots of Herbs!
Fresh herbs can accumulate quickly in your refrigerator, whether you have a bunch of fresh herbs from the farmer's market, your garden or the grocery store we are sharing tips on how to store them in your refrigerator so they remain fresh for as long as possible! If you are looking for how to preserve fresh herbs in your freezer, see this post!
How to Store Fresh Herbs So They Last
Using fresh herbs is a great way to brighten any dish and bring it from just ok to wow! But sometimes a little goes a long way with fresh herbs and you can be left with a whole lot leftover from one recipe. Or you have an overabundance of herbs from your summer CSA or your backyard garden and want to make them last as long as possible. We're sharing all the ways we've succesfully stored fresh herbs in the refrigerator to get the maximum use out of them. If you are looking for ways to preserve fresh herbs in the freezer to last all year, check out this post here.
There are two main ways we recommend storing fresh herbs for maximum longevity in the refrigerator. But how you store them depends on what type of herb it is! Soft herbs, or herbs with a soft stem, such as cilantro, dill, parsley, basil should be stored liked fresh flowers, in a jar of water. Hard herbs, or herbs with a hard stem should be stored rolled in a slightly damn paper towel in a bag in the refrigerator.
How to Store Soft Herbs: treat as flowers
Storing soft herbs in jars with water prolongs the life of the herbs by keeping them alive like flowers.
Pro-tip: Don't wash these herbs until right before use.
To store parsley, cilantro or dill cut off 1" of the stems and place in a jar with water and store in the refrigerator. We found it unnecessary (and wasteful) to place a plastic bag over the top of the herbs as they stayed just as fresh without one. Check and replace water as necessary, or every few days. Store until the leaves start to turn yellow or very limp, about 2-4 weeks (seriously).
To store fresh basil: cut off 1" of the stems place in a jar with water and store at room temperature just like fresh flower. Refresh water as necessary, or every few days. Store for about 1 week or until the basil has turned soft and limp. Please note: this only works with very fresh basil cut from a garden or the farmers market. The boxes of basil that you buy in the store is typically grown in green houses and are not hearty enough to be stored for longevity. Store bought green house basil must be used within a few days before it starts to go bad.
How to Store Hard Herbs: prolong moisture content
Storing hard herbs in damp paper towels prolongs their moisture levels and keeps them fresher, longer. You'll notice there is one herb included in here that is not technically a hard herb: chives. Chives last the longest when they are frozen, see this post, but they can have a longer shelf life in the refrigerator when stored the same way as hard herbs.
To store sage, thyme, rosemary, mint, or chives: Clean and dry the herbs very well (see below for cleaning tips). Place in a pile in a slightly damp paper towel and wrap them up. Place inside of a plastic bag with a few punctured holes. Keep in the refrigerator about 1-2 weeks or more.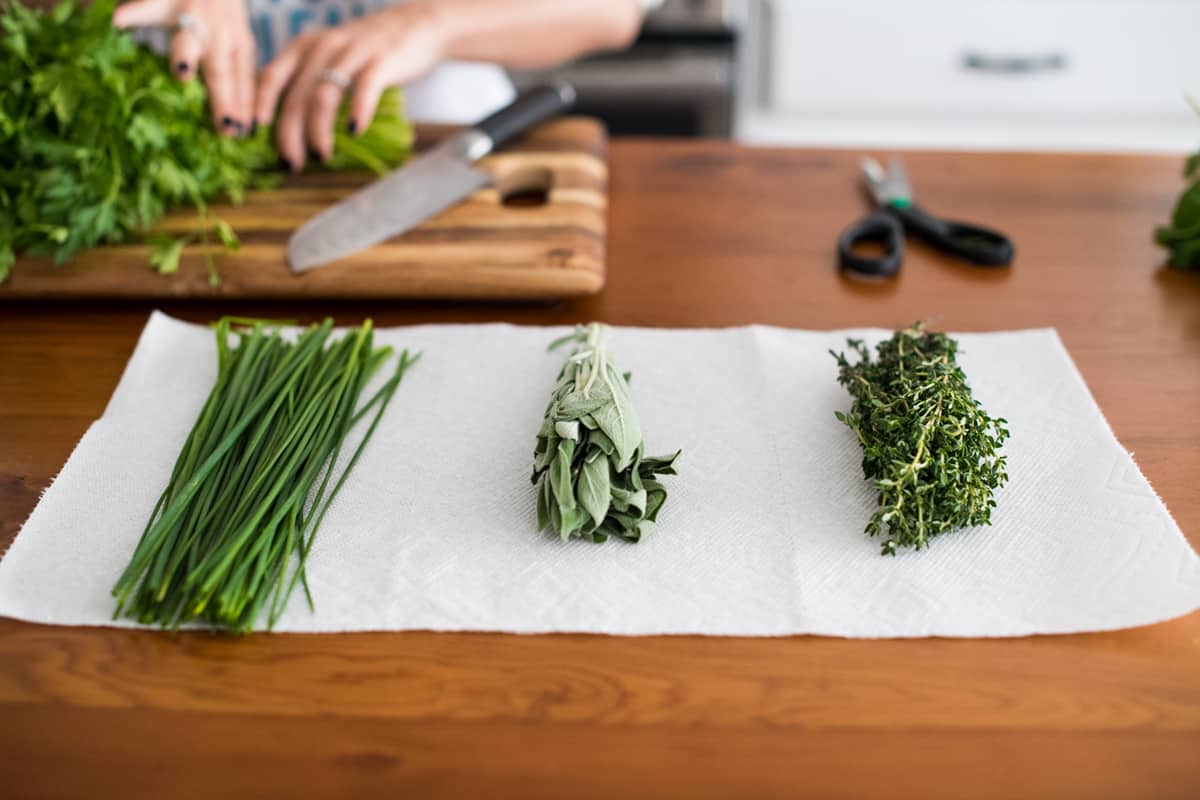 The Best Way to Clean Herbs
Herbs can be very dirty and gritty, whether coming from the supermarket or the farmer's market. The best way to clean herbs is to fill up a big bowl with clean, cool water. Dunk the herbs in the water, letting all the dirt and grit sink to the bottom a few times. Empty the water, fill it back up and repeat until no sand or dirt remains at the bottom of the bowl.
It is best to dry herbs in a salad spinner. If you do not have that you can let the herbs dry in a clean kitchen towel, taking off as much water as possible.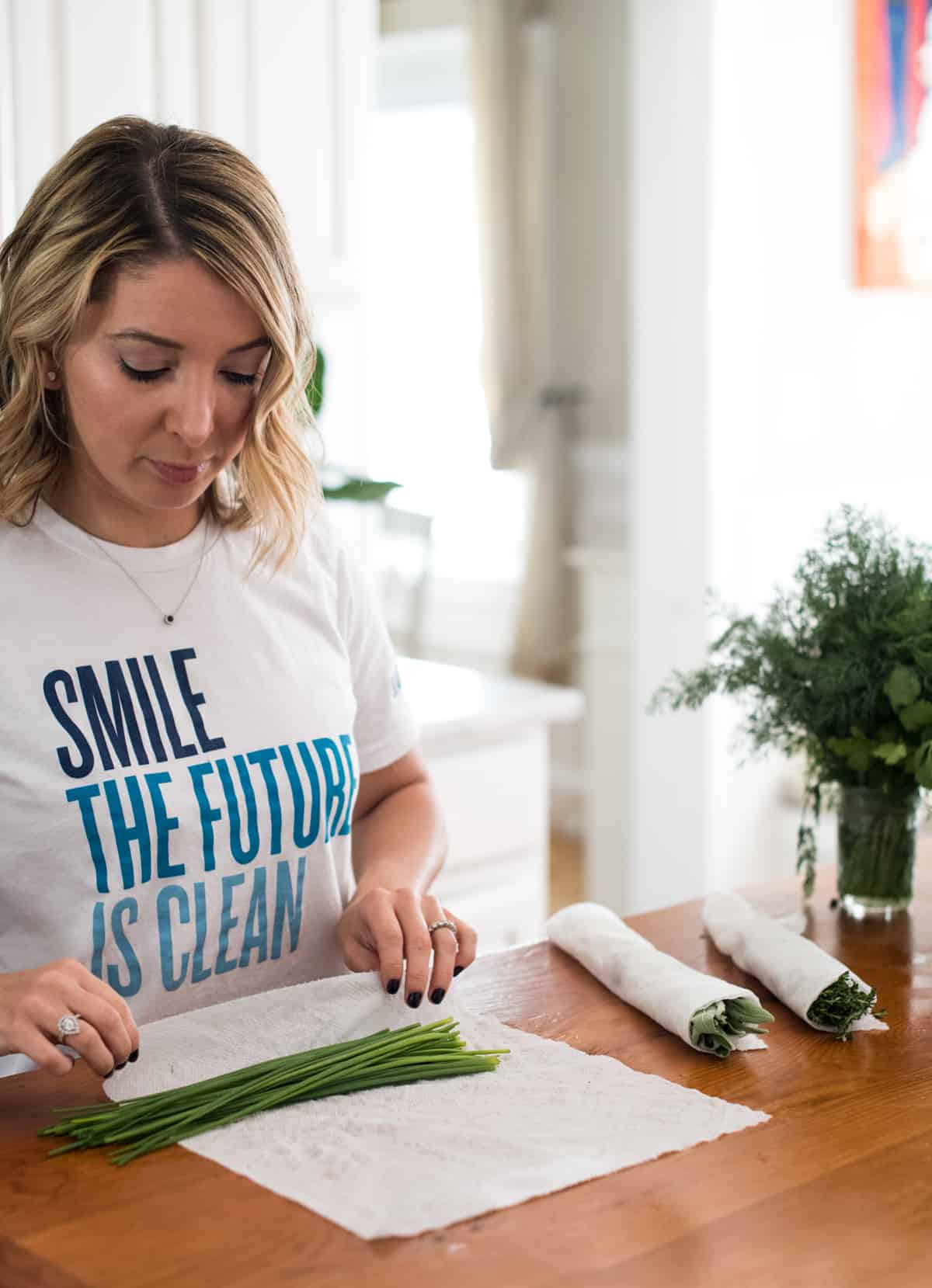 Recipes that feature herbs:
Pin it for later:

How to Store Fresh Herbs in the Refrigerator
This Arugula Salad with Mint Chia Dressing inspired from a recent trip to Round Hill Jamaica will quickly become your new favorite salad dressing! It is flavorful, creamy, and bursting with fresh flavors!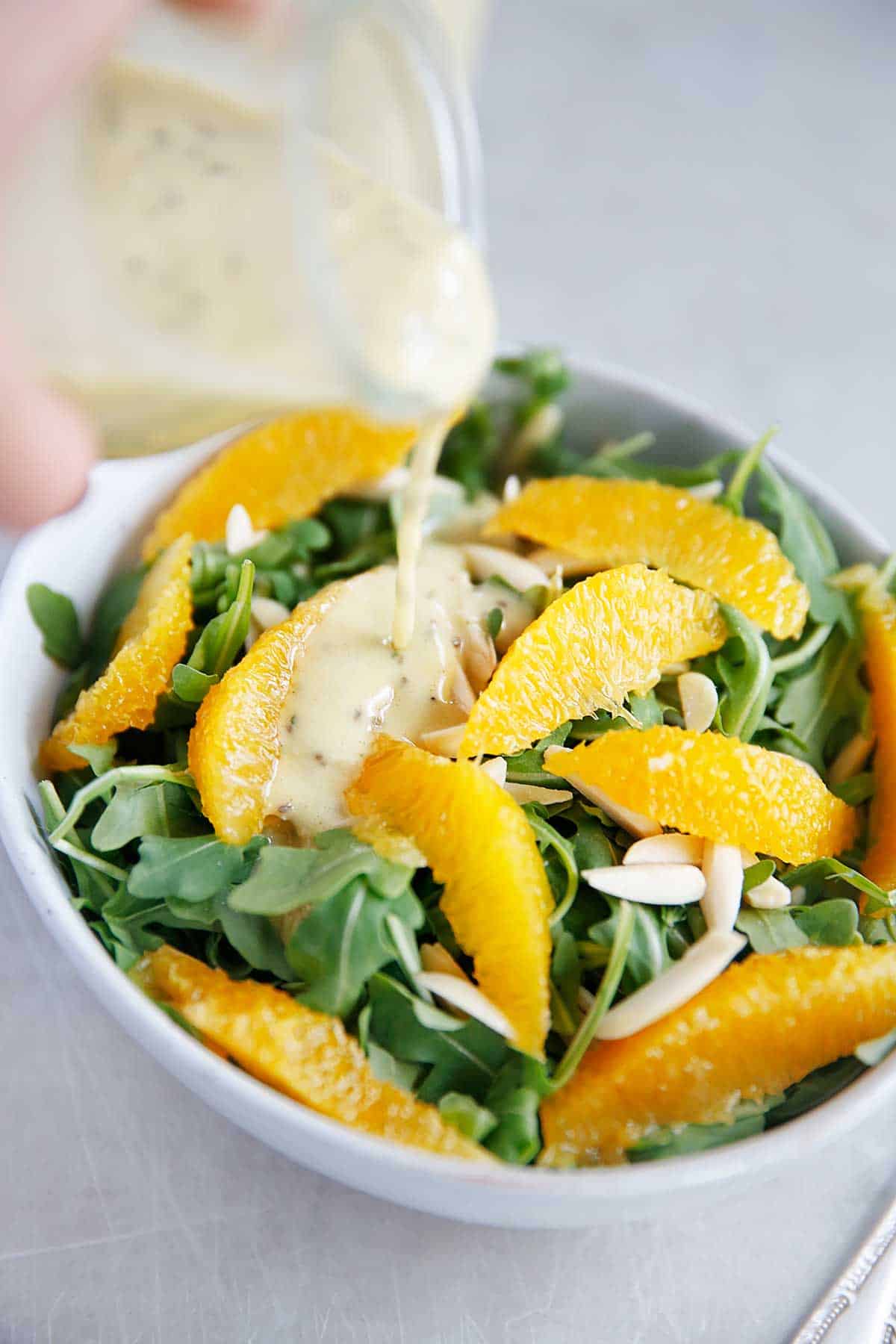 A few weeks ago you may have seen on Snapchat and Instagram that we were in Jamaica at our absolute favorite resort, Round Hill. This was our second stay there, and it was just as fabulous as our first stay!
The understated luxury, quaint beauty, and small size of the resort are some of my favorite features, aside from the sunsets (see below), and the amazing, local and fresh cuisine. They even have Billy's garden where they pick tons of their own fresh produce each morning!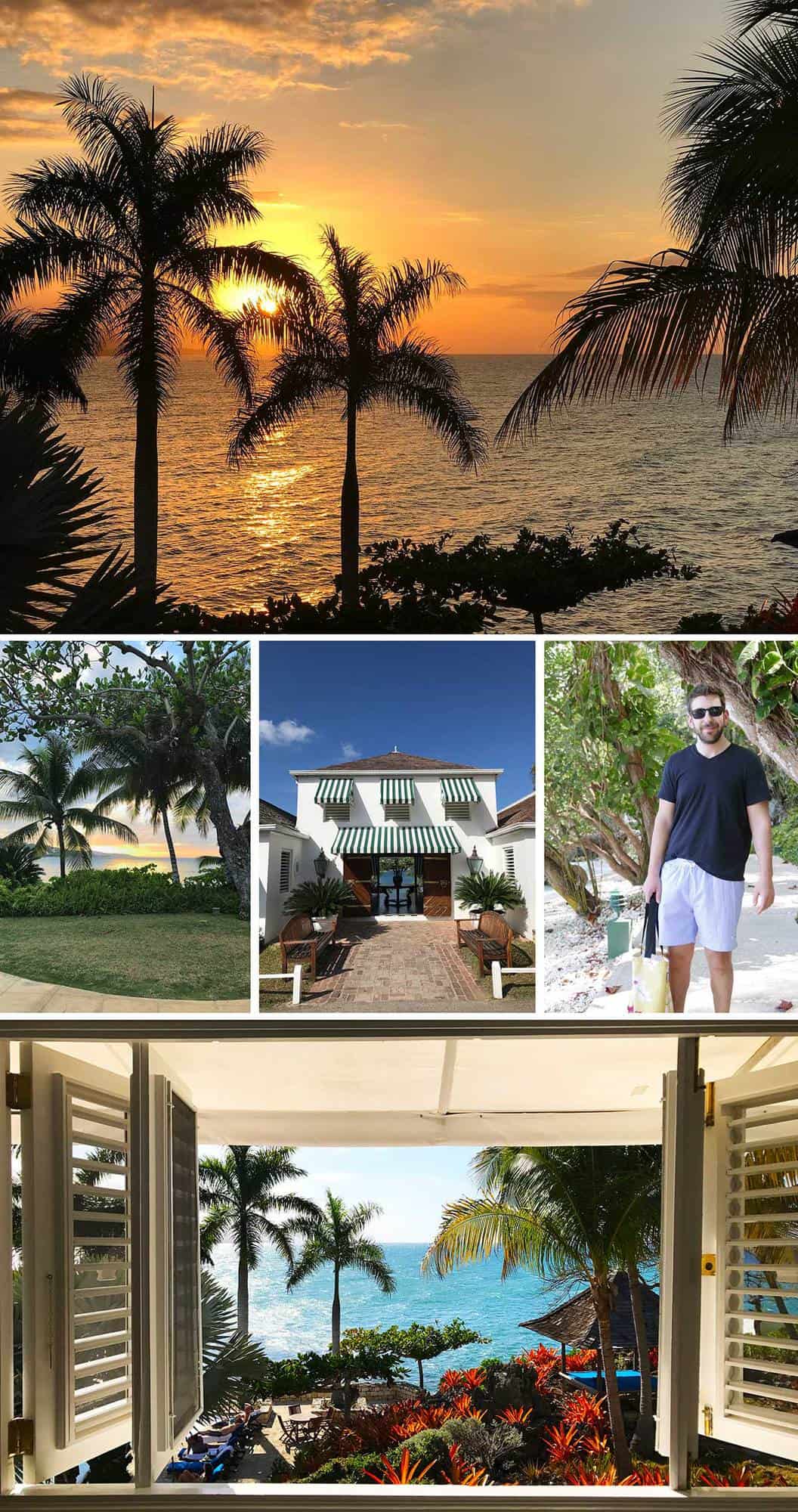 Each morning we started our day with a Tropical Green Smoothie and a big 'ol breakfast plate. One of the breakfast highlights was the Round Hill salad. Fresh arugula from their garden, slivered almonds, segmented oranges, and the best Mint Chia Dressing.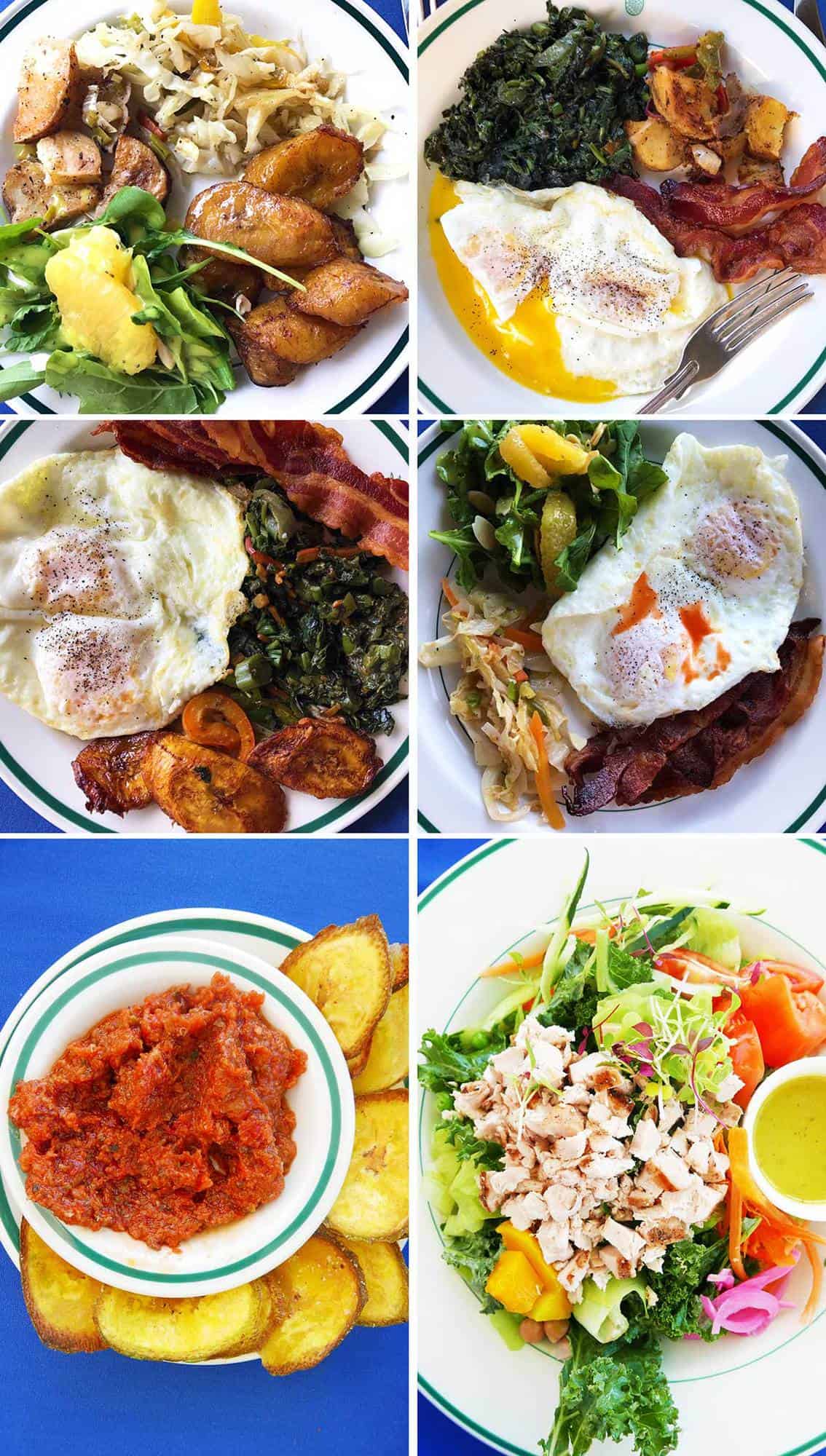 For lunch they start you off with fresh plantain chips and their homemade tapenade (ah-mazing, we took two jars home), and I ordered the chopped jerk chicken salad one MULTIPLE days. So fresh and delicious!
My fabulous friends at Round Hill said I could s hare with you the Mint Chia Dressing since I adored it SO MUCH.
This dressing is…
Creamy
Tangy
Sweet
Flavorful
Fresh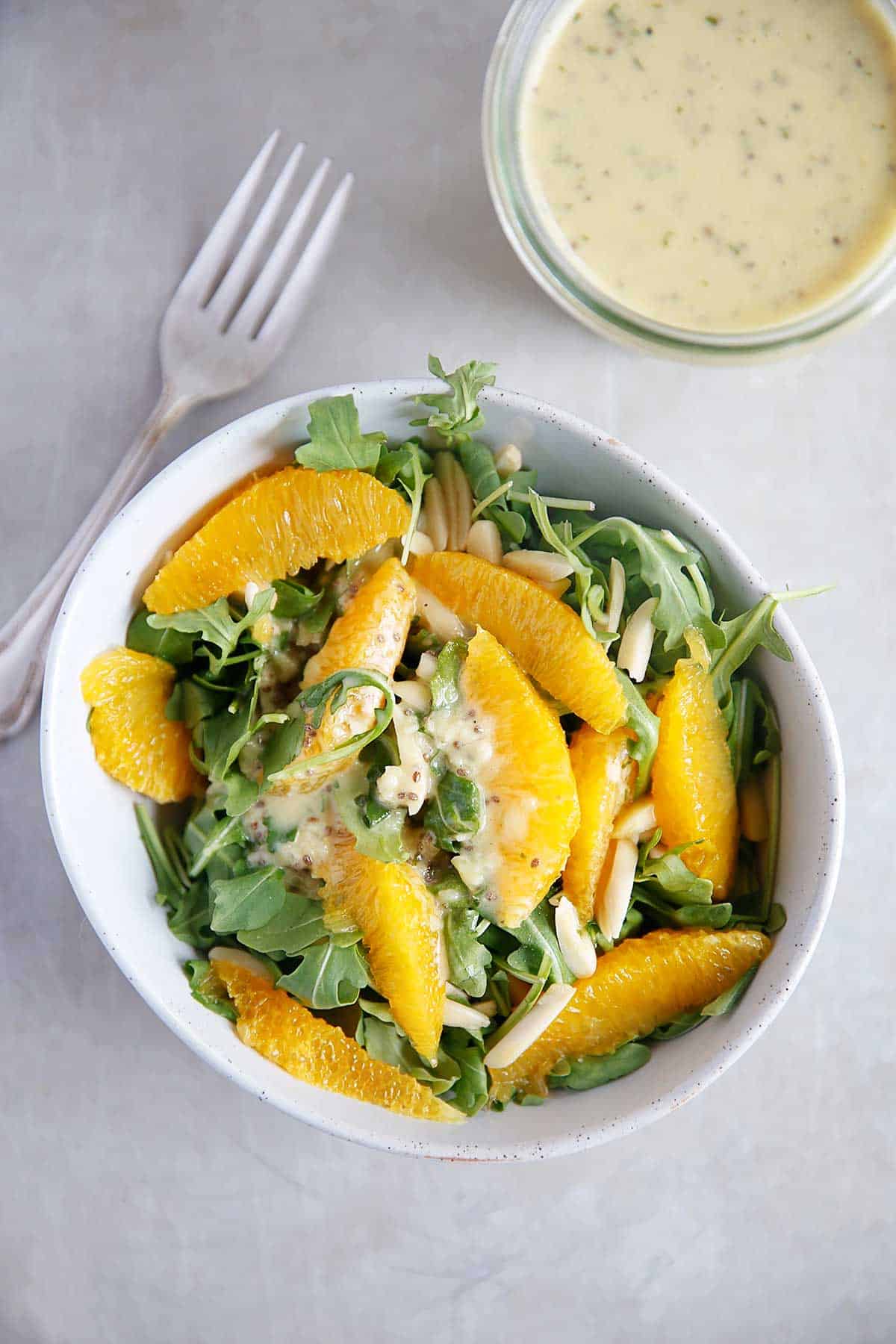 This is not a sponsored post. We did receive some complimentary meals and a few complimentary nights throughout our stay. All opinions are 100% always my own!
Arugula Salad with Mint Chia Dressing
This beet slaw is a tangy and sweet side dish, with all of those farm fresh beets, scallions, and fresh mint! It pairs perfectly with grilled chicken or salmon, or as an addition to any leafy green salad.

Confession: I haven't always been a huge beet fan.
Lately though with all the beets from the CSA, and experimenting with my new juicer (beet juice is delicious), I've taken more of a liking to them! I wanted to throw these beets grated into some sort of a salad. It just seems more appealing grated to me. This slaw came about, since you know I love slaws, and it is packed with the most fabulous flavors.
My garden is bursting with fresh mint, and my CSA is giving me TONS of beets and scallions. I'm throwing all of my favorite flavors together to make a farmer's market slaw that everybody will love. It comes together quickly for any BBQ or weekend lunch or dinner.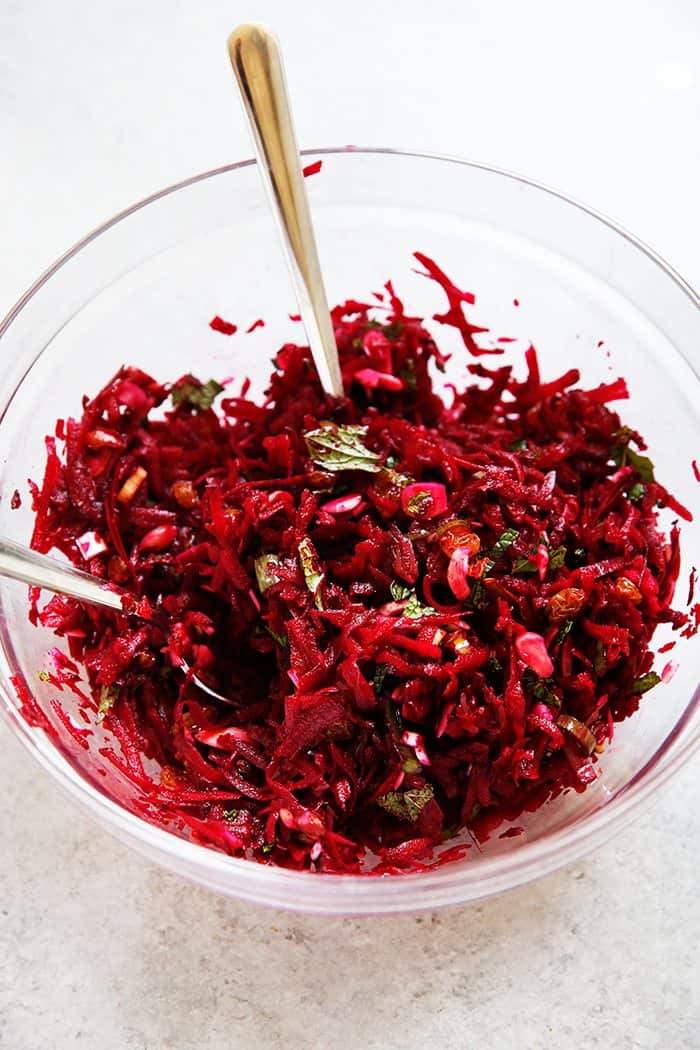 [yumprint-recipe id='374′]
Learn more about living gluten free! Visit http://udisglutenfree.com/community
This is a sponsored conversation written by me on behalf of Udi's Gluten Free. The opinions and text are all mine.
Do you like beets? What is your favorite way to eat them?
Beet Slaw
These Mocha Fudge Fruit Parfaits are the perfect light dessert for a quick weeknight treat, or for serving at a party. They require no baking, have tons of fresh fruit, and a rich mocha fudge sauce that everyone will love!

I am loving fresh in-season berries right now, and anything that requires not turning the oven on. These parfaits are perfect for just that!
Silky rich fudge-like sauce.
Mocha flavor.
Fresh fruit.
Mint Garnish.
Together in under 15 minutes.

Mocha fudge sauce so good, you'll want to put it on everything!

This recipe is brought to you in partnership with my friends at Pacific Foods! I loved using their Hazelnut Milk in this recipe for a little extra flavor, but you can make this with their almond milk, hemp milk, or coconut milk, too!

[yumprint-recipe id='373′]
Are you loving no-bake recipes, too? What are your favorite summer treats?
Mocha Fudge Fruit Parfaits
Happy Memorial Day! If you are outside BBQing today, these Cantaloupe Ginger Cocktails are a must. They are refreshing, tasty, and lightened up from your average cocktail!

Melon, ginger, and fresh mint for the flavor combination win!
It's smooth, high-quality, and naturally gluten-free made with 88 percent corn and 12 percent buckwheat! So if you're super sensitive to cross-contamination, it's best to stick with products that are made with naturally gluten-free ingredients, like Stoli Gluten Free. you're in luck.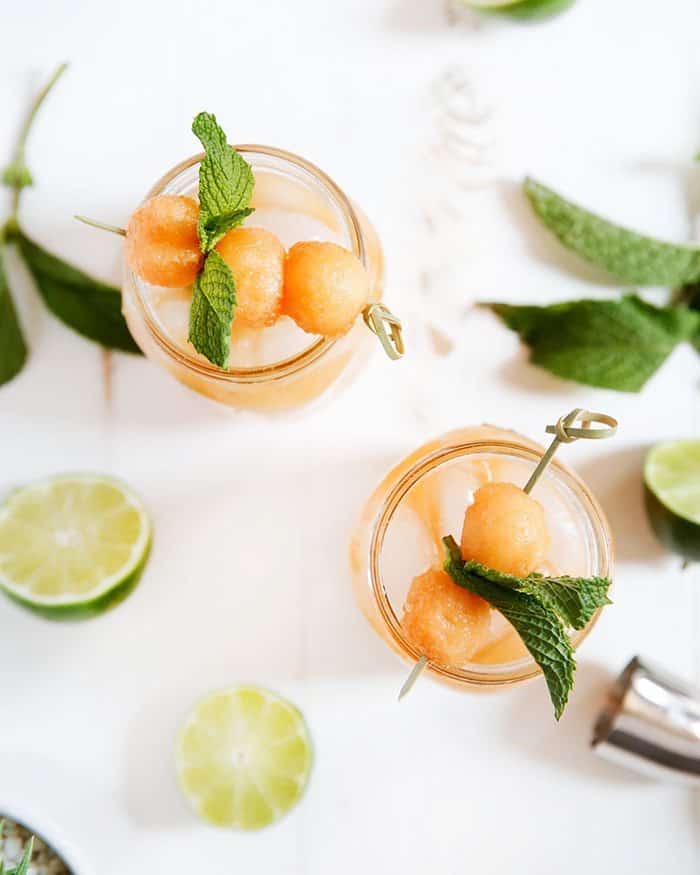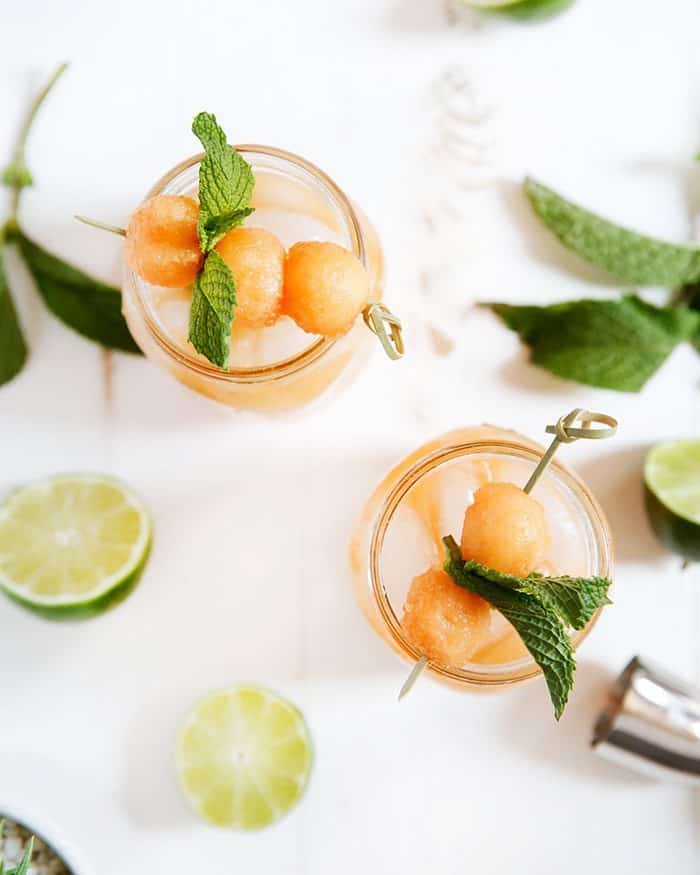 [yumprint-recipe id='364′]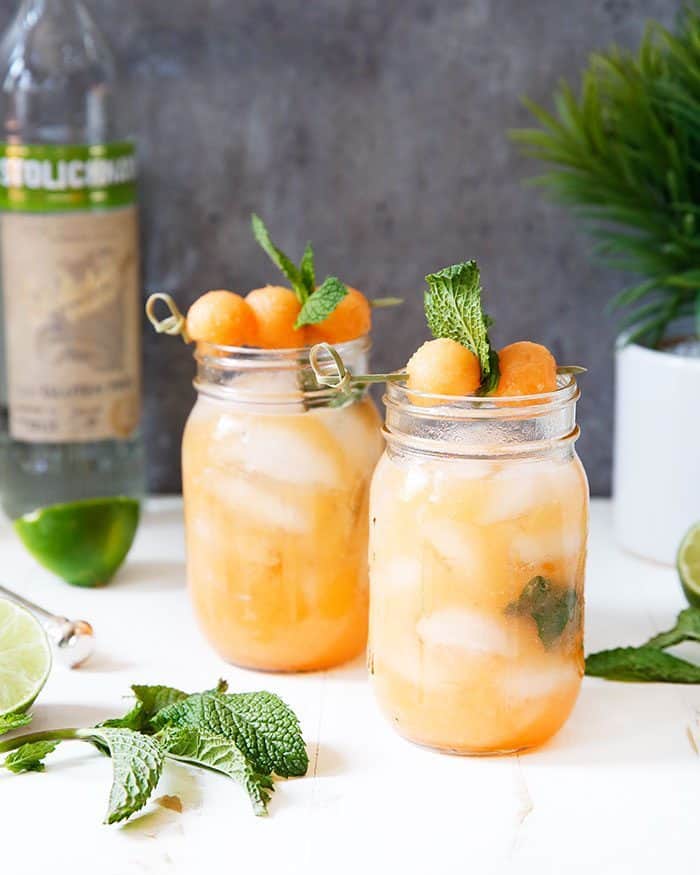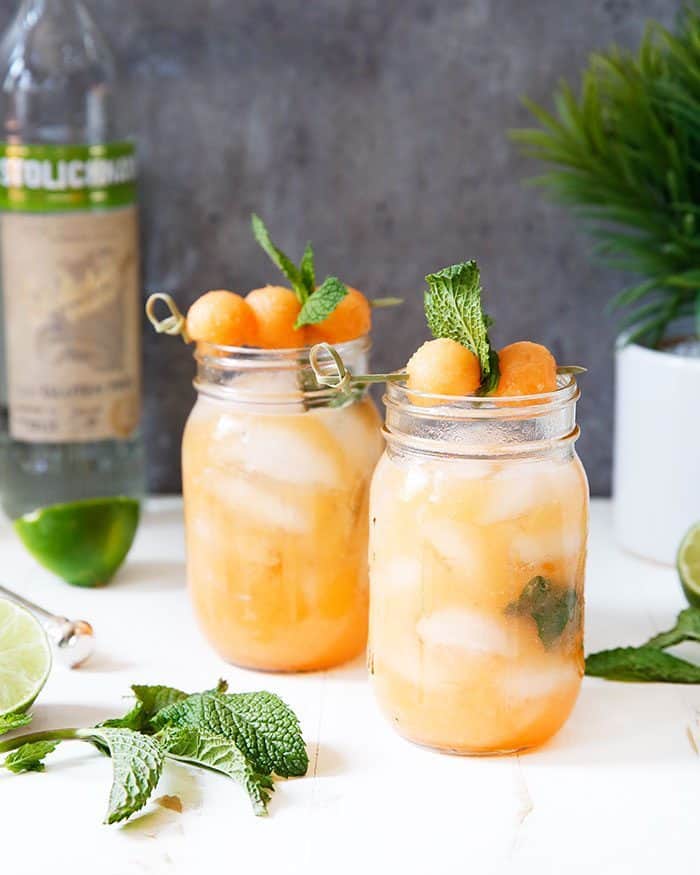 This is a sponsored conversation written by me on behalf of Stoli. The opinions and text are all mine.
Enjoy the day!
Cantaloupe Ginger Cocktails
I love the warm weather. It seriously makes me so happy. Sunshine does some amazing things, my friends. I mean, I feel like all Winter I hibernated and now we're BACK. Ya with me?
Like last night for example. We went into Boston and had the best dinner at Wink & Nod. The concept is really cool- it is essentially a rotating kitchen where every 6 month a new chef runs the kitchen and experiment with creative and bold dishes to pair with their cocktails. This month the Chef Patrick whipped up some amazing cuisine inspired by the Philippines, Malaysia, Japan, Thailand, and many more. It was a seriously awesome night with some amazing #Boston bloggers (so so full). Love to the awesome Sarah from Sarahfit and all the talented ladies I met- Monica, Katie, and Becky!
So speaking of warm weather and fun Spring and Summer night's out, let's get the grill ready to go! I mean, I've fully taken advantage of the warm weather/no oven cooking the past few days. The absolute perfect refreshing side is this watermelon salad. Seriously. So perfect.
This watermelon salad is packed with the perfect warm weather flavors: Sweet watermelon drizzled with delicious olive oil, garnished with toasted almonds, bacon, mint, sliced red onion, and a sweet Basil Ginger Dressing. This will be a BBQ hit all summer long!
My blogger friends and I are back to bring you BBQ sides that are perfect all Spring and Summer long. You really cannot go wrong with these, they are all gluten and dairy-free and veggie-packed!

Roasted Sweet Potato Salad from Brittany of Eating Bird Food

Healthy Asian Snap Pea Salad from Davida of The Healthy Maven
Pineapple Coleslaw from Lee of Fit Foodie Finds

Sweet Potato Salad with Avocado Pesto from Taylor of Food Faith Fitness
Have 15 minutes or less? My watermelon salad is the perfect combination of savory and sweet, and screams SUMMER (okay, Spring).





Watermelon Salad with Basil-Ginger Dressing
My day generally goes as follows (in terms of beverages)

…

water with lemon, coffee, water all throughout the day and evening (an occasional martini or glass of wine), and possibly a second cup of coffee. See, I generally don't opt for a lemonade, a juice, and definitely no sodas around here. Usually it's just water. Every so often during a hot summer day I crave a refreshing drink that has a little something sweet.
Making time to relax, read, and focus on my mind and body is something I am focusing on this Summer. Relaxation, sleep, and removing stress is just as big of a part of a healthy lifestyle as is eating clean and working out. So, whip up a batch of this refreshing Strawberry Lemonade with Mint and make some time for YOU today.
[yumprint-recipe id='170′]
How do you make time to relax? What is your favorite thing to do that completely clears your mind?