This Easy Hummus recipe is the best snack, dip, or spread! It's made with just a few simple ingredients, is incredibly flavorful, and comes together in a matter of minutes!
All my best hummus homemade tips and tricks can be found below!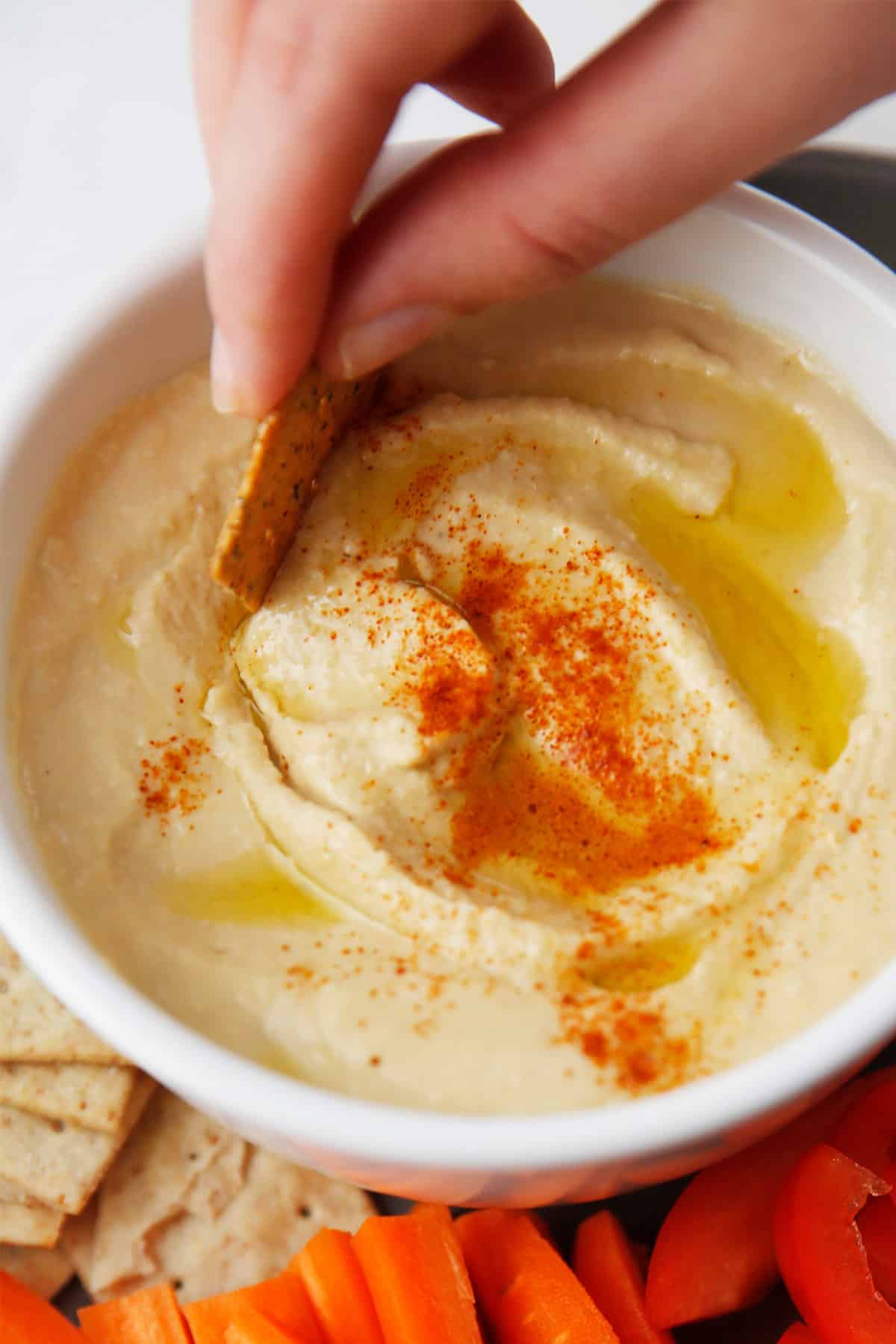 The Best Hummus Recipe
If you've never made your own hummus, then I hate to be the one to break it to you, but you've totally been missing out. It may seem easy to grab it in the store, but often the ingredients aren't so simple, and good hummus can be expensive for the size! It really just doesn't compare to some homemade hummus!
And this is just the best hummus recipe! This recipe is incredibly quick (I'm talking five minutes to whip up, post the boiling of the canned chickpeas), and made with the simplest of ingredients you probably already have in your refrigerator or pantry.
Hummus Ingredients
This easy hummus recipe is made with super simple ingredients that come together to form the most flavorful dip. Scroll down for the full recipe, but in short, here's what you'll need:
Okay, First Of All, What is Hummus?
Hummus is a Middle Eastern dip or spread that's made up of blended up chickpeas, lemon, tahini, oil, and traditionally with garlic, and spices. It's so simple to make and a great source of plant-based protein. It's vegan, gluten-free, nut-free, and incredibly delicious!
How to Make Hummus
This easy hummus recipe could not be simpler!
First… Boil the canned chickpeas! If you're using canned (hello, quick and easy) you don't want to skip this step)!
Next up: Combine garlic, lemon juice, and salt in your food processor. The lemon helps take the bite out of the garlic!
Now combine: To your food processor, add tahini and cold water, mix, and then lastly, the chickpeas and olive oil.
Blend, blend, blend: Process until smooth, taste and adjust your salt and lemon amounts as desired!
Serve and devour: Create waves with a spoon and top as desired! Serve with crackers and veggies or use as a condiment, and enjoy!
Tips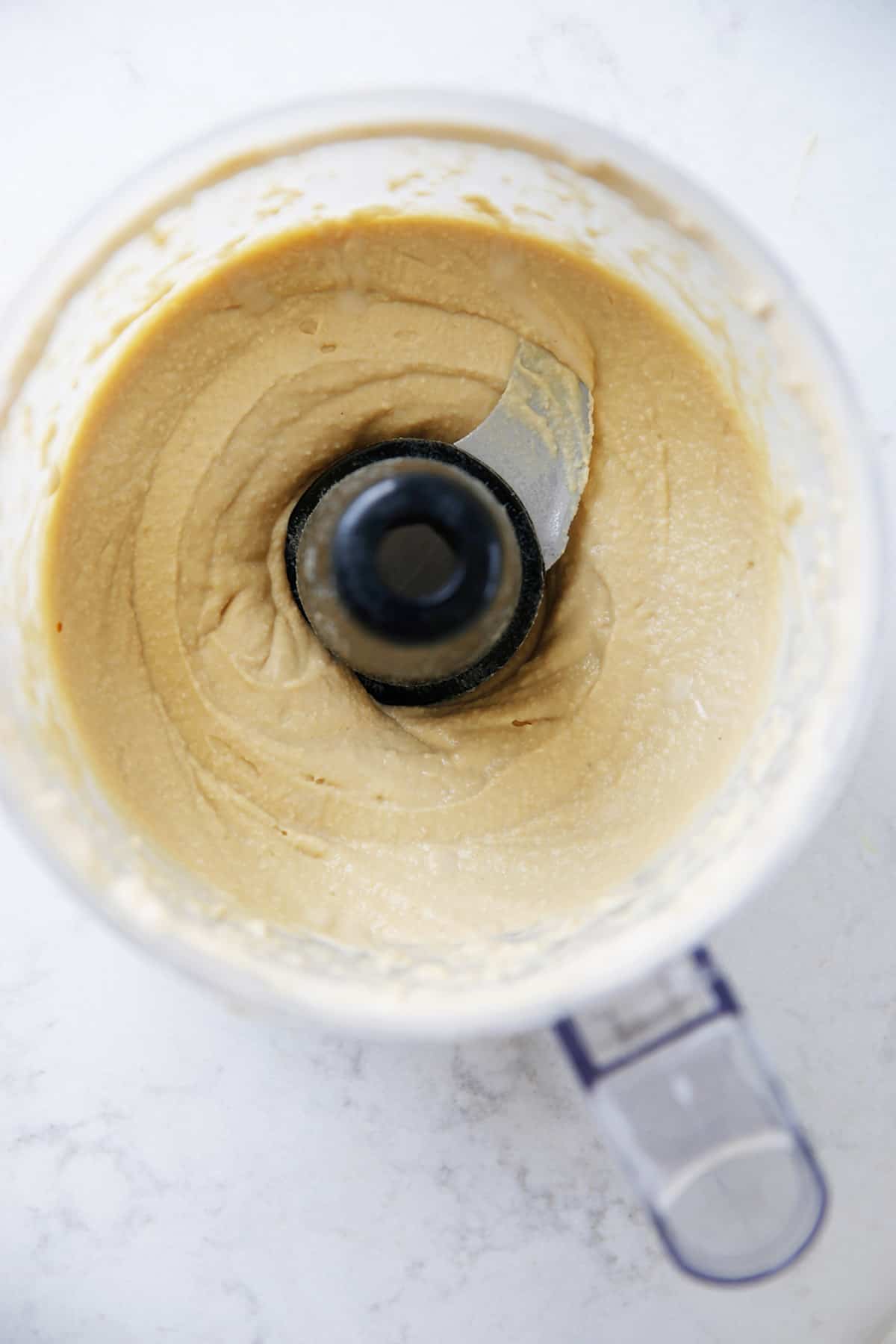 Hummus Recipe FAQ's
Canned vs Dry Beans
Here's the deal: you can go either way, but let's chat about it quick.
Let me start by saying, dried chickpeas have more natural flavor because they aren't soaked in preservatives. They're also more economical so you get more bang for your buck.
However… Soaking them overnight to use them in hummus definitely requires some planning ahead and honestly, 9 times out of 10, I don't have the time or remember. Don't worry! With our quick boil tip, you'll have creamy hummus from canned chickpeas!
Canned chickpeas are already cooked and mostly ready to go.
It's up to you to decide what works best for you! Don't worry, though. No matter what you use, the hummus will be delicious!
Do I Need to Peel the Chickpeas?
Not necessarily, but peeling them does result in extra creamy and fluffy hummus. If you have the time, go for it. I have found I get great results just by boiling the can of chickpeas!
Do I Have to Use Tahini?
Well… yes. If you want to make the real dip using an authentic hummus recipe, you should definitely not substitute anything else for tahini. It's one of the main ingredients!
However, if you want to turn your chickpeas into a dip but you don't have tahini, you can get a similar result in consistency, but not in flavor, by using a nut butter such as cashew, almond, or Brazil nut butter. You can also use Greek yogurt.
Keep in mind that each will 100% give you a different flavor profile. So basically, In the absence of tahini, you can create a chickpea dip, not necessarily hummus.
Can't Tolerate Legumes?
I have a bean-free paleo-friendly hummus recipe, too!
Have Bitter Hummus?
Likely a result of either too much tahini, too much garlic, or too much lemon juice, so start with the quantities listed here!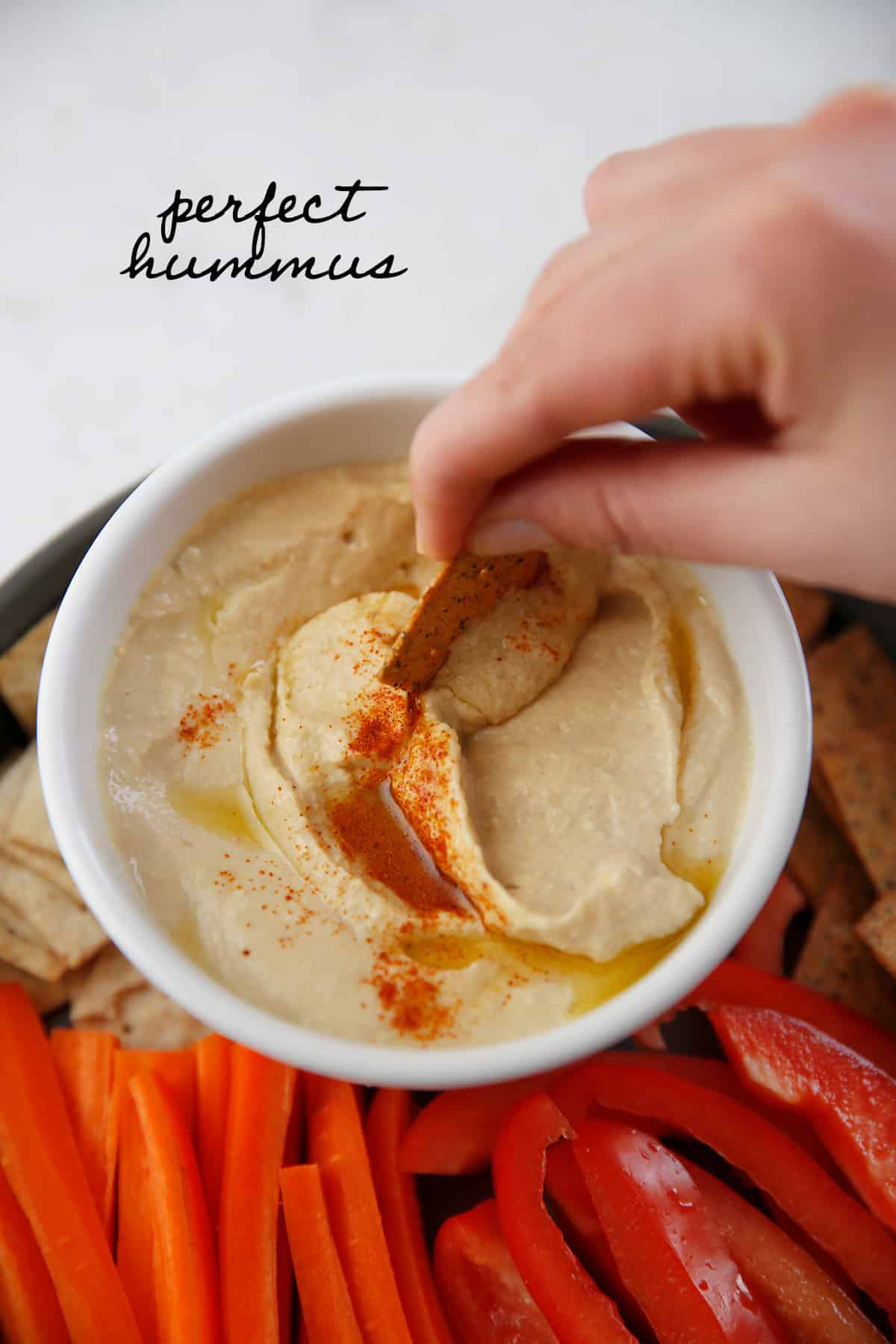 Homemade Hummus Variations and Toppings
My go-to: I always take a spoon and create nice dips and swooshes, then drizzle in olive oil and sprinkles of paprika!
While this might just be the best classic hummus recipe as-is, there are plenty of ways you can play around with it! Here are a few mix-in/variation ideas:
Toppings & Variations
Fun Hummus Recipes I Love Serving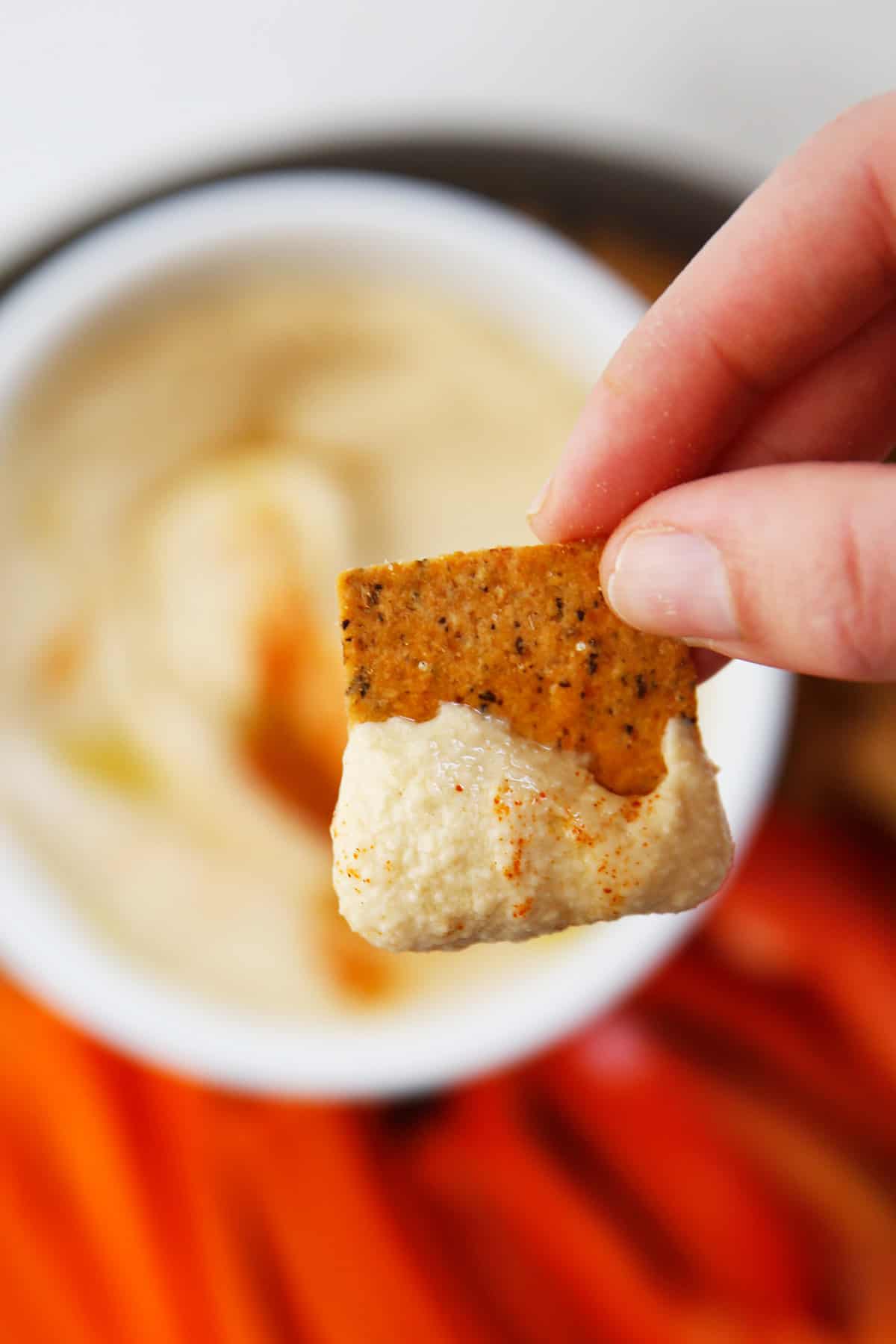 What to Eat with Hummus
There are plenty of ways you can serve hummus. Here are some ideas:
How Long Does Homemade Hummus Last?
This homemade hummus recipe will last in an airtight container in the fridge for 3-4 days. To enjoy again, serve straight from the fridge!
Can you freeze hummus?
You can. However, you should keep in mind that the texture of hummus when it's frozen and thawed will change. It's definitely best fresh and honestly, it's easy to make so can I say just make it fresh?
To freeze, store in a freezer-safe container for up to 4 months. I recommend freezing with a drizzle of olive oil on top to help preserve the moisture. When you're ready to serve the hummus again, simply thaw it in the fridge, stir it up, and serve.
More Easy Dip Recipes
Watch The Video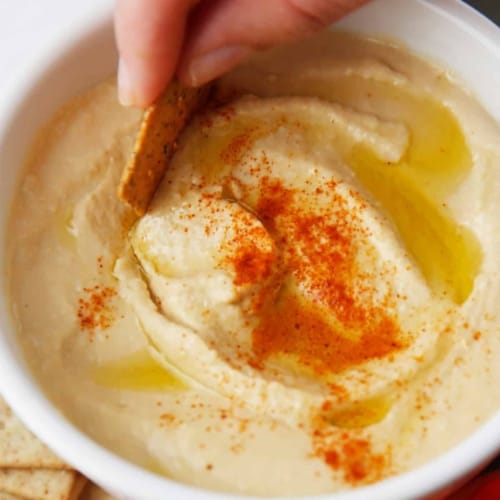 Quick & Easy Hummus Recipe
This Easy Hummus recipe is the best snack, dip, or spread! It's made with just a few simple ingredients, incredibly flavorful, and comes together in a matter of minutes!
Ingredients
1 15-

ounce

can chickpeas

drained and rinsed (or 1 ½ cups cooked chickpeas)

1

lemon

juiced (about 1/4 cup)

1/2

teaspoon

fine sea salt

more to taste

1

garlic clove

1/3

cup

tahini

2 to 3

tablespoons

cold water

see note

1

tablespoon

extra-virgin olive oil

more for serving

Optional: Drizzle of olive oil and a dash of paprika

for serving
Instructions
Place the drained chickpeas in a medium-sized pot. Cover the chickpeas with plenty of water, then over high-heat, bring to a boil and continue to boil for 20 minutes until chickpeas are soft and the skins are falling off. Drain the chickpeas and set aside (you do not need to peel them).

While that's boiling combine lemon juice, garlic and salt in your food processor, and process until the garlic is finely chopped, about 1-2 minutes.

Add in the tahini blend until the mixture is creamy. As needed, stop and scrape down tahini that has stuck to the sides and bottom. While blending, slowly add in 2 tablespoons ice water and blend until creamy and pale in color.

Add in your chickpeas and blend until creamy. While blending them, pour in your olive oil. Blend for 2-3 minutes, or until hummus is creamy. If it's not getting super creamy, add one more tablespoon of the ice water, then more as needed until creamy!

Taste, and adjust as salt and lemon as desired.

Pour the hummus into a bowl and create dips in the top with  a spoon. Top with garnishes (I like olive oil and paprika) and enjoy!
Notes
Add more water as needed until creamy! Go slow to avoid too water-y.
Store leftover hummus in an air-tight container for 5 days.
If using canned chickpeas, give them a fast 20-minute boil in a pot of water! This will help soften them some more and get that super creamy texture more consistent with that of hummus made with dried beans.
Garlic is always the best (in any recipe!), but don't overdo it! It's raw so the flavor will build. I like using one garlic clove. Start small! You can always add more, right?