I love building a nourishing bowl for any type of meal. It's a great meal prep option because you can roast veggies, dice veggies, and prepare your proteins ahead of time and have nourishing meals all week long! Meal prep bowls for the win! This guide on How to Build a Nourishing Bowl is my staple list of how I build a perfect bowl! Made in partnership with Farmhouse Culture.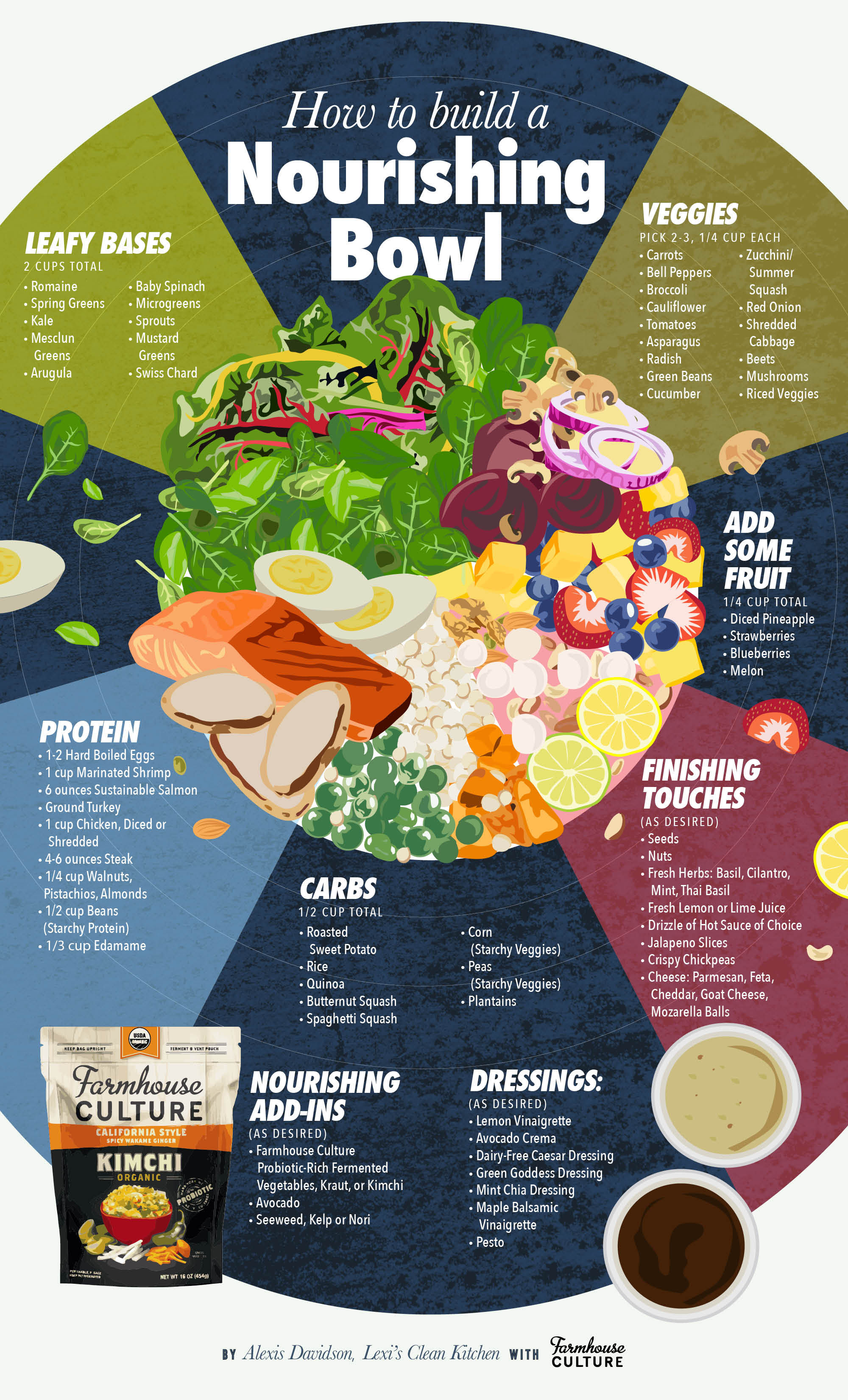 I am so excited to partner with my friends at Farmhouse Culture for today's infographic! Their Kimchi and Fermented Vegetables are a staple in my fridge, and are a go-to when adding some extra probiotics and nutrients to a meal, that are especially great for digestion!  All of their products are paleo-friendly, Whole 30-compliant, naturally fermented, made with all organic ingredients and without any added sugars!
Let's break down how to build an awesome bowl!
Leafy Bases: 2 cups total
Romaine Lettuce
Spring Greens
Kale: Destemmed, chopped, and massaged with oil and lemon
Mesclun greens
Arugula
Baby Spinach
Microgreens
Sprouts
Mustard greens
Swiss chard
Carbs: 1/2 cup total
Roasted Sweet Potato: try this recipe here
Rice
Quinoa
Butternut Squash
Spaghetti Squash
Roasted Plantains
Corn (starchy veggies): local whenever possible
Peas (starchy veggie)
Veggies: Pick 2-3, 1/4 cup each
Carrots
Bell Peppers
Broccoli: riced, roasted, raw
Cauliflower: riced or roasted
Tomatoes
Asparagus: steamed or roasted
Radish: sliced
Green Beans
Cucumber
Zucchini/Summer Squash: roasted or spiralized
Red Onion: pickled, sautéed, or raw
Shredded Cabbage
Beets
Mushrooms: marinated, raw, or cooked
Add some fruit: 1/4 cup total
Diced Pineapple
Strawberries
Blueberries
Melon
Protein:
1-2 Hard Boiled Eggs (how-to guide)
1 cup Marinated Shrimp (try this shrimp recipe or this recipe)
6-ounces Sustainable Salmon (try this recipe)
1 cup chicken, diced or shredded (make it here)
4-6 ounces steak (try this recipe)
1 cup ground turkey (try this recipe)
1/4 cup Walnuts, Pistachios, Almonds
1/2 cup Beans (starchy protein)
1/3 cup Edamame
Nourishing Add-Ins: (as desired)
Farmhouse Culture Fermented Vegetables, Kraut, or Kimchi
Avocado
Seeweed, kelp or nori
Dressings: (as desired)
Dairy-Dree Caesar Dressing
Finishing Touches: (as desired)
Seeds
Nuts
Fresh Herbs: Basil, Cilantro, Mint, Thai Basil
Fresh Lemon or Lime Juice
Crispy Chickpeas
Drizzle of Hot Sauce (I like Sriracha on my bowls)
Jalapeno Slices
Cheese: Parmesan, Feta, Cheddar, Goat Cheese, Mozarella balls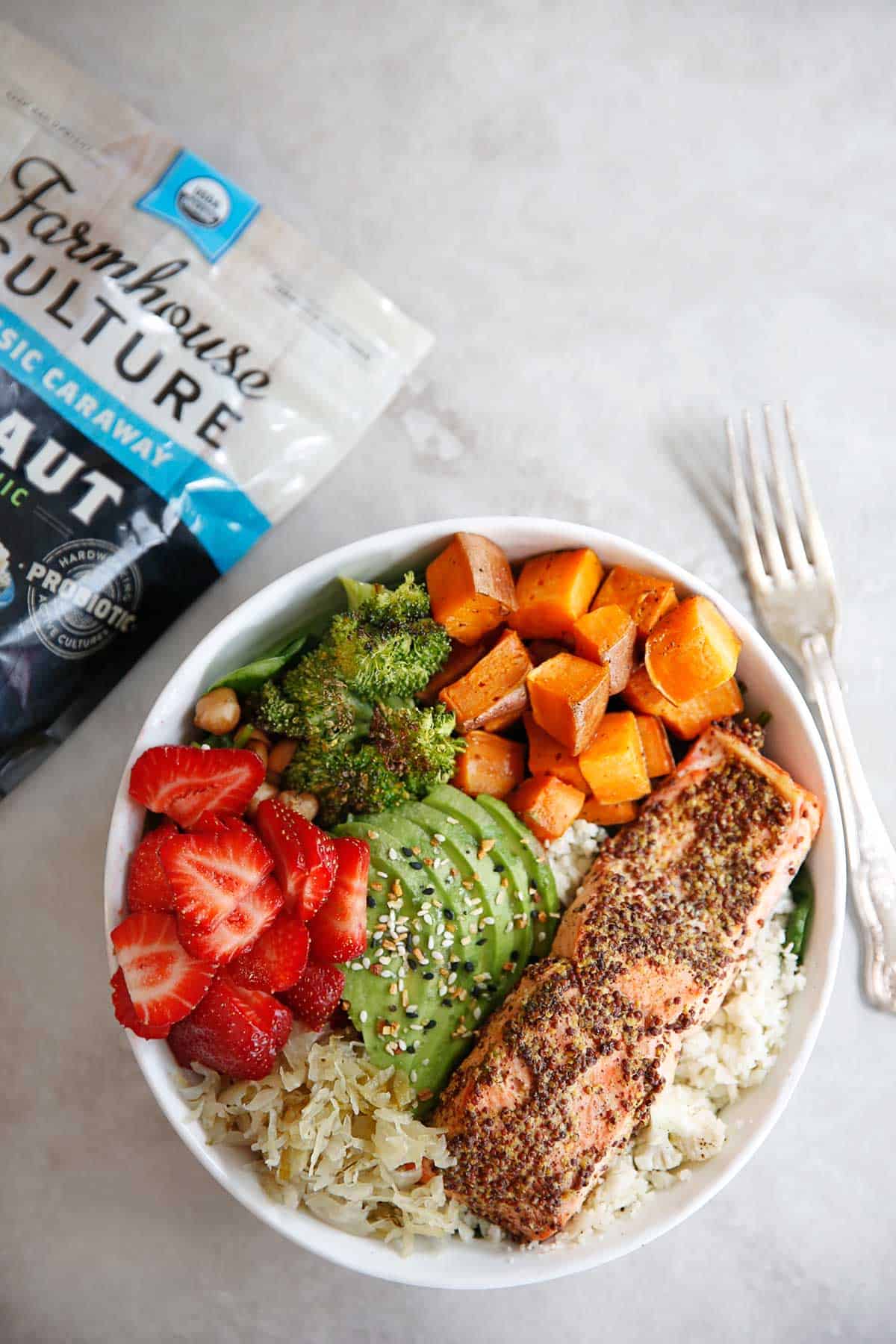 One of my go-to bowls! Spinach, Cauliflower Rice, Roasted Sweet Potatoes, Kimchi, Strawberries, Avocado topped with Everything Bagel Seasoning, Roasted Broccoli, and Crispy Chickpeas.
This post is sponsored by Farmhouse Culture. All thoughts and opinions are always 100% my own! I love the integrity of their products and think you'll love them too. Thank you for continuing to support LCK and the brands I work with!
GIVEAWAY
Comment below on what you'd put in your bowl!  Three coupons (good for any Farmhouse Culture product, anywhere sold) to TWO winners. Winners will be picked 9/17 at 12pm EST.