Breakfast Prep Baked Egg Cups
These healthy baked egg cups make the perfect breakfast meal prep for when you are rushing out the door but still want your protein-packed nutrient dense meal. They also make a great snack as well! And they're paleo and whole30 friendly!
Breakfast Egg Cups Recipe
This recipe goes out to all of those people who LOVE and NEED a good breakfast but don't always (read: ever) have time in the morning to whip up a freshly cooked eggs! These easy oven baked breakfast egg cups are nutrient dense and so delicious! Make these on Sunday and you'll be thanking yourself all week you did!
This breakfast meal prep eggs have a sweet potato bottom crust and and you can top with two different options: sunny side up with bacon or veggie omelets! You choose! And if you are feeling it, you can mix and match and make both!

Make it how you like it!
The best part about these baked eggs is that you can truly customize it the way you like it! We love the sunny side up with some crumbled bacon, but you can omit the bacon to make them vegetarian or add in another type of meat like ham!
The veggie omelets have a standard pepper, onion and tomato mix but you can literally add in any veggie here, so long as you chop them up small enough, or precook them.
Here are some other suggestions you can add to the egg muffin cups:
zucchini
mushrooms
spinach
cheese
ham
prosciutto
kale
Can you freeze them?
Yes! Make sure to cool the egg cups completely before placing in a air tight container and freezing for up to 1 month. Defrost overnight in the refrigerator and warm it up in the toaster or microwave before serving.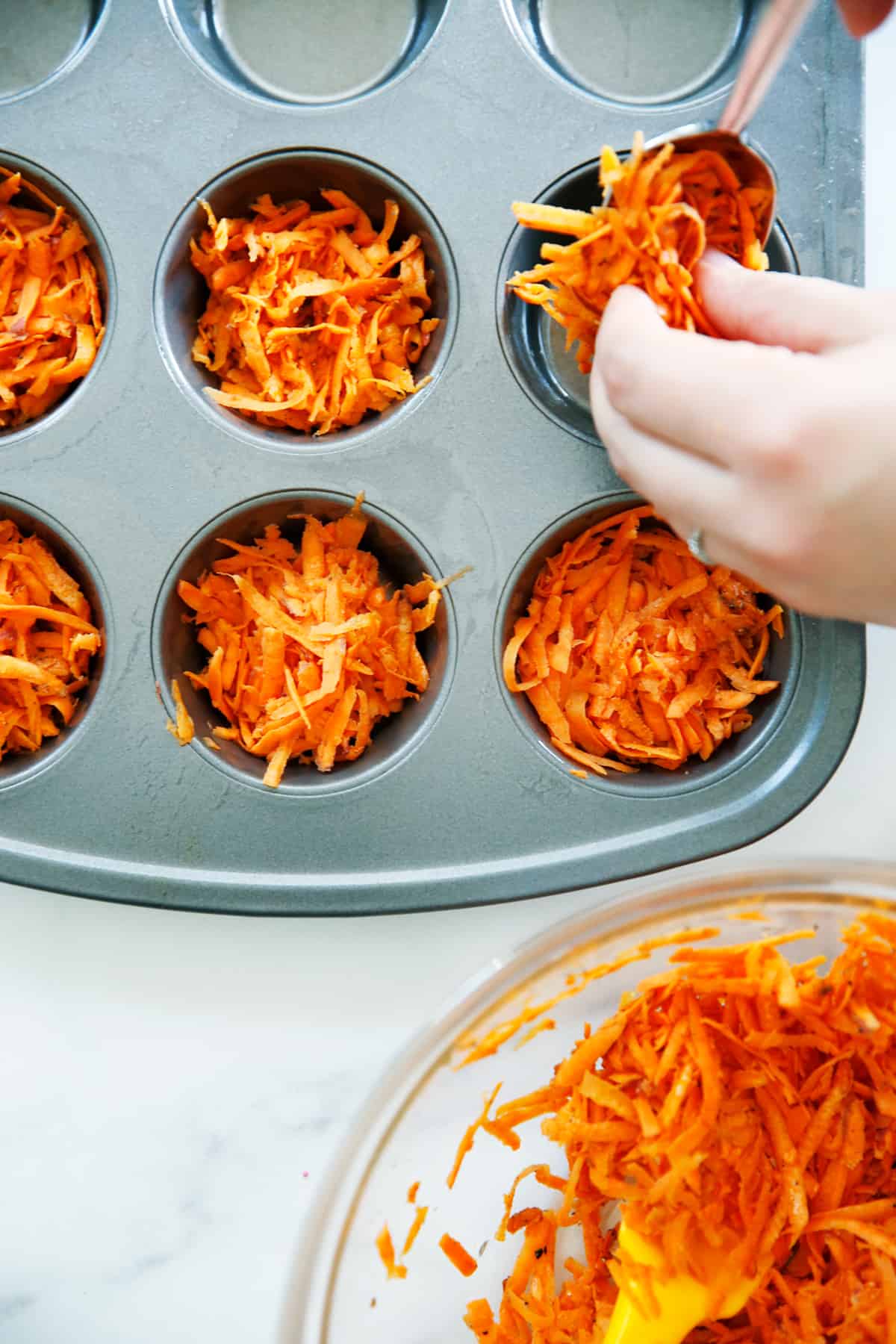 Looking for other paleo breakfast recipes?

If you like this meal prep recipe, check out these others:
[yumprint-recipe id='117′]
Breakfast Prep Baked Egg Cups
These Saucy Chorizo Skillet Baked Eggs are a great addition to your next Sunday brunch! It's low-carb, paleo and Whole 30 friendly, dairy-free and most definitely delicious.
Skillet Egg Bake with Chorizo and Beans
This savory egg bake recipe is delicious way to start off the day! It's almost like a southwestern version of Shakshuka, flavored with paprika, cumin, and spicy chorizo. We opted to add black beans to this skillet egg bake to round out the lower carb and dairy-free dish, but you can feel free to omit for paleo or Whole30.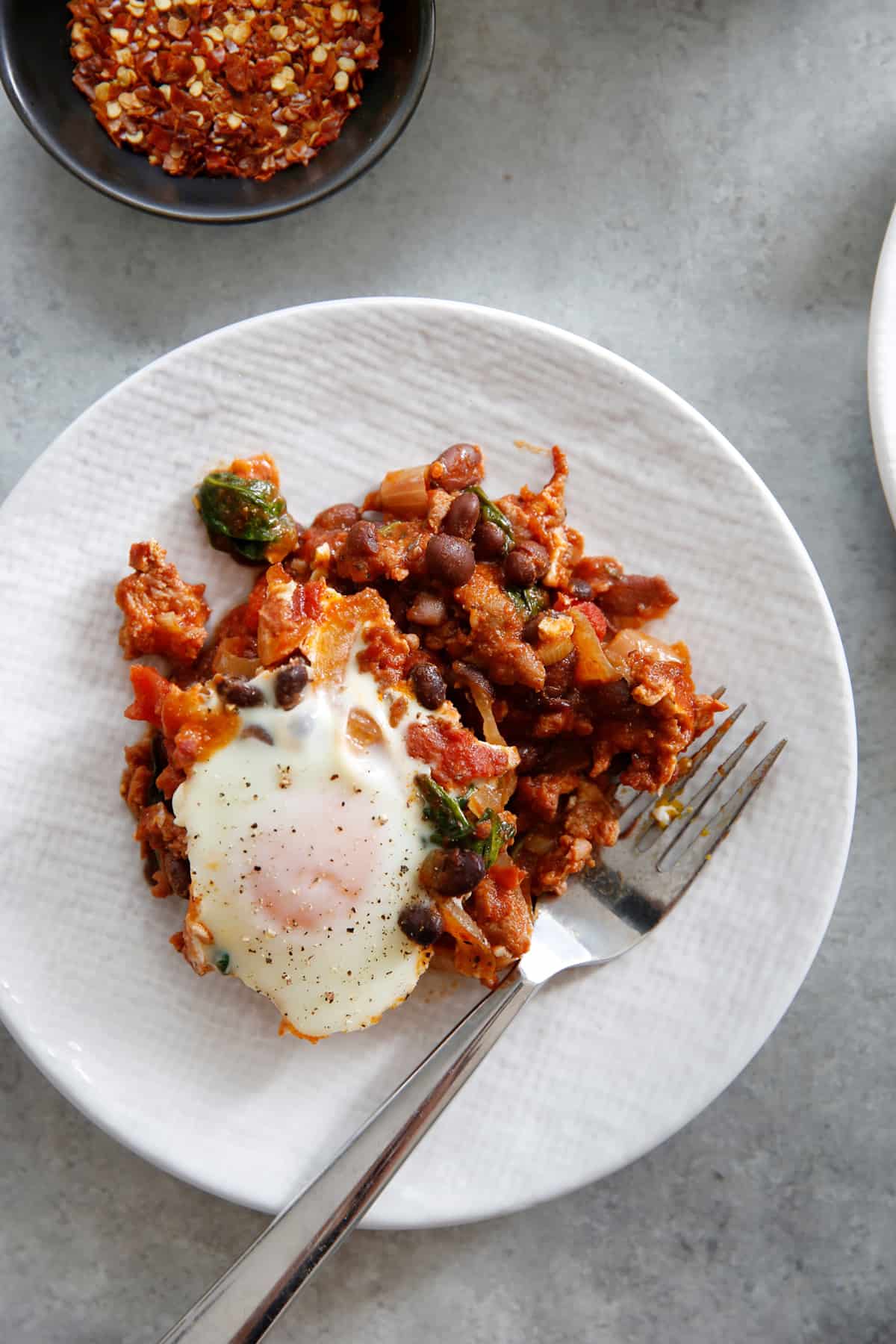 What ingredients you need for these easy baked eggs:
chorizo sausage, casing removed (or fully cooked chorizo diced)

onion

canned diced tomato

cumin

paprika

can black beans (optional, omit for Whole 30 or Paleo)

baby spinach

eggs
What skillet should I use for this recipe?
Any oven safe skillet will work here. If you are using cast iron, make sure it is enameled as prolonged tomato exposure can ruin the seasoning on a regular cast iron skillet.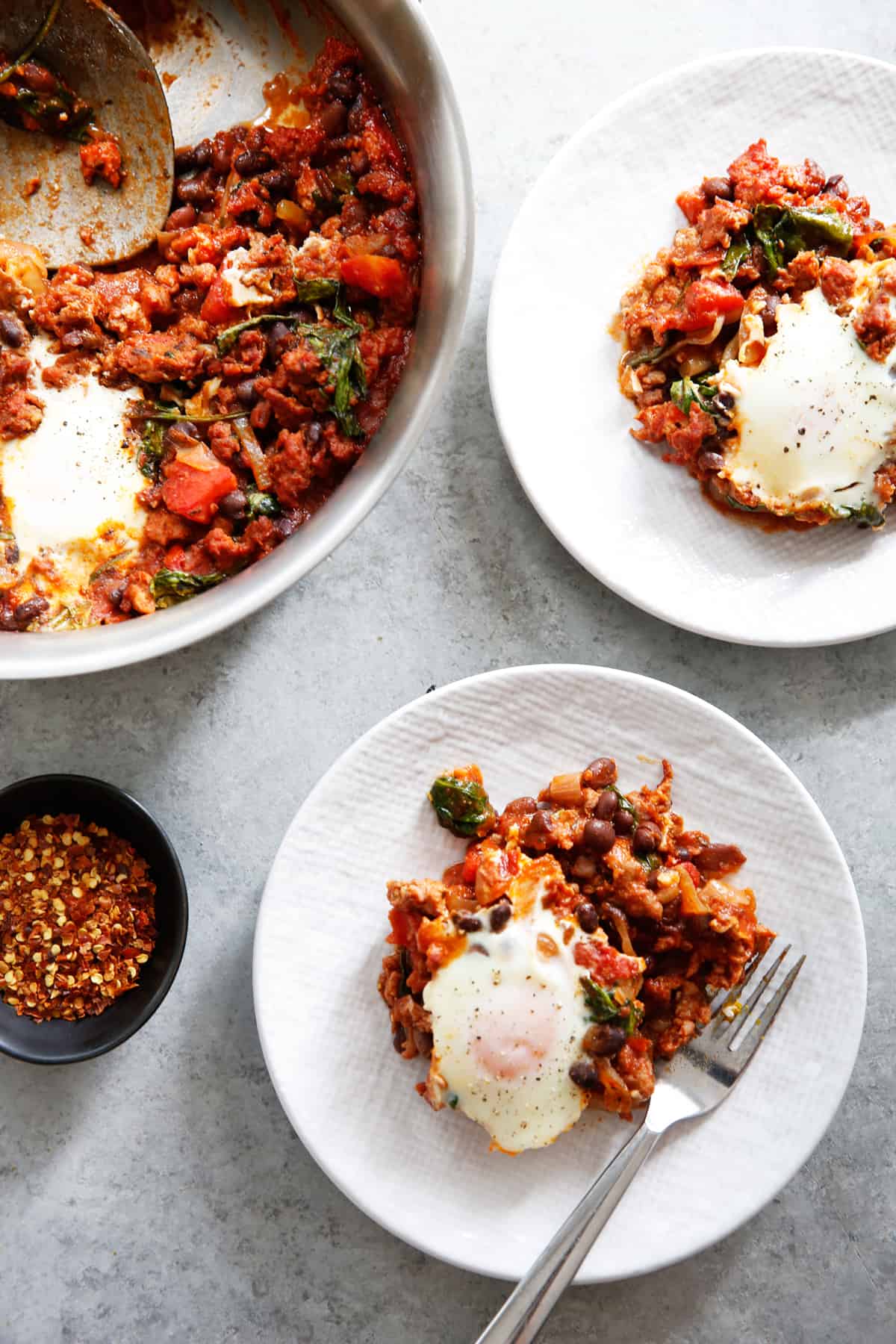 If you like this savory breakfast recipe, check out these others:
Saucy Chorizo Skillet Baked Eggs
There are so many options out there for natural Easter egg dye using ingredients you have already in your kitchen and we're showing you some of the options we loved with tips, tricks, and more!
Natural Easter Egg Dye
Did you know that it is so easy to naturally dye Easter eggs with food ingredients you likely already have in your pantry? It will be no surprise if you've been on this website for a while that we love to switch out artificial colors and unnecessary chemical additions to foods as much as we can, like these Naturally Colored Buttercream and these plant based decorated Sugar Cookies. If we wouldn't eat a product with a long list of ingredients we can't recognize why would we add chemicals in the form of artificial dyes to the food we make at home?
Some might say that you are just dyeing the outside of the egg: but anybody who has ever colored eggs know more often than not that color seeps in through the shell and colors the egg. So making festive colored eggs with actual FOOD coloring is a no-brainer. And honestly, it's so simple and so FUN to experiment. You can create unique looking eggs that even will change color over time, the longer they sit. Kids and adults alike will find this holiday craft turned science experiment so fun!
How to Dye Easter Eggs Naturally
Take a look in your pantry! We used white eggs, but you can experiment with brown eggs as they will have a different effect. All the eggs you see in these photos were dyed with these four foods:
Beets (red/pink/brown): 1 large beet, diced + 2 cups water
Red Cabbage (blue): 1/2 red cabbage, sliced + 2 cups water
Red Onion Skins (deep orange/brown): Skins from 4 large onions + 2 cups water
Fresh or Dried Turmeric (yellow): 1/4 cup sliced fresh turmeric or 2 tablespoons dried + 2 cups water
Other natural color suggestions:
Blueberries (grey/blue): 2 cups frozen blueberries + 2 cups water (don't boil this, just let it steep)
Carrots (orange/yellow): 3 large carrots, sliced + 2 cups water
Spinach or Parsley (green): 2 cups spinach or 1 bunch parsley + 2 cups water
Yellow Onion Skins (orange): Skins from 4 large onions + 2 cups water
Coffee (brown): 2 cups strong brewed coffee
Here is what you need to know to naturally dye eggs:
Make the boiled eggs. We recommend using the water boiling or steaming method. Check out this post here. We normally love the Instant Pot for steaming eggs, but not here. We don't recommend using the Instant Pot for colored eggs because they are more likely to crack in the food coloring. Let the eggs cool completely before coloring.
Bring the food item in 2 cups of water up to a boil, cover and let simmer for 20 minutes. Strain and let cool. Once cool add 2 teaspoons of vinegar.
Gently drop the white eggs in the color. They must be completely submerged.
The longer the eggs sit in the color, the more brilliant the color will be. Letting the eggs soak overnight yielded the best color for us.
When you are ready to take the eggs out of the color, place a clean kitchen towel down and gently pull out the eggs and place on the towel, or you could place them on a wire rack to prevent and the towel from wiping off any of the color. Let it air dry, do not rub it. If you'd like to dip the egg again to get a darker hue do that once it has dried. In addition, if you want to combine colors to make different hues (think coloring an egg first yellow, then blue=green) now is the time to do it.
Once completely dry you can gently rub it with oil to help prevent the color from changing. We found that some of the eggs changed colors over a few days time (especially the beet one). Do them the day before Easter if you'd like them to be as close to the color as you want as possible.
How to Make Green Naturally Dyed Eggs:
To make green we first dyed the egg with turmeric (yellow) and then dyed it with red cabbage (blue) to make the egg green!
Do you have to use vinegar to dye eggs?
Yes! Without going into all the science behind it, the short answer is that the added acid from the white vinegar brings it to the correct pH level needed for the dye to adhere to the egg shell. The approximate amount of vinegar needed is about 1 teaspoon per 1 cup of dye. We experimented by adding more vinegar to some of our dyes and we got a cool spotted effect.
How to Make Different Effects on Naturally Dyed Easter Eggs
Add more vinegar: When we added more vinegar to the dye it created a bubbly effect which created the dots you see on our eggs.
Dip for different lengths of time: You can try dipping the eggs for shorter periods of time. For our pink spotted eggs seen above we just briefly dipped the eggs in the beets for like 10 seconds and then let it dry.
Double dipping eggs, depending on the different colors can create different effects. Honestly we had different results each time, so have fun experimenting.
To create an ombre effect you can start dying a batch of eggs, and then every few hours take one of the eggs out of the dye.
Should eggs be cold or at room temperature for coloring?
You want both the boiled eggs and the natural dye to be cool during the dye process, so that not only do the eggs not overcook in the natural dye, but also for safety. Leave the eggs in the dye in the refrigerator overnight.
Don't want to make your own dye but want to try naturally coloring eggs?
There are also a few different products on the market. Try these good brands:
Tools we used in this recipe:
---
Lastly, check out these other healthier Easter recipes:
How to Naturally Dye Easter Eggs Using Food
This Easy Corned Beef Hash is the best way to use up leftover corned beef OR the best excuse to make corned beef from scratch! It's a simple dish that is hearty and comforting, made under 20 minutes with only a handful of ingredients. Top with a fried egg, a splash of hot sauce and this gluten-free and paleo and whole30-friendly breakfast is ready!
Easy Corned Beef Hash
We don't know what we look forward to more when it comes to St. Patrick's Day eats, the actual Corned Beef and Cabbage or the subsequent leftover meal that follows: this Easy Corned Beef Hash. It's such a hearty, comforting breakfast: meat, potato and eggs. It's such a classic meal and the best part is that the components are mostly already cooked so it's just a matter of heating them all up together and topping with an egg, if desired. If you don't have leftover corned beef laying around, trust us this breakfast is totally worth cooking corned beef for.
This is one of those recipes that really is more of a guideline. If you have leftover carrots, or onions or root vegetables that were cooked with your corned beef you can feel free to add those in! This can also work with any other leftover beef you may have, though it won't have that classic flavor as it does when cooked with the corned beef. If you have leftover roast beef, pot roast or even steak, you can make this work. If you don't have any leftover potatoes you can cook up some fresh. Just dice up some potatoes and boil for about 12-15 minutes, or until fork tender. They brown better when they are cold, but fresh cooked will work in a pinch.
How do you make corned beef hash from scratch:
Cook some onions

Add cooked corned beef and potatoes and cook for 5 minutes undisturbed, and then flip and cook another 5 minutes
Season with garlic powder and pepper, and add salt if needed.
Serve with eggs!
Why is corned beef so salty?
We talk extensively about the process for brining your own corned beef here, and then go into details about how to cook it from scratch here. If cooked properly (meaning rinsed really well and cooked in enough water) corned beef shouldn't be overly salty, but when making corned beef hash you definitely want to taste the dish before adding any additional salt!
If you like this breakfast recipe, check out these others:
Easy Corned Beef Hash
This Breakfast Fried Rice is made using only 4 ingredients and is a super easy meal to whip up anytime of day, not just in the morning! It takes the base of leftover rice and switches up the traditional fried rice by adding in the leftover breakfast staples of bacon and eggs. You can have it on the table from start to finish in less than 15 minutes which makes it a breakfast (or dinner) win!
Breakfast Fried Rice
After testing and testing and testing our Best Rice Ever recipe a few weeks back we found ourselves with piles of rice in the test kitchen. Not that we are complaining or anything, because it really is the best rice ever, but we knew we needed to put that rice to good use by testing a few new leftover rice recipes, and this Breakfast Fried Rice was one of them!
We love the idea of being able to make a double batch of something easy, like rice, when you are cooking dinner and then also being able to use up the leftovers again for a fresh meal later in the week. This Breakfast Fried Rice is the perfect example of this. This dish takes a total start to finish time to make of 15 minutes! On busy days (which they seem to be innumerable) this is the perfect breakfast, or lunch or dinner! And likely you already have the ingredients on hand or in your freezer: bacon, eggs, rice and green onions.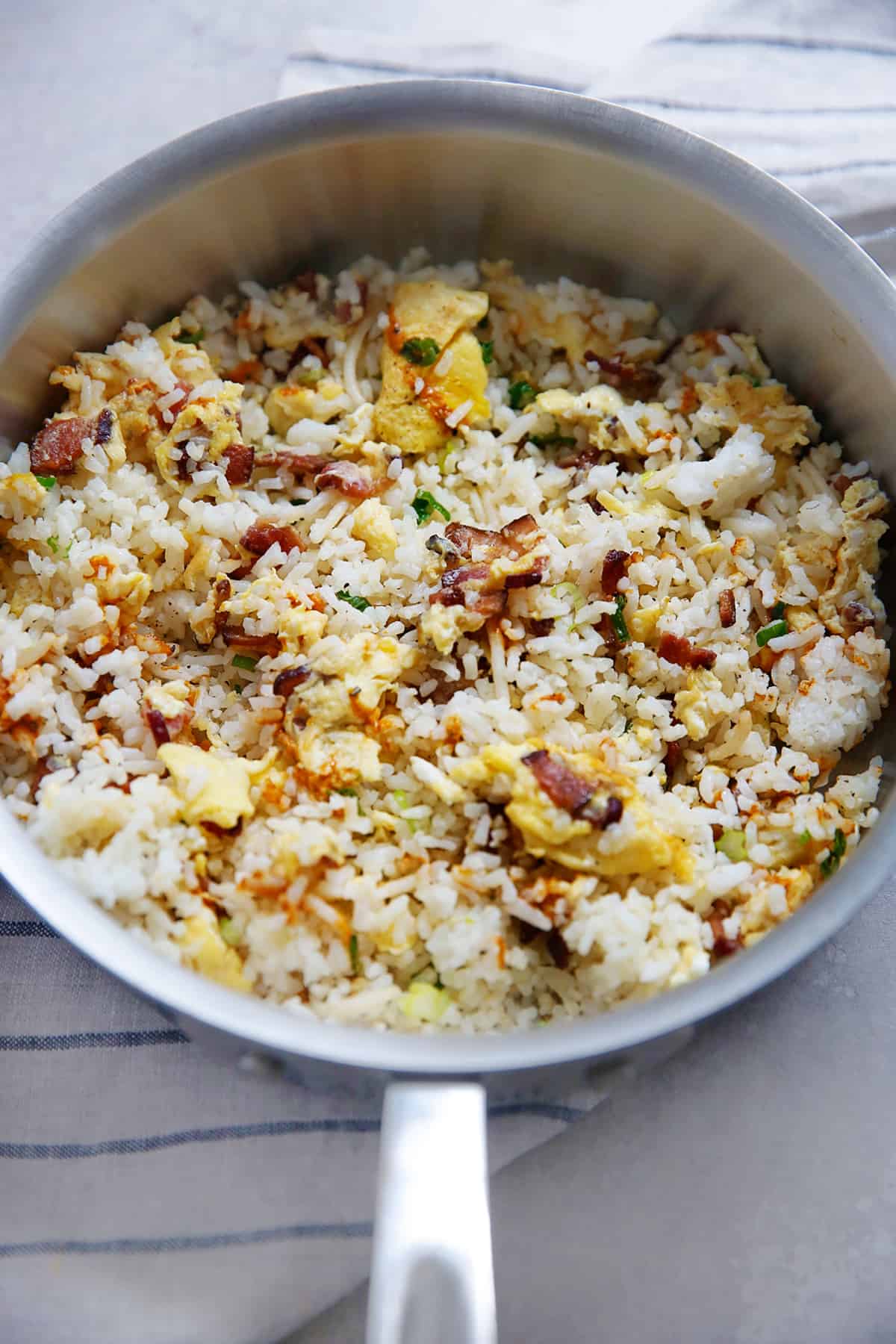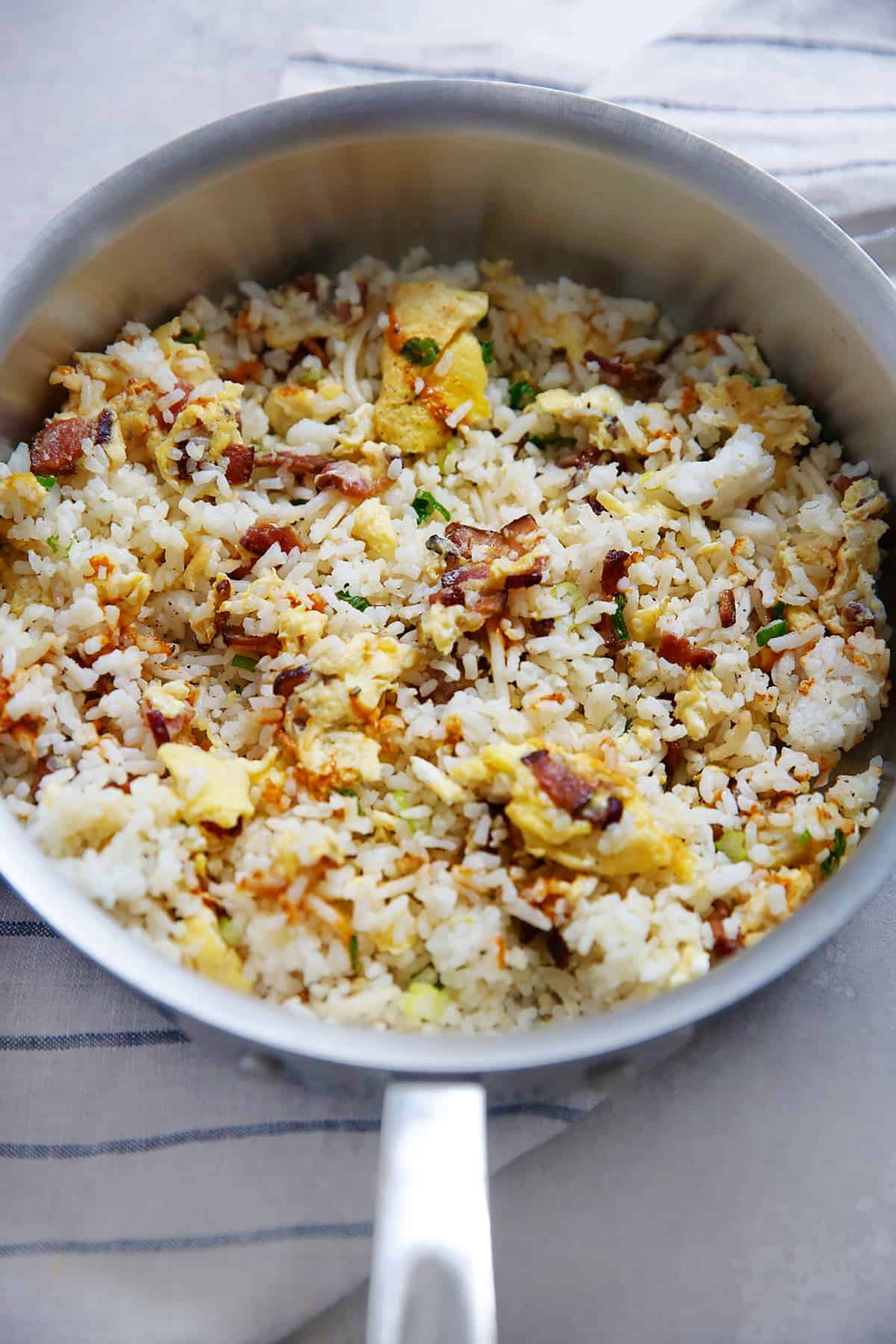 What is in a Breakfast Fried Rice?
This is not the most traditional Asian-style type of fried rice, as we really wanted to keep the ingredient list as minimal as possible so there aren't any add-ins like coconut aminos or other spices. Think of this as more of a breakfast stir fry! We wanted this to be a savory options for breakfast made with ingredients you likely had on hand that could be a satisfying meal. We limited it to bacon, eggs, green onions and leftover rice with optional hot sauce.
What are some other options to add to Breakfast Fried Rice?
If you wanted to add in a few more things there are plenty of options. You can add in:
diced bell peppers (after you fry up the bacon)
baby kale or spinach (add it when you add the rice and green onion to wilt)
frozen baby peas (add it when you add the rice and green onion to wilt)
cauliflower rice (add this after you fry up the bacon and cook for a bit before adding the eggs)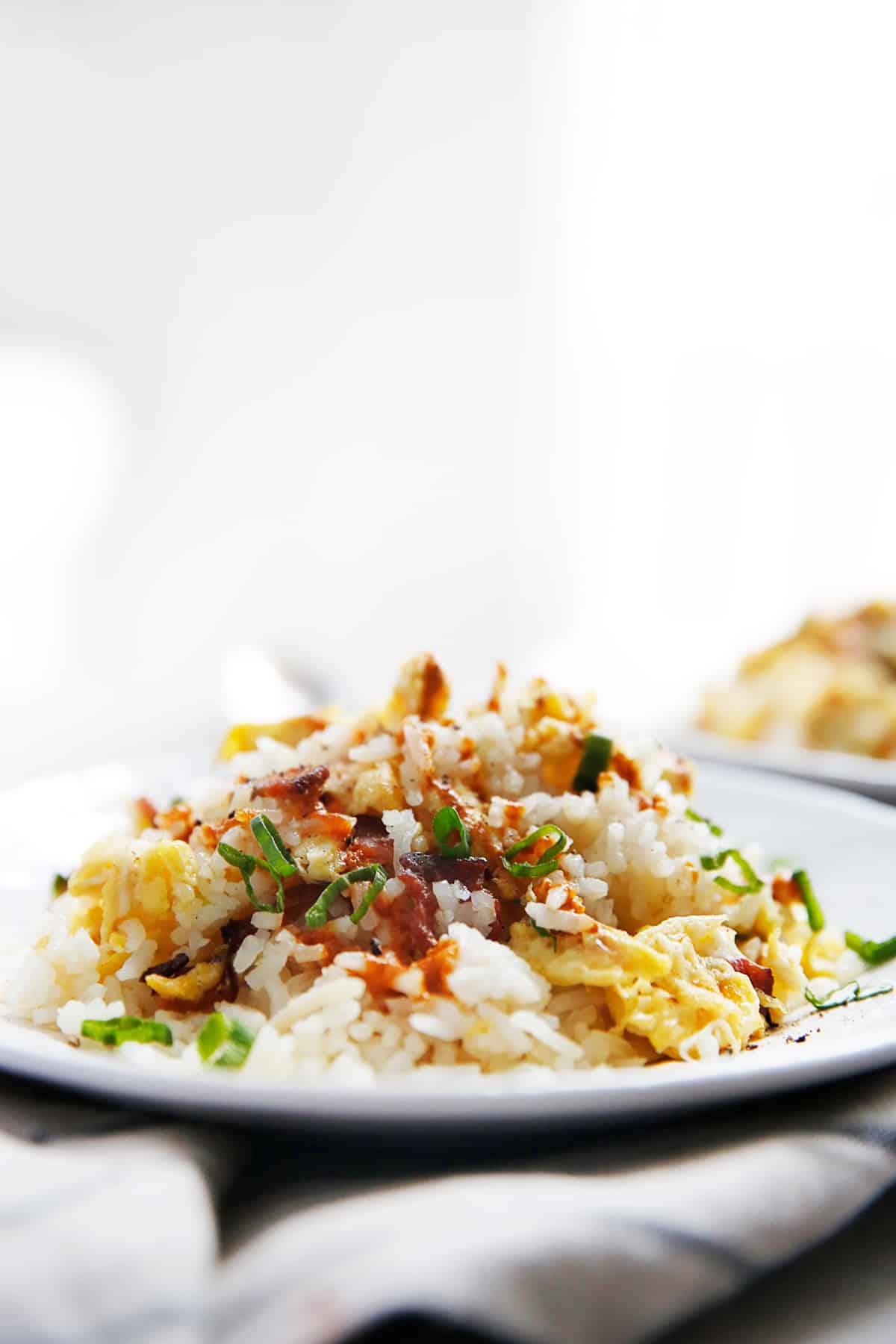 If you like this rice recipe, check out these others:
Breakfast Fried Rice
Learning How to Make Marshmallow Fluff may seem intimidating, but as long as you have a thermometer and an electric mixer and a few simple ingredients, you can have this made in under 20 minutes and it's far superior to any store-bought version. This version is made using only honey and maple syrup!

How to Make Marshmallow Fluff
Here in the New England area Fluff is so beloved that a local Boston suburb has a festival every year to celebrate the iconic Marshmallow Cream. If you haven't tried Fluff, it's basically a sticky sweet marshmallow spread that is classically known to be the other half to peanut butter in a Fluffernutter Sandwich and it's delicious. The bad news is that it's made with corn syrup and a few other suspect ingredients. The good news, we've cracked the code on How to Make Marshmallow Fluff at home because it's easy and a super fun treat! And what makes it even better is making Homemade Marshmallow Fluff at home uses only a few simple ingredients: egg whites, cream of tartar, honey, maple syrup and vanilla! And we promise, it's really simple!
Tips and Tricks for Making Marshmallow Fluff
The first thing you need to know about How to Make Marshmallow Fluff is that you are making candy! You'll be cooking up a very hot sugary syrup and then pouring it into beaten egg whites and whipping them up until the whole mixture has transferred into magical Marshmallow Fluff. It's like a marshmallow without the gelatin to set it.
If you are wondering if this is a lot of sugar—it is. You are making candy and one of the principal components of candy is: sugar! If you lower the sugar content it may not work. We orginally tried this recipe with less than ½ cup maple / honey and it failed miserably. We did successfully make it by reducing the honey from 3/4 cup to 1/2 cup, but really liked the stability that this amount of sweetener offered.
The bowl and whisk attachment must be cleaned well because if there is any grease in it, it will prevent the egg whites from whipping up properly.
Use a large pot in case the sugar boils up high. If it is still coming close to the edge lower the heat a bit. It will take longer to get to the correct temperature but it will still work without boiling over.
The added water in the sugar mixture helps the sugar come to a boil without burning. Put the water in the pot first, then the other two sweeteners. Do not stir the pot. Do not move the pot. You run the risk of crystallizing the sugar. If you have one, use a candy thermometer, or you can also use an instant read thermometer.
You want your sugar mixture to reach the "soft ball" stage or 235ºF-240ºF. This stage gets it's name from the fact that if you put a droplet of cold water into the boiling sugar, it will turn into a soft ball. This hot sugar mixture is what cooks the egg whites and turns it into Marshmallow Fluff.
Troubleshooting: If the egg white mixture hasn't thickened up and become glossy, either the sugar syrup was not the proper temperature, or you haven't whipped the egg whites long enough. So If it isn't looking thick and glossy, try whipping longer. And of course use a thermometer to make sure the sweetener has boiled enough!
You can store the Marshmallow Fluff in an airtight container at room temperature for about 1 week, though we recommend using it within the first 3 days. After a few days the mixture might start to weep, and this is totally normal for Fluff made without any artificial ingredients. All you have to do is re-whip the whole thing until it is glossy and thick again. Do not store your fluff in the refrigerator.
This Fluff tastes amazing toasted with a kitchen torch!
What recipes can you use this Marshmallow Fluff with?
You can't go wrong with a fluffernutter! This is a peanutbutter and marshmallow fluff sandwich!
Use it in this Gluten Free Hostess Cupcakes recipe.
Use it in this S'mores Pie recipe.
Use it to make marshmallow cream s'mores.
Use it to top any pie!
Use it as a frosting on any cake! This is a great option because it's dairy-free!
Tools we used in this recipe:
Essentials: A large heavy bottomed pot
Like this How to recipe, check out these others: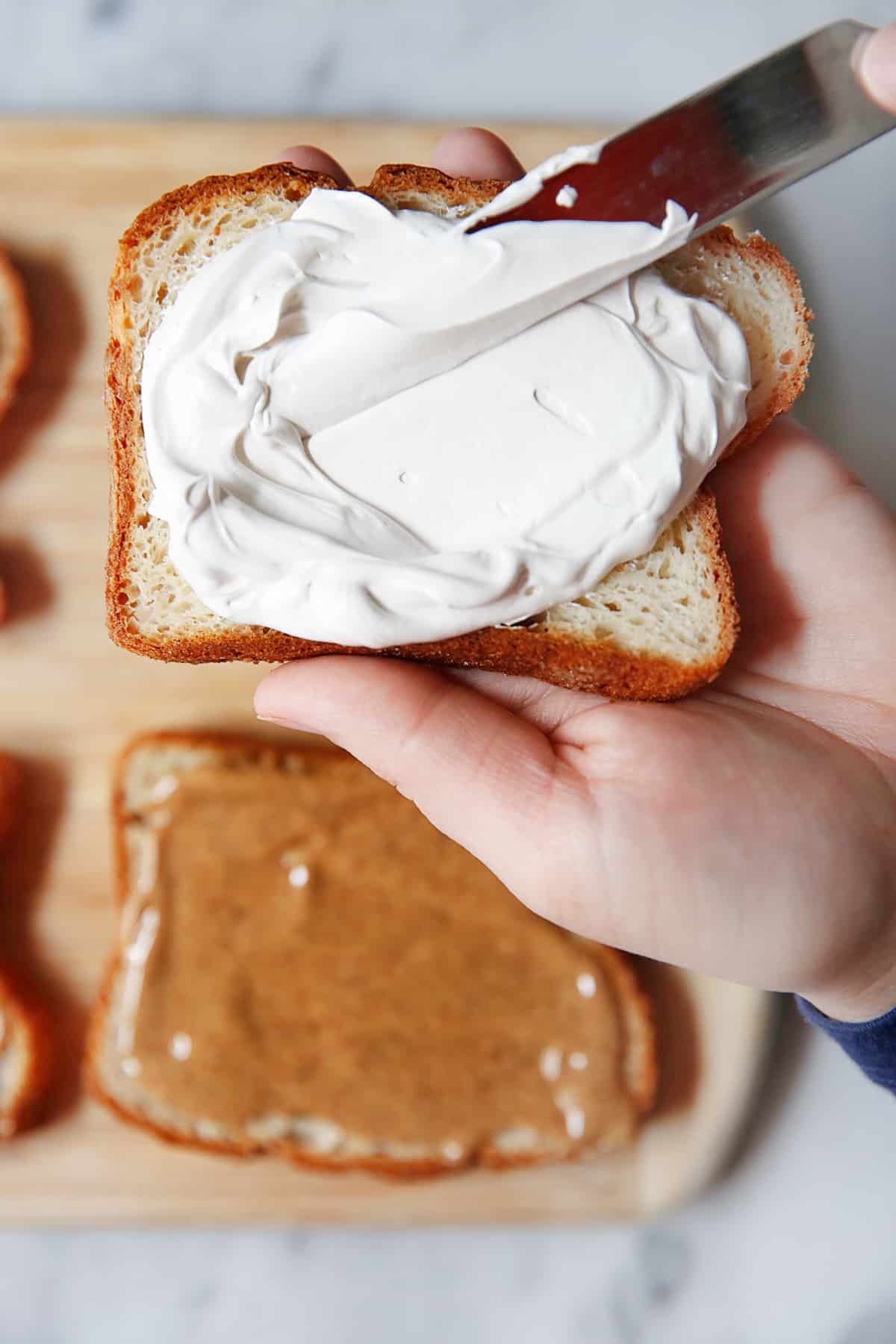 ---
Pin it for later:
How to Make Marshmallow Fluff (Paleo)
This holiday season it is time to get fancy because we're showing you How to Make Creme Brulee! This dairy-free and refined-sugar free version is just as decadent as the classic version but lightened up with a secret healthy ingredient! It's perfectly sweetened with a blend of honey and maple sugar and despite it feeling fancy it is really easy to make! We're showing you all the tips and tricks to place this spectacular dessert on your table this holiday season! Made in partnership with my friends at Vital Proteins!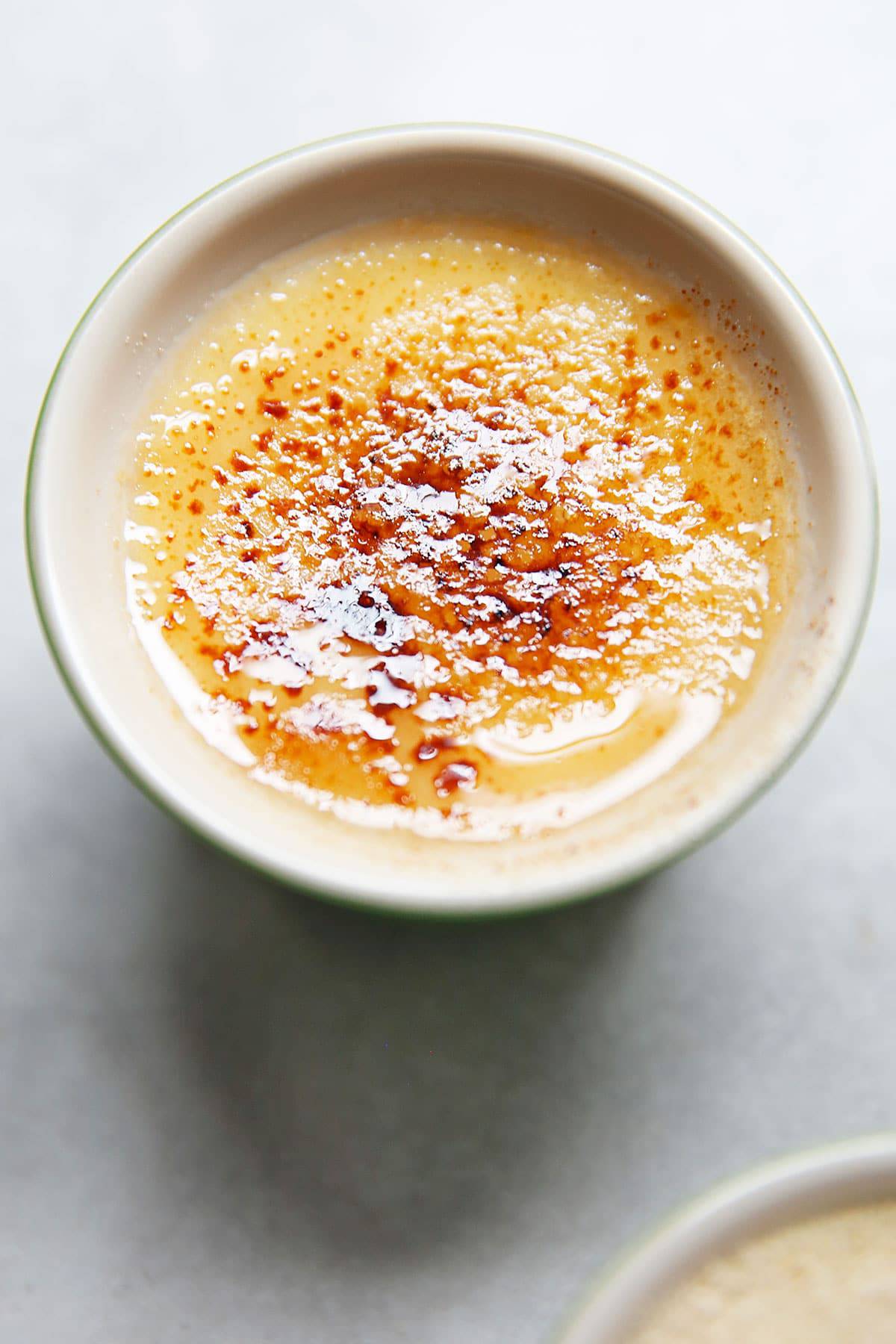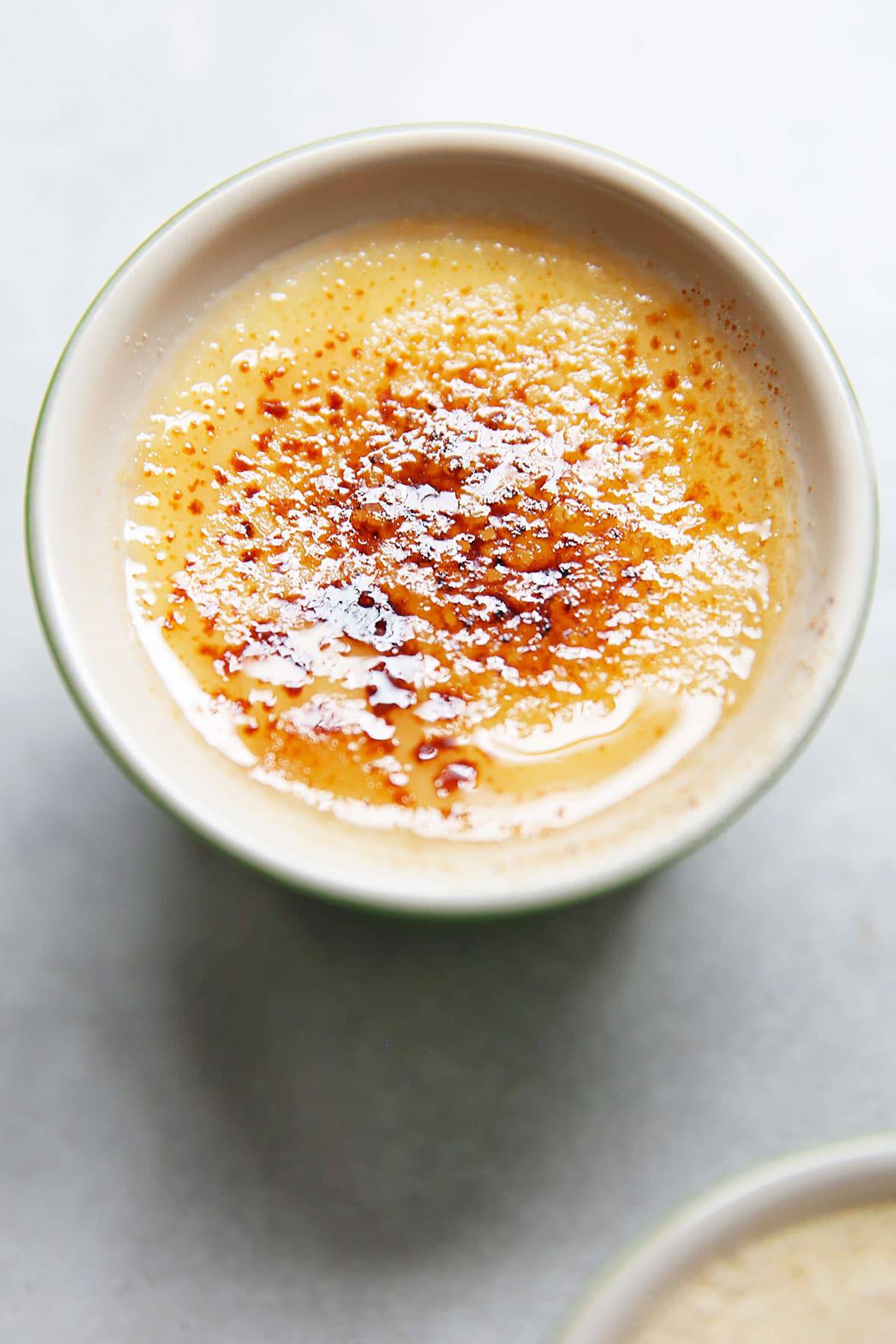 How to Make Creme Brûlée (Dairy-Free)
Today we're talking about How to Make Creme Brûlée because holidays are made for this special treat! But I'm here to let you in on a little secret: it's really easy to make! Creme Brulee is just simply a custard baked in the oven and topped with caramelized sugar. See? When you spell it out that way, it sounds so SIMPLE (it is)! We made our lightened up version a little extra special with the addition of my favorite Vital Proteins Collagen Peptides. Nobody will know it's there but it gives your dessert a little extra boost of health benefits! Great for your hair, nails, skin, gut, and so much more- it's the perfect sneaky addition!
Making the Custard
Let's talk about custard. Custard is essentially just a liquid mixture that uses eggs to set up that is baked slowly and gently in the oven. Traditionally custard uses dairy milk and heavy cream as it's base, but we're using a mixture of almond milk and coconut cream. We didn't want the Creme Brûlée to take on too much of the taste of coconut so we found the balance of those two really allowed the vanilla flavor to shine through without any coconut interferrence. Similarly we used a blend of maple sugar and honey as a sweetener for the same reason, using only one ran the risk of taking on too much of that flavor. You'll need the maple sugar for the caramelized sugar on the top too at the end! Our Creme Brûlée is JUST sweet enough, but if you prefer your desserts on the sweeter side you can add an extra 2 tablespoons of honey.
To make the custard you must first temper the eggs. All this means is that you are going to gently warm up the liquid and slowly ladle and whisk it into the eggs. The reason for doing all of this is so that the custard bakes evenly in the oven. You want to make sure you do not scramble your eggs, so do not boil the liquid mixture and then dump it all in to the egg mixture all at once–you'll end up with cooked eggs!
If your mixture has a lot of froth (from over-mixing) a great trick is to use your kitchen torch and very quickly turn it on and burn off the bubbles. It takes just one second or so and they pop and disappear making for a smooth custard (and it is kind of fun)!
Baking the Custard
After you've tempered the eggs and added in all the ingredients you're going to cook these custards slowly and gently in the oven.  This means using a water bath! You'll want divide the custard mixture into 4-6-ounce ramekins that are placed in a roasting pan. In the roasting pan you'll pour in hot water to come up the sides of the ramekins by about half way.
Bake in the oven until the custard is just set! This means the outside edges are set but the middle part is still a little wobbly. Once they're cooked through let them cool down slightly and then let them chill in the refrigerator until they're just set. You can do this 1-2 days ahead of time.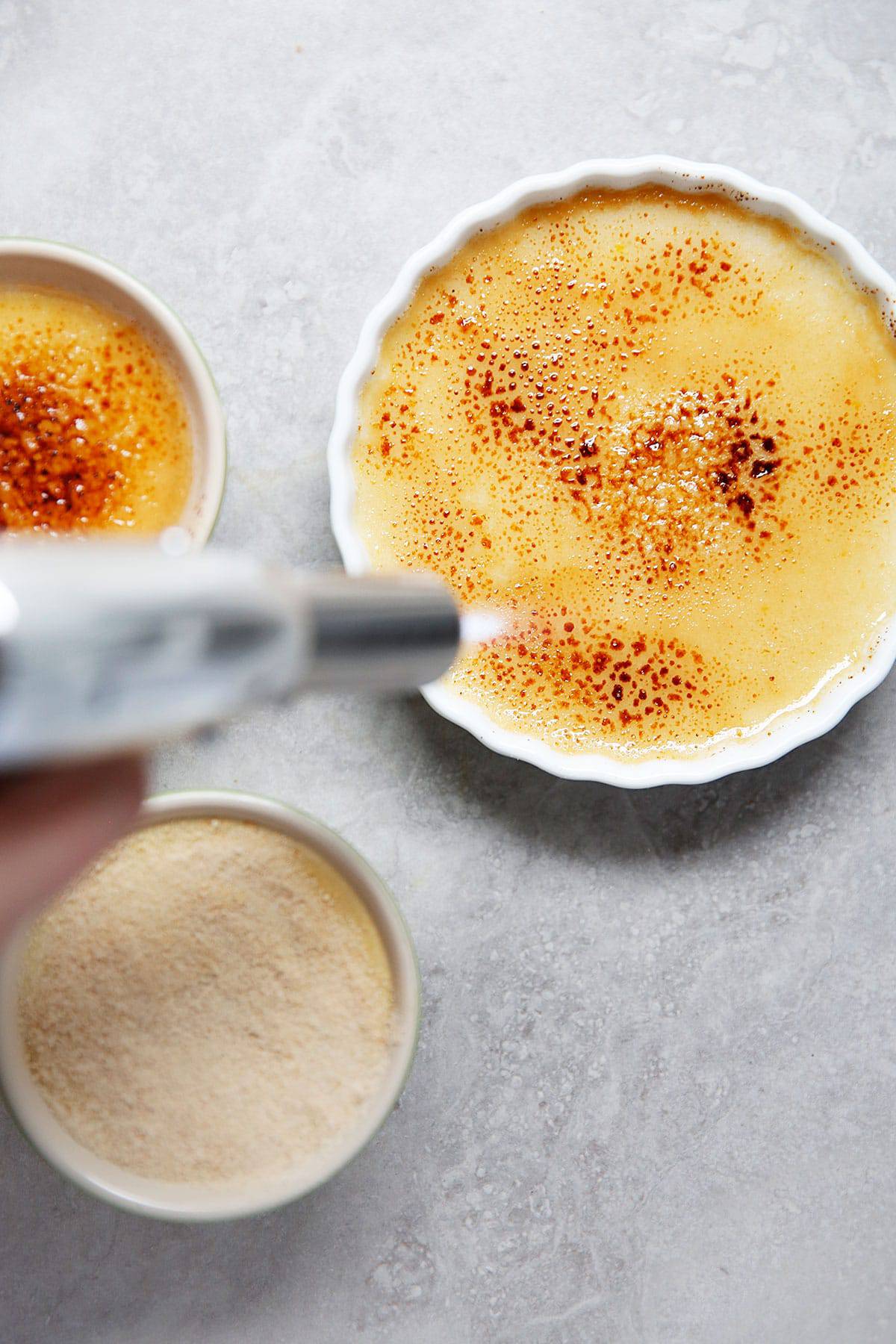 The fun part… Caramelizing the sugar:
Once your custards are completely set and you are ready to serve the creme brûlée you'll want to put about 1 scant teaspoon of maple sugar on top and shake it gently until the sugar is even. Light up your kitchen torch and begin to caramelize the sugar! Set the flame a few inches from the sugar and let it slowly go from light brown to darker brown, but do not let it go so long that it turns black. The sugar will harden once it cools after a minute or two. Serve right away so there is still that nice crunch on top!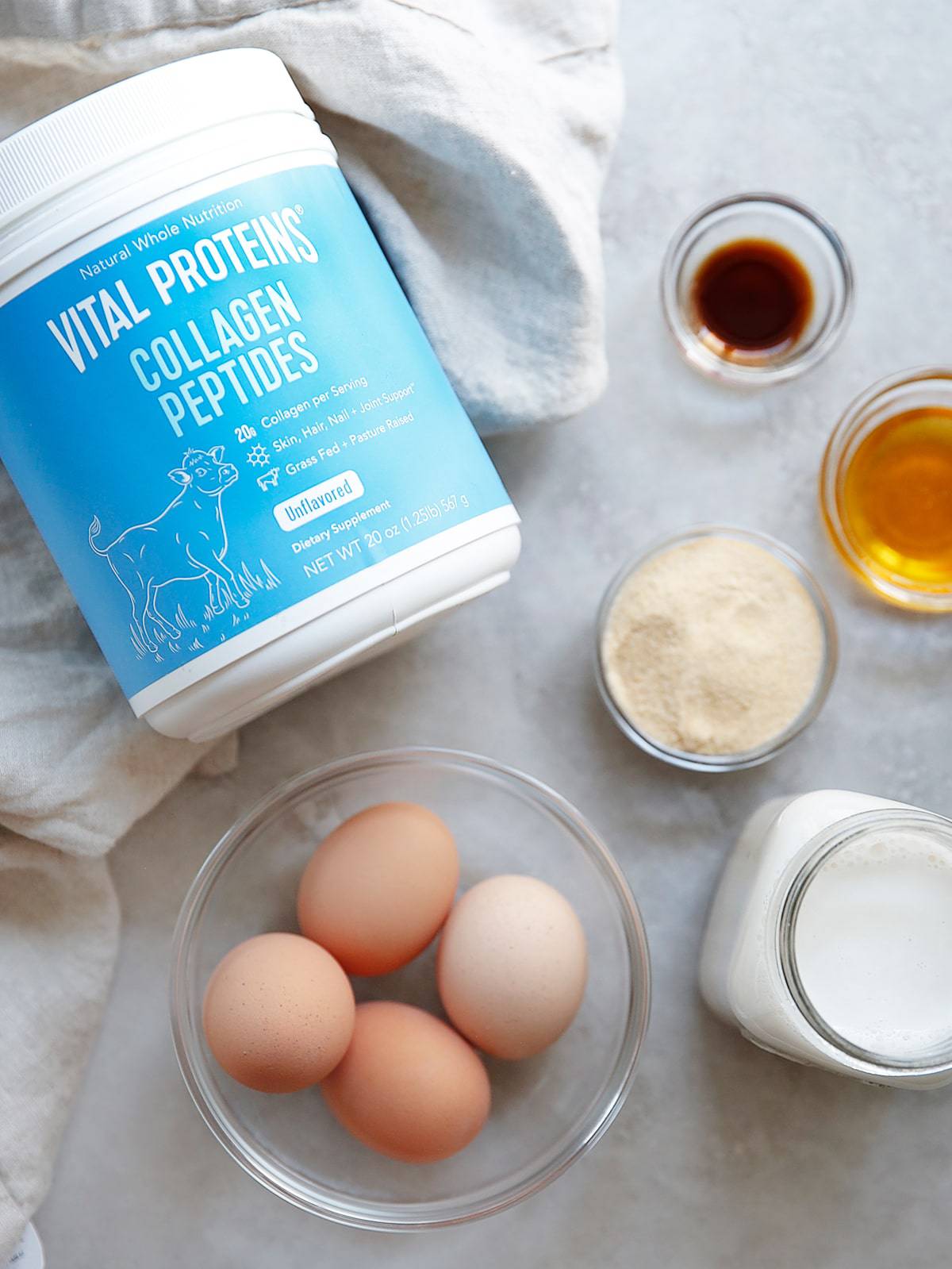 I am so excited to bring you today's recipe with a little sneaky favorite ingredient of mine! My love for collagen peptides is well documented, and I never tire of ways to make it part of my daily routine. I use it in my coffee each morning, but there are so many ways to use it because it totally dissolves and is tasteless. Adding collagen to your diet can be a great way to improve and promote bone and joint health, aid in healthy digestion and gut health, improve sleep and nourish your skin. It can be added to just about anything including this Creme Brûlée recipe!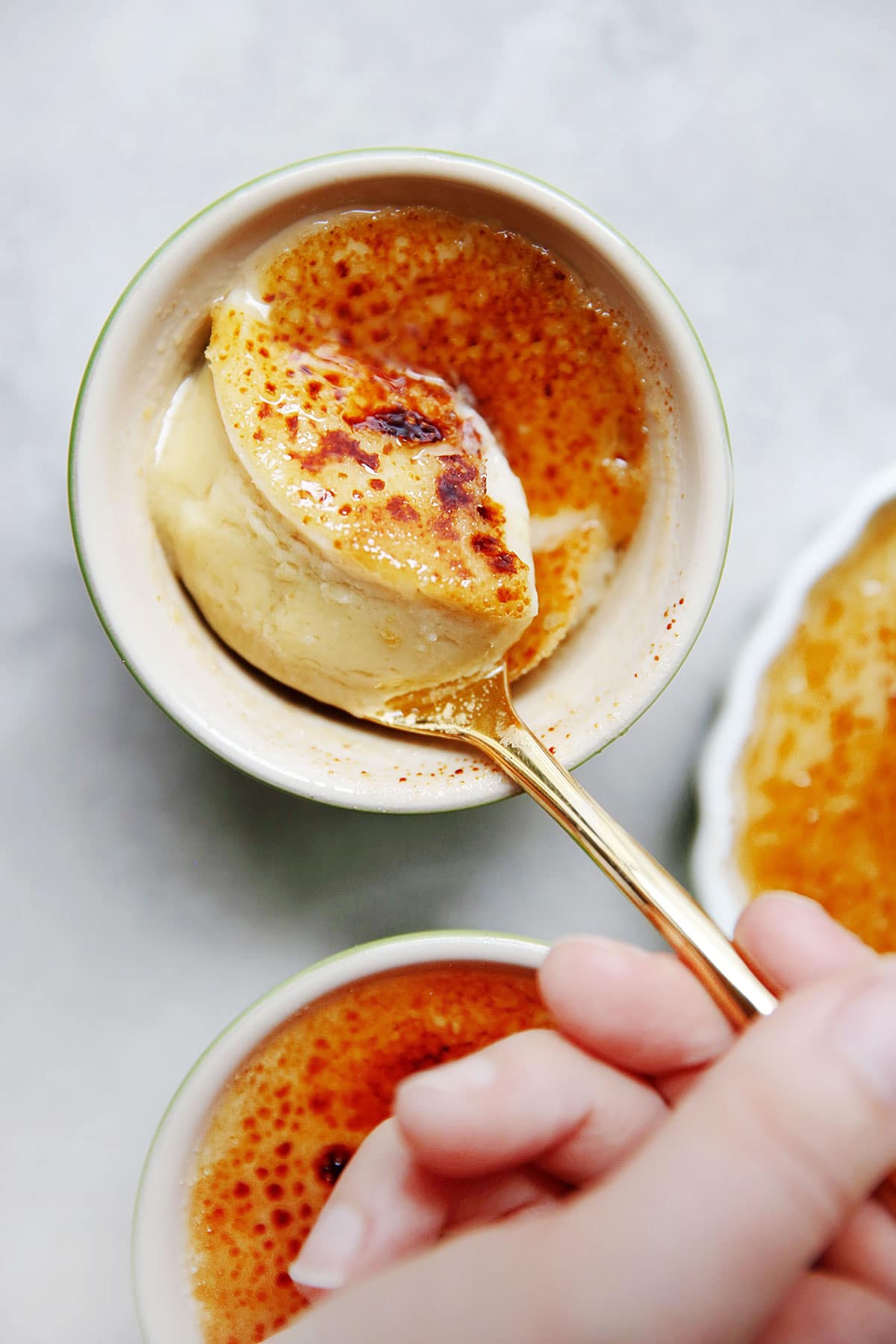 Tools we used to make this recipe:

Watch the video:

If you like this show stopping dessert, check out these others:


This post is sponsored by Vital Proteins. All thoughts and opinions are always 100% my own! I love the integrity of their products and think you'll love them too. Thank you for continuing to support LCK and the brands I work with!
How to Make Creme Brûlée (Dairy-Free)
These Deviled Eggs with Bacon and Chives are your answer for an easy-to-make appetizer to please a crowd! They are so delicious and can even be made ahead of time! The addition of bacon and chives bump these deviled eggs up to the next level! These are great to serve during the holidays but also make a great protein filled snack for any time of year and are compatible with Keto, Paleo and Whole30 diets!
Deviled Eggs with Bacon and Chive Recipe
This Deviled Eggs with Bacon and Chives recipe is the perfect savory treat to make or bring along to your next holiday gathering! They're simple to prepare and can be made ahead of time clearing out your schedule during this busy time! The bacon and chives really add something special to this classic deviled egg and we know they're going to be your new favorite!
They are also great to have for the upcoming new year as everybody gives a new diet a try! You can have one or two (or ok… three) for a protein fueled snack and feel satisfied for a few hours until your next meal. This recipe is compatible with Keto, Whole30 (make sure you are using compliant bacon) and Paleo diets. And they are super delicious!
How to Make Hard Boiled Eggs on the Stove and Instant Pot
We can't talk about deviled eggs without talking about how to make the perfect hard-boiled eggs! If you are like me, you've tried EVERY method for boiling eggs and always fallen short. That is until I was introduced to the steaming method. Steaming eggs leaves them perfect every time, and incredibly easy to peel.
You can steam eggs on both the stove top and using the Instant Pot. Using the Instant Pot to cook hardboiled eggs is 100%, hands-down, my first choice because the shells peel off so easily! If you haven't tried cooking eggs in the pressure cooker, be prepared to be amazed!
As you can see, we piped our filling, which makes them look extra fancy, but have no fear, you don't need to if you don't have the tools! You can fill up a plastic bag with the egg yolk filling and snip the end to pipe, or you can use a small spoon to scoop up something filling and use a second spoon to knock the filling in place!
Can you make deviled eggs in advance?
Deviled eggs can be prepared up to two days ahead of time. Wrap the egg white halves well and keep the egg yolk filling sealed in a resealable plastic bag with all the air squeezed out! If desired you can keep the filling separate and pipe into eggs right before serving.
Tools we used in this recipe:
If you like this easy appetizer, check out these others:
---
Want free bacon?
Each month, ButcherBox  curates a one-of-a-kind selection of the healthiest, tastiest meats, humanely raised and free of antibiotics and hormones. Or you can customize your box and select your favorite cuts and get 20% more meat.The price works out to less than $6.00/meal and shipping is always free. You can also space it out so it's not every 4 weeks, too!
ButcherBox delivers your meat for the month, saves you money, and is the best quality! Enjoy the best 100% chicken and meat, while getting free bacon & $15 off your first ButcherBox!
Get FREE bacon
FREE Shipping
$15 OFF!
Order Today and get this amazing deal!

Deviled Eggs with Bacon and Chives
This Sheet Pan Chorizo and Egg Bake is probably my new favorite breakfast. It's hearty, packed with the perfect amount of spice, and made easy with only one pan. It's gluten-free and paleo-friendly and the perfect breakfast everyone will enjoy!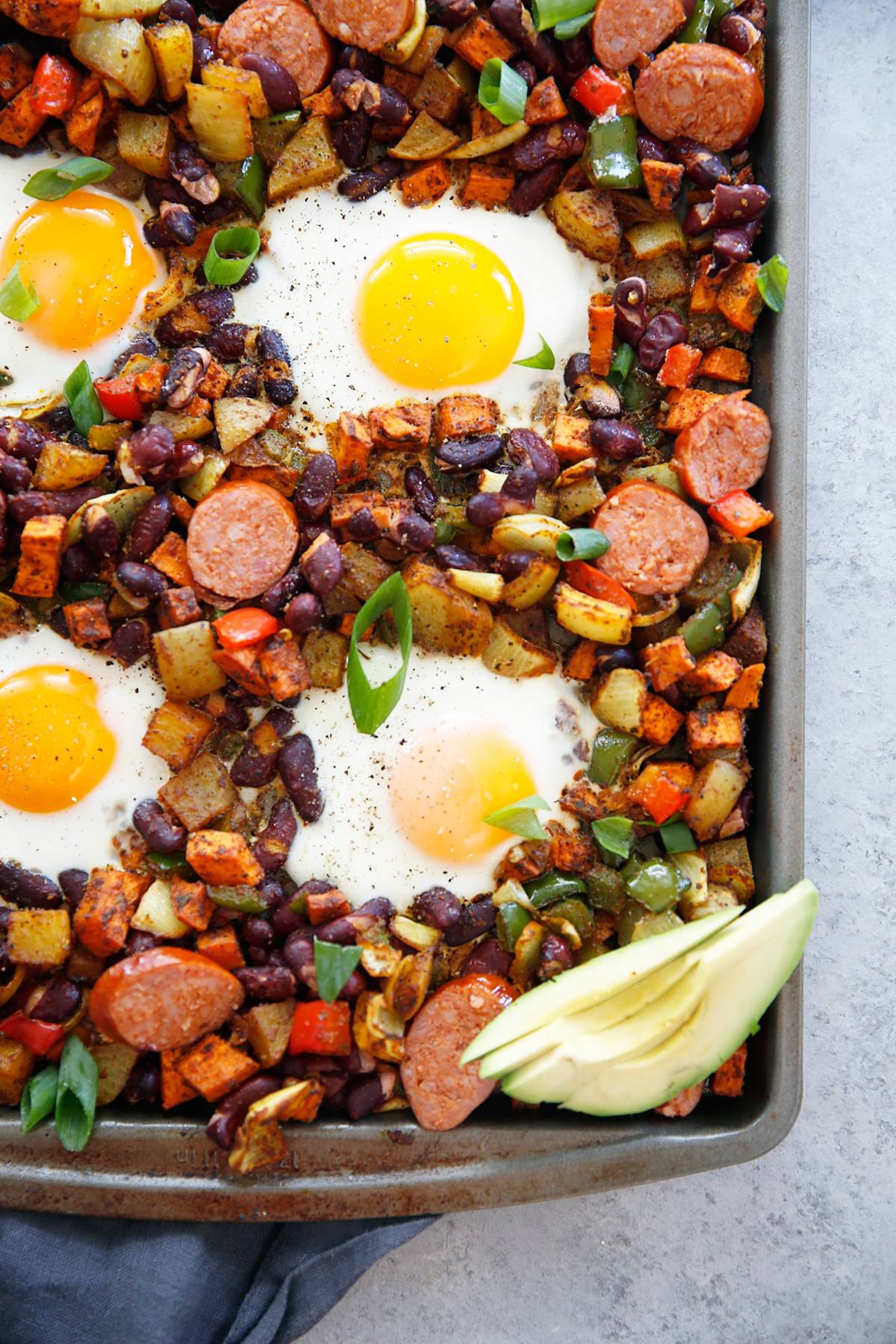 Sheet Pan Chorizo and Egg Bake
Sheet pan cooking for breakfast or brunch tends to be overlooked, but it is such an easy way to get a meal on the table at any time of day. We love this one for it's unique Mexican inspired flavors that makes for a really great brunch.
Tips for sheet pan cooking:
Read the recipe all the way through (of course) and plan to use a timer! Most recipes require different cooking times, so make sure to use a timer so you can truly walk away from the oven and not have to worry about when your adding anything in to the oven.
Do the prep ahead of time: Cut vegetables, make sauce or mix spices the night before or that morning if you are looking to speed up the process when it comes time for the actual cooking.
Use parchment paper to make clean up a breeze.
Use the correct size sheet pan. When we say sheet pan we are referring to the rimmed half sheet pan which is 18″ by 13″. The size of the sheet pan matters because you do not want to overcrowd the pan when cooking, so if you are using a smaller sheet pan you may need to use 2 to achieve the same result.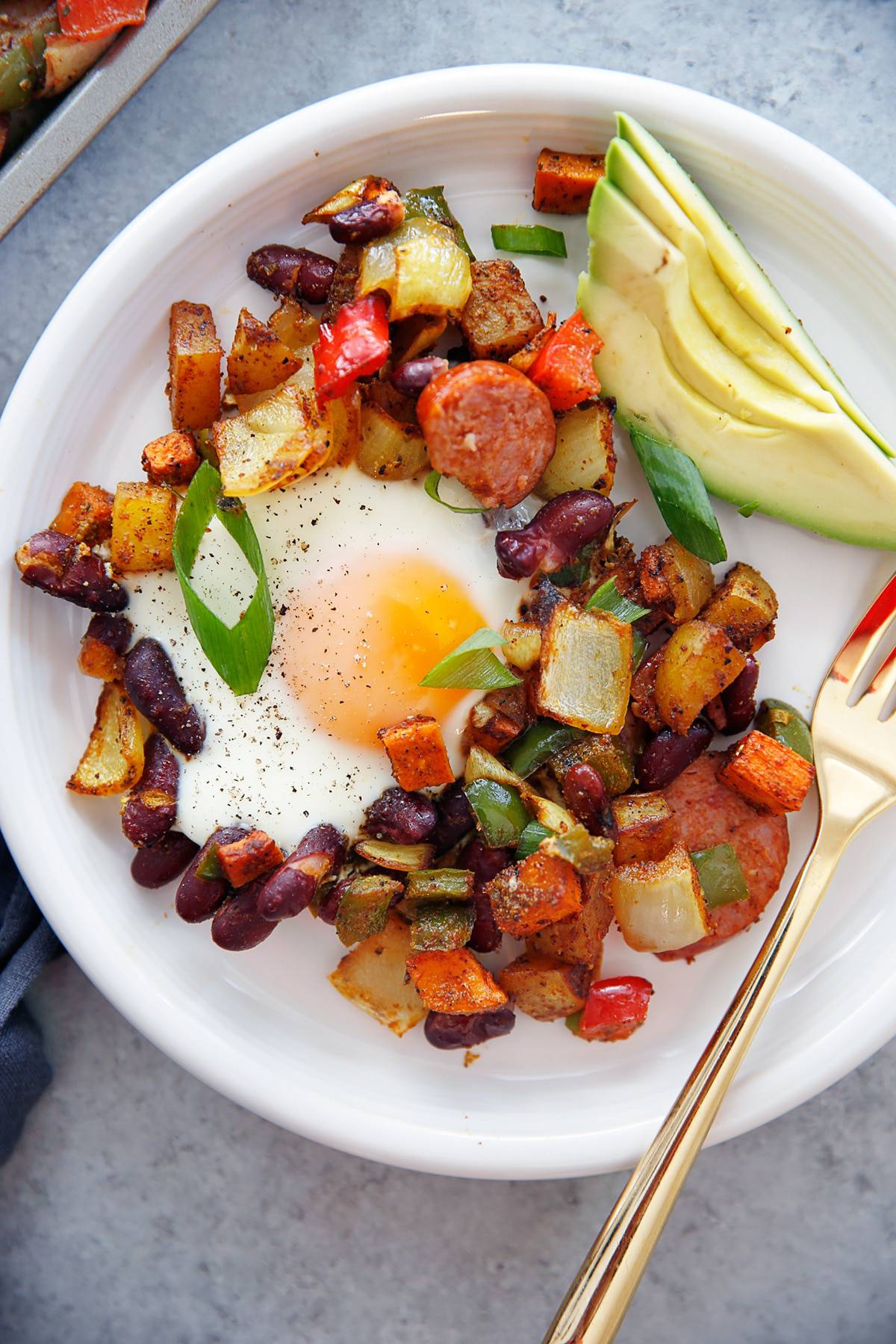 Sheet pans for the win! This hands-off cooking method makes getting a delicious meal on the table simple and the clean up is a breeze. We just love that utilizing the sheet pan allows for unattended cooking, giving us EXTRA time in our busy lives.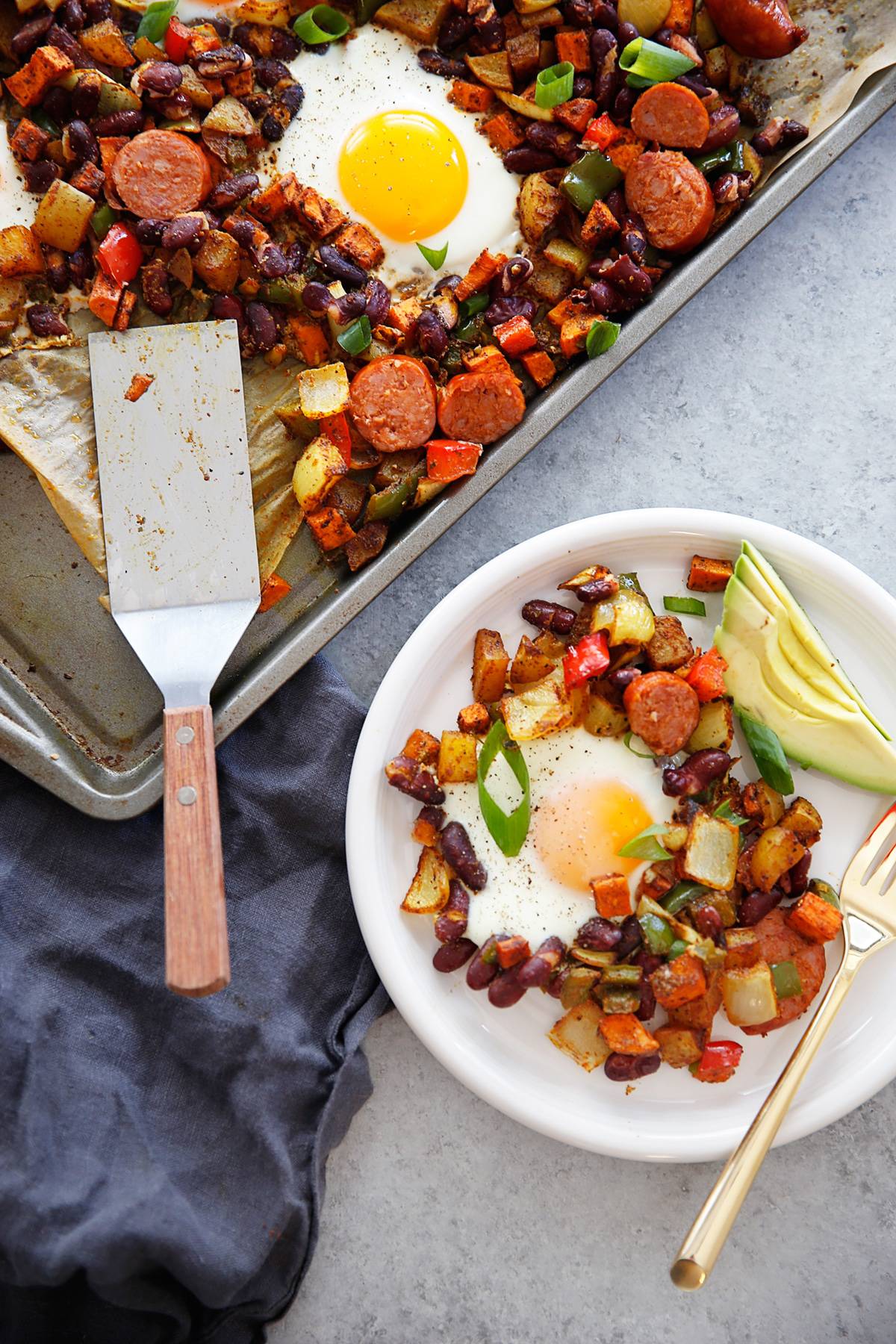 If you like this recipe, try these other sheet pan meals:
Sheet Pan Chorizo and Egg Bake
This Sheet Pan Classic Breakfast is made up of Eggs, Bacon, & Home Fries and comes together in a pinch and made using only ONE PAN. It's a great one pan breakfast bake that is perfect for a weekend brunch or breakfast to feed a crowd with little to no mess!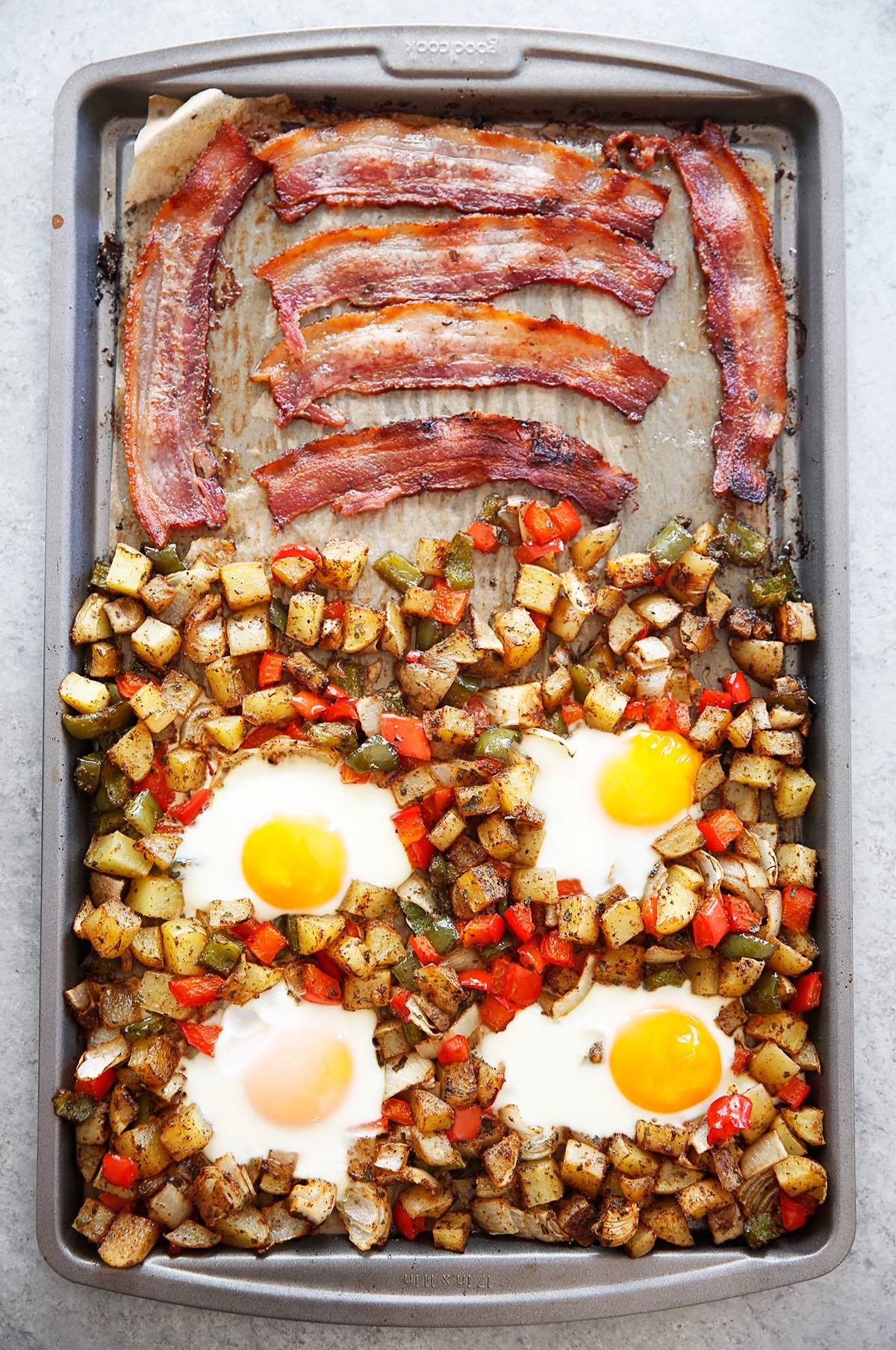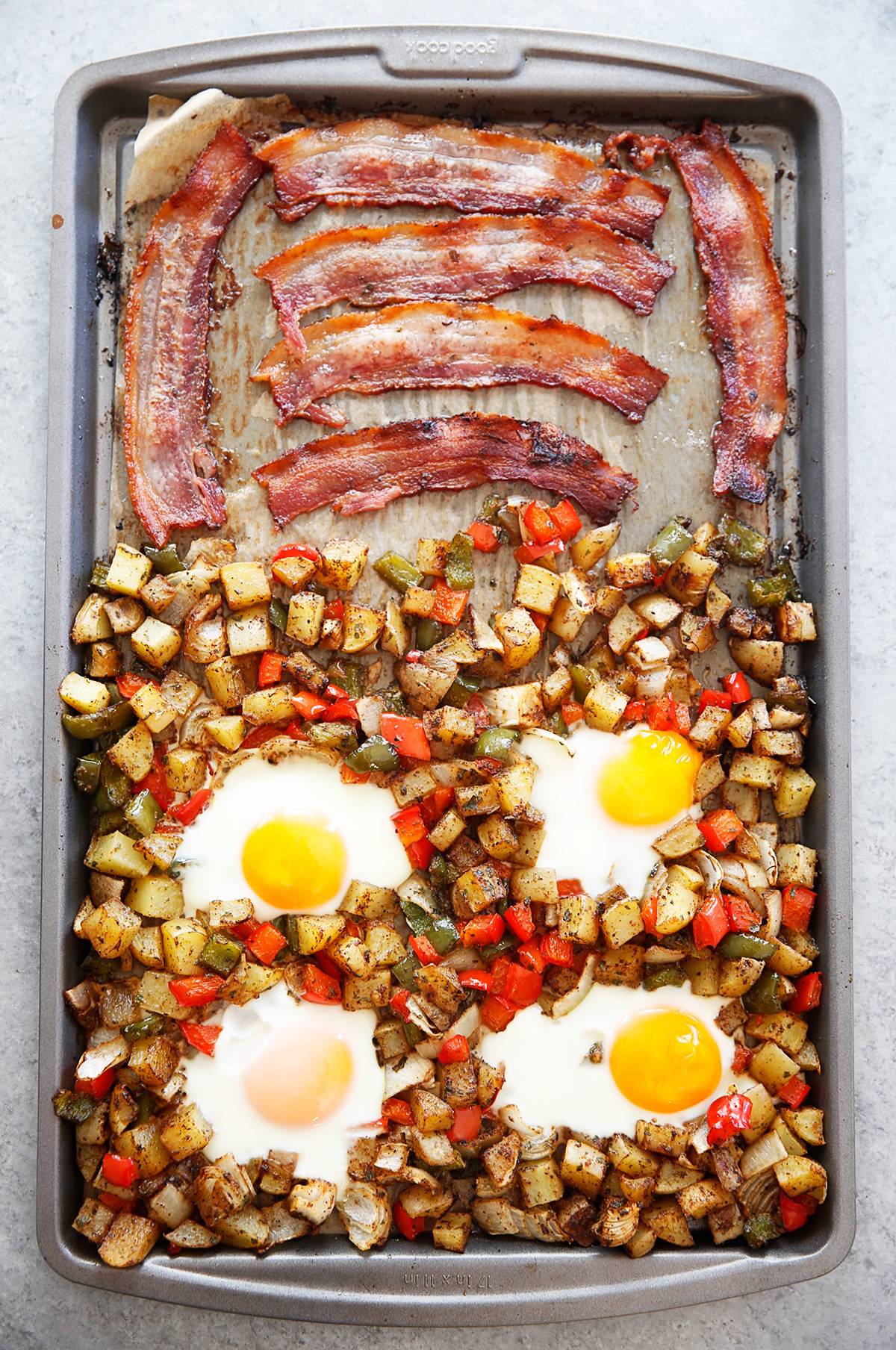 Sheet Pan Classic Breakfast Bake
We are so excited to kick off this sheet pan series! Each Wednesday for the next few weeks we will be sharing sheet pan meals that are simple to make and packed with flavor.
We love sheet pan recipes for so many reasons: they're easy to prepare and easy to clean. When creating this series our main goal was to always have a meal packed with flavor while also being hands-off to give you a little extra time in your life. Yes, there are a few steps to follow in these recipes, but aside from mixing a few ingredients together or chopping a few vegetables the cooking process is mostly hands-off! Check out the tips below to make sheet pan cooking a breeze.
Making a full on brunch spread on a sheet pan allows for a more relaxing morning before guests arrive, and if cooking for a crowd, it will certainly be way more efficient. You can easily double the recipe to use two sheet pans and create a full meal for 8 people without breaking a sweat. And you can even enjoy that mimosa while you're at it!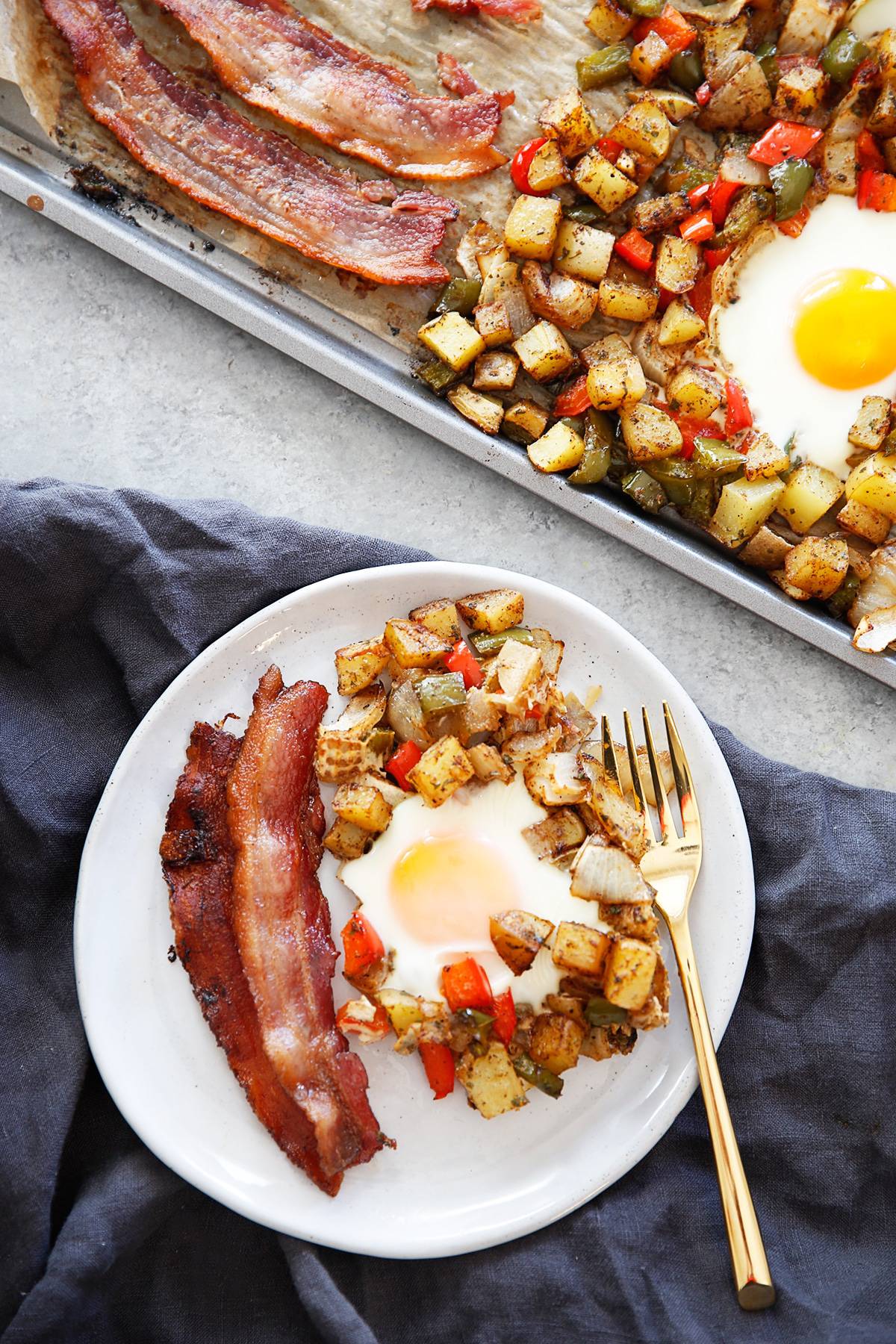 Tips for sheet pan cooking:
Read the recipe all the way through (of course) and plan to use a timer! Most recipes require different cooking times, so make sure to use a timer so you can truly walk away from the oven and not have to worry about when you are adding anything in to the oven.
Do the prep ahead of time: Cut vegetables, make sauce or mix spices the night ahead of time if you are looking to speed up the process.
Use parchment paper to make clean up a breeze.
Use the correct size sheet pan. When we say sheet pan we are referring to the rimmed half sheet pan which is 18″ by 13″. The size of the sheet pan matters because you do not want to overcrowd the pan when cooking, so if you are using a smaller sheet pan you may need to use 2 to achieve the same result.
If you like this recipe, try these other sheet pan meals: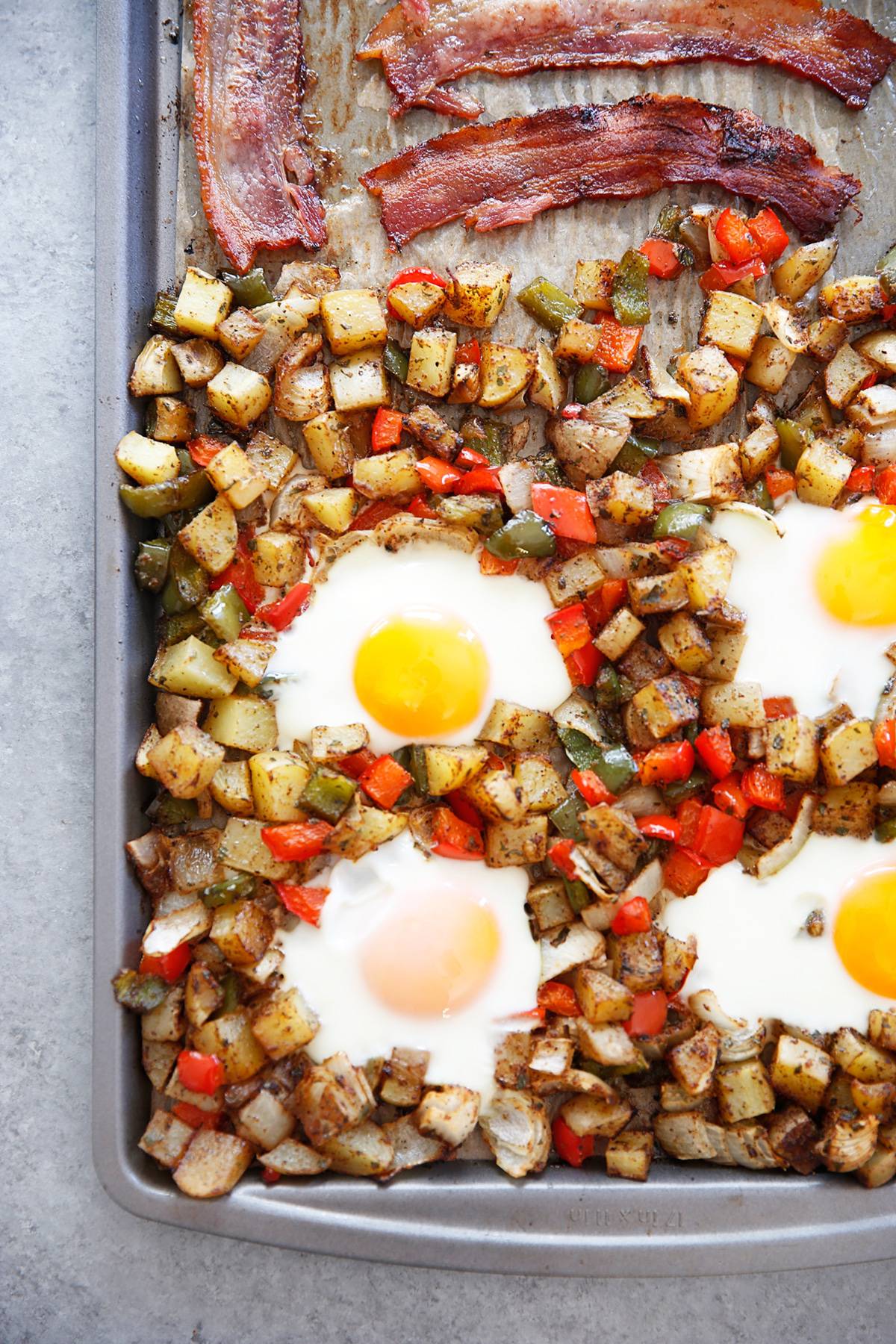 Wondering how to get FREE bacon? P.S. It's sugar-free/whole30 approved bacon! I always add a few extra in the add-ons to my box!
Each month, ButcherBox curates a one-of-a-kind selection of the healthiest, tastiest meats, humanely raised and free of antibiotics and hormones. Or you can customize your box and select your favorite cuts and get 20% more meat.The price works out to less than $6.00/meal and shipping is always free. You can also space it out so it's not every 4 weeks, too!
Enjoy the best 100% grass-fed and grass-finished filet mignons, plus get tasty uncured, sugar and nitrate free bacon & $10 off your first ButcherBox! ButcherBox delivers your meat for the month, saves you money, and is the best quality!
Get FREE bacon
FREE Shipping
$15 OFF!
Order Your First Box Today and get this deal!!

Sheet Pan Classic Breakfast Bake (Eggs, Bacon, & Home Fries!)
We have been eating this Easy Pizza Scramble at least 3x week lately for breakfast! It has all the pizza flavors you love, while being low carb and keto, and FOR BREAKFAST. I mean, who doesn't want pizza for breakfast? I serve mine with warm marinara sauce for dipping!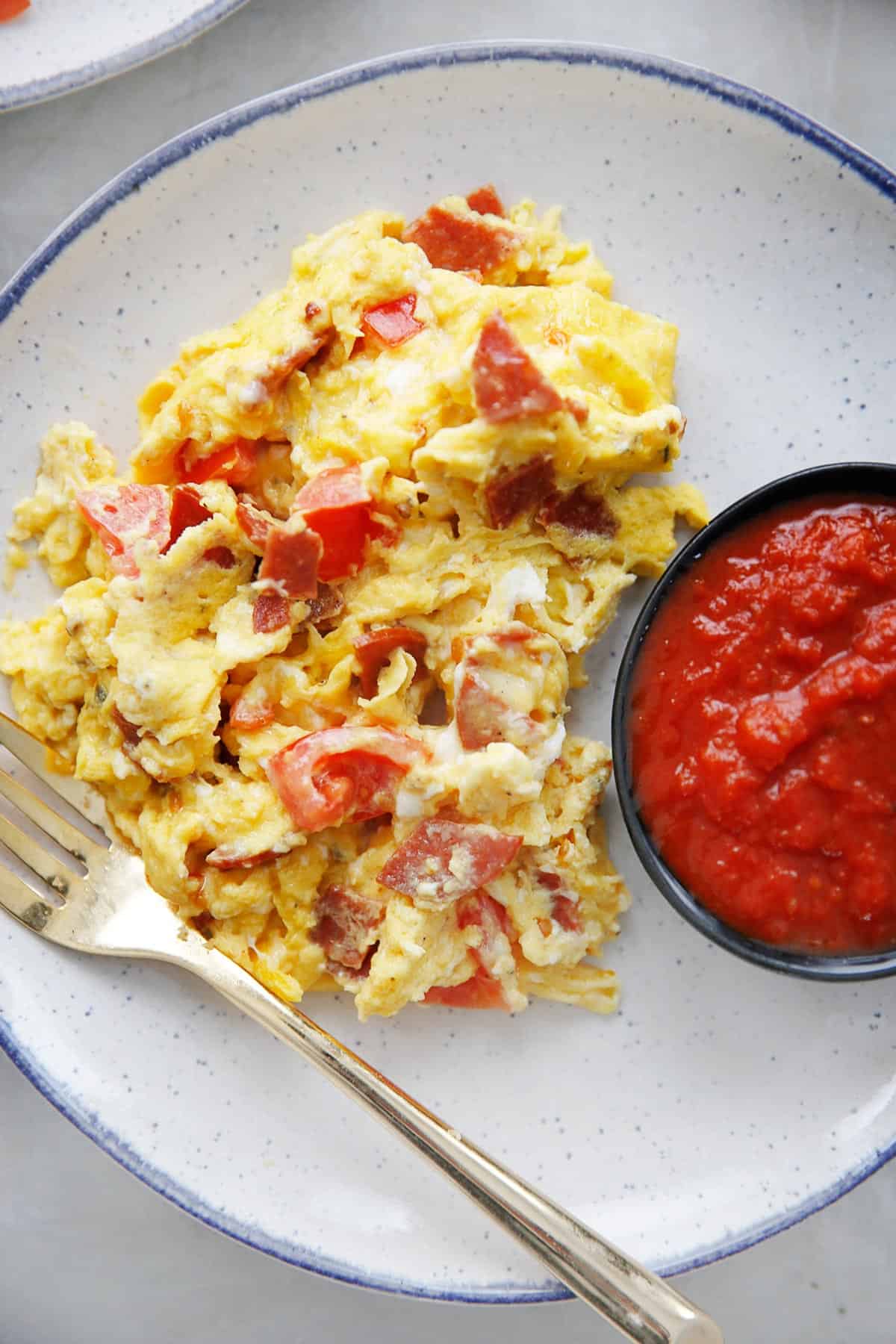 Easy Pizza Scrambled Eggs
If omelettes or scrambles are the option, I go scramble every single time. A well-made scramble is my favorite! It can't be too dry, and has to be soft and creamy without adding any milk!
When I really wanted pizza one morning and ended up with this scramble, I knew it would be on repeat. It's SUPER simple to make, and SO delicious.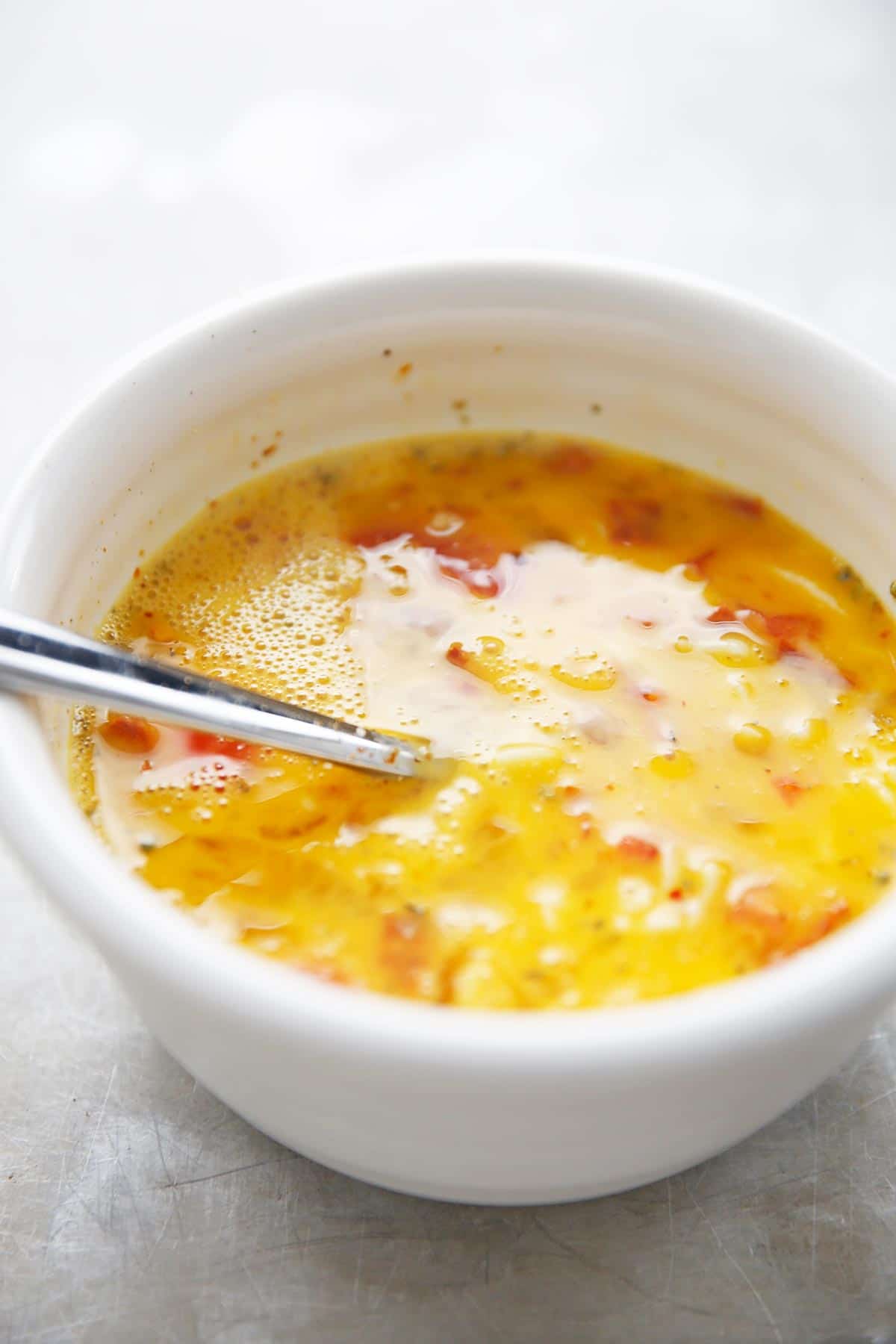 Scramble FAQs!
How do you make perfect scrambled eggs?
Place over medium-low heat and add butter or oil of choice until hot. Pour in eggs.
As eggs begin to set, gently pull the eggs across the pan with a spatula, forming large soft curds/ribbons.
Continue until you reach your desired scramble egg consistency! I like mine soft and fluffy.
Do you have to put milk in scrambled eggs?
No! When scrambled eggs are made right, they're light, soft, and creamy without the addition of milk or cream.
What can I put in my scrambled eggs?
You are going to love this pizza scramble. It's one of my favorite unique ways to spice up scrambled eggs!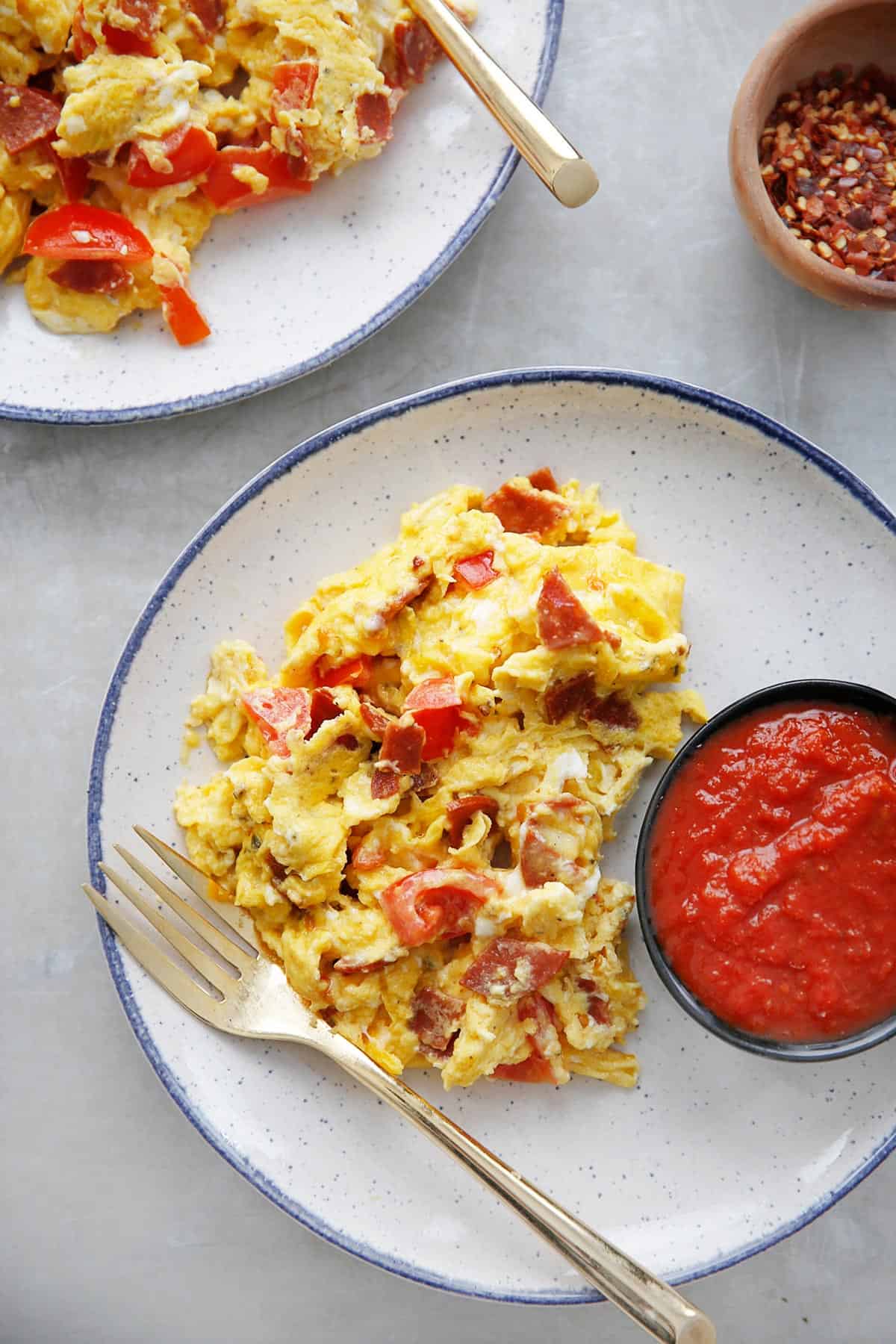 If you like this egg scramble recipe, try these other egg recipes:
How do you make fluffy scrambled eggs
Easy Pizza Scramble
This Paleo Banana Bread made with chocolate chips and walnuts is so delicious and moist. It's the ultimate gluten-free banana bread that is freezer-friendly, using almond flour and coconut flour and very little added sugar! It's taken me years to perfect this recipe, and I finally achieved the exact texture I wanted for the ultimate, easy, banana bread that is freezer-friendly, too! Perfect for a holiday morning, or a snack anytime of the week!
Easy Paleo Banana Bread Recipe
Is there anything more satisfying than the smell of fresh banana bread cooking? Well, besides the taste of course! Banana bread is such a simple and delicious morning treat and this paleo version, with option to use brown butter if you tolerate dairy, is just downright decadent. I love how simple it comes together and can't get over how delicious it smells when baking!
Grab a slice with a cup of coffee or tea, and enjoy! This also freezes well, so if you want, make a double batch with one for now and one for later or for a gift.
Ingredients Needed:
almond flour
coconut flour
baking powder
cinnamon
sea salt
butter, ghee or coconut oil
medium ripe bananas
eggs
maple sugar
vanilla extract
walnuts (optional)
dark chocolate chunks (optional, but totally encouraged)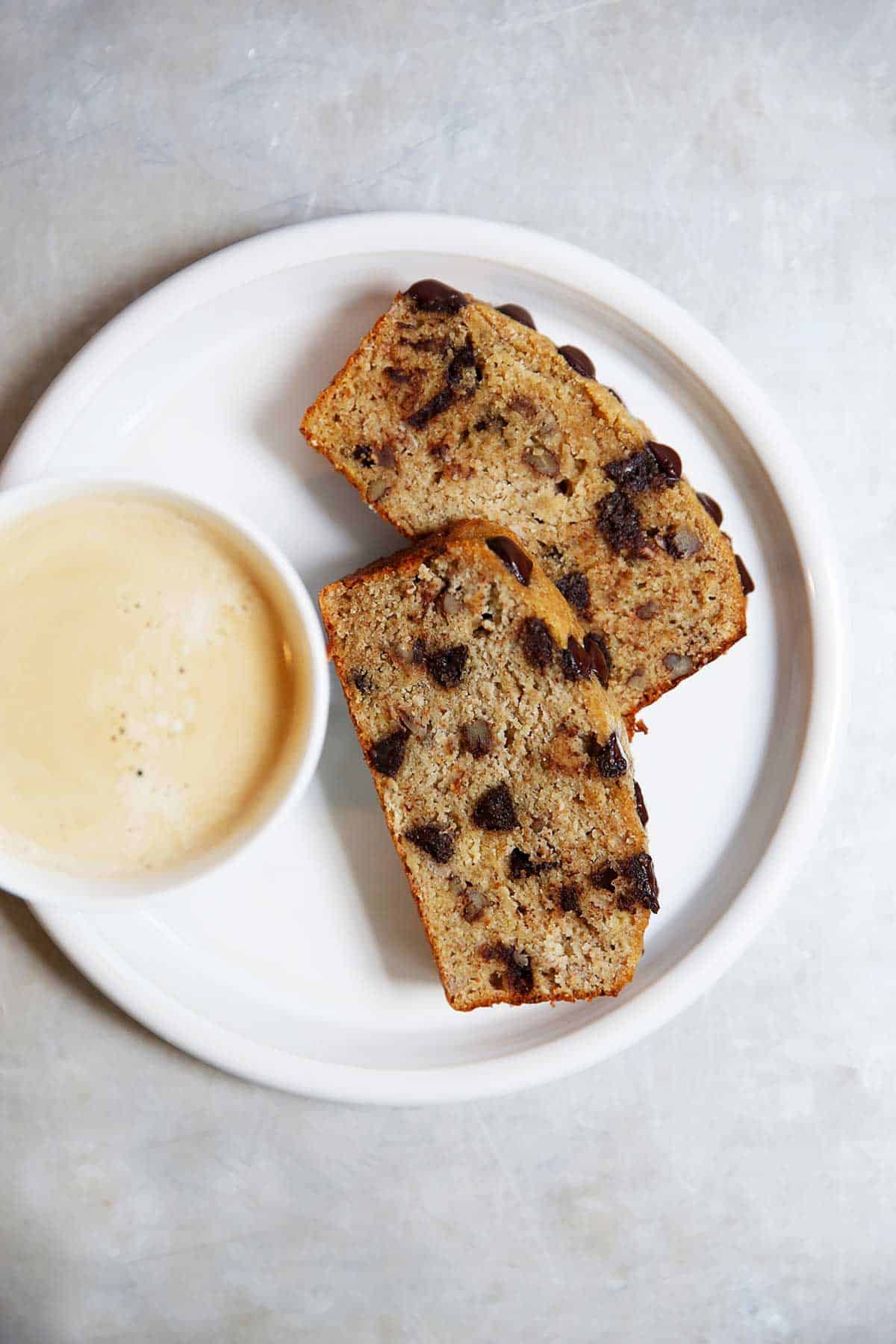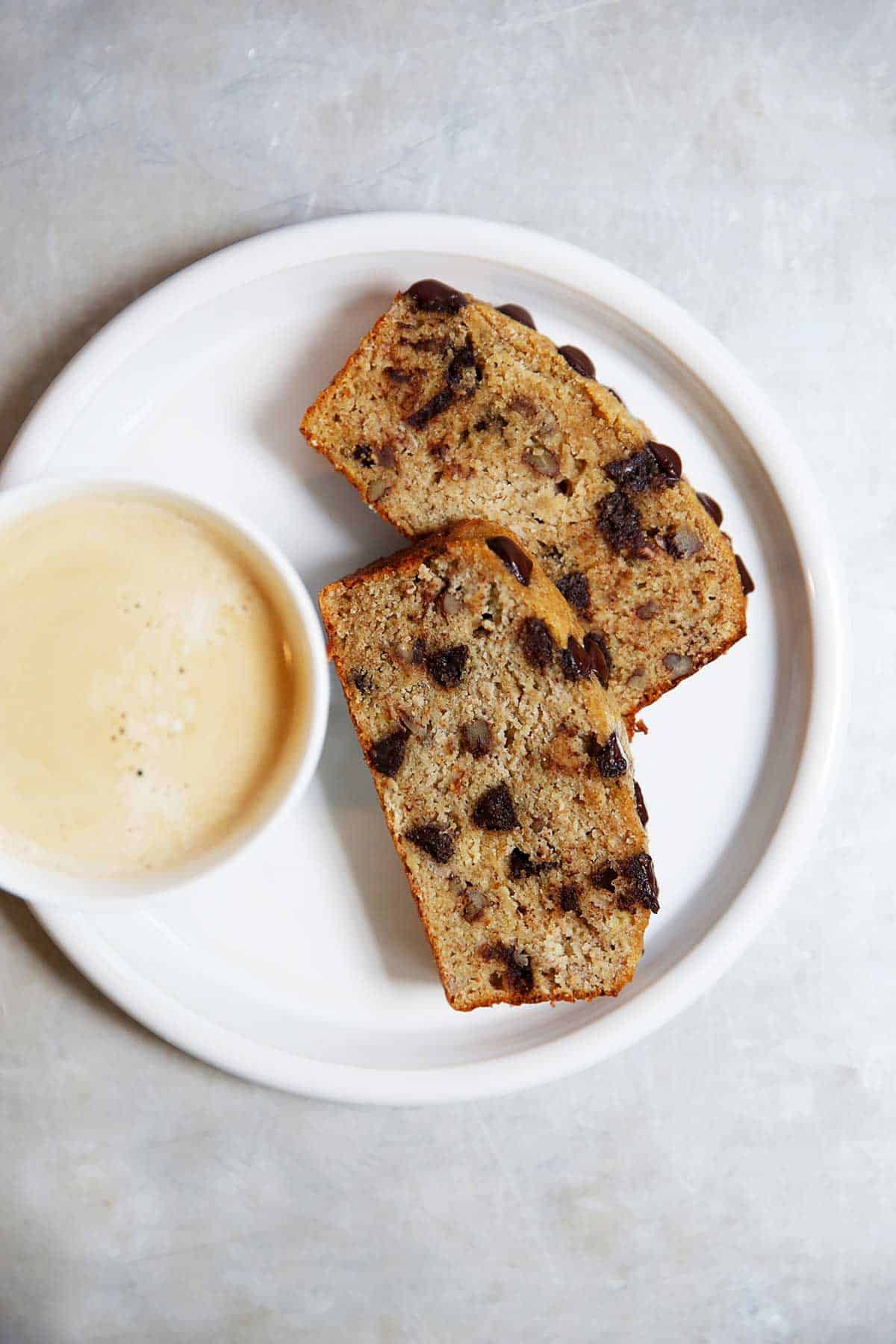 If you like this paleo banana bread recipe, check out these others:
Watch the video:
Paleo Banana Bread with Chocolate Chips
These Freezer Breakfast Burritos are the perfect grab and go breakfast filled with all of your favorite breakfast fixings! They are great when cooking for others or for when you needed a meal prep breakfast ready to go! They're customizable based off of what you love and easy to make.
Freezer Breakfast Burritos Recipe
Monday mornings come fast after a long weekend, but that doesn't mean you shouldn't have a healthy, filling breakfast. Cue the make ahead Freezer Breakfast Burritos! These burritos can be customized to your liking, frozen ahead of time and heated up for a handheld on-the-go breakfast! The prep doesn't really take that long, and when you pull one of these from the freezer you'll be thanking yourself you did it. I stuffed my burrito with home fries, ground Spicy Italian Sausage, bacon, fluffy scrambled eggs and beans for the ultimate protein packed quick and easy breakfast! But feel free to get creative and add your favorite burrito add-ins!
Meal Prep Breakfast Burrito Filling Ideas
The truth is you can put just about anything you like in your meal prep breakfast burritos. The trick is to make sure the filling is too wet, or else it will make the burrito soggy. Here are some of the filling ideas we used for our breakfast burritos, but feel free to get creative.
Homemade Homefries
Bacon
Sausage
Scrambled Eggs
Cheese
Scallions
Black Beans
Avocado
How to Store Freezer Breakfast Burritos
The first tip I have to offer is to make sure that when you assemble your burritos that the filling isn't very hot. Let it cool slightly before packing it. The quicker you can get this to freeze, the better.
Once you've assembled and wrapped your burritos in either plastic wrap or aluminum foil, lay them on a sheet pan to flash freeze in your freezer. Once they're fully frozen, place them in a tightly sealed bag for long term storage. You can store these up to 3 months in the freezer.
How to Heat them Up
To reheat, unwrap them and place on a plate with the seam side down. Reheat in a microwave for 2-4 minutes until heated through, or place in a toaster oven and bake for 15 minutes, or until heated through.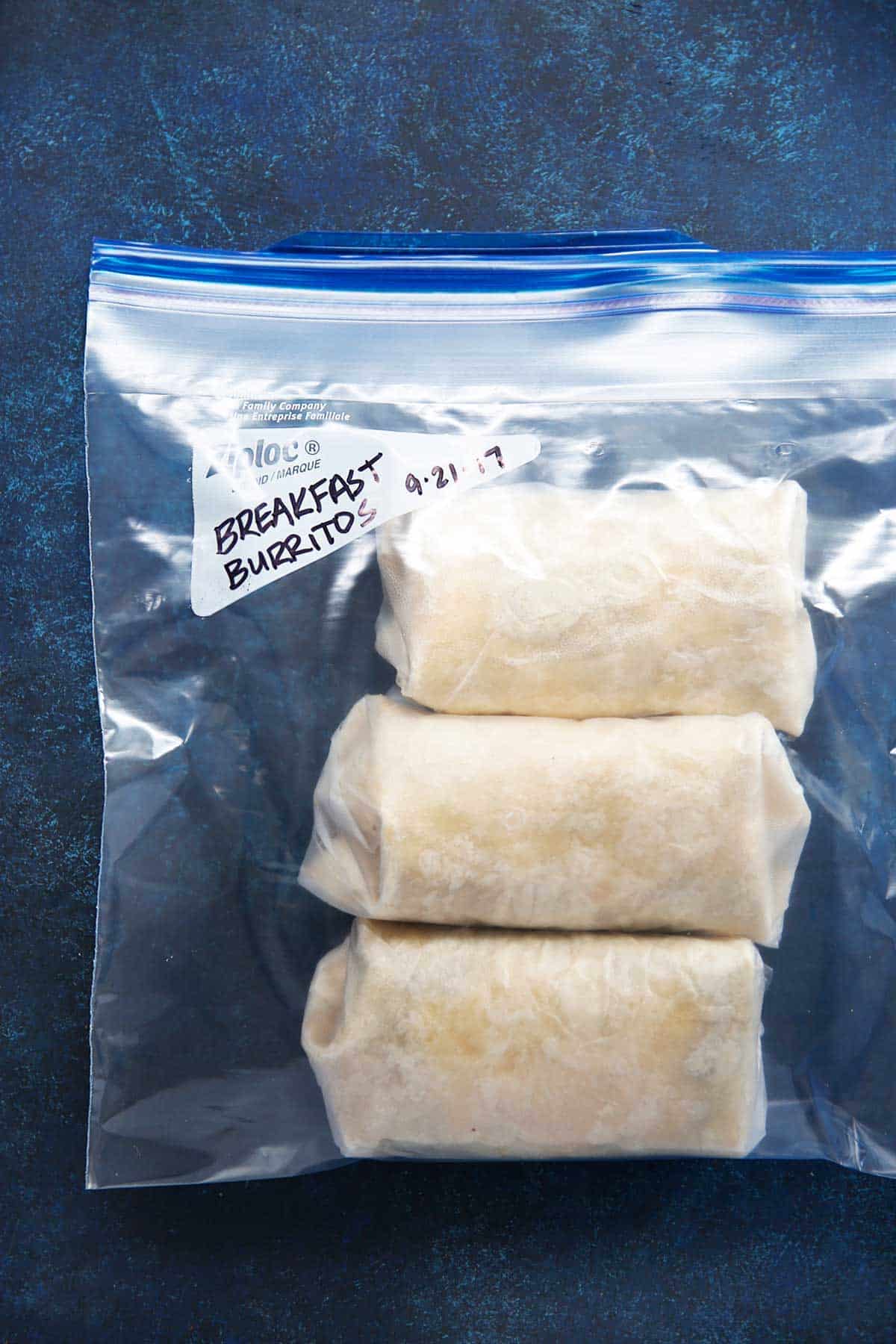 If you like this meal prep recipe, check out these others:
If you like this breakfast recipe, check out these others:
Freezer-Friendly Breakfast Burritos
Looking for the perfect Huevos Rancheros? This classic Mexican breakfast is made with a hearty tomato sauce, homemade refried black beans, topped with the perfect fried egg, and all the fixings! Easy enough for a weekday breakfast and perfect for a festive weekend brunch!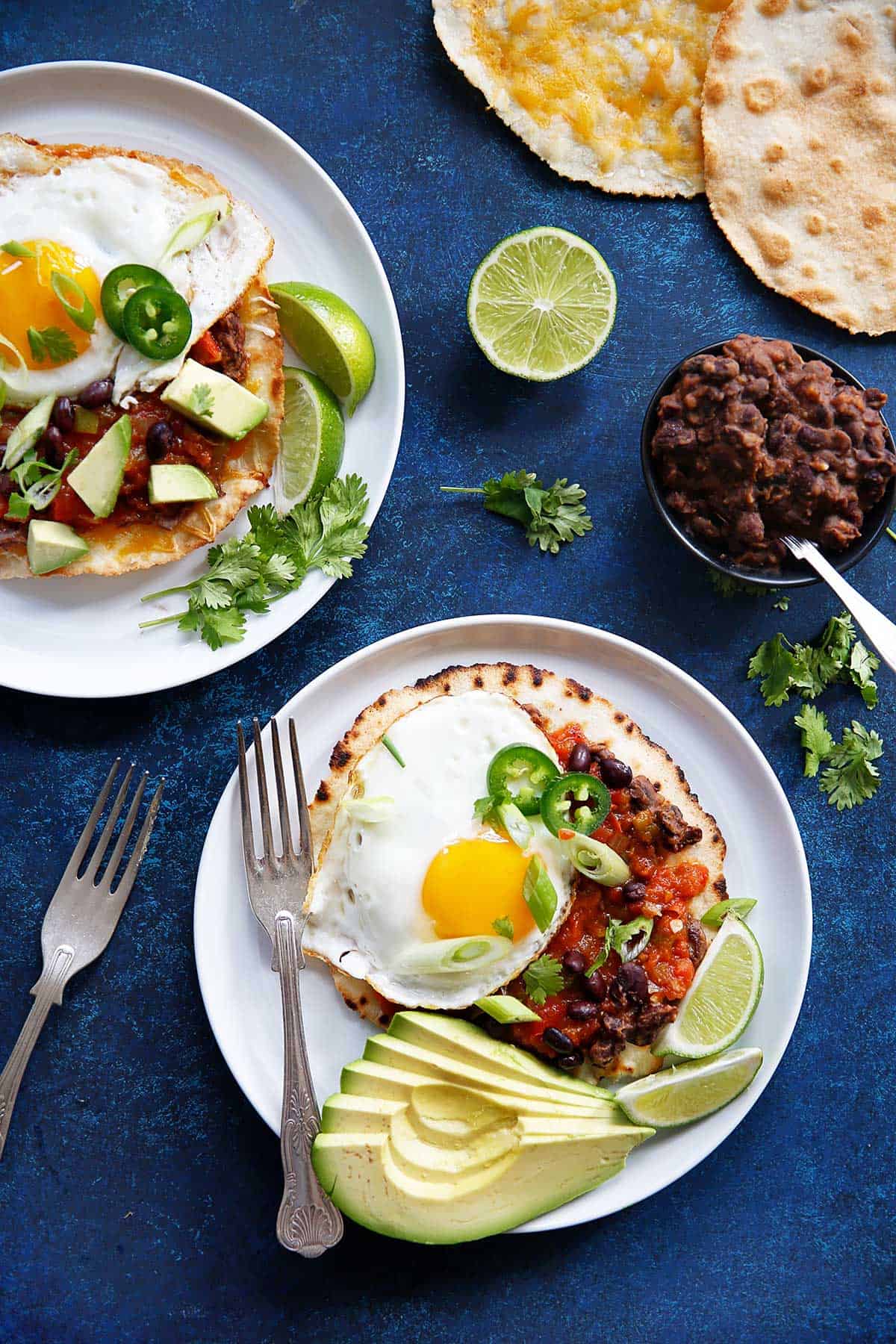 I am so excited about today's post. Huevos Rancheros are one of my all-time FAVORITE brunch recipes, and I've finally made my own! Use my Homemade Tortillas or my new favorite grain-free tortillas for the ultimate breakfast, brunch, lunch, or brinner- any day of the week.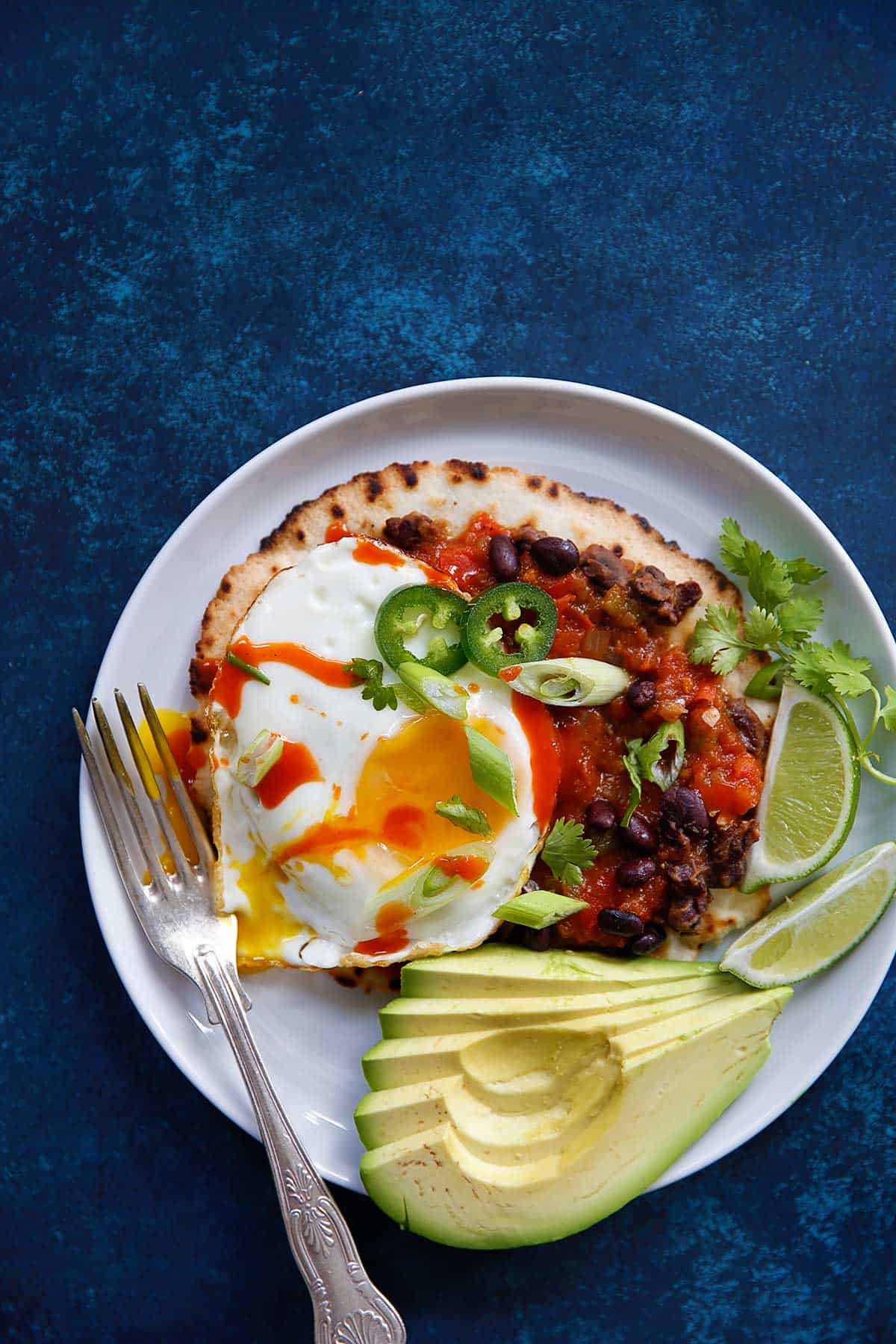 Hearty sauce.
Refried black beans.
Perfectly cooked eggs.
Hot sauce.
Avocado and ALL THE TOPPINGS!
A squeeze of lime and it's time to eat!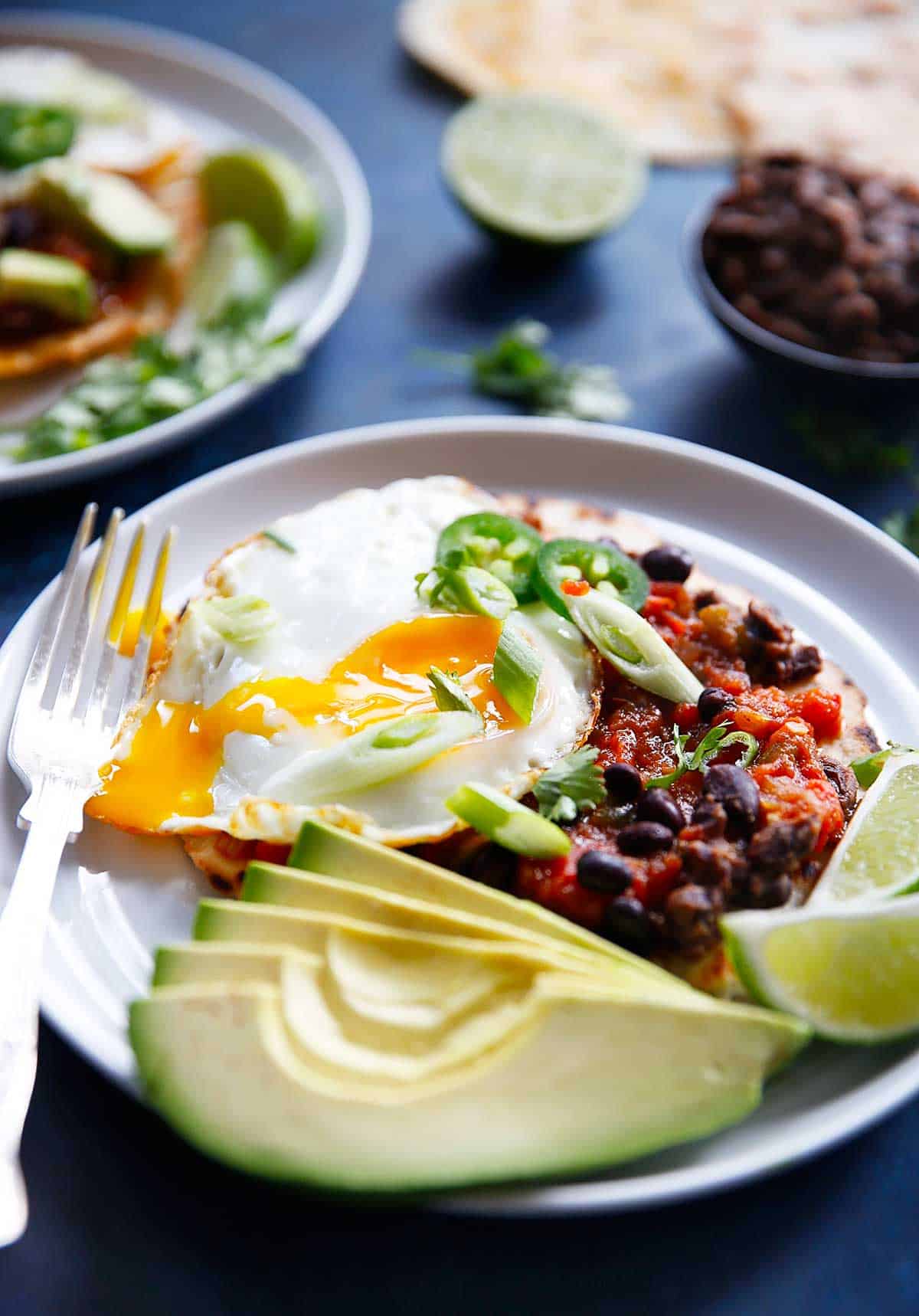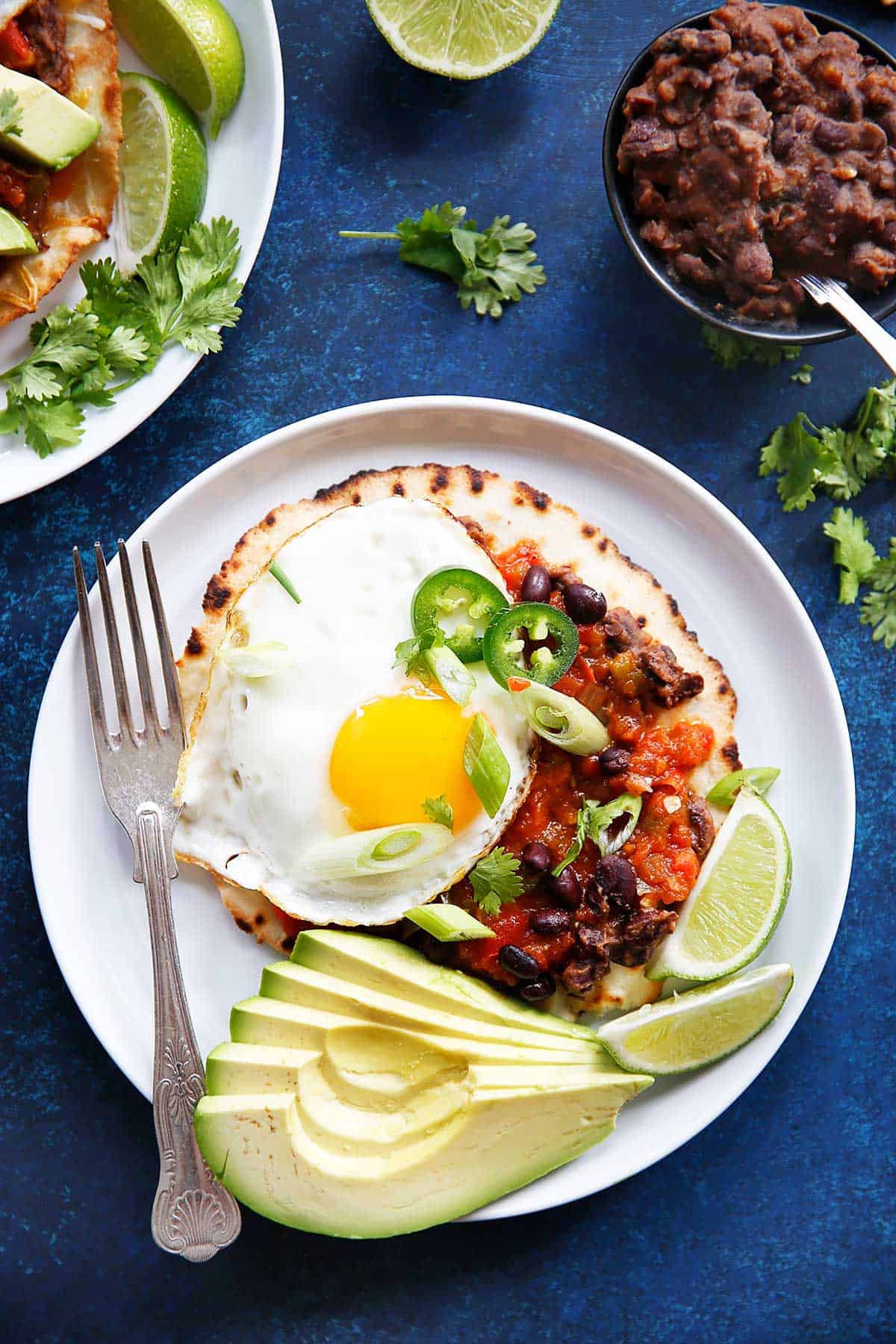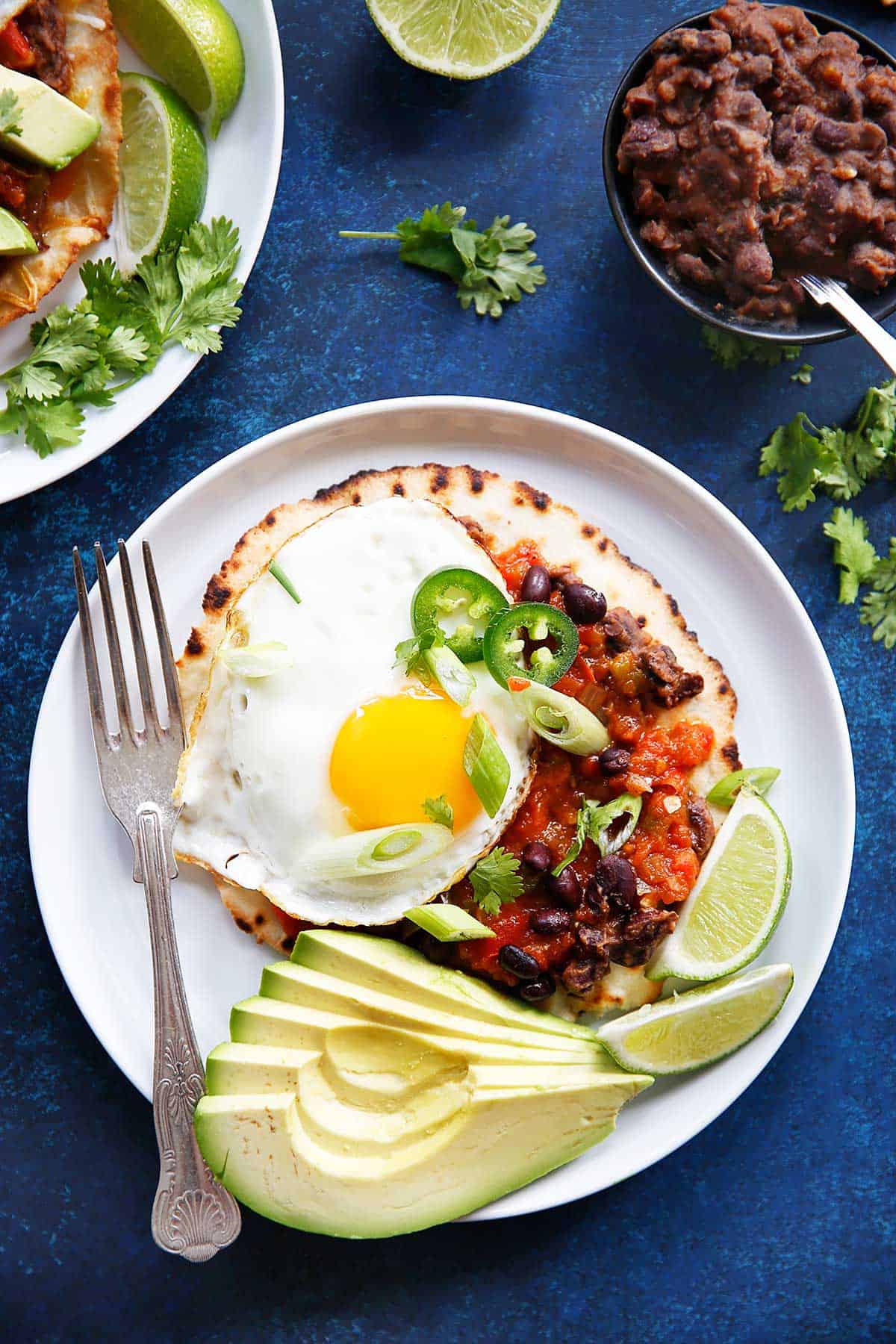 Check out these 4 other healthy and delicious Mexican recipes from my blogging girlfriends!
Gina from Running to the Kitchen made you Turkey Chili Pie
Huevos Rancheros
These Gluten Free Classic Potato Latkes are just like grandma makes them, only made without any refined white flour! They have the classic delicious flavors you want, and I guarantee that nobody will know they are gluten-free!

Classic Gluten Free Latkes Recipe
There is almost nothing better than a crispy classic potato latke. Whether or not you serve yours with sour cream or applesauce, you are going to love this classic version, with straightforward flavor. The only difference here? It's made with arrowroot starch to keep this gluten-free for those who need it. But don't worry, nobody will notice the difference. Serve hot and crispy and make extra because these are going to go fast!
Ingredients for Potato Latkes
Russet Potatoes
Onion
Garlic
Eggs
Arrowroot Flour
Salt and Pepper
Oil, for frying
How to Make Gluten Free Latkes?
First start by peeling the potatoes. Then grate the potatoes and the onions into a strainer lined with a cheesecloth and squeeze out as much moisture as possible. Place strained mixture into a large bowl and add in the remaining ingredients.
Place oil into a large pan and heat the oil on medium-high heat.
Once oil is hot, make patties out of the potato mixture (squeeze out even more excess liquid as you make patties) and pan-fry until brown on both sides.
Should take about 3-4 minutes on each side but watch closely to avoid burning. Add more oil as needed.
Serve with applesauce or sour cream and enjoy!
Potato Latke Pro Tips:
Don't wear a shirt you care about while making these! The oil can spatter.
Make a tiny one to test in case you want to adjust salt for remaining batches.
I keep my strainer near by so I can strain extra liquid as needed.
After grating potatoes, place into a bowl of cold water. This helps bring out some of the starch!
Do I need to peel potatoes for latkes?
Wash and scrub the potatoes if you want to keep the skins on, or peel them!
Other Hanukkah recipe favorites include: 
Watch the video:
---
[yumprint-recipe id='412′]
Gluten Free Classic Potato Latkes
This Fall Hash Brown Breakfast Skillet is packed with all of the quintessential flavors of autumn! It's the perfect hearty weekday breakfast (or brinner), and great for a weekend brunch! Hearty, nutrient-dense, and delicious!

The hash browns in this dish make it SO perfect. Instead of dicing the potatoes, simply shred them! It adds wonderful texture to the dish.
P.S. Did you miss that I announced the first leg of the LCK BOOK TOUR? Make sure to RSVP before tickets run out!
[yumprint-recipe id='392′]
I hope you have an awesome weekend and that you LOVE this skillet!
Get the details here!

Fall Hash Brown Breakfast Skillet
SPRING is here and I am loving that the sun is now setting a bit later in the day! High five for daylights savings and being able to shoot recipes for you after 4pm!
Today, I want to talk about kick-starting your Spring, and your mornings, with delicious and nutritious breakfast recipes that will give you proper fuel to keep you energized and moving!
Breakfast is an important meal of the day, so why does it often get skipped over? Today I'm sharing a few of my favorite LCK breakfast recipes– some that come together in under 15 minutes, some that are grab-and-go, and a variety of types of recipes to satisfy everyone. All of the recipes are packed with good-for-you ingredients to fuel your morning.
A good idea is to prep the night before so you can get up and nourish your body!
---

Learn more about living gluten free! Visit http://udisglutenfree.com/community
This is a sponsored conversation written by me on behalf of Udi's Gluten Free. The opinions and text are all mine.
What is your favorite breakfast to eat in the morning?
Kick-Start Your Morning: 8 Healthy Breakfast Recipes
Sometimes we wake up on a Saturday and I come up with a really good idea for breakfast. Other times it's your usual eggs and bacon, frittata, and so on. But then there are days where this comes out of the kitchen and breakfast is essentially changed forever. Slight exaggeration, but not really. It's all about breakfast pizza.
The best part? It's totally customizable! Start with your pizza base and get cooking! Breakfast pizza in 30 minutes. BOOM!

---
New England friends:
If you are local to a Star Market, their new MyMixx rewards program is really amazing. In a few steps you can simply get all of the accessible coupons in one touch on their easy to navigate app. Seriously, it's so easy!
I am constantly amazed at their organic section and their range of gluten-free/grain-free flours and baking items. I often stop in and grab my tapioca flour and ground flax (both used in this recipe). They are staples in my kitchen and are so reasonably priced there.
You simply…
1. Download the Star Market App on your mobile phone
2. Register for MyMixx, the new personalized savings program from Star Market
3. Clip digital coupons to your account
4. Add items to your shopping list
5. Redeem digital coupons in store by using your phone number at the register. You can also sign up for digital receipts via text message or email, to avoid all those receipts laying around!
This is a sponsored conversation written by me on behalf of Star Market. The opinions and text are all mine.
Breakfast Pizza
This easy Shakshuka recipe is hearty, flavorful, and the perfect breakfast, brunch, or even DINNER. It's paleo, whole30, gluten-free, and packed with flavor! It's a one pan dish that requires minimal clean up!
Shakshuka
Shakshuka is a Middle Eastern dish. I first discovered it on my trip to Israel years back. Now, they probably wouldn't approve of my sausage addition, but I was served a version of Shakshuka last weekend at a brunch (at The Beehive in Boston), and it was served with Moroccan sausage. I loved it. So naturally, my version has sausage added to it.
It's breakfast, but hearty and sophisticated making it a perfect dinner. I'm thinking it's a must for weekend brunch, too.
It's no secret I love me some breakfast! Breakfast for dinner? Even better. It's also even better on a night you just don't feel like cooking. Ever have those? I do about once a week. I made this on Monday night and it was requested Tuesday night again for dinner. Does that tell you something? A winner all the way!
If you like this savory breakfast recipe, try these favorites:

What is your favorite way to eat eggs?
Shakshuka
Last week I realized that there are so many recipes that I love and/or want to conquer that aren't on LCK in any variation. Well, I didn't just realize this last weekend, but a little light went off in my head that reminded me to do some work on my ever-growing recipe idea list (major fun lists in the note section of my iPhone). A sneak peek into my notes? NY-Style Coffee Crumb Cakes, Jamaican Jerk Chicken Bites, Black and White Cookies, "Spaghetti" Alfredo with Bacon and Caramelized Onions, Oreos, Mini Cheesecakes, the list goes on and on and I am certainly ready!
If you have been here before you may already know that I love to entertain. I also love to prep meals in advance for the days ahead. Casseroles, in particular… totally missing from here! I have one bake, which I love and am now reminded that I need to make that dish way more often. They are pretty perfect for exactly what I love, having family and friends over for a nice brunch, and making a meal that last for a few days.
Totally perfect. Mexican is one of my favorite cuisines, and I firmly believe it's even better for breakfast.

[yumprint-recipe id='114′]


Now that you've seen a peek into my LCK to-do list, what would you like to see? What are your all-time favorites that you wish could be made clean, light, and allergy-friendly?
Mexican Breakfast Casserole
These Sweet Potato Buns make for the perfect nutrient-rich bread-alternative! I love how creative you can get with them. Breakfast sandwiches, the traditional BLT, avocado toast… the options are endless!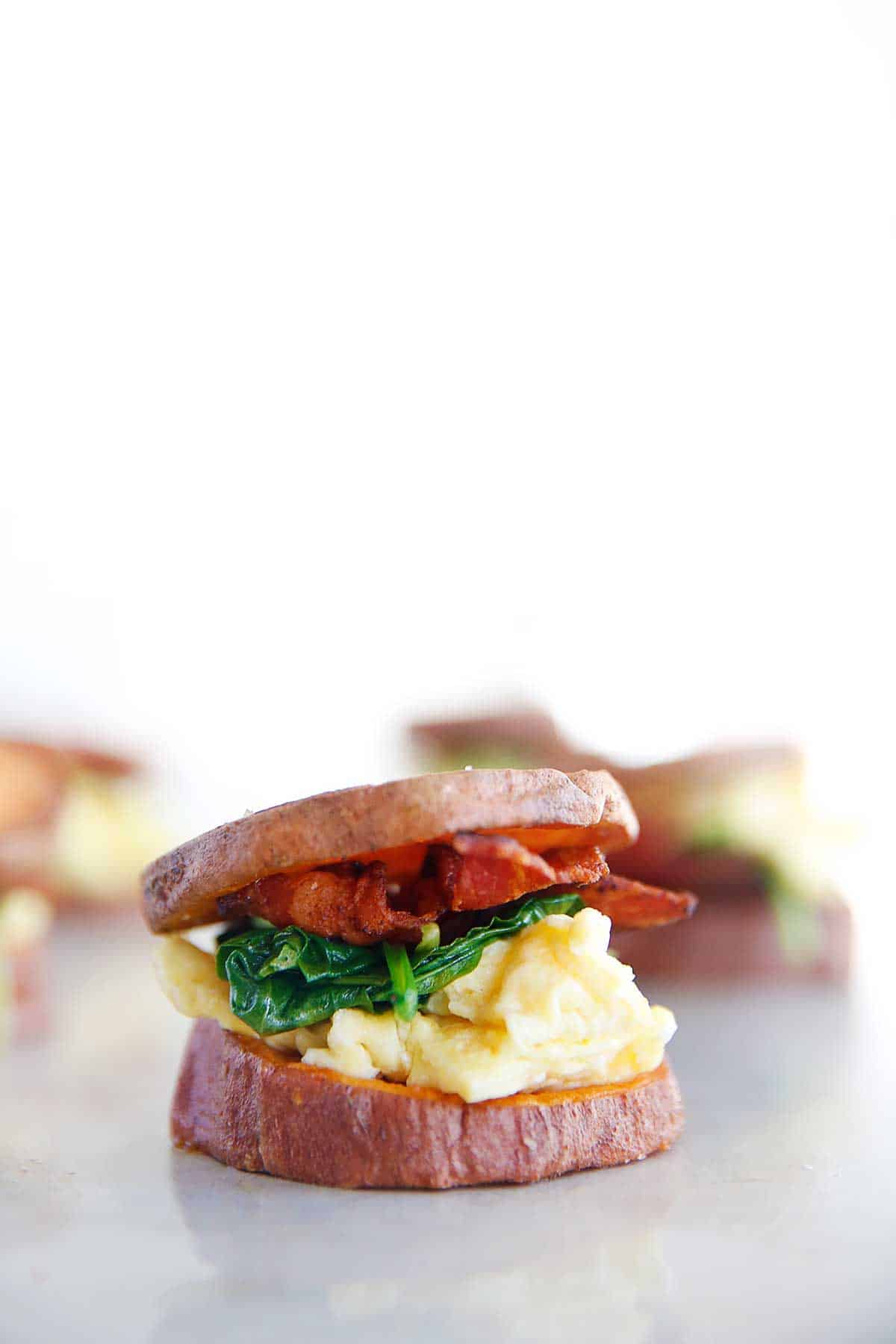 Sweet Potato Buns are my favorite! You can make them bigger or smaller, you can make them for  breakfast, for lunch, or for dinner! You can make them open face sliders or full sandwiches! So versatile!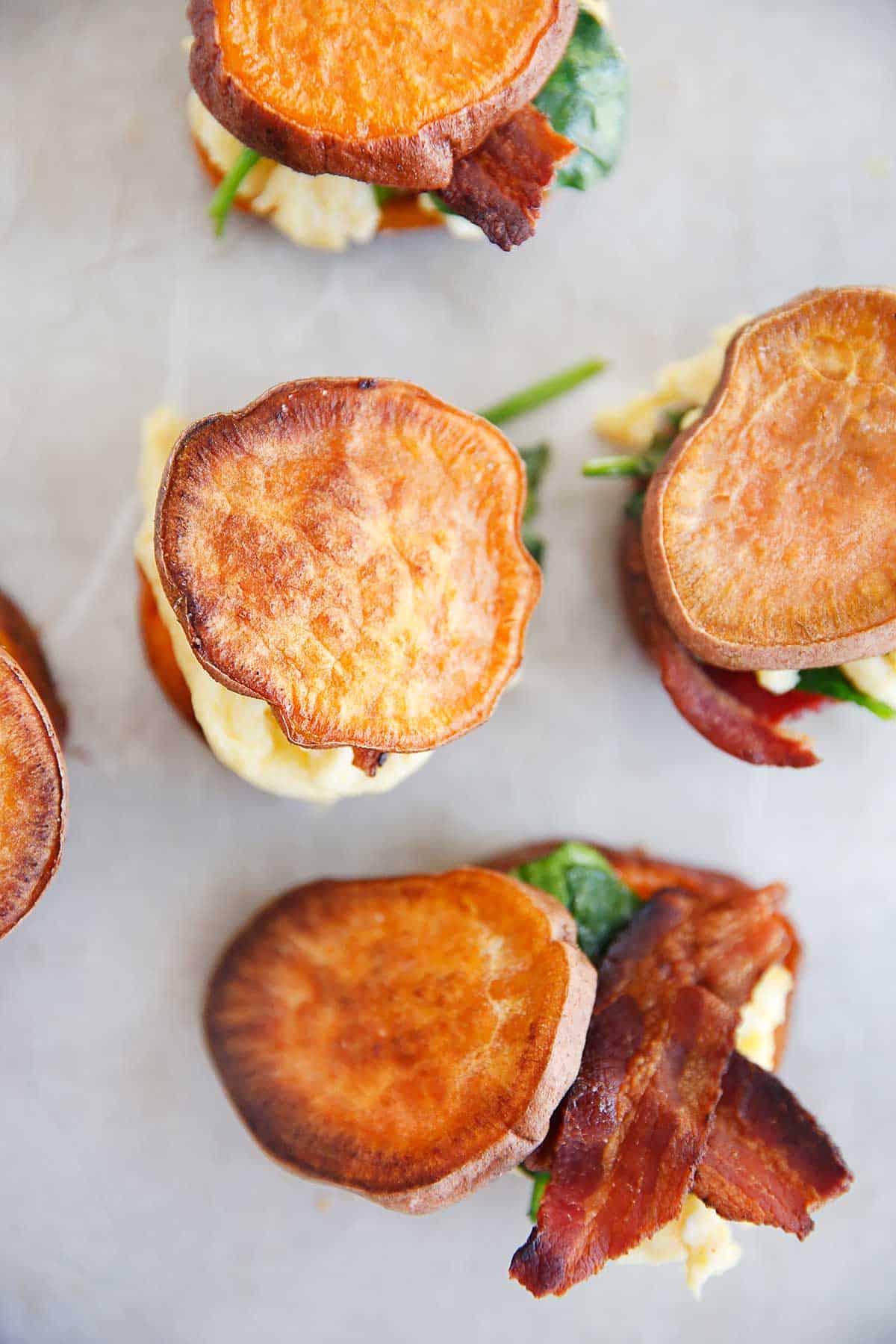 Simply roast the sweet potato, load with desired fillings, and DEVOUR! Whole30 compliant, grain-free, gluten-free, and dairy-free!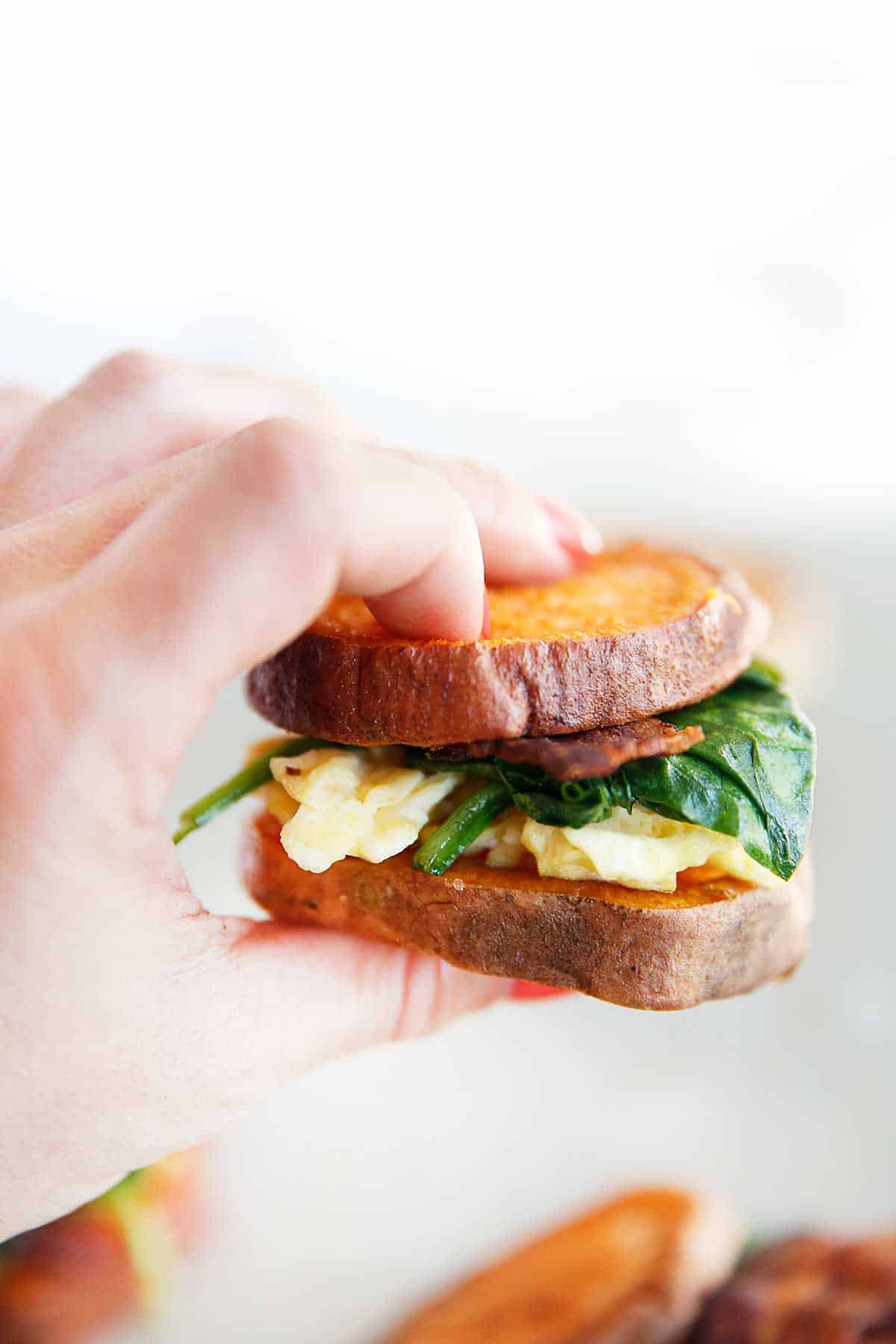 Sweet Potato Buns

---

---

Ingredients Make It Into A Breakfast Sandwich

Directions

Recipe Notes

*This recipe was updated in March, 2017.

---

Nutrition

Loading nutrition data...