Planning a Whole30 and looking for some inspiration for easy-to-cook meals? We've put together a list of our favorite Whole30 recipes that are cooked in the Instant Pot.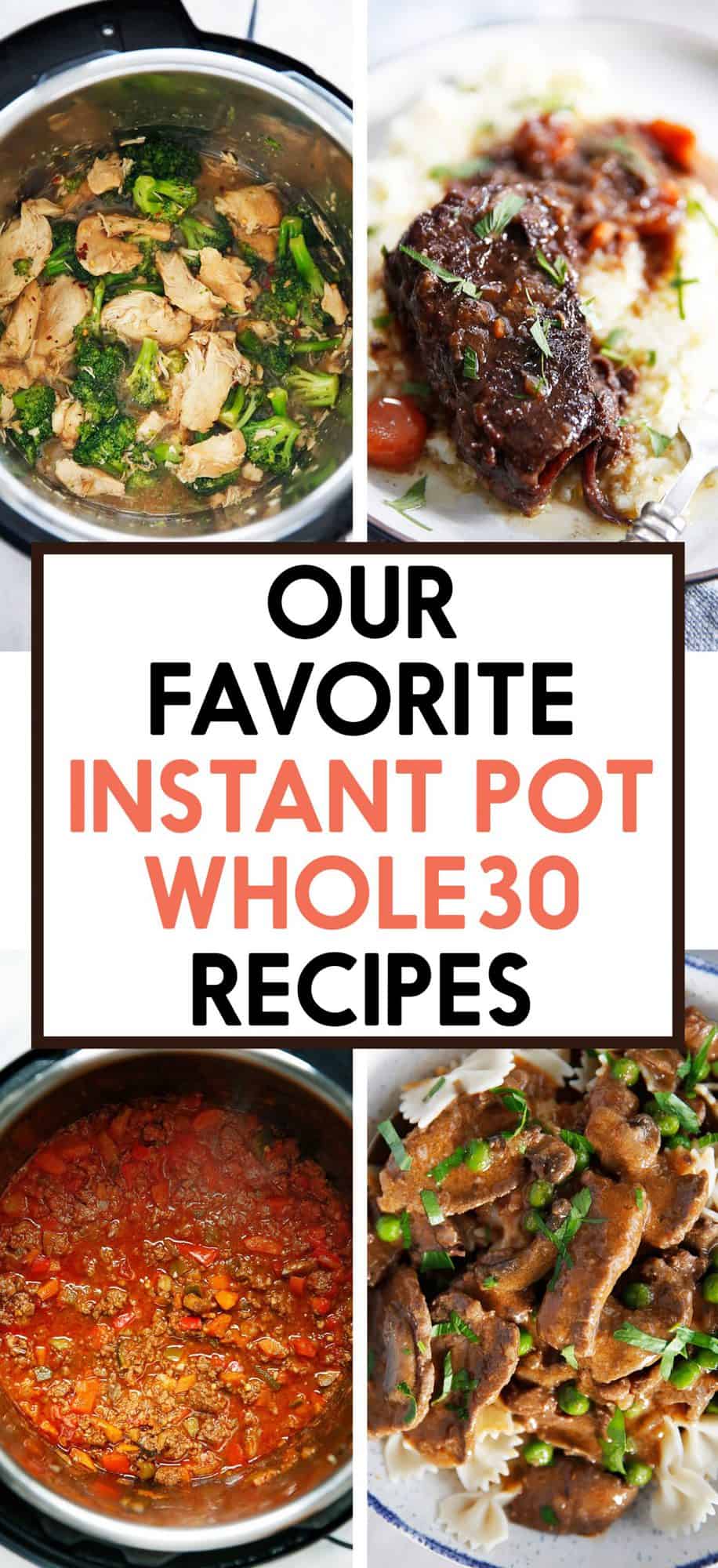 Whole30 Instant Pot Recipes
If you are doing a Whole30 then you likely may have heard that an Instant Pot can be your best friend during your 30 days (and beyond). I'm all for the freedom that you can gain by figuring out what foods are not working for your body and ridding yourself of any bad food habits, but if you are new to this world of elimination foods it can seem like an uphill battle. The Instant Pot is a great tool to have on hand because it makes quick work of typically long braised dishes like beef barbacoa or pork carnitas but it is also great for easy weeknight dinners that don't actually require much hands-on cooking. Because doing cooking almost all of your meals for a Whole30 can seem intimidating, we've gathered up some of our favorite Whole30 complaint Instant Pot recipes to help you through your journey!

Instant Pot Balsamic Chicken: Ready for the juiciest chicken breasts, perfectly cooked potatoes and braised kale in sweet balsamic glaze for dinner without even turning on the stove? This dish is perfect for those hot steamy summer nights (or cool, lazy fall or winter ones) when you want to eat a home cooked meal but don't want to heat up the house.
How to Cook a Whole Chicken in the Instant Pot: It tastes just like a rotisserie chicken you buy at the store, only you get to control the ingredients! It's largely hands-off cooking time and the chicken is so juicy! This chicken is perfect to serve as is for dinner, or you can use for meal prep or for other chicken recipes.
Instant Pot Beef Short Ribs: These melt-in-your-mouth ribs are SO delicious and SO impressive but are SO easy to put together! And thanks to the Instant Pot, the braising time is slashed without sacrificing any of the flavor. Pair with a side of quick cauli-mash will be the hit of the dinner table! Make sure to omit sugar for Whole30 compliance.
Instant Pot Beef Stroganoff: This classic American dish comes together quick, with minimal prep and mostly hands-off cooking thanks to the Instant Pot. It's made using REAL ingredients and is so hearty! Make sure to omit peas for Whole30 compliance.
Turkey Chili: This healthy comfort food in a bowl is hearty and satisfying for all of those chilly days. It is perfect for a big gathering, football Sunday festivities, or for a good weekly meal prep option since there are tons of leftovers! Make sure to omit the beans for Whole30 compliancy.
Instant Pot Hard Boiled Eggs: For snacks, for breakfast, for egg salad, or really for anything! They peel like a dream and are one of our favorite things to make in the Instant Pot!
Instant Pot Chicken Broth: This homemade chicken broth is flavorful and delicious in various recipes or just to sip on! Instead of buying chicken to use, save your leftovers and veggie scraps to make TONS of chicken broth at an affordable price, without any strange ingredients. Made in the Instant Pot, or slow cooker.
Beef Stew: This dish is hearty, flavorful, packed with veggies. Omit peas for Whole30 compliance.
How To Make The BEST Taco Meat: This taco meat recipe is loaded with hidden veggies and comes together in under 30 minutes. It tastes like your favorite classic indulgent taco meat!
Instant Pot Chicken Adobo: Our take on the classic Filipino dish results in tangy and savory chicken dinner. It's perfect for nights you need a healthy dinner but don't feel like cooking. Omit the sweetener for Whole30 and serve with cauliflower rice!
Stuffed Pepper Soup: Loaded with all of your favorite stuffed pepper flavors, but without the hassle of having to actually stuff peppers. To make this Whole30 and Paleo friendly omit the white rice. You can substitute in cauliflower rice to cook at the end until heated through.
Instant Pot Loaded Potato Soup: This soup taste just like a loaded baked potato! It's creamy and topped with all of your favorite baked potato toppings. For Whole30 omit the cheese and use the cashew cream option to make the soup creamy.
Instant Pot Lemon Chicken with Artichokes and Asparagus: Need a delicious light dinner that doesn't require much cooking and is so DELICIOUS? This is it!
Chicken and Broccoli: This easy Chinese American style Chicken and Broccoli in the Instant Pot is so delicious and comes together so quickly!
Instant Pot Beef Barbacoa: Just omit the maple syrup or honey for this flavorful and versatile dish. This barbacoa meat is perfect for meal prep bowls, served with rice or cauliflower rice.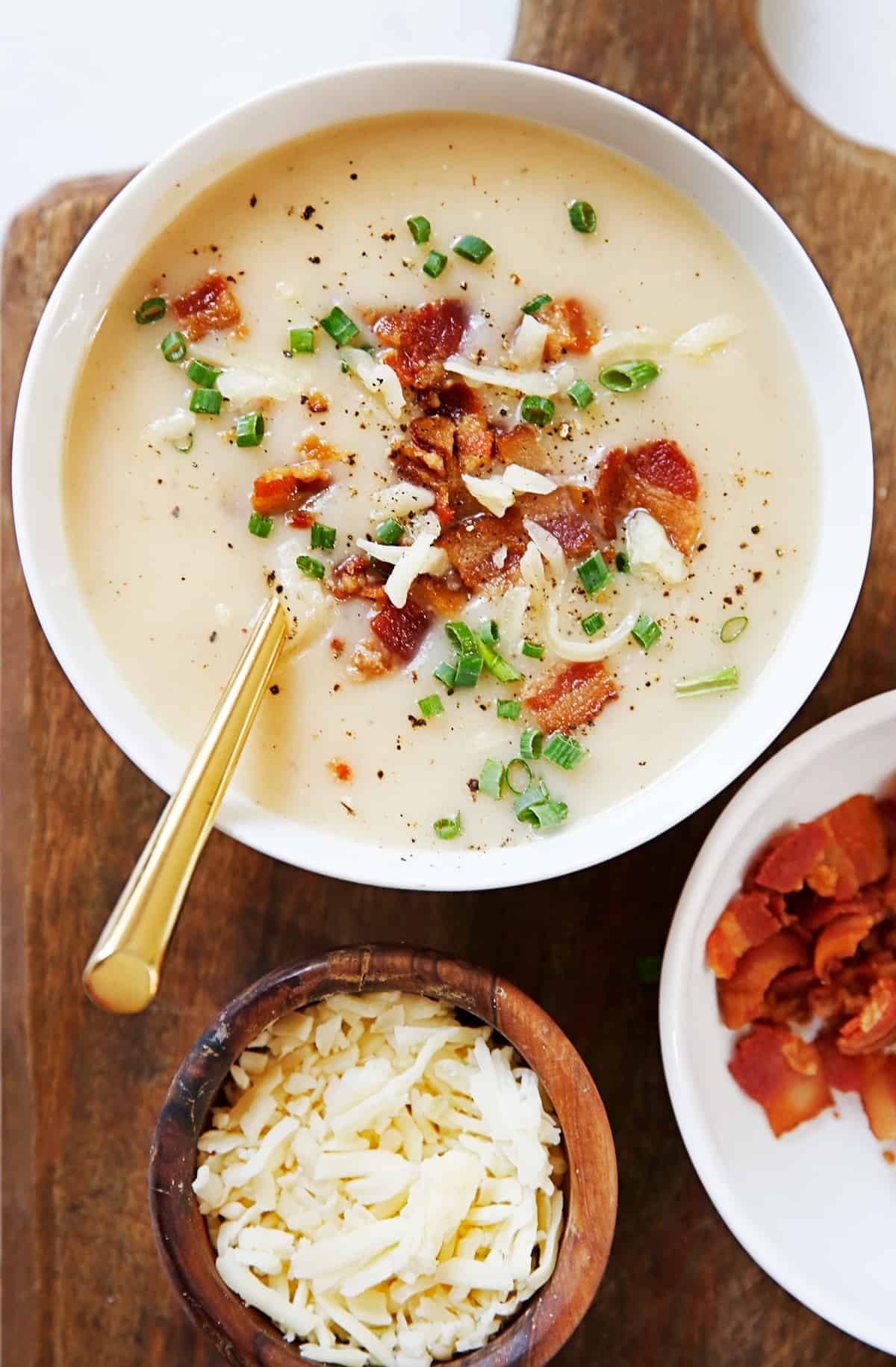 See more Instant Pot recipes here!