ATX Inspired Breakfast Tacos
Don't just save the tacos for dinner–they're perfect for breakfast too! This Breakfast Taco recipe is inspired by a trip to Austin, Texas and they feature refried beans, chorizo, and scrambled eggs! Easy to customize and sure to be a big hit for a brunch of fun breakfast.
Easy Breakfast Tacos
Austin is one of my favorite cities to travel to largely because there are so many good eats! They have a little bit of everything, but what always blew me away were the amazing breakfast tacos! I constantly wonder why they aren't everywhere in my neck of the woods in the North East, so I often resort to making them at home! They're quick to make, easily customizable but best-of-all: so delicious! My favorite Austin inspired version uses refried beans, chorizo, a good scramble and sausage. But feel free to sub with what you do have on hand, though keep in mind with breakfast tacos: the simpler, the better.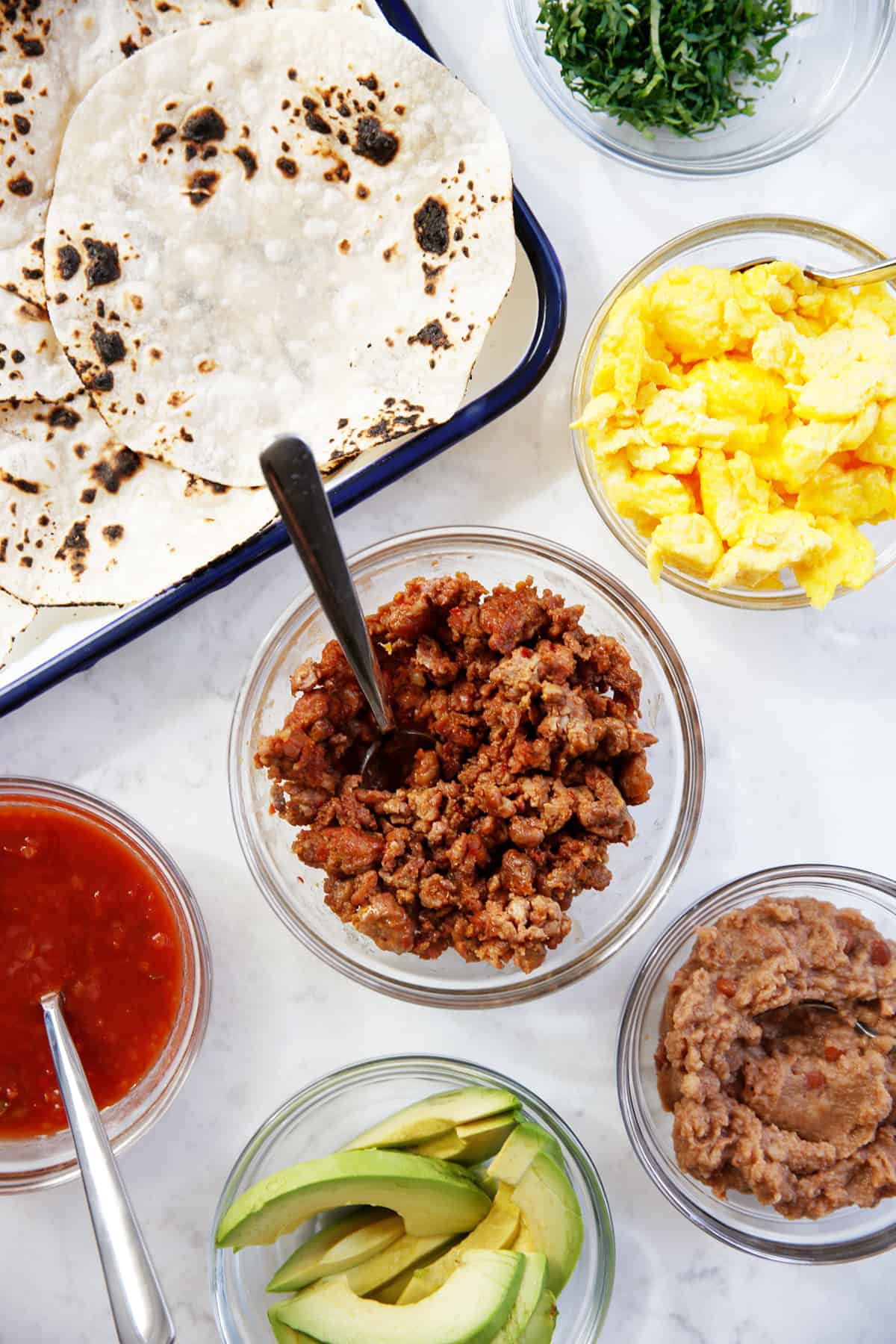 Ingredients Needed for Breakfast Tacos
Refried Beans (this homemade recipe is so easy to make!)

Chorizo

Eggs

Avocado

Salsa

Tortillas

Cilantro
Other Options
The truth is, breakfast tacos really are a great way to use up what you have on hand! We love the combination of flavors that we've listed in our recipe, but feel free to substitute in what you have going on in your house. Here are some other suggestions that might work well:
leftover meats
leftover veggies
slice onion
diced tomato
cheese
canned beans
lettuce or baby spinach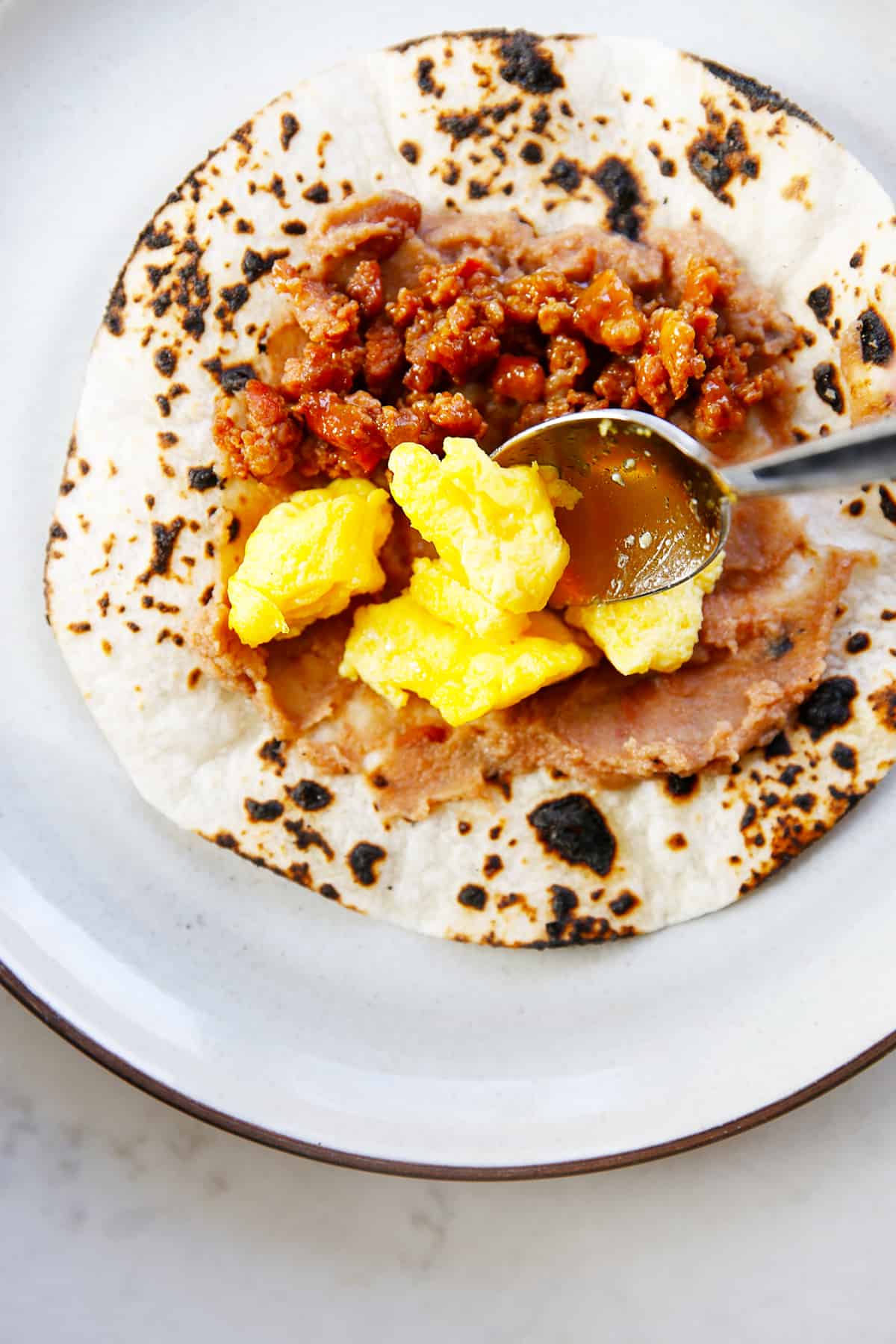 How to Make Them
Really, this recipe is more of a suggested meal than a recipe, as a lot of this is just gathering together ingredients!
We recommend making your own refried beans, since it's so simple, so start with that.
We love the use of raw chorizo cooked and crumbled without the casing, so that will need to be quickly sautéed up.
Then move on to preparing the eggs. Scrambled is good choice here, but go ahead and fry up some sunny side up eggs if you want.
Next gather the remaining ingredients you need, (mainly salsa and cilantro) and set aside before heating up the tortillas! Our favorites are Siete Tortillas or some corn tortillas.
Then either assemble the tacos or set out all of the ingredients to let everyone assemble their own!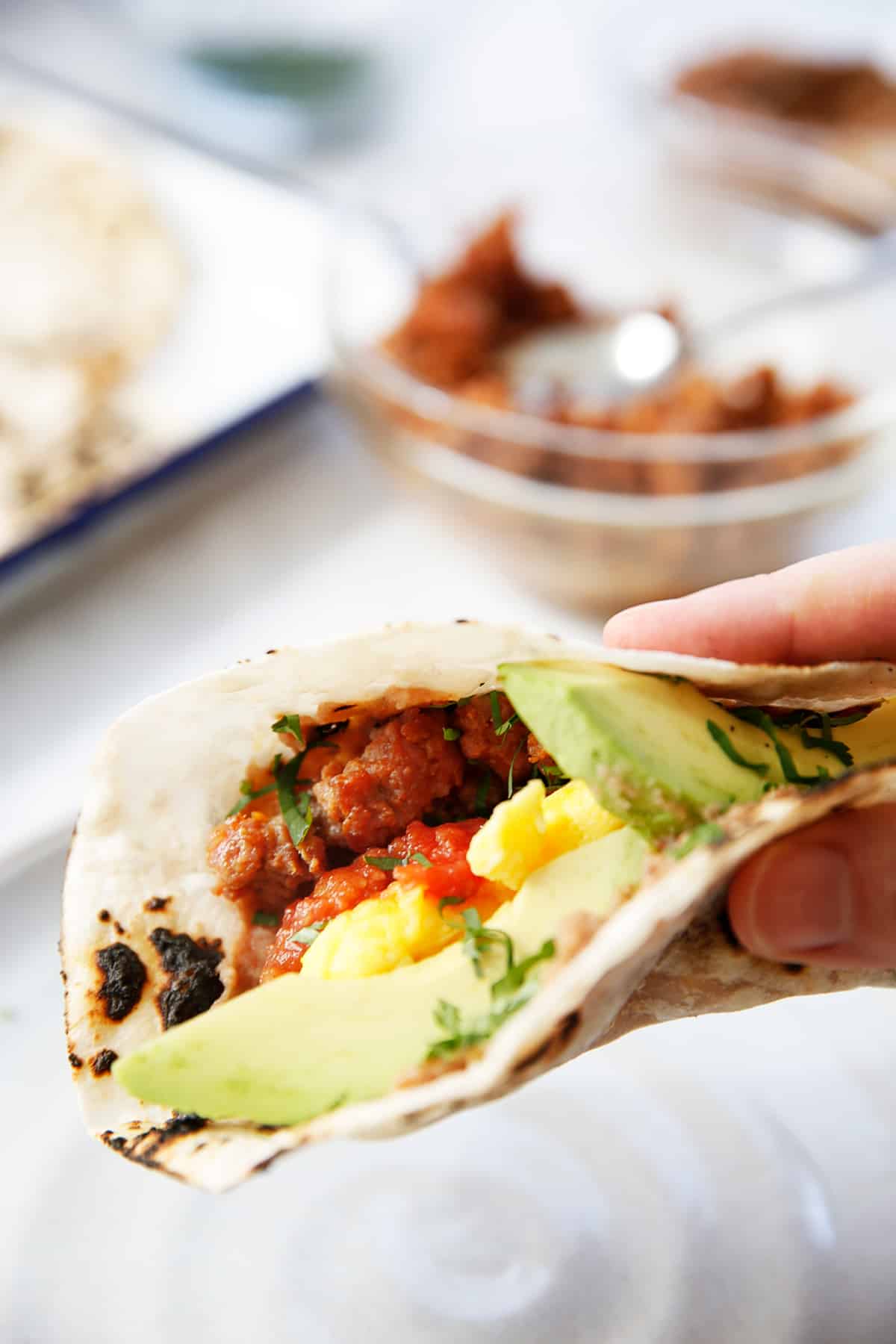 If you like this breakfast recipe, check out these others:
ATX Inspired Breakfast Tacos
This 3-Ingredient Breakfast Skillet is hearty, flavorful and so quick to make! Using just 3 common ingredients you likely have on hand, you can have yourself a unique weekday breakfast that everyone will love! It's also gluten-free, dairy-free and Whole30 friendly!
Easy Breakfast Skillet
Maybe you've never thought of making a breakfast skillet out of ground turkey, salsa and eggs, but I'm here to tell you it's super delicious and well worth the 20 or so minutes it takes to make! For me, I'd prefer to skip the sweeter choices at breakfast and instead go for the savory that's going to fuel me for the day. This easy breakfast skillet does the trick! It's also super customizable by adding in whatever else you have on hand to make it a bit more special. My one piece of advice for this is to use a good quality salsa, as a lot of the flavor comes from that.
Ingredients Needed
Ground Turkey or Ground Beef

Good-Quality Salsa

Eggs
Optional Additions
The options are endless in terms of what you could add in here! You can add in whatever veggie you may have at home such as:
leftover roasted veggies
spinach
kale
tomatoes
peppers
frozen veggies such as corn
Additionally you could change it up a bit and add in some:
spices such as chili powder or taco seasoning
canned beans
leftover rice
Make Ahead Options
While this is already a pretty simple dish to put together, you can optional prepare a batch of the turkey and salsa ahead of time. It will last in the refrigerator from 3-5 days. In the morning you could either heat it up in a pan, toaster or microwave and fry up an egg to top it off with.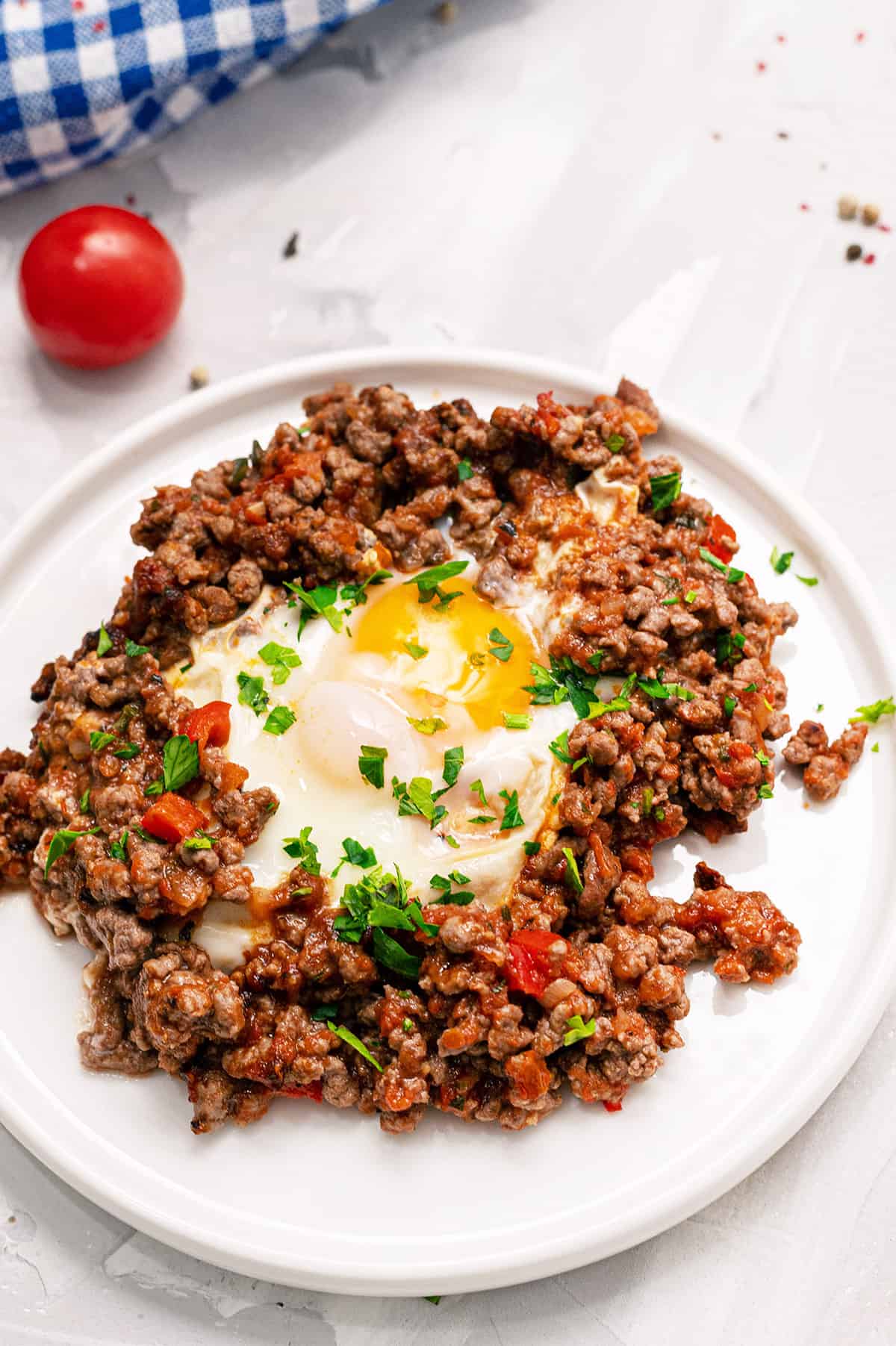 ---
Watch how to make it here:
---
If you like this breakfast recipe, check out these others:
3-Ingredient Breakfast Skillet
Looking for a way to use up all that leftover holiday ham? This Ham and Potato Hash is the perfect breakfast to whip up for your post holiday breakfast! This savory breakfast is delicious and so simple to put together. Customize it as you need, and don't forget to top it with a fried egg!
Leftover Ham and Potato Hash
Leftovers are good, but leftovers turned into something new and delicious are even better! This Ham and Potato Hash is the perfect way to use up leftover ham to create a great post-holiday breakfast that everyone will love. Plus, it's customizable to use whatever other leftovers you might have on hand.
Top it with a fried egg, or eat it as is. Either way, it'll be delicious and dare we say it, maybe even better than the actual holiday dinner?
Ingredients for Leftover Breakfast Hash
Here is what we included in our leftover hash.
Sweet Potato (or leftover roasted potatoes)

Yellow Potatoes (or leftover roasted potatoes)

Onion

Bell Pepper

Leftover Ham

Chili Powder

Garlic Powder

Salt and Pepper

Butter or Ghee

Eggs
It's great if you have leftover roasted potatoes to use this. If you do, you can add those right into the skillet with the ham. If you do not have leftover potatoes, you'll need to parboil them first, before adding into the skillet.
To parboil the potatoes: Cover the diced potatoes with cold water. Bring them up to a boil and cook until they are just barely tender. Drain, and rinse under cool water.
Have other leftover veggies?
Add in other leftover veggies you might have on hand(think green beans, mushrooms or Brussels) in with the ham.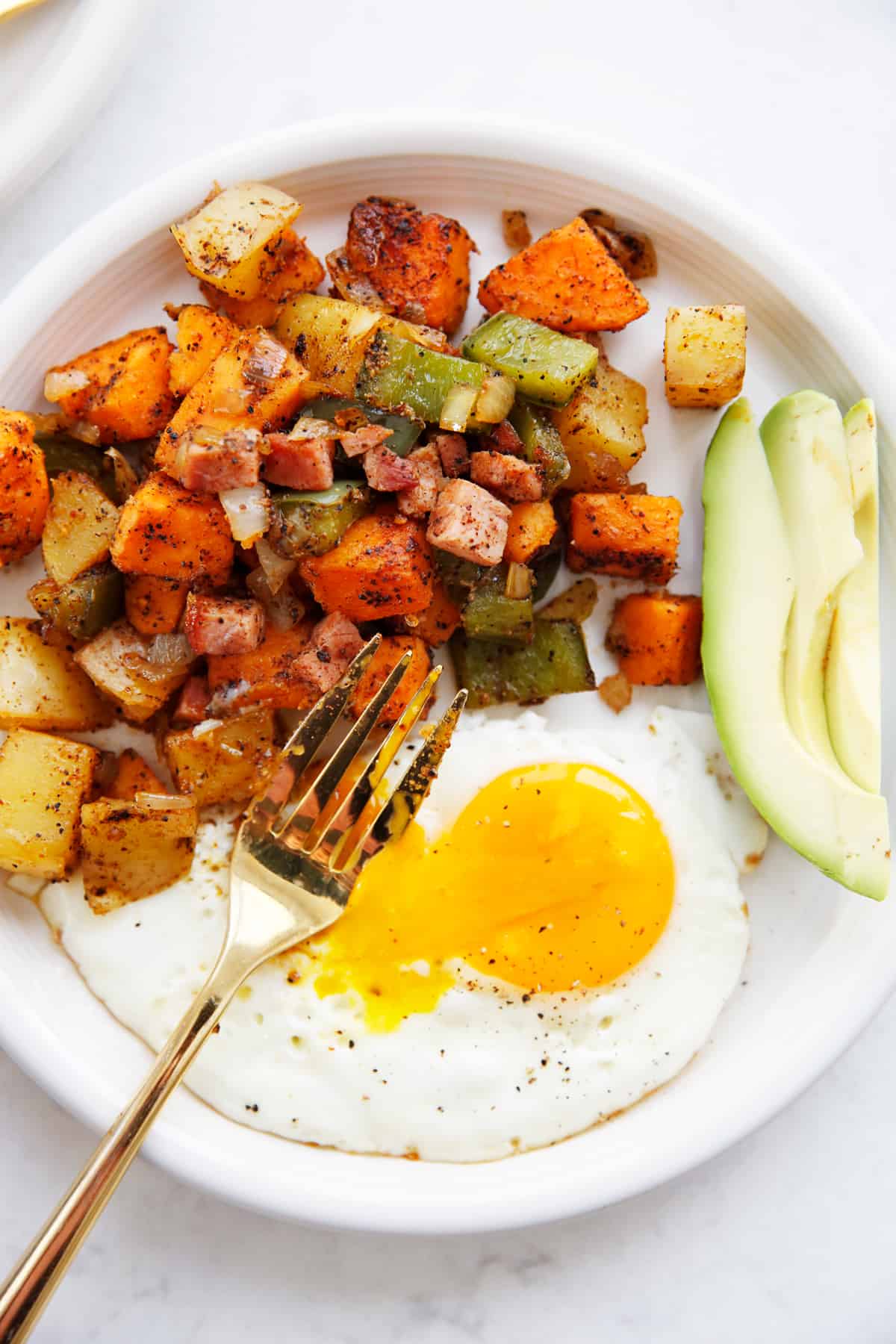 If you like this breakfast recipe, try these others:
Leftover Ham and Potato Hash
These Saucy Chorizo Skillet Baked Eggs are a great addition to your next Sunday brunch! It's low-carb, paleo and Whole 30 friendly, dairy-free and most definitely delicious.
Skillet Egg Bake with Chorizo and Beans
This savory egg bake recipe is delicious way to start off the day! It's almost like a southwestern version of Shakshuka, flavored with paprika, cumin, and spicy chorizo. We opted to add black beans to this skillet egg bake to round out the lower carb and dairy-free dish, but you can feel free to omit for paleo or Whole30.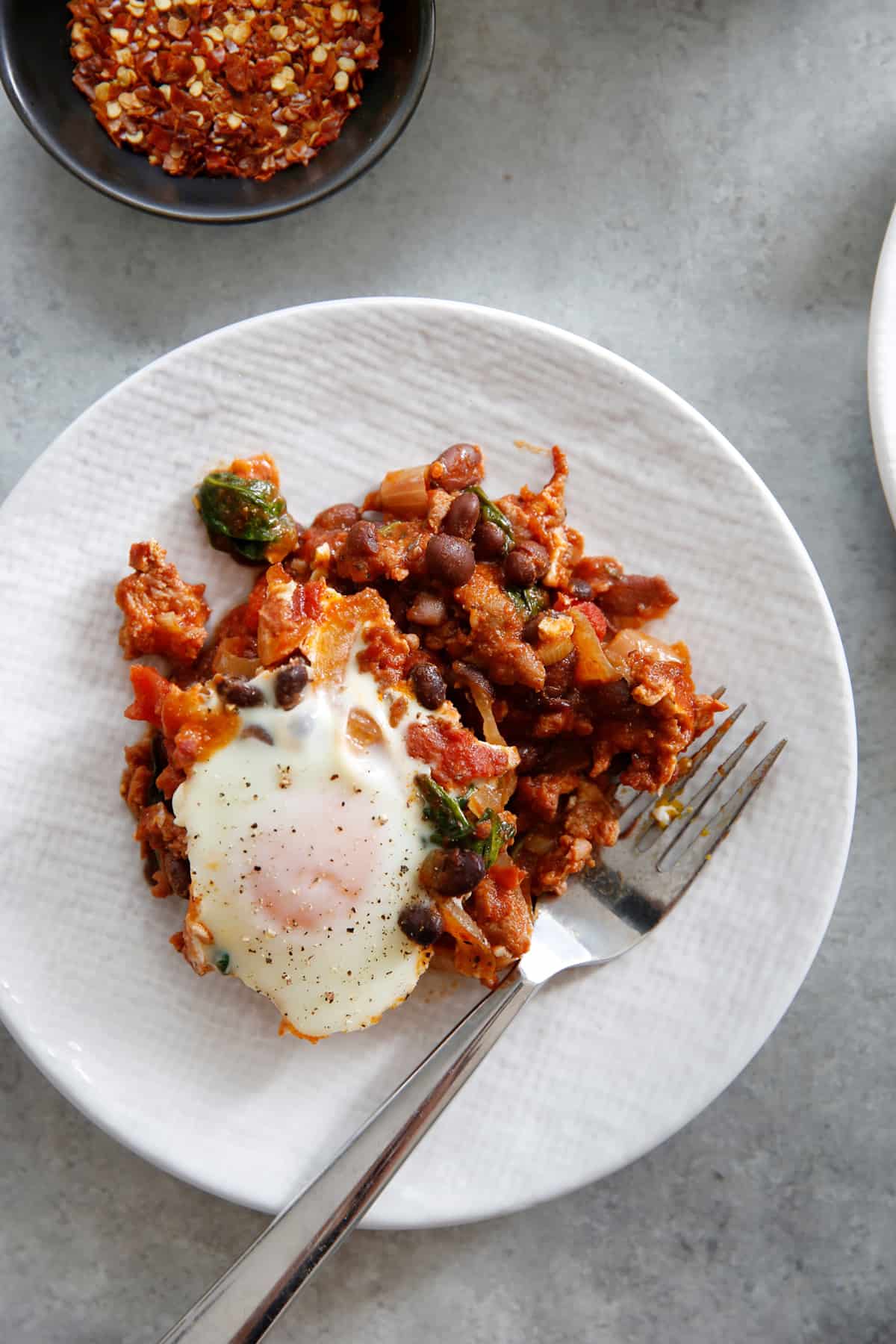 What ingredients you need for these easy baked eggs:
chorizo sausage, casing removed (or fully cooked chorizo diced)

onion

canned diced tomato

cumin

paprika

can black beans (optional, omit for Whole 30 or Paleo)

baby spinach

eggs
What skillet should I use for this recipe?
Any oven safe skillet will work here. If you are using cast iron, make sure it is enameled as prolonged tomato exposure can ruin the seasoning on a regular cast iron skillet.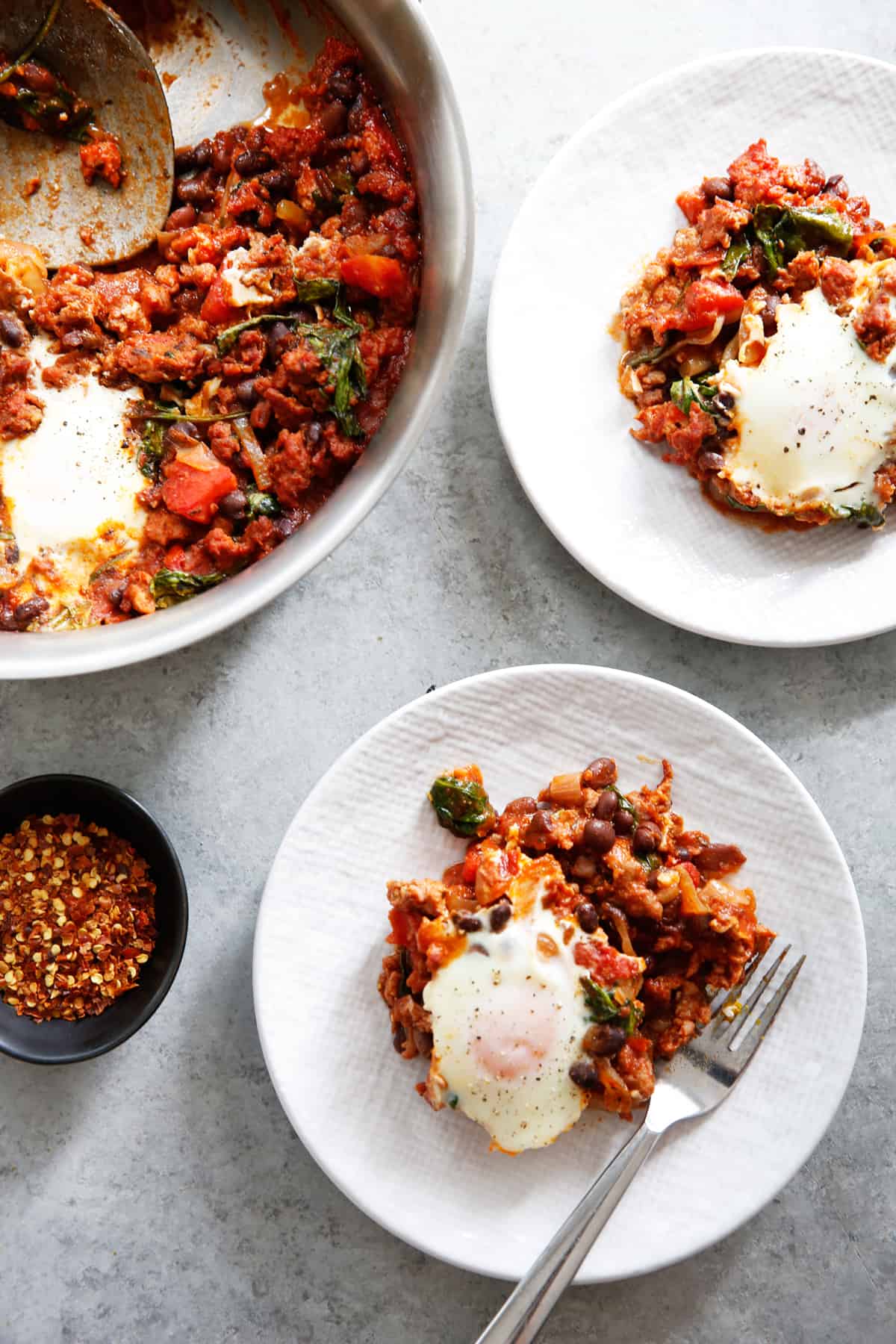 If you like this savory breakfast recipe, check out these others:
Saucy Chorizo Skillet Baked Eggs
Savory oatmeal with breakfast sausage is a great start to the day, filled with fiber and protein and so delicious. It's gluten-free, optionally dairy-free and a great make-ahead breakfast idea.
Savory Oatmeal with Breakfast Sausage
Oatmeal is often thought of as a sweet food. But have you ever thought of making it savory? We love this savory breakfast oatmeal made with breakfast sausage, cheddar and green onions. You can even put an egg on it, if you'd like! It's prepared almost the same way as regular oatmeal, but with added savory flavor like red and green onions, extra salt and garlic powder. We use ground breakfast sausage (from our Butcherbox) but you can use chopped up fully cooked breakfast sausage (either pork or chicken) if you prefer.
What is Needed for this Breakfast Sausage Oatmeal?
Water or Stock (veggie or chicken)

Rolled Oats

Garlic Powder
Maple Syrup (it doesn't taste sweet, it just helps balance the flavor)
Ground Breakfast Sausage
Red Onion
Green Onion
Cheddar Cheese (or nutritional yeast, for dairy-free)
Cooked sunny side up or poached eggs (optional)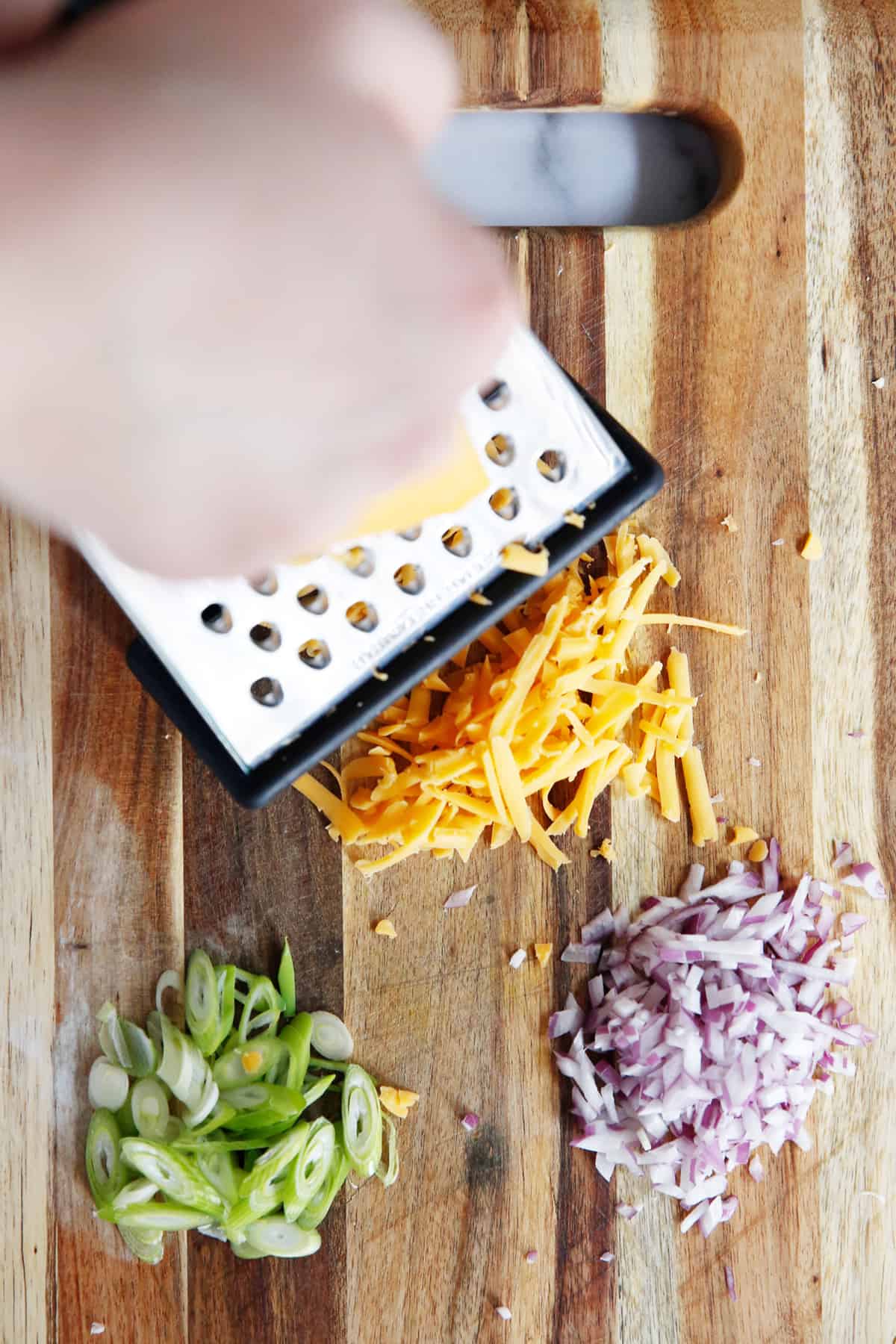 Are oats gluten free?
Oats are naturally gluten-free, but they can sometimes be processed in a facility where wheat products are also processed so there can be cross-contamination. If you are sensitive to gluten be sure to purchase oats that are labelled gluten-free!
How to Make Old Fashioned Rolled Oats?
We are recommend to make old fashioned rolled oats with two methods: stove top or instant pot! The stove top is the quickest method, and is included in the recipe below, with oatmeal ready in about 15 minutes. If this still feels like too much than you can make ahead of time and simply reheat it! The other method is in the instant pot which is the easiest method. It requires no stirring and you can accomplish other things while it's cooking!
Check out this post for everything you need to know about cooking oatmeal, including how to cook it in the Instant Pot.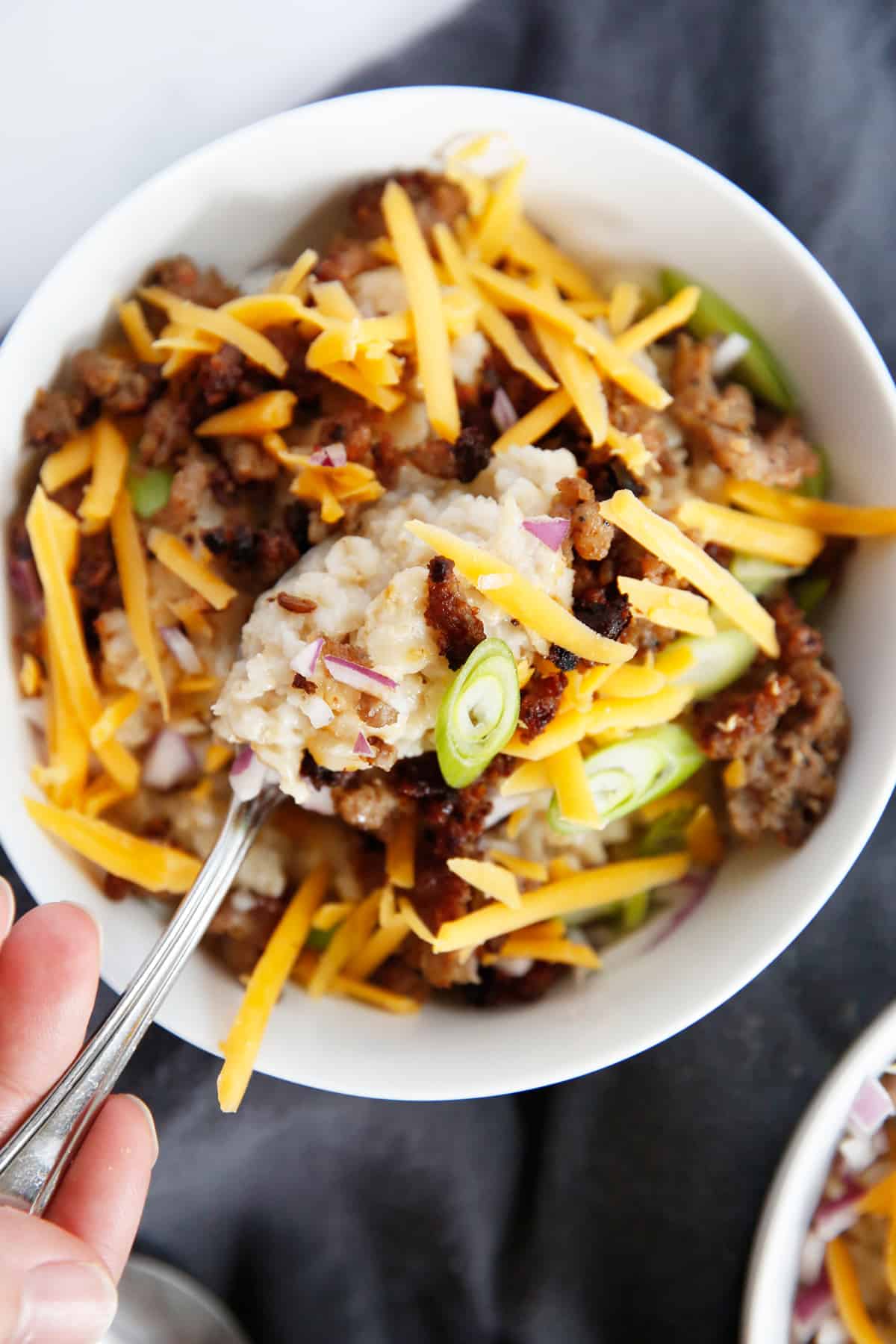 If you like this breakfast recipe, check out these others:
---
Savory Breakfast Sausage Oatmeal
This Banana Oatmeal Chocolate Chip Muffin recipe is such a delicious, moist nut-free muffin recipe that the whole family will love. They are made with oat flour, coconut flour and are nut-free, gluten-free and refined sugar free! Ready in under 30 minutes and bound to be your new favorite on-the-go breakfast or snack.
Banana Oatmeal Chocolate Chip Muffin
You asked for a nut free muffin recipe and we DELIVERED. Nut-free and gluten free muffins are finally here! We're in love with this Banana Oatmeal Chocolate Chip Muffin recipe. But we won't try to hide it, it took some work to get here. Taste testers, multiple good attempts, multiple bad attempts, but here we are! A nut-free muffin recipe that everyone will actually love.
Way back last year when we started experimenting with using oat flour as a substitute for some of our nut recipes we were intrigued with how well it worked. But it most definitely is not a 1-1 swap as oats are very low in fat, have very little flavor and they are absorbent, so in order to make it work you have to introduce elements to offset it. We had originally settled on using a seed butter to help bring in some of those missing elements, but during testing we were reminded that sunflower seed butter turns green after it's been in contact with baking soda or powder. So after breaking into one of those muffins we were met with a bright green muffin! Perfect for St. Patrick's day, but it won't cut it for any other purpose. Those green muffins by the way, were delicious. So we were a little sad to have to start over from there.
But the good news is that we got there! This Banana Oatmeal Chocolate Chip Muffin is unbelievably moist (…we know, we know…a controversial word!) and full of flavor. It's a gluten free, nut free muffin that is easy to make and would be a fun baking project to do with kids!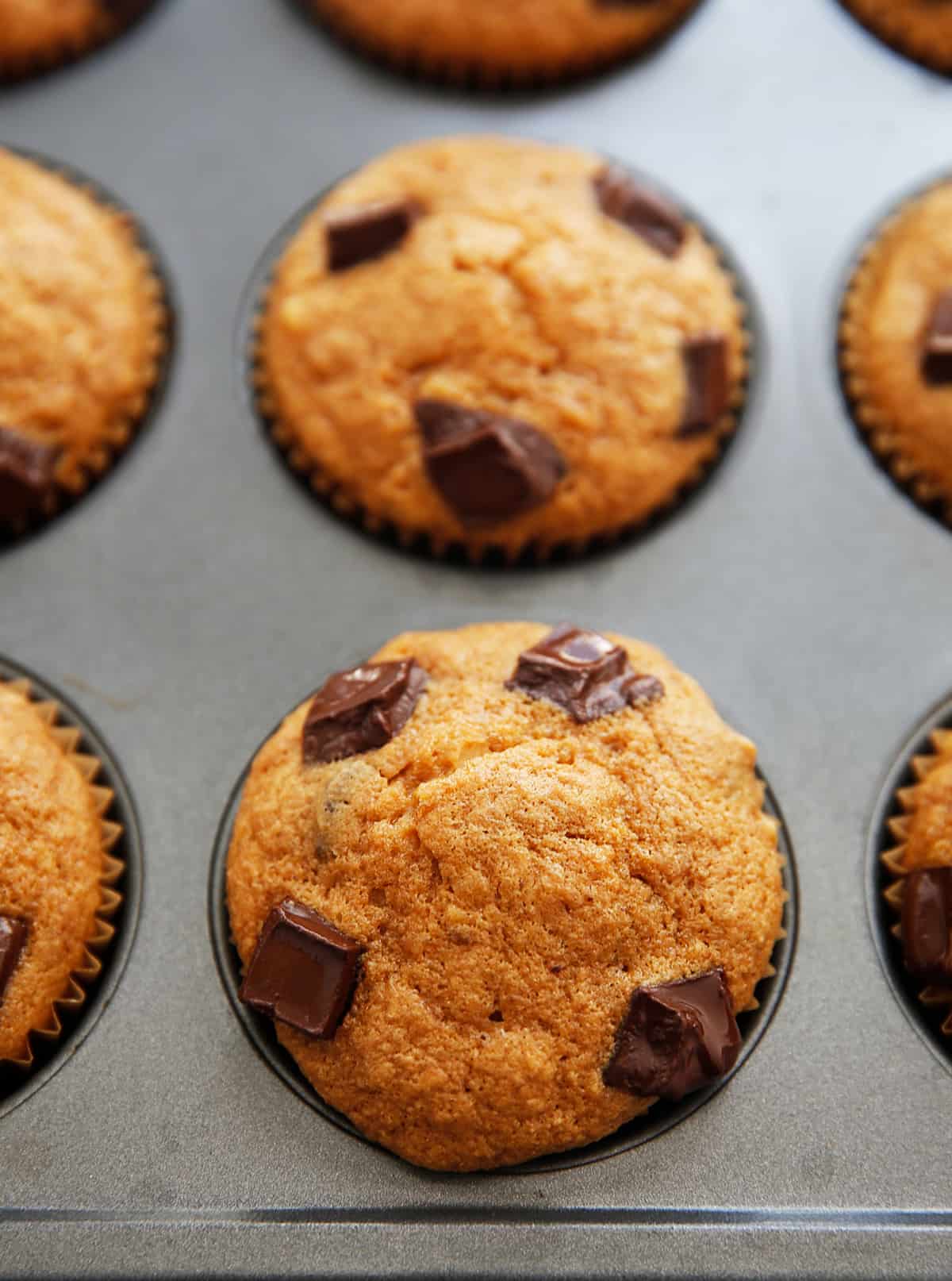 What kind of oat flour should I use?
As we've said in previous oat flour recipes, we recommend you buy premade oat flour. It isn't expensive and easy to purchase in stores these days. We tested this with homemade oat flour and feel the final result is effected by it. However, if you want to make your own oat flour, you certainly can. We just recommend you try to get it as fine as possible.
How do you measure oat flour
This is the first time we recommended this but if you have an electronic kitchen scale at home, it's best to use it here to measure. Oat flour can be tricky to measure as it can be easily compacted, even straight from the bag. The same goes for coconut flour because such a small difference in measuring can impact a recipe because it's such an absorbent flour. So we've included the weight in grams here. Any electronic kitchen scale can switch between grams and ounces, and grams are more precise so we're offering that. If you don't have a scale lightly packing the oat flour into the cup measurement gets you as close to the correct measurement as possible. For coconut flour scoop it in the tablespoon and then level it off.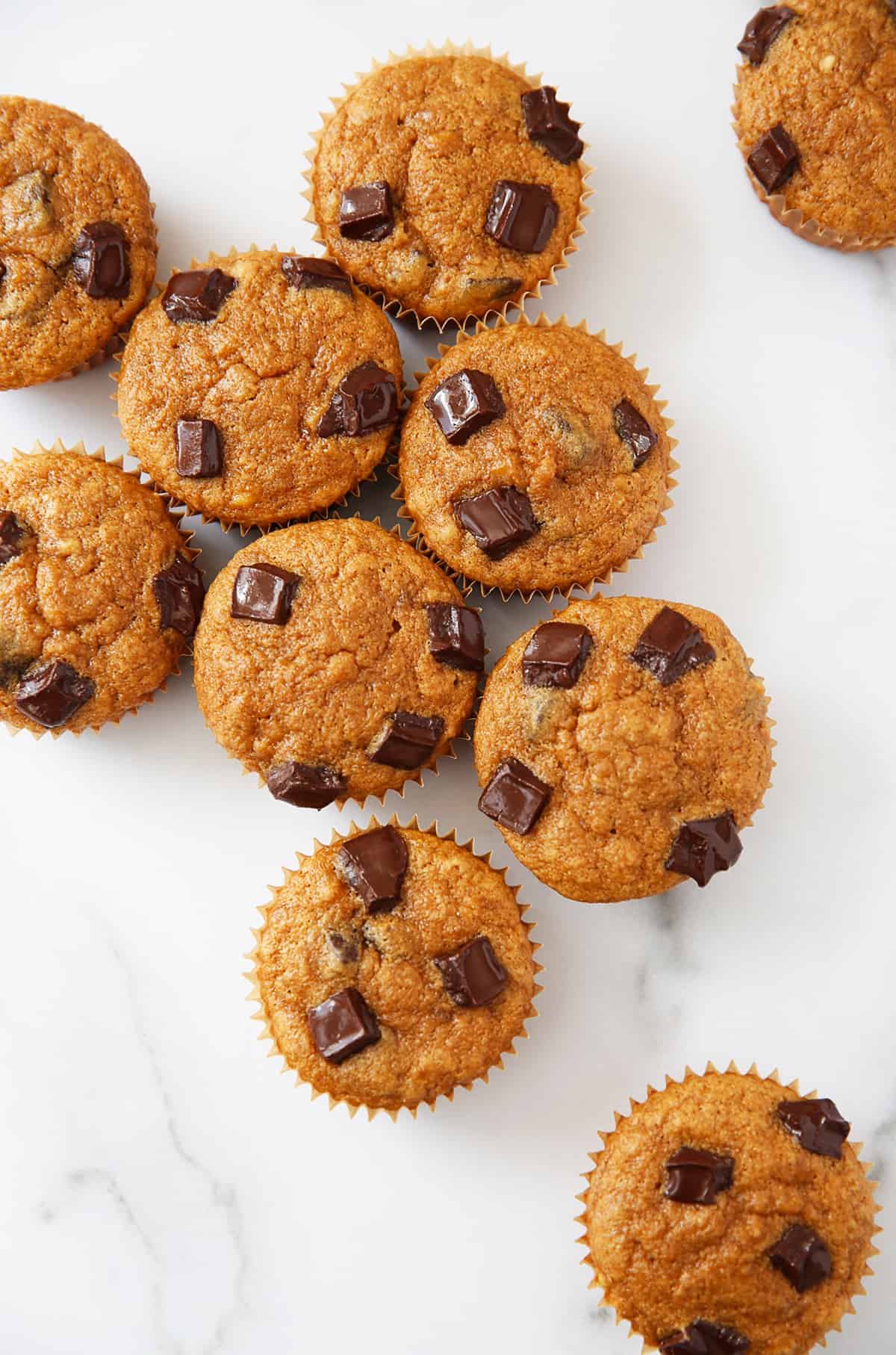 How do you store oat flour muffins?
We've tested storing these at room temperature covered (but not air tight), in an air tight container and in the freezer. They all work! But we prefer to keep these at room temperature covered (in a non-air tight way) for two days at most. The muffins get more moist as the days go on, especially in an airtight container, which can make them feel dense.
So if you want to keep them the freshest you can store in the freezer. Our food editor Kelli has been storing these in the freezer and taking them from the freezer and putting in her kids lunch boxes. By the time the kids get to lunch they are defrosted and ready to eat.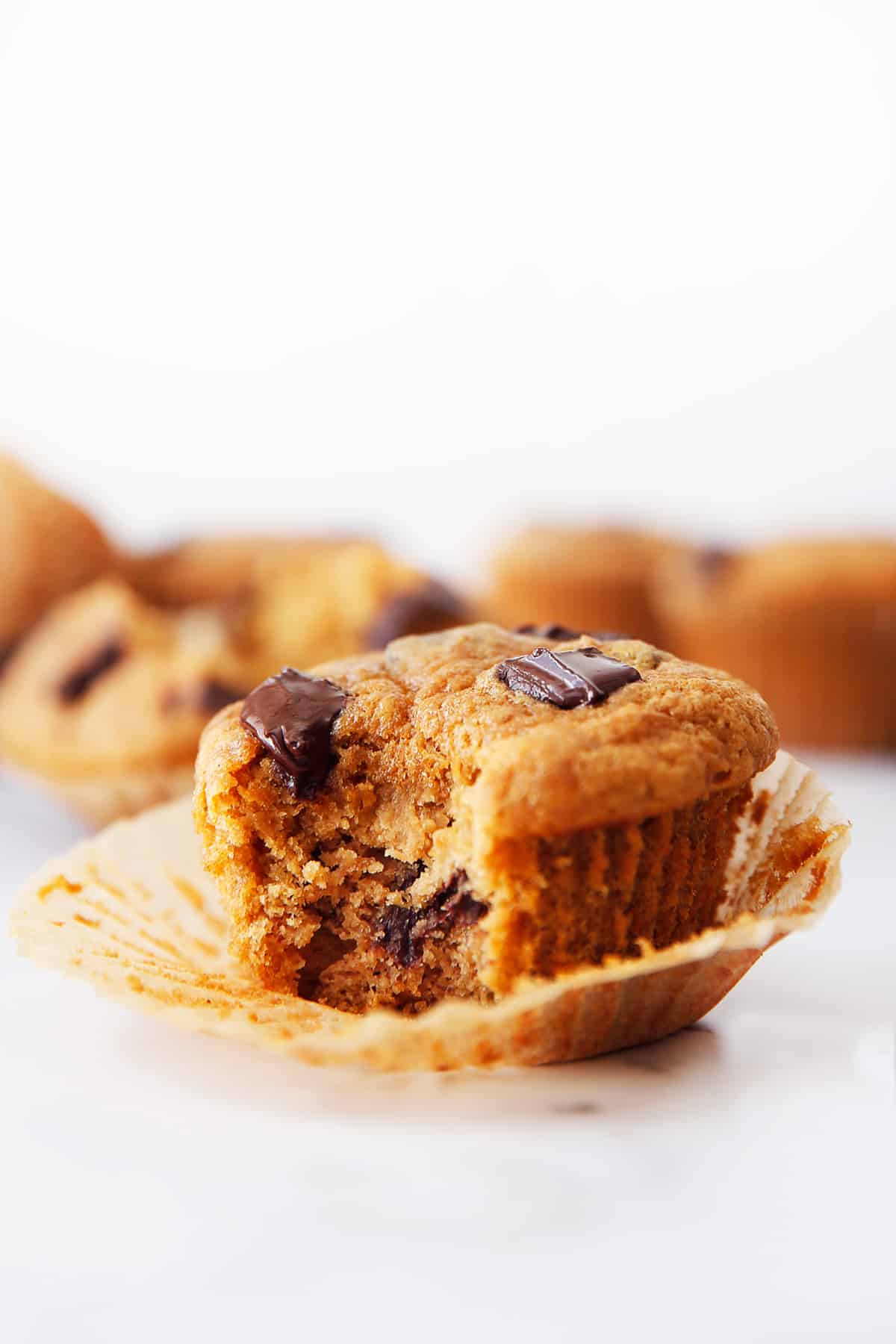 If you like this muffin recipe, check out these others:
Watch the video here:
---
Banana Oatmeal Chocolate Chip Muffin (Nut-Free & Gluten-Free)
We're diving in to How to Make Sweet Potato Toast today because they are our new favorite breakfast, snack, or lunch and can guess they'll be yours too! Sweet potato toasts are easy to make, nutrient-dense, and there are so many options to shake up your toast topping game. Sweet potato toast is a great fiber-rich, gluten-free, Whole30 approved, and vegan healthy toast replacement! PLUS, they are super easy to make!
How to Make Sweet Potato Toast
Making sweet potato toast is about to become your new favorite breakfast, snack, lunch, or hey, even dinner! These Pinterest-worthy lower carb "toasts" have been making the rounds lately. What is sweet potato toast? Well basically they are cooked slices of sweet potato that are a great nutrient-dense alternative to regular toasted bread that can hold a hefty portion of toppings. Did we mention they are also delicious? Today we're diving into all the details on How to Make Sweet Potato Toasts for our ongoing How to Wednesday series and sharing our favorite topping choices as well!
What kind of sweet potatoes are best?
Look for large round sweet potatoes! These work best because you can get good slices out of them. Curved ones, or oddly shaped ones, aren't great for toast because you'll waste more of the sweet potato when you're slicing them up!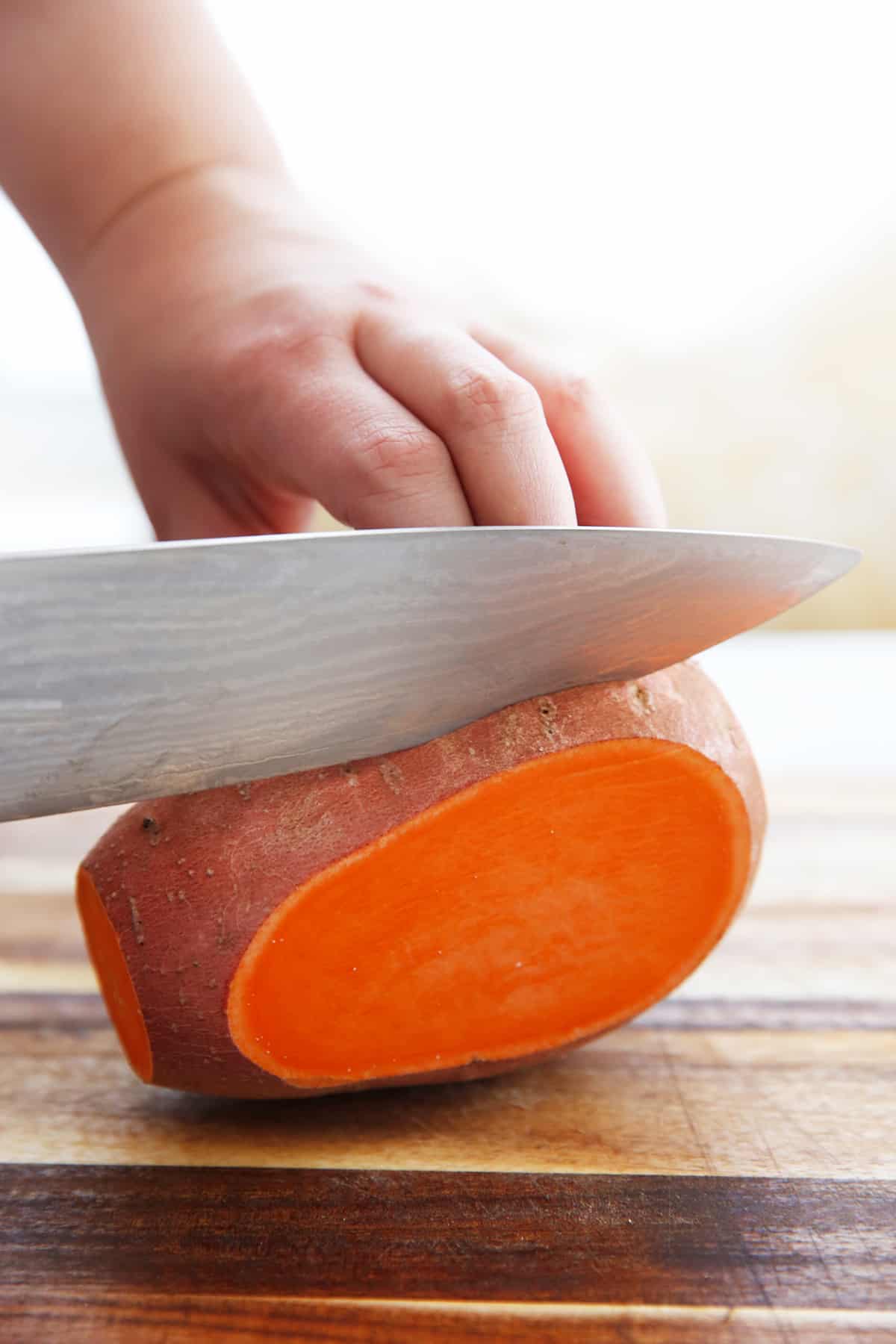 What are the different kinds of sweet potatoes?
Well this isn't the most straightforward question! These day the grocery stores can sell a few different types of sweet potatoes and sometimes they are labeled yams (but apparently they're not actually yams?). For this purpose the best type of sweet potato is usually labeled as a Garnet Yam, but a Beauregard or a Jewell Sweet Potato will work best too.
Garnet Yams are actually sweet potatoes and they are the best choice for sweet potato toast.
Japanese Sweet Potatoes and Hannah Sweet Potatoes: These two look different on the outside, with the Japanese having a purple skin and the Hannah having a tan skin but they are both similar on the inside with starchier yellow flesh. We don't recommend these for sweet potato toast.
Purple Sweet Potato: This has a very starchy firm purple potato. While delicious, we also don't recommend this type for sweet potato toast.
How do you easily cut up sweet potatoes
There are two options for slicing up the sweet potatoes. You can either use a mandolin, though it will need to be a good quality one with a sharp blade. Or use a sharp knife! If you are a little unsteady with your knife skills, slice of a piece of the sweet potato so you can rest it on that fast surface for safer cutting.
Do you peel sweet potatoes?
Peel the sweet potato if desired! The skin is edible, but can be rough and fibrous, so if you are concerned with texture you can peel the skin off. The most important thing is to aim to make them all the same size. For sweet potato toast, we find it's easier to leave the skin on because it helps the sweet potato keep it's shape.
Why we aren't making sweet potato toast in the toaster
We know this method is out there–but we don't recommend it. It takes too long to cook the sweet potato in the toaster (unless you are using a powerful toaster oven) so we recommend using the oven bake method first, and then to reheat you can use a toaster to warm it up and get it slightly crispy.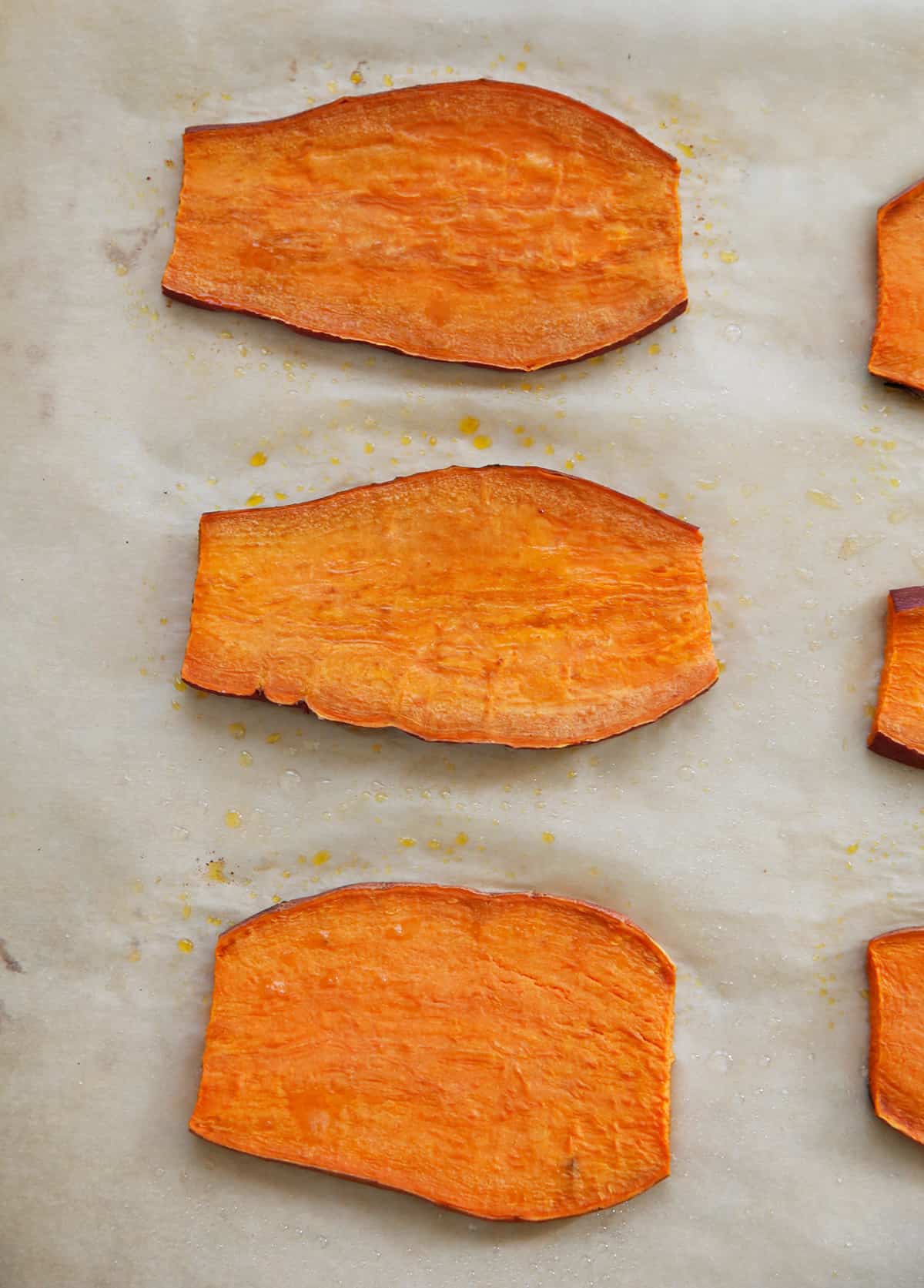 There really are endless options for topping the sweet potato toast. You can go with savory or sweet, or even make a DIY sweet potato bar and let your loved ones make their own!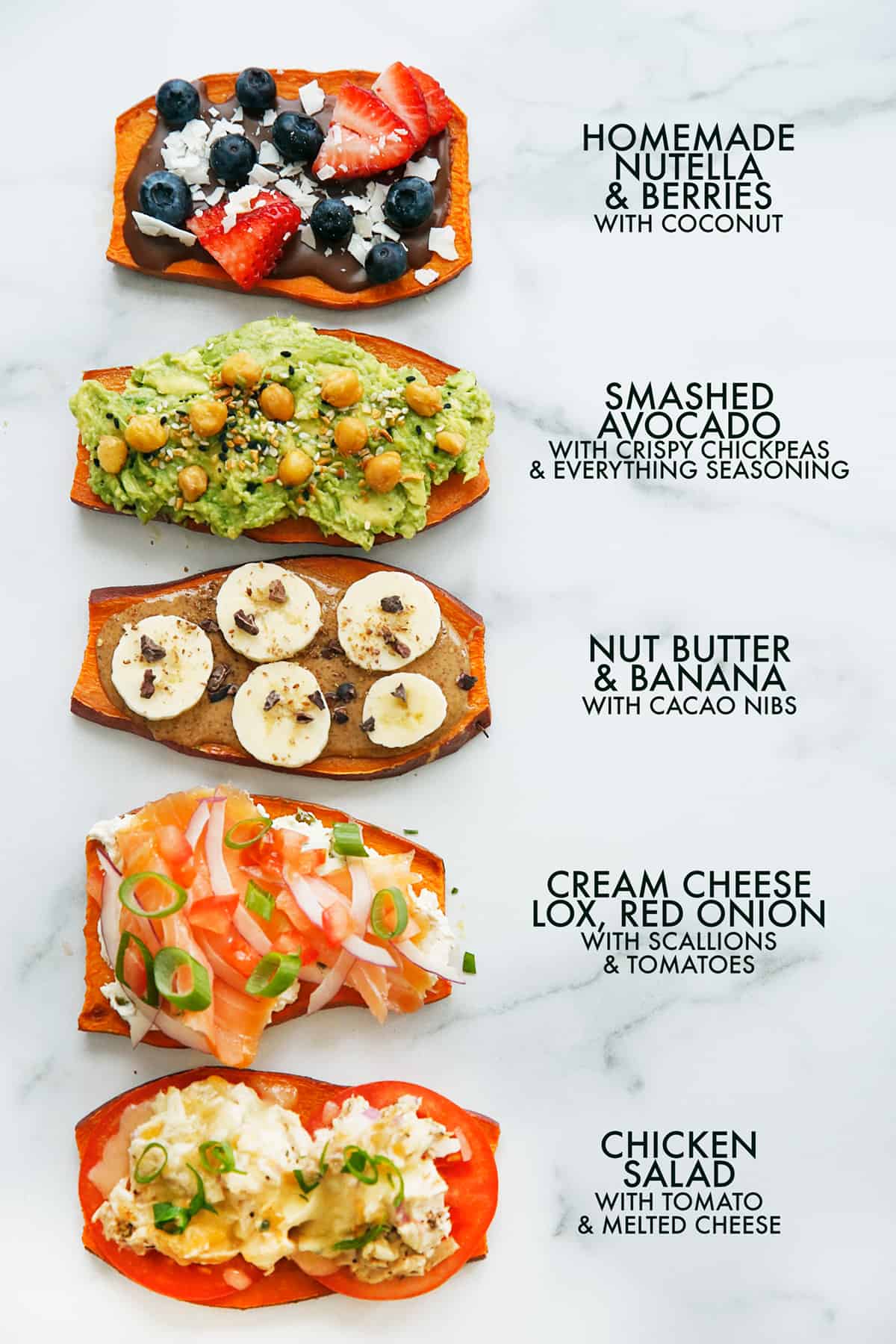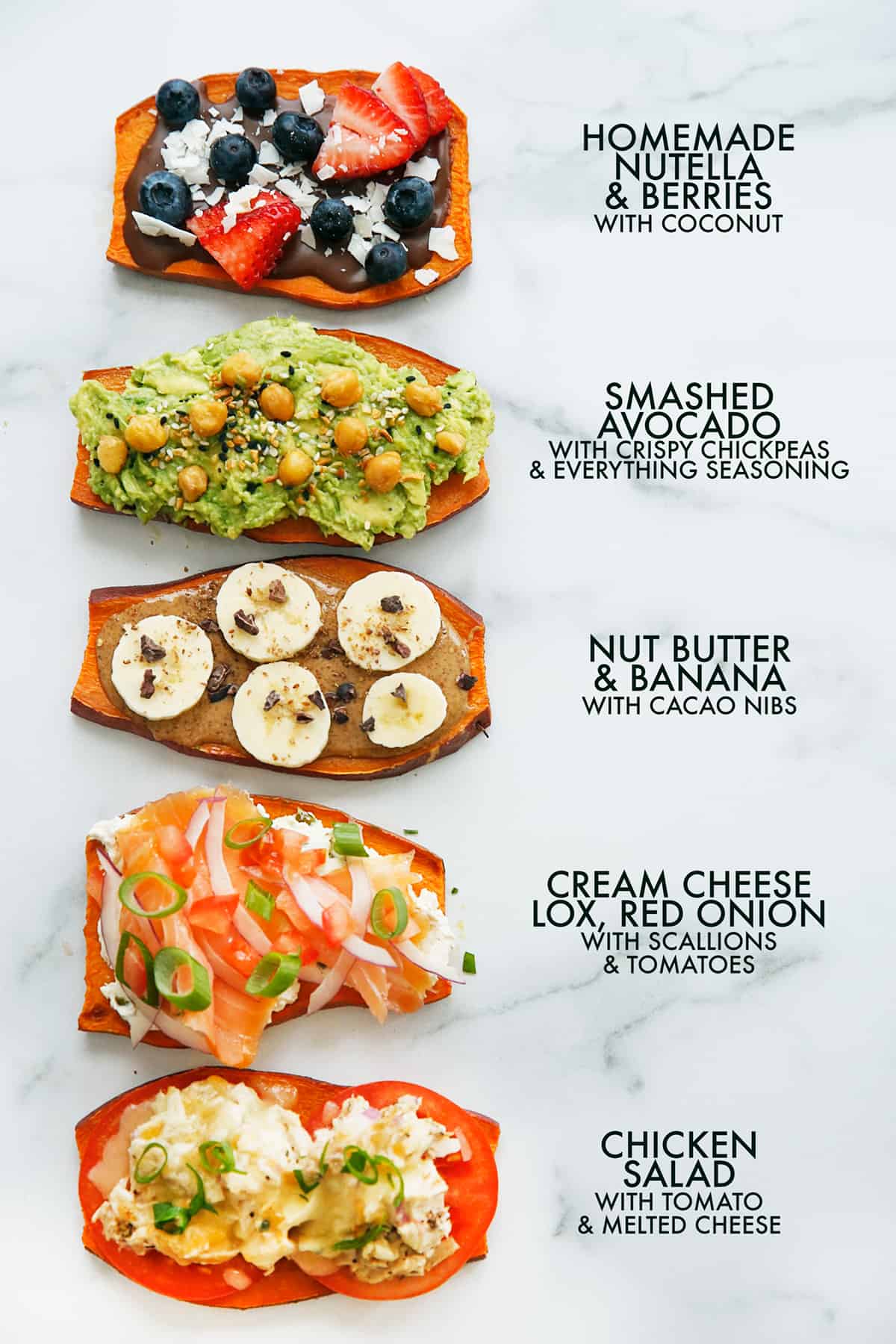 Savory Ideas:
Cream Cheese, Lox, Red Onion, Tomato slices, and Capers: Kite Hill is a great dairy-free alternative for cream cheese.
Tuna Melt or Chicken Salad Melt: Place your favorite tuna salad or chicken salad on your sweet potato toast, top with slices of tomato and cheese, then place under the broiler, for about 1 minute, until cheese is melted!
Loaded Avocado Toast: In the LCK cookbook, there is a killer avocado toast that recipe that can be used here! You can use that topping, or make a quick smashed avocado topping: Smash your avocado, sprinkle some salt, red pepper flakes, garlic granules and squeeze of lime juice! Then top with crispy chickpeas, everything bagel seasoning, and some sriracha!
Sweet Ideas:
Nut Butter, Banana, and Cacao Nibs: You can use any type of nut butter or sunflower seed butter here and add in fresh banana and cacao nibs for crunch or regular chocolate chips. Sprinkle with some chia seed or flax seed for some extra fiber.
How to Reheat:
This recipe makes a large make ahead batch for the week. To reheat as needed either stick it in a toaster, a toaster oven until hot and edges are crispy. It's best to top as needed (like regular toast) but you can prep one for lunch to reheat at work later and reheat like any other food, though the sweet potato won't be crispy.
---
If you like this how to, check out these others:
How to Make Sweet Potato Toast
This Breakfast Fried Rice is made using only 4 ingredients and is a super easy meal to whip up anytime of day, not just in the morning! It takes the base of leftover rice and switches up the traditional fried rice by adding in the leftover breakfast staples of bacon and eggs. You can have it on the table from start to finish in less than 15 minutes which makes it a breakfast (or dinner) win!
Breakfast Fried Rice
After testing and testing and testing our Best Rice Ever recipe a few weeks back we found ourselves with piles of rice in the test kitchen. Not that we are complaining or anything, because it really is the best rice ever, but we knew we needed to put that rice to good use by testing a few new leftover rice recipes, and this Breakfast Fried Rice was one of them!
We love the idea of being able to make a double batch of something easy, like rice, when you are cooking dinner and then also being able to use up the leftovers again for a fresh meal later in the week. This Breakfast Fried Rice is the perfect example of this. This dish takes a total start to finish time to make of 15 minutes! On busy days (which they seem to be innumerable) this is the perfect breakfast, or lunch or dinner! And likely you already have the ingredients on hand or in your freezer: bacon, eggs, rice and green onions.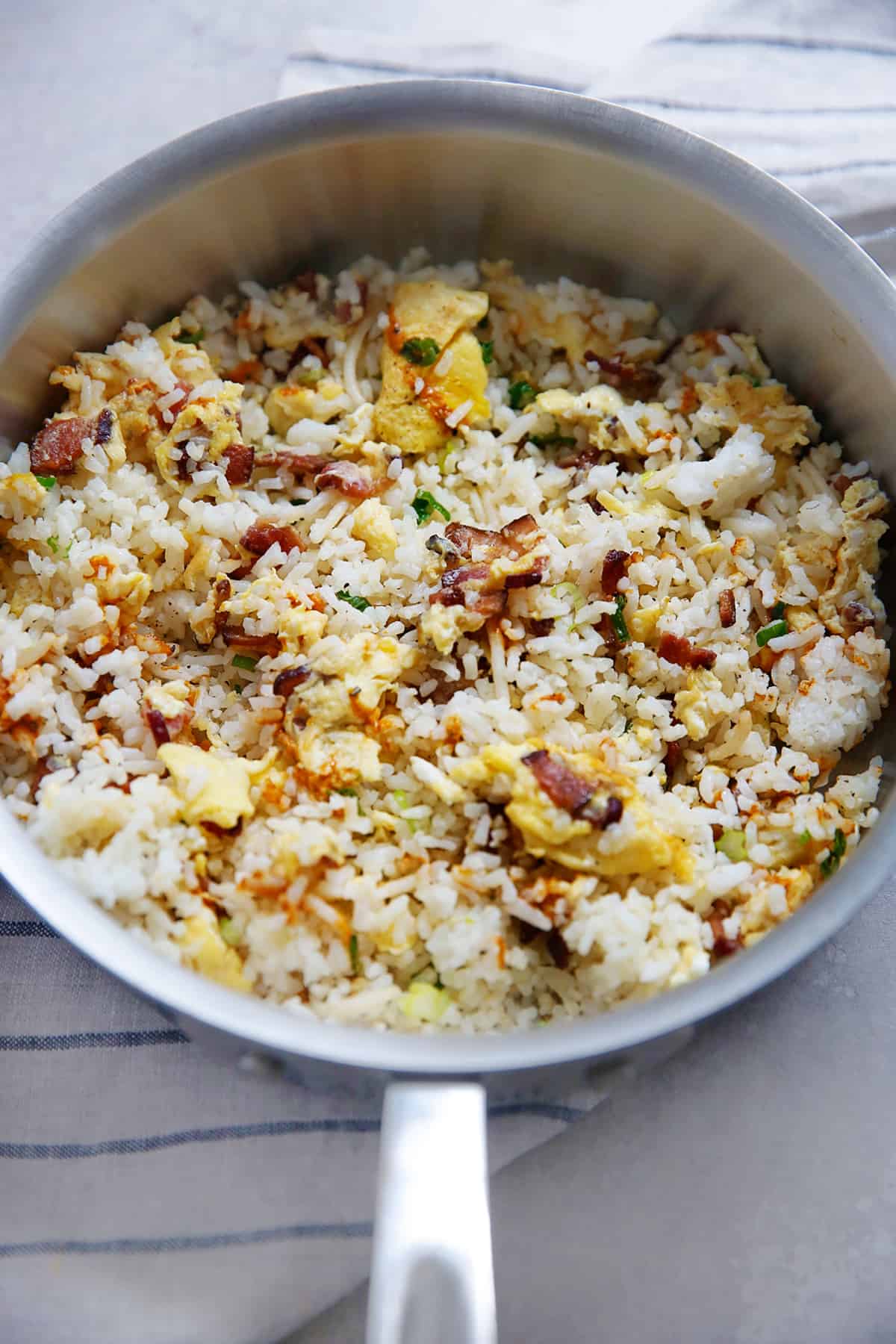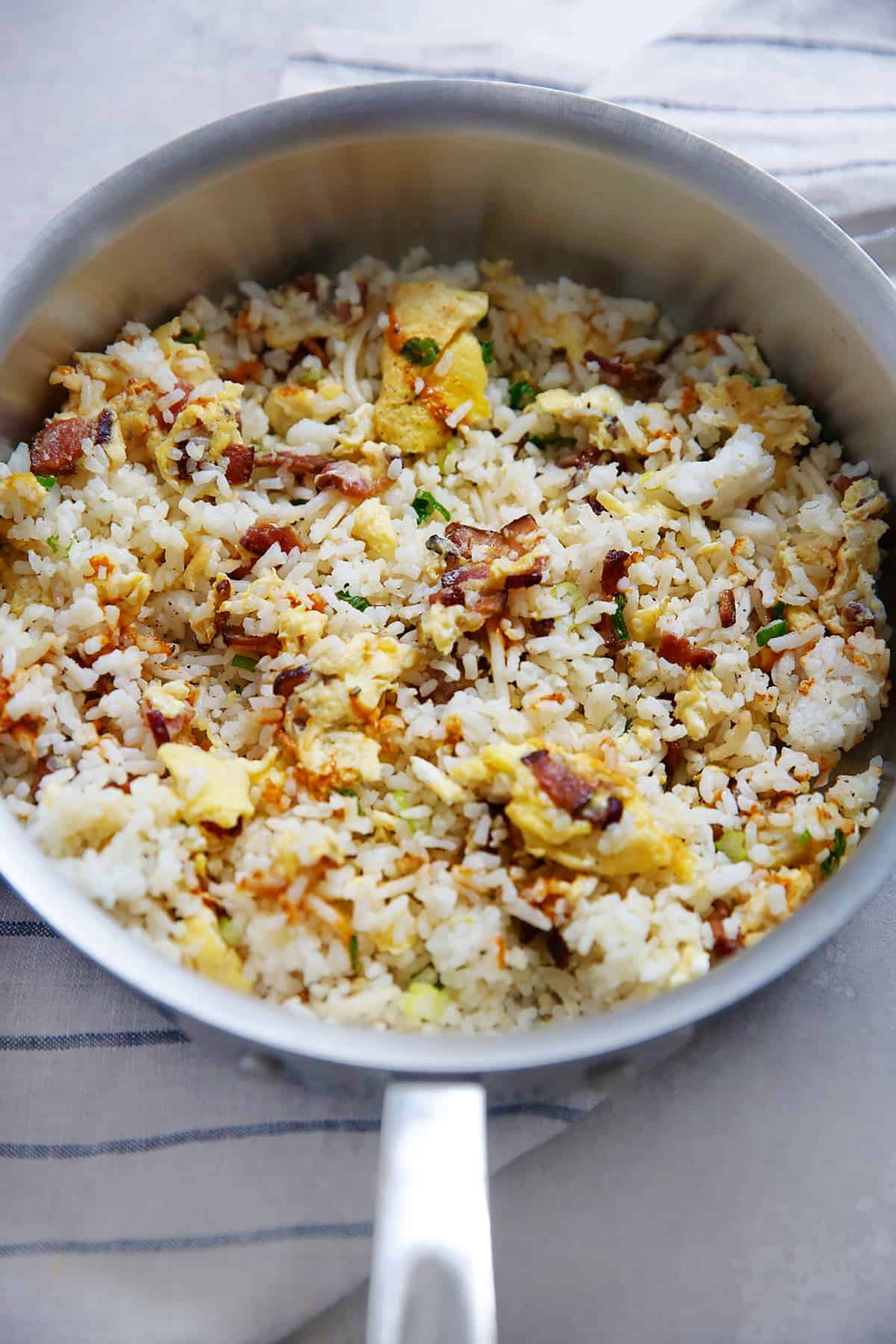 What is in a Breakfast Fried Rice?
This is not the most traditional Asian-style type of fried rice, as we really wanted to keep the ingredient list as minimal as possible so there aren't any add-ins like coconut aminos or other spices. Think of this as more of a breakfast stir fry! We wanted this to be a savory options for breakfast made with ingredients you likely had on hand that could be a satisfying meal. We limited it to bacon, eggs, green onions and leftover rice with optional hot sauce.
What are some other options to add to Breakfast Fried Rice?
If you wanted to add in a few more things there are plenty of options. You can add in:
diced bell peppers (after you fry up the bacon)
baby kale or spinach (add it when you add the rice and green onion to wilt)
frozen baby peas (add it when you add the rice and green onion to wilt)
cauliflower rice (add this after you fry up the bacon and cook for a bit before adding the eggs)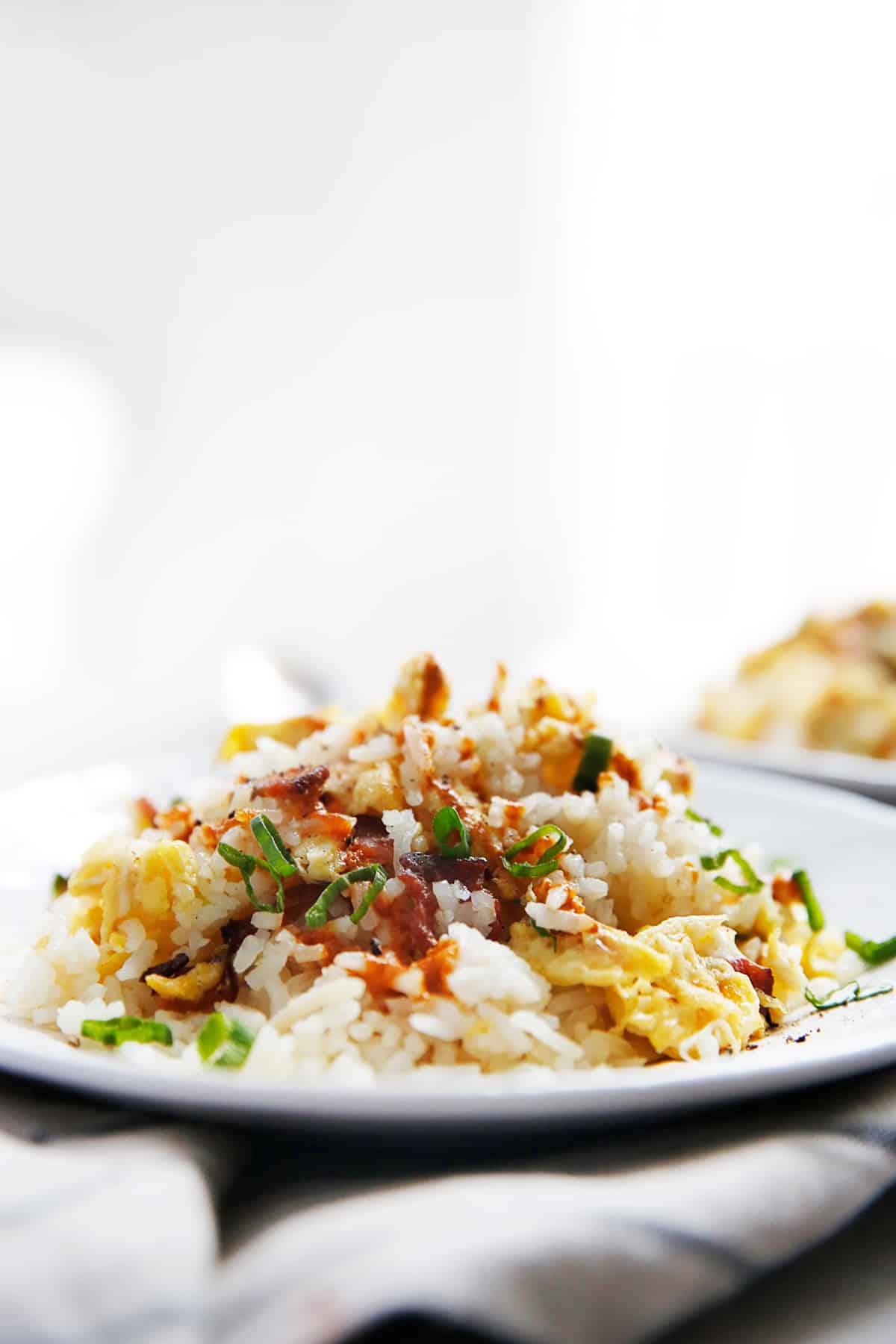 If you like this rice recipe, check out these others:
Breakfast Fried Rice
Everything Bagel Hummus Breakfast Toast is the best non-recipe recipe you've never heard of! It's an easy way to to get a quick breakfast on the table that is full of protein and fiber and tastes SO GOOD. This post is made in partnership with our friends at Sabra!
Everything Bagel Hummus Breakfast Toast
Whenever we ask readers what is it that they are looking for it's always easy and quick meals! Well this Everything Bagel Hummus Breakfast Toast checks all the boxes: it's quick, it's likely stuff you already have on hand and it's so delicious! If you've never heard of hummus at breakfast time, let us introduce you to it because it's the new thing!
We love our hummus breakfast toast topped with a soft boiled egg and a sprinkle of 'Everything Bagel' spice blend, along with a healthy drizzle of olive oil to add some heathy fats along with the protein filled hummus to fuel you for the morning. You also can top this any other type of egg you'd like, like hard boiled or fried, or simply leave the egg off! The hummus alone is already filling enough, but we are fans of eggs in the morning so we added one to ours!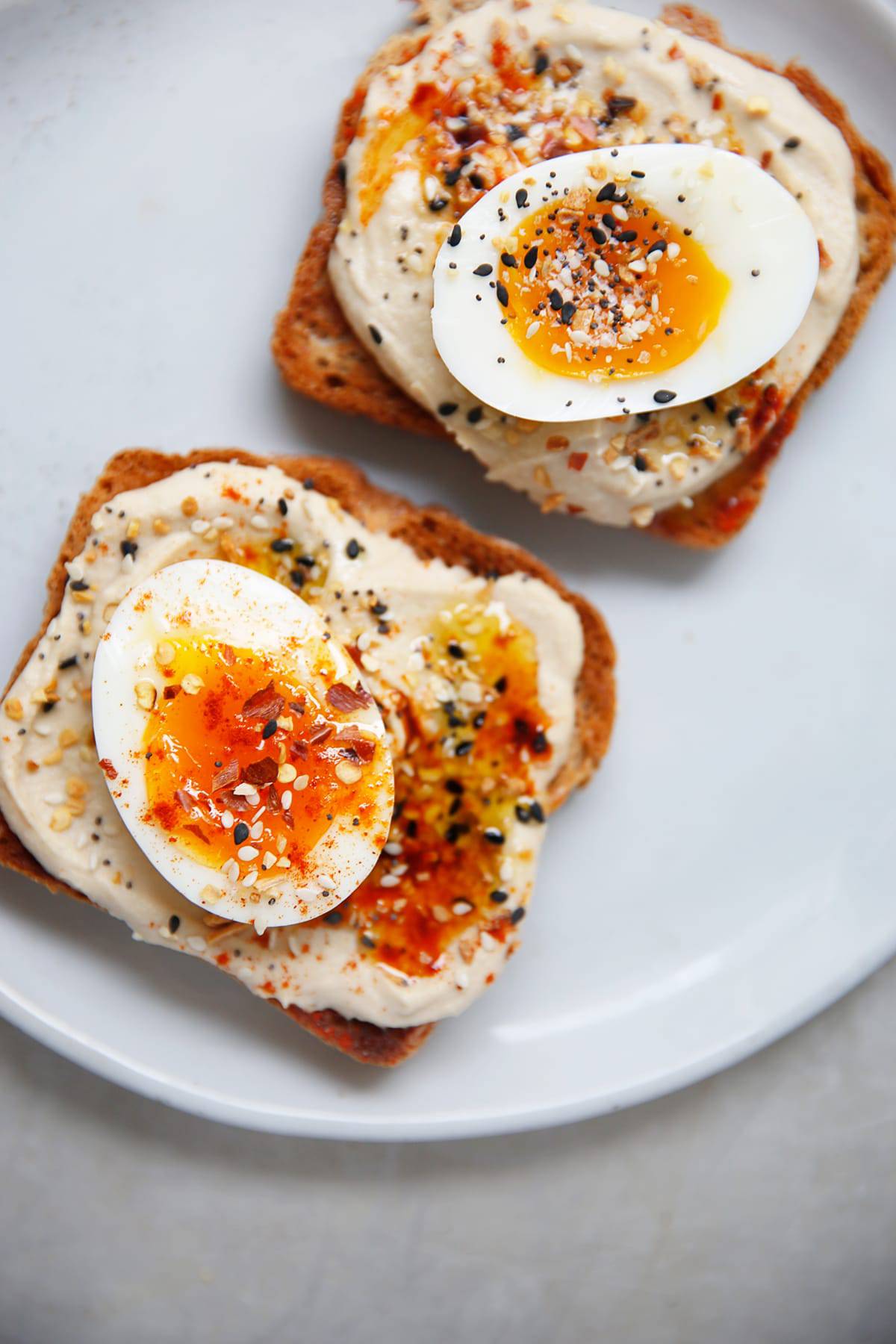 Can you eat hummus for breakfast?
Absolutely! We love savory items for breakfast and hummus is no exception! It's so easy to pick up a prepared hummus at the store that has real food ingredients that you can always have on hand and use with a variety of toppings. And this is totally customizable to top with whatever you have on hand or feel like eating, not just with what we are suggesting here.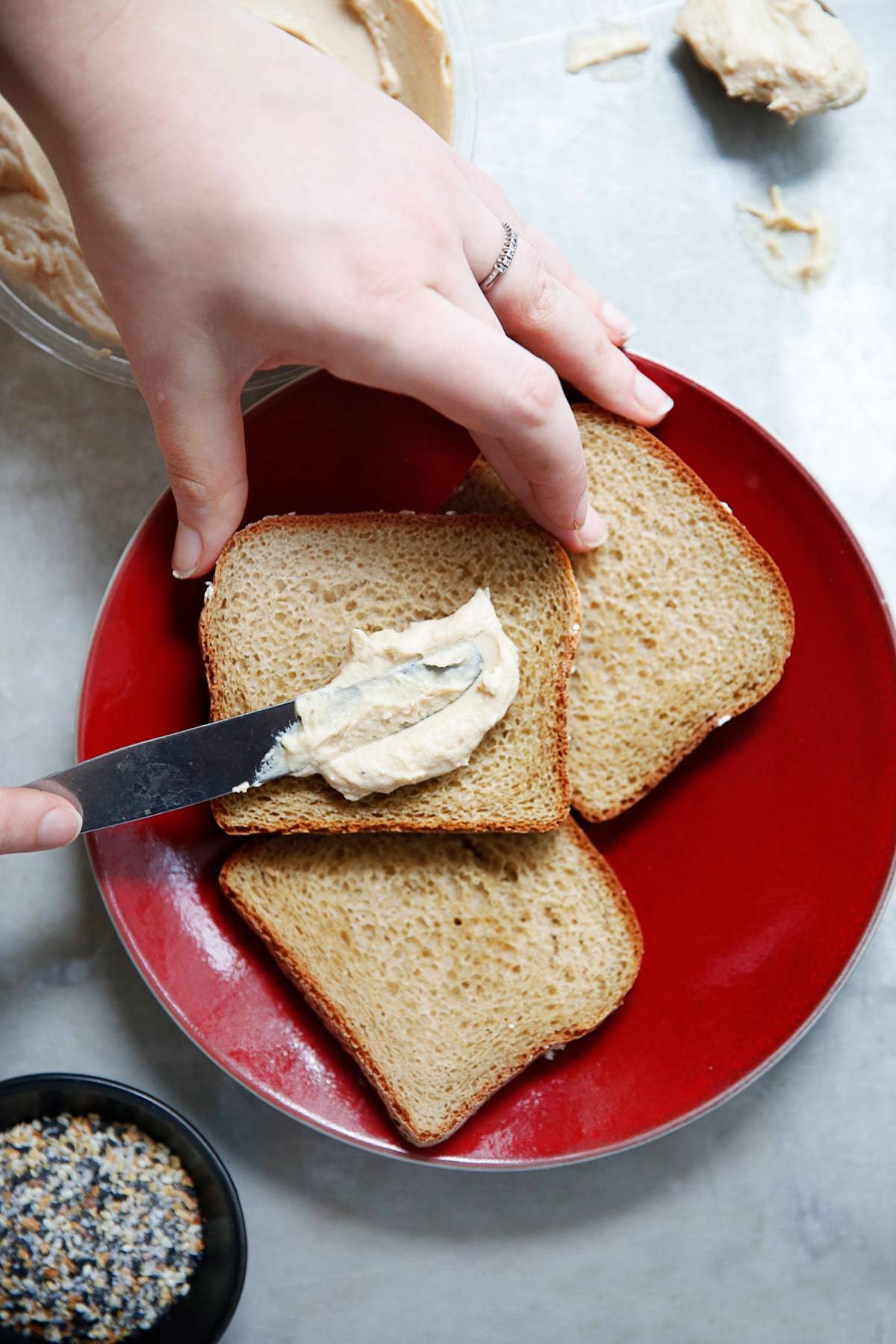 What bread is good with Hummus?
For our breakfast toast we choose to go with a gluten-free hearty loaf (we love Trader Joe's Gluten-Free Bread and Canyon Bakehouse Gluten-Free Bread) that compliments the strong flavors of the 'Everything Bagel' spice and the hummus, but you can really use any toast (even sweet potato toast!) for this recipe.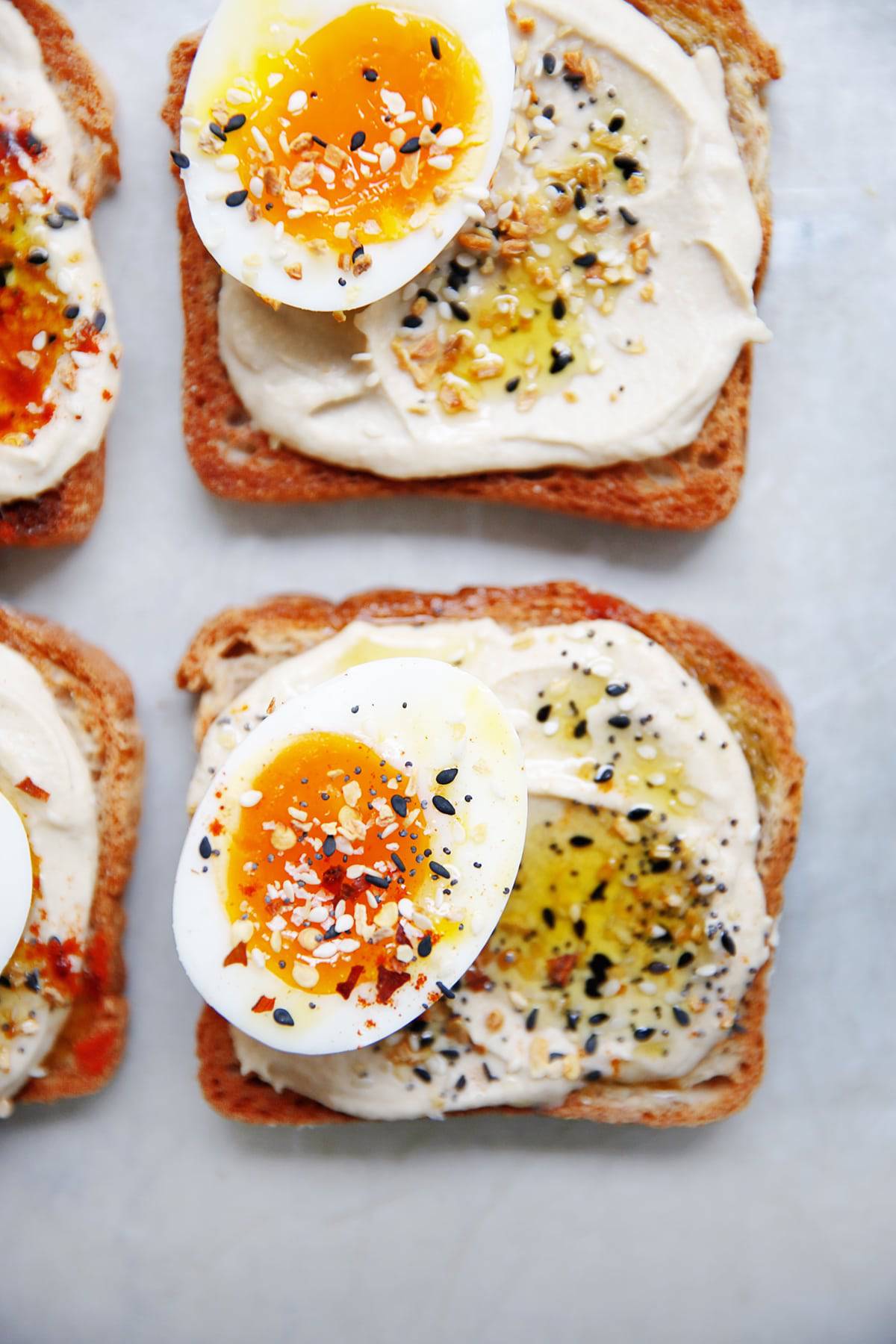 While you can now grab Everything Bagel spices in a store, we've been all about this long before that was a thing. So, here is how to make an 'Everything Spice' blend at home!
In a small bowl mix together:
Store in the pantry for 6-12 months, depending on how fresh your spices were to begin with.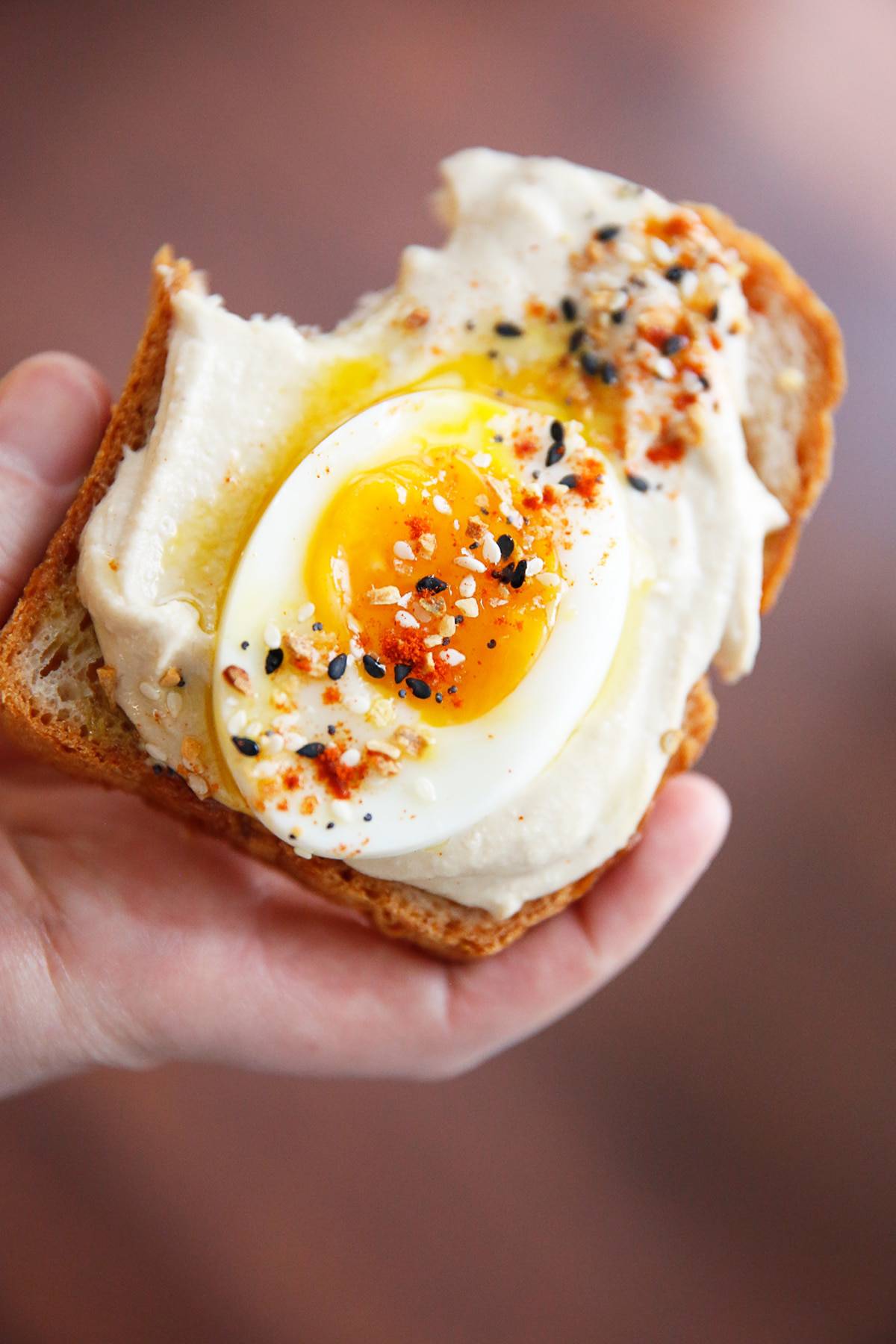 If you like this breakfast recipe, check out these others:

P.S. pro tip: warm hummus is the best! Spread your hummus on your toast right when your bread is warm!





This post is sponsored by Sabra. All thoughts and opinions are always 100% my own! I love the integrity of their products and think you'll love them too. Thank you for continuing to support LCK and the brands I work with!
Everything Bagel Hummus Breakfast Toast
These delicious and healthy Paleo Banana Muffins are made with almond flour and coconut flour, packed with healthy fats and are made in just 1 bowl! These gluten free banana muffins would be a great on-the-go breakfast or snack and will be a hit with picky kids!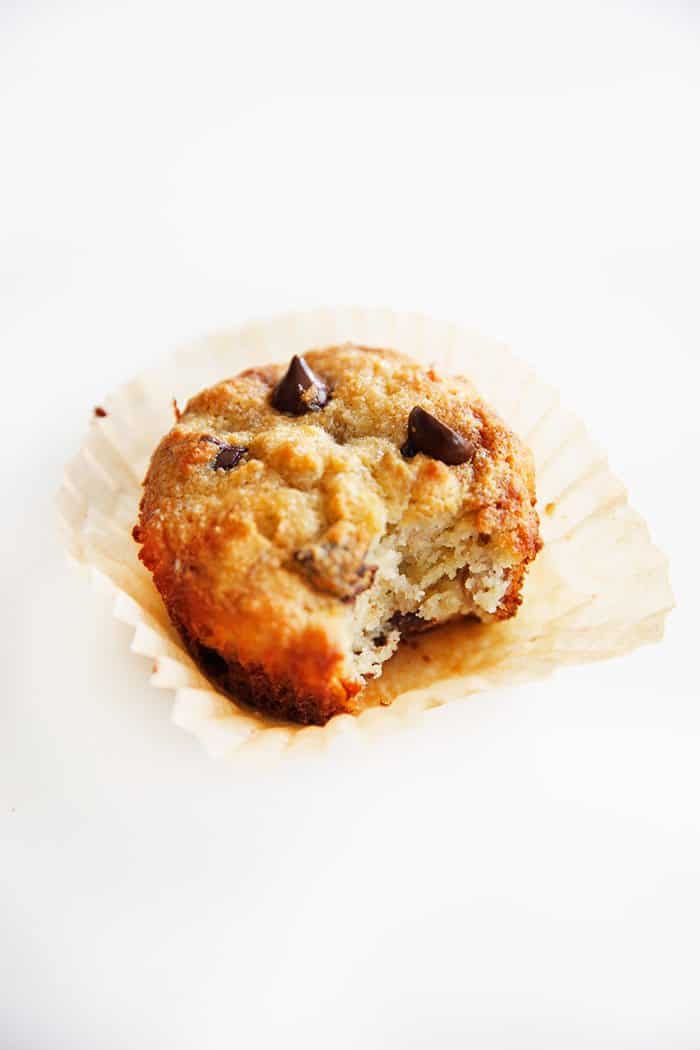 Paleo Banana Muffins Recipe
These grain free Chocolate Chip Paleo Banana Muffins are so simple, moist, and delicious. The perfect batch of muffins that nobody will know are gluten-free, grain-free, and paleo-friendly! These muffins are so easy to make, with all the ingredients being put together in one bowl they can easily be made for a quick brunch or breakfast at home. Get the kids and they can help too!
Ingredients Needed:
Almond flour
Coconut flour
Fine Sea Salt
Baking soda
Coconut oil or grass-fed butter
Eggs
Honey
Ripe Banana
Dark chocolate chips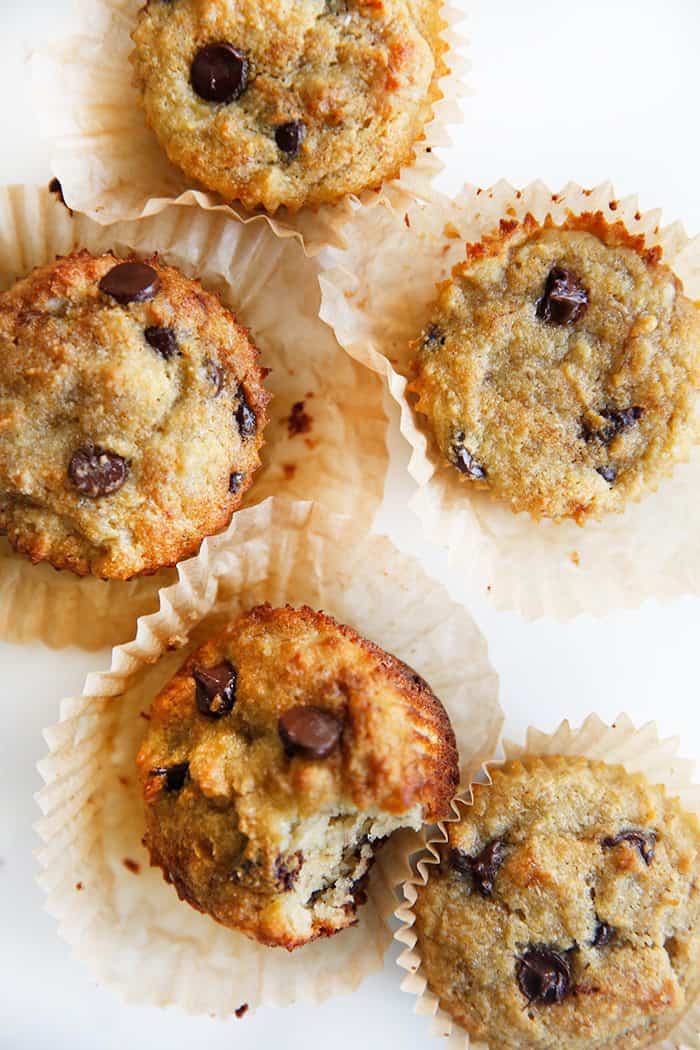 Is Almond Flour Healthy?
Almond flour is a delicious and nutrient dense alternative to any other flour. It is low in carbs and high in fat which makes it a great healthy flour that you can feel great about eating.
How to Measure Almond Flour
If you have an electronic kitchen scale at home, it's best to use it here to measure almond flour. Almond flour can be tricky to measure as it can be easily compacted, even straight from the bag. The same goes for coconut flour because such a small difference in measuring can impact a recipe because it's such an absorbent flour. So we've included the weight in grams here. Any electronic kitchen scale can switch between grams and ounces, and grams are more precise so we're offering that. If you don't have a scale: lightly scoop the almond flour or coconut flour into the cup measurement and level it off.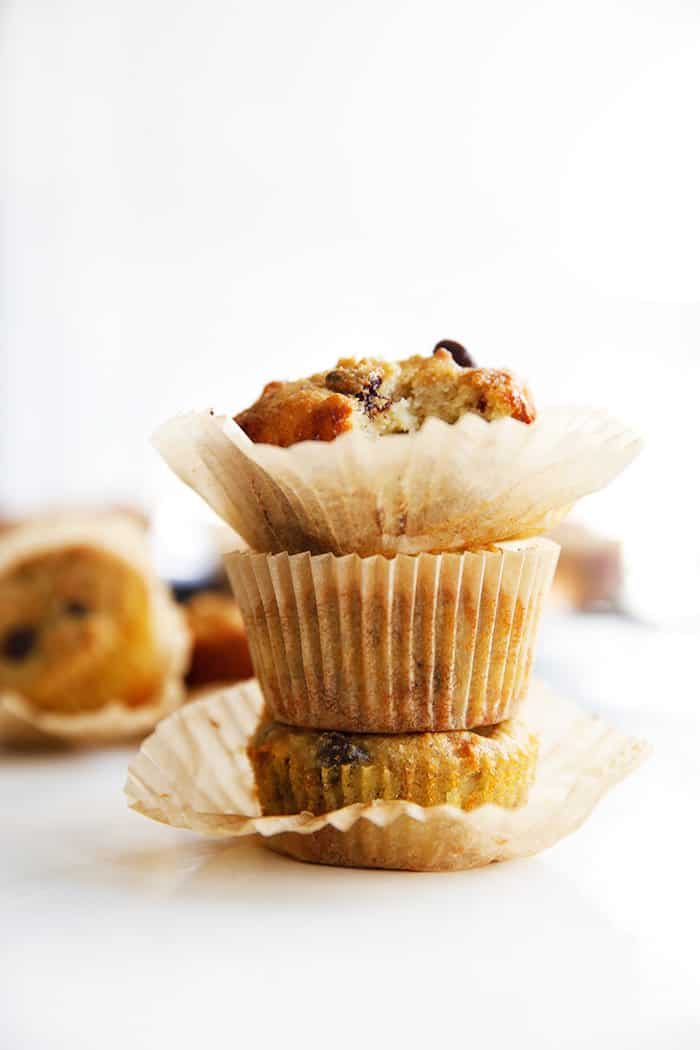 Check out all of these other muffin recipes:
Check out these other breakfast recipes:
---
Grain-Free Chocolate Chip Banana Muffins
This Apple Cinnamon Baked Oatmeal recipe is just what you need to make for breakfast! It is as good freshly baked as it is for meal prep. This classic flavor combination smells so good when it is baking, and bonus it's so easy to put together. This dairy-free and gluten free oatmeal bake doesn't contain any refined sugars and is a great fiber-rich and filling breakfast or snack.
Apple Cinnamon Baked Oatmeal
Everyone has been absolutely loving our new Peanut Butter, Banana, Chocolate Chip Baked Oatmeal, so we decided to make another amazing version!
You CANNOT go wrong with apple and cinnamon baked in an oatmeal, right? This flavor combination reminds me of the little oatmeal packets I used to have when I was a kid, but of course cleaned up and using whole ingredients that I feel good about baking with and eating. It's so easy to put together, using only one bowl and once it's mixed together you place it in the oven and forget it. It's perfect for breakfast, an after school snack or to bring along to a potluck.
What is baked oatmeal?
Baked oatmeal is essentially an oatmeal casserole! It combines oats, milk of choice, flavoring and eggs with hands-off baking in the oven!
How do you make baked oatmeal?
It's so easy!
Combine your dry ingredients.
Add in your wet ingredients.
Pour into your greased, or lined with parchment paper, baking dish.
Bake!
How do you serve baked oatmeal?
There are a few ways you can serve baked oatmeal, besides digging right in with a spoon! You can scoop out a serving into a bowl and add a little extra milk of choice, like a warm cereal. You can slice it and eat is as warm or cold. This makes it a great meal prep options as you can bake it and eat some immediately and pack the rest away for later.
If you like this oat recipe, check out these others:
Apple Cinnamon Baked Oatmeal (Gluten-Free)
These Gluten-Free Apple Scones are the perfect fall baking recipe. They are light and crumbly and full of apples and cinnamon. They are such a treat to serve to serve on crisp fall morning! I am so excited that we've finally perfected the ultimate gluten-free scones that will be the hit of your weekend brunch, the star of the dessert table, or the perfect snack!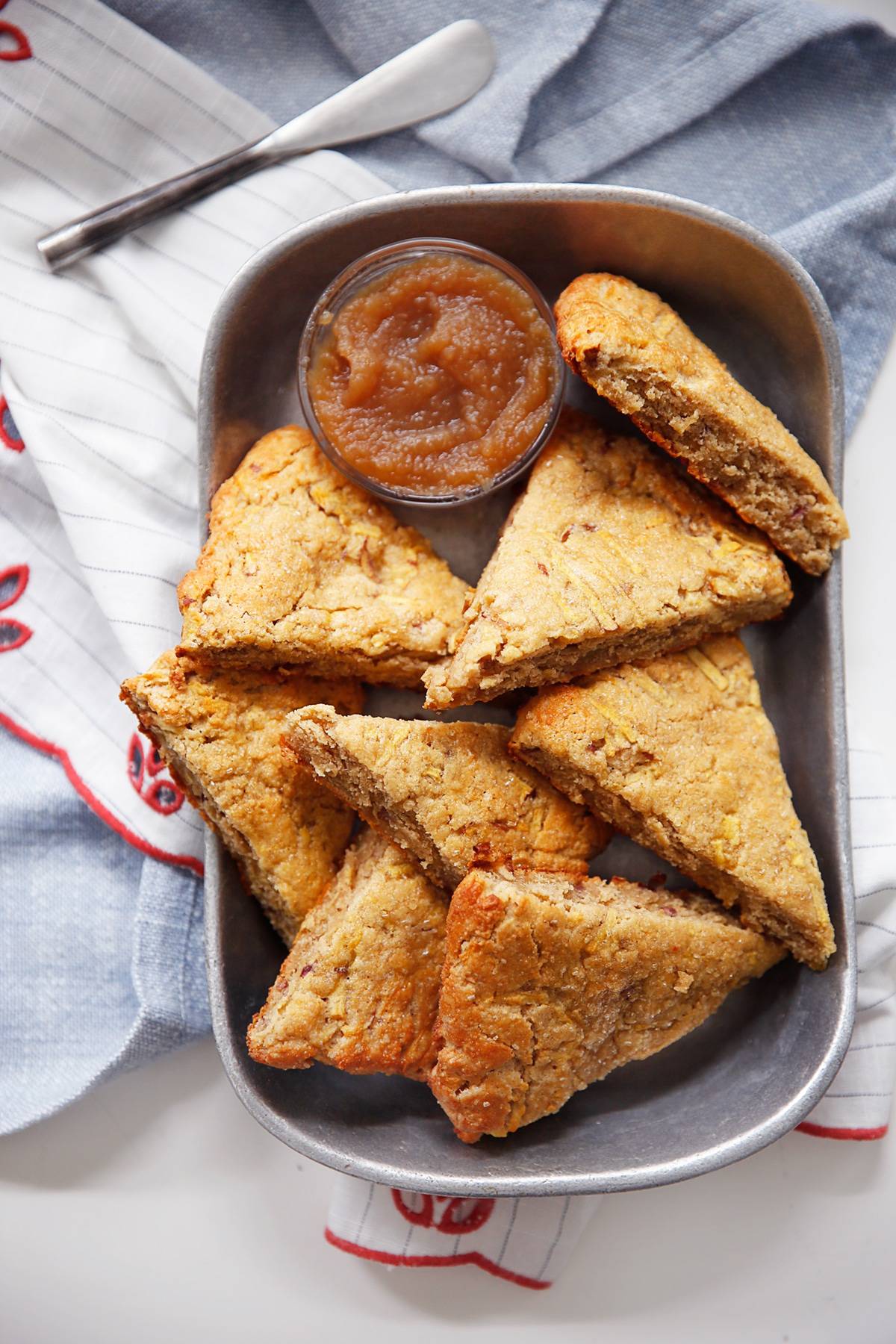 Gluten-Free Apple Scones
While I have a few other scone recipes on this site and in my book, I'm really excited about these super fall Gluten-Free Apple Scones! They are light in texture but heavy on apple flavor! We had a few rounds of recipe testing on this one, to get just the right crispness on the outside and to incorporate as much apple flavor as we could. We love to serve them with apple butter for an extra oomph of seasonality!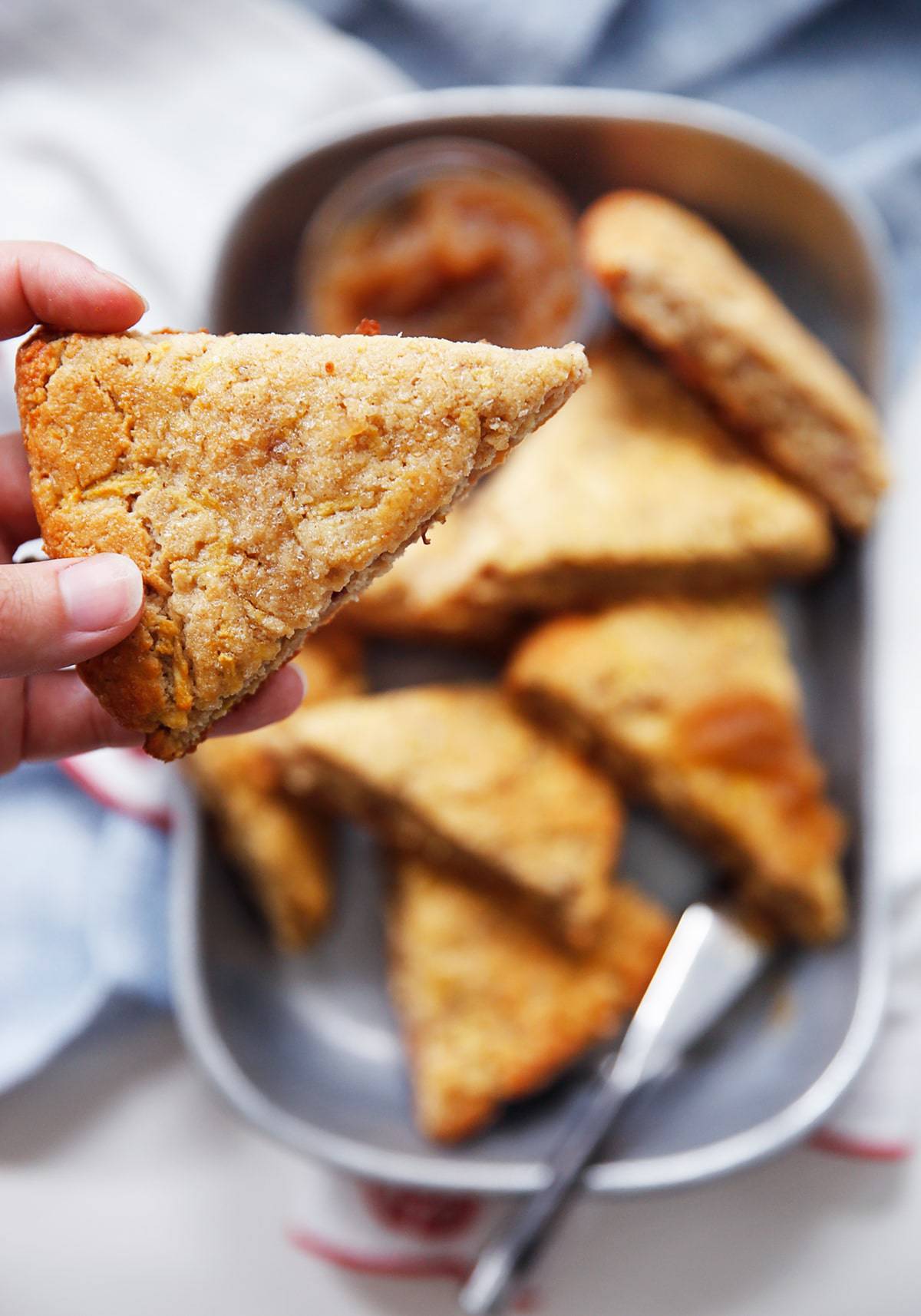 There are a few tricks you need to use in order to get crispy edges on these scones. Because we often stay away from gluten-free mixes and typically use a blend of almond and coconut flours on this site, it meant we were dealing with a dough that has a lot more moisture. Don't be afraid when the dough you've mixed is a little wetter than you would imagine. We have a longer baking time on these scones to ensure crispness, and instruct you to (gently) move the scones around the baking tray a bit so all parts of the scones get crispy. Follow the directions and we're sure you'll get just the right texture!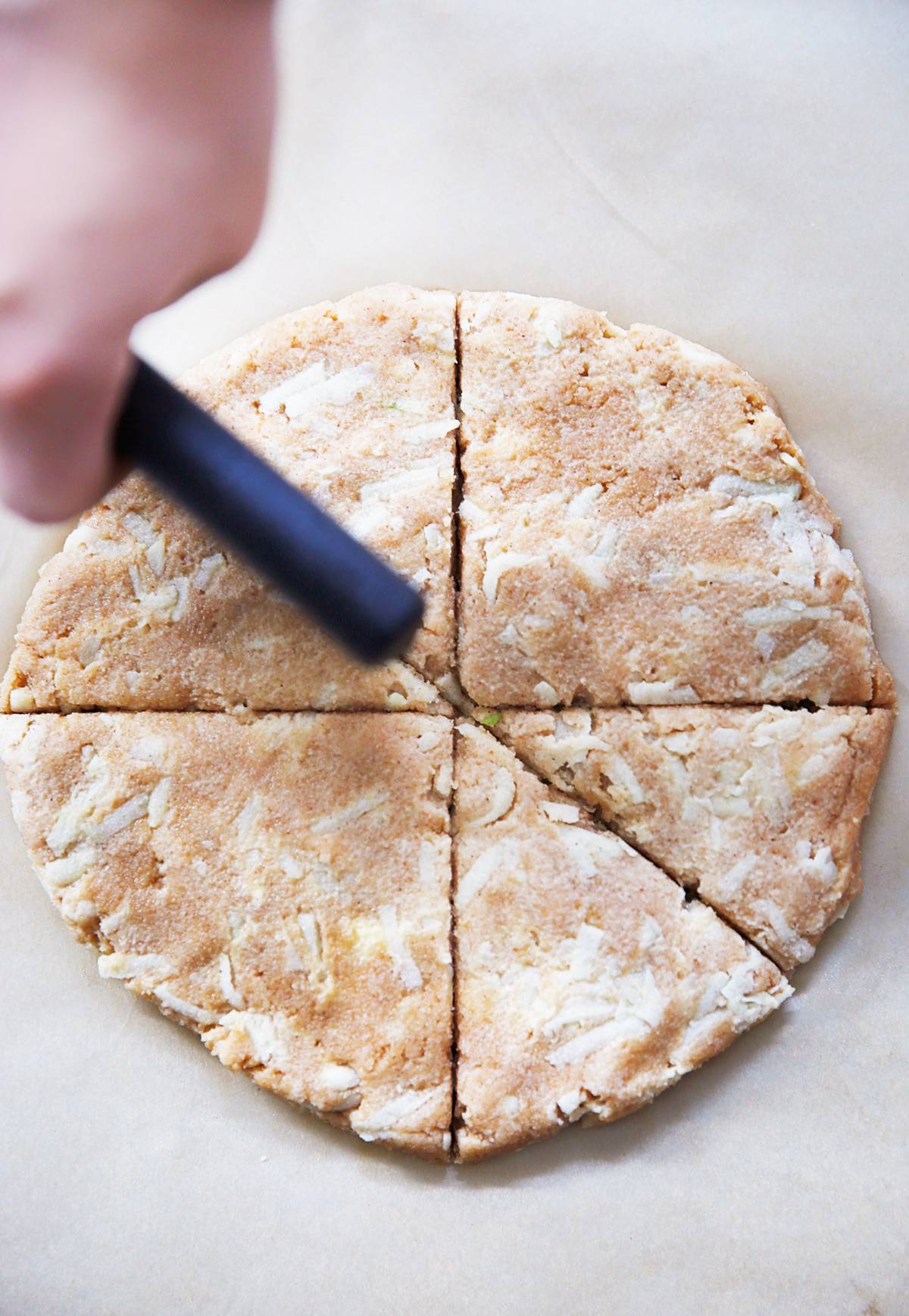 How do you make gluten-free scones?
Gluten-free scone recipes are a bit different from traditional scone recipes, but typically follow the same steps. The batter does look a bit different, but we were pleased with the outcome of these gluten-free scones.
Whisk together the dry ingredients!
Add in cold butter and quickly blend into the flour.
Add in the wet.
Pat scone batter into a round on the baking sheet. Don't free if it's a little wet! Cut it 8 times to get scone shape.
Brush with egg wash, and sugar and bake!
Cut scones once more, bake again, and then remove from oven one last time to shift the scones in the opposite direction to ensure an even crispness, and return to oven to finish baking.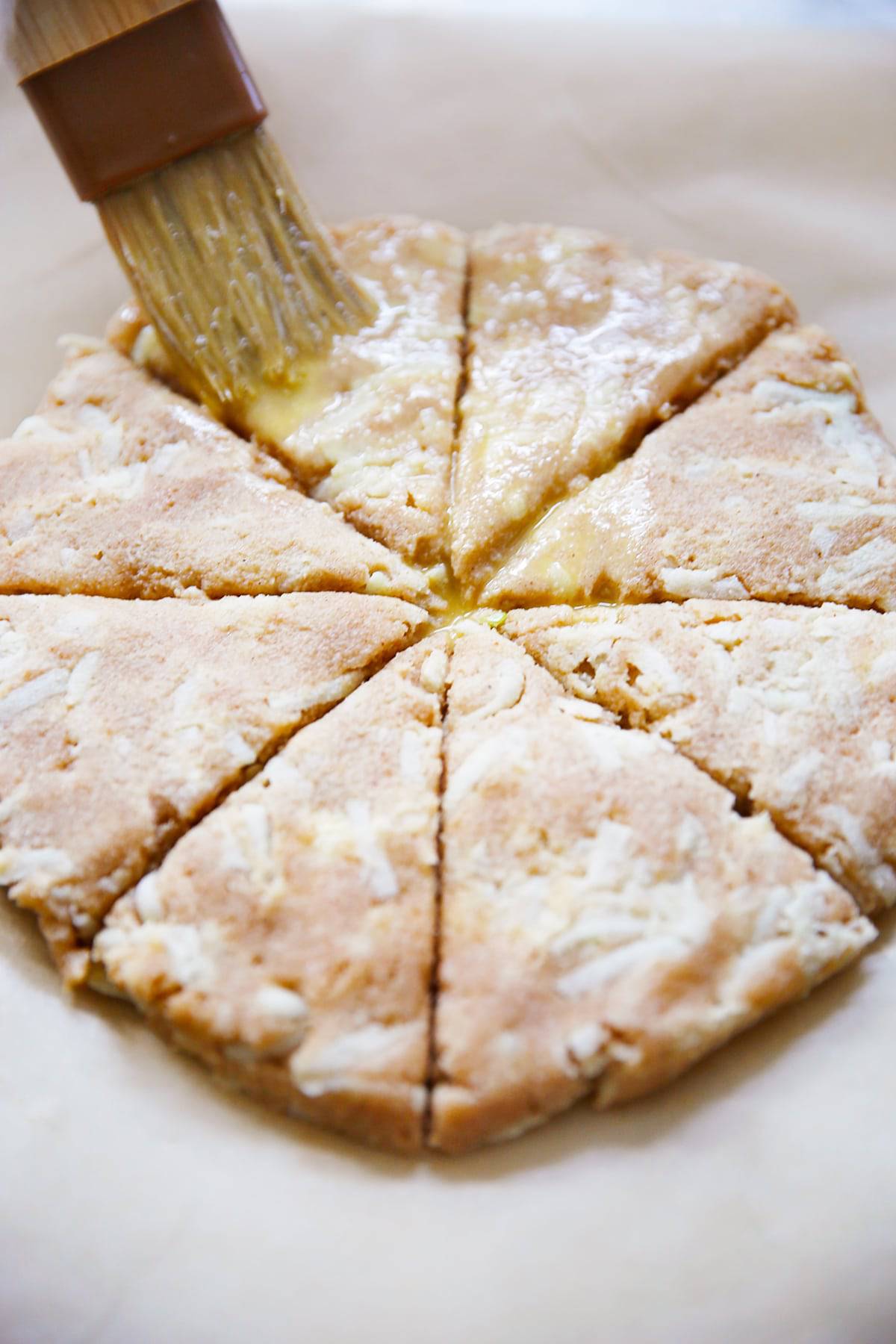 For this recipe, we used these tools: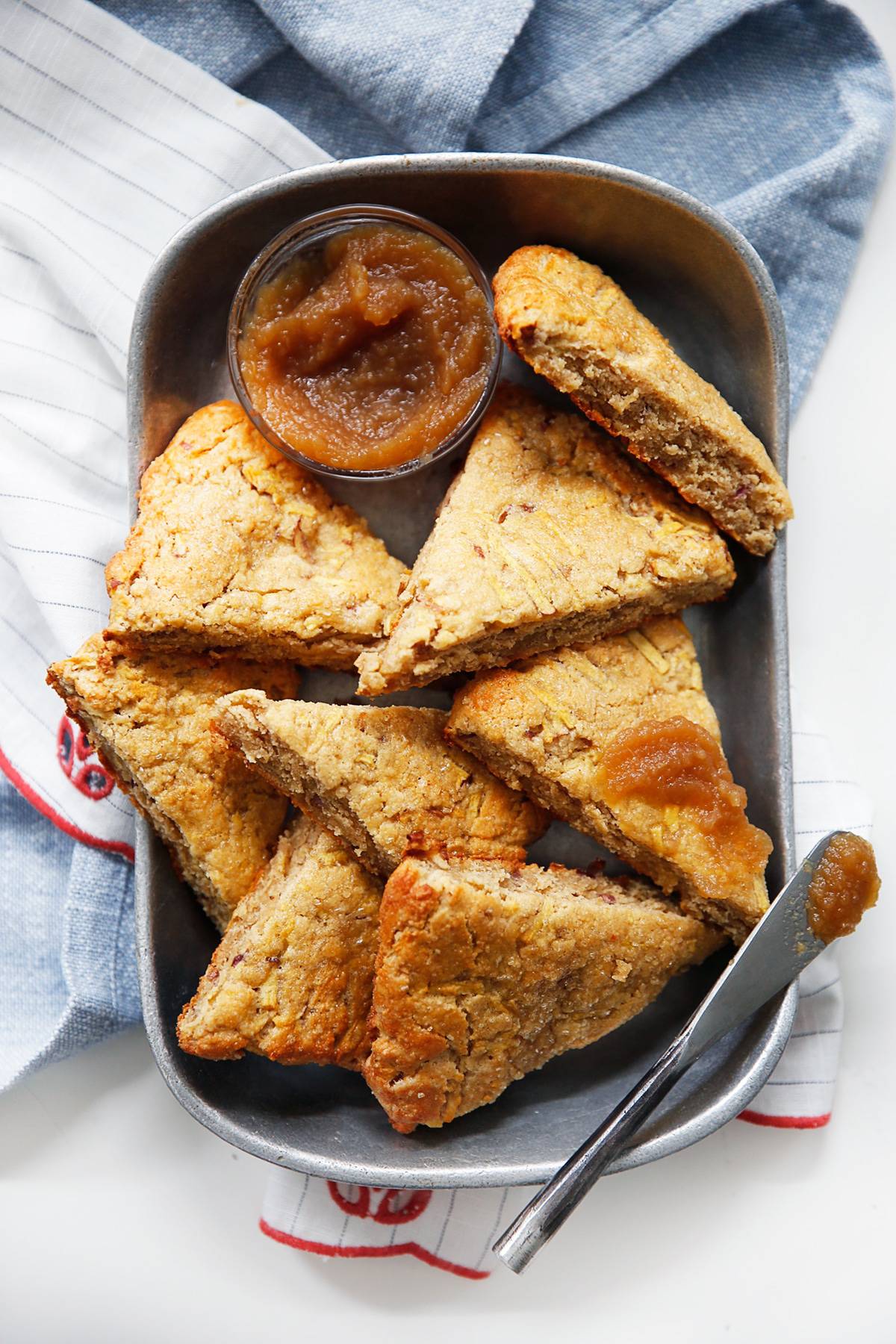 If you like this fall breakfast recipe, check out these others:
Watch the video:
Gluten-Free Apple Scones
This Lemon Poppy Seed Overnight Oats recipe is the best bright start to a morning that doesn't involve any cooking. It's creamy (without any dairy), full of citrus and poppy seeds and packs a lot of fiber into your breakfast. This is the perfect make-ahead and egg-free breakfast that is also vegan-friendly and gluten-free (when using GF oats)!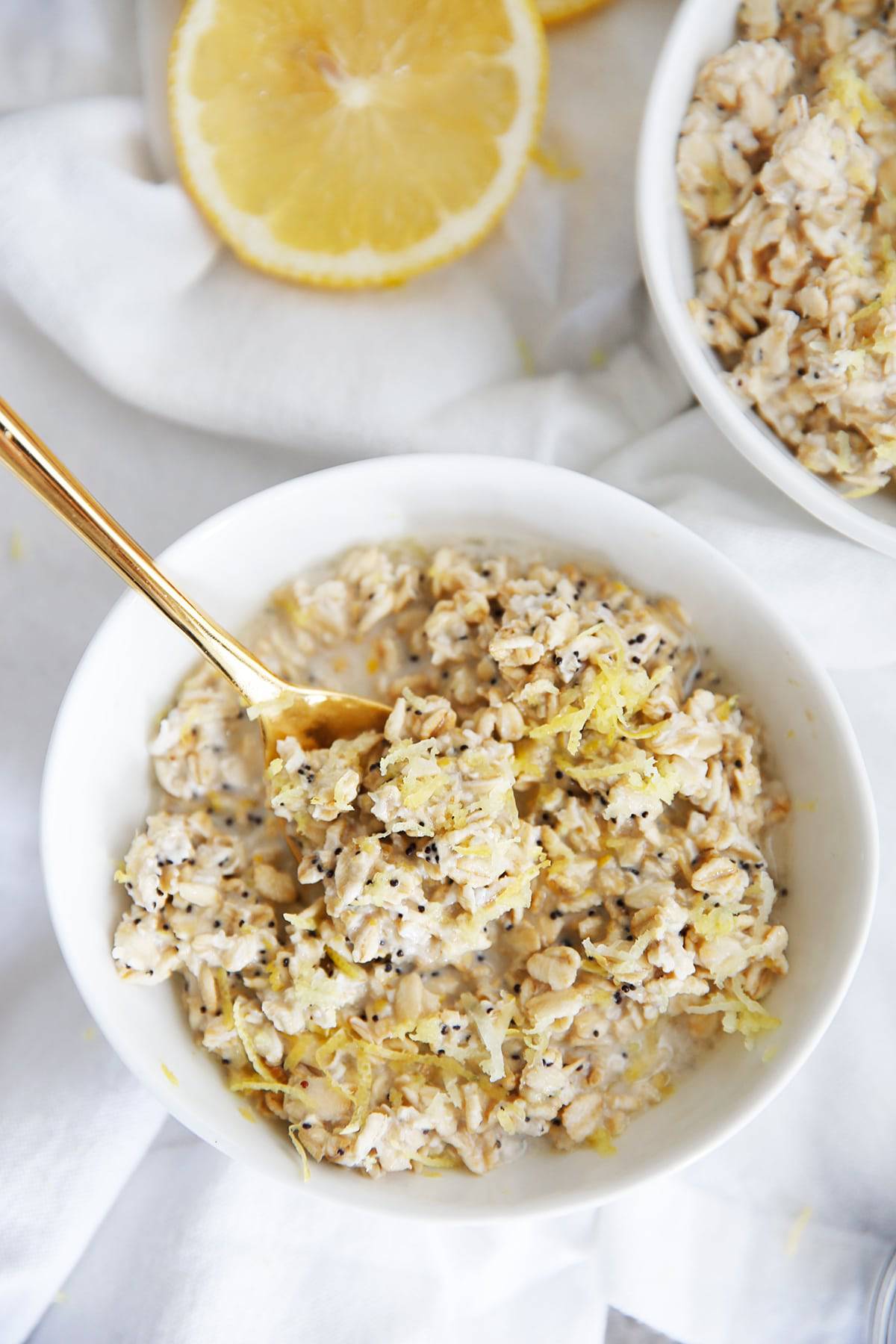 Lemon Poppy Seed Overnight Oats
We've heard you and we know you love oats! And we are positive these Lemon Poppy Seed Overnight Oats will not disappoint. They are such a bright and creamy start to the day. We love the citrus profile on these, and have been so happy with our almond milk to oats ratio that gives such a creamy and decadent taste.
How Do You Make Overnight Oats?
It's so super simple to make overnight oats! Simply measure out the oats, milk of choice and additional flavors and place in a mason jar. Give it a shake and close it up and place in the refrigerator. You can leave it to sit overnight, as the name suggests, but really it is ready to consume after about 3 hours.
Do you eat overnight oats hot or cold?
Overnight oats are a great and easy on-the-go breakfast! Grab it out of the fridge, cold or if you really want to heat it up place it in a small pan and warm it up with a little extra almond milk on low heat (or in the microwave if you use one).
What type of oats do you use for overnight oats?
We recommend using gluten-free rolled oats for this recipe. You can use quick oats, but they might have a slightly softer texture when compared to old-fashioned rolled oats.
How long can you keep overnight oats in the refrigerator?
I keep my overnight oats for up to 3 days in the refrigerator. If it has fresh fruit it will keep for 1 day.
If you like this oat recipe, check out these others:
Lemon Poppy Seed Overnight Oats (Gluten-Free)
This Sheet Pan Classic Breakfast is made up of Eggs, Bacon, & Home Fries and comes together in a pinch and made using only ONE PAN. It's a great one pan breakfast bake that is perfect for a weekend brunch or breakfast to feed a crowd with little to no mess!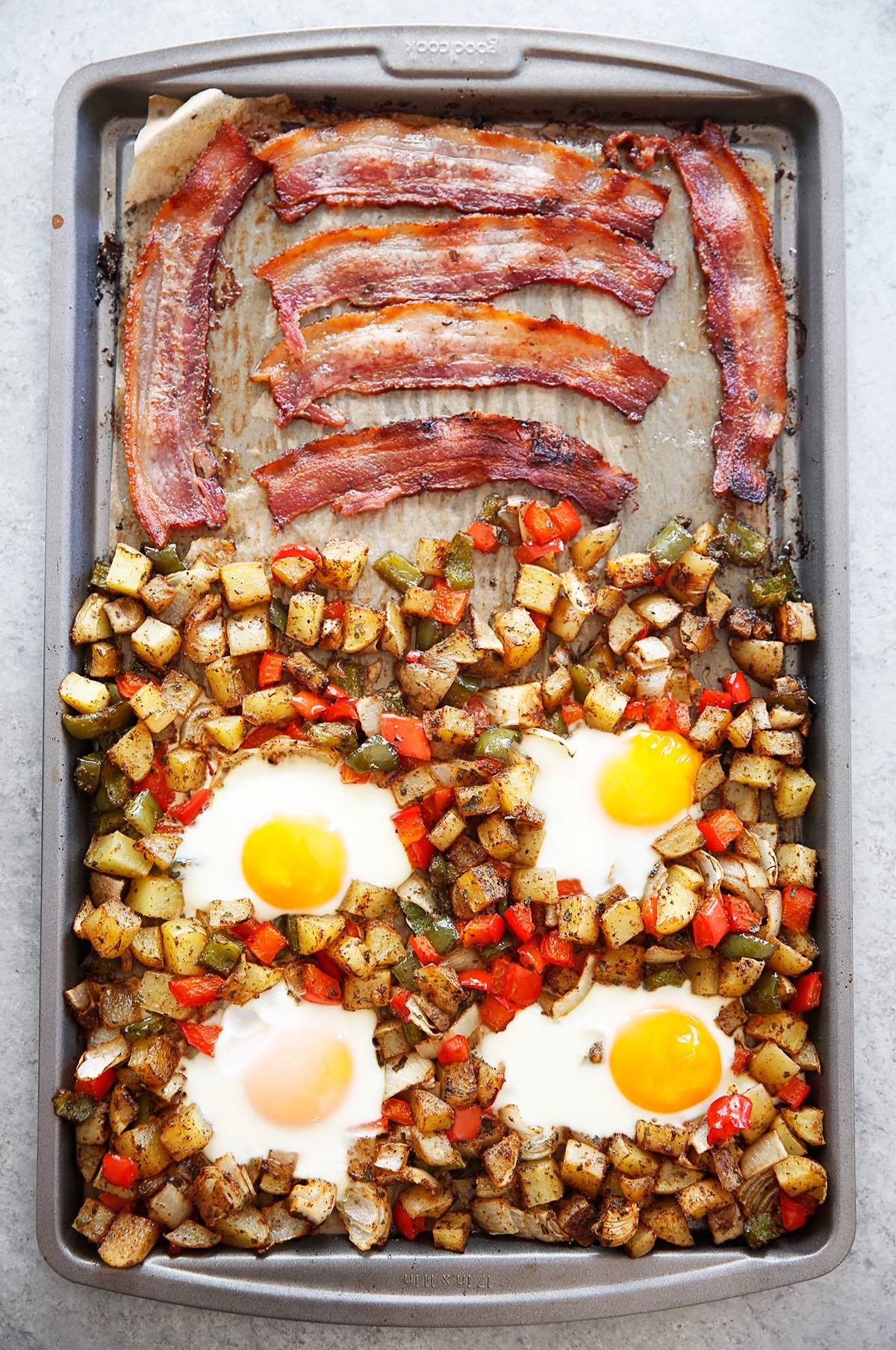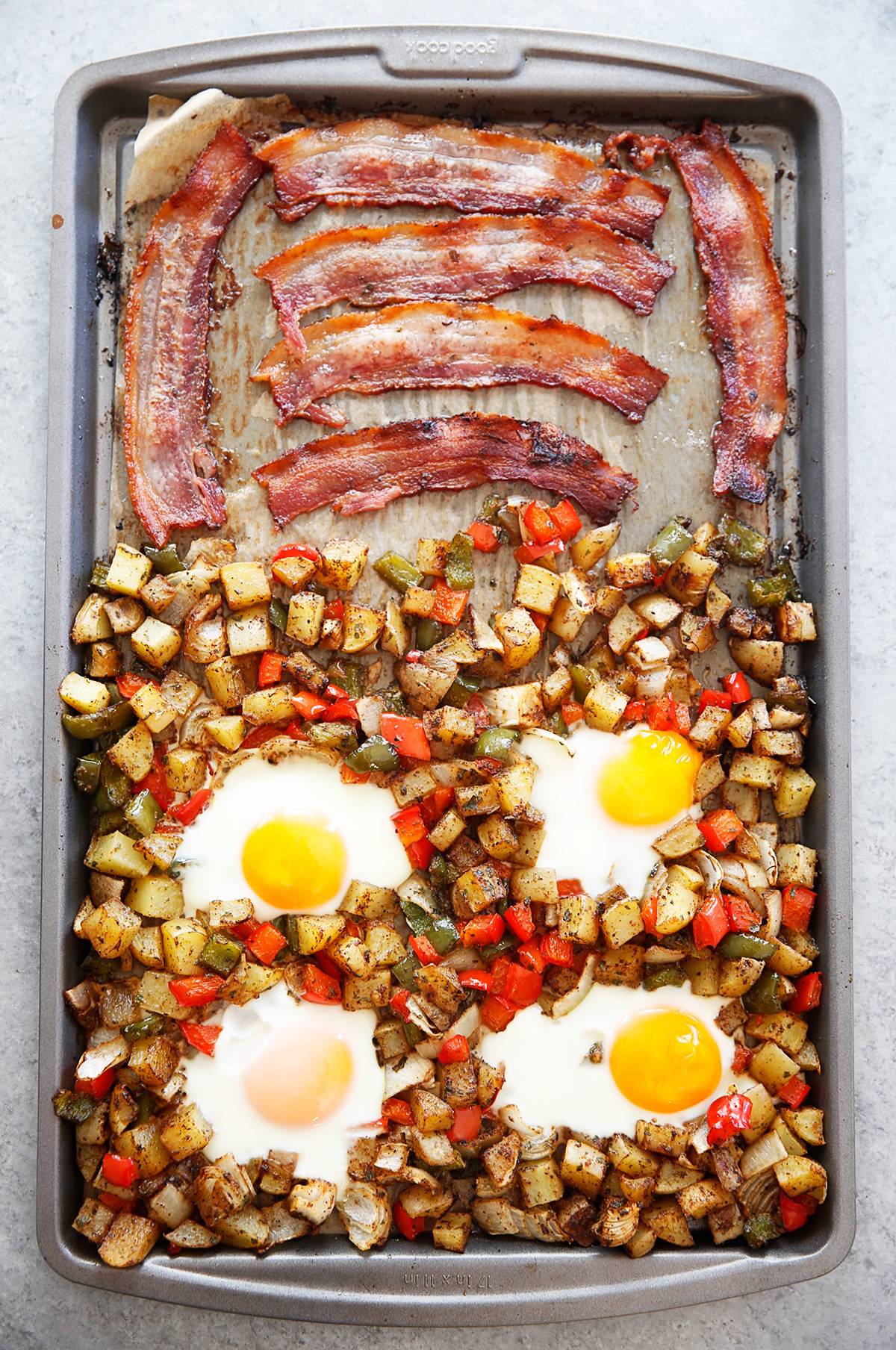 Sheet Pan Classic Breakfast Bake
We are so excited to kick off this sheet pan series! Each Wednesday for the next few weeks we will be sharing sheet pan meals that are simple to make and packed with flavor.
We love sheet pan recipes for so many reasons: they're easy to prepare and easy to clean. When creating this series our main goal was to always have a meal packed with flavor while also being hands-off to give you a little extra time in your life. Yes, there are a few steps to follow in these recipes, but aside from mixing a few ingredients together or chopping a few vegetables the cooking process is mostly hands-off! Check out the tips below to make sheet pan cooking a breeze.
Making a full on brunch spread on a sheet pan allows for a more relaxing morning before guests arrive, and if cooking for a crowd, it will certainly be way more efficient. You can easily double the recipe to use two sheet pans and create a full meal for 8 people without breaking a sweat. And you can even enjoy that mimosa while you're at it!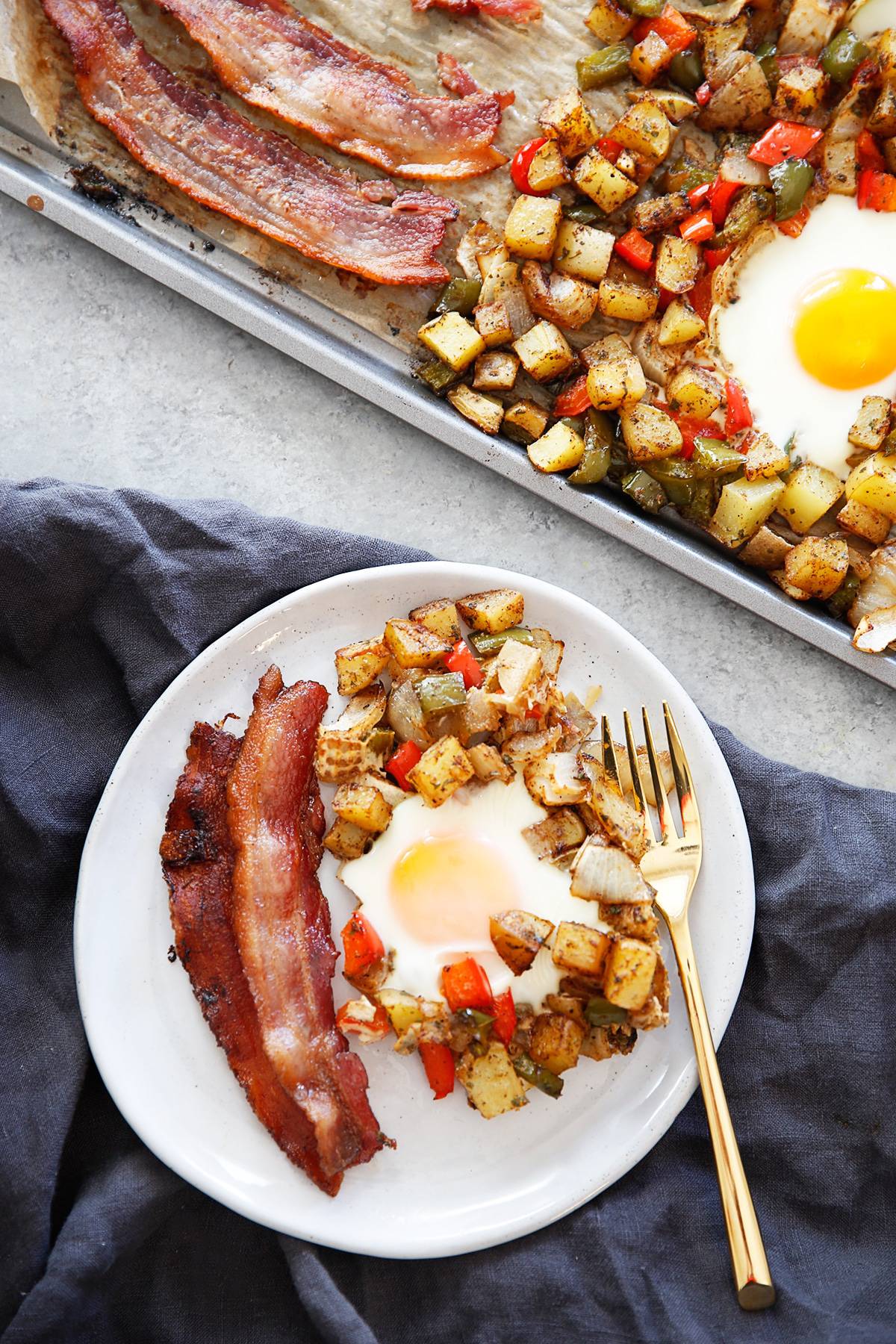 Tips for sheet pan cooking:
Read the recipe all the way through (of course) and plan to use a timer! Most recipes require different cooking times, so make sure to use a timer so you can truly walk away from the oven and not have to worry about when you are adding anything in to the oven.
Do the prep ahead of time: Cut vegetables, make sauce or mix spices the night ahead of time if you are looking to speed up the process.
Use parchment paper to make clean up a breeze.
Use the correct size sheet pan. When we say sheet pan we are referring to the rimmed half sheet pan which is 18″ by 13″. The size of the sheet pan matters because you do not want to overcrowd the pan when cooking, so if you are using a smaller sheet pan you may need to use 2 to achieve the same result.
If you like this recipe, try these other sheet pan meals: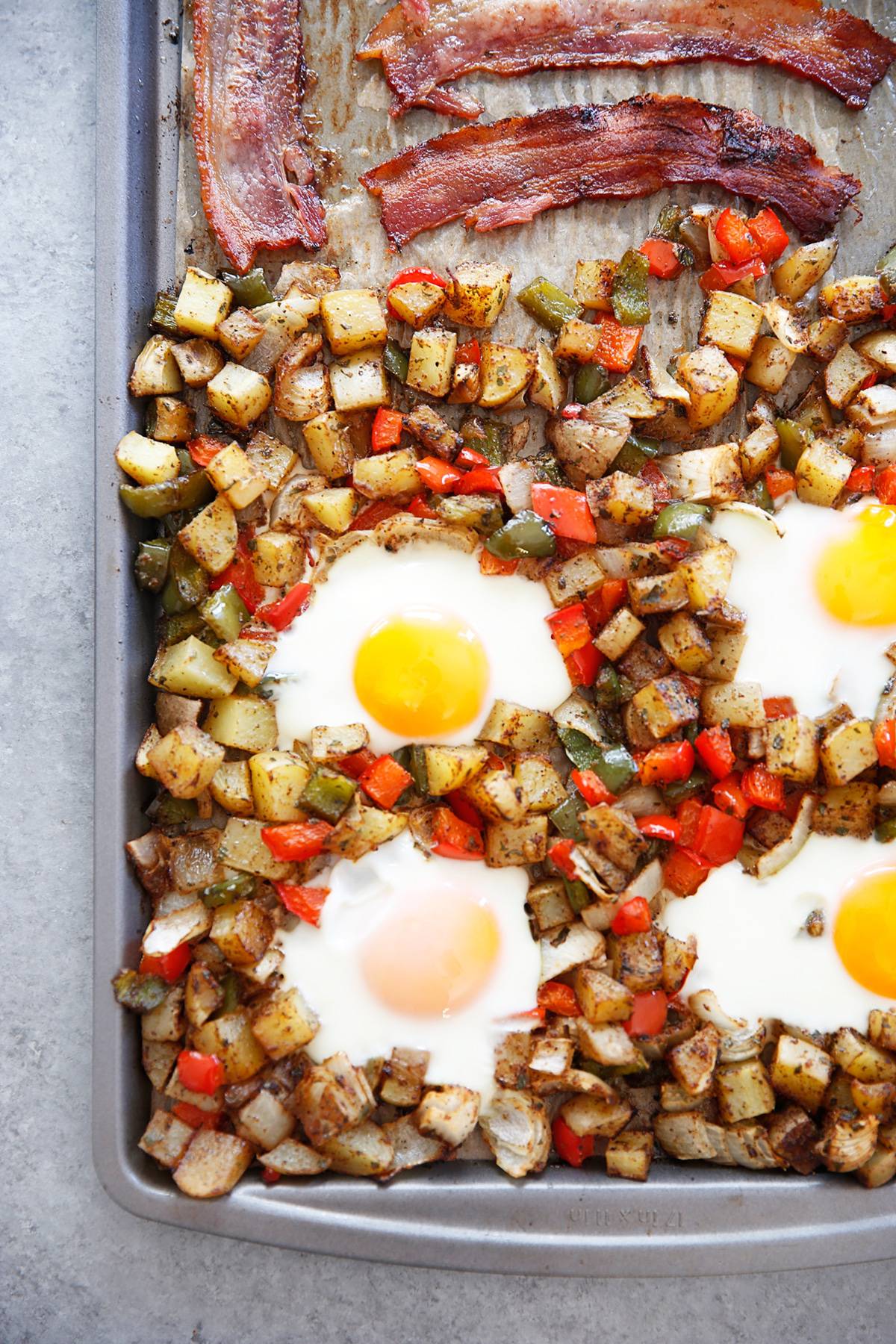 Wondering how to get FREE bacon? P.S. It's sugar-free/whole30 approved bacon! I always add a few extra in the add-ons to my box!
Each month, ButcherBox curates a one-of-a-kind selection of the healthiest, tastiest meats, humanely raised and free of antibiotics and hormones. Or you can customize your box and select your favorite cuts and get 20% more meat.The price works out to less than $6.00/meal and shipping is always free. You can also space it out so it's not every 4 weeks, too!
Enjoy the best 100% grass-fed and grass-finished filet mignons, plus get tasty uncured, sugar and nitrate free bacon & $10 off your first ButcherBox! ButcherBox delivers your meat for the month, saves you money, and is the best quality!
Get FREE bacon
FREE Shipping
$15 OFF!
Order Your First Box Today and get this deal!!

Sheet Pan Classic Breakfast Bake (Eggs, Bacon, & Home Fries!)
These baked oatmeal cups are delicious, filling, and packed with good-for-you ingredients to get you through a busy morning! They are the perfect on-the-go/make ahead breakfast or snack! Plus, they are totally customizable! Start with the base recipe and add in your favorite add-ins!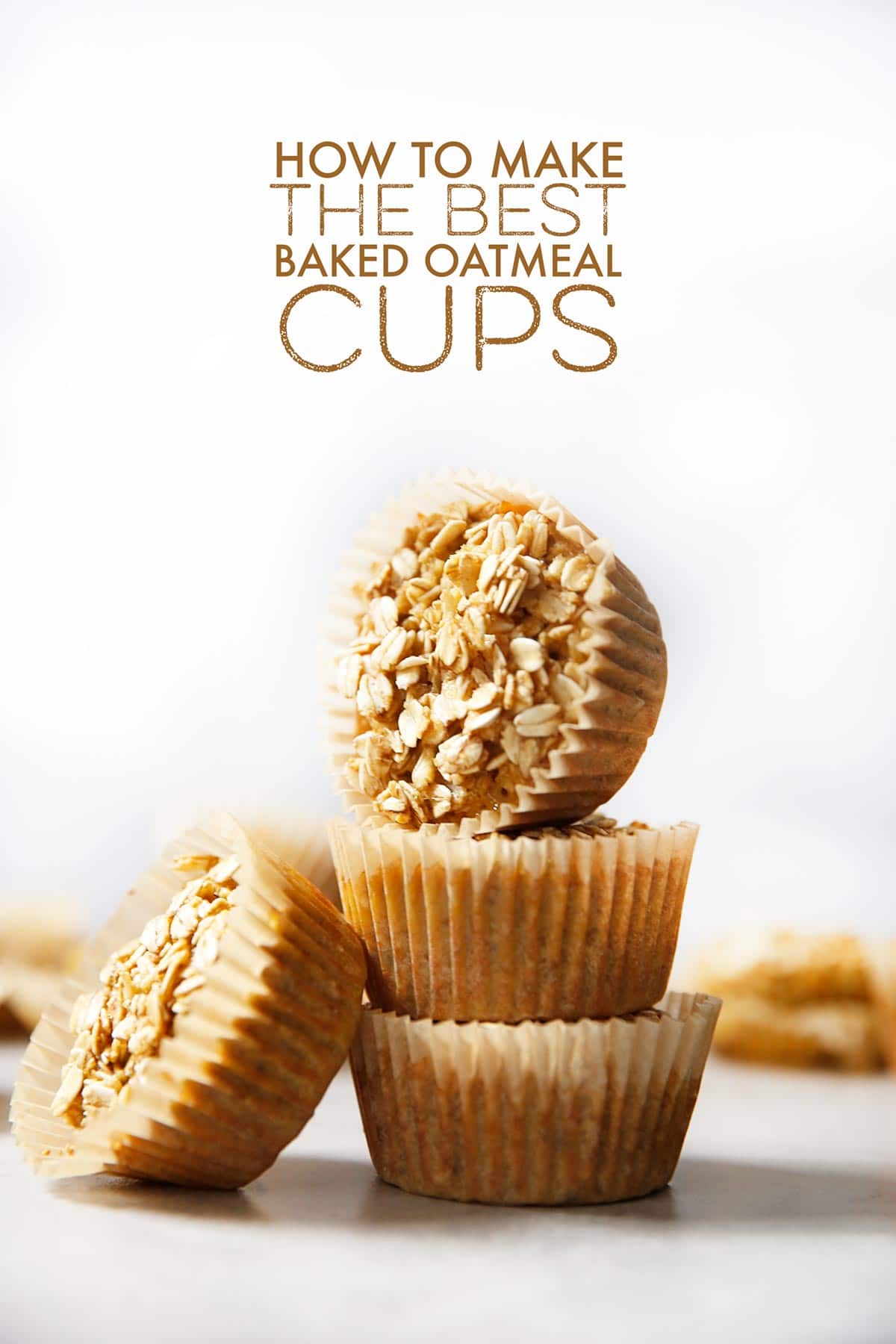 How To Make The BEST Baked Oatmeal Cups
Oatmeal cups are a perfect make ahead snack, breakfast, or treat to meal prep on a Sunday and have throughout the week ahead. They are super customizable and SO delicious.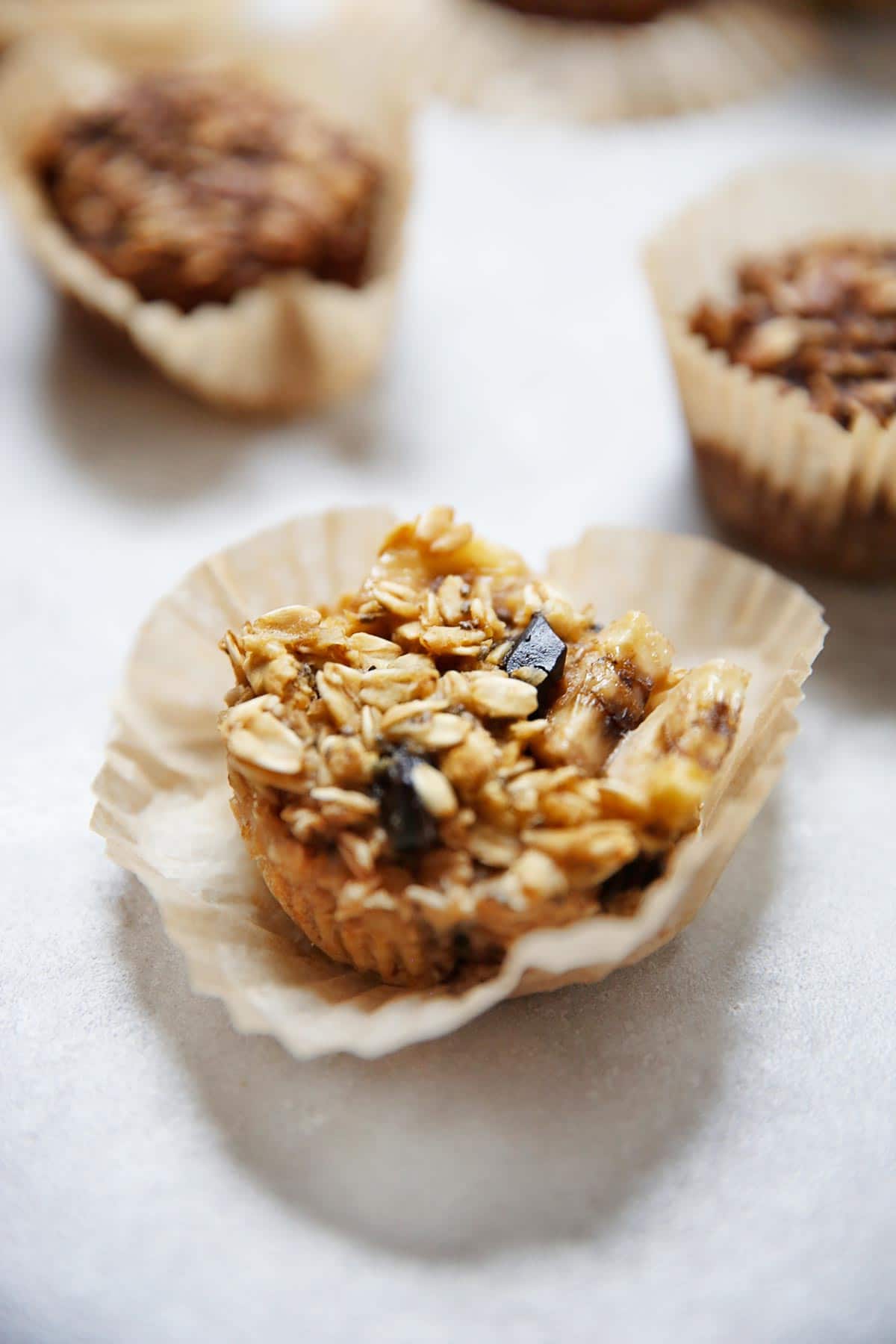 Oatmeal Cup FAQ's
How do you reheat them?
You can throw them bake in the oven and bake for a few minutes, or reheat in the microwave.
How long can you keep oatmeal cups in the refrigerator?
I like to keep them for 4-5 days.
Can you make oatmeal cups without chia seeds?
Absolutely! We love them for extra fiber and antioxidants, but they are totally optional.
What kind of oats are used for oatmeal cups?
Use rolled oats, not quick cooking oats. If gluten-free, make sure you buy gluten-free rolled oats.
Can you make oatmeal cups without apple sauce?
You won't taste it, it's for the texture, but you can probably use pumpkin puree instead if you prefer!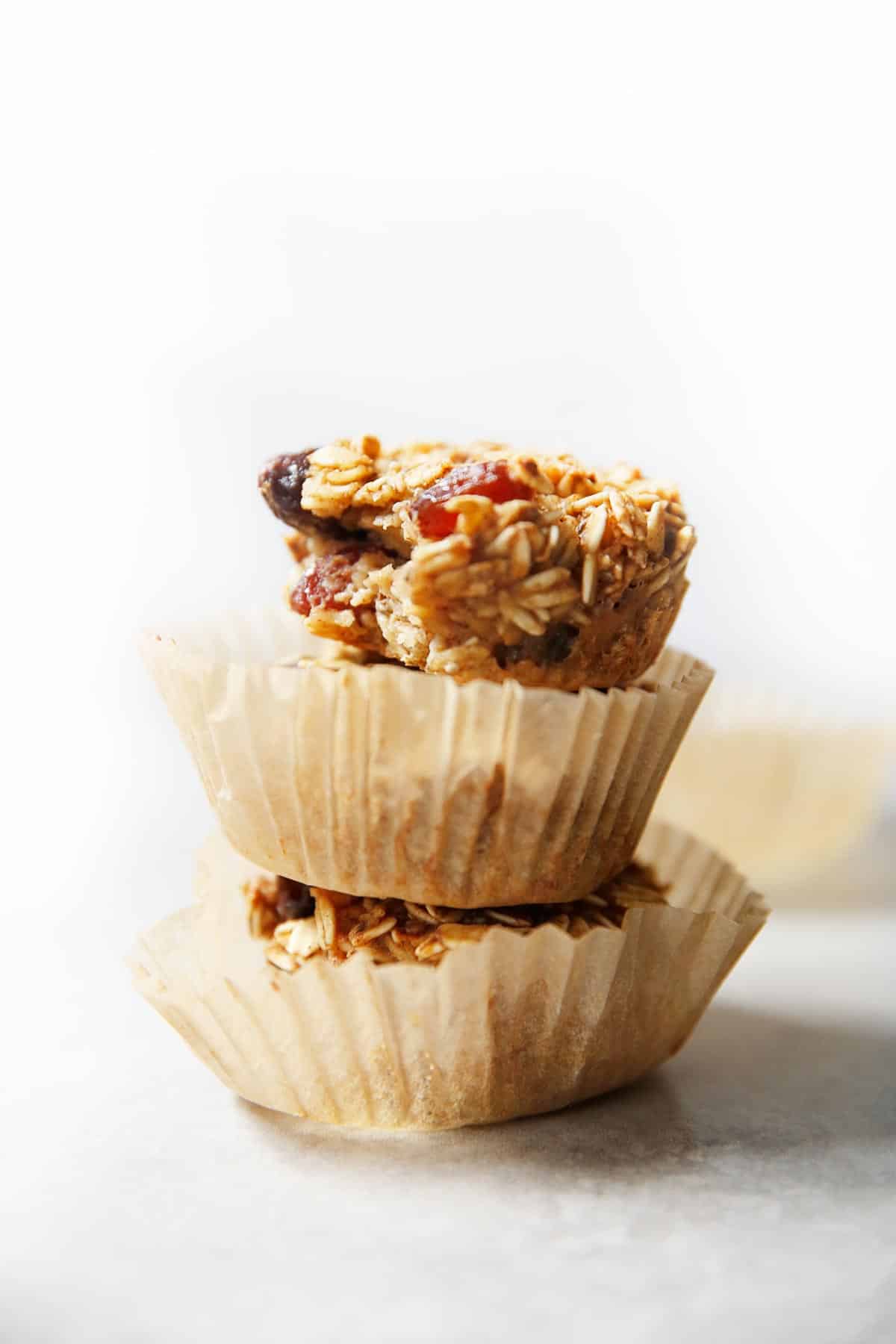 If you like this on-the-go breakfast recipe, try these other favorite healthy breakfast recipes: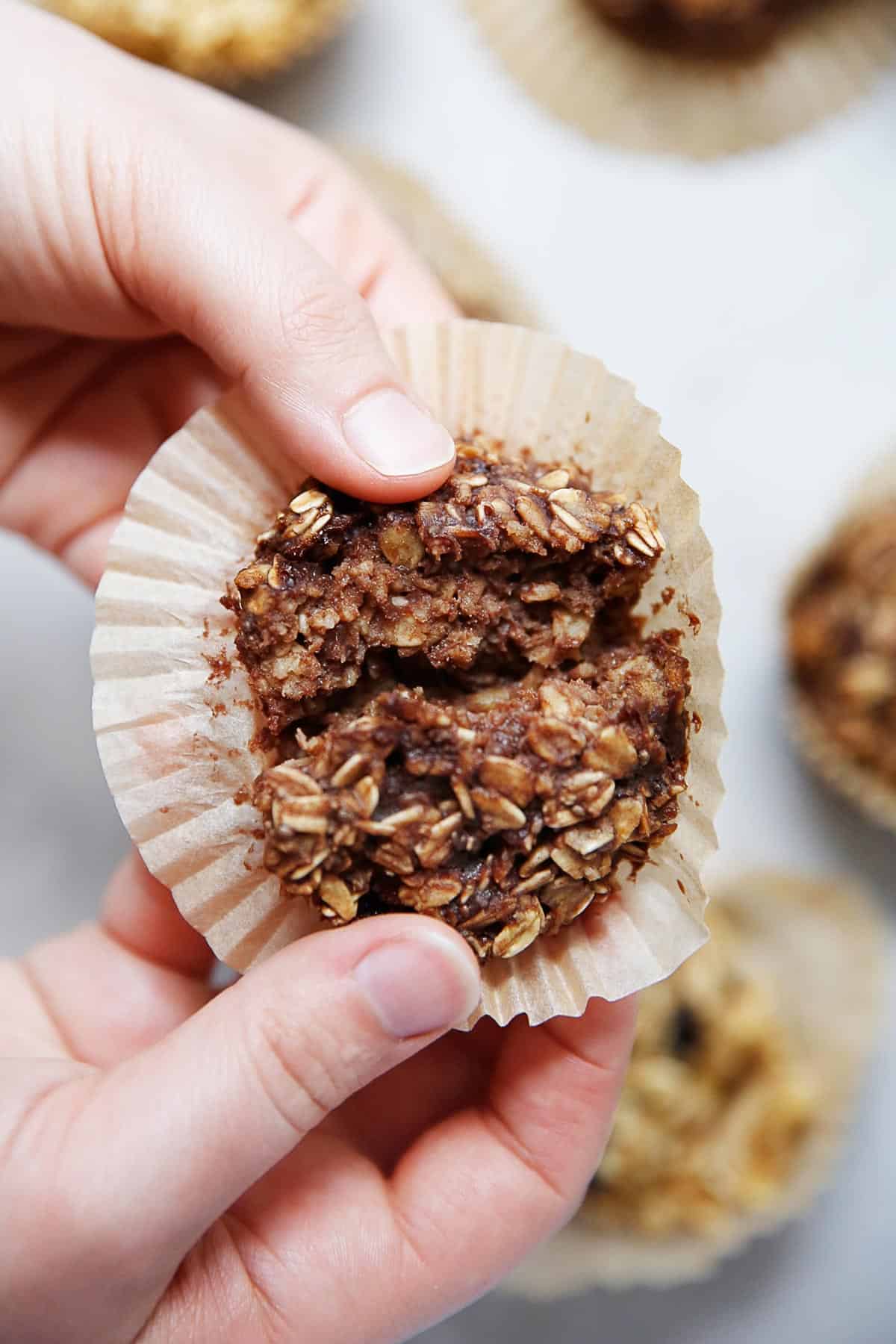 Watch the how-to video: 
How To Make The BEST Baked Oatmeal Cups (Gluten-Free)
This easy gluten free granola recipe is the perfect morning or mid-day treat loaded with fiber, antioxidants, and protein! It is a great refined sugar-free granola recipe that is a staple in our kitchen. You won't spend money on store-bought granola again! Plus, you'll get my secret for crunchy granola clusters!

Gluten-Free Granola
Sick of store bought granola? I was definitely sick of reading labels and seeing so many forms of sugar and additives! I came up with this recipe and everyone who has made it raves about it! Crunchy and delicious; perfect on top of a smoothie bowl, a yogurt fruit bowl, or just as a snack! Plus it makes your kitchen smell AMAZING!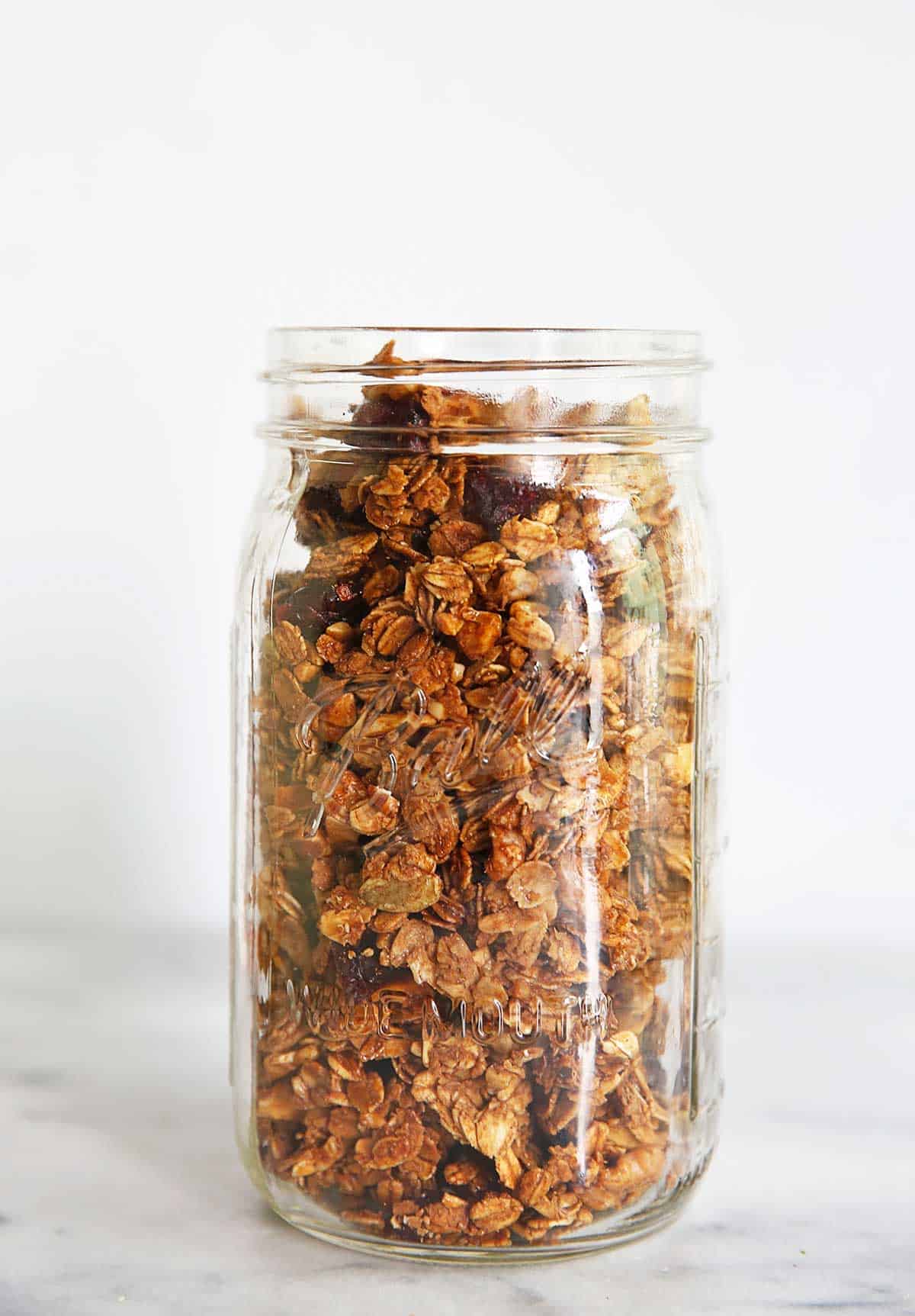 Everybody simply loves this gluten free granola recipe with honey recipe. It's a family favorite, and great to gift, too!
Are Oats Gluten-Free?
Oats are naturally gluten-free, but stray wheat, rye, or barley can be introduced during the harvesting and transportation. Therefore I always buy gluten-free rolled oats.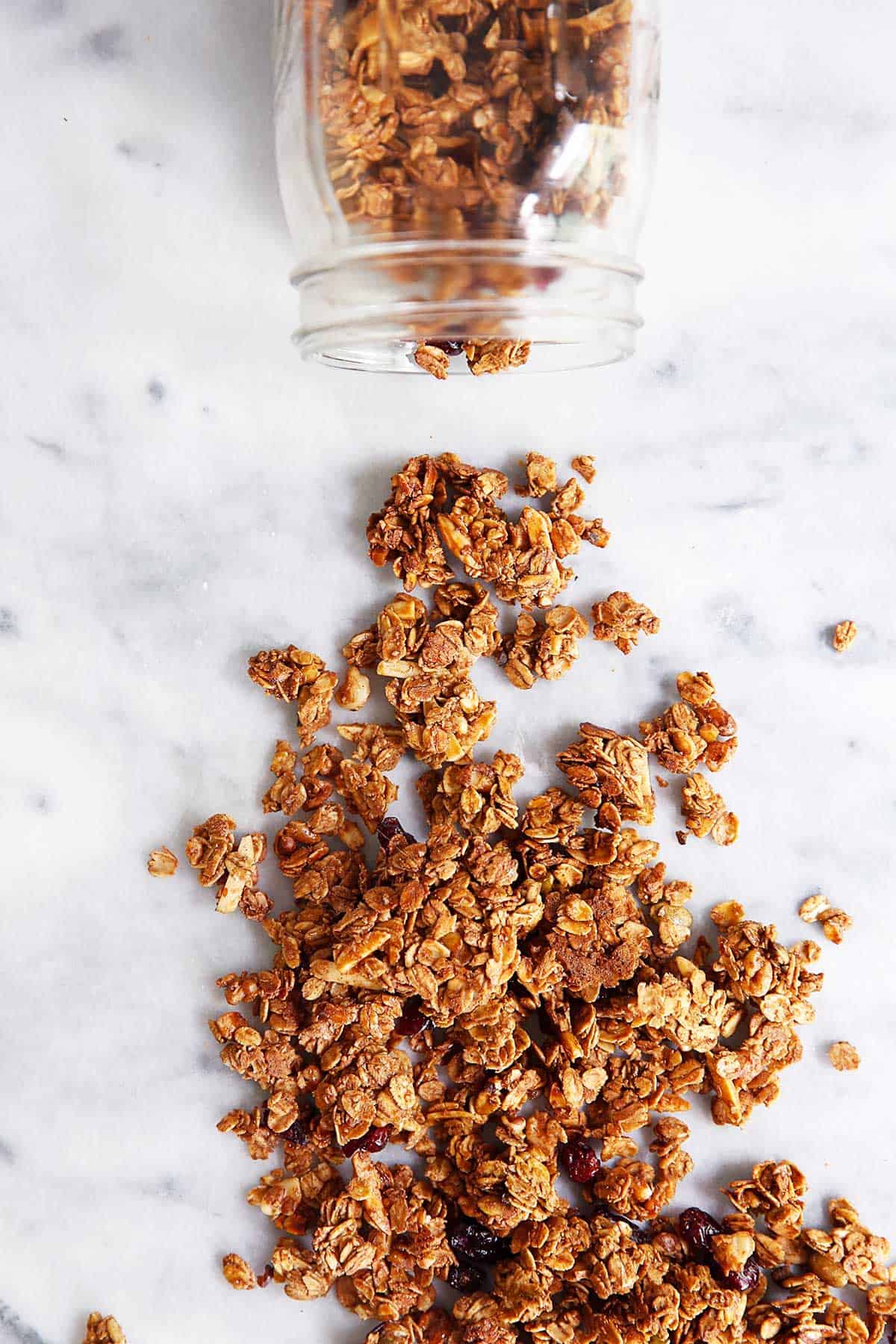 Those chunky granola clusters are the BEST.
Eat homemade granola with:
Nut milk and berries
Yogurt
Smoothie bowls
As a snack
On top of Ice Cream
With banana or an apple and nut butter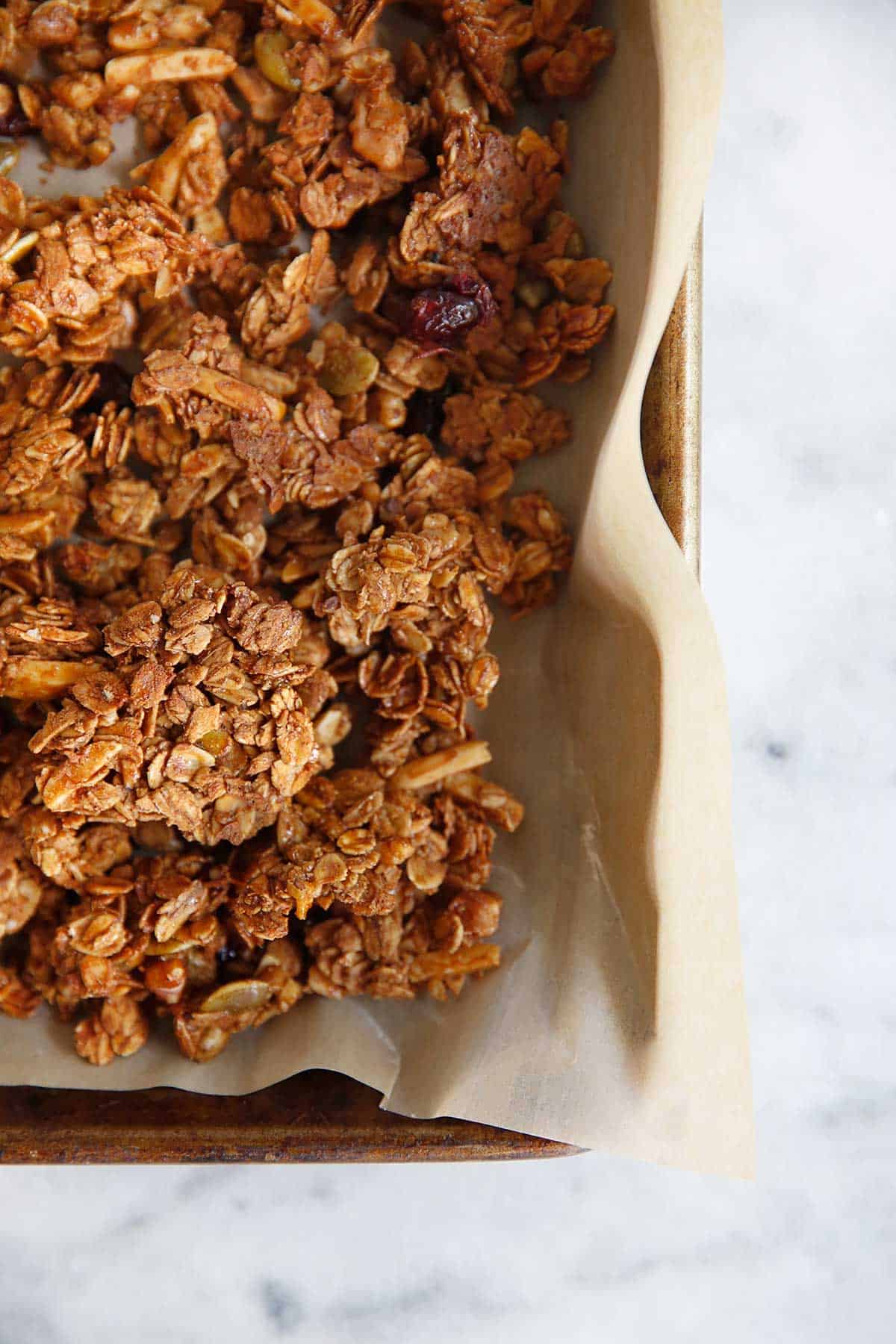 Like this easy granola recipe and want other breakfast recipes? Try these:
How do you make homemade granola
Watch the video: 
Gluten Free Granola
The BEST Gluten-Free Granola (Video)
These tried and true Paleo Pancakes are the real deal! Made simply with just a few paleo ingredients, these light and fluffy pancakes are perfect for any day of the week!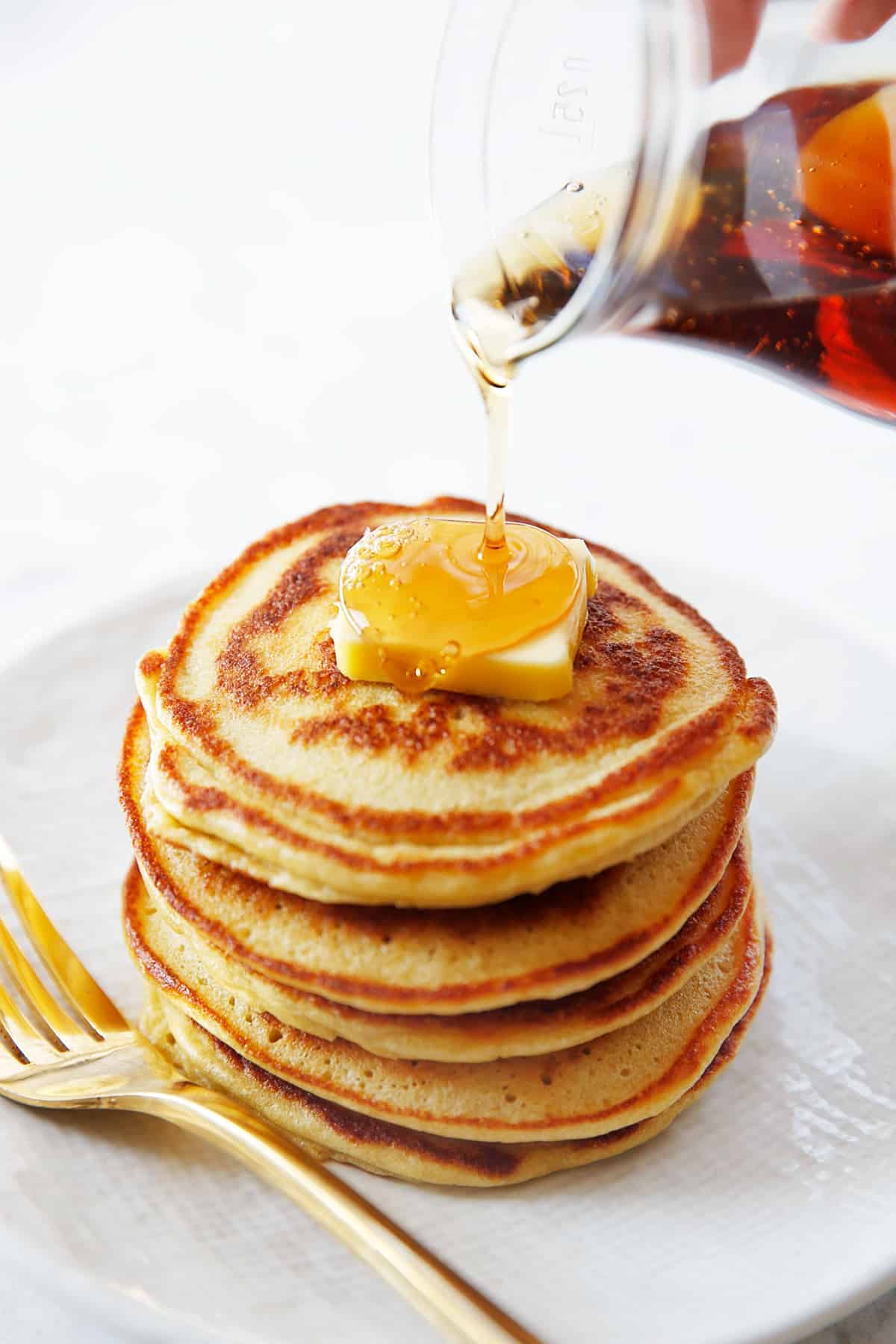 Almond and Tapioca Flour Pancakes
Hands-down, this is one of the most popular and beloved recipes on this site! It's been made by thousands of people and is a huge hit, both with paleo and non-paleo eaters! These pancakes are fluffy, golden, and can easily hold any of your favorite add-ins. I'm not kidding when I say these Paleo Pancakes are the real deal.  They are paleo pancakes made with almond flour, are kid-friendly, freezer-friendly, and nobody will know their paleo! Guaranteed! These paleo pancakes are made gluten-free, grain-free, refined sugar free, and without banana. I make batches of the mix for my mom every time she comes to visit, and she's not grain-free!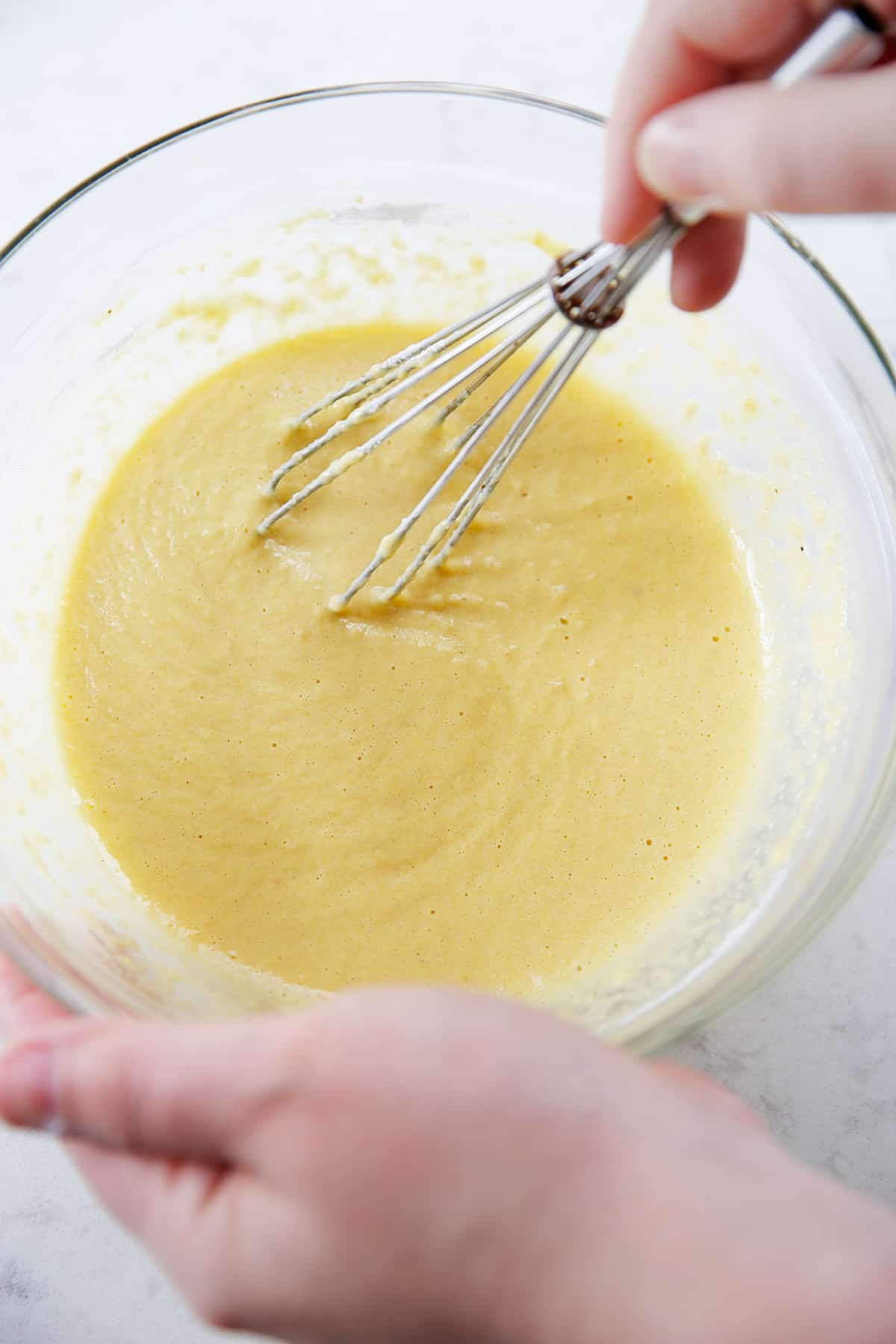 Paleo Pancake Ingredients
Almond Flour
Tapioca Flour
Eggs
Unsweetened Applesauce
Baking Powder
Vanilla Extract
Optional Add-In's: Chocolate Chips, Blueberries, Bananas
Common Substitute Questions
Can you use almond meal instead of almond flour?
Yes. Almond flour is made from blanched almonds which have had the skins removed, and is ground more finely than almond meal, which typically still contains the skins and has a more coarse grind. Both will work, though I prefer almond flour!
Can you swap the almond flour with anything?
We know many people are allergic to almonds. Unfortunately, the almond flour isn't easily substituted with something else. If you tolerate oats, we've had success swapping oat flour with almond flour in some recipes.
What can you use instead of applesauce?
Pumpkin puree will work as a substitute for the applesauce, but it will make the pancakes taste slightly of pumpkin.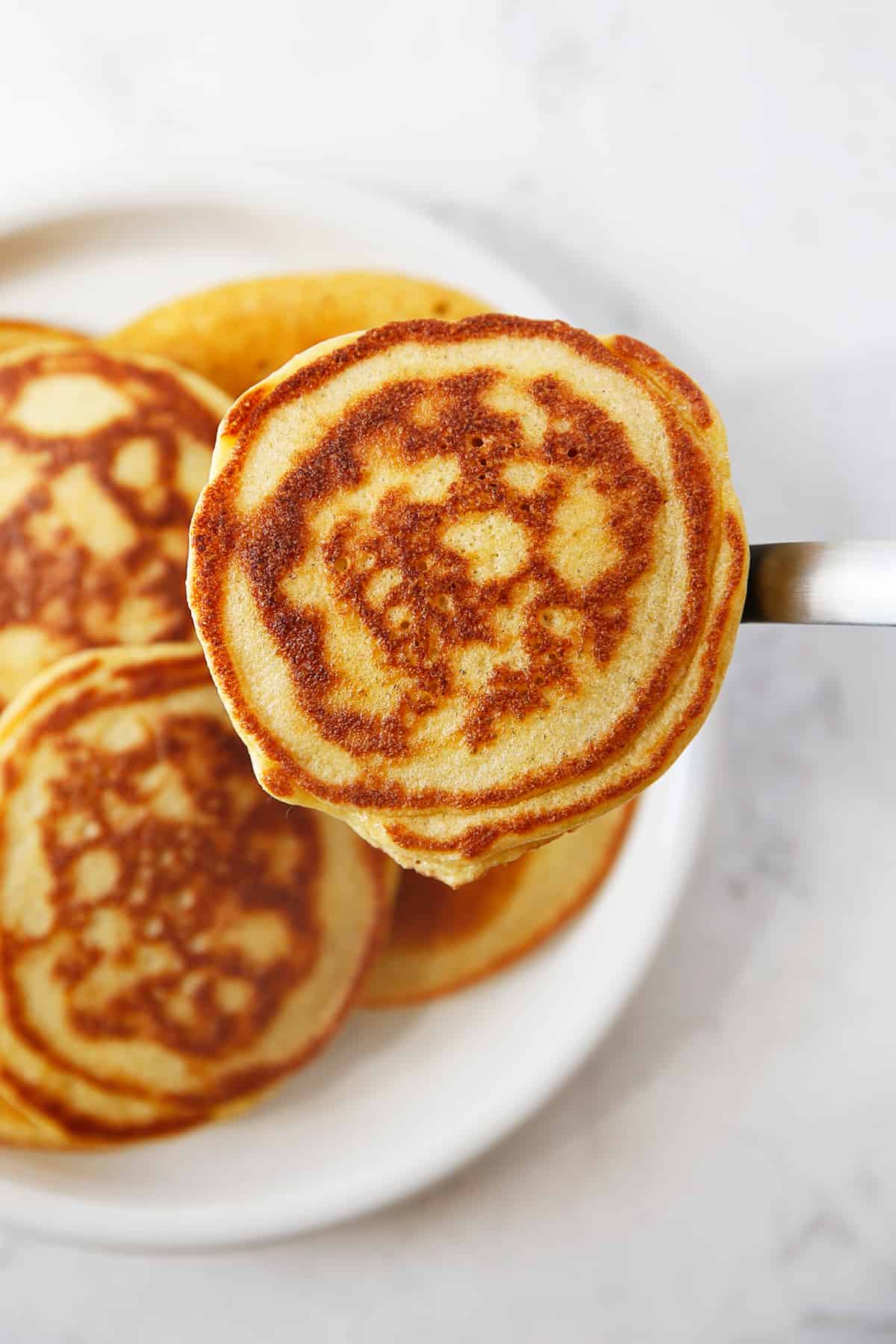 How to Make Them
It couldn't be easier to make these pancakes: add all ingredients to a bowl and whisk together! Then cook in your favorite skillet, making sure place your favorite add-in's to the batter while cooking. Serve pancakes hot with maple syrup, if desired!
Make Ahead Instructions
The pancakes batter should be cooked immediately. However you can make them and keep them warm on a wire rack on the keep warm setting in your oven. They also freeze wonderfully! Let them cool completely at room temperature, then freeze on a parchment lined baking sheet. Once frozen, you can place in a bag or storage container for longer storage, about 1-2 months. You can heat up in a toaster or microwave until warmed through.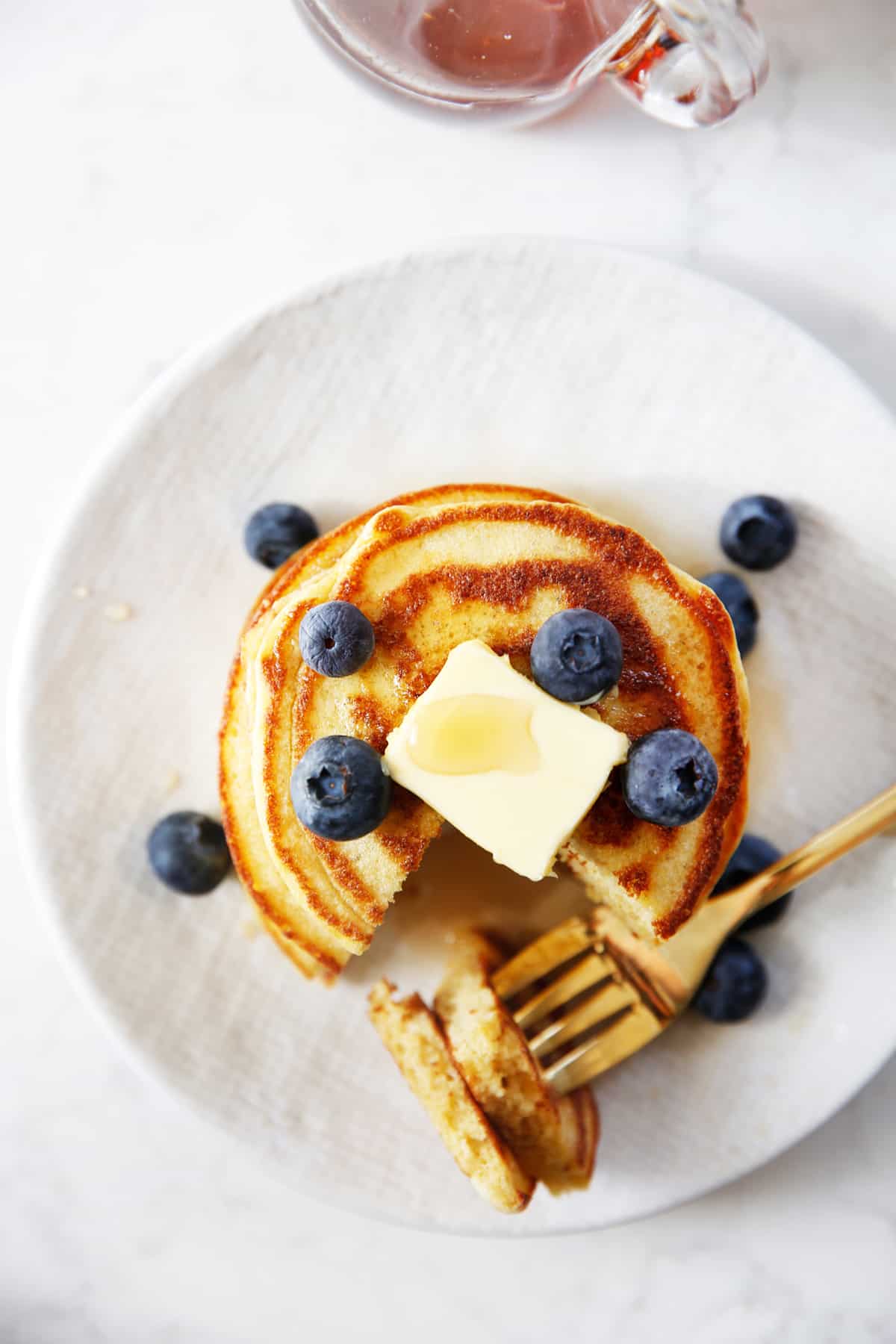 Is maple syrup allowed on paleo diet?
I drizzle these pancakes with good quality maple syrup and top with grass-fed butter! Real maple syrup is a paleo-friendly alternative to white sugar. Always look for good quality, 100% pure maple syrup! Technically butter is not allowed on a paleo diet because it contains dairy. If you are strict paleo, skip the butter.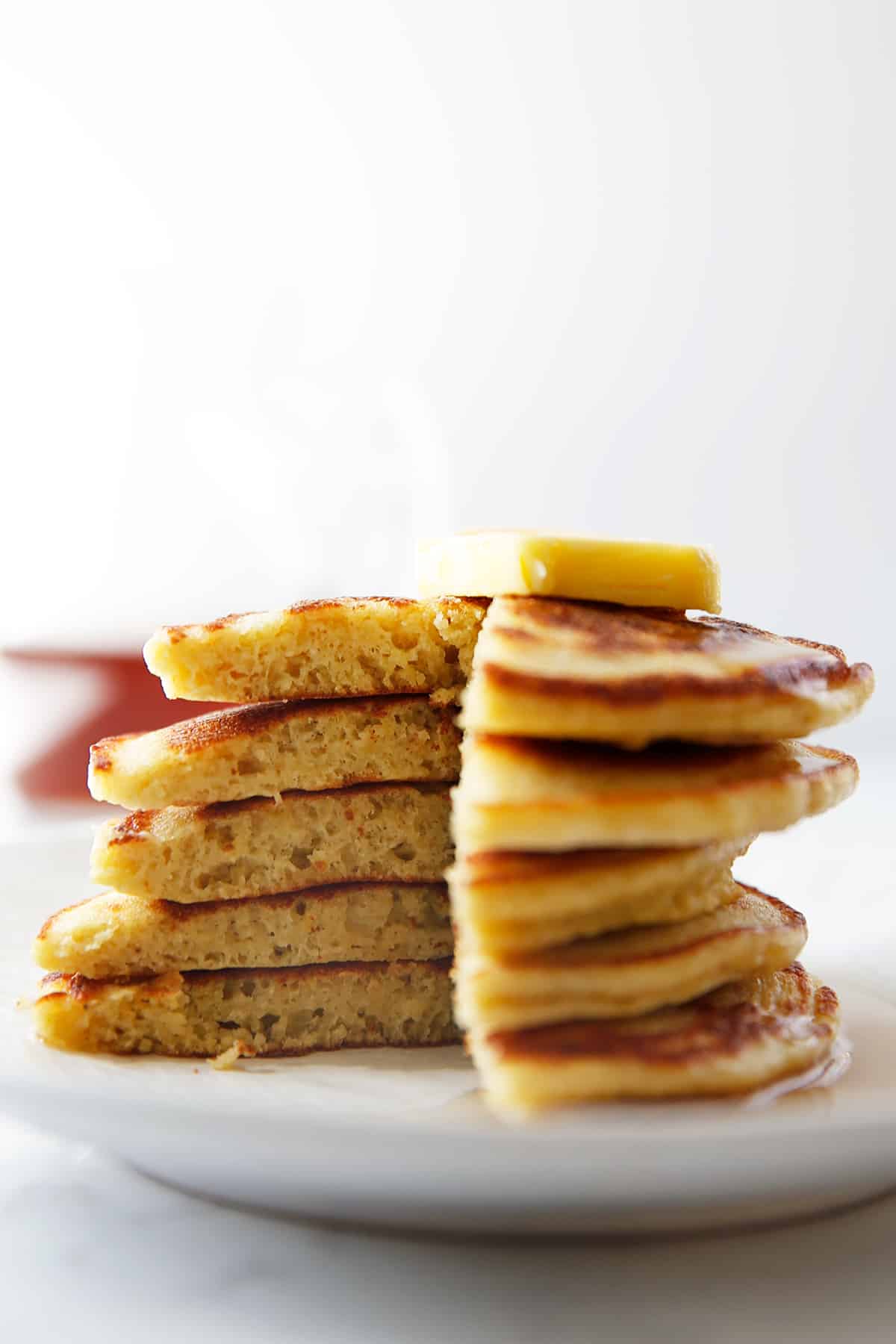 ---
Watch the video here:
If you like this breakfast recipe, check out these others:
The Best Paleo Pancakes
These Freezer Breakfast Burritos are the perfect grab and go breakfast filled with all of your favorite breakfast fixings! They are great when cooking for others or for when you needed a meal prep breakfast ready to go! They're customizable based off of what you love and easy to make.
Freezer Breakfast Burritos Recipe
Monday mornings come fast after a long weekend, but that doesn't mean you shouldn't have a healthy, filling breakfast. Cue the make ahead Freezer Breakfast Burritos! These burritos can be customized to your liking, frozen ahead of time and heated up for a handheld on-the-go breakfast! The prep doesn't really take that long, and when you pull one of these from the freezer you'll be thanking yourself you did it. I stuffed my burrito with home fries, ground Spicy Italian Sausage, bacon, fluffy scrambled eggs and beans for the ultimate protein packed quick and easy breakfast! But feel free to get creative and add your favorite burrito add-ins!
Meal Prep Breakfast Burrito Filling Ideas
The truth is you can put just about anything you like in your meal prep breakfast burritos. The trick is to make sure the filling is too wet, or else it will make the burrito soggy. Here are some of the filling ideas we used for our breakfast burritos, but feel free to get creative.
Homemade Homefries
Bacon
Sausage
Scrambled Eggs
Cheese
Scallions
Black Beans
Avocado
How to Store Freezer Breakfast Burritos
The first tip I have to offer is to make sure that when you assemble your burritos that the filling isn't very hot. Let it cool slightly before packing it. The quicker you can get this to freeze, the better.
Once you've assembled and wrapped your burritos in either plastic wrap or aluminum foil, lay them on a sheet pan to flash freeze in your freezer. Once they're fully frozen, place them in a tightly sealed bag for long term storage. You can store these up to 3 months in the freezer.
How to Heat them Up
To reheat, unwrap them and place on a plate with the seam side down. Reheat in a microwave for 2-4 minutes until heated through, or place in a toaster oven and bake for 15 minutes, or until heated through.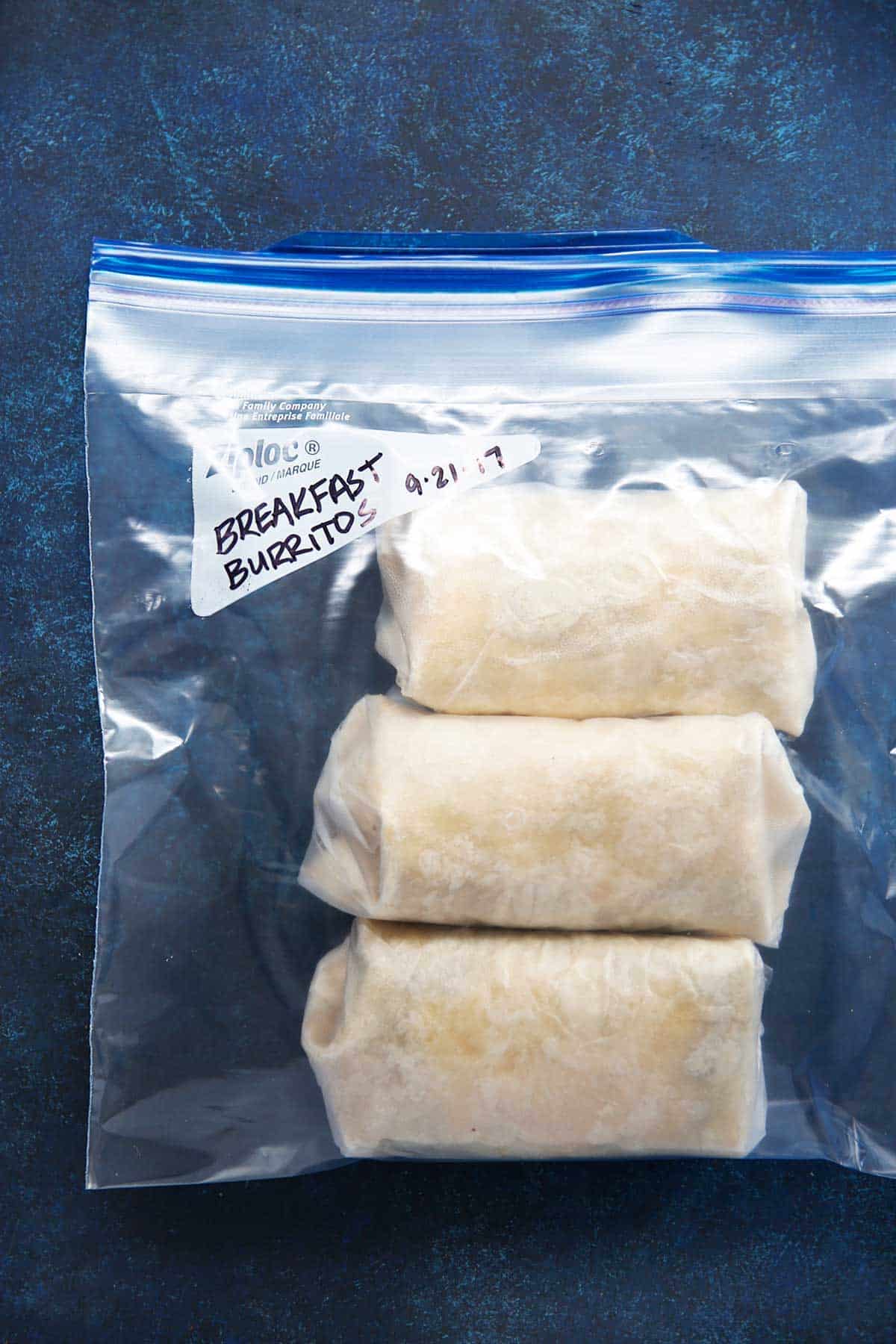 If you like this meal prep recipe, check out these others:
If you like this breakfast recipe, check out these others:
Freezer-Friendly Breakfast Burritos
I recently shared a few ideas about cooking for others (aka home-cooked meals and meal train ideas) and so many of you were looking for more ideas, had ideas to share, and were interested in seeing a guide about it and how I usually go about it!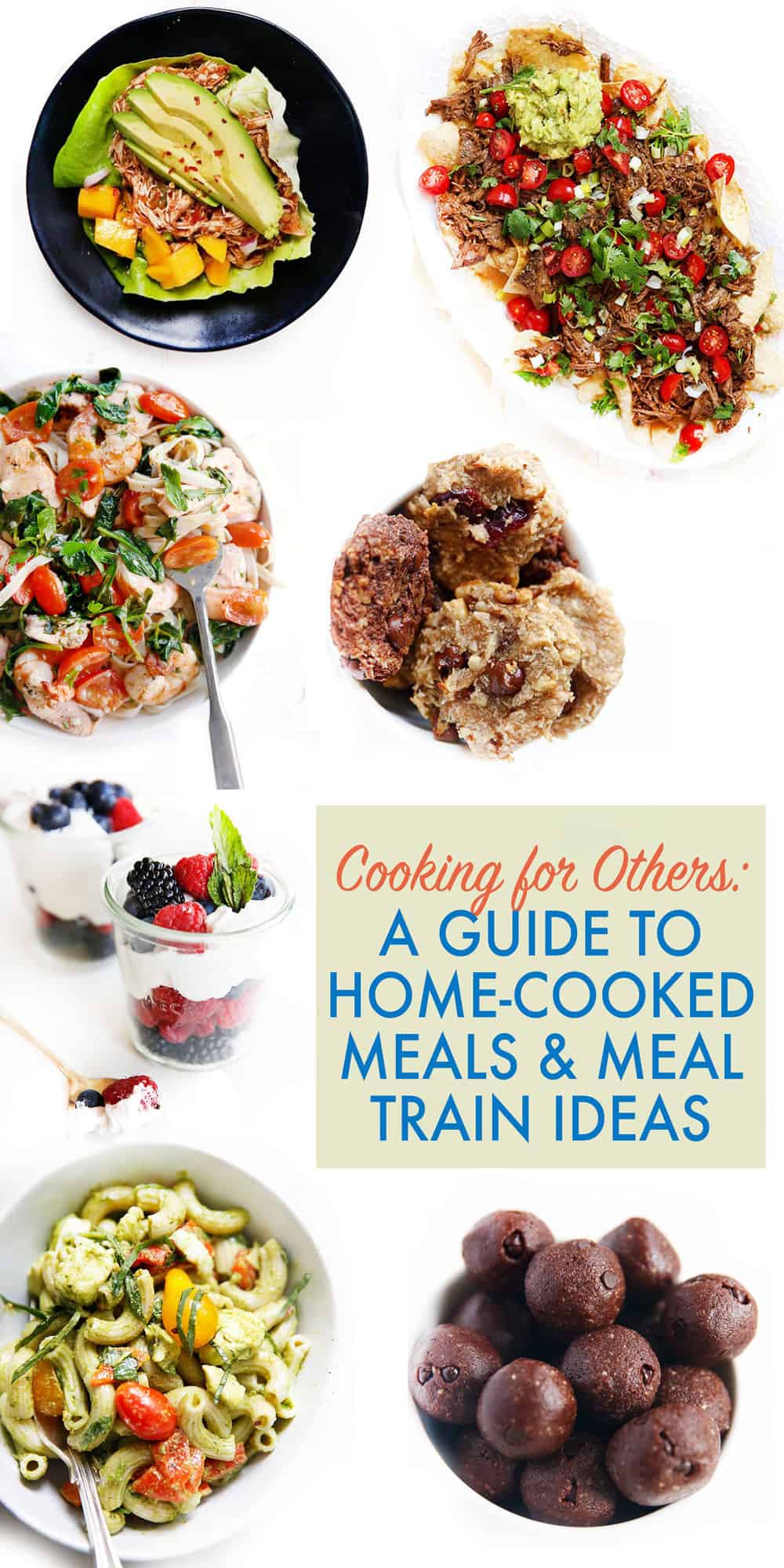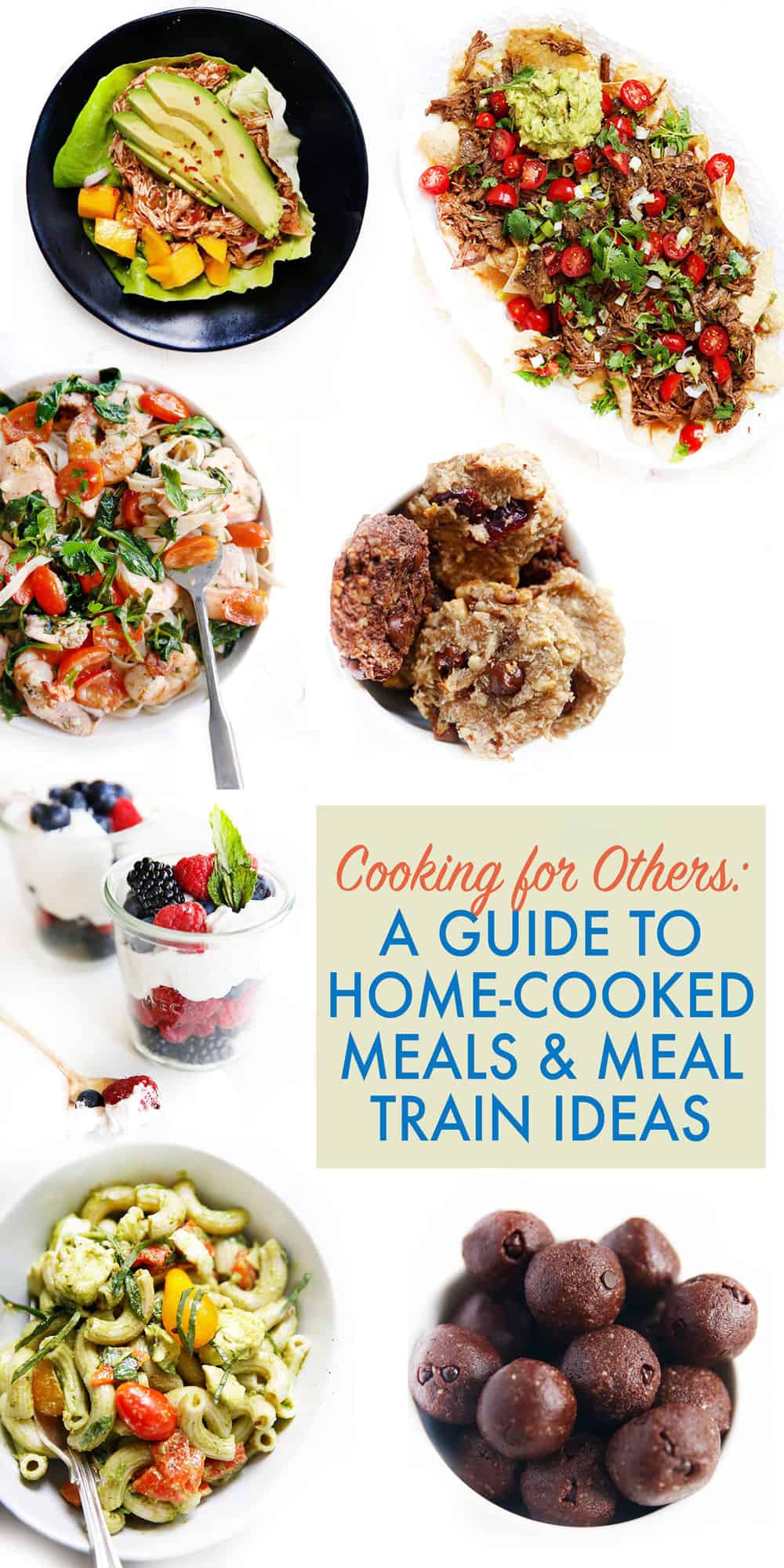 I am really excited to share this post with you today because I truly think it is a useful tool and resource and filled with great recipes that will help you, help those in need! I've been cooking a lot lately for various families so before I jump into the recipes, here are a few tips I've gathered.
A few notes about delivering meals:
Dietary Restrictions: Always inquire about dietary restrictions before planning the meal! What do the kids hate? What are you hoping to get the kids to eat more of? Does everyone eat meat? Etc.
Delivery Time: Text/email/call the coordinator or the family to find out the best time to deliver dinner. Keep in mind that the family is dealing with an important issue (either good in the case of a new baby, or difficult in the case of illness) and may not want to visit with friends, so plan on dropping off on the porch.
Disposable Containers: I alway use disposable food containers/trays so the family doesn't have to clean dishes for me to pick back up!
Make it Extra Special: If I have time and depending on the situation, I'll add chocolates, wine, flowers, or something extra special. If the occasion is a newborn baby, something special for the big brother or sister, like a coloring book, stamps, stickers, or a little game is always a great idea to make them feel extra special. If  I know the person and am in communication with them, I'll ask them if they need any groceries on my way (milk, etc.)
No time to cook? Look into local meal delivery services or restaurants and have a meal delivered! Chip in with friends and figure out a schedule that works.
P.S. Don't know what a meal train is? Mealtrain.com is a crowdsourcing platform that helps organize home-made meal giving for a friend around a birth, surgery or illness also known as a Meal Train! It's essentially just a website that helps you organize the process and allows people to sign up for different days, etc.
Breakfast:
Cut Up Fresh Fruit & Yogurt
Frozen Smoothie Packs: Place smoothie ingredients for one serving in freezer-friendly Ziploc bags, label with an expiration date (about 6 months for frozen fruit), and store in the freezer until ready to use!
Freezer Waffles: Pumpkin Waffles, Double Chocolate Banana Waffles, or the Best Ever Waffles in my Cookbook
Breakfast Burritos (freezer-friendly)
Muffins: Cinnamon Bun, Banana Berry, Pumpkin Sticky Bun Muffins, Gingerbread Chocolate Chip Muffins, Chocolate Chip Zucchini Muffins, Coffee Crumb Cake Muffins
Main Meals: Lunches & Dinners
Pasta Dishes: Pesto Pasta Salad, Pasta with Meat Sauce, Sausage and Veggie Pasta, Mac and Cheese
A Protein: Grilled Chicken, Steak, Shrimp, Fish
A batch of soup: Chicken and Kale Soup, Turkey Chili, Game Day White Chicken Chili, Healthy Broccoli Soup, Green Chili Vegetable Soup, Feel Good Veggie Soup, Classic Chicken Soup, Butternut Squash Curry Soup, Tomato Basil Soup (with grilled cheese), Slow Cooker French Onion Soup (and send a loaf of bread)
Chicken Nuggets: Zesty Chicken Bites, Pecan Popcorn Chicken
Sheet Pan Dinners: Sheet Pan Buffalo Chicken, Sheet Pan Chicken & Veggies
One Pan Meals: Lemon Garlic Chicken & Rice, One-Pan Indian Spiced Chicken & Cauliflower, One-Pan Fiesta Chicken
DIY Taco Bar or Taco Salads
Slow Cooker Dishes: Caribbean Pulled Chicken Lettuce Wraps, Thai Curry Chicken, Beef Barbacoa, Carne Asada, Slow Cooker Baked Potato Bar
Pre-Made & Wrapped Sandwiches
A Tray of Lasagna
Side Dishes
Snacks/Treats
Cut up Veggies & Hummus or Other Dip: Tzatziki Sauce, Spanish Eggplant Dip, Buffalo Chicken Dip, Spinach and Artichoke Dip
Chips & Salsa
Trail Mix (make a homemade blend of nuts, dried fruit, seeds, and chocolate chunks)
No-Bake Energy Balls: Nut-Free Powerbites, Mint Chip Bites, Chocolate Chip Cookie Energy Bites
Cookies: Double Chocolate Macadamia Nut Cookies, Chocolate Chip Cookies, Chai Cookie Bars, Oatmeal Raisin Cookies
Secret Ingredient Brownies (send a pint of ice cream, too)
Bowl of Fruit (pre-cut)
Misc.
A Pitcher of Iced Tea
A Pitcher of Lemonade
Paleo Sandwich Bread or a Loaf of Bread
Wine
Chocolate
Flowers
Fresh Milk (or other groceries)
Non food related: Chip in with friends and hiring a cleaning service!
Have other ideas? Leave them in the comments below!
Cooking for Others: A Guide to Home-Cooked Meals & Meal Train Ideas
This Lemon Curd and Blueberry Compote Breakfast Parfait is a fabulous on-the-go breakfast option! It has all of my favorite flavors and textures in one hearty breakfast parfait!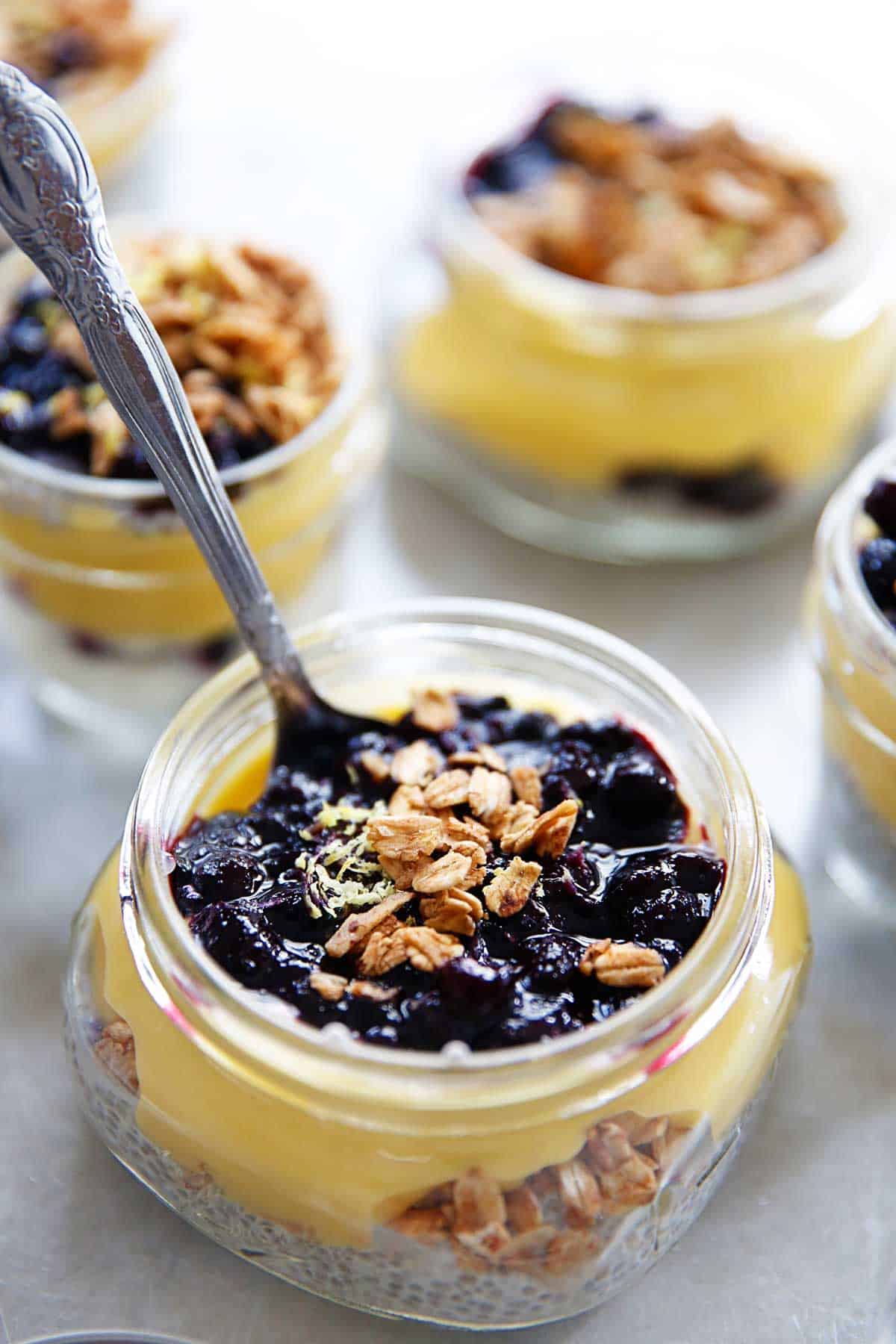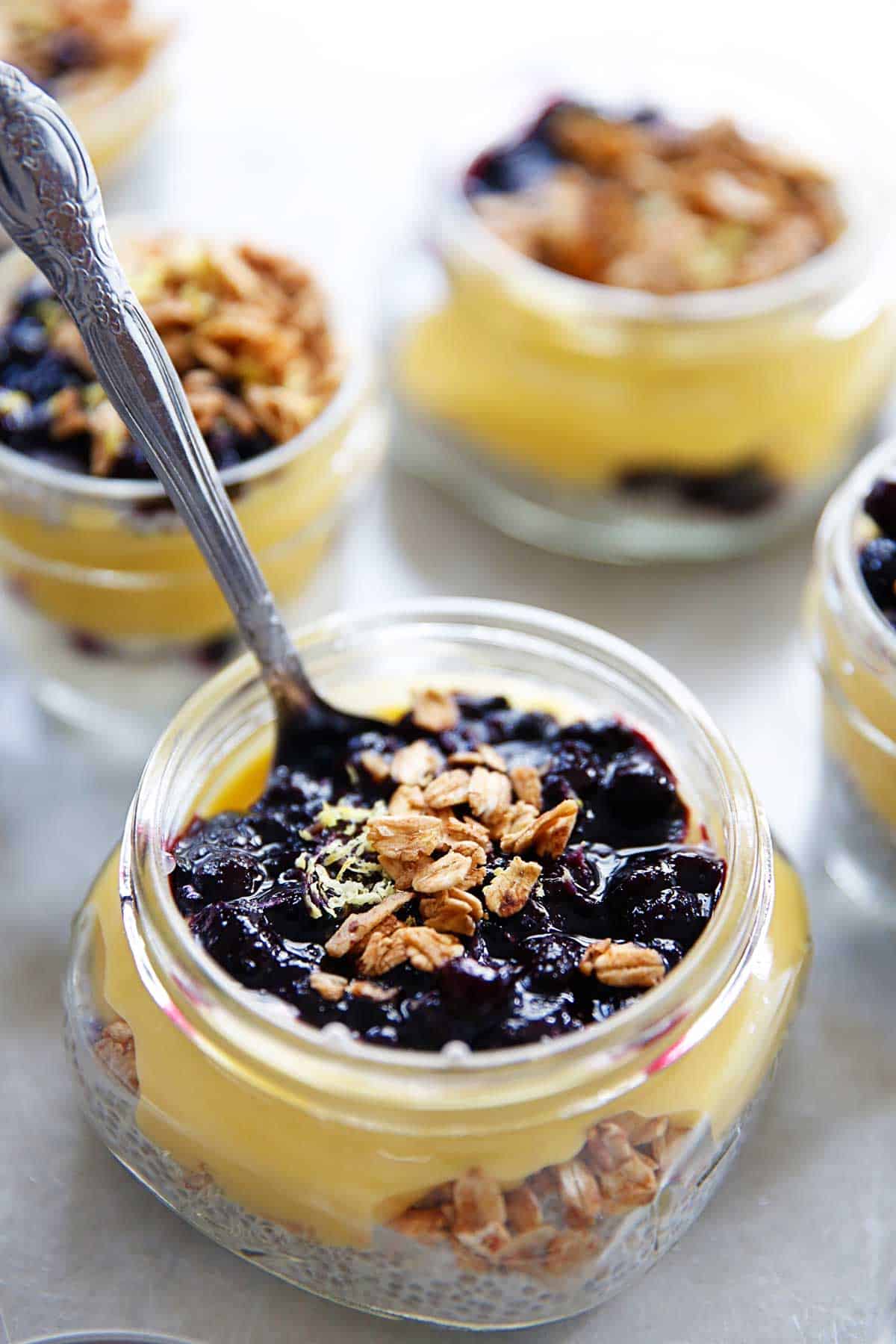 Creamy lemon curd, sweetened-just-right blueberry compote, nutritious chia pudding, and crunchy granola! Made in partnership with Wyman's Wild Blueberries.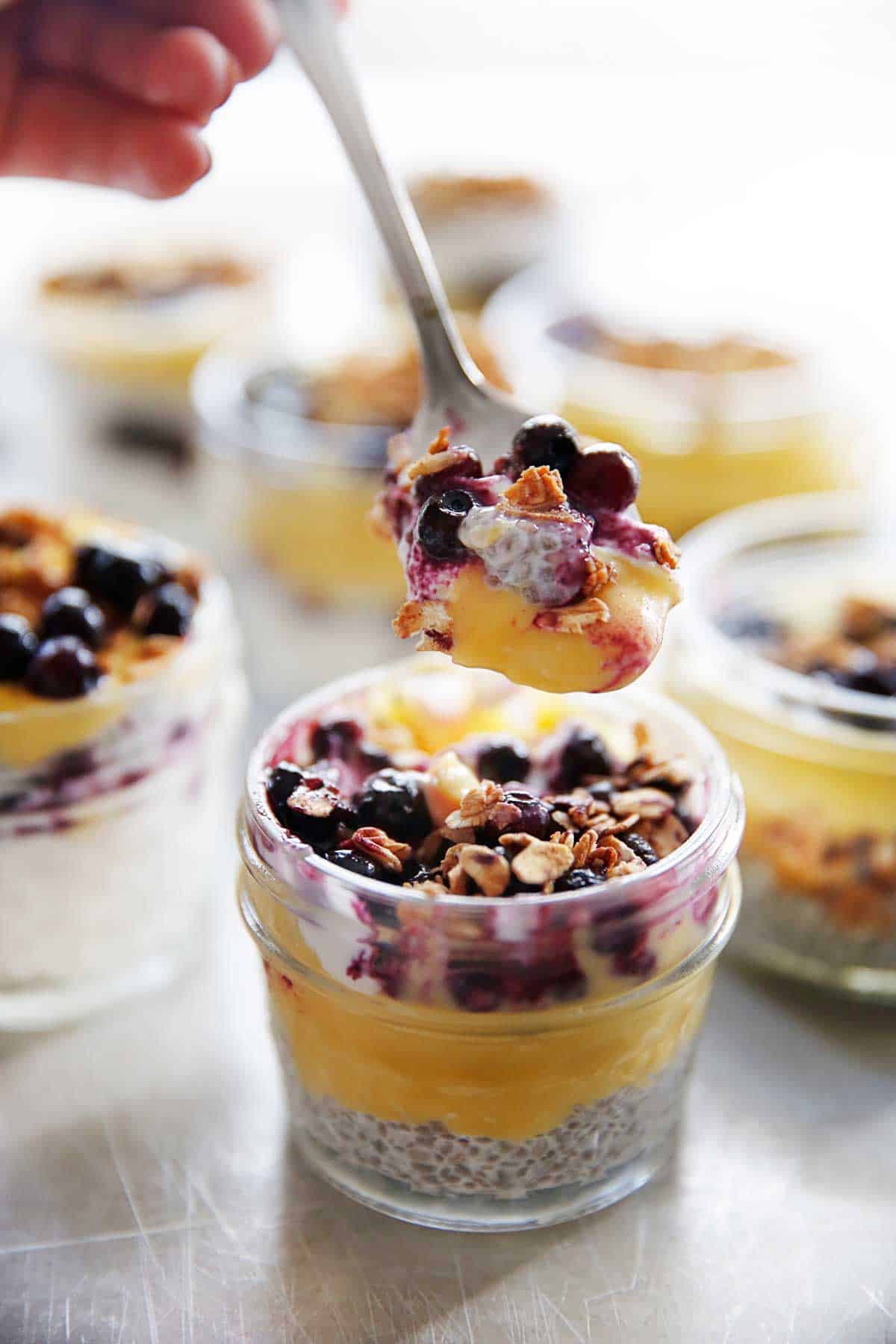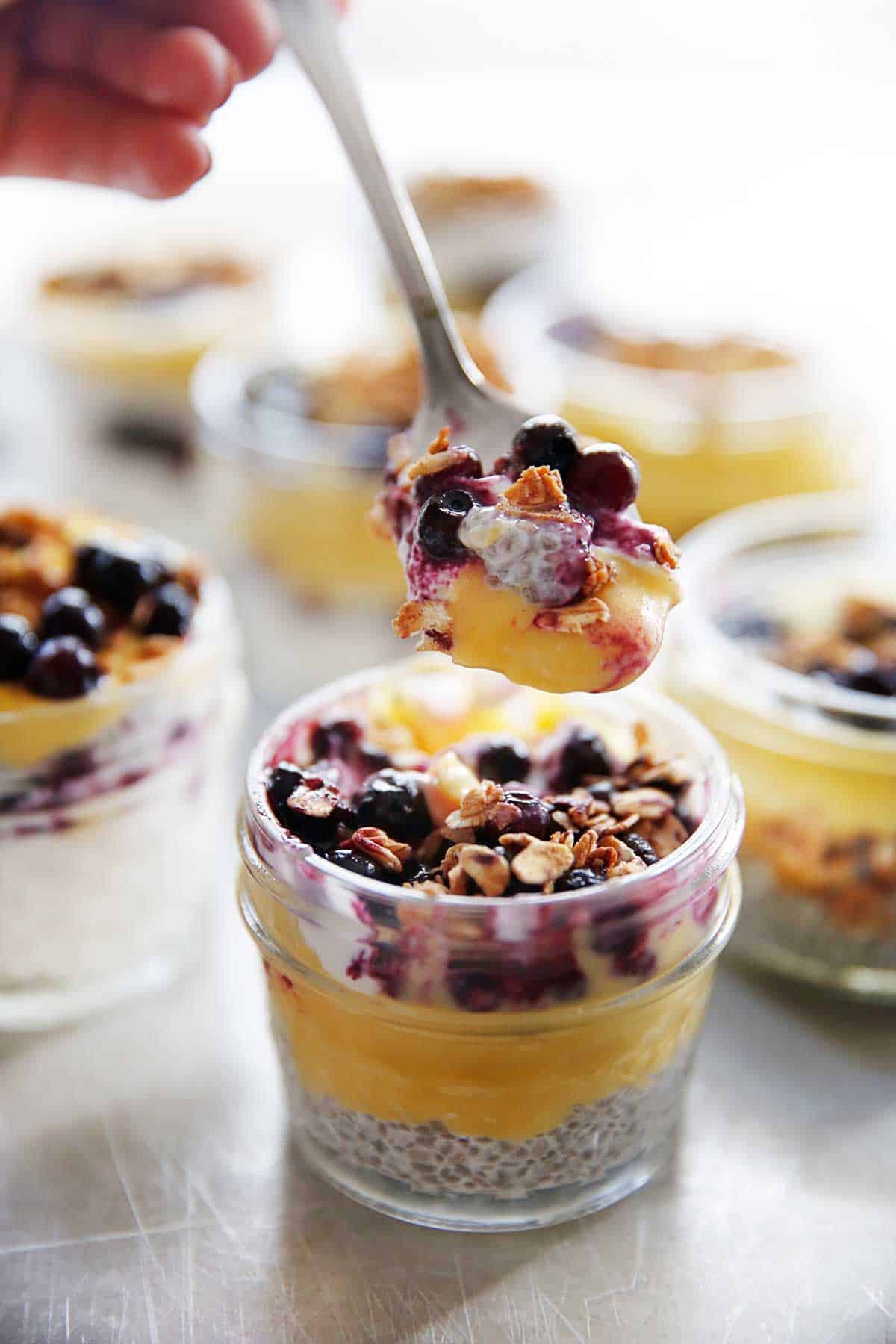 I am so excited to partner with my friends at Wyman's today to bring you this nutritious and delicious breakfast option! Wild blueberries are smaller and have more antioxidants than domesticated blueberries, and 2x the antioxidant power! Wyman's prides itself on harvesting wild blueberries, which are picked fresh and immediately frozen to maximize health benefits to consumers.
Wyman's Wild Blueberries have no added sugars, preservatives, sodium, or starches and since they are smaller and more compact, you get more wild blueberries per pound!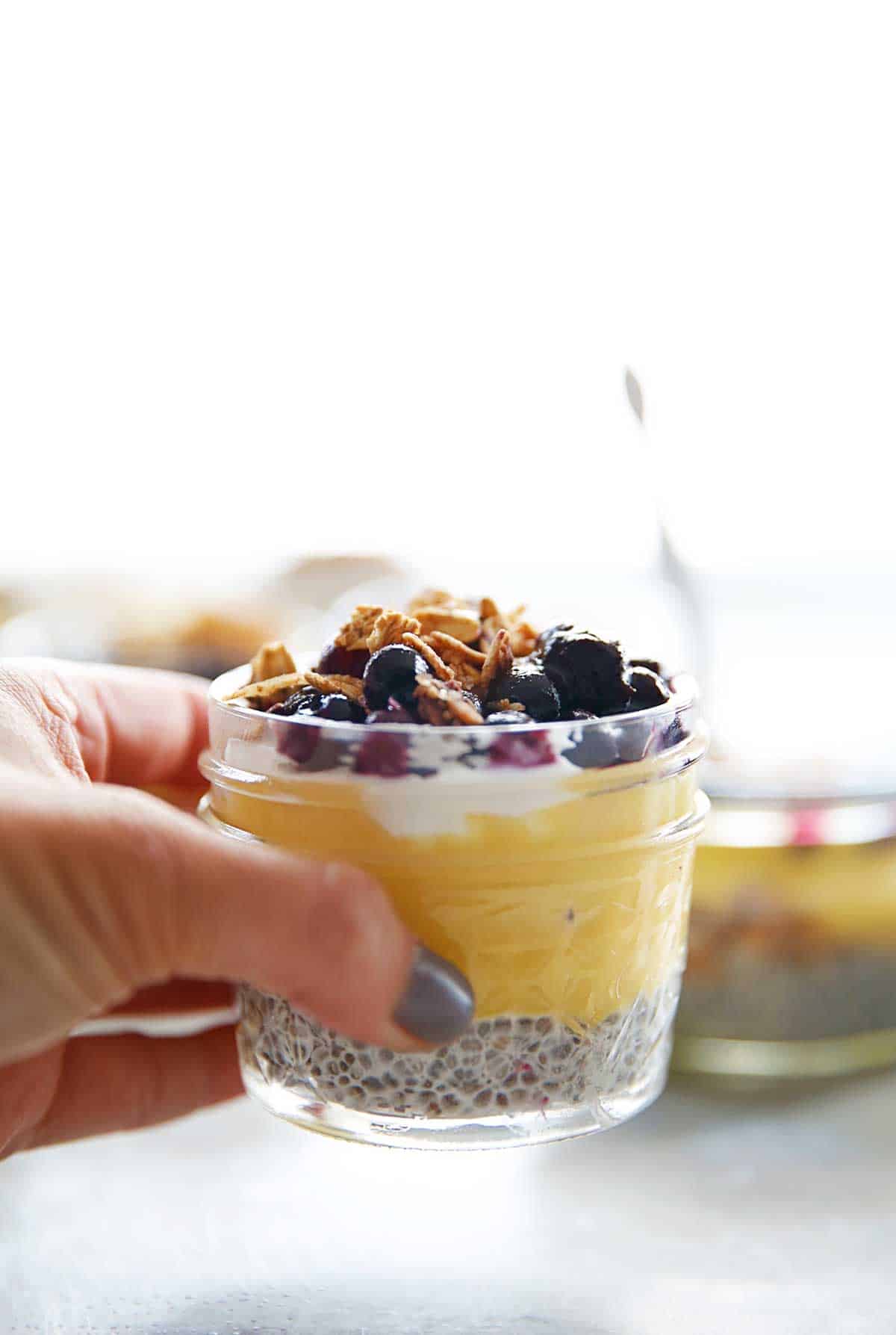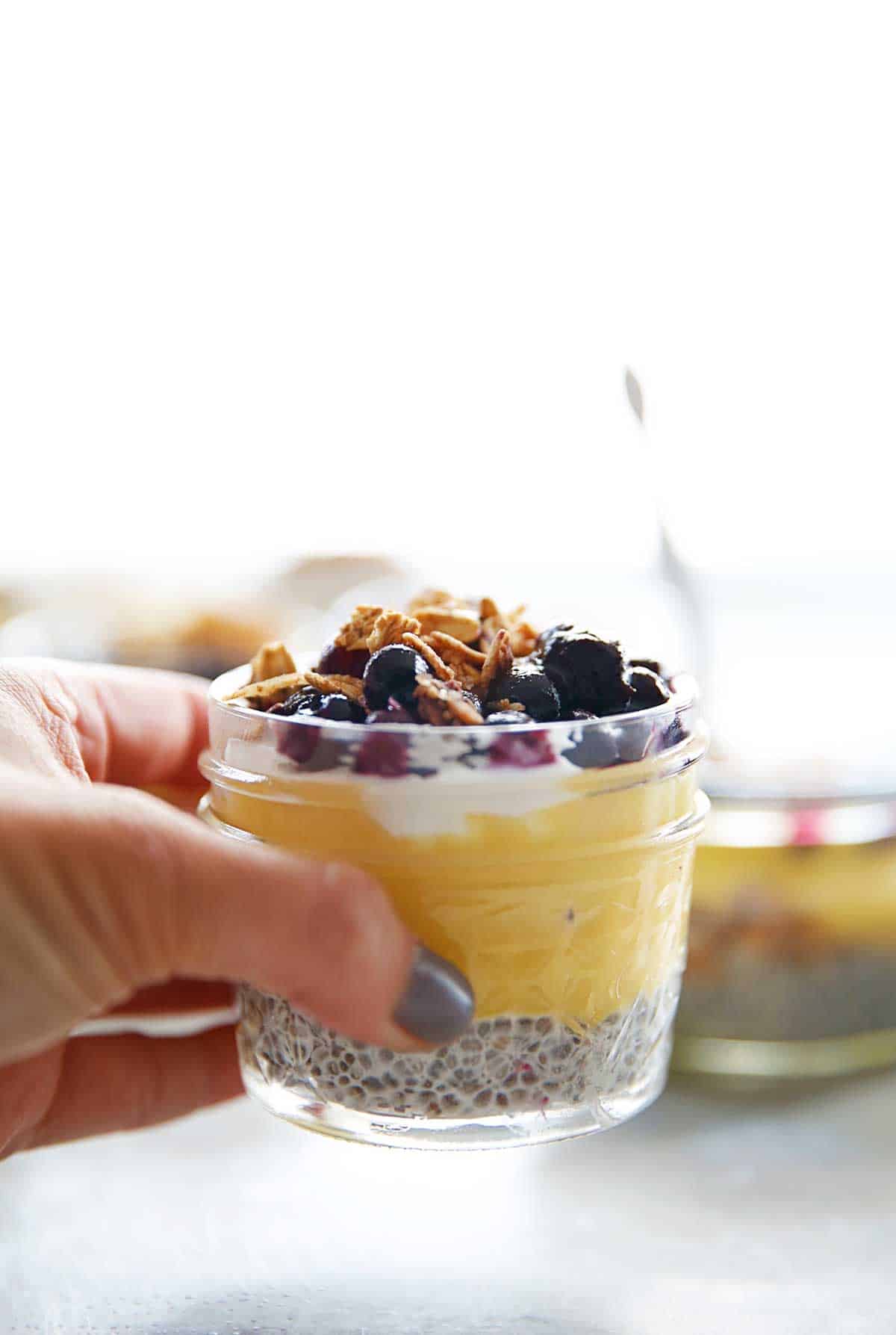 Tart lemon, sweet blueberries, creamy chia pudding, and optional Greek yogurt = the perfect protein-packed breakfast for any day of the week!




This post is sponsored by Wyman's of Maine. All opinions are always, 100% my own!
Lemon Curd and Blueberry Compote Breakfast Parfaits
This Paleo Spring Vegetable Quiche is loaded with vegetables and fresh flavors that everyone will love! If you are looking for a beautiful and fresh brunch recipe to impress with this Mother's Day or Easter Sunday, this recipe is IT! No one will be able to tell that the flaky, buttery crust is gluten-free, grain-free, and paleo-friendly!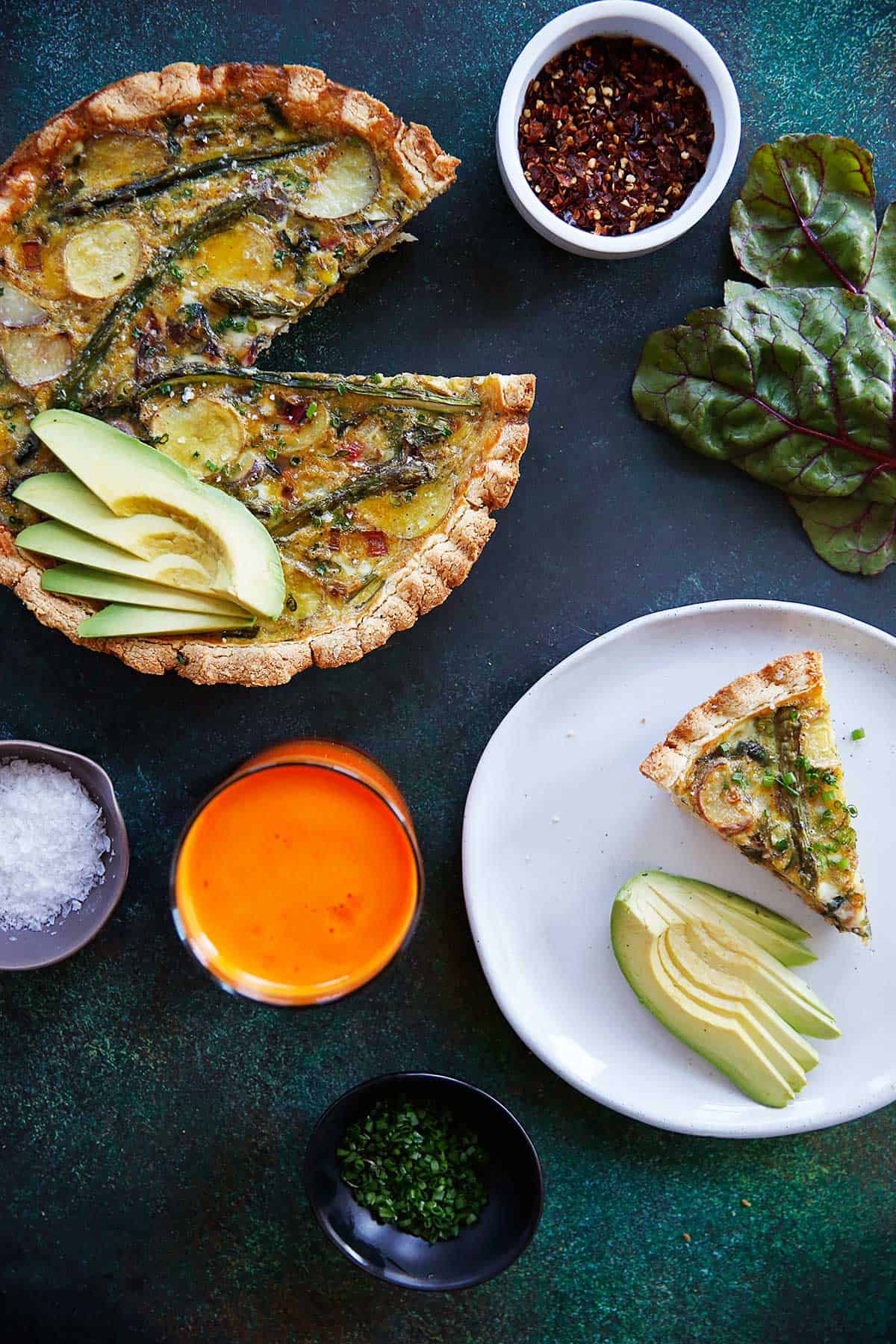 Whatever the occasion, this gorgeous, fresh, healthy, and flavorful quiche will be the hit of the brunch table!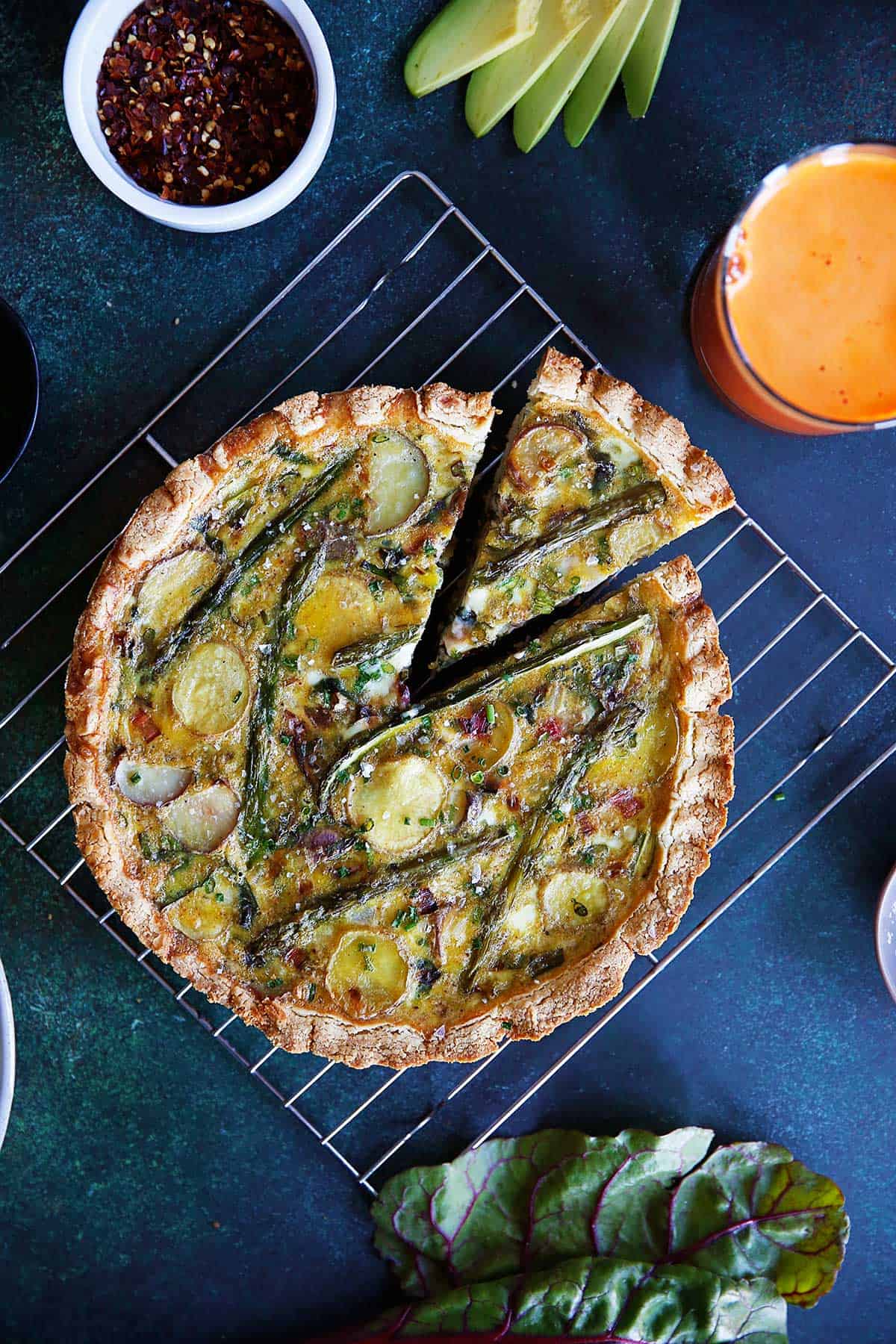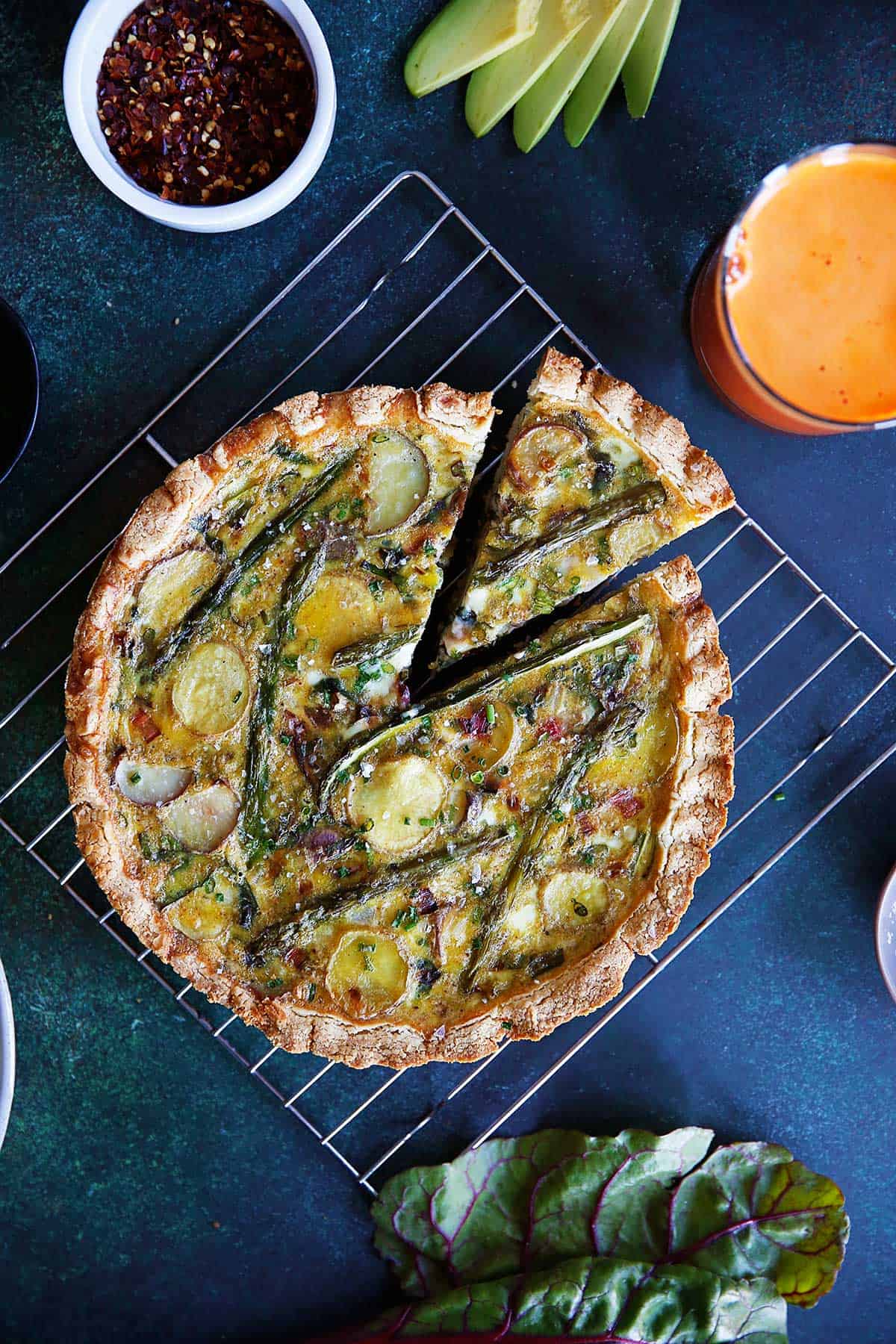 Flakey, butter-y crust loaded with fresh Spring vegetables and herbs makes for quiche perfection. This recipe can also be customizable! Simply make the crust, roast your favorite Spring veggies, combine them with eggs and spices, bake and BOOM. Brunch perfection.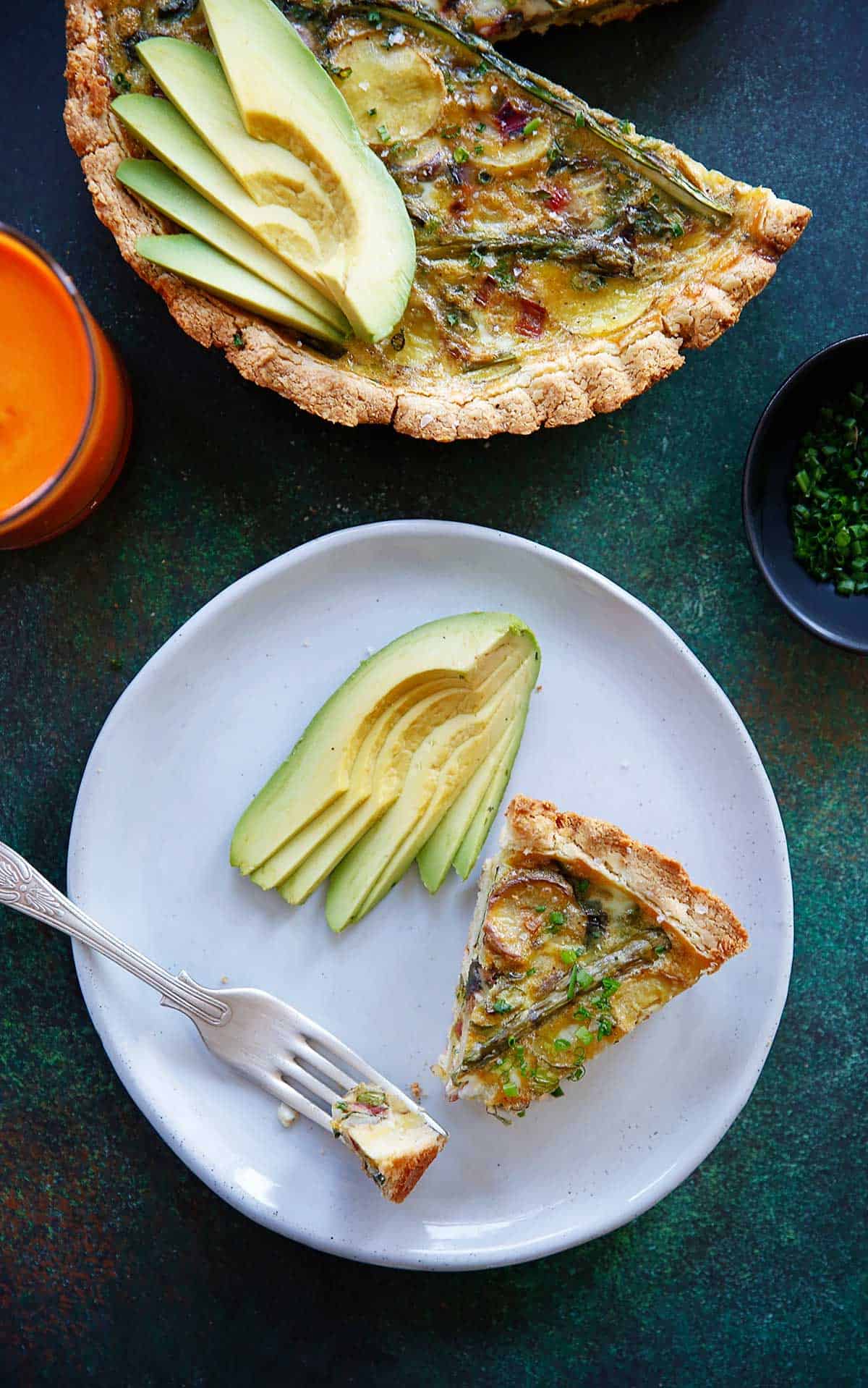 Top it with avocado slices and some flaky salt!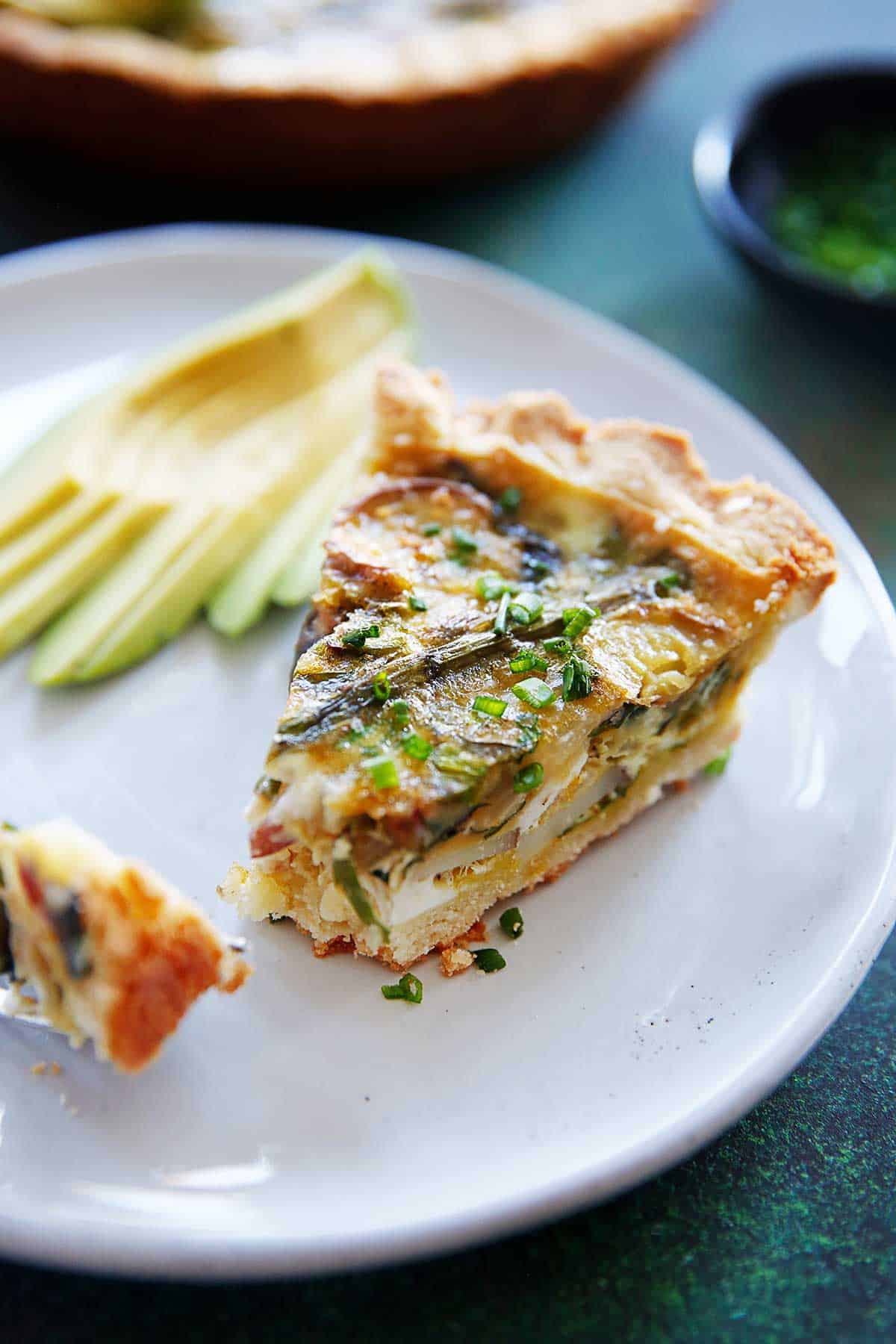 Spring Vegetable Quiche
DIY Gift Week would not be complete without my Best Ever Fluffy Pancake and Waffle Mix from the Lexi's Clean Kitchen Cookbook! These pancakes/waffles are gluten-free, grain-free, and totally the real deal! Everybody that makes these LOVES them so much!

Day 4 of DIY Gift Week!
TODAY: Pancake and Waffle Mix!
This mix is my favorite. I usually make a double batch to bring to my mom because she loves them so much. The printable labels below will make it easy for you to create a single, or a double batch as the perfect holiday gift this year!

What You'll Need:
Jars (mini or larger- adjust sizes based on quantity you are giving)


Pancake and Waffle Mix
This Fall Hash Brown Breakfast Skillet is packed with all of the quintessential flavors of autumn! It's the perfect hearty weekday breakfast (or brinner), and great for a weekend brunch! Hearty, nutrient-dense, and delicious!

The hash browns in this dish make it SO perfect. Instead of dicing the potatoes, simply shred them! It adds wonderful texture to the dish.
P.S. Did you miss that I announced the first leg of the LCK BOOK TOUR? Make sure to RSVP before tickets run out!
[yumprint-recipe id='392′]
I hope you have an awesome weekend and that you LOVE this skillet!
Get the details here!

Fall Hash Brown Breakfast Skillet
Aside from these breakfast cookies being packed with awesome nutrients, they are also easy to make and taste like banana bread. Yes, banana bread.

Breakfast Cookies
Before we get into the cookies, I have to tell you how excited I am about today's post. I am teaming up with Vital Proteins to share with you this protein-packed, delicious recipe, but I want to tell you why I love Vital Proteins Collagen Peptides so much, and how I sneak it into my diet daily.
My mom and I have been adding collagen into our diets for over a year and a half now and have been truly amazed at what we've seen. Let me tell you about her, first. My mom's hair hasn't stopped growing and is thicker than ever. Before she started using collagen protein daily, her doctor told her she might have to start taking medicine for Osteoporosis. At her next visit her doctor was stunned that she no longer had it! Now, I'm not saying collagen is the cure, but it was one of the only changes she made so she absolutely attributes it.

I love it as it's wonderful for your skin, nails, and hair, and also for joint and gut health. Now, how do we sneak it into our daily routine (aside from breakfast cookies)? Through my coffee (yes it's tasteless)!
Easy breezy. I just add a scoop into the mug, pour in the coffee, and it dissolves instantly with no taste. But, these cookies… what a treat! Loaded with protein, healthy fats, and some good carbs to make up the perfect fueling snack anytime of day.
Make them nut-free
Swap out almond flour for oat flour and omit nuts for your favorite add-ins!
Watch the video:
Other collagen recipes:
In partnership with Vital Proteins. All opinions are always 100% my own.
Breakfast Cookies
SPRING is here and I am loving that the sun is now setting a bit later in the day! High five for daylights savings and being able to shoot recipes for you after 4pm!
Today, I want to talk about kick-starting your Spring, and your mornings, with delicious and nutritious breakfast recipes that will give you proper fuel to keep you energized and moving!
Breakfast is an important meal of the day, so why does it often get skipped over? Today I'm sharing a few of my favorite LCK breakfast recipes– some that come together in under 15 minutes, some that are grab-and-go, and a variety of types of recipes to satisfy everyone. All of the recipes are packed with good-for-you ingredients to fuel your morning.
A good idea is to prep the night before so you can get up and nourish your body!
---

Learn more about living gluten free! Visit http://udisglutenfree.com/community
This is a sponsored conversation written by me on behalf of Udi's Gluten Free. The opinions and text are all mine.
What is your favorite breakfast to eat in the morning?
Kick-Start Your Morning: 8 Healthy Breakfast Recipes
This Bananas Foster Chia Pudding is the perfect make-ahead chia seed pudding recipe! It is a delicious egg-free breakfast option that everybody will love, and the Bananas Foster topping is one of my all-time favorites!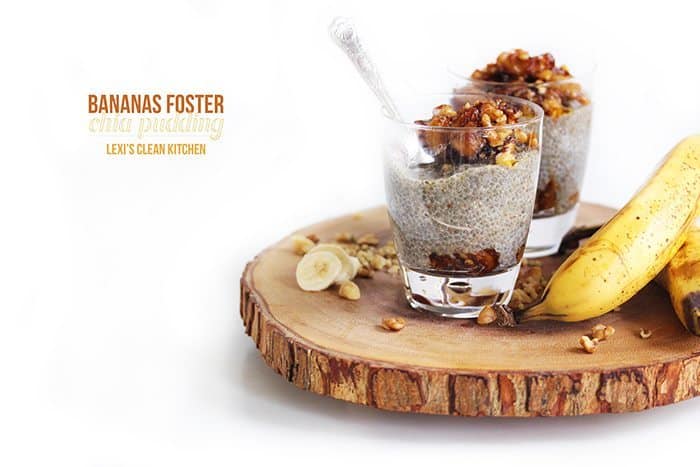 Bananas Foster Chia Pudding
Life sometimes gets busy. Right now, life for me is super super busy. Have you noticed I've been blogging less the past few weeks? Don't worry, it's about to pick back up! I'm finishing up the school year with my students, then off to embark on my new journey (you can read about that here). So, with the twenty million tasks I've set for myself in these busy few weeks, I've also set myself on a mission to make some delicious nutrient-packed snacks and breakfasts that have a fun twist to them
Now, I'm currently all about exploring egg-free breakfasts. Not because I'm not eating eggs, but because sometimes you just want to switch things up a bit!
This chia pudding is packed with omegas, nutrients, and potassium, while also throwing in the delicious flavors of decadent bananas foster. I seriously love bananas foster. All this is missing is the vanilla ice cream, but I promise you won't miss it! When we were in Jamaica one of the desserts was a bananas foster bar which sparked my current obsession. It's just so good!
Chia Seed Pudding Recipe
It's as simple as throw it in a jar and leave it overnight. Then boom! It's ready to devour. Love me some simple, healthy, and quick snacks!
How to make chia pudding

Watch the video:


[yumprint-recipe id='282′]

This is a sponsored post on behalf of Pacific Foods. All opinions on Lexi's Clean Kitchen are always my own. My sponsors help make LCK possible!
Have you tried chia pudding? What flavor combination would you like to see next?
Bananas Foster Chia Pudding [Video]
This easy Mounds Smoothie is the perfect creamy and flavorful on-the-go breakfast to add to your morning routine! It combines nutrient-dense coconut and cocoa powder to get a chocolate covered mounds flavor! It's is dairy-free, packed with healthy fats and so delicious.

Chocolate Coconut Smoothie
Sometimes breakfast is just better with a little something sweet (that's packed with nutrients), delicious, and made with good-for-you ingredients! I personally am a huge fan of the coconut/chocolate combination. Reminiscent of a mounds chocolate bar in smoothie form, if you will! Okay possibly a slight stretch to the candy bar, but the flavor combination- on point!
This smoothie is: creamy, coconut-y, chocolate-y, and delicious!
[yumprint-recipe id='270′]
Creamy 'Mounds' Smoothie
This easy Shakshuka recipe is hearty, flavorful, and the perfect breakfast, brunch, or even DINNER. It's paleo, whole30, gluten-free, and packed with flavor! It's a one pan dish that requires minimal clean up!
Shakshuka
Shakshuka is a Middle Eastern dish. I first discovered it on my trip to Israel years back. Now, they probably wouldn't approve of my sausage addition, but I was served a version of Shakshuka last weekend at a brunch (at The Beehive in Boston), and it was served with Moroccan sausage. I loved it. So naturally, my version has sausage added to it.
It's breakfast, but hearty and sophisticated making it a perfect dinner. I'm thinking it's a must for weekend brunch, too.
It's no secret I love me some breakfast! Breakfast for dinner? Even better. It's also even better on a night you just don't feel like cooking. Ever have those? I do about once a week. I made this on Monday night and it was requested Tuesday night again for dinner. Does that tell you something? A winner all the way!
If you like this savory breakfast recipe, try these favorites:

What is your favorite way to eat eggs?