Healthy Breakfast Recipes
They say breakfast is the most important meal, but it's often overlooked. Today we're sharing our favorite healthy breakfast recipes that are packed with good-for-you ingredients, as well as a few special treats, to keep you fueled throughout the day for your busy lives!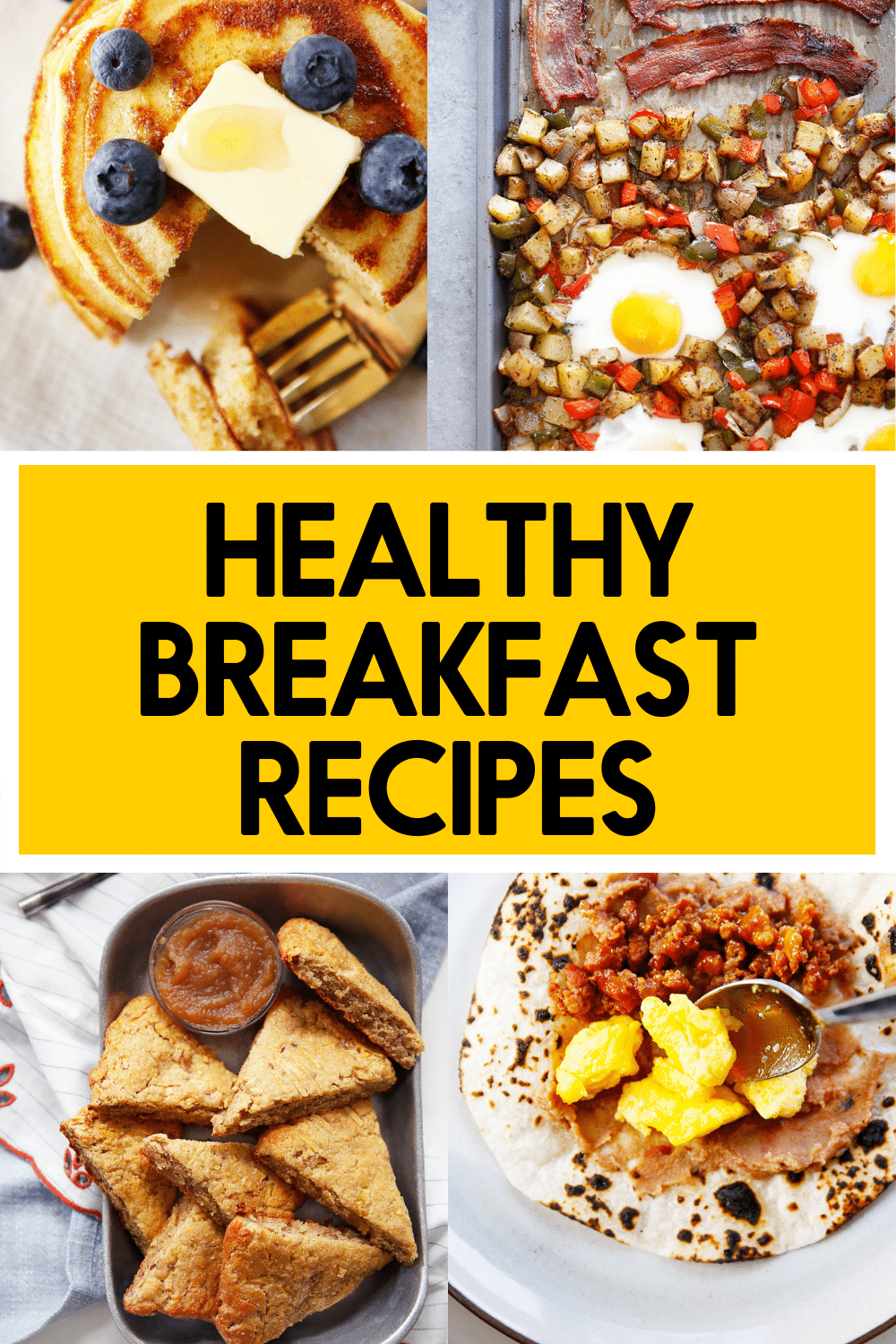 The Best Gluten-Free Breakfast Recipes
If you ask me, breakfast is the best meal! And if you do it right, it includes healthy and nutrient-packed ingredients that will keep you satisfied throughout the morning and kickstart your day off right.  I'm sharing over 25 of my favorite healthy breakfast recipes that I've been loving over the years, and that I know you will too!
There are some make-ahead recipes, some overnight recipes, and some super quick. We even snuck in a few breakfast recipes that while still are made with good-for-you ingredients, are a bit of a treat too. Enjoy!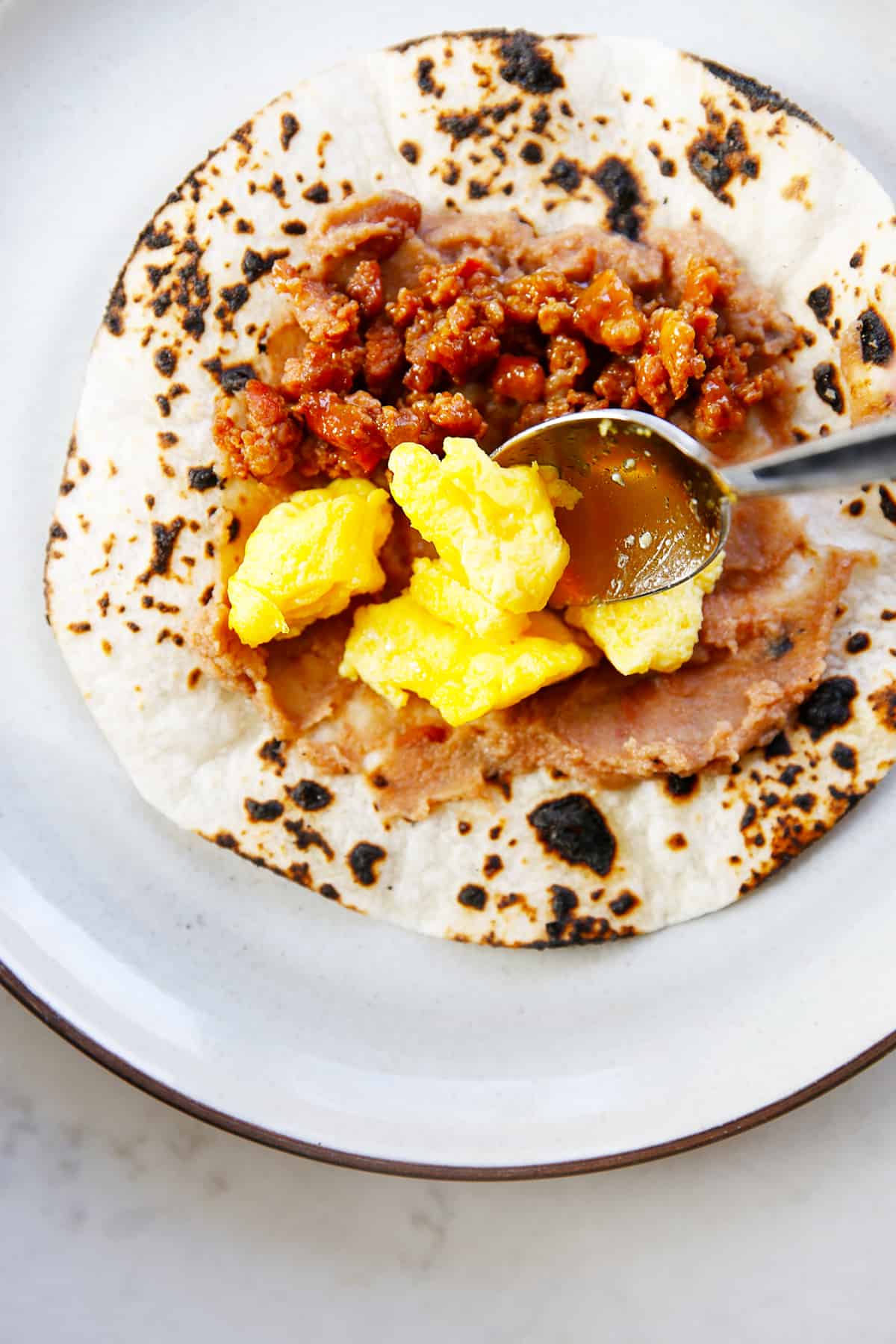 Savory Breakfast Recipes
Breakfast Pizza: Don't just save pizza for dinner–it's perfect for breakfast too! This Breakfast Pizza is totally customizable but we think it should definitely include eggs, bacon, and cheese, also known as the breakfast classics! These individual breakfast pizzas are gluten and grain-free, and easily made Paleo and Whole30-friendly.
Sheet Pan Chorizo Egg Bake: This sheet pan bake is probably my new favorite breakfast. It's hearty, packed with the perfect amount of spice, and made easy with only one pan. It's gluten-free and paleo-friendly and the perfect breakfast everyone will enjoy!
Sheet Pan Classic Breakfast Bake (Eggs, Bacon, & Home Fries!): All your favorite breakfast foods made easily! This sheet pan breakfast is perfect for a weekend brunch or breakfast to feed a crowd with little to no mess!
Shakshuka: This easy recipe is hearty, flavorful, and the perfect breakfast, brunch, or even DINNER. It's paleo, whole30, gluten-free, and packed with flavor! It's a one pan dish that requires minimal clean up!
Paleo Breakfast Hash: This is such a delicious hash for weekend BRUNCH or when you are craving breakfast for dinner! The spicy chicken sausage and bacon pair so perfectly with the sweet potato, onions, and peppers. It can be eaten as-is for a veggie and protein-filled breakfast, or topped with an egg!
Leftover Ham and Potato Hash: Looking for a way to use up all that leftover holiday ham? This Ham and Potato Hash is the perfect breakfast to whip up for your post holiday breakfast! This savory breakfast is delicious and so simple to put together. Customize it as you need, and don't forget to top it with a fried egg!
3-Ingredient Breakfast Skillet: This skillet recipe is hearty, flavorful and so quick to make! Using just 3 common ingredients you likely have on hand, you can have yourself a unique weekday breakfast that everyone will love! It's also gluten-free, dairy-free and Whole30 friendly!
Easy Pizza Scramble: It has all the pizza flavors you love, while being low carb and keto, and FOR BREAKFAST. I mean, who doesn't want pizza for breakfast? I serve mine with a warm marinara sauce for dipping!
Saucy Chorizo Skillet Baked Eggs: A great addition to your next Sunday brunch! It's low-carb, paleo and Whole 30 friendly, dairy-free and most definitely delicious.
Breakfast Fried Rice: This fried rice is made using only 4 ingredients and is a super easy meal to whip up anytime of day, not just in the morning! It takes the base of leftover rice and switches up the traditional fried rice by adding in the leftover breakfast staples of bacon and eggs. You can have it on the table from start to finish in less than 15 minutes which makes it a breakfast (or dinner) win!
Freezer-Friendly Breakfast Burritos: The perfect grab and go breakfast filled with all of your favorite breakfast fixings! They are great when cooking for others or for when you needed a meal prep breakfast ready to go! They're customizable based off of what you love and easy to make.
Breakfast Prep Baked Egg Cups: These healthy baked egg cups make the perfect breakfast meal prep for when you are rushing out the door but still want your protein-packed nutrient dense meal. They also make a great snack as well! And they're paleo and whole30 friendly!
Tex-Mex Egg Muffin Cups: These egg cups with turkey are my favorite on-the-go breakfast recipe to make ahead, and they make for a great snack, too! They are paleo-friendly, whole30-compliant, and are packed with so much flavor!
Easy Corned Beef Hash: The best way to use up leftover corned beef OR the best excuse to make corned beef from scratch! It's a simple dish that is hearty and comforting, made under 20 minutes with only a handful of ingredients. Top with a fried egg, a splash of hot sauce and this gluten-free and paleo and whole30-friendly breakfast is ready!
Cauliflower Hash Browns (Keto!): Looking for a low carb hash brown alternative? These paleo-friendly and keto Cauliflower Hash Browns are the perfect addition to any breakfast, and they freeze so well, too!
How to Make Sweet Potato Toast: Sweet potato toasts are easy to make, nutrient-dense, and there are so many options to shake up your toast topping game. Sweet potato toast is a great fiber-rich, gluten-free, Whole30 approved, and vegan healthy toast replacement! PLUS, they are super easy to make!
Potato and Leek Fritatta: This is just what a lazy Sunday morning breakfast calls for. Potato, leek and chard are quickly cooked up in a skillet before pouring over some eggs and finishing off cooking it in the oven. It's quick and simple and also free from dairy and gluten.
ATX Inspired Breakfast Tacos: Don't just save the tacos for dinner–they're perfect for breakfast too! This Breakfast Taco recipe is inspired by a trip to Austin, Texas and they feature refried beans, chorizo, and scrambled eggs! Easy to customize and sure to be a big hit for a brunch of fun breakfast.
Everything Bagel Hummus Breakfast Toast: This is the best non-recipe recipe you've never heard of! It's an easy way to get a quick breakfast on the table that is full of protein and fiber and tastes SO GOOD.
Green Goddess Dressing & Breakfast Salad: What better way to get more greens in your life than to switch it up and throw your greens into a nice homemade dressing, and pair it with breakfast!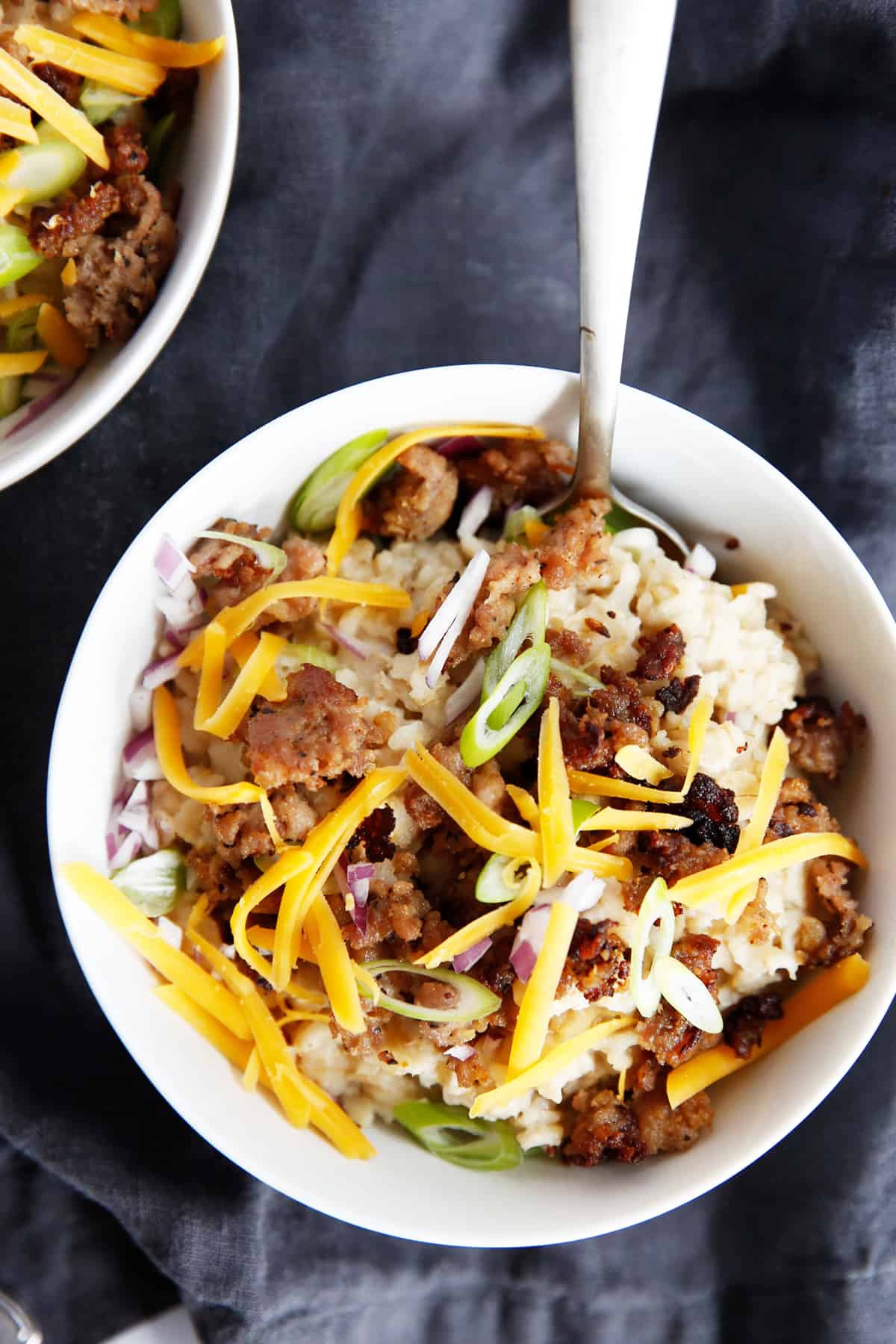 Healthy Oat Breakfast Recipes
How to Make Oatmeal: We tested so many different types of oatmeal recipes with different cooking methods until we found the three that produced the best oatmeal! We used both old-fashioned rolled oats (on the stovetop and instant pot) and steel cut oats (in the instant pot) and perfected recipes that are great for a warm hearty breakfast or make-ahead prep for the week!
Pumpkin Oatmeal Bake: This 1-bowl breakfast bake is dairy-free, gluten-free and made without any refined sugars. Keep it all about the pumpkin flavor as-is, or add in chocolate chips, nuts or dried cranberries for a twist.
Apple Baked Oatmeal: This recipe is as good freshly baked as it is for meal prep. This classic flavor combination smells so good when it is baking, and bonus it's so easy to put together. This dairy-free and gluten free oatmeal bake doesn't contain any refined sugars and is a great fiber-rich and filling breakfast or snack.
Savory Breakfast Sausage Oatmeal: Savory oatmeal with breakfast sausage is a great start to the day, filled with fiber and protein and so delicious. It's gluten-free, optionally dairy-free and a great make-ahead breakfast idea.
Strawberry and Cream Overnight Oats: We love to use freeze dried strawberries because their flavor is concentrated and they last longer than fresh strawberries for make-ahead breakfasts. This oatmeal tastes so creamy without ever adding any dairy at all! Plus, it takes 5 minutes to throw together!
Cherry, Coconut and Chocolate Granola: This granola is full of fiber and healthy fats, but more important it tastes so delicious! It's super crispy and has the perfect combination of tart cherries, sweet coconut flakes and big chunks of chocolate! It's gluten-free and refined sugar free and so easy to make!
Raspberry Oat Breakfast Bars: These Fresh Raspberry Bars have a delicious oat crumble and are a delicious on-the-go breakfast option. They're made with minimal ingredients, no refined sugars and are gluten-free.
Lemon Poppy Seed Overnight Oats: Make this for a bright start to a morning that doesn't involve any cooking. It's creamy, full of citrus and poppy seeds and packs a lot of fiber into your breakfast.
Orange Cranberry Overnight Oats: These overnight oats are creamy (without any dairy) and bursting with seasonal orange, cranberry and pecan flavor.
Golden Milk Overnight Oats: Flavored with anti-inflammatory turmeric, and just set enough, this is an easy make-ahead oatmeal recipe.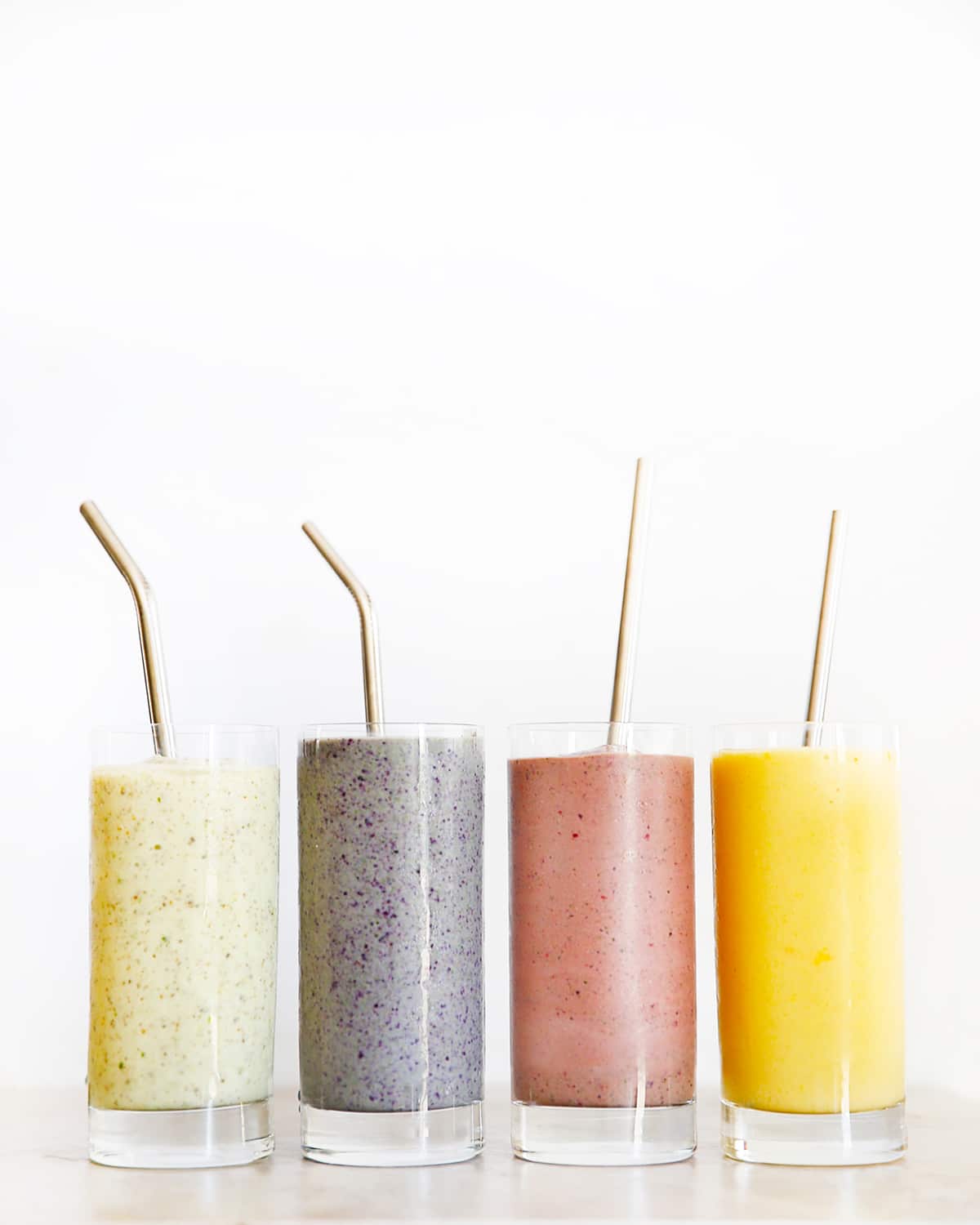 Healthy Breakfast Smoothies
30 Make Ahead Smoothie Freezer Packs: Smoothies are a delicious and easy way to have a nutritious breakfast QUICK. Today we're giving you a guide on how to make 30 smoothie freezer packs, with 5 different smoothie recipes, using one shopping list, that's budget-friendly and can be prepped in under an hour! They're paleo, vegan and will keep you satisfied until lunch!
Superfood Summer Smoothie: This smoothie hits the spot! It is creamy, fruity, and packed with nutrients to fuel your body for success!
'Mounds' Chocolate Coconut Smoothie: This recipe is like a healthy morning version of a Mounds candy bar and we're here for it! It is the perfect creamy and flavorful on-the-go breakfast to add to your morning routine! It combines nutrient-dense coconut and cocoa powder to get that chocolate-covered mounds flavor!
Chocolate Covered Cherry Smoothie: This smoothie uses antioxidant-rich frozen cherries and cocoa powder to get a chocolate covered cherry flavor!
Detox Smoothie Freezer Packs: A delicious make-ahead smoothie that is full of cleansing whole foods like pineapple, celery, cucumber, chia seeds, honey and lemon to nourish your body and assist with detox.
High Fiber Smoothie Freezer Pack: This vegan smoothie packed with fiber loaded fruits and vegetables is just what you want for breakfast!
Antioxidant Smoothie Freezer Pack: This smoothie is loaded with berries, spinach and flax seed and can be prepped in five minutes, and in bulk if you want, for a chill morning start that will keep you satisfied until lunchtime.
Anti-Inflammatory Smoothie Freezer Pack: This smoothie is full of anti-inflammatory foods that are rich in vitamins and minerals, tastes delicious and will keep you satisfied until lunchtime. Just dump into the blender, add your liquid, and blend!
Coffee Banana Smoothie: This easy smoothie recipe uses leftover coffee or cold brew, and is dairy-free, refined sugar-free, and SO delicious.
Cherry Lemonade Smoothie: Creamy and flavorful this smoothie uses antioxidant-rich frozen cherries, some nutrient-packed add-ins, and fresh lemon juice to get that refreshing fruity lemonade flavor! It's is dairy-free, packed with healthy fats and so delicious.
Chocolate Almond Butter Smoothie: This Chocolate Almond Butter Smoothie is loaded with healthy fats and protein, and exploding with flavor of a chocolate almond butter cup. It's the perfect way to start the morning, or for a quick afternoon snack.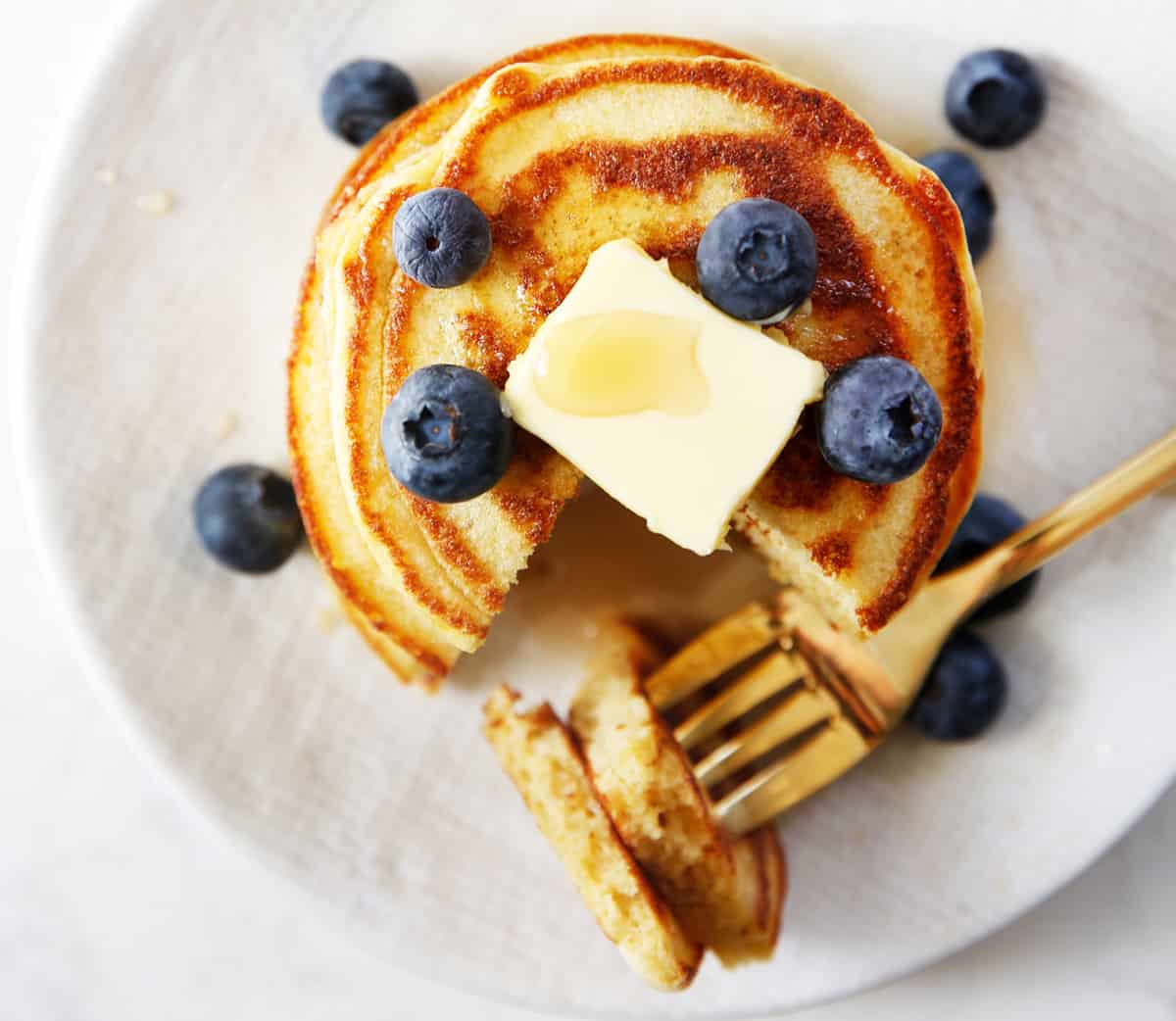 Pancakes and Waffles
The Best Paleo Pancakes: These tried and true Paleo Pancakes are the real deal! Made simply with just a few paleo ingredients, these light and fluffy pancakes are perfect for any day of the week!
Gluten-Free Chocolate Banana Waffles: You wouldn't know these waffles were made without flour and they're a cinch to put together using only one bowl. They are fluffy on the inside and crispy on the outside and full of chocolate banana flavor!
Ham and Cheese Waffles: These gluten-free Ham and Cheese Waffles are going to be the star of the breakfast or brunch table! Using chopped ham and cheese, they will be a savory hit for breakfast (or lunch).
Kid-Friendly Spinach Pancakes: Looking for a healthy and fun breakfast idea? These Spinach Pancakes are kid-approved and so delicious! They're made healthier using gluten-free flours, but nobody will know it! They're fluffy and cook up perfectly!
5-Ingredient Protein Pancakes: These protein pancakes are made with only 5 ingredients and are perfect fuel for a busy morning or a pre-workout breakfast! They're gluten-free, nutrient-dense and pack a punch of added protein!
Gluten Free Pumpkin Waffles: A breakfast classic, these waffles are fluffy on the inside and crispy on the outside and full of pumpkin flavor!
Gluten-Free Mini Waffles with Cinnamon Apple Topping: These mini waffles are so dang cute, and delicious. Top them with a simple caramelized cinnamon-spiked apples and they're out-of-this-world good.
Sweet Breakfast Recipes
Apple Scones: These scones are light and crumbly and full of apples and cinnamon. They are such a treat to serve on crisp fall morning! This scone will be the hit of your weekend brunch, the star of the dessert table, or the perfect snack!
Apple Pie Chia Pudding: This is a delicious egg-free breakfast option that everybody will love, and the topping taste like a healthy apple pie filling! This seasonal breakfast is gluten-free, paleo and vegan.
Gluten Free Apple Muffins: Made with oat flour and are packed with seasonal apples and raisins, these gluten-free apple muffins are easy to make, using just one bowl to put together!
Morning Glory Muffins: These muffins are light, moist, flavorful, and filled with a variety of good-for-you ingredients!
Chocolate Chip Zucchini Muffins: Made with a combination of almond flour and coconut flour, this gluten-free muffin recipe is made with unrefined sweeteners, zucchini, dark chocolate and is the perfect grab-and-go breakfast!
Cinnamon Bun Banana Muffins: Loaded with cinnamon, bananas, and my trusty almond flour and coconut flour blend, absolutely no one will be able to tell they are gluten-free!
Gluten-Free Lemon Poppy Seed Bread: Lemons and poppy seeds together are such a winning combination. Especially when baked into this tender and moist Poppy Seed Bread!
How to Make French Toast Sticks: Everything is more fun when you're dipping it into syrup, right?  These French Toast Sticks are such a fun (and easy) breakfast to have on hand year long.
Cinnamon Roll French Toast Casserole: This literally tastes just like a cinnamon roll, without all the work of making cinnamon rolls. Plus, it's great to prepare the night before and either bake up for guests at home or to bring along to a pot luck brunch. Trust me, you are going to love this one!
1 comment
January 5, 2021
This website may at times receive a small affiliate commission for products that we shared with you in our posts. Although we may receive a commission for linking certain products, there's no additional costs to you and all of our opinion and suggestions are 100% our own and unbiased. That's our promise to you!
Subscribe to get our FREE clean eating guide!
Join our email list TODAY to start recieving our newsletter weekly, access to exclusive content and deals, *and* a FREE complete 24-page clean eating guide!