Click to edit CSS
Click to edit CSS
Feeling the pumpkin spice spirit? Keep these healthy pumpkin recipes in rotation all season long for whenever the PS craving strikes!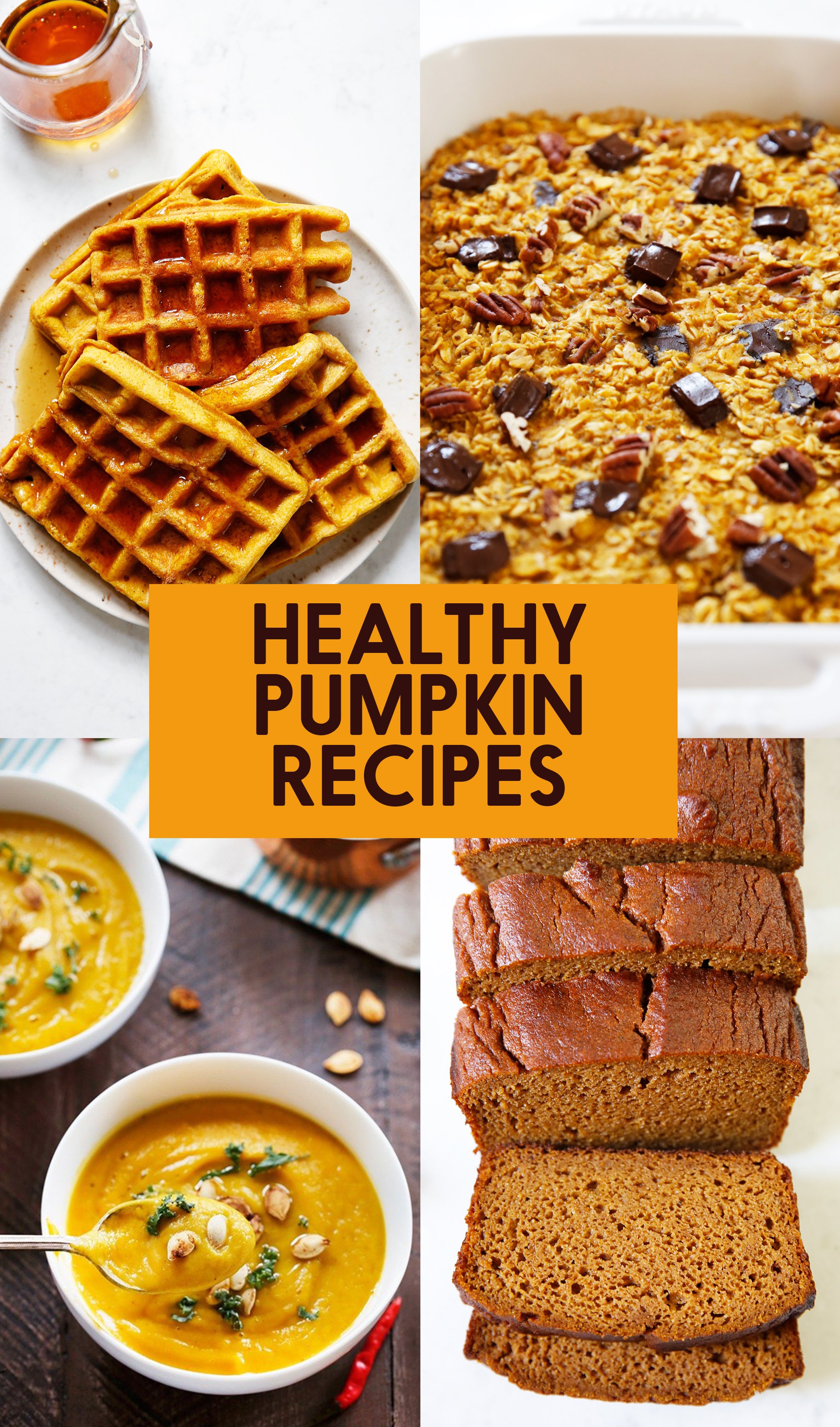 Healthy Pumpkin Recipes for Breakfast
Pumpkin Waffles: These healthy waffles are going to be the star of the breakfast or brunch table! You wouldn't know they're made without flour and they're a cinch to put together using only one bowl. They are fluffy on the inside and crispy on the outside and full of pumpkin flavor!
Pumpkin Baked Oatmeal: This oatmeal bake is is the perfect make-ahead breakfast. This 1-bowl breakfast bake is dairy-free, gluten-free and made without any refined sugars. Keep it all about the pumpkin flavor as-is, or add in chocolate chips, nuts or dried cranberries for a twist.
Pumpkin Spice Latte: This recipe for easy Pumpkin Spice Coffee can be made using your favorite regular coffee or made into a Pumpkin Spice Latte. It's refined sugar-free and customizable so you can make it dairy-free if you need to!
Gluten Free Pumpkin Baking Recipes
Gluten Free Pumpkin Bread: This perfectly spiced loaf is so moist and made using a nut-free blend of coconut and tapioca flour. It's also dairy-free and refined-sugar free and the perfect weekend (or weeknight!) baking project.
Gluten Free Pumpkin Pie: This smooth and creamy (without any cream) classic pie has just the right note of spice. It's made using our nut-free and gluten-free crust that is so simple to put together! It's the quintessential fall pie, destined to be the star of your holiday dessert table!
Homemade Chocolate Pumpkin Cups: While these technically don't require any baking, they are the easiest and most delicious DIY halloween candy to make in the fall. Made with a handful of wholesome ingredients like pumpkin puree, chocolate and nut butter, these chocolate cups are paleo-friendly and made without any refined sugars.
Chocolate Chunk Pumpkin Scones: Fall mornings call for these gluten-free and paleo-friendly Chocolate Chunk Pumpkin Scones! Soft in the middle, crispy on the outside, and just the right amount of sweetness!
Chocolate Chip Pumpkin Cookies:These Paleo Pumpkin Cookies with Chocolate Chips are the perfect Fall treat! They're made with almond flour and coconut flour and they are soft, lightly sweetened and with a festive pumpkin flavor.
Savory Healthy Pumpkin Recipes
Brown Butter Pumpkin Sauce Over Zucchini Linguine : This healthy fall meal features a brown butter pumpkin sauce over zucchini noodles and grilled chicken. It's a delicious & healthy 'pasta' dish that uses pumpkin, spiralized zucchinis, fresh herbs, and grilled chicken to make up this delicious dish that will be a hit all season long.
Easy Pumpkin Soup: This Easy Pumpkin Soup is creamy, flavorful, smooth, and garnished just right with an infused chili oil and roasted pumpkin seeds! It's perfect for the fall season, and for any holiday gathering! This soup comes together quickly and is paleo-friendly!
Pumpkin BBQ Sauce: This Pumpkin BBQ Sauce is a little twist on a classic bbq flavor with a hint of pumpkin spice! This super simple sauce contains no refined sugars, is paleo friendly and takes under 20 minutes to put together! It's easy, and the perfect condiment to spice up your fall bbq.
Creamy Pumpkin Casserole: This Creamy Pumpkin Casserole is my new favorite fall fish. This optionally dairy-free dish has pumpkin, spinach, and chicken and is topped with a delicious sauce and baked to perfection. It's Paleo and Whole30, too.
Back-to-Basics Pumpkin Recipes
Homemade Pumpkin Puree: Making your own Pumpkin Puree is so easy, and results in some really fresh tasting pumpkin for all the fall baked goods! We're giving you all the details on how to make it and store it below!
DIY Pumpkin Pie Spice: Pumpkin Pie Spice is ubiquitous come the fall, and we're not sad about it! Especially because it's so easy to make your own DIY Pumpkin Spice Blend and you get to control the quality of spices (and quantities) that are added to it! Plus, you'll likely already have what you need on hand at home in your spice cabinet so you can make it right now!
Pumpkin Butter: This sweet spread is made up of cooked pumpkin puree with added sweetener and warm spices. It can be made either in the Instant Pot or in the Slow Cooker and is guaranteed to make your home smell delicious while it's cooking! Use it on your favorite bread, muffin, on top of oatmealor straight from the spoon!
0comments
October 16, 2019
Subscribe to
Lexis Clean Living
Join our email list to get instant updates and weekly summaries of our top content and special exclusive offers along with our free clean eating kickstart guide!
This website may at times receive a small affiliate commission for products that we shared with you in our posts. Although we may receive a commission for linking certain products, there's no additional costs to you and all of our opinion and suggestions are 100% our own and unbiased. That's our promise to you!