This Slow Cooker Apple Butter has no added sugar and is my all-time favorite Fall spread. It's Whole30 compliant, paleo-friendly, and is so delicious! It's filled with in-season fresh apples and fall spices that will make you're home smell heavenly.

Slow Cooker Apple Butter (No Added Sugar)
While studying for my undergraduate degree at the University of Massachusetts Amherst I found a serious love for apple butter thanks to frequent visits to Judie's Restaurant. Back before I changed my diet I would enjoy the giant popovers they served slathered with the most delicious apple butter.
It has been a while since I've been there, but I haven't forgotten that apple butter and realized it was time to create a recipe of my own that wasn't loaded with refined sugar. While I won't be enjoying this apple butter on top of popovers anymore, rest assured there are plenty of ways to enjoy it, with this, on top of these, over these or with the biscuits in my book. But really, it's amazing just by the spoonful.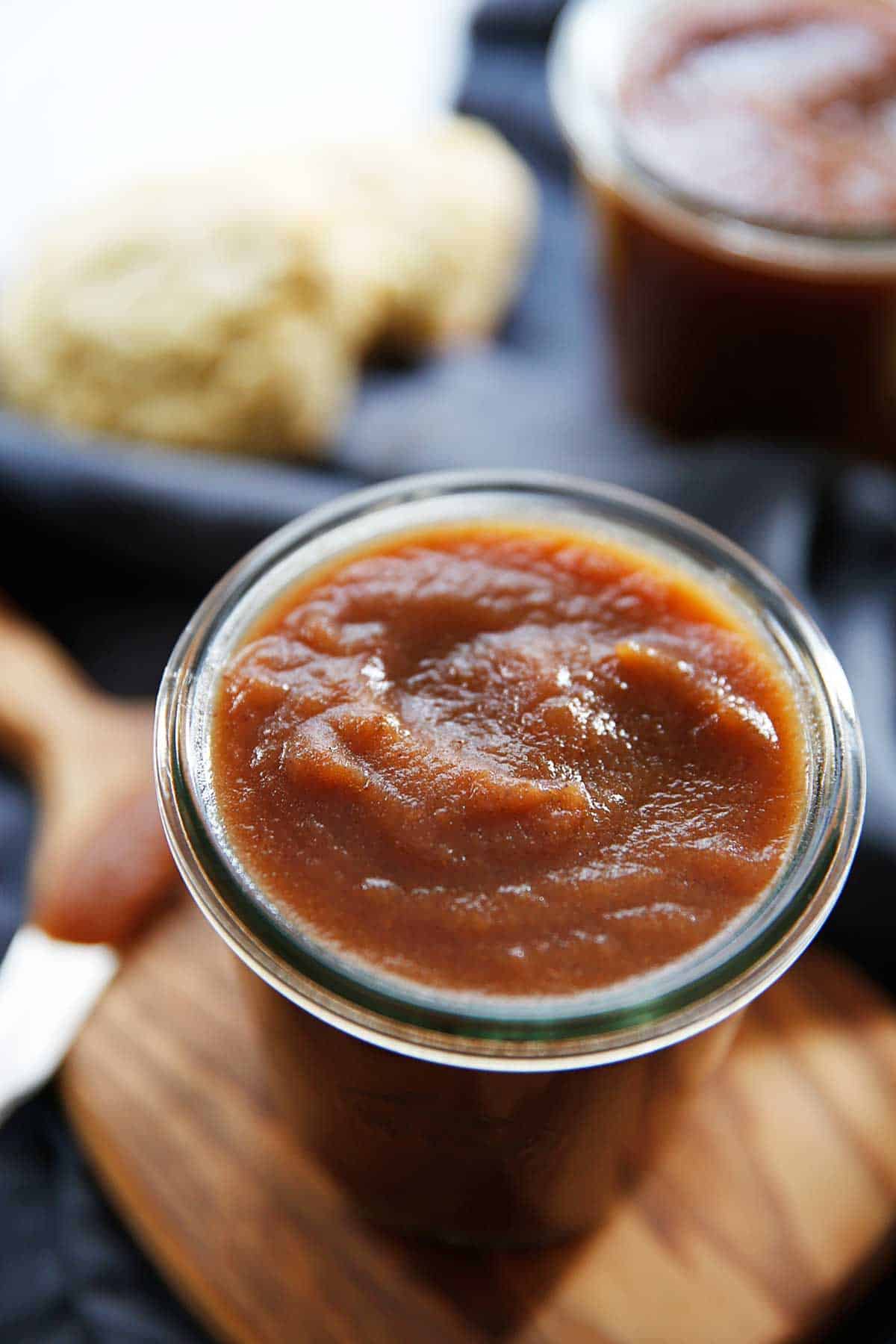 There are loads of other apple butter recipes out there, some with long cooking time and some with short. I really feel like the longer and slower the cook, the more depth of flavor the apple butter has, so a 2-hour version just has never cut it for me. But aside from the prep and the finishing touches, this recipe is relatively hands-off and can even be done overnight.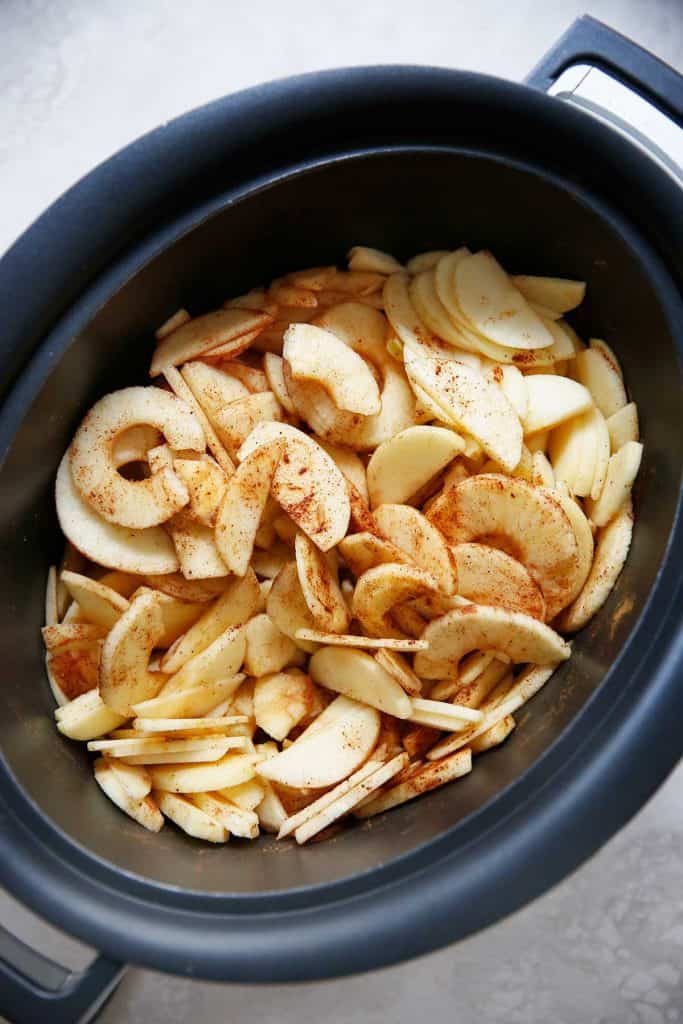 How Do You Know When Apple Butter is Done?
You want the apple butter to be dark in color and quite thick, thick enough that when you pick it up by the spoonful it mounds on the spoon instead of dripping off.
Tools Needed to Make Apple Butter: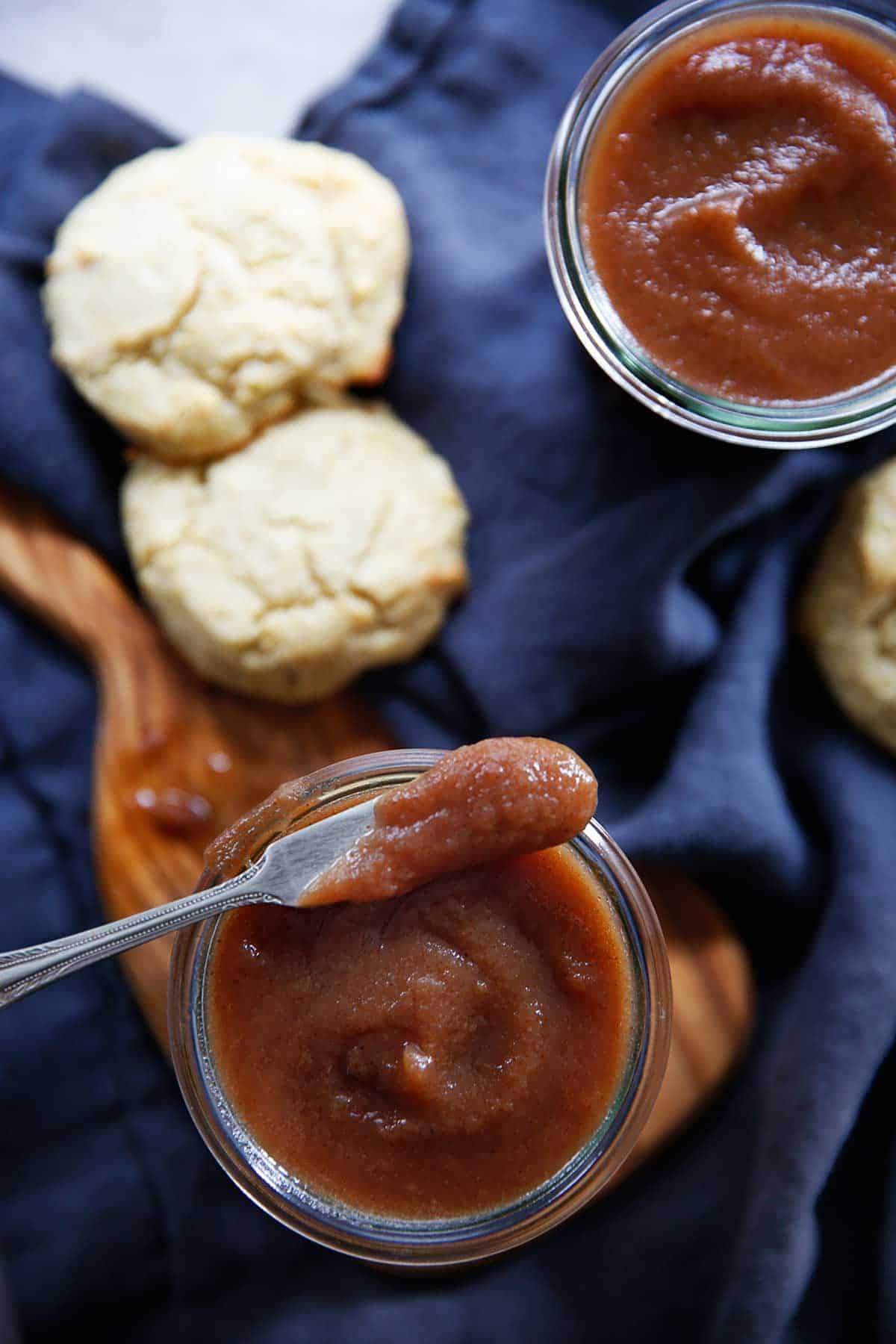 If you like this fall favorite, check out these other recipes:
Easy Apple Butter Recipe
No Sugar Crock Pot Apple Butter
Directions
Put everything in slow cooker. The cider or juice should not overpower apples. Cook on low for 10-12 hours.
At 10 hours, once apples are dark, immerse hand blender or transfer to a high speed blender and blend until smooth.
Put lid back on slightly ajar and let cook for the remaining 2 hours. If you're in a time crunch, place into a pot on the stove over medium-low heat and let simmer until thick.
Let cool, store in jars in the fridge for up to 1 week unless canning.
Recipe Notes
-If not as thick as you'd like, transfer to pot and cook over medium heat until thickens (use a lid, it will splatter)
-Very thick and spreadable. Perfect top spread on toast, or to top your favorite oatmeal, pancakes, or waffles!
Make it last a year! How to can this apple butter using the Water Bath Canning Method:

Heat water in a large, deep saucepot equipped with a lid. If you have a canning rack or a cooling cake rack, place the rack at the bottom of your saucepan. Bring the water to a simmer (not a boil) and carefully submerge your jars along with their lids for about 5 minutes or until warm. Make sure water is inside your jars to keep them submerged.
Carefully remove the jars and lids from the warm water with tongs and place on a cooling rack set over a kitchen towel. Pour the apple butter into each jar using a funnel, leaving at least 1/4 inch of space at the top. Make sure there are no air bubbles in the jam and that the rim of the jar is clean before securing the lid.
Cover your saucepan and bring the water to a boil over medium-high heat. Submerge the tightly closed jars in the boiling water for 10 minutes.
Take your saucepan off the heat and allow your jars to sit in the hot water for another 5 minutes.
Carefully take your jars out of the hot water and place on a paper towel. Check jar lids for seals by making sure the lids do not flex up and down when pressing the middle of the jar.
Store in a cool, dark place for up to one year! Once opened make sure to store in the refrigerator for up to one week!
Loading nutrition data...
There may be affiliate links in this post! By clicking on them, or purchasing recommended items I may receive a small compensation, at no cost to you! However, I only recommend products I absolutely love and use in my own home! Thank you for supporting Lexi's Clean Kitchen when you shop! See my
privacy policy
 for more information about this, the information we save, and more!