Nut Free Energy Bites
Looking for a nutrient-dense and easy-to-make snack? These Nut Free Energy Bites are packed with sunflower seeds, coconut, chia seed and sunbutter to hold it all together and are the perfect way to fuel your day! Make a batch on Sunday for easy access snacks throughout the week!
Allergy Friendly Energy Bites
These no bake energy bites are the perfect snack to have on hand in the fridge. They are loaded with healthy whole ingredients and of course, healthy fats, protein, and carbs. Sunflower seeds are a fiber-packed powerhouse and contain many vitamins and minerals such as vitamin E. Including them in both the whole form and the seed butter make these energy bites a nut-free option to bring to schools! Which is perfect because these energy bites are loved by both kids and adults! Grab one or two and have a filling bite-size snack, pack it in the lunch box with your kids or serve for a healthy after dinner treat.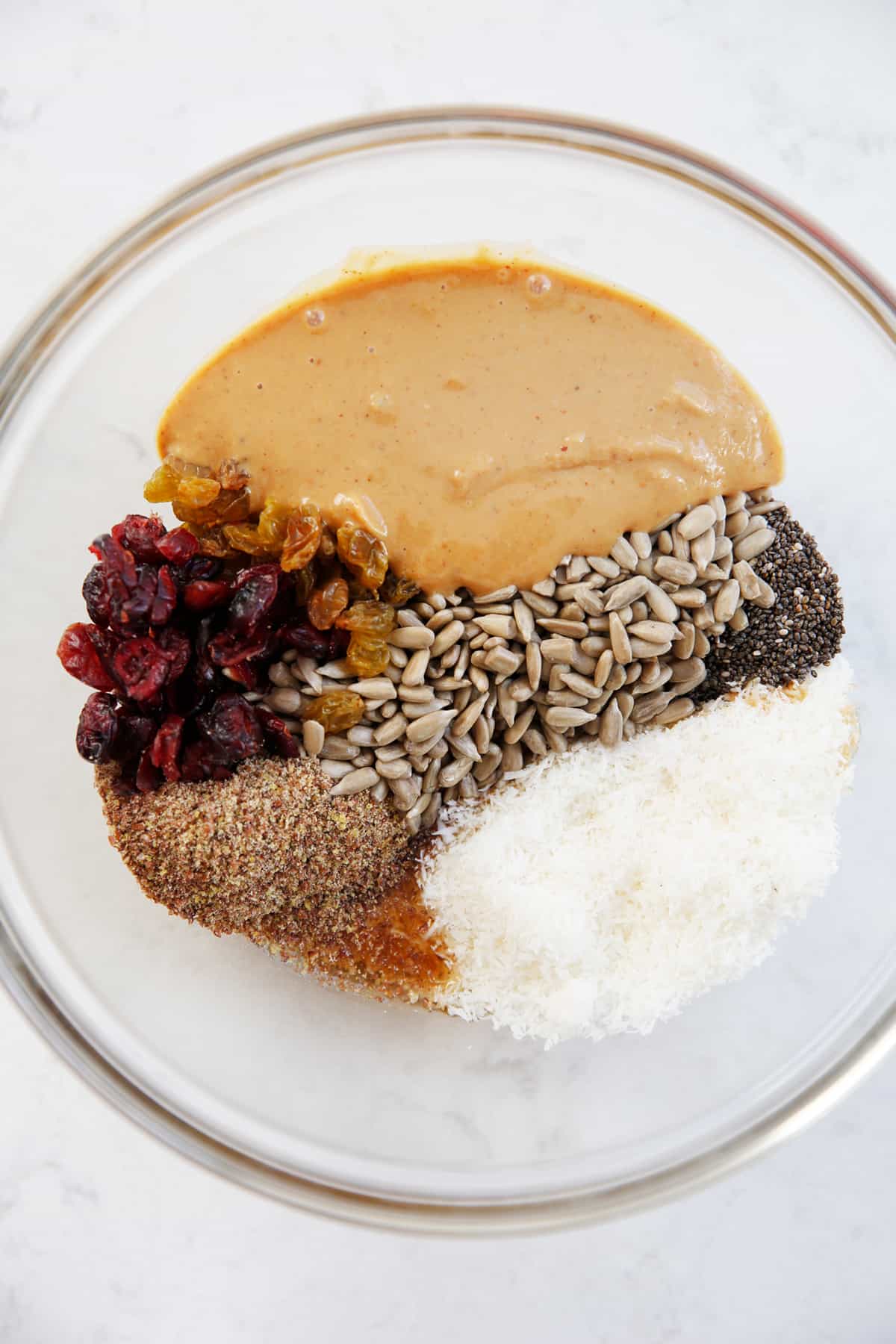 What's in them?
Sunflower Butter (though really any seed or nut butter works here!)

Unsweetened

Shredded C

oconut

Ground Flax Seed

Raw Sunflower Seeds

Vanilla Extract

Chia seeds

Maple Syrup

Optional Add-ins: Dried Cranberries, Raisins, Chocolate Chips
How to Make Them
And this is our favorite part! Most energy bites rely on dates for sweetness and for consistency which means they need to be made in a food processor. These however do not: which means to make them, all you have to do is mix up the ingredients in a bowl! It really is super simple.
Once the ingredients are fully combined, roll them into balls and store!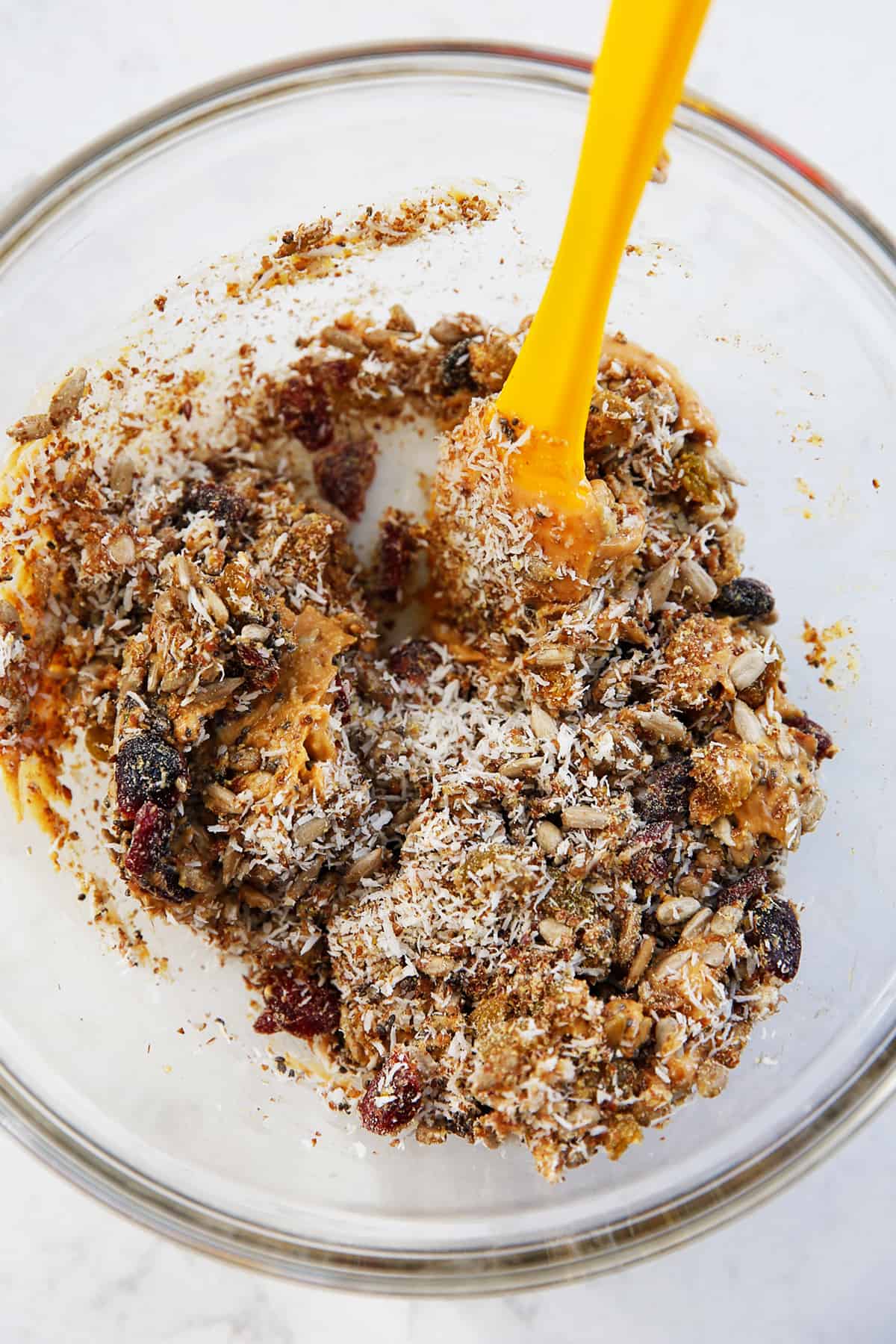 How to Store Them
Store energy bites in a covered container for up to 2 weeks in the refrigerator. They can also be stored in the freezer for up to 3 months.
They are stable at room temperature, so are perfect safe to be out of the refrigerator for a few days if need be.
If you like these energy bites, check out these others:
[yumprint-recipe id='194′]
Nut Free Energy Bites
This is the best Gluten Free Pizza Crust recipe! It's easy to make, using a handful of ingredients and comes together in under 10 minutes. Plus, there is no kneading or proofing required. It's paleo and grain-free, but you wouldn't know it. It's light and chewy with just the right texture. Bake it with your favorite toppings for pizza ANY night of the week.
Gluten Free Pizza Crust
If you haven't tried my Gluten Free Pizza Crust before, you have been missing out. This pizza crust was first published back in 2014 and was also included in my cookbook. It has been made and loved by so many of you! I have to admit, it's a favorite of mine too. We rephotographed it, as well as updated one ingredient to make it even easier to make. This gluten-free, paleo and nut-free crust comes together quickly, in 1-bowl in under 10 minutes. No kneading, proofing or fussing is required! This pizza crust uses a blend of coconut flour, tapioca flour and ground flaxseed. It's light and chewy and is a crowd pleaser. It's easy to make ANY night of the week and perfect for any topping you'd like!
Paleo Pizza Crust Ingredients
Previously, when I first published this recipe I used palm shortening instead of the olive oil that is now listed. While that works equally as well, a lot of readers don't commonly keep palm shortening on hand. We tested this with olive oil and love the results, so we've updated the recipe to call for that instead. If you know and love this with palm shortening, you can still go ahead and use equal the amount of that.
Olive Oil
Warm Water
Egg
Tapioca Flour
Coconut Flour
Ground Flaxseed
Baking Powder
Garlic Powder (optional)
Italian seasoning (optional)
Fine Sea Salt
How to Make Gluten Free Pizza Crust
What I love about this crust is how truly easy it is to make! All you need is a bowl, a whisk and a spatula. First you whisk together the wet ingredients. Next you add in the dry ingredients, whisk together until you can't whisk anymore, and then continue to stir it together with a spatula.
Because we're using coconut flour, the dough will look more like a batter and thickens as it sits. After it's been mixed together, let it sit for about 5 minutes.
Next, you dump the dough on a piece of parchment that is dusted with tapioca starch. The dough will be sticky. Dust your hands with tapioca starch, as well as the top of the dough. Using your fingers pat the dough down into a circle 8-9″ circle, dusting with additional tapioca as needed. The thinner you pat out the dough, the crispier the crust will be.
Once you have formed your pizza dough you can lightly brush off any excess tapioca flour.
Tips for Working with Homemade Paleo Pizza Crust
Use a scale to measure out the flour! Coconut flour is very absorbent. If it is not measured correctly it could impact the recipe. Check out this post for more information.
Form the crust directly on the parchment and baking sheet you plan to bake the pizza on.
Let the dough rest for a few minutes before you form the pizza crust. This dough uses coconut flour and the longer it sits the more liquid it absorbs. If you try to form the crust right away it may be too wet.
This pizza crust is sticky! Use extra tapioca flour as needed to prevent it from sticking to you, or the parchment. If you have an excess after you have finished forming the pizza, brush or gently blow it off.
You must parbake the crust. Typically pizza is baked at a very high temperature. Because of the use of paleo flours, it is better for the flavor for this crust to be baked at 350ºF, so you'll need to fully bake the crust before adding in your toppings.
How to Bake Gluten Free Pizza
This pizza crust must be baked first before you add any toppings. Bake in a preheated 350ºF on the the middle to lower rack for 20 minutes. Then add your pizza toppings and continue to bake until the cheese is melty.
This recipe makes a pizza for 1-2 people. If serving more, feel free to double the recipe. If you want to make a bigger batch than than that, it is better to make it in a separate bowl. For example, if you want to serve more than 4 people, could could make 2 double batches in two bowls, instead of making them all on the same bowl.
If you like this gluten-free recipe, check out these others:
If you like this pizza recipe, check out these others:
---
Watch the video:

[yumprint-recipe id='189′]

The Best Gluten Free Pizza Crust
This Grilled Chicken and Vegetables recipe with Tomato Vinaigrette is loaded with perfectly grilled chicken, tons of grilled veggies (whatever vegetables you wish, really), and a delicious tomato-based vinaigrette dressing. It's the perfect way to throw together dinner without turning the oven on!
Grilled Chicken and Vegetables with Tomato Vinaigrette
Grilled veggies, perfectly grilled chicken, and my favorite dressing… Dinner is SERVED! The summer is great for so many reasons but one of my favorites is because of the abundance of vegetables available right from the farm. This salad is the best example I know of a summer vegetable bounty. I love how the grilled chicken and veggies are tied together with this savory tomato vinaigrette. This meal is totally customizable based on what vegetables are available to you and is sure to be a new family favorite.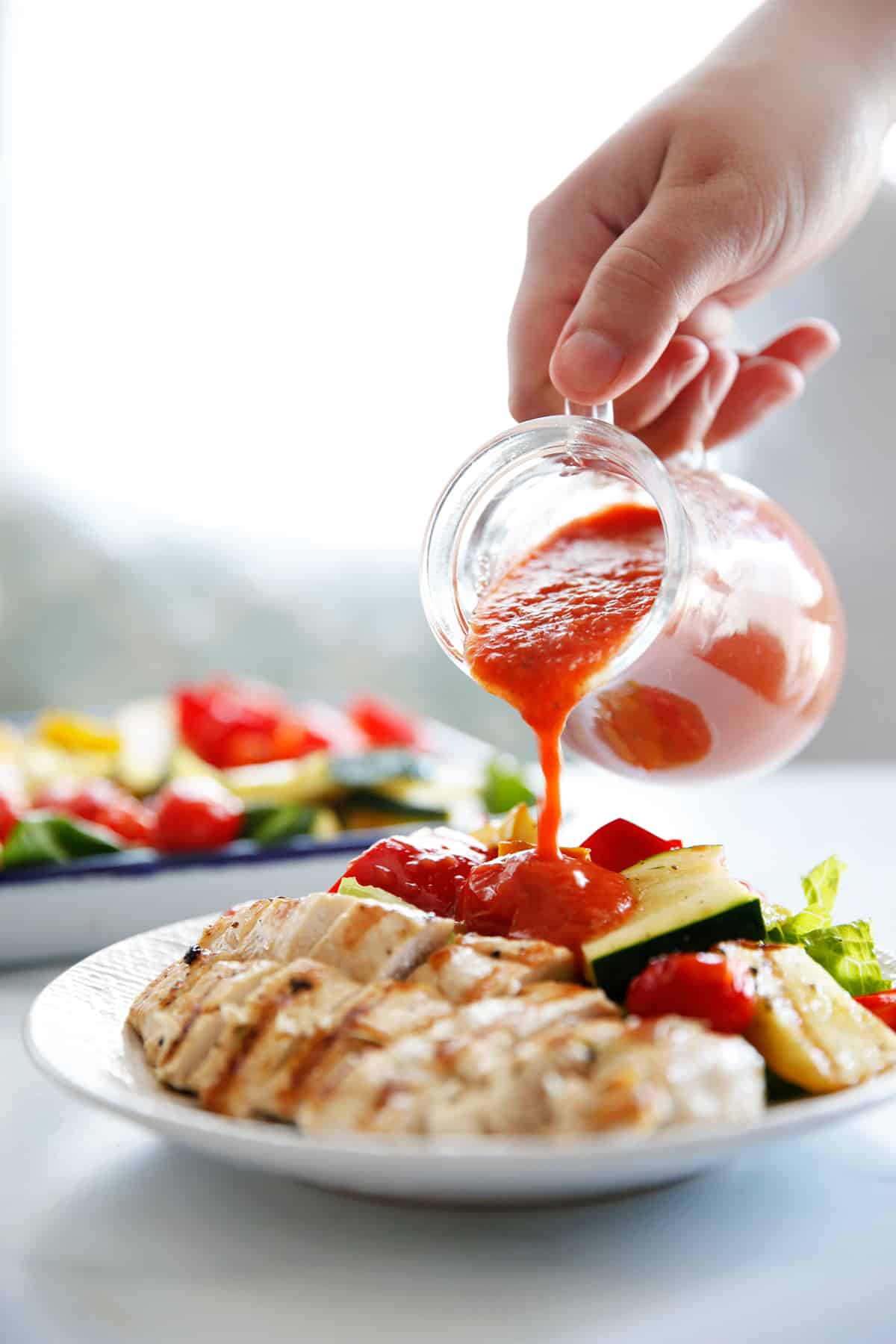 Tips for Grilling Chicken
Marinate your meat! Any meat that has had a change to be infused with flavor will taste better and be juicier (thanks to the addition of salt).
Prep your grill: Make sure your grill is preheated and that the grates are clean! You want to make sure the grill has come up to the proper temperature. Cleaning the grates will ensure your chicken doesn't stick. Right before you cook you can rub a little oil on your grates as well!
Cook over indirect heat: While you want your grill to be preheated you do not want to cook over direct flame. Cooking over indirect flame will ensure the chicken doesn't burn before it is cooked through inside.
Cover your grill! Covering your grill will make sure the grill stays hot and that your food cooks quicker.
Use a thermometer! Sure there are plenty of other tricks to figure out if your chicken is properly cooked, but the most fool proof is to use an instant read thermometer. You want it to read 165º in the thickest part of the chicken.
Can I make it without a grill?
Yes! While we love the charred smoky taste of the grill, this dish would still be perfectly acceptable on a grill pan inside of even if you need to, in a regular skillet! Do what works for you, either way a nice marinated juicy piece of chicken will be delicious with all these veggies and tomato vinaigrette.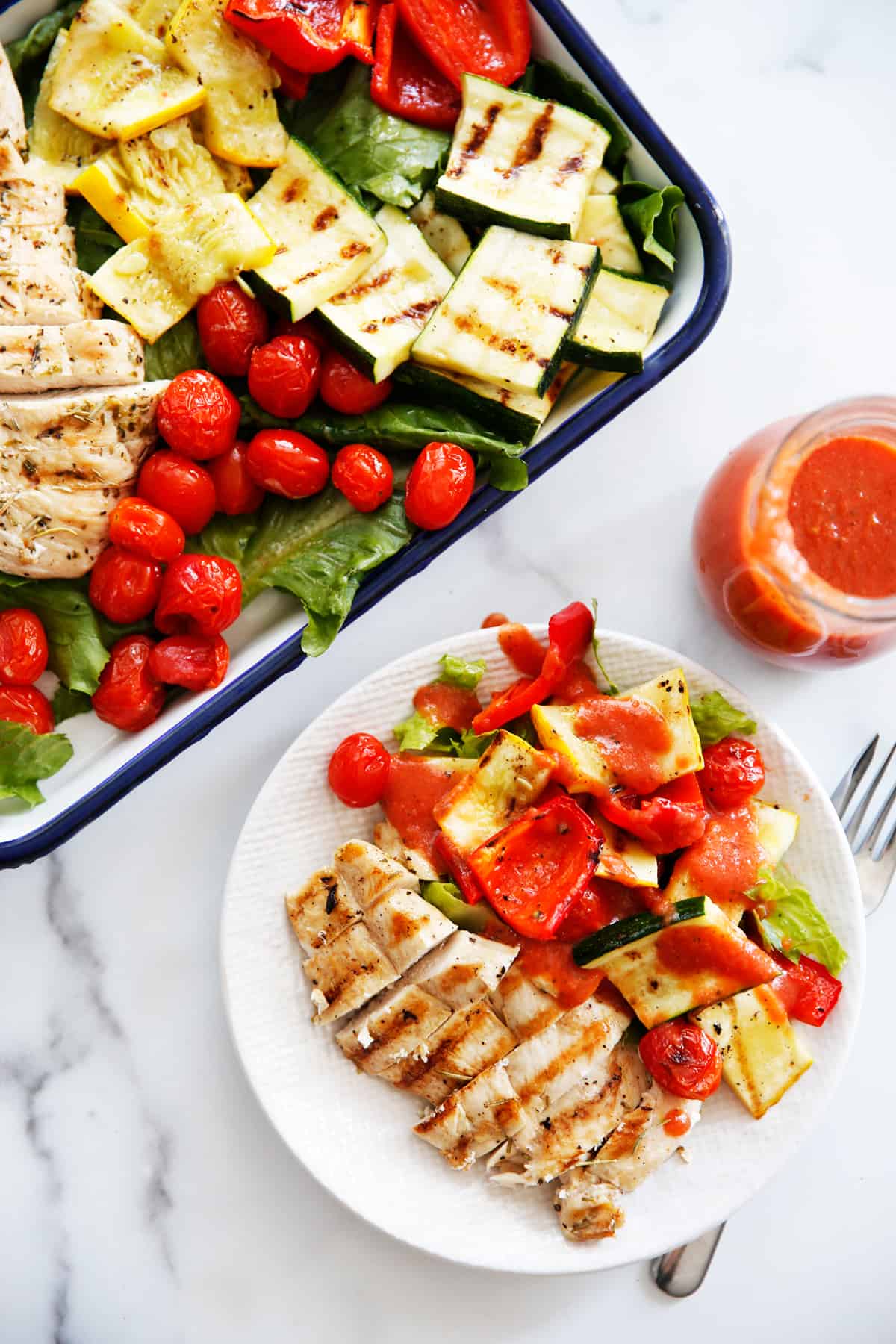 If you like this grilling recipe, check out these others:
If you like this chicken and veggie recipe, check out these others:
Grilled Chicken and Vegetables with Tomato Vinaigrette
These super simple chocolate Fudgesicles are so rich and creamy, but made without any dairy at all! Made simply with only a handful of ingredients these naturally sweetened popsicles will be loved by both kids and adults alike.
Dairy-Free Chocolate Fudgesicles
These simple but delicious Fudgesicles are made with coconut milk and chocolate and require no special machine to make them other than a blender and a popsicle mold. They're creamy and delicious. But best of all there is a hidden nutritional component to it! You can optionally add either a protein powder of choice or collage protein to your fudgesicle to give it super powers!
Ingredients needed for Healthy Fudgesicles
Coconut milk
Dark chocolate chips (dairy-free, if you need it)
Protein powder of choice or Collagen Peptides
Vanilla Extract
Maple syrup
How to Easily Get Popsicles Out of the Mold
There are a few tricks you can use to get popsicles out of the molds but the easier one I've tried so far is to stick the popsicle mold in a big bowl of hot water. Place the entire mold inside of the water, making sure though not to get any of the water inside of the popsicles. Leave it in there for about 30 seconds and remove. Then all of the popsicles should easily pop out! If you have individual molds than you can stick each popsicle in a tall glass of hot water.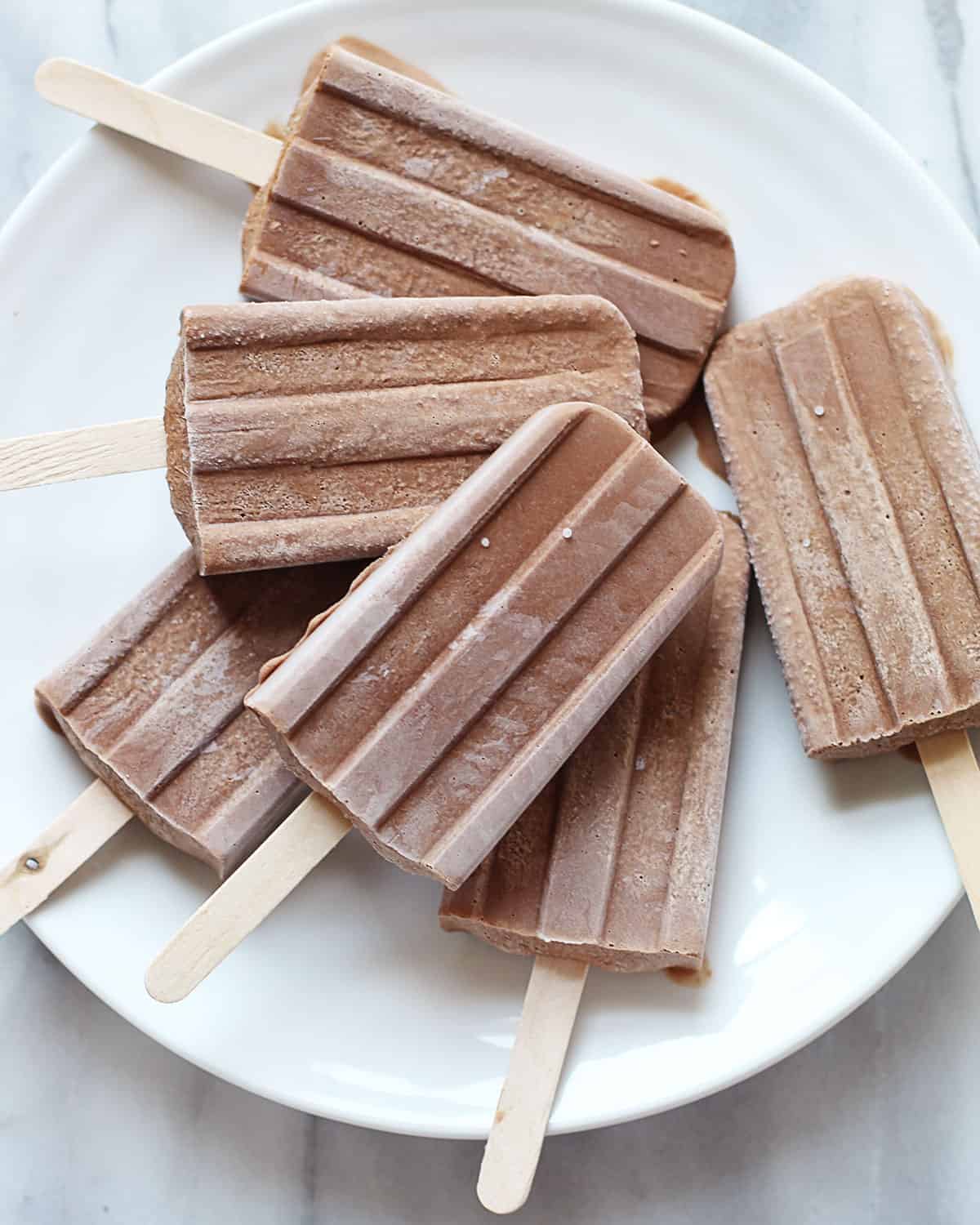 If you like this summer dessert, check out these others:
If you like this chocolate recipe, check out these others:
Protein Fudgsicles
This Chipotle Slaw is smoky and spicy and made special with spiralized veggies! It's gluten-free and paleo and the perfect slaw to bring along to a potluck or to serve at your next BBQ.
Spiralized Chipotle Slaw Recipe
This spicy Chipotle Slaw is so unique thanks to the addition of spiralized veggies! While this slaw still uses cabbage we added in some nutrient dense veggies to make this slaw special. Along with the smoky and spicy chipotle mayo dressing, this slaw is a great dish to bring along to a potluck or serve at your next BBQ.
What are spiralized veggies?
Spiralized veggies are veggies that are cut with a Spiralizer! It's basically just a device that makes noodle like strings from veggies. It's perfect for making noodles out of just about anything. We love using it to make zucchini noodles for dishes like this and this.
Ingredients Needed for Slaw
Carrots

Cabbage

Zucchini

Yellow Squash

Mayo, store bought or homemade

Canned chipotle in adobo

Apple cider vinegar

Garlic powder

Cumin

Salt and Pepper

Bacon
Ways to use this Chipotle Coleslaw
While we are partial to eating it straight from the bowl, there are plenty of ways to use this slaw: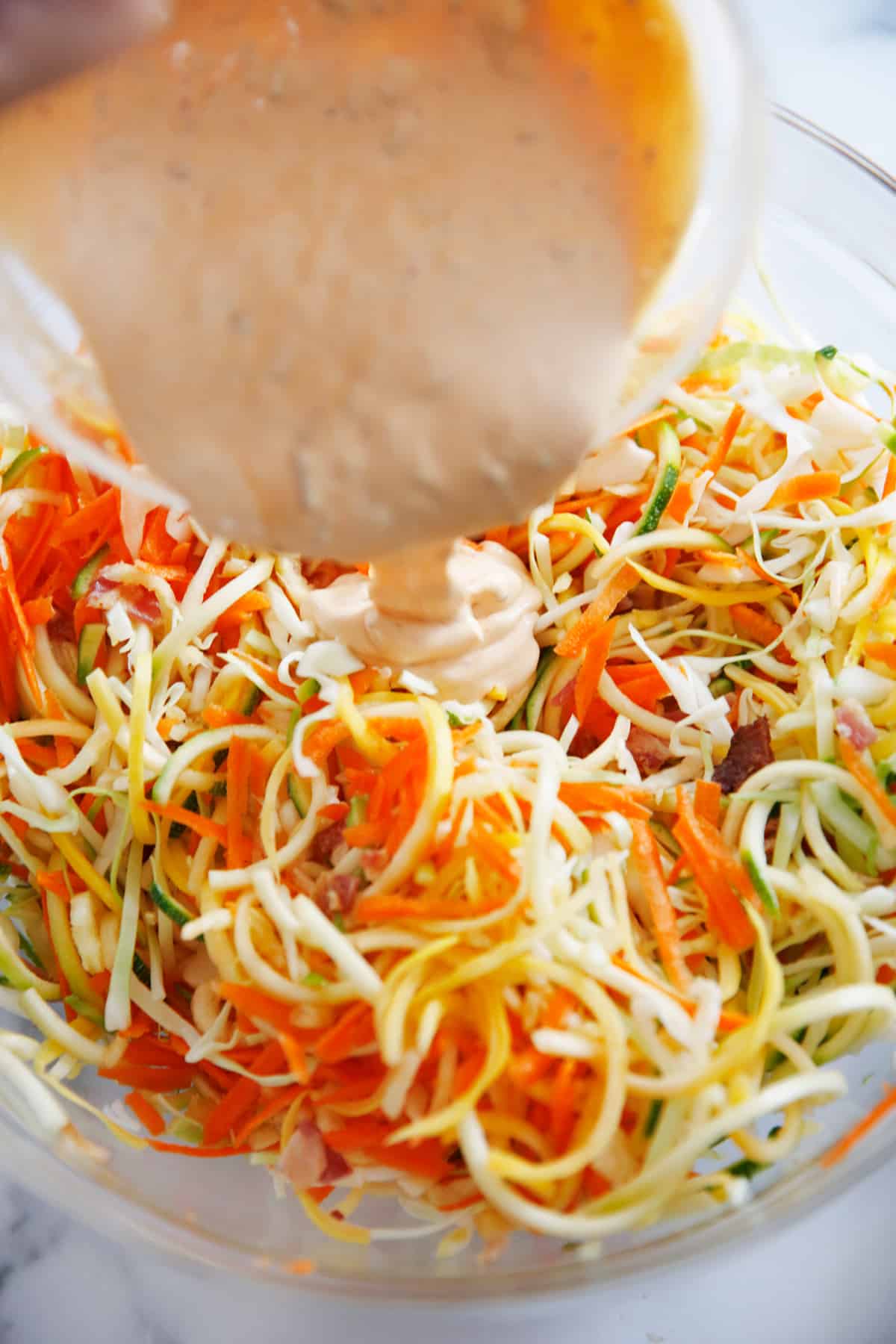 If you like this slaw recipe, check out these others:
[yumprint-recipe id='273′]
Spiralized Chipotle Slaw
This Corn Avocado Salsa recipe is a quick and delicious side to serve up with just about anything! This cool summer side dish is easy to make and is gluten and dairy free!
Avocado and Corn Salsa Recipe
This is the perfect summery side dish to serve when the weather is HOT. This Avocado and Corn Salsa comes together quickly. It is the perfect easy side dish to throw together and flies off the table! This dish is served great with nearly anything, but we especially like it for other quick cooking summer dishes like this Blackened Fish, quick Chicken Tacos or this Garlic and Lime Grilled Steak.
Corn Salsa Ingredients
Fresh Corn on the Cob
Red Onion
Cherry Tomatoes
Avocado
Olive Oil
Lime
Cilantro
Salt and Pepper
Methods to Cook the Corn
The only piece of this salsa that needs to be cooked is the corn! There are a few different methods you can use to cook it. You can quickly boil it, as we suggest in the recipe. Or you could grill it! Additionally you can also cook corn in the Instant Pot using these directions here.
If you like this avocado recipe, check out these others:
If you like this side dish, check out these others:
[yumprint-recipe id='40']
Avocado and Corn Salsa
These Chocolate Chip Paleo Zucchini Muffins are fluffy, moist, and packed with good-for-you ingredients. Made with a combination of almond flour and coconut flour, this gluten-free muffin recipe is made with unrefined sweeteners, zucchini, dark chocolate and is the perfect grab-and-go breakfast!
Chocolate Chip Paleo Zucchini Muffins
This Paleo Zucchini Muffin recipe is an OG Lexi's Clean Kitchen and still a goodie all these years later! This recipe was originally published in celebration of LCK turning 1 back in 2014. We're republishing today because this recipe has stood the test of time and is worth the photo facelift it got to reshare today!
These gluten free muffins made with a blend of almond flour and coconut flour have the perfect texture! They are the best way to use up zucchini and your picky eaters will never know there are some veggies inside the muffin! Grab one when you are running out the door, or for a guilt-free mid-day snack. They freeze well, too!
Ingredients for these Gluten Free Zucchini Muffins:
Almond Flour
Coconut Flour
Eggs
Honey
Vanilla
Unsweetened Apple Sauce
Baking PowderZ
Zucchini
Chocolate Chips
Is Almond Flour Healthy?
I love using almond flour as the base for my muffin recipes because they make the best gluten-free muffins without needing to add a lot of other fussy ingredients. Almond flour is a delicious and nutrient dense alternative to any other flour. It is low in carbs and high in fat which makes it a great healthy flour that makes you feel fuller, longer.
How to Measure Almond Flour
If you have an electronic kitchen scale at home, it's best to use it here to measure almond flour. Almond flour can be tricky to measure as it can be easily compacted, even straight from the bag. The same goes for coconut flour because such a small difference in measuring can impact a recipe because it's such an absorbent flour. So we've included the weight in grams here. Any electronic kitchen scale can switch between grams and ounces, and grams are more precise so we're offering that. If you don't have a scale: lightly scoop the almond flour or coconut flour into the cup measurement and level it off.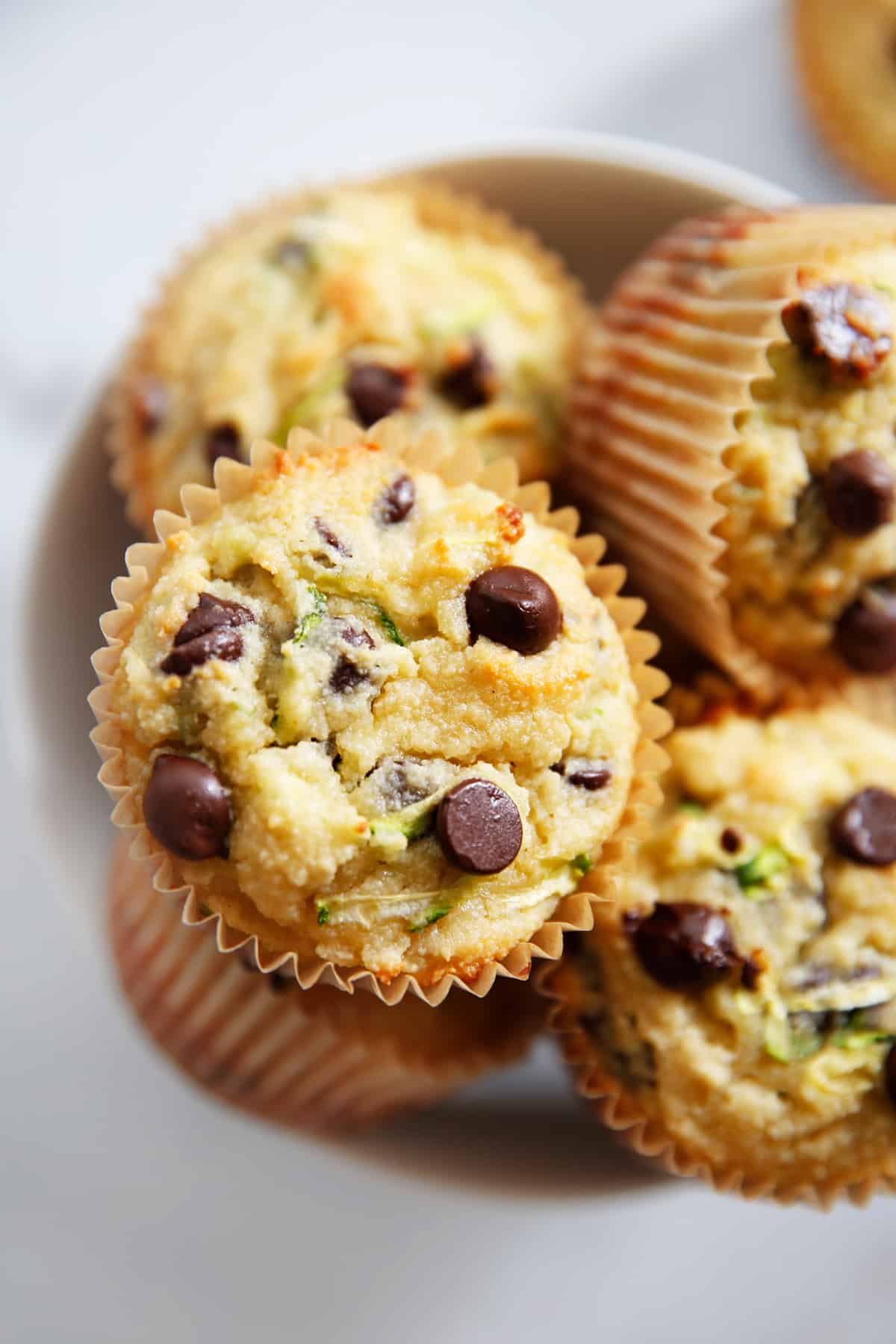 Looking for other recipes to use up zucchini? Check out these others:
If you like this muffin recipe, check out these:
---
[yumprint-recipe id='162′]
Chocolate Chip Zucchini Muffins
These Baked Chicken Caesar Burgers are so flavorful and such a fun dinner! They take all the flavor of a Chicken Caesar Salad and turn it into burger form. They're dairy-free, gluten-free and optionally Paleo and Whole30 friendly too!
Baked Chicken Caesar Burgers Recipe
These light Baked Chicken Caesar Burgers are the perfect alternative to a traditional burger! They're so delicious and flavorful and a fun twist on the traditional salad! Pair them with a 2-ingredient Caesar salad slaw and homemade parmesan crisps and you'll knock it out of the park with this dinner.
This recipe uses my homemade recipe for Caesar Dressing from my book, which is delicious and happens to be dairy-free. If you wanted to you could swap in a store-bought version, just be careful to check labels if you have dietary restrictions.
Here is what you need to make the Caesar Burgers:
Ground chicken
Garlic
Olive oil
Scallions
Sriracha
Parsley
Lemon juice
Salt and Pepper
Parmesan cheese (optional)
Homemade or store-bought Caesar Dressing
Is Caesar Dressing Gluten Free?
Some store-bought caesar dressings can contain gluten. This salad uses a homemade version that is naturally gluten-free. The recipe comes from my cookbook and is my all-time favorite. It's made dairy-free but doesn't skimp on the creaminess and the flavor.
If you like this burger recipe, check out these others:
[yumprint-recipe id='416′]
Baked Chicken Caesar Salad Burgers
Cooked spaghetti squash is a great nutrient dense, gluten-free, lower carb alternative to pasta or rice noodles. There are two great methods how to cook spaghetti squash and we're giving you all the details you need to know!
How to Cook Spaghetti Squash
Spaghetti squash noodles are probably the easiest alternative to traditional pasta there is. While it doesn't taste exactly the same, spaghetti squash is a nutrient-dense, low carb alternative to pasta (whether gluten-free or not). If you can't eat pasta or noodles for whatever reason, this is a pretty good substitute. It can take the place of almost any noodle dish, ranging from a classic "spaghetti" and meatballs, to a baked Italian "pasta" dish or even as a Pad Thai. Cooking spaghetti squash is so simple, being a mostly hands off cooking task. The hardest part is slicing it in half, so we are giving tips below.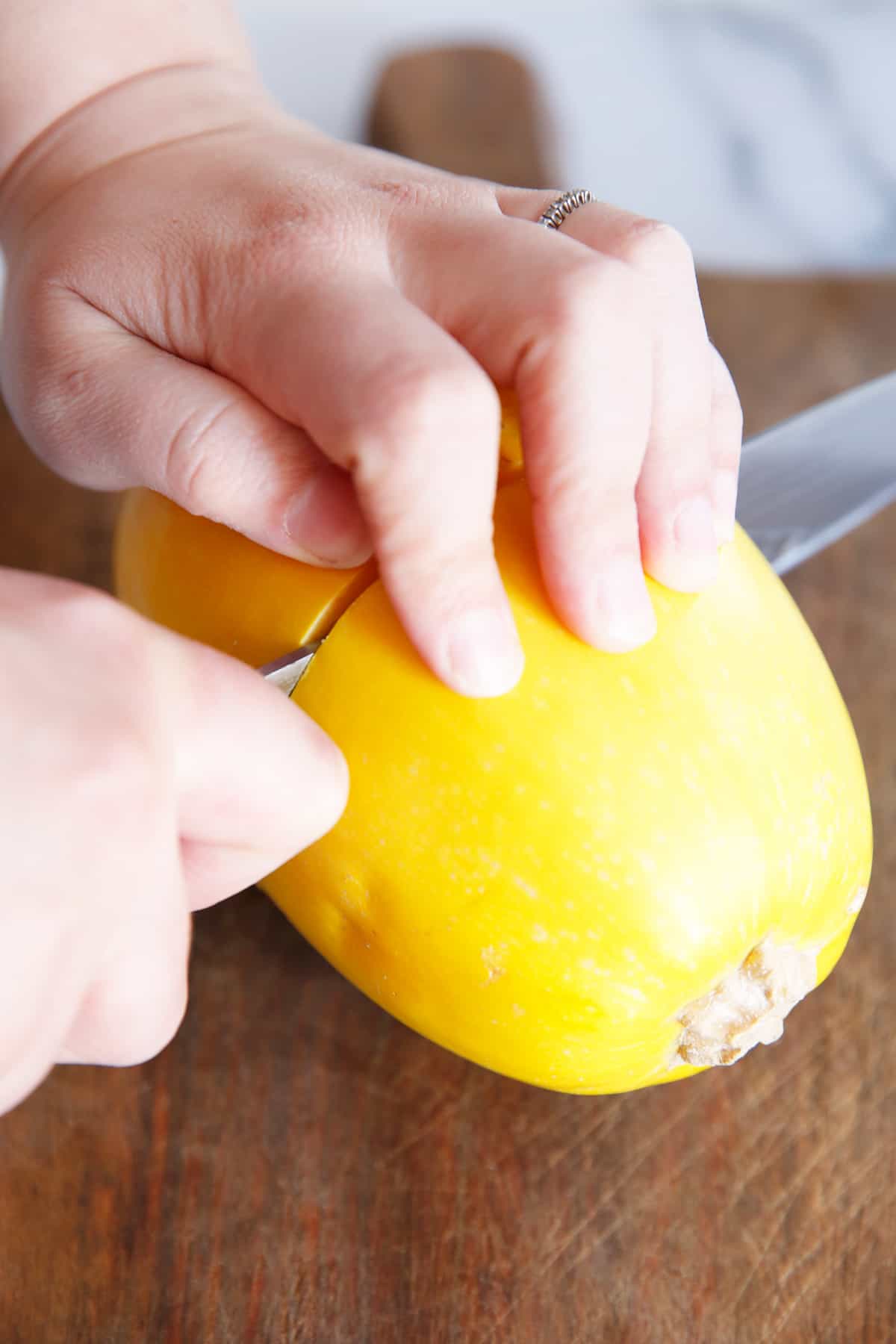 How to Safely Cut It:
Your best answer to safely cutting a spaghetti squash is to have a large sharp knife, and a flat stead surface to cut it. With one hand, steady the spaghetti squash, and with the other press the knife into the squash before using your weight to leverage the knife through the squash. Once the knife is at least an inch inside the squash use your other hand to push down on the knife until it cuts through the squash entirely.
We cut the squash in two ways:
Crosswise the the middle: This is our preferred method. This way is easier because there is less squash to cut, and you don't have to go close to the stem. This results in long strings of noodles.
Lengthwise: This method is harder to cut the squash and results in shorter noodles. Don't try to attempt to cut through the hard stem. Once you've cut to that, take the knife out and use your hands to pull apart the spaghetti squash halves.
Still are afraid to cut the squash? You can always cook the squash whole, and cut after it is cooked. It's obviously much easier to cut after it is soft, but we don't prefer this method (see below as to why).
Can you Cook Spaghetti Squash Whole?
Yes you can, but this was not our favorite method of cooking it. If you are truly intimidated by cutting a squash, cooking it whole certainly makes it a lot easier to cut, but if you follow the tips above you should be able to safely cut a spaghetti squash. We didn't like the result of a whole cooked spaghetti squash because it is harder to scoop out the seeds when they're soft because you can't easily distinguish between the inedible seeds and the edible squash strands.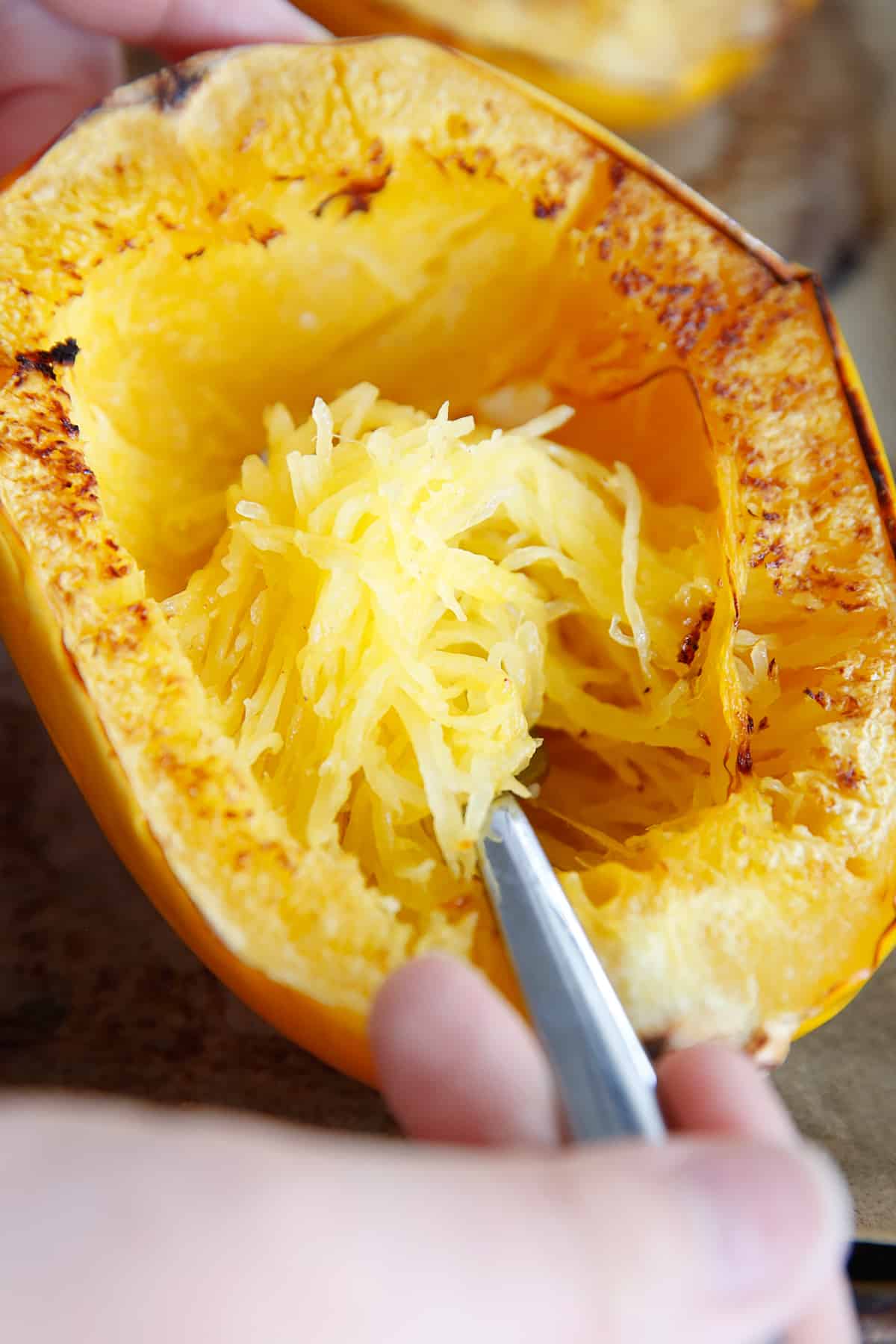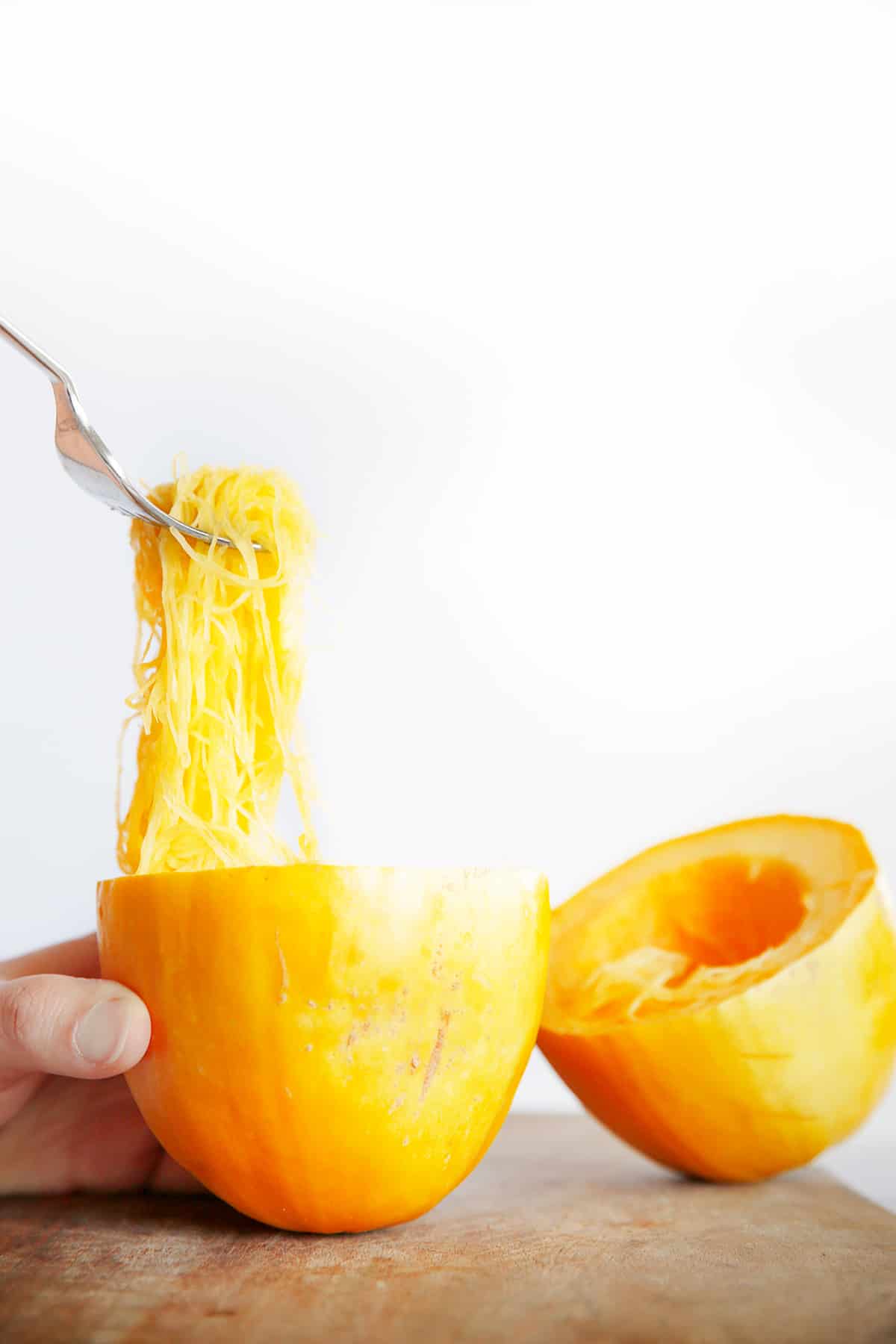 Our Favorite Way to Cook It
We are fans of cooking spaghetti squash in both the oven and in the Instant Pot. There is a slight difference in taste, and an even greater difference in cook time between these two, but knowing both is useful.
How to Cook Spaghetti Squash in the Oven
Roasting spaghetti squash in the oven takes longer, but it results in tender caramelized squash noodles. This is definitely our preferred method if we have the time. To make it, all you do is split the spaghetti squash, scoop out the seeds and drizzle with oil, salt and pepper and roast until fork tender. More detailed directions are below in the recipe section!
How to Cook Instant Pot Spaghetti Squash
Steaming spaghetti squash in the Instant Pot is by far the quickest method, and great when short on time! The squash noodles have a more straight-forward taste to them since there is no caramelization occurring. We prefer splitting the spaghetti squash and scooping out the seeds before cooking it, but you can steam it whole.
Do you Eat the Skin of the Spaghetti Squash?
No! While some squash has edible skin, this is not one of them. Simply scoop out the "noodles" and discard the skin.
How to Use it
Treat spaghetti squash noodles like pasta! It can be eaten as is with a little oil, salt and pepper and parmesan cheese or you can use it in any variety of recipes. Check out below for some of ours:
Recipes using Spaghetti Squash:
Watch the video:
How to Cook Spaghetti Squash
This healthy asian paleo beef recipe, made mostly in the slow cooker, is the perfect make ahead lunch or dinner! It's paired with cauliflower "rice" and veggies and is a great low-carb, whole30 and paleo meal prep. Double the recipe and you can also make it dinner one night and lunch for the next few days!
Paleo Asian Beef Rice Bowl
This Whole30, Keto and Paleo Asian Beef and Rice bowl is a great addition to your meal prep rotation! The savory shredded beef is cooked in a slow cooker and then served with veggies, paleo cauliflower rice and a really delicious asian style sauce. We use onions, red pepper and broccoli but you can really swap out with any veggies you have on hand that you think will go well in this dish like carrots, bok choy, or cauliflower.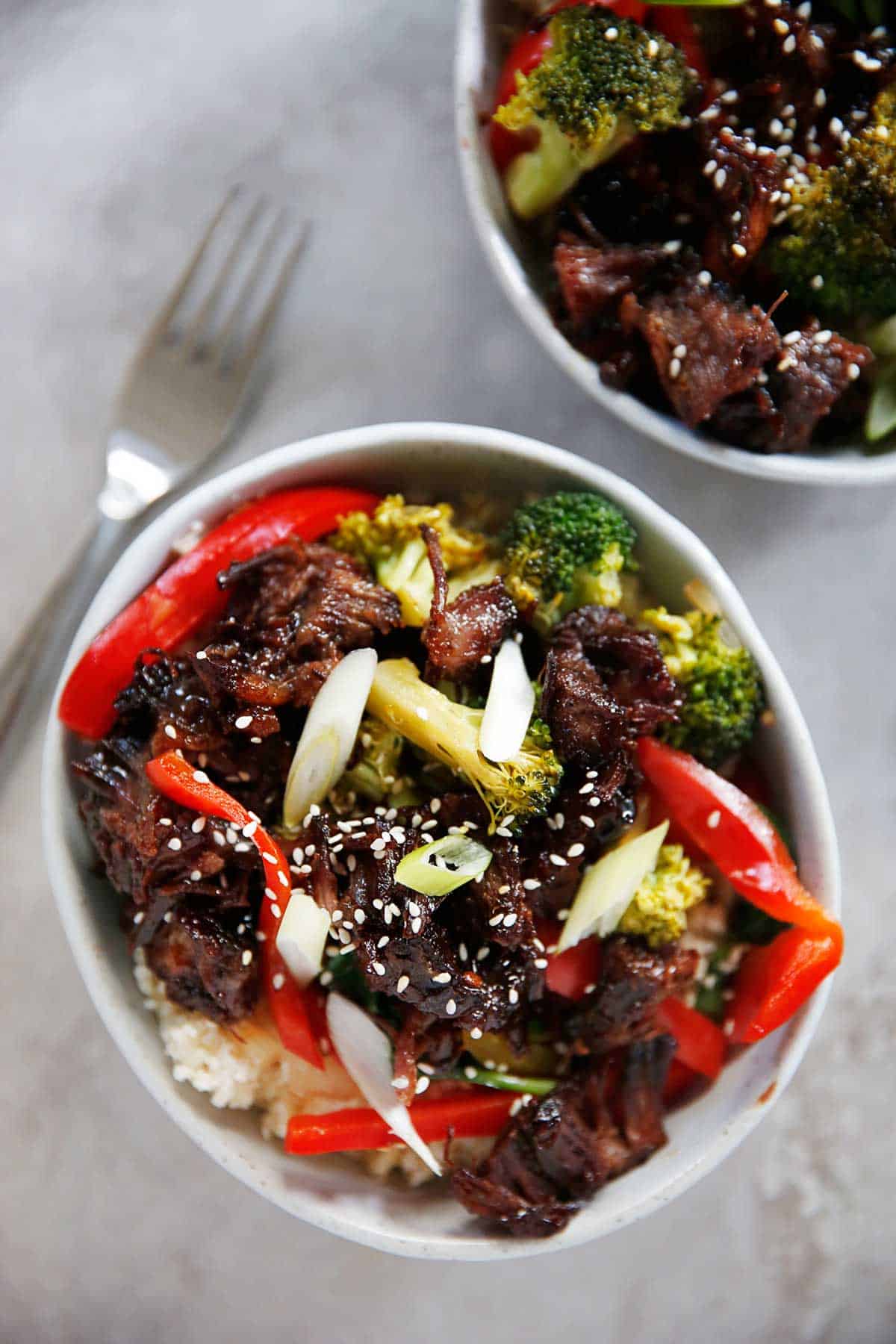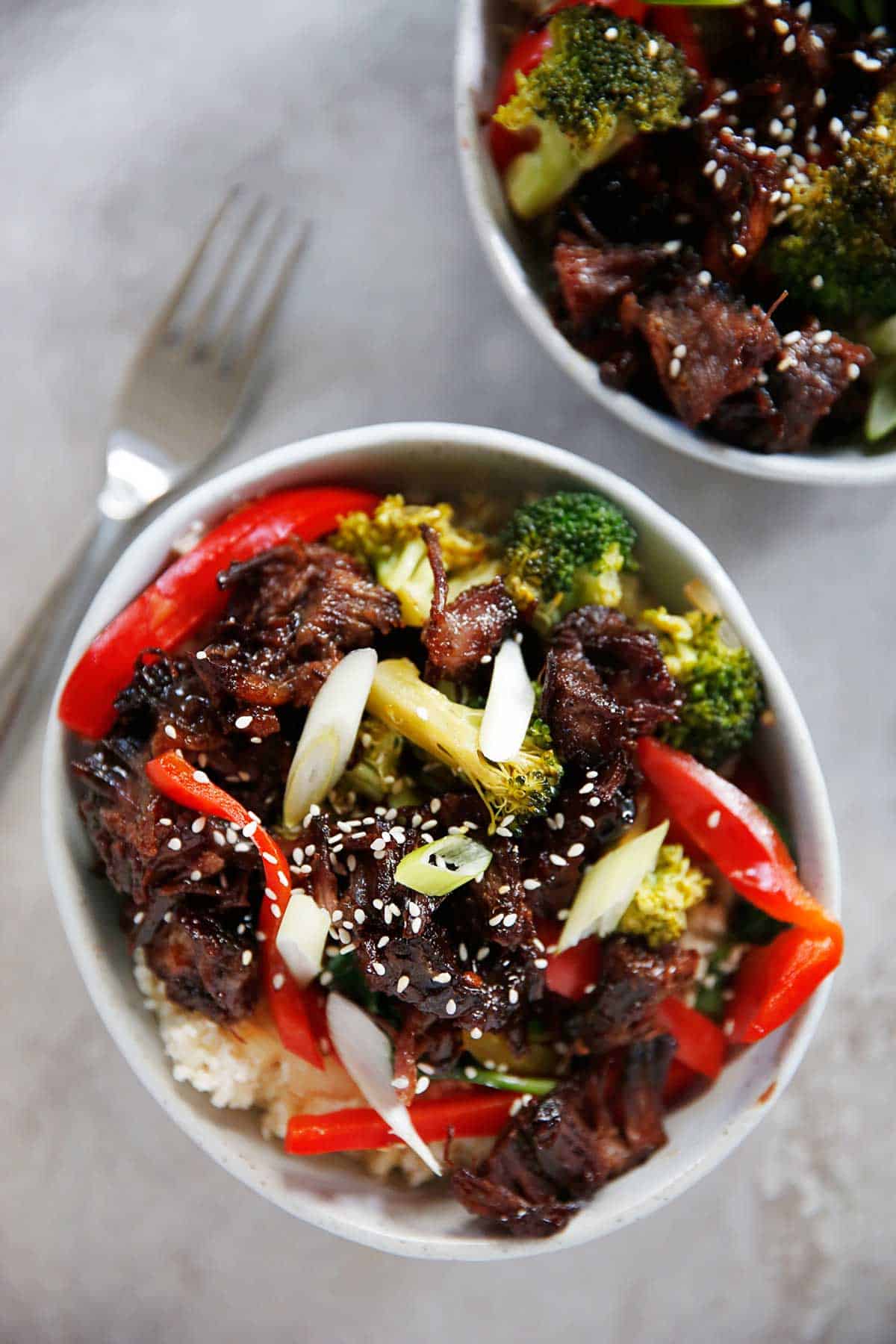 What You Need to Make this Slow Cooker Paleo Beef Recipe:
Boneless chuck roast (feel free to double this amount if you want extra meat for future meals)

Coconut aminos (this is a soy-free and gluten-free alternative to soy sauce)

Coconut sugar

Rice wine vinegar

Garlic

Toasted sesame oil

Ginger

Cauliflower (to make the grain-free "rice")

Red bell pepper

Onion

Broccoli florets

Scallions
Sesame seeds
Can You Use Premade or Frozen Cauliflower Rice?
Yes! We take advantage of frozen cauliflower all the time, and love that it's readily available now. There isn't much difference between fresh or frozen except that the frozen can hold a little bit more water in it. So if you don't want to do the extra step of making your own cauliflower rice, feel free to use premade!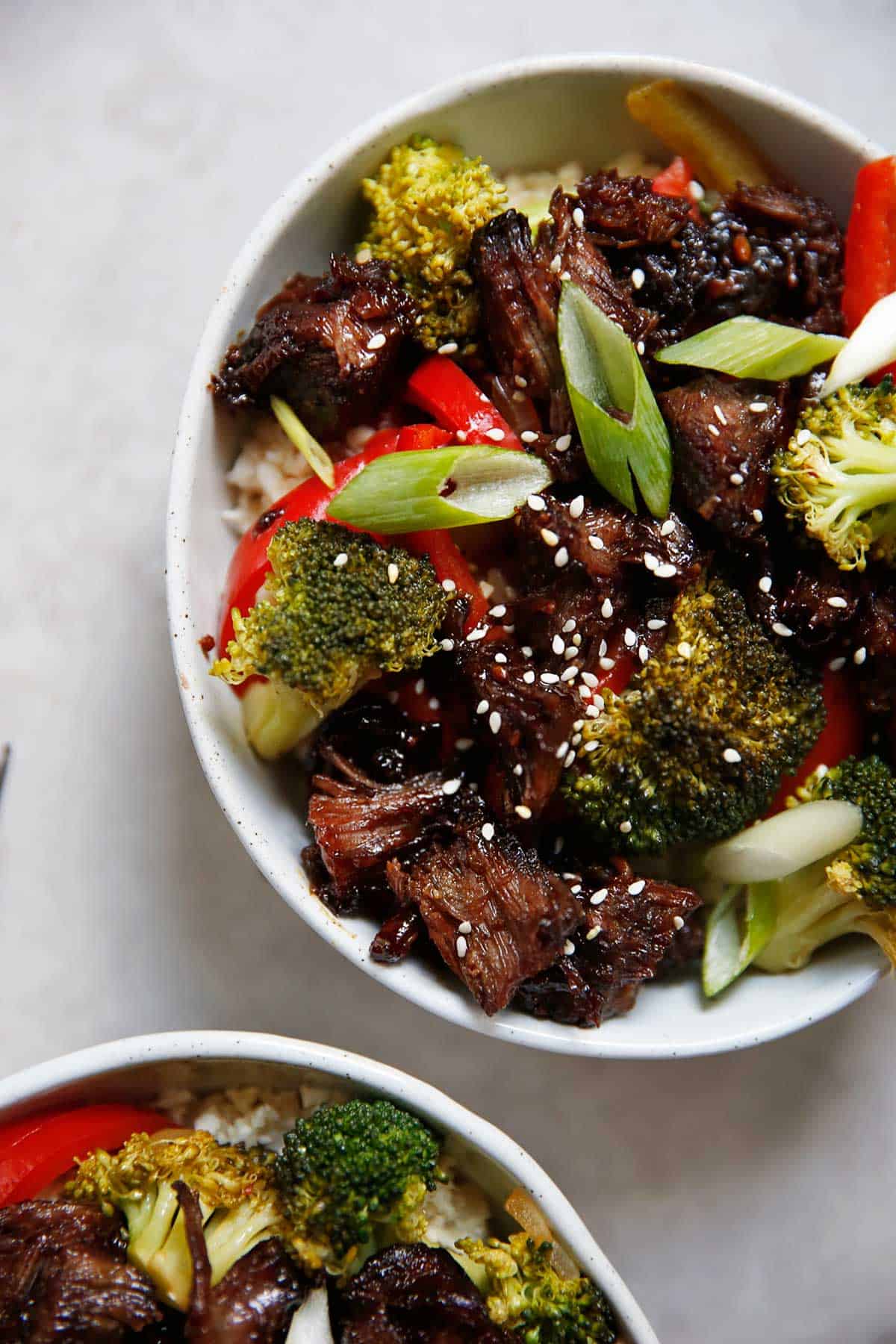 Watch the video:
If you like this asian inspired recipe, check out these others:
---
Paleo Asian Beef and "Rice" Meal Prep
This Paleo Chicken Stir Fry uses cauliflower rice, whatever veggies you have on hand, and is so simple to throw together! It is a great Whole30, low-carb, dairy-free, egg-free, and gluten-free meal for any night of the week!
Paleo Stir Fry
Stir-fry night should also be called clean-out-your-refrigerator night to make a delicious, quick meal! Let this recipe serve more as a guide to using up what you have on hand to create a quick meal that everybody will love, with a really delicious paleo stir fry sauce. We serve this with a garlic scallion cauliflower rice, but you could alternative serve the stir fry with regular white rice if you would like!
You could also alternative use another meat here, like thin sliced steak or pork, or you could really fill up on the veggies and make this meatless!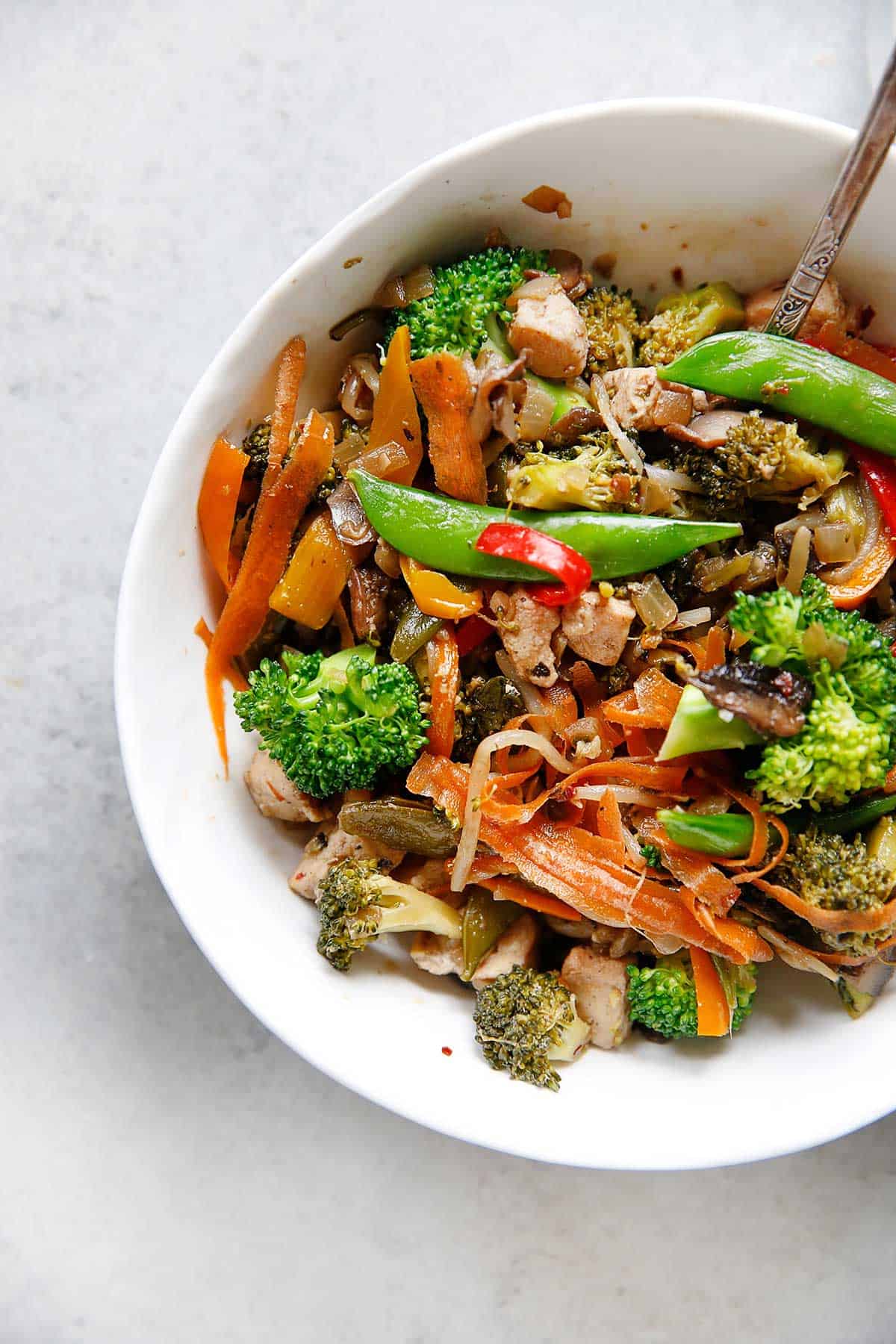 What Veggies Can You Use For This Paleo Chicken Stir Fry
In this recipe we used:
Broccoli
Red Pepper
Snap Peas
Bok Choy
Mushrooms
Carrots
Bean Sprouts
But you could really use any veggies you have on hand or what is in season. This is the perfect dish to cook up all year long, but particularly good during the CSA season when your refrigerator is full of veggies!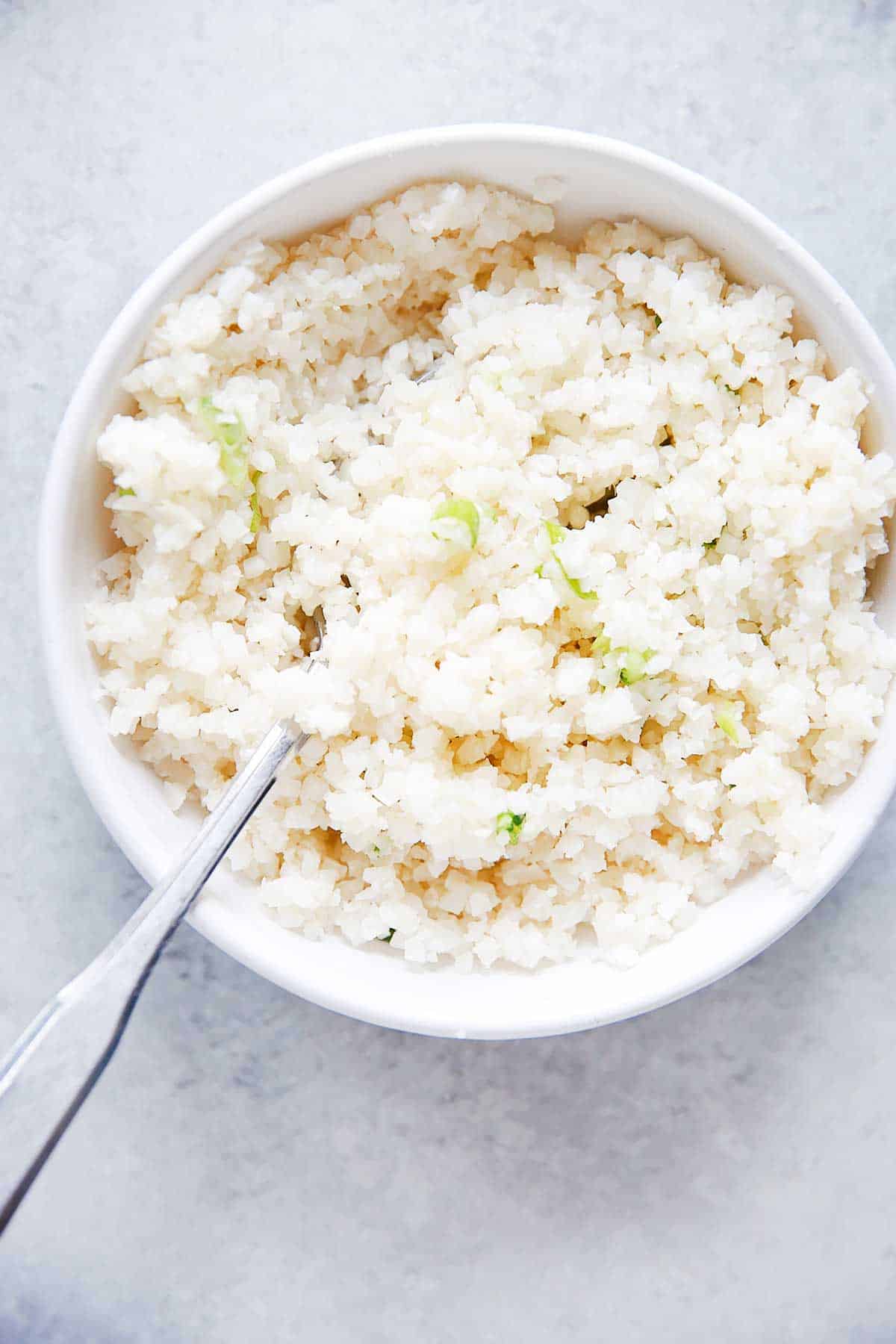 If you like this quick weeknight meal, check out these others:
Paleo Chicken Stir Fry
These Paleo Marshmallows, made with honey and maple syrup, are a surprisingly easy (and impressive) project, and also the very best tasting marshmallows you're likely to ever eat. Below we offer so many tips on successfully making them, as well as options to flavor them!
Paleo Marshmallow Recipe
After so many of you successfully made our Homemade Marshmallow Fluff and loved it we knew it was time to get testing to make Paleo Marshmallows! It may seems a little daunting to think about making something like marshmallows, but truly it isn't that hard. Making these marshmallows is not only a fun activity with impressive results, but seriously they are the BEST marshmallows you'll ever have tasted–we promise.
What makes this gelatin marshmallow recipe different?
Our recipe is a little different than a lot of marshmallows out there. Aside from being made without any corn syrup and using only unrefined sugars to sweeten the marshmallows, our recipe is different because it includes egg whites, which is a classic French style. The addition of egg whites makes for a fluffier marshmallow that is easier to handle while you are making them. But don't worry, the egg whites are cooked by the hot sugar syrup to a safe temperature. These fluffy marshmallows are melt-in-your-mouth delicious and are worth the (small) effort to make homemade.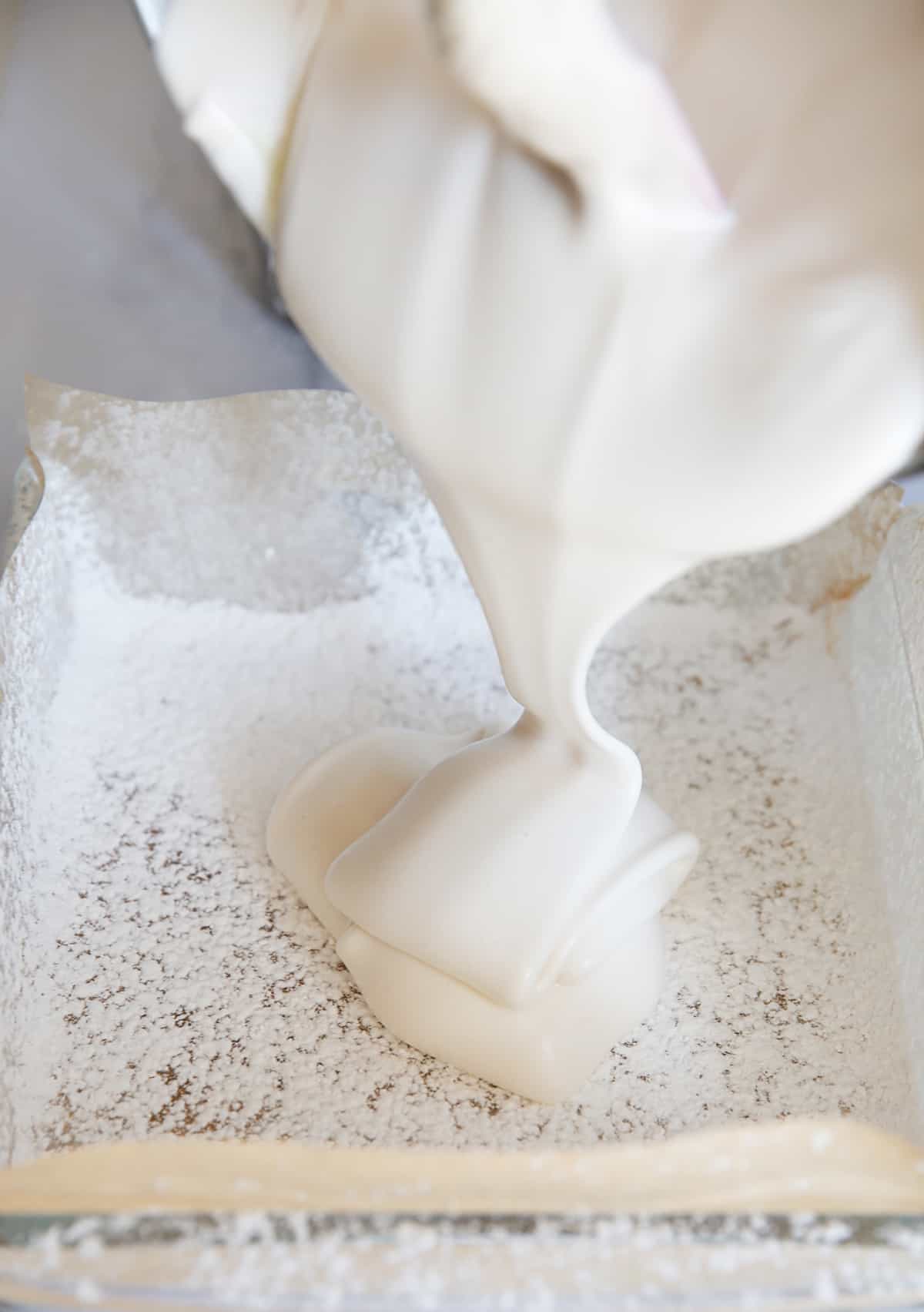 Here are the Tools You Need for Homemade Marshmallows
Essentials: 1 Medium to Large Heavy Bottomed Pot, spatulas and small bowl
Thermapen or candy thermometer
Dish (for setting the marshmallows)
Pizza Wheel (for cutting marshmallows)
Tips for Making Homemade Marshmallows
The first thing you need to know about making marshmallows is that you are making candy! You'll be cooking up a very hot sugary syrup and then pouring it into beaten egg whites and softened gelatin and whipping them up until the whole mixture has transformed into a glossy stiff peaks. Then you place it in a starch dusted container and let it set before cutting.
The size of the pan you use to make the square marshmallows depends on how big you would like your square marshmallows. For a smaller marshmallow squares use a half sheet pan, or a 9×13 pan. For larger marshmallows use an 8″x8″ or a 9″x9″ pan. Or alternatively you can make cylindrical marshmallows, which will need a sheet pan to hold the piped mixture.
Prep your containers that you will be setting the marshmallows in ahead of time. You want to line them with parchment and vigorously dust with arrowroot or a combination of arrowroot/ powdered sugar. Don't worry you won't be eating all of this but it is merely to coat the sticky part of the marshmallow and you shake off any excess starch.
The bowl and whisk attachment of your electric mixer must be cleaned well because if there is any grease in it, it will prevent the egg whites from whipping up properly.
Use a mild flavored honey. A strong flavored honey, or raw honey will shine through more with a honey flavor (of course). We use a mixture of honey and maple syrup so that one flavor isn't more dominate and the two together works more as a sweetener as opposed to be a flavor component.
The added water in the sugar mixture helps the sugar come to a boil without burning. Put the water in the pot first, then the other two sweeteners. Do not stir the pot. Do not move the pot. You run the risk of crystallizing the sugar, especially because we aren't using corn syrup.
Make sure you handle the gelatin properly. You'll want to let it bloom, or hydrate properly as the instructions indicate. The hot sugar syrup acts as the means to melt it so that it can fully incorporate in the marshmallow cream. It will set up after the mixture cools.
You want your sugar mixture to reach the "soft ball" stage or 235ºF-240ºF. This stage gets it's name from the fact that if you put a droplet of cold water into the boiling sugar, it will turn into a soft ball. This hot sugar mixture is what cooks the egg whites and turns it into marshmallows. If you didn't have a thermometer you could theoretically test the doneness of the sugar by dropping it in water and watching the reaction, as described above.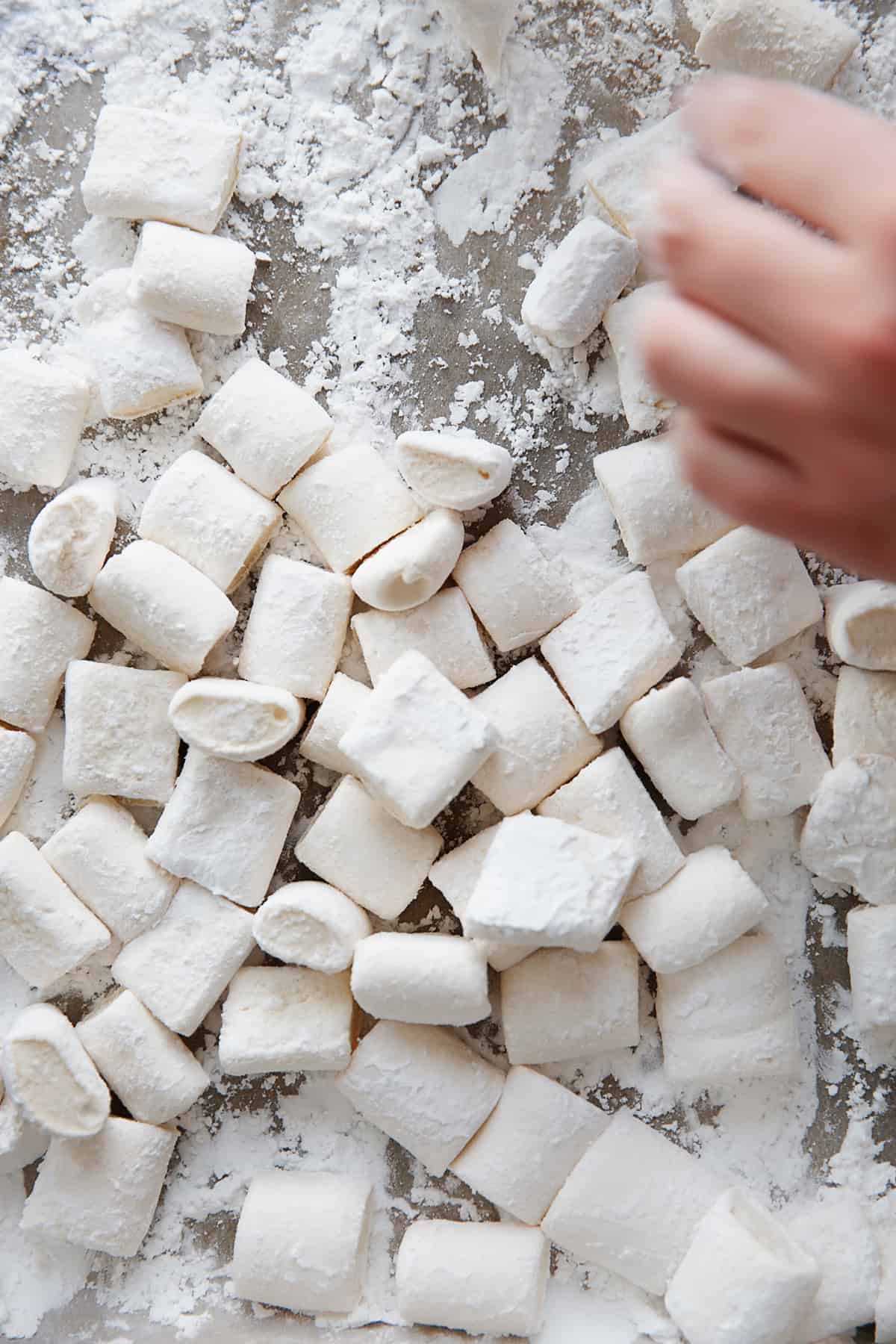 Troubleshooting Tips for Paleo Marshmallows
There are lumps in the bloomed gelatin: It wasn't bloomed properly. You can try to remove the lumps of the gelatin, or if there are too many you should start over with the gelatin process.
If the egg white mixture hasn't thickened up: Either the sugar syrup was not the proper temperature, or you haven't whipped the egg whites long enough, or possibly the bowl had some grease in it. So If it isn't looking thick and glossy, try whipping longer. And of course use a thermometer to make sure the sweetener has boiled enough! U
The marshmallows are too sticky to work with: Use more starch! Marshmallows are super sticky and you need to coat them in enough starch in order to handle them. You can always dust off the starch after you have finished cutting them, but know that if there isn't enough starch on them before you go to store them they could end up a sticky mess, so go heavy handed with the starch.
The marshmallows are very wet: The batter was likely under whipped.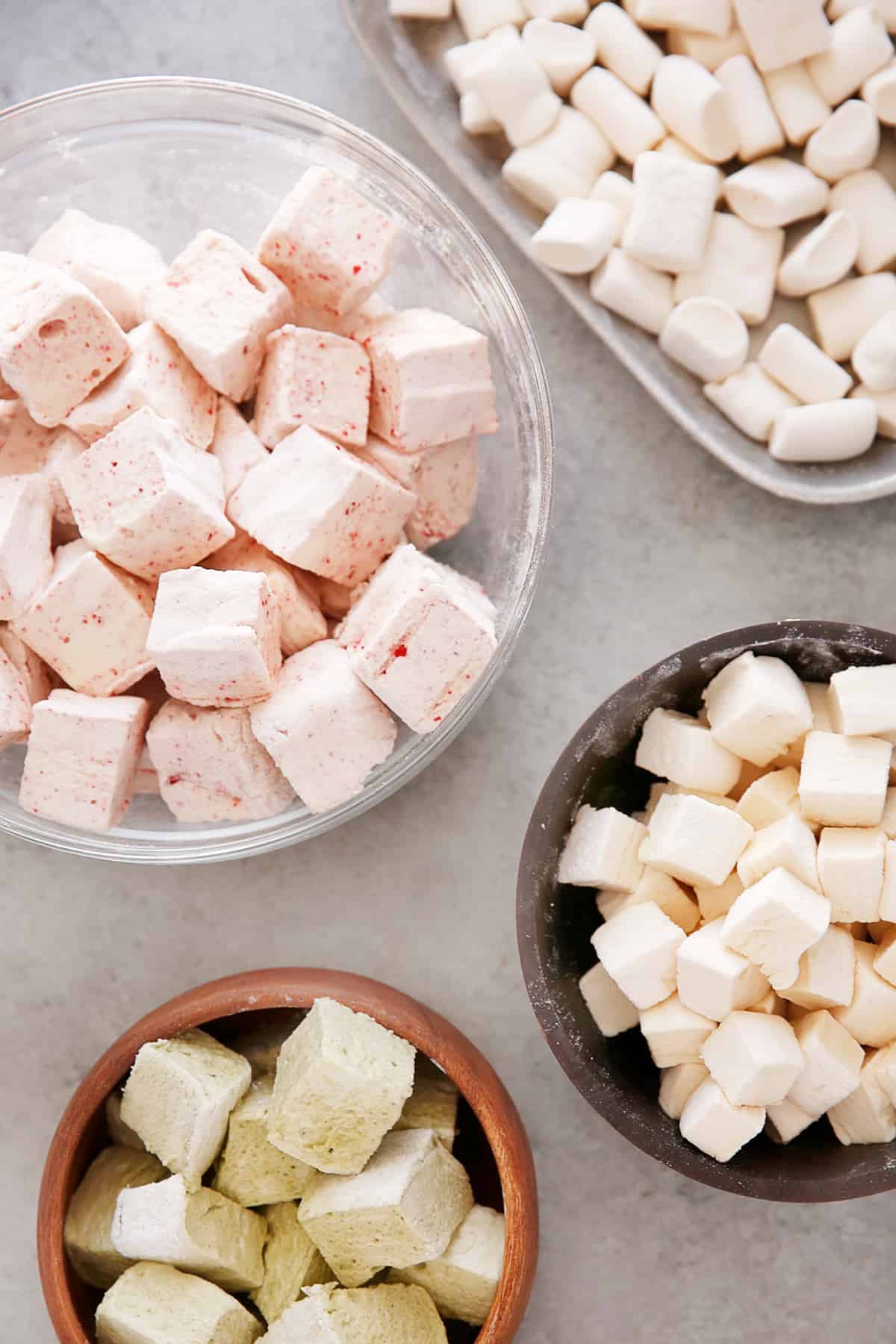 How to Store Paleo Marshmallows Made with Egg Whites?
Since there are egg whites in this recipes, this marshmallows cannot be stored indefinitely like marshmallows made with only sugar / corn syrup. Before storing, let the cut marshmallows "dry out" for at least 6 hours, or overnight. Store the well dusted marshmallows in an airtight bag / container for up to 1 week at room temperature. We doubt they will last that long anyways! If you find that the marshmallows have started to let out some moisture (which can happen naturally with homemade marshmallows, or sometimes the cause is under whipping the batter) take the marshmallows out of the bag and sift again with arrowroot and powdered sugar mixture and let dry before placing in another clean, dry container.
Options for Flavored Marshmallows
The possibilities are endless as to what you can add to the marshmallow cream mixture before you set, or even what you coat the marshmallows in at the end to flavor them. We tried out a few different add-in's to flavor the marshmallows. Choose your add-in and fold them after the egg whites have thickened up. You can also divide the marshmallow mixture and make multiple flavors with one batch of marshmallows. You have to work quickly though because ones the marshmallow cream cools down it will set.
Freeze Dried Fruit: We tried strawberries but bet any freeze dried fruit will work well here. Start with 1/4 cup crushed freeze dried fruit.
Matcha Powder: About 1-2 tablespoons
Espresso Powder: Start with a teaspoon and add more if needed
Cinnamon: Start with 2 teaspoons and add more if needed)
Cocoa: Add about 1-2 tablespoons
Dried Ginger or Turmeric: Start with a 2 teaspoons for a batch
Mint Extract (a few drops) and Chocolate Chips
Instead of coating with arrowroot, try coating with:
Shredded Coconut
Crushed Nuts
Cocoa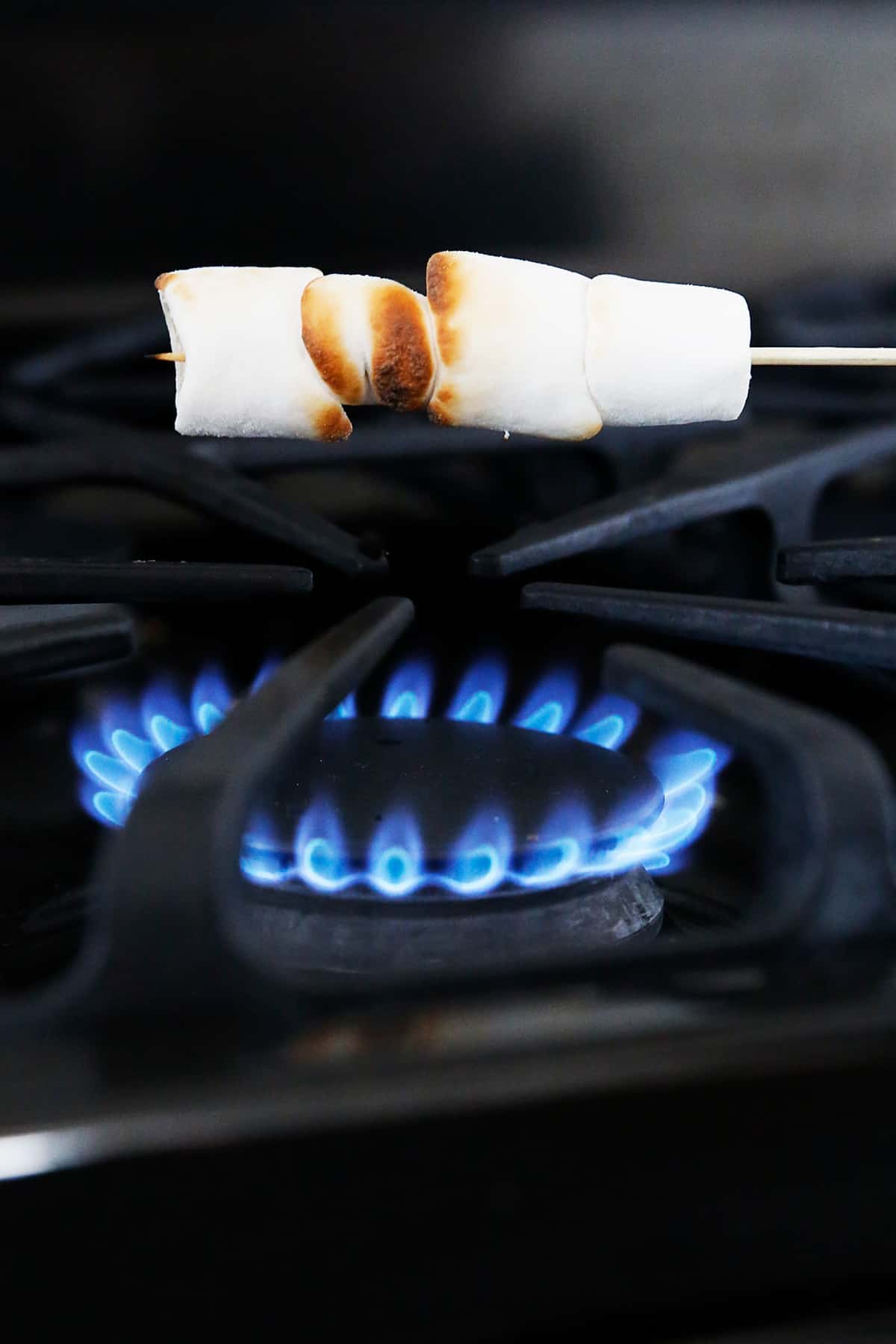 If you like this HOW TO recipe, check out these others:
How to Make Marshmallows (Paleo)
This Quick Spicy Italian Chicken in Tomatoes is such a simple and quick weeknight dinner, that is packed with so much flavor! There is option to turn up, or eliminate the heat of the dish, but either way it's delicious. Serve these chicken breasts in tomato sauce alongside roasted green beans and you have yourself a perfect low-carb, paleo-friendly, Whole30 approved meal that takes under 30 minutes to prepare! Talk about a WIN!
Quick Cooked Chicken Breast in Tomato Sauce
Easy weeknight dinners are THE BEST! This quick cooking Spicy Italian Chicken in Tomatoes is a super delicious dinner to cook when you have less than 30 minutes to get food on the table and you are relying on pantry staples!
We made this low carb by serving it with roasted green beans, but if you want to go a little heavier with the carbs and have a little bit more time on your hands you can serve it with roasted potatoes, rice or pasta.
Want to make this easy chicken and tomato recipe without the spice?
We love spice, but not everybody does, especially if you are serving kids at the table. Feel free to omit the red pepper flakes in this dish, or lower the heat by adding in just half.
Ingredients Needed to Make this Italian Chicken in Tomatoes:
Boneless, skinless chicken breasts

Italian seasoning

Dried Basil

Onion

Garlic
Whole Plum Tomatoes
Red Pepper Flakes
Green Beans
You can also substitute whatever seasonal veggies you have on hand to roast as well. Cauliflower would be great here, as would zucchini or eggplant.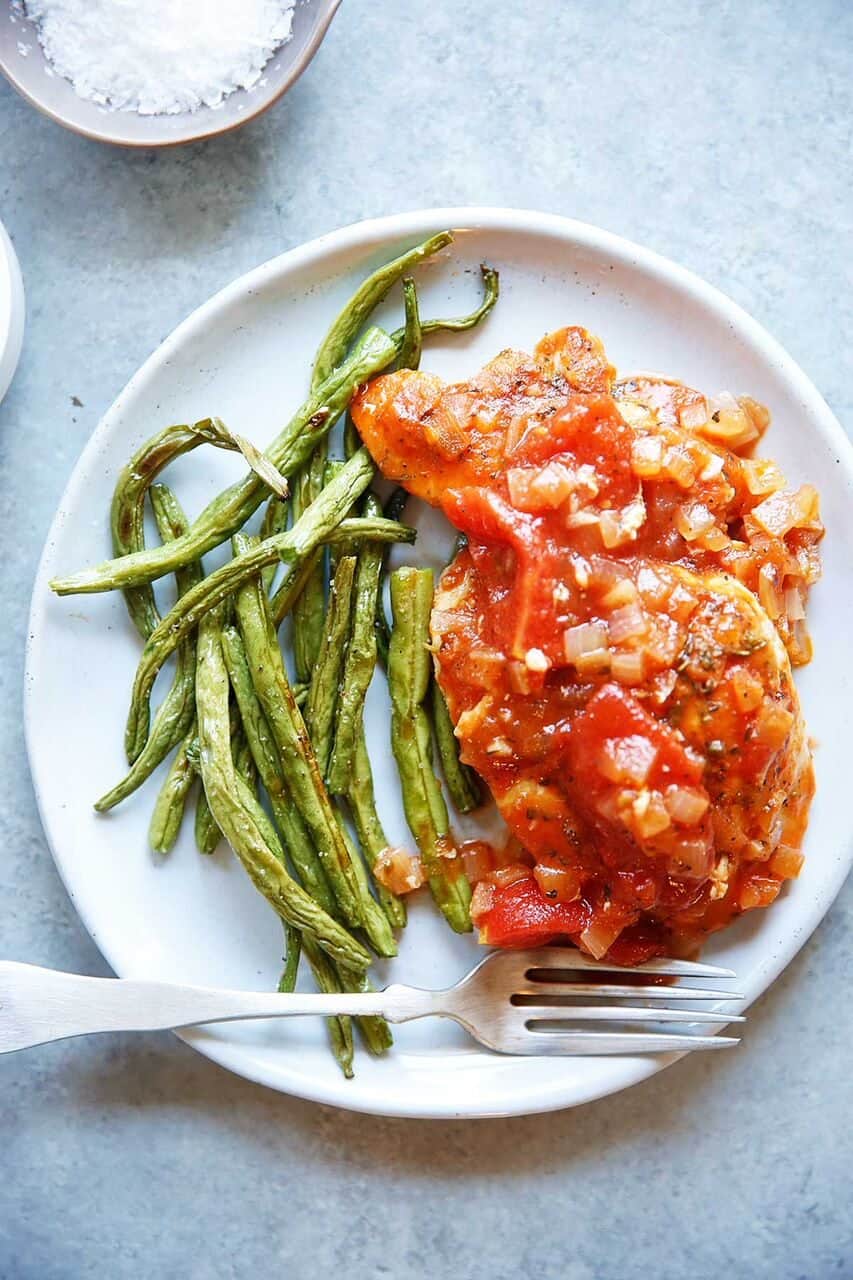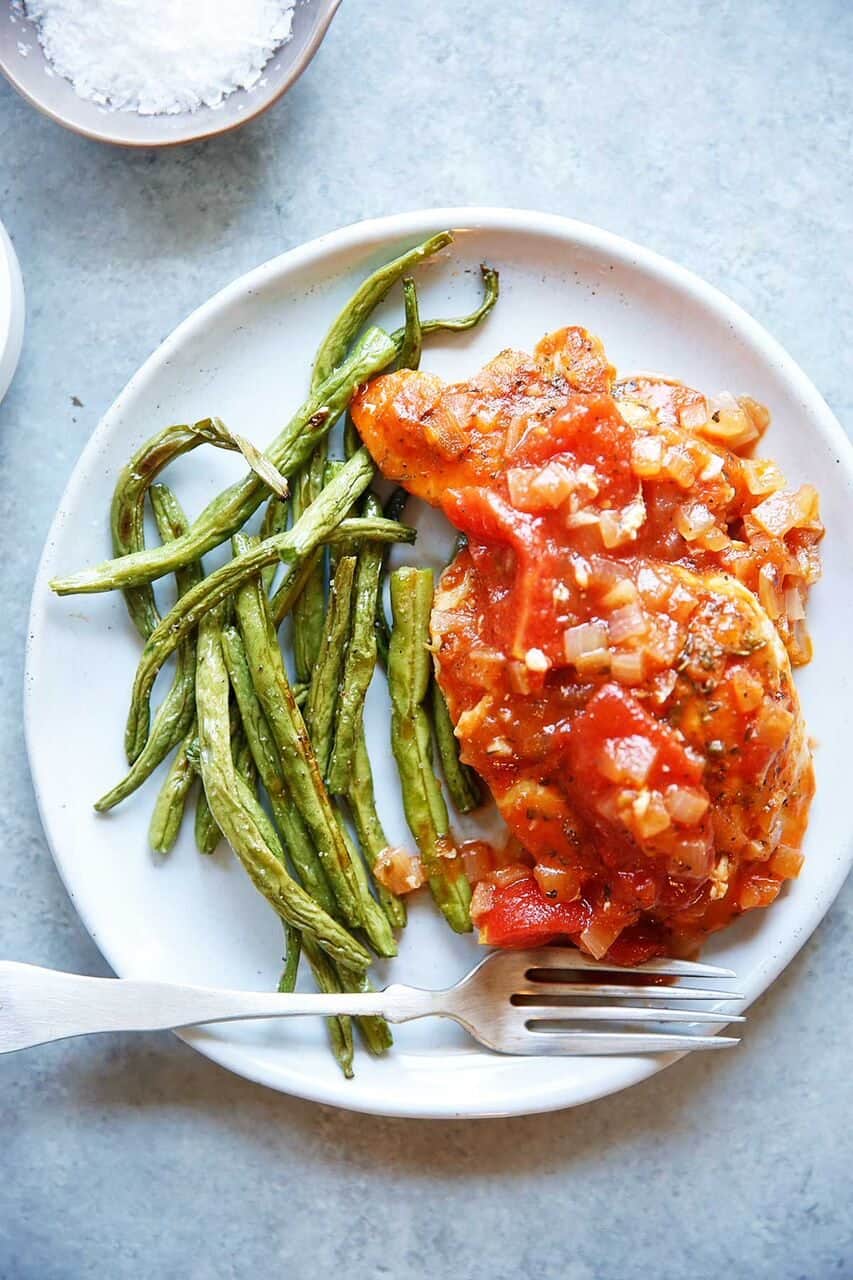 If you like this chicken recipe, check out these others:
Quick Spicy Italian Chicken in Tomatoes
These Buffalo Chicken Stuffed Sweet Potatoes are so creamy, flavorful and delicious and make a great lunch or dinner! They also could be perfect as a make-ahead meal option. This buffalo chicken sweet potato recipe is nutritious and filling, gluten-free and optionally made Paleo and Whole30 by omitting the cheese.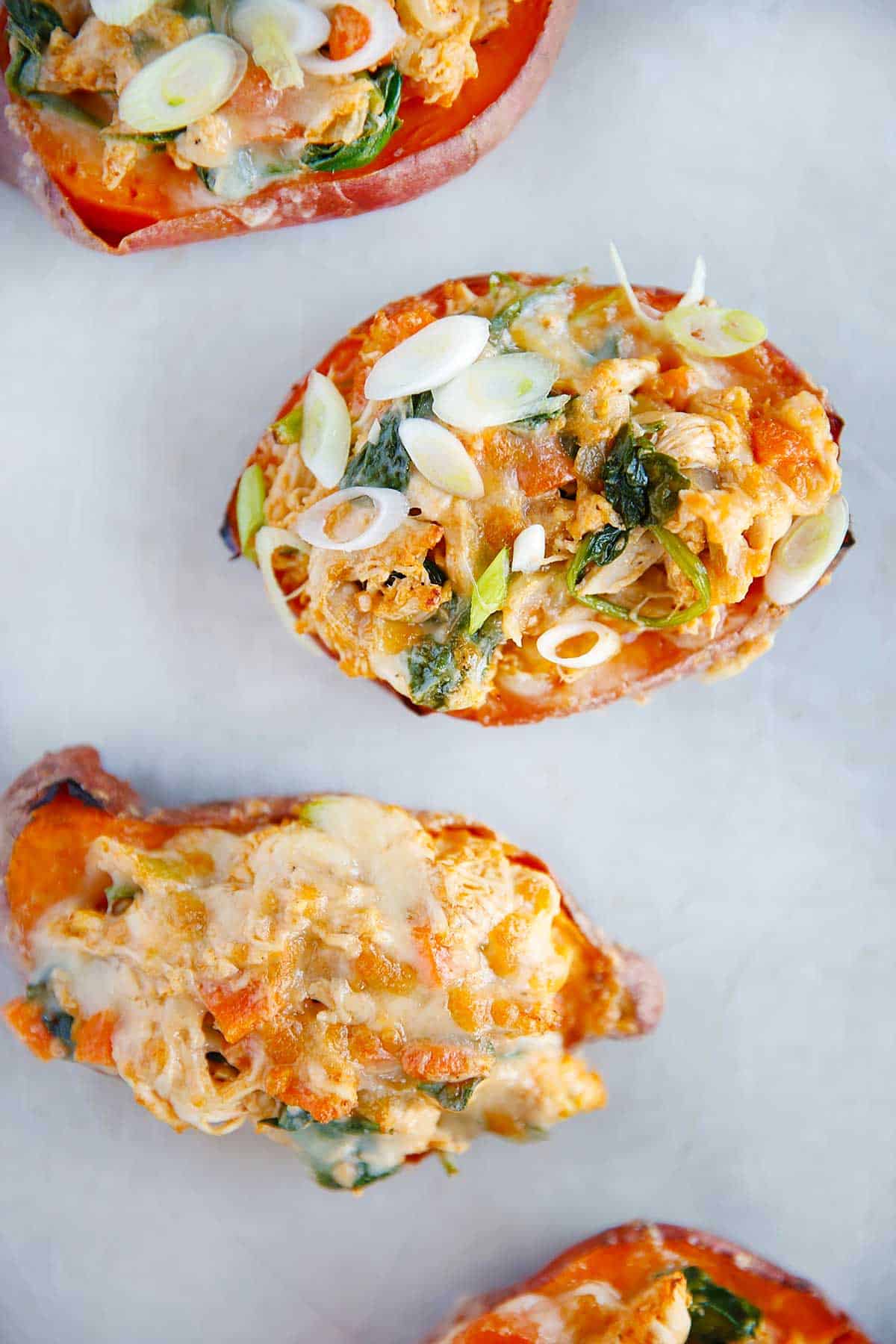 Buffalo Chicken Baked Sweet Potato
Who doesn't love potato skins? Nobody! Who doesn't love potatoes skins that are made healthier but still with all the flavor? Can't think of anyone! These healthier baked sweet potato skins are stuffed with a creamy buffalo chicken dip packed with extra veggies and nutrients. These are the perfect appetizer for a game day party, or a super delicious lunch or dinner. We love the portability of these and think they'd be a great make-ahead meal as well.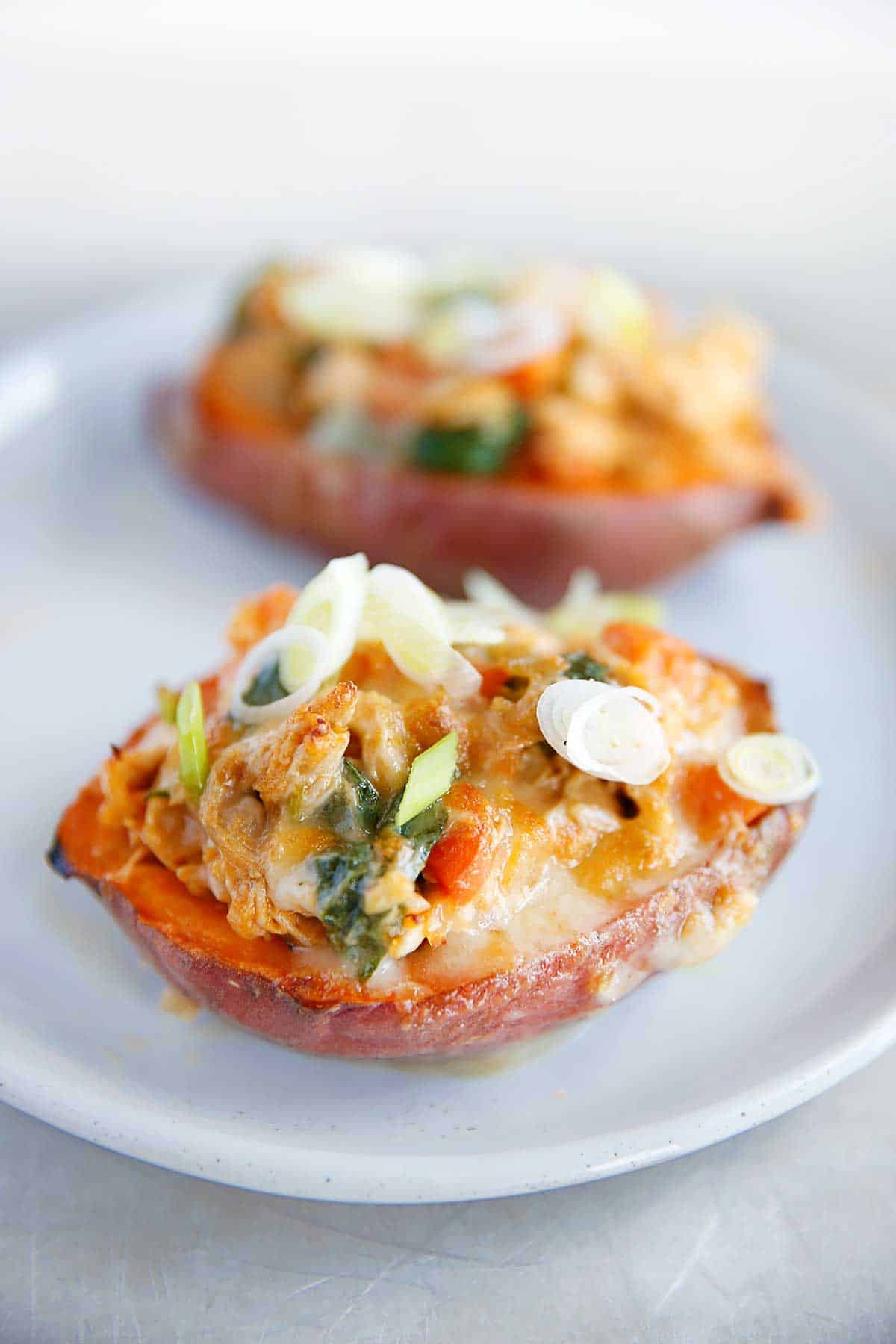 What type of sweet potatoes are best for this recipe?
We choose small to medium sweet potatoes to minimize the time roasting in the oven. You can choose larger ones, but they will take longer to roast. Just make sure they are all about the same size, and as round as you can get to fit in more of the buffalo chicken stuffing.
Can you cook the sweet potatoes in the Instant Pot instead?
You could, but it will likely take you the same amount of time to roast in the oven between the time it takes to come up to pressure and the time it takes to naturally release. Put the sweet potatoes on a basket and add 1 cup of water. You can use the steam function for 10 minutes, with a natural release.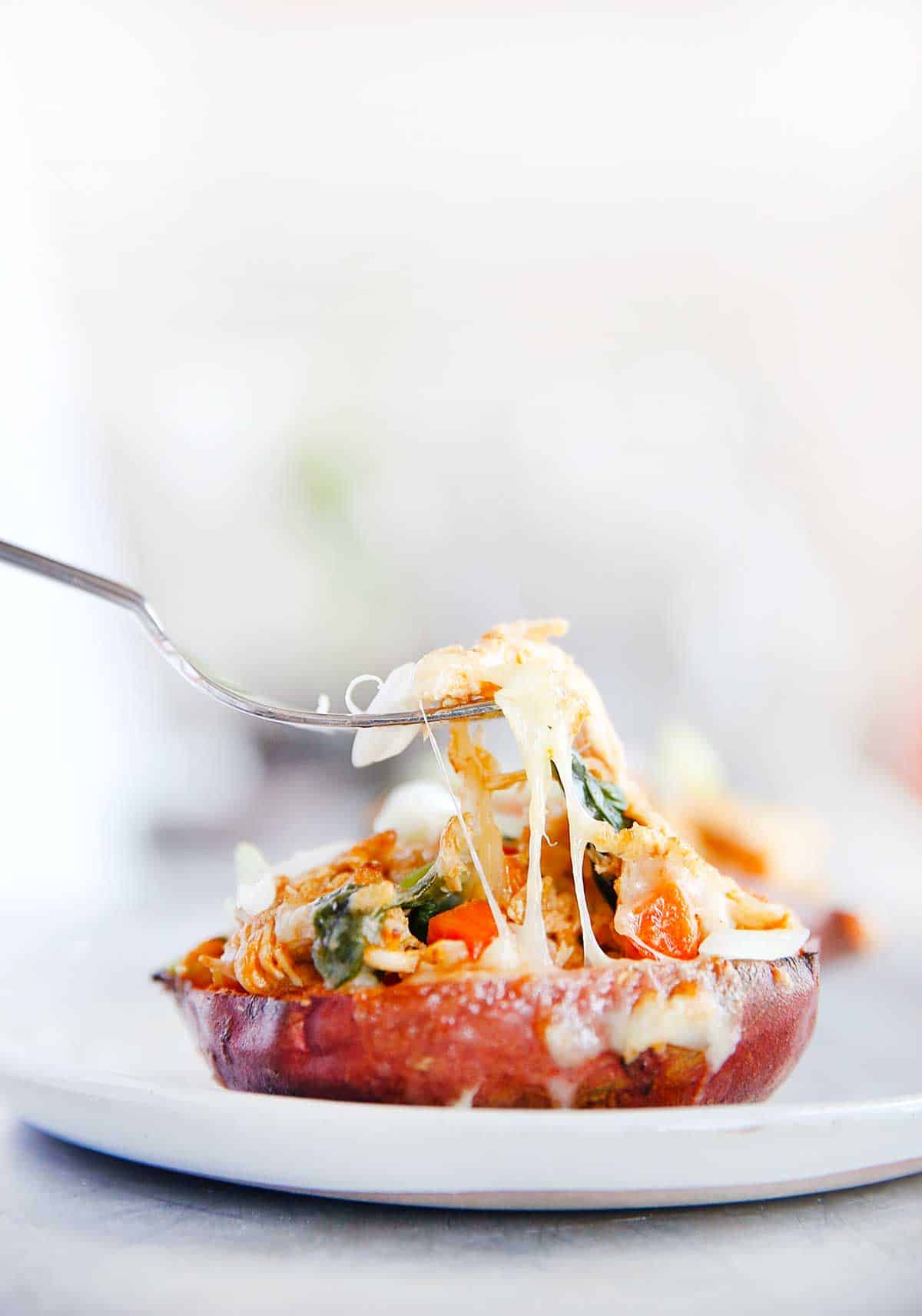 How can you store these Buffalo Chicken Stuffed Sweet Potatoes for meal prep?
If you wanted to make these for a few days of lunches, complete the recipe as directed and then cool the broiled sweet potatoes completely before placing in a container in the fridge. We like using glass containers because they can double as a storage container and can be heated up in either a microwave or a toaster oven. These would taste better if heated up in a toaster oven, but if the only option when you are at work is a microwave that will work as well!
If you like this recipe with buffalo sauce, check out these others:
Buffalo Chicken Stuffed Sweet Potatoes
This Spaghetti Squash Pad Thai is low-carb healthier version of the classic take-out dish! It's so flavorful, full of veggies and a nice mix of textures! It's a dairy-free, gluten-free, paleo, keto and whole30 friendly option that is going to be a sure hit.
Spaghetti Squash Pad Thai
This Spaghetti Squash Pad Thai recipe is one everyone is going to love! It has such an amazing combination of flavors and textures. This healthier version of the classic take-out dish is lower carb thanks to the spaghetti squash swap. We included extra veggies here for some added nutrients, but you can feel free to omit or swap with what you have on hand.
This recipe is a breeze to make once you have the spaghetti squash, so if you're planning to make this for a quick weeknight dinner you can roast the spaghetti squash ahead of time (or try it in the instant pot, instructions below) to have this healthy dinner on the table quick.
Want to make this vegetarian? We used chicken and shrimp in this recipe, but feel free to add in some extra veggies and omit the meat / seafood to make it vegetarian. If you tolerate soy, you can also add in tofu here.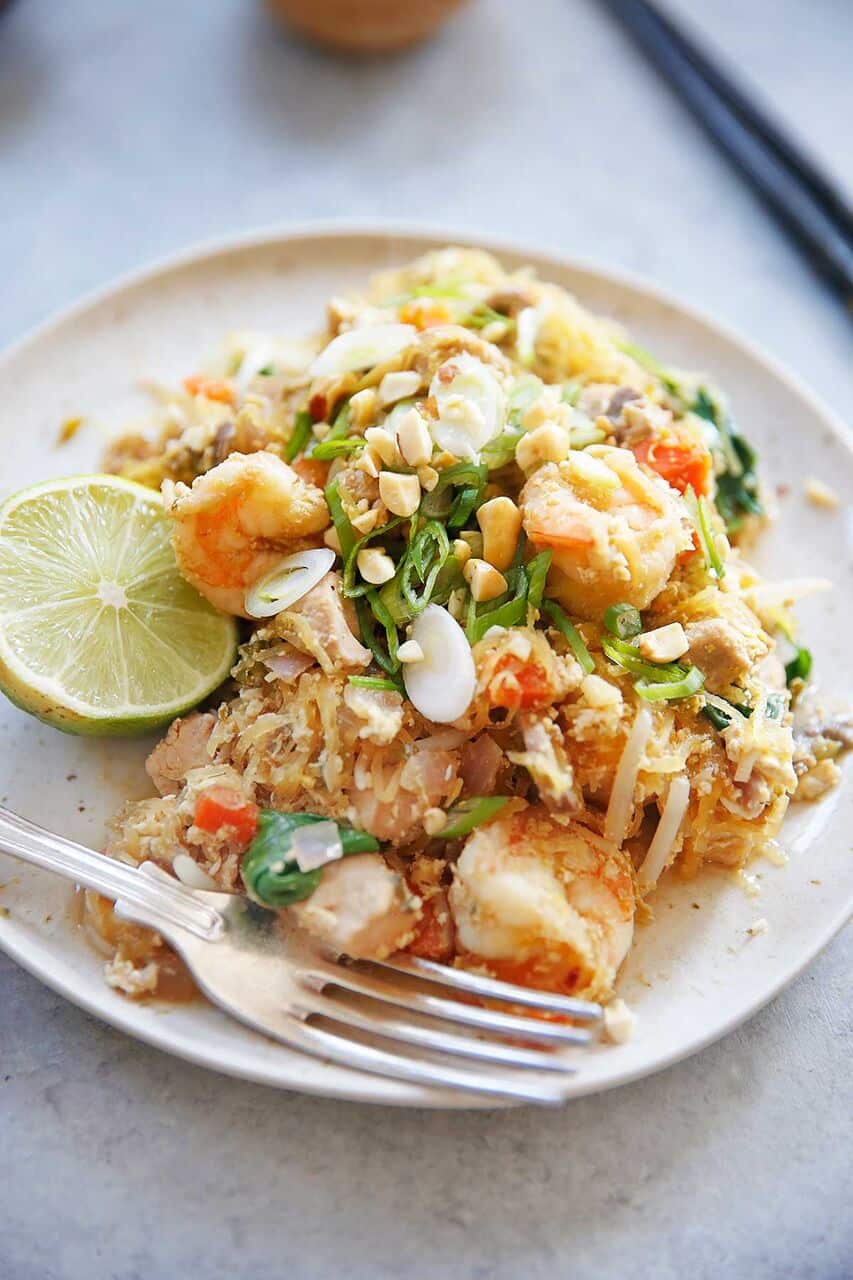 How to Roast Spaghetti Squash
Preheat oven to 375ºF and line a baking sheet with foil or parchment paper.
Cut spaghetti squash in half, lengthwise.
Scoop out seeds.
Brush inside with oil.
Place facedown on baking sheet and adding water to the baking sheet.
Bake for 45-50 minutes, or until you can pierce with a fork.
Simply scrape out "spaghetti" with a fork and Enjoy!
How to Cook Spaghetti Squash in the Instant Pot
Cut 3lb. spaghetti squash lengthwise and scoop out seeds.
Add 1 cup of water to the Instant Pot.
Stack the spaghetti squash on top of each other (cut-side up).
Close the lid and make sure the knob is turned to sealing.
Set to manual high-pressure for 10 minutes (increase if your squash is larger than 3lb.)
When the timer goes off, turn the vent on the top of the lid to venting to release the steam.
Once the venting knob has dropped, open the lid and shred the spaghetti squash with two forks to turn squash into spaghetti-like noodles!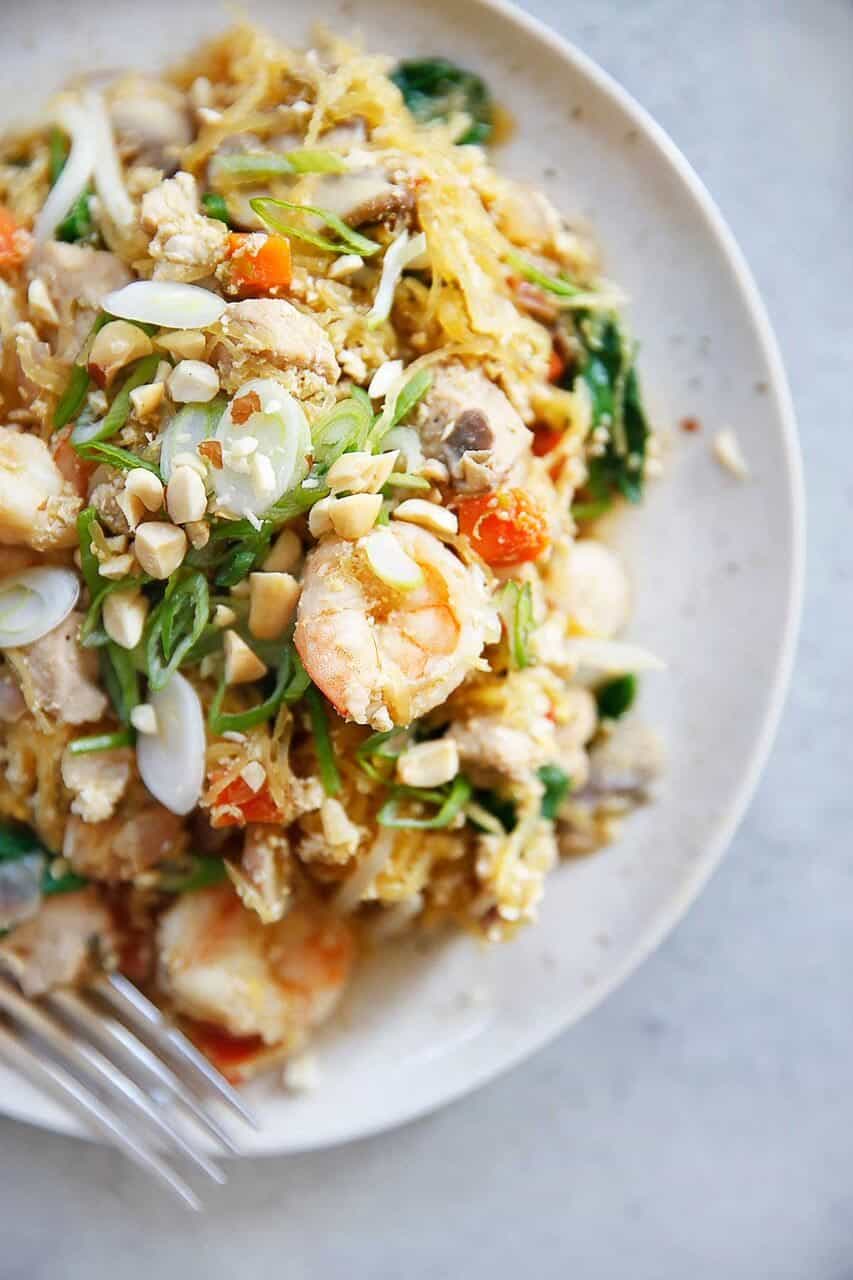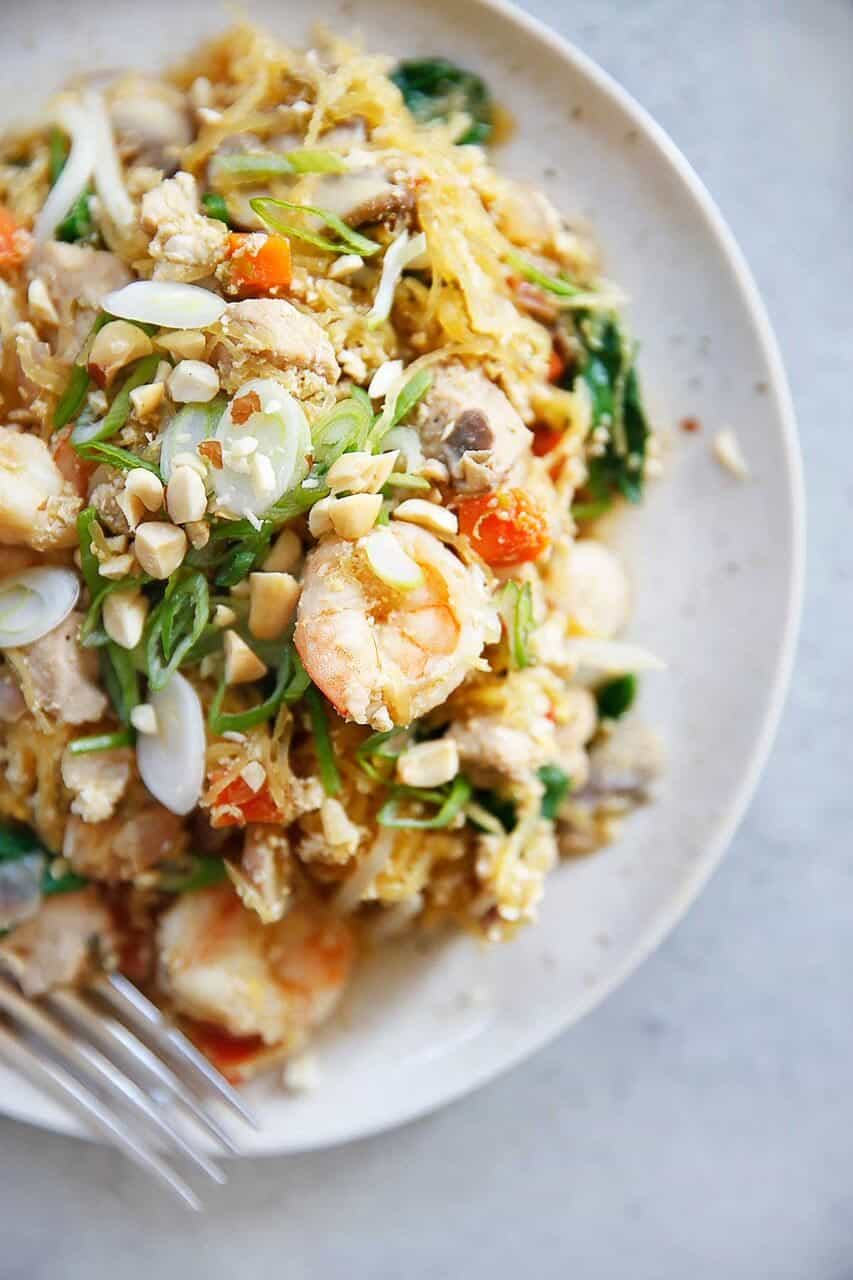 Want more spaghetti squash recipes? Try these hits:
If you like this healthier take-out recipe, check out these others:
Spaghetti Squash Pad Thai
This Lamb Chops with Crispy Shallots and Pomegranate Sauce recipe makes for a decadent meal done in under 20 minutes! It's elegant, super flavorful, and comes together quickly and works equally as well for a romantic dinner for two, or a weeknight easy meal. They're gluten-free, dairy free and paleo.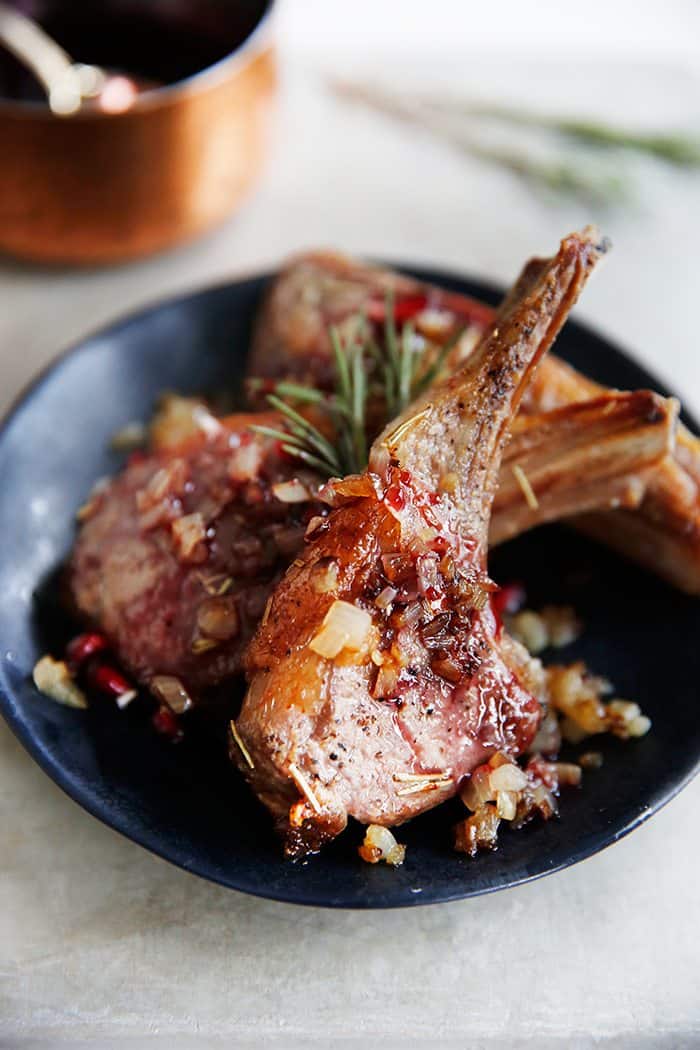 Lamb Chops with Crispy Shallots and Pomegranate Sauce
This Lamb Chops with Crispy Shallots and Pomegranate Sauce recipe is a great date night in meal to make with your significant other, or the perfect elegant holiday meal! The lamb chops are so easy to make and do not require much cooking at all, other than a quick broil in the oven. The crispy shallots are another effortless way to add something special to the meal and the pomegranate sauce adds a tough of sweet that brings the whole thing together. A special dinner in under 20 minutes? Sounds like the perfect meal!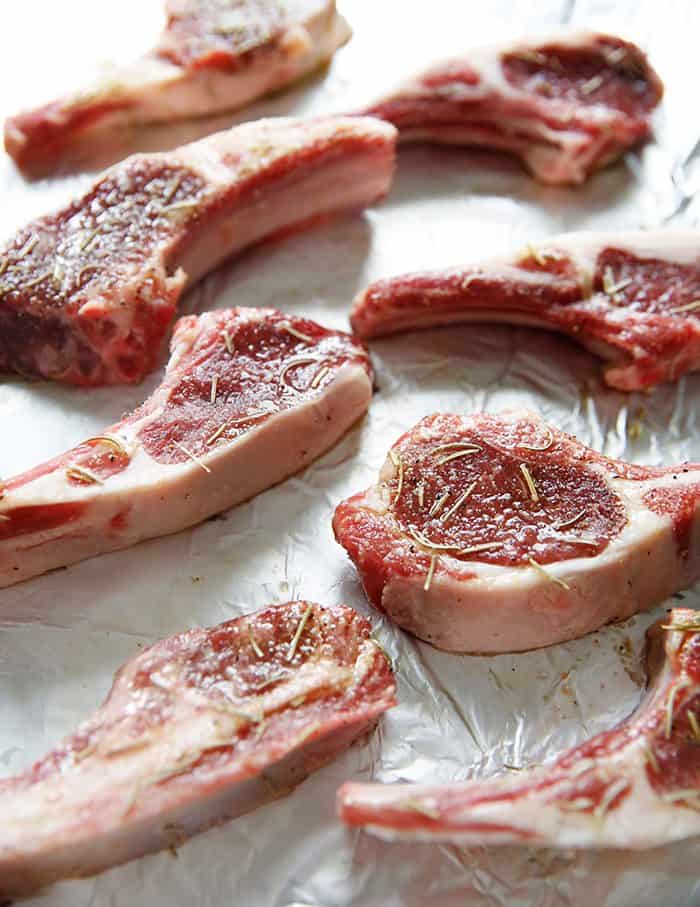 We love when delicious meals come together so quickly, using minimal ingredients, but taste so amazing!The recipe calls for pomegranate juice to make the sweet sauce. You can either purchase pomegranate juice or you can juice your own by blending together 1 cup of pomegranate
What to serve with lamb chops:
Mashed Cauliflower or Mashed Root Veggies (in my cookbook)
Rice
What temperature do you cook lamb chops?
Whole muscle meats such as roasts, steaks, and chops may be cooked to 145 °F (medium rare), 160 °F (medium), or 170 °F (well done). Times here are based on lamb at refrigerator temperature (40 °F).
How can you tell if your lamb chops are cooked?
Use your finger to estimate if roasted, grilled or broiled lamb is done to your liking. Press firmly on several sections of the lamb. If the meat gives easily but is firm and has cooked for the recommended length of time, it is likely medium-rare. A firmer texture and feel indicates more well-done meat! For best results, use your Thermopen!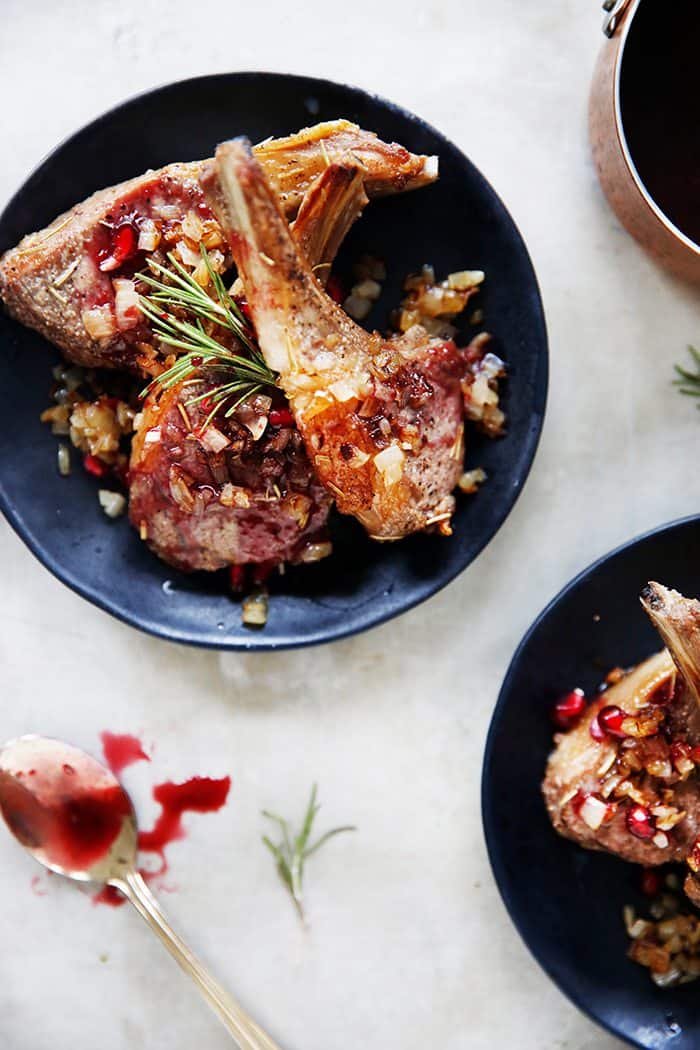 Watch the video:
If you like this showstopper main course, check out these others:
---
Lamb Chops with Crispy Shallots and Pomegranate Sauce
If you are looking for a versatile side dish that works for both a quick weeknight meal or a decadent holiday dinner look no further than this recipe for Maple Roasted Brussel Sprouts with Bacon! Cooking the brussels sprouts with bacon and maple syrup is sure to make this side dish a fan favorite for everybody! This paleo-friendly recipe is sweet and savory and definitely going to be in your winter meal plan rotation!

Maple Roasted Brussel Sprouts with Bacon
I was never a fan of brussels sprouts until a few years ago, and now I can't get enough! These Maple Roasted Brussel Sprouts with Bacon convert just about anybody to be a brussel sprout lover. This easy brussel sprouts recipe combines savory and sweet tastes to adhere to just about anyone's liking! Plus, is there any greater combination than maple and bacon together?
Ingredients Needed:
We love the short ingredient list here, especially since this dish is so flavorful!
Brussels Sprouts
Bacon
Maple Syrup
Olive Oil
Salt and Pepper
Garlic Powder

What to serve with Roasted Brussel Sprouts
This dish is the perfect Thanksgiving side dish. But also, it's so darn good you'll want to have this on rotation all Fall and Winter long. This dish would be great served with:
Watch the video:
Like this veggie side dish? Try these other favorites:
[yumprint-recipe id='215′]
Maple Roasted Brussel Sprouts with Bacon
Fourth of July weekend is coming!  Whether you are headed to a BBQ with family or friends or hosting a get together of your own, you'll need a classic festive cake for the all the parties! Let's make the most perfect (AND nut-free) vanilla cake topped with an easy buttercream and garnished off with tons of fresh fruit (red and blue for good measure)!

Gluten-Free 4th of July Cake (Nut-Free)
This super easy cake is a great gluten-free and nut-free cake recipe for any occasion! Top it with your favorite fruit, clean sprinkles, and other naturally colored frosting flavors for a perfect grain-free cake recipe!
If you've seen my new gluten-free cake recipe, you know it's pretty epic! BUT I get a lot of requests for a gluten-free cake that is nut-free and made with no almond flour! This cake is for you.

This cake is…
Fluffy and moist
Gluten, grain, dairy, and nut-free!
Flavorful
Topped with a perfectly sweet and fluffy buttercream
July 4th, Memorial Day, and Labor Day festive!
And loaded with fresh local, in-season berries!

Want other festive paleo desserts? Try these favorites:
Watch the video:


[yumprint-recipe id='288′]
How do you celebrate the 4th? What is your all-time favorite 4th of July festive meal?
Gluten-Free 4th of July Cake (Nut-Free)
This Sheet Pan Ranch Chicken and Vegetables is made with homemade paleo ranch dressing, marinated chicken, and perfectly cooked veggies! It makes for the ultimate healthy-yet-hearty dinner!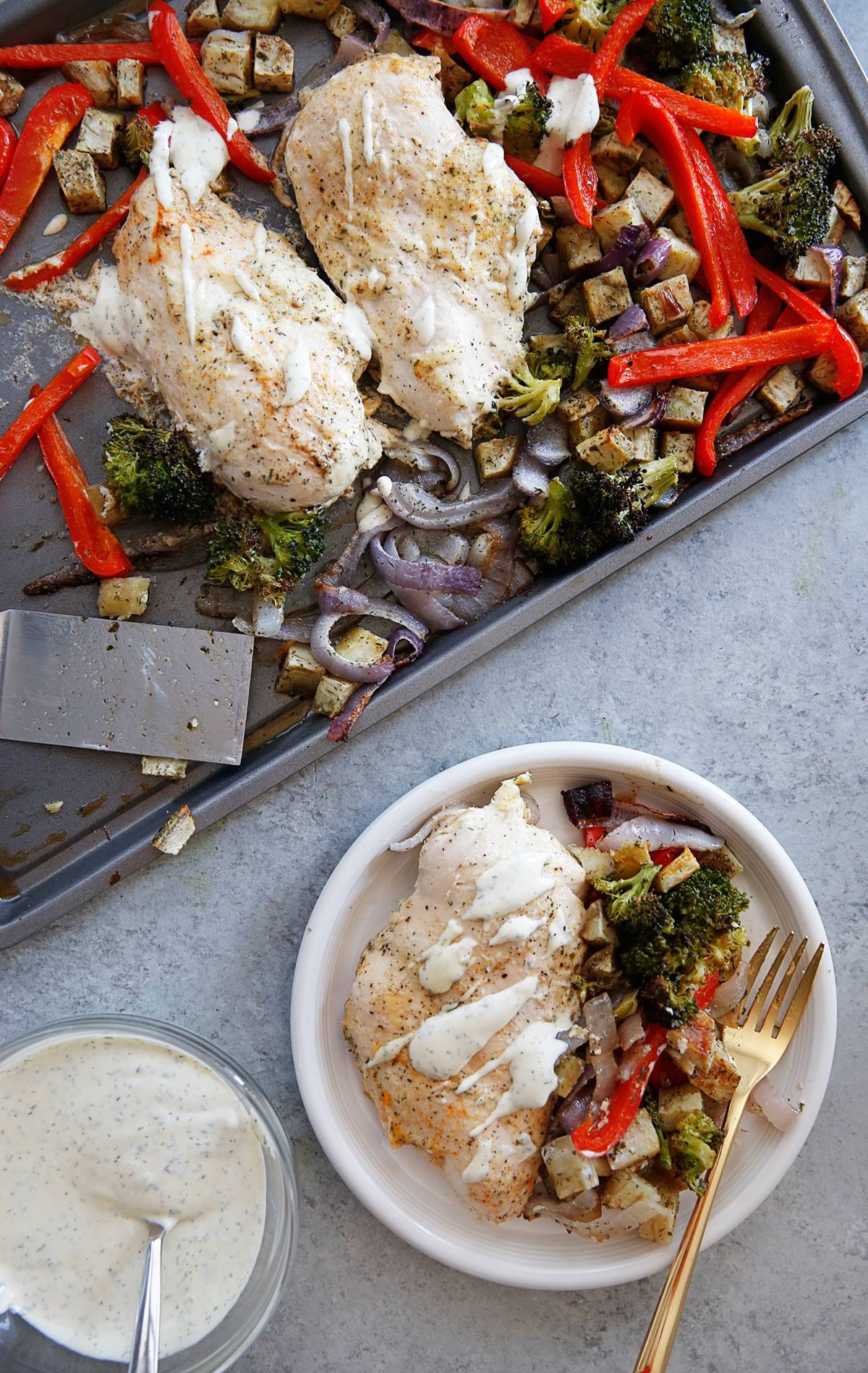 Sheet Pan Ranch Chicken and Vegetables
We love the mighty sheet pan here at LCK! This hands-off cooking method makes getting a delicious meal on the table simple and the clean up is a breeze. We've tested a range of recipes for different meal occasions and varying cooking time, but mostly we just love that utilizing the sheet pan allows for unattended cooking, giving us EXTRA time in our busy lives.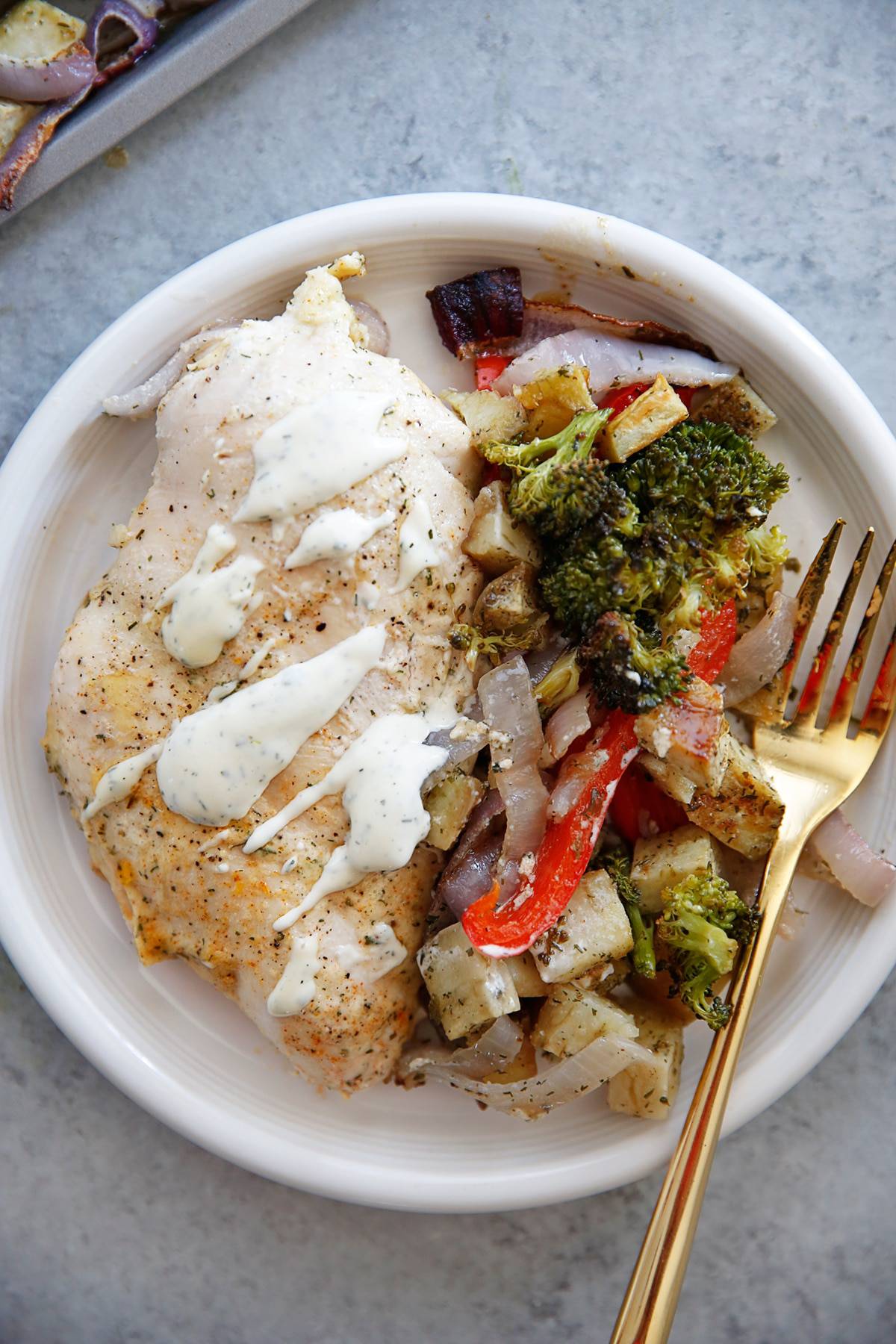 Tips for sheet pan cooking:
Read the recipe all the way through (of course) and plan to use a timer! Most recipes require different cooking times, so make sure to use a timer so you can truly walk away from the oven and not have to worry about when your adding anything in to the oven.
Do the prep ahead of time: Cut vegetables, make sauce or mix spices the night before or that morning if you are looking to speed up the process when it comes time for the actual cooking.
Use parchment paper to make clean up a breeze.
Use the correct size sheet pan. When we say sheet pan we are referring to the rimmed half sheet pan which is 18″ by 13″. The size of the sheet pan matters because you do not want to overcrowd the pan when cooking, so if you are using a smaller sheet pan you may need to use 2 to achieve the same result.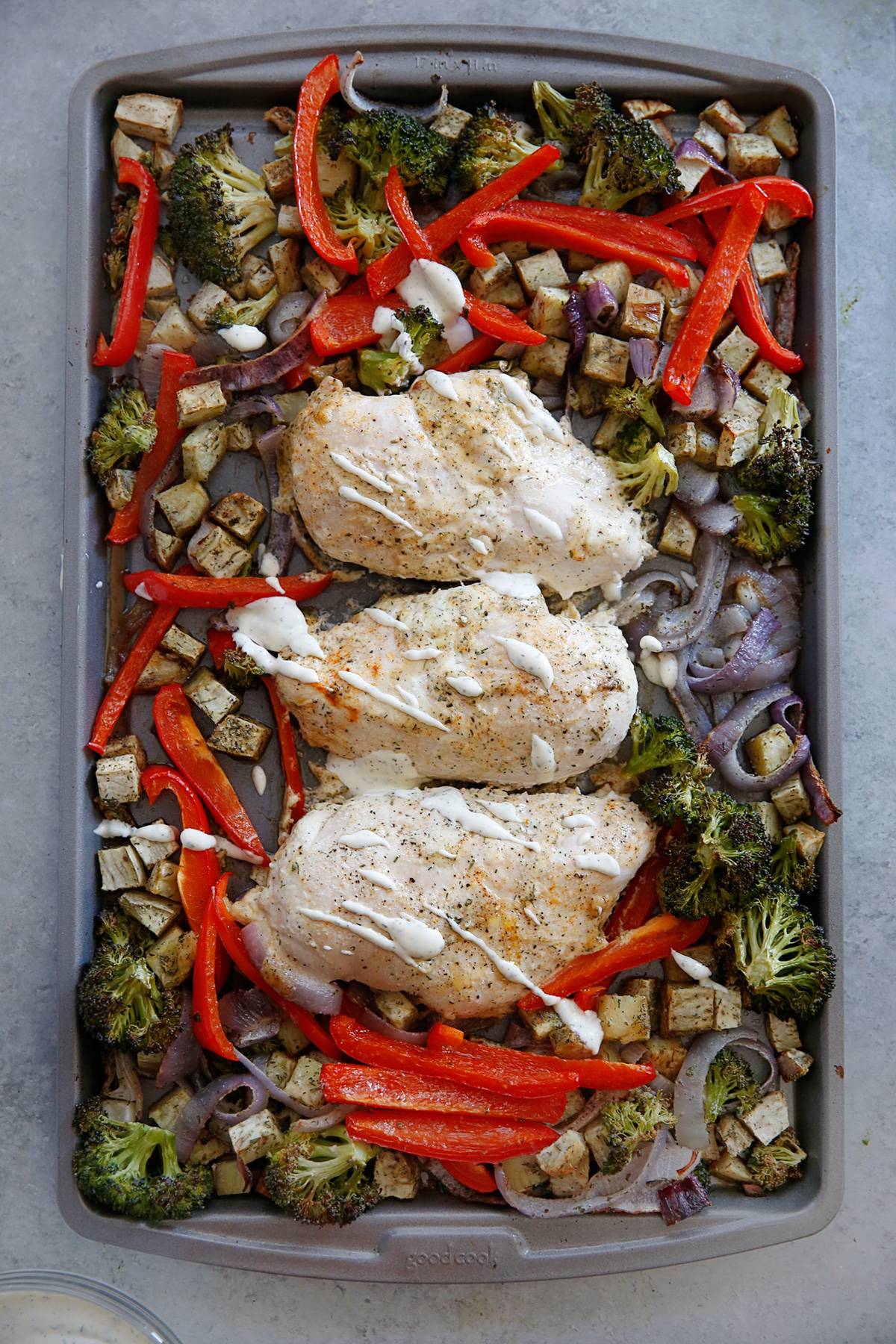 If you like this recipe, try these other sheet pan meals:
Sheet Pan Ranch Chicken and Vegetables
This Sheet Pan Cod with Vegetables in Lemon Herb Sauce is the ultimate Spring or Summer meal with perfectly cooked lemon herb cod, tender veggies, and a delicious green sauce. It's the ultimate sheet pan fish dish everyone will love!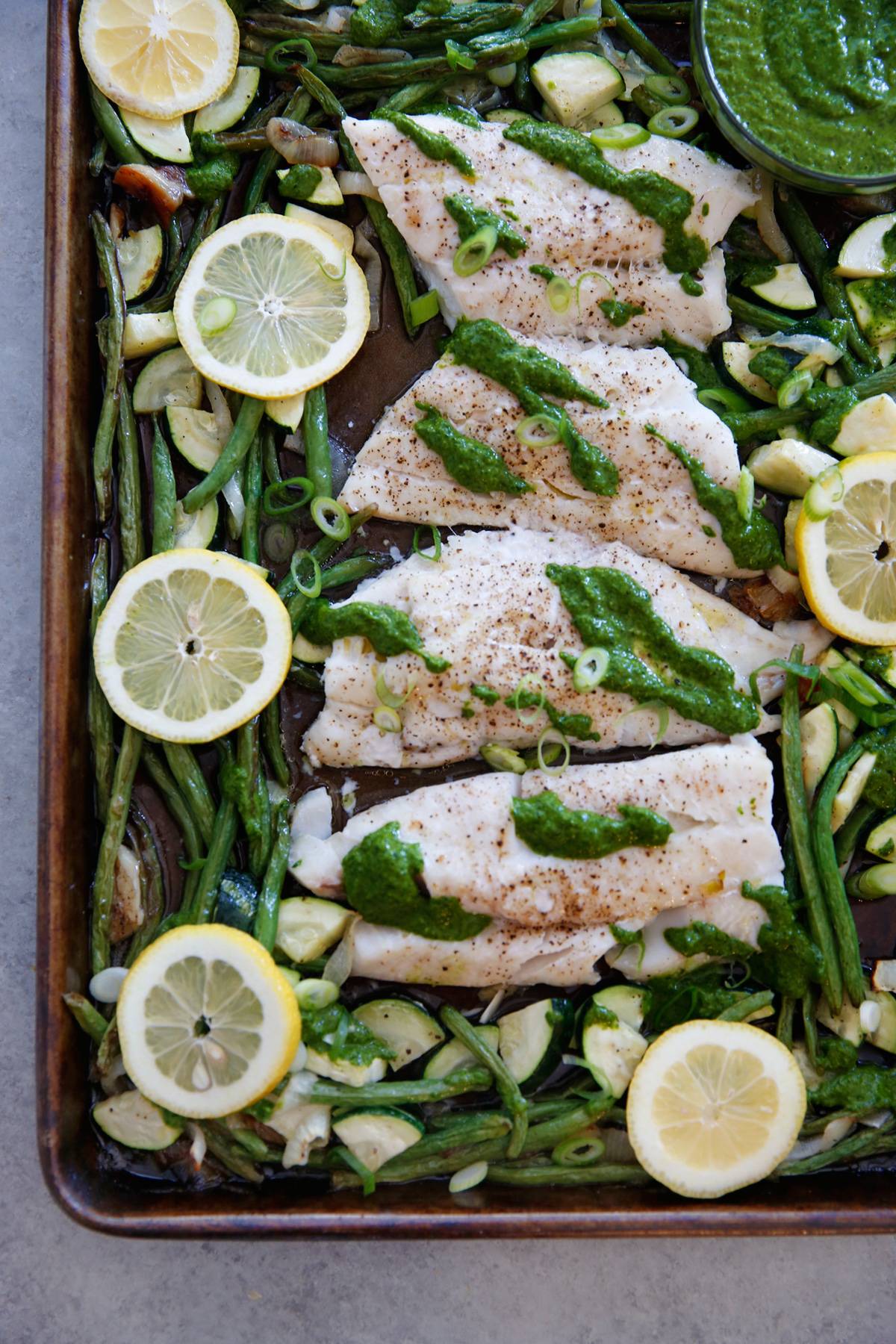 Sheet Pan Cod with Vegetables in Lemon Herb Sauce
This sheet pan fish dish is a light and quick weeknight dinner you can get on the dinner from start to finish in just over a half an hour with minimal clean up! Sheet pan dinners are the best because they minimize clean up by utilizing one cooking vessel and they make cooking hands off. This sheet pan dinner is low carb for a nice light meal that is still going to leave you satisfied because it is packed with flavor and loaded with fresh, in-season vegetables.
The green herb sauce is made of few different herbs and aromatics with a punch of acidity thanks to the lemon that makes this dish really stand out!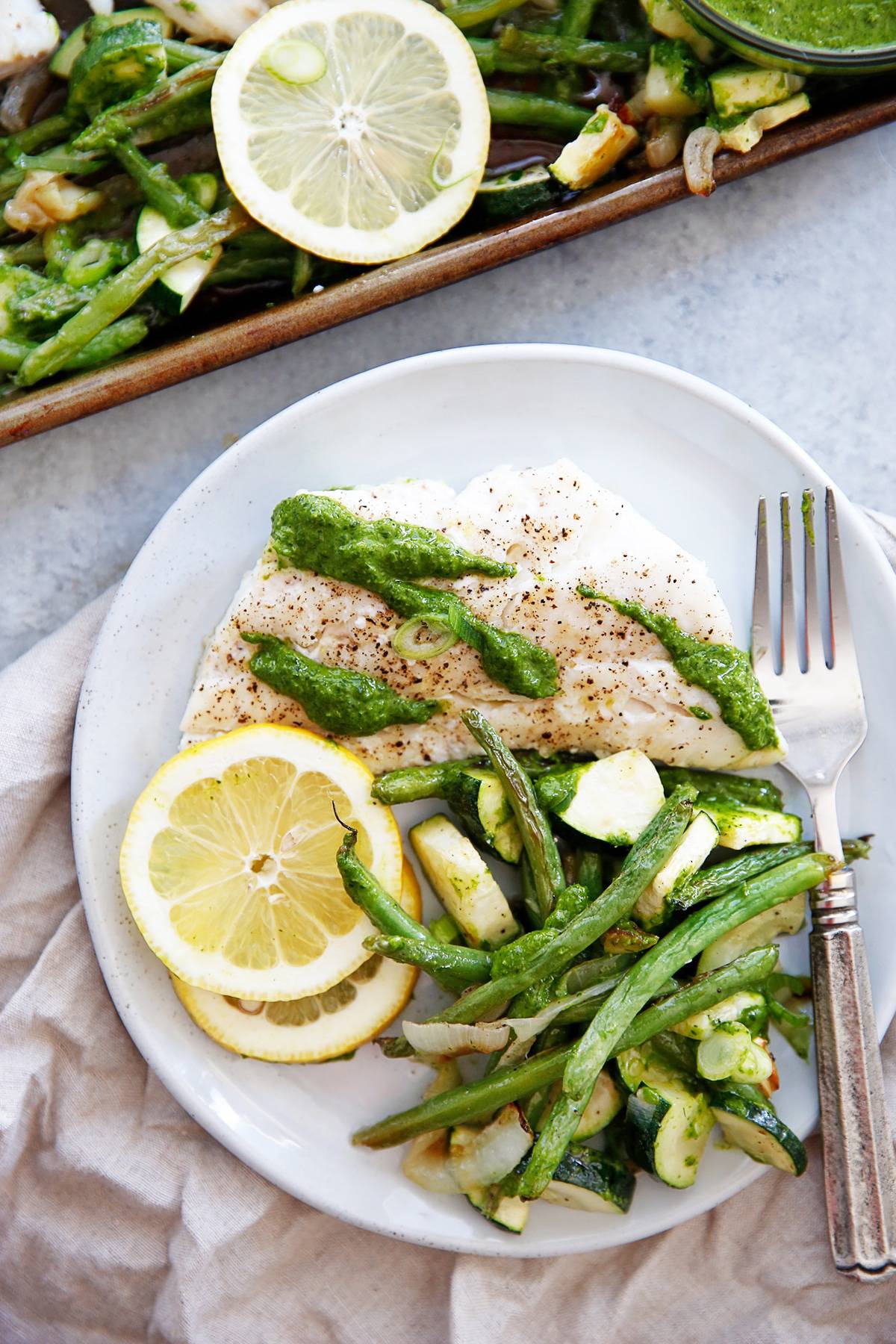 Tips for sheet pan cooking:
Read the recipe all the way through (of course) and plan to use a timer! Most recipes require different cooking times, so make sure to use a timer so you can truly walk away from the oven and not have to worry about when your adding anything in to the oven.
Do the prep ahead of time: Cut vegetables, make sauce or mix spices the night before or that morning if you are looking to speed up the process when it comes time for the actual cooking.
Use parchment paper to make clean up a breeze.
Use the correct size sheet pan. When we say sheet pan we are referring to the rimmed half sheet pan which is 18″ by 13″. The size of the sheet pan matters because you do not want to overcrowd the pan when cooking, so if you are using a smaller sheet pan you may need to use 2 to achieve the same result.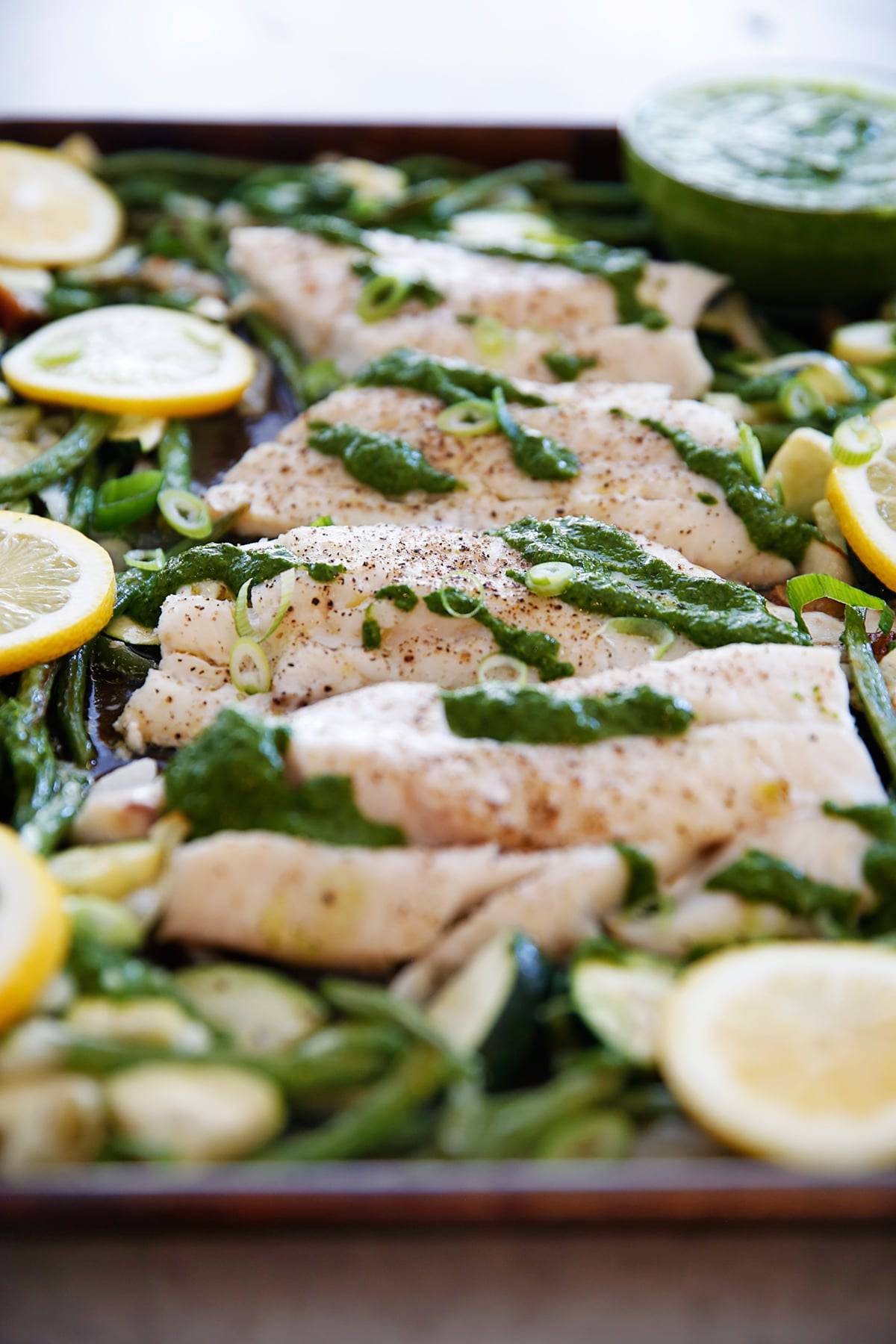 I love using cod over Tilapia since cod is almost always farm-raised. Farm-raised fish have been found to have high concentrations of antibiotics and pesticides so I try to avoid them and buy wild fish that I can trust!
If you like this recipe, try these other sheet pan meals: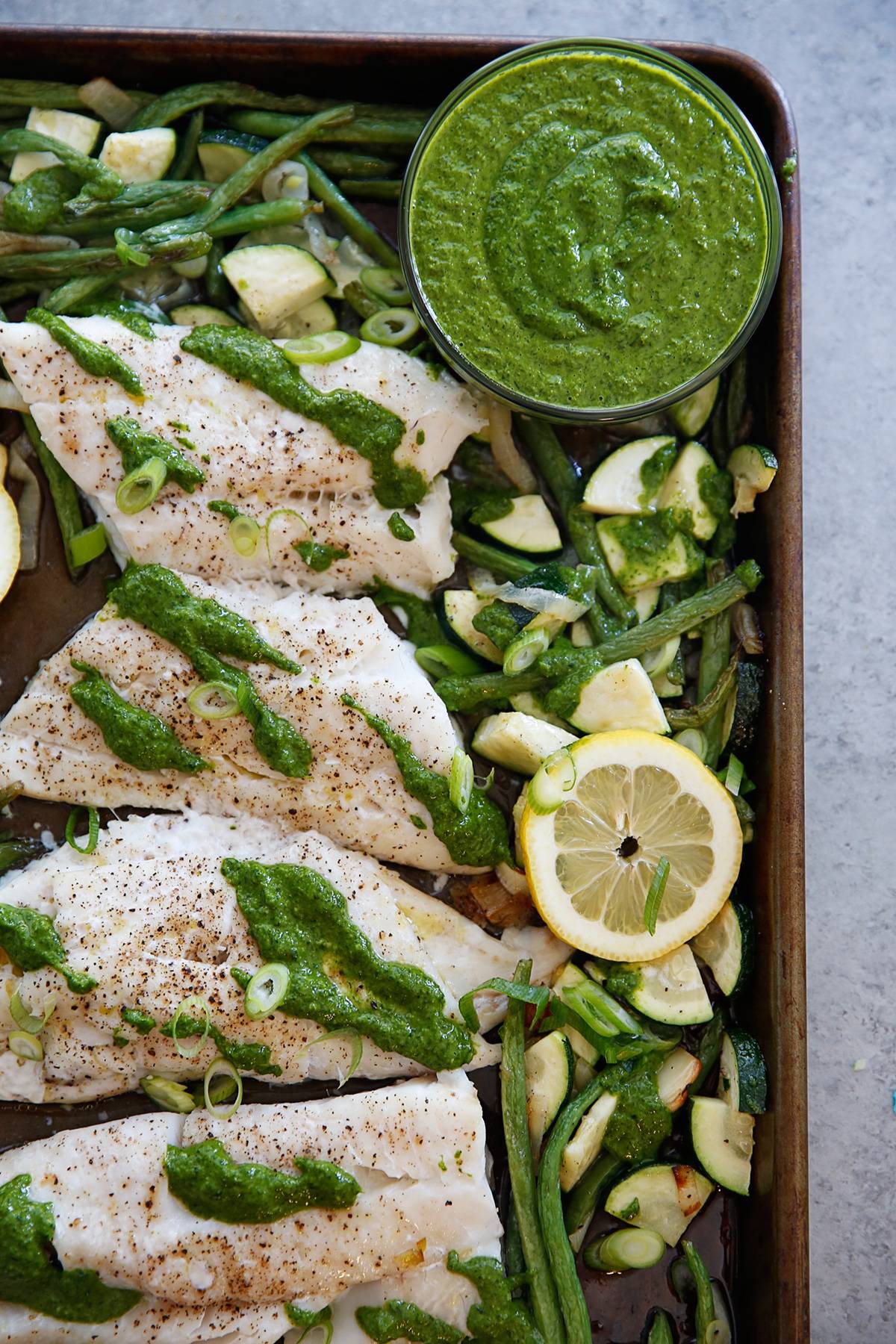 Sheet Pan Cod with Vegetables in Lemon Herb Sauce
This easy Italian meat sauce recipe is my probably my all-time favorite pasta sauce recipe! It's an easy homemade meat sauce recipe that is hearty and flavorful, and perfect for a weeknight meal. Make this healthy meat sauce with ground turkey or ground beef, and let it cook nice and slow! It's gluten-free, paleo-friendly, whole30 compliant, and so yummy! Serve it over zucchini noodles or spaghetti squash for low carb, or gluten-free pasta!

Homemade Meat Sauce Recipe
I LOVE Italian dishes. Especially a quick and delicious meat sauce! I often make my favorite Italian dishes into healthy versions that I love to dig into, weekly. This spaghetti meat sauce is delicious, always a hit and so versatile! Serve it over zucchini noodles, spaghetti squash, the options are endless! I often make a big batch to have for the week, and I never get sick of it!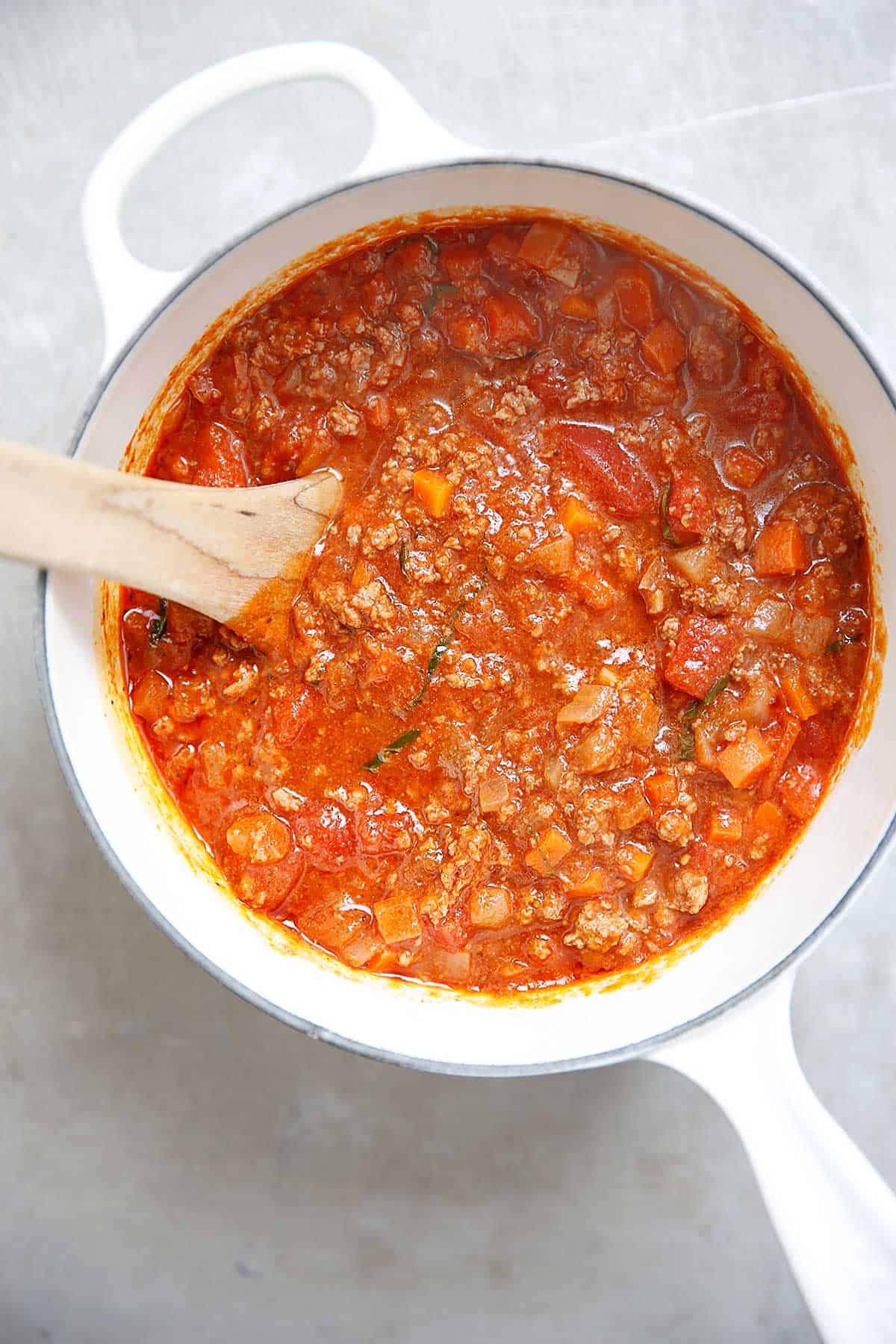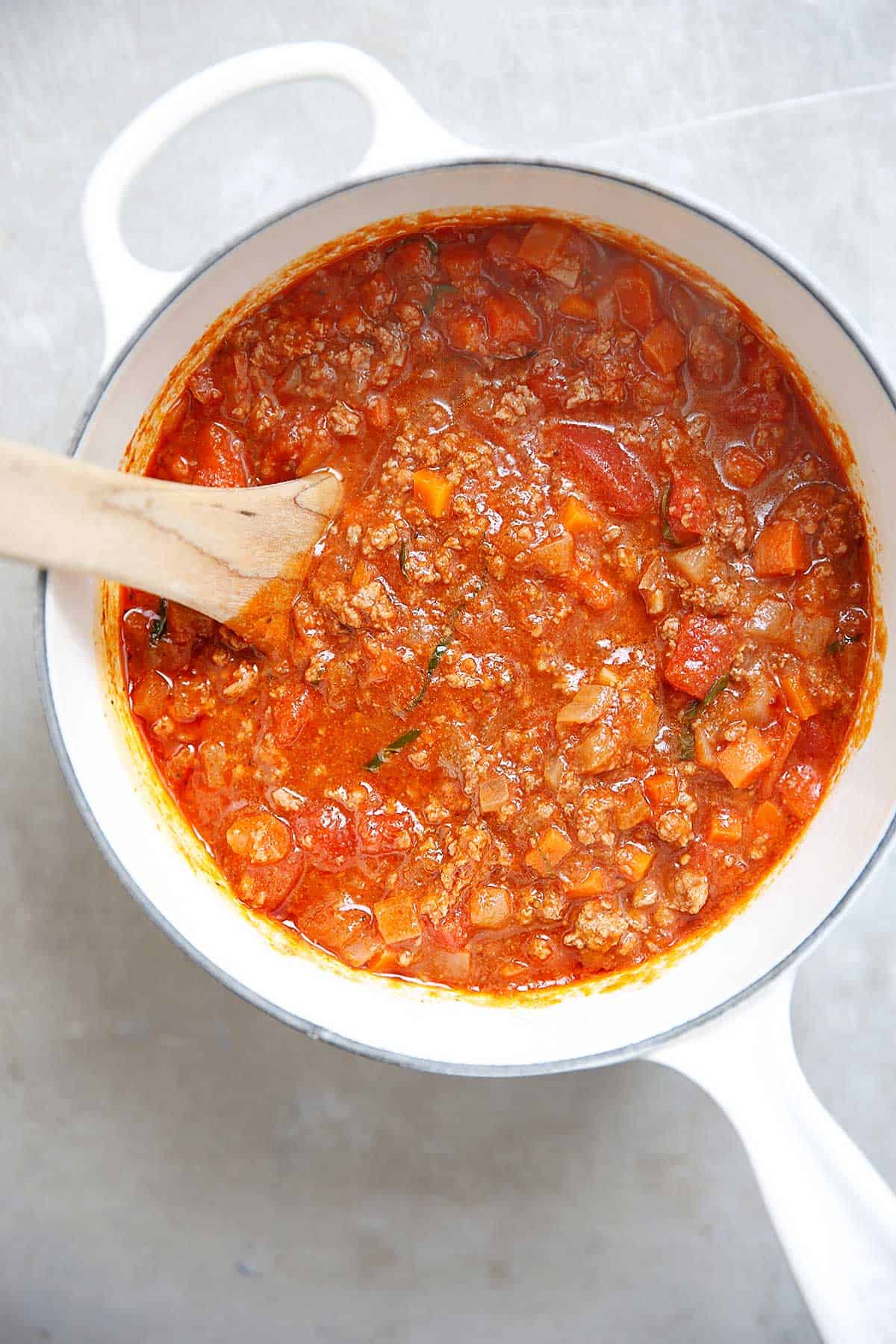 If you love meat sauce, try this spaghetti sauce in these recipes: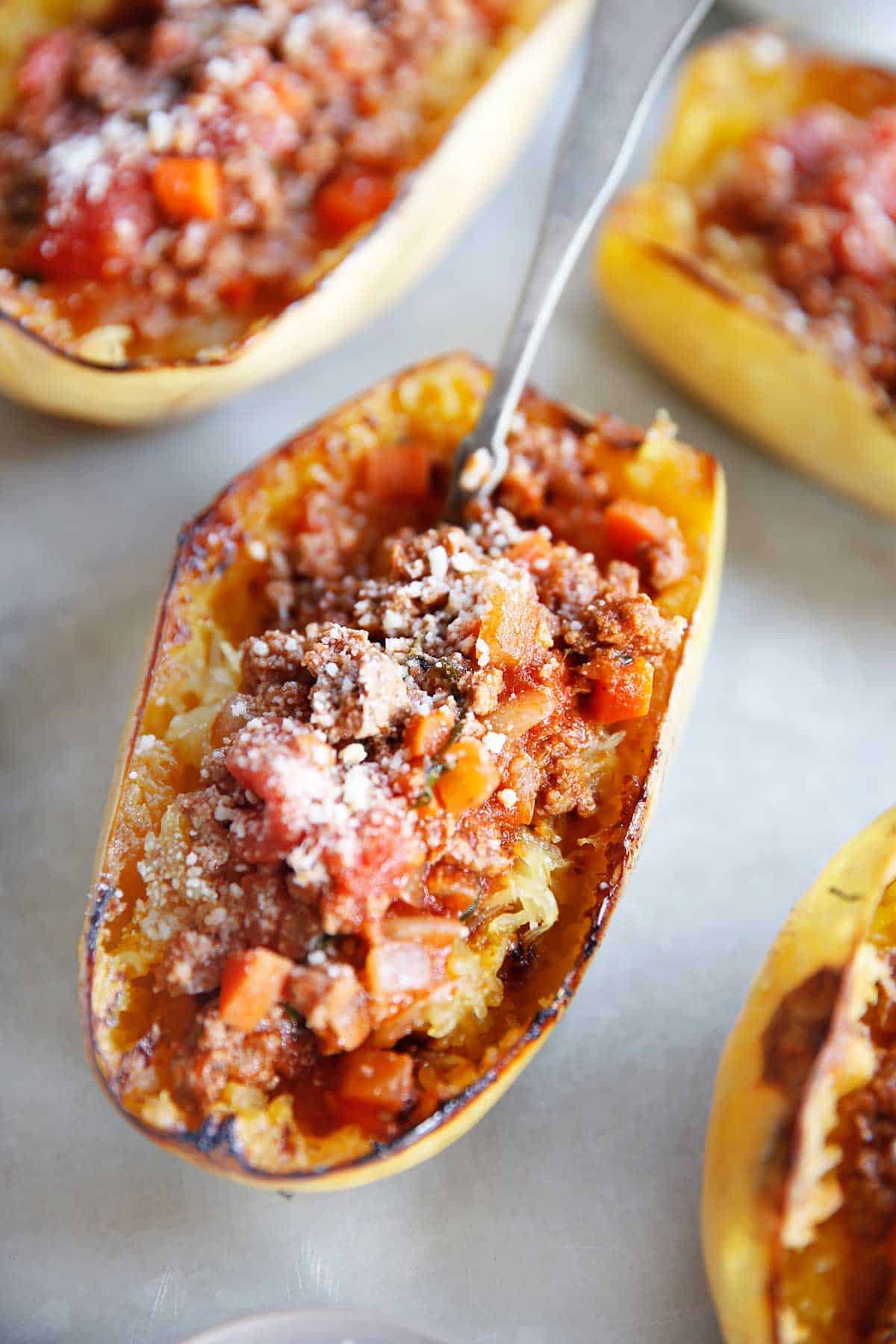 Want other healthier pasta recipes? Try these favorites:
How Do You Make Meat Sauce
Homemade Meat Sauce Recipe
This One-Pan Shrimp and Green Beans recipe in Chinese Garlic Sauce is the perfect, easy, whole30 compliant weeknight meal made in under 30 minutes!

One-Pan Shrimp and Green Beans in Chinese Garlic Sauce
I love healthy versions of my favorite Chinese food recipes! Growing up, we often ordered Chinese food, and while I have a clear memory of how delicious it was, it's obvious now how unhealthy those dishes can be. This garlic sauce is thick and flavorful, and reminds me so much of a yummy oyster sauce I used to order as a kid!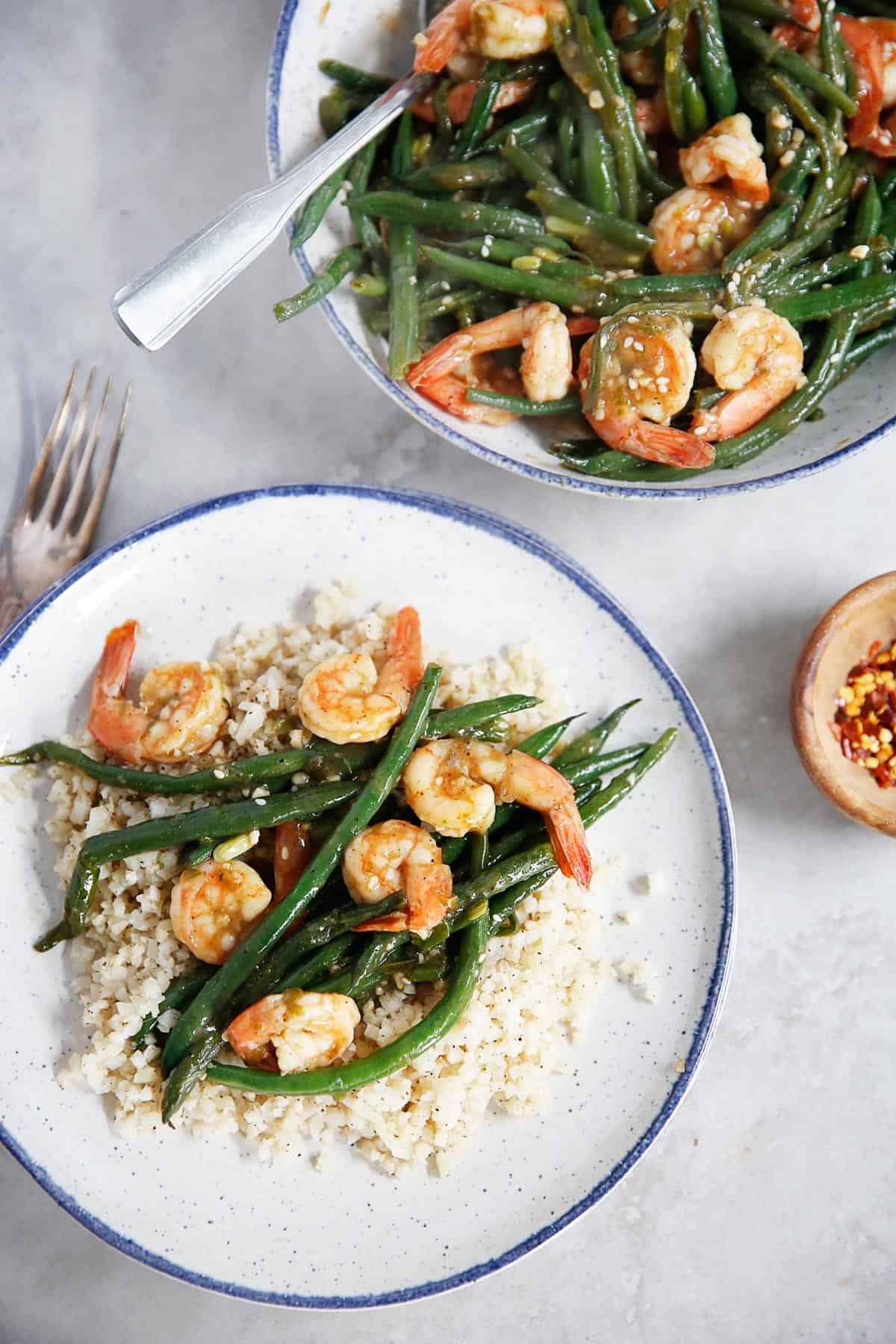 I love serving this dish over cauliflower rice, but white rice would be delicious too!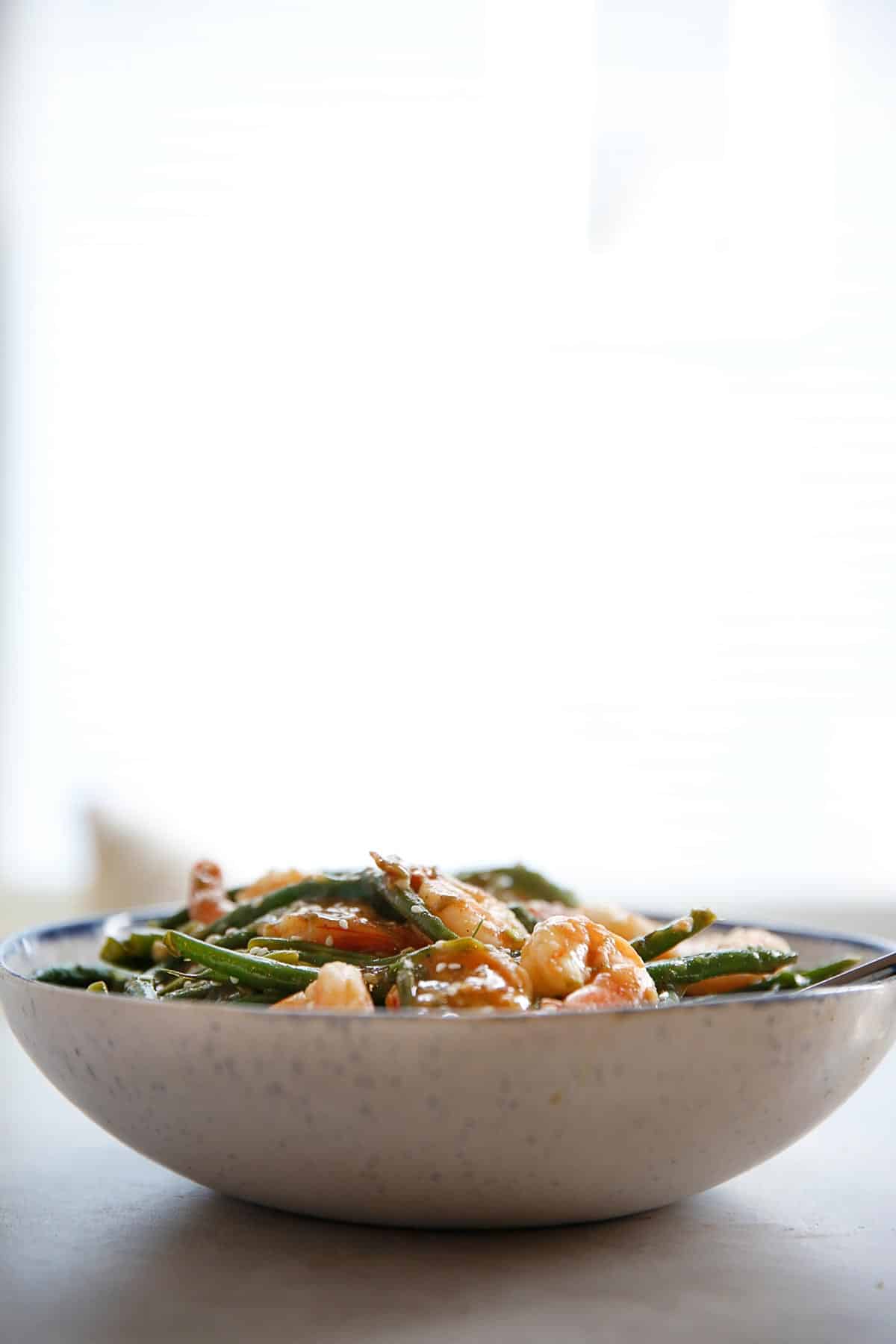 Want other heathy Asian food recipes? Here are some favorites:
Shrimp and Green Beans Recipe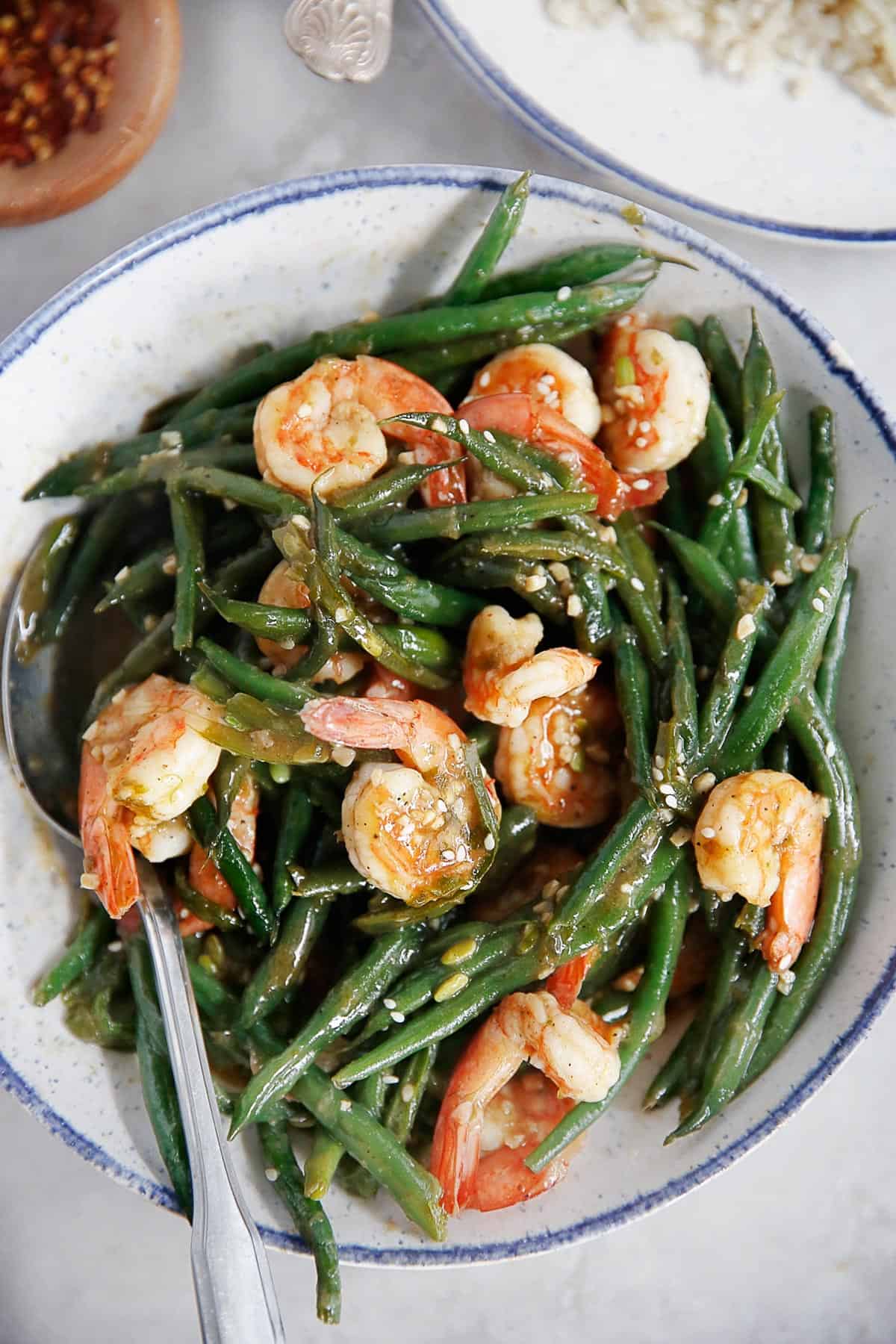 Watch the video:
One-Pan Shrimp and Green Beans in Chinese Garlic Sauce
These Paleo Carrot Cake Cookies with a Maple Glaze are the perfect treat to make for your Easter holiday celebration. This gluten free carrot cake cookie recipe yields soft and chewy cookies, is easy to make and packs all the flavor of a traditional carrot cake in an easy-to-serve form.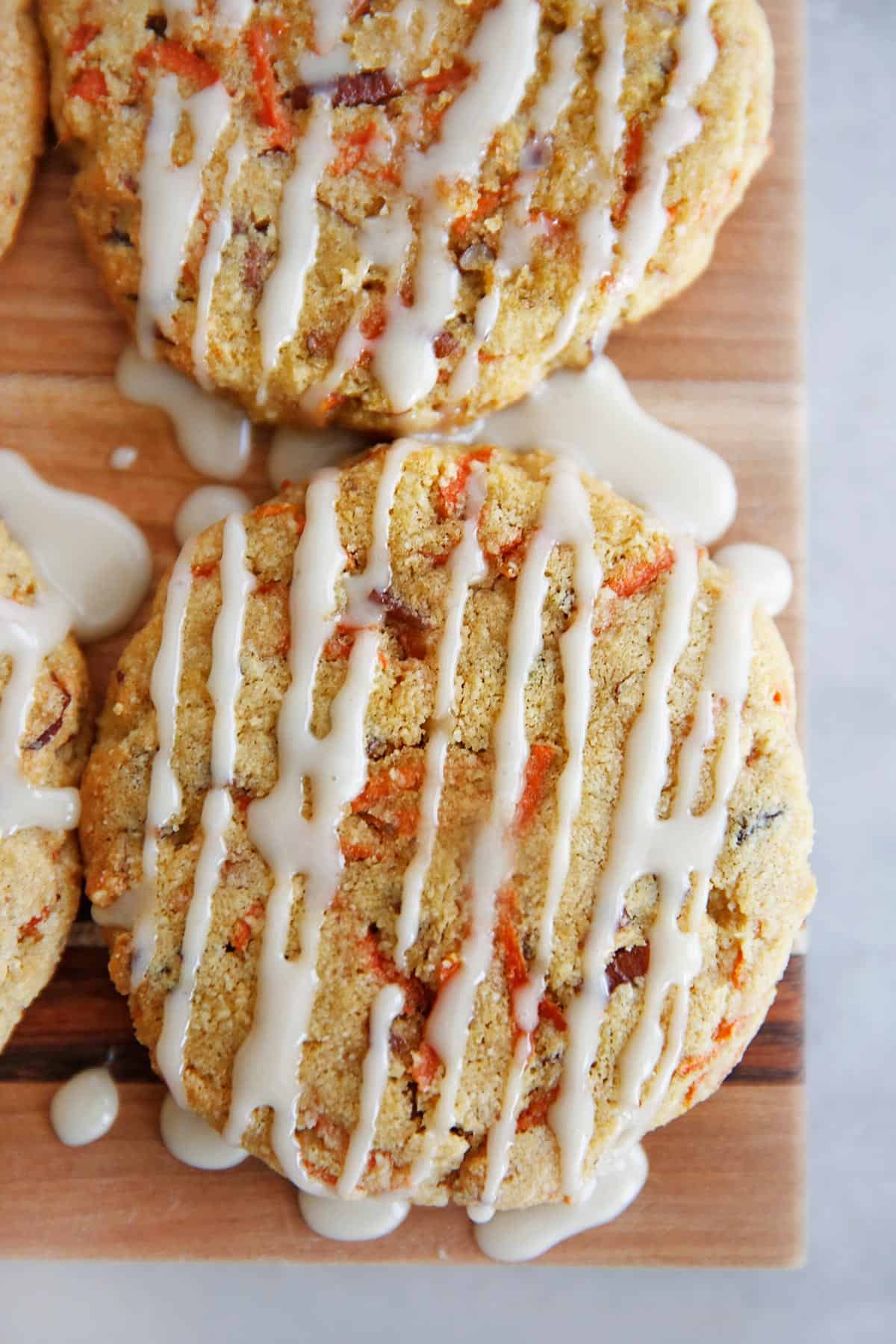 Carrot Cake Cookies with Maple Glaze
Easter weekend is here! While traditional carrot cake or a carrot cake loaf is standard, let's switch it up this year! Everyone loves a good cookie, and a soft carrot cake cookie topped with the most delicious maple glaze is just guaranteed to be a hit of the dessert table. Guaranteed.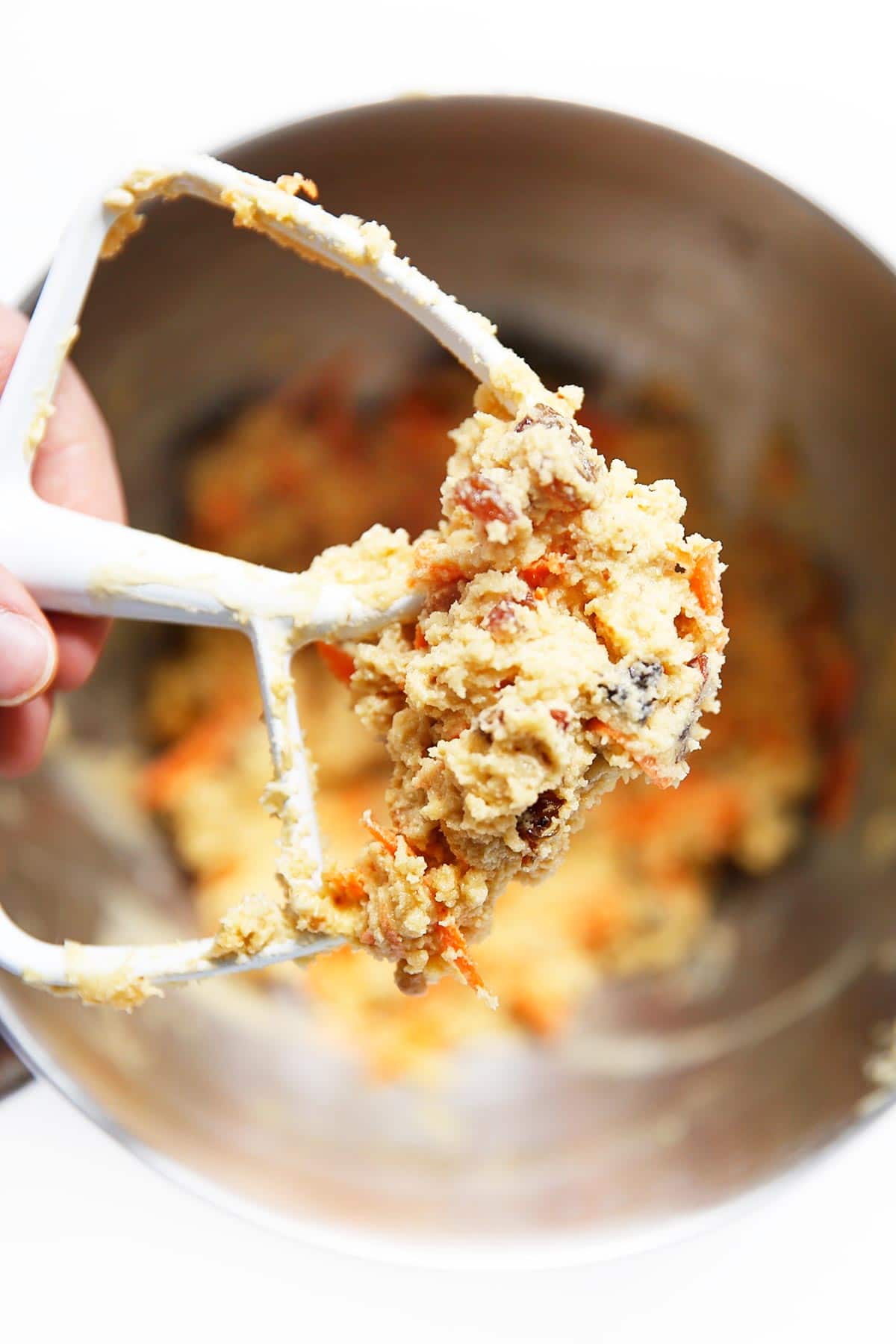 These cookies are wonderful for any carrot cake lover; and personally, since we don't actually celebrate Easter in our home, can vouch that they are perfect for any occasion. These cookies are: lightly sweetened, packed with delicious add-ins, soft, and topped with a decedent frosting.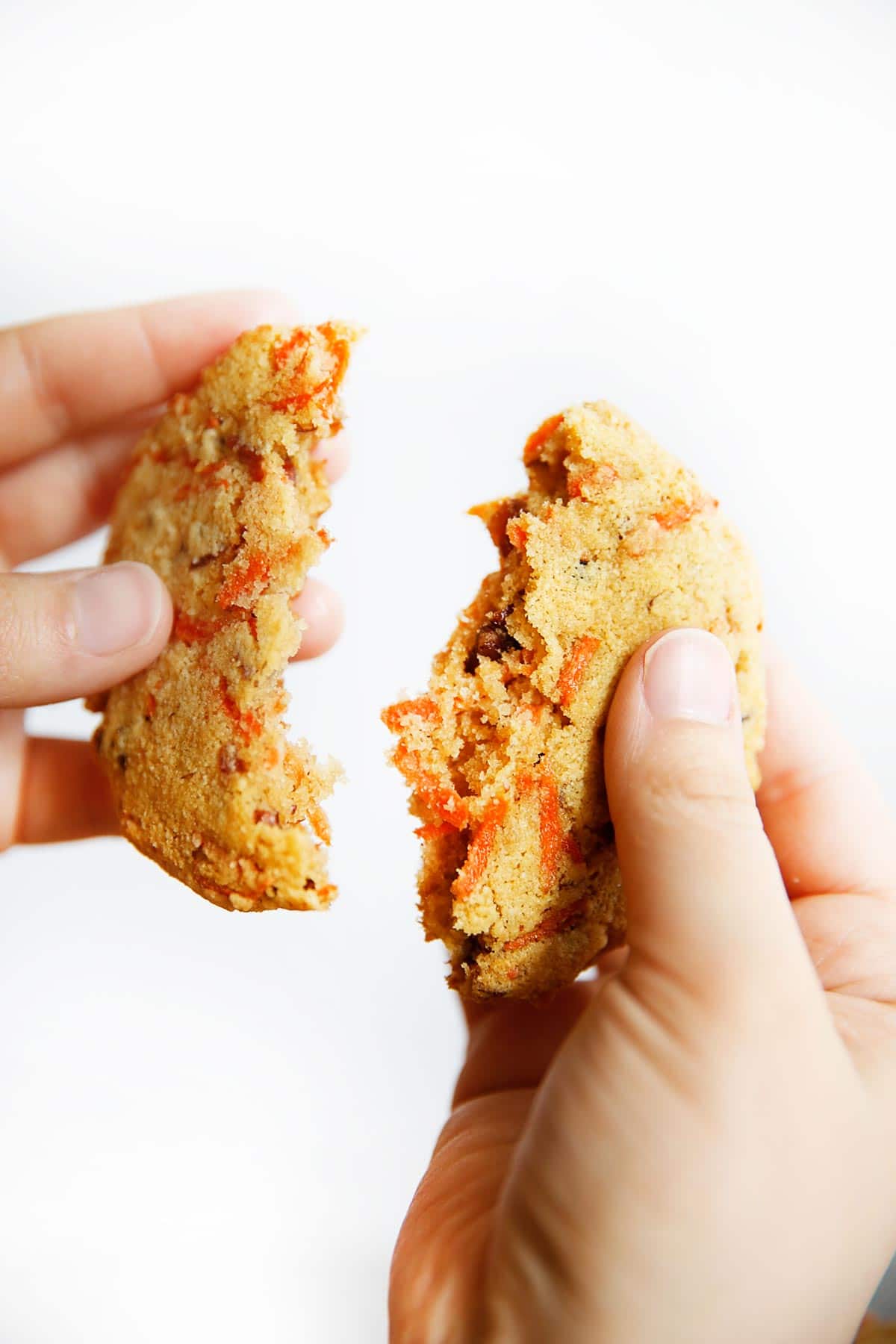 Want other paleo desserts with veggies? Try these favorites:
Carrot Cake Cookie Recipe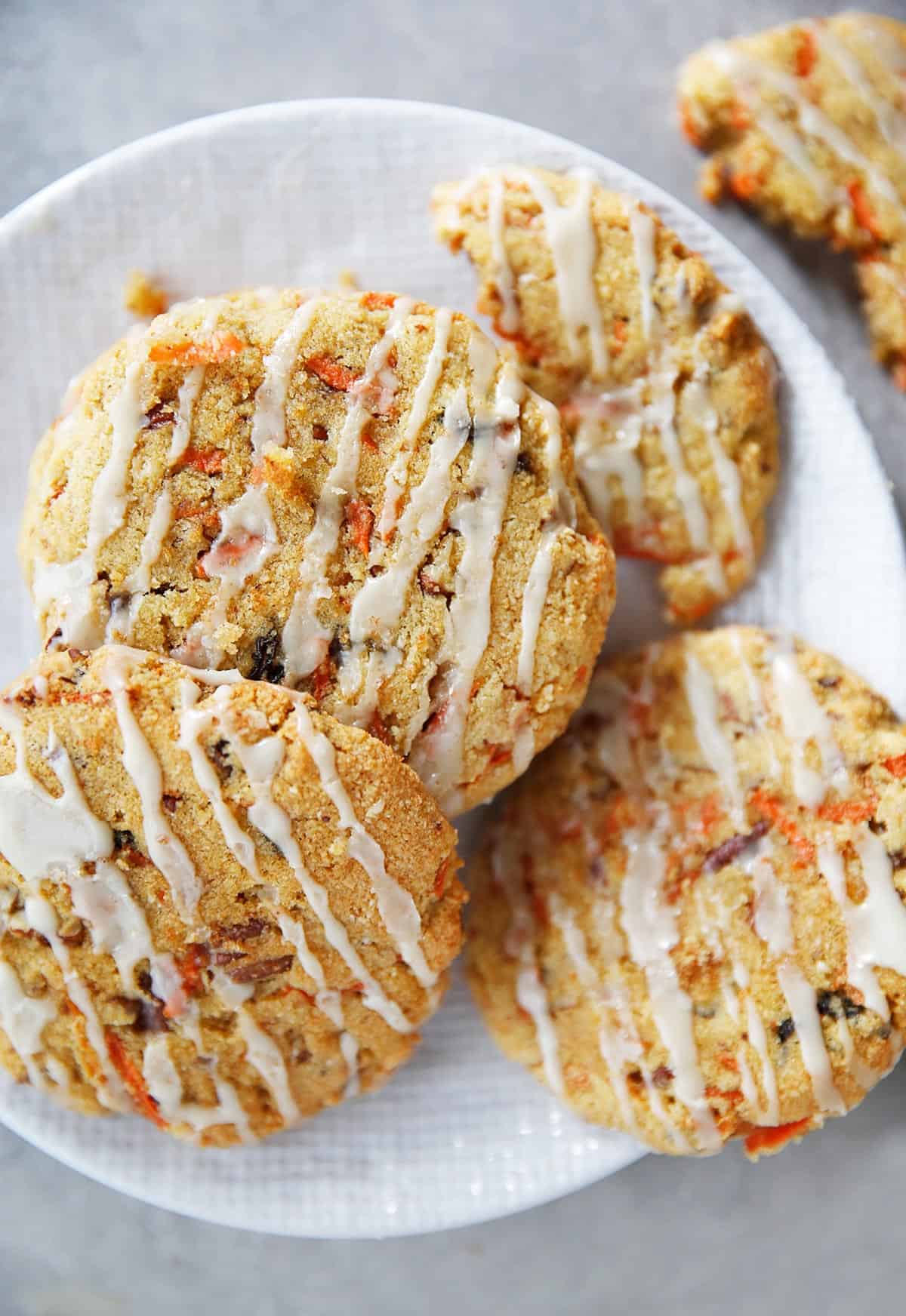 P.S. Here are the cookies with the old frosting from 2015!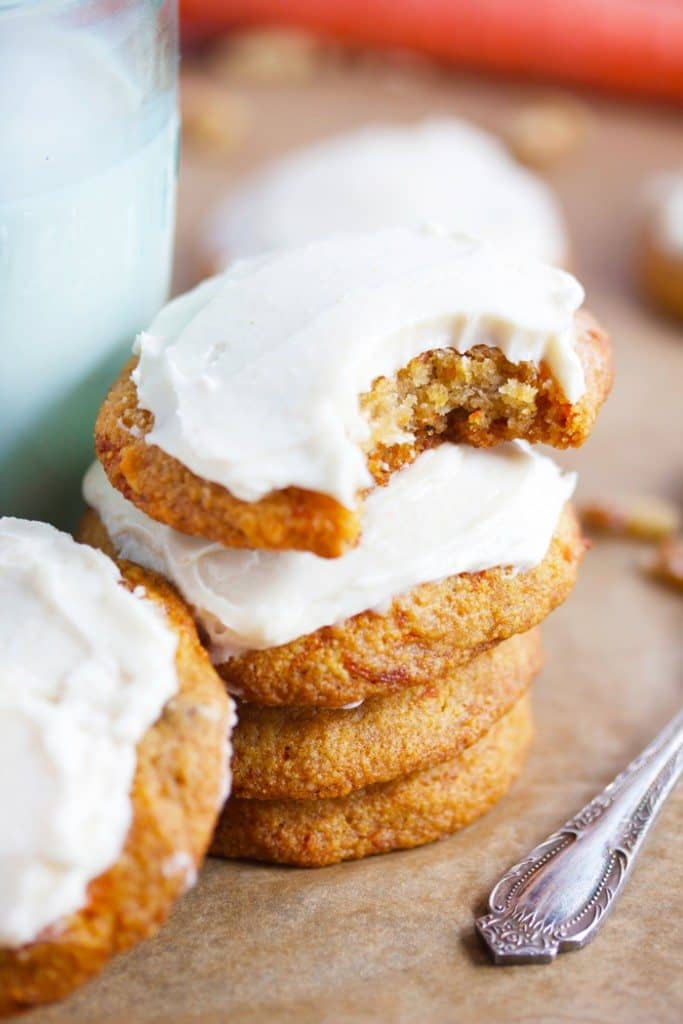 Gluten Free Carrot Cake Cookies (With Maple Glaze)
These gluten-free & grain-free Mini Cauliflower Pizza Bites are the PERFECT weeknight dinner, grab-and-go lunch, or party appetizer. This bite-size cauliflower pizza crust recipe can fool even the non-cauliflower lover! They are low carb, keto, and paleo-friendly if you omit the cheese, and so delicious!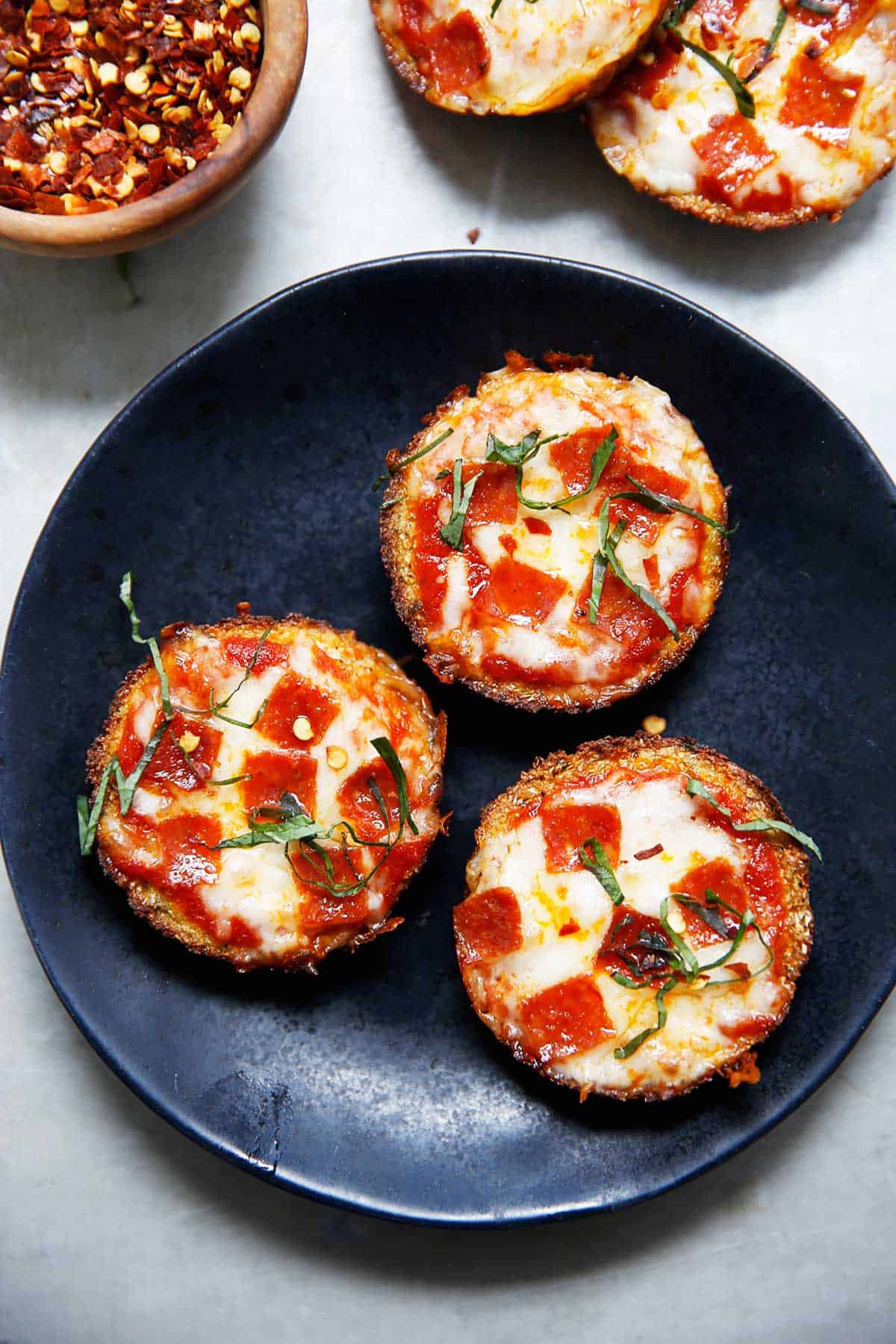 Cauliflower Pizza Bites
These cauliflower pizza muffins are easy to make, packed with good-for-you ingredients! They are gluten-free and grain-free and hold up PERFECTLY. We literally cannot get enough of these in my home! Everybody loves this cauliflower pizza!!
Is cauliflower pizza low carb?
Yes, this is a good low carb option!
Is cauliflower good for Keto?
There are 2.9 grams of net carbs in an entire cup of this low carb vegetable, making it a great option. Plus it's super versitile!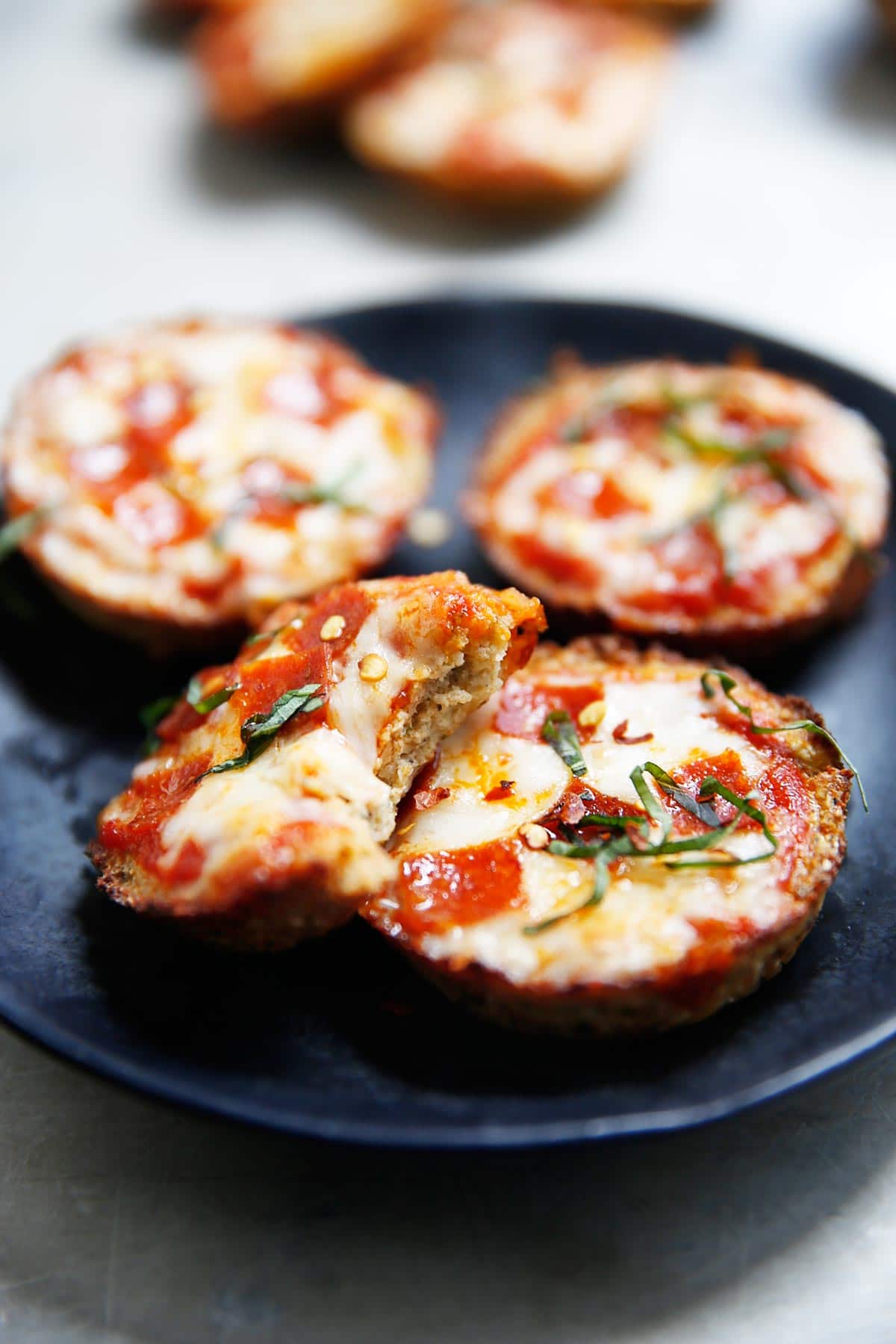 This cauliflower pizza crust recipe its made in a muffin tin for an easy on-the-go lunch option that you can make ahead and enjoy! Cauliflower pizza crust can be tricky, but these bite-size pizzas are easy to make, won't fall apart, and are full of flavor!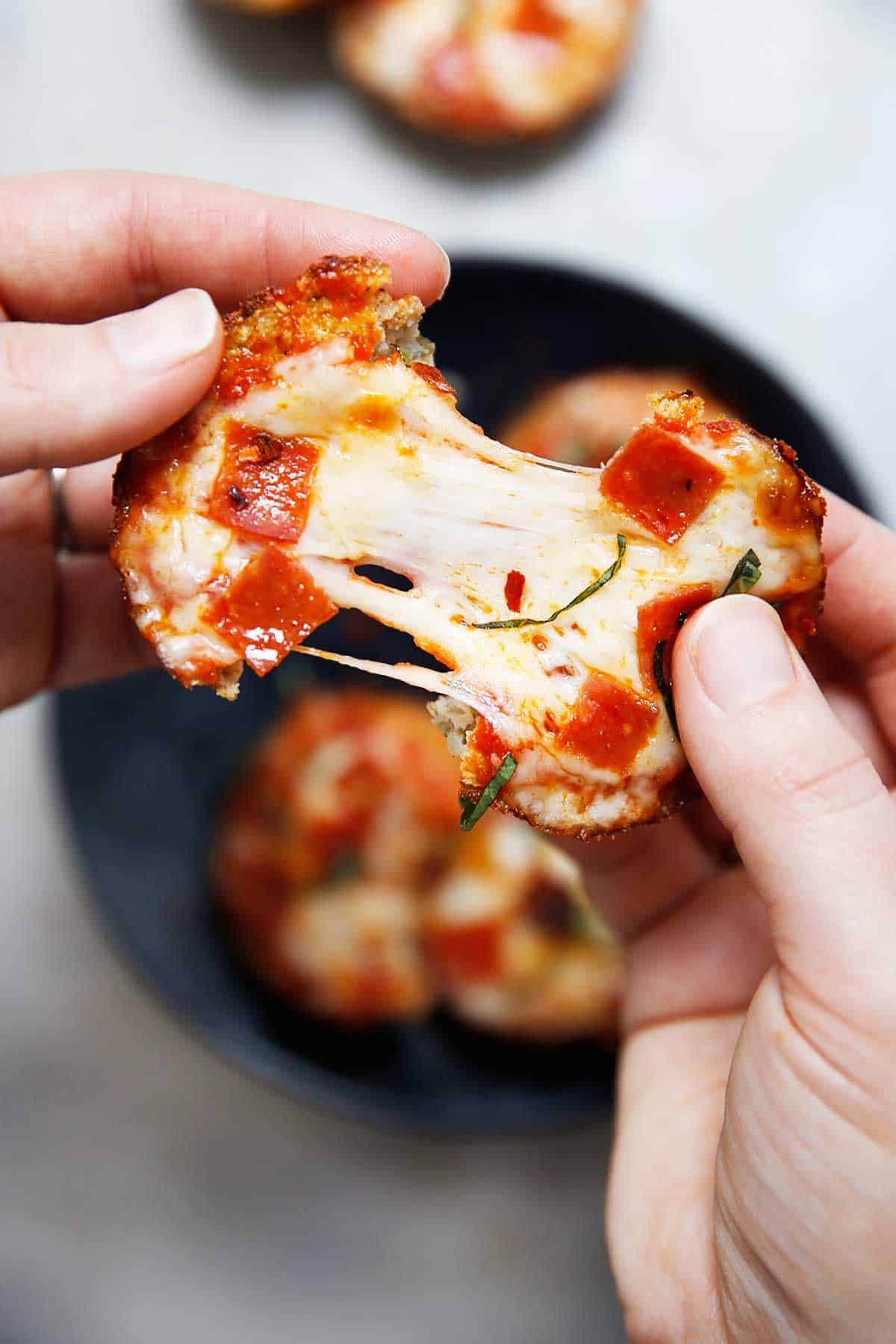 Want other cauliflower recipes? Try these:
Want other pizza recipes? Here are some favorites:
Video:
Cauliflower Pizza Bites (Gluten-Free and Grain-Free)
This Harvest Salad has all the ingredients you'll want in a Winter kale salad recipe! Packed with chopped kale, roasted squash, pomegranate seeds, toasted pecans and topped with a super easy & delicious Maple Balsamic Dressing for the absolute perfect holiday salad all Fall and Winter Long!
Harvest Salad with Maple Balsamic Dressing
My fabulous blogging girlfriends are here with me today bringing you healthy sides for your Thanksgiving feast. I am in love with this month's round up because I mean… check out these recipes! Gorgeous, delicious, and good-for-you! I call it a WIN. Your family and friends will thank you, too!
You guys, I've been putting this dressing on EVERYTHING. It is my favorite dressing that everybody loves and it is SO easy to make. You need to make it immediately.
Want other salad recipes?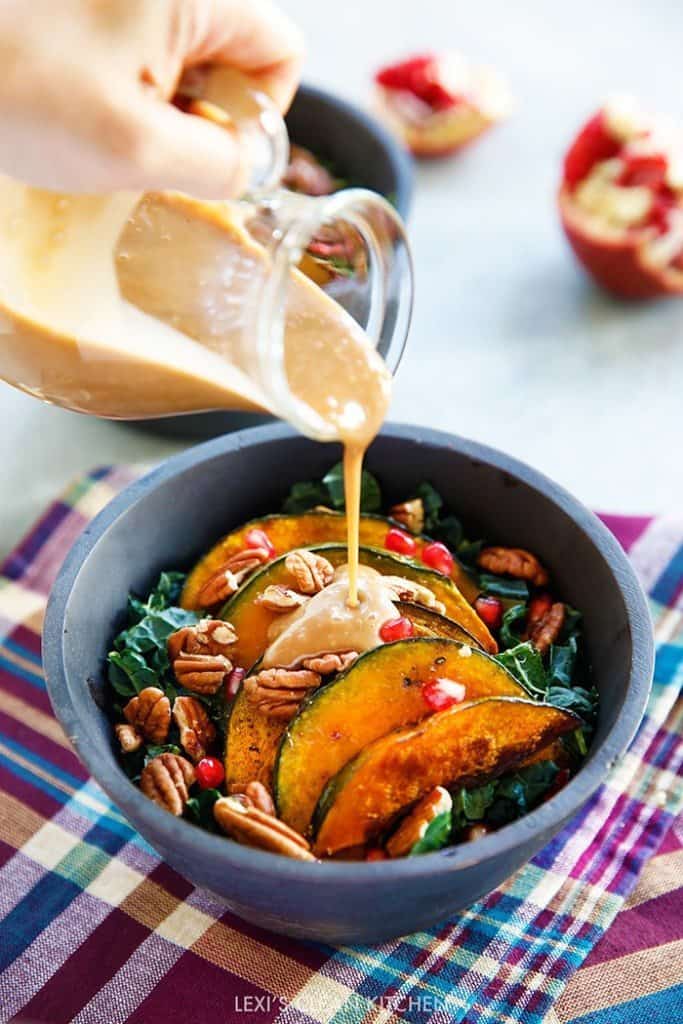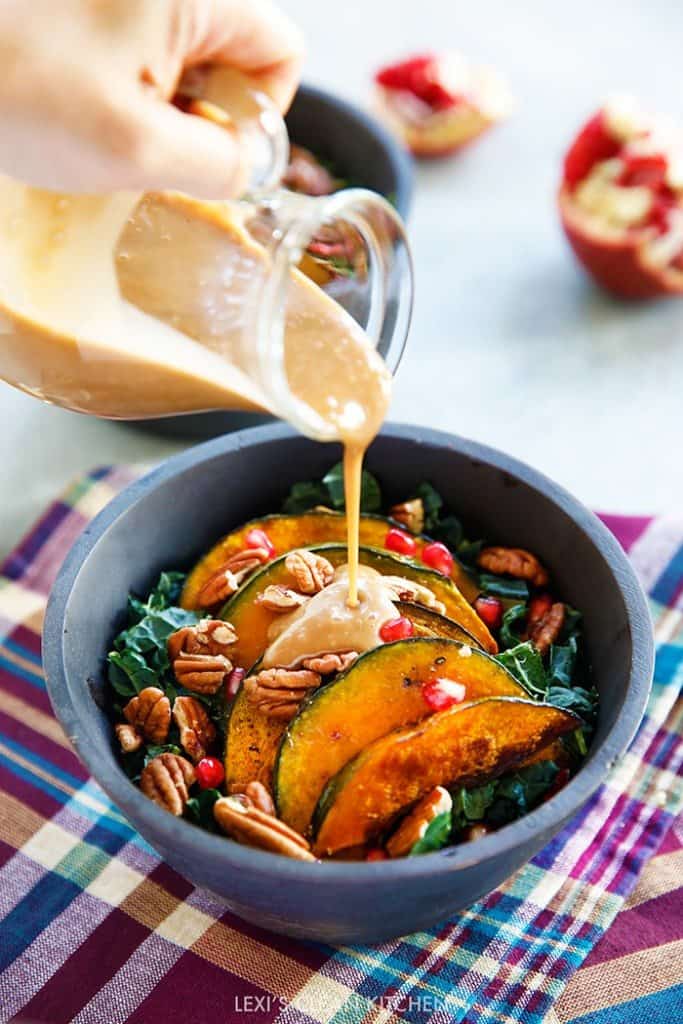 How do you soften kale for a salad?
To prepare kale for a salad, massage the kale with oil and lemon for 1-3 minutes.
Can I use anything aside from kale?
Yes, use any leafy green that you love!
Watch the video:
Cauliflower Stuffing from The Healthy Maven
This healthy, low-carb cauliflower rice stuffing will convince your Thanksgiving guests to jump on board the cauliflower rice train, while secretly getting them to eat more veggies! Plus it's ready in under 20 minutes.
Green Beans with Caramelized Shallots and Almonds from Eating Bird Food
Add some green to your holiday table with this flavorful recipe for tender crisp green beans tossed with caramelized shallots, toasted almonds and fresh parsley.
5-Ingredient Slow Cooker Cranberry Sauce from Running to the Kitchen
This simple cranberry sauce is made with just 5 ingredients. Make it in the slow cooker and save the stove-top space for all the other Thanksgiving sides.
Vegan Scalloped Sweet Potatoes from Food Faith Fitness
These easy scalloped sweet potatoes are SO creamy and flavorful, you'll have a hard time believing they're secretly healthy and paleo and vegan friendly!
Balsamic Sea Salt Brussels Sprouts from Fit Foodie Finds
Make these delicious Balsamic Sea Salt Roasted Brussels Sprouts this holiday season for the most delicious vegan and paleo side that everyone will gobble up!
Harvest Salad with Maple Balsamic Dressing (Video)
This fried Moroccan Eggplant with Chermoula Sauce is easy to make, has so much flavor, and is SO SO delicious. The perfect Moroccan starter! Plus, the chermoula sauce with roasted peppers would be fabulous on fish, meat, or chicken, too!
Moroccan Eggplant with Chermoula Sauce
If you read my Morocco recap, you know we had the most magical trip. We loved the culture, the people, and of course, the food. When the amazing chef from Riad Fes said I could share a few recipes from our cooking class with you, I was SO excited. When we took a cooking class and we made this Moroccan Eggplant (with Chermoula) appetizer that blew our minds! We had a blast in the kitchen cooking up all sorts of traditional Moroccan dishes and I am so excited to share some of them with you!
This chermoula is made with fresh herbs, good quality olive oil, roasted red bell pepper, and all the fresh Moroccan flavors we have come to love and cherish since our trip. I love this sauce on top of chicken, meat, and fish. It's simply perfect, and easy to prepare!
Check out the photo of Mike below holding the Moroccan Eggplant recipe we made on our trip at the hotel!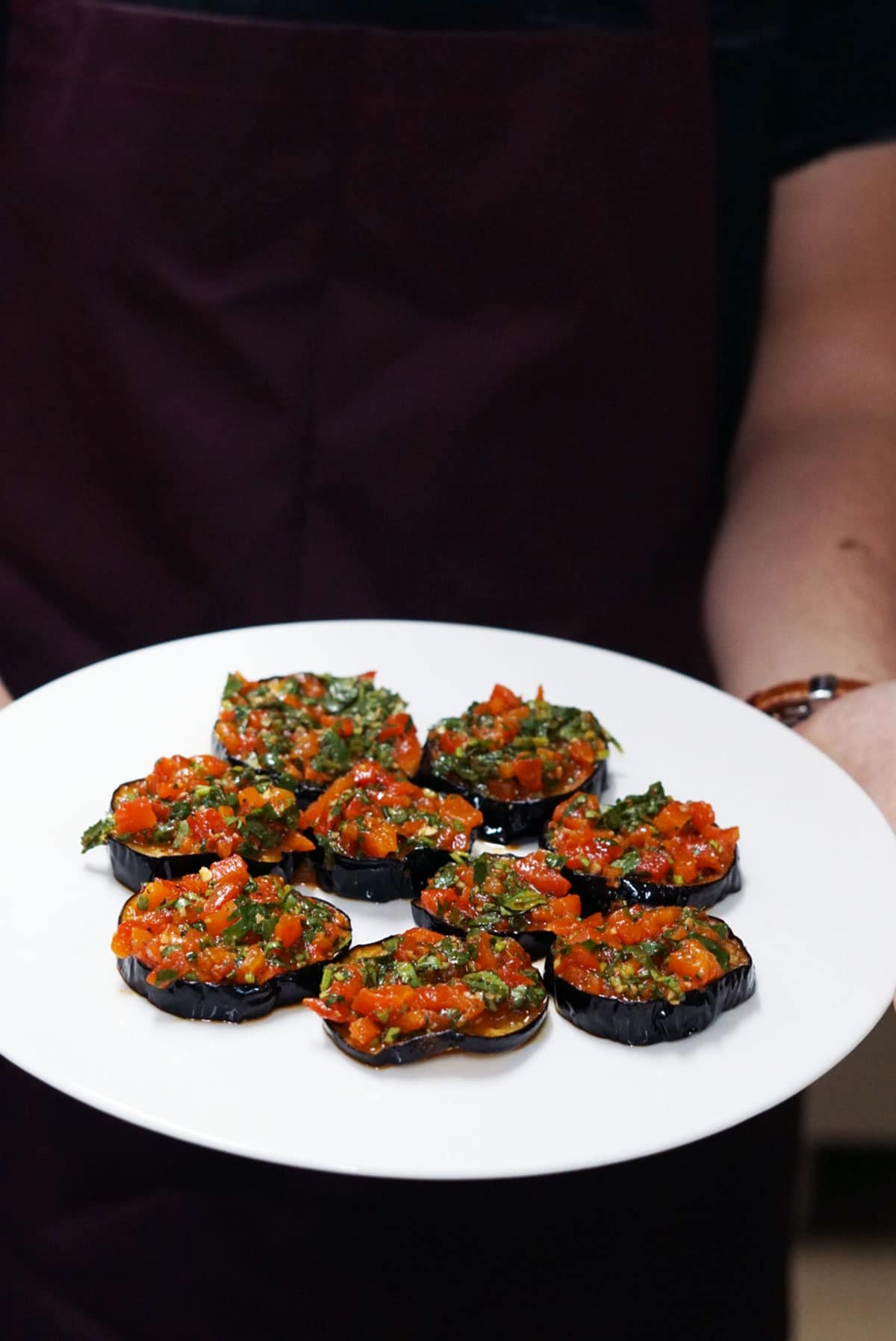 Here is what you need to make this Chermoula Sauce:
Red Bell Pepper
Garlic
Parsley
Cilantro
Olive oil
Lemon
Sea salt
Cumin
Paprika
Ground Black Pepper
What is Chermoula Sauce good on?
It's obviously amazing on these fried eggplants, but you can use this sauce to top anything. It would be great on all cuts of meat, with other vegetables, or as a dip with fresh veggies or crackers.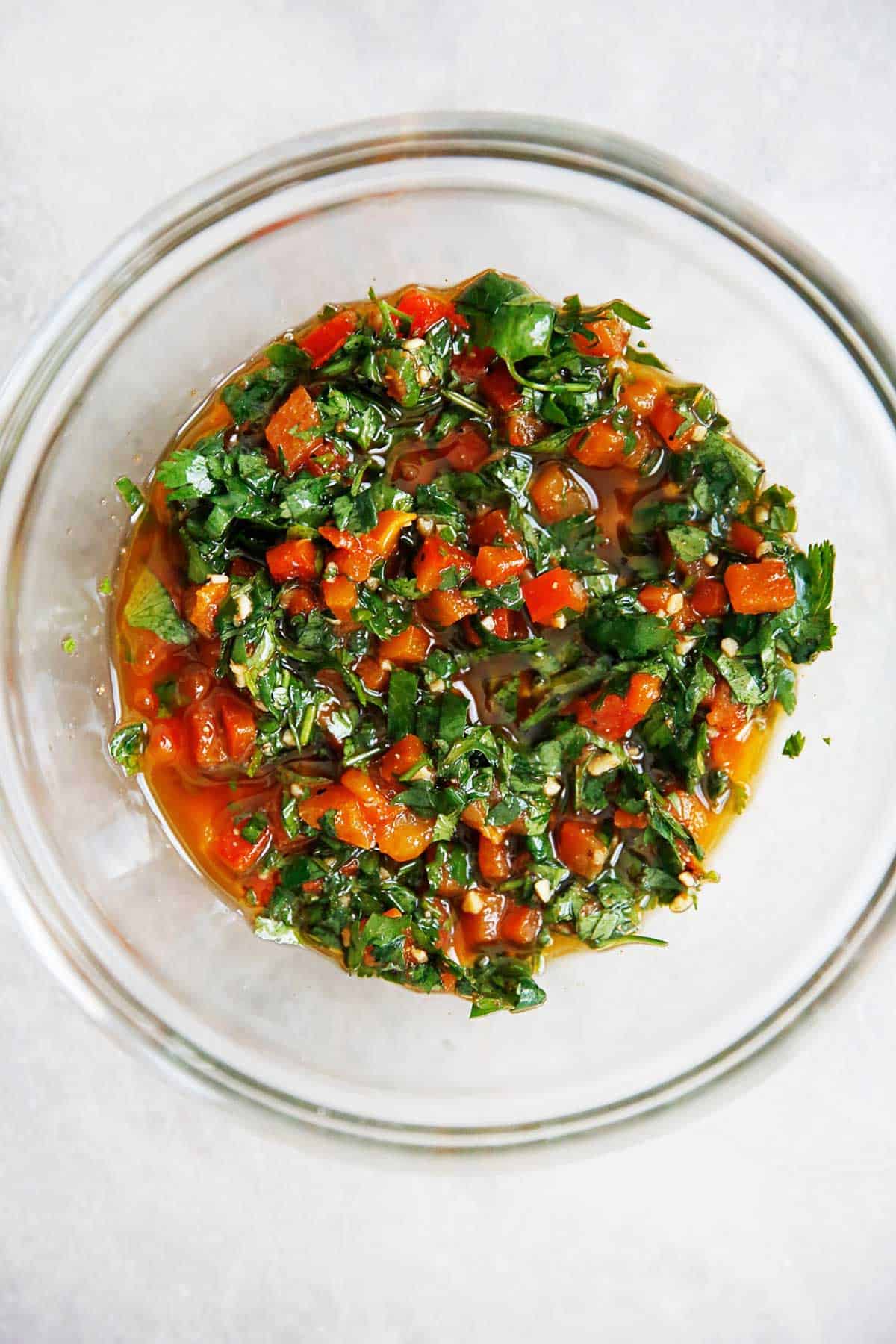 If you like this Moroccan recipe, check out these others:
If you like this eggplant recipe, check out these others:
Moroccan Eggplant with Chermoula Sauce
This low-carb and keto-friendly Sausage, Peppers, and Onion, one-pan dish is made in just twenty-minutes! Such a perfect sausage and peppers recipe for any night of the week.
Sausage, Peppers, and Onions
Did you know that peppers are at their growing season peak right now? I was over at my favorite little farm and they had a bin with the most beautiful looking peppers, so I just had to get a bunch! This dish went over big time here.
This is the EASIEST sausage and peppers recipe! It is made in one skillet, is so flavorful, and you can use chicken sausage, pork sausage, or any sausage you like! I like to find ones with minimal added ingredients.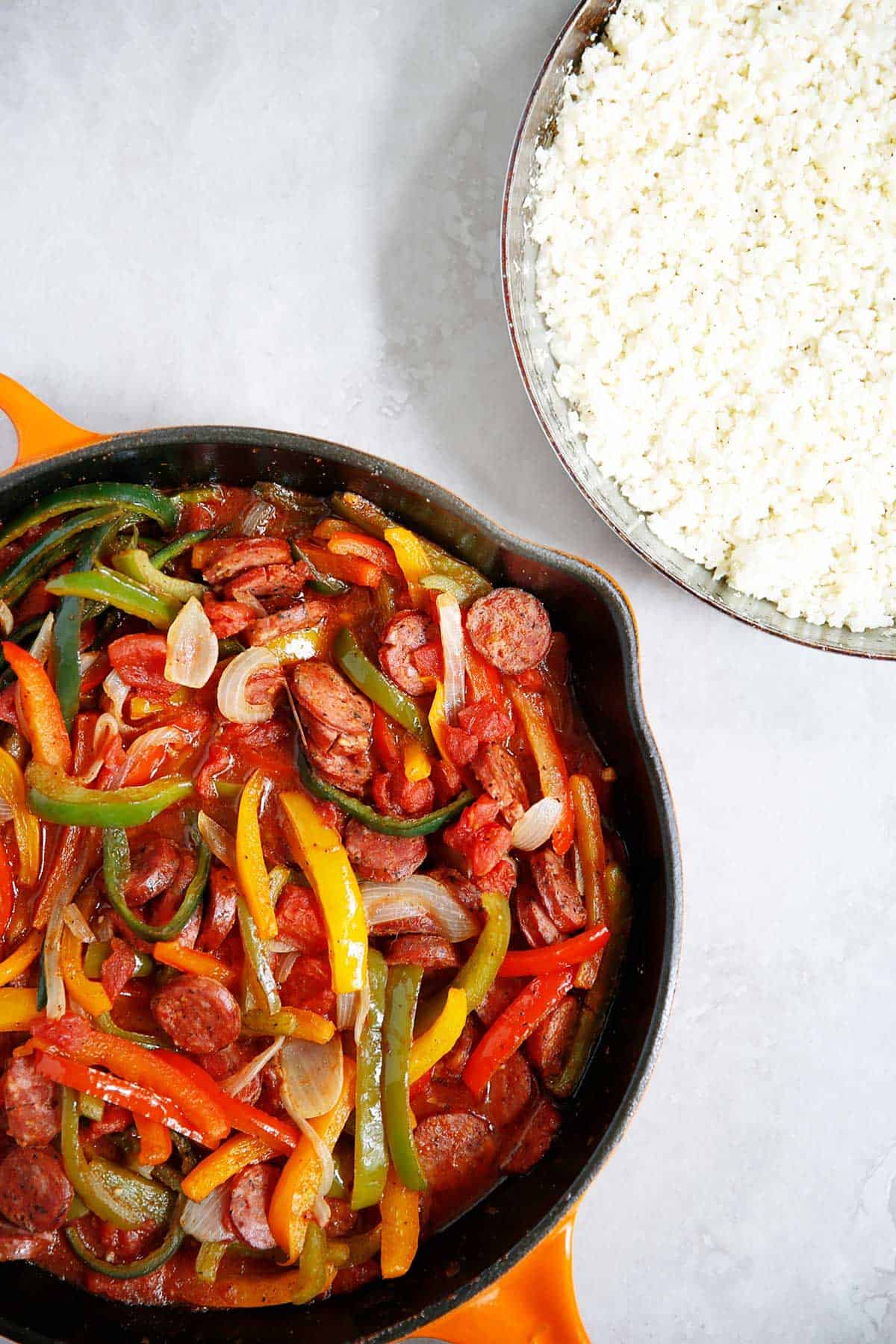 It is flavorful, comforting, and just plain delicious with the perfect amount of sauce. A great dish for football Sunday or those nights when you need a quick and easy meal!
How to make Sausage and Peppers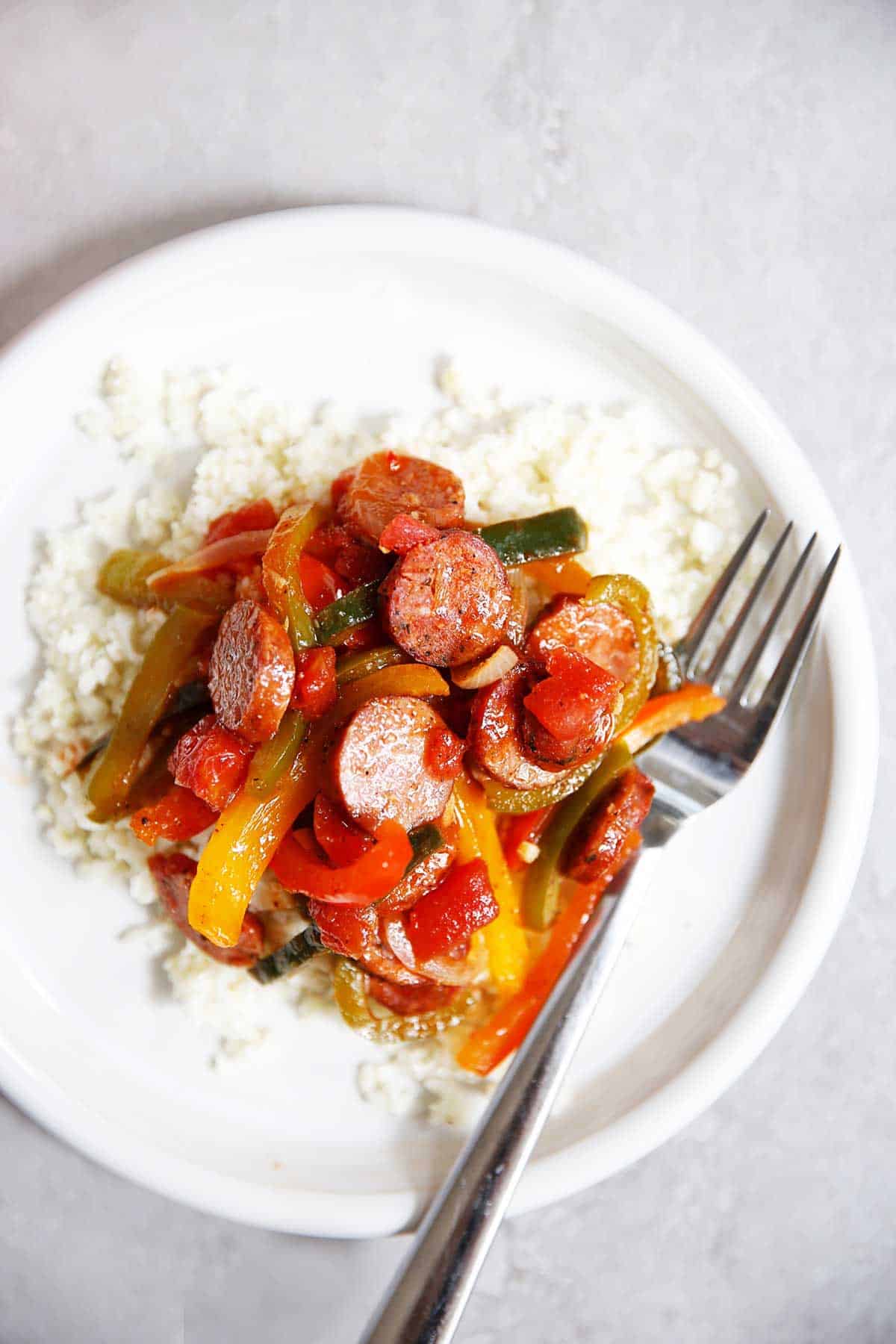 You can get creative with how you serve this dish! I love it served over roasted spaghetti squash or cauliflower rice but I bet it would be great with gluten-free pasta or spiralized veggies as well! This sausage and peppers recipe is Paleo friendly, whole30 compliant, dairy-free, grain-free, and no sugar added!
Like this easy skillet recipe? Try these other favorite one pan meals!
Sausage, Peppers, and Onions
Pancakes should be fluffy, golden, and loaded with your favorite add-ins. I'm not kidding when I say these Paleo Pancakes are the real deal. They're based off of my cinnamon crunch pancakes, and are really just the perfect paleo pancake recipe base, ever. They are paleo pancakes made with almond flour, are kid-friendly, freezer-friendly, and nobody will know their paleo! Guaranteed! These paleo pancakes are made gluten-free, grain-free, refined sugar free, and without banana. I make batches of the mix for my mom every time she comes to visit, and she's not grain-free!
The BEST Paleo Pancakes
I used to experiment a lot more with protein pancakes (with banana), 2-ingredient pancakes, and so on. While I love those (and ate them everyday for like 3 months at one point), I wanted pancakes that actually TASTE and have the texture of real pancakes.
Can you use almond meal instead of almond flour?
Yes. Almond flour is made from blanched almonds which have had the skins removed, and is ground more finely than almond meal, which typically still contains the skins and has a more coarse grind. Both will work, though I prefer almond flour!
What can you use instead of applesauce?
Pumpkin puree will work as a sub for the applesauce!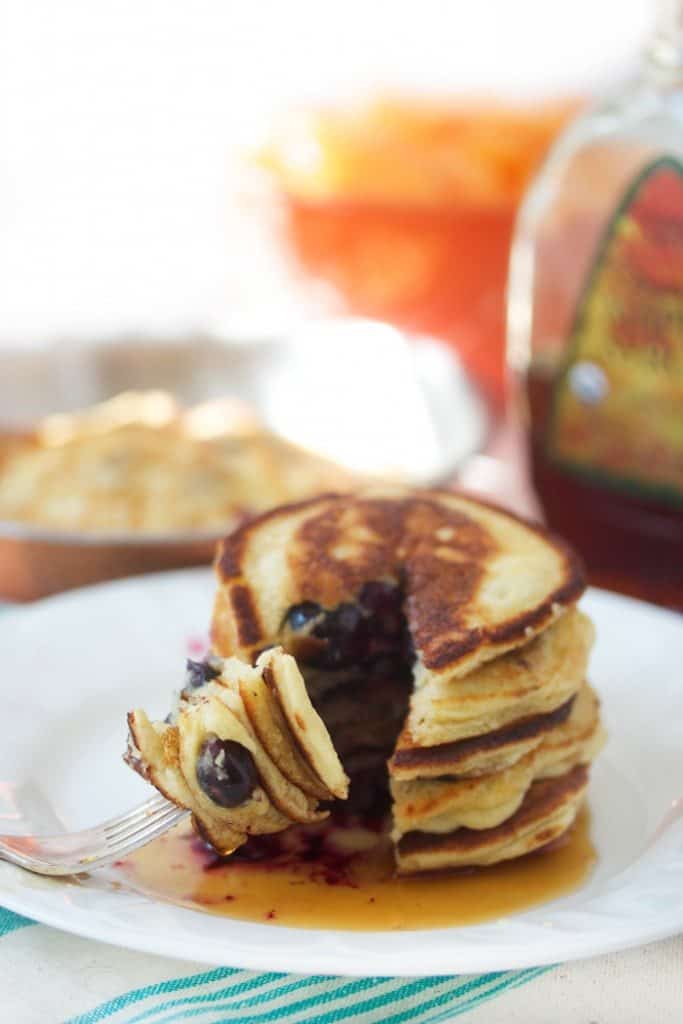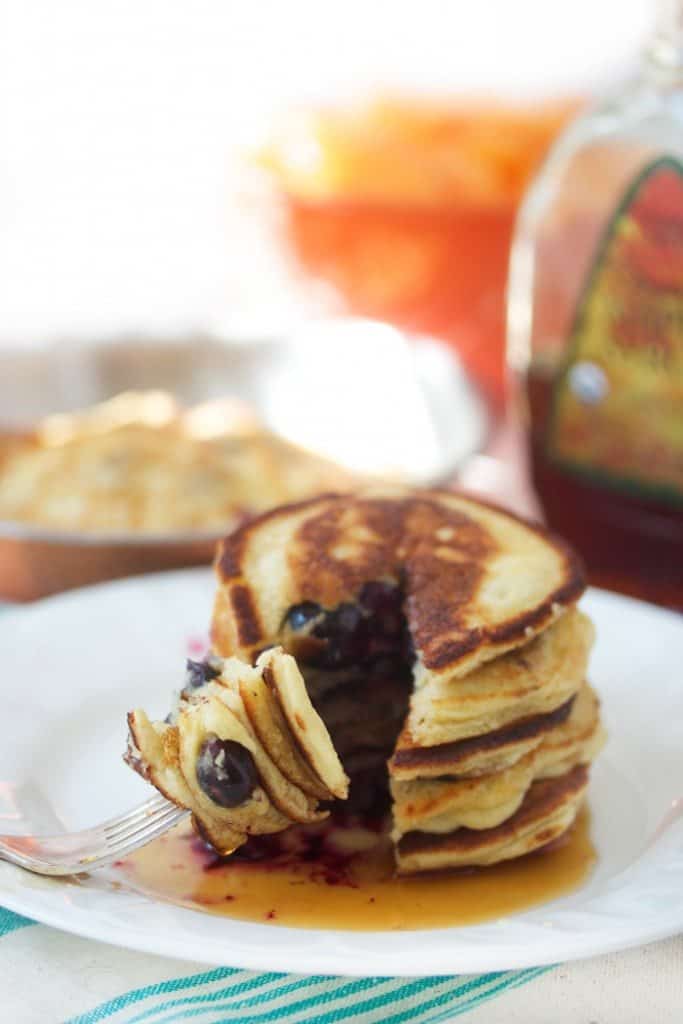 This recipe is tried and true, and is loved by so many of you! Read through the comments below for a glimpse of reader reactions!
Is maple syrup allowed on paleo diet?
I drizzle these pancakes with good quality maple syrup! Maple syrup, in its natural, unprocessed form, is paleo and is a great alternative to white sugar. Always look for good quality, 100% pure maple syrup!
Watch the video here:
Looking for other paleo breakfast recipes?
How do you make paleo pancakes