We've rounded up a list of 33 of our favorite healthy 30-minute meals that are sure to be an instant hit for your family!
Healthy 30-Minute Meals
Some days you just don't have enough time, or motivation, to cook dinner. Some people enjoy cooking all the time, while others find it a hassle. Believe it or not, we get it and we often find ourselves in the same boat! That's why we rounded up 33 of our favorite 30 Minute Meals that are perfect for those busy days when you are looking for a healthy, flavorful, and time-efficient dinner. We included dramatic-looking dishes that are actually so easy to make with a variety of flavors, nutrients, and protein sources. They are all gluten-free with many options for dairy-free as well as Paleo and Whole30 recipes!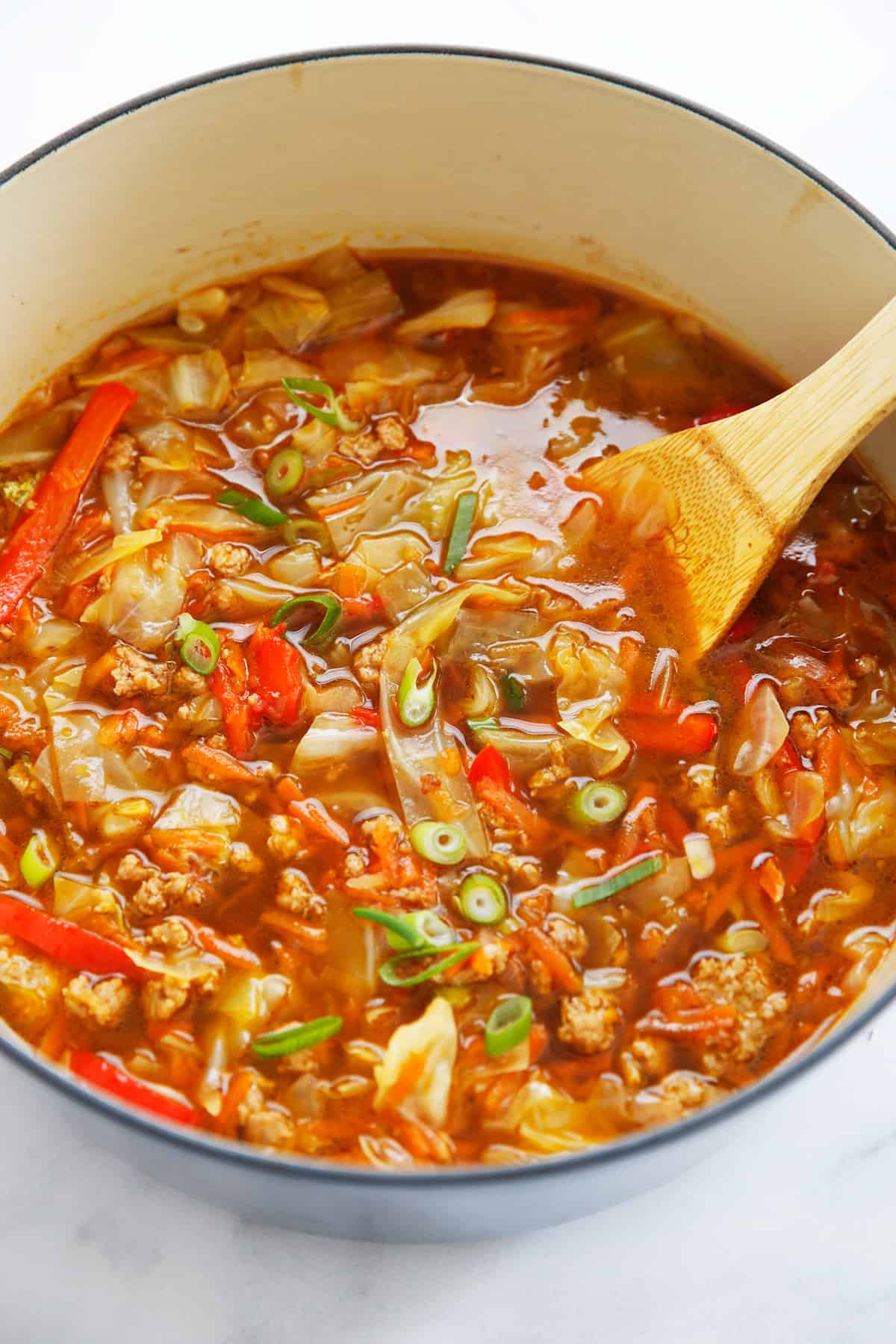 Plant Forward 30-Minute Meals
Egg Roll Soup: This Egg Roll Soup is an easy, weeknight dinner that is full of the flavor of an egg roll, without any of the fuss of wrapping and frying! This veggie soup is family-friendly and would make great leftovers! We also offer options to make it vegetarian, and it's already Paleo, Whole30 and Keto friendly too! To make it fully vegetarian, substitute mushrooms for the ground pork.
Instant Pot Lemon and Veggie Risotto: This 10-minute risotto is a flavorful, bright, vibrant, and a creamy Meatless Monday meal! Loaded with broccoli, asparagus, spinach, and peas, it is the perfect dairy-free dish to celebrate the abundance of spring veggies!
Instant Pot Loaded Potato Soup: This soup taste just like a loaded baked potato! It's creamy and topped with all of your favorite baked potato toppings. This comfort food soup is gluten-free and optionally made dairy-free!
Tomato, Eggplant, and Chickpea Stew: This stew is a quick, hearty weeknight meal that uses up all the fresh summer veggies that are starting to roll in! Serve it as a vegetarian meal, or pair it with your favorite protein for a gluten-free and dairy-free dinner!
Chickpea and Cauliflower Curry: Using just a few kitchen staples, this Indian-inspired curry is a meal everyone will love. This vegan dish is dairy-free and gluten-free and perfect for when you need a quick dinner solution! It's flavorful and so comforting.
Frozen Veggie Fried Rice: There couldn't be an easier dish to make for dinner than this Frozen Veggie Fried Rice. It's simple, yet delicious and a breeze to put together. A great way to use up leftover rice while clearing out the freezer, this recipe is worth putting on your menu this week!
Meatless Chipotle Mushroom Tacos: These easy meatless Chipotle Mushroom Tacos are a weeknight dinner win that are hearty and flavorful. Perfect for Meatless Monday! They're vegan, but nobody will know otherwise because they have such a "meaty" flavor that will be loved by everyone. Serve it up with your favorite taco fixin's for dinner on the table in well under 30 minutes!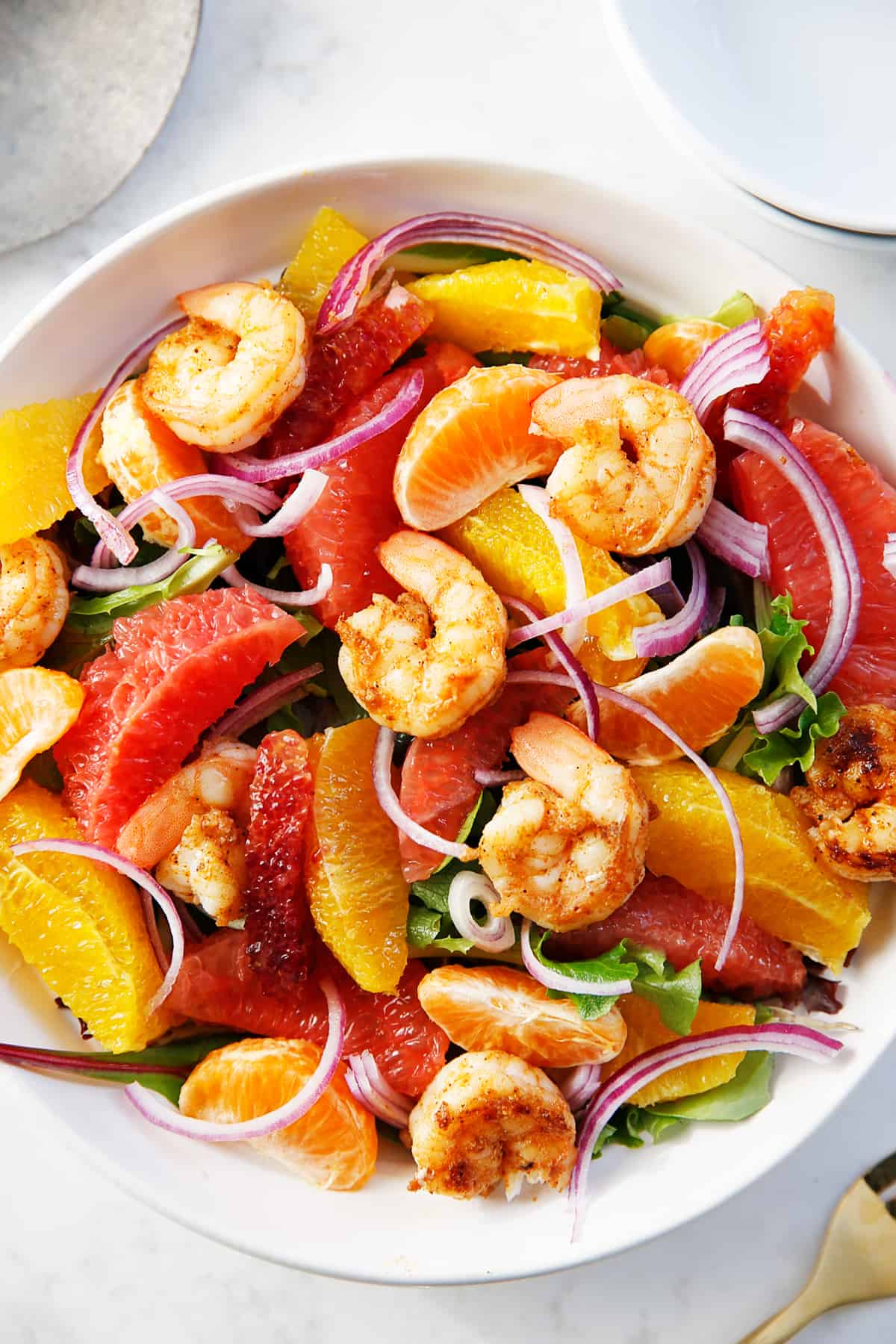 Seafood 30-Minute Meals
Spicy Shrimp and Citrus Salad: When perfectly cooked shrimp with just the right amount of spice gets paired with all the winter citrus, you get salad magic! This Spicy Citrus Shrimp Salad comes together in roughly 20 minutes, and it's the perfect hearty weeknight salad that everyone will love. Especially during the winter months when fresh citrus is in abundance!
Cajun Blackened Fish: This fish is a simple and delicious weeknight dinner. This dramatic-looking dish is actually simple to make, requiring just a few spices, a piece of fish and a hot pan! Serve it with your favorite summer side and you've got dinner in under 20 minutes!
Tequila Lime Shrimp: This shrimp is packed with flavor, easy to make, and is the absolute perfect summer shrimp dish! It's ready in under 15 minutes and you can pair it with veggies, zucchini noodles, rice or cauliflower rice for a delicious weeknight or weekend meal in no time. It's gluten-free, low-carb and paleo friendly!
3-Ingredient Dijon Salmon (In 10 Minutes!): This is my GO-TO easy dinner when I have nothing planned. This three-ingredient Dijon Salmon is made in ten minutes (yes, ten minutes), and is cooked to perfection and SO flavorful. It's the perfect salmon recipe for a busy weeknight.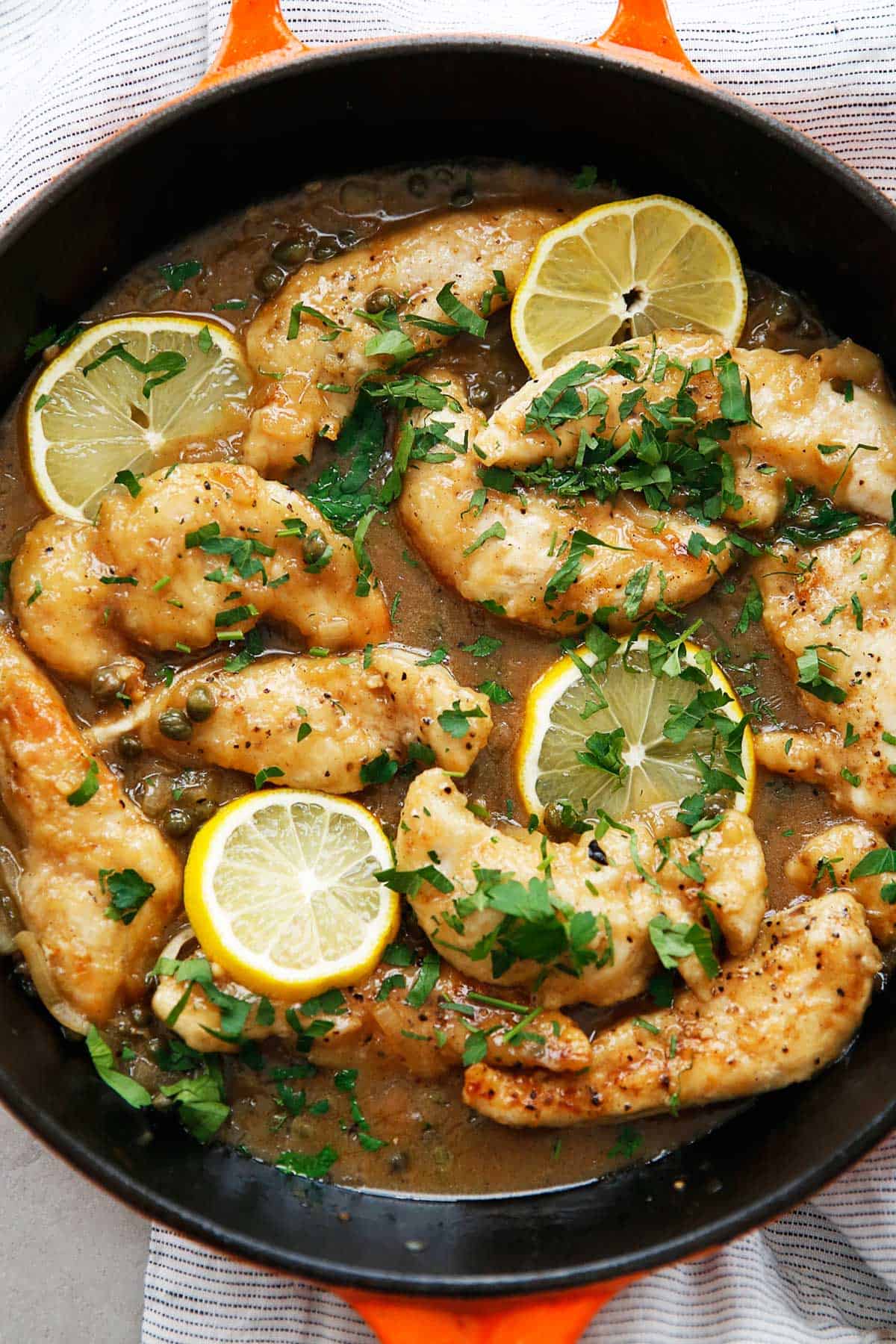 30-Minute Chicken Recipes
Gluten-Free Chicken Piccata: This easy chicken recipe is made with a delicious lemon caper sauce and is the perfect meal for the lemon lovers in your life! It's made in less than 30-minutes and made in one skillet!
15-Minute Chicken Tacos: Want to make the best chicken tacos ever? This easy 15-Minute Chicken Tacos recipe is your answer for a busy weeknight meal that the entire family will love. Using our tried and true taco seasoning blend, these taco chicken meat is so flavorful with minimal effort involved. Serve it with all your favorite taco toppings and call it dinner!
Instant Pot Chicken Fajitas: Switch up taco night and make IP fajitas your new go-to easy weeknight dinner. Simple to prepare by adding sliced chicken, peppers and onions to your pressure cooker and then cooking with the push of a button. It can even be optionally prepared ahead of time and stored in the freezer (hello "dump" dinners). Serve with all your favorite fajita fixin's!
Healthy General Tso's Chicken: It's a simple, flavorful and perfect for a weeknight dinner.  It's a lighter take on the classic American take-out dish and will be loved by both kids and adults. It also happens to be gluten-free, dairy-free and paleo!
Creamy Tuscan Chicken (Paleo & Keto): This chicken recipe is what dreams are made of! This easy weeknight dinner is creamy without any dairy, full of bacon, sun-dried tomatoes and spinach and so delicious. This dish is Paleo, Keto and Whole30 friendly!
Instant Pot Butter Chicken: It's creamy, perfectly spiced and oh-s0-delicious! It's a great weeknight dinner at the end of a busy day. This gluten and optionally dairy-free dinner is a one-pot meal, thanks to the rice that cooks alongside the chicken. It's guaranteed to be a new family favorite.
Instant Pot Balsamic Chicken: Ready for the juiciest chicken breasts, perfectly cooked potatoes and braised kale in sweet balsamic glaze for dinner without even turning on the stove? Then this Instant Pot Balsamic Chicken is just what you need to make tonight! This dish is perfect for those hot steamy summer nights (or cool, lazy fall or winter ones) when you want to eat a home-cooked meal but don't want to heat up the house. It's also gluten-free, paleo, low carb and whole30 friendly.
Instant Pot Cheesy Chicken, Broccoli and Rice: Can you ever go wrong when you add together rice, cheese, chicken and broccoli?It is an easy-to-make dinner that the whole family will love and made with a few simple whole ingredients.
Creamy Spinach and Artichoke Chicken: This Spinach and Artichoke Chicken is comfort food turned easy weeknight dinner! This optionally dairy-free dish is so creamy and tastes just like spinach artichoke dip but with fresh healthy ingredients served for dinner!  This dish is Paleo, Keto and Whole30 friendly and so delicious!
Instant Pot Southwest Chicken Soup: A take on the classic soup with chicken, beans, corn and tomatoes. It is simple to make and can optionally be prepared ahead of time and stored in the freezer. It's as easy as placing all the ingredients in a freezer bag and stashing it away until you are in need of a quick weeknight. Simply defrost in the refrigerator overnight and place everything in an Instant Pot to cook at dinnertime!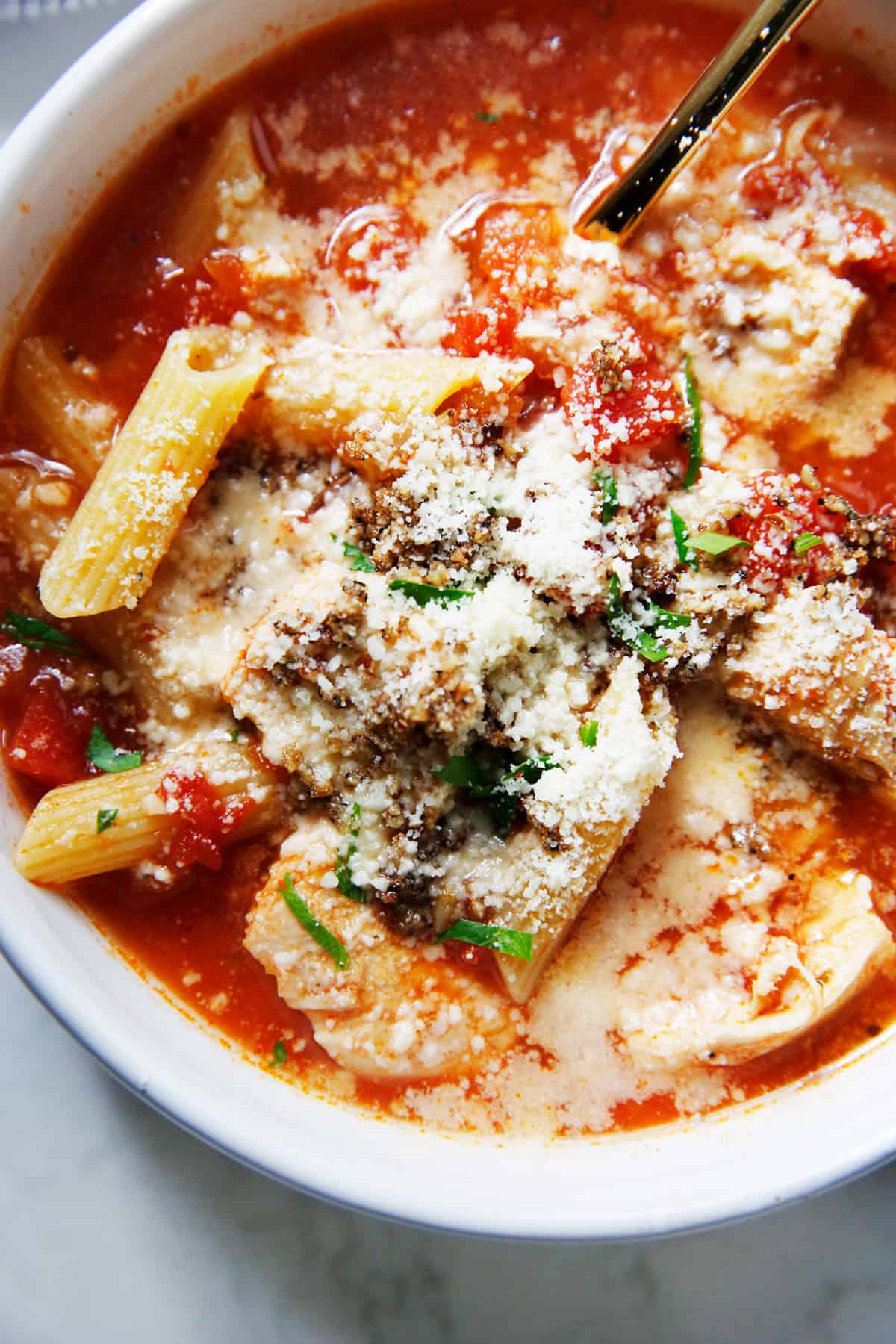 Under 30 Minute Pasta Recipes
Instant Pot Chicken Parm Soup: If you love chicken parmesan, you are going to love this. This soup is made easy in the Instant Pot with our favorite chicken, a flavorful tomato broth and topped with all the classic chicken parm flavors.
Spaghetti Carbonara (Gluten-Free): When we were in Italy, Carbonara was a staple at almost every restaurant. What I love about this dish is that it uses pantry staples and it's easy enough to make on a quick night, while having robust flavor. It uses minimal ingredients that are inexpensive and easy to find! I knew I wanted to give you a perfect Gluten-Free Spaghetti Carbonara that everybody will love! You'll feel fancy and totally surprise your family and guests.
Instant Pot Mac and Cheese: Who know the easiest way to make Mac and Cheese was in the Instant Pot? This creamy, comforting bowl of goodness is healthier than your favorite childhood boxed kind, but just as delicious and more! This recipe for Instant Pot Mac and Cheese is our new go to way of cooking it and we know once you try it, it'll be yours too!
Paleo Orange Chicken: This easy-to-make chicken recipe is simple, flavorful and perfect for a weeknight dinner. It'll be loved by both kids and adults alike and it just so happens to be gluten-free, dairy-free and paleo!
Instant Pot Chicken Adobo: This is a take on the classic Filipino dish that results in tangy and savory chicken. It's perfect for nights you need a healthy dinner but don't feel like cooking. It's also gluten-free, Paleo, low carb and Whole30 friendly.
Easy One-Pan Eggplant Chicken Dinner: This quick braised One Pan Chicken and Eggplant recipe is going to be on repeat for dinner on nights when you want a delicious healthy meal but don't feel like investing too much time with hands on cooking. It's hearty and comforting and customizable based on what you have on hand. It's gluten-free, low-carb and Paleo and Whole30 friendly.
30-Minute Beef Recipes
Philly Cheesesteak Skillet: Thinly sliced steak is sautéed up along with peppers, mushrooms and onions and covered in melty cheese to make for the best Philly Cheesesteak Skillet! It's an easy dinner for any night of the week. This low-carb meal can be eaten as is, or bulked up and served alongside rice.
Taco Salad: This salad is simple to prepare, deliciously satisfying, and customizable with your favorite taco toppings! Made in under 30 minutes, it's the perfect family friendly dinner that is also gluten-free, Paleo and Whole30 friendly.
Korean Ground Beef Bowls: Sweet, salty and with a hint of spice, this Korean Ground Beef recipe is a take on the classic dish of beef bulgogi. Prepared in well under 20 minutes, these Korean Ground Beef Bowls are simple to prepare, so delicious and absolutely perfect for meal prep! This dish is also dairy and gluten-free, as well as low-carb and paleo-friendly.
Healthy Hamburger Helper: Love that classic childhood boxed favorite, but want to make it all homemade and healthier? This Healthy Hamburger Helper recipe is your solution, and it's all made in one pot and so delicious!
Instant Pot Beef Stroganoff: This classic American dish comes together quick, with minimal prep and mostly hands-off cooking thanks to the Instant Pot. It's made using REAL ingredients and is so hearty! Make sure to omit peas for Whole30 compliance.
Easy Taco Soup: With all the classic flavor of a taco, this easy-to-make soup is a family-friendly weeknight dinner win. Customize your soup by adding on all your favorite toppings! It's made in about 30 minutes, and is also gluten-free, Paleo and Whole30 friendly.