Rosh Hashanah is around the corner and if you celebrate, here are some of my favorite Rosh Hashanah Recipes!
Rosh Hashanah Recipes
The holiday season is here, which means it is finally my favorite season for entertaining! If you are looking for healthy, flavorful, and simple meals to make this season, we have got you covered! From my favorite brunch recipes and ending with all of those holiday treats.
What is Rosh Hashanah
Rosh Hashanah is the Jewish New Year! One of the high holidays in the Jewish religion. It is a time to reflect on the past year and look forward to the upcoming one!
Many people attend services at a temple or synagogue for a special service with messages of hope and atonement in the new year.
What you avoid eating on Rosh Hashanah
Pork and shellfish, plus meat and dairy can't be served at the same meal.
How do you greet people on Rosh Hashanah?
On Rosh Hashanah we say "Happy New Year" to others!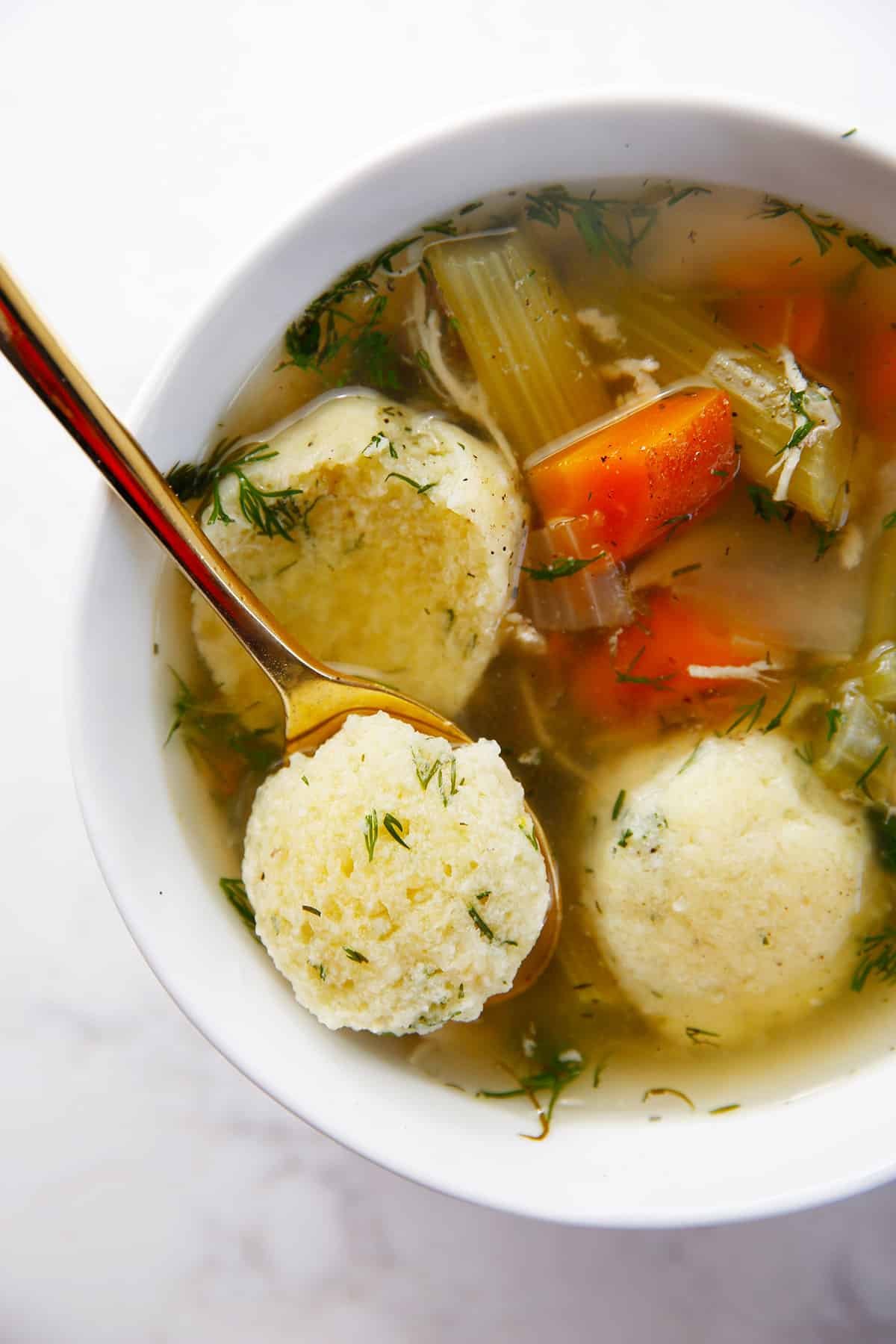 Appetizers For Any Table
Appetizers for everyone to love!
Crudité Platter This Crudité Platter with Dairy-Free Tzatziki Sauce makes for such a light and refreshing snack, appetizer, or side-dish! The perfect bright and colorful dish to make with any seasonal veggies you have on hand! Dairy-free, egg-free, grain-free, gluten-free, and Whole30 compliant! This will be the most gorgeous appetizer on the table, for sure!
Potato Leek Soup: Flavorful and deeply comforting, this Potato Leek Soup is a must-make during soup season! It's creamy (without any cream added) and made simply with just a few ingredients. This hearty soup is gluten-free and optionally made dairy-free!
Brussels Sprout Slaw: Sweet and tangy, this Brussels Sprouts Slaw is an easy no-fuss side dish to serve with a holiday meal, dinner or lunch. The bonus is that it is even better the next day so is perfect for meal prep.
Apple, Sweet Potato and Kale Quinoa Salad: This kale quinoa salad is the ultimate Fall salad! Packed with massaged kale, cooked quinoa, diced apples, roasted sweet potatoes, pistachios, and the perfect maple balsamic dressing; it's an Autumn salad everyone will love!
Matzo Ball Soup: Just like grandma made it! This classic Gluten Free Matzo Ball Soup will become a family staple that is loved by all!
Classic Chicken Soup (Slow Cooker + Instant Pot): A classic soup to serve for Hannukkah, the chicken and the broth warms the soul and the vegetables brighten everything up. Plus, it's easily made ahead of time.
Chicken and Rice Soup: This lemony Chicken and Rice Soup is a classic chicken rice soup that is full of flavor. It's warming, comforting, healing, and quite easy to make! It's naturally gluten-free, dairy-free, and downright delicious!
Roasted Eggplant Dip: This Roasted Eggplant Dip is such a delicious and healthy appetizer or snack for weekend entertaining! You will not believe how simple the dip is to prepare.
Vegan Cauliflower Soup with Ginger and Turmeric: Made with ginger, turmeric and coconut milk, this Vegan Cauliflower Soup is both healthy and downright delicious. It's also a cinch to put together, taking less than 25 minutes from start to finish.
Don't forget the classic apples and honey!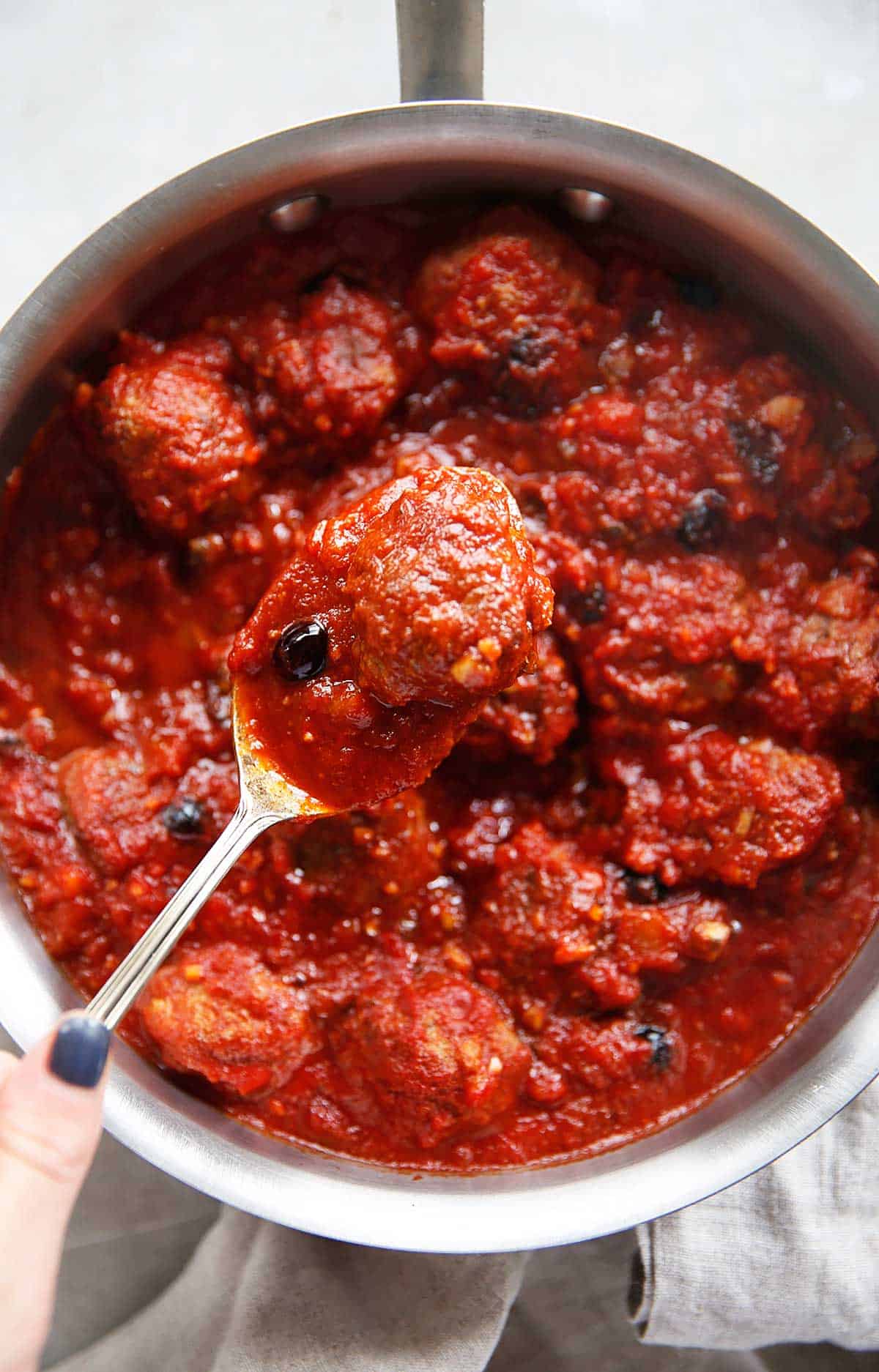 Healthy Holiday Mains
Pick that main dish before you choose what you are going to serve with it!
How to Make a Spatchcock Chicken: here is one trick you need to know in order to make the best whole roasted chicken, that cooks evenly and in the shortest amount of time possible: how to spatchcock a chicken!
Instant Pot or Slow Cooker Brisket: Sweet and tangy, this Slow Cooker Brisket is a classic! Its largely hands-off cooking makes this a breeze to put together. It's perfect as a holiday centerpiece, in tacos, as a hash, and so many other ways! We also share how to make it in the Instant Pot, too!
Easy Roasted Turkey Breast with Pear Chutney: This Oven Roasted Turkey Breast with Pear Chutney is a Fall meal at its best and a staple at my family holiday dinners! The perfect simple and flavorful dish to please a crowd!
Orange Cranberry Roasted Chicken: The perfect main-course to make for a small holiday gathering, this Orange Cranberry Roasted Chicken is sweet, savory and so delicious.
Kale and Sweet Potato Stuffed Turkey Breast: This is perfect for a dinner party or small Thanksgiving feast. A boneless turkey breast is stuffed with quick caramelized onions, kale, sweet potato and herbs, then baked in the oven in just about an hour. Double the recipe to feed a crowd! It's also gluten-free, Paleo and Whole30 friendly.
Nanny's Sweet and Sour Meatballs: Nanny's Sweet and Sour Meatballs are a family staple holiday recipe, made a little bit cleaner! We love this slightly sweetened sauce paired with the gluten-free meatballs for a perfect holiday meal.
Lemon Roasted Chicken with Garlic, Capers, and Artichokes: This one-pot Lemon Roasted Lemon Roasted Chicken with Garlic, Capers, and Artichokes is such a flavorful and hearty dish! The perfect dinner for those nights you want as little clean-up as possible! Whole30 compliant, paleo-friendly, nut-free, and egg-free!
One Pan Moroccan Fish: It's got a nice hint of heat and is loaded with hearty veggies! Made in under 30 minutes, this Paleo and Whole30 friendly dish is your ticket to healthy and comforting dinner.
Roast a Turkey: If you've never roasted a turkey before, this for a Citrus Herb Turkey explains it all! And you might need to know how to make Turkey Stock, when you are done!
One Pot Apple Cider Braised Chicken: This One-Pot Apple Cider Braised Chicken with Brussels Sprouts and Bacon is the perfect fall meal! Packed with vegetables and hearty autumn flavor, this dish will be the hit of any dinner, weekday or weeknight!
Herb Butter Salmon with Blistered Tomatoes and Green Beans: A complete meal all on a sheet pan.
Baked Chicken Thighs with Creamy Lemon Greens: no-fuss dinner that everyone will love, this one-pan oven-baked chicken thigh dish is the perfect way to celebrate Spring. Bone-in chicken thighs are given a spice-rub and then baked up together with some greens and white beans before being tossed with lemon and greek yogurt for the perfect creamy citrus sauce.
Vegetarian Wild Rice Stuffed Mushrooms: Vegetarian or not, you're going to love these meatless holiday-inspired Wild Rice Stuffed Portobello Mushrooms.
Instant Pot Pot Roast: The Instant Pot is by far the best way to cook Pot Roast when you are short on time, but still want to enjoy this classic comfort food. This Instant Pot Pot Roast recipe is largely hands-off cooking which makes this a breeze to put together.
Nanny's Sweet and Sour Meatballs: Nanny's Sweet and Sour Meatballs are a family staple holiday recipe, made a little bit cleaner! We love this slightly sweetened sauce paired with the gluten-free meatballs for a perfect holiday meal.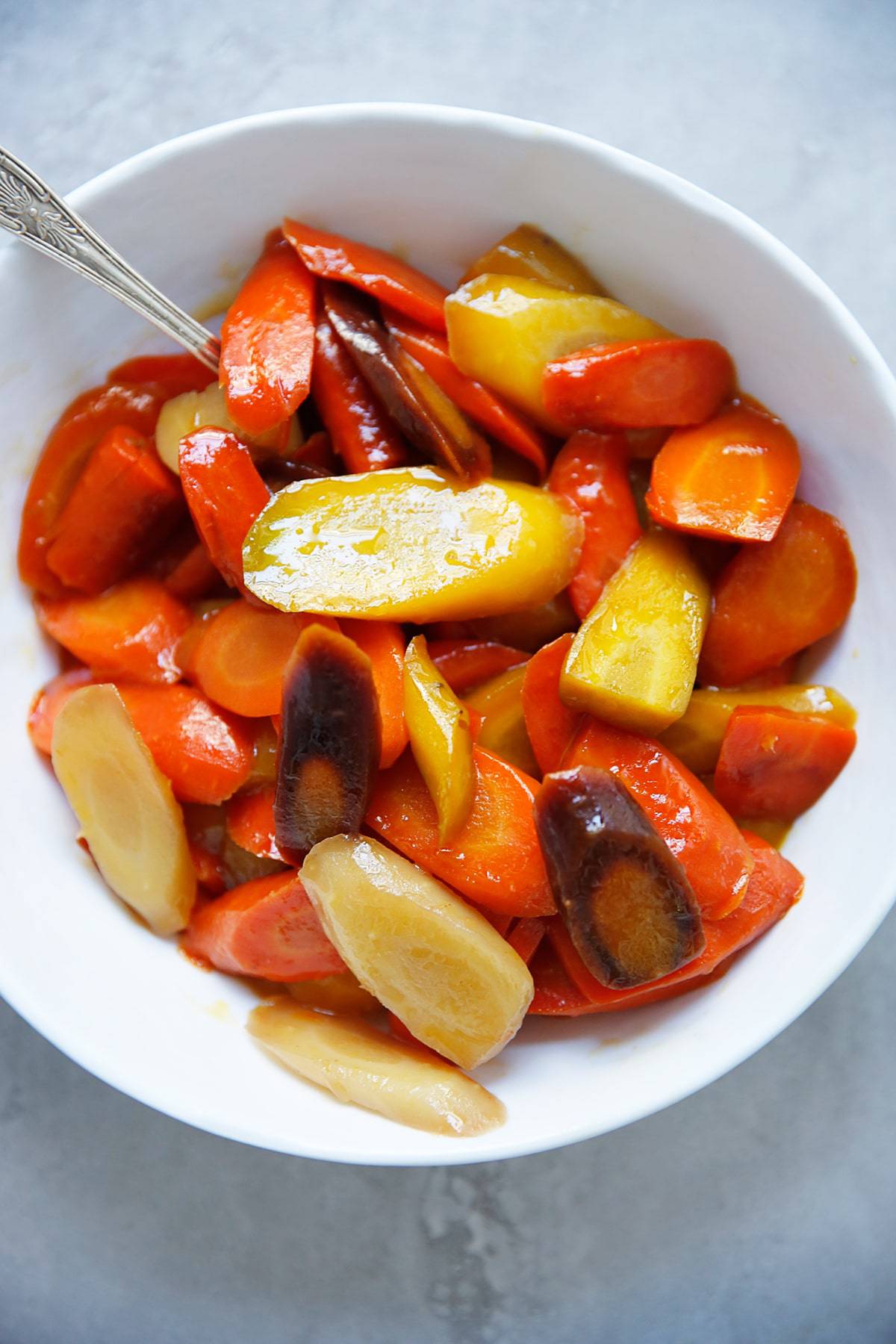 Healthy Holiday Side Dishes
Side dishes are for some the BEST part about a holiday dinner, and we've got quite the list for you!
Gluten Free Classic Potato Latkes: These Gluten Free Classic Potato Latkes are just like grandma makes them, only made without any refined white flour! They have the classic delicious flavors you want, and I guarantee that nobody will know they are gluten-free!
Sweet Potato Latkes: These Gluten Free Sweet Potato Latkes are a twist on the traditional. They're slightly sweet and savory, crispy on the outside and perfect served with either apple or cranberry sauce! Made gluten and dairy-free!
Air Fryer Broccoli: This Air Fryer Broccoli is a 10-minute recipe for perfectly crisp-tender broccoli with a little char.
Cranberry Walnut Roasted Acorn Squash: This Cranberry Walnut Roasted Acorn Squash recipe is the best festive Fall side dish! It's packed full of tender roasted acorn squash, tart cranberries, sweet red onions, crunchy toasted walnuts, and finished off with a drizzle of honey or maple syrup.
Herb and Garlic Quinoa: This easy and delicious Herb and Garlic Quinoa is the perfect side dish to accompany just about anything. What's even better is the recipe uses pantry staples so you can throw it together quickly!
Roasted Potato Wedges: Crispy on the outside, creamy in the middle and perfectly seasoned, these Roasted Potato Wedges are the best side dish ever. And we're sharing all of our tips for roasting potatoes so they come out perfect every time!
Oven Roasted Vegetables: The perfect side dish for nearly any holiday meal!
Harvest Salad with Maple Balsamic Dressing: This healthy Harvest Salad recipe is packed with chopped kale, roasted kabocha squash, colorful pomegranate seeds, and toasted pecans. Tossed with a super delicious (and easy!) maple balsamic dressing, it's the perfect fall and winter salad.
Garlic and Herb Mushrooms: This mushroom recipe is the last one you'll ever need to look up for a side dish idea. These Ultimate Herb and Garlic Mushrooms are packed with umami flavor, are quick to make and topped with fresh herbs. Serve these at your next Thanksgiving or dinner party and everyone will rave about them!
Honey Glazed Carrots These are the perfect fuss-free side dish. They're cooked in one pan and result in the most tender, slightly sweet glazed carrots. They are so good they are borderline addictive and both kids and adults will love them! They're paleo friendly and easily made dairy-free.
Cinnamon Roasted Sweet Potatoes: These three-ingredient roasted cinnamon sweet potatoes make for the perfect sheet-pan side-dish! If you haven't tried the combination of cinnamon and sweet potatoes yet, this is a must-make! So simple, caramelized goodness, and so full of flavor!
Lemon Herb Roasted Potatoes: These Lemon Herb Roasted Potatoes are crispy and golden on the outside and soft and smooth on the inside. This simple side dish is bright, fresh, savory, and takes just a few minutes to prep and everyone will love them!
Perfect Oven Roasted Veggies: These really are the perfect roasted veggies recipe! A colorful blend of fresh veggies and purple grapes are tossed in oil and seasonings, roasted to crisp-tender perfection, then finished off with a drizzle of honey.
How to Make the Best Rice Ever (Stove Top and Instant Pot): If you've ever thought rice was a plain-nothing-special side dish, this recipe on How to Make the Best Rice Ever (either in the stove top or instant pot) is for you! It's the perfect recipe to pair with just about anything, is largely hands-off cooking time and is flavorful thanks to added onion, garlic and toasted noodles.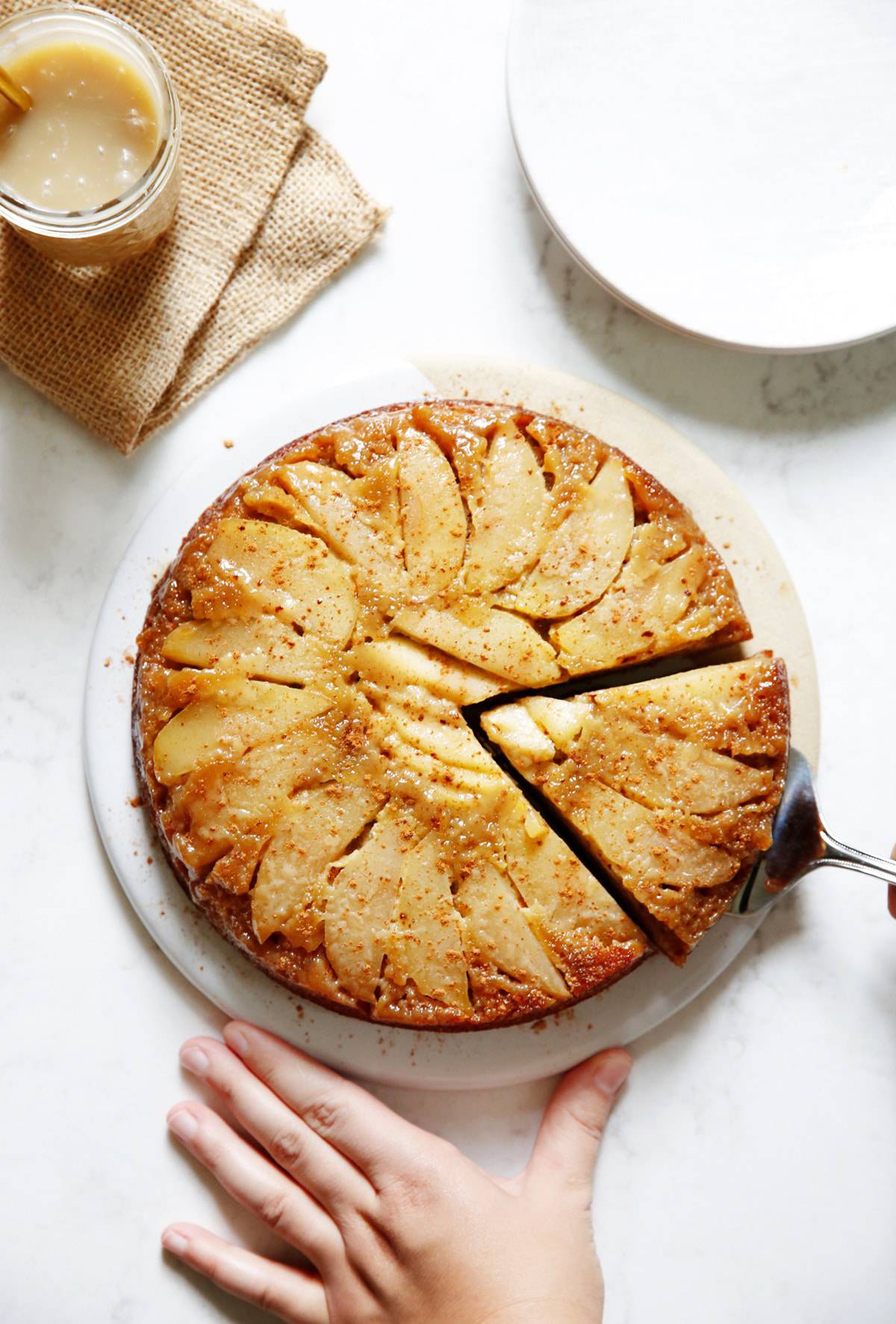 Healthy Holiday Desserts:
Even sweet treats can be lightened up, and nobody will know the difference!
Apple Upside Down Cake: This cake is unbelievably simple to make and so delicious. It's grain-free, nut-free and dairy-free but with no shortage of delicious apple cinnamon flavor. It's perfect to serve up for Rosh Hashanah or to whip up for a weekend baking project after you've gone apple picking.
Gluten Free Pumpkin Cake: Almost healthy enough you can eat it for breakfast, this Gluten-Free Pumpkin Cake is a more nutrient dense take on the classic. It's moist, tender and totally delicious. Top it with a maple cream cheese frosting, or homemade fluff. Either way, it will be welcome at any celebration or holiday dinner (or just a regular tuesday afternoon)!
Apple Cider Donuts: Who doesn't love a good munchkin? These Gluten Free Apple Cider Donuts are grain-free, dairy-free, and free of refined sugar! The batter is made in one bowl and easily baked up in the oven for the perfect fall treat.
Gluten-Free Pound Cake: Humble in its appearance, yet so delicious, this Gluten-free Pound Cake is moist, dense and so buttery. It's simple to make, and good enough to eat all by itself, or served up with a little bit of whipped cream and fruit for the perfect sweet treat.
Apple Hand Pies (Gluten-Free): These Apple Hand Pies are such a great fall treat using my popular gluten-free pie crust recipe made with almond flour, and a classic apple pie filling that is heavy on the apple flavor, and perfect for so many things (hello pancakes & waffle topping)! They're gluten-free and and the cutest thing to bake up with the bushels of fresh apples undoubtedly piling up in people's homes this fall! Plus, they are NOT hard to make!
Paleo Flourless Chocolate Cake: Rich and decadent this Flourless Chocolate Cake is easy-to-make and so delicious. Made in under 35 minutes, without any refined sugars or gluten, this is the perfect cake to make whenever you need that chocolate fix!
Easy Slow Cooker Baked Apples: These easy-to-make "baked" apples have just the right amount of sweet, they swarm your home with the most delicious fall scent, and they are super easy to throw together.
Apple Galette This is similar to an apple pie with a buttery crust with thinly sliced juicy apple, but easier to put together! It's the perfect dessert to serve during the holidays or a fun weekend baking project to celebrate the fall season! It's made using unrefined sweeteners and uses the BEST gluten-free crust.
Vanilla Bean Pear Crisp: This Vanilla Bean Pear Crisp is the perfect Fall or Winter dessert! Sliced pears are baked into a warm, sweet, gooey filling and finished off with a sweet, buttery oat crisp topping! It's nut-free, gluten-free, and easy to prepare!
Grain-free Cranberry Apple Crisp This healthy apple crisp is made without oats, with a pop of color and tartness thanks to added cranberries and is sweetened just right!
Baked Hasselback Pears: Just barely sweet, yet still indulgent, Baked Hasselback Pears are a sophisticated dessert nobody will believe are a cinch to put together! This lightened-up dish is made without gluten or refined sugars, with options to make it dairy-free, too. It's the perfect holiday dessert centerpiece, or an elegant dessert any night of the week.
Apple Bread: This loaf is stuffed full of apples and raisins and is so moist. Made using a nut-free blend of oat flour and coconut flour, it's also dairy-free and refined-sugar free. It's the perfect weekend (or weeknight!) baking project, especially after a day of apple picking, that will be loved by everyone, gluten-free or not!
Gluten-free Apple Pie Bars: All the flavors of apple pie without much of the work! These bars are gluten and dairy-free!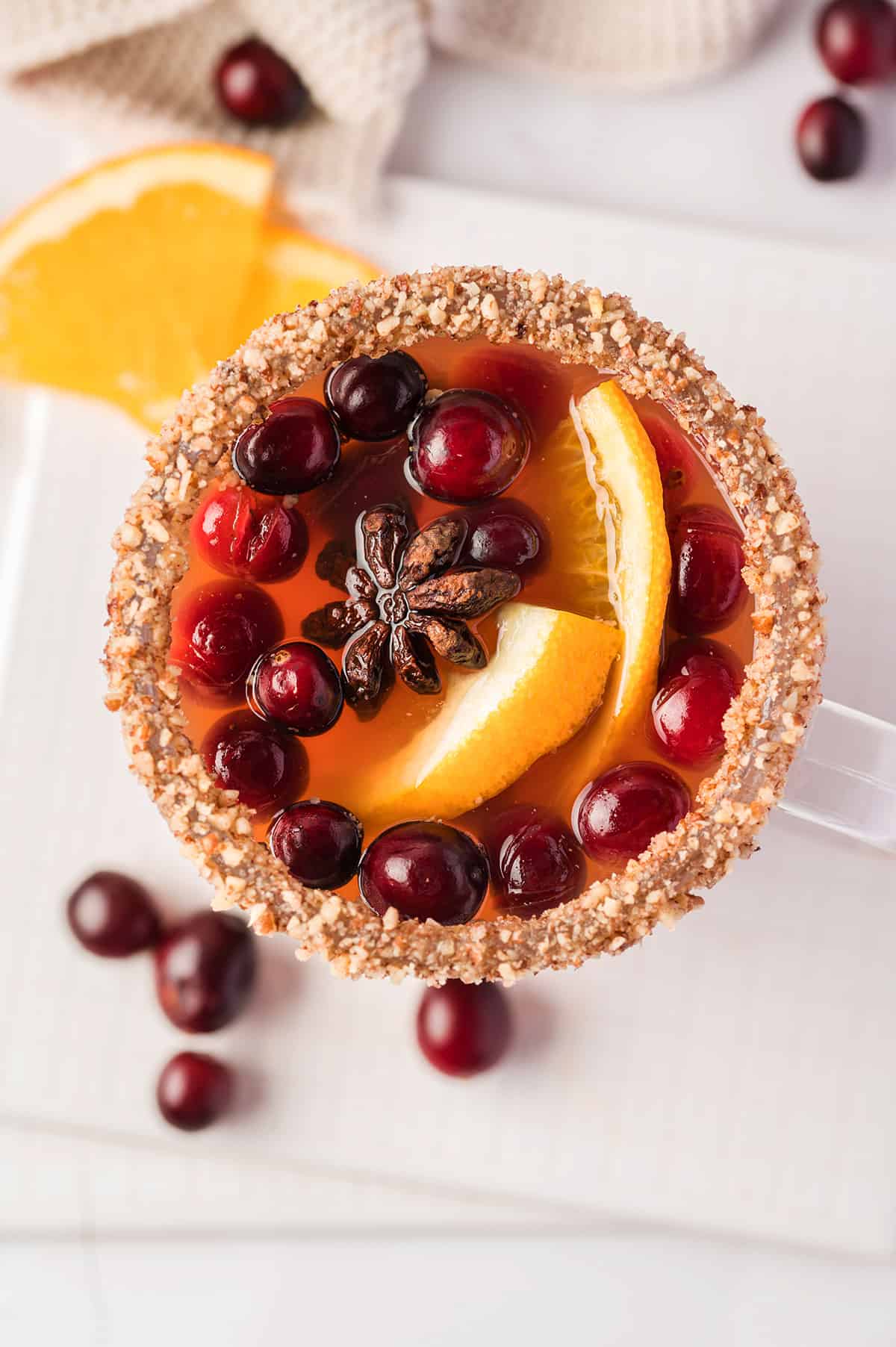 Healthy Holiday Drinks:
We've got your covered with both virgin and alcoholic festive drinks for the holiday season!
Slow Cooker Mulled Cider: Slow Cooker Mulled Cider with a Caramel Pecan Rim will be the hit of your parties or dinner parties all Fall and Winter long! The combination of the caramel and nutty pecans with the warming cider is perfection, and made with no added sugar.. Have it without any alcohol, or spike it as desired with your favorite liquor!
Holiday Punch: This Sparkling Citrus Punch is the ultimate holiday and New Year's Eve lightened up cocktail! It is so delicious, it serves a crowd, and it is made with fresh, good quality ingredients you can feel good about serving!
Apple Cider Sangria: This Apple Cider Sangria is everyone's favorite Fall cocktail! It's flavorful, packed with cinnamon, ginger, apple cider, and white wine for the perfect dinner party sangria! Serve it with a caramel rim (or opt out for simplicity), make a large pitcher, and enjoy this easy fall cocktail!
Dairy Free Hot Chocolate: If you have 5 minutes, and a few pantry staples you can have this delicious dairy free Hot Chocolate in your mug warming you up, right now! It's so much healthier than anything from a packet and so much tastier.
Frozen Hot Chocolate: This Frozen Hot Chocolate is the perfect treat in the winter, with a twist. Whether you live in hot or cold climates, this chilly chocolate-y drink is fun to sip on, and so delicious. Made optionally dairy-free without any refined sweeteners.